Spot review was written prior to current restrictions. Due to a rapidly changing climate, please check with the restaurant on their current status of operation.
Photographs by Paolina Loseto
With sandwiches still taking over Toronto's culinary scene, it's no surprise that Stefano's Sandwiches has decided to stick around for the long hall.
Housed in the same space as Gia restaurant, the menu at Stefano's is spearheaded by industry vet and plant-forward thinker chef Matthew Ravenscroft, who also helms the kitchen at Gia. Owner Jenny Coburn is thrilled to have Ravenscroft on the team, to help carve out the plant-forward way.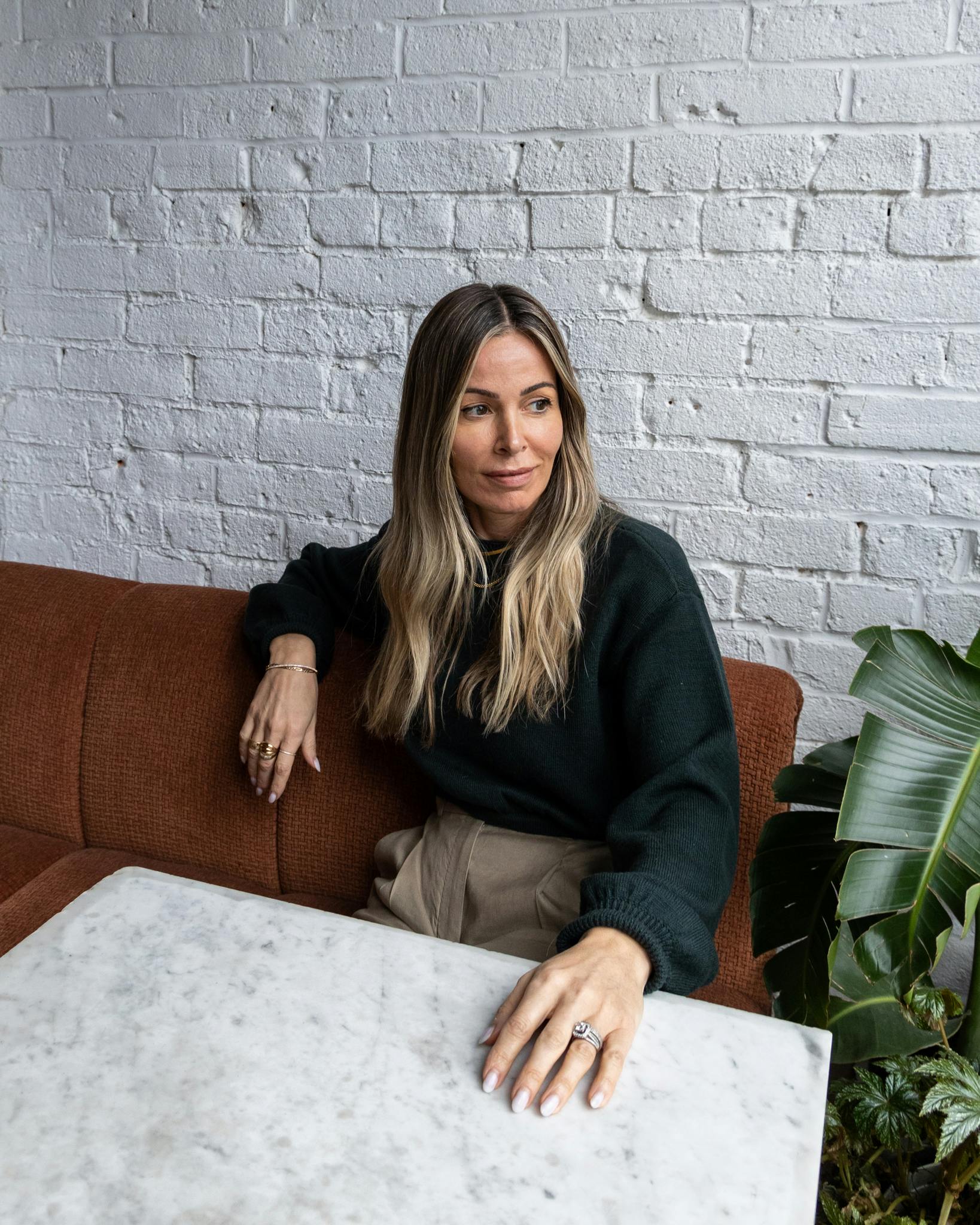 Owner Jenny Coburn pictured above.
Chef Ravenscroft's interest in the plant-based world was sparked when he was trying to crack the code as to why so many people don't enjoy eating their veggies. He says, "I want to know why we don't like eating what we know is good for us, and what's good for the planet."
It became his goal to elevate the plant-forward way of eating by discovering what was lacking in vegan cuisine. When Ravenscroft worked at Parts & Labour, he was constantly playing around with vegetables and putting forward these incredible dishes that everyone loved eating. He says, "I'm not afraid to treat veggies the way I would with meat, and that's been the momentum of what I'm trying to do, and what I cook."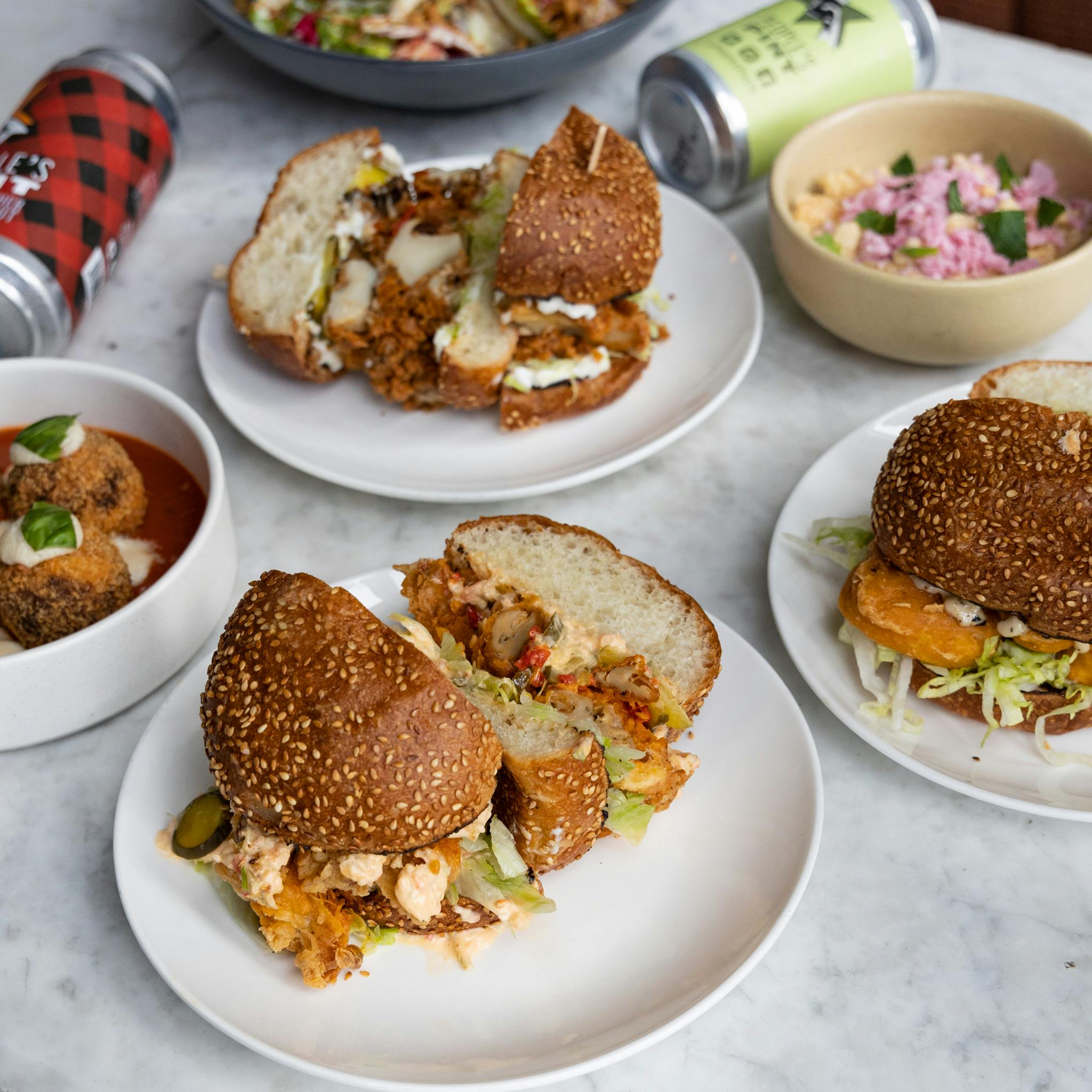 When it came to putting the Stefano's menu together, he wanted to create dishes that would be hearty and nourishing, but also approachable. Using entirely meatless products, Ravenscroft has concocted a number of mouthwatering sandwiches that have the whole city talking.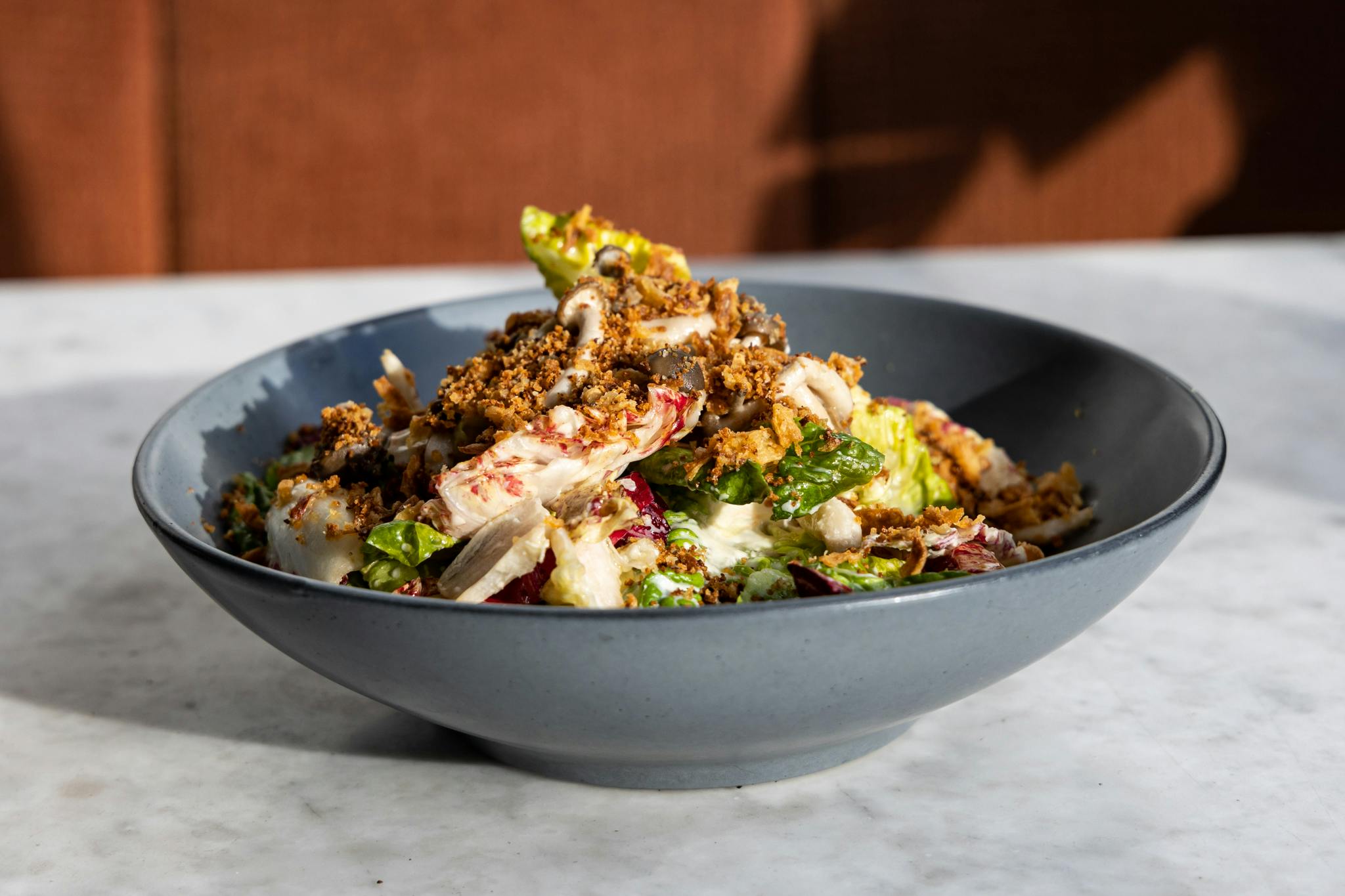 Though sandwiches make up the bulk of the items available, the starters are noteworthy on their own and can also be found on the Gia menu. The Baby Gem Salad, for instance, is an excellent way to kick off a meal. The salad comes tossed with honey mushrooms, crispy shallots, pangrattato (bread crumbs upcycled from fresh focaccia) and an almond vinaigrette; this salad is reminiscent of a classic Caesar but has loads of interesting textures and flavours. With a focus on using local suppliers, the leaves are sourced directly from Muddy Crops Ontario Farm, who have helped the team connect with a variety of local farmers to supply them with their seasonal produce.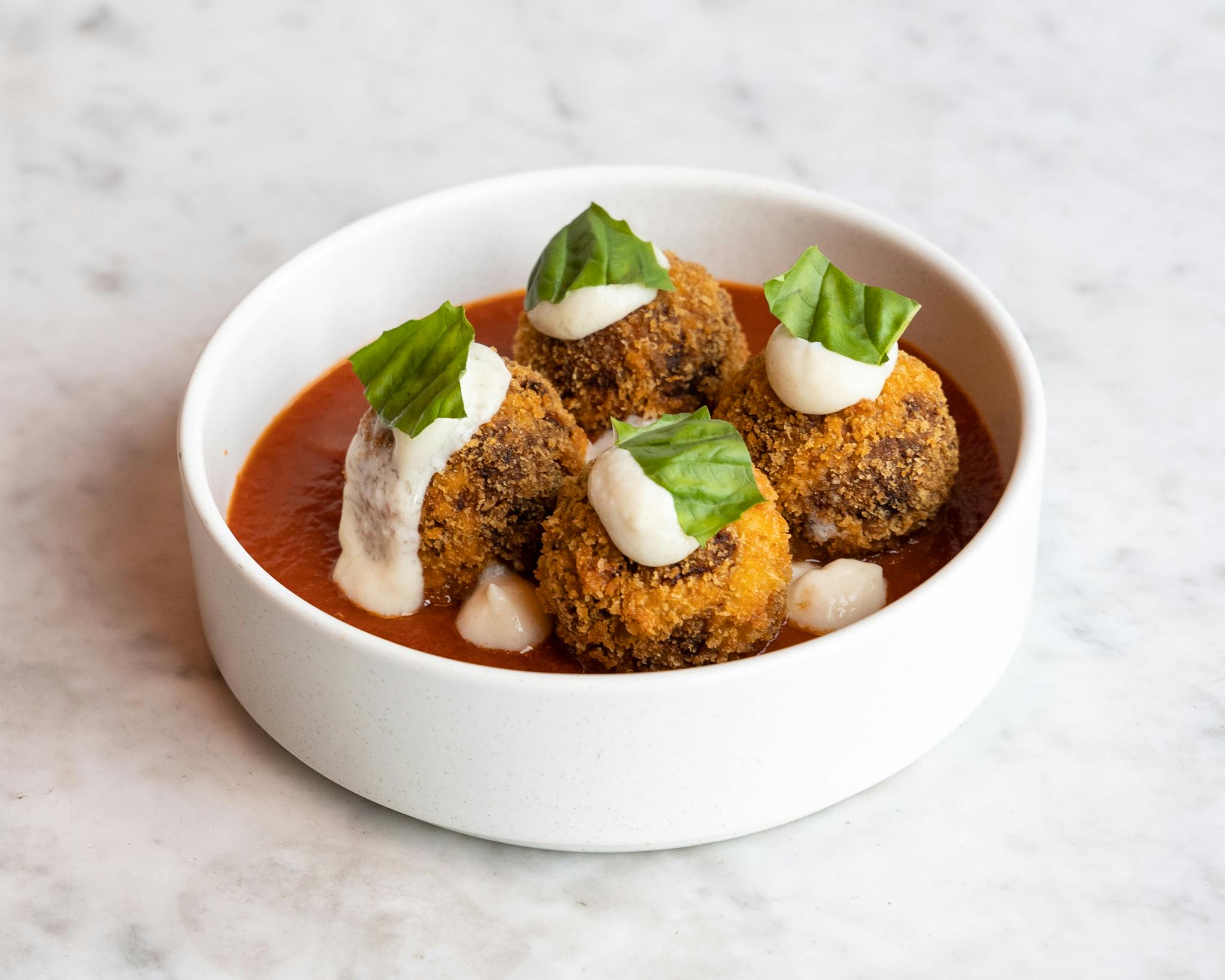 Ravenscroft also highly recommends trying the Meatballs. Also on the Gia menu, they are panko-crusted and are served with preserved chilis and vegan mozzarella on a bed of pomodoro sauce. One of the most popular menu items, these meatballs are prepped daily because of the quantity sold each day.
He says, "To me, these meatballs scream classic Italian. I watch people dig into them, and the face they always make is so awesome." Filled with rich, hearty flavour, the meatballs are unlike any other in the city and will have anyone gobsmacked when they discover they're meatless.
On to the pièce de résistance... the sandwiches. When it comes to the protein on these sandwiches, Ravenscroft has truly mastered the meat 'analogue,' a food industry term for a meat-like substance made from vegetarian ingredients.
He says, "This is no longer something we have to suffer through. It can be enjoyable to eat non-meat, and because the flavours are there, it's an alternative option if you want to get into it. You don't have to be a vegan or vegetarian to enjoy it; it could just be a way to reduce your meat consumption. When searching around the market, we noticed there wasn't really any kind of vegan sandwich shop, and I'm a sucker for a good sando, so we thought we'd capitalize on establishing ourselves as that kind of place."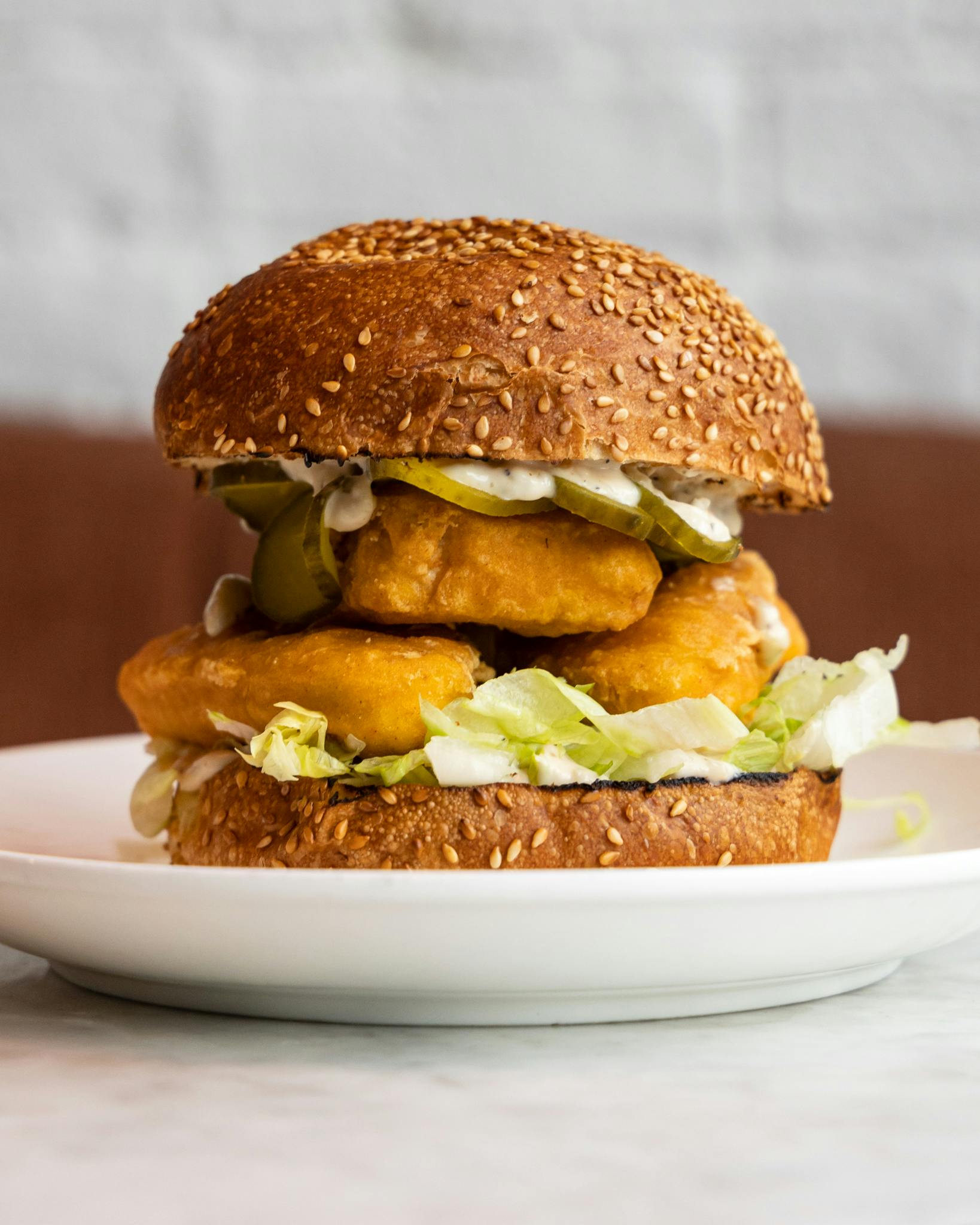 The Vegan Filet O' Fish is prepared with a Gardein golden filet with vegan tartar sauce, pickles and iceberg lettuce, on a Blackbird sesame bun. The filet tenders are so juicy and satisfying, and the sauce has the perfect amount of richness to complement.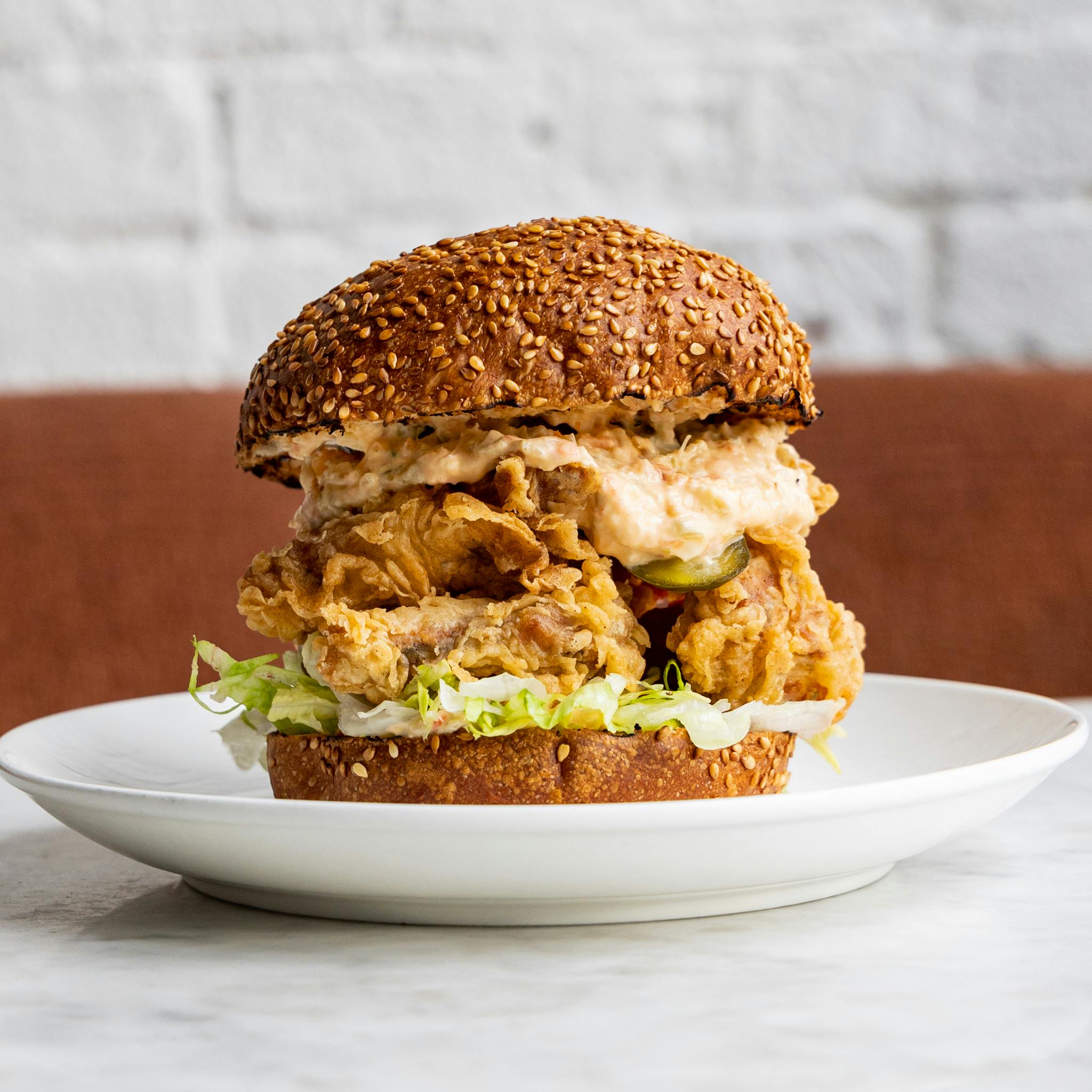 "Analogues and meat-alternatives are amazing, but I love eating vegetables, which is why I created the Maitake Sandwich," says Ravenscroft. The Shogun Maitake Mushroom Sandwich is made with Ontario-grown mushrooms and is treated the same as you would a piece of fried chicken; it's soaked in oat milk, buttermilk and is drenched in a flavourful flour. Topped with a spicy maple, garlic aioli, pickles and lettuce, this sandwich eats heartily and tastes fantastic.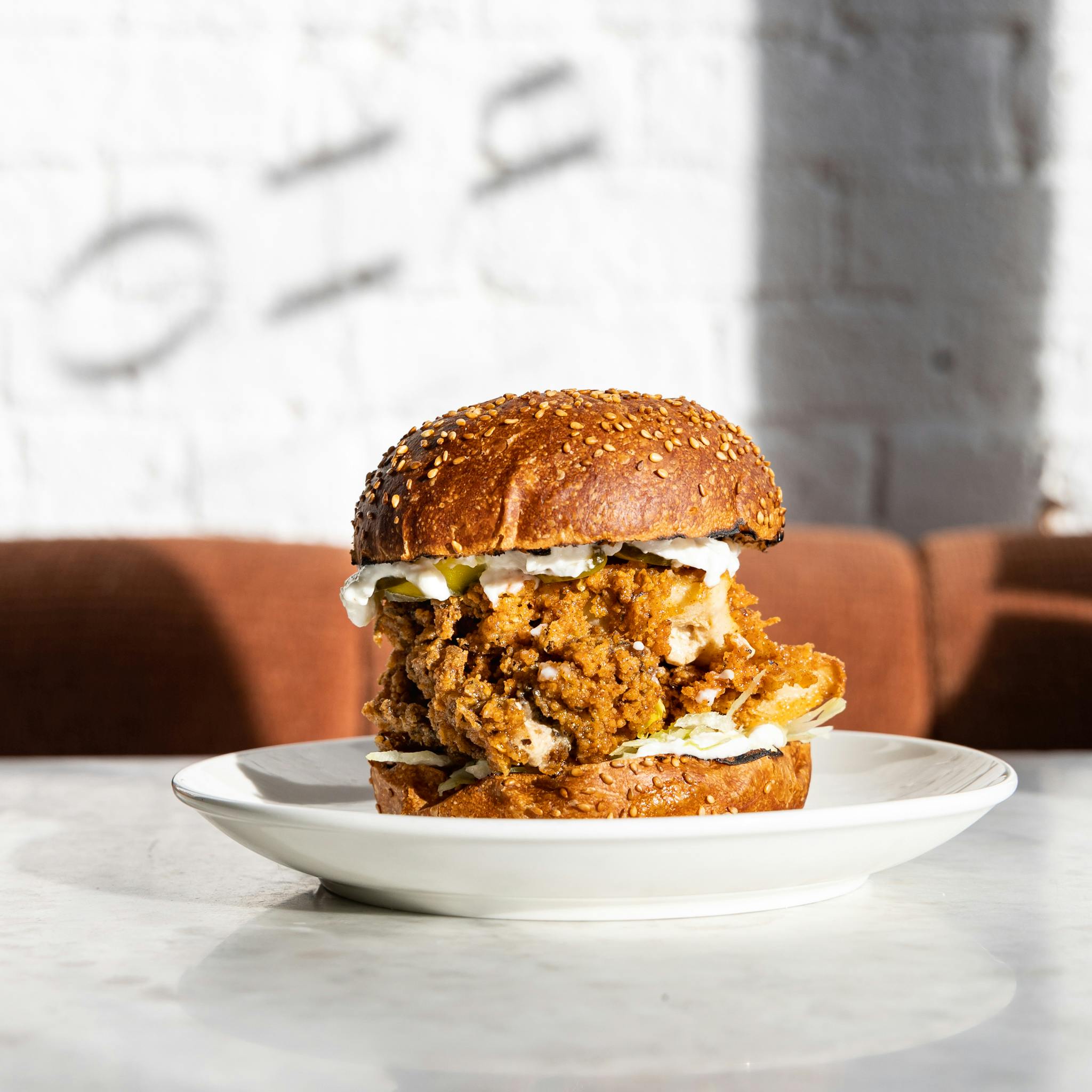 The Vegan Fried Chicken Sandwich is the most popular item on the menu and uses plant-based 'chicken' from Spain (from Foods for Tomorrow) breaded in their secret spice recipe courtesy of Ziya Tong. This sandwich is an absolute work of art with preserved chilies, a plant-based mayonnaise, crisp iceberg lettuce, and pickles––all on a Blackbird sesame bun.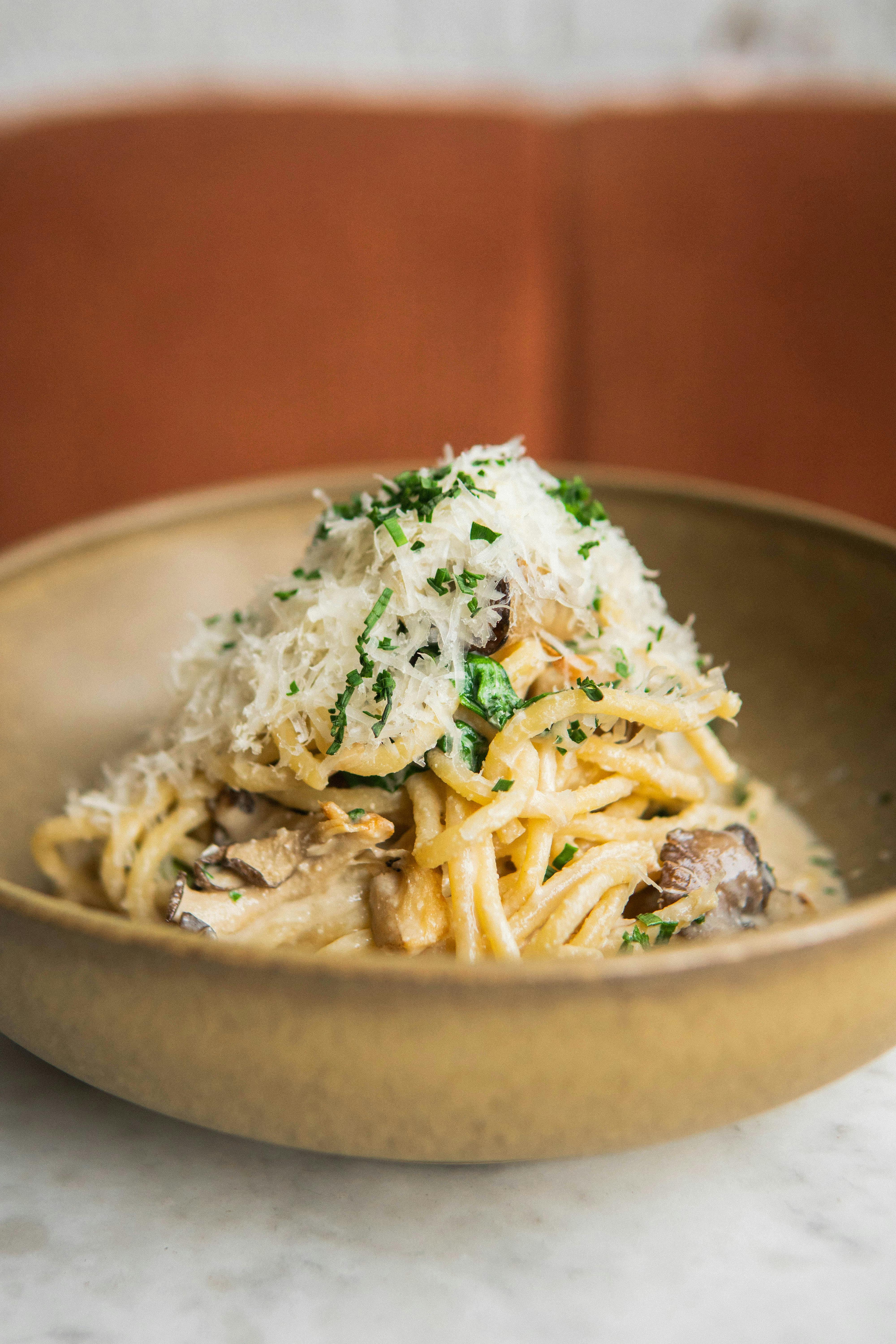 There are also a couple of pastas on the menu, but most notably, is the Spaghetti Funghi: a decadent and earthy dish with house-made spaghetti, truffle butter, cashew ricotta, Tuscan kale and mushrooms. Since Stefano's is focused on the lunch experience, the pasta portions are smaller than Gia's but will perfectly complement any meal and are excellent for sharing.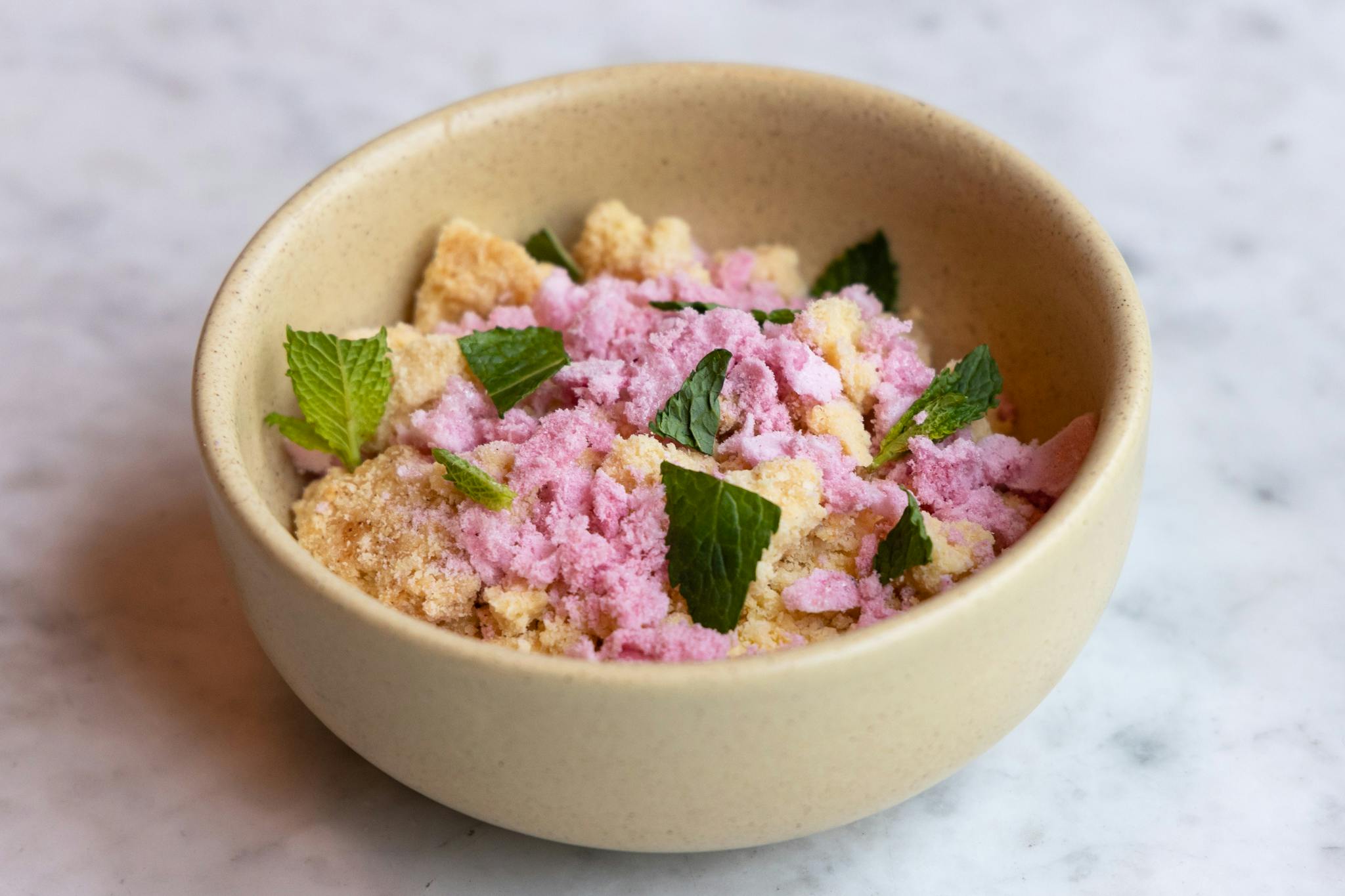 For dessert, indulge in their new Mascarpone Lemon Curd, a creation from one of Stefano's back of house team members who has trained in France and is a fantastic pastry chef. Though not completely vegan (but still vegetarian), this dish is made complete with lemon curd, cashew shortbread crumb, beet chickpea meringue and Saskatoon berry jam. The butter used to make the shortbread topping is a substitute provided by Afrim Pristine's Future of Cheese, a new Toronto-based company paving the way for sustainable and nutritious dairy alternatives.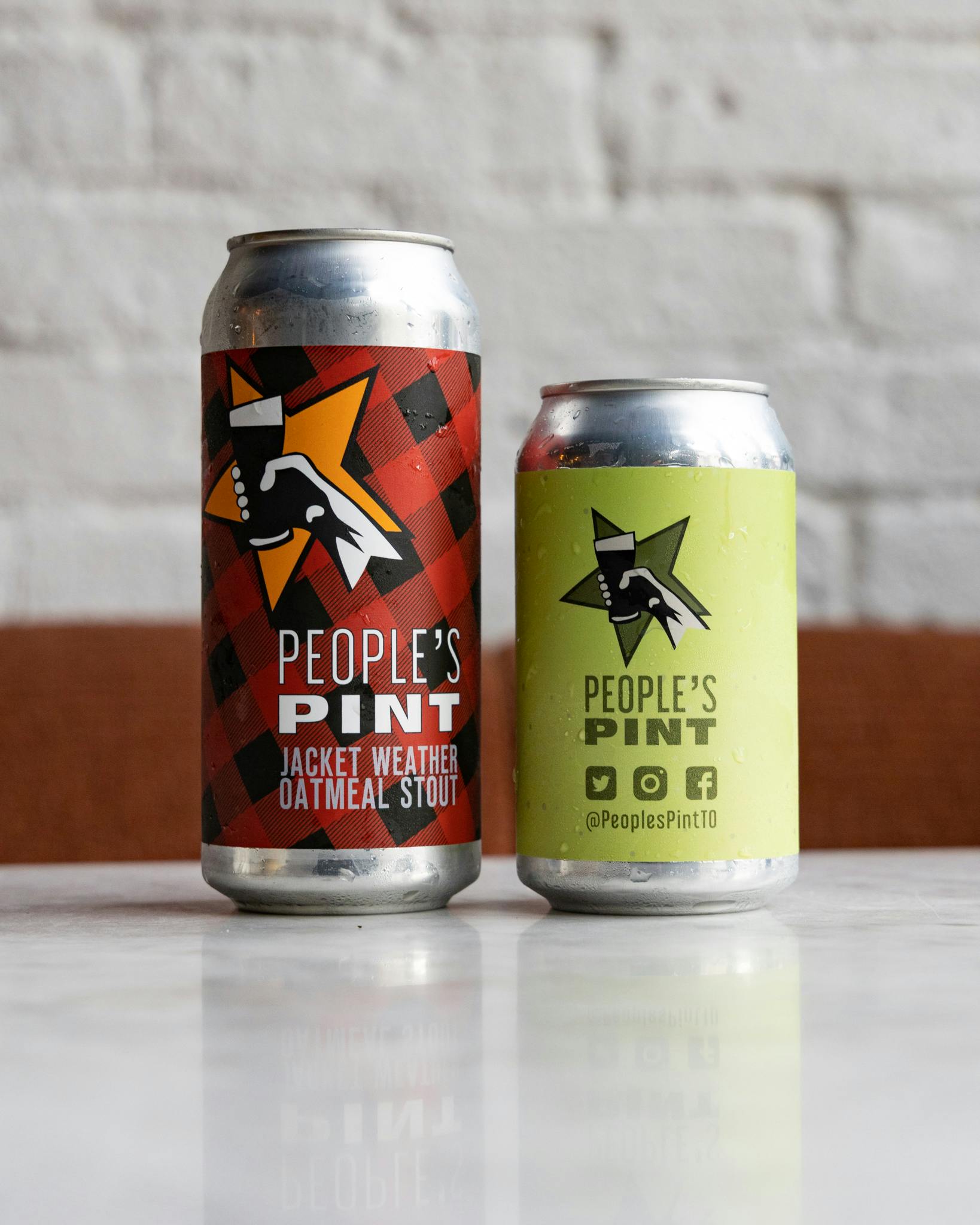 The beverage program is simple but hits all the necessary marks, with a couple of unique options in the mix. A few small-batch beers by The People's Pint Brewing Co. are available, along with Elora Brewing Company's Three Fields Triple Grain Lager. There's also a couple of Italian wines (one red and one white), with Aperol Spritz and a few non-alcoholic Italian sodas to round out the menu.
Owner Jenny Coburn is also a juice fanatic and has begun dabbling in cold-press juice and tea making, which she makes available for Stefano's Sunday lunch services. These juices are bursting with bright, fresh flavours and tend to sell out very quickly. If you're lucky, you'll be able to indulge in flavours like Apple Ginger and Raspberry Jasmine Green tea with raw honey.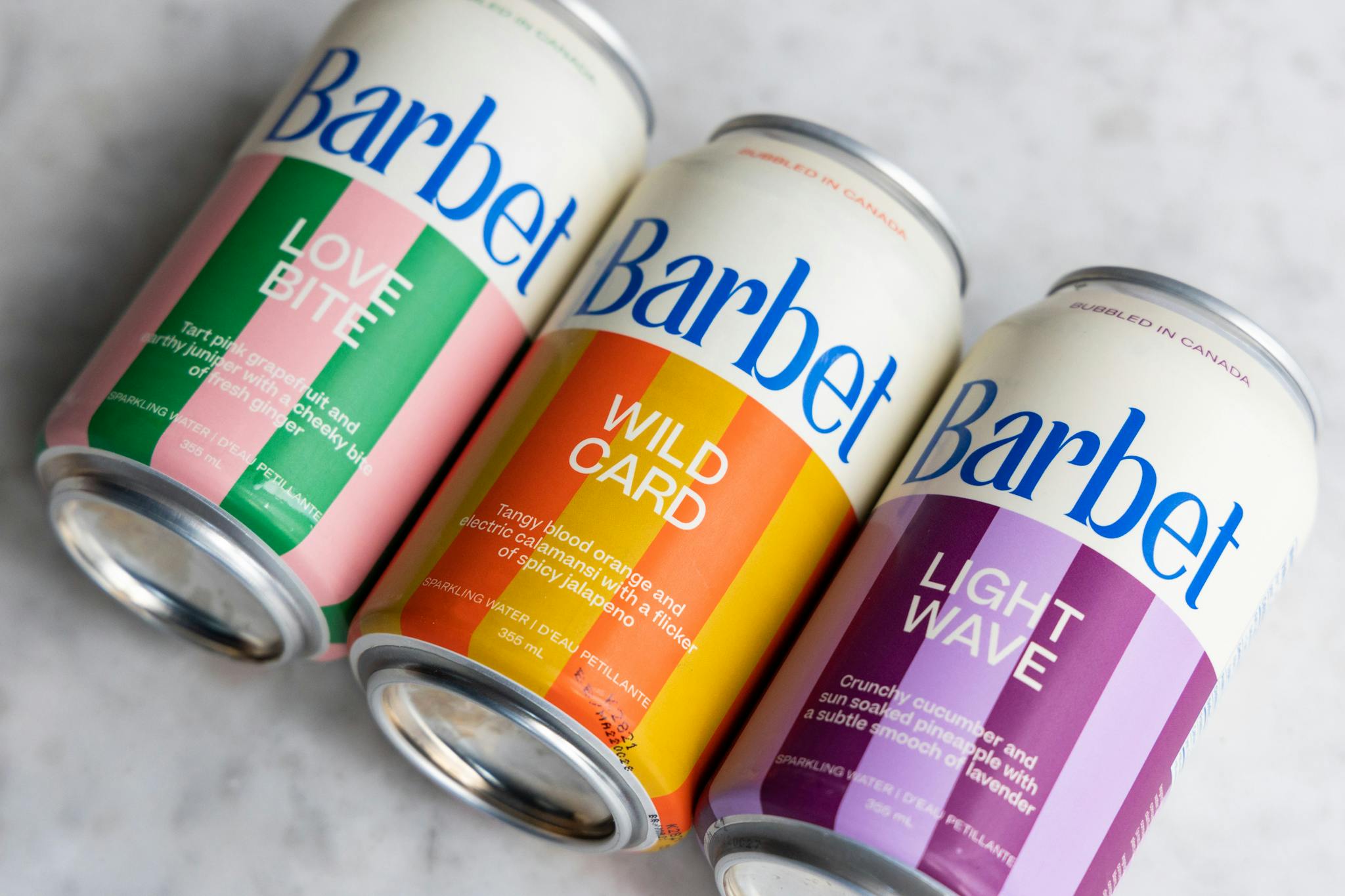 For another fresh n' fizzy (non-alcoholic) option, sip on a Barbet sparkling water. Made in Canada, these canned delights come in three unique options: Love Bite, Wild Card and Light Wave, all of which have a full-bodied blend of bright flavours.
Stefano's Sandwiches is located inside Gia, at 1214 Dundas St. West. Visit them for dine-in or takeout on Sundays from 12 p.m. to 7 p.m. to experience the full menu; however, the vegan chicken sandwich and other plant-forward lunch options will be available from 12 p.m. to 2 p.m. on Thursdays and Fridays. Be sure to follow them on Instagram to keep up to date with new sandwiches, juices and other seasonal menu items dropping soon.