Snagging up real estate on the Ossington Strip is a win for any new restaurant opening up in Toronto (and especially during a pandemic). Still, newcomer Crosley's is already proving to be about much more than just their prime location.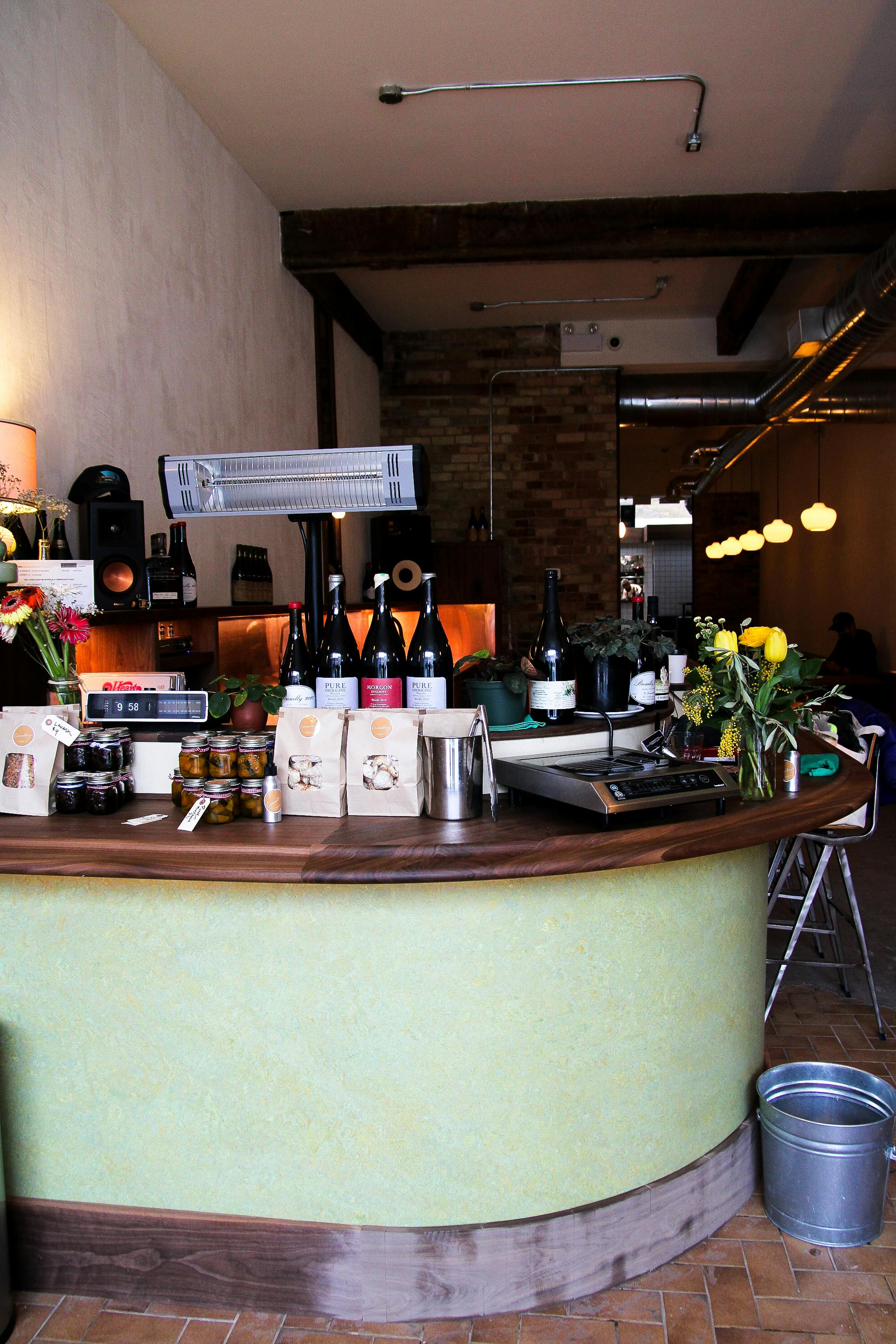 Crosley's entrance and bar.
Opened up by friends and fellow food enthusiasts Myles Harrison and Joe Hayward, along with JP and Laura Adamo of Bar Piquette, the spot is housed in what was once an old house on Ossington just south of Dundas, nestled within a sea of delicious and well-loved restaurants in the area. The food and the service at Crosley's is based on the simple idea that Harrison and Hayward have believed in from the beginning: this space is their home, and they want to treat it as such by welcoming guests in with kindness and warmth and are ultimately looking to cultivate human connections between one another. Of course, with the current restrictions on indoor dining, the team will not be able to invite people indoors for a meal just yet, but this philosophy is still the driving force behind many aspects of the menu and the space.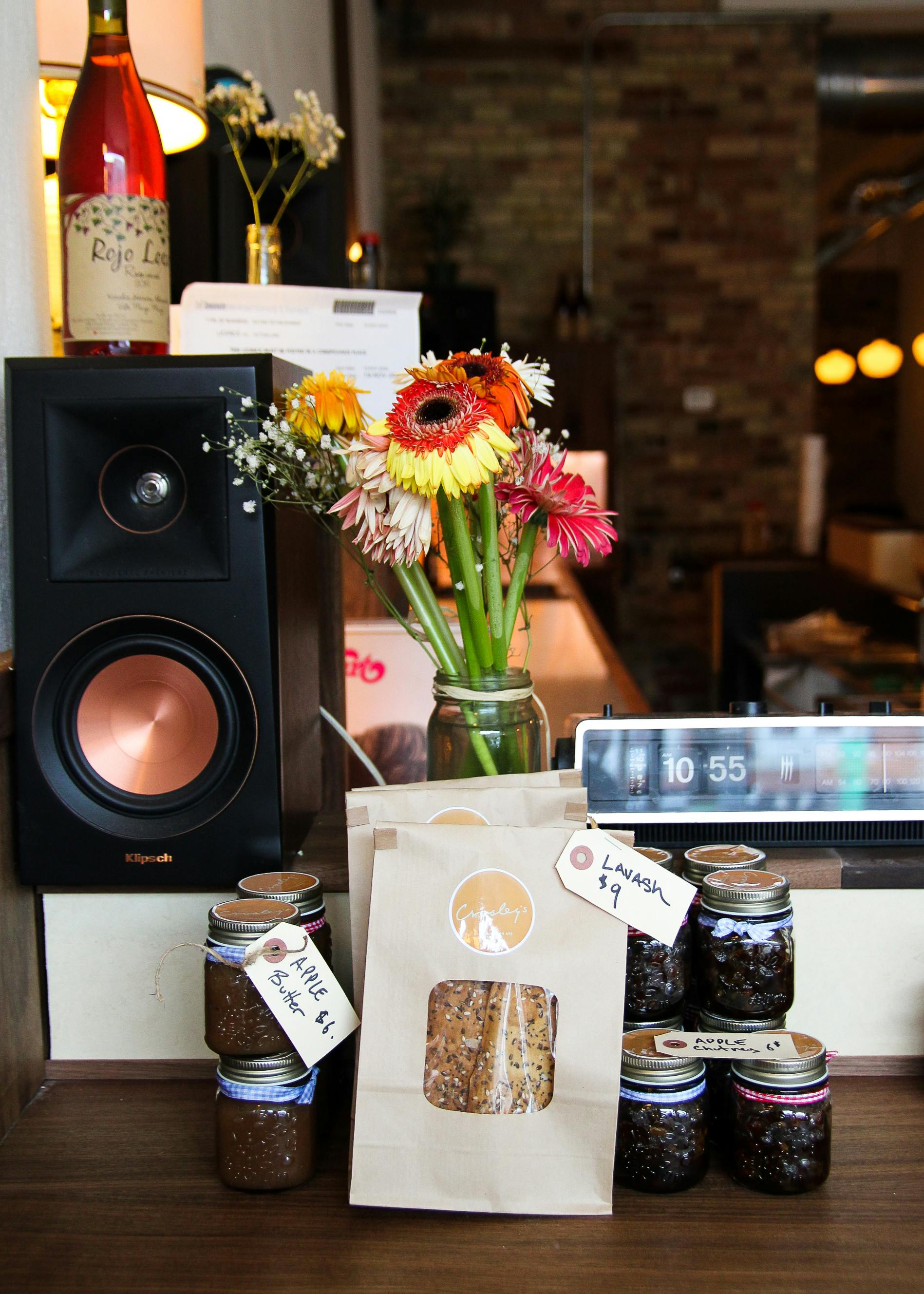 A selection of goodies from their takeaway store.
The Space:
Upon entering the restaurant, there are immediately aspects of Crosley's that make it stand out from the rest, even upon first glance. The original tile flooring of the building remains in the main dining room. It offers a classically sophisticated charm. At the back of the restaurant is a trap door leading downstairs, which will eventually be used as a holding area during service to serve a purpose while maintaining its functionality. A bright stream of light glares through the back area thanks to a skylight that was built to cover what was previously a gap between the front building and the separate carriage house at the back. Clearly, the team at Crosley's knows how to take what they have and work with it, creatively utilizing elements of the beautiful space for not only aesthetics and allure but functionality, too.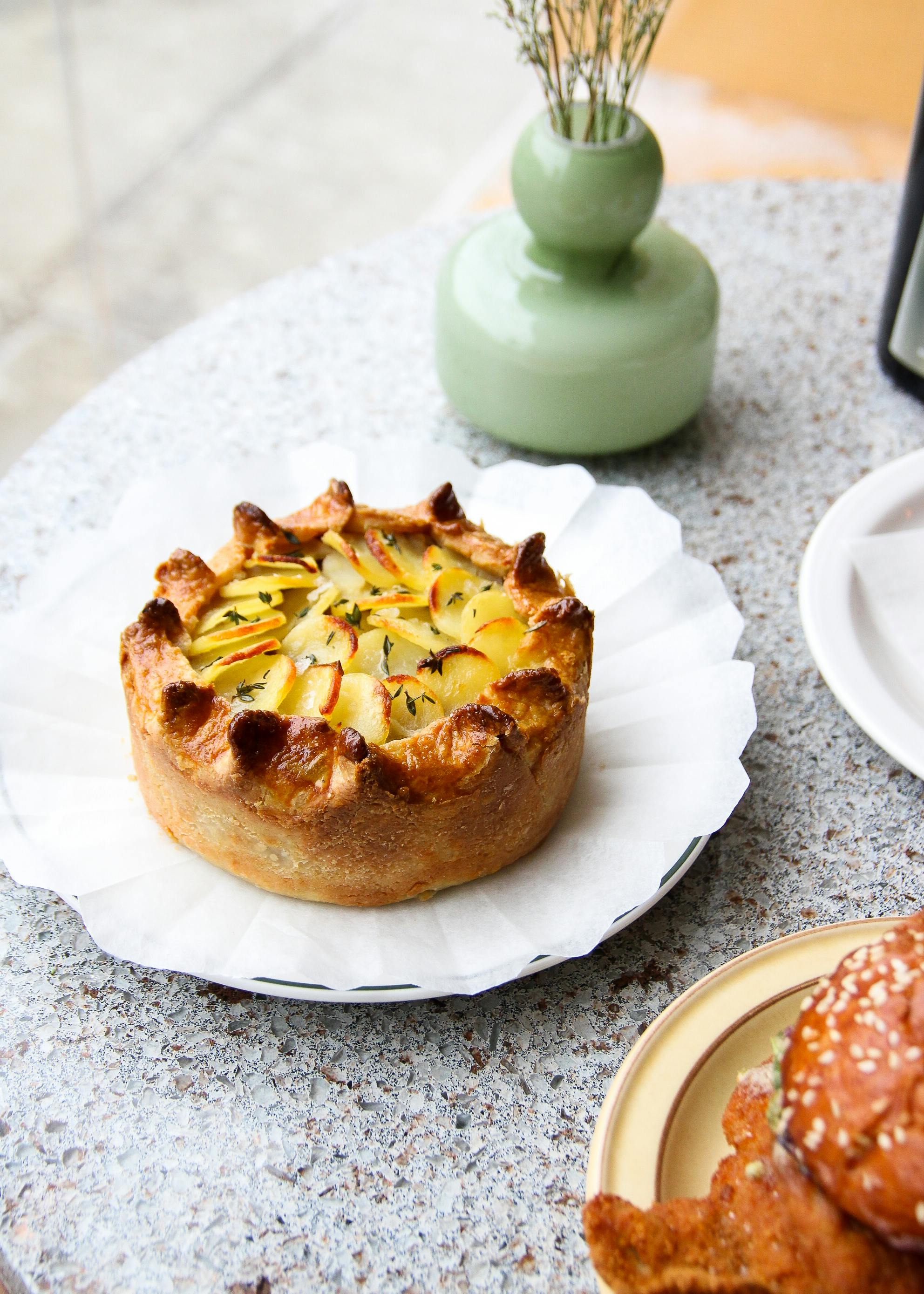 Potato and lamb merguez pie with thyme.
The Food:
Crosley's opened up a few weeks ago and was instantly doing things differently from the typical Toronto restaurant, due in part to the pandemic but more importantly, to running their space in a way that feels authentic and true to them. The food is not available on any delivery apps, nor do they have an online ordering system. Guests may simply view the weekly menus via their Instagram and website and place their orders by texting or calling Myles directly (yes, you read that right) or by DM'ing them.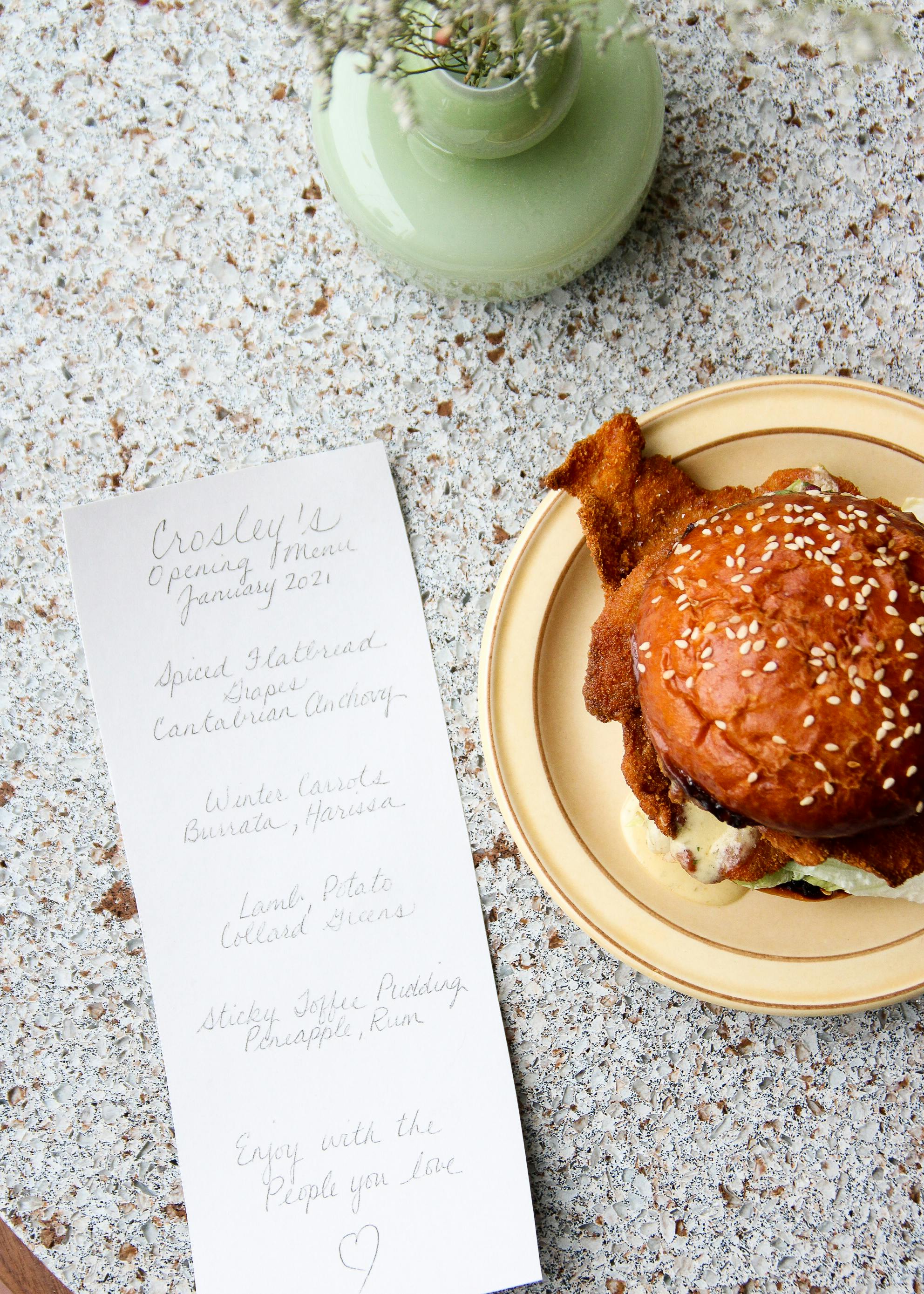 Crispy veal sandwich and a copy of the weekly menu, handwritten by Myles' mother.
Opening up when they did, Harrison and Hayward were given the opportunity to run things in a simpler way by keeping their priority list tight and using the resources that they have to carry out their longtime dream. Although the lack of a bustling and dimly-lit indoor dining space may not be quite what they initially envisioned upon opening, they are embracing it all and still celebrating the newness and excitement with open arms and a positive attitude.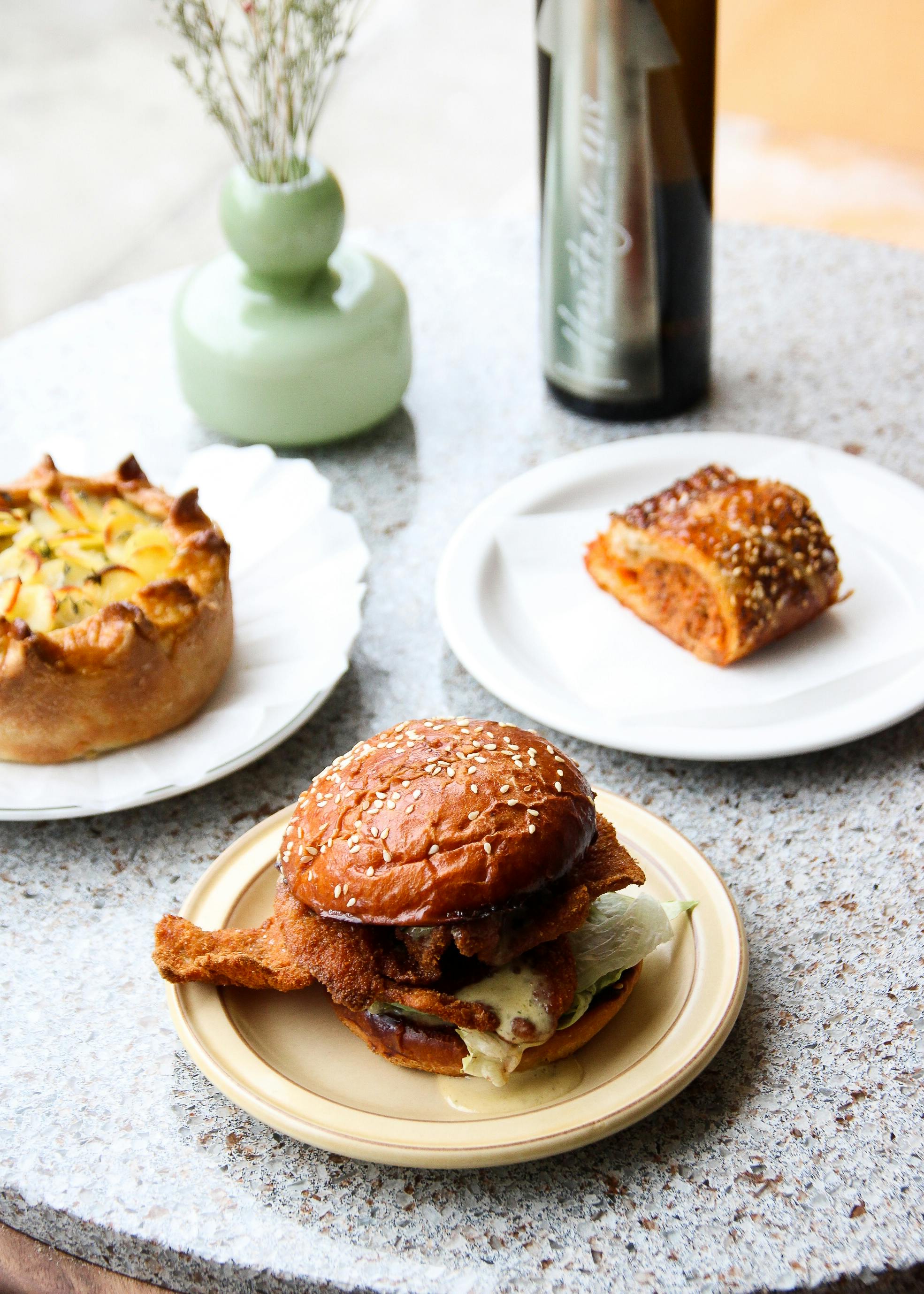 Potato lamb merguez pie, sausage roll and crispy veal sandwich.
Crosley's At-Home Dinner menus, which are set to change roughly every two weeks, are available for pickup only from the restaurant every Friday to Sunday night. Menus are posted via Instagram and their website on Mondays for pickup the following weekend and always showcase carefully sourced meats, fish, produce and other seasonal offerings. The current menu features fried green tomatoes, chickpeas with wild mustard, an Italian "timpano" dish with leeks and wild mushrooms and a mascarpone galette. Previous menus follow a similar style of inventive and seasonal veggie and meat selections with heavy European influence at $55 per head. They are also running limited holiday specials (with varying price points) like an upcoming Valentine's Day menu, perfect for celebrating at home.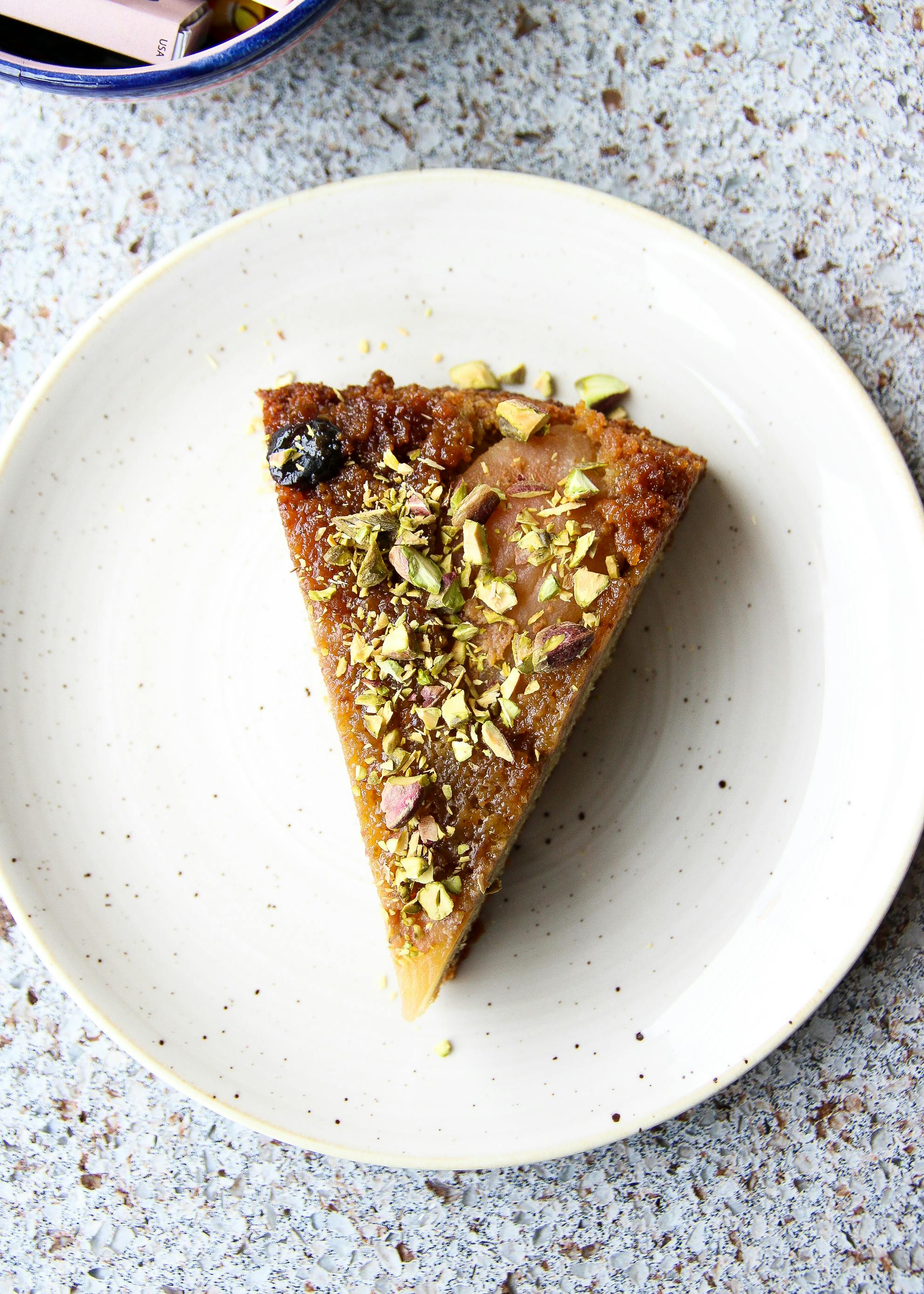 Pear and pistachio cake.
In addition to the weekend dinners, they currently offer a daytime menu of elevated snack and lunch items that focus on local ingredients and incorporate thoughtful, flavourful homemade elements. The sausage roll features spicy ground pork delicately tucked inside handcrafted pastry (by Joe, who happens to be a talented pastry chef) and finished with a sprinkling of sesame seeds, while the crispy veal sandwich sits atop a house-made brioche bun with an emulsified tuna sauce, a tarragon-flecked salsa verde and iceberg lettuce for crunch.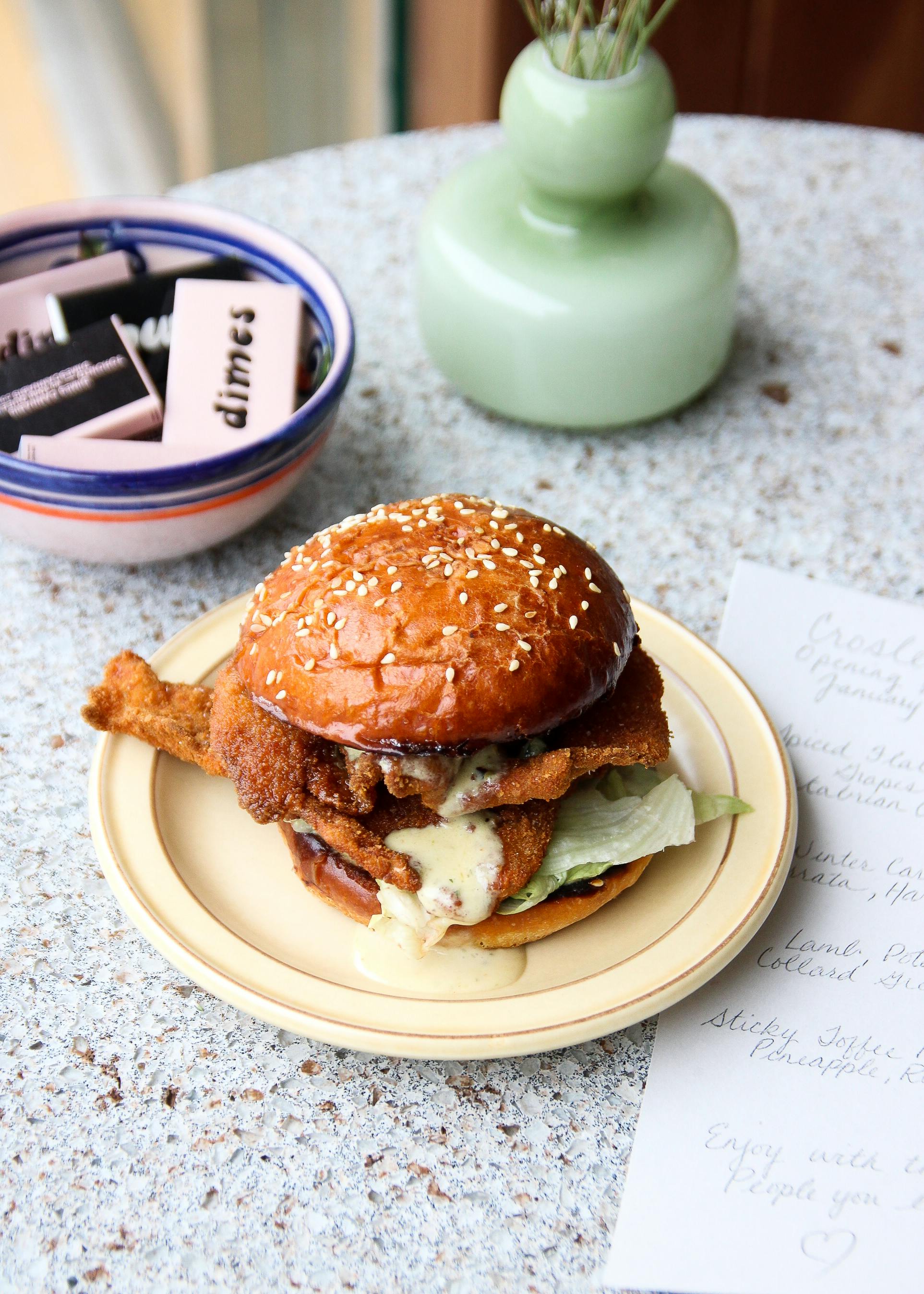 Vitello Tonatto Sandwich with crispy veal, tarragon salsa verde and iceberg lettuce on a brioche bun.
A fridge at the front of the restaurant houses delightful takeaway items like house-made carrot hummus, a taramasalata dip made from smoked and whipped Ontario arctic char and various cheeses, plus they sell bread from Prairie Boy and a few homemade pantry items. Of course, a bottle of wine is the ideal accompaniment to the rich food at Crosley's, and their bottle shop is open daily for wine and beer to take home. Myles, who recognizes the importance of human interaction during these strange times, is happy to chat with customers during their At-Home Dinner pickups and even recommend a great bottle of wine to those who are interested in something to wash down their meal.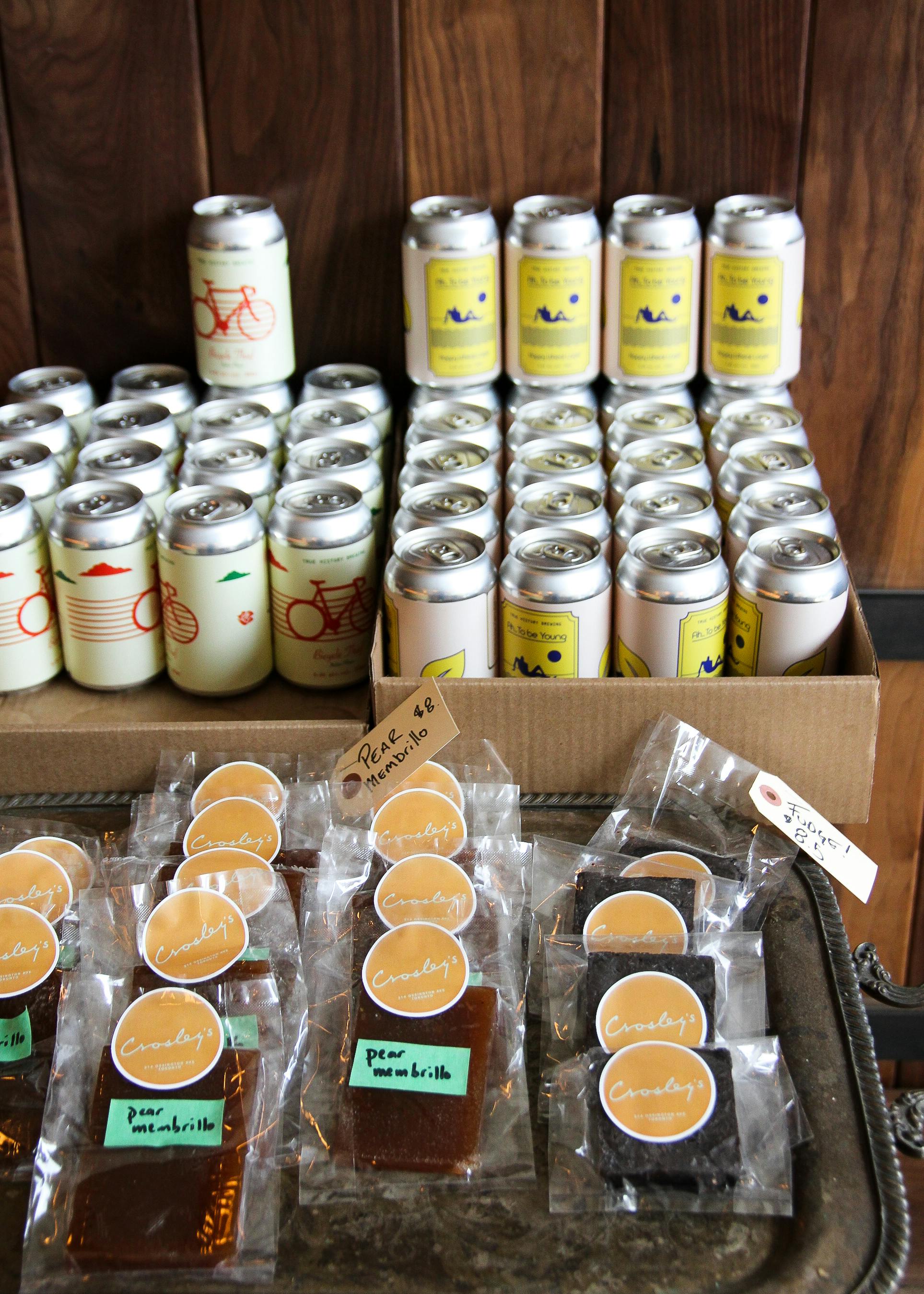 Beer and membrillo selection.
Crosley's takeaway and bottle shop is open Wednesday to Sunday from noon until 5 p.m., and their At-Home Dinners can be picked up on Friday to Sunday evenings from 5 until 8:30 p.m., with payment collected only during the time of pickup. Make sure to stop by to check out their gorgeous space and grab a few take-home items, then snag an elegant dinner meal by following along with their Instagram page and rotating menus!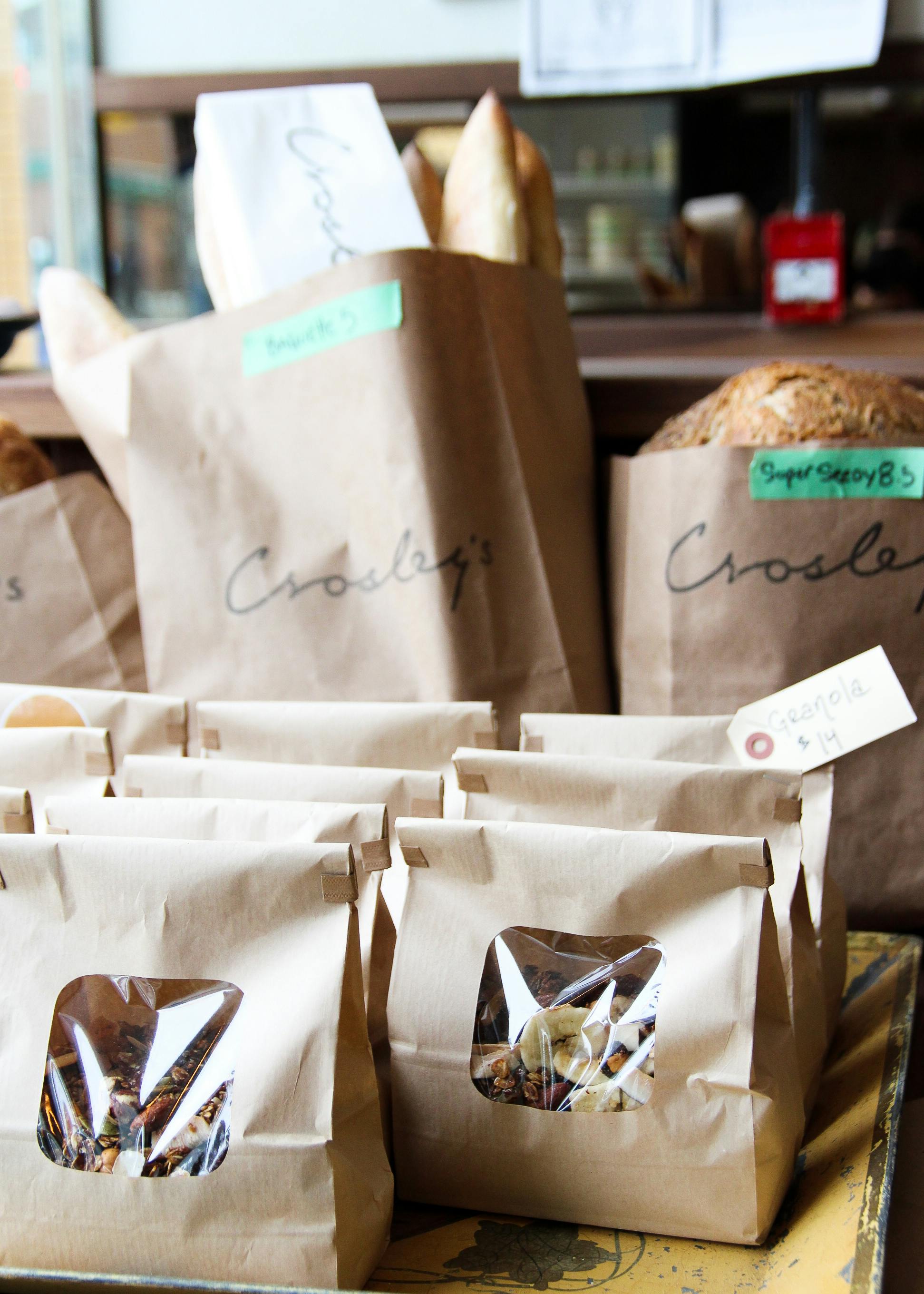 Prairie Boy bread and Crosley's house-made granola.