Amid Toronto's headily multicultural food scene, Armenian restaurants are pretty scarce. So the opening of Taline, on the corner of Yonge and Woodlawn, just north of Summerhill, is somewhat of a watershed moment.
Unlike most other Armenian eateries in the city, Taline does not traffic in beloved standbys such as shawarma and kebabs.
Together with his younger brothers, Saro and Serouj, Seb opened Taline in April, with a mission to radically subvert Torontonians' impressions not just of Armenian food, but of Armenia itself. To this end, the siblings view Taline as more than just a mere restaurant. Rather it's a means of showcasing their culture. 
"The big association everyone has with Armenia is the genocide. But we're not sad people. We're happy people. Loud people," he adds, in a booming baritone. "We love to enjoy and indulge ourselves. We have a great culture, great spirit, great food, great music. So our thought was, let's bring it all to life and show it to the world."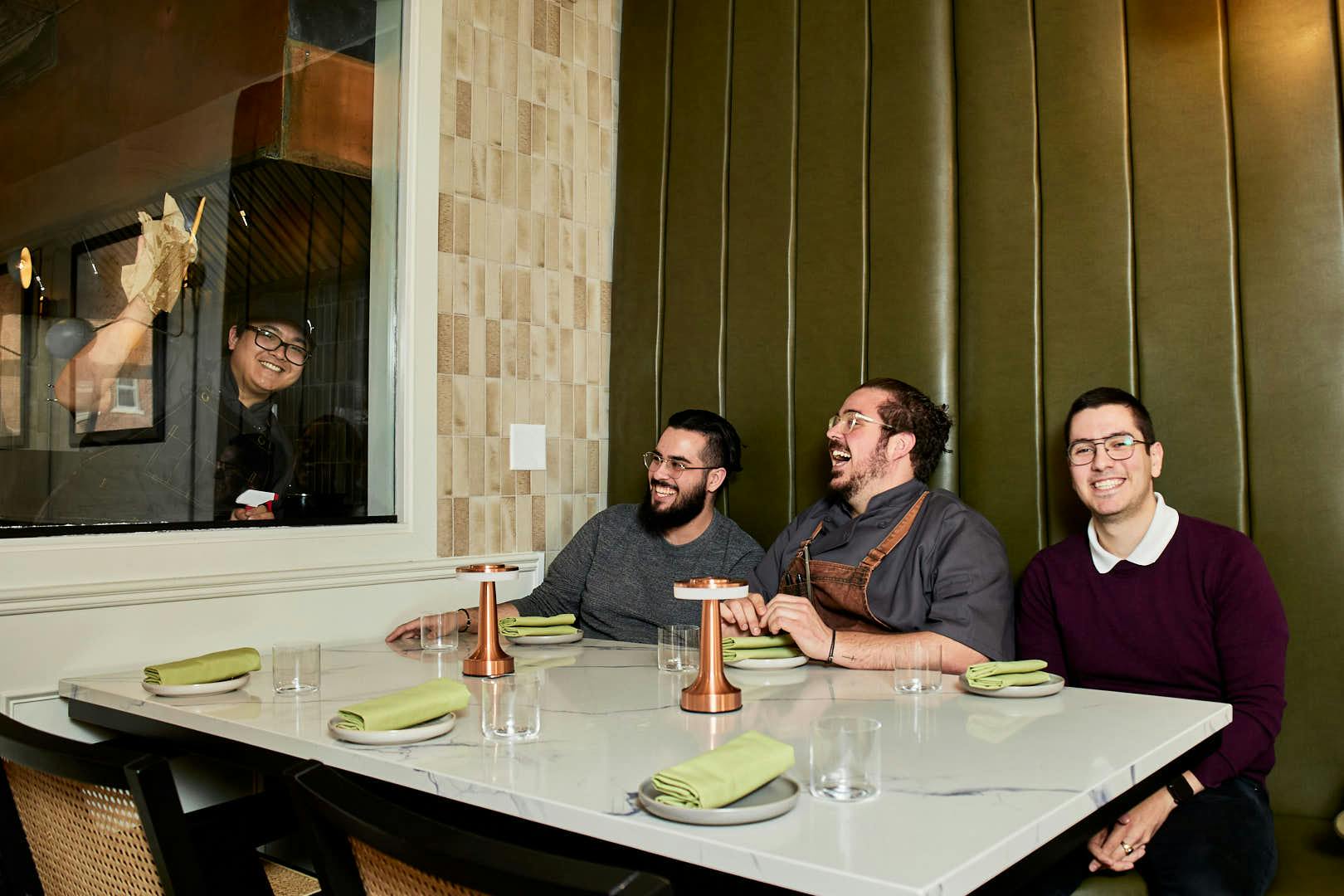 At Taline, everything great about Armenia comes together in the emblematic and maternal figure of Taline herself. The mother of Seb, Saro and Serouj, she passed away when her sons were only 16, 12 and 11 (respectively), but not before instilling in them a deep and indissociable love for her, for Armenia and for its aromatic, spice-laden dishes, whose recipes she brought with her when she migrated to Canada in the late 1980s. 
In Pickering, where the Yacoubian brothers were born and raised, Taline treated every kid that came into her house like her own, plying them with affection and non-stop portions of home-made delicacies. In her namesake restaurant, her sons have attempted to replicate the experience. "You're in Taline's home," declares Seb. "How my friends saw her, that's how we treat you here."
Indeed, throughout the restaurant, Taline's presence is everywhere. 
It's in the narrow staircase linking the ground and first-floor dining rooms, whose wall is plastered with a collage of enlarged snapshots torn from the pages of Taline's life. 
It's in her favourite colours – rose and olive green, copper and tawny brown – that permeate the brick walls and wood pannelling, the leather banquettes and table lamps, providing warm, soothing accents to the otherwise clean minimalist space. 
It's in the customized art works, created by Karagusi, a husband-and-wife team of Toronto-based artists, whose black-and-white computer-based drawings pay subtle homage to the Yacoubian matriarch. There are seven such works, including a cleverly intricate puzzle of interlocking T's (as in Taline) and S's (as in Seb, Saro and Serouj) that Seb confesses "literally made me tear up right on the day before we opened." 
Most surprisingly, it's in the real and thriving olive tree that anchors the second-floor dining room, its leaves reaching up towards a luminous skylight. "My mom loved plants," notes Seb, adding that if, and when, the tree bears actual olives, they'll be featured on the menu.
Of course, it's on the menu itself that Taline's presence is most prominently seen, heard – and savoured. 
Like many members of the Armenian diaspora, Taline was raised in neighbouring Lebanon, in the region of Anjar, which – along with Bourj Hammoud and Armenia itself – comprise the menu's strongest culinary influences in terms of herbs, spices and flavours. 
As head chef, Seb's goal was to make "the best food Mom would make". However, doing so, was no easy feat. When he began pouring through Taline's recipe books, he was dismayed by the daunting absence of cups, teaspoons, ounces and grams. 
"There's an Armenian expression 'to the eye'," says Seb, referring to the "whatever looks right" ethos of most self-schooled cooks. "But Mom, your eye and my eye are two different eyes," he recalls lamenting. "My hands are bigger than yours!"
In the end, Seb found himself deep-diving into the history of Armenian cuisine, which allowed him to break recipes down and reconstruct them from scratch. "There was a lot of R&D – and a lot of disasters – until I finally got to a point where I could taste her cooking."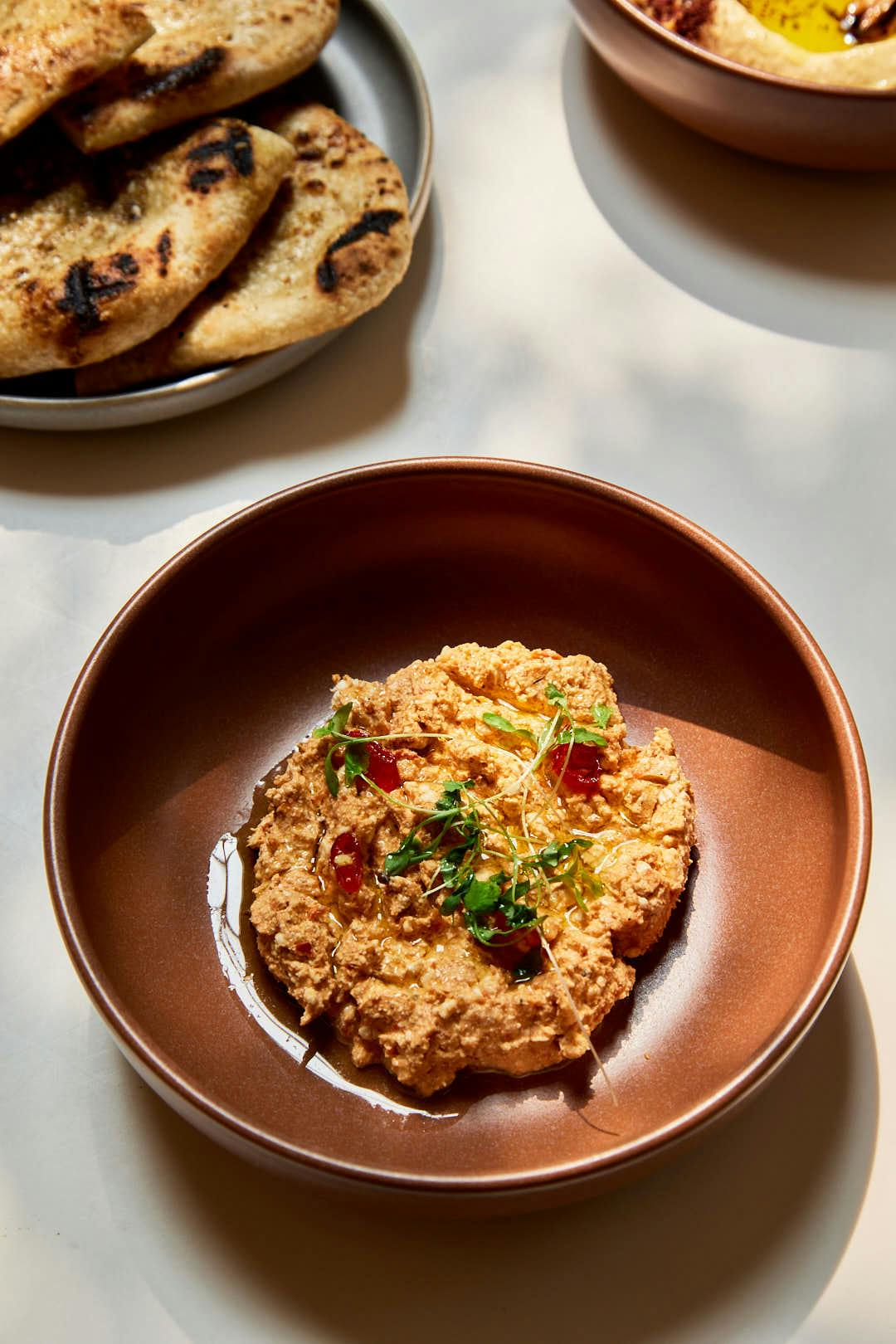 The biggest test was banru. A specialty of Anjar, its base consists of a holy, creamy trinity of feta, halloumi and shanklish, a preserved, fermented yogurt-based cheese that – like the restaurant's labneh and yogurt – is made in-house. To this tangy cheesy goodness, a red, but not too hot, melange of roasted red peppers, candied Thai chilis and smoked paprika add piquancy, sweetness and smokiness.
The vibrant dish is finished with micro cilantro. The brothers grow it themselves, in partnership with Krop, a micro-farm in Vaughan, where they cultivate other essential, can't-get-them-outside-of-Armenia herbs and spices, including purple basil, wild thyme, purslane and cantaloupe leaves (the latter cultivated with the express purpose of adding a delicately sweet garnish to ishkhanatsoug, a dish made with grilled Lake Huron trout).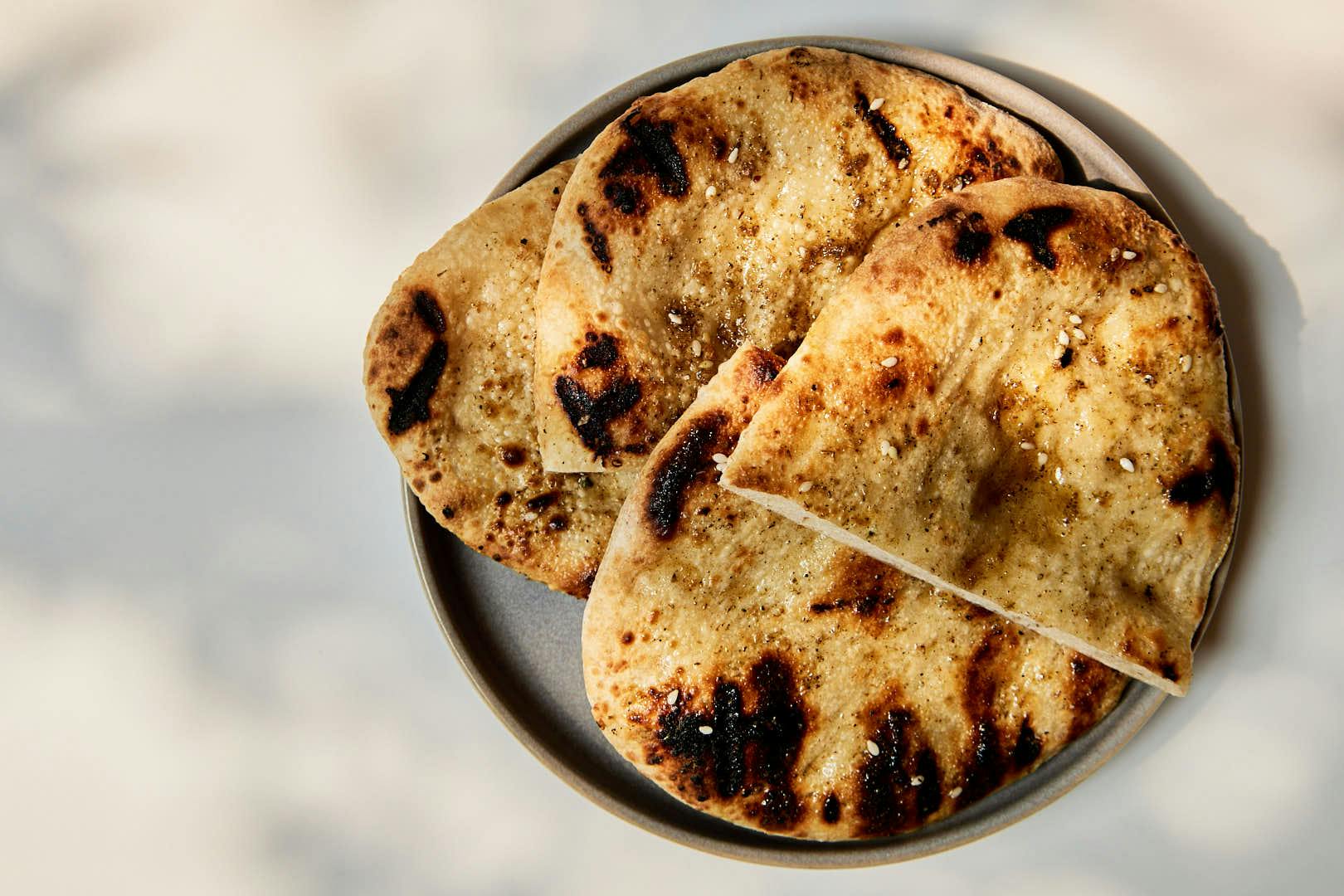 One of numerous mezzas on the menu, banru's ideal accompaniment is matnakash. This ancient Armenian bread is made with a sourdough-like starter that ferments for 48 hours before being finger-stretched and baked to a spongy elasticity. Before heading into the oven, fingers are used to indent a cross that blesses the bread (and the meal).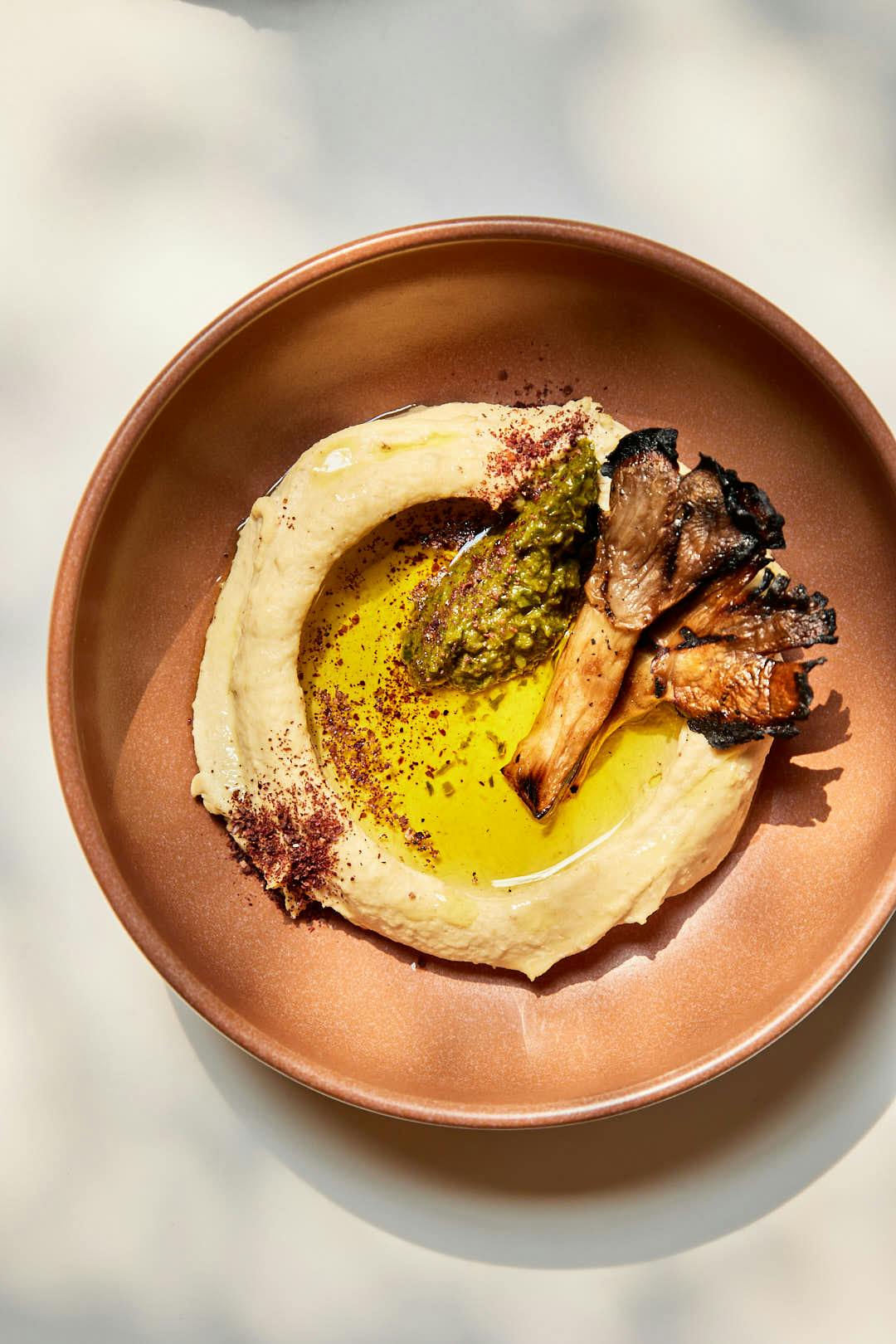 Viewed its current ubiquity, it's hard to get excited about yet another iteration of hummus. However, Taline's version has a rich silkiness and an intense chickpea-ness that will re-animate the most weary palates. Seb gives credit to the painstaking one-by-one removal of each and every chickpea husk after cooking. But there's also the unexpected addition of green harissa (its arresting colour and kick the result of roasted jalapeno and serrano peppers) along with cilantro, cumin, parsley and lemon zest. A surprise garnish of mushrooms pack umami punch. Finishing touches include a sprinkling of sumac and a deep pool of olive oil poured into a hollowed-out crater in the centre.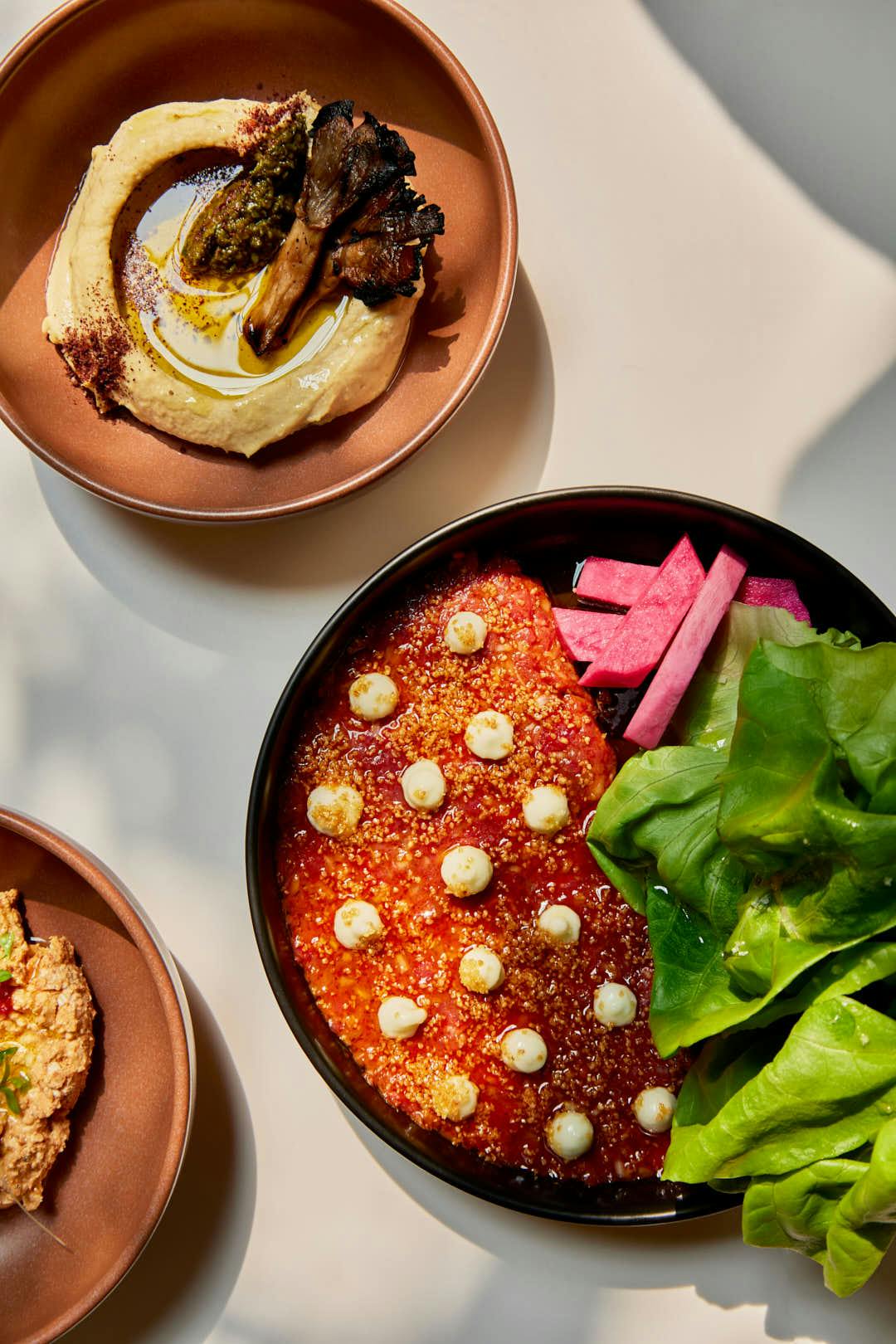 Kibbe nayeh, the Armenian-Lebanese version of beef tartare, is another classic executed with uncommon flair. Instead of traditional flank, Seb uses minced-in-house filet of flank, which he seasons with diced shallots and his mother's signature pepper paste. The normally smooth tartare acquires unexpected texture courtesy of puffed bulgar that is dehydrated, then deep-fried, so that it resembles crunchy popcorn. Dotted with creamy pearls of toum (a sauce of pureed garlic), the dish receives a refreshing garnish of tart pickled turnips and green Boston lettuce.
"Growing up, kibbe nayeh was my favourite dish ever, so I had to make it," confesses Seb. "The biggest compliment ever is when an older Armenian or Lebanese gentleman stands up, shakes my hand and says, 'This is better than my mom's.' I'm like 'Yes! But don't tell her that.'."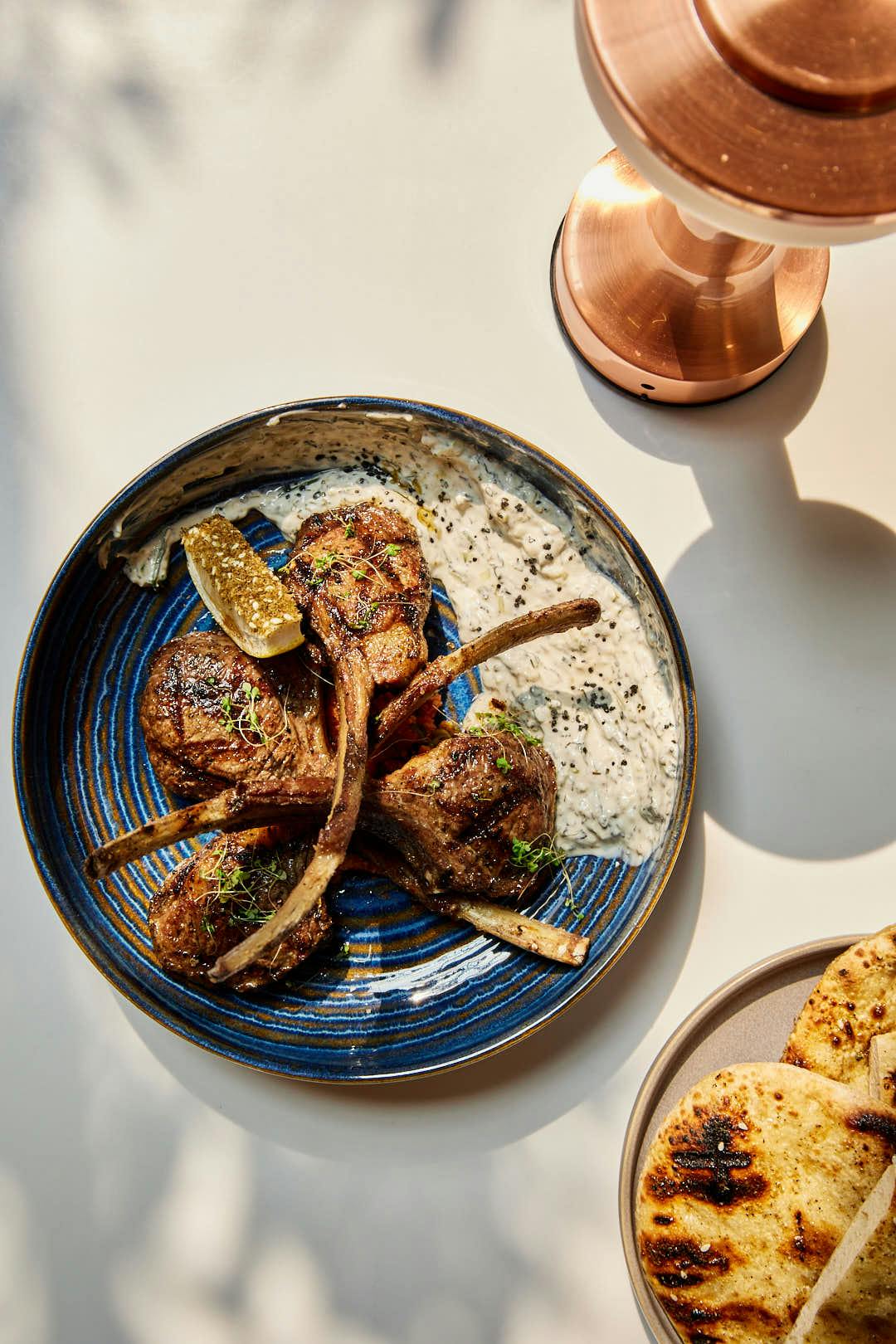 Armenia's meat par excellence is lamb and, at Taline, the kitchen goes all out to transform it into a worthy showpiece that subtly riffs on, but is a far cry from, kebabs. One of five mains, vochkhar features Ontario-raised lamb that is butchered in-house, cut into chops and seasoned with ras al hanout. Cooked rare, to ensure shout-out-loud succulence, the chops are sprinkled with tiny, but potent sprigs of wild thyme. Sides include jajekh, an Armenian version of tzatziki with fresh mint, and eetch, an Armenian bulgar salad, traditionally eaten at Lent, to which Seb audaciously adds lamb fat (a heresy according to his dad, although after tasting it, he backtracked: "Okay, this makes sense.").
Taline's balancing act between the tried and traditional and the unexpected appears to please both hard-core connoisseurs and complete newbies. For non-Armenians, many of whom have never before sampled Armenian food, the biggest surprise is often the complexity of the flavours. But the diaspora also loves it, claims Seb, while acknowledging that Taline's artfully deconstructed and handsomely plated dishes differ from the home cooking with which most Armenians are familiar. 
"It doesn't look like what we grew up with," he admits. "But once you put it in your mouth, the flavours are the same. First reaction is 'Where are the kebabs?' But if you bite into the lamb chop, it tastes like a kebab."
Seb isn't above using classic French cooking techniques and molecular gastronomy to mix things up a bit. Such is the case with Taline's sole dessert (to date): the ashta tart. Inspired by a traditional breakfast treat of boiled milk, whose fatty solids are strained, drizzled with honey and spread on toast, the tart's filling also incorporates halva and crushed pistachios. Layered into a pastry shell, it's topped with pistachio crumble, burnt honey tahini sauce and, with what looks like icing sugar, but is actually dehydrated olive oil dust.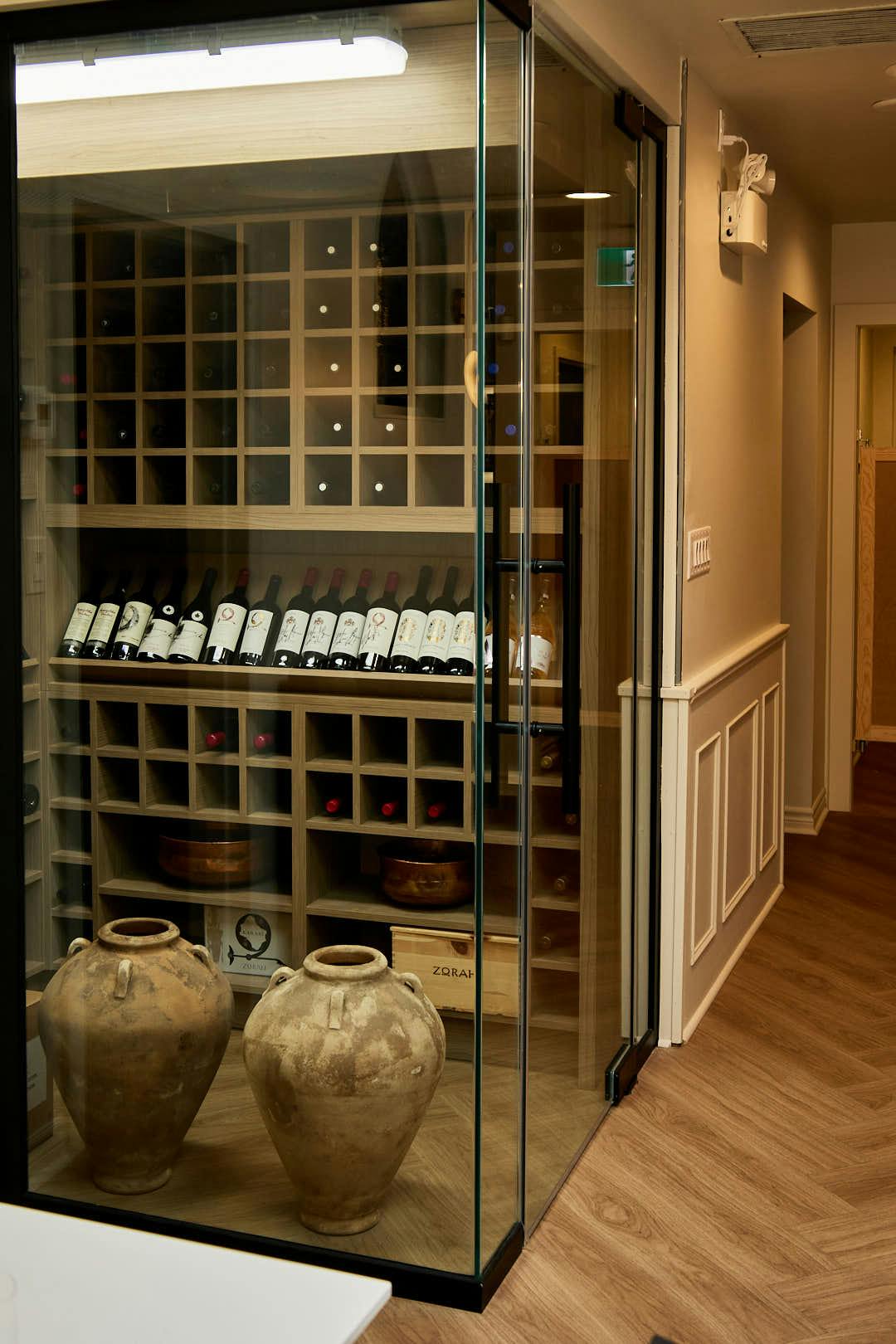 Also straddling the frontier between classical and creative are Taline's drinks, overseen by youngest brother Serouj. The restaurant has a small, but impressive wine cellar – and two sommeliers – with unusual, and even extremely rare, bottles from Lebanon and Armenia, whose grape varietals might be familiar, but whose notes are subtly unique. 
For the cocktail menu, Serouj enlisted the help ofTao Zrafi, the Tunisian-born, Montreal mixologist who was a finalist on the recent Netflix series,Drink Masters. As friends, Seb and Tao go way back. Zrafi's intimacy with the Yacoubian family, coupled with his deep knowledge of Middle Eastern flavour profiles, allowed him to channel both in the creation of a quintet of cocktails, all of which pay liquid tribute to various moments in Taline's life.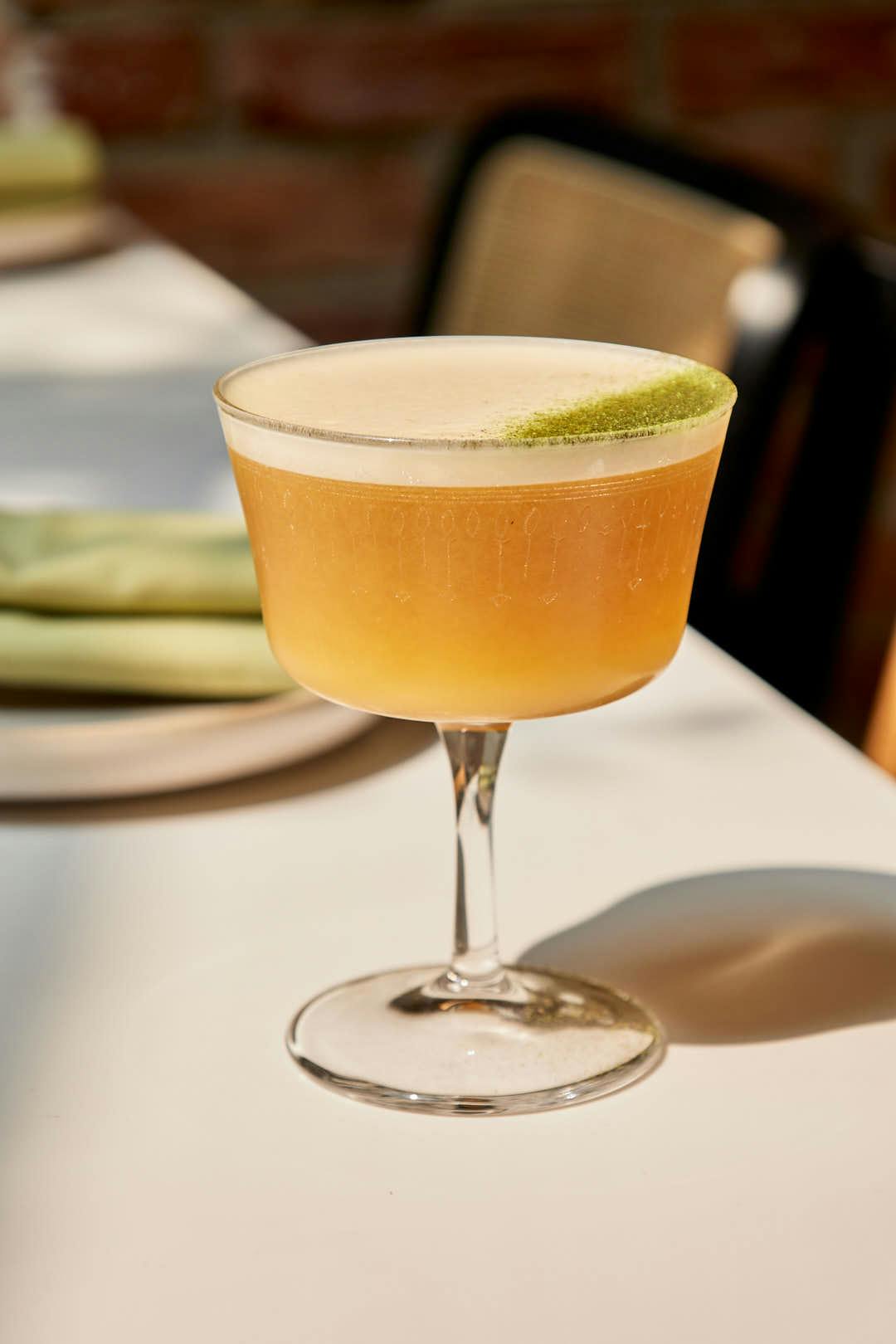 Named after a popular flea market in the Armenian capital of Yerevian, Vernissage uses apricots puree and toasted corn syrup to conjure the flavours of two Armenian staples. Spiked with Ararat brandy, it's topped with a green dusting of mint powder that delights the nose as much as the palate.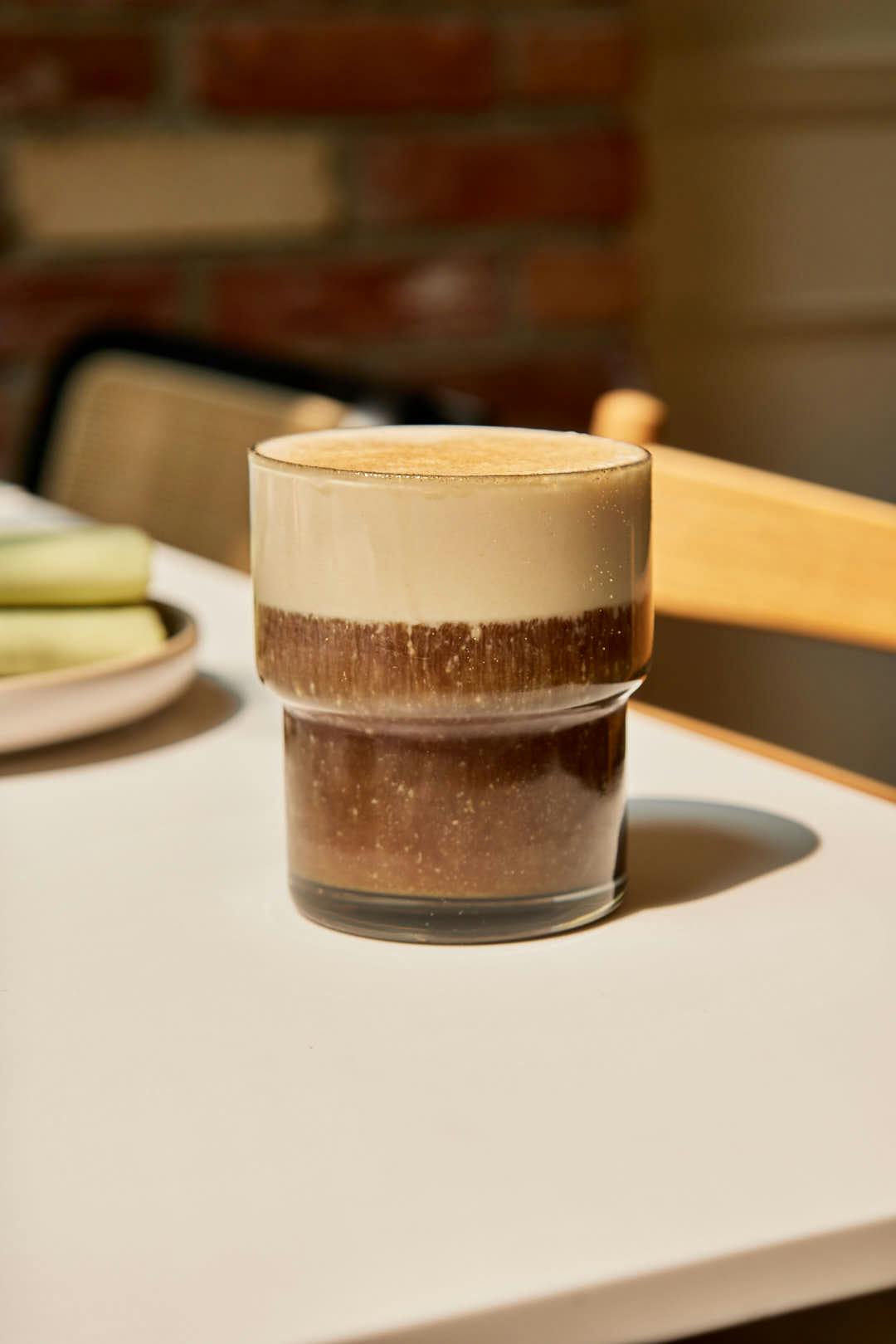 The Yeva is a caffeine-fuelled shout out to Taline's mother-in-law, who well into her 80s would down seven to eight cups of coffee a day (sometimes in the company of Taline). Mixed with absinthe-like Arak, the dense drink is crowned with a satiny labneh foam sprinkled with Aleppo pepper. 
Like the food menu, there are plans to change up the wine list and cocktail menu regularly. In fact, Taline's offspring have many changes planned for the future, among them branching out into lunch, eventually brunch, and maybe... one day... an actual Taline kebab truck.
As Seb points out, with a mixture of matter-of-fact pride and resignation, "It's what our people are great at."