If you're not familiar with The Golden Pigeon yet, it's the east end's favourite (and only) German beer hall, a big community space fueled by incredible beer, fantastic food, and games.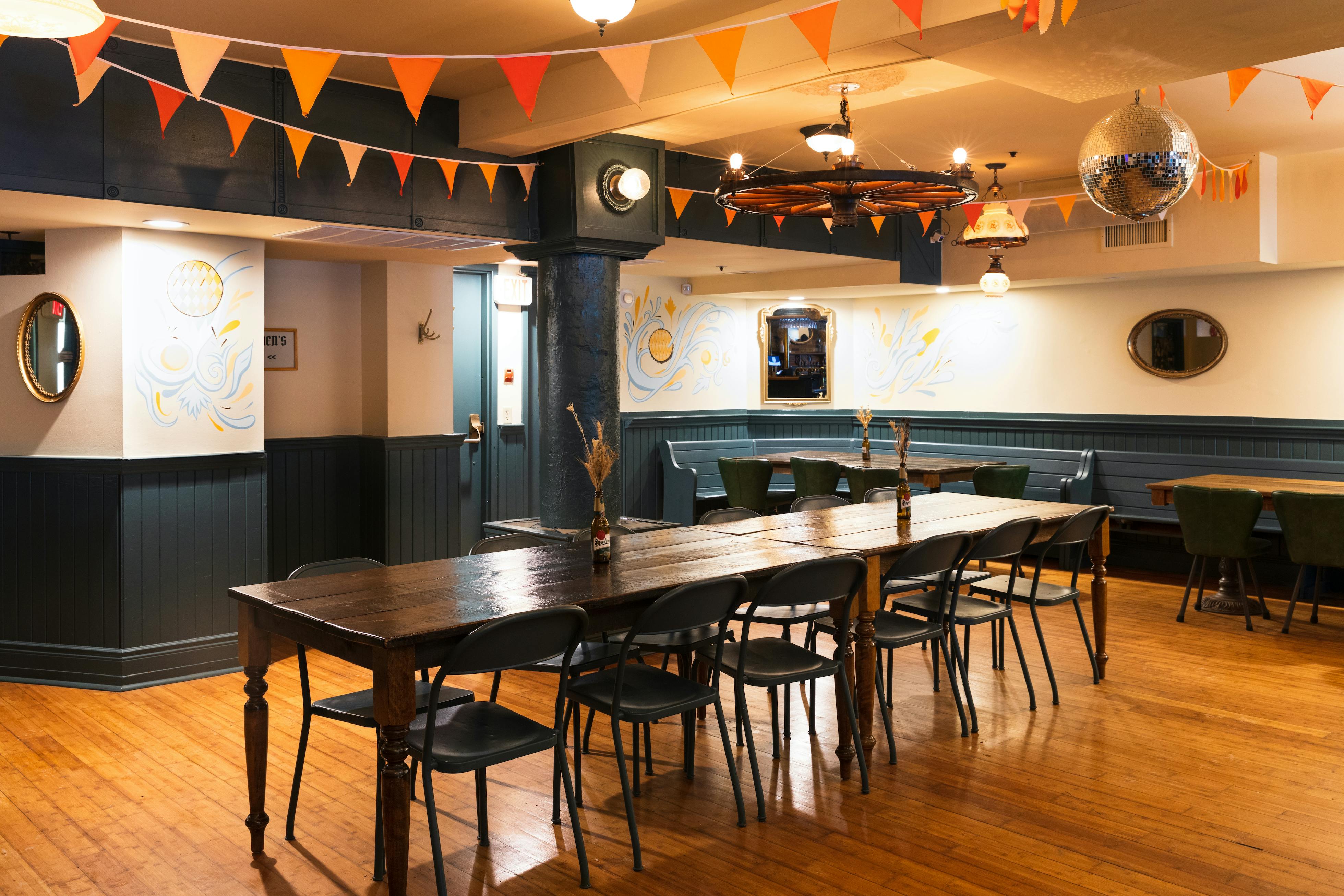 The owners, Matias Ludevid and Julian Altrows, also the proprietors of The Black Pony Café and Snack Bar, worked with Black Pony chef Chris Mentier to create the amazing menu. They walked into the space and immediately felt "beer hall" in their bones. Inspired by communal family-style beer halls in Germany, places that provide easy social interaction over hearty food and drinks, they wanted to create that same atmosphere of bringing strangers and friends together in a multi-purpose space. Elyse stepped in right in time to work on the interiors and (now) manage the space.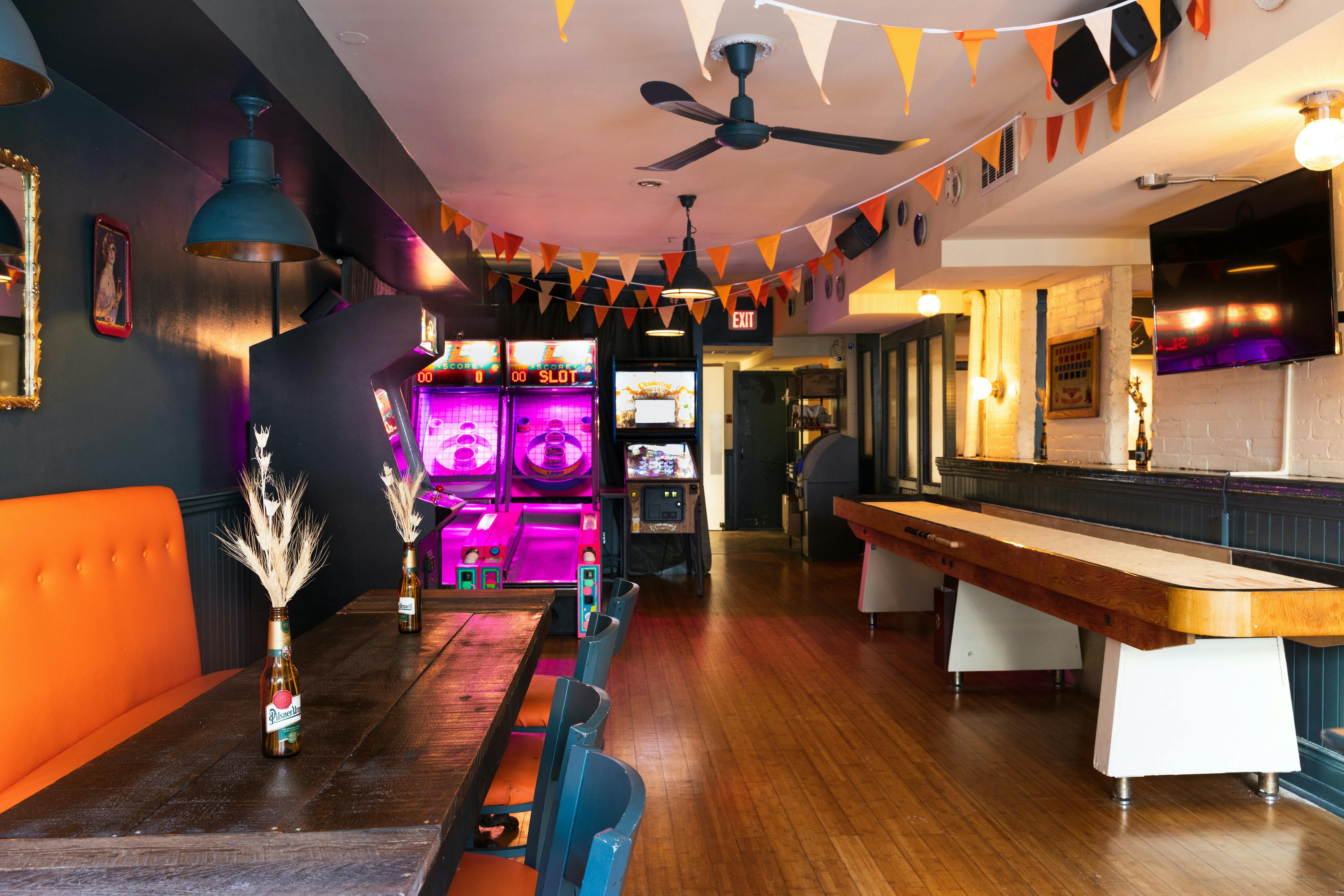 Julian, an OCAD graduate, was inspired by German beer halls but wanted to pair it with the Toronto aesthetic. The interiors of The Golden Pigeon are beautiful and built by hand; from sourcing everything from vintage and secondhand sources to painting surfaces and reupholstering furniture, everything at Golden Pigeon is "homemade." The murals are hand-painted by Julian, the flowers arranged and dried by Elyse, and all the bar surfaces are covered with mosaics (they found tiles, broke them into pieces, placed, grouted, and then sealed it themselves, a big passion project for the team). This was a collective family project, and a team of uncles was brought in to help with construction.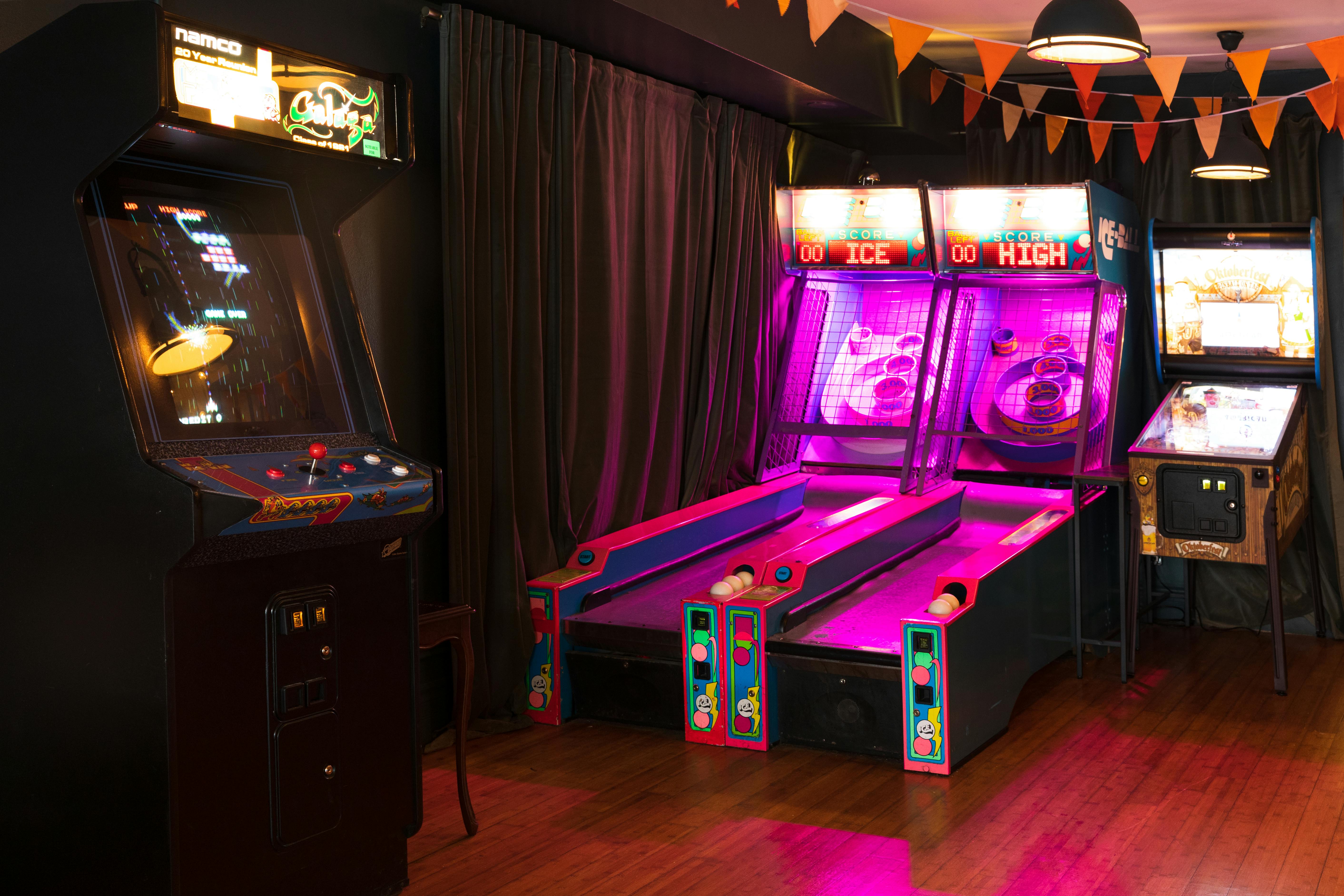 A great bit of lore about The Golden Pigeon; when they took over The Black Pony there was a handmade pigeon sculpture on top of the building. They decided then and there if they ever opened a second bar, they'd name it after this wonderful sculpture. When the time finally came, they dusted off their statue, painted the pigeon gold, gave it a little crown, and made sure to secure it down well on its post. So far, no theft attempts, but the pigeon has been spotted with various hats and earmuffs. Nobody is safe from a Canadian winter.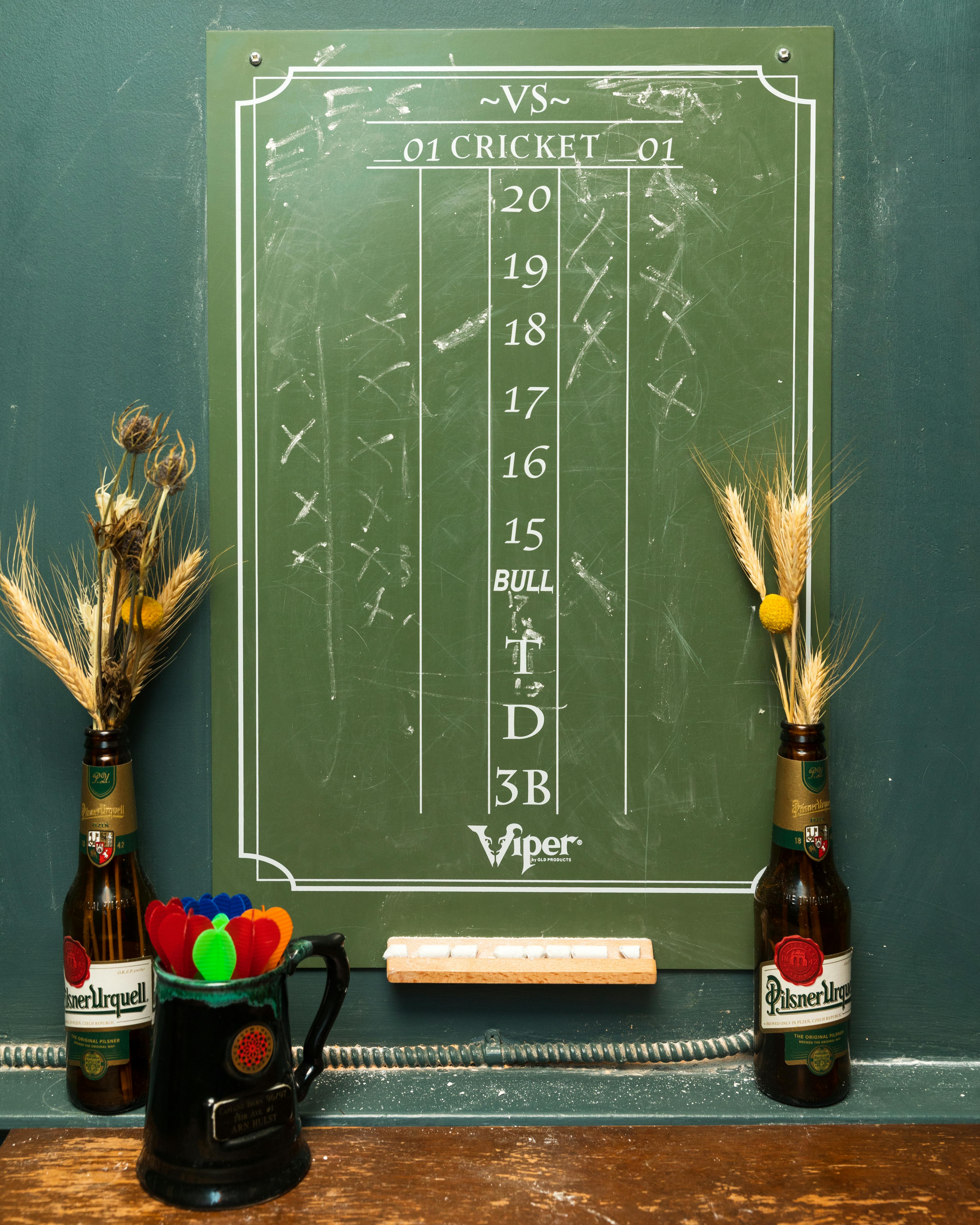 The west end has a lot of cool places but the team wanted to have a multi-faceted space in the east end that could be a community hub for locals. The Golden Pigeon isn't a place you pop in for a beer and leave (although it can be), it's really an all-or-nothing kind of night, and that's because of the games. Other than the Oktoberfest pinball machine, everything is also vintage and very old school: shuffleboard, skeeball, Miss Pacman, darts, and shelves of board games. Elyse says it's one of the most satisfying feelings to see a family playing Bananagrams and Cards Against Humanity over a schnitzel dinner. That is what The Golden Pigeon ultimately sells: an evening of eating, playing, and sharing pints with loved ones.
Their menu is broken down into a few categories: Sharing, appetizers, great for passing around the table; Classics, like wings, poutines, burgers, soups, and things to eat over a pint; and Beerhall, which are inspired by classic German dishes that chef Chris has done a Toronto take on with homemade pickles and sauerkraut.
They also have fresh oysters every day and on Tuesdays (east end's best-kept secret), they have $2 a shuck nights with live, rotating music.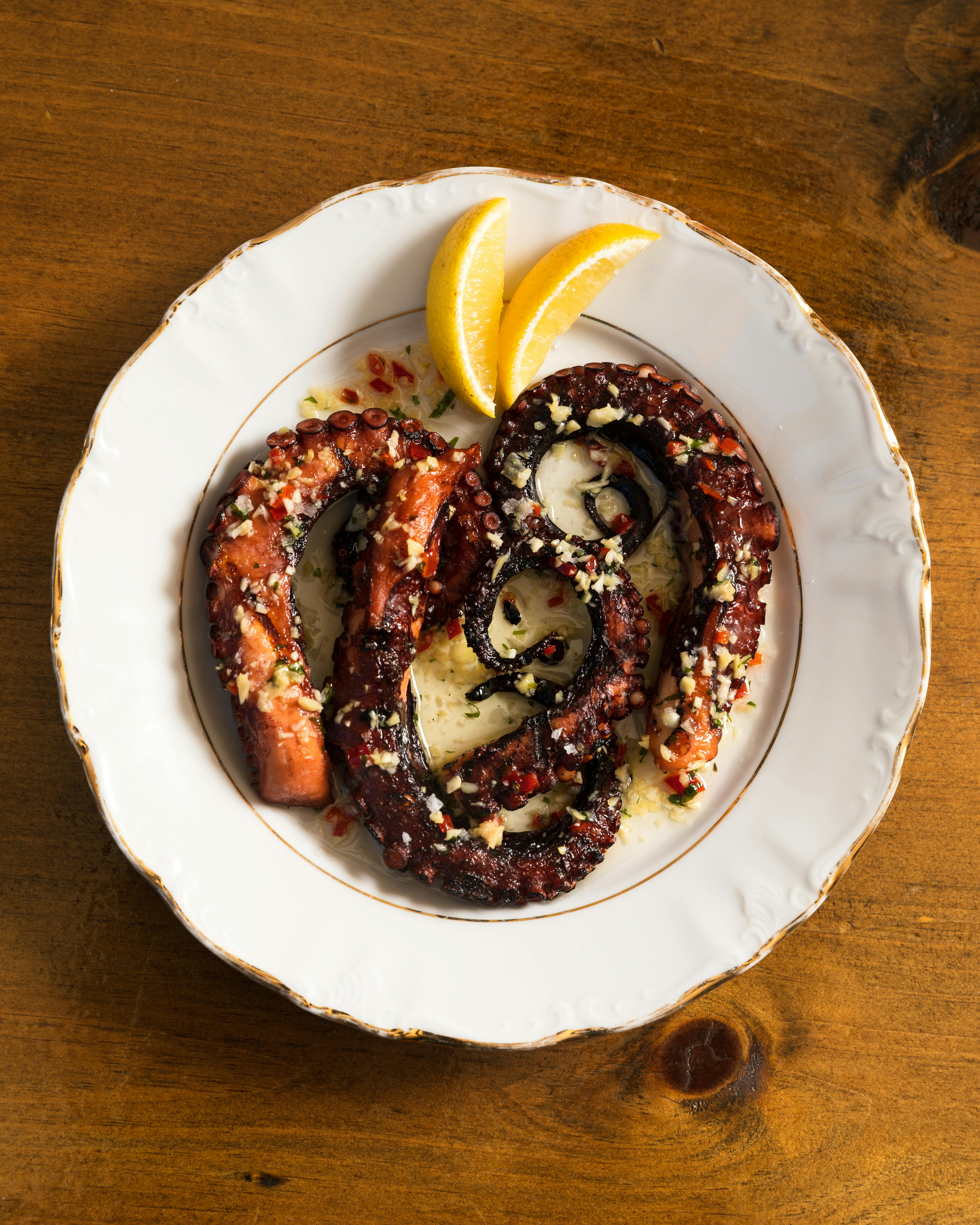 One of the chef's signature dishes is an olive oil poached octopus which is then lightly grilled on the grill top, and it comes with an olive oil infused with chilies, garlic, parsley, and lemon; a staff favourite. It wasn't originally on the menu, but they did it as a special and it sold out in two hours. They repeated the experiment the next night and the same thing happened (the neighbourhood clearly loves octopus), so it was made a permanent fixture.
The beef cheek is braised for 12 hours and served with a creamy chasseur hunter sauce (diced tomatoes, onions and mushrooms are all present in this thick, creamy sauce) with homemade spaetzle (German dumpling pasta), oyster mushrooms, and a touch of tarragon. This is one of their bestsellers and a huge winter craving (a bit of carb, a bit of meat, warm and hearty).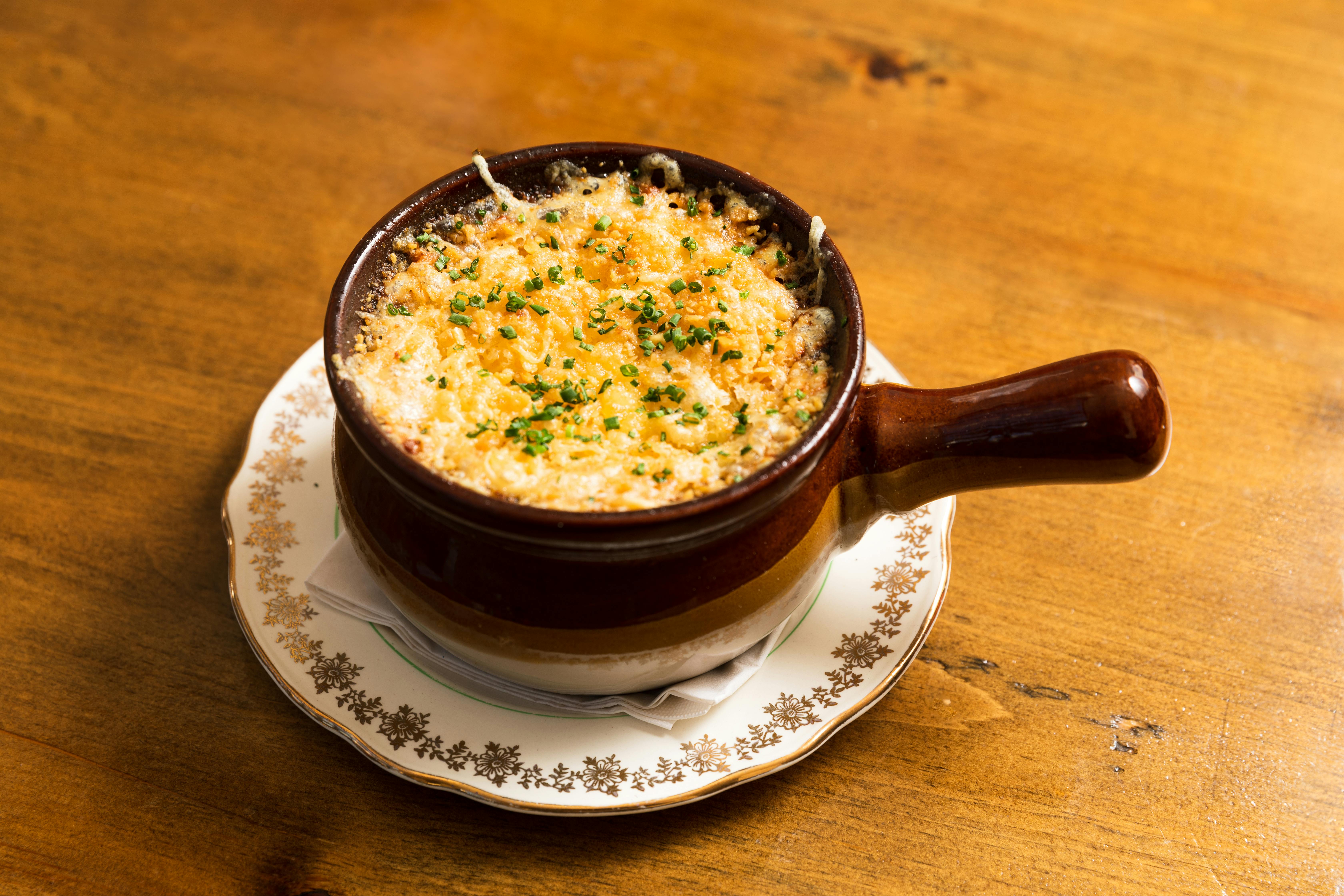 The Golden Pigeon take on a classic mac and cheese with a German twist - chef Chris makes homemade spaetzle (think of it like German dumplings in irregular shapes owing to the handmade nature of their creation), which he then puts into an oven-safe vessel and covers it in white cheddar and Emmental cheese sauce, caramelized onions, and bread crumbs, then throws the dish into the oven and it comes out piping hot and bubbling.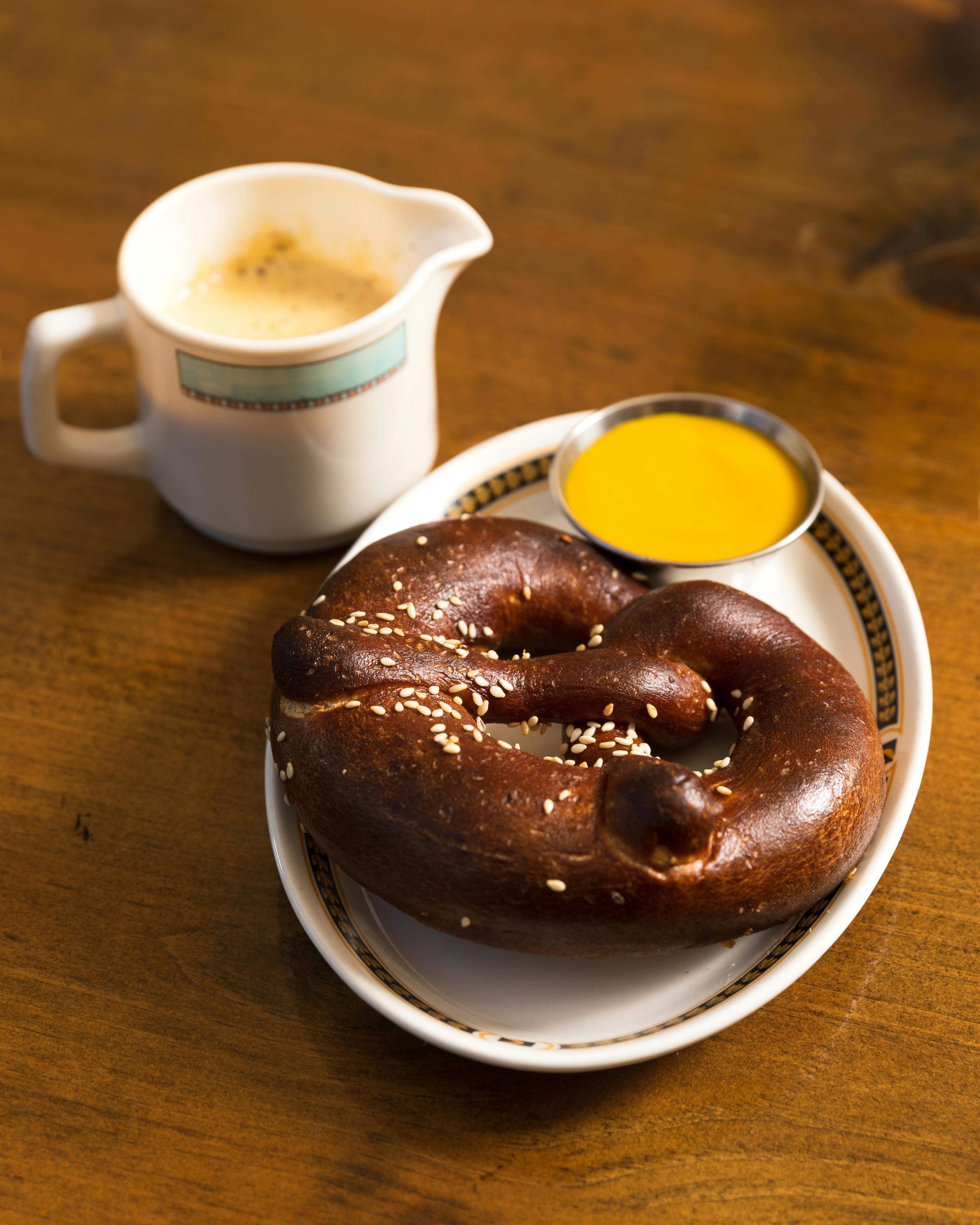 A feature from Spent Goods, they use the leftover grains from brewing beer (Hendriks) to create the pretzel. When served with honey-mustard, it's vegan, but you can also get it with homemade beer cheese and it's a really great sharing item.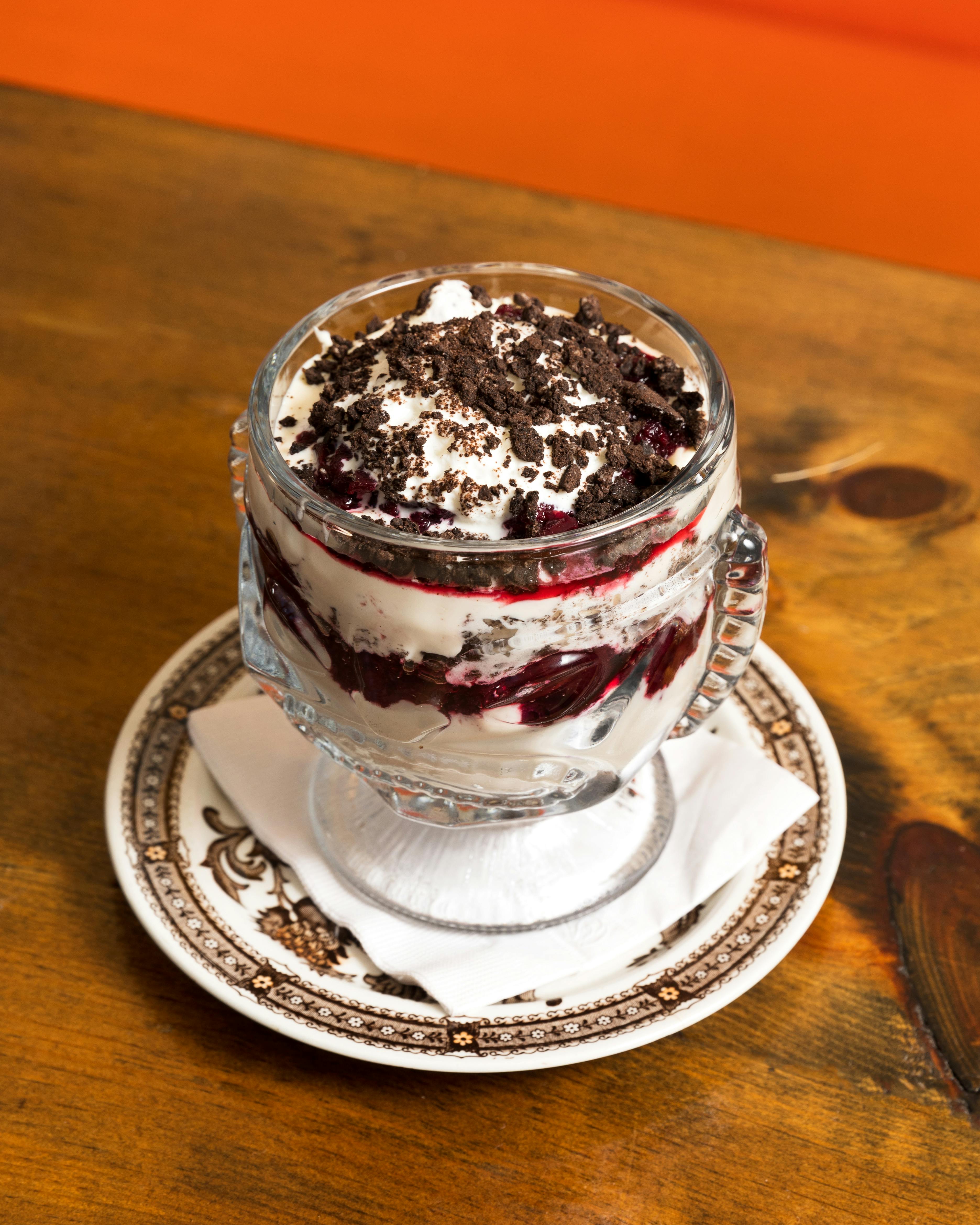 Although they do a dessert special every week, the black forest is their only staple dessert on the menu: a German black forest cake in a cheesecake parfait style. It's a no-bake layered treat with cheesecake filling, Oreo cookie crumbs, and homemade cherry preserves.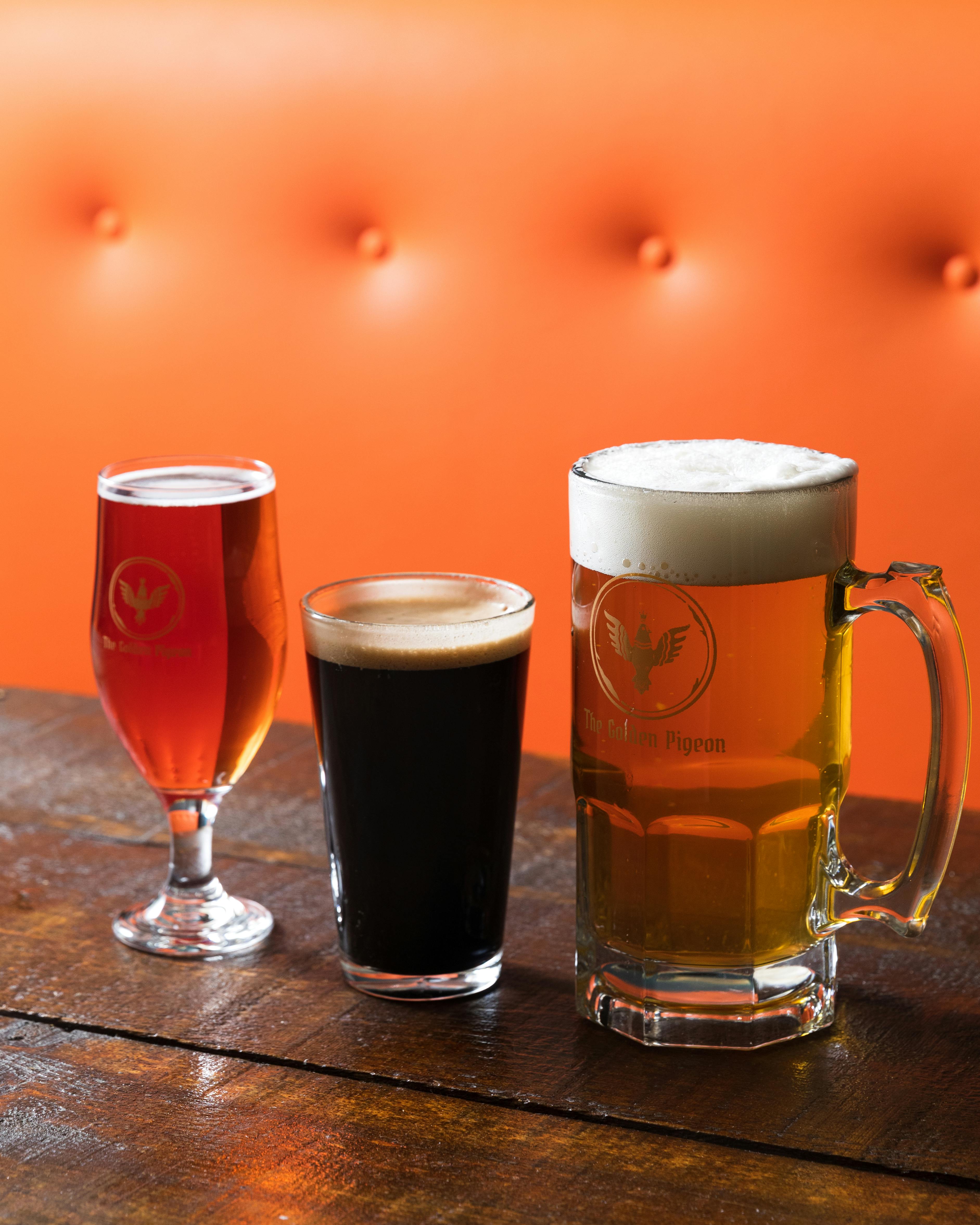 The Golden Pigeon knows its beer. Curated by Julian, they have 12 draught lines: two are dedicated to cider and one to a rotating cask beer which is one of the oldest ways of storing beer. They have a barrel which they don't interfere with, it stays natural and it's smaller, so no gas is added; it's hand pumped to add the air into the line and push the beer out; they go through it so quickly. Currently, their cask is Collingwood, an American pale ale, light and crisp and hoppy).
Their staple beers that don't move include the Golden Pigeon House Lager (comes in a pint, a stein, or a can), Pilsner Urquell, a Great Lakes IPA, and Grand Cru Rodenbach which is super unique to the Golden Pigeon draught list, one of the oldest brewed beers in the world, and a natural sour.
Otherwise, the rest of the draught menu is rotated but you'll always find a stout, a sour, and 2 IPAs. They change seasonally, and they'll have darker beers in the winter and lighter beers in the summer.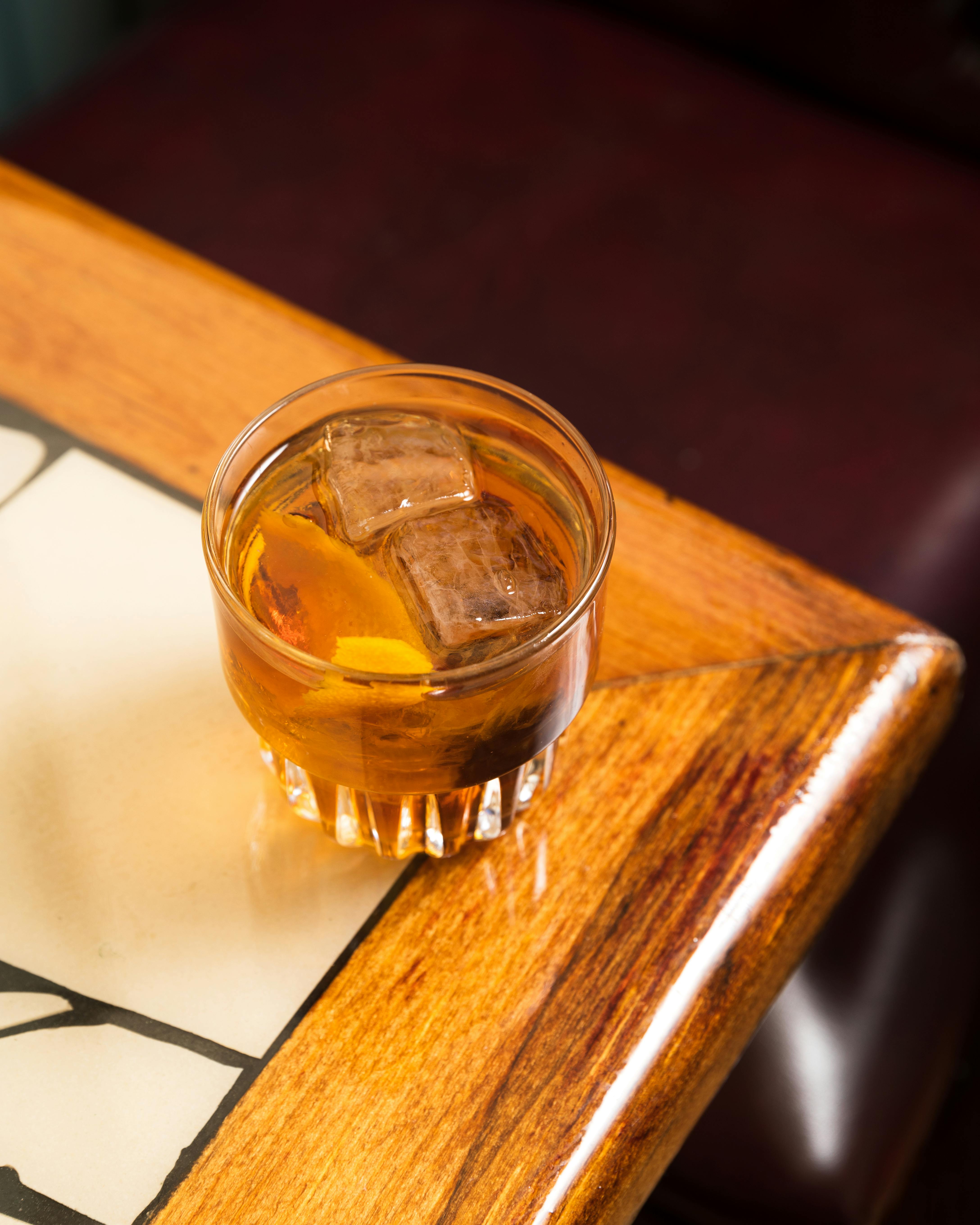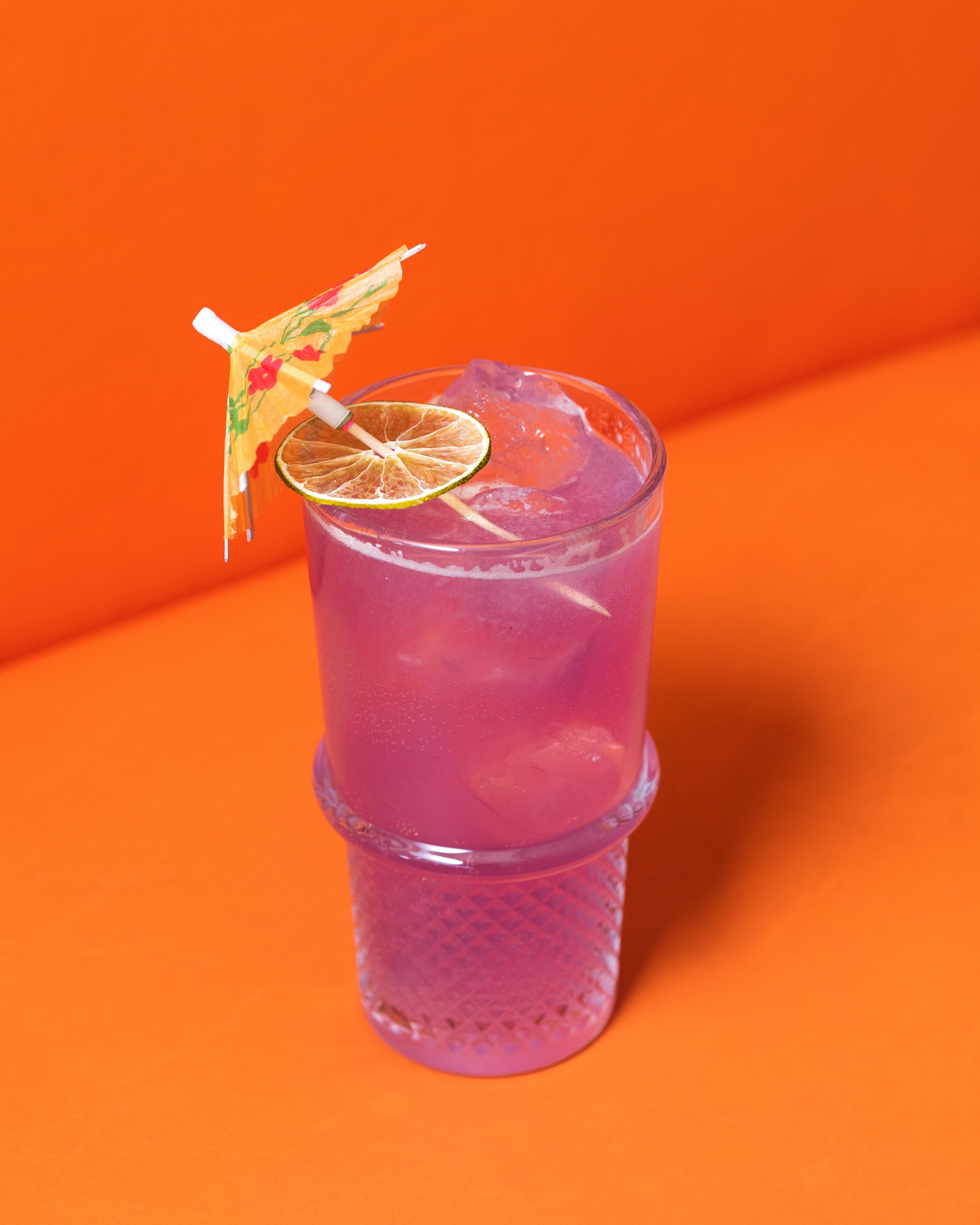 The Golden Pigeon went with a very curated cocktail menu by sticking to super classics like the Negroni, the Old Fashioned, Aperol Spritz, Paper Plane, etc. They are tried and true.
The Blue Long Island is probably their most exciting cocktail (it comes with an umbrella), and it's a play on a standard Long Island Ice Tea but it's blue because it's created with butterfly pea flower. It's delicious, fun, and festive, and an homage to the Shoreleaf, a tiki-style bar.
Don't be deceived by Golden Pigeon being a beerchall; their all-natural wine program features some incredible organic and biodynamic wines. Also, super uniquely, they offer orange wine by the glass (as well as red, white, and prosecco). Because natural wines aren't made in the same capacity, their list is continuously rotating.
They try to keep all their bottles under $100, a doable, affordable price point allowing folks to try new things. A favourite is the Puglia Pop (a new, fun and accessible wine), and their wine listing asks all the right questions to make sure you get the best bottle: 
- If you like...
- What makes it special... 
- When to drink it...
The Golden Pigeon is open Tuesday to Sunday, from 12 p.m. until late.