Tiny Market Co. is a new specialty market along Bathurst Street, known for its fresh house-made pasta. Supplying all your dough, sauce and provision needs, you'll also find a tempting selection of unique products from local Toronto chefs on the shelves, alongside a handful of specially curated imported ones. You might go in for pasta, but surely you'll leave with a few other goodies in hand.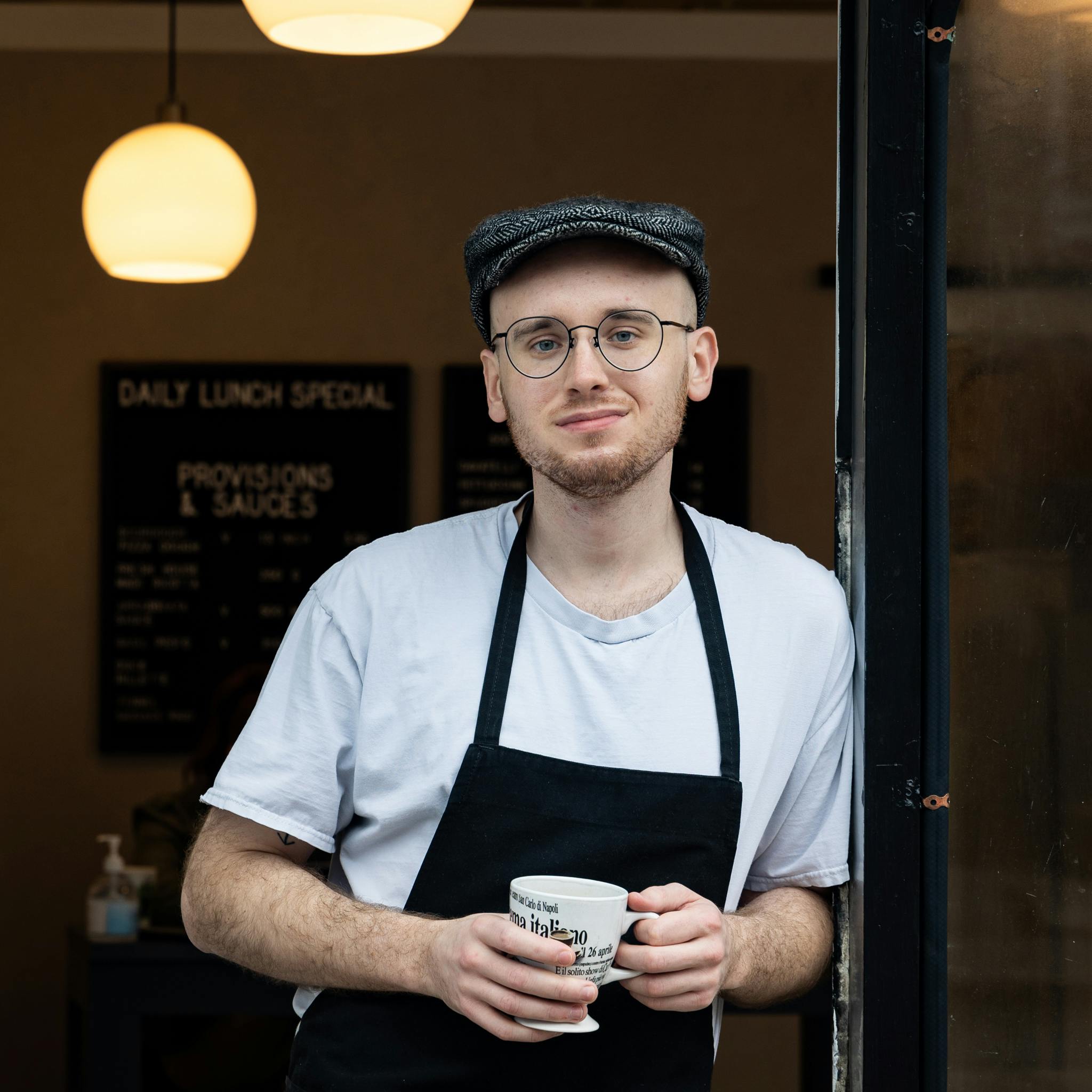 Brought to fruition by Erich Mrak, a passionate musician and longtime pasta chef, Mrak had been making pasta in and out of restaurants for years. Always in love with the process and eagerly adding new recipes to his repertoire, when the pandemic hit, Mrak began making more pasta for family and friends. A few months later, in November 2020, he officially launched his virtual pasta pop-up -- Saucy. Focused on sharing pasta and sourdough pizza kits, the concept grew in popularity and began to add other homemade goods, including fresh ricotta cheese, duck rillette and fennel sausage ragu, to the menu.
From Saucy's success, the idea to open a permanent storefront to house the concept began brewing.
"I never actually pictured myself as a small business owner, but here we are," says Mrak. "Saucy evolved from making pasta all the time, and now with this brick and mortar location, we have Tiny Market Co."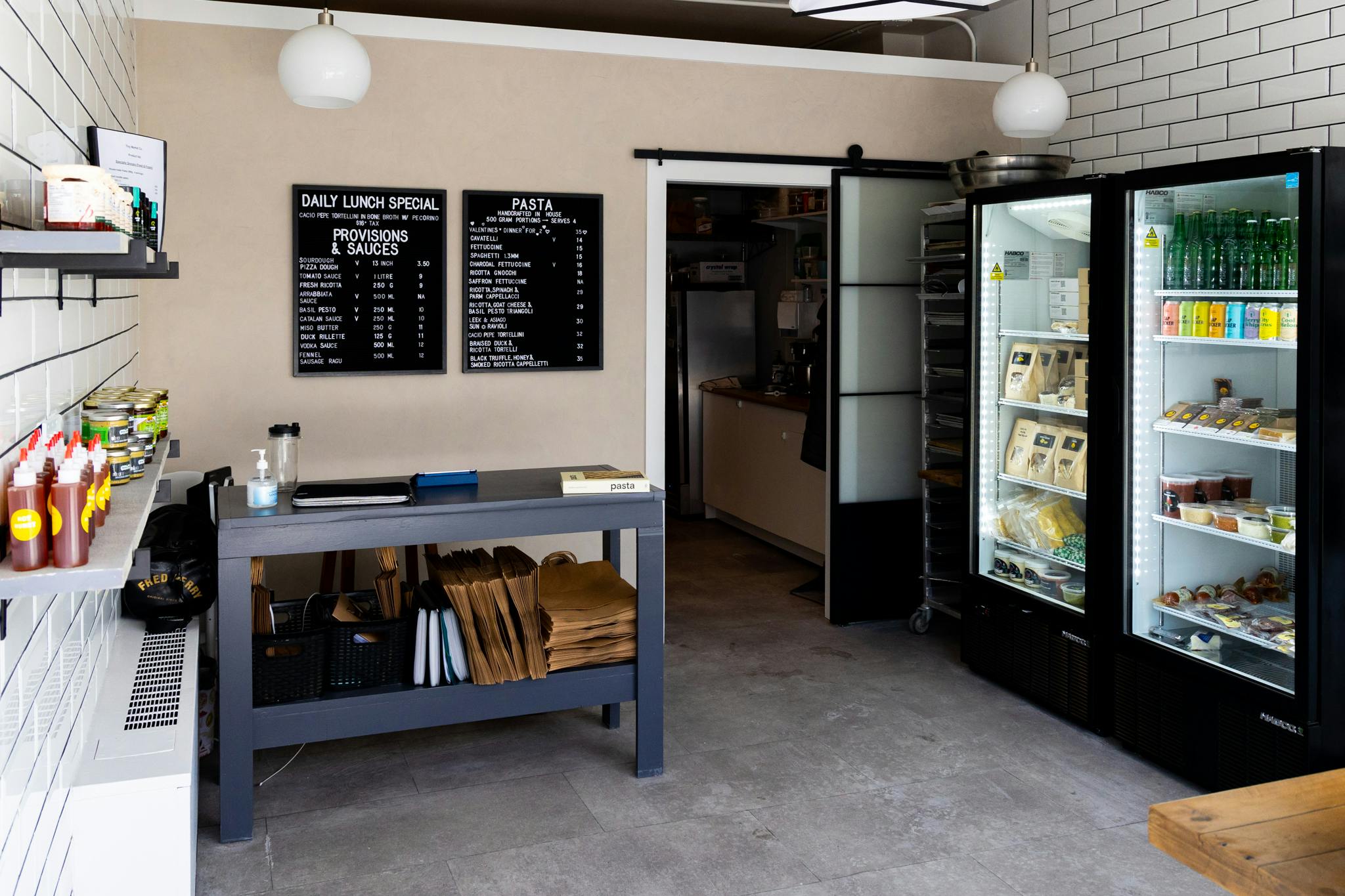 Soft launched in December 2021; Tiny Market Co. is an extension of Saucy, which still takes centre stage in the shop with its handmade pastas, dough and more. Though the space is tiny (as indicated by their name), they've managed to use the most of it to neatly house a wide variety of goods. Designed by Christopher Williams, when bright natural light isn't shining through the storefront's large windows, warm-toned fixtures illuminate the room. With a production kitchen in the back, the front of house is filled with products along every wall.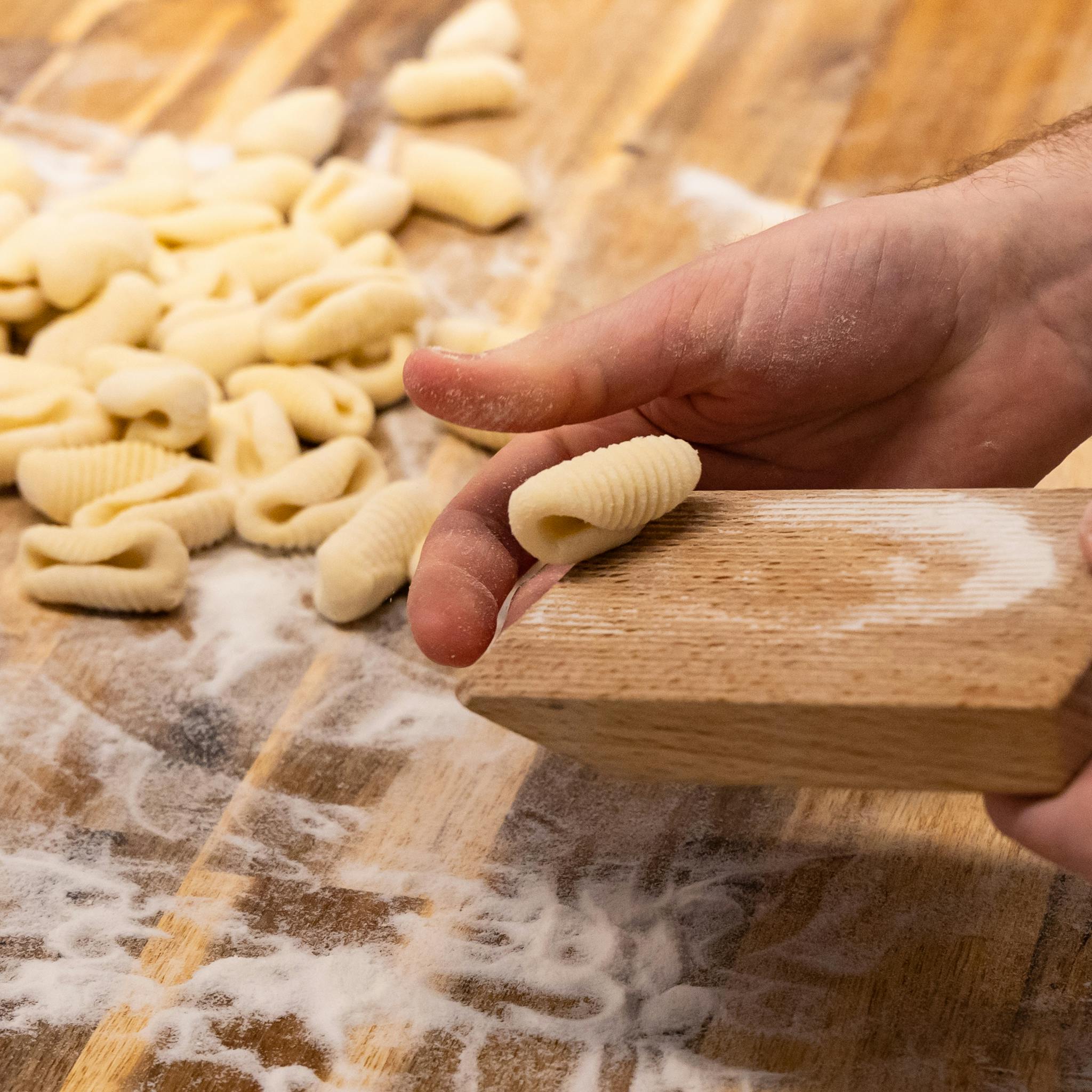 With over a dozen different pastas available, all made fresh in-house, you'll never get bored of the options. Better yet, each package comes stuffed with enough for four servings, perfect for sharing. From pastas with fillings that change seasonally, to short and long noodle pastas, there's a seemingly endless amount of options available to help take your home-cooked meals to another level. There's two vegan-friendly pastas at the moment – the Cavatelli made using durum wheat semolina and water, and the Charcoal Fettuccine, made with the addition of activated charcoal to give it its colour. Another classic pasta option made entirely from scratch is their Ricotta Gnocchi. Making their own fresh ricotta cheese in-house allows for the team to use it as the base for this pasta and fortunately, they also sell their ricotta in separate containers for you to take home as well.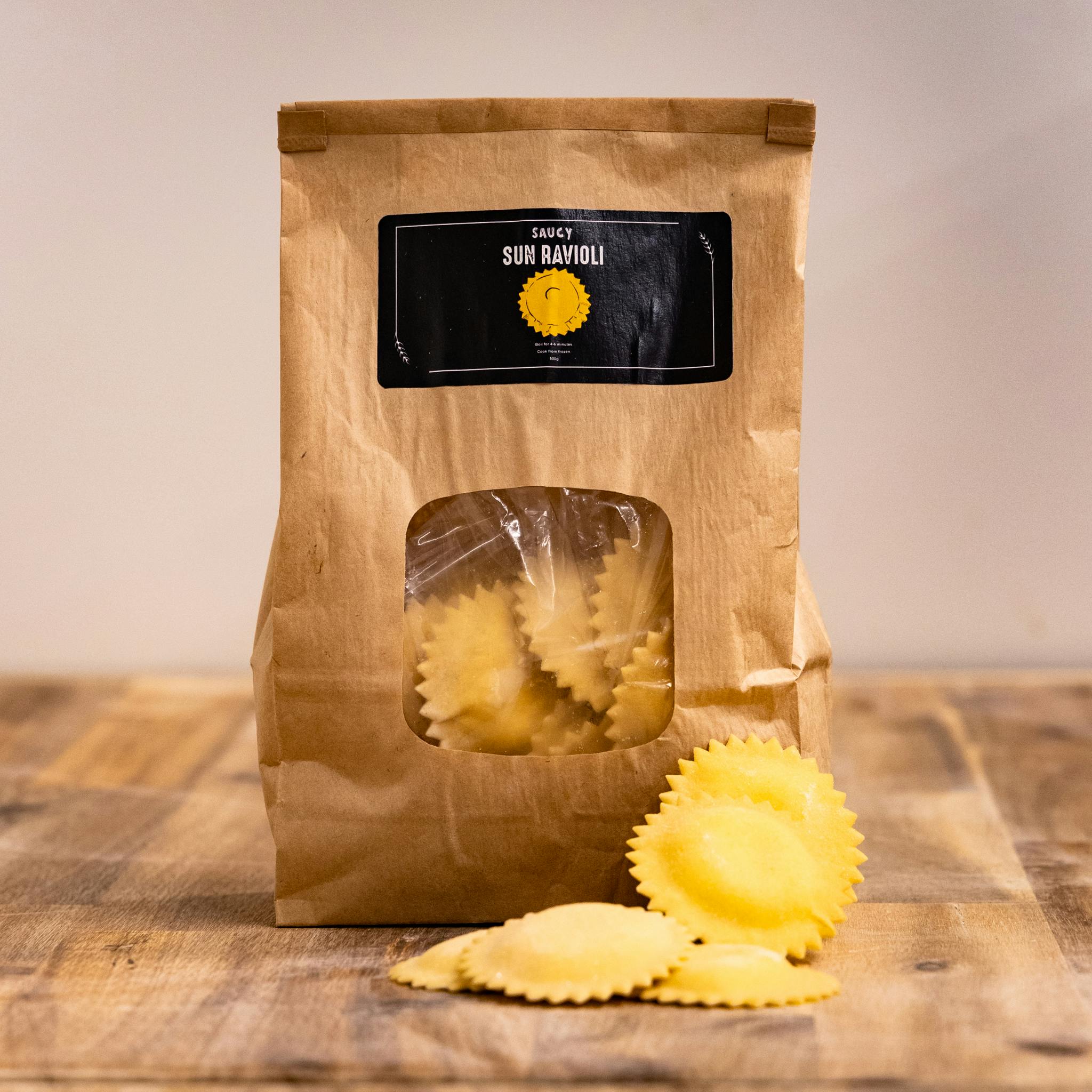 Saucy's Sun Ravioli naturally gets its name from its shape. These pockets of sunshine are also stuffed with their housemade ricotta and, right now for the winter, are being filled with white wine braised leek and asiago cheese.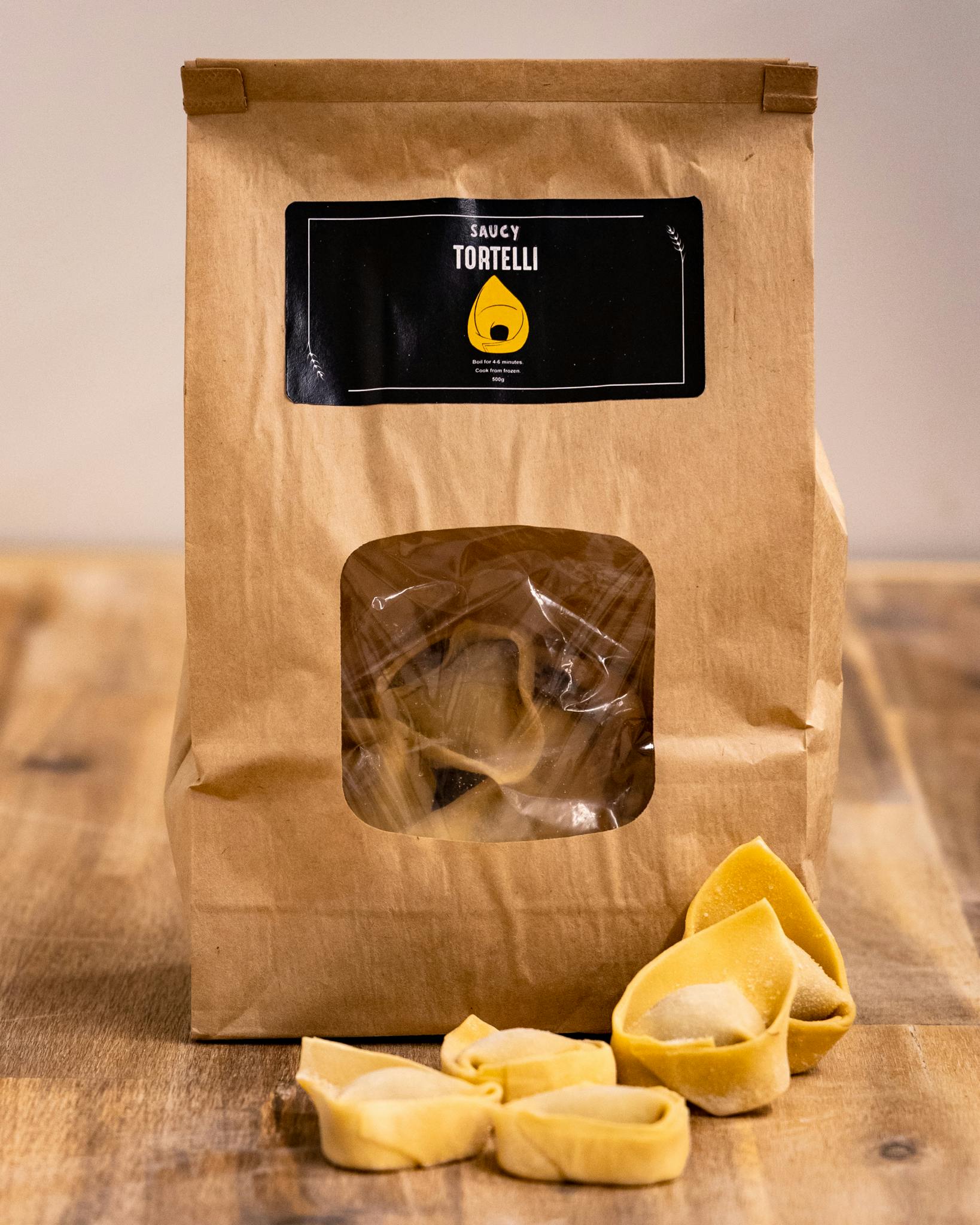 Also stuffed with their creamy house-made ricotta cheese is Saucy's Tortelli. Not to be confused with Tortellini, though there's two versions of those on the menu too (also stuffed with ricotta), the Tortelli is currently being filled with house-cured, white wine braised duck, alongside their ricotta.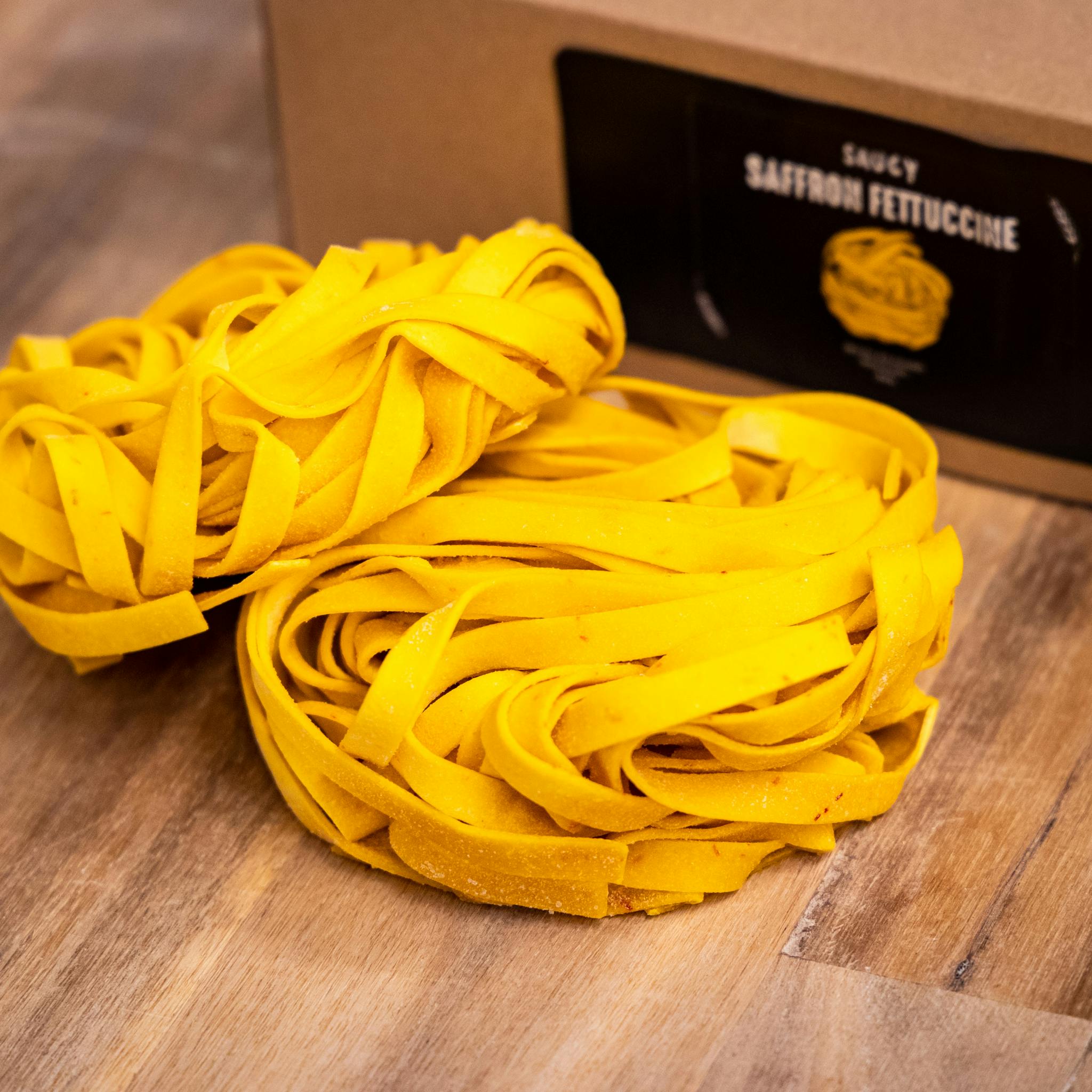 Another special pasta you don't often see in Toronto is their Saffron Fettuccine. The naturally vibrant colour shines thanks to the pasta being steeped with saffron threads. A tastier take on a classic, this product sells out quick for a reason. Speaking of which, on top of being able to shop in person, you can still shop online from Tiny Market Co. via their website and pre-order for pick up or get your goods delivered on weekends; a convenient way to ensure you don't miss out on the pasta you're eyeing, by the time you make it in-store.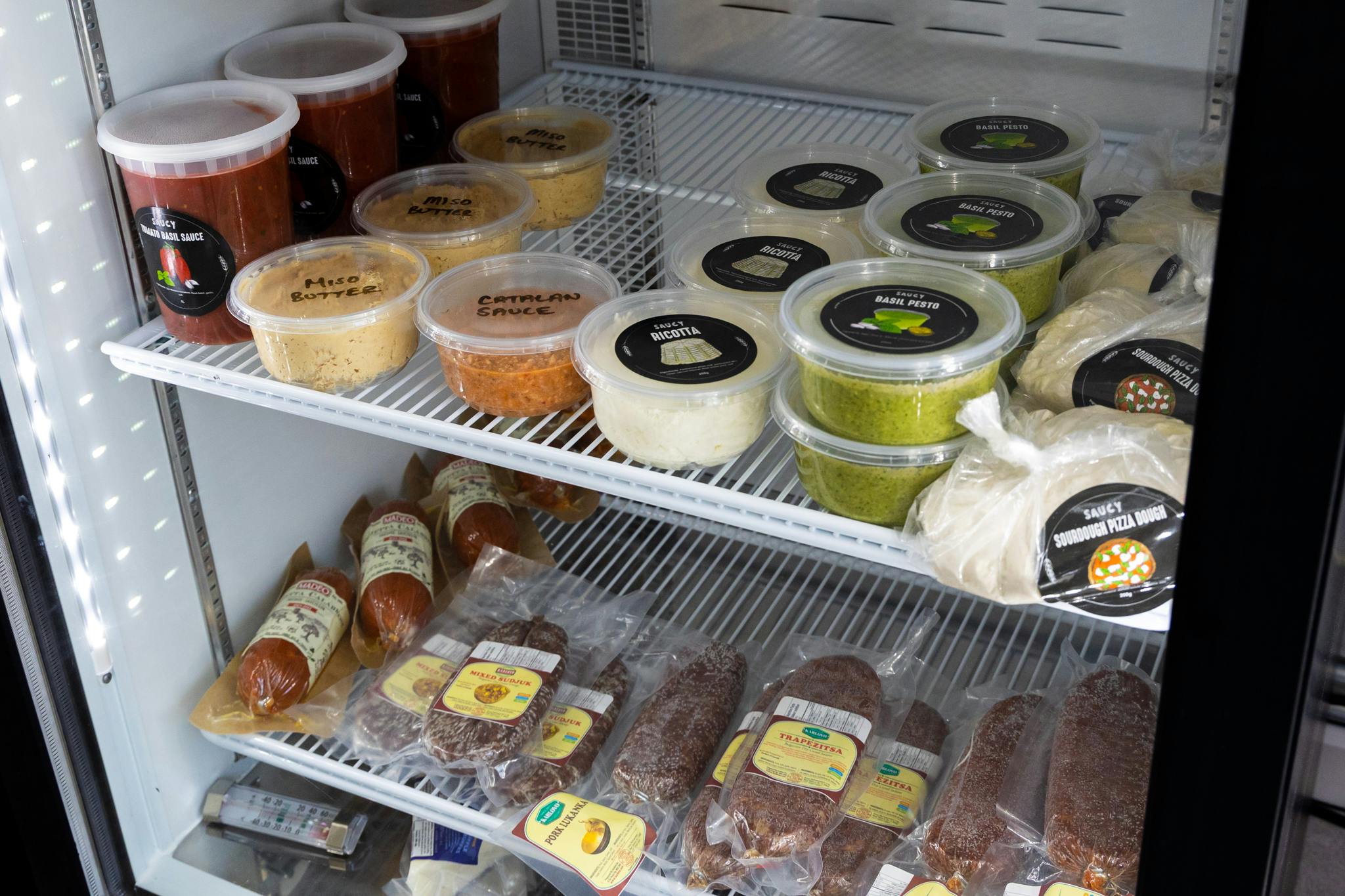 As mentioned previously, Tiny Market Co. sells Saucy's fresh house-made ricotta cheese in containers to go, but they offer much more than just that. They sell many other sauce options made from scratch, including Basil Pesto, Miso Butter, Catalan Sauce and Arrabbiata Sauce. Joining them in the same fridge are items like spicy 'Nduja Calabrese imported from Calabria, Italy and a selection of cured Bulgarian salami known as Lukanka that is actually produced right here in Toronto by Karlovo Inc.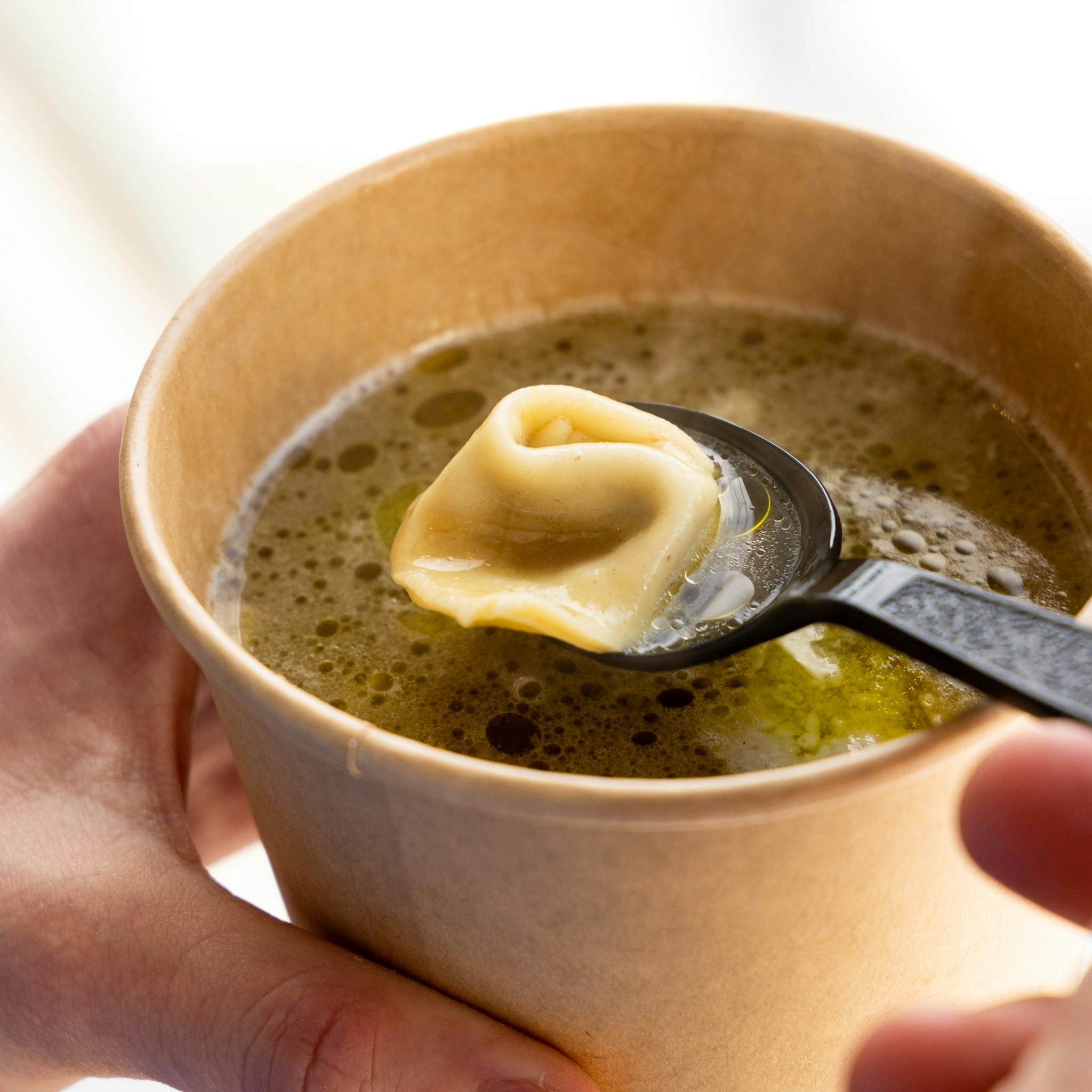 At the moment, Tiny Market Co. is running weekly weekend lunch specials, which you can pick up by just dropping by, but pre-orders via DM ahead of time are the best route to go to make sure you secure your order. They tend to sell out of meals fast, like this Cacio Pepe Tortellini, swimming in a comforting container of bone broth made with miso butter, all of which are made in-house.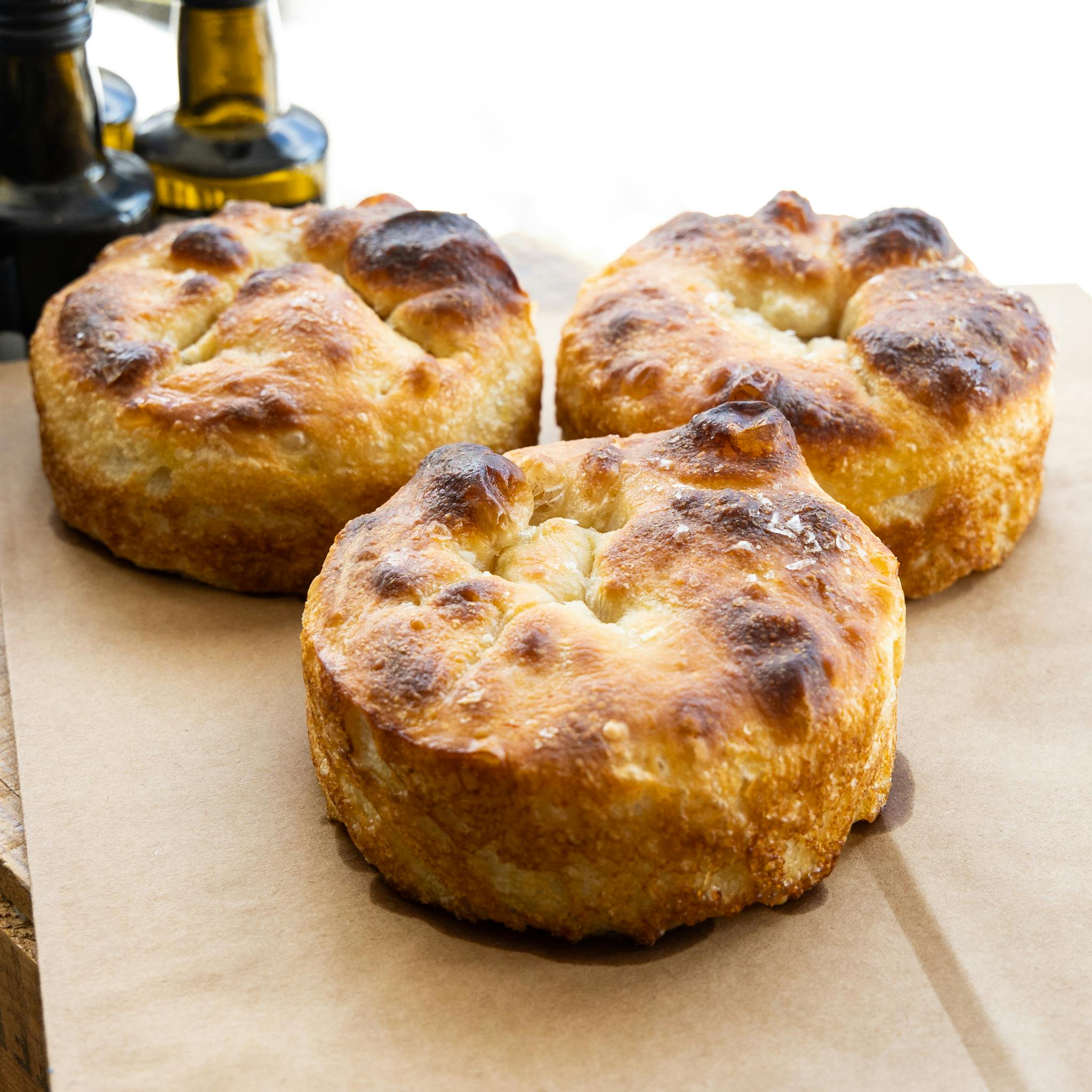 Of course, the perfect pairing for a nice saucy pasta dish is a side of bread to dip. From Friday through Sunday, the team also makes fresh bread in house. Find a limited selection of hand-shaped demi baguettes and focaccia available in-store, which you can also pre-order online ahead of time.
"Making great food is our guiding principle. Whether it's pastas, sauces, ricotta, bread -- you name it, we give it 100%," says Mrak. "We're always playing around with new flavours, textures and dishes. We've made it a point for us to be an exciting, inclusive space and you can see that in the products we carry from local chefs that you can't find anywhere else."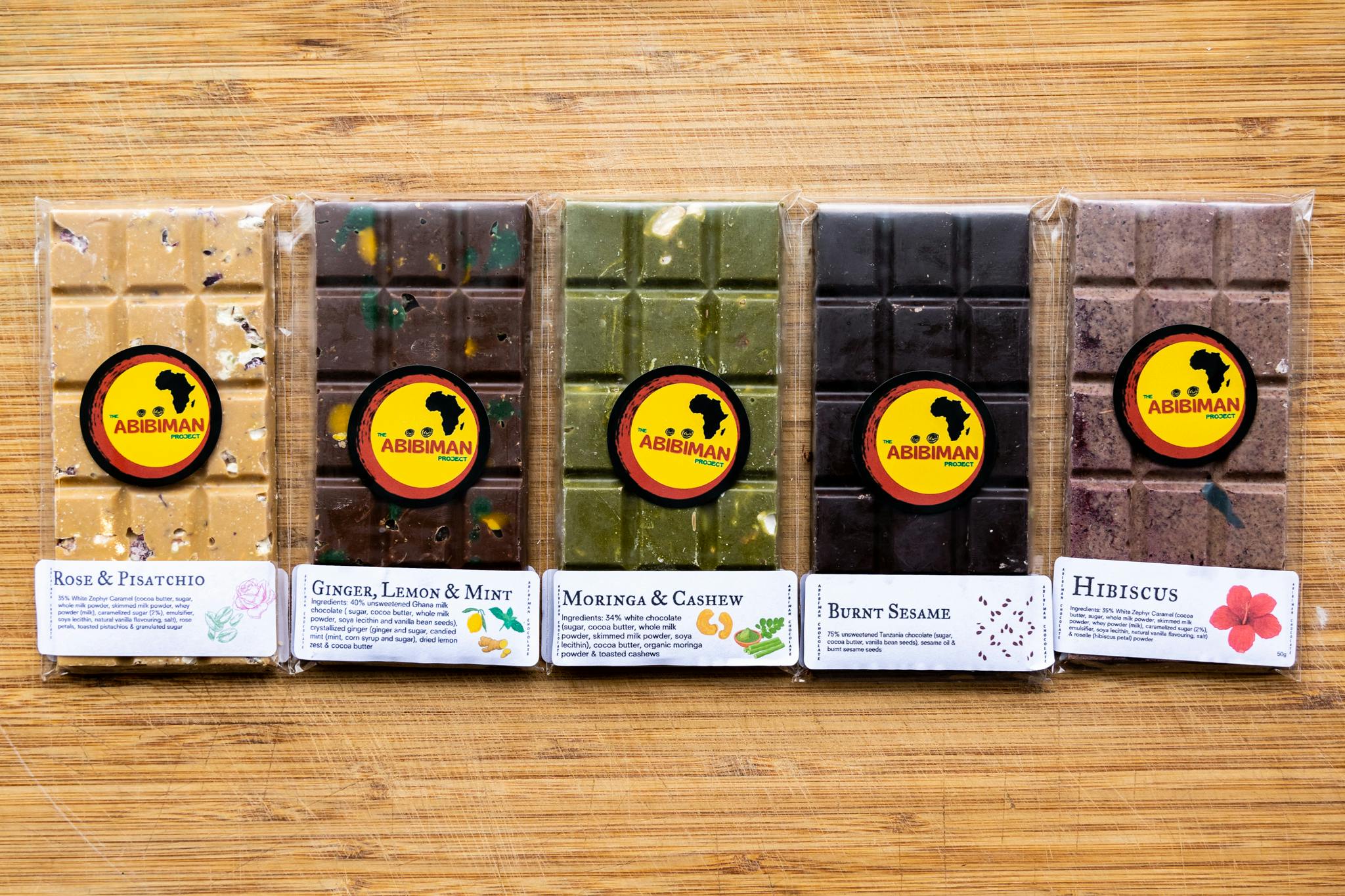 Tiny Market Co. truly does carry a plentiful and diverse selection of products on their shelves from local chefs, many of which are difficult to get yours hands on and may be a new discovery for you. Find Eastern European stuffed buns from Bunhaus, spicy Ontario honey from Hot Hunny, hand-crafted ice cream with flavours like Viet Java Chip and Honey Teddy Graham from Churnt Up and chocolates from The Abibiman Project, a non-profit African Culinary Education Initiative, to name a few.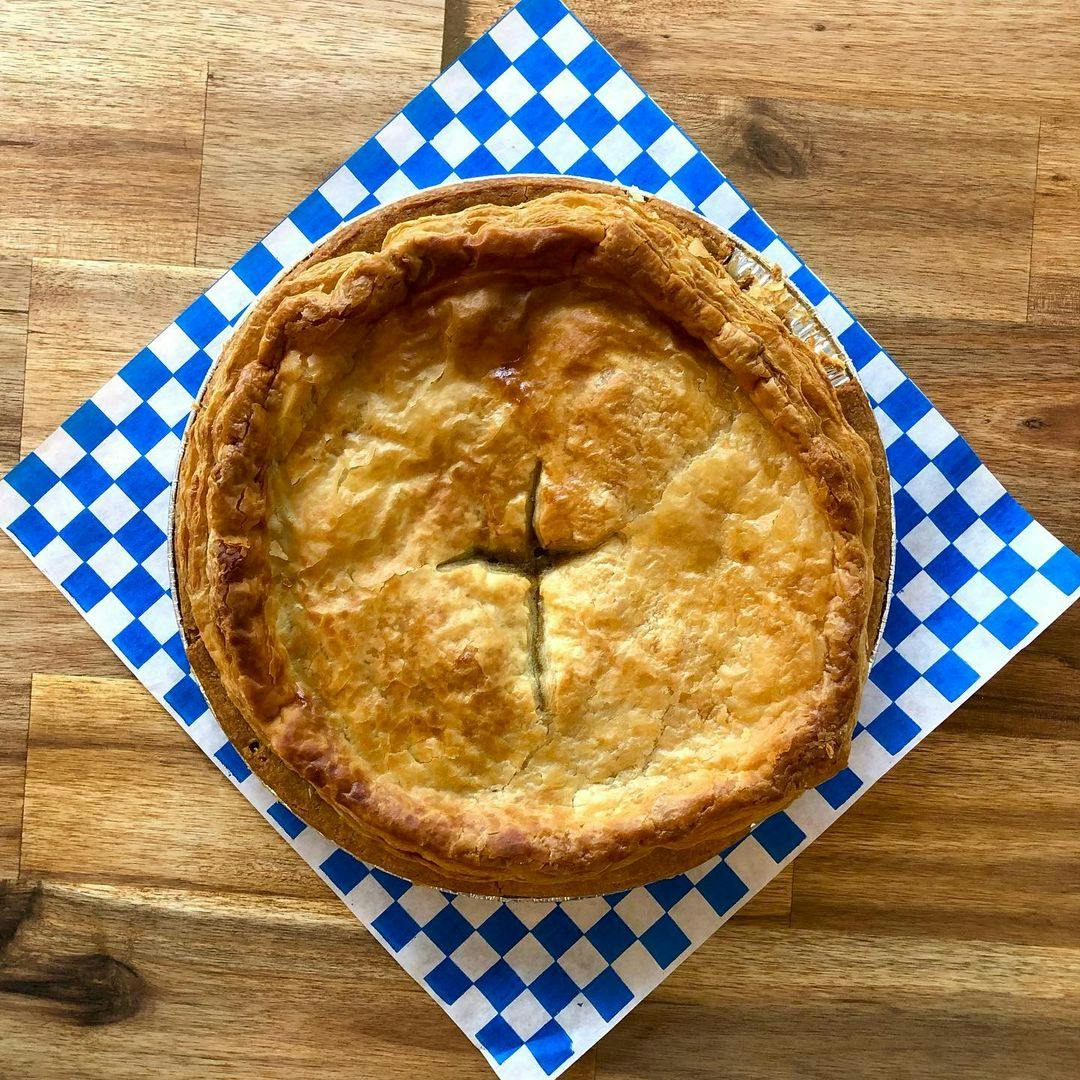 One of Mrak's favourite retail items in stock all the time at Tiny Market Co. is Phamily Eats' chicken pot pie. The homemade beef patty and pot pie business can be found at their shared storefront with Churnt Up, Conspiracy Pizza and Midnight Cookie at 858 Eglinton Avenue East in East York.
"I've known Peter Pham for years, and he's outdone himself," says Mrak. "It is the best chicken pot pie I've ever had."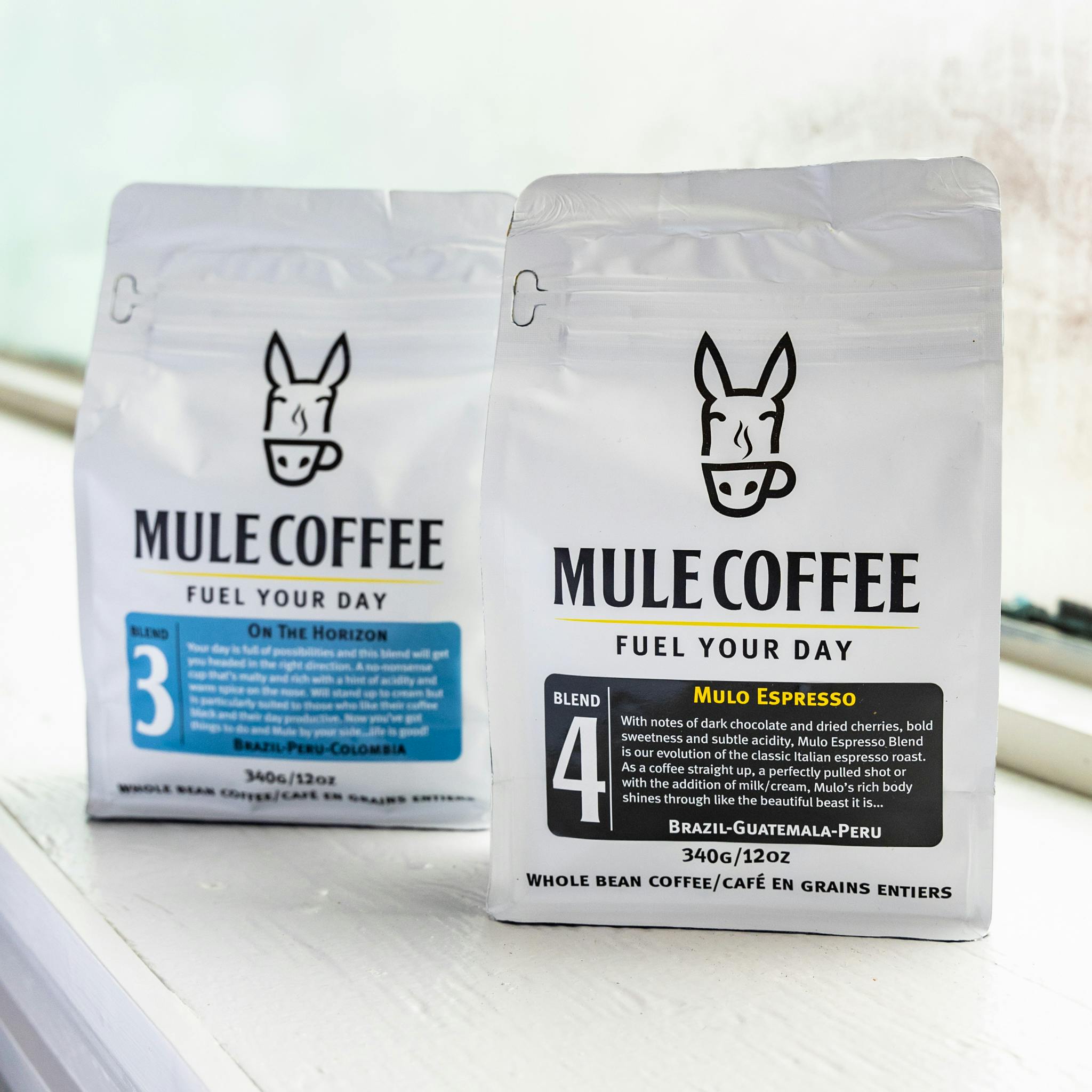 Tiny Market Co. is the only shop in Toronto right now that carries Mule Coffee. An Orillia, Ontario-based roaster that's actually family-owned, Mule Coffee has four blends and Tiny Market Co. currently sells three – Base Camp, Mulo Espresso and On The Horizon. Already a popular neighbourhood choice so far, surely you'll begin to see this newer company pop up in more places around the city soon.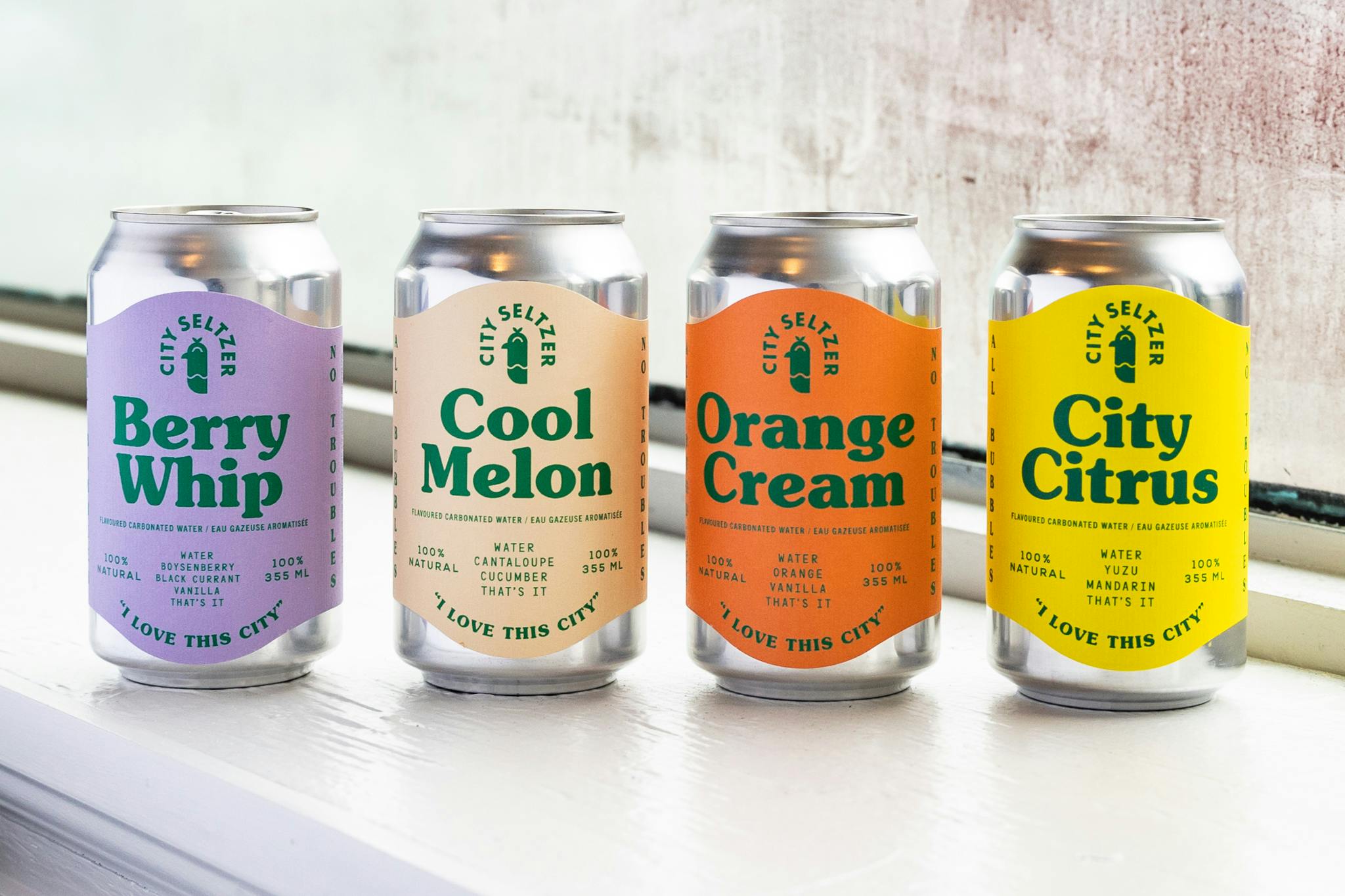 Find carbonated beverages like Sapsucker, Ontarieau Sparkling Natural Spring Water and City Seltzer in stock. Based in Ottawa, Ontario and made by Dominion Brewing, City Seltzer's beverages are naturally calorie and sugar-free, crafted with a short list of ingredients. An added bonus on top of their flavours being so captivating.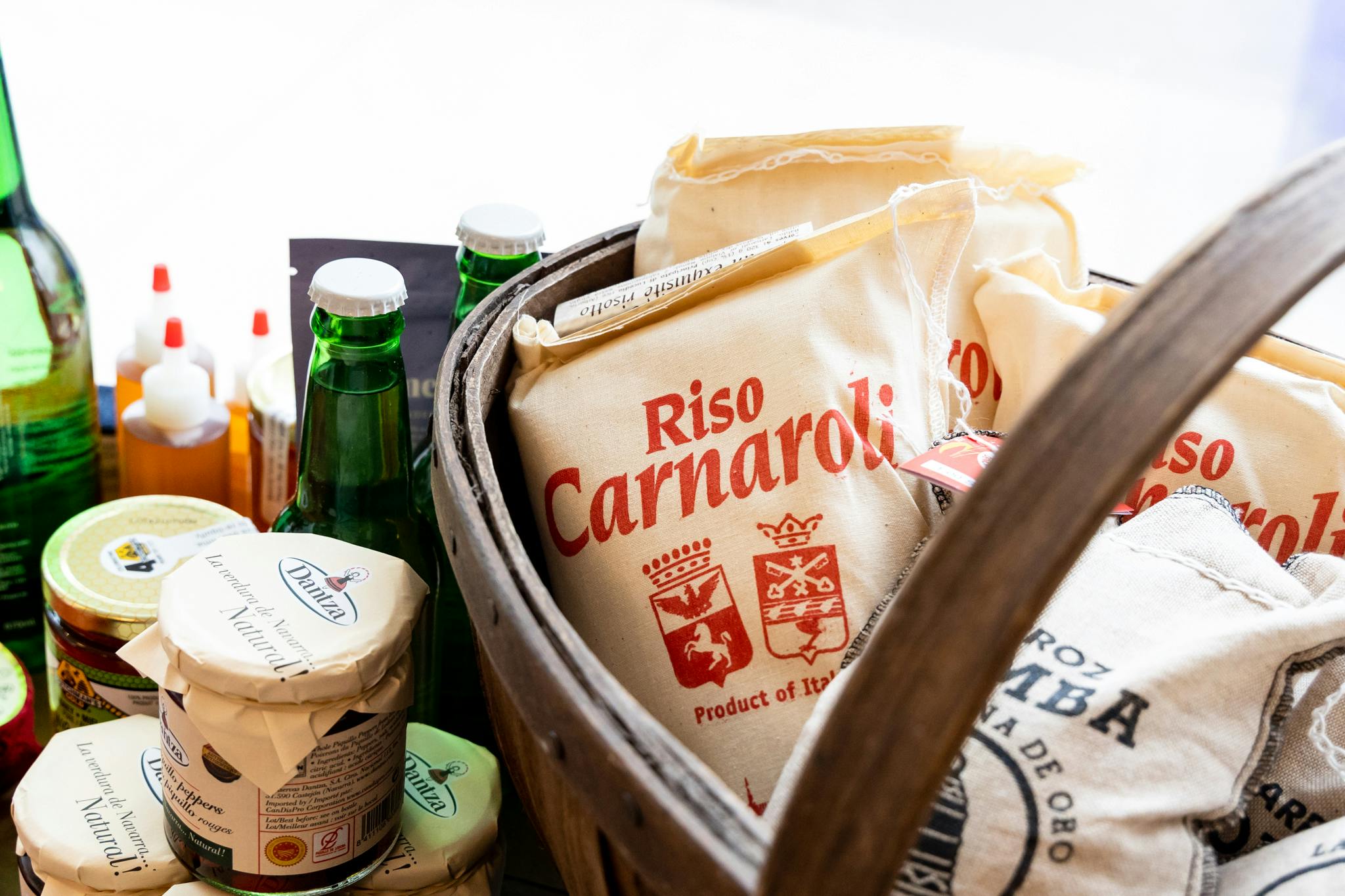 There's also a well-rounded selection of international products sure to pique your interest. Carnaroli Rice from Italy, perfect for risotto, the ever popular Torres Black Truffle Chips from Spain, olive oil from Greece, tapenade from France and a variety of canned seafood from Spain including fried mussels, razor clams and octopus.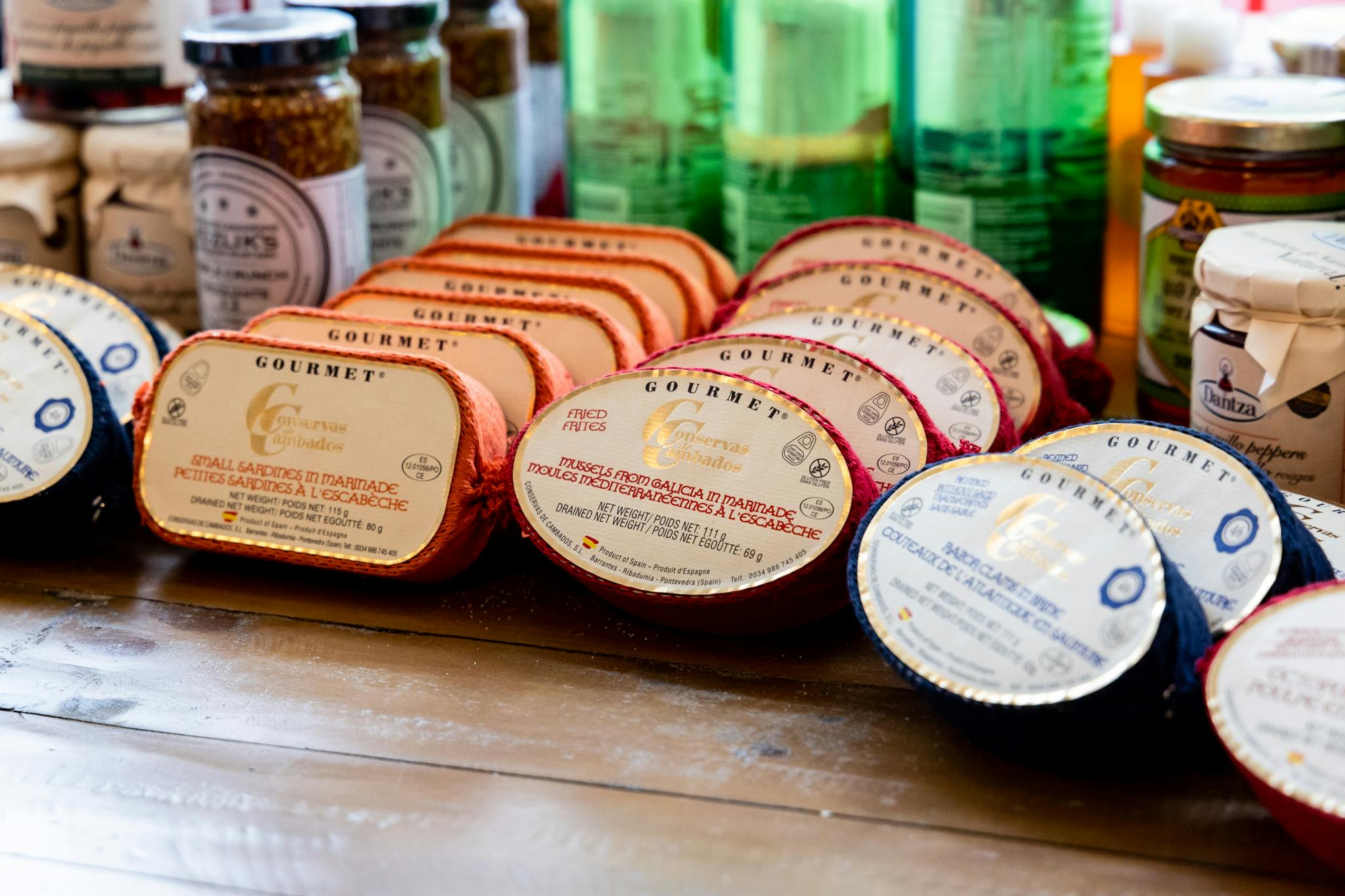 Those looking to pick up a new skill or develop their interests in pasta should take a look at Tiny Market Co.'s pasta classes, which have recently launched. Aside from just learning how to make pasta from the team, you actually get to choose which kind you'd like to focus on from their list. To book your classes or learn more about this exciting opportunity, you can email the team at info@tinymarketco.com.
Already offering many products, beyond just pasta created in-house, Mrak hopes to continue to expand their selection. Plans to sell provisions like preserved eggplant, one of Mrak's favourites, and pickled beets are on the horizon, in addition to fresh salads that could make an appearance as the warmer weather rolls around.
Pasta options are constantly being updated. With certain signature items staying, others have their fillings rotated based on seasonality. Plus, new ones are always being added to the menu, like their most recent additions of spinach spaghetti and saffron gnocchi.
Find Tiny Market Co. at 938 Bathurst Street Wednesday through Sunday from 11 a.m. until 6 p.m. Follow them on Instagram for updates on their weekly lunch specials and new products in stock.