An hour before opening, Eric Y. Wang is pacing around the restaurant, prepping the bar, and carefully placing flameless candles onto their feather-shaped wall holders. The atmosphere is quiet, but focused. The staff is prepping their stations in the kitchen and scrubbing the surfaces of the restaurant. Wang, the owner of this new Parkdale restaurant, floats to help out here and there, taking care of everything in between.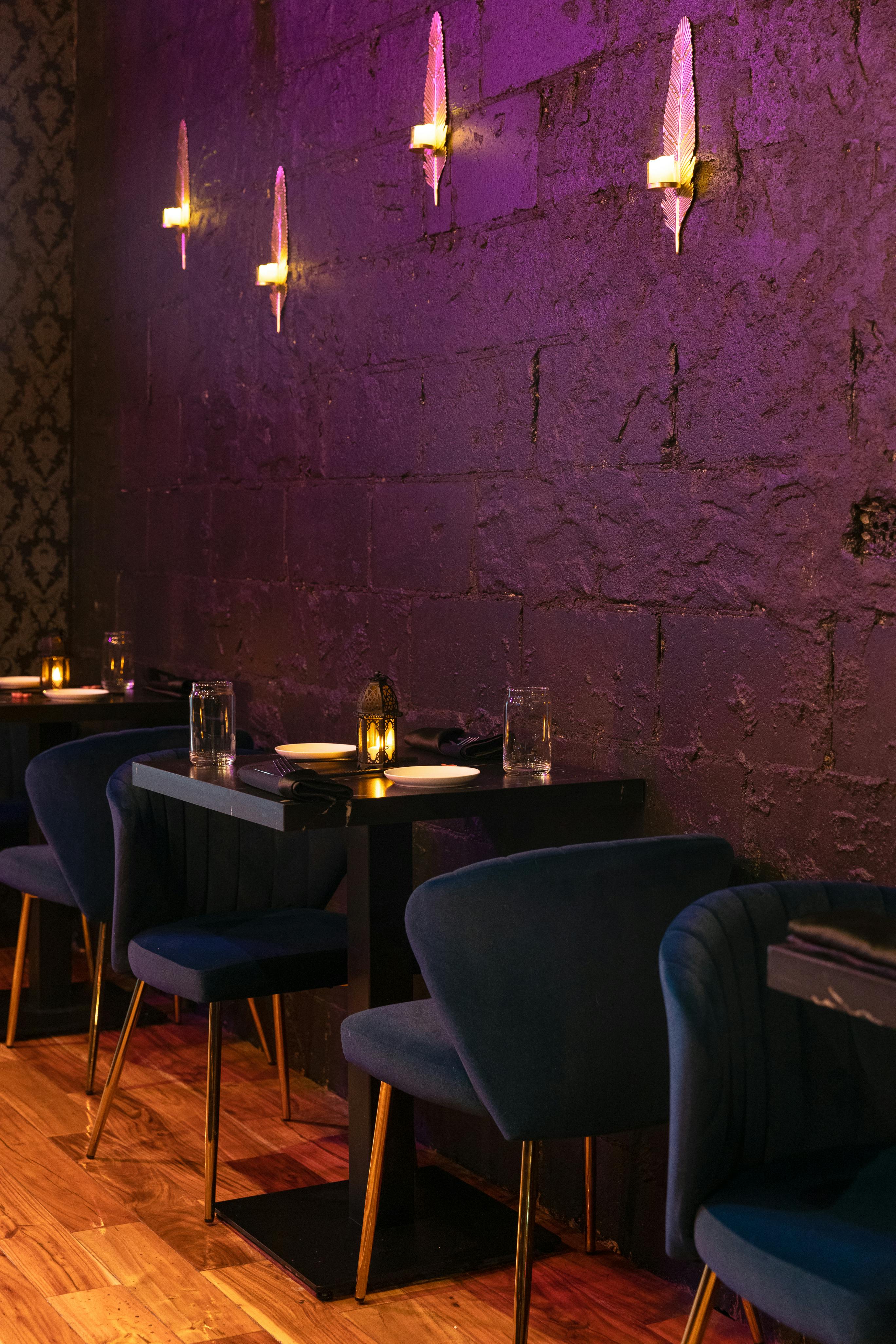 At 16 years old, Wang got his first job as a dishwasher at his local Turtle Jack's.
"I loved the work, and I loved staying on my feet," he remembers. "I don't think I was ever cut out for a sit-down office job."
While he never did too well in school, he ended up putting himself through culinary school, hospitality school, then earning his BBA. By then, he'd already gotten a few good years serving and bartending at restaurants around town. Wang doesn't disagree that those long days were what encouraged him to insist on a no-tipping system at his new restaurant.
"We're one of the very few countries in the world that still does tipping—it's ridiculous," he says. "Everyone here is on salary and getting their benefits. It's the only way the staff can have a steady income and work toward their goals."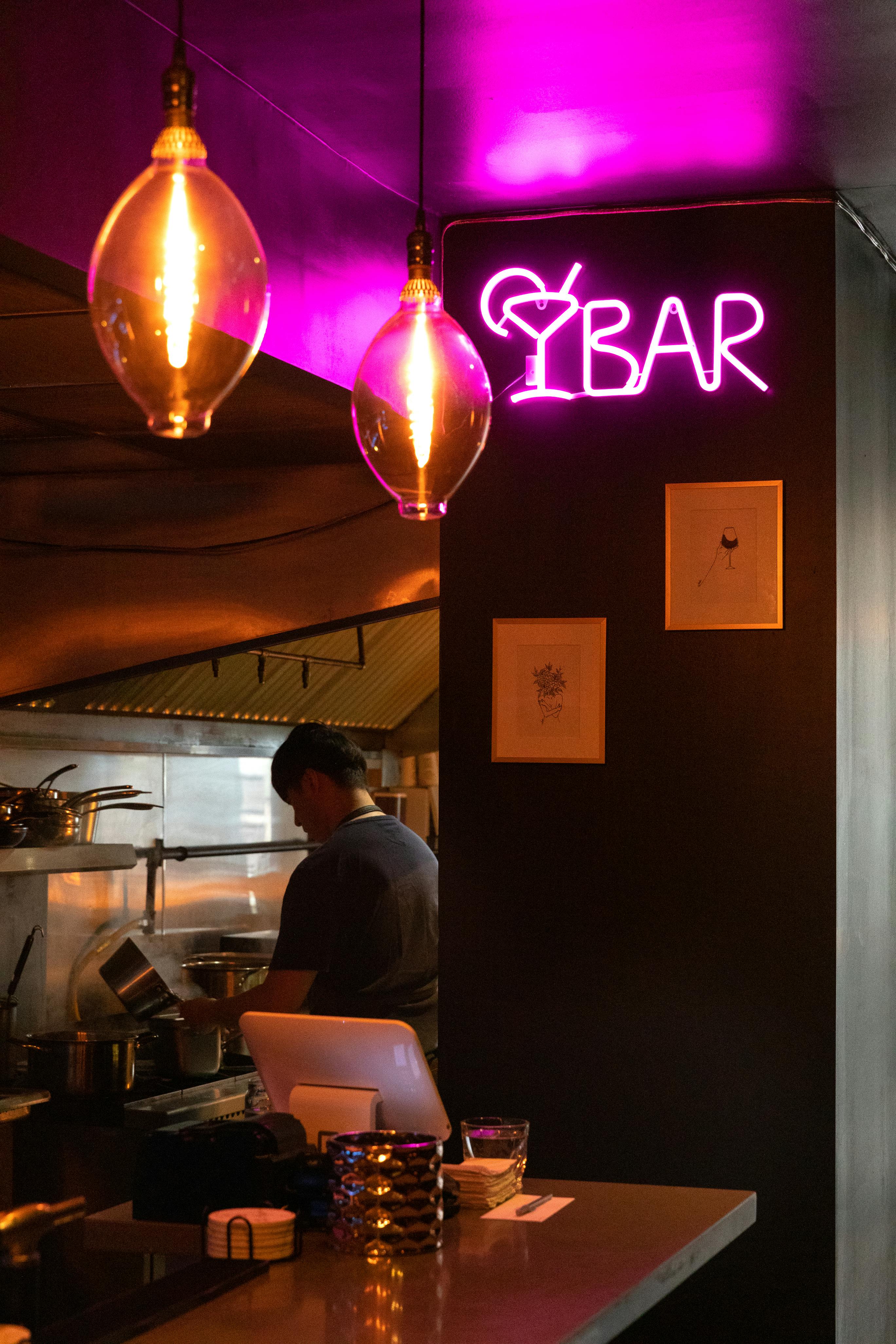 After COVID forced him to take some downtime, Wang finally decided to take the leap and, on Valentine's Day this year, opened the doors to Then and Now Restaurant, an Asian fusion concept that pays homage to the flavours his mom shared with him as a child then, plus the ones he discovered on his own and fell in love with during his career—the now.
Like the concept behind "then and now", the space itself also seems to play on juxtapositions. Stepping from the bright, naturally lit entry into the main dining room is a difference of night and day.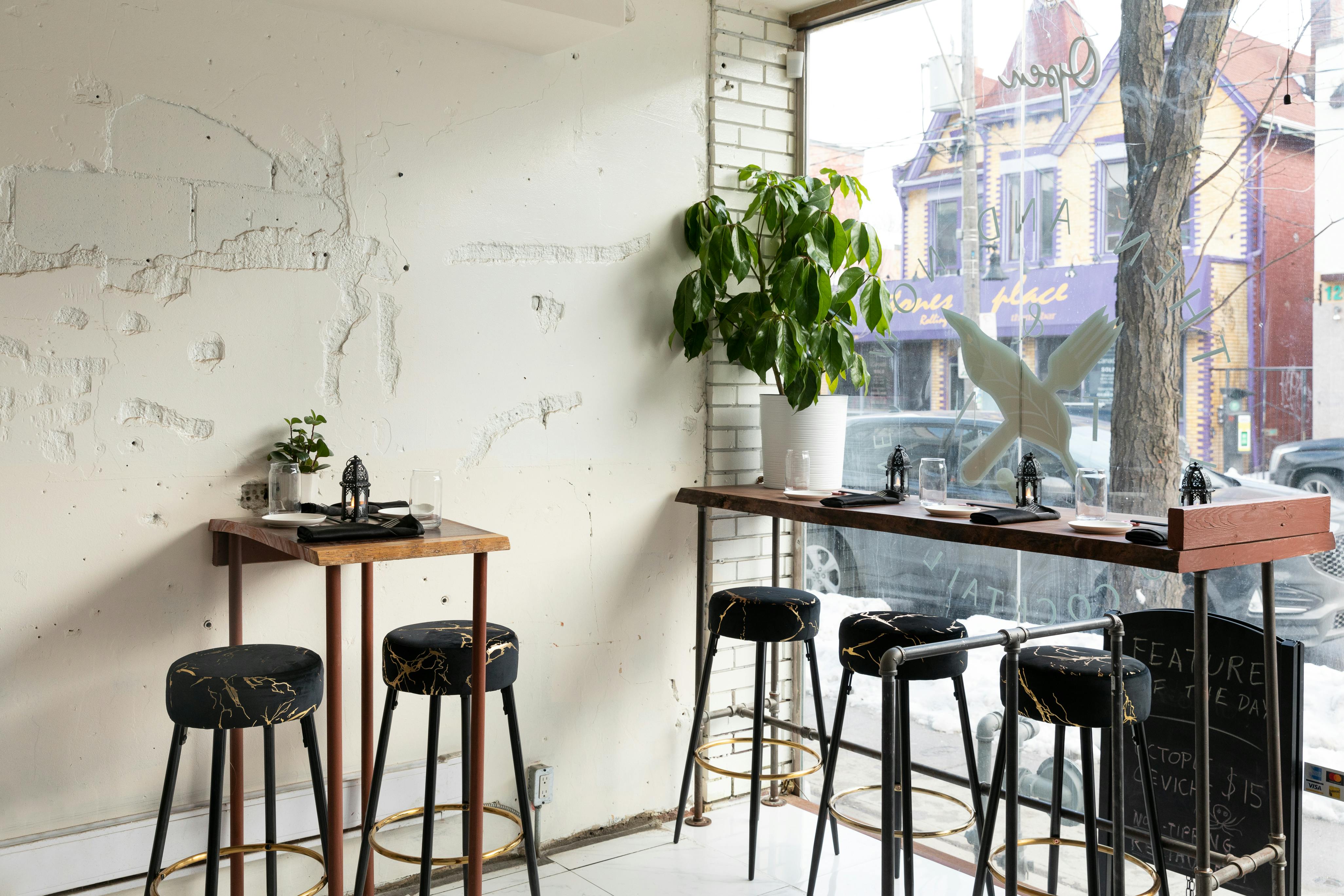 Once you've entered, visitors are drawn into a different atmosphere, where black paint covers every wall and all over ceilings. Against it, metallic light fixtures float over guests, who'll enjoy the pops of bold colours of the abstract murals painted by Wang's friend, Toronto artist Sarah Giffin.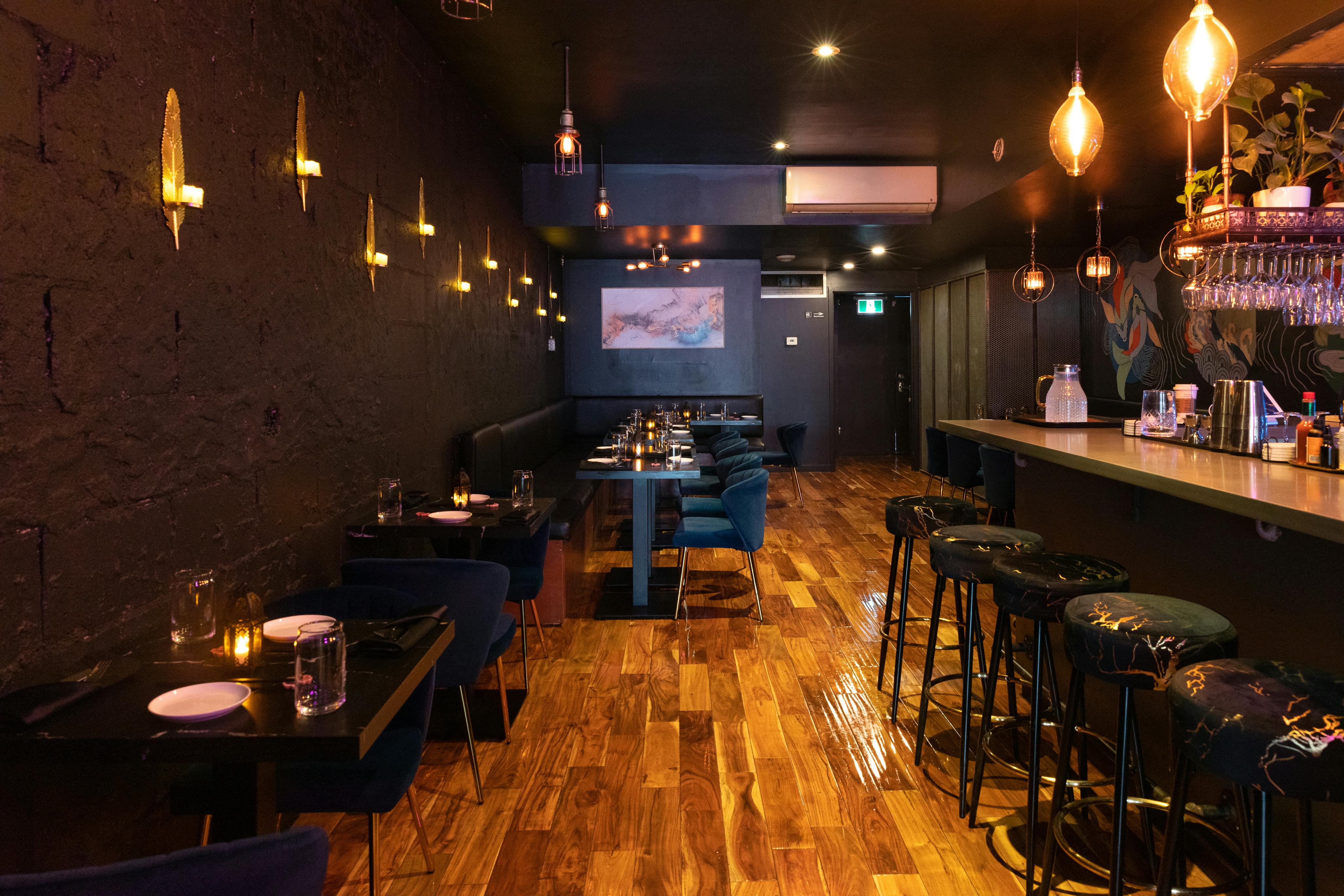 On busy nights, the rectangular dining room gets filled with the kind of intimate energy that you can only get from a neighbourhood spot like this.
At Then and Now, you won't spend too long pondering the fusion creations—items like French Onion Soup, Steak Frites, and Risotto are such recognizable, welcome dishes that diners will have no problem picking out their favourites.
"I wanted to keep the fusion simple—just bringing two different kinds of flavour into one familiar dish," he explains. "I love the surprise element of ordering a dish you think you know, but when you taste it, it's fresh and new."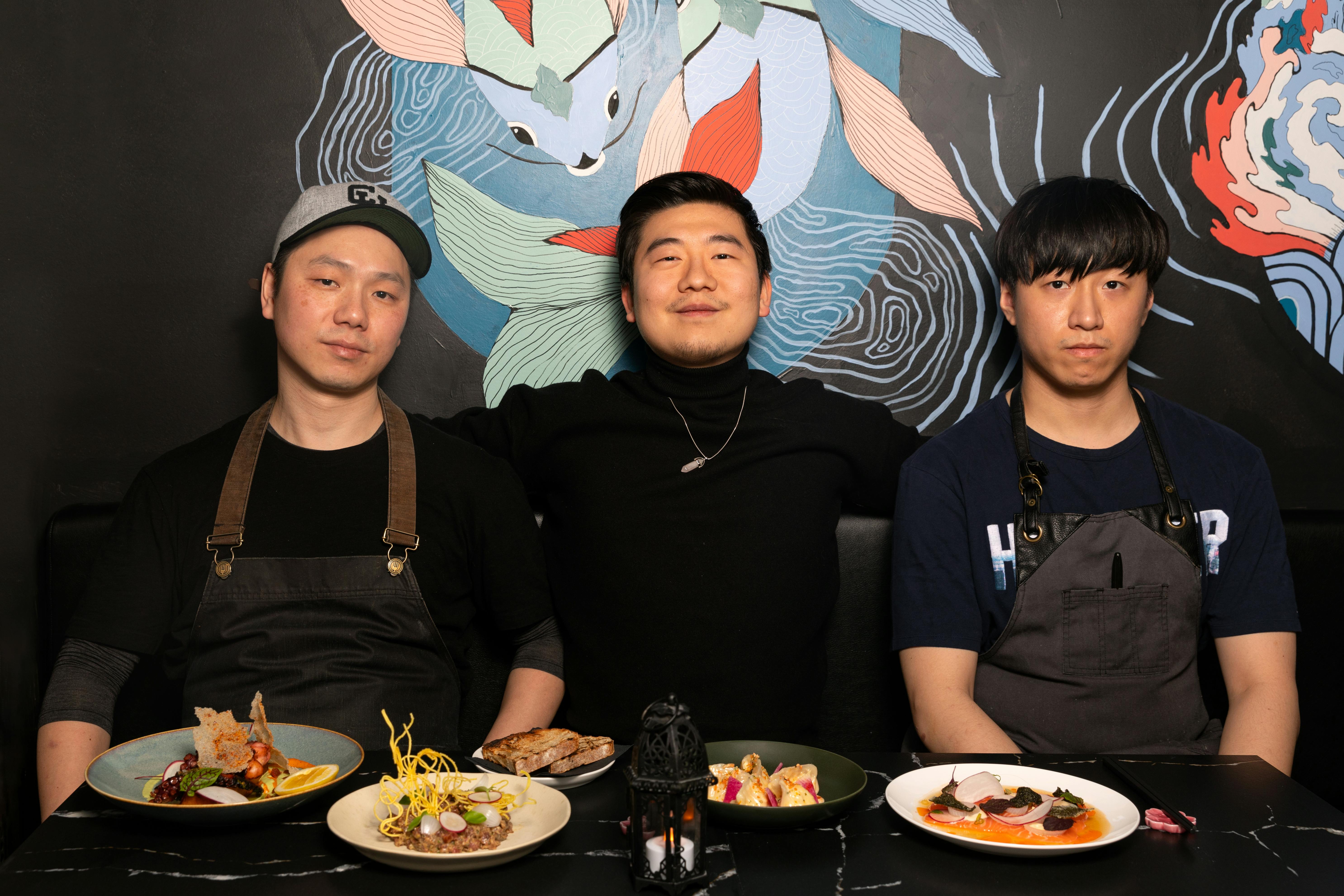 Working closely with Chef Sean Kim (Kasa Moto, Dasha) and Sous-Chef Ian Yau, the three of them carefully brought Wang's minimalist-fusion vision to life. The Ricotta Dumpling—their most popular dish by far—was the very first dish that Chef Kim prepared for Wang, and the dish that made Wang certain that he was the man for the job.
"As soon as I tasted it, I told him, 'this is exactly the direction I want to go, and we have to have this on the menu.' Tasting it gave me even more confidence that this Asian fusion concept could be something special."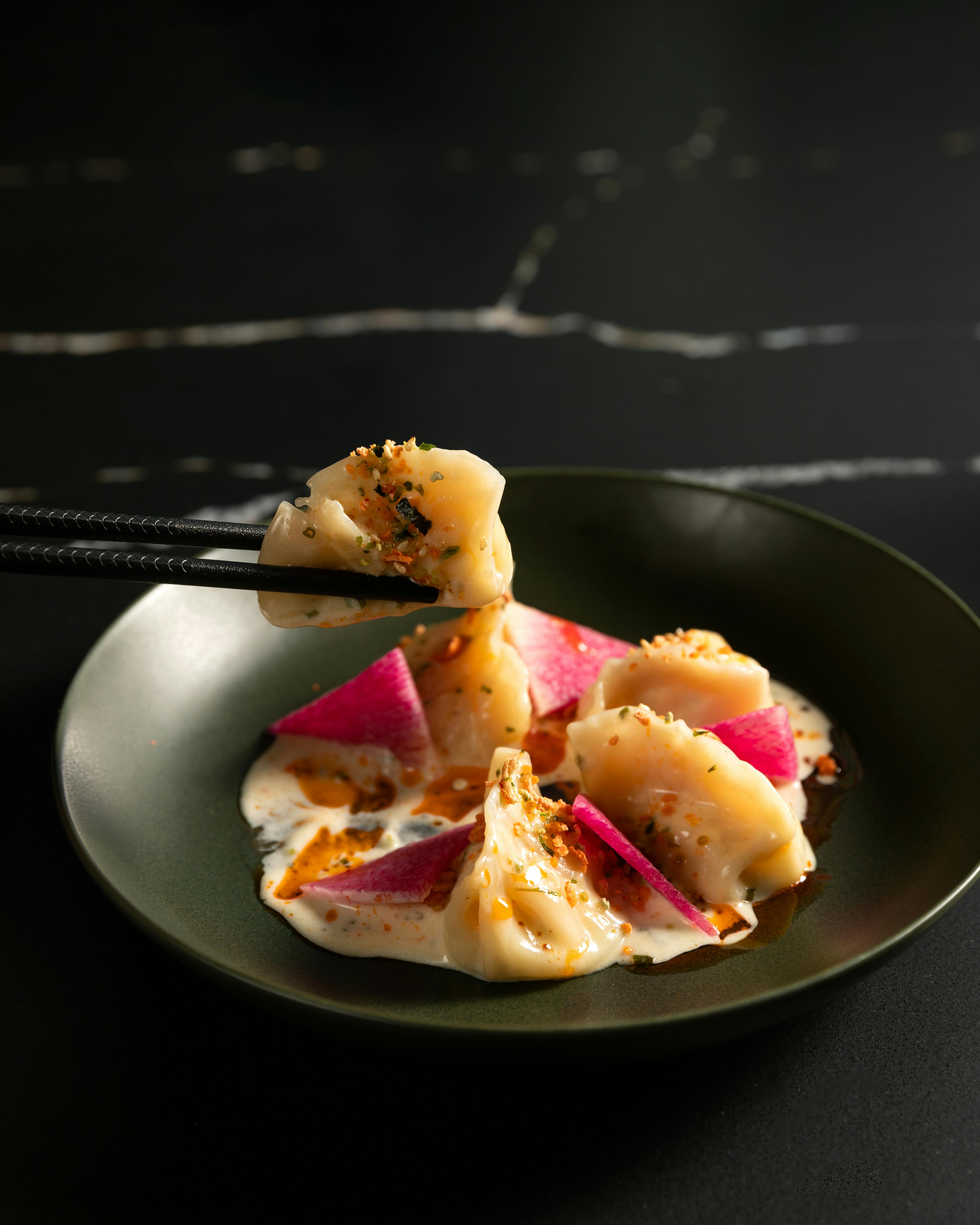 Stuffed with prawn and ricotta, the handmade dumplings are served on top of a rich but refreshing lemon butter sauce, then topped with furikake seasoning and fresh radish slices. Just as Wang envisioned, it's exactly the type of familiar-but-new flavour that makes you say, I never thought these would go well together.
The Steak Tartare, another classic that's been taken for granted, is given new life here with a zesty mix of Chinese chili crisp, shallot, chive, pickled pearl onion, pickled ginger, and a house sauce that gives just a hint of wasabi. The final garnish—a crispy noodle fan—gives the French dish its crunchy element with a Chinese twist.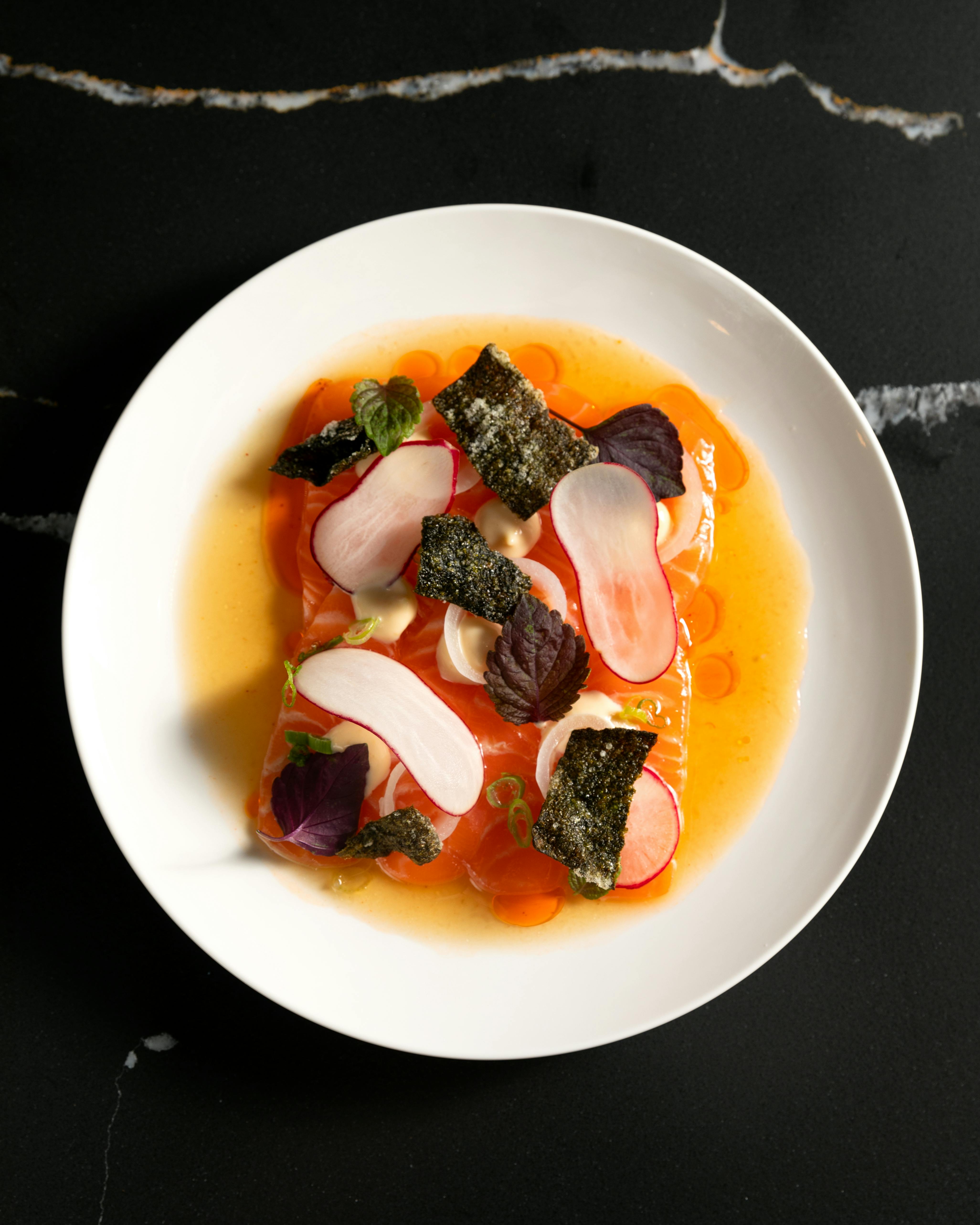 For their Salmon Carpaccio, thinly-sliced pieces of fish are meticulously laid flat on a delightfully complex touban (chili bean paste) ponzu, then topped with pickled onion, fresh radish, green onion, plus miso aioli and crispy nori chips for that extra umami burst.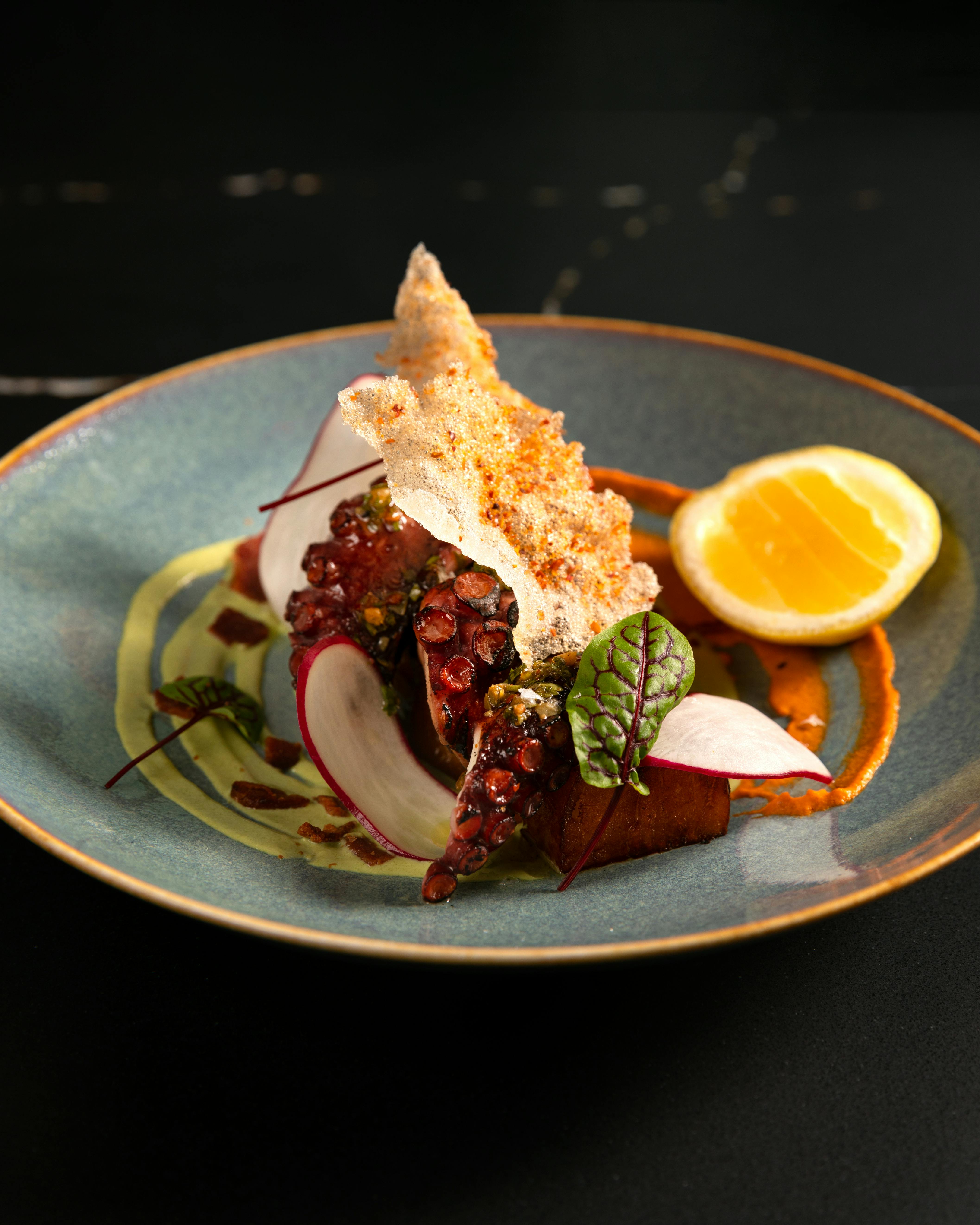 Listed simply as "Octopus," this main course is a feast for cameras and stomachs. Sous-vide and grilled-till-crunchy octopus sits over an equally crunchy and creamy potato pave, then topped with bacon bits and a thin, crunchy sheet of puffed rice cracker. Two swooshes of sauces appear on either sides of the plate: verde crema on one, and romesco on the other. While the Asian element is a bit more subtle here, the mix of Milanese, Mexican, and Catalonian sauces feels like a culinary trip of its own.
With Chef Kim helping him out on the food menu, Wang had no problem taking the cocktails into his own hands. Each of the seven drinks on Then and Now's cocktail menu offers a different set of flavours for every kind of drinker. Whiskey, gin, rum, tequila, vodka, prosecco, sake, plum wine—the bar comes into full force on this thorough and varying menu.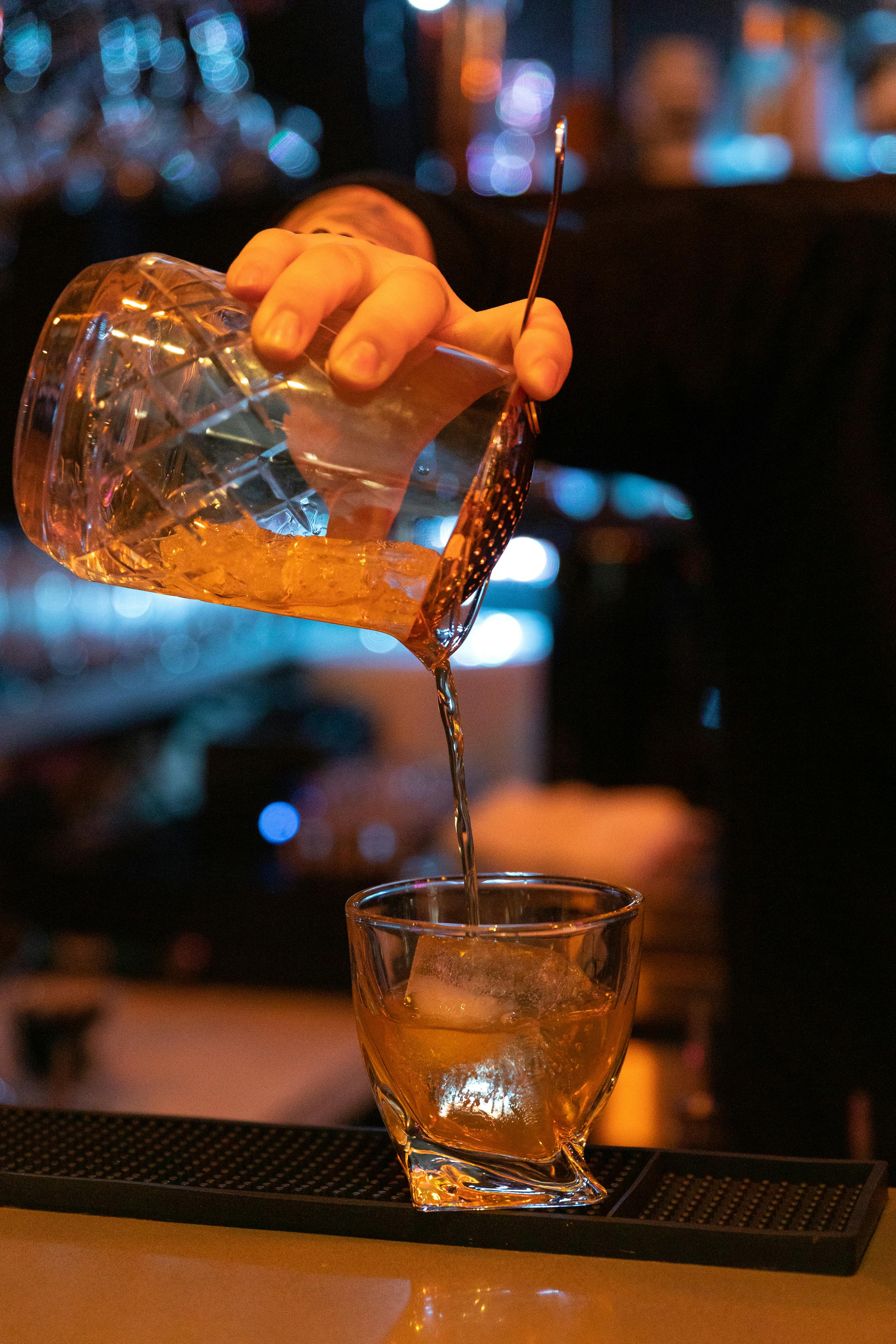 Sitting at the very top, The Eighth Wonder is Wang's twist on the Old Fashioned. The whiskey used for this drink is infused with eight different Asian spices, including star anise, tea, dried longan and dates, creating an interesting blend that makes the Old Fashioned's hint of orange taste almost like Chinese mandarin peel.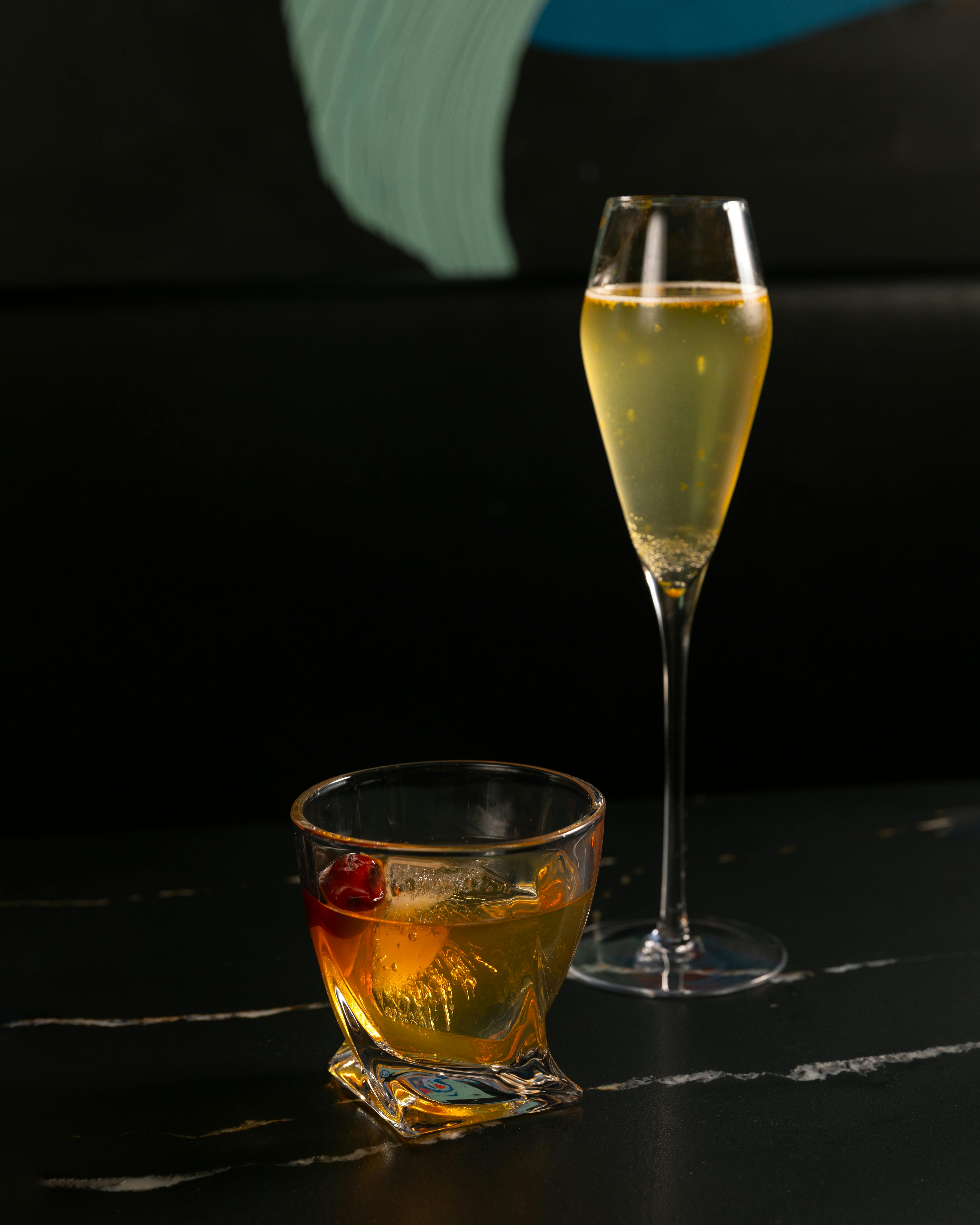 The Crémant de Chine, another of Wang's prized creations, pairs London Dry Gin with Goldschlager, prosecco, lemon juice, and the distinctly Asian pear juice, adding a tart and slightly floral note to the glass of bubbly. As a grand finale, Wang sprinkles edible gold flakes and gives it a good swirl before serving it to his customers.
While these two have been Then and Now's top-rated cocktails, the other drinks on the menu are equally worthy of a taste, with unique ingredients like oolong tea, caramelized lychee, coconut water, and umeboshi just jumping out from the menu and stirring our curiosities.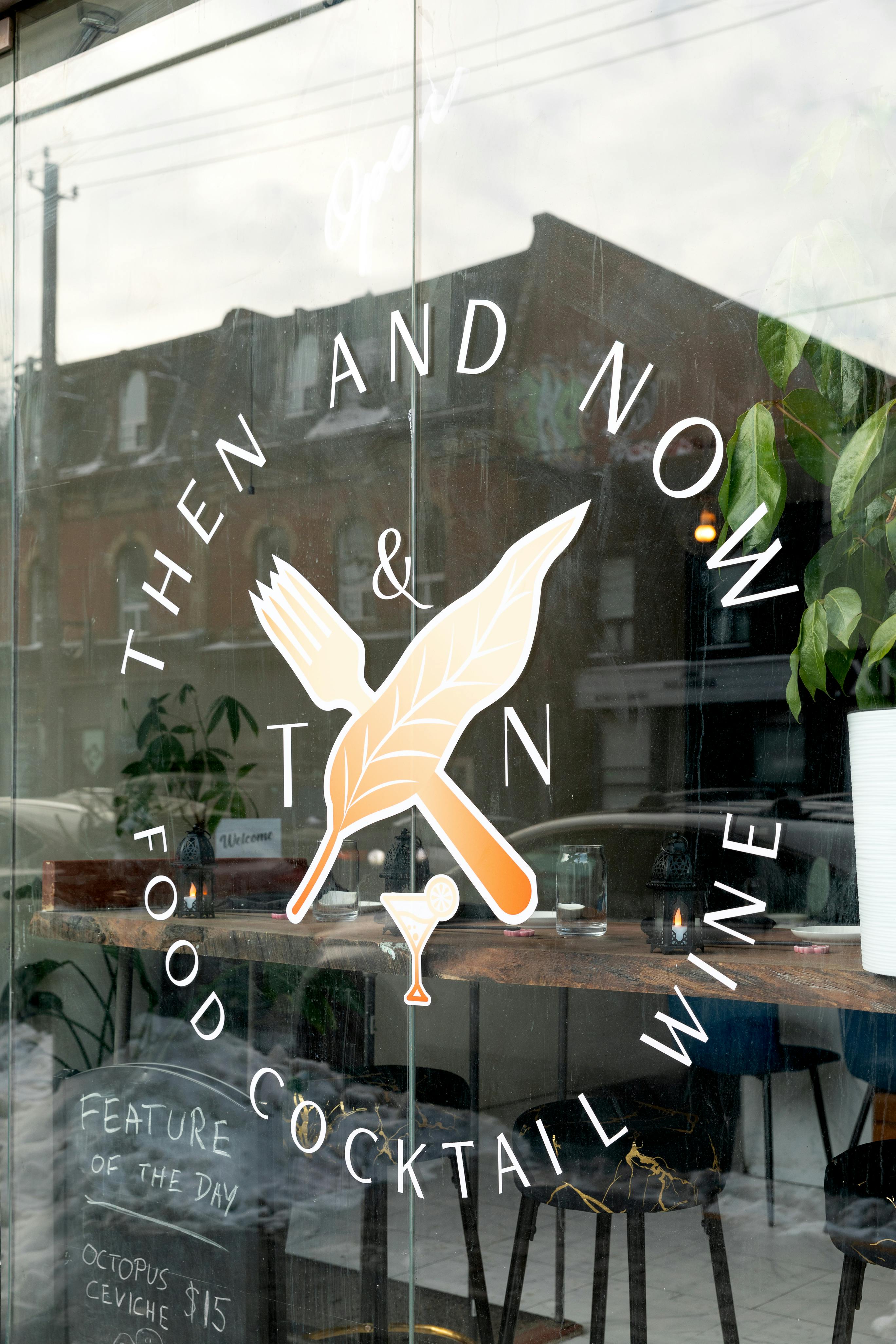 Come to Then and Now for the food and stay for the cocktails—or vice versa. Just make sure to have a bit of both when you visit this friendly and different Parkdale gem.