W Toronto, Bloor Street's newest luxury hotel, is an adult playground with something for every taste. Whether you're looking for a comfortably luxe room, an extraordinary cocktail, a dazzling dinner, or a place where you can simply let loose and play your way, W Toronto can provide. With three dining concepts -- a café, a cocktail and tapas bar and a full-service, rooftop hideaway -- it's also the place to find a medley of colourful, creative, delicious dishes that satisfy, any time of day.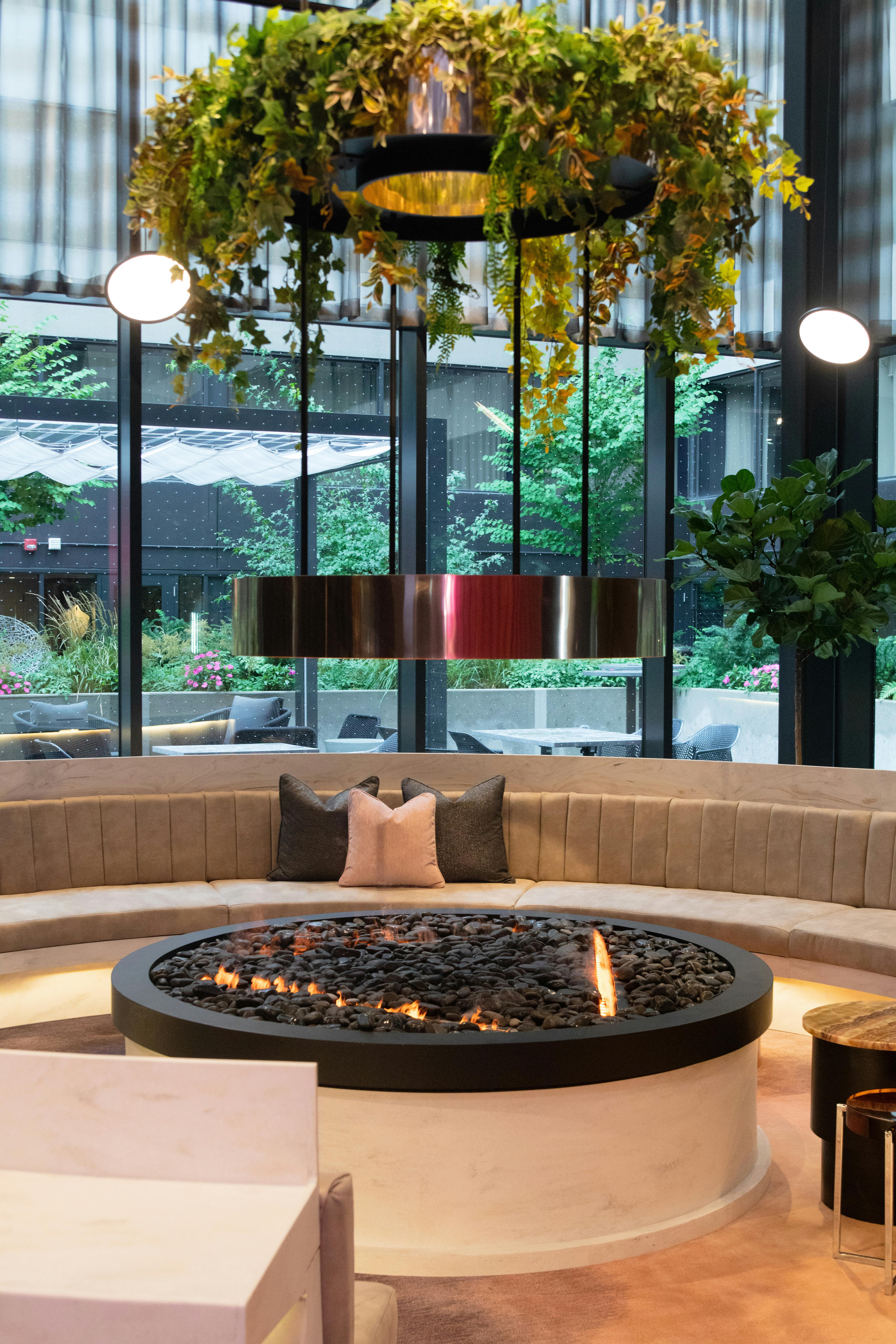 After a three-year makeover, W Toronto finally unveiled every detail of its bold, creative, $40-million redesign in July. The brand's second Canadian location boasts all of the signature W dynamism in a gloriously upscale hotel, designed by creative services firm Sid Lee. From "Whatever/Whenever" service, to bumped-up amenities meant to help guests embrace every moment of the day, W Hotels & Resorts are an antidote to more humourless hotels. A hotel described by its team as a social hub with a passion for fashion, W Toronto lives in rainbow where other spots operate in greige.
It's the seamless melding of youthful synergy and top-quality hospitality that make the W Toronto so fetching. The theme carries over to its three dining destinations, where a playful approach and serious skills result in menus that are simultaneously approachable, elegant and always joyously fun. Heading the team, are executive chef Keith Pears and executive sous chef Michael Hawryluk. Originally from the West coast, Pears is a veteran of Canada's high-end dining scene, having recently worked as executive chef at Delta Toronto. Together with Hawryluk, also with a background in luxury hotels, and a talented support team, the pair has fashioned menus that focus on top-quality ingredients, lively plating, seasonality, and unforgettable flavours.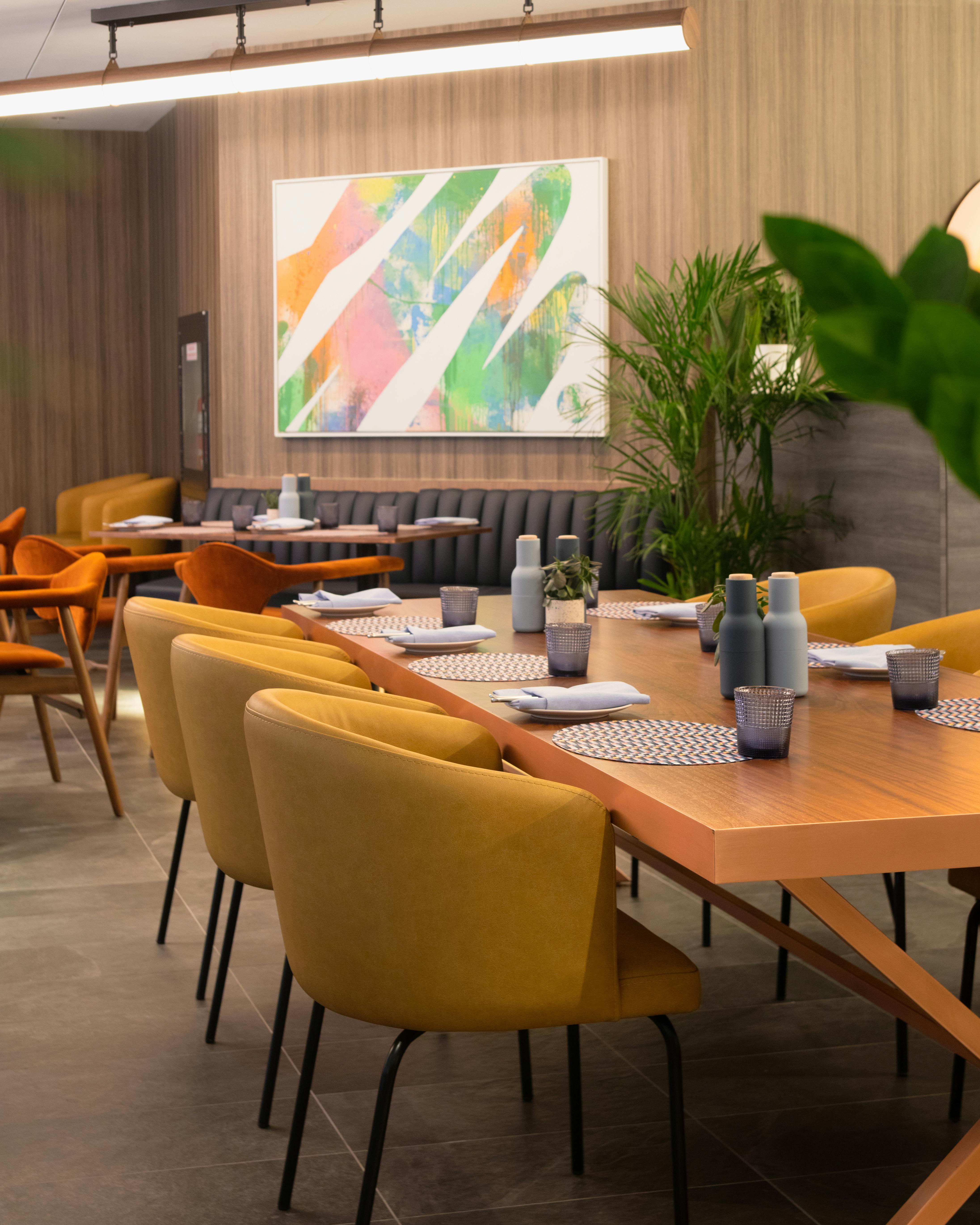 Step into W Toronto from Bloor Street and you find yourself in Public School. A café, kitchen and bar, Public School is as far removed from an average cafeteria as can be. It's a place that nods to nostalgia while serving up plant-forward dishes you could only dream of as a school-aged delinquent. Drinks range from DeMello coffees to refreshing cocktails, like the citrusy, vodka-based Spill the Tea.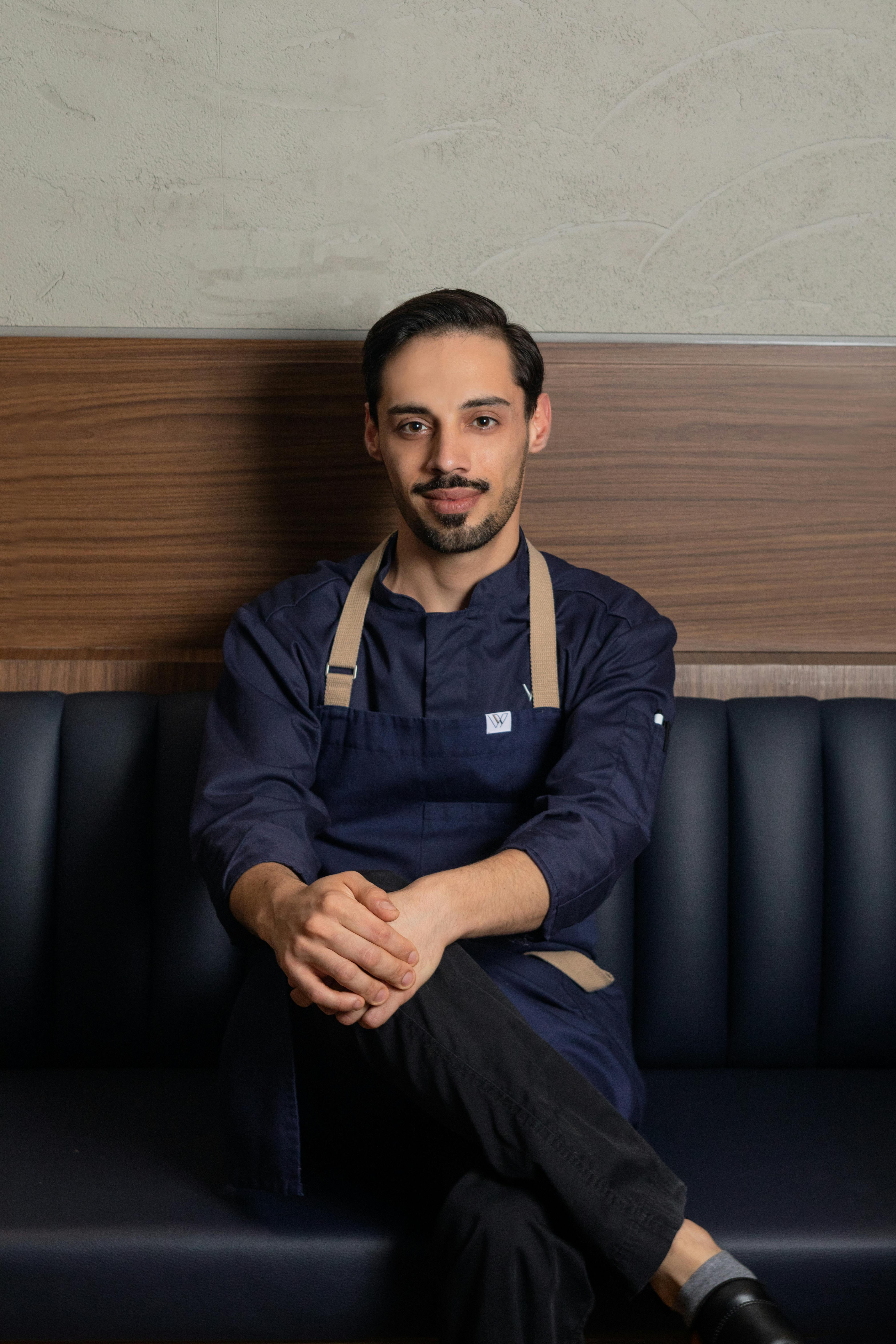 Chef Alessandro Bonfigli pictured above.
With a resumé peppered with world-class eateries -- from Don Alfonso to Langdon Hall -- chef Alessandro Bonfigli builds each dish at Public School from an haute foundation. Offering all-day dining, Public School's menus jump from just-baked croissants (supplied by local darling Noctua Bakery), and Soymilk Bread with vegan butter, to piping hot bowls of Jackfruit Bolognese.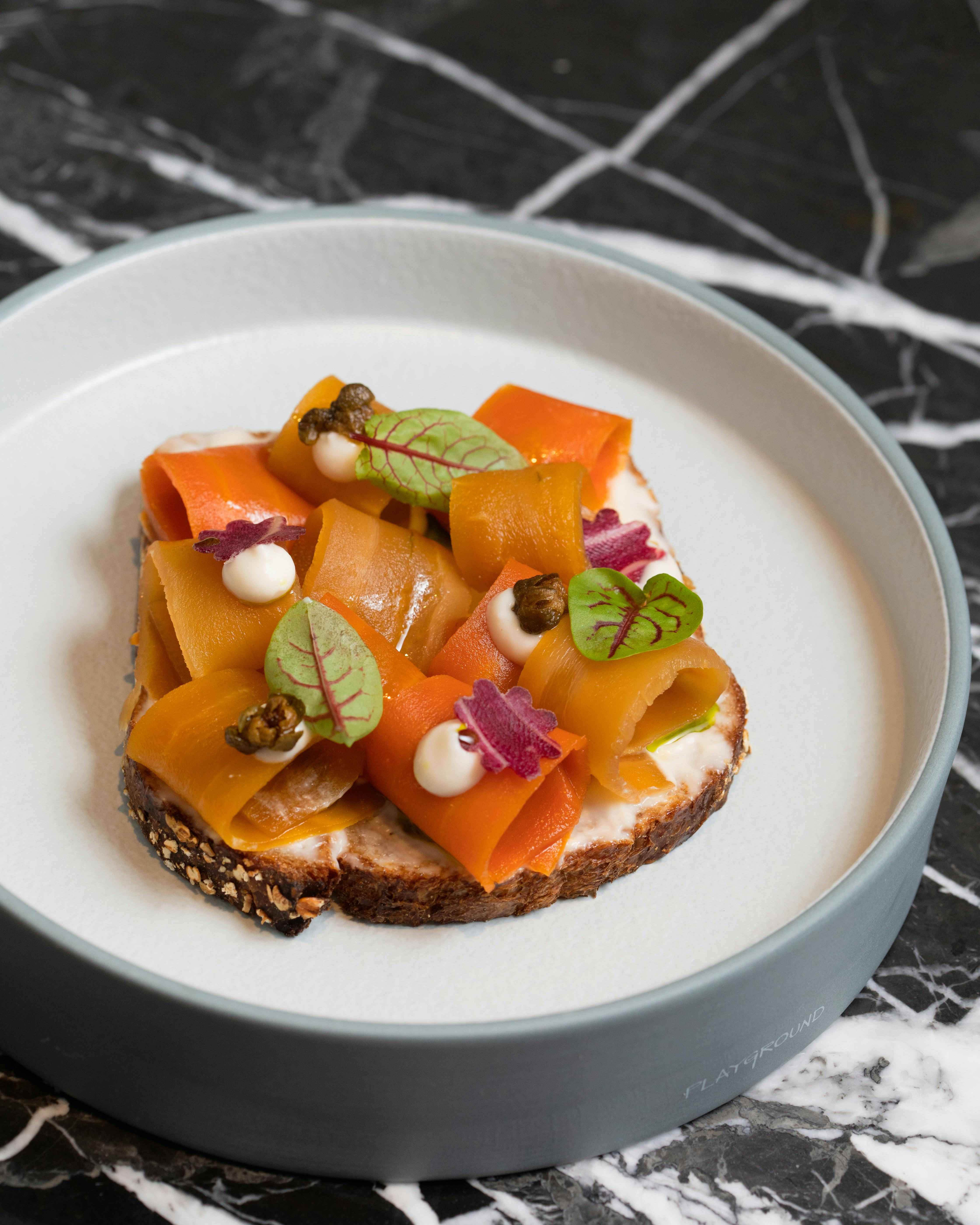 Inspired by Danish smørrebrød, Smoked Carrot Lox finds local carrots given the smoked salmon treatment. Layered onto Noctua sourdough, with horseradish aioli and capers, the effect is surprisingly bright, light and satisfying.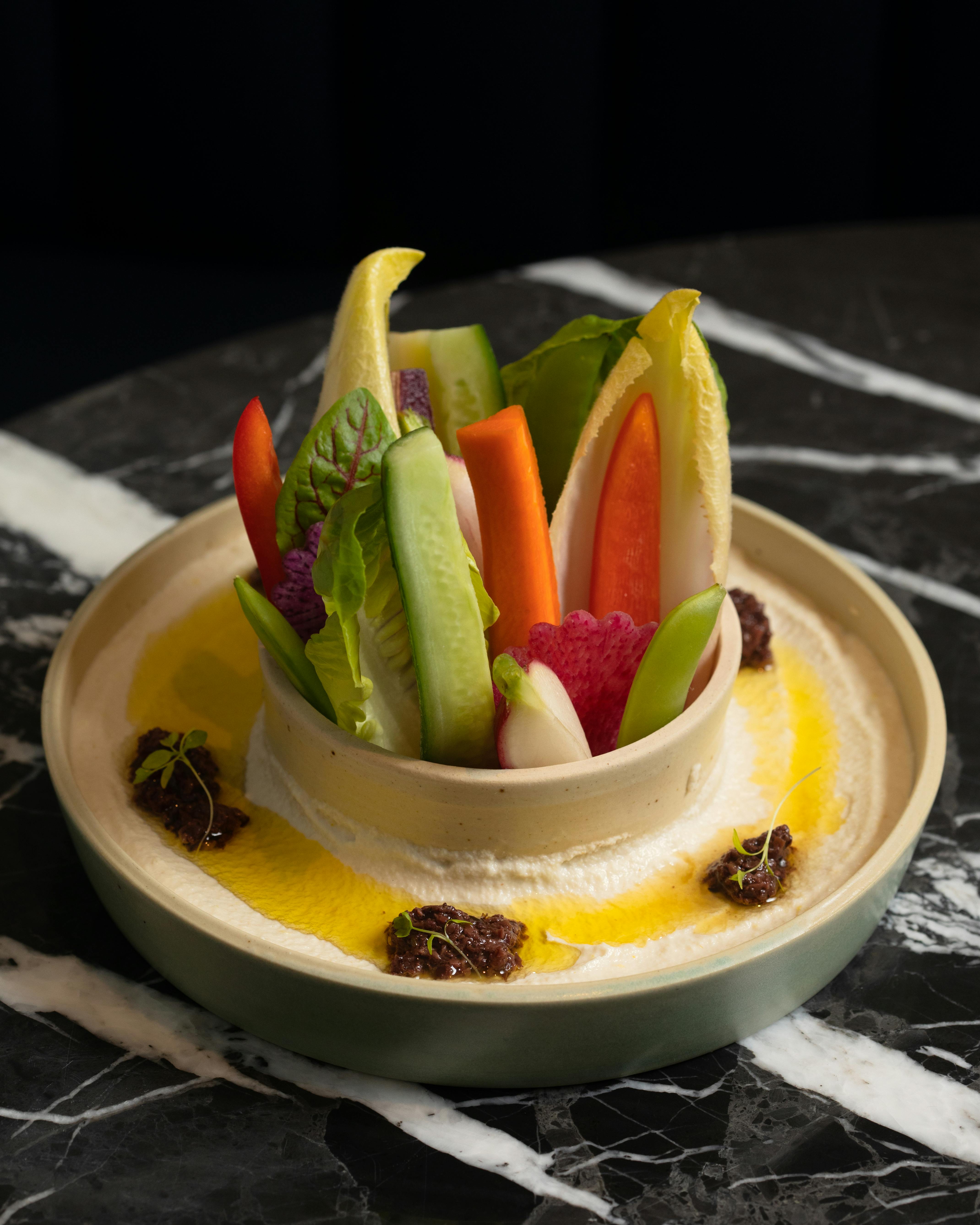 Almond Hummus, a generous, shareable starter, arrives encircling a colourful, seasonal array of crunchy crudité.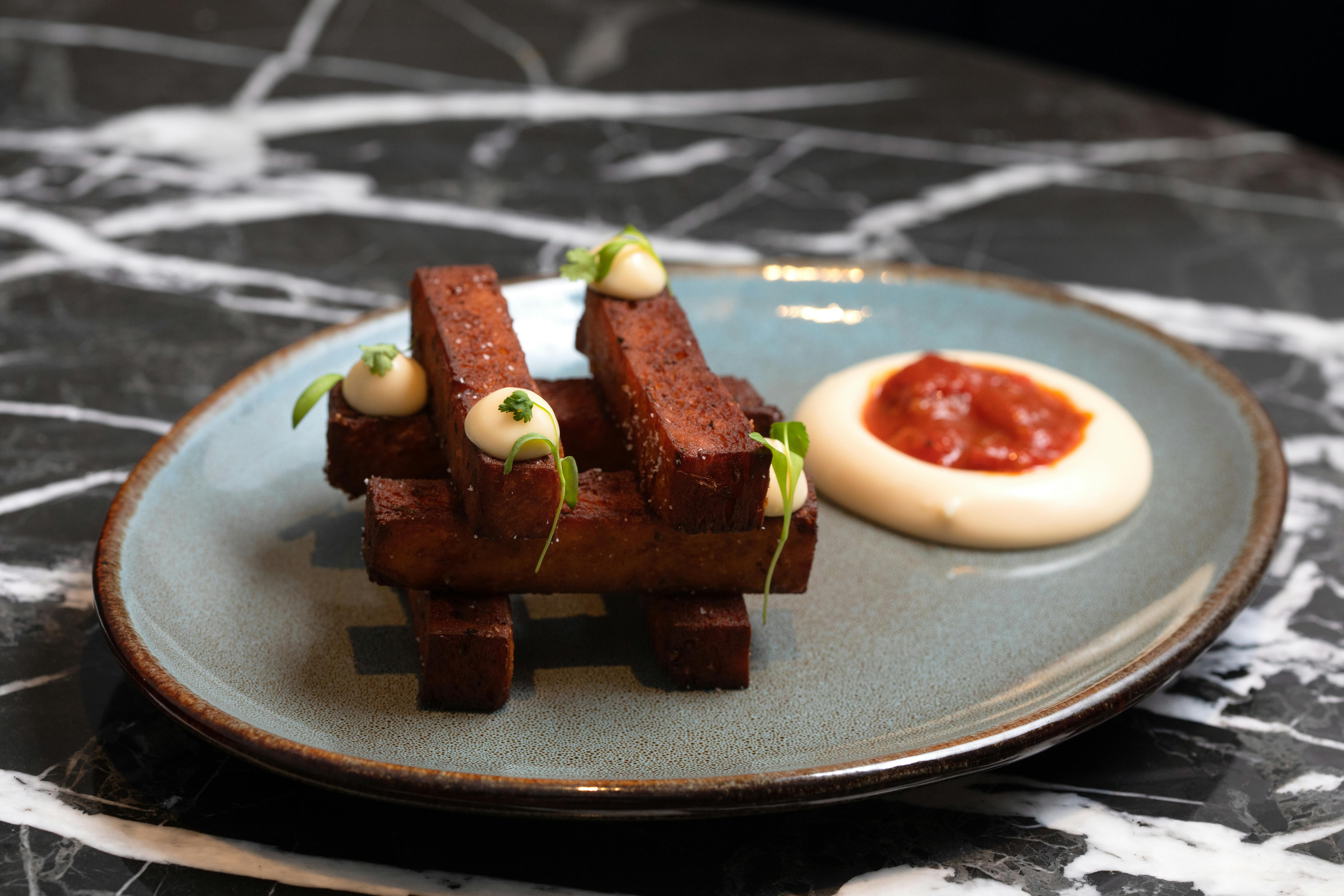 A Jenga-like tower of vegan Chickpea Fries includes garlic tahini aioli and tomato jam. Astoundingly golden, with a crisp outer shell and fluffy, tender interior, these will disappear faster than you'd like.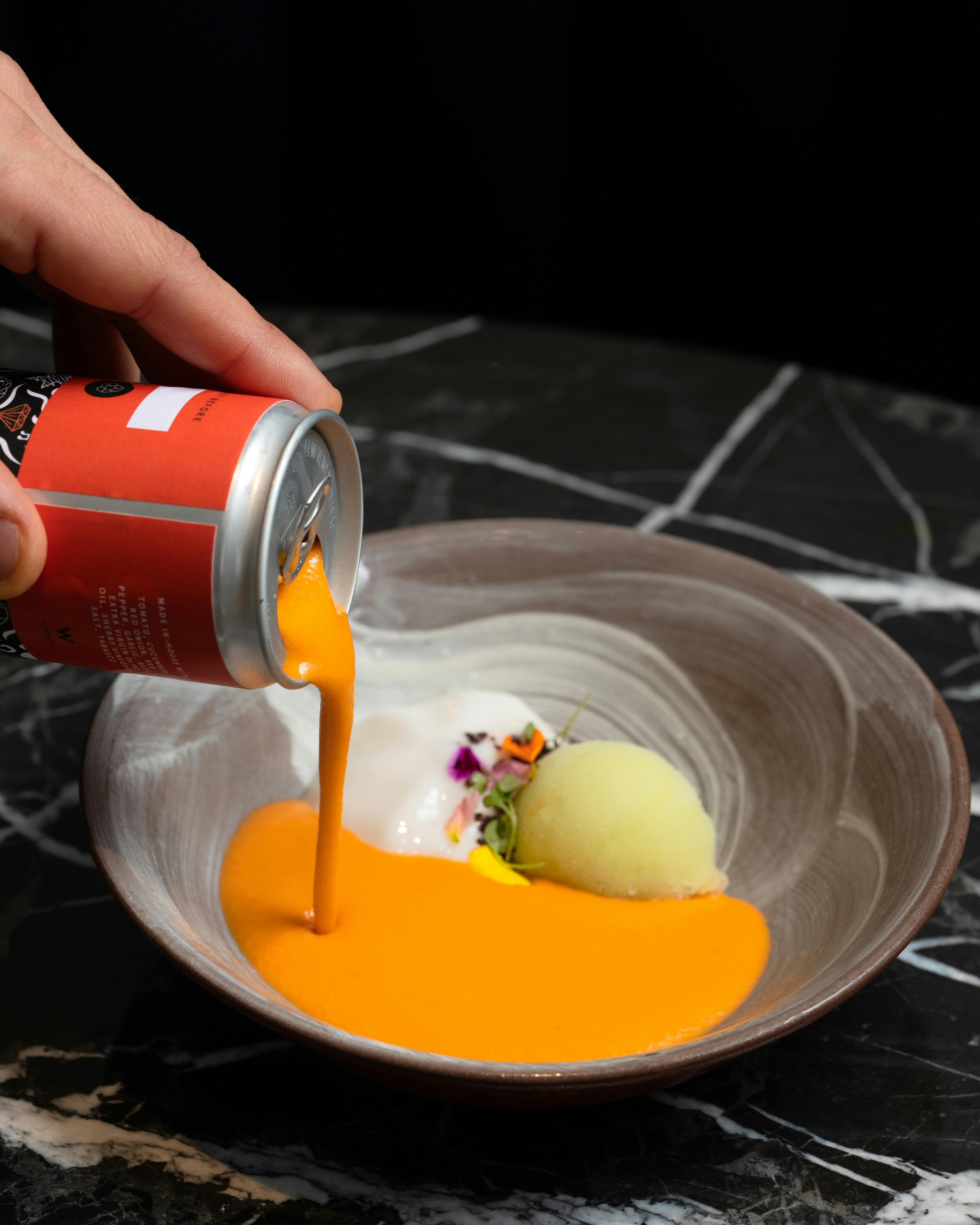 Chef Bonfigli's seasonal soup is a stunner of creativity and flavour. Billed simply as Tomato Gazpacho, the tri-textured starter pays homage to three gazpacho styles -- green, white, and red. In the bowl, pale green cucumber and dill sorbet sits next to white almond foam. A cute can bearing a Public School label contains the dish's missing link -- slightly spicy, smooth, deeply savoury red gazpacho. A dish that highlights the team's sense of fun along with its expertise, this gazpacho is one you have to try before summer fades.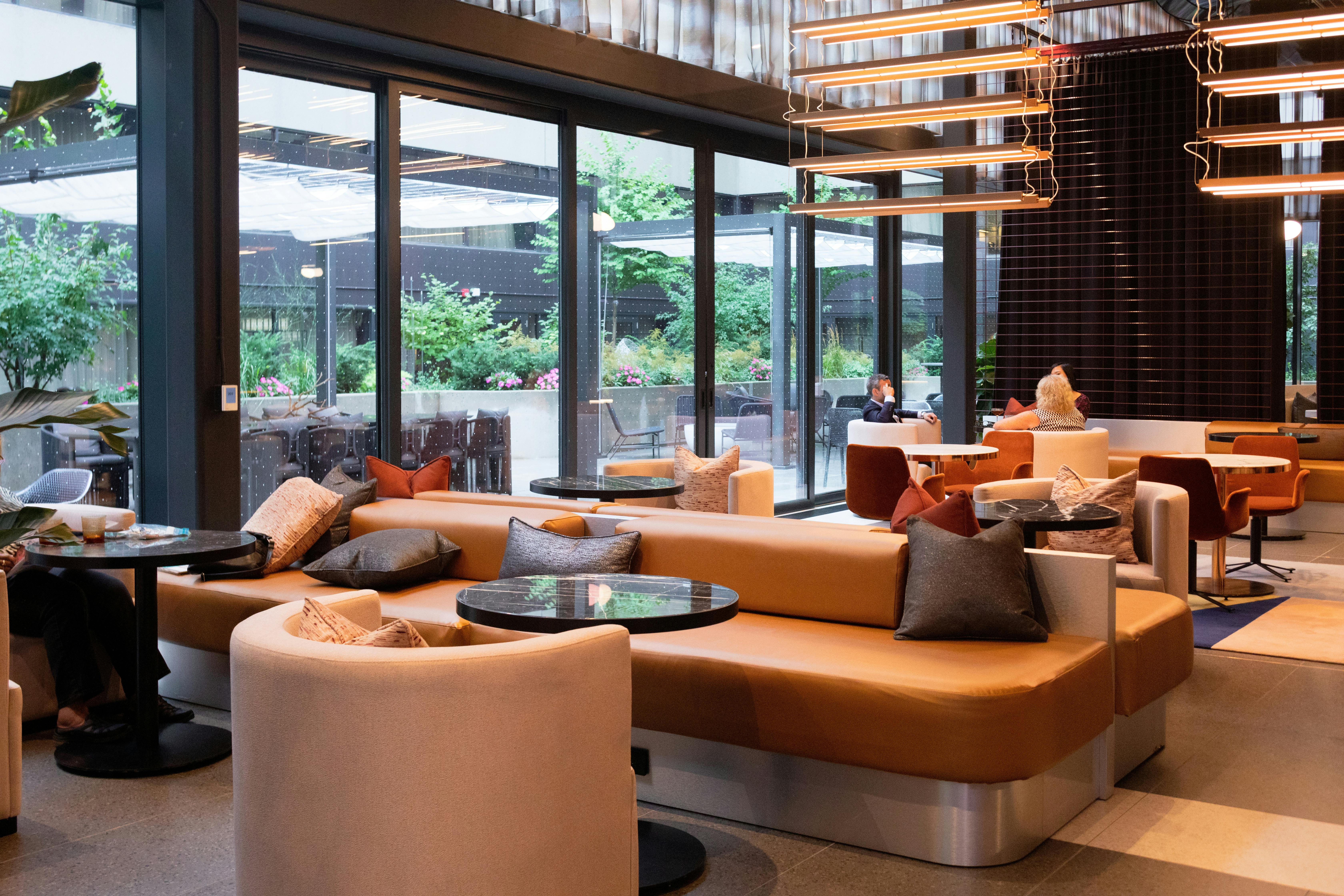 W Toronto's sixth floor is home to the hotel's lobby and Living Room, the signature lounge of W Hotel's worldwide. Here, it's a sprawling space divided into cozy nooks by a fireplace, bar, and an abundance of inviting seating. The menu of tapas-like dishes draws inspiration from Toronto's diverse neighbourhoods, from Kensington Market to Little Jamaica.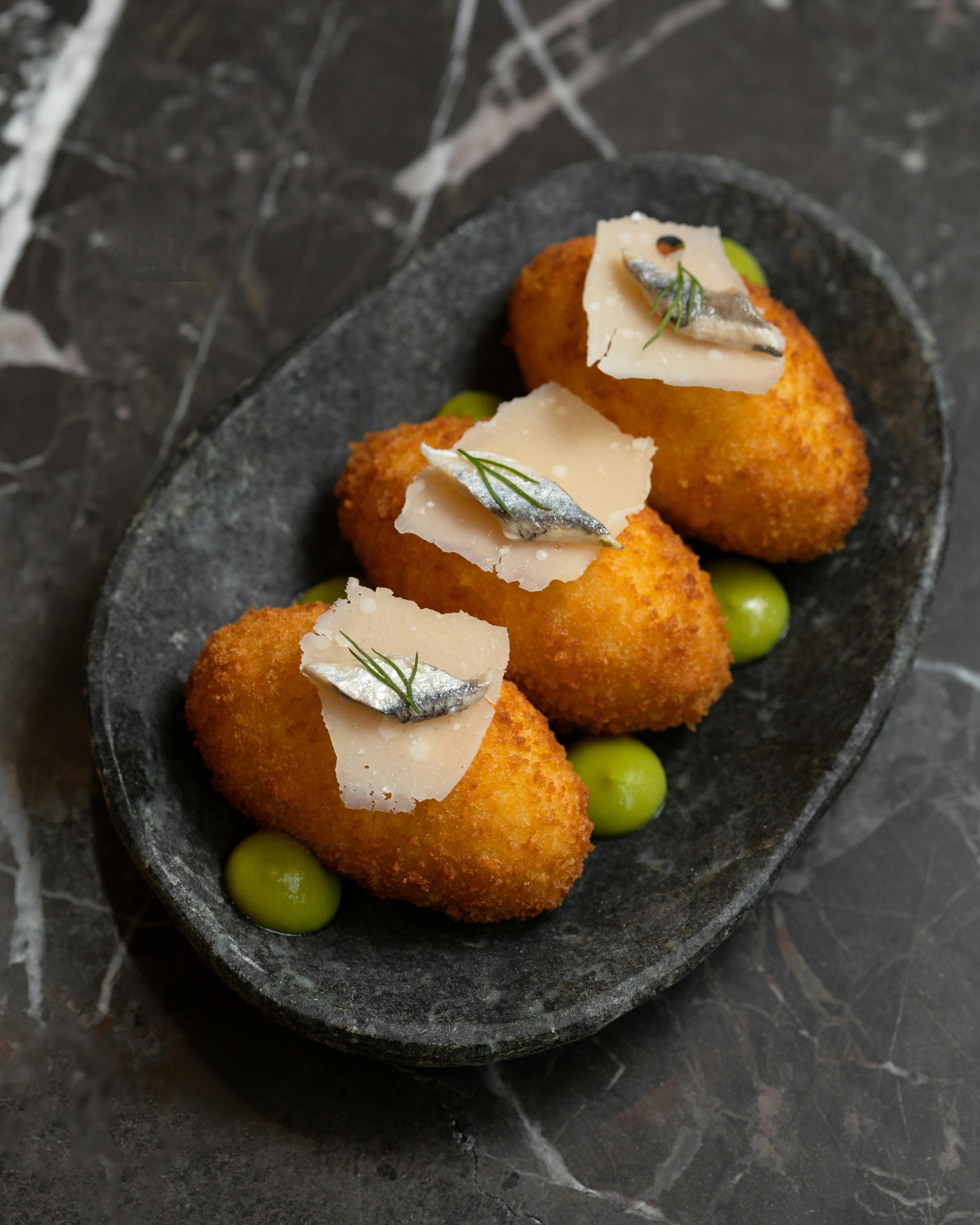 A trio of Cheddar & Potato Croquettes arrive via Little Italy, with garlic and anchovy aioli, romaine purée, and shaved Parmesan.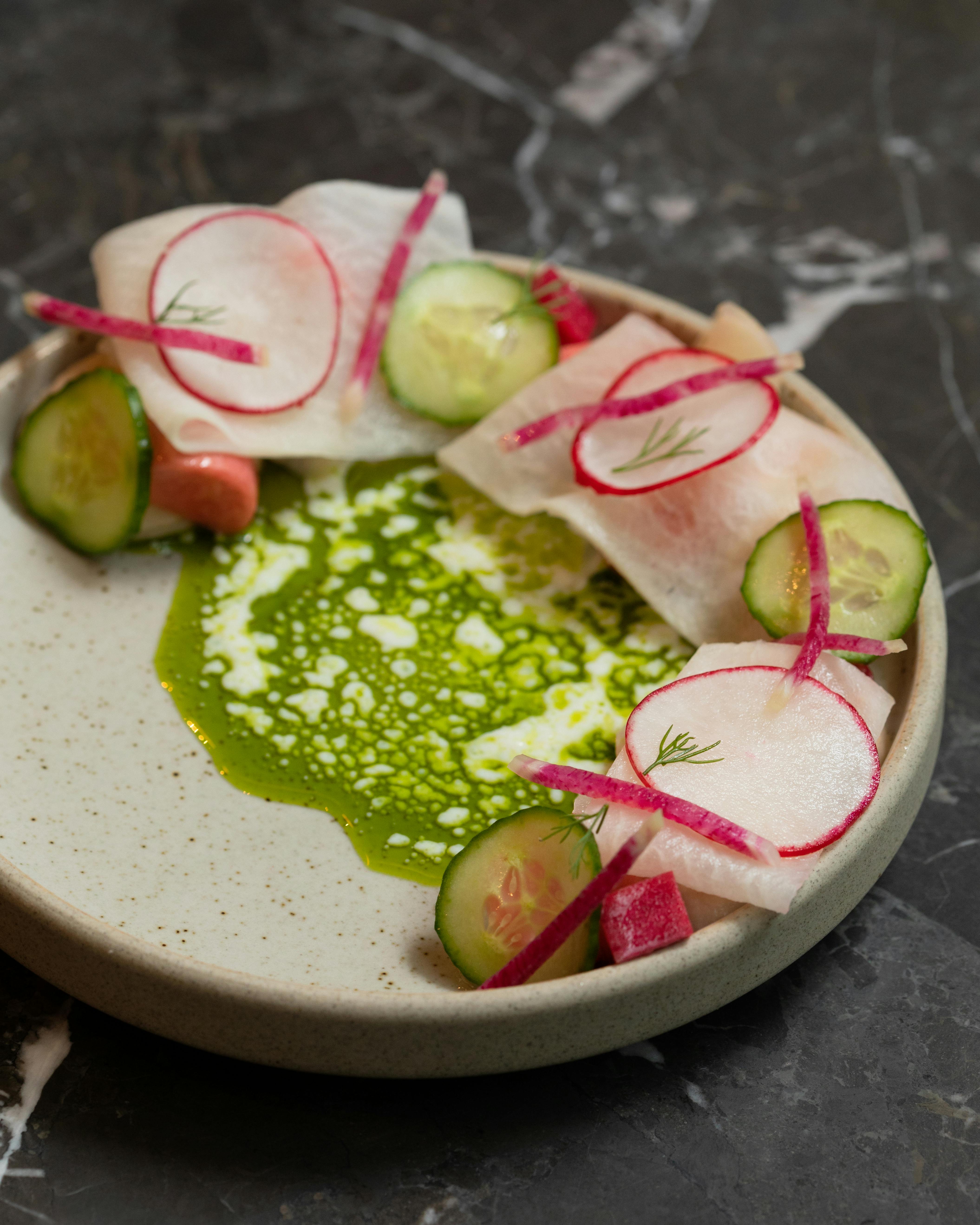 Popping with colour and vibrancy is a Radish & Turnip Salad featuring the flavours of the Danforth.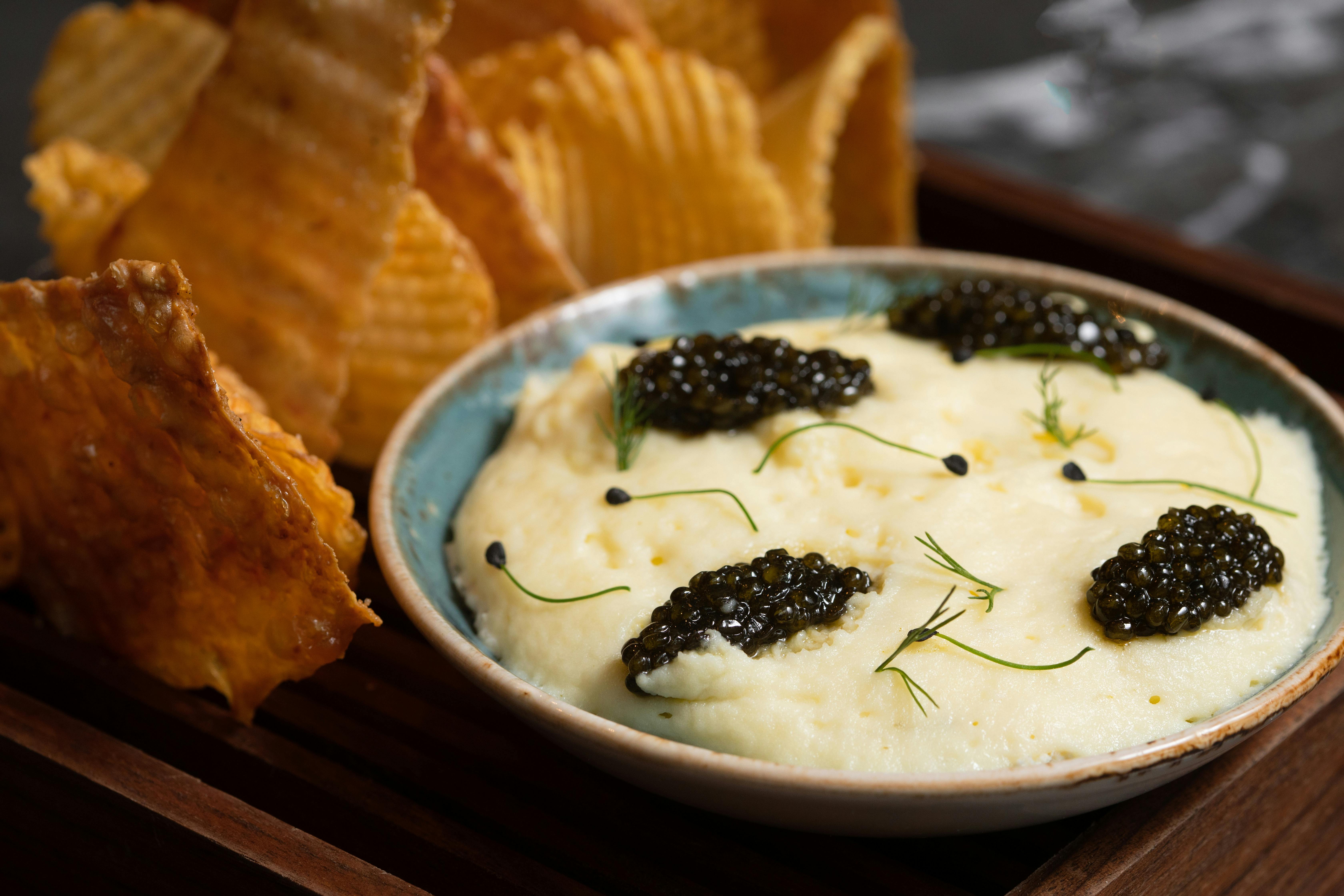 As flush as Bay Street bankers, the Smoked Acadian Sturgeon Pâté is a rich, supple dish of warm potato purée and caviar served with chicken skin cracklings and house-made waffle chips. It's just the thing to nibble on as you sample some of Living Room's beautiful beverages.
With one of the city's most impressive Champagne menus (not to mention a Moët vending machine) bubbles encapsulate Living Room's style. Still, if a made-to-order, picture-perfect cocktail is what you fancy, visit bartender Jewels and prepare to be awed.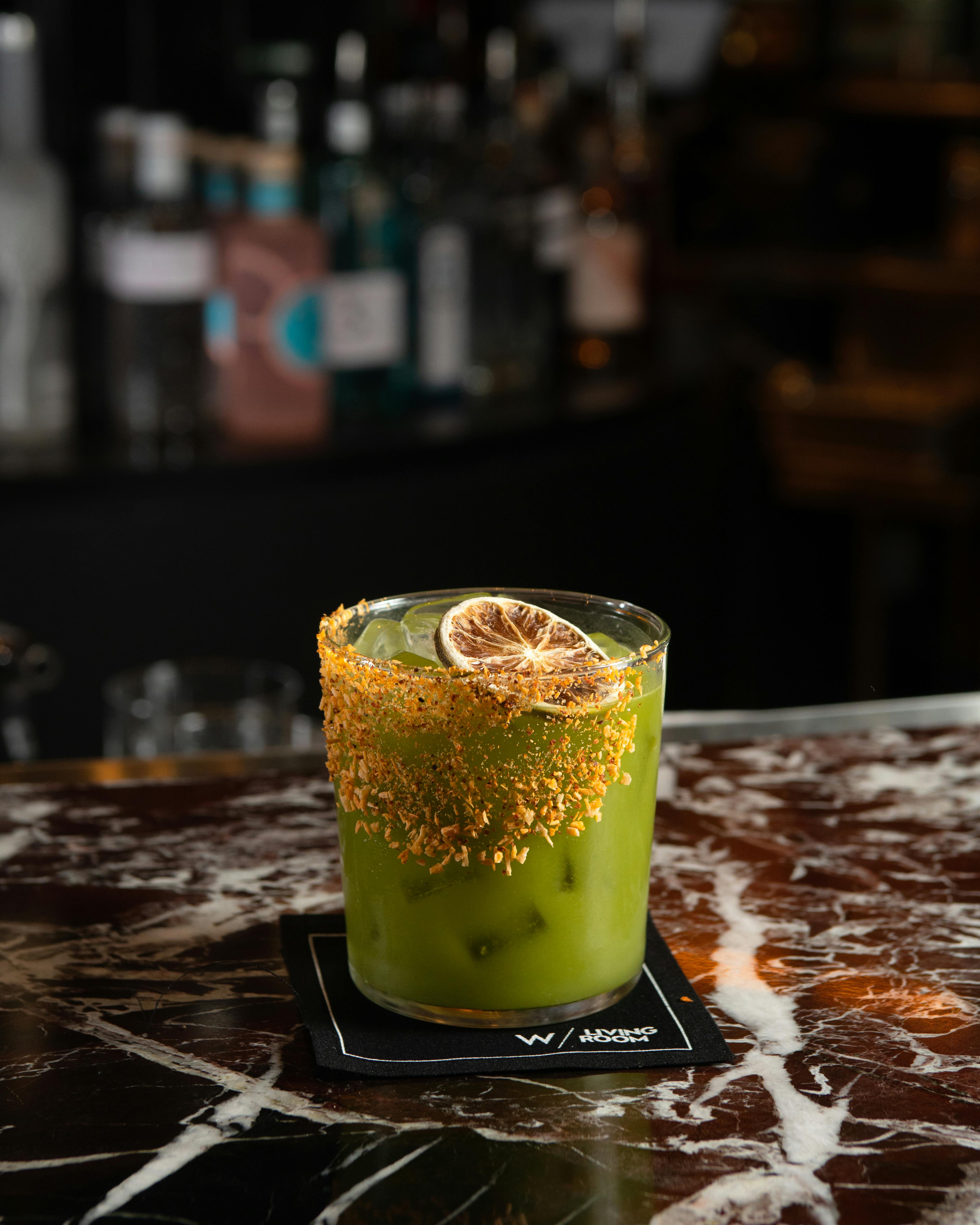 Vibrant and vitalizing, About Last Night tastes, according to Jewels, like the offspring of a Piña Colada/Margarita liaison. With tequila, coconut purée, lime, matcha powder and a toasted coconut and Tajín brim, this drink delectably flaunts its roots, easily transporting guests from the Living Room to the seaside.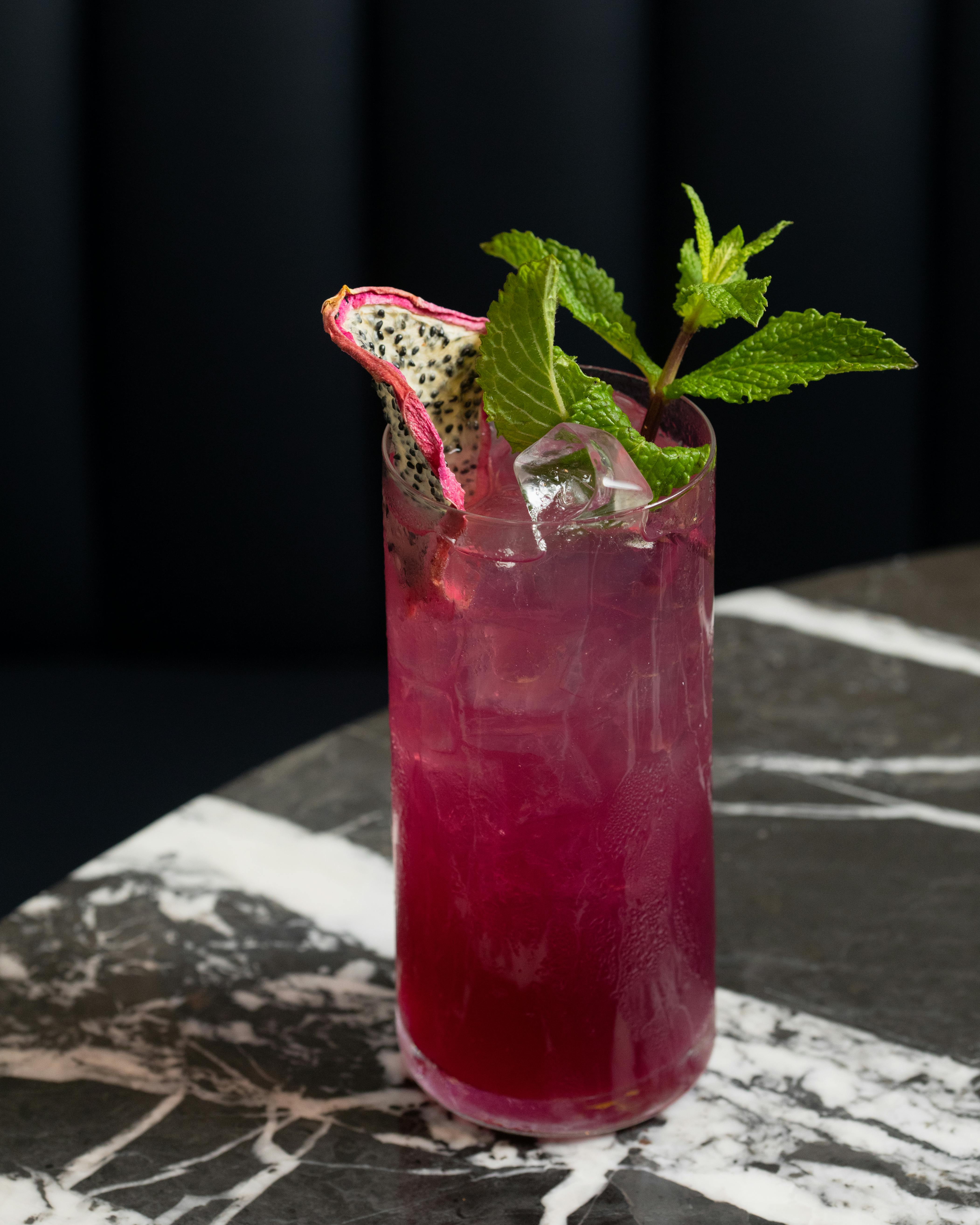 The Flower Power, meanwhile, places guests languidly into Yorkville's bohemian past. With Malfy Gin Rosa, lavender syrup, lemon, Prosecco, a dainty garnish and dramatic presentation, the drink is as carefree, floral and misty as the 60s themselves.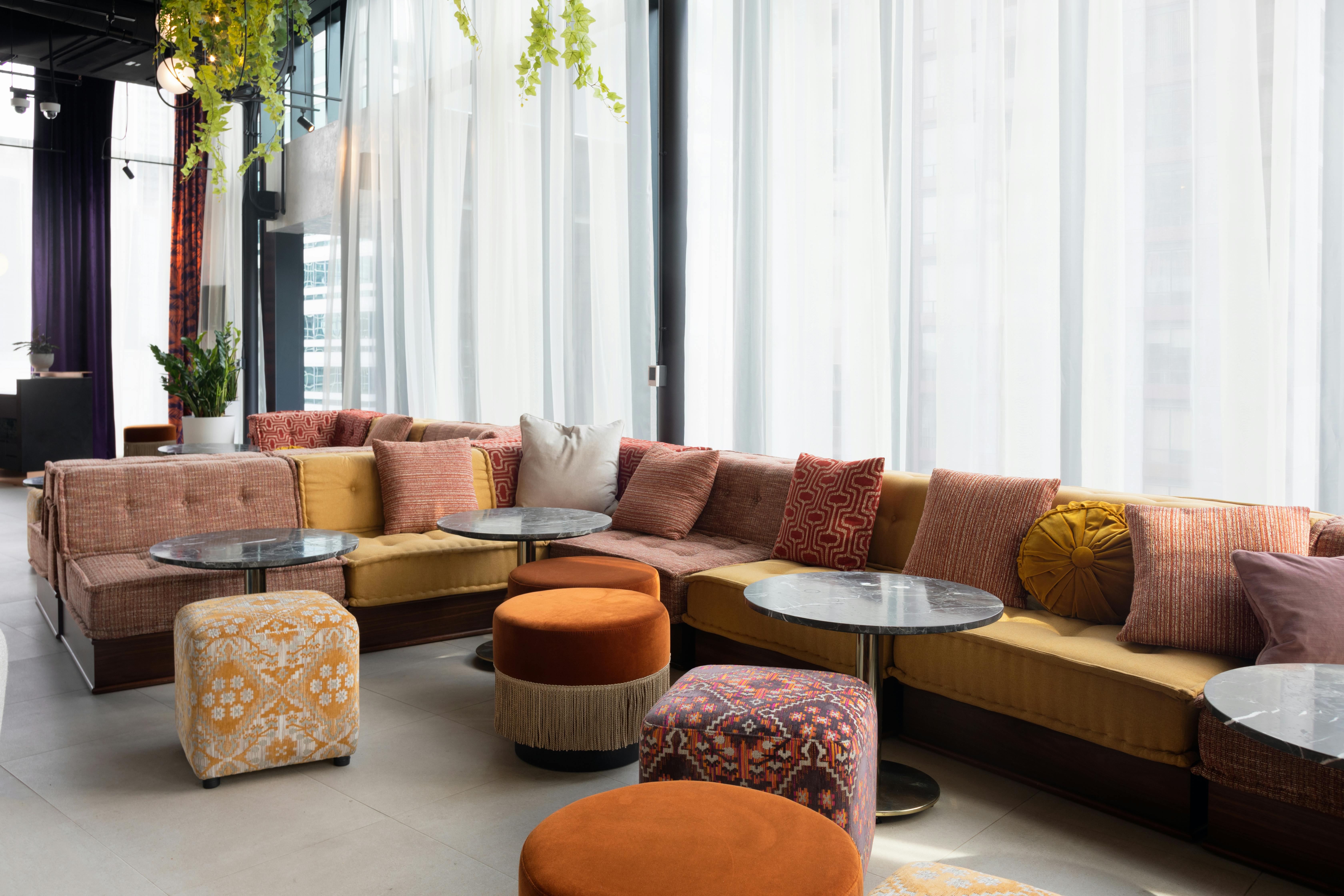 As evening falls, you'll want to head skyward to W Toronto's Skylight Rooftop Bar. Four distinct spaces make up the restaurant -- a snug den, the party-perfect loft, an inviting terrace, and a kaleidoscopic main dining area that's an equal mix of buzzing souk and upscale eatery. Throughout, the restaurant is tied together by a mischievous craving for escapism.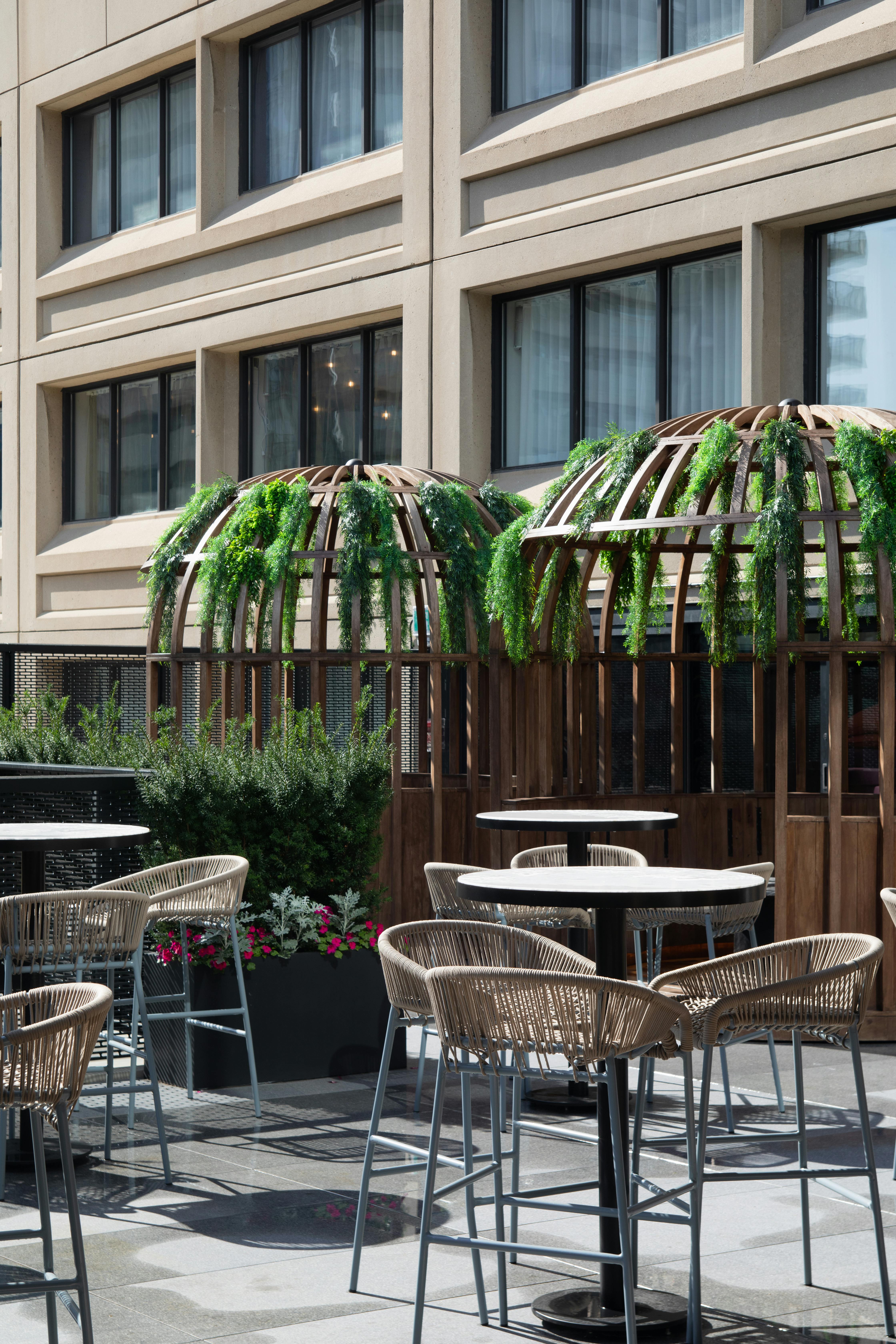 Sat on low-lying velvet sofas, around the dazzling bar, or at rattan dining chairs, guests can enjoy myriad Mediterranean-style dishes, given the W touch. There are striking seafood towers, house-made mezze, spreads, stews, and grilled proteins ranging from whole lobsters and branzino to a 22oz Cowboy Steak.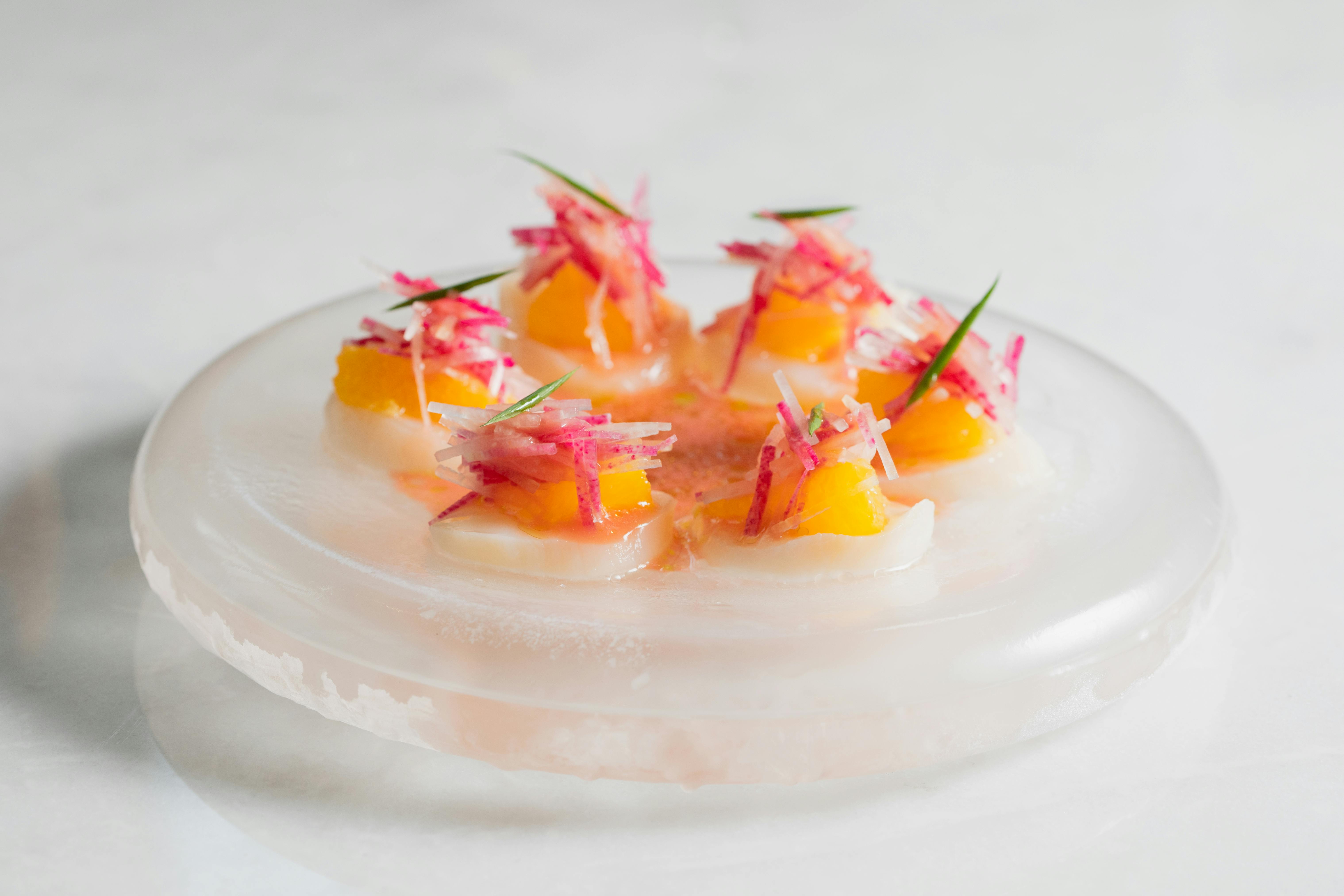 Served on a novel frozen plate, Scallop Crudo arrives icy cold. Topped with citrus, daikon and chives, the scallops are bathed table-side in a blood orange vinaigrette that chills on contact. Wait a moment before you dig in, and you're met by sweet seafood paired with a granita-like dressing that pops with flavour and is the epitome of refreshment.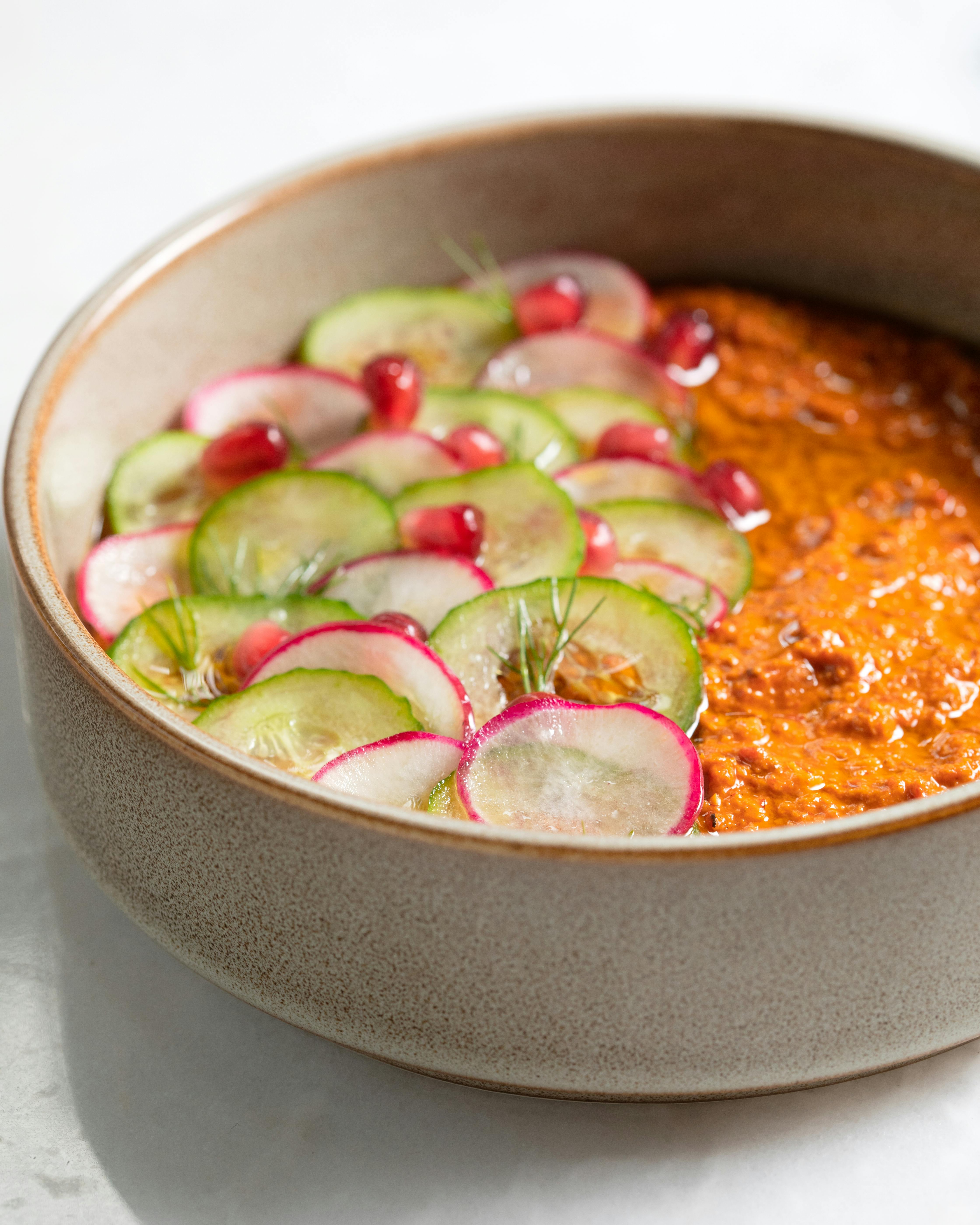 Each of the spreads on the menu -- from Smoked Babaganoush to Beet Labneh -- comes with hot-from-the-oven maneesh and delicate, seeded lavash. Gently spiced and smoky, Muhammara blends roasted red peppers, Ontario black walnuts, olive oil and spices into a tempting, vegan dish topped with radish, cucumber and pomegranate arils.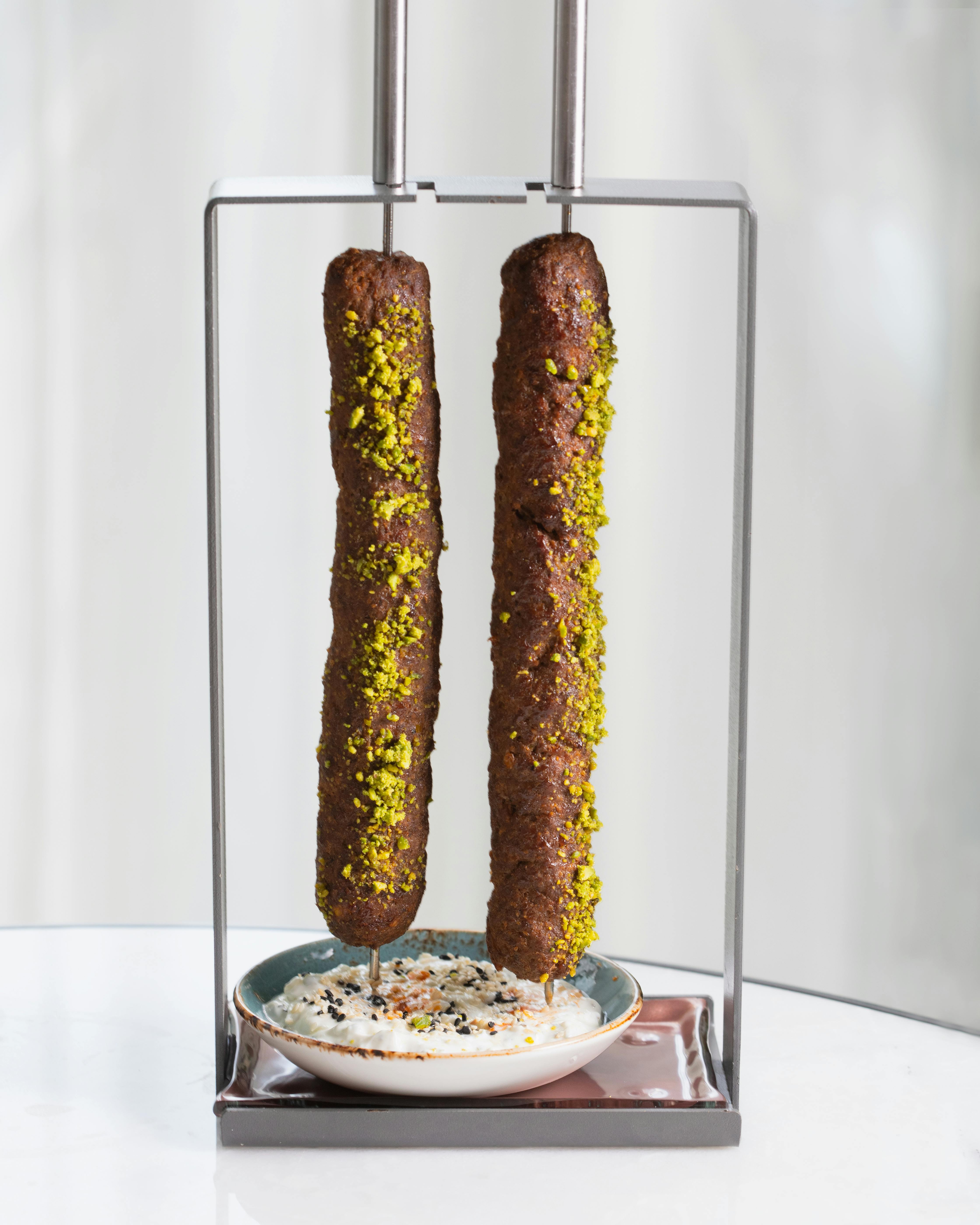 Beef Kebabs up the drama, appearing on custom metal skewers, dangling precariously overtop of their tzatziki accompaniment. Deeply savoury and intricately spiced, garnished with little more than chopped pistachios and pomegranate molasses, this is a perfect dish to share with meat-loving friends.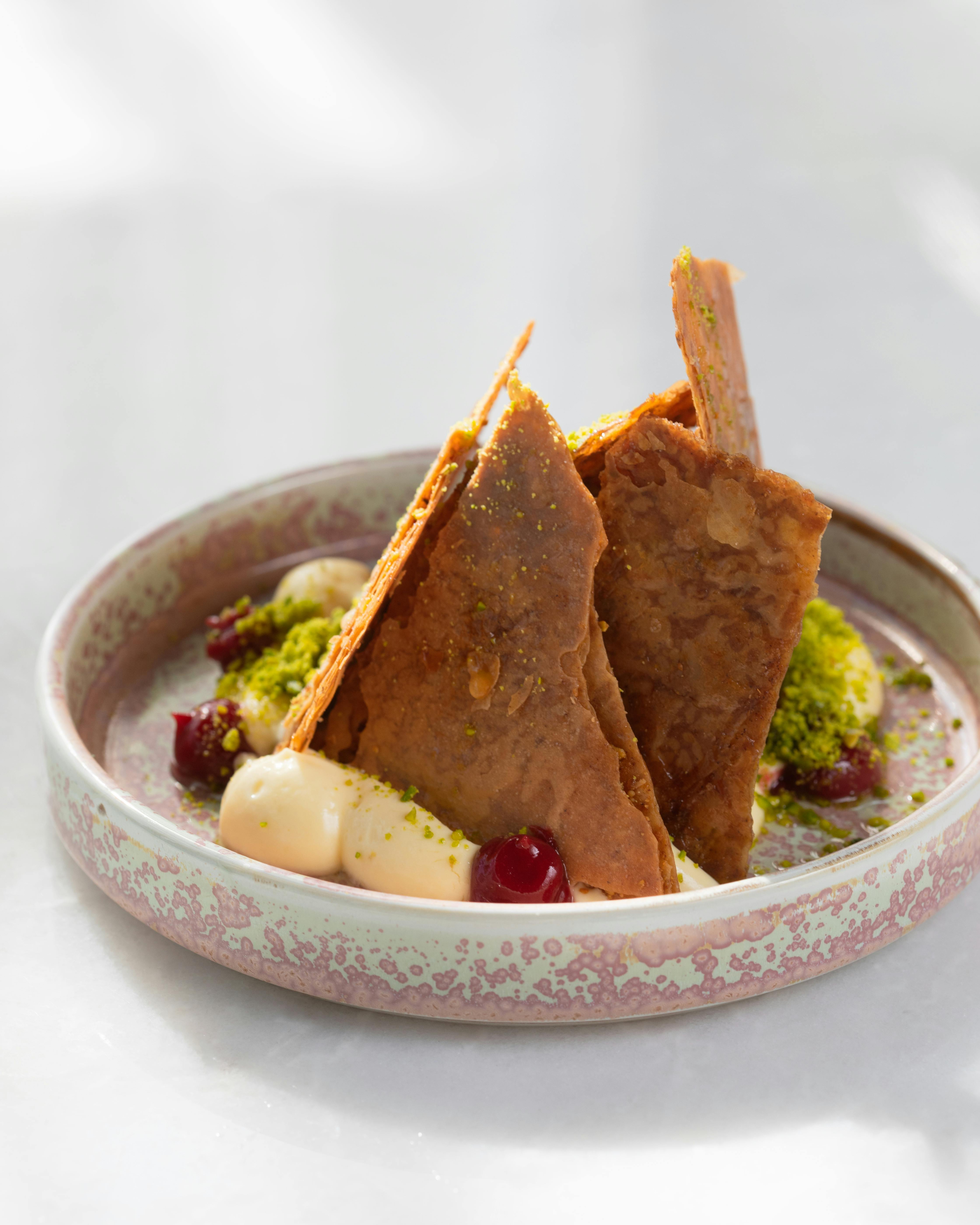 With only three desserts on offer, deciding which to have couldn't be simpler: order them all. Beautiful and bountiful, they're masterfully composed and sing with the flavours of the Mediterranean. A plate of Baklava Cheesecake is a neatly balanced structure of cinnamon phyllo, cheesecake, raspberry purée, pistachios and lemon curd. Baked until shattering, boasting caramel's colour and sweetness, the phyllo is simply dreamy. Eaten with its garnishes, it's a standout on a menu of hits.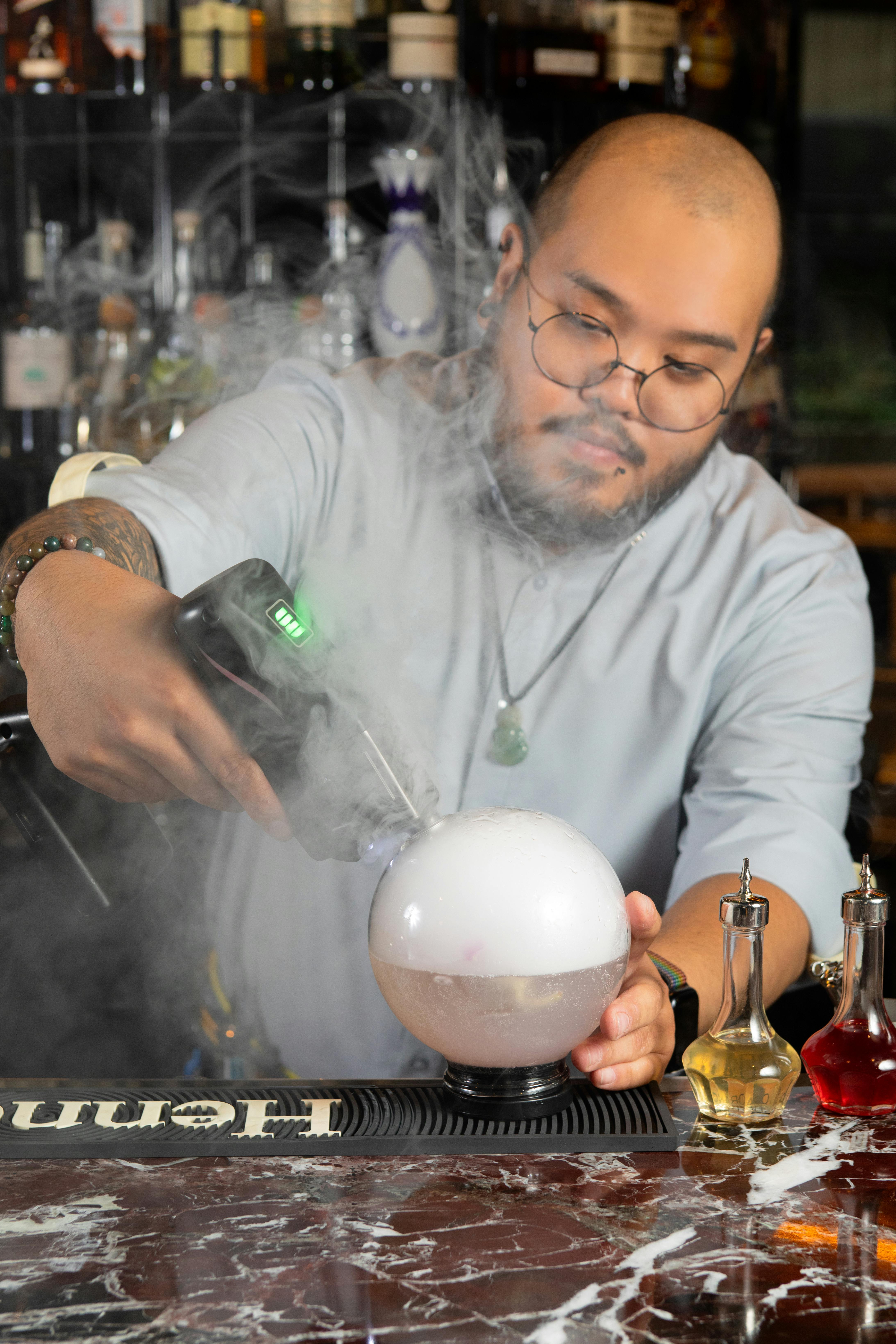 With a name like Skylight Rooftop Bar, it's no wonder that many of the team's other hits are liquid libations meant to impress. Plenty of sparkling options are part of a wine list that's heavy on North American bottles. There's also a lengthy selection of spirits, for those who prefer stronger sips.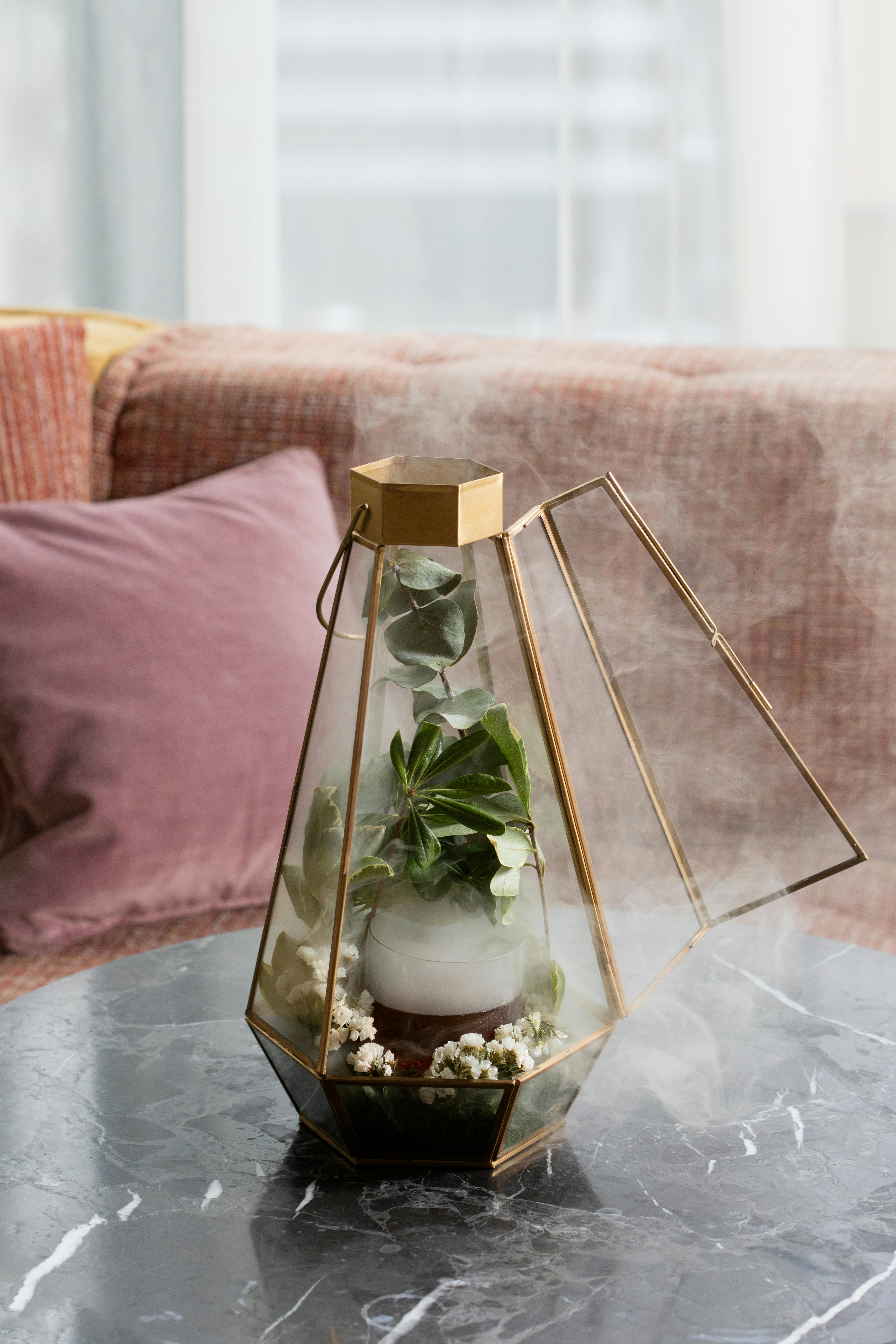 Cocktails are as complex and theatrical as possible, with the High Park stealing the limelight. Hidden inside a greenery-festooned glass terrarium, the drink is shrouded in a cloud of mesquite smoke. In the glass, you'll find a bitter, subtly smoky blend of coconut-oil-washed mezcal, Amontillado sherry, Nonino Amaro, bourbon barrel bitters, and demerara syrup. Want all eyes on you? Add the High Park to your order.
Brought to life by colour and textures, with fire, smoke, lights and sounds filling the air, W Toronto is a place where "dull" doesn't exist. It's a place where food is a jovial experience that delights the senses as it satisfies a hunger for bold flavours and a thirst for exoticism. If it's a pick-me-up you seek, W Hotel has the experiences you need.