Do you believe in coincidences?
After reading how chef Alexander Pivnick's serendipitous journey led to him owning the space where now his restaurant, Alberta Avenue Provisions, stands, you just might start.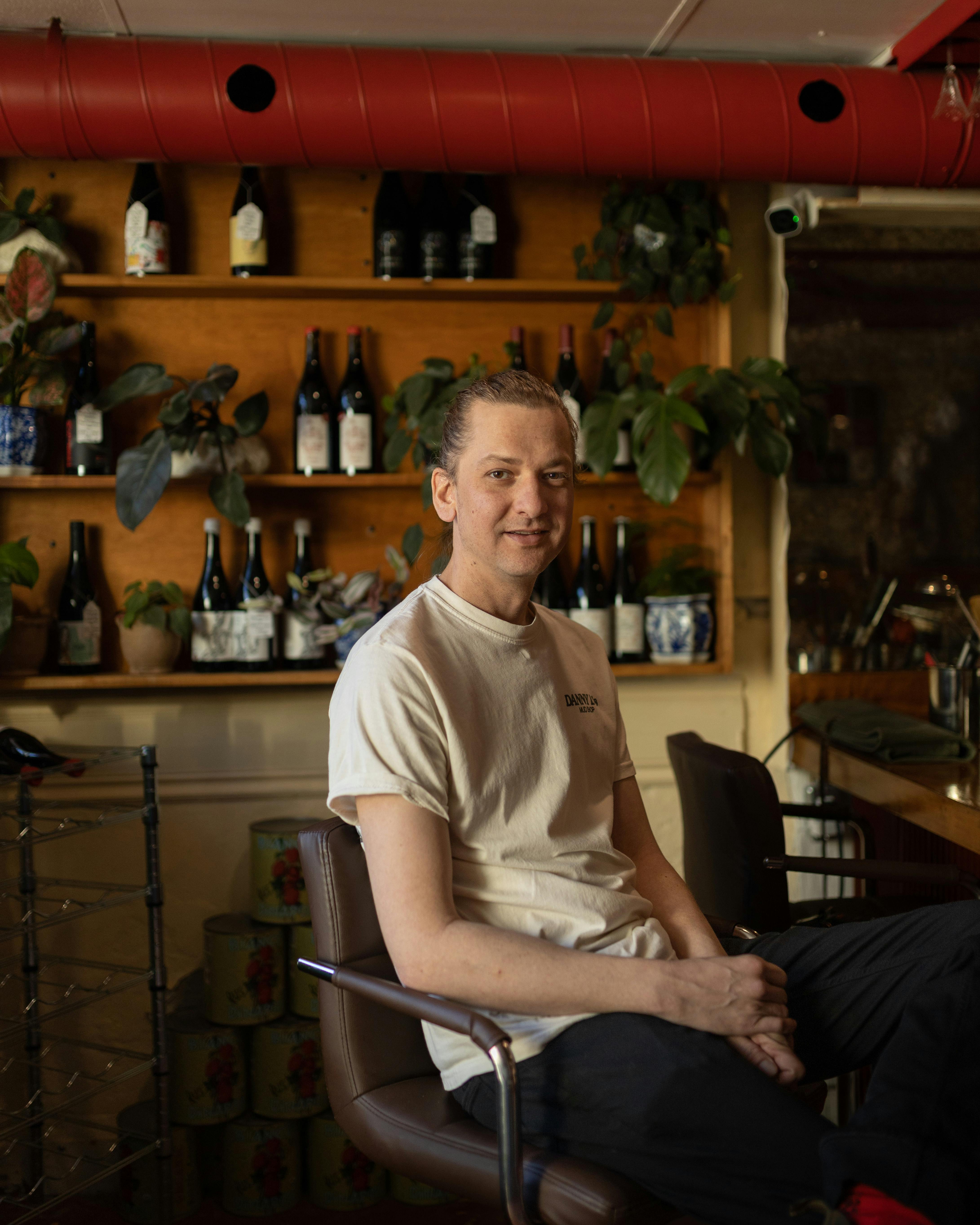 Much like any other 17-year-old, Pivnick was told that he had to do an undergrad, as was the norm. After four and a half years at university in Montreal, he graduated and then spent time in various industries, but all roads seemed to lead back to the same question: what did he genuinely want to do?
So, at the ripe age of 28, he applied to Stratford Chef School, going through the rigorous two-year programme — one of the most intense in the country, according to Pivnick.
"I figured if I'm gonna get into it late in life, I might as well get my ass kicked," he said.
After graduating and becoming a member of the Ontario trades, he proved his chops by being part of the opening team at Rosalinda on Richmond and then Ascari on King. These experiences proved quite pivotal for him, as they exposed him to flavours and cultures he hadn't experienced much of before. With Rosalinda being plant-based and Mexican and Pivnick being neither of those two, it allowed him to learn and grow as a chef coming into his own.
Soon after he got his start, COVID hit, essentially grinding everything to a halt, nudging Pivnick into the field of private catering. He was selling soups and even Asian-inspired chilli crisps to make ends meet before finally getting his grip on Alberta Avenue Provisions.
Before we continue, let's take a step back and talk about the aforementioned coincidence, shall we?
During the throes of Pivnick's whirlwind entry into the culinary world, he took a picture of a building in 2019 with a "For Sale" sign in the window just because he fancied it.
"I'm a cook, I don't have money to buy a property," he thought before moving on with his life. Eventually, he met a family friend who happened to know a landlord and arranged a meeting between the two. 
Upon meeting, the landlord showed him one of the properties he had just bought, causing Pivnick to whip out his phone and pull up the picture he had so innocently clicked a while back. The buildings were one and the same.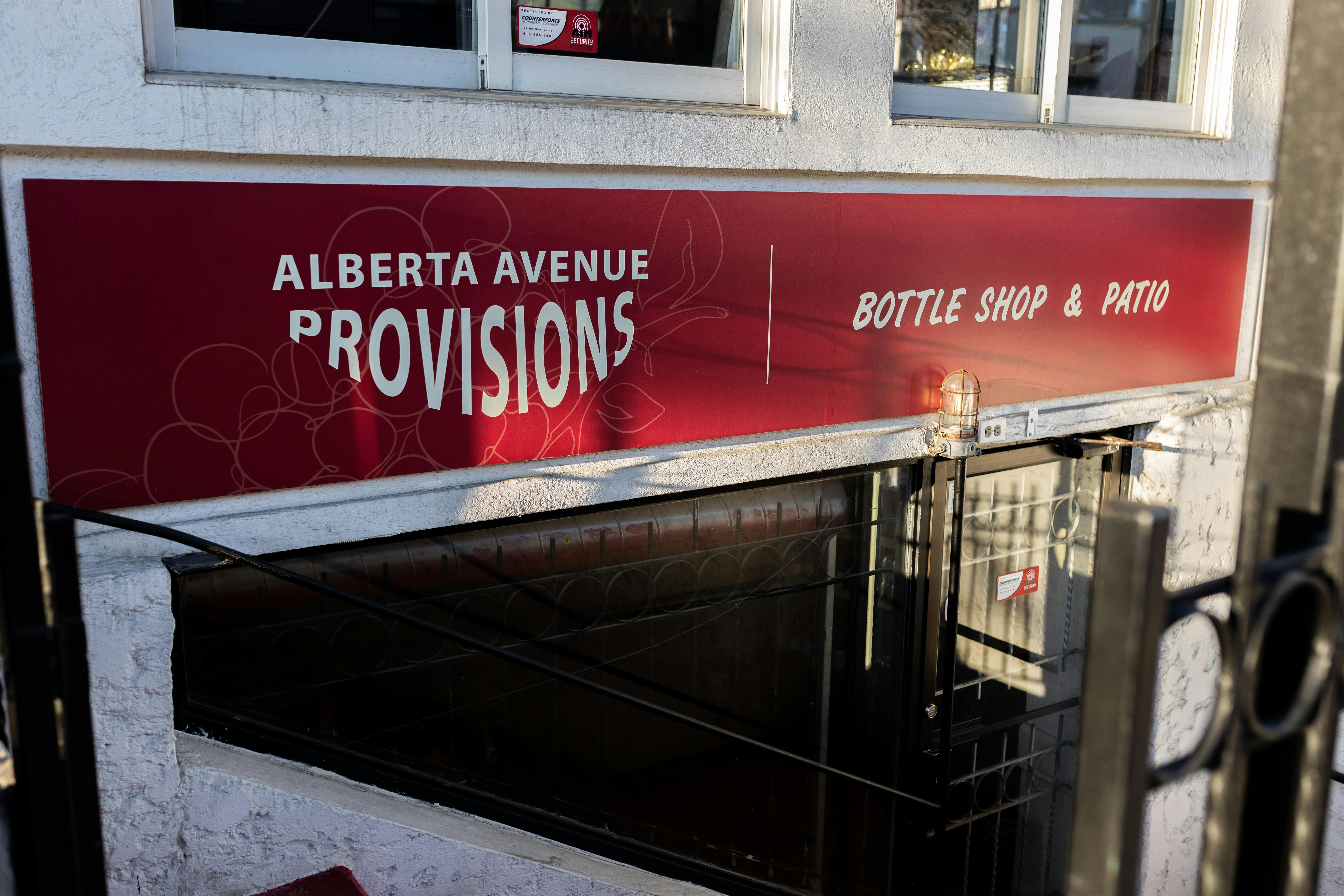 And the address? 1150 Davenport Road, the current home of Alberta Avenue Provisions.
The space used to house a Portuguese churrascaria on the main level and the basement was a cafe of sorts, where only the people "in the know" came down to play cards and smoke cigarettes. It was very much like a secret back room — the same vibe which still translates to this day.
From the street, you can't tell that there's a whole establishment in the basement of the building, and without the bright red sign on the side above the stairs, one would very much not know how to enter.
The basement aspect of it gives off a very speakeasy-esque vibe. The steps leading down are quite rustic, enhancing the feel right from the start. Upon entry, the vibe immediately changes and the place seems much more wholesome and friendly.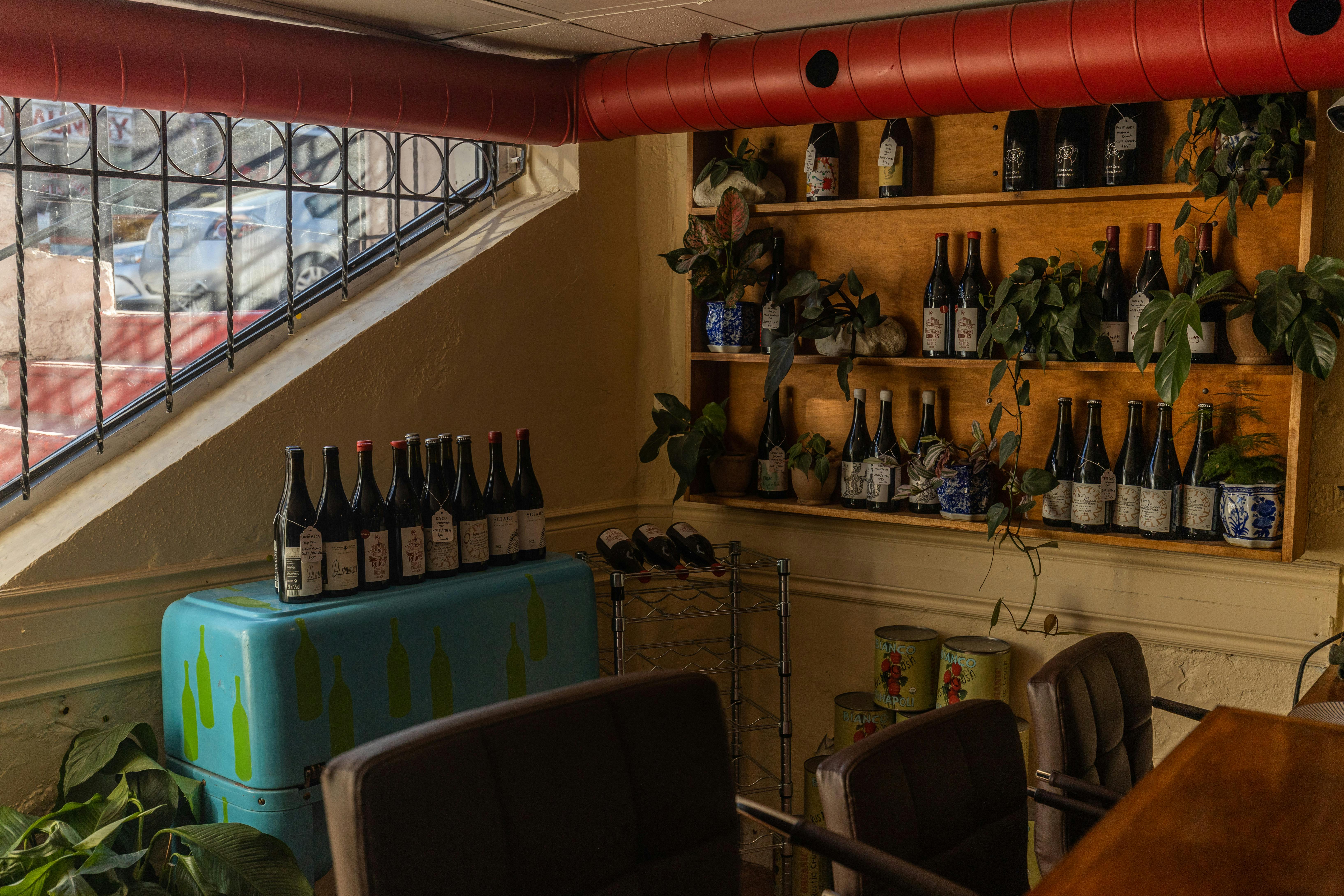 It's moody and houses a lot of warm colours and wood, which accentuates the atmosphere quite a lot. The centrepiece of the entire area is the open bar with a mirror behind it and a glass rail on the ceiling. As you keep going, you come across a banquette on one side and a standing bar right opposite it.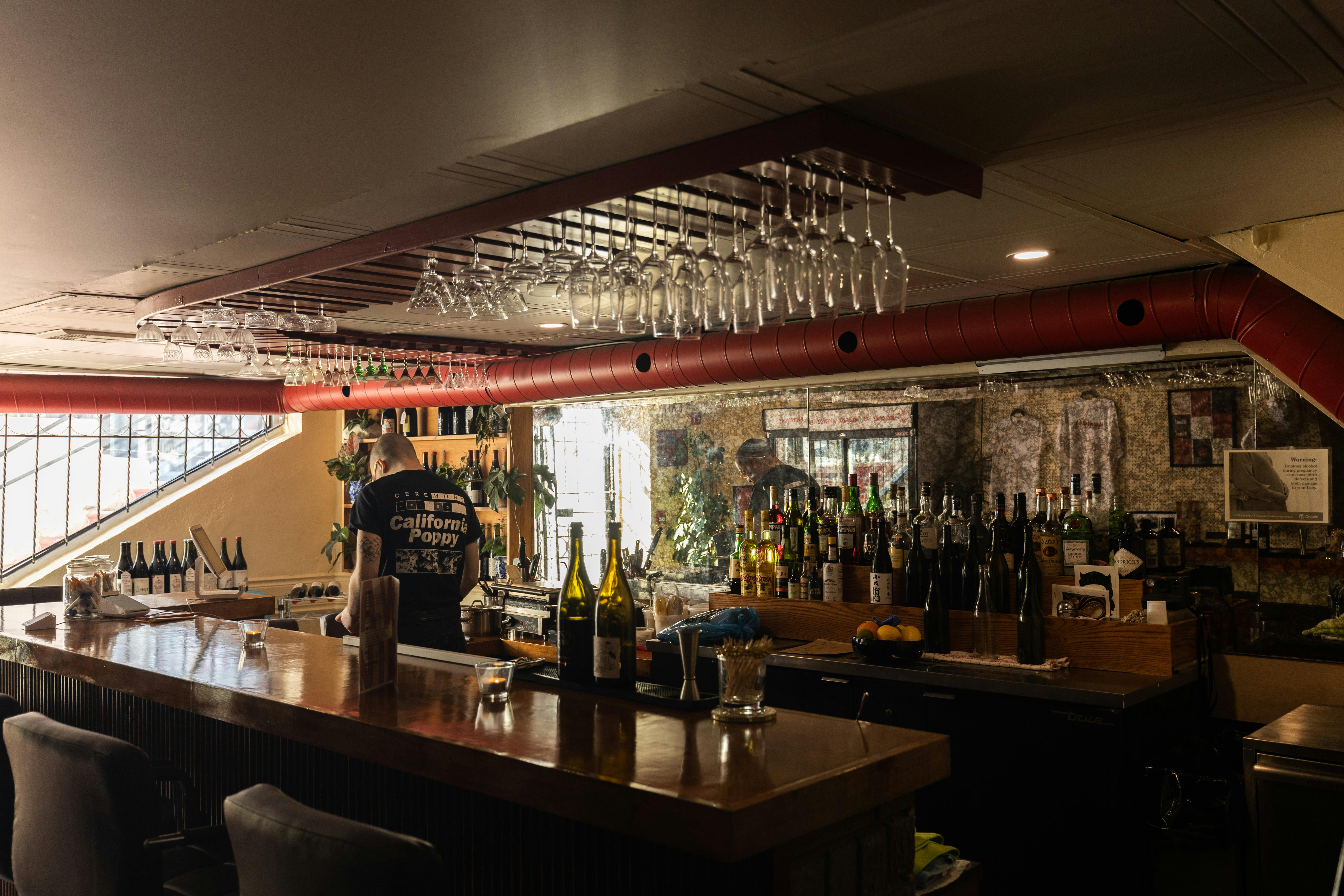 The white walls with artwork hanging off of them provide a nice contrast to the reds and browns that engulf the space. Even the floor is part brick and part concrete, just furthering the vibe that you've entered into someone's basement bar rather than an establishment.
The plethora of plants liven up the place and the finely-curated playlist rounds off the entire experience at Alberta Avenue Provisions.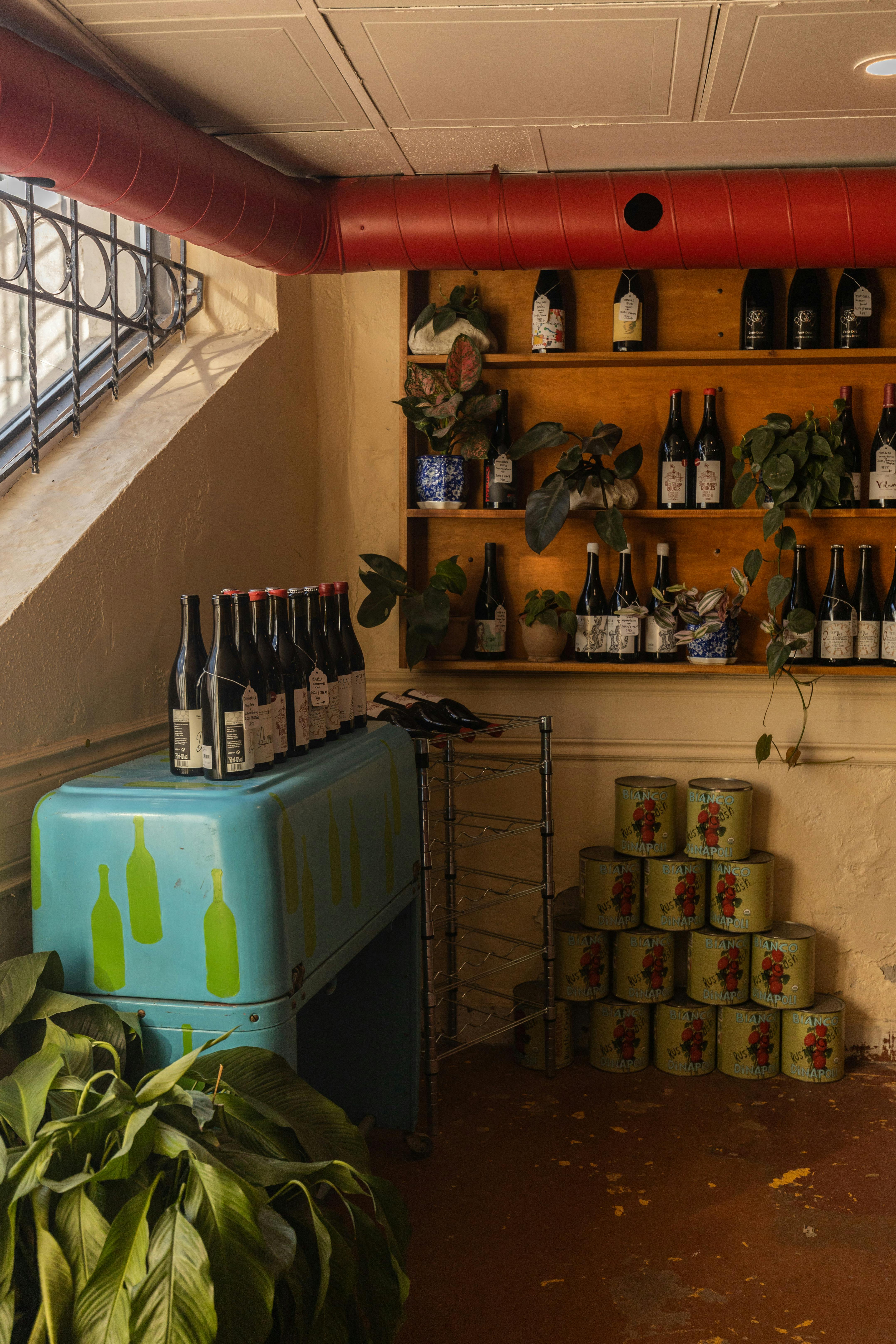 The interiors and decor are an amalgamation of odds and ends that caught Pivnick's eye.  From leather cushion covers that were knitted by the general manager's mother and chairs he found at a garage sale to even mismatched glassware courtesy of thrift stores, the aesthetic is really unique to the spot. And it all gels together really well, which is a pleasant surprise owing to the numerous sources.
The first part of its name is pretty self-explanatory, owing to its location on Alberta Avenue. As for "Provisions," Pivnick wanted an all-encompassing word to allow the restaurant to be whatever it could in the ever-changing times during the pandemic's peak.
"We could be a wine bar, we could be a takeout restaurant, we can be a place where people can come buy produce and bread," he said. "It can be anything, basically."
When the restaurant/wine bar first opened in 2021, Pivnick deemed it smart to go after liquor margins rather than focusing on the food because of the fickle nature of restaurant closures during the pandemic. Food could go bad, wine was shelf stable. And due to the change in accessibility where restaurants and bars could sell to the public, the industry sort of transitioned in his favour.
When indoor serving was not allowed, he opened up the beautiful patio and did a pizza pop-up all season long with his friends at Some Pizza coming through every Saturday and slinging 60-70 pies out in the open. Come December when things shut down again, Pivnick decided to give the interiors a facelift, making it more functional.
"We kept a lot of the oldest aesthetic, which is nice because it has character," he said. "You can't ditch that."
Wine was never the set plan for Pivnick, but he thought economically and chose to champion something that is both shelf stable and has good margins.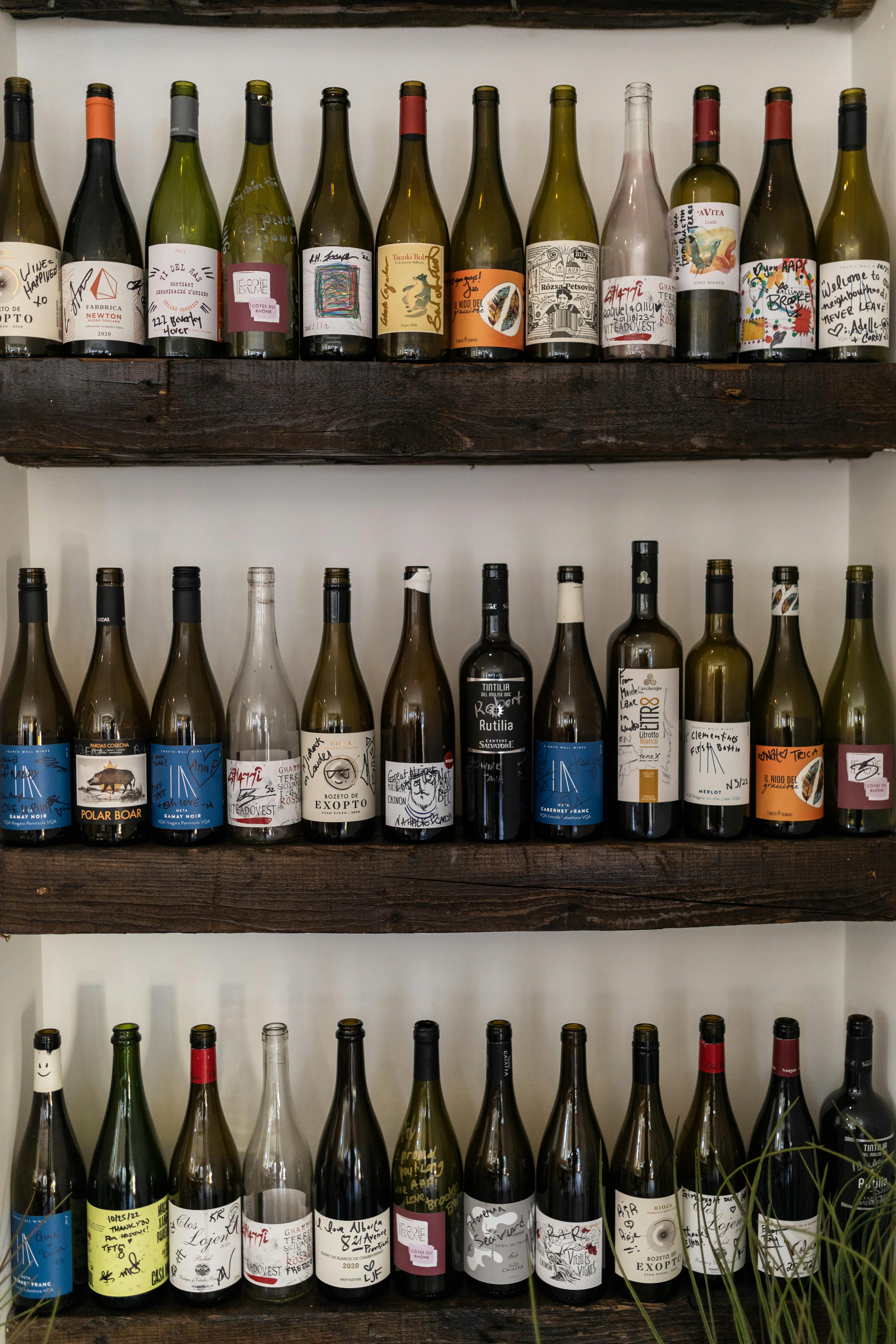 When it comes to wine, he likes to stand behind the quality. Everything that comes in, they taste. And as long as they can speak to it, they will bring it in and sell it. He does have a friend who's a sommelier by trade that assists in the curation as well as education. Pivnick has no qualms in accepting when he does not have the proper training for something and trusts in the professionals for guidance.
"He's a sommelier by trade. I'm a cook by trade," he said. "I appreciate the wine, but I appreciate also having the knowledge to do the right thing."
When curating the list, he does not look out for any specifics, but Pivnick did mention that there are a couple of tricky things to keep in mind. One is that people are very seasonally focused when it comes to their wine. They want to stick to drinking a Rosé in the sun and pick up warmer blends for the winter seasons.
The other thing that Pivnick sort of keeps an eye out for are the labels. Even though we as a society are told not to judge a book by its cover, it happens more than one would like to admit. The bottles that sport a catchier label often sell more than ones with not much going on on the outside.
It all comes down to being able to speak to it for Pivnick. He believes in educating his guests and he's always open to pouring someone a splash so that they can get a feel for it before committing to a whole bottle.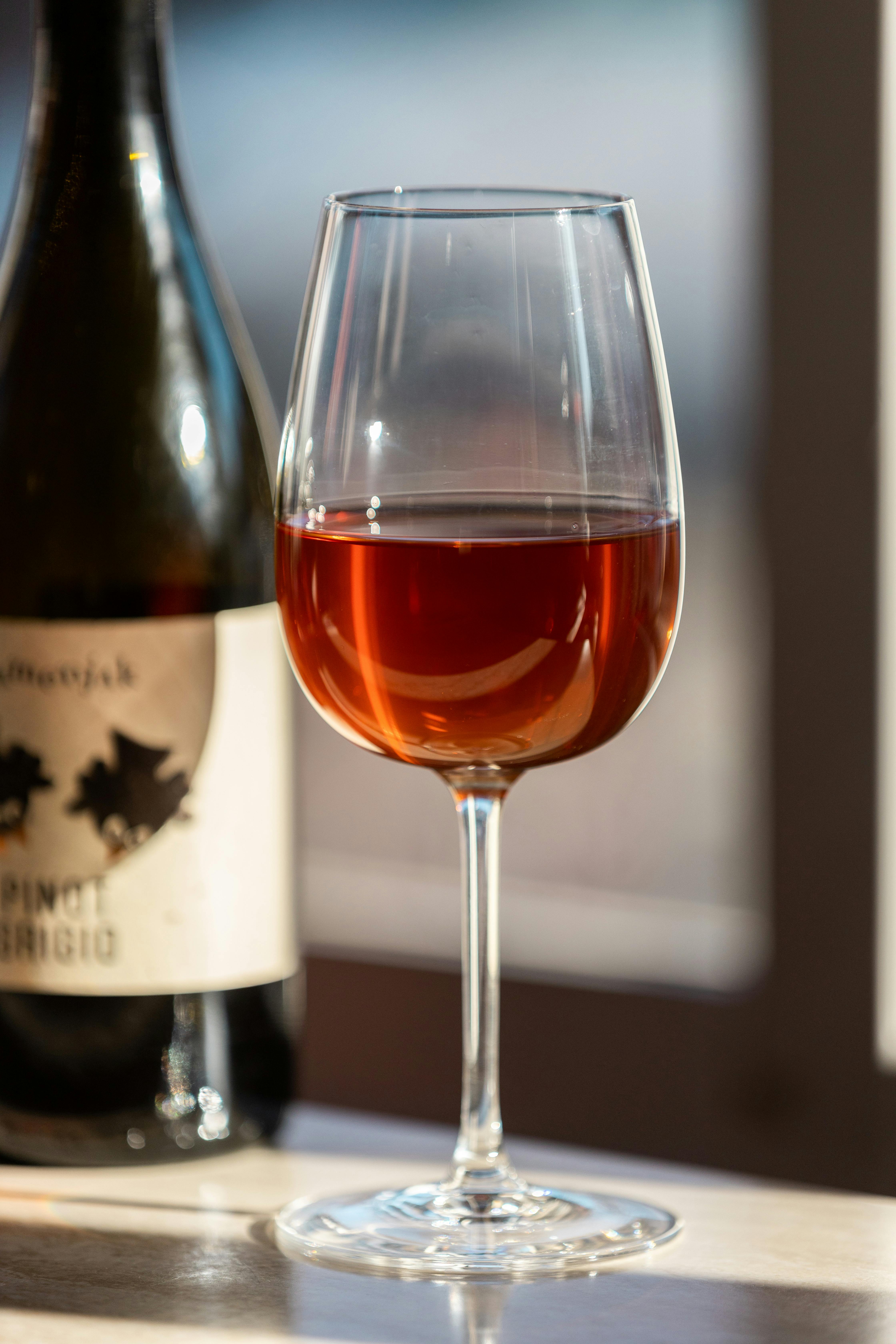 "We want to educate, we want people to learn, we want to be approachable," he said. "It'd be silly not to. And that takes nothing out of us, you know, to pour a 0.5-ounce pour, and let someone say like, 'Okay this is good.'"
No bar is complete without a decent food menu. And the fare at Alberta Avenue Provisions goes a long way past being just "decent."
While it is a small plate offering, there's enough food to come in and have snacks or even a proper dinner, according to the situation. The actual inspiration for the food for Pivnick comes from his upbringing and time spent in Montreal. Whenever he's trying to figure out new dishes to introduce, the discourse always leads back to what he truly enjoys eating himself.
"I think for me, it's sticking with the stuff that I love, like those classic flavours and tastes," he said. "But using the knowledge I have to elevate it to make it a little more beautiful, to plate it nicely. Make it, you know, a nice dish that you can sell and people can enjoy."
Quality is paramount to any dish that Pivnick chooses to offer, right down to the banalest of dishes. He has taken all the learnings from his past and employed them at this restaurant, making it truly the sum of everything that lead him up to this moment.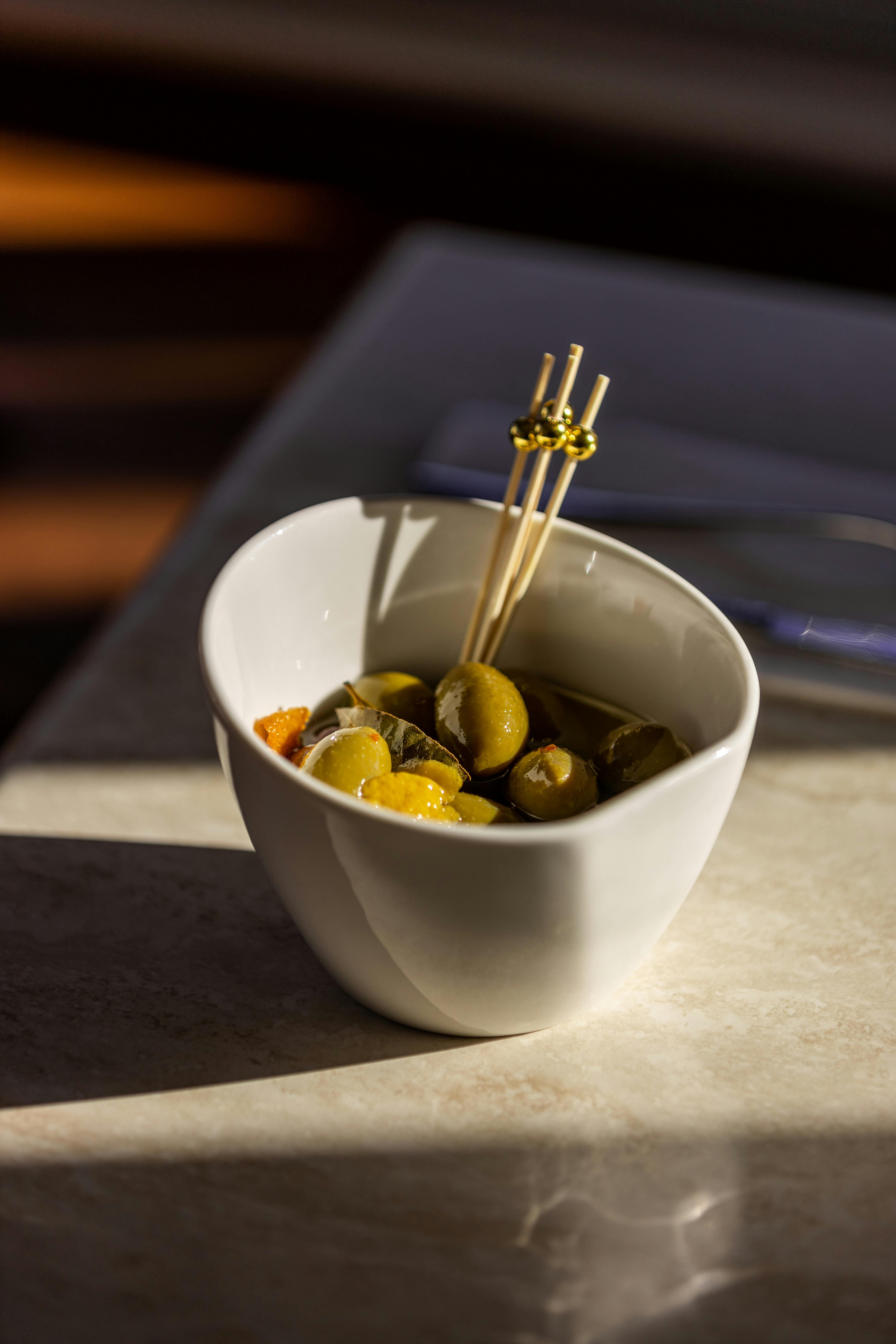 One such example is house-marinated olives. Marinated in citrus, rosemary, bay leaves and other such spices, it's the perfect snack to nibble on as you begin your night, a glass of wine in tow. This particular recipe was learned by Pivnick during his time at Ascari but tweaked to his liking. The briny olives act as a wonderful complement to both the ambiance as well as the drinks.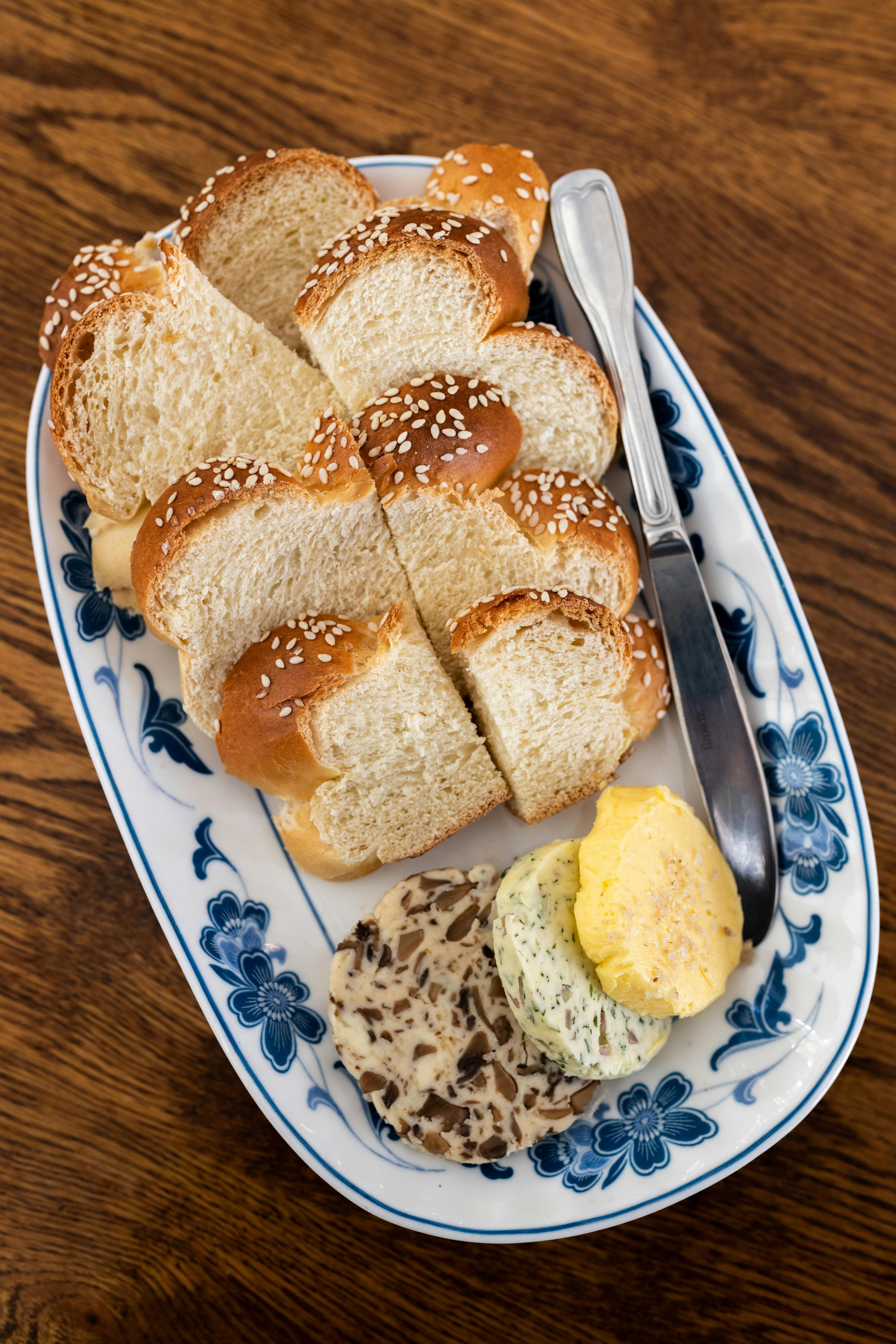 Now, you must be thinking, how can one make classic bread and butter stand out? The answer is simple: quality and value add. The butter Pivnick sources is made from single-herd cows which lends a unique flavour profile and a luxurious mouthfeel to the end product. He serves it in three ways — original, herb and shallot and soy and mushroom butter.
The original is an instant classic, and you can taste the difference between single-herd butter and the rest. It's light, salty and, in fact, quite dangerous, seeing how easy it is to consume large quantities of it.
The two compound butters are spectacular in their own right. The herb and shallot butter has quite the strong onion flavour to it and you can see and taste bits of shallot in it, making it more complex than what meets the eye. The soy and mushroom butter has an insane depth of flavour, as well, with the mushrooms lending an earthy flavour, rich in umami qualities.
You can't expect to have bread and butter without proper bread, can you? Pivnick has got you covered, don't worry. Instead of serving the same old baguette that every other place does, he lets his Jewish heritage shine and serves the decadent butter with some classic challah from Harbord Bakery.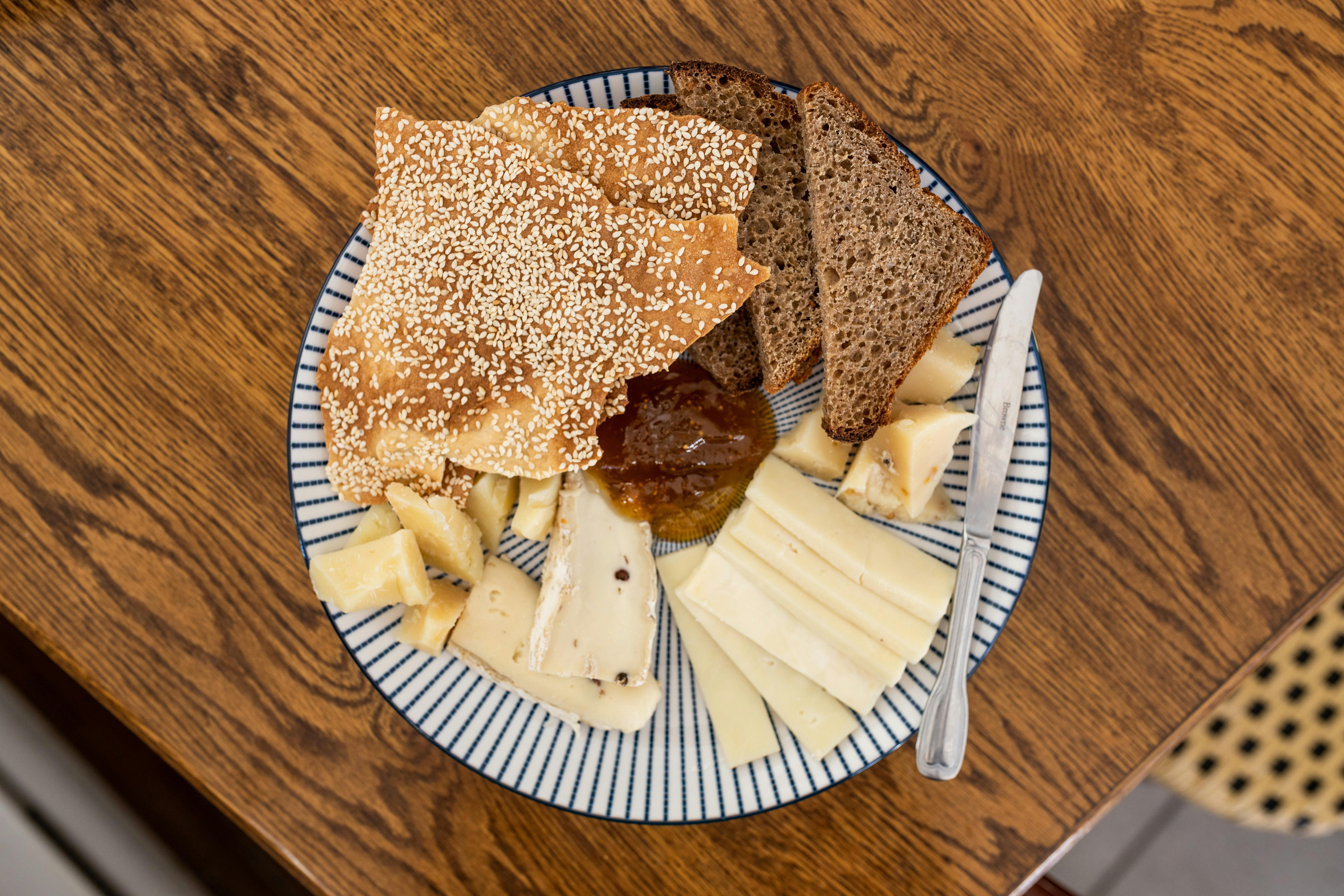 The cheese plate has universally become the perfect sidekick to a glass (or two) of wine. The offering contains a multitude of cheeses of varying textures and flavour profiles, a couple of different pieces of bread and crackers and a wonderful fig compote. All the textures and flavours come together rather beautifully, with the toothsome cracker complementing the smooth and salty cheese, which in turn pairs splendidly with the sweet and rather tart fig compote.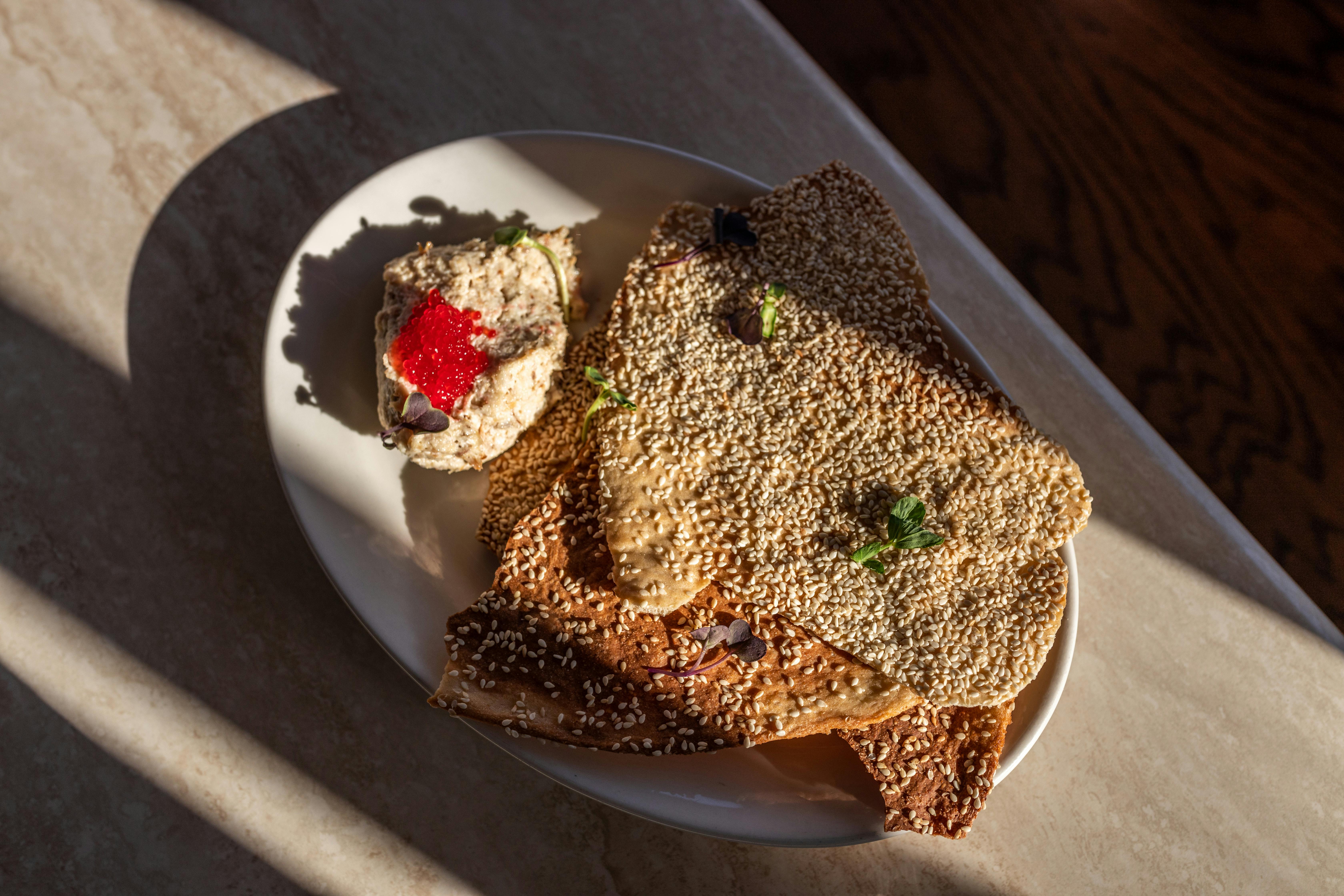 The smoked whitefish is served with cracker-like bread adorned with sesame seeds. Given its texture, it feels more like a spread or a dip than anything else, and pairs really well with the flatbread. The fish also comes with roe on top for a nice pop of colour and texture as it just bursts in your mouth. The smoked aspect of the fish gives it almost a bacon-like quality, which would work really well for those who are not super into seafood.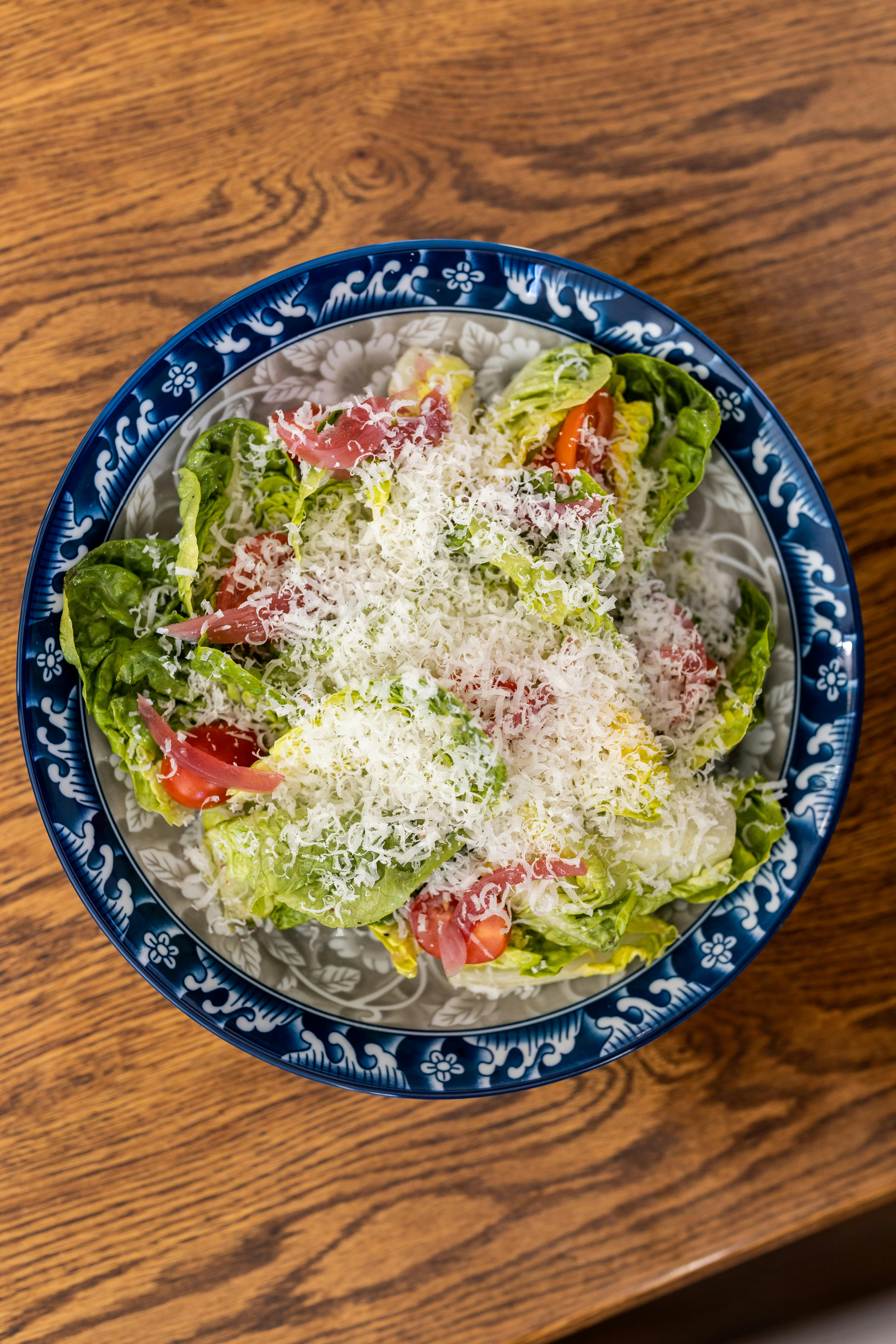 Every meat-heavy meal needs a green interlude. Alberta Avenue Provision's version of it is its Gem Salad, named after the gem lettuce that is the star of the dish. It's lively, refreshing, savoury and brings a lot of crunch thanks to the lettuce. It's a perfect sidekick to the rest of the meal.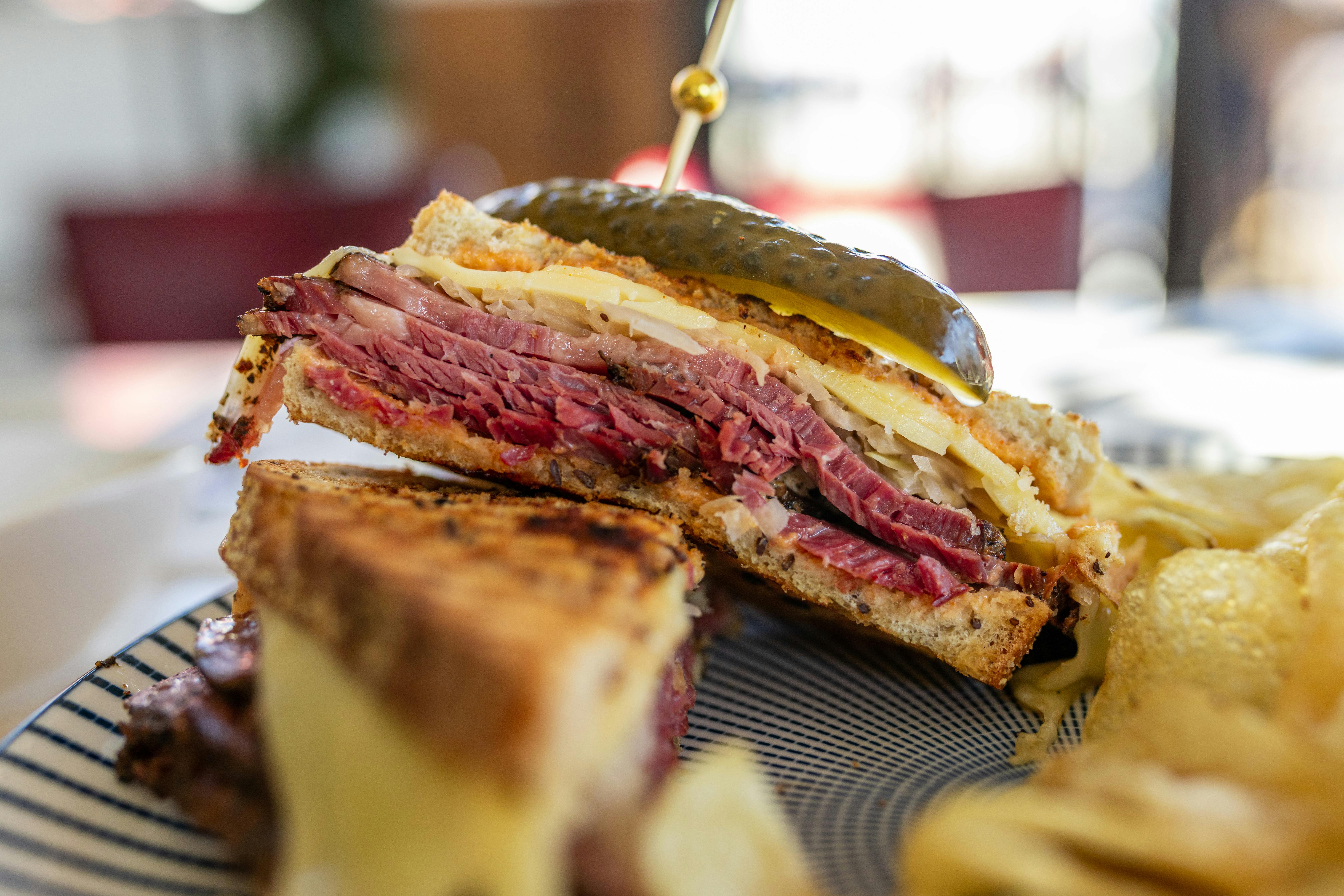 The Reuben sandwich is Pivnick's nod to his Jewish heritage, and also his favourite thing on the menu. As mentioned before. all conversations regarding the menu for Pivnick always go back to what he personally enjoys eating. And with the Reuben being one of his favourite sandwiches in the world (an easy choice), there was no doubt about its long-term residency on the menu.
What an absolutely delightful sandwich it is, too. Served with a large pickle on top and potato chips on the side, it is just bite after bite of pure gratification. The silkiness of the dressing, the briny and pungent sauerkraut, the ridiculously flavourful corned beef and the deeply flavourful rye bread all come together in a symphony of flavours and textures, making one glorious sandwich.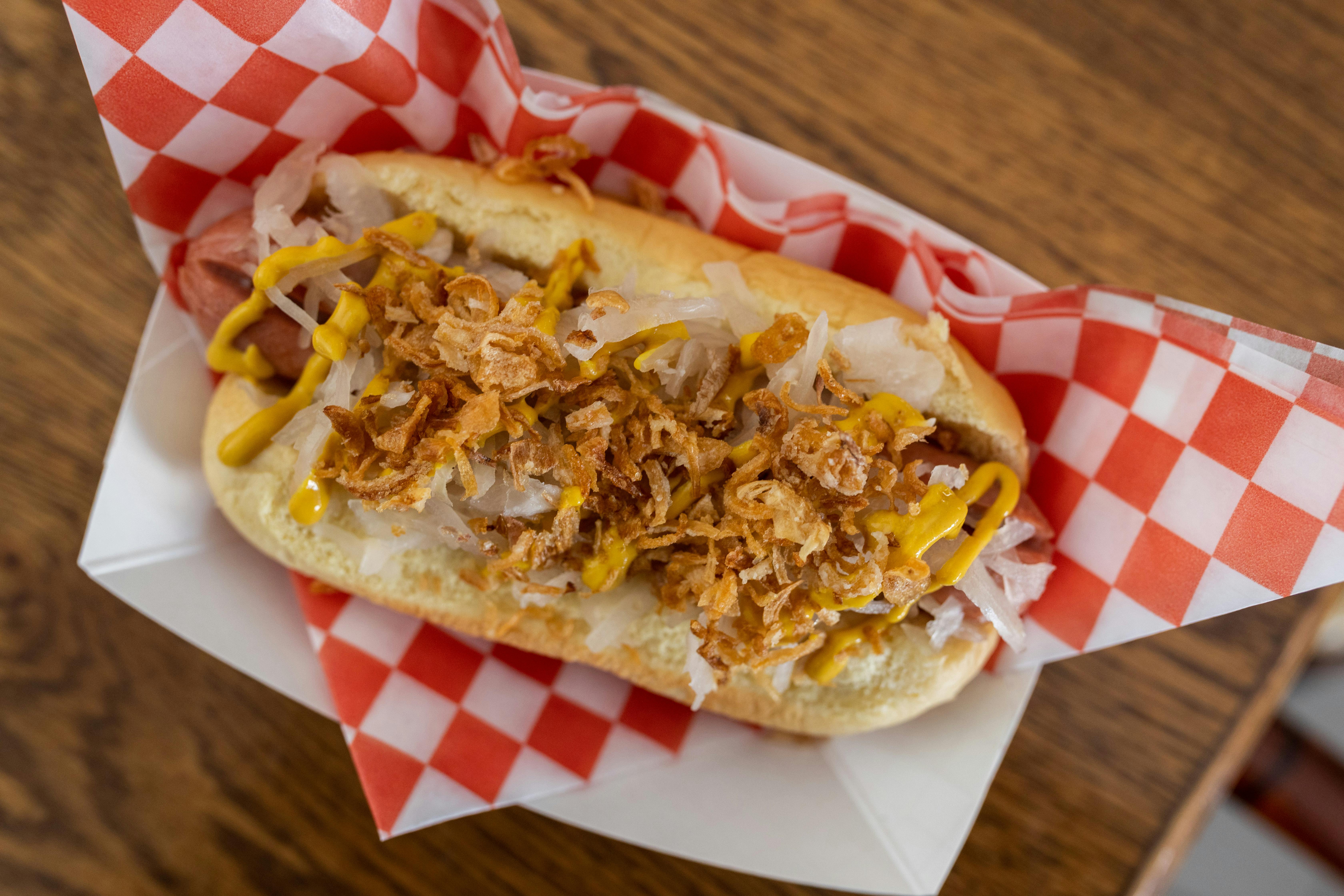 From his Jewish heritage to his well-documented love for Montreal, the Steamie is Pivnick's homage to the city that taught him everything. A classic in every way, the steamed buns and sausage have a wonderfully soft texture —almost juicy, if we may. Or moist, for the lovers of the word.
The only addition that Pivnick has to an otherwise classically-made hotdog is crispy onions on top. But, to be fair, who doesn't love crispy onions? It takes nothing from the hotdog and instead adds a whole other dimension. Its crunchy texture contrasts well with the soft hotdog, making for a well-balanced mouthfeel. 
And, if you have any qualms about having a Montreal steamie outside of Montreal, just know that Pivnick has had a few customers from the city and they've all said that it stands up to the original.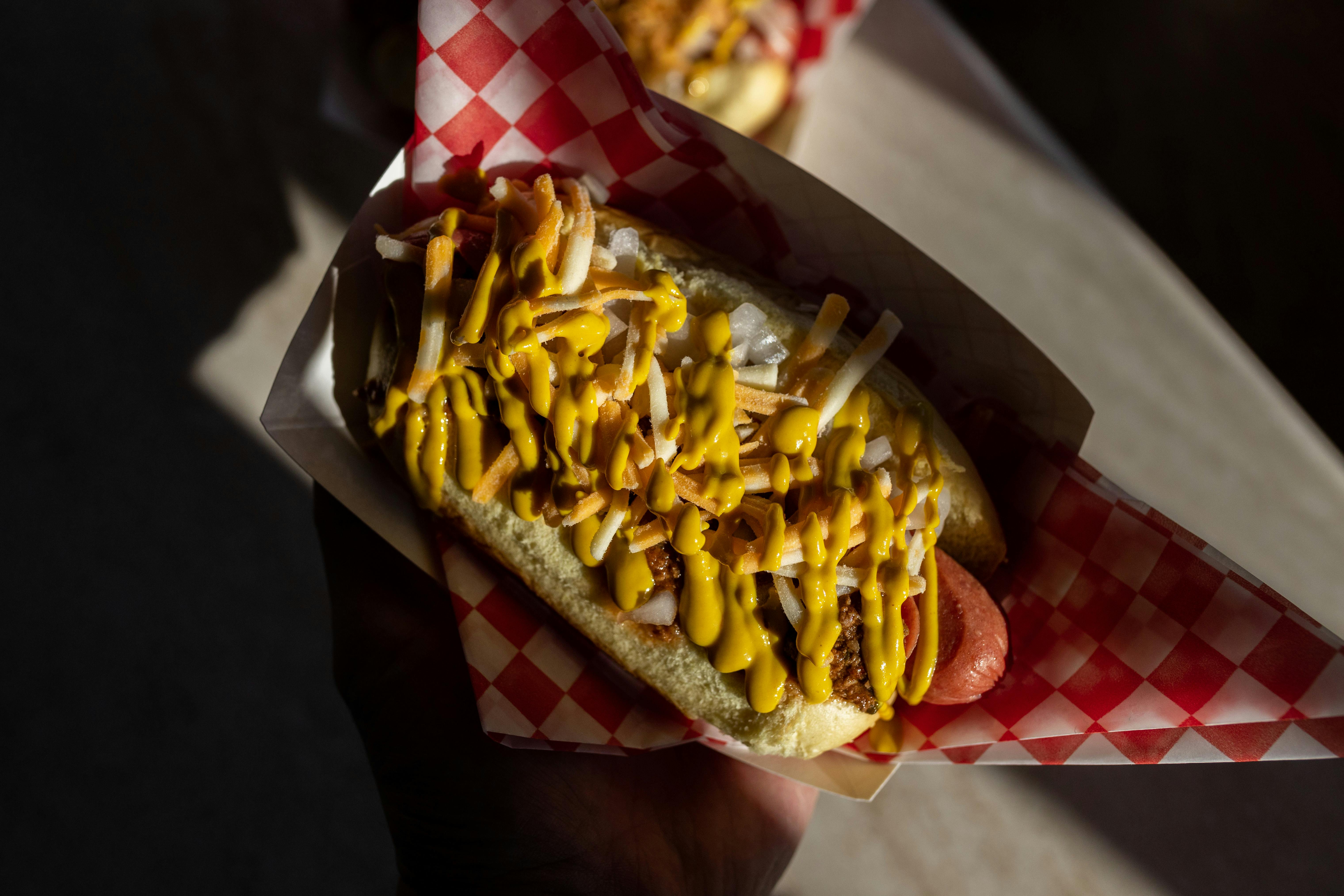 Staying in the hotdog lane, the restaurant also serves a classic Coney Dog. Named after the infamous neighbourhood in Brooklyn, this is a regular hot dog topped with chilli or a meat sauce of some kind and slathered with chopped raw onions and yellow mustard.
Now while the steamie was a little subtle and understated, the Coney Dog is right in your face with its flavours. It's very mustard-forward and has a great bite from the raw onions. An extremely tasty dish, one can see why it's so popular in North America.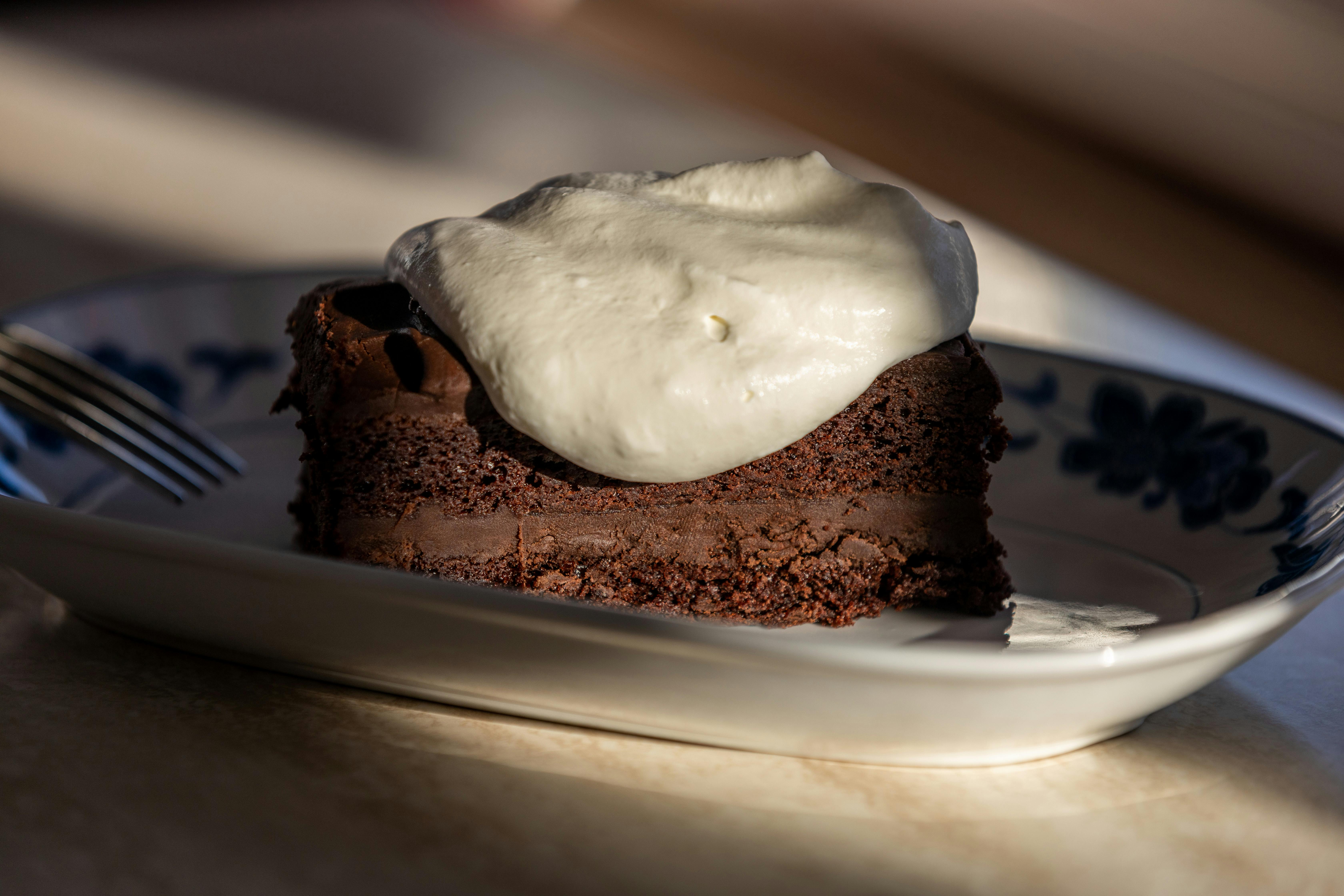 Any good meal needs a sweet send-off, and Alberta Avenue Provisions' comes in the form of a delightful chocolate cake. Courtesy of Barbershop Patisserie, it is moist, decadent, and just the best way to end a meal. 
Given the rise in so many places with a similar modus operandi to Alberta Avenue Provisions, it does make Pivnick look twice. But at the end of the day, he sleeps well because of two things his restaurant has.
The first is the quality of the food and drink being served along with the super personable staff. As mentioned before, Pivnick stands behind everything he serves and sells, given the fact that he can speak to each and every menu item.
The second point is the restaurant's location. The area that the joint exists in is one of the most heavily-trafficked strips in Toronto, according to Pivnick. There's free parking on Davenport as well as every side street. And while it is so accessible, there are hardly any good businesses on it — just residences upon residences.
"I'm confident in this location and the people who live around here. The only other place that is somewhat successful is The Gem," he said. "And they've been around for 30-plus years. And they're very different than us. I've hung out with the owners, they're excited for us to become successful to make this strip more successful."
At the end of the day, Pivnick just wants all of his patrons to have a high-quality experience. One where they felt very welcomed and were tended to in the most personable manner. He laid a lot of stress on caring and doing things in the right format. With the success that Alberta Avenue Provisions has seen in a small time that it has been open, it's quite clear that Pivnick's methods are bearing fruit.
Being the sole proprietor of a restaurant, however, comes with its pros and cons.
"This is something that I've just done on my own," Pivnick said. "So I don't have to answer anyone. I can do what I want to do. I can stay passionate about what I want to do."
While the food his restaurant serves excites him, a major drawback for him currently is that he doesn't get to deal with it a lot. Most of his time is spent on administrative tasks like paying bills, purchasing bottles and just overall running the restaurant. So whenever he does get time to mess about in the kitchen, he loves it. 
In its small window of being functional, Alberta Avenue Provisions has seen a lot. What started as a basement and a patio without even a functional roof on the main floor has slowly come into its own as a rising star in the culinary landscape of Toronto. From quite literally starting at the bottom during COVID, Pivnick knew that the only way was up.
Now, almost two years later, the restaurant is undergoing a massive facelift. Pivnick also got the main floor under his name and construction is underway to expand the restaurant. Once the renovations are done, the main floor will open up for wine, provisions, a diner and a deli. And given the fact that it's owned by Alex and is on Alberta Avenue, the rebranding will see the joint's name pivoting to Al's.
Even with this change, Pivnick is continuing to stick to his roots which he hangs on to so lovingly. The deli and diner are an homage to his great-grandfather, whom he was named after. He owned a deli and corned beef stand in the 1940s and '50s, which brings everything full circle for Pivnick.
"So that sort of, to me, ties everything together, and it brings it back," he said. "I fell in love with food living in Montreal in those years. And I've actually learned about it. That's why there's a place in my heart for you, know, quality food that's done well, but like diner style or deli-style. I mean, my family's Jewish. So like that sort of Eastern European blend."
While the main floor is being put together, the basement will still be active and will continue to remain even after the renovation is done. The patio at Alberta Avenue Provisions will open up very soon, as the weather permits. Outside of that, the restaurant is also hoping to launch a coffee program in the near future and operate with extended hours.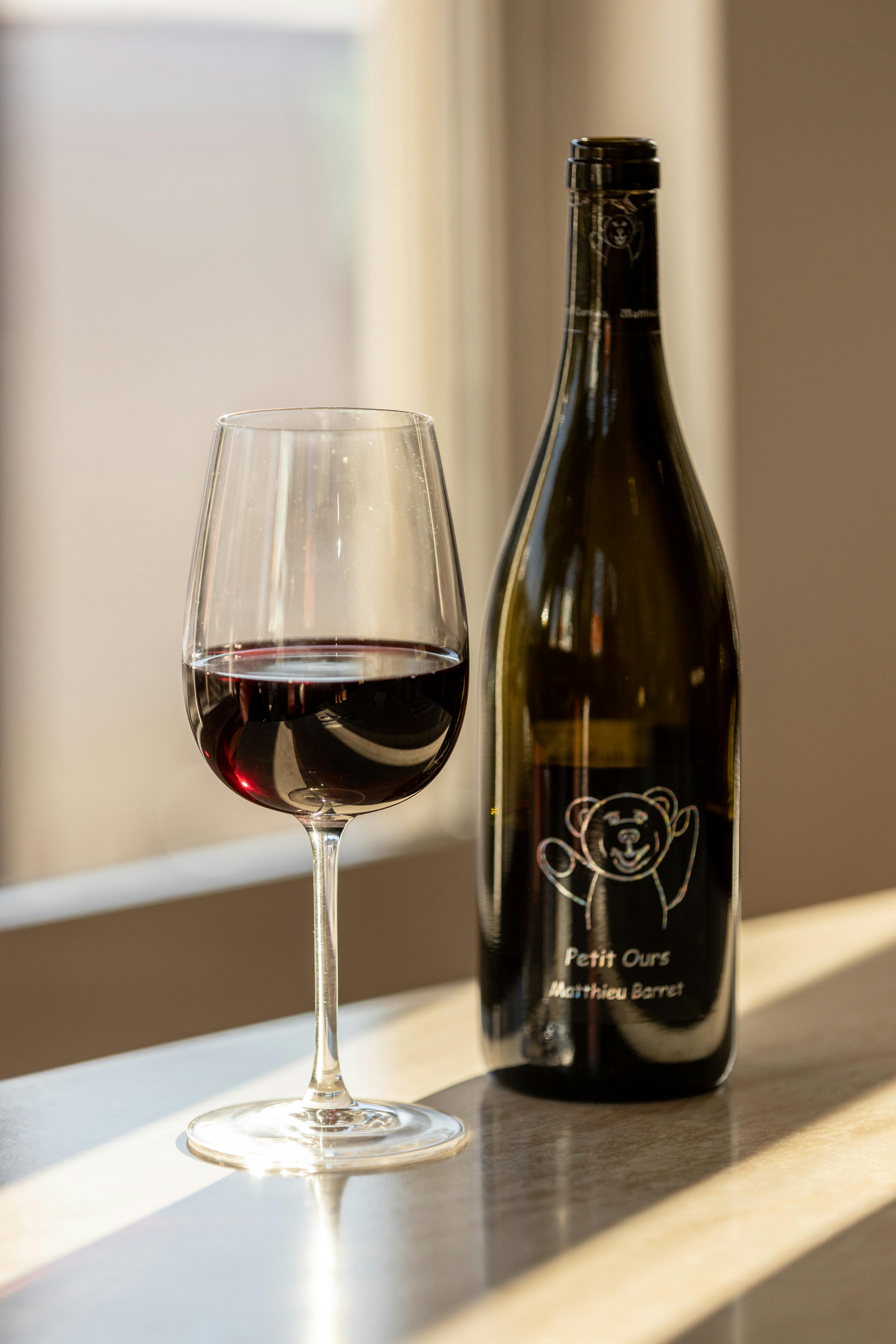 We, for one, can't wait to see what the finished product looks like. Davenport has got a star in its hands.
To keep up with Pivnick and the restaurant's rebuild, follow its Instagram page.