When Quoi Ngo and Phu Luu immigrated to Toronto from war-era Vietnam, they arrived with nothing, and built a legacy.
Anh Đào is now a beacon of authentic Vietnamese cuisine, nestled in the same spot in Chinatown since 1983. Celebrating its 40th anniversary in 2023, the Toronto mainstay boasts traditional recipes that have been passed down through generations and an atmosphere of warmth and camaraderie, to fill both your stomach and your heart.
When the pandemic hit, Quoi and Phu retired, and their third of four sons officially took over the family business.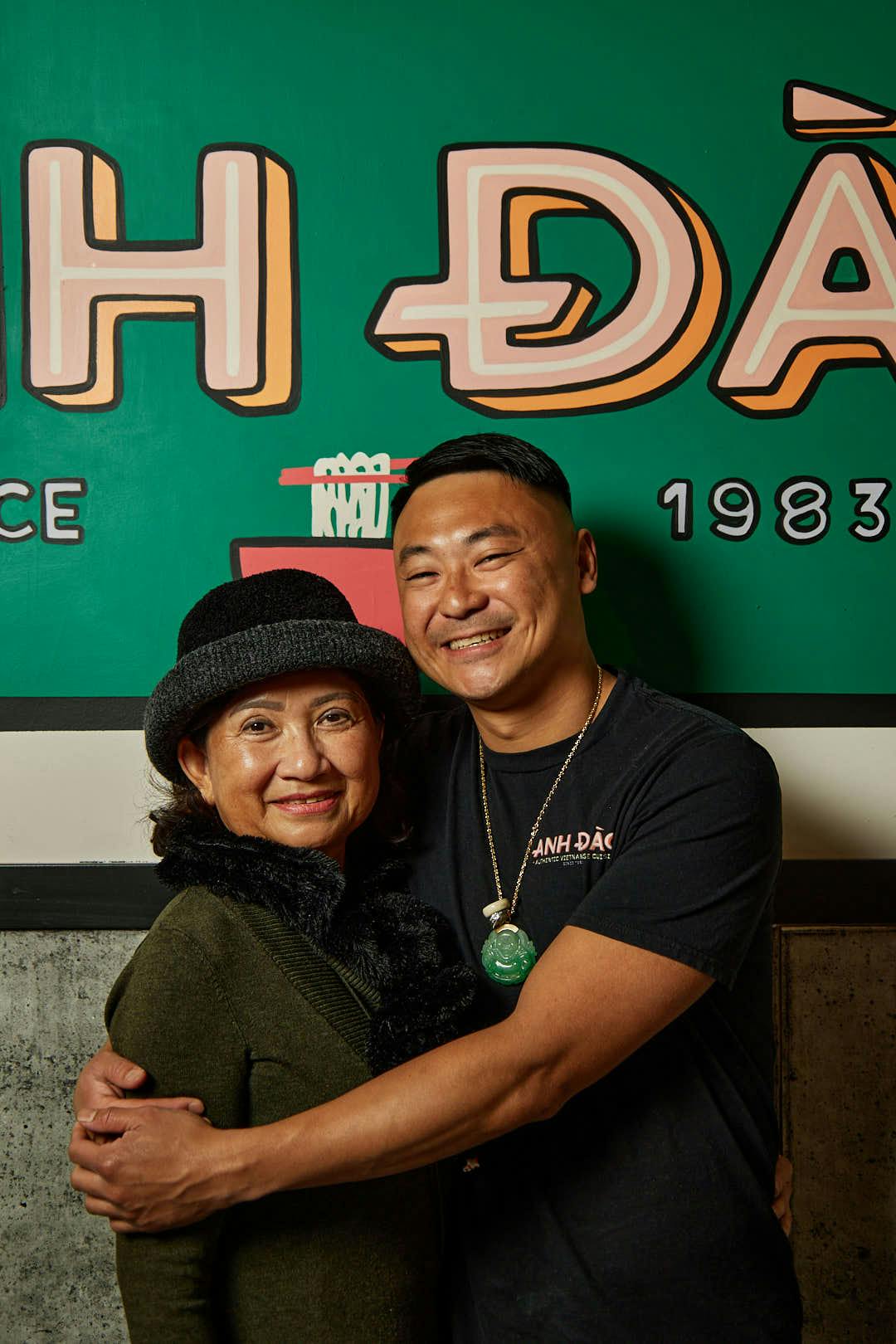 Quoi Ngo with her son, Tony Luu.
The exuberant Tony Luu has worked behind the scenes at Anh Dao for more than a decade, and notes that he basically grew up at the restaurant. Now with two daughters themselves, he and his charming wife Ashley continue to drive the values of family and tradition that the restaurant stands for, with a modern mindset and refreshed concept.
"The Vietnamese community in this area was very big, back in the day in Chinatown," explains Luu. "So, everybody came here, congregated, and it was the main chill spot for most Vietnamese people. From there, my parents built this establishment, and now here we are, 40 years later."
Starting with the facade, a cool, new Anh Đào sign ornaments the entrance in forest green, rosy pink and bright yellow, hinting that the English translation of Anh Đào is "cherry blossom", and letting passersby know it's where they can find authentic Vietnamese cuisine, since 1983. The exterior retains classic embellishments such as neon signs in the window, photos of menu items on the storefront and a sidewalk sandwich board inviting visitors old and new.
In addition to the new Anh Đào sign, the entire restaurant has undergone a major facelift since the pandemic began, when it had to close for nine months.
"It was quite a journey!" expresses Luu. "I was peeling off walls from my childhood here, but it has gotten to a point now where it's so bright and just a great place to be, and we're very excited."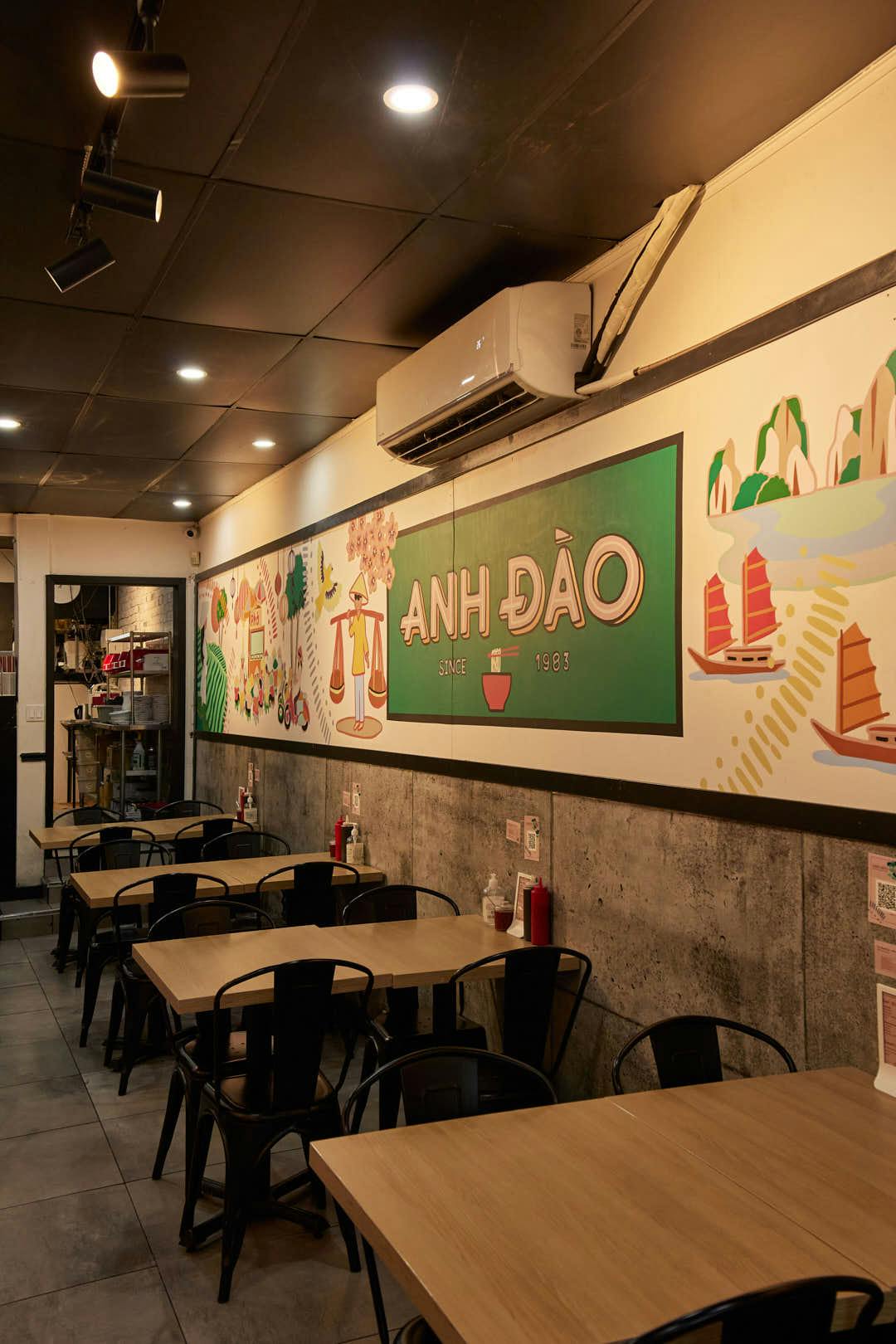 Inside, guests will find a small, but mighty, cozy and welcoming space with a set of about ten, no-nonsense tables and chairs, overlooked by a small kitchen area. The walls are adorned with a large, colourful mural by artist Leslie Phelan, showcasing vignettes of Vietnam as an ode to the restaurant's heritage. Phelan supported much of the restaurant's artistic rebrand.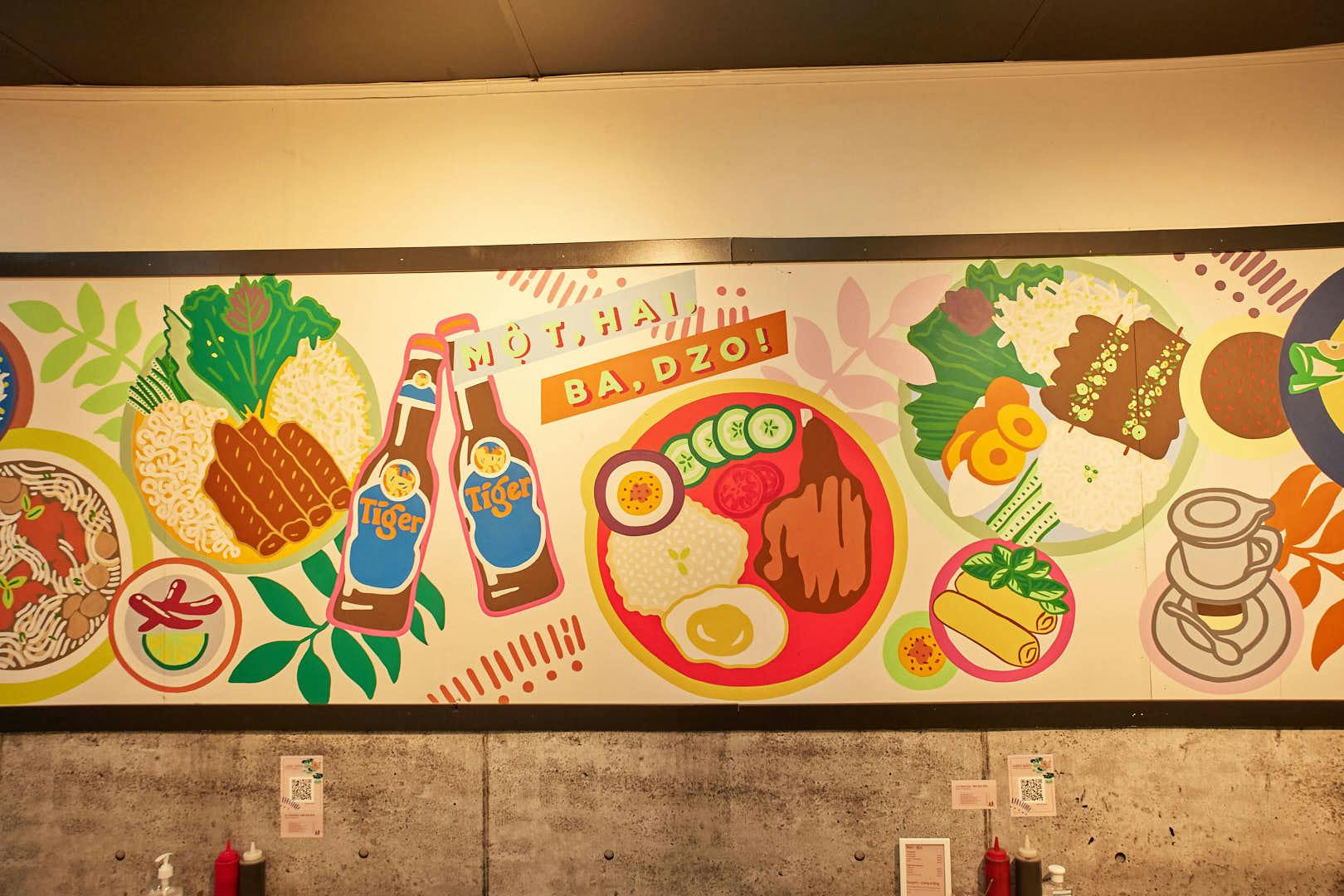 Looking around the space, Luu gushes: "This is all Ashley – she's number one with the decorating and interior design. Ashley told the artist what she envisioned, and it came out."
Now, for the food! Anh Đào's revered menu consists of recipes from Luu's mother and his maternal grandmother, with a focus on traditional Vietnamese comfort food that extends well beyond pho.
In fact, Anh Đào's specialty is rice paper rolls. Rice paper rolls are an authentic Vietnamese dish, usually filled with protein, vegetables, rice vermicelli and herbs, all bundled in a thin rice paper wrap. Anh Đào takes the rice paper rolling experience to a whole new level, presenting guests with the deconstructed, fresh ingredients, and allowing them to make the rolls themselves, like they would at home. Each dish is served with a flavourful protein, and comes with an abundance of lettuce, mint and more herbs, vermicelli, rice papers and a house special fish sauce made with pineapple and garlic. Luu encourages his guests to use their hands and "really get in there!" for a classic experience.
Notably, Anh Đào doesn't skimp on the fresh herbs and veggies. Luu highlights that the restaurant continues to include a fresh variety of traditional herbs like basil, mint and perilla with its dishes, though the price of herbs is rising with inflation, costing some $12 to $14 per pound. Luu also maintains strong relationships with neighbouring grocers in Chinatown and Kensington Market, to obtain fresh and specialty ingredients, such as green banana from one vendor in Kensington Market his parents have been using since the 80s.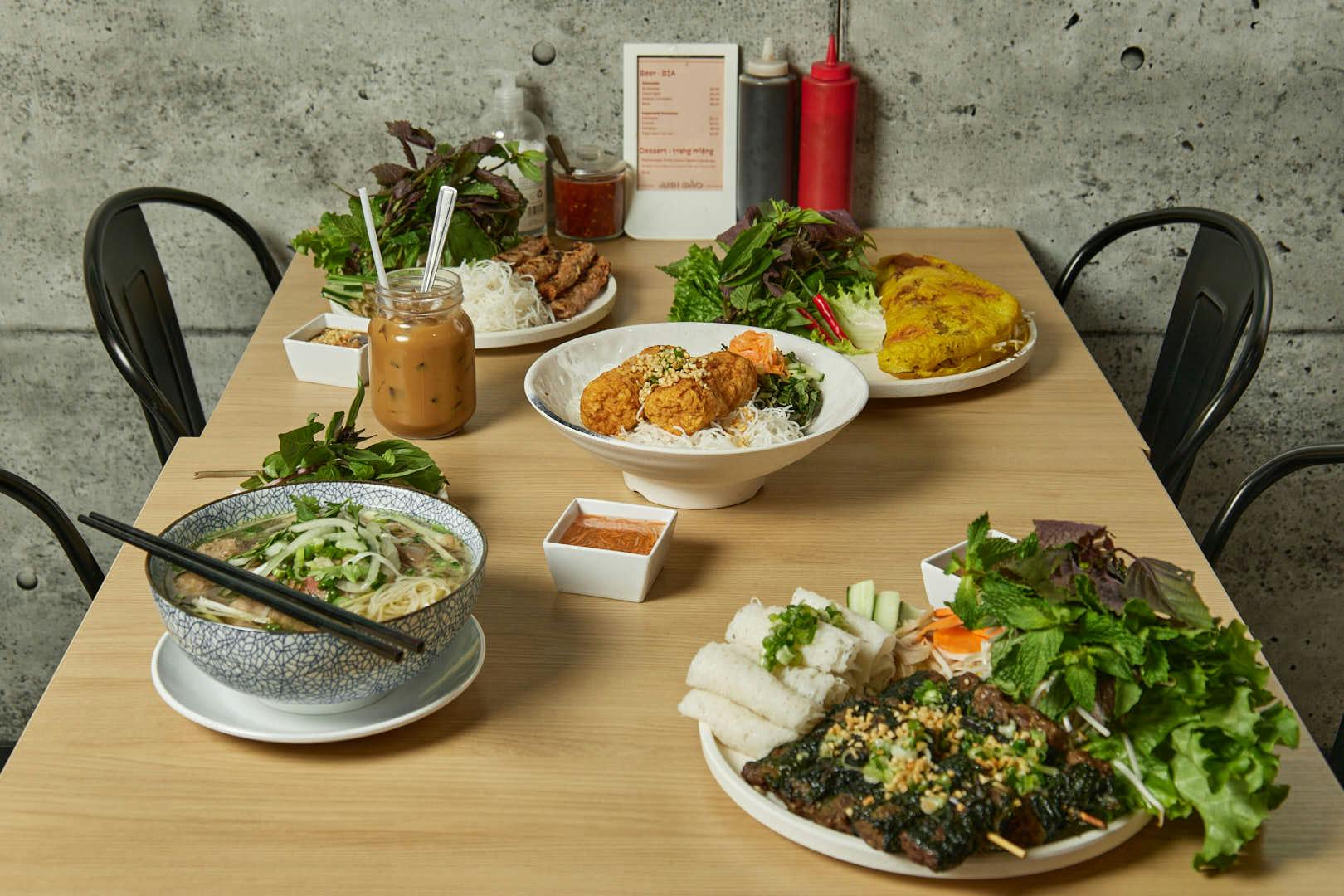 Luu has also worked to modernize the menu by minimizing the number of items on it, so guests can enjoy the best of the best in Vietnamese cuisine at Anh Đào. While the menu remains chock full of delicious dishes, he explains that the it once listed a whopping 300 items.
"I want our guests to experience good Vietnamese food that's traditional, and at the same time have good service, good atmosphere and a good time here," says Luu, whose love for and knowledge of cooking comes entirely from his mother, grandmother and eldest brother.
Chef Hieu Paul Nguyen spearheads much of the kitchen effort these days. He started working at the restaurant about four years ago, noting, "I love Vietnamese food, and cooking is how I express it."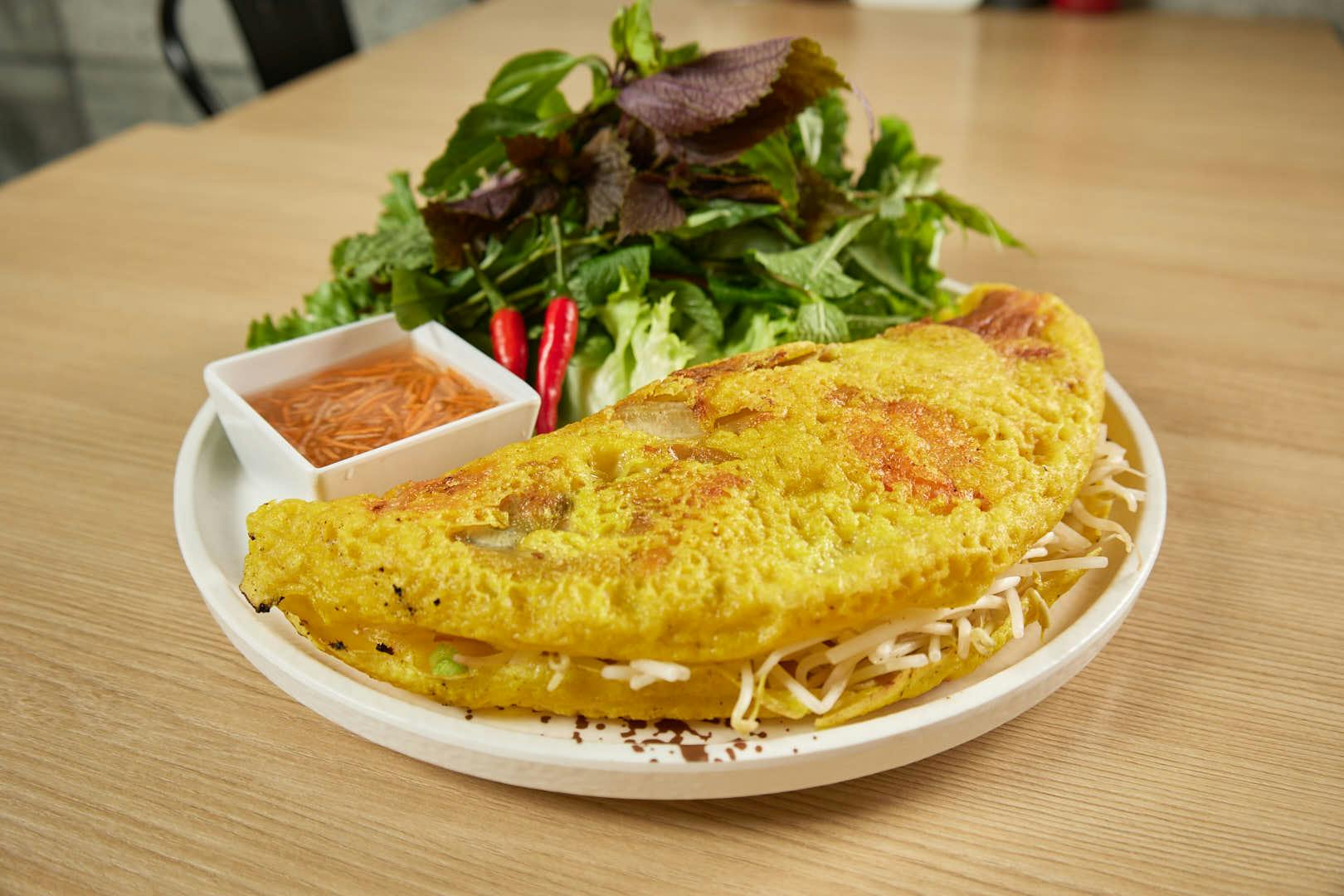 A steaming plate of Bánh Xèo exemplifies Chef Paul's aforementioned love for Vietnamese food. Also known as a sizzling Vietnamese crêpe, this appetizer is traditionally filled with pork belly and shrimp. At Anh Đào, the incredibly crispy, savoury crêpe is made with turmeric and rice flower, stuffed with bean sprouts and served with a wealth of herbs and lettuce. The crepe remains surprisingly crispy after some time, and each bite just melts in your mouth.
"Here at Anh Đào, the Bánh Xèo is one of our must-try dishes," explains Luu. "If you were home, you might eat it in a bowl, but here at our restaurant you can cut it into sections, roll it up in some lettuce, put some herbs inside and dip it in the sauce.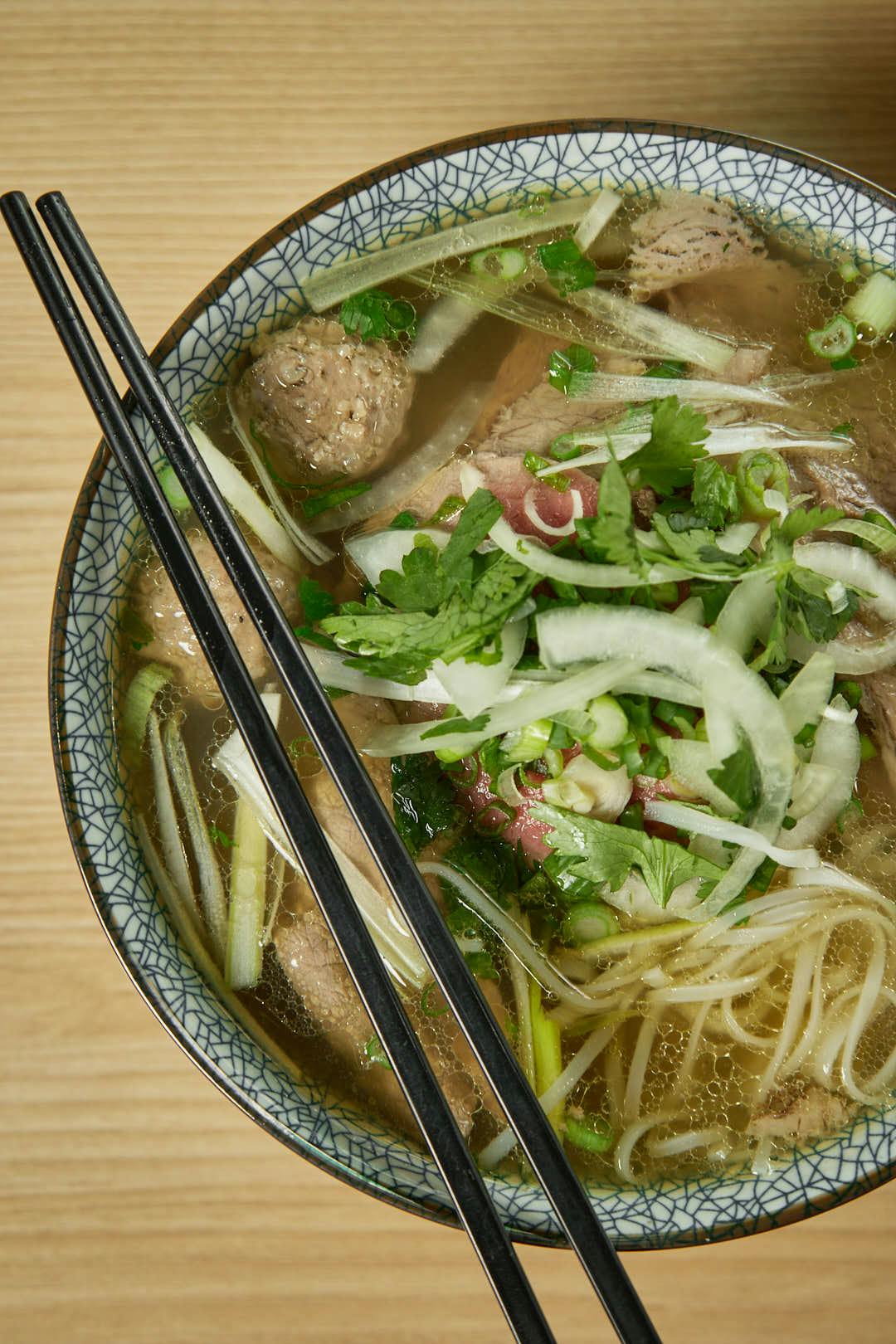 Though Anh Đào's menu expands well beyond pho, an authentic Vietnamese restaurant should classically have its own take on the soup, and Anh Đào serves a spectacular house special Phở Dặc Biệt, or Pho Rice Noodle Soup. This soup is packed with protein: beef tendon balls, rare beef, beef brisket and tripe. The BBH (Bún Bò Huế) is also very popular at Anh Đào, which is a spicy version of the classic beef noodle soup.
As the fragrant Phở Dặc Biệt diffuses the air and sets stomachs growling, Luu underlines that the broth at Anh Đào stews for 10 hours almost every day. The pho is accompanied by a plethora of basil, bean sprouts, lime and chilis.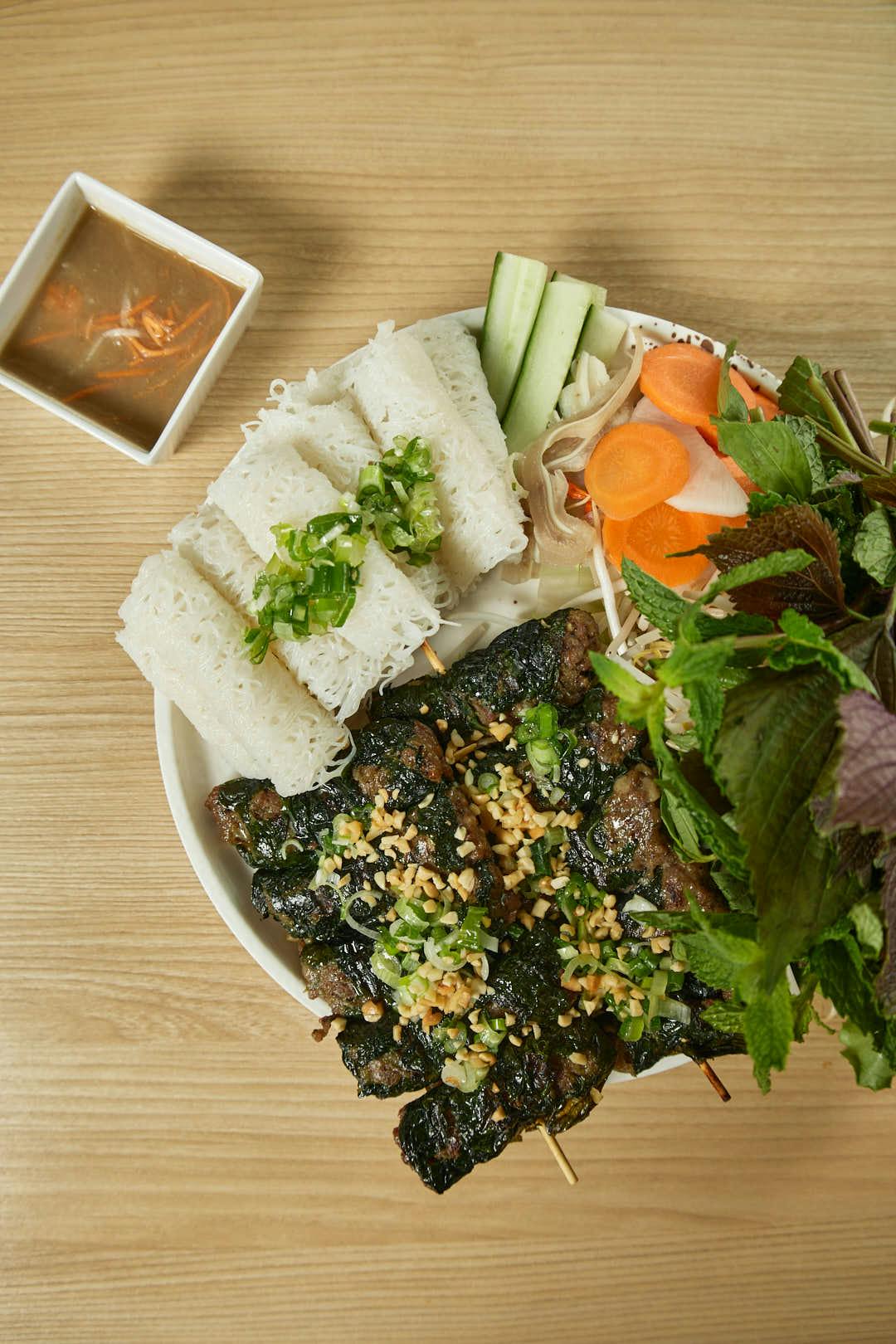 The journey of spices, meat, herbs and vegetables continues with another specialty item on the menu: the Bo Là Lót, or Betel Beef Skewer, served with the house fish sauce. Meant to be rolled in rice paper, each decadent piece of beef on the platter is infused with a five-spice blend, with each piece of meat also blanketed in the sharp flavour of a betel leaf and served with heaps of herbs and vegetables.
This dish also comes with steamed vermicelli in mini lattice works, which provides a more unique texture inside the rice paper rolls than the classic filling of separated vermicelli noodles. In addition, the Bo Là Lót comes with pickled carrots, cucumbers and pickled pig ears, which add an extra kick of tang and spice to each bite.
"It's definitely an acquired taste, but Vietnamese people love it!" says Luu, hands deep in wrapping a rice paper roll.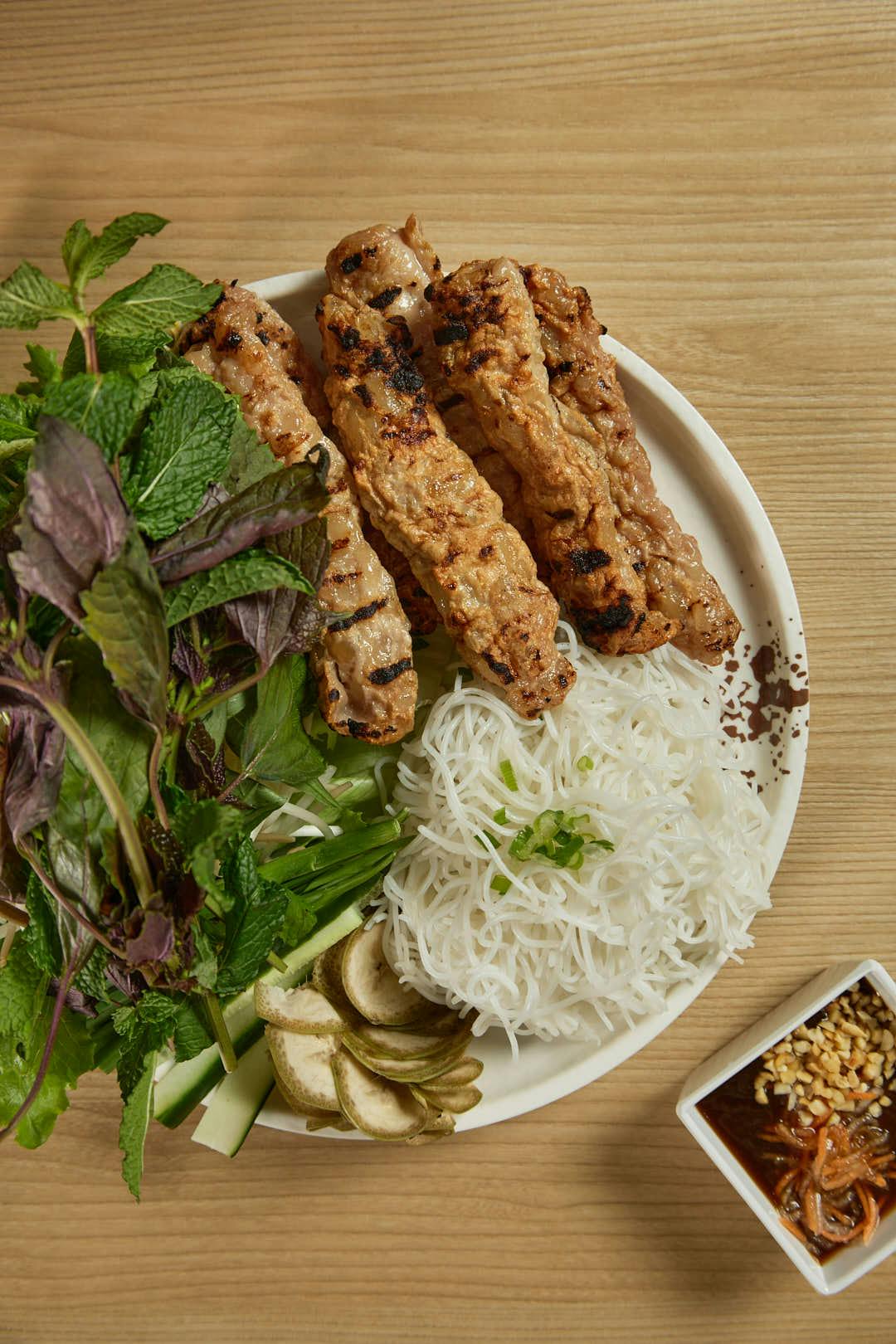 One of Anh Đào's crown jewels is its Nem Nướng, or BBQ Pork Sausage. The Nem Nướng recipe has been in the family and established the restaurant for the past 40 years. This beautiful plate comes with the traditional vegetables and herbs, wildly flavourful pork sausage links, chives and either plantain or green banana, depending on what Luu scores fresh at local markets. Wrap it all up in a rice paper roll and dip it in the house made hoisin sauce for the best eating experience – this is both Luu and Chef Paul's favourite dish.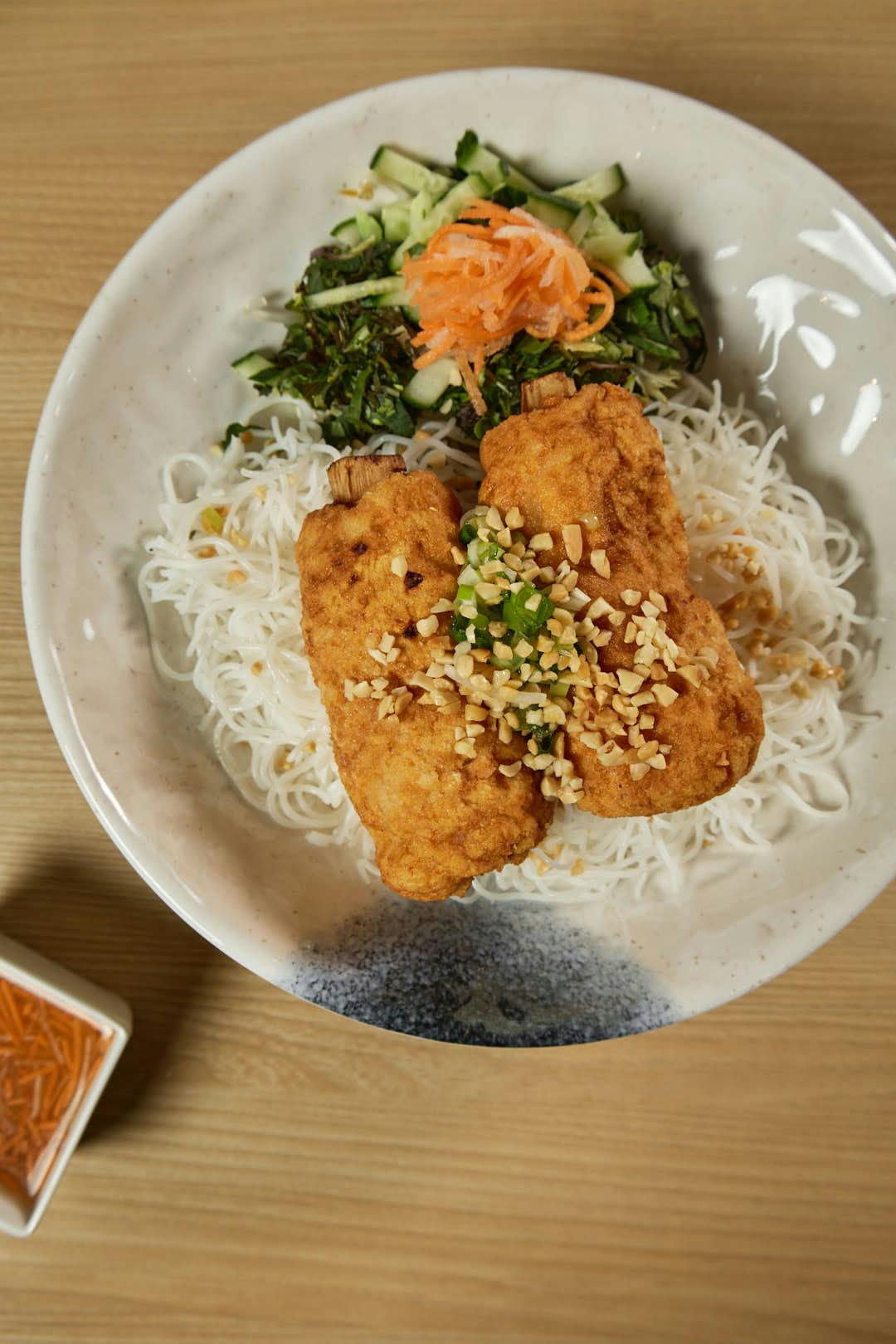 Finally, the Bún Chạo Tôm, or Shrimp Sugarcane in Vermicelli Bowl, consists of two rolls of thick shrimp paste wrapped over a piece of sugarcane each, deep fried and placed on a bed of vermicelli. The sugarcane is meant to be removed before crunching into the indulgent shrimp roll, and scooping some vermicelli, herbs and vegetables doused in fish sauce into your mouth to follow.
This exceptional dish was actually taken off of Anh Đào's menu for about two years because it was expensive to make. However, Luu brought back the fan favourite, which is about 90 per cent shrimp, in recent years, for all the seafood lovers who don't mind paying a little extra for the decadent dish. Luu explains that the Bún Chạo Tôm isn't even on the restaurant's paper menu as it was previously removed from Anh Đào's roster. Now, people mostly know about the meal through word-of-mouth recommendations, so, consider yourself in on the exclusive item!
Next, Luu aims to bring Anh Đào to more food events – such as last summer's milestone debuts at Smorgasburg, the Dragon Boat Festival and the Garlic Festival – with fresh takes on fusion Vietnamese cuisine. He dreams of expanding Anh Đào, and bringing a new Vietnamese street food bar to the city's diverse food scene.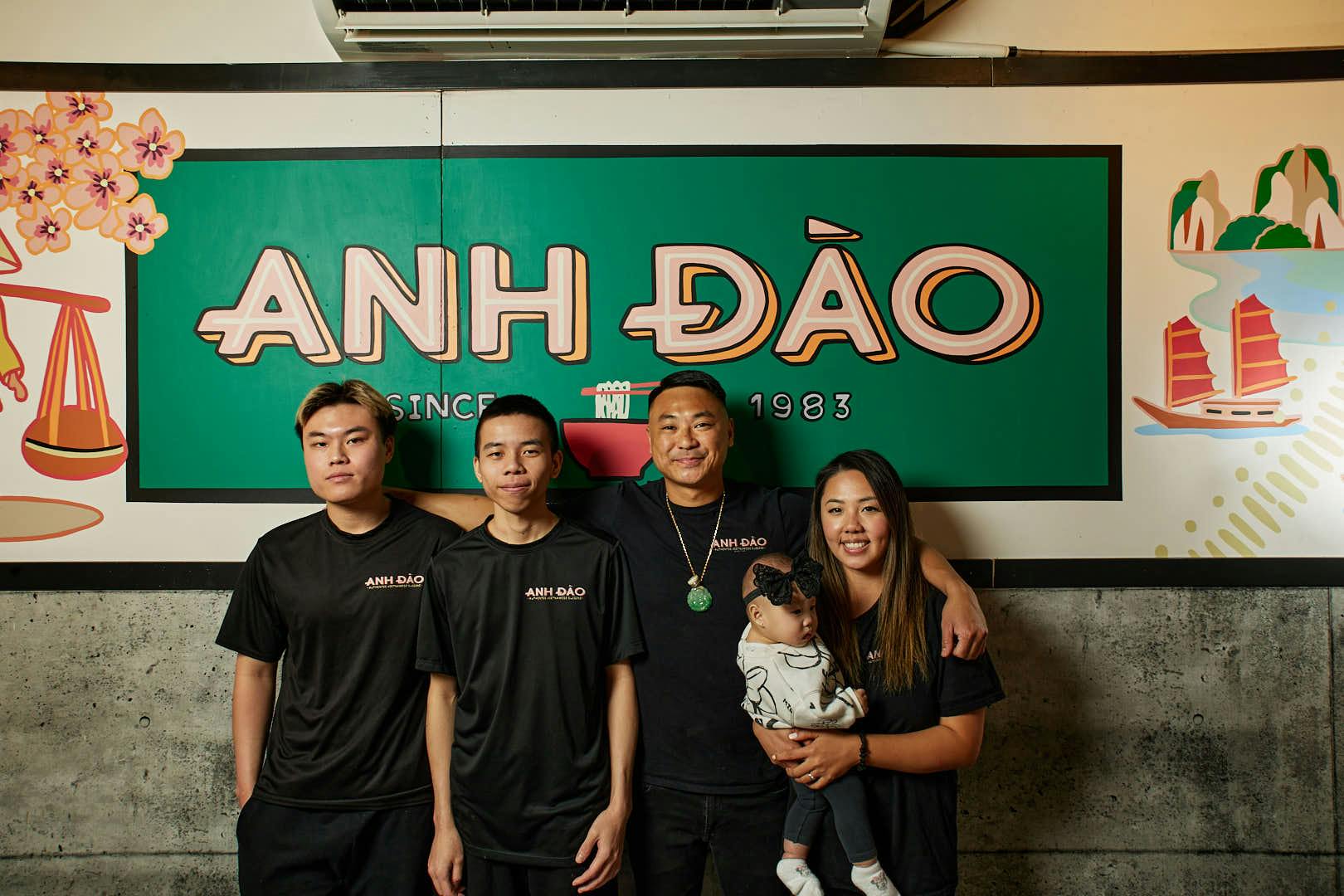 Some of the team behind Anh Đào. Left to right: Tan Le, Hieu Paul Nguyen, Tony, Ashley and baby Evelyn Luu.
All in all, Anh Đào is a cornerstone of authentic Vietnamese comfort food in Toronto that continues to serve its existing customer base and inspire new regulars every day. Anh Đào's penchant for tradition, family, art, evolution, good food and good vibes lends to its reputation as a neighbourhood favourite.
Anh Đào is a cash only restaurant, located at 383 Spadina Avenue. The restaurant is open from noon to 9 p.m. on Mondays, Tuesdays and Thursdays, closed on Wednesdays, and open from noon to 10 p.m. from Friday to Sunday.
To stay up to date with the restaurant, visit Anh Đào's website or Instagram.