From Janet Zuccarini, chef Stuart Cameron and the Gusto 54 team comes a new marketplace and restaurant nestled on the always-popular Ossington strip and offering authentic, unique and mouthwatering Middle Eastern fare.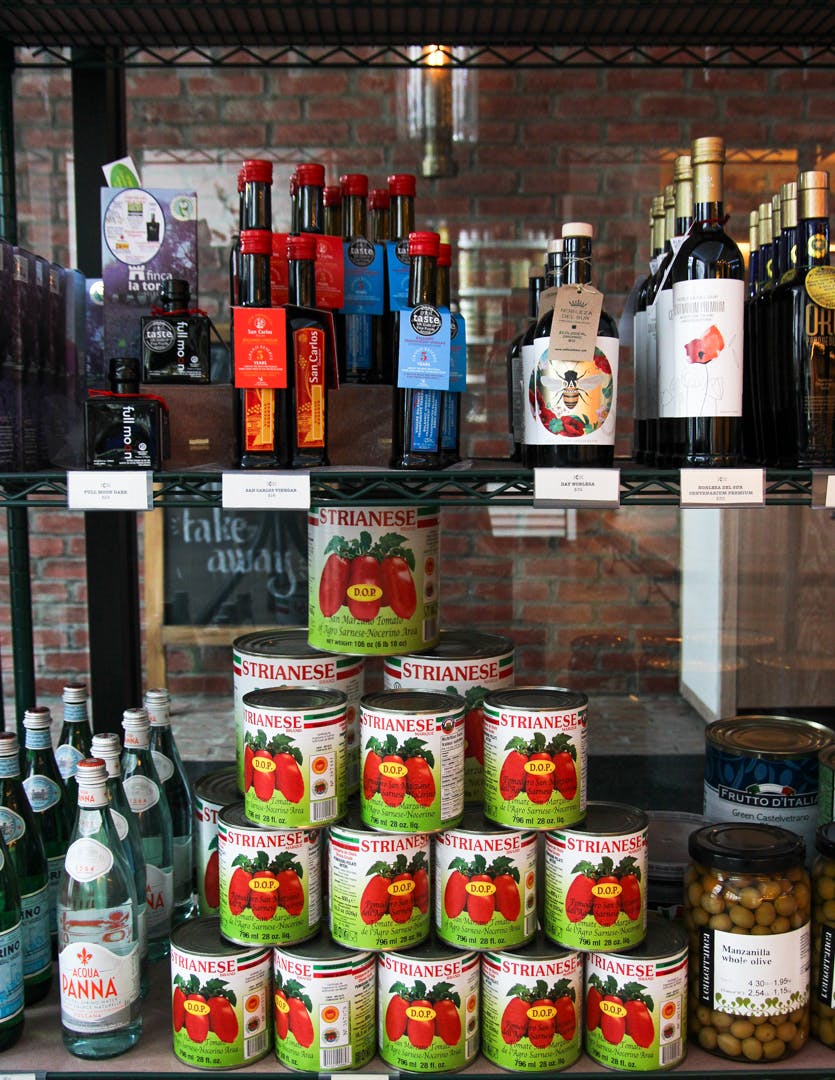 Azhar, which officially opened at the start of the year, is located at 96 Ossington Avenue and is hard to miss with a display window full of tempting pastries inviting passersby to drop in for a coffee or a snack. Part restaurant and part marketplace, the menu is focused around the use of traditional ingredients and techniques and a wood-fired oven at the back of the space where the bread and many of the main dishes are baked.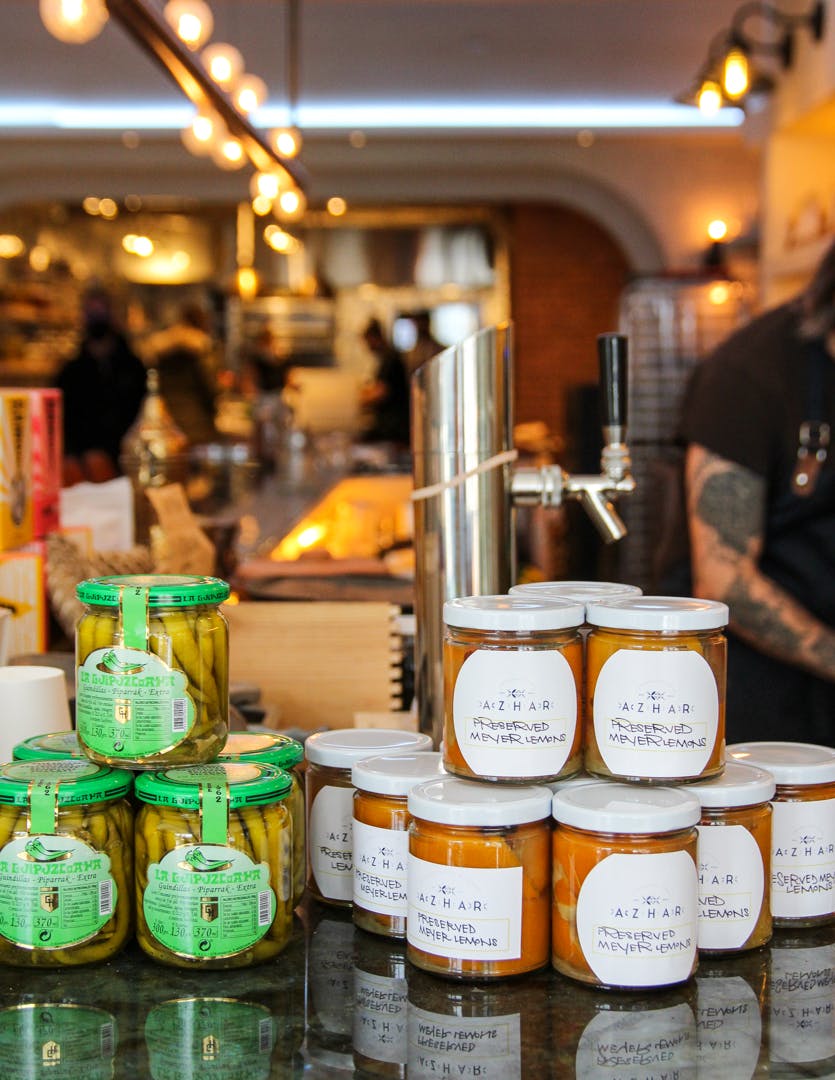 Upon entering, guests are welcomed into the retail space at the front of the restaurant, where they can find beautiful displays of Middle Eastern pantry items like oils, spices, canned goods and jars of pickled vegetables. They offer house-made spice mixes like their take on dukkah, a traditional Egyptian seasoning blend that combines nuts, seeds and warm spices. It is used in many of Azhar's menu items and luckily for their customers, it can be brought home and mixed with olive oil for dipping or sprinkled on top of various dishes for a unique savoury touch.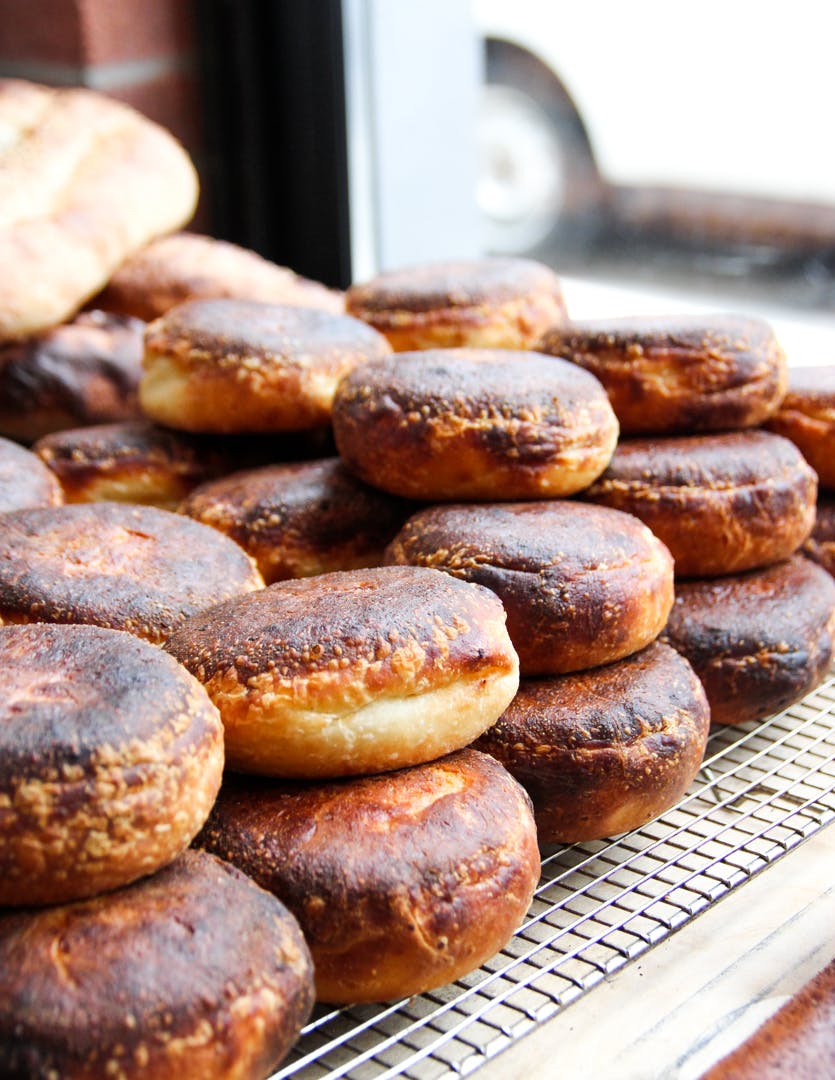 The marketplace also houses Azhar's homemade pastries, which are piled high in sunlit-filled displays and are perfect for an on-the-go breakfast or treat. Their famous Potato Bun is made using a mixture of house yogurt and fermented potato in the dough, which then gets baked in the wood oven and turned into a deeply satisfying, dark golden brown delight.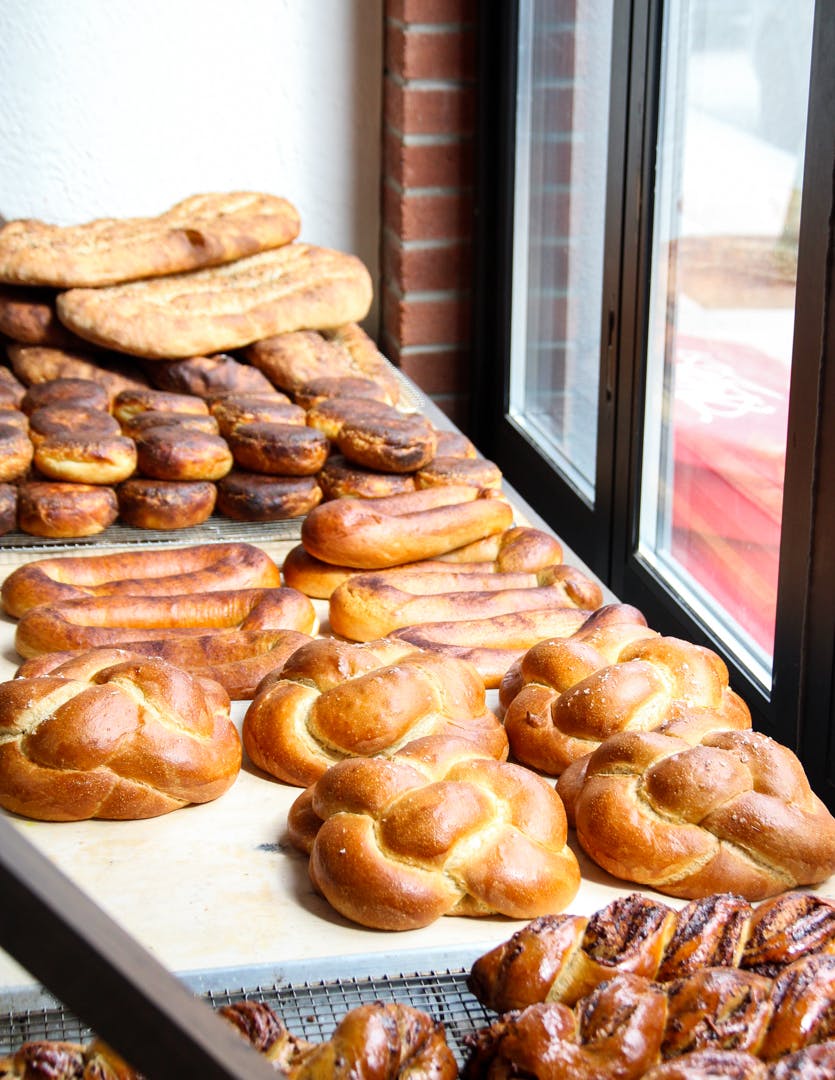 The Iranian-style Barbari flatbread is another favourite, with a crisp exterior that gets generously coated in nigella and white sesame seeds. Other baked goods include chocolate babka, sourdough baguettes and loaves, Jerusalem bagels baked with black garlic and sumac, and wood-fired challah bread made with fresh yeast, eggs and honey.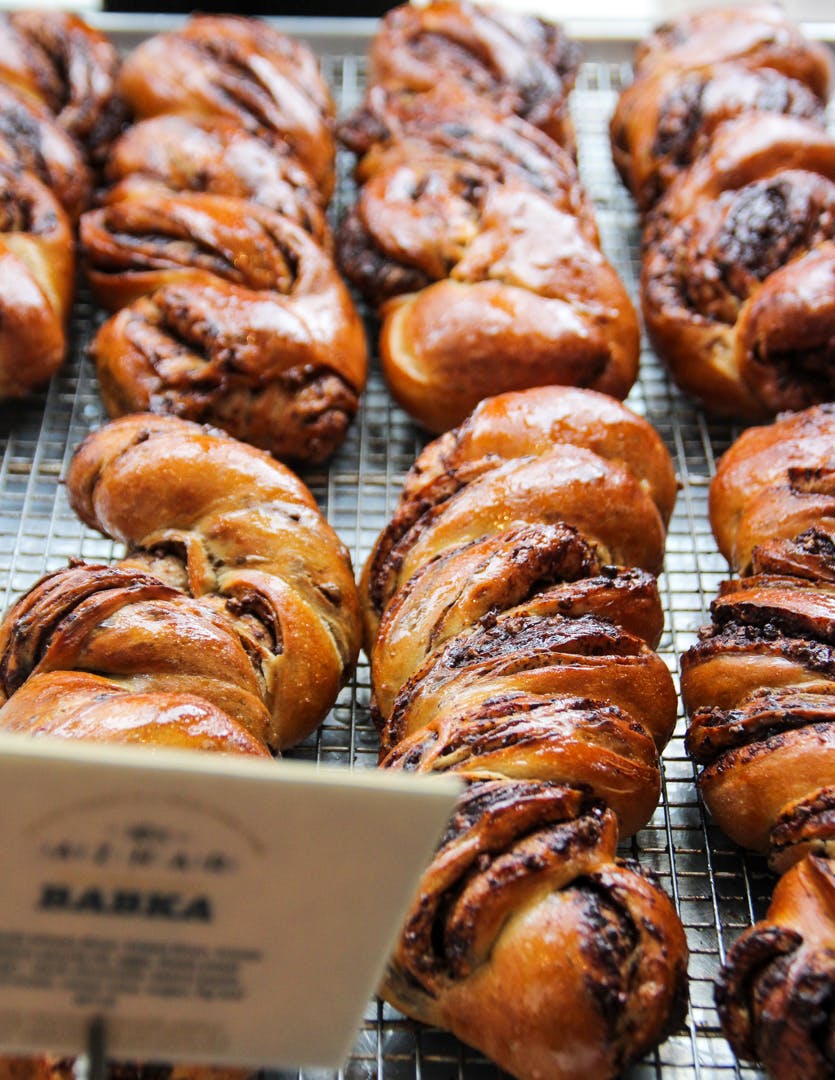 At the bar, guests can sip on a Turkish coffee with their morning or afternoon treat and pick up a bottle or two of pre-made house cocktails to bring home for later. The fridge in the marketplace is also stocked with a selection of wines, beers and prepared items to take home, including dips, sauces and cured meats.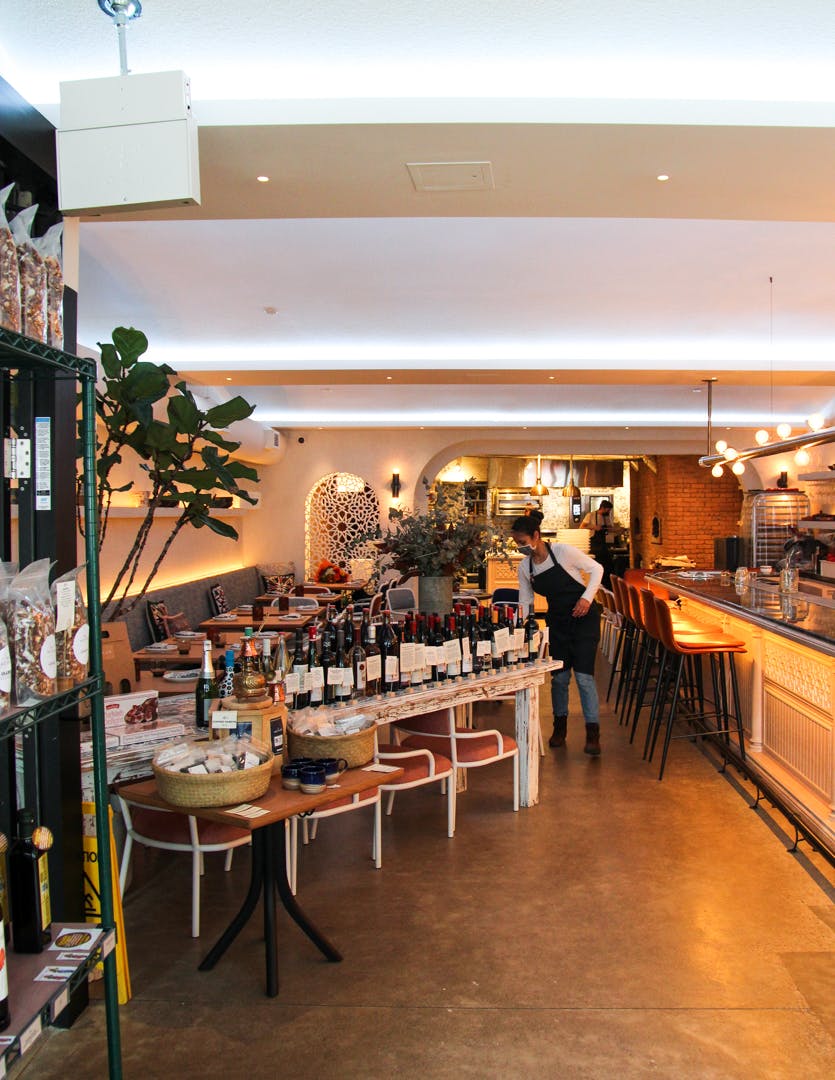 The dining room in the middle of the restaurant is all set for service whenever regulations allow, complete with greenery, muted grey and blue tones, plush booths and plenty of space for the indoor meals that will (hopefully) soon be enjoyed.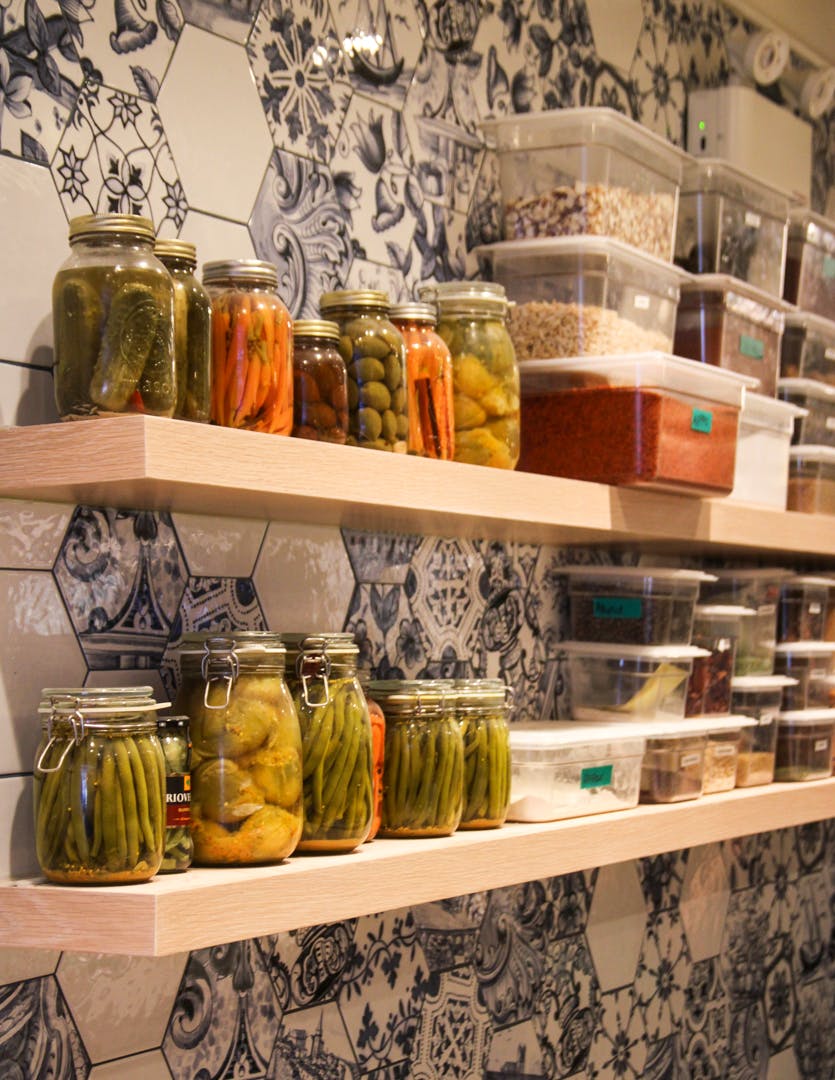 At the back of the space is an open-concept kitchen area that certainly contributes to the liveliness and marketplace feel of the restaurant as a whole. A central marble prep table provides ample space for the chef and his team to assemble meticulously plated meals. Shelves lined with jars of pickled goods and containers of spices sit against a backdrop of a blue-and-white tiled wall that gives an Israeli-style flair to the kitchen.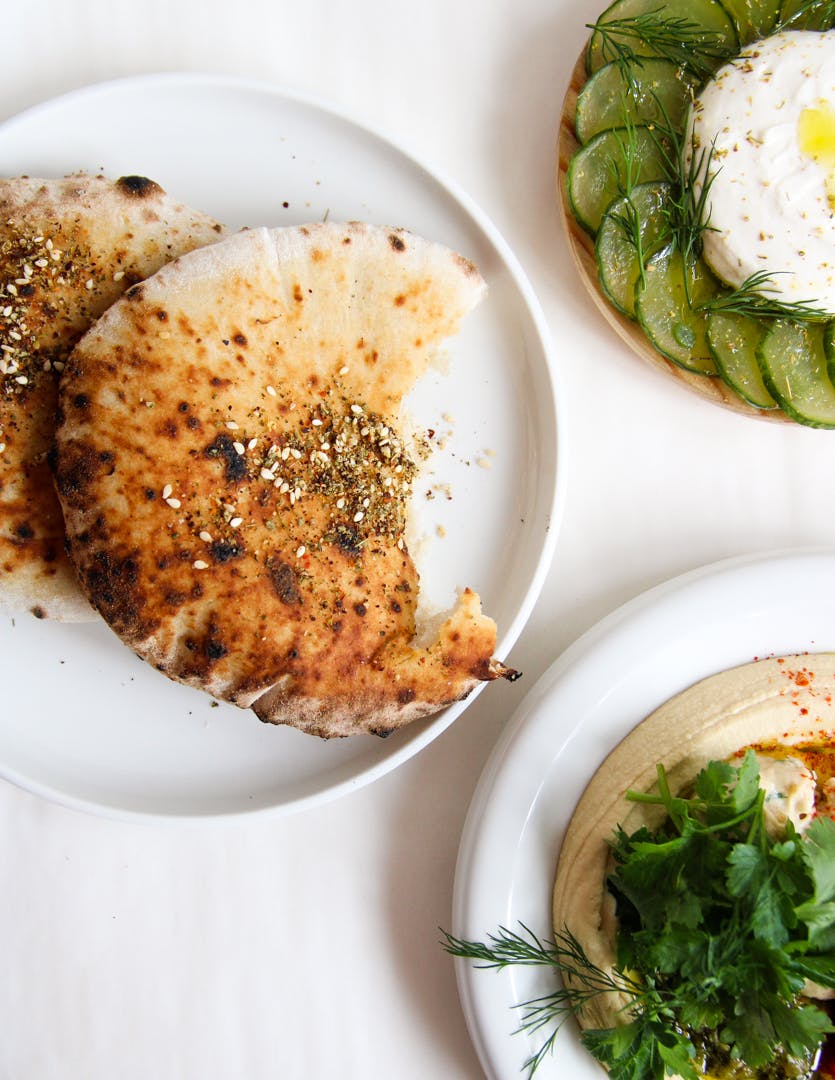 While most of the marketplace and pastry items will be mainstays, many of the heartier appetizers and entrees on the menu will change on a weekly basis. Chef Cameron dreams up mezze-style dishes that utilize local, seasonal produce, Middle Eastern flavours and traditional techniques, offering guests both vegetable-forward and meat-centric dishes that are always gorgeously prepared.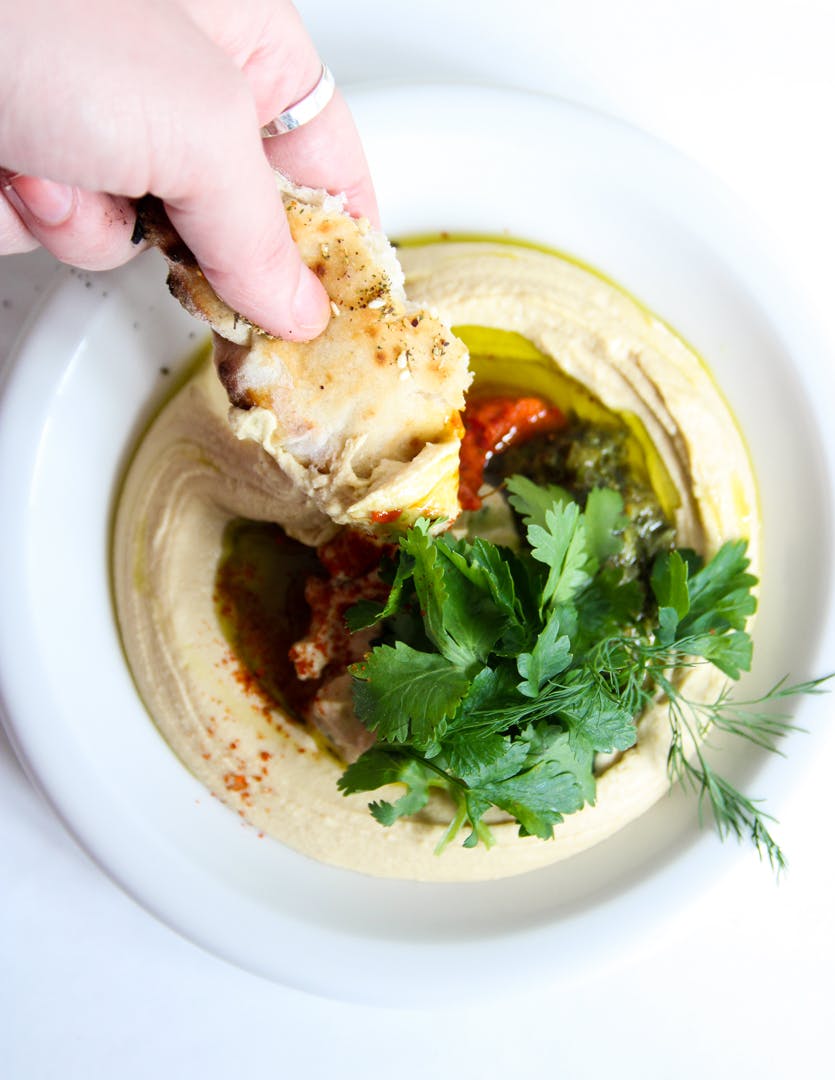 Staples like ultra-creamy house hummus topped with spicy zhoug and house labneh served with pickled cucumbers are perfect starters to snack on with their ridiculously fluffy pita bread. The pita bread is made from a mixture of overnight fermented potato and sourdough, baked in the wood oven and topped with za'atar imported from Lebanon. On the topic of ingredients that come straight from the source, they bring in giant buckets of tahini from Israel to incorporate the smooth, nutty sesame butter into many of their menu items.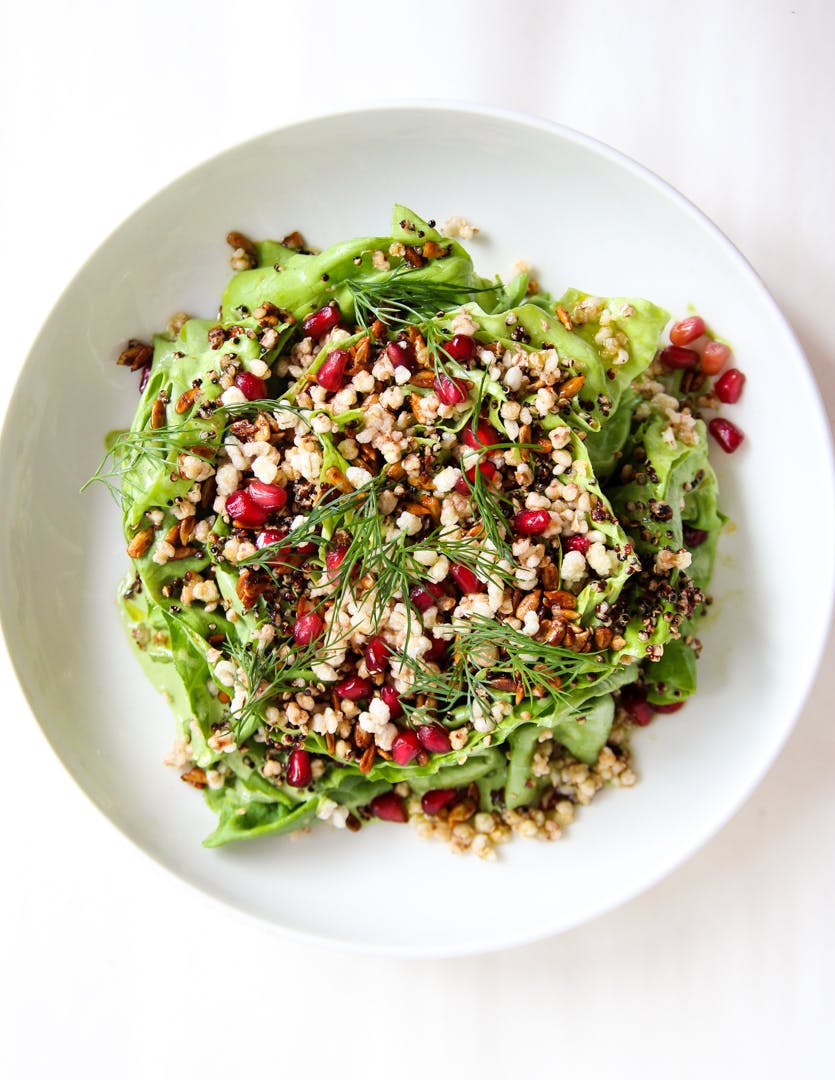 The stunning Boston lettuce salad currently on the menu features puffed grains and seeds, chopped fresh herbs, pomegranate seeds and a creamy green goddess dressing to tie it all together.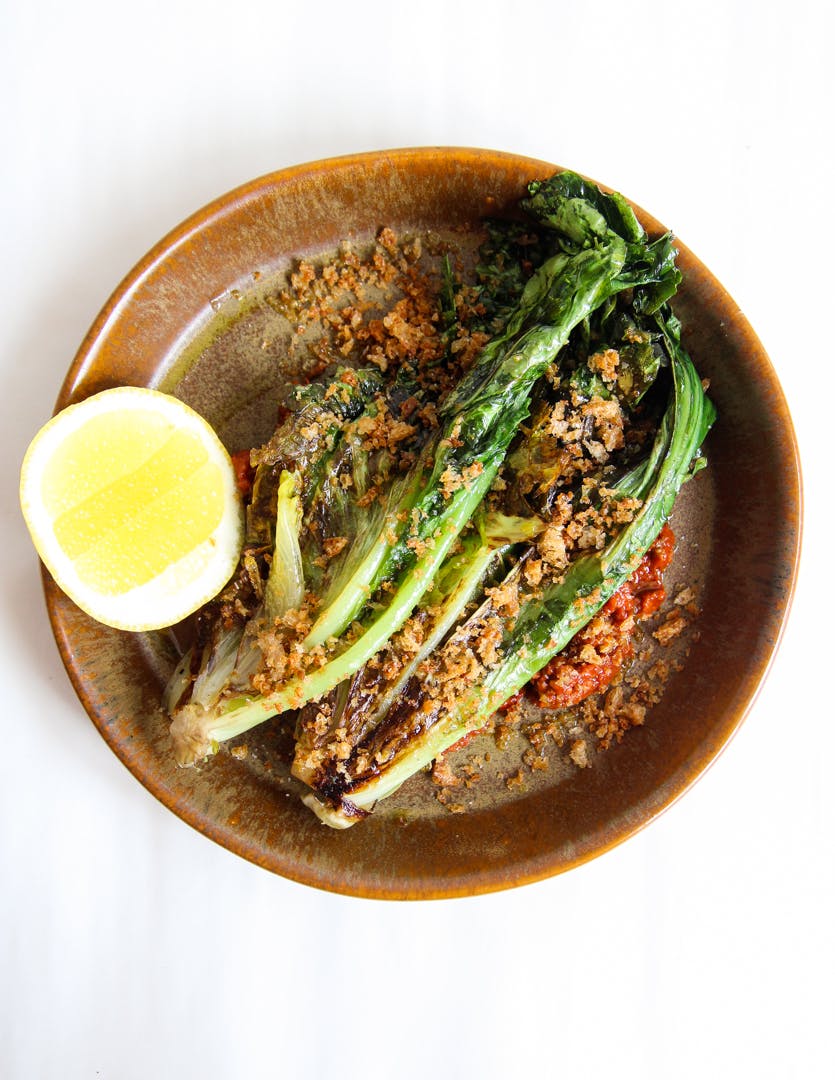 Muhammara dip, which is made from fire-roasted red peppers and red walnuts, is featured as a base for an oven-roasted escarole dish with lemon and a sprinkle of garlicky sourdough breadcrumbs to finish. All of their dips and spreads, including the muhammara as well as labneh, baba ganoush, shakshuka sauce and tzatziki, are sold pre-packaged in the marketplace fridge for quick grab-and-go options.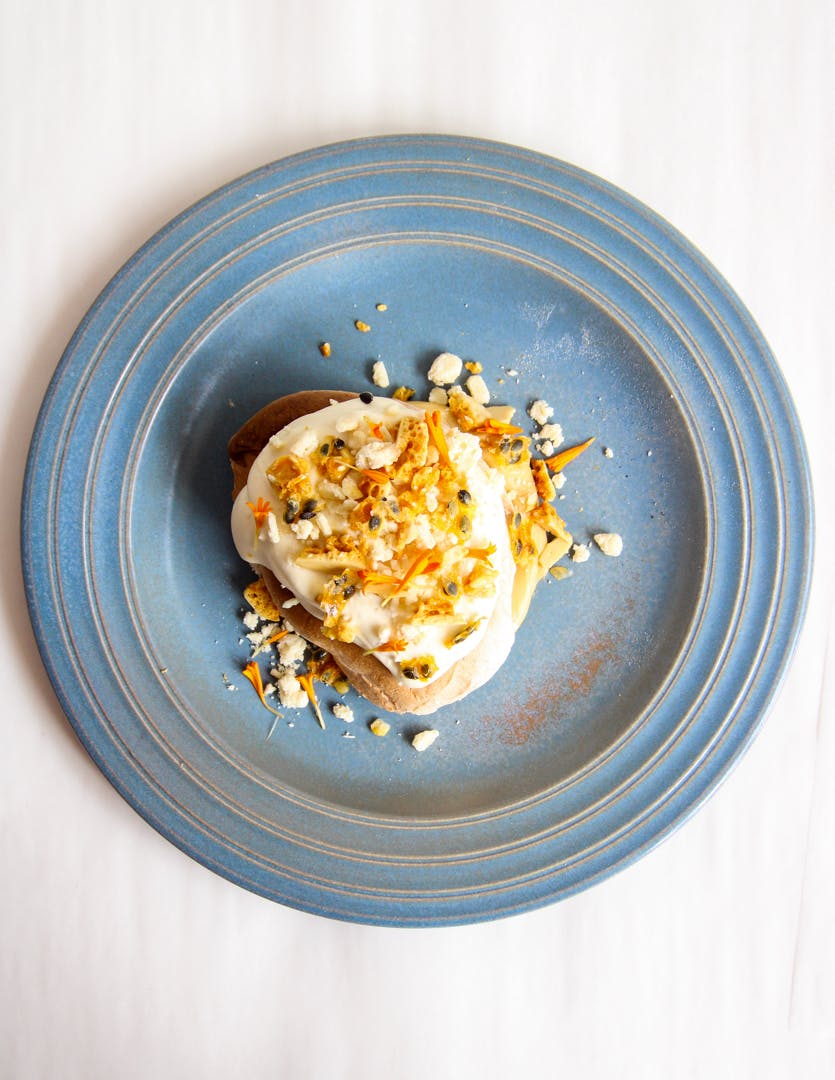 The pavlova dessert is most certainly a showstopper, baked in their wood oven and topped with a chamomile flower pastry cream, a tart passion fruit curd, whipped white chocolate, sesame honeycomb and a dusting of dehydrated passion fruit.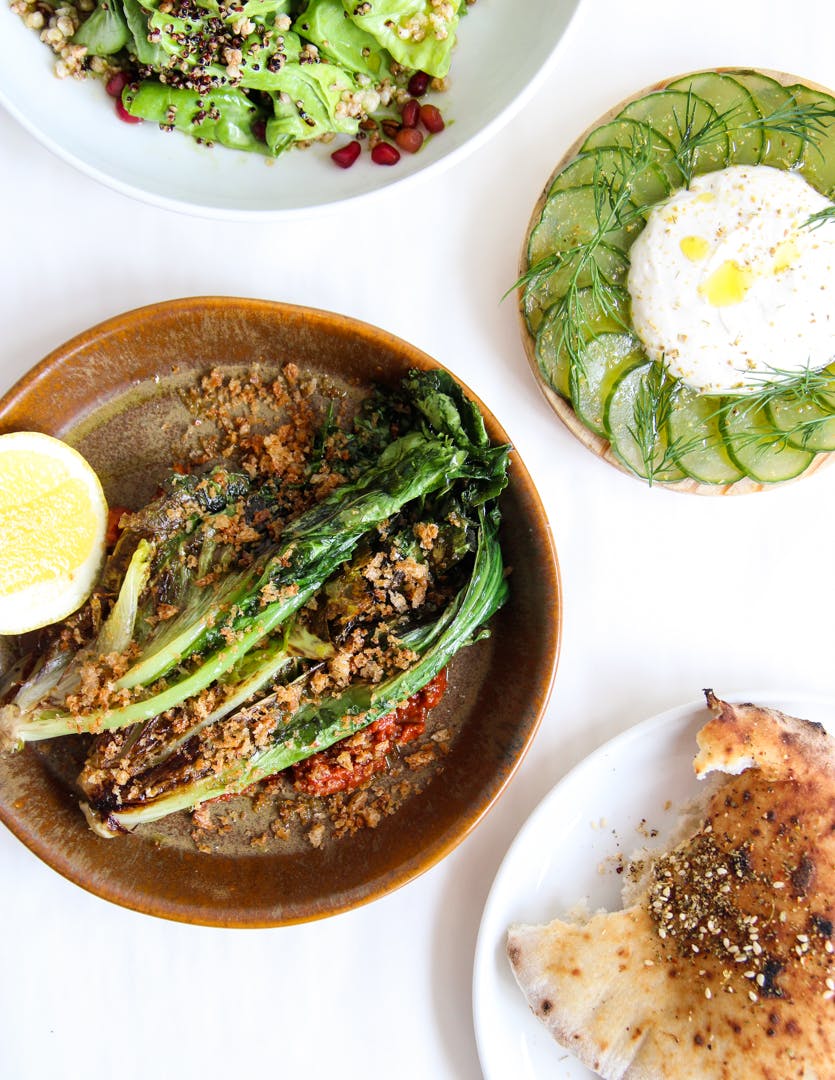 Weekends will feature some extra menu items, too, like whole roasted cauliflower, flatbreads and other entrées. Azhar also offers tasting menus for pickup through Tock, where folks can order weekend meal boxes curated with four courses of tasty dishes that serve two people for $100 (eight dishes total). If you want to sample a few different menu items, these boxes are an excellent choice for both vegetarians and meat-eaters, as they have options for both.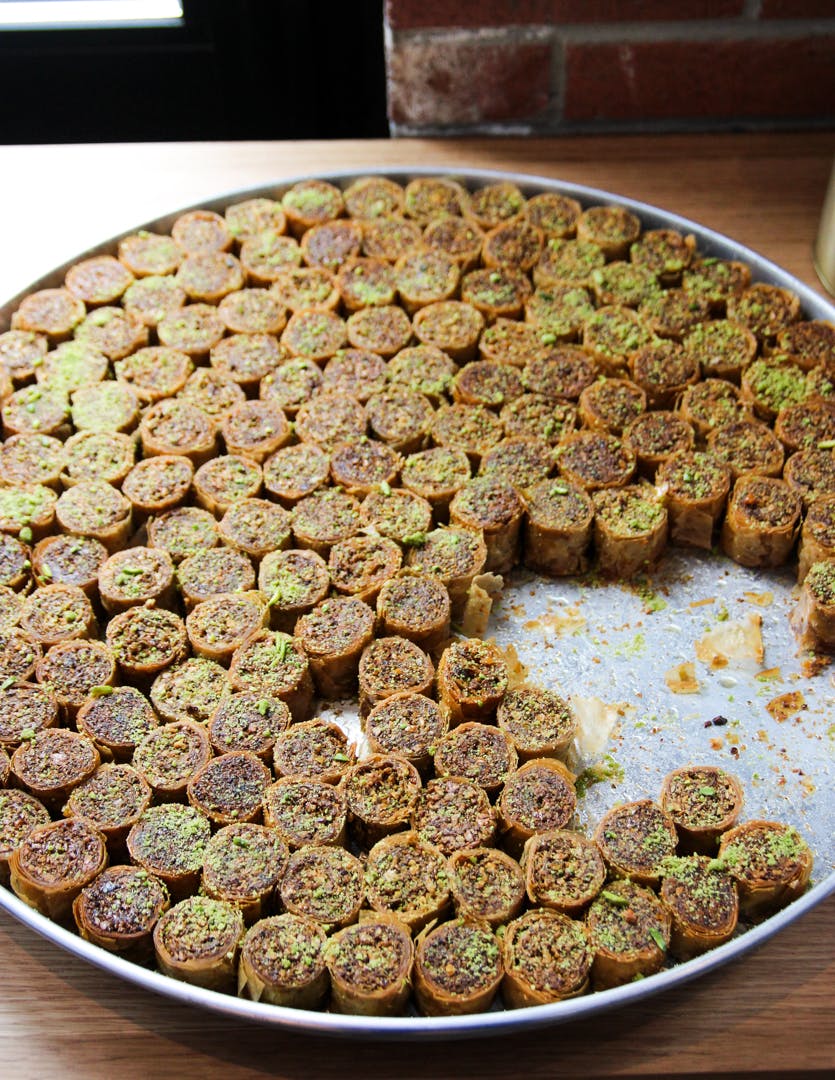 Azhar is the spot to visit if you're craving creative, authentic Middle Eastern food and a feel-good vibe that will hopefully be bustling with lively crowds soon enough. For now, head on over to grab a few delicious dishes from their menu of the week, a Turkish coffee and some delectable pantry items and prepared foods to bring home and elevate your home cooking game. And whatever you do, don't forget the fresh bread for dipping!