The team behind popular hotspot Pizza Wine Disco is back again, bringing their trendy brand of guaranteed must-visit restaurants just up the street to another King West address. Taking over the former Arcane space, the outfit partnered with industry giant Liberty Entertainment Group to offer a completely new concept to the Toronto scene: a sports bar that's a little bit country and a little bit elegant. And, true to both brands' forms, the food is really, really good.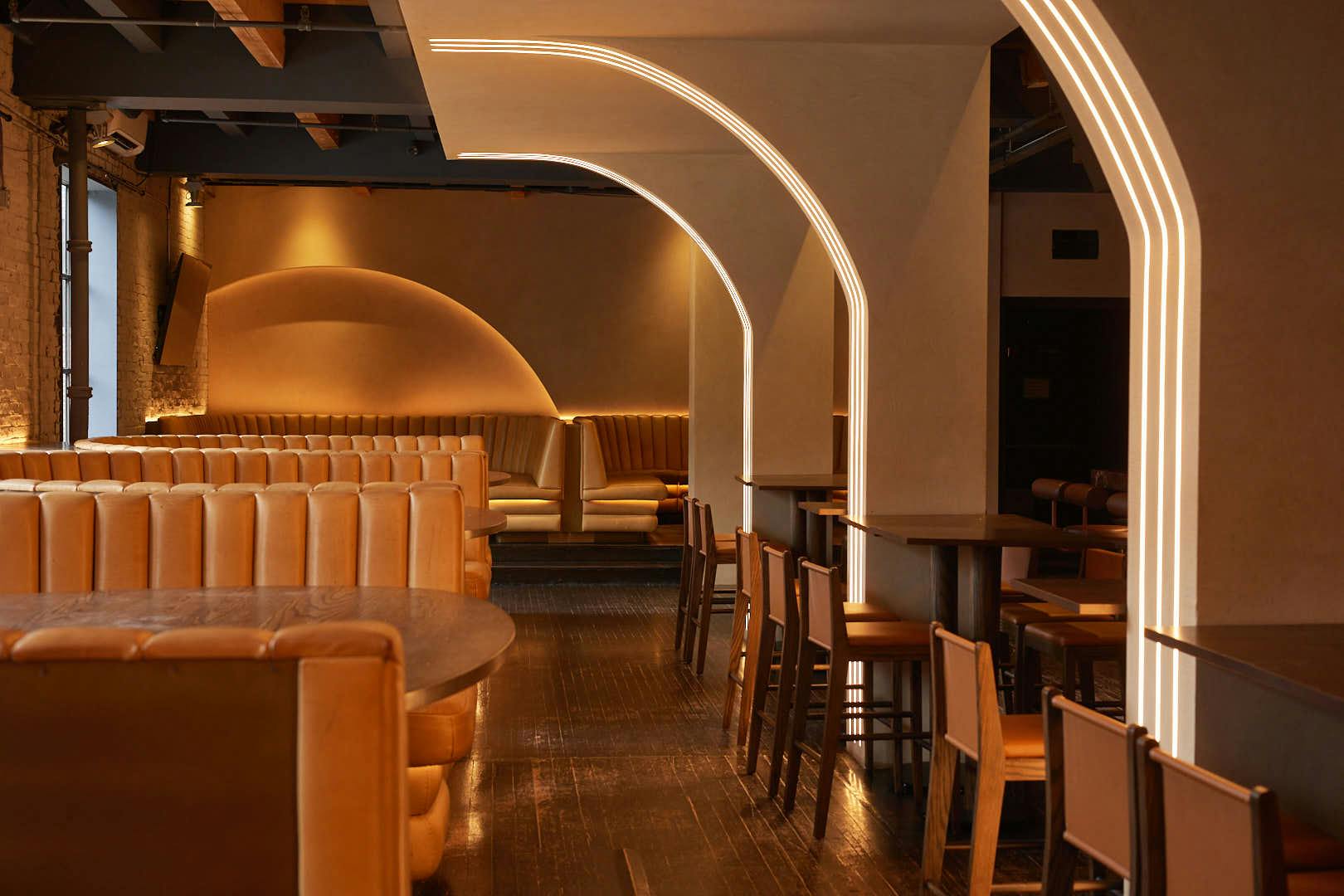 Chef Eric Phung crafted an approachable yet upscale menu that matches the vibe of the space, and launched a brunch menu that accommodates all of the different food intolerances and allergies that Toronto diners carry. His diverse menu is served in a tucked-away space that boasts a huge chandelier, warm, inviting colours and giant televisions to watch sports on.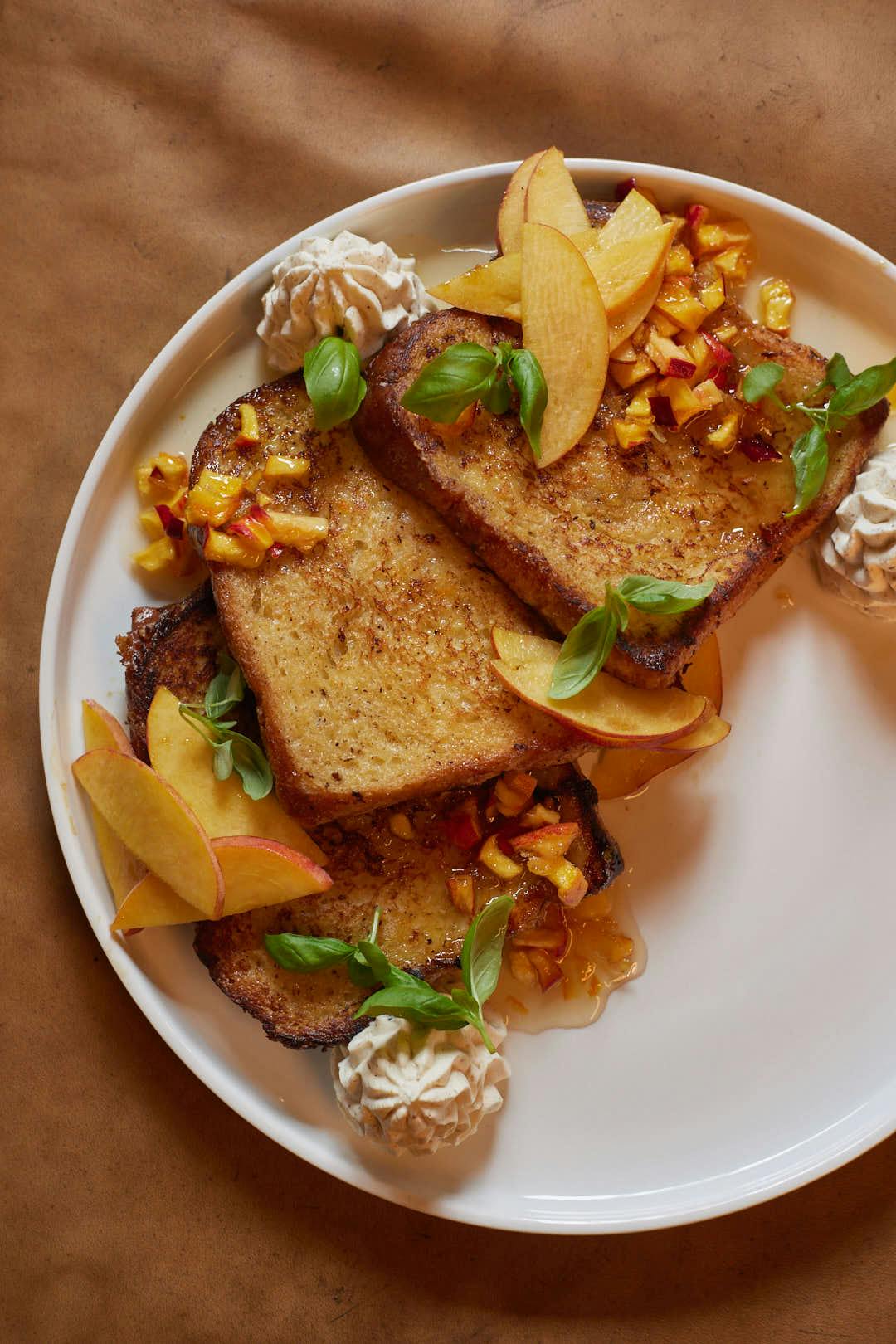 It's more than just a place to watch sports, though, explains co-owner Luca DiDonato. It's about creating a space that encourages conversation, makes everyone feel welcome and, Chef Phung adds, doesn't compromise on the quality. Phung wants every single sports fan or foodie to feel comfortable and respected in the space. "Along the way, we're working towards making sure items can be made gluten-free. I'm even working with a supplier right now, we're trying to make our own kind of mayo that's completely vegan," he says. "So now we're just gonna use completely vegan mayo on everything."
It's all about a sense of unity, the team agrees, a desire to bring people together around something so beloved--sports--in a post-pandemic world. It's about creating an experience where people can feel safe and comfortable and elevated, not watching sports crowded into someone's living room or in a dimly-lit sports bar. It's about making the space--and the experience--whatever the visitor wants it to be, from a nightclub to a sports bar to a brunch spot.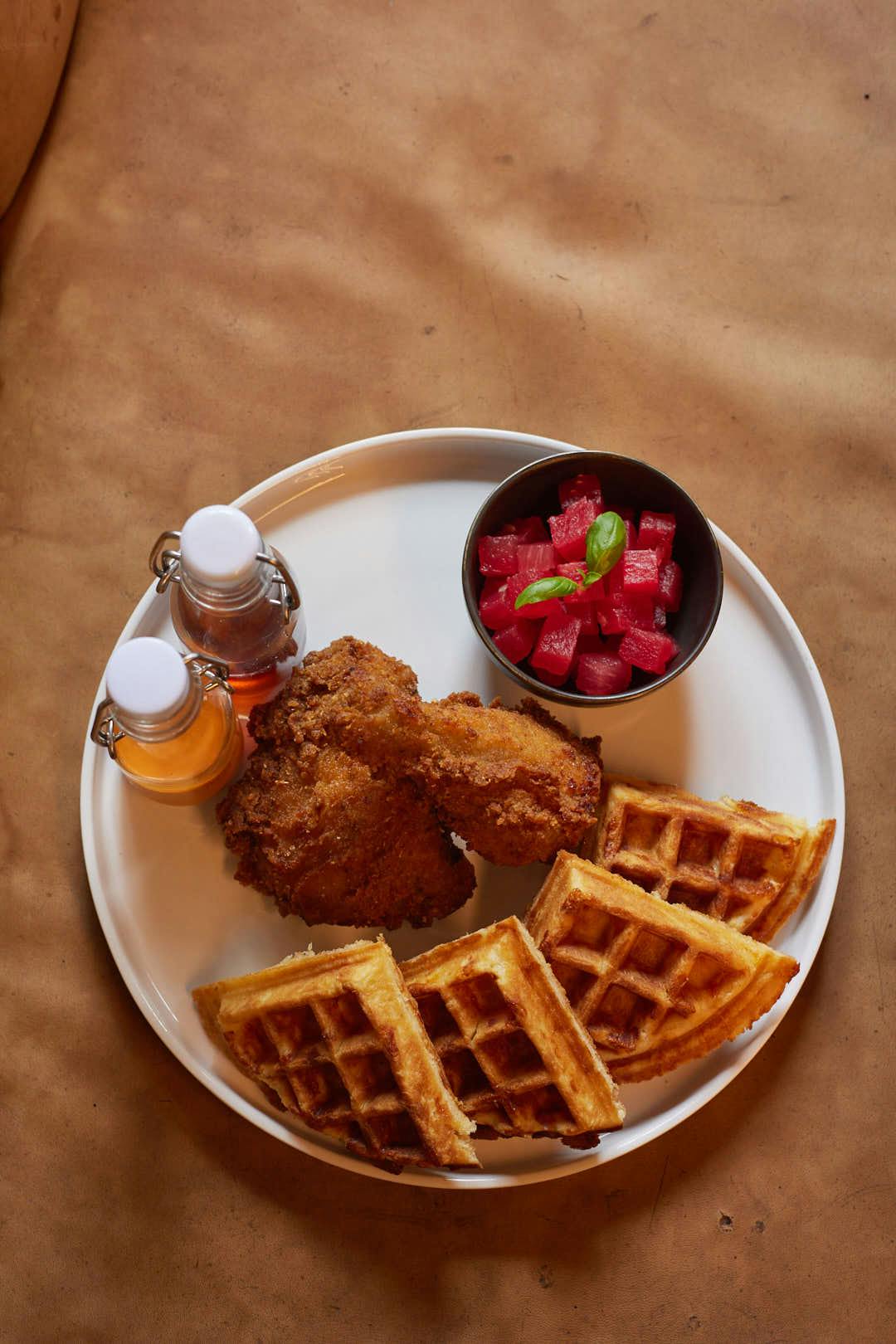 "Our main highlight is one thing that sticks out for me and is near and dear to my heart - the chicken and waffles," Phung says. The waffles are made in-house and the local farm-raised chicken undergoes a two-to-three day process of seasoning, brining and pre-cooking, both to get the flavour right and to prevent undercooking. It's garnished with pickled watermelon and basil sprouts to offer freshness, and paired with a house-made hot sauce and a honey maple sauce that pulls at the heartstrings. "It's something that reminds me of my childhood, where it's like an Aunt Jemima kind of vibe. That's where I kind of draw that inspiration from, because it's something I grew up with that brings me back to my childhood," Phung says.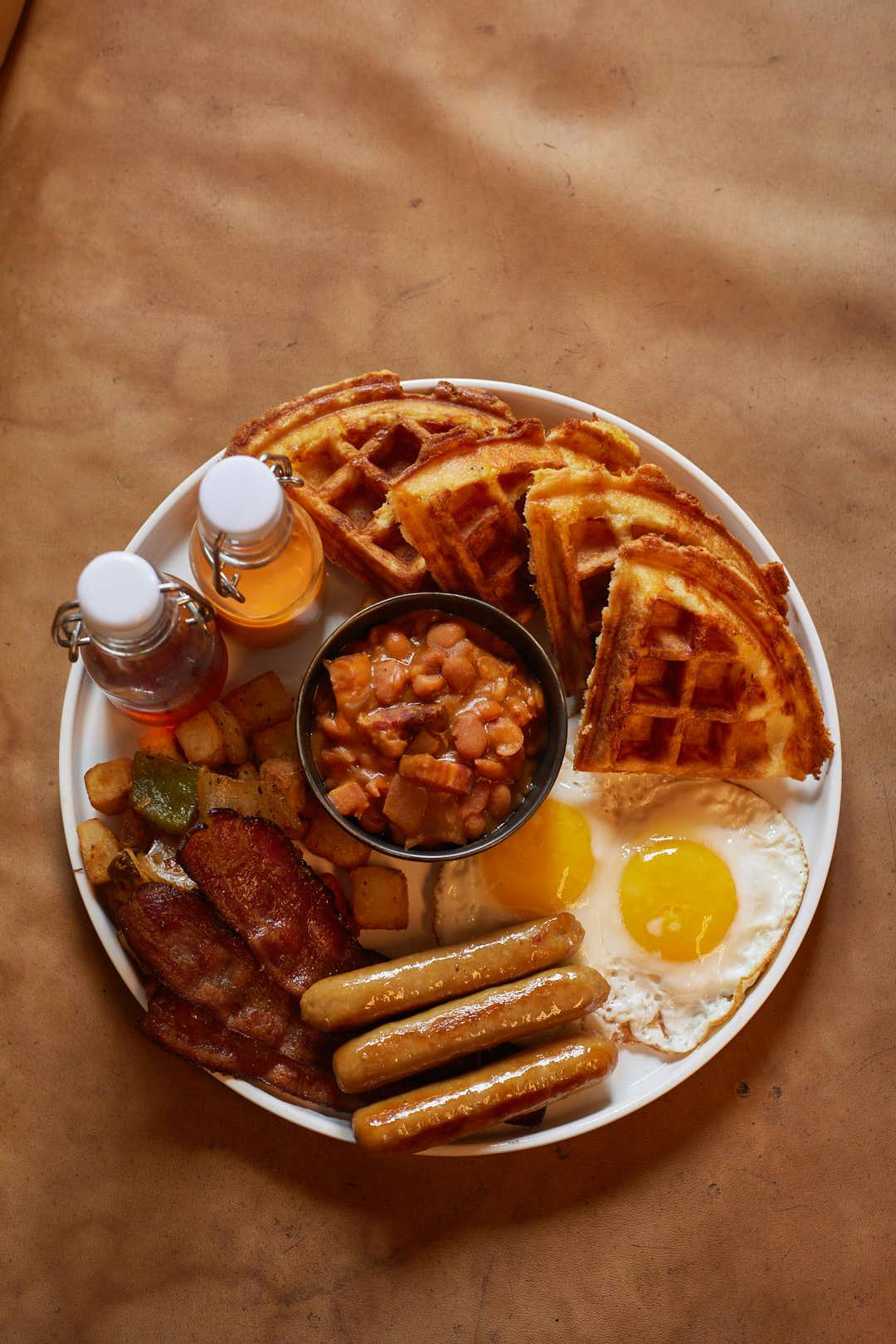 Of course, there's no shortage of typical American fare on the menu, too. Hungry visitors have to look no further than a typical yet elevated dish on the menu. "I took an inspiration from Texas, those big breakfasts," Phung says. "So our Big Texan is three pork sausages, three bacon slices, cheddar waffles, spiced beans that we cook in-house, eggs done your way, and it's just on a big platter."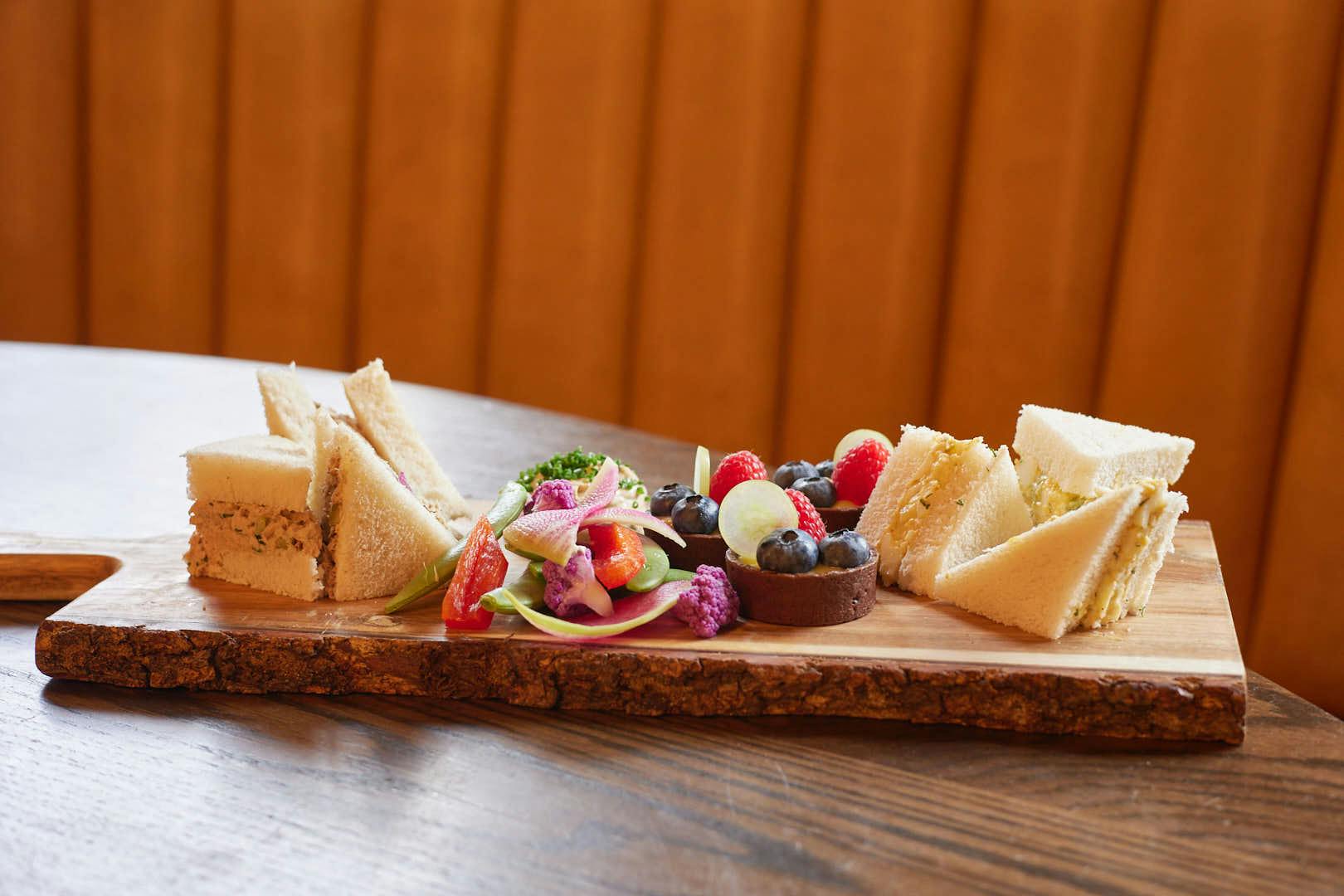 And, of course, the team found an idea from contemplating a storied, annual American event and a classically elegant experience. "I was thinking about the Kentucky Derby and high tea, and how we can incorporate those things. So we have the high tea board. So you have little tea sandwiches and you have little fruit tartlets and summer crudités and things like that," Phung explains. "It's very visually appealing but, more importantly, it just tastes amazing."
Lighter fare also includes the smoked salmon parfait, which is part of a seasonally-rotating menu and is served with an everything bagel, yogurt, house giardiniera and fresh herbs.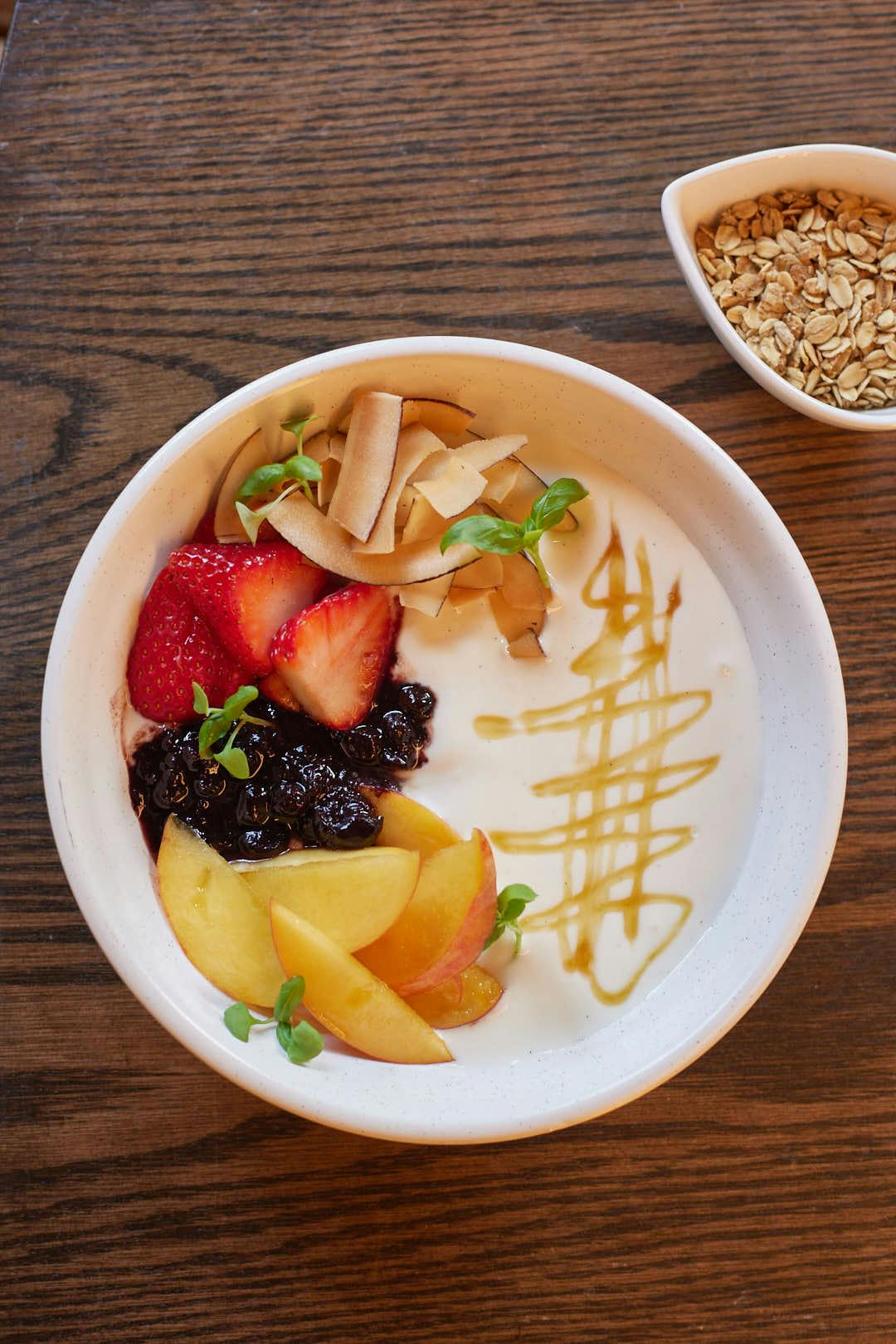 And, the summer power bowl--which will get a seasonal update--provides sweetness from as many locally-grown provisions as possible. The warm weather rendition is served with peaches, vanilla yogurt, strawberries, blueberry compote, house granola and fresh basil. It's simple but it's flavourful, and care is taken to ensure that each ingredient is high-quality and can accommodate diners without sacrificing the experience. "That's what I love, when people try different things on the menu and they're like, I never knew food could taste like this, or it brings them back to a certain memory," Phung says. "If you really care and you put the love and effort into it, that's what separates the good from the great."