"Subtle but confident" is how head chef and owner Miheer Shete describes Curryish. "It's not only about food, buts it's about being who you are and telling your stories."
It's a motto that extends throughout his restaurant located in the West Queen West neighbourhood, where if you're trying to fit in, you're not doing it right. It's also where Miheer is redefining what Indian food in Canada can be, by expressing his story through food and leadership.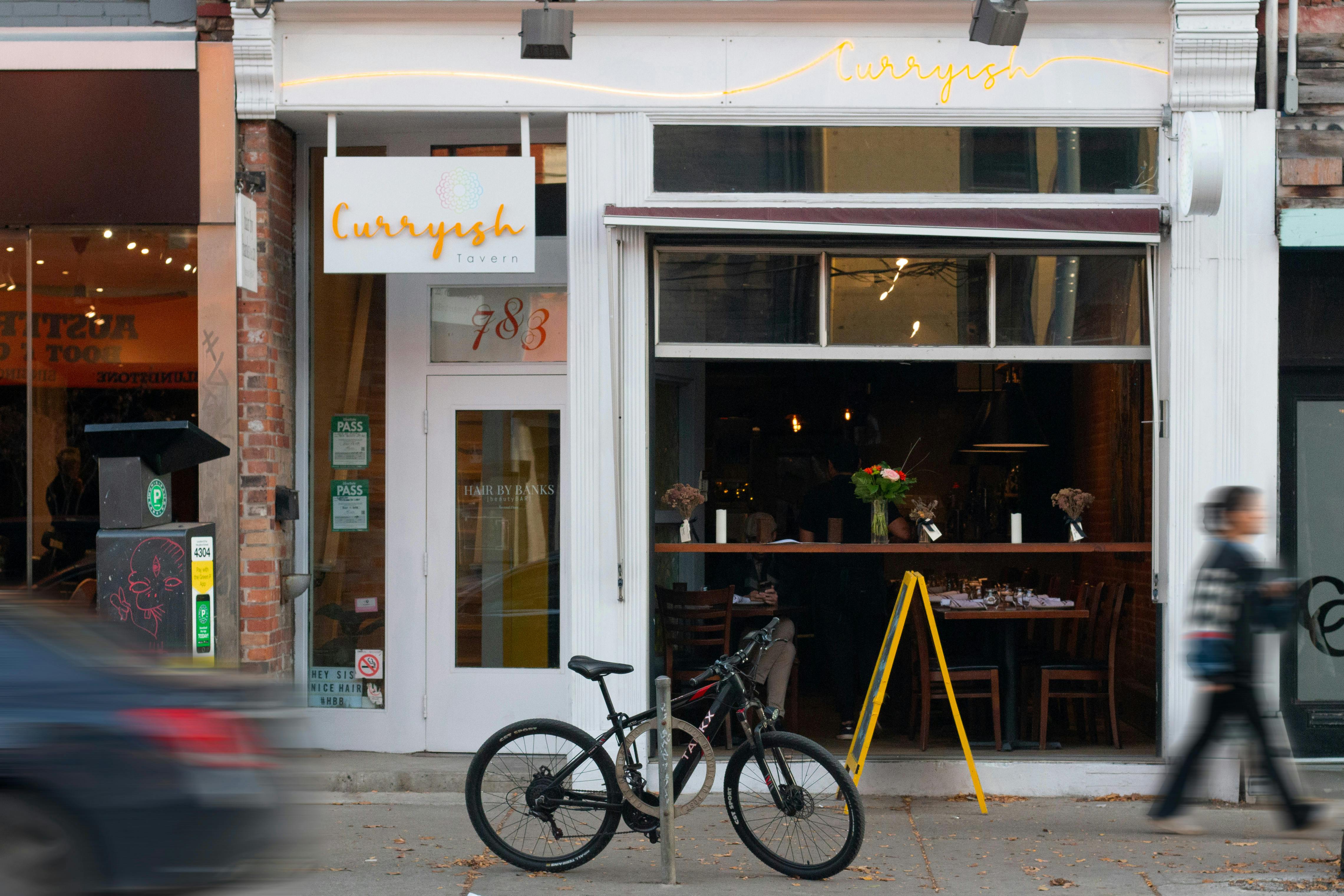 For a restaurant seeking to revolutionize traditional Indian food, Curryish Tavern quite literally lives in the old and new. Most of the storefronts along this stretch of Queen St. West are heritage buildings yet house some of the city's trendiest boutiques and eateries. Here you'll find what Toronto is famous for; a blending of styles, tastes and cuisines. Talk about standing out and fitting in, all at the same time.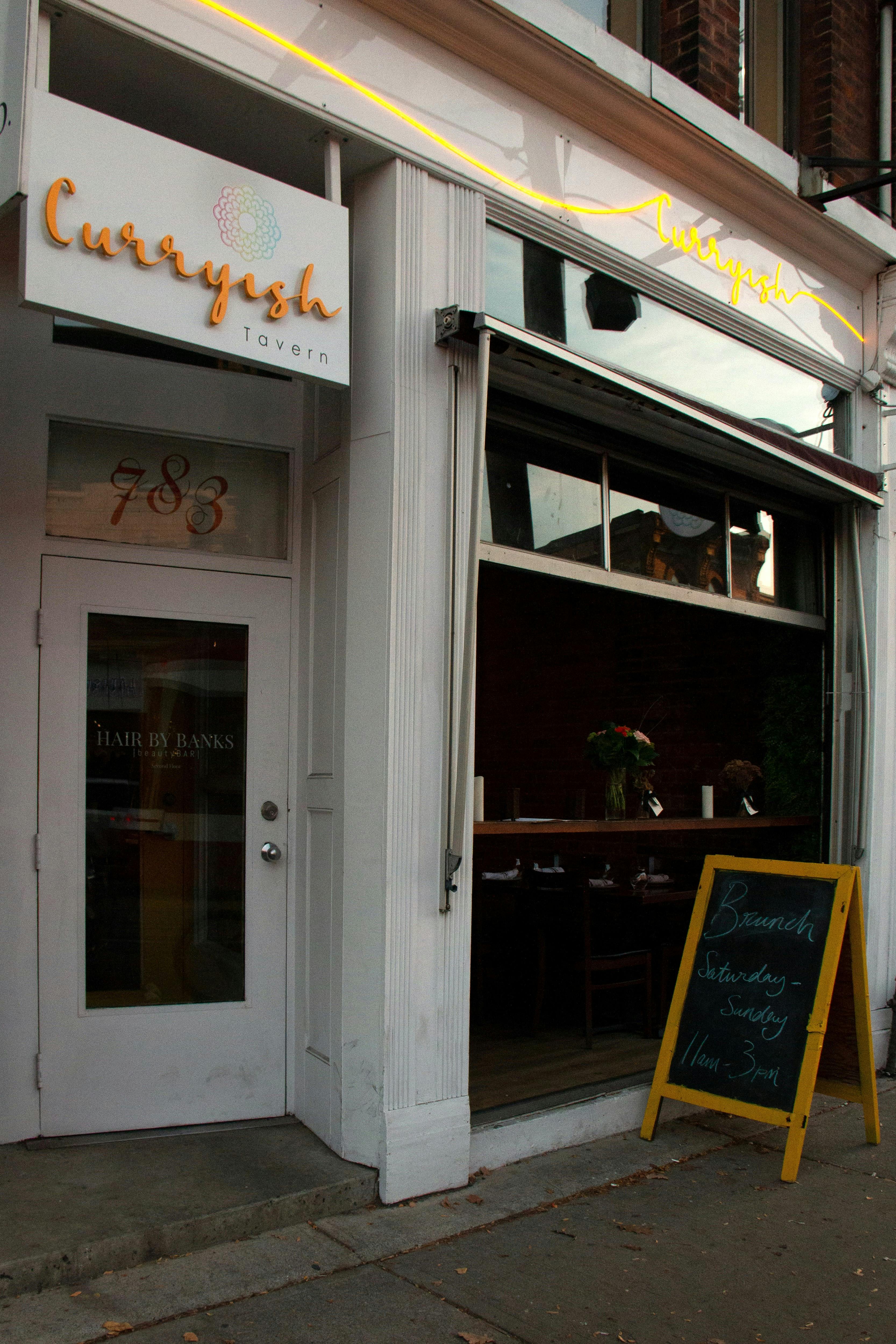 Even the minimalistic storefront defies expectations, where despite its pub-like name, it certainly doesn't look tavern-ish. A delicate neon sign—in cursive no less— sits atop a glass garage door, which rolls up to reveal a bar-height counter for drinks or perhaps some brunch-time people-watching, if that's your thing.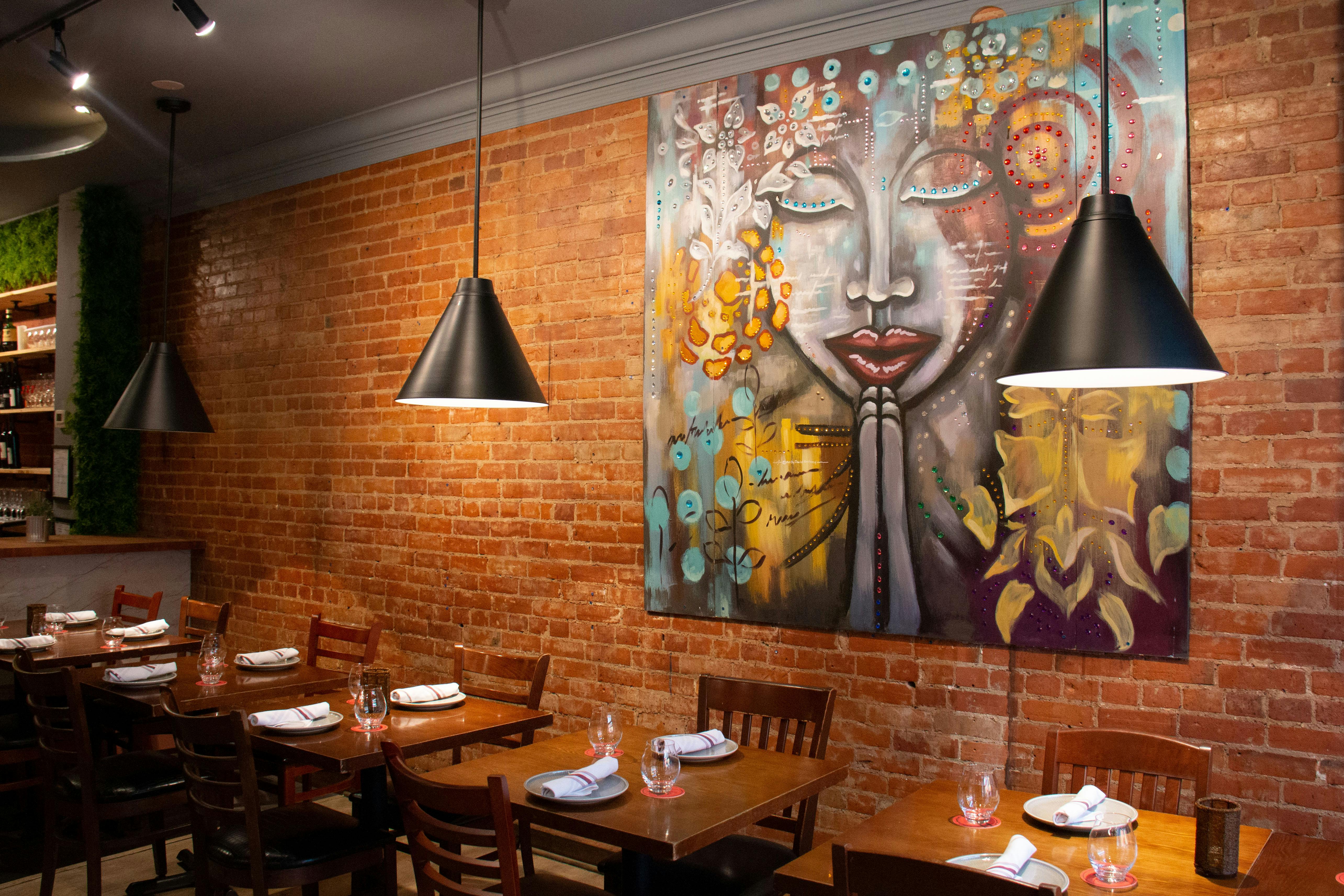 Once inside, the modern exterior gives way to a cozier atmosphere with exposed brick walls, warm lighting and three distinct dining areas.
At the front, a stunning mural portraying a modern Indian woman hangs above dark wooden tables, herself a greeting and introduction. Commissioned by Miheer, the mural is an invitation to diners to embrace his story and the ideas he brings to the table. "I want people to come in here not expecting to have just regular Indian food; I want people to come in having a lot of questions and thoughts. Like is this going to work, is this not going to work?"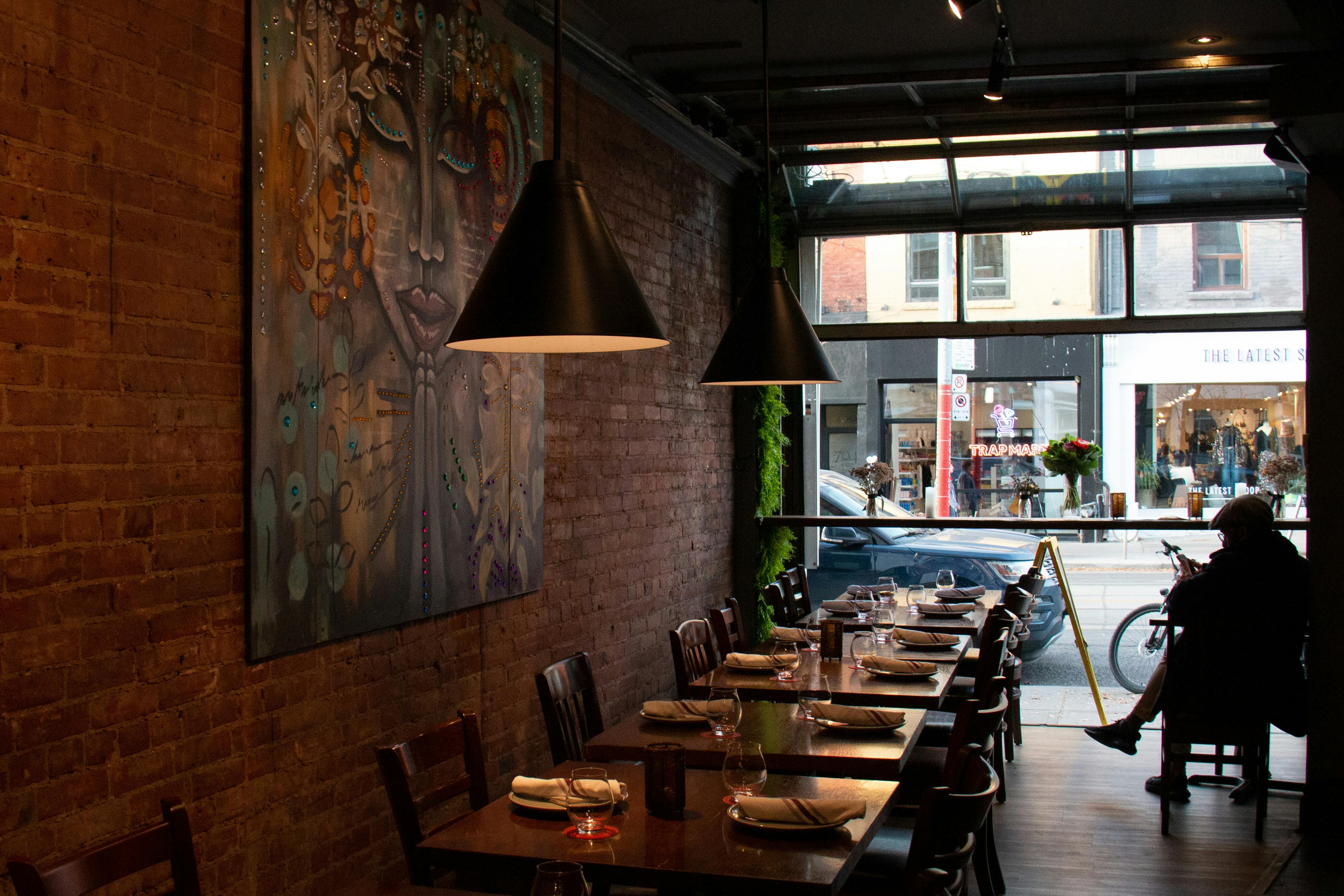 Often times you'll find Miheer at the front, roaming from table to table, engaging with diners and providing insight into his menu. Outside, the chatter from the sidewalk mixes in with the conversation. Even in the evening, when the garage door comes down, the energy from the night still seems to find its way in among the guests.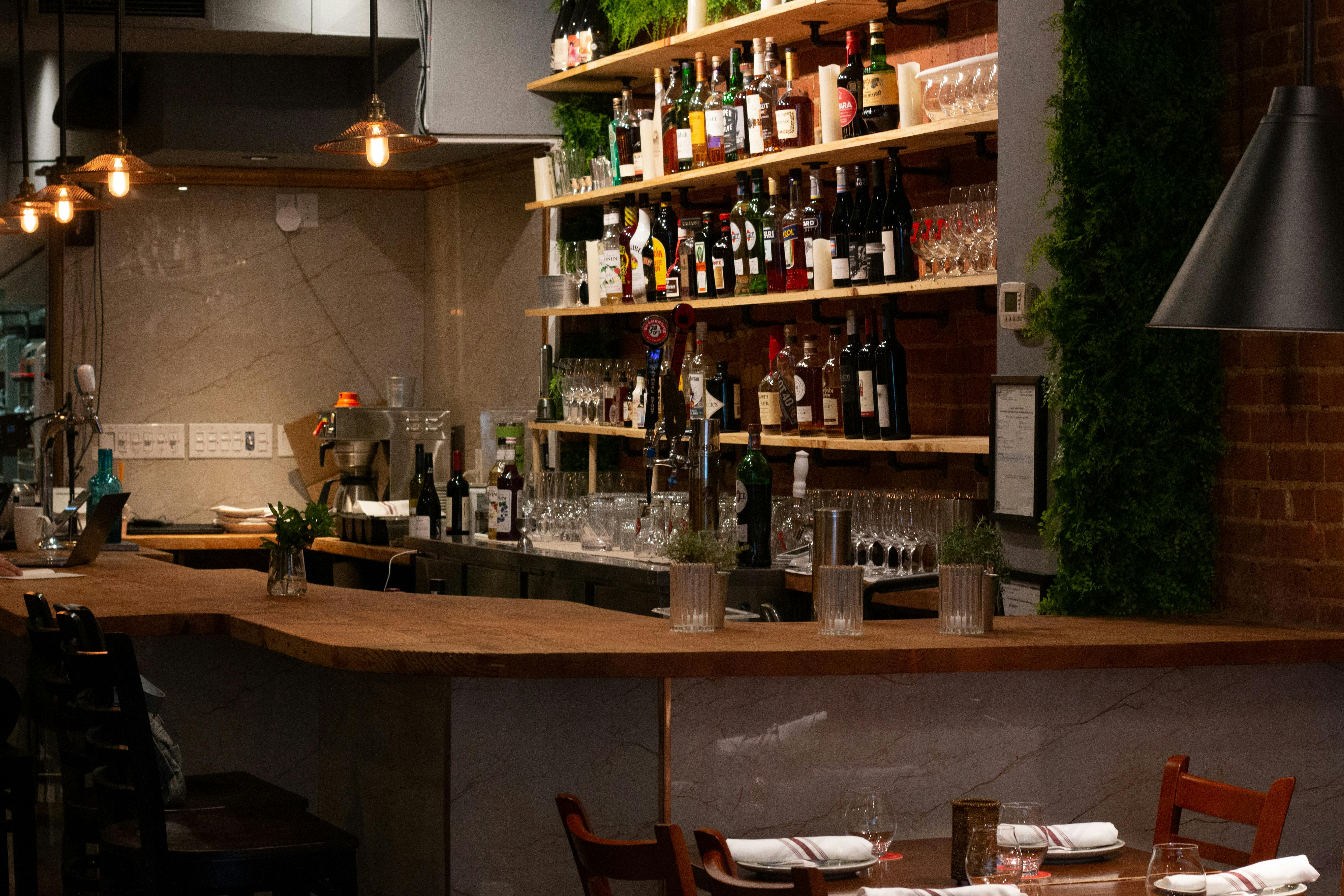 Further back, underneath the ambience of music and conversation, is the wrap-around bar with enough space for drinks, plates and plenty of company. Embracing the 'subtle' part of his motto, Miheer wanted the look of the bar area to be simple and understated, using a bit of mossy greenery to frame the untreated wood shelves.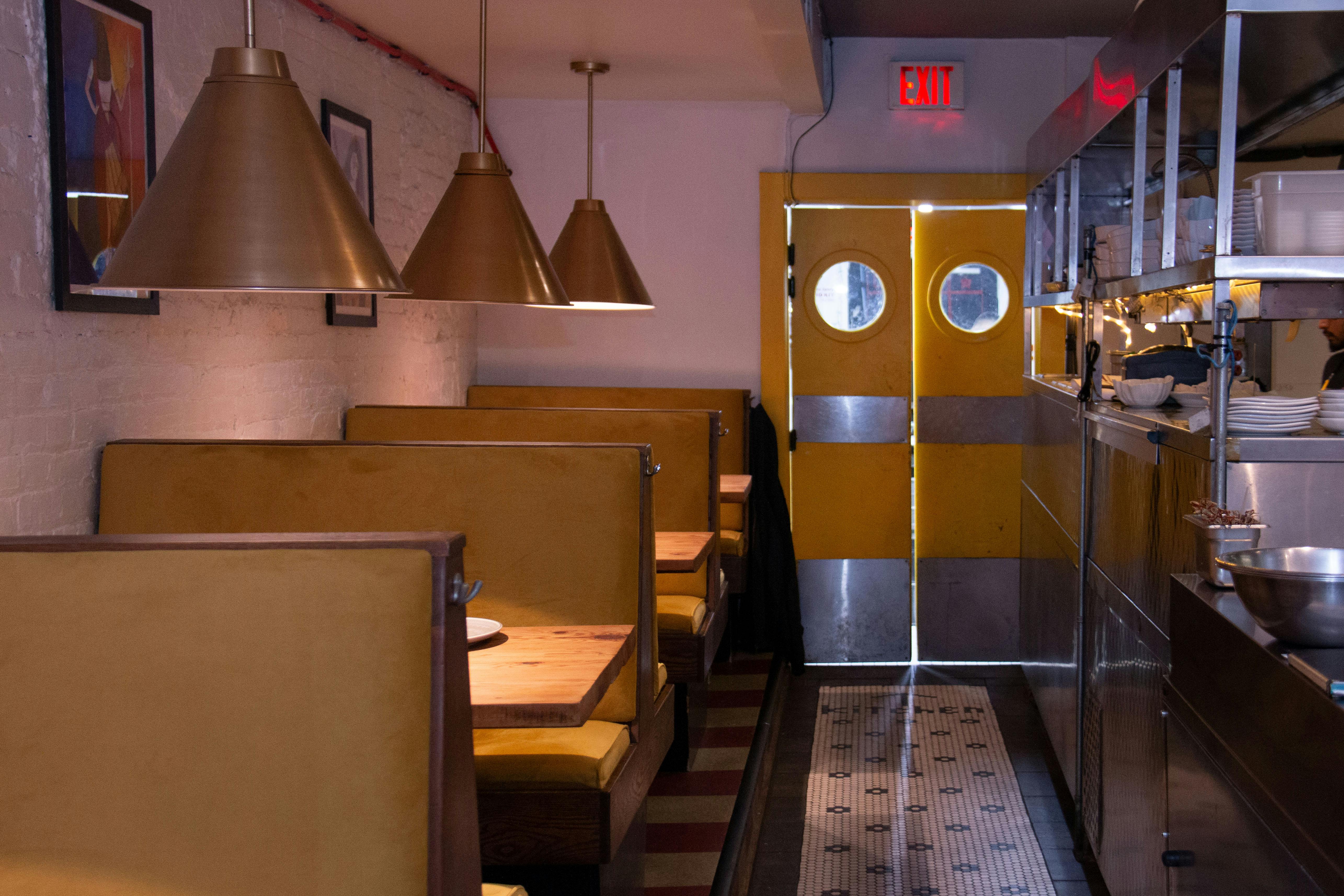 Beyond the bar, a row of snug dining booths lines up across from an open kitchen, a feature unique to an Indian restaurant. "One of the biggest complaints that everyone has is going to an Indian restaurant and you smell like food all day long. That is something we focused on a lot [as] we have an open kitchen; we rely on a lot of modern techniques of cooking," explains Miheer.
Using a sous vide method allows the cooks to prepare strong-smelling curries and spices ahead of time, without losing the bold flavour necessary in their dishes like Butter Chicken or Beef Curry. So there's no need to make a big stink sitting across from the kitchen; in fact, it's probably the best seat in the house.
Sitting down with Miheer, he expands on what his motto means and how he employs it in both the kitchen and with his staff.
"I think for me, the whole idea and the concept revolve around my journey, from being in India as a kid to where I am right now. Showcasing where I'm confident about my cooking techniques and also, I'm confident of saying I am from India. I belong from an ethnic background, and I am in Canada cooking food which is very close to me. I think the vision lies around not only just the food, but it's all about telling stories."
Shete grew up in Mumbai, surrounded by Southern Indian cooking and hospitality. As he began to pursue cooking as his life and work, he left to training in Europe and the United States. There he picked up classical European cooking techniques, which eventually brought him to Toronto, working and leading in the kitchens of renowned O&B restaurants, Bannock (now called Sap) and Jump for nearly a decade. It wasn't until the pandemic that Miheer pivoted, feeling faith in the cooking and financial skills he learned to grow his idea from a pop-up to a restaurant space, alongside a team he trusts.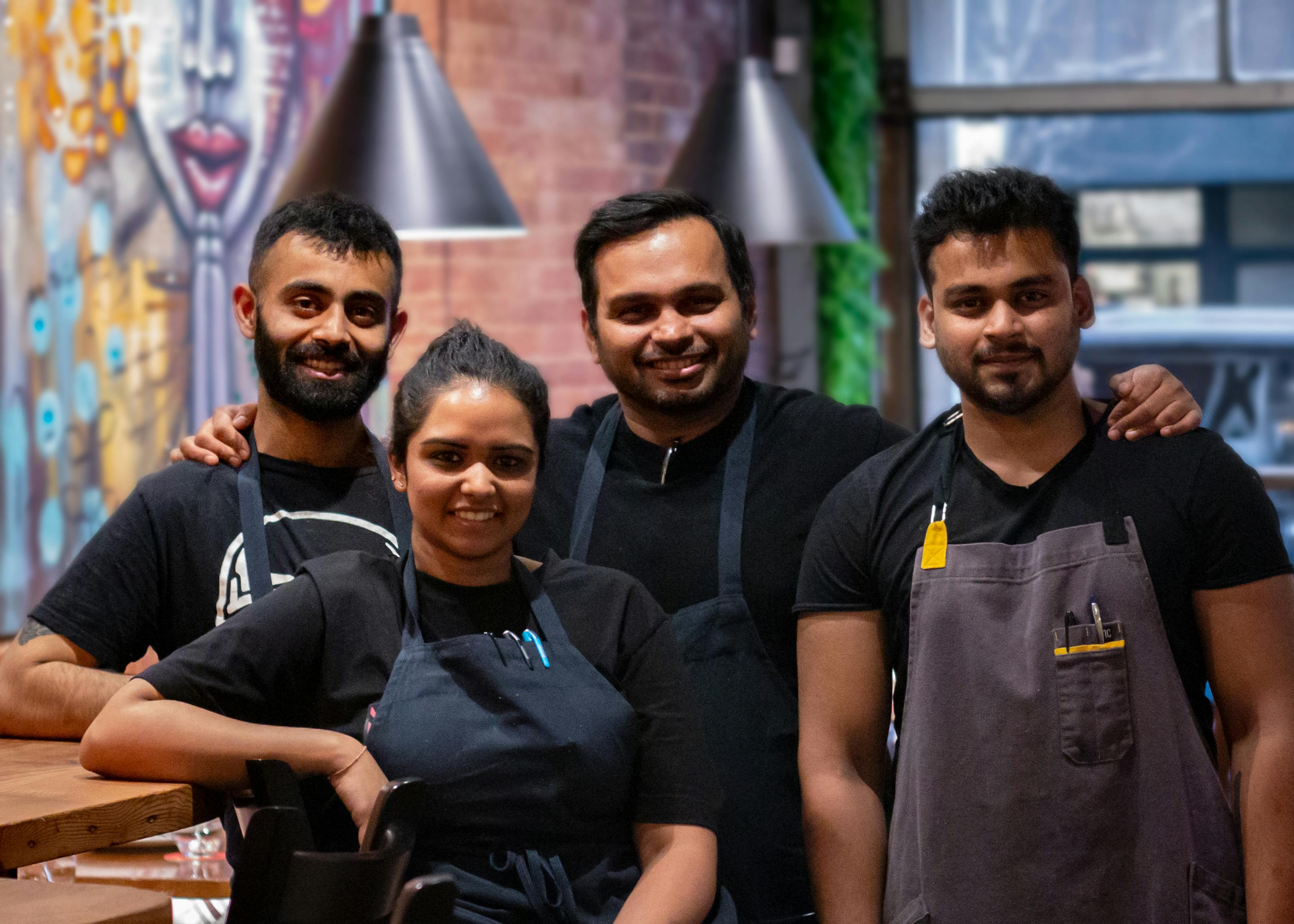 "I think the first menu and the foundation of this vision is my vision, my story at the moment, but I want to lay ground for young cooks coming in, having a platform for them to tell their stories through the food," he says. To that end, Miheer is always engaging with his cooks who, like him have immigrated here for an opportunity to explore who they are through their work. "Food can be a very strong tool to express yourself. This is what Curryish is, expressing yourself in a bold yet humble manner."
Now on its second menu, Curryish is leaning heavily into seasonal ingredients. They work with farms across Ontario and Quebec to source local vegetables, meats and seafood. Each item, from small share plates to vegetarian and meat dishes, sides and desserts, has a basis in traditional Indian cooking and uses Canadian ingredients for a uniquely distinct blend of familiar and intriguing.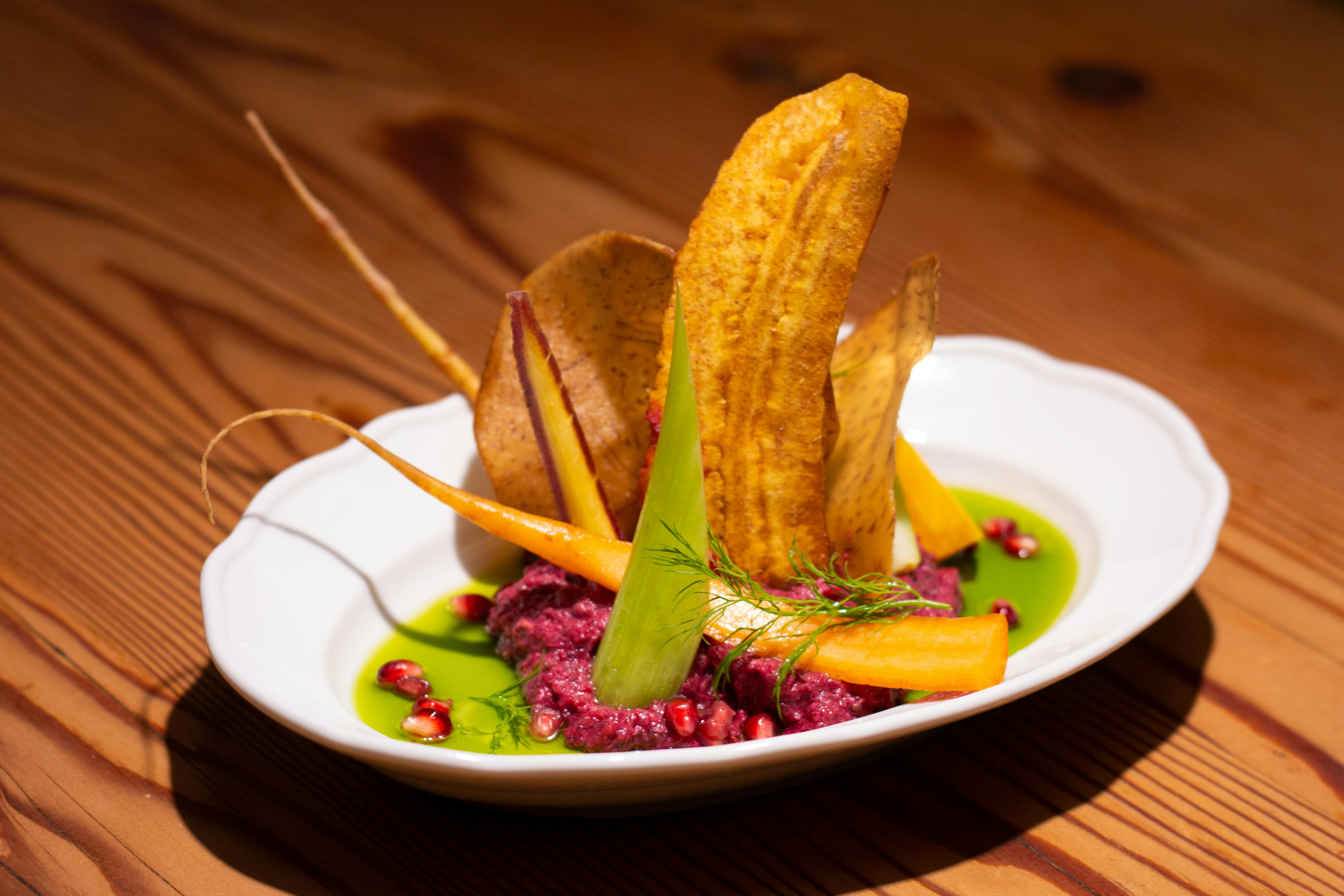 The Salt Baked Beetroot + Coconut "Dip n Chip" is full of colour and combined in a way you won't find anywhere else. The 'skyline' of veggies and chips sits atop a blend of beetroot and coconut, surrounded by a curry leaf and mustard tadke (an Indian method of heating spices in oil or ghee to enhance the flavours of a dish). Scooping up a chip-full of dip and a couple of pomegranate seeds, you might find the whole experience somewhat bizarre until the flavours hit all at once.
The salty crunch of the chips, the light freshness of the dip and the burst of sweetness from the pomegranate all combine perfectly balanced, not something you'd expect at first glance. As Miheer puts it, "If as a diner you know what exactly what you are gonna get in your plate, I feel it gets boring after a while."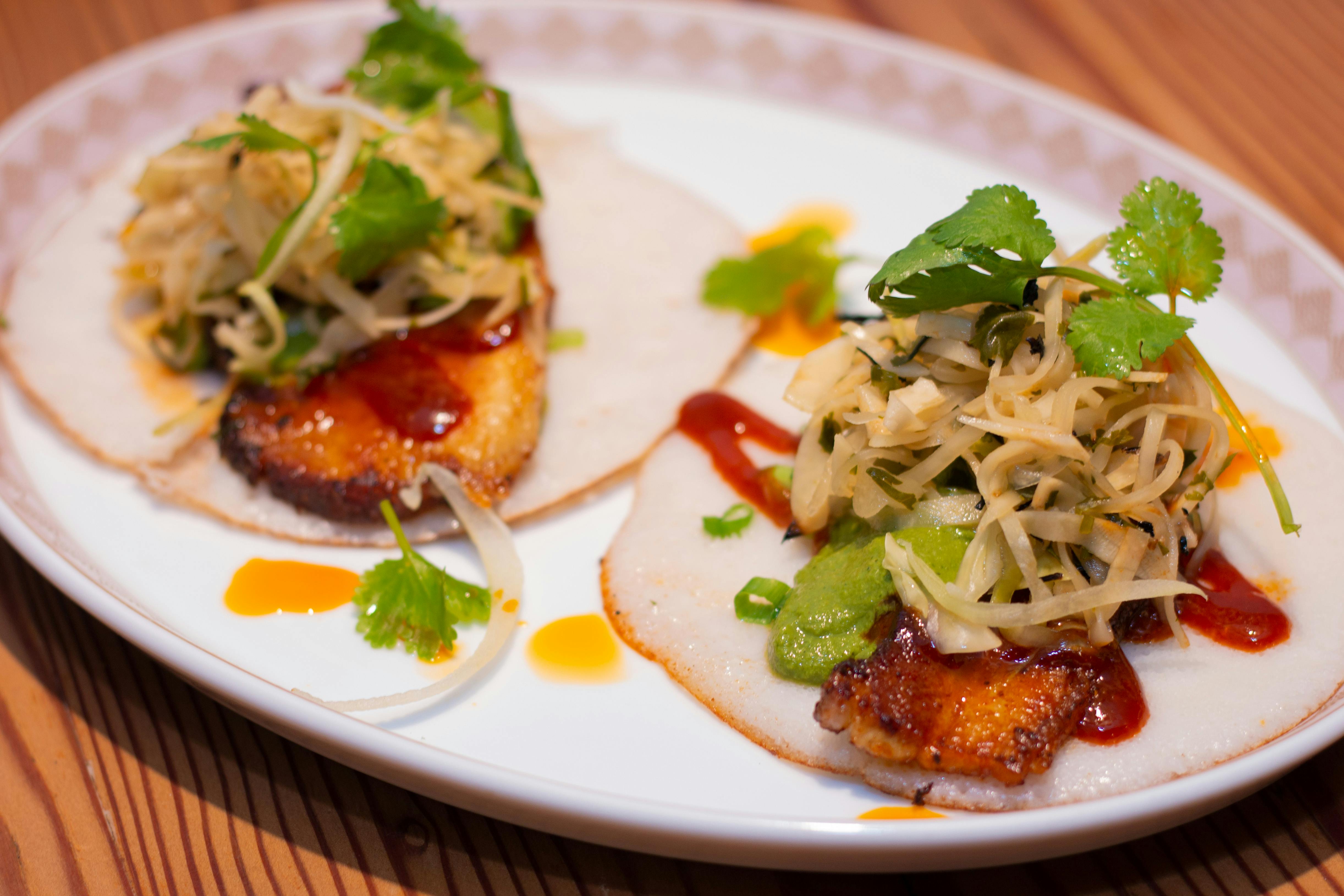 Perhaps something a little more familiar is the Mirch Maple Glazed Pork Belly + Uttapam. Similar to the way a bao sandwich—popularized throughout Toronto in recent years—appears, its makeup is something totally different. In place of a fluffy steamed bun, Curryish uses uttapam, a pancake made of fermented rice and lentils traditionally eaten for breakfast in India. It serves as a sour balance to the sweetness and heat of the pork belly glaze, while the mint chutney and pickled red onions provide another layer of flavour. The pork belly itself is juicy and indulgent, a perfect base for the surrounding garnishes to play off of.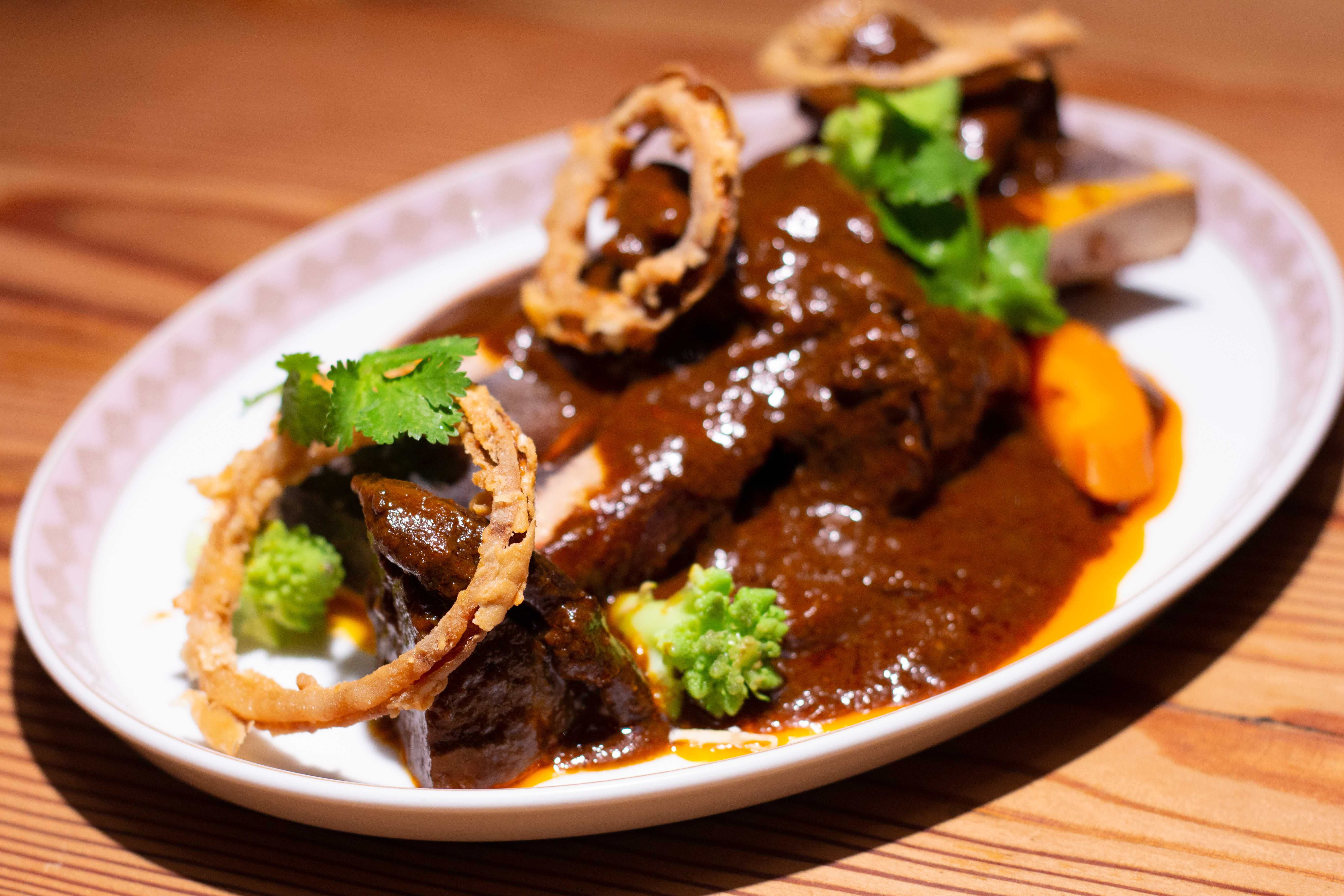 The Molasse Braised Beef Cheeks Curry is one of the signature dishes and one that Miheer is quite proud of. The beef is tender, thanks to the molasses and caramelized onions steaming the meat during cooking and the deggi mirch sauce is sweet with a hint of red chilli. Those already rich flavours become even more enhanced with the umami of the bone marrow, making it less daunting if you've never tried it. While the onion rings might seem like an afterthought, they have an important role in adding crunch and texture, rounding out the dish.
Miheer talks about using beef bone marrow to highlight the cow, a sacred animal in India within Hinduism. Not something you'd find at a typical Indian restaurant, as beef is usually reserved for family meals at home, if at all. Miheer's inclusion of the bone marrow then is one of intention, as he wants to both honour and differentiate his dishes from what is considered Indian cuisine.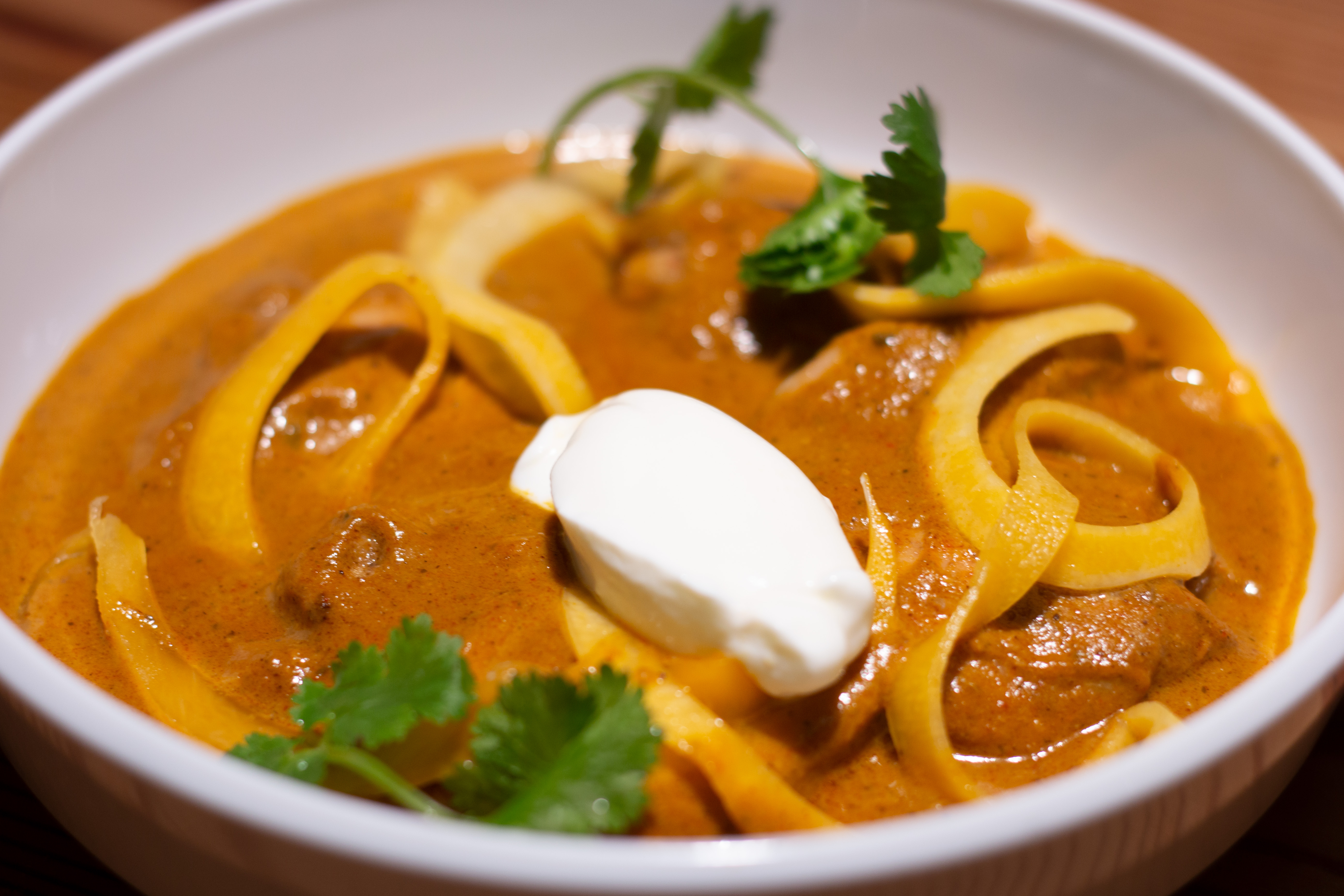 The 'Pumpkin-Spiced' Butter Chicken is a no-brainer addition to the menu. Though there isn't any actual pumpkin, hence the quotes, Miheer uses butternut squash to inspire the flavours of fall. Benefitting from the sous vide cooking method mentioned earlier, the dish packs in white onion masala and kasoori methi, powerful spice mixes that would otherwise dominate in terms of smell. Kept in a sealed bag in a warm water bath for hours, the flavours of the curry and slices of butternut squash work their way into the chicken, intensifying over time. The chicken is soft, cooked perfectly and topped with clotted cream for a hearty and flavourful dish.
What's ironic is that although butter chicken is generally viewed as a way-too-standard Indian dish, and anything pumpkin-spiced is 'basic' in North America, the two together make a bold statement in flavour while still championing their individual popularity. Some might look at this dish as the perfect argument for why Curryish is a fusion restaurant, but Miheer disagrees. "People can label this as a fusion but to be honest with you, I don't care," he says with a smile.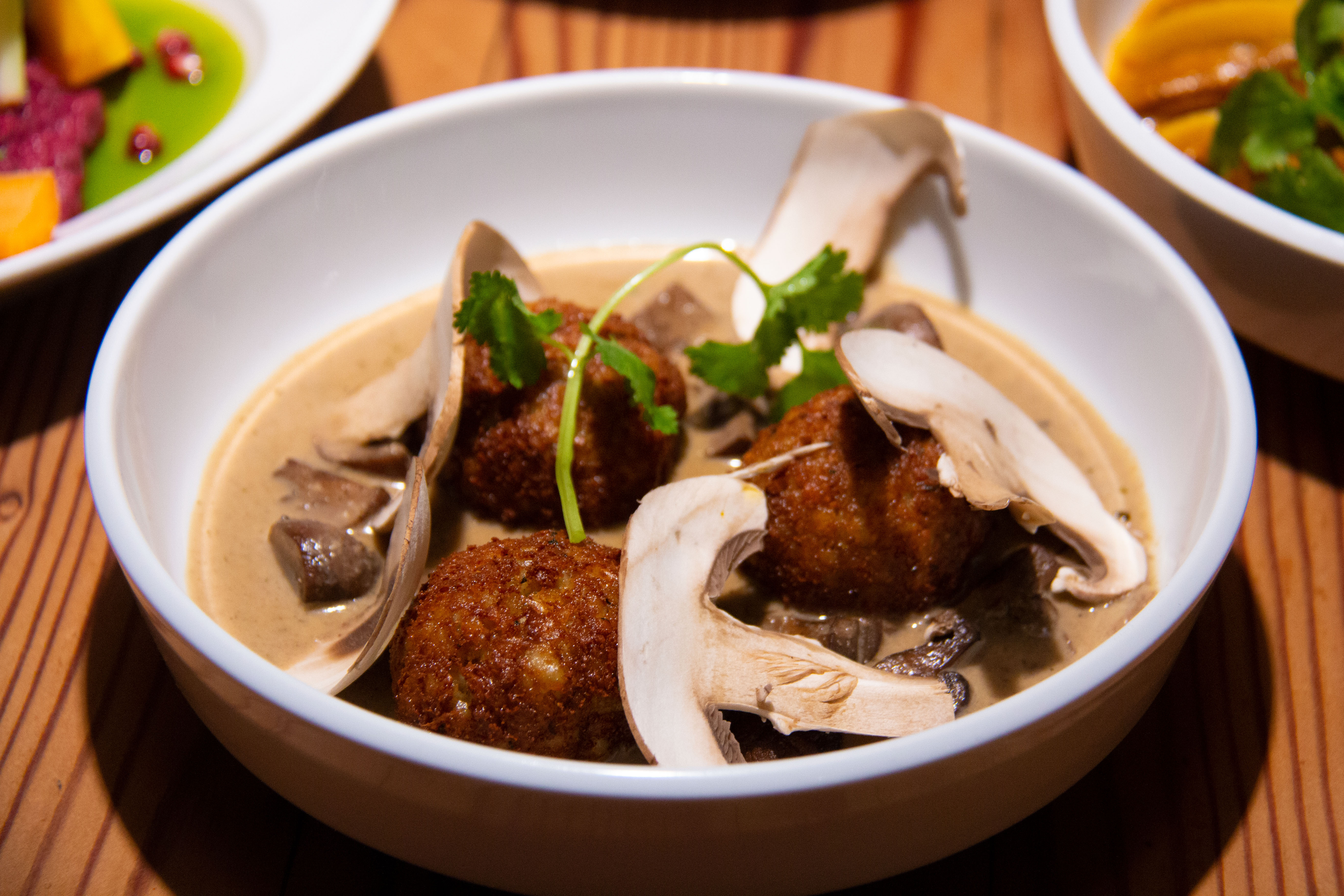 The Vegeish menu, is in fact all vegetarian and includes a spectacular mushroom-based dish, the Truffle Paneer Kofta + Roasted Mushroom Korma. The kofta is made by frying balls of truffle, potato and paneer, an Indian cottage cheese. Warm and crispy, each bite is best enjoyed with a generous dip in the surrounding korma, a South Asian gravy of sorts. The korma is made using fenugreek cream, white onion masala and cardamom, and is reminiscent of a cream of mushroom soup.
Each plate offered up at Curryish is built like a puzzle. You might be unsure of what the dish tastes like at first, but as you start putting flavours together, you begin to marvel at how neatly it fits into place.
If you're feeling puzzled out, however, dessert—while still combining Indian and Canadian elements—is a little less complicated to figure out.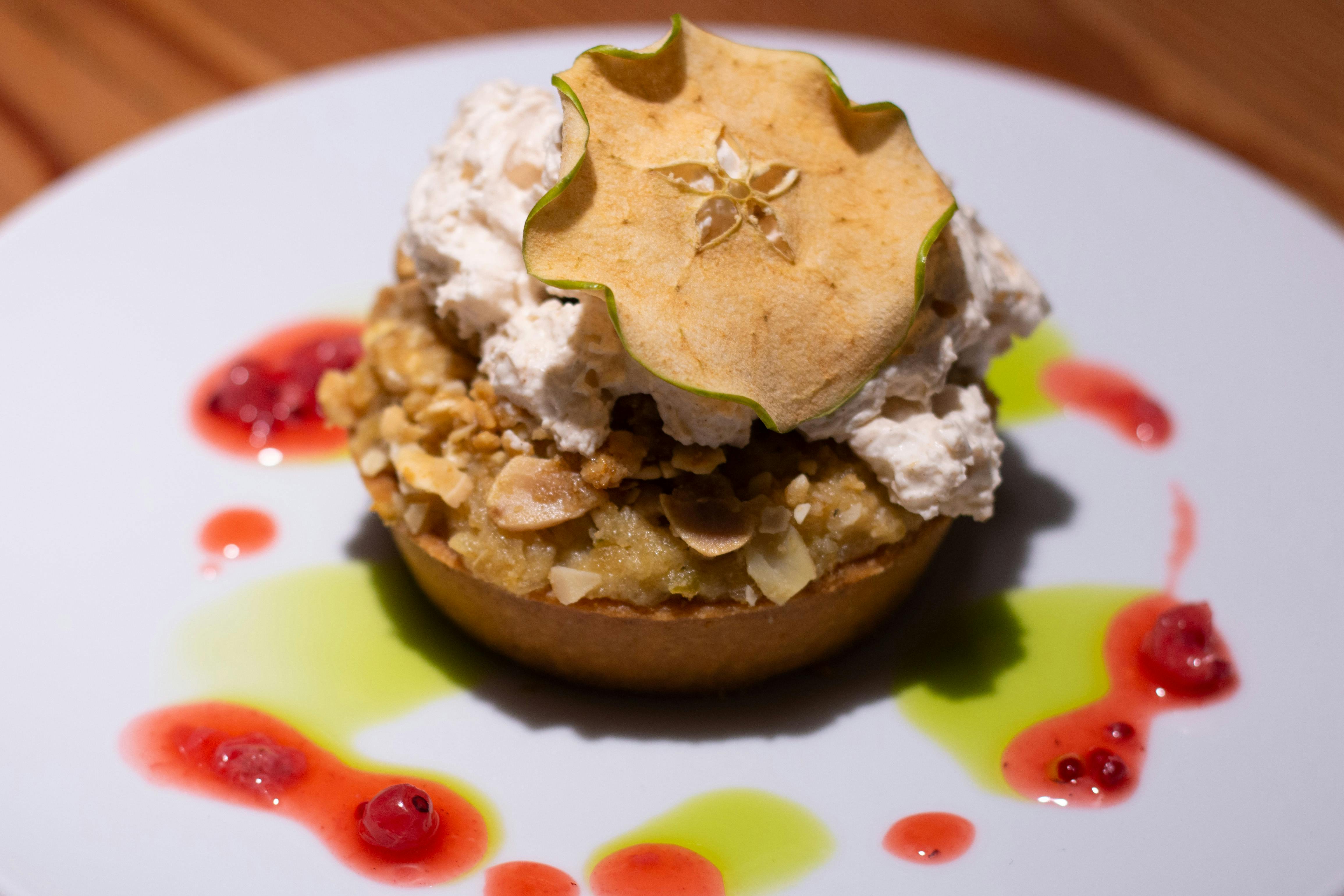 For example, the Ontario Apple + Almond Hawla is, at its heart, a pretty straightforward tart. Nutty, filled with fruit and just a little bit crumbly, if you want to do nothing but take giant bites out of this dessert, go right ahead. Similar to an oat crumble mix, the hawla in the middle is an Indian dessert typically made with rice, lentils and fruit. Seasonal apples, cinnamon and cardamom are added and cooked overnight in milk to give the hawla a porridge-like texture. Laden on top is a generous dollop of cinnamon cream and an apple crisp. At the bottom is an almond sponge which gives the tart crunch and density. Surrounding the tart are droplets of redcurrant jelly and dill oil.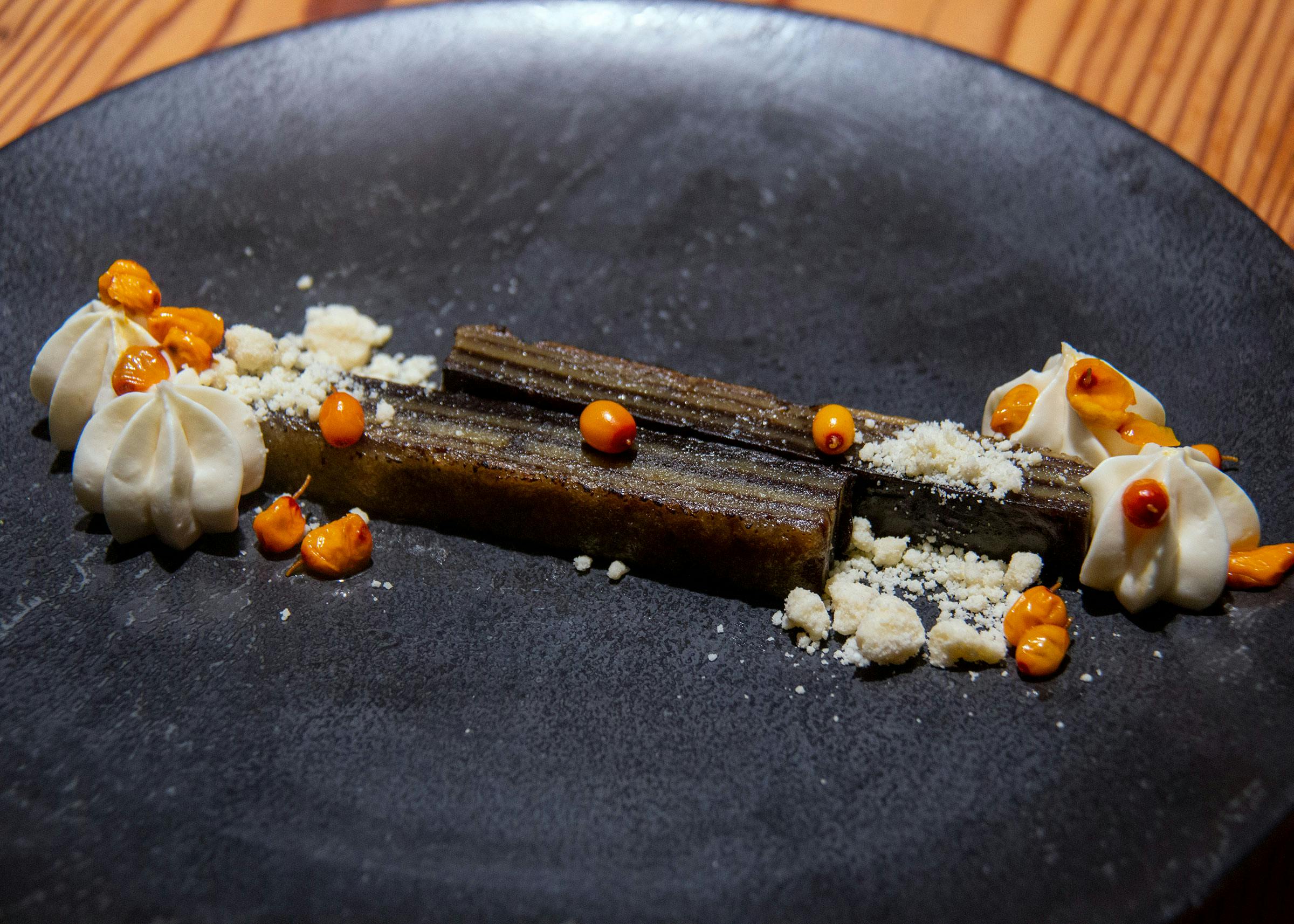 The Goan Chocolate Bibinca is a more intriguing dessert in both its craft and its appearance. What at first appears to be two thin sticks of chocolate is actually a multi-layer pudding, packed densely into shape. The bibinca is made of chocolate and cardamom mixed with coconut milk, jaggery and egg yolks. In between each chocolate layer is a layer of ghee. The layers are baked one at a time, usually for about 10-12 minutes, over a 2-3 hour period. Once all the layers are baked, weights are added on top to compress the pudding, packing the flavour into a smaller area.
The dessert is completed with white mascarpone, milk crumble and dotted with sea buckthorn for tartness. The sea buckthorn is locally grown and bursts just like pomegranate in the mouth. Its small portion size is offset by the effort it takes to make, as well as the eye-rolling indulgence it packs in tiny morsels.
Curryish Tavern's wine list is all-Ontario, something Miheer says he rarely sees in restaurants in Toronto. "They have Canadian wines, but they also heavily rely on a lot of international wines. For us, it's all Ontario wines." Most originate in either the Niagara or Prince Edward County region. The beers are all local too, with Toronto crafts like Burdock, Blood Brothers, 6 Pints, Wilda, Rorschach and Muddy York.
Miheer's efforts in utilizing local resources is an homage to the place he finds himself today. An immigrant from India, cooking with European techniques and using Canadian ingredients, his journey is a reflection of what might be described as the Canadian dream. Perhaps being Canadian isn't about hyphenating your identity but working with what you know and love and inviting those around you to share in that passion. As Miheer says, "I think that's where we get to do our creativity and really push the envelope in terms of what we can do. And that's what the vision is; that's what the ish in Curryish stands for. It's not only about food, but it's about being who you are and telling your stories."