In a city where wintertime barhopping takes a rare kind of dedication, a place like Empire Supper Club is the perfect destination. This new King West spot is one of few places in the city where you can indulge in a satisfying, hearty meal and dance the night away without needing to put your coat back on.
"What we've built is a unique dining establishment that also functions as a social club," explains manager Nicole LaRoche. "From customized menus to cocktails and entertainment, our customers' dining pleasure is our number one priority."
Besides its unique literal take on the phrase "supper club," what makes evenings here even better is a team of above-and-beyond staff that treats every guest like a VIP. The interiors here may be gold and decadent, but the atmosphere is comfortably relaxed and everyone—including the staff—is just having a good time.
Rather than preparing setlists for each day of the week, the DJs at Empire Supper Club are given the freedom to "play the room." Depending on the crowd and atmosphere, you could encounter anything from hip-hop to house, to more charming Spanish tunes.
Even if you're not much of a dancer, you're still guaranteed plenty of entertainment. Empire regularly brings in special performers, including acrobatic dancers and jazz bands that make you feel like you've returned to old New York.
If it weren't for the unmistakeable second-floor location and a uniquely long and narrow dining space, you'd have a hard time remembering this is where Elia Herrera's Los Colibris used to be.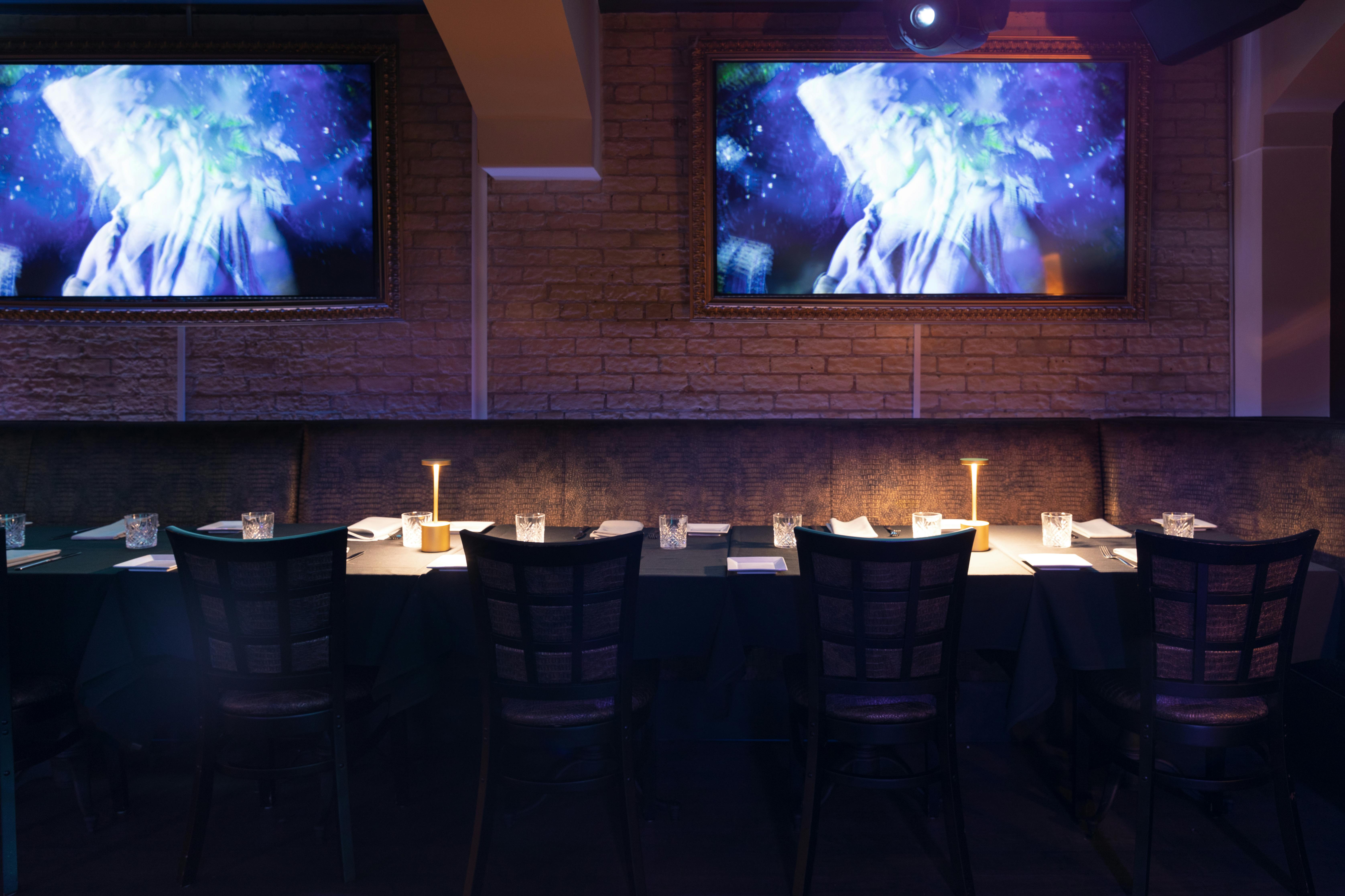 Since taking over the space, the Empire team has transformed it with Aphrodite-inspired décor and hints of a bygone era, including leather seats made from the last leather in the world from one of New York's most memorable discos, Studio 54. Above the leather, customizable screens accompany each group of seating for special occasions.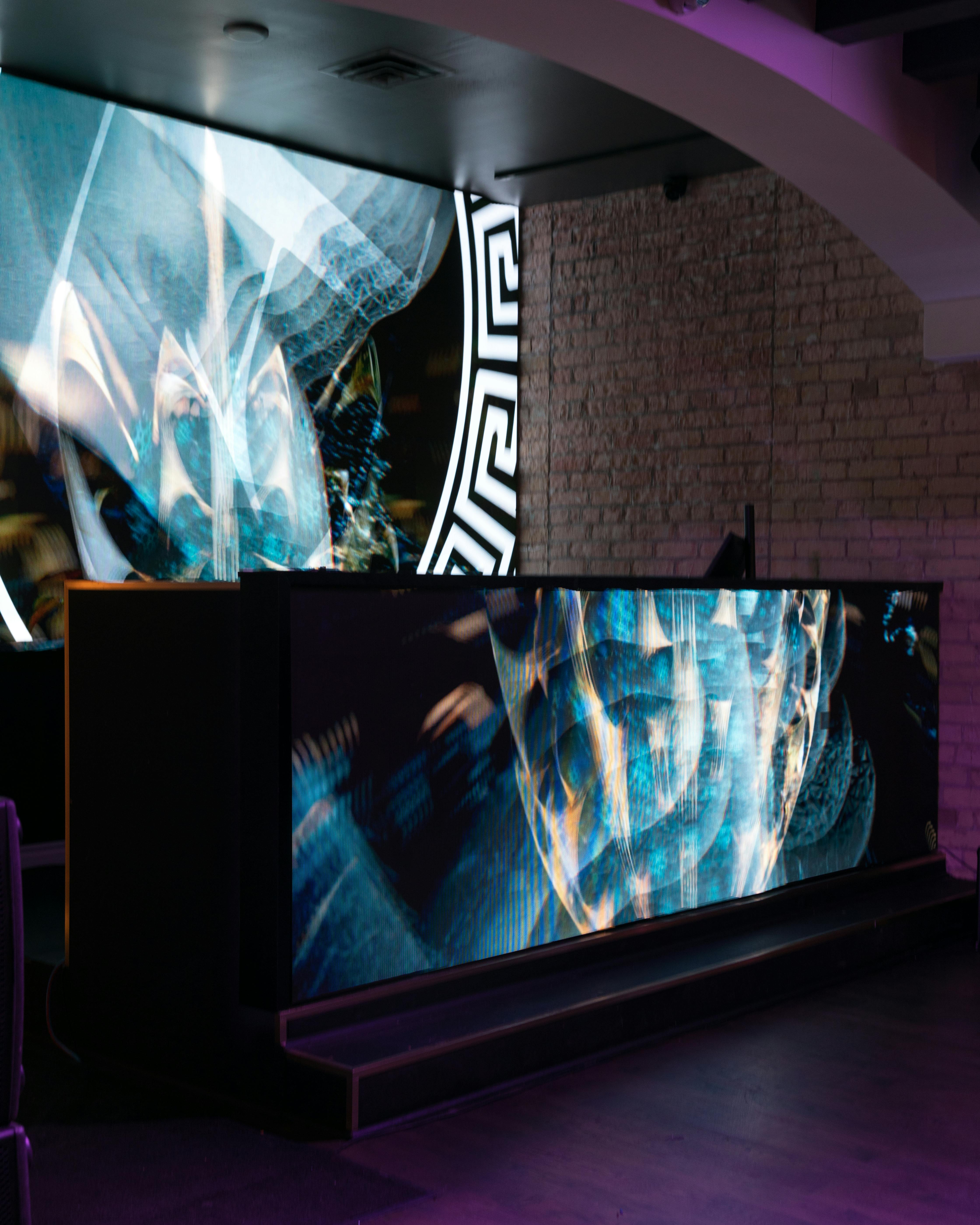 When not being used for personalized messages or displays, they're synced with the LED screens surrounding the DJ booth at the end of the dancefloor, adding to the restaurant's wholly immersive environment.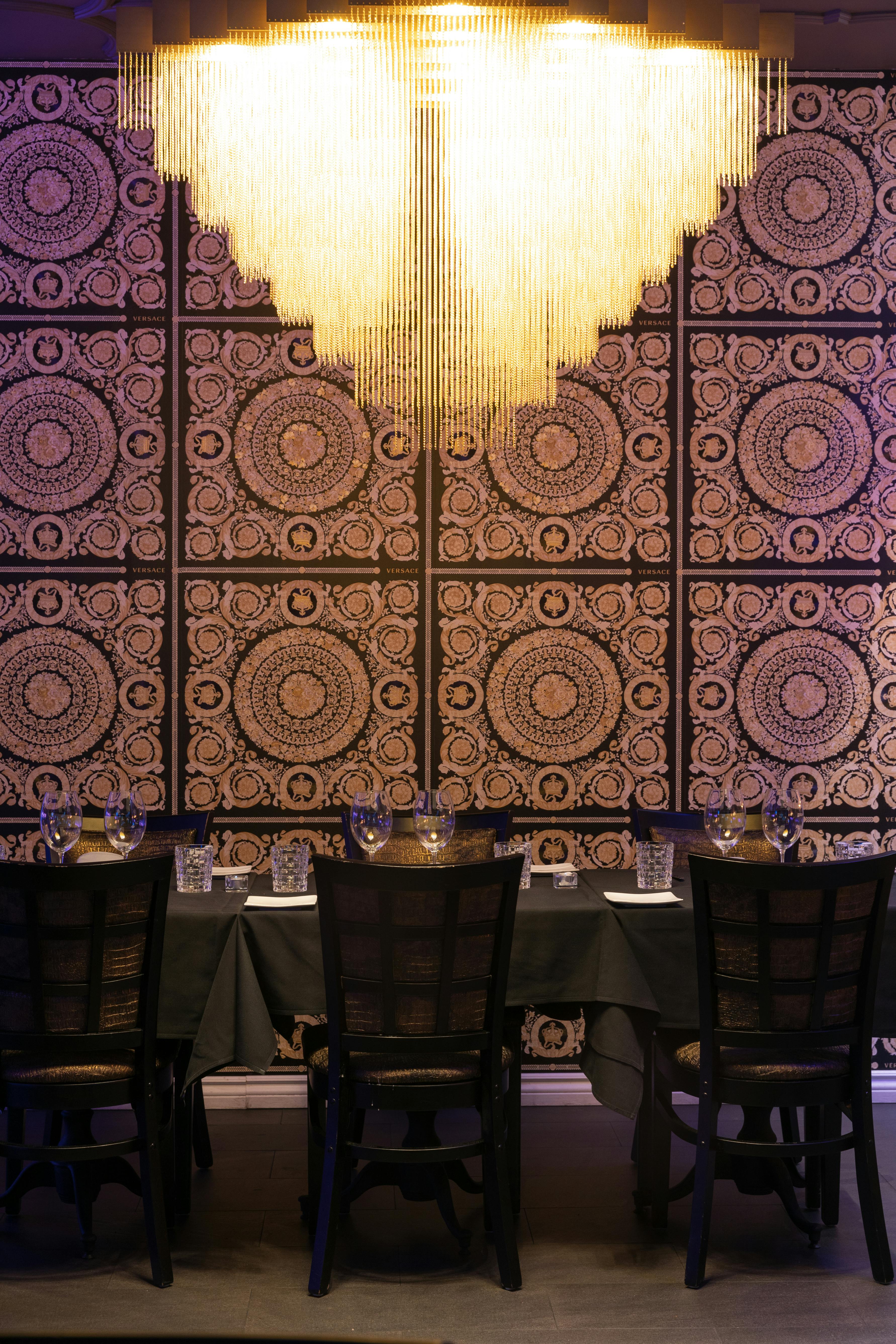 Besides the dancefloor, one of the best places to be photographed in is no other than the "Versace wall." Perfect for special group occasions, this corner of the dining space is adorned with authentic Versace wallpaper and lit by a stunning and modern chandelier.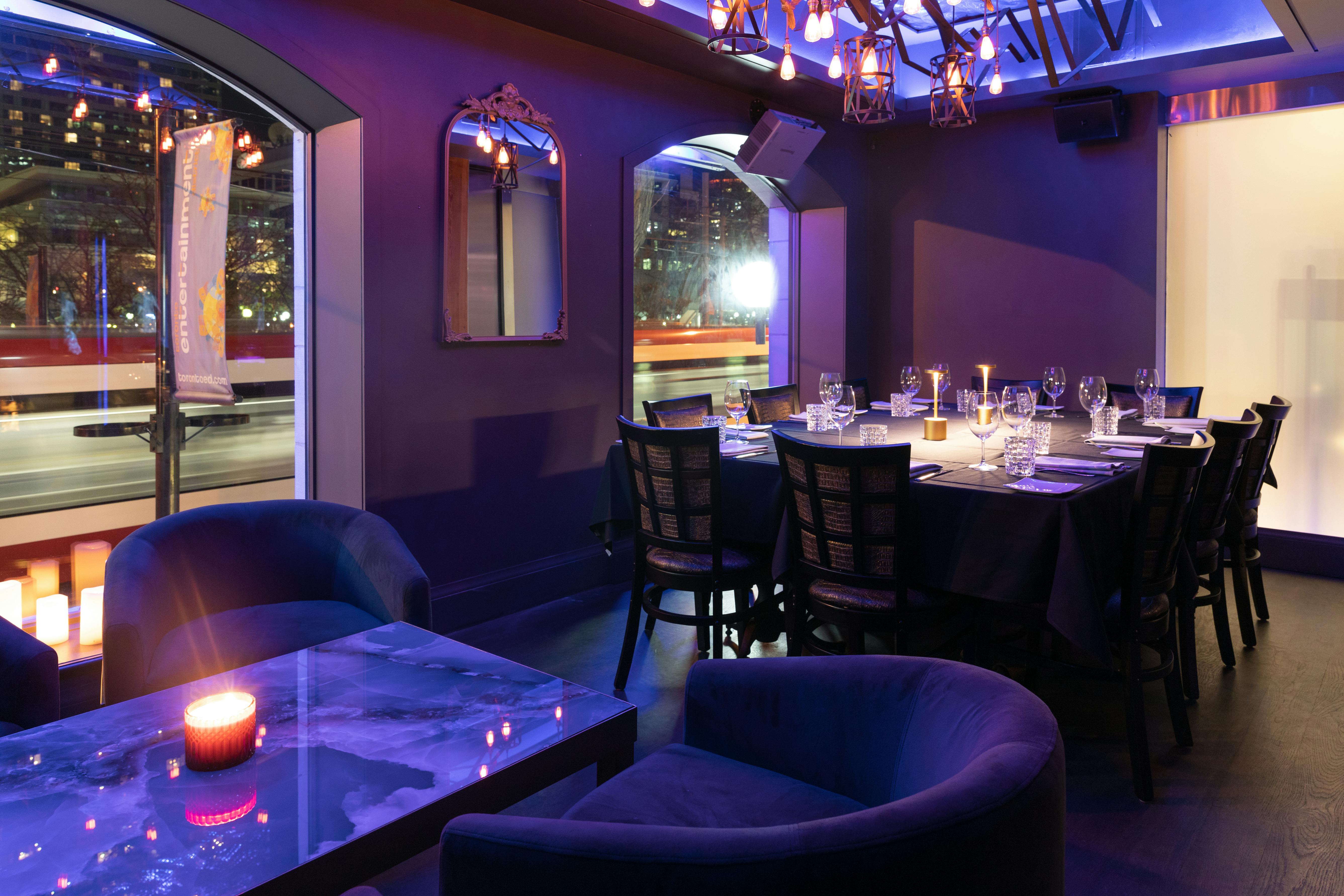 On the other side of the entrance, away from the crowd, is where you'll find Empire's City Room. Reserved for larger groups of six to twelve guests, this private area comes with its own speakers, TV, and a tranquil view of the Roy Thomson Hall.
With Versace décor and Studio 54 leather, there's no food more fitting than Empire's meat-forward Italian American menu. Every item here is served Italian family style, of course—with generous portions on large serving plates.
Designed for comfort and nostalgia, you won't find anything that feels unfamiliar on the menu, but every dish is made with the freshest ingredients and always made to order by Chef Jazz and his team.
"Everything here has to be fresh, period," he stresses. "It makes a huge difference to the dishes, and it makes sure we waste as little food as possible. Personally, I'd rather sell out of something than to see it go bad and thrown out."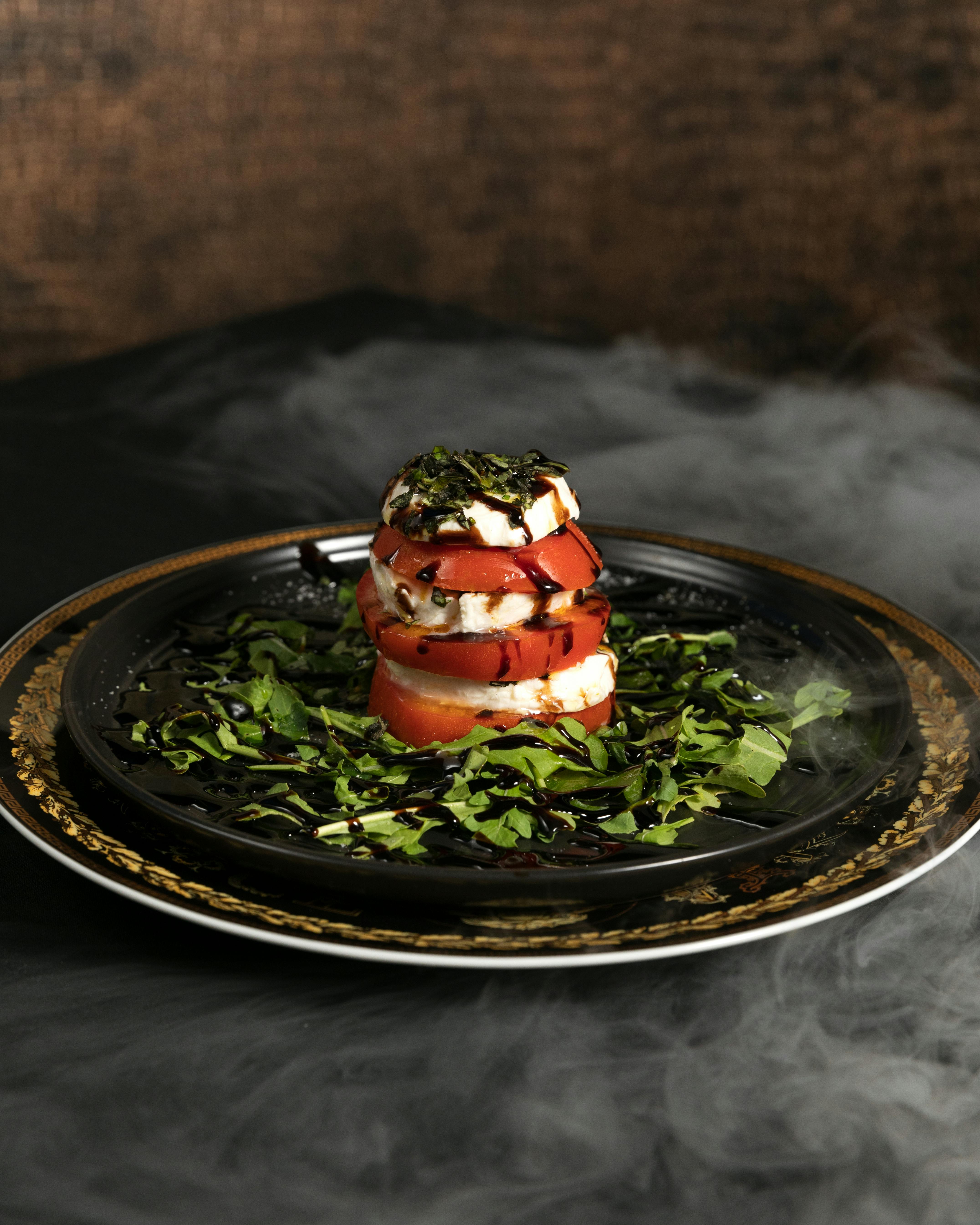 Even something as simple and comforting as the Tomato Salad is a 6-layer architectural marvel at Empire. By using mozzarella and heirloom tomatoes that are bought fresh daily, Chef Jazz's towered salad makes for a refreshing start to your meal.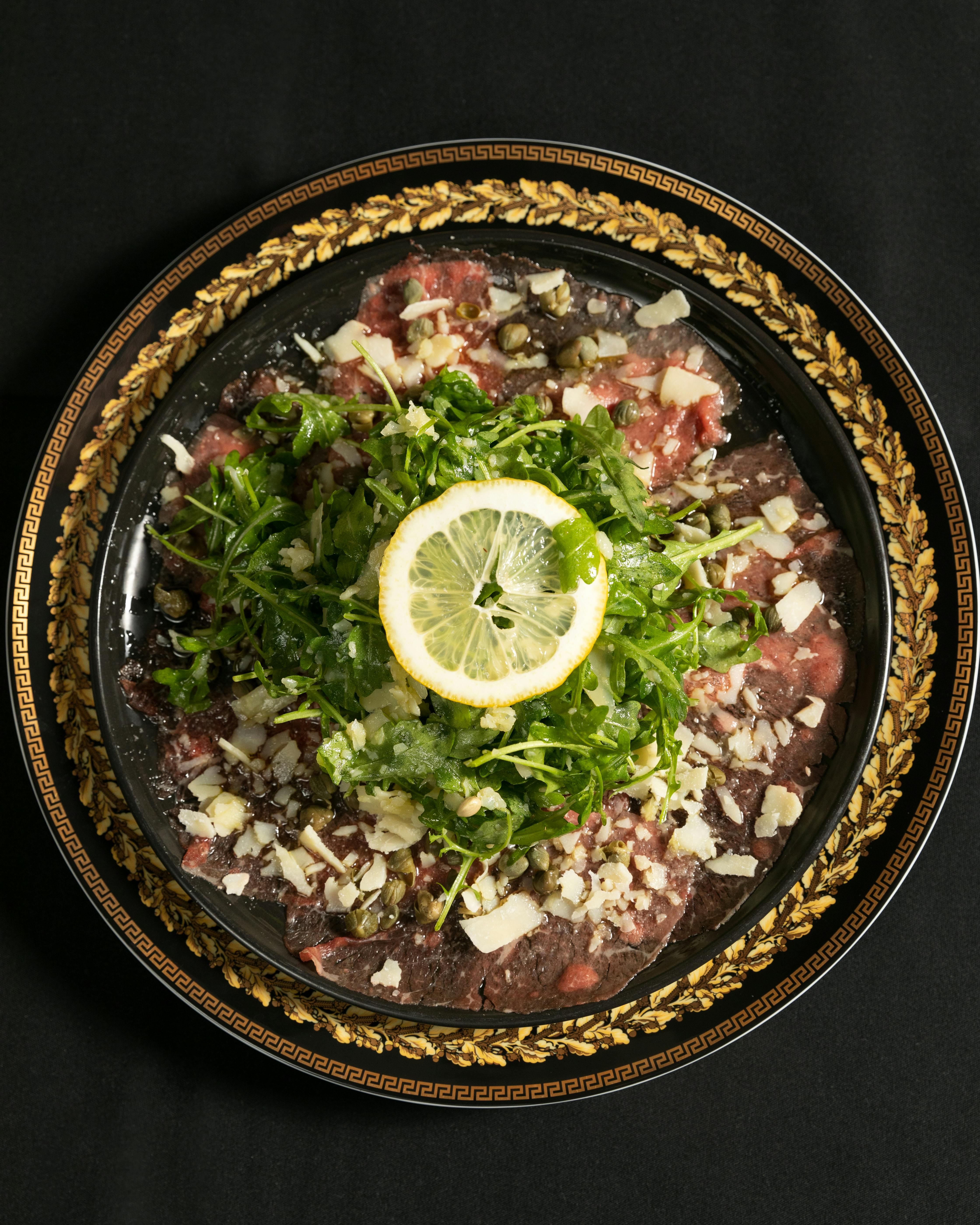 Another crowd-pleasing appetizer is the Beef Carpaccio, made from 30-day aged, marinated tenderloin and garnished with a handful of arugula, sprinklings of olive oil and chunky Parmesan flakes.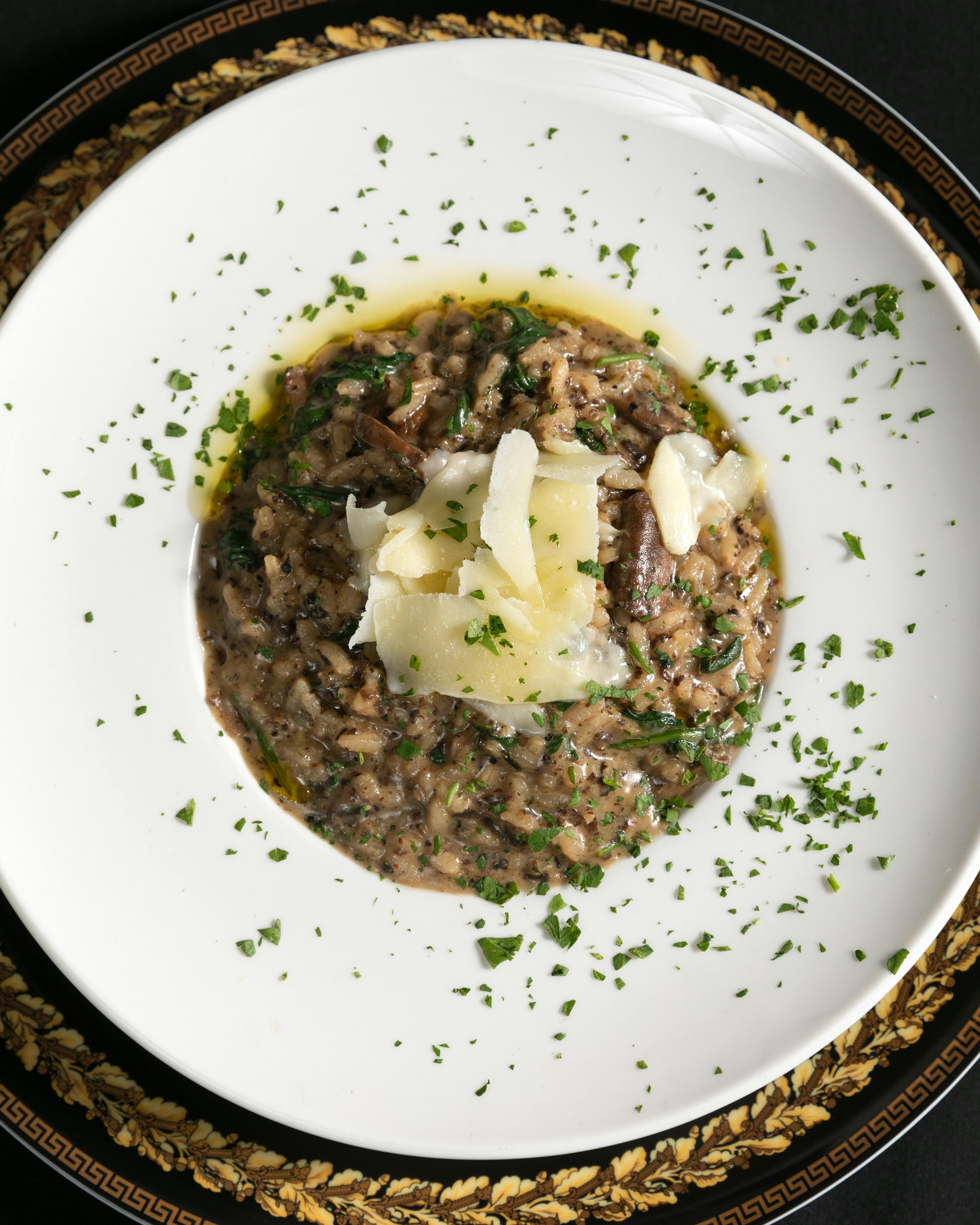 Risotto is freshly made to order without any pre-made rice or sauces. The Mushroom Risotto packs rich, aromatic flavours with a blend of wild mushrooms in a white wine cream sauce, topped with shaved black truffles.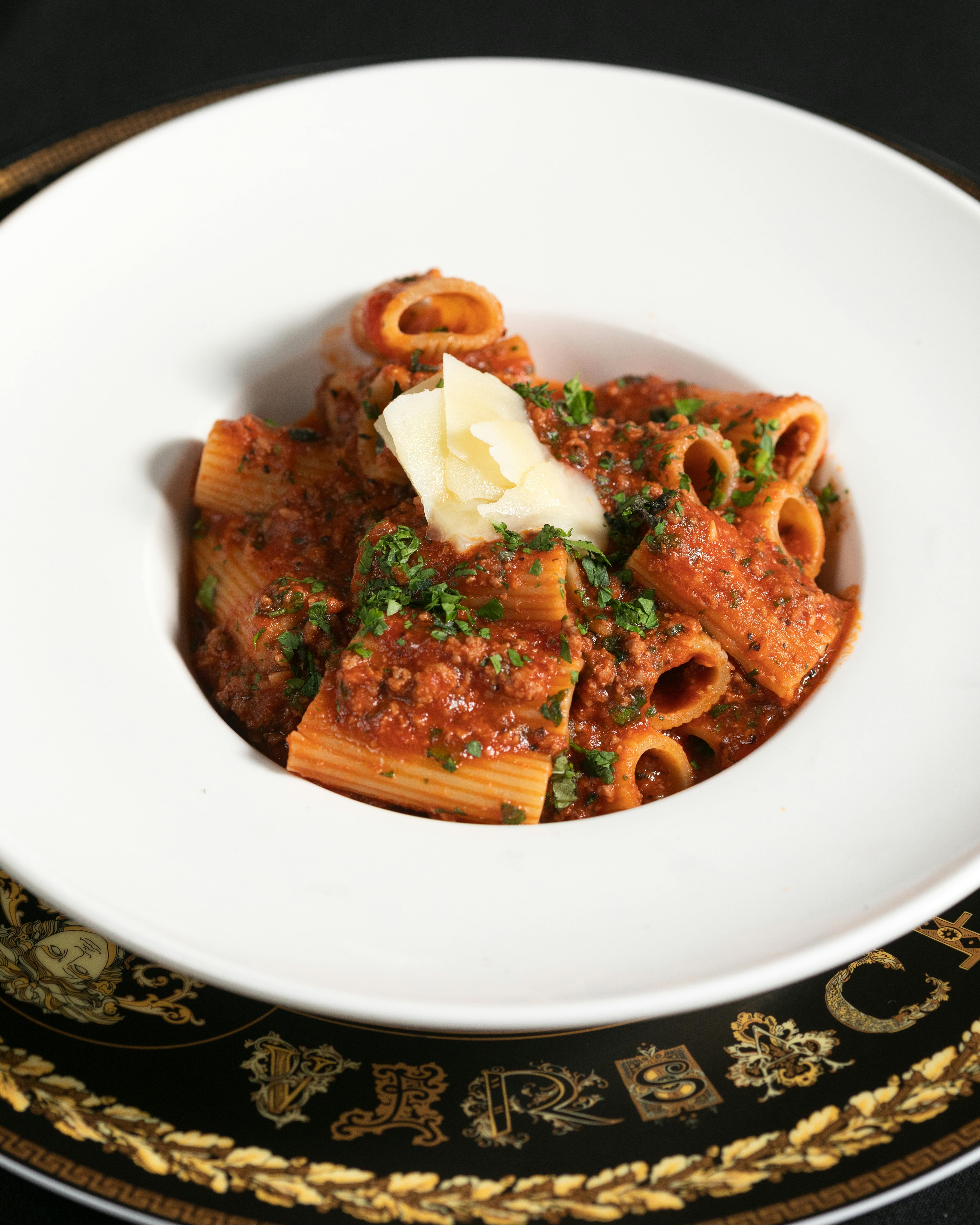 Each pasta dish here features a different pasta shape and paired with everyone's favourite sauces. The classic Rigatoni comes with a Bolognese sauce made from wagyu beef.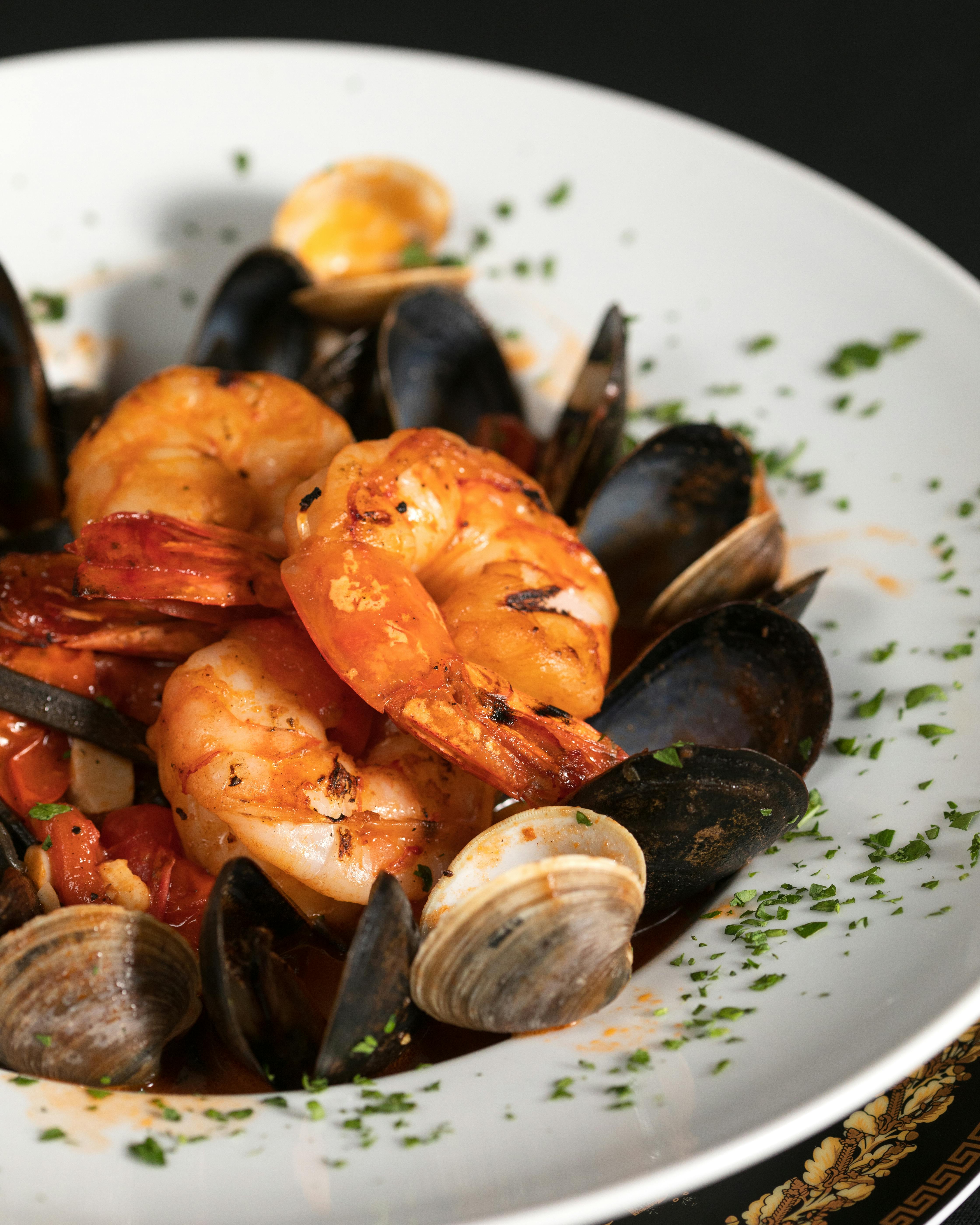 Seafood lovers can't go wrong with the squid ink Tagliatelle. Made with shrimp, clams, and mussels, the white wine and tomato sauce is perfectly balanced with a natural sweetness, thanks to Chef Jazz's fresh and cut-to-order Roma tomatoes.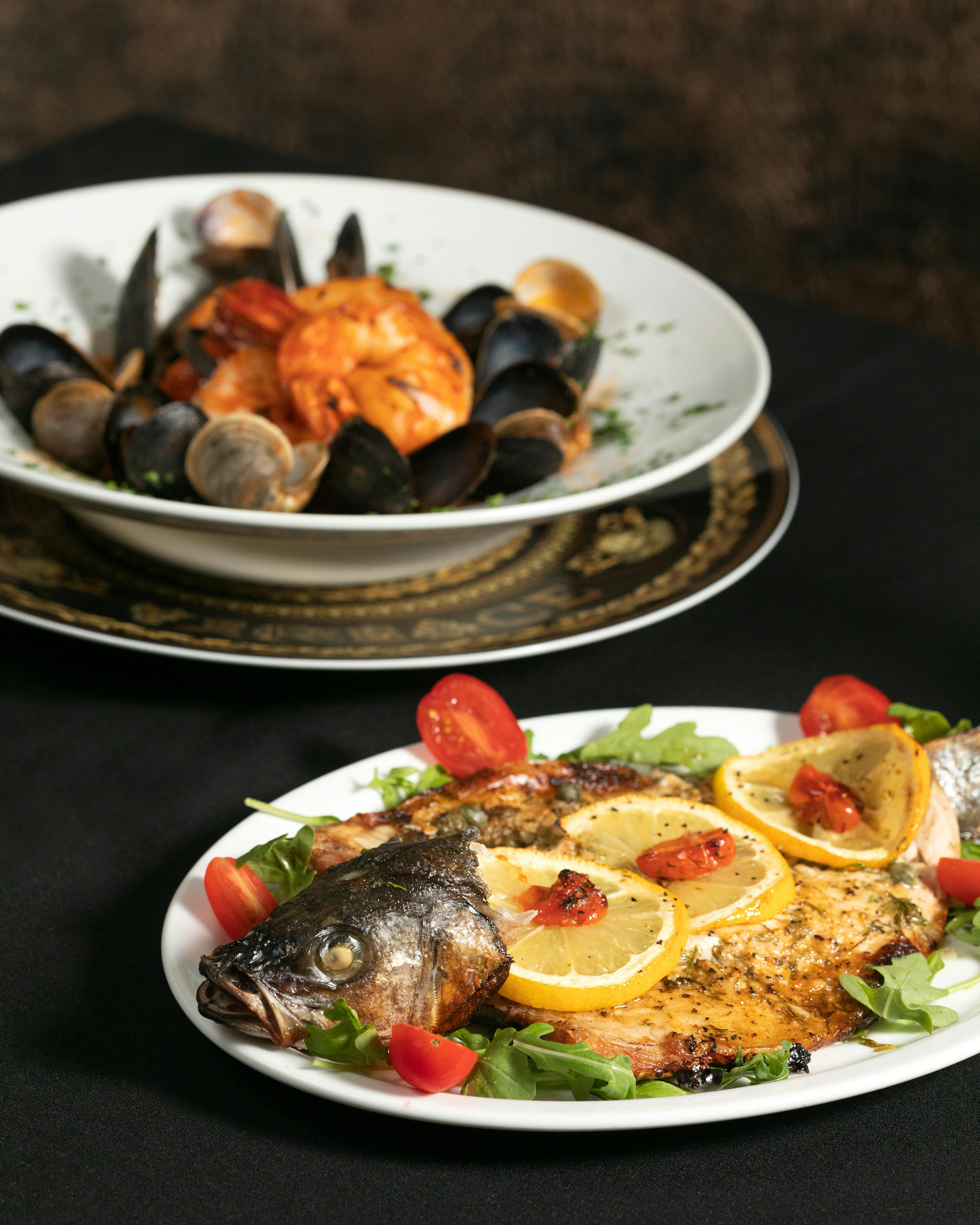 But the Meat & Seafood menu is where Empire shines. With chicken, beef, veal, lamb, fish, shrimp, and calamari, it'll be hard to choose just one dish. The Spigola is a tasty, crispy whole seabass that's deboned, butterflied, and cooked in a daily-made sauce of dill, garlic, cherry tomatoes, capers, and other secret ingredients.
The showstoppers, though, are the steaks. At 48 ounces, the AAA black angus Tomahawk is the ultimate sharing dish with all the drama it deserves. Every Tomahawk is brought out gold-plated, then carved and salted table-side for a true Empire experience.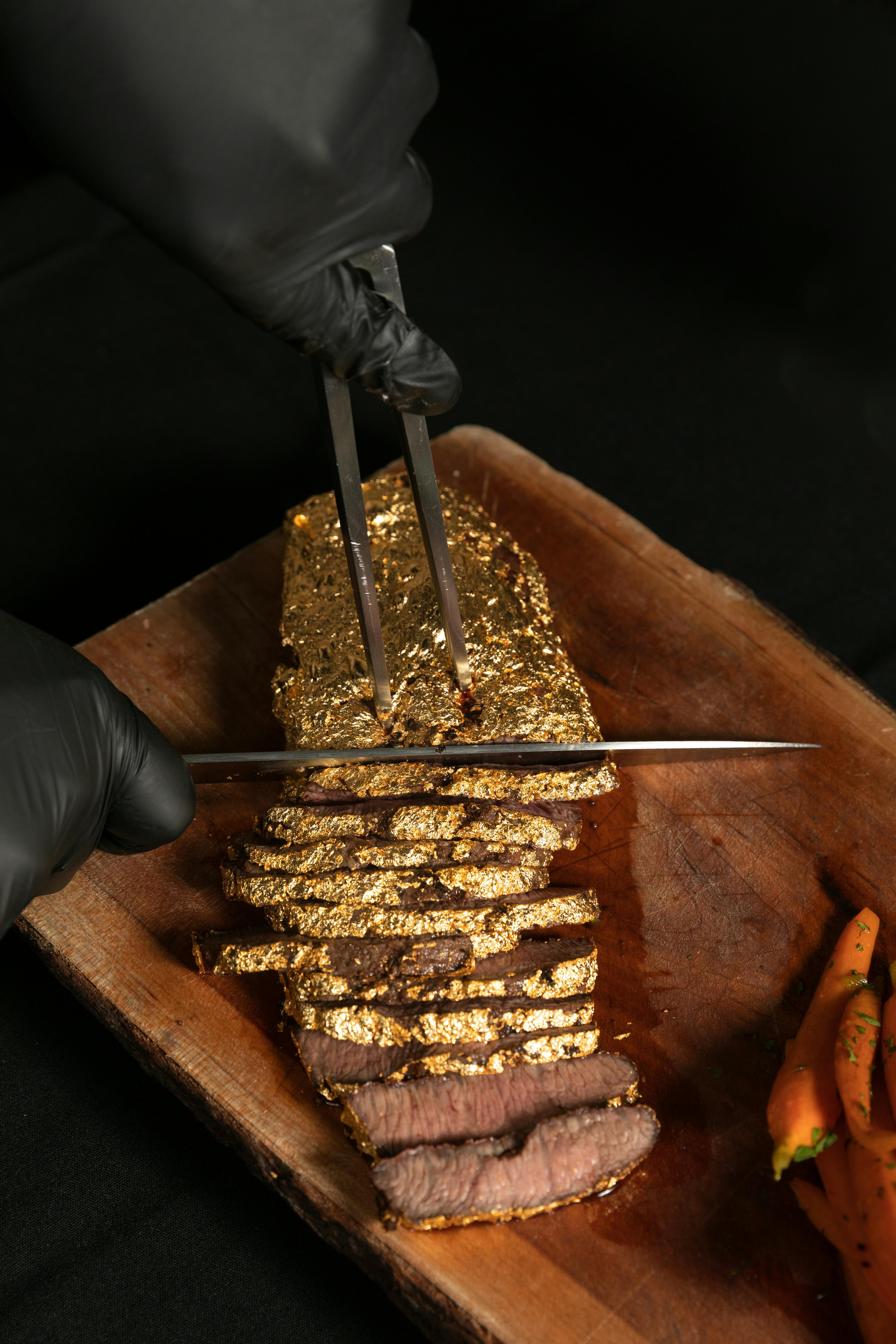 If there's not enough of you to finish the 48-ounce Tomahawk, you can still spoil yourself with an 8-ounce piece of premium A5 Japanese Wagyu. Seared in cast iron in horseradish butter, the beautifully marbled meat is similarly gold-plated and brought out to carve so guests can savour every moment of their meal.
Like everything else about Empire Supper Club, their list of specialty cocktails was designed with every type of drinker in mind.
Their signature cocktail, the Royal Empire, is a colourful drink with Empress gin, triple sec, coconut cream, grapefruit juice, lemon juice, and butterfly pea flower tea. Gin drinkers can also opt for a Sicilian Negroni, a twist on the classic drink that uses blood orange juice and angostura bitters instead of Campari.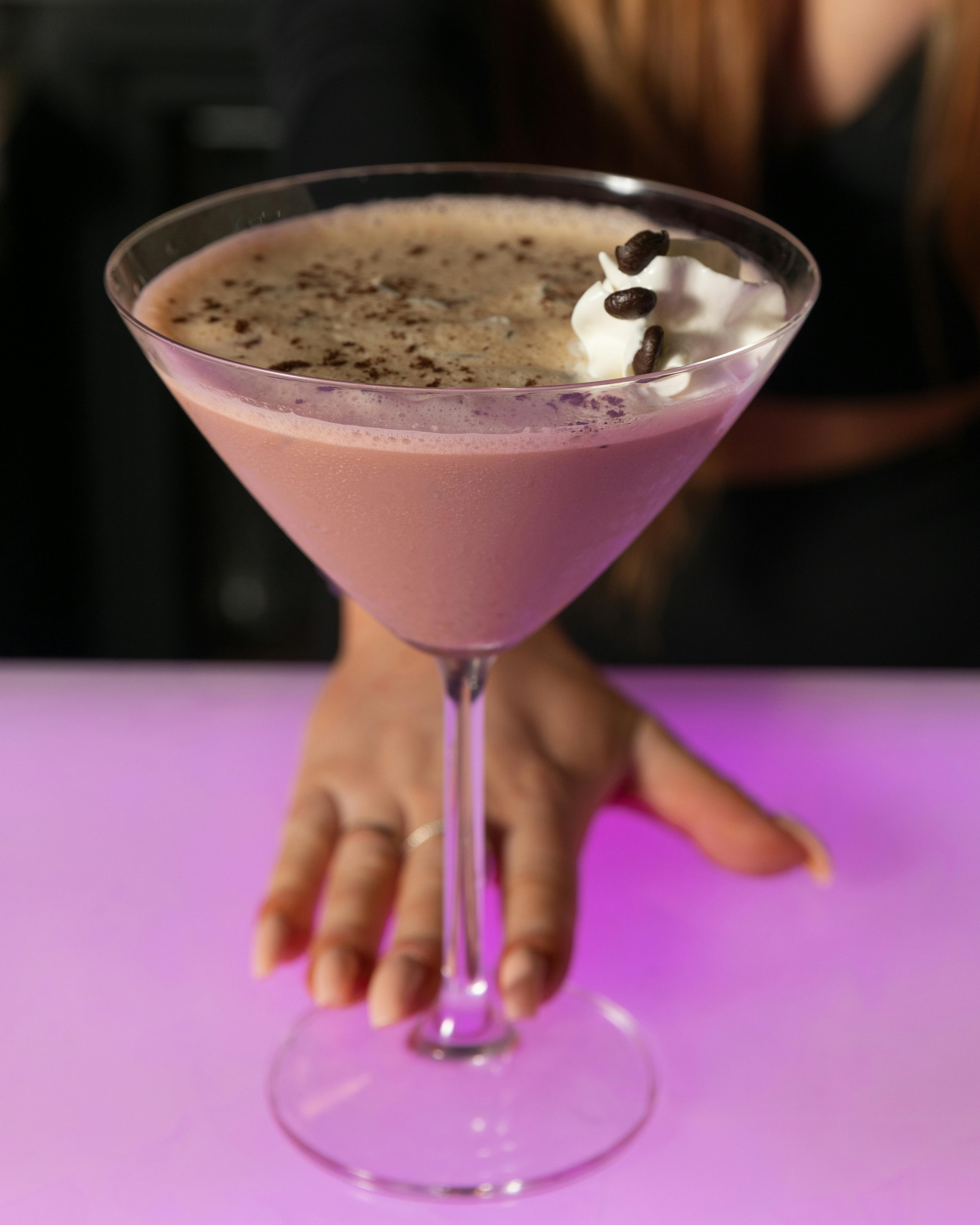 The Empresso Martini is also a popular choice, especially after your meal. With coffee liqueur, Demerara syrup, Galliano, and fresh espresso, this smooth-drinking classic is given an extra kick with Reposada tequila instead of vodka.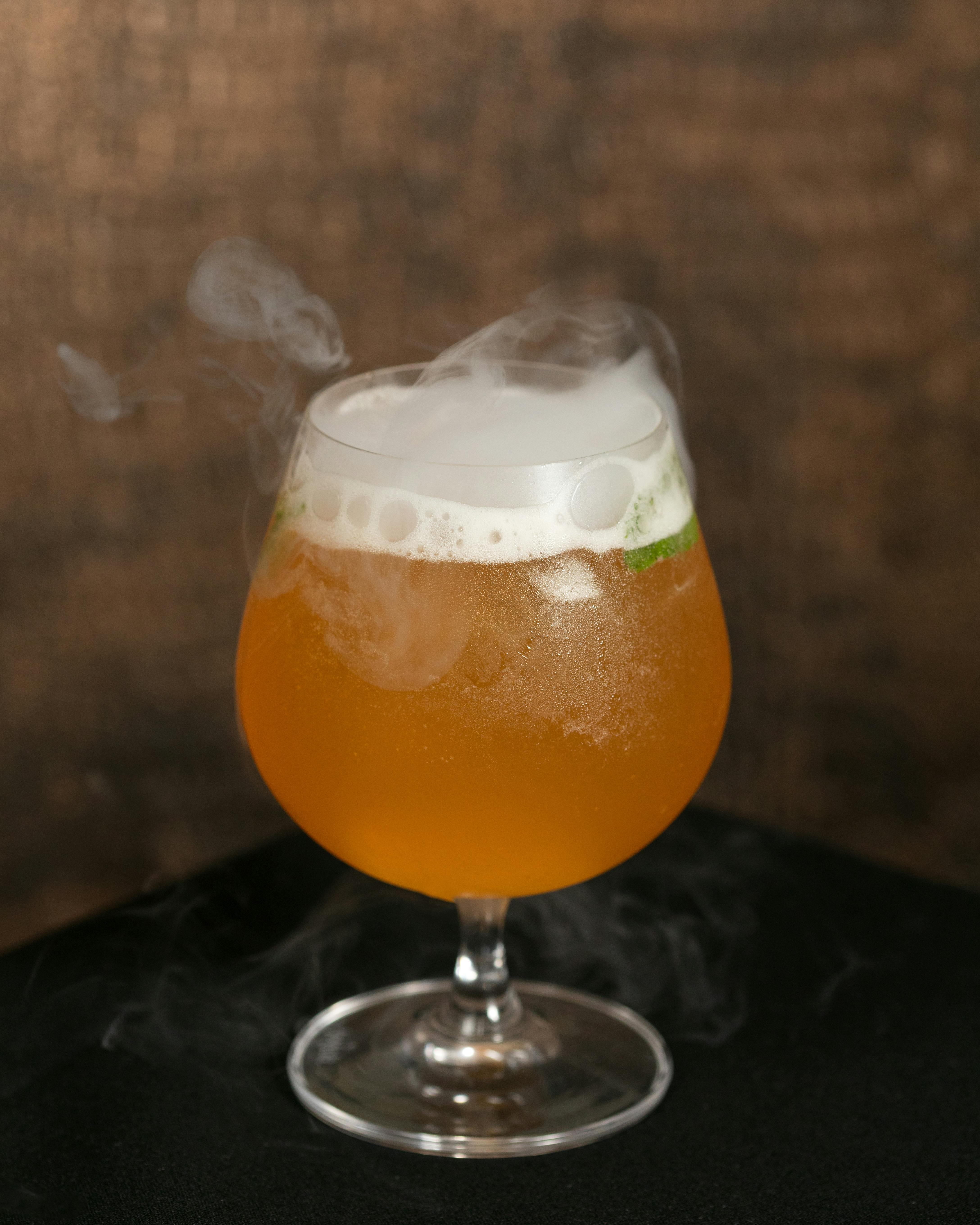 If bourbon is your poison, the Sparkling Bourbon Tea is a foolproof choice. Made with Grand Marnier, prosecco, bourbon, and peach mix, it's a light and fruity drink that still preserves the richness of the bourbon.
Crowd-pleasers from their specialty cocktails menu will always be around, but the Empire team is especially excited to show off their rotating list of seasonal cocktails, which includes ideas from every team member shared in brainstorming sessions during staff meals.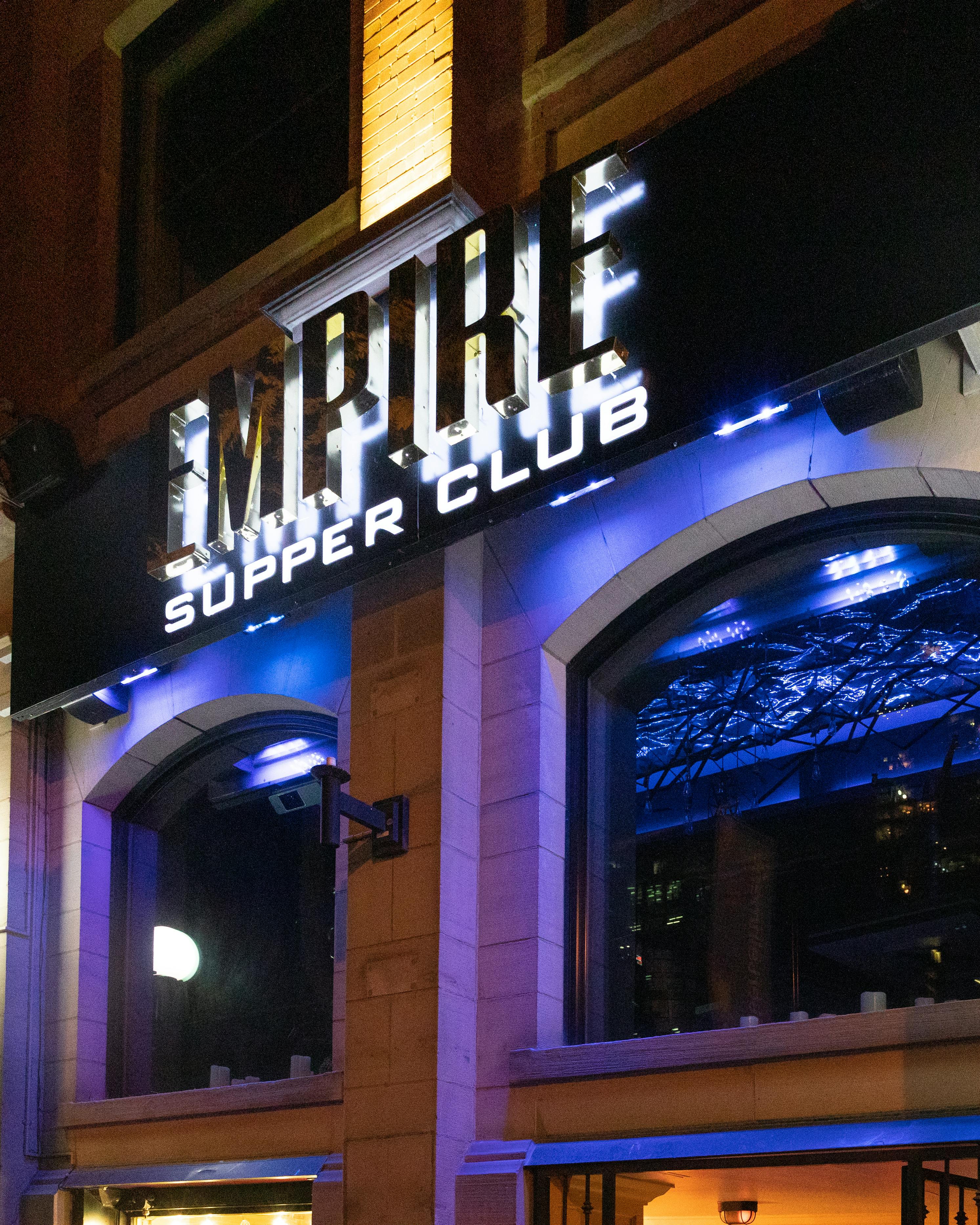 At Empire Supper Club, entertainment is injected into every portion of your experience. From gold-plated steaks and smoking cocktails to live dancers and DJs, there's never a dull moment in this extravagant King West arrival. But the best part of spending an evening here? A team of warm and happy staff that manages to keep everything relaxed and down to earth.