One of the most popular brands in the world has finally arrived in Downtown Toronto. Jollibee, the largest Filipino comfort food chain with locations worldwide, had previously opened up around the Greater Toronto Area to widespread buzz. This location, 334 Yonge Street, is the first location in the Downtown Core, and people were obviously excited.
The Space:
A large dining area at the entrance continues through a long pathway to order. With safety measures in place, social distancing is a breeze with such an elongated space. The lineup forms along the wall with seating adjacent to each other on the opposite wall along a countertop.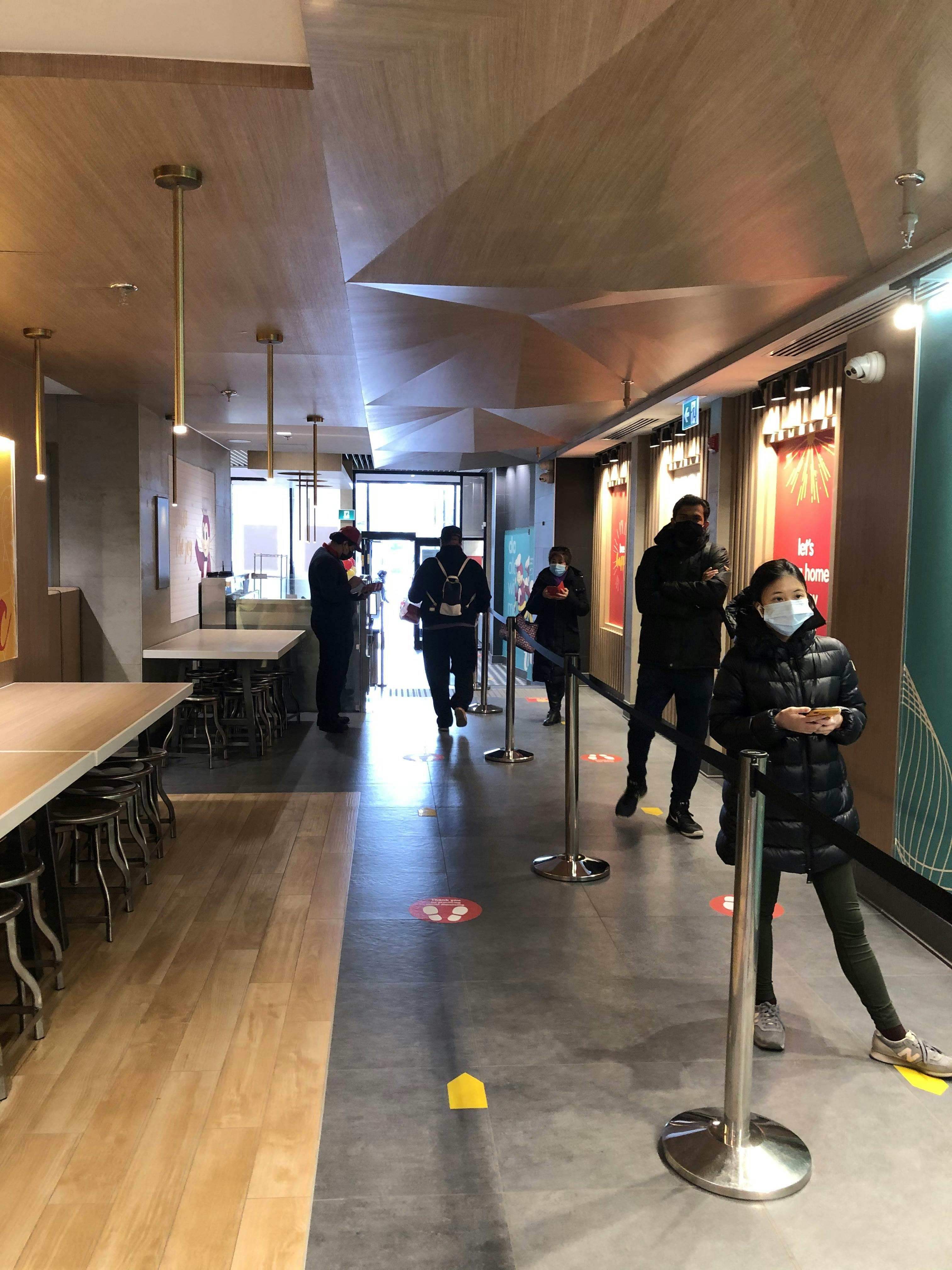 You place your order at the counter at the end and await your order on the side as staff are constantly hustling to ensure you aren't waiting very long. Currently, the staff will get your food and your drink order and bring it to you to prevent anyone from unnecessarily touching anything. Safety is paramount at this Jollibee location at the moment and is encouraging considering the sheer number of patrons that will be lining up to get their hands on some Jolly Crispy Chicken.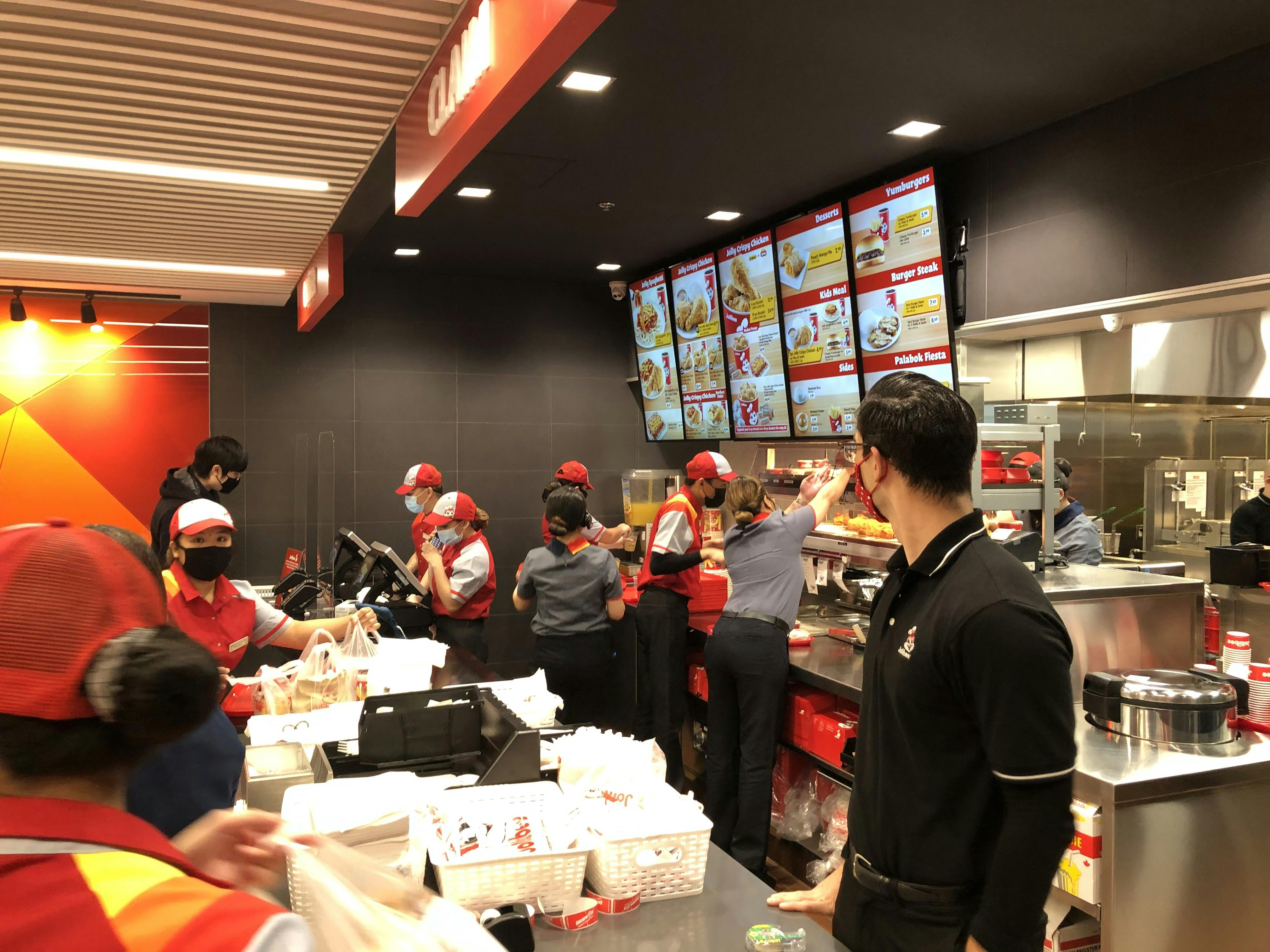 The Food: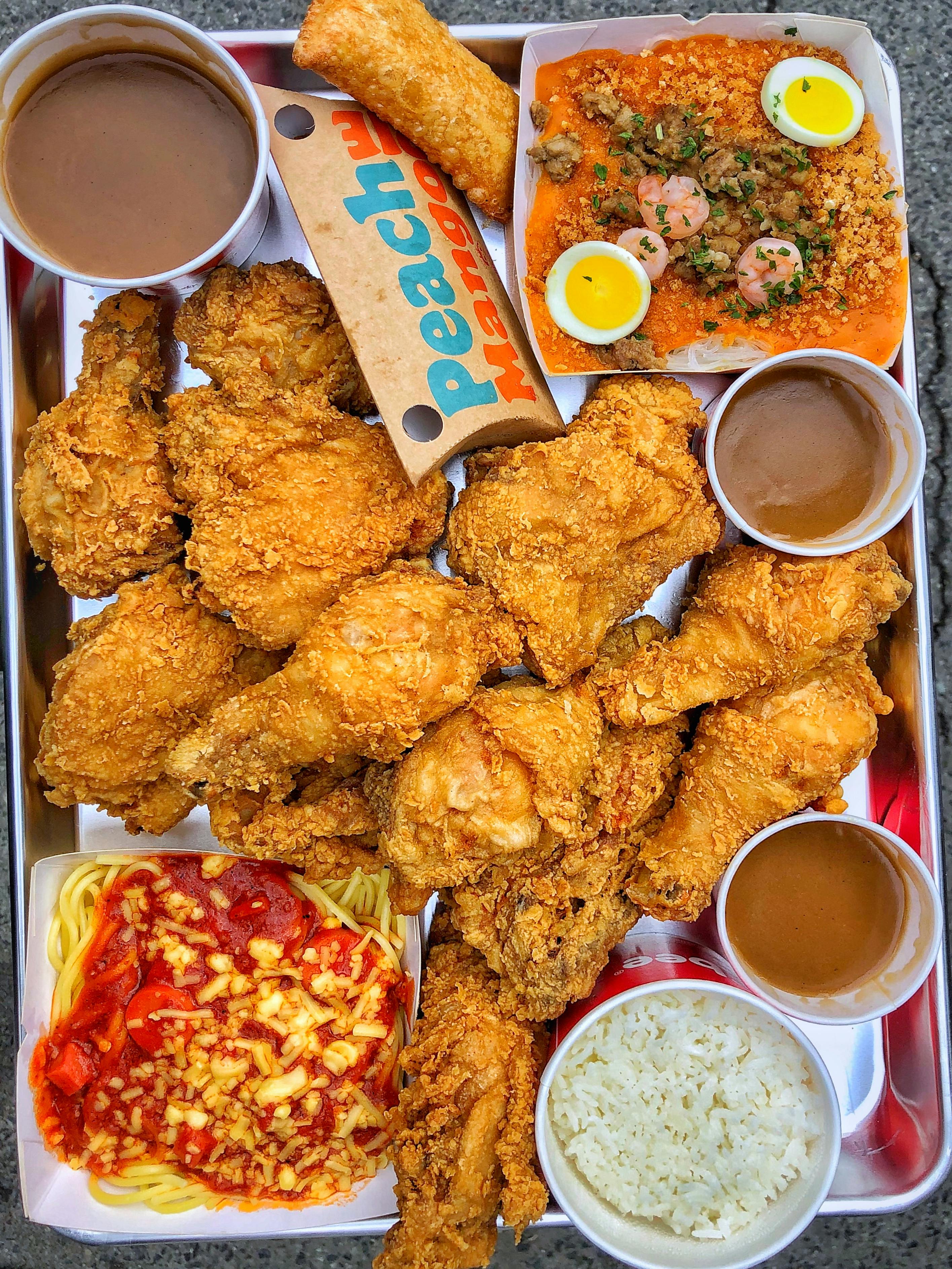 Jollibee is most famous for their Jolly Crispy Fried Chicken. But they have a wide array of other popular items known to any patron who has tried their food. The Jolly Spaghetti is a variation of the sweet spaghetti that is a delicacy in Filipino cuisine. The spaghetti sauce here is a tad sweet, but it is not overbearing like many other renditions you will find. The pasta is actually cooked perfectly and is covered in cheese and cut up pieces of sausage.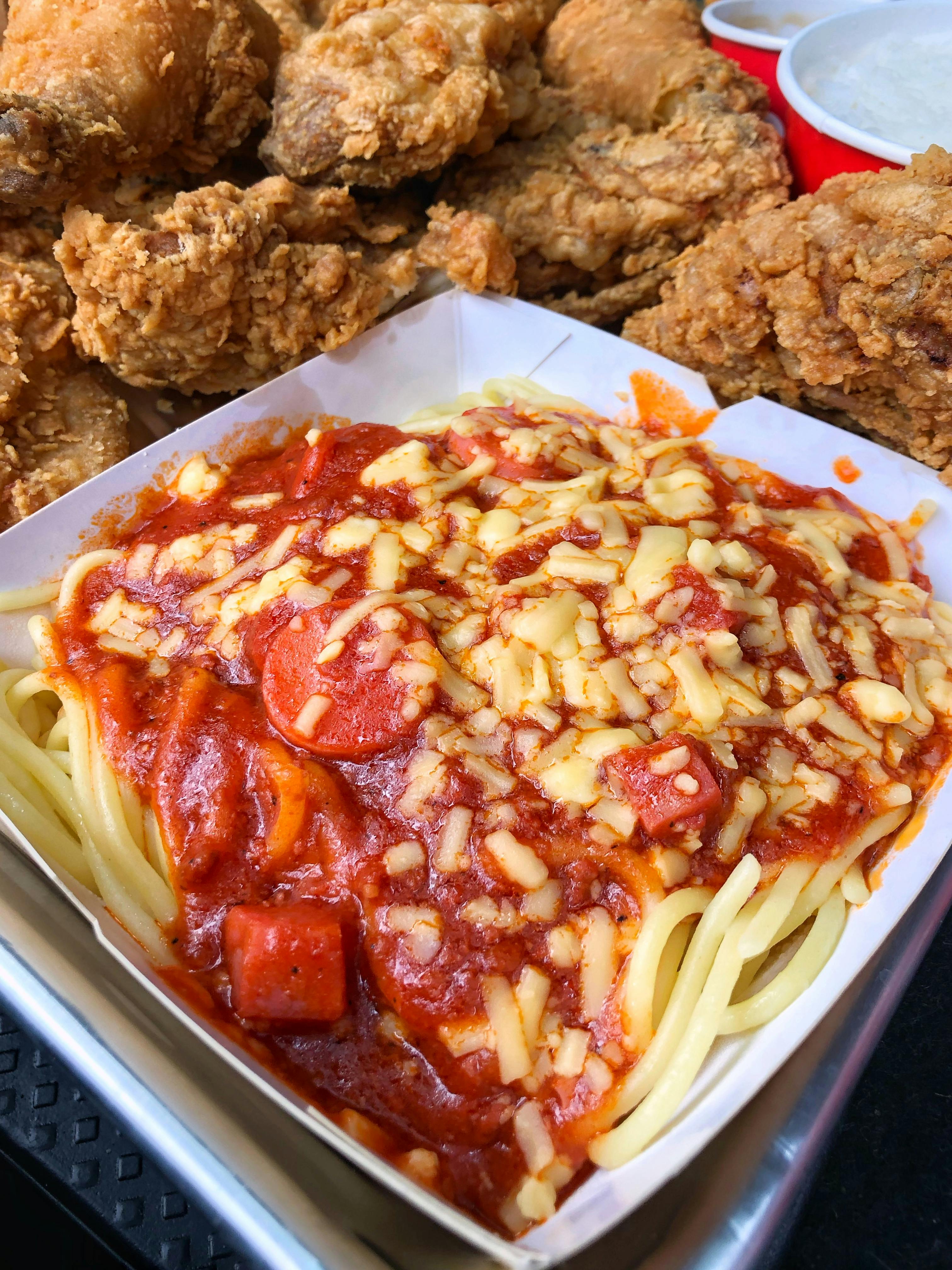 The Jolly Spaghetti with a sweet tomato sauce, cheese and sausages.
The Palabok Fiesta is a serving of their bihon noodles with minced pork, tinapa flakes, shrimp and slices of boiled egg. Everyone has their own variation of the dish, with most differences lying within the sauce. Jollibee has their own secret palabok house dressing they use and has made it a favourite amongst their patrons.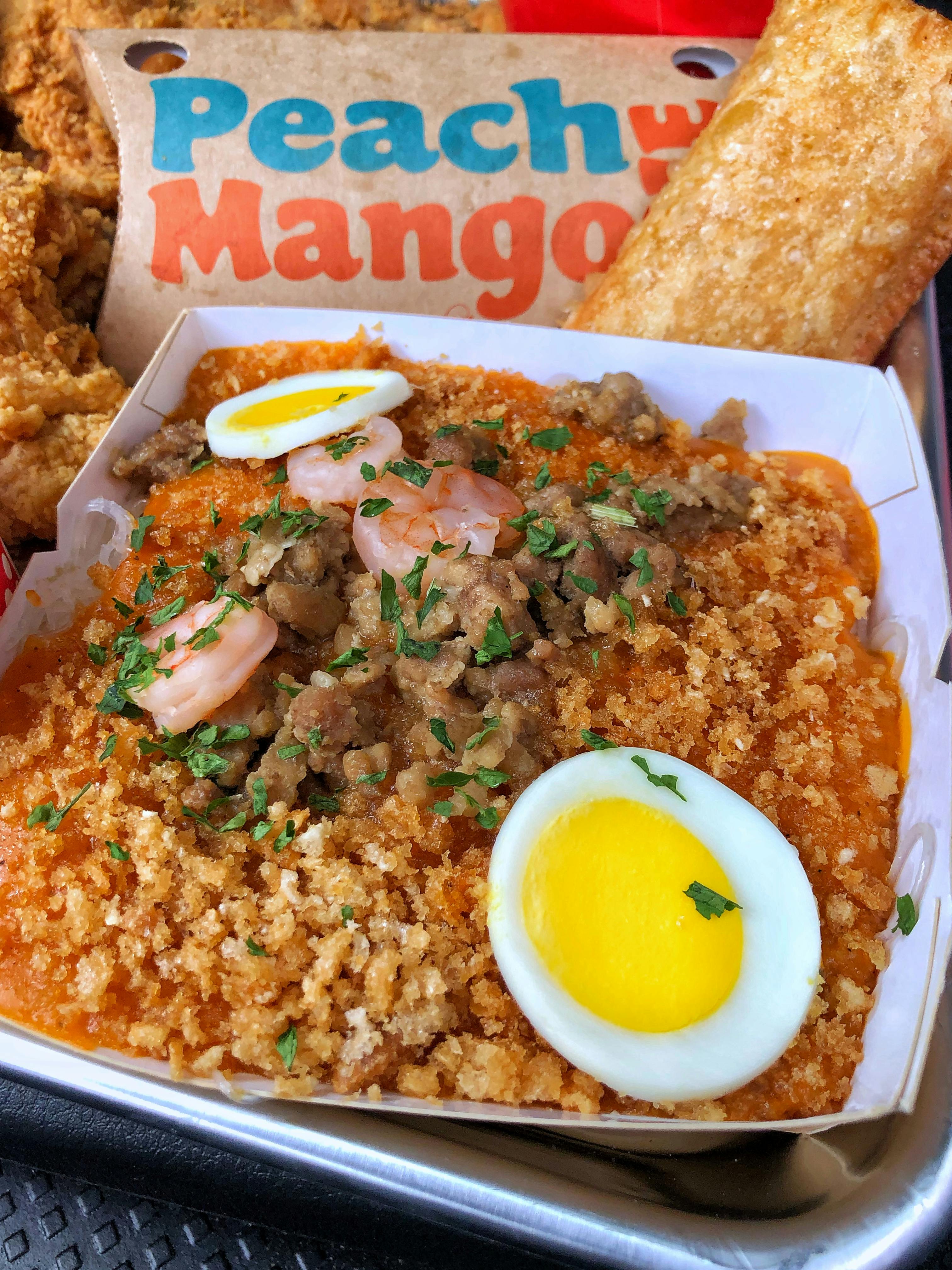 The Palabok Fiesta with bihon noodles and minced pork.
Any article on Jollibee starts and ends with their Jolly Crispy Chicken. You'll almost certainly see families and people leave with massive buckets of fried chicken from here, and for good reason. A crunchy exterior batter encases a piping hot piece of chicken underneath. The chicken is moist, tender and can come mild or spicy. It comes with a side of gravy that is begging you to dip.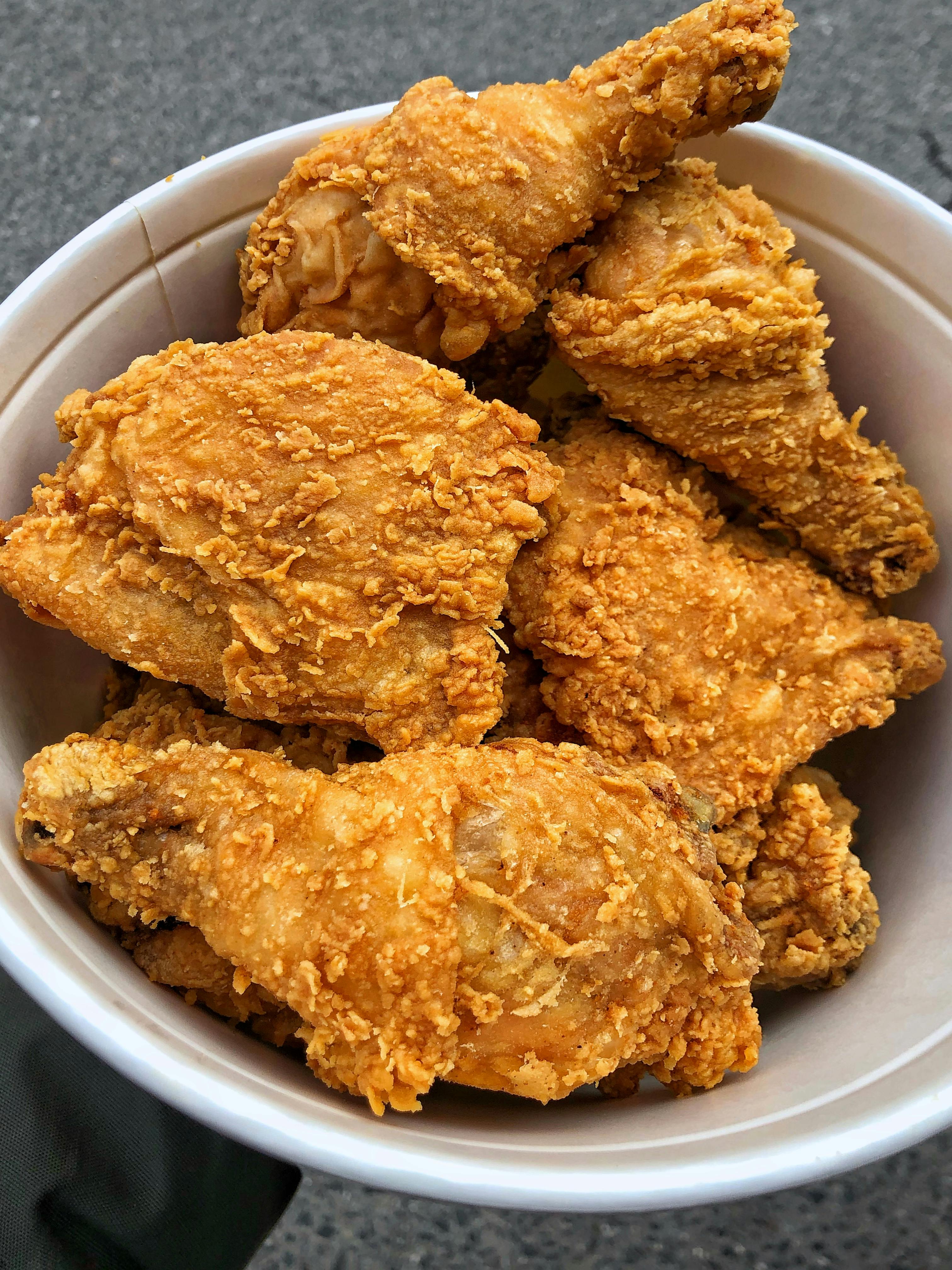 A bucket of Jolly Crispy Chicken.
You'll find many other items such as the Pineapple Quencher, yumburgers and burgers steaks. In Jollibee's famed dessert, Peach Mango Pie, the chain uses only Philippine mangoes, known for their natural sweetness and high quality. The pies are an absolute must as the crust is undeniably crunchy. The Pineapple Quencher is a refreshing pineapple drink that does tend to lean towards the sweeter side.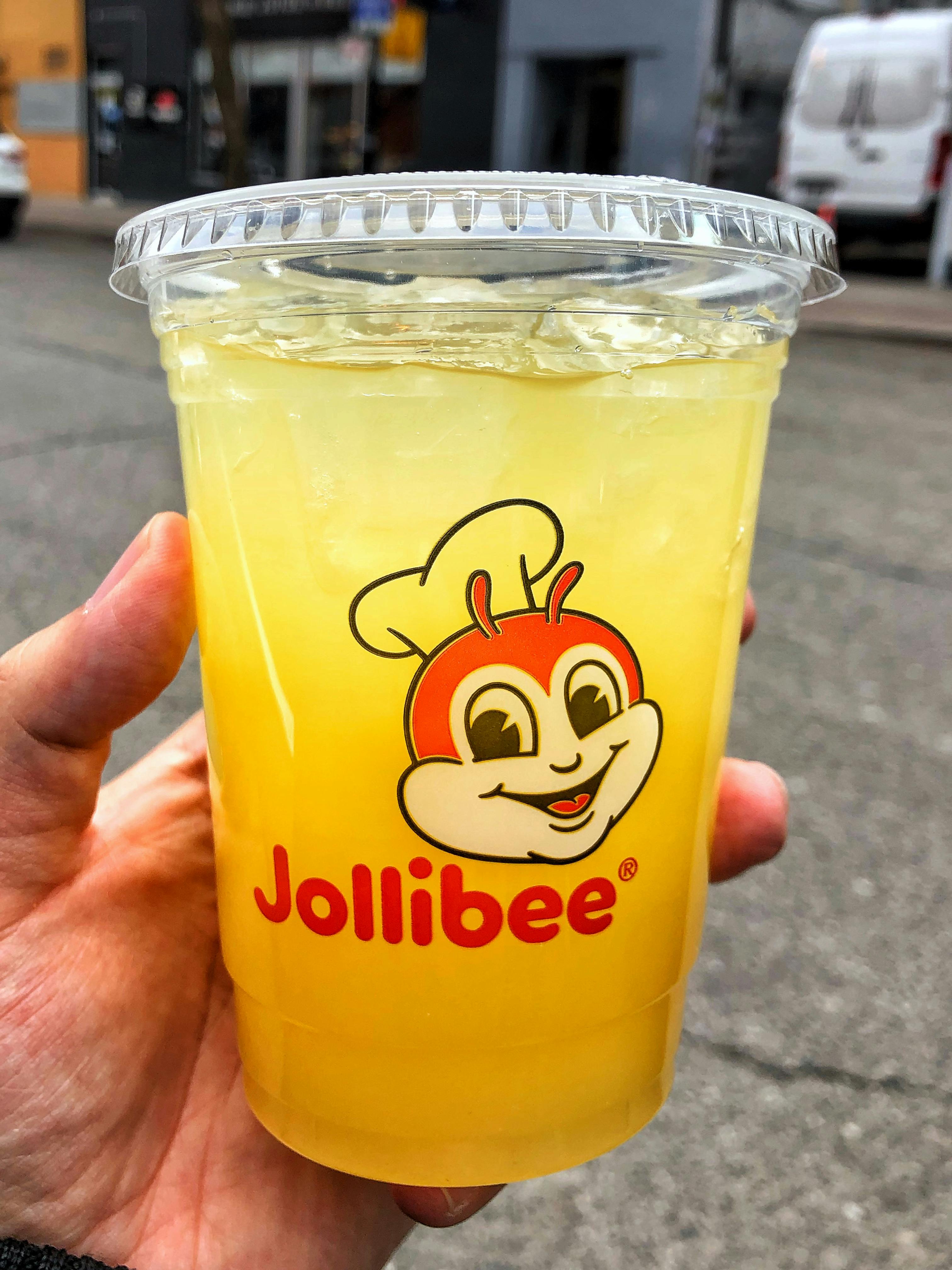 Pineapple Quencher.
Though it's a Filipino chain, you'll find that there's something for anyone. There's a reason why it has become one of the most popular fast food brands globally, with over 1,300 stores worldwide. They're expanding quickly throughout North America and it's great to see them open one right in the heart of Downtown Toronto. The chain is slated to open a few other locations in 2021, including one at Toronto Centerpoint Mall, Scarborough Town Centre and Broadway.