If you've walked along busy Bloor West in the last, oh, 18 years, on the north side of the street, just before you hit Ossington, to the right of yet another Tim Horton's, you may have noticed the unobtrusive entrance to La Bella Managua.
As hard as it is to believe for a city that prides itself on its culinary diversity, La Bella Managua is Toronto's one and only Nicaraguan restaurant. This partially explains why, if you've actually walked into the restaurant at any time in the last 18 years, you'll encounter tables crowded with members of southern Ontario's Nicaraguan diaspora, comfortably chatting in Spanish and digging into yuccanadas while marimba-driven trova or salsa romántica plays in the background.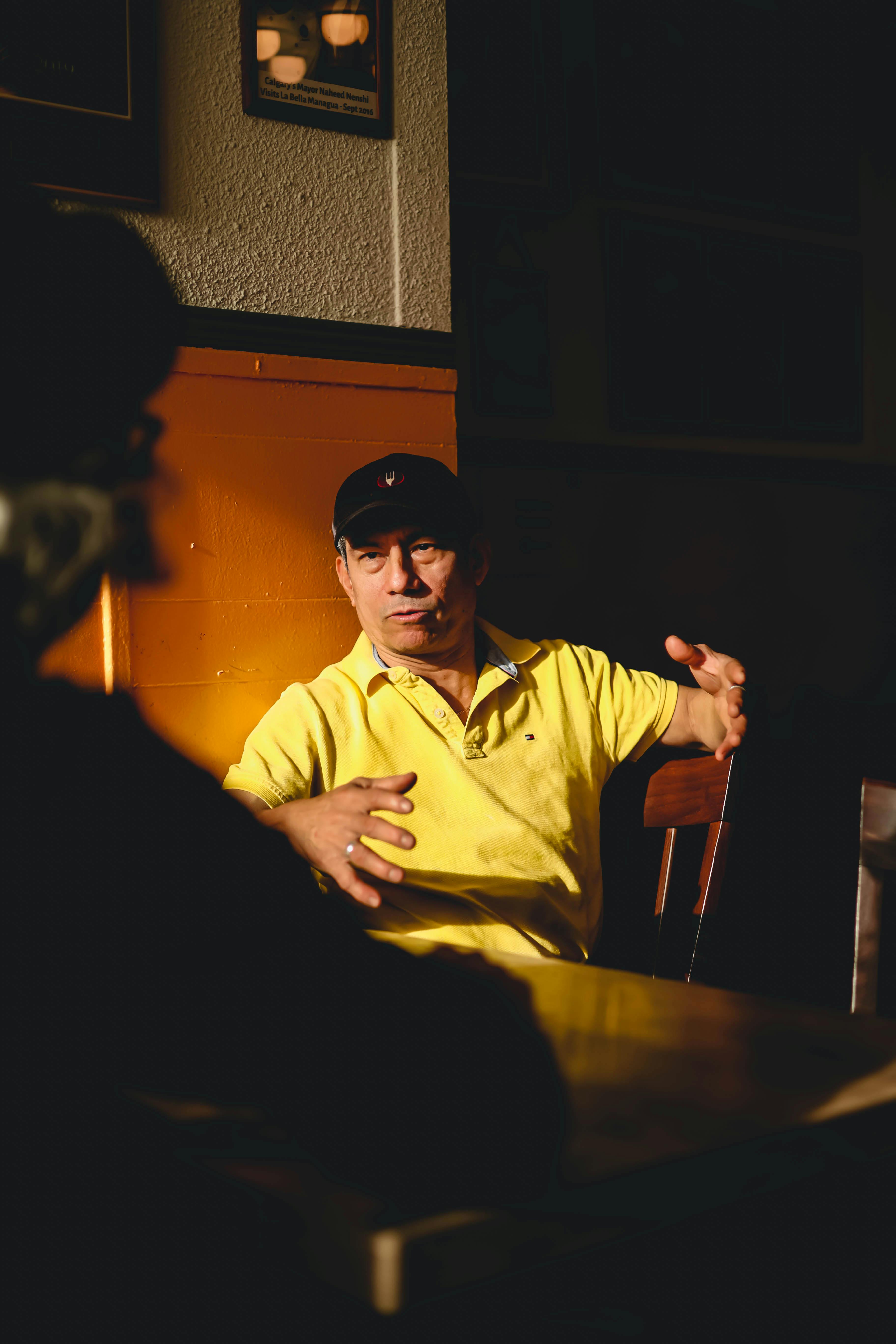 La Bella Managua's owner-chef Jesus Morales grew up in El Tránsito, on Nicaragua's Pacific Coast, and emigrated to Canada at the age of 23. He estimates that Ontario's Nicaraguan community numbers some 12,000 people. "It's not that large," he admits. "And they're all over the place – Vaughan, Mississauga, Scarborough, Brampton."
Not that distance deters them when culinary homesickness hits hard. "I have people from Waterloo and as soon as they have to come to Toronto, they have to come here. People come to eat in and they take food home. Then they spread the word."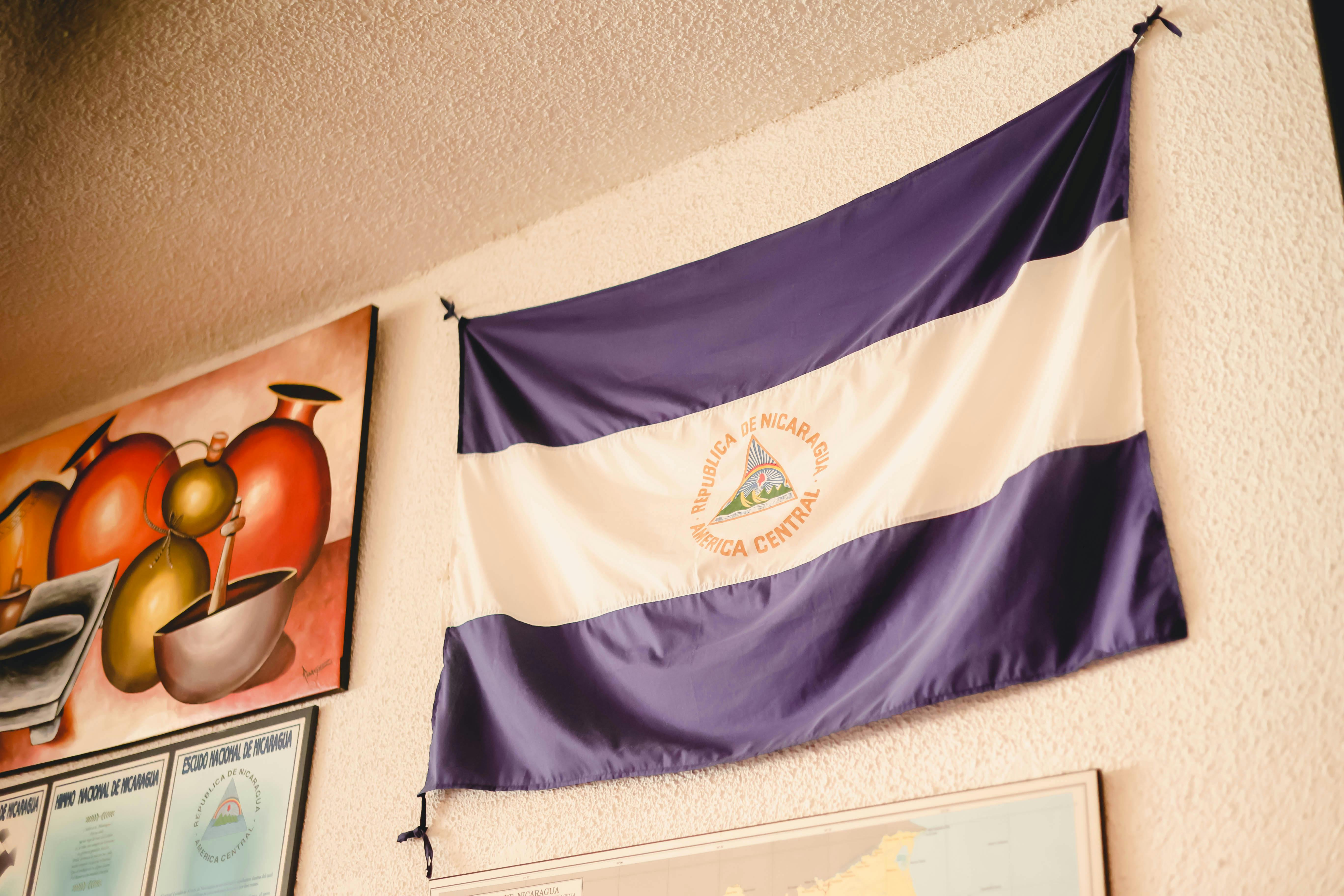 That La Bella Managua functions as an unofficial embassy for nostalgic expats only partially explains its long reign on Bloor West. There's also the fact that the food – generous, unfussy, homestyle "comida popular" – is consistently, and impressively, tasty.
"I would say seven or eight out of 10 Nicaraguans who come here will say 'this is like back home. This is like my mom would make it'," says Morales, who learned how to cook from his own mom, the owner of a grocery store that – as is common in Nicaragua – also sold home-cooked meals for takeout.
Upon arriving in Canada, Morales spent years working his way up through the ranks of various kitchens, from dishwasher and carrot chopper to sous-chef at HotHouse, on Front and Church. Along the way, he learned how to cook Italian, Thai and American food, but he never considered cooking Nicaraguan specialties until his sister, Marta, came to visit.
While in Toronto, Marta went to church where she met a Nicaraguan woman who worked part-time as a caterer. When the woman told Marta she was was selling her Bloor Street storefront, Marta pitched the idea of opening a Nicaraguan restaurant to her brother.
Morales initial reaction was, "Are you kidding me? I've been running a restaurant for so many years and it's rough."
But Marta, an accomplished family cook, continued "bugging" him. "I'm here for another six months and I can help you out."
"I'll think about it," promised Morales. And he did, eventually, succumbing to Marta's coaxing.
"Everyone has their own cuisine here – why not have Nicaraguan as well?" he concluded.
And so he and Marta opened La Bella Managua.
"In the beginning, it was so rough," recalls Morales. "We had no liquor license and nobody knew the Nicaraguan cuisine. Then three months later, Marta said, 'It's too cold here.' And she went back to Nicaragua."
By then, however, Morales had managed to channel the flavours and smells of the food he grew up with into the restaurant's dishes. Just as you can find recipes from around the country in Nicaragua's bustling central capital of Managua, at La Bella Managua, you can find traditional specialties that reflect the various regional cuisines and indigenous ingredients of Nicaragua's 16 provinces: bananas and plantains from the south; sugar cane and corn from the west; fish and seafood from the coasts, coffee from the north.
The common culinary denominator to all regions and dishes is the ubiquitous national staple of gallo pinto, rice and beans. Unlike the spicier versions made in Mexico and other Latin American countries, the Nicaraguan version, like much of the country's cuisine, is pared down and subtly flavoured.
"In Nicaragua you just boil the beans in water until soft; the flavour is added after," explains Morales. "You refry the onions and then add the beans and fry them up a little bit. You don't add any other flavours. You use different techniques to build the flavour."
Indeed, a common misconception about Nicaraguan food is that it's spicy, like Mexican food. "It's not," says Morales emphatically. "The flavours are mild, simple."
Which isn't to say that they're bland. Take for instance, the nacatamal, Nicaragua's distinctive version of a tamale, and one of the few full-on indigenous contributions to the national cuisine. Although it appears on the menu as a starter – along with its culinary cousins tacos, quesadillas and yuccanadas (yucca empanadas stuffed with cheese) – the nacatamal is large, not to mention robust enough, for a generous meal.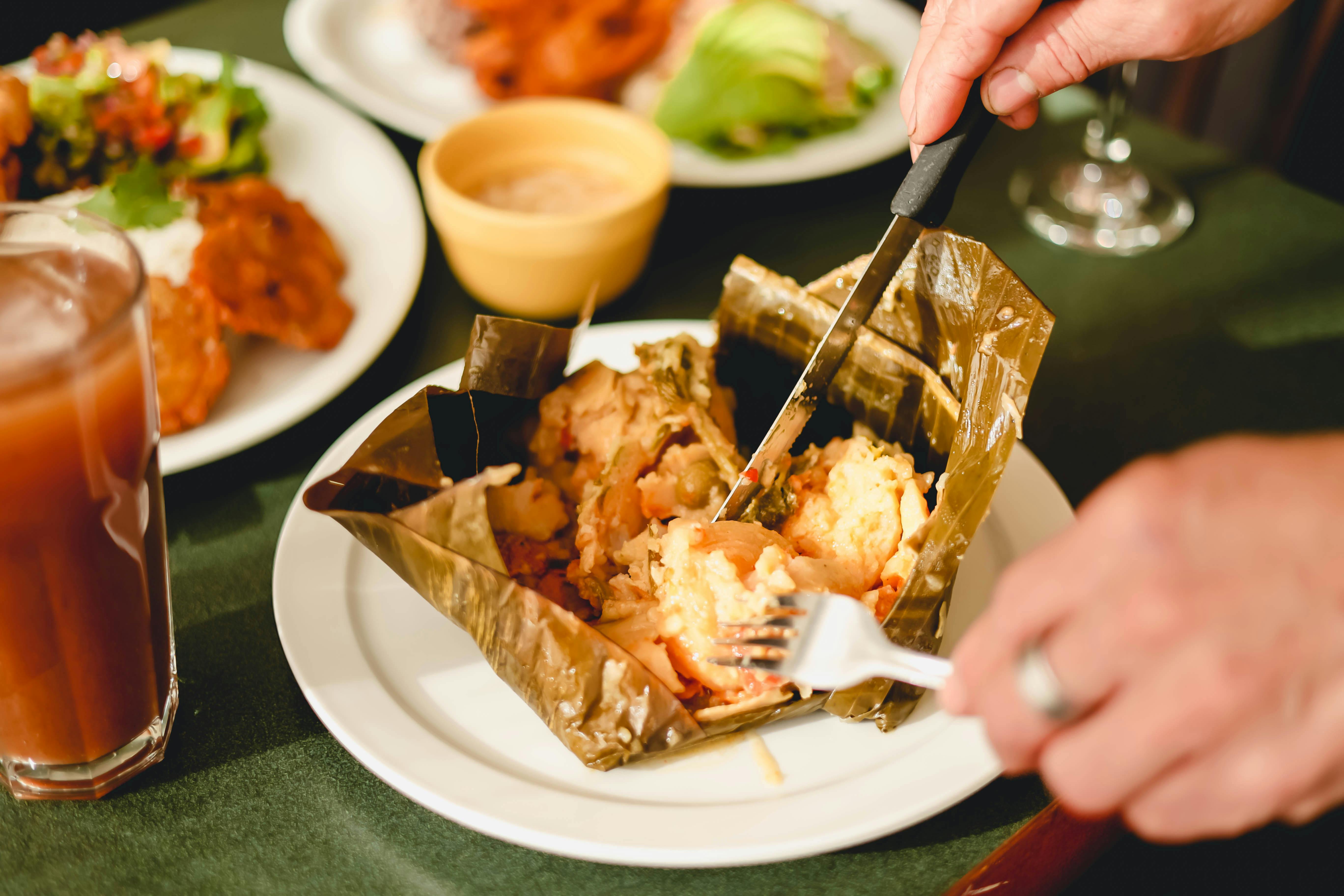 The nacatamal arrives at the table like a gift, beautifully wrapped in green banana leaves which, when unfolded, reveal a glistening mound of steamed corn meal. Slicing into it reveals a fragrant jumble of treasures: potatoes, rice, tomatoes, onions, peppers, olives and tender chunks of cerdo (pork loin), marinated in vinegar and achiote. Juice from a bitter orange adds a citrusy surprise and there are unexpected, but delicate notes of fresh mint.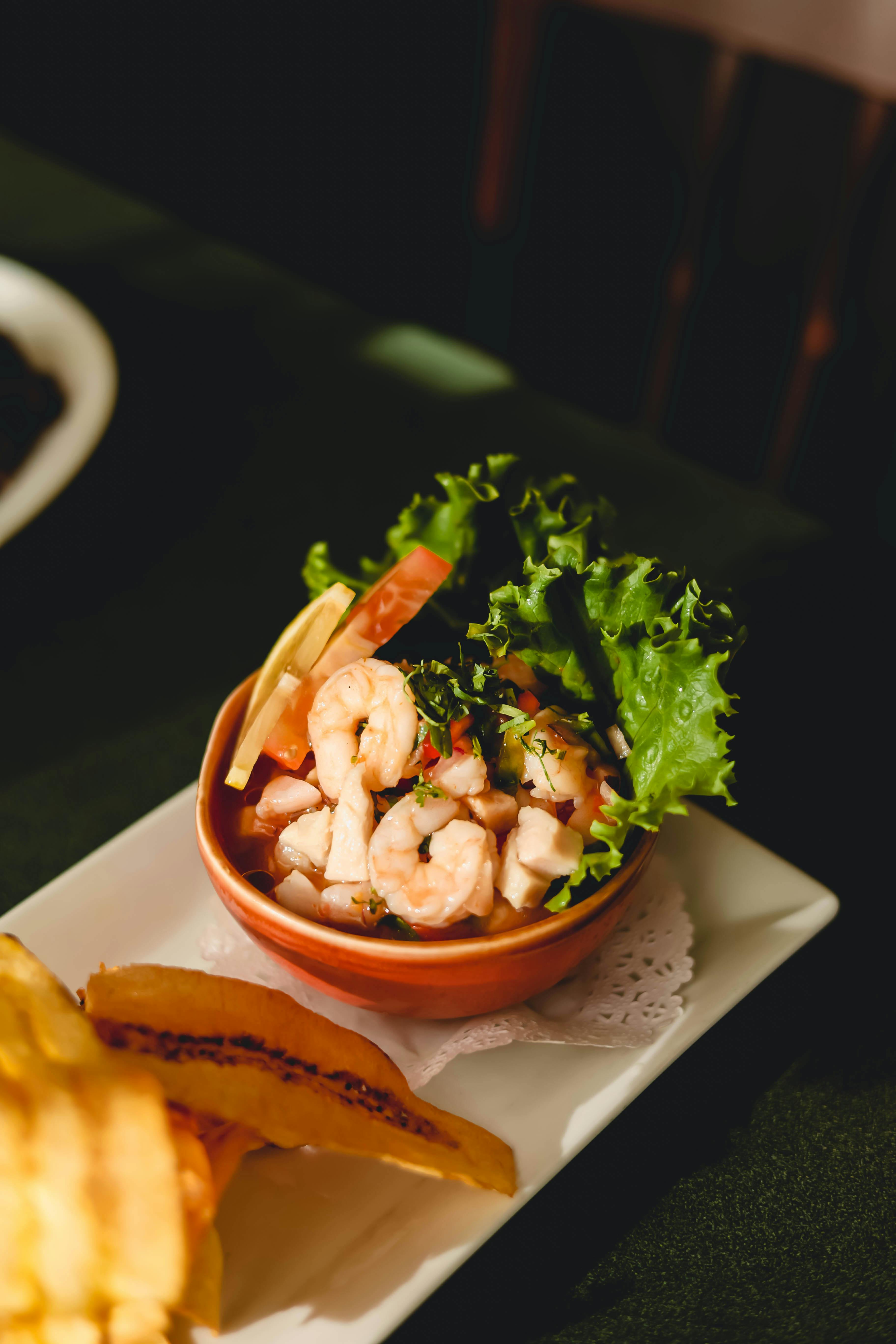 Equally flavourful is the ceviche. Less piquant and "fishy" than Mexican or Peruvian versions, La Bella Managua's ceviche features plump shrimp and mild Atlantic dourado (mahi-mahi), marinated to tenderness in a bath of fresh lime juice and combined with a lively melange of red onion, bell pepper, olive oil and a spray of ketchup. Aside from the zing of lime, the flavour is pumped up with the addition of cilantro, one of several herbs – including oregano, chives, cumin and bright crimson achiote– native to Nicaragua and used frequently, if modestly, in many dishes.
Instead of shoveling the ceviche into your mouth with a boring old spoon, Morales offers scoops fashioned out of elegantly thin and elongated plantain chips. Along with gallo pinto, fried plantain accompanies most main dishes as do creamy slices of avocado, a traditional salad of pickled cabbage and a side of habañero sauce, whose piquancy leans more towards warm embers than scorching flames.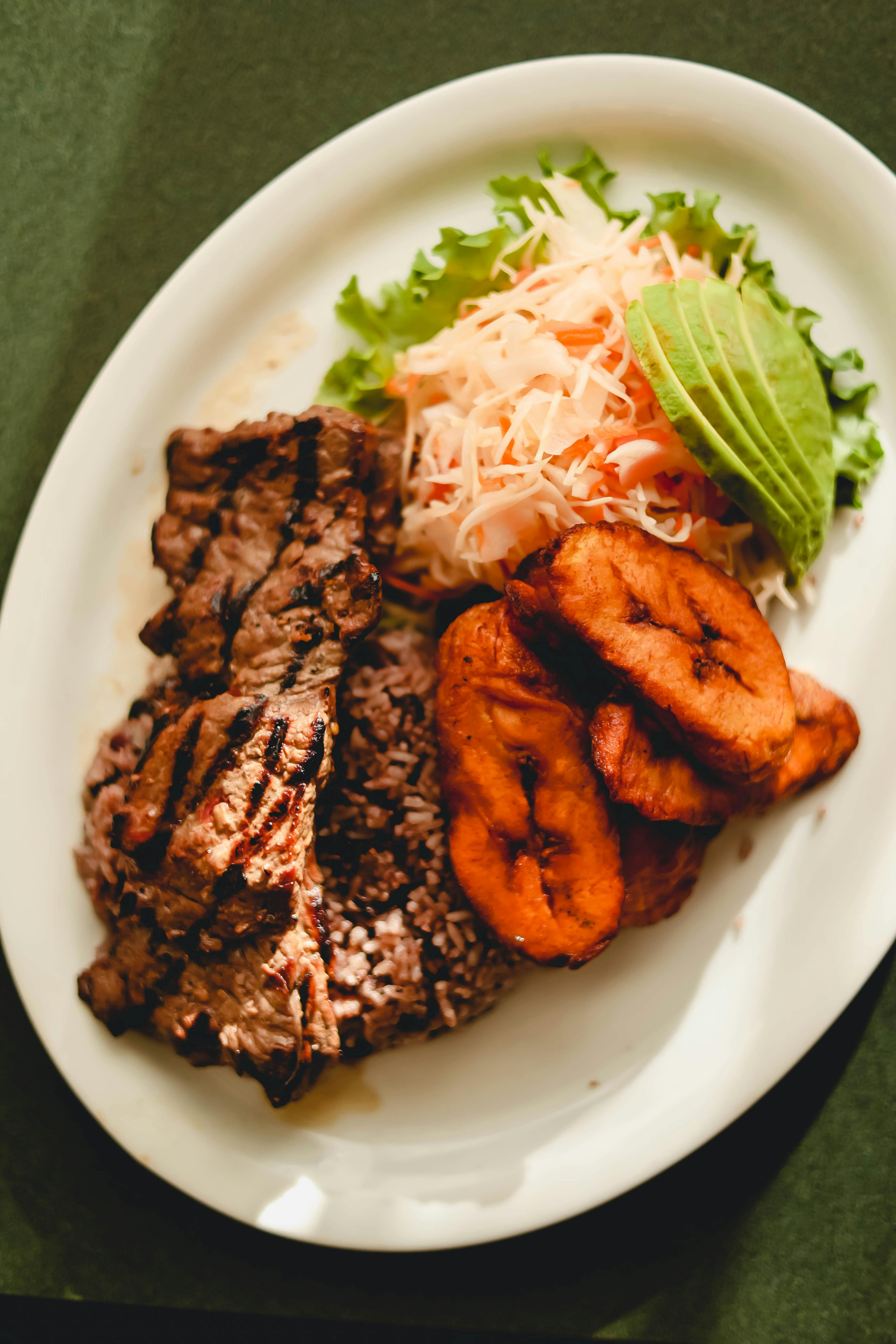 All are vividly present and accounted for on the platter-sized plate that comprises La Bella Managua's most popular dish: carne asada. The carne in question consists of thick steaks of beef whose seared surfaces belie the succulent tenderness of the meat. Other hearty and well-accompanied beef, pork and chicken dishes appear on the menu, along with somewhat lighter but still robust dishes from Nicaragua's Pacific and Atlantic coasts, featuring shrimp and fish, and some vegetarian options.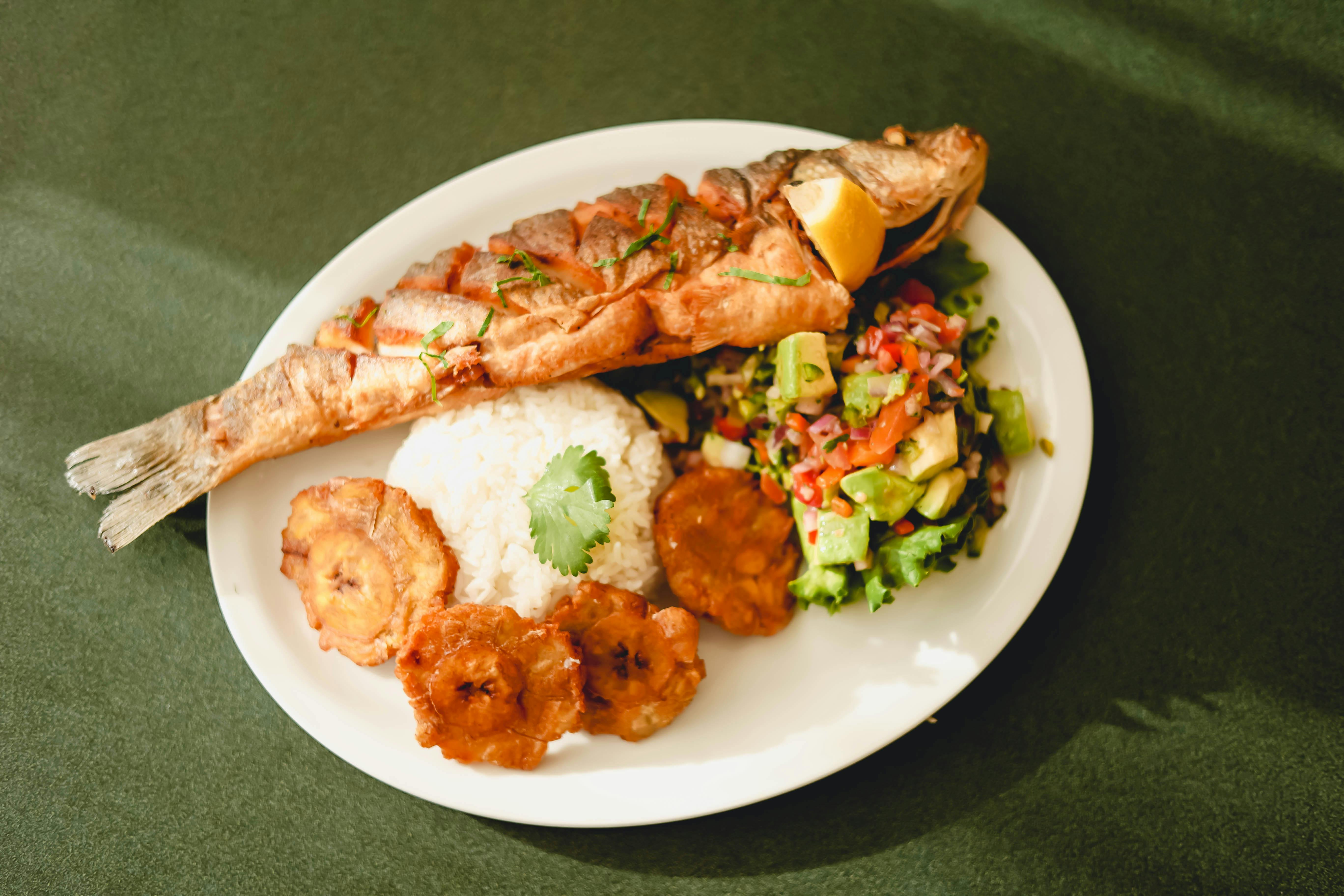 The Pescado del Dia (fish of the day) is a particular favourite with regulars. Served in its glorious head-to-tail entirety, it conjures the casual, beach-shack comfort food languidly picked away at by families and groups of friends as they while away a day by the sea. If smaller than the large, meant-to-be-shared fish served back home, la Bella Managua's version – often made with dourado (sea bass) – is no less appetizing. Coated in delicate batter and fried, it's still sizable enough that it extends beyond the borders of the plate it shares with white rice, sweet plantain tostones and salad.
You can easily wash any of the dishes down with a glass (or jug) of homemade tropical fruit juice, among them cacao (rendered creamy with the addition of milk) and the wildly refreshing tamarind. For a little more kick, a trio of equally tropical cocktails will transport you to warmer, rum-mier climes.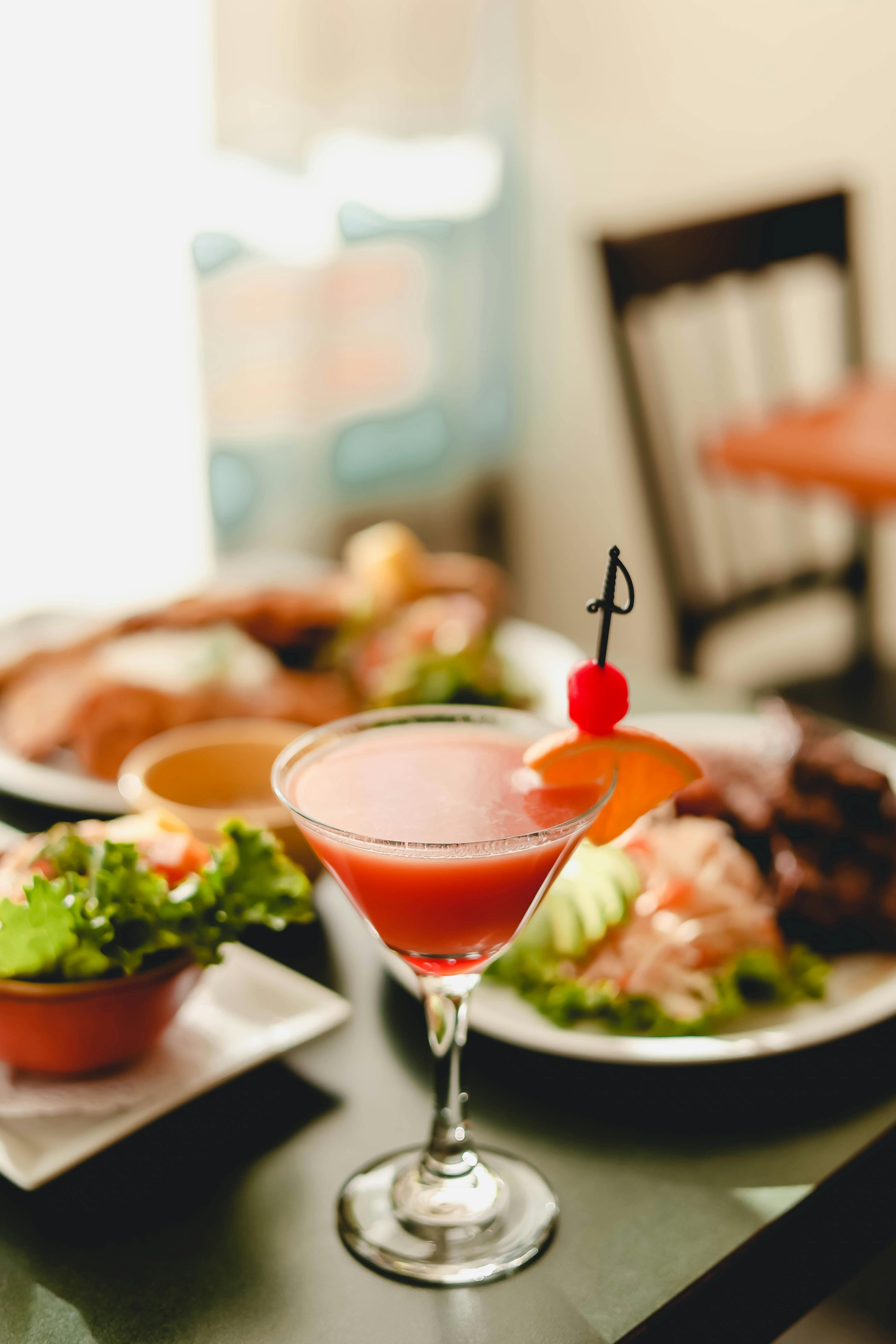 The Mojinica and Pinabella Colada play riffs on their classic namesakes, with Flor de Caña golden Nicaraguan rum adding a little darkness and depth. More difficult to find on drink menus north of the Equator is El Macua. Nicaragua's national drink, it owes its sunset hue to guava juice, mixed with orange, lemon, cherry juice and a shot of the aforementioned Flor de Caña.
Wines and sangrias as well as domestic and imported beers (including light Nicaraguan-brewed Toña) round out the choice of cold beverages. To complete your meal, try the Segovia coffee, organic dark-roasted coffee, ethically harvested from a farm in Nicaragua's northern Matagalpa-Segovia region.
As Morales is quick, and proud, to point out, La Bella Managua is very purposefully unfancy. From the heaping, home-cooked portions, jugs of juice and solicitous service to the slightly faded photos, post cards and folk-art carvings and canvases that brighten up the walls, everything conspires to make you feel as if you've walked off Bloor West and into Nicaragua.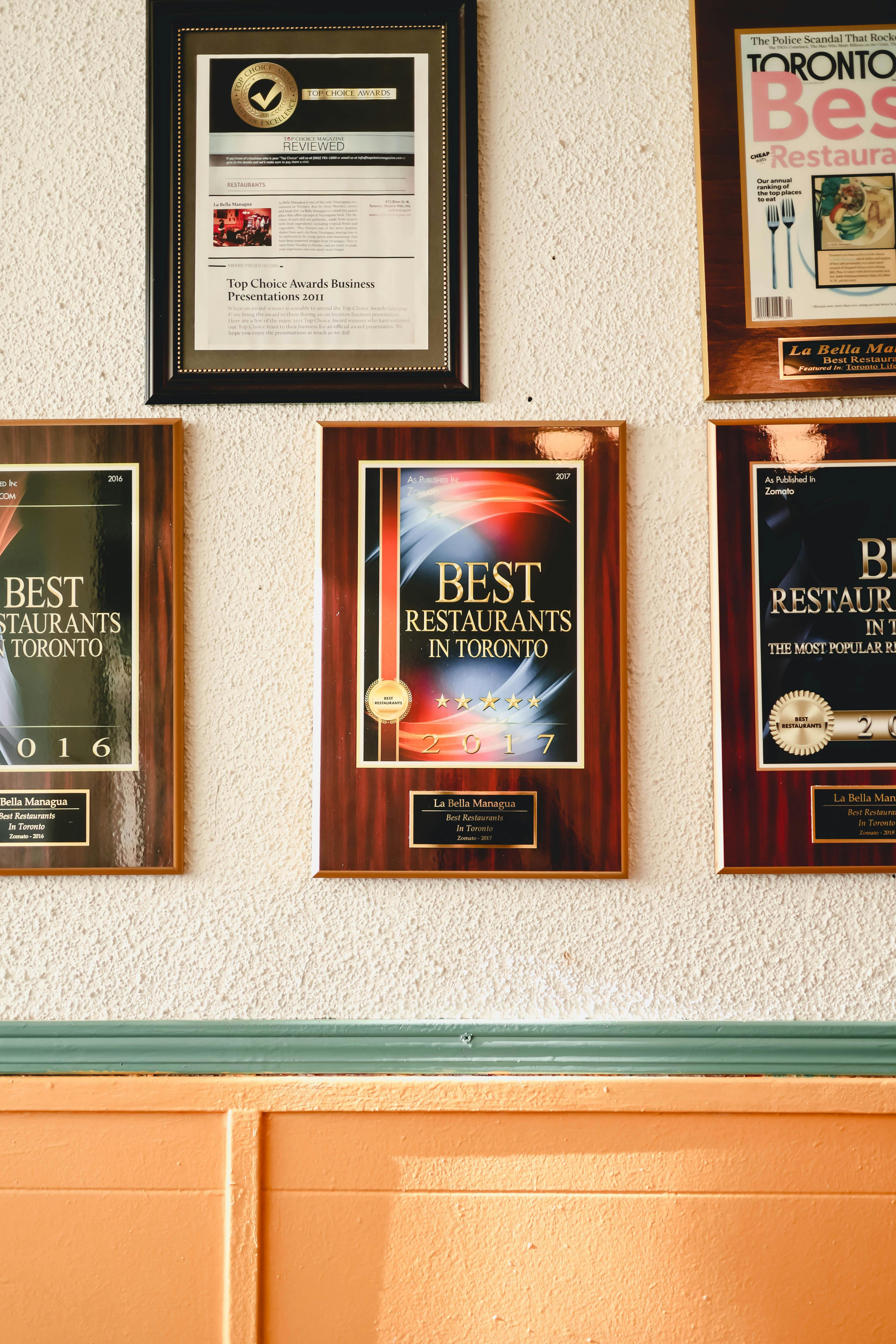 "If you go to Nicaragua, all of this is what you'll find," promises Morales. "It's not Dubai. It's Central America."