Spot review was written prior to current restrictions. Due to a rapidly changing climate, please check with the restaurant on their current status of operation.
Photographs by Paolina Loseto
Chef David Adjey, known for his appearances on Food Network for "Iron Chef" and "Restaurant Makeover," has once again opened a new restaurant in Toronto. He is one of the most renowned chefs in Canada who is native to Scarborough. After working in Bali for the past few years with the Saudi Arabian Royal family, he decided to return to Canada for one last restaurant. His previous restaurant venture was "The Chickery," a popular fast-food chicken spot that has opened up various locations in Toronto and across the world (now closed).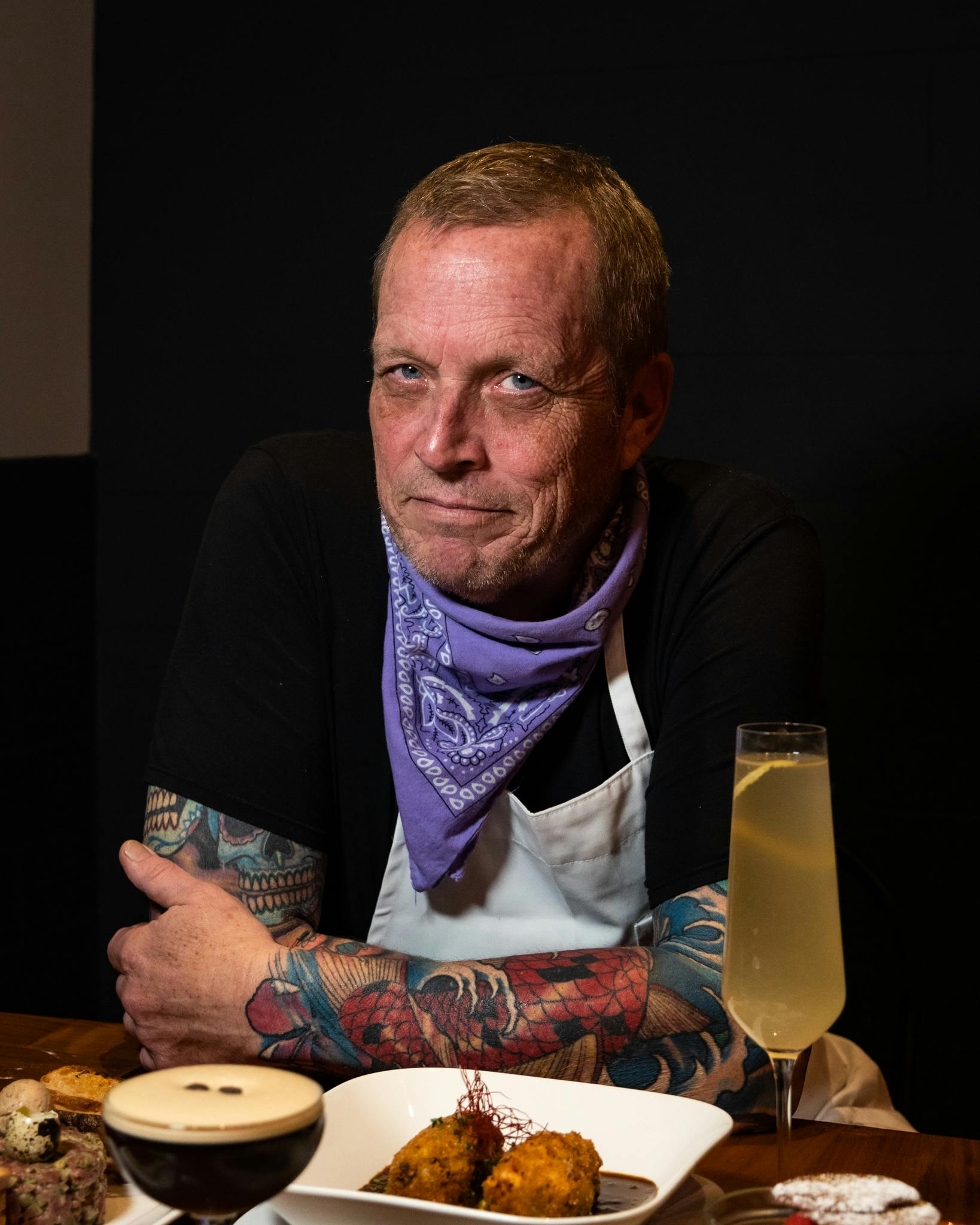 Chef David Adjey pictured inside his new restaurant, La Nectarine.
La Nectarine is a French Bistro that seats 30 people inside and 50 outside devoted to serving classic French dishes everyone knows and loves. There is a garage space in the back that the restaurant hopes to use in the future. Adjey shared, "French cuisine is known to be like a cornerstone in food since dishes like Duck Confit has stayed the same for years, Steak Tartare, Steak Frites and Steamed Mussels as well."
As chef Adjey is known for his 'hypercreativity' where he would introduce a new menu every day in his previous restaurants, he wants to keep it simple this time. His goal is for the neighbourhood to help define them based on which dishes become their favourites and the types of wine and drinks they prefer to drink.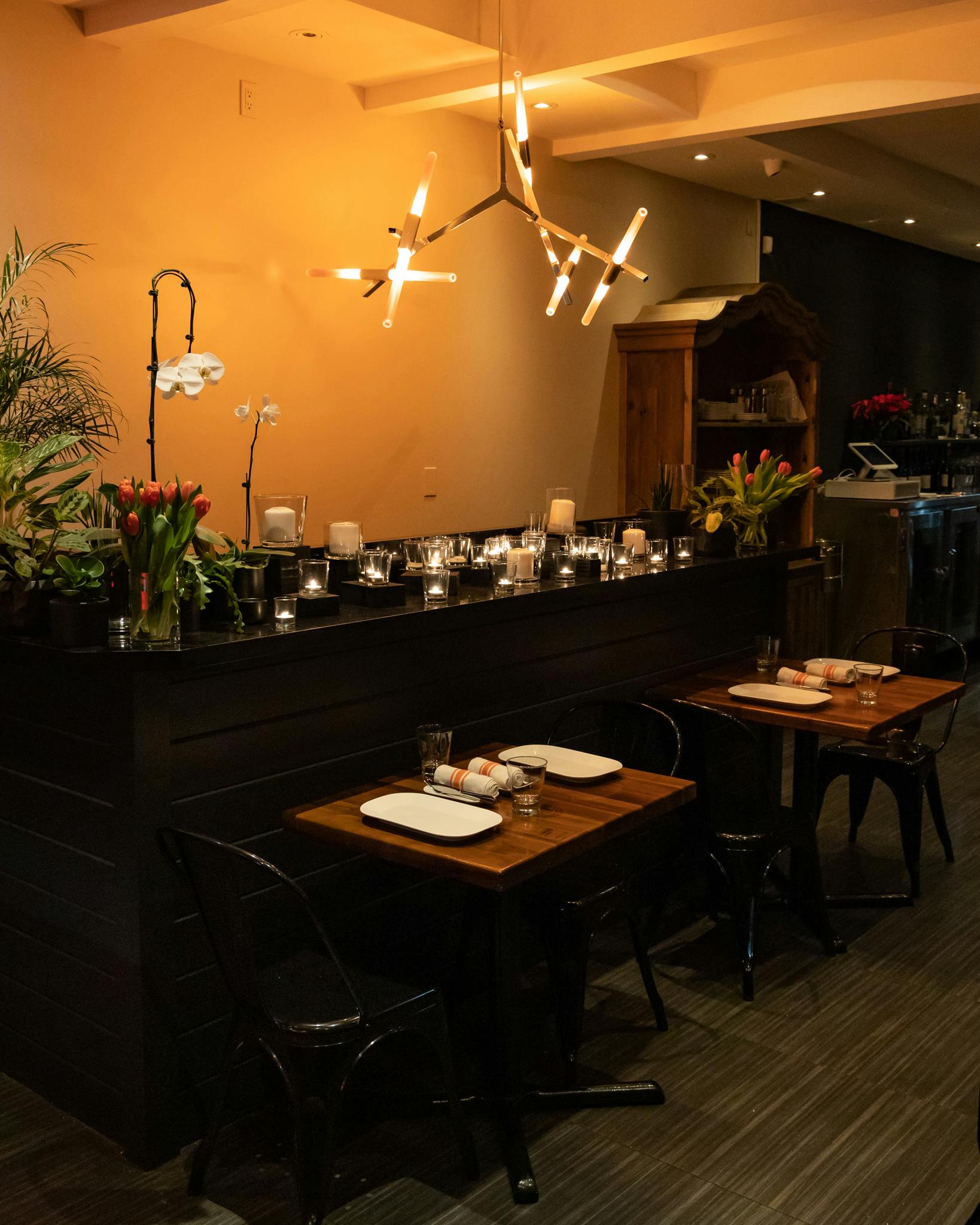 Adjey said he chose this specific location in the Junction Triangle -- as he calls it "off the beaten path" to create its own vibe in a different neighbourhood that is not quite like Dundas West or Ossington. The name "La Nectarine" came from his previous restaurant called Nectar. However, this time around, Adjey is looking to create a casual restaurant with a mix of candles, fresh-cut flowers and a bistro environment that isn't too much of a fine dining experience.
In the restaurant, you will find paintings on the walls painted by one of La Nectarine's own talented servers. These paintings are to resemble a unique funky vibe to spark curiosity when guests come to visit. More importantly, they have a running theme of incorporating the colour orange around the restaurant, as you will see in the lighting and choice of decor.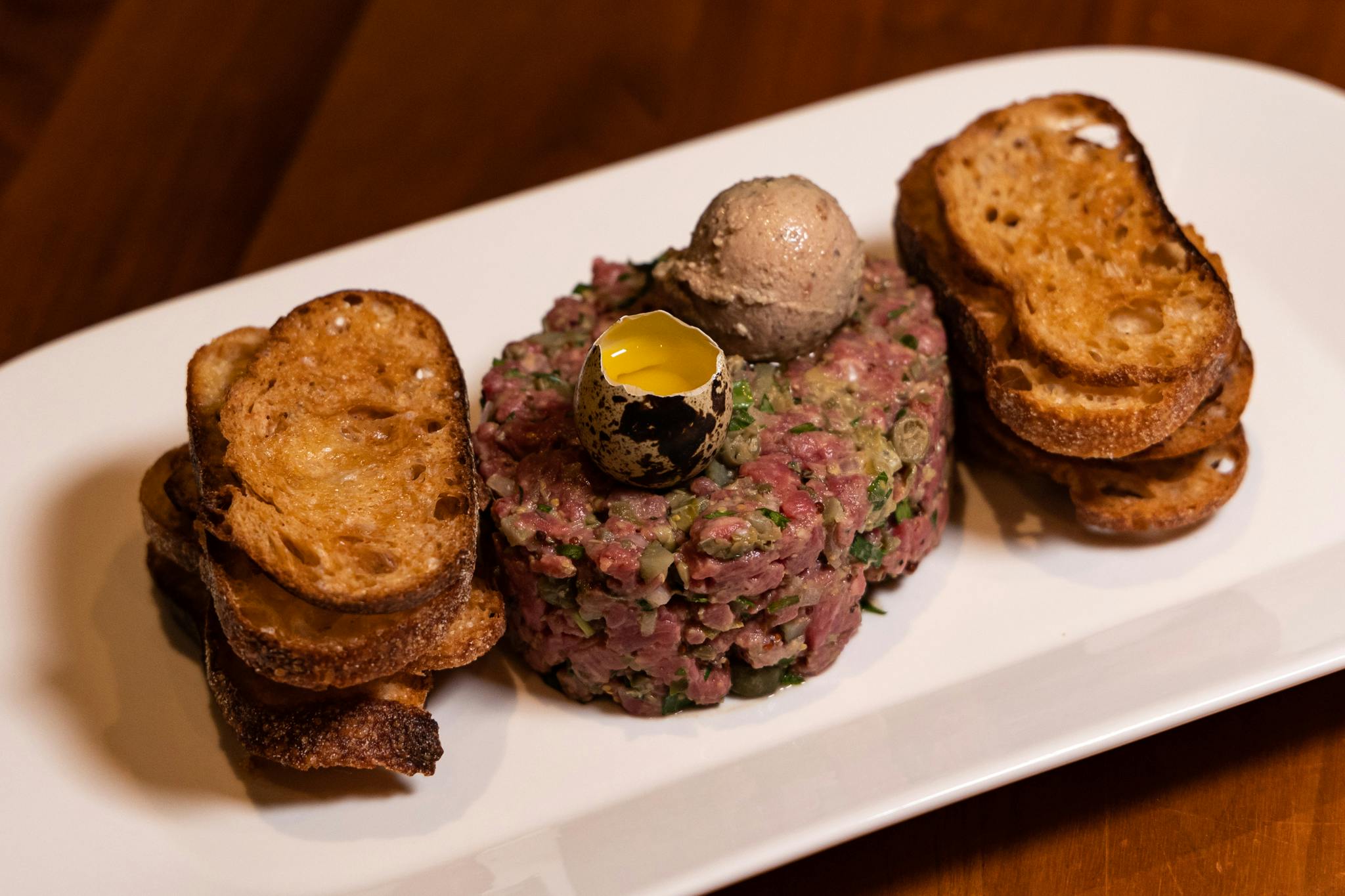 The Steak Tartare is served with truffle essence, torched and buttered croutons to enjoy on the side. For the Steak Tartare, Adjey felt when a chicken egg is used; there's too much yolk, so he opts to use a quail egg that he picks up from Toronto's Chinatown.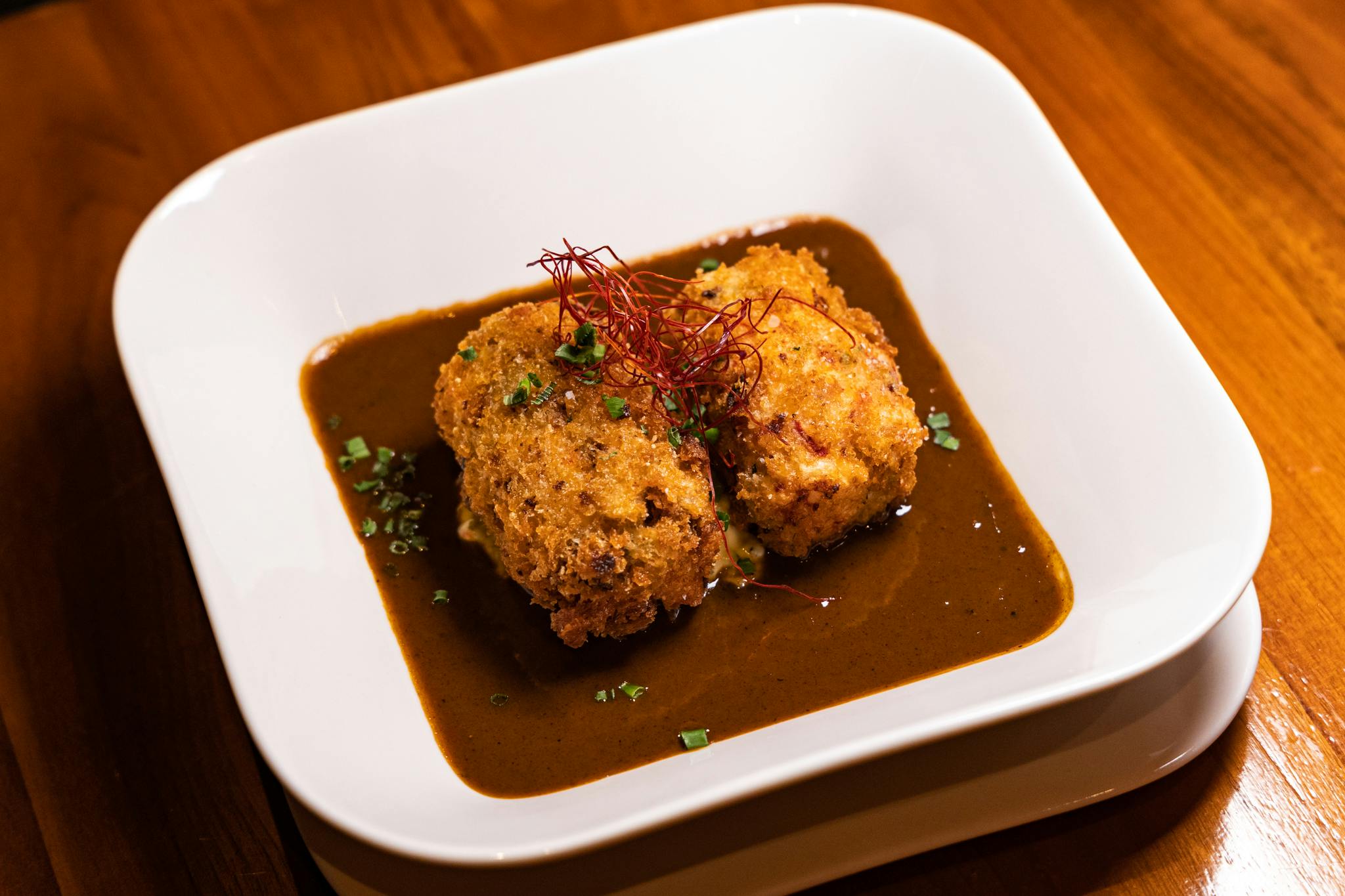 The Lobster Croquettes are filled with big pieces of lobster paired with a French sauce, remoulade and lemon foam. These croquettes are a delicious crispy seafood addition to the menu.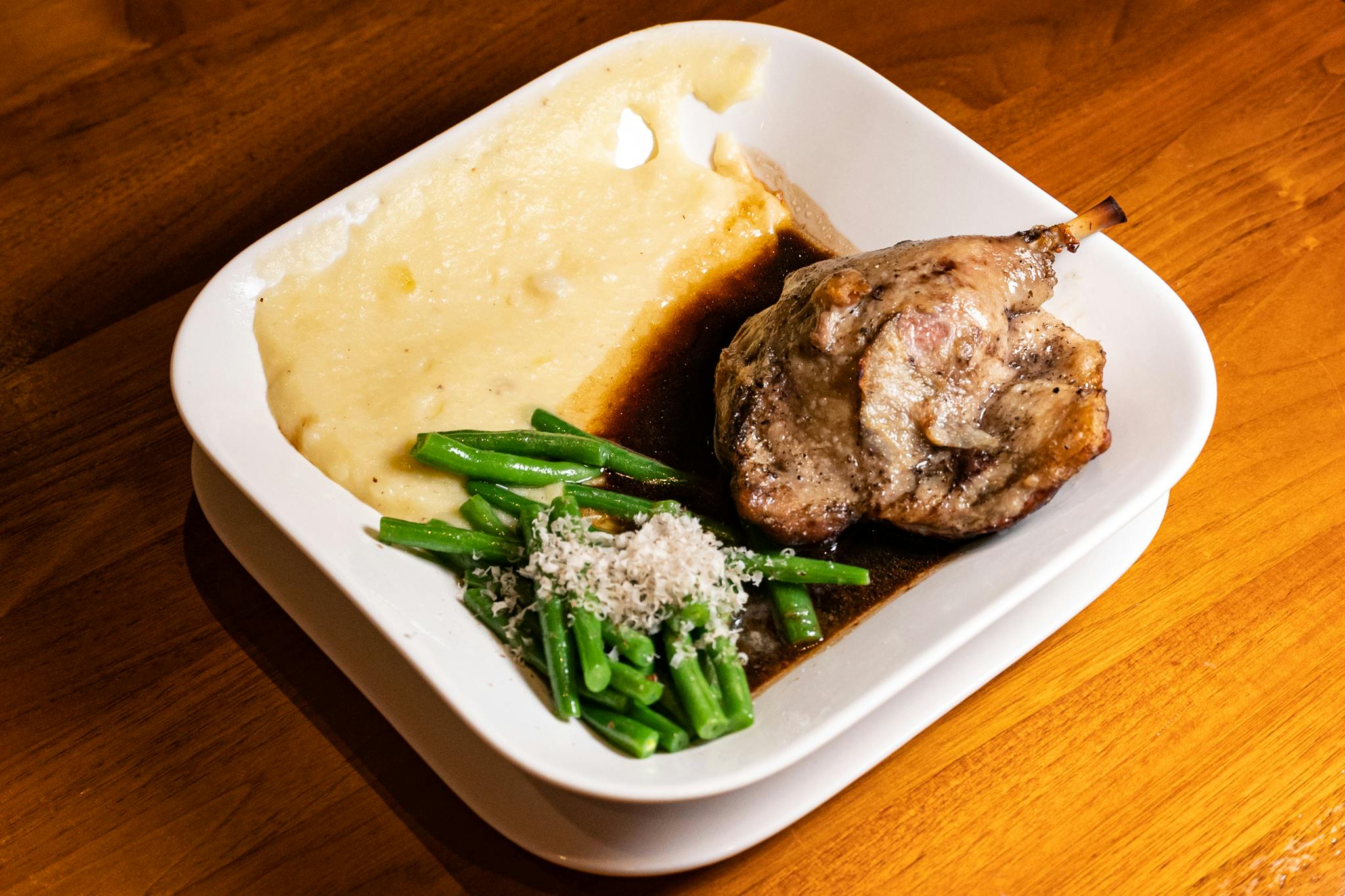 Duck Confit is served with pomme puree, haricots verts -- thin French green beans and orange lacquer which is cooked to perfection.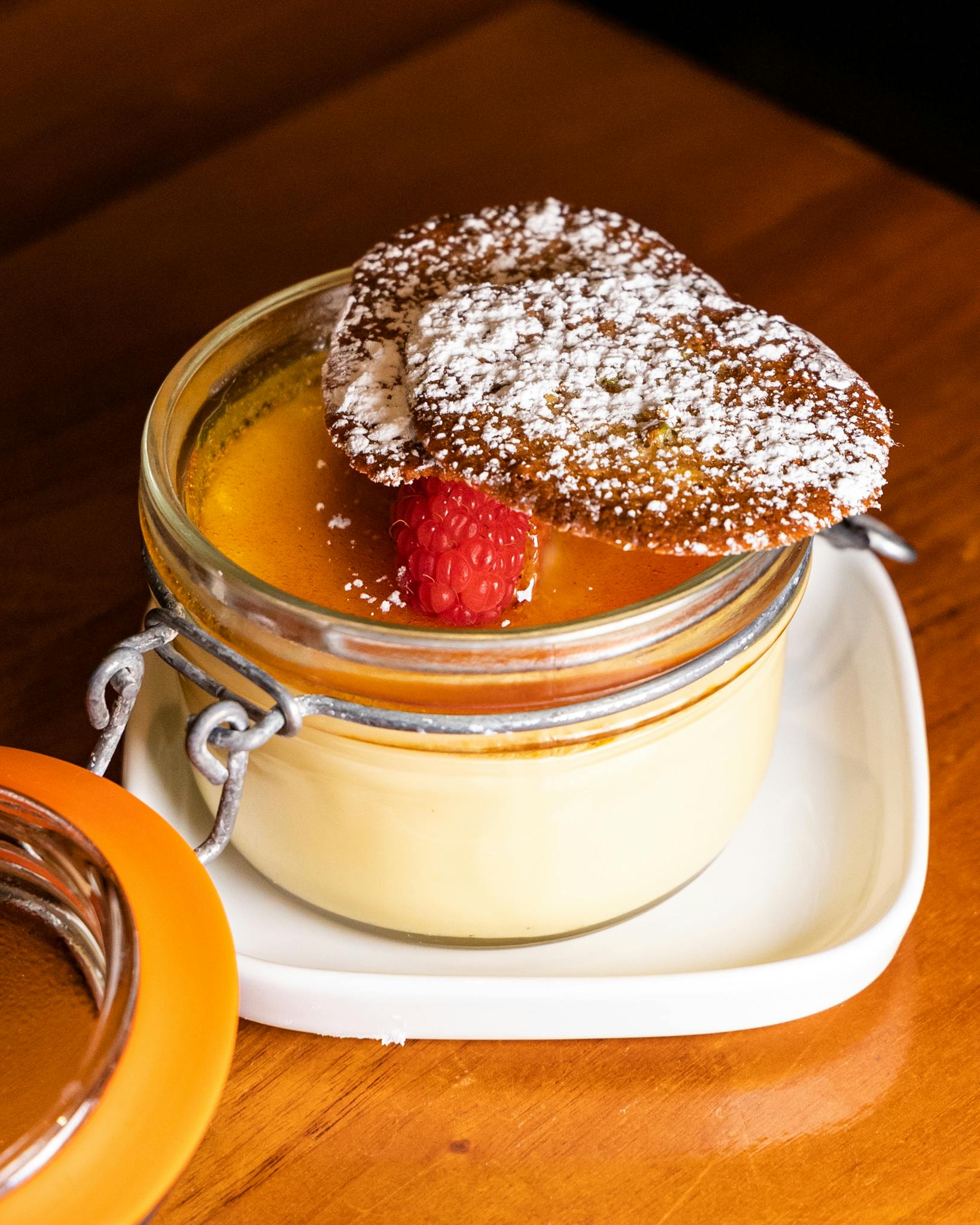 Creme Brûlée is comprised of a Tahitian vanilla middle that is exceptionally creamy and crunchy pistachio biscuits to pair with the dessert. The top is a perfectly crisp sugar caramelized layer.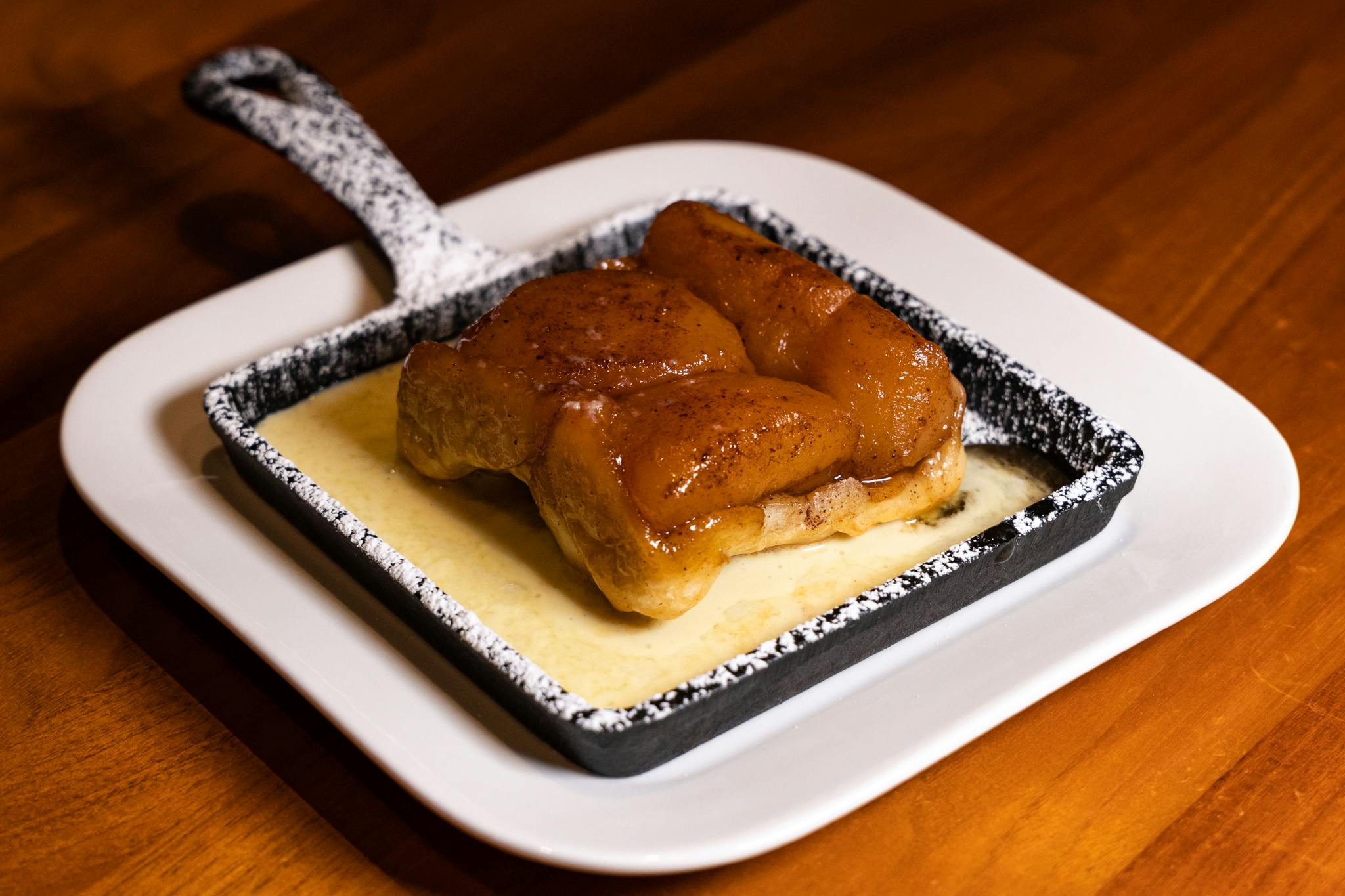 The Tarte Tatin is made on a bed of a buttered puff pastry with Pink Lady apples.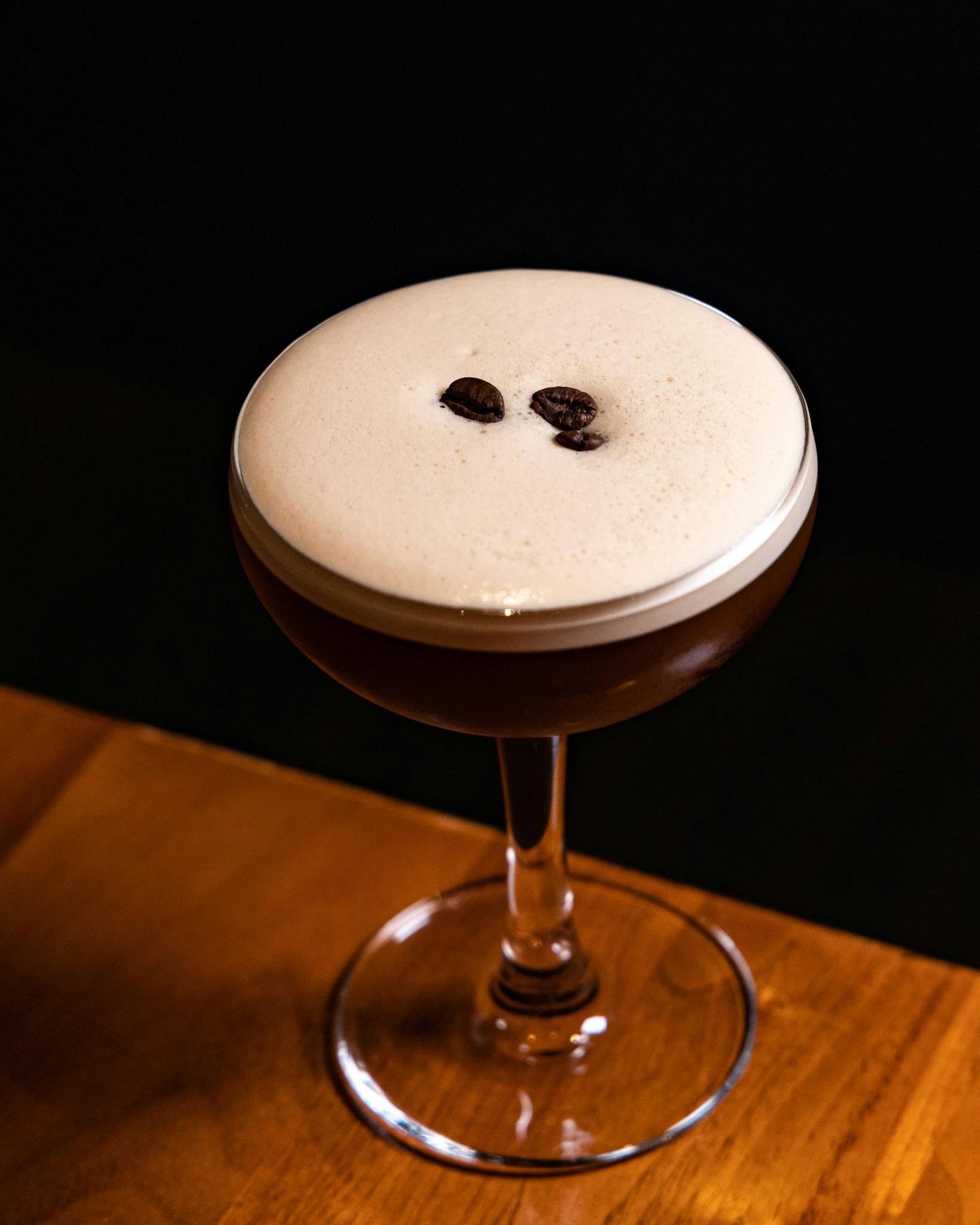 The espresso martini is a frothy coffee-flavoured cocktail made with vodka, espresso and Kahlua.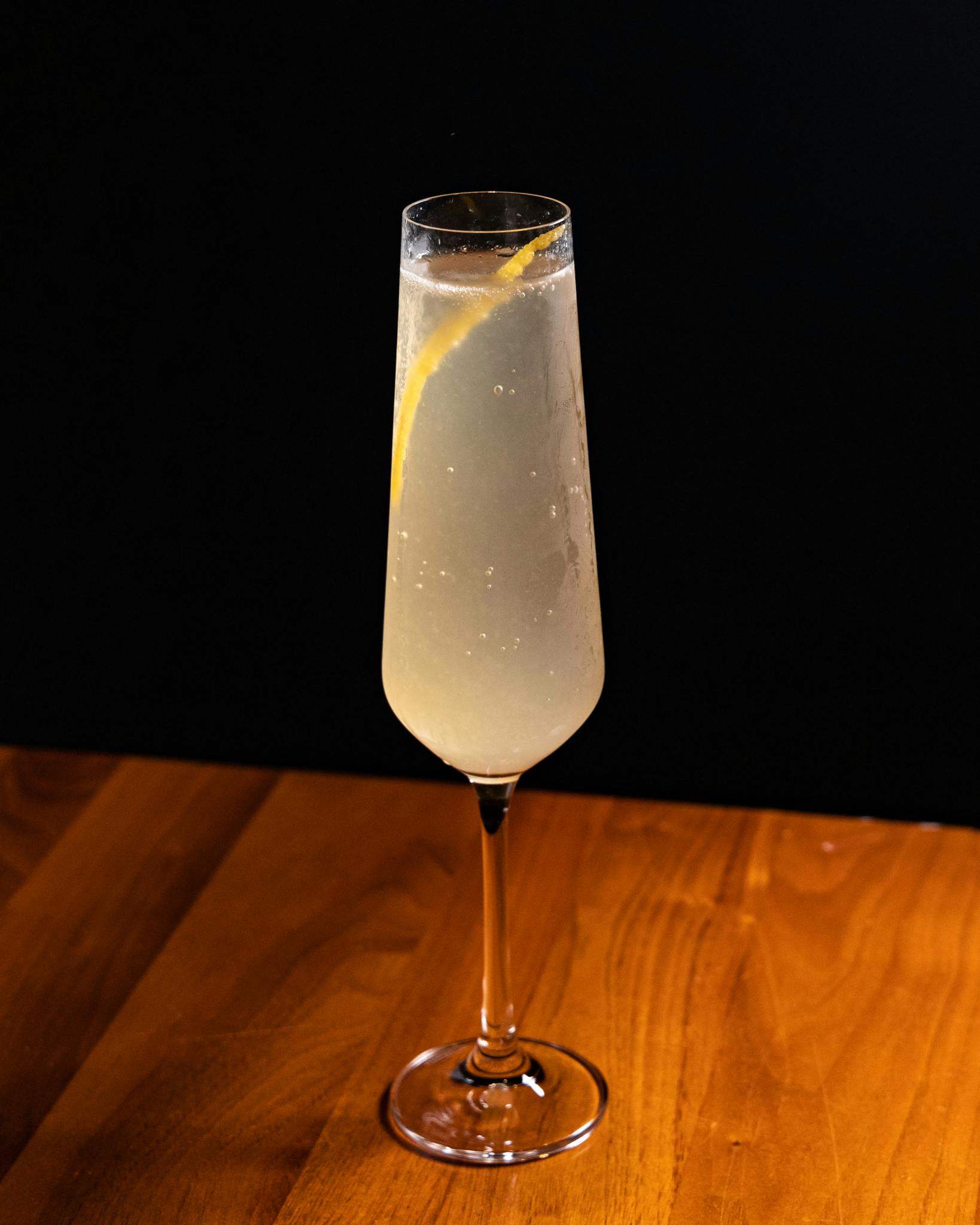 French 75 is a sparkly cocktail made of gin, champagne, lemon juice and sugar. The title for this popular cocktail is inspired by a 75mm Howitzer field gun used by the French and the Americans in World War I.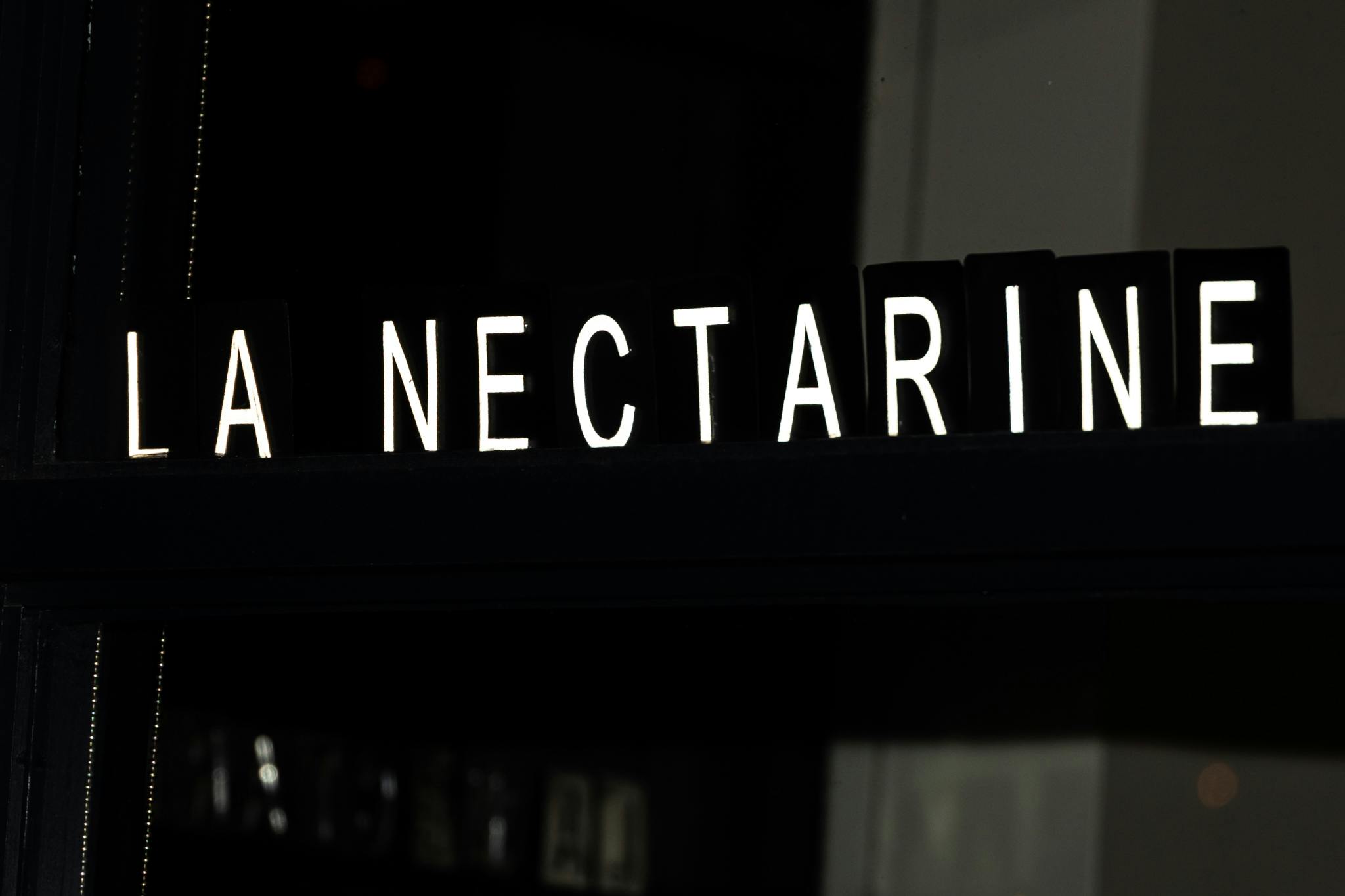 Adjey was hoping to create a train-themed lettered sign for his restaurant front but instead opted for licence plate letters that he found during his time in Bali. He was able to ask a lady at a corner shop in Bali to create the lettering for him that he brought back to Toronto. He decided to use the Balinese lettering for a bit until they could put in an order for a larger sign; however, the response from the neighbourhood has been strong. The neighbourhood loves the "understated sign," and Adjey has decided to keep this as their restaurant's identity.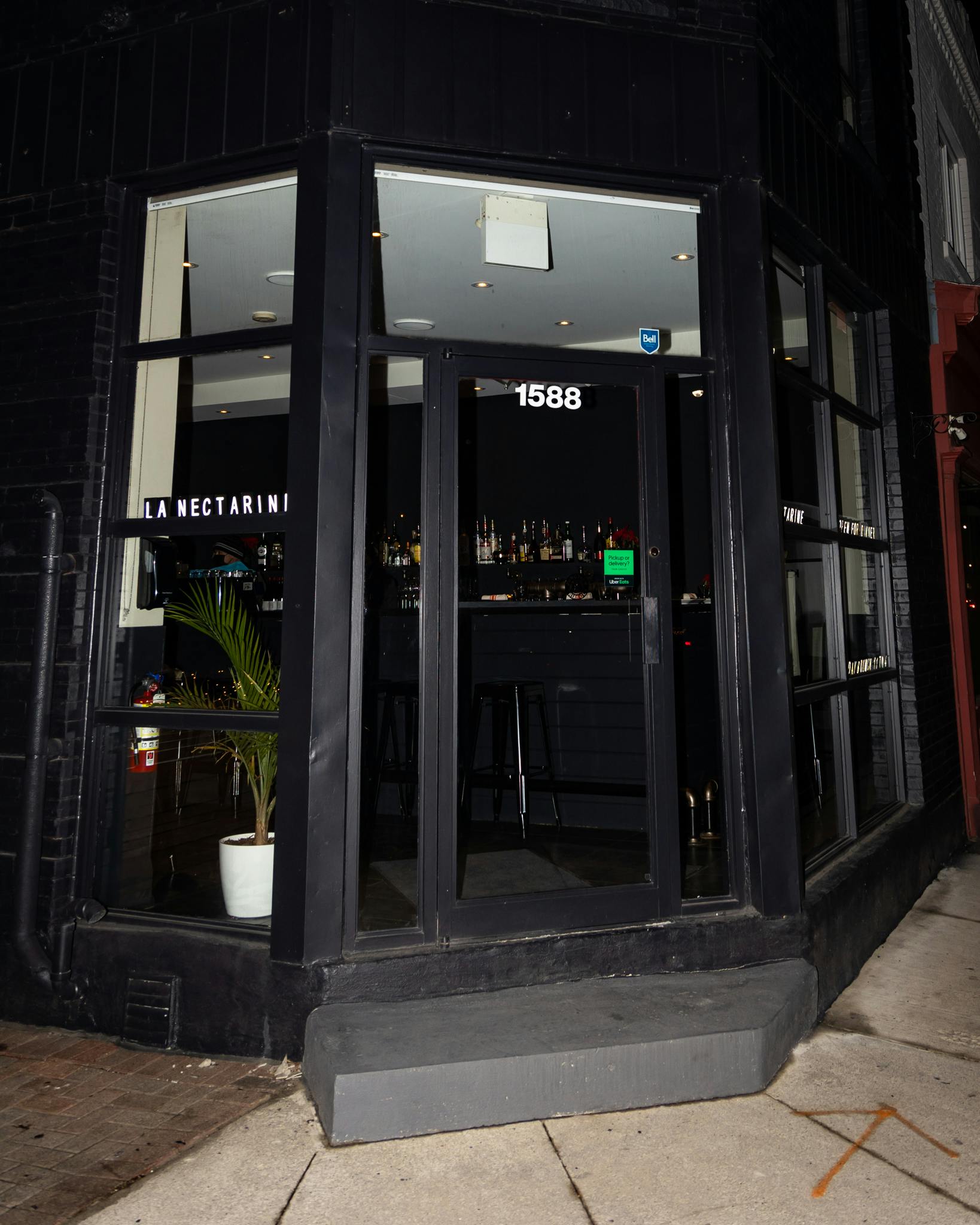 La Nectarine is a lovely addition to the Junction Triangle, where guests can come by for french cuisine that is not commonly found in this neighbourhood. This is another perfect night-out option to enjoy an extensive wine list with classic French dishes.