Photographs by Kristen Wells
Head north on a particularly busy strip of Queen Street West, through a gate and vine-covered walkway, and you'll suddenly find yourself a million miles away. Inside Soluna -- the area's newest restaurant and bar -- white stucco walls, lush greenery, Latin flavours and vibrant cocktails whisk guests to the type of resort that vacation dreams are made of. Hidden away in plain sight, it's a place that feels exclusive, a place where the party melts from the day into night, and a place that understands that vacation vibes don't need to end the minute you step off the plane.
For anyone familiar with Queen Street in the 1980s, Soluna's location is instantly recognizable. Originally a store called Wicker World, the site morphed into BamBoo in 1983. A tropical-themed restaurant and nightclub where people ate Island-inspired food and danced to a mix of styles, from reggae and soul to R&B, the BamBoo became a cultural fixture over its near-20-year history. Leased to Ink Entertainment's Charles Khabouth in 2003, the BamBoo turned into Ultra Supper Club and rebranded as Cube in 2012.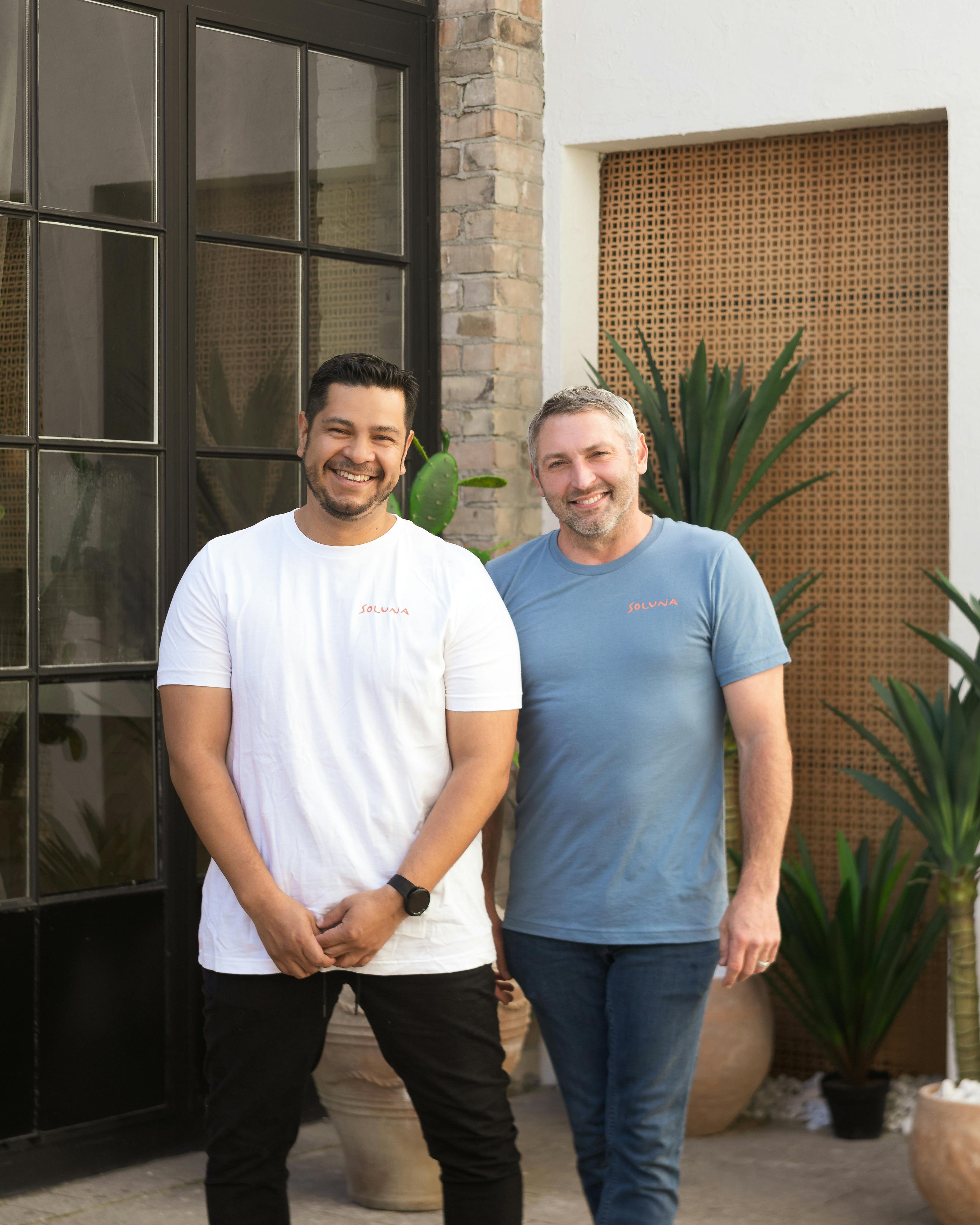 Chef Ricardo Dominguez (left) and head bartender Mike Fish (right) pictured above.
Skip to 2022 and the address's latest incarnation -- Soluna, a portmanteau of sun, or sol, and moon, or luna, in Spanish. It's a space that pays homage to its history while flaunting a makeover that's as jaw-dropping as they come. The new spot is owned and operated by partners Dan Gunam and Vito Tomasicchio, both veterans of the restaurant industry responsible for success stories like Calii Love, Parcae, Nava Social, NODO and more. The two friends had " always talked about collaborating together," says Gunam. "We do this because we're passionate about it; we want to give people great experiences," he adds. "When this opportunity came up -- this iconic spot we used to know as BamBoo and Ultra and Cube -- when this came, he was the first person I wanted to collaborate with and work with and we both liked the space. So, we took this project on last year."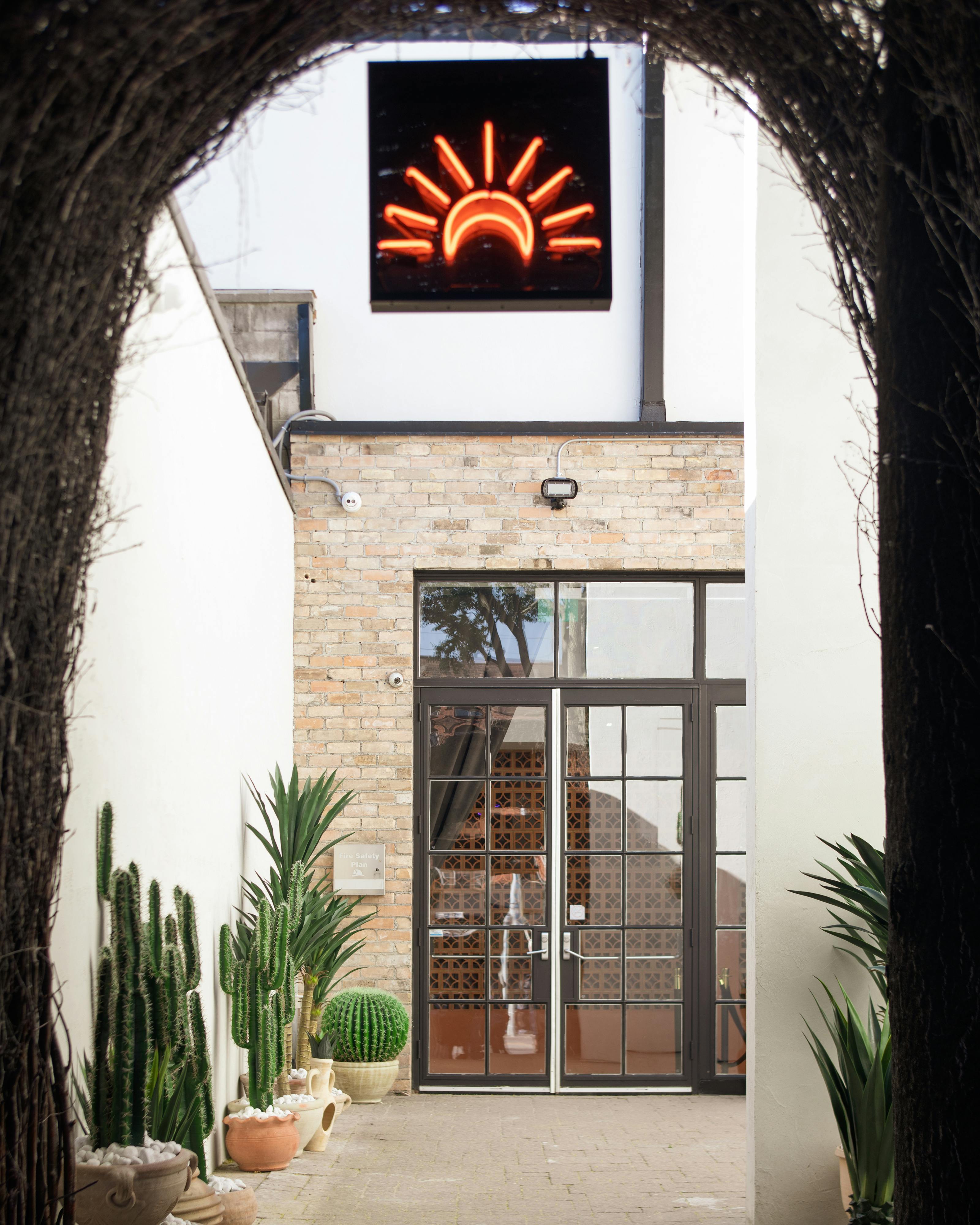 Together, the two have conjured up a restaurant that's as much an escape as it is an eatery. "The idea of the sun and moon fits with all cultures and spiritualities," says Gunam. "For me and Vito it's not just about opening up a restaurant; we wanted to open up a space for an experience. We want people to go on a journey, from beginning to end. That was the whole part of Soluna, day to night." Immense as far as Toronto real estate goes, the room is outfitted in linen-coloured fabrics, blond wood, rattan fixtures, imported Mexican bricks and alabaster-hued stucco that elicits dreams of Santorini. Stretching along one wall, the main bar evokes a refined resort where guests ease from the leisure of the day into the thrill of the evening hours. To help with the transition, costumed performers dance, play with fire (literally), and ignite a spark of excitement that enlivens the crowd.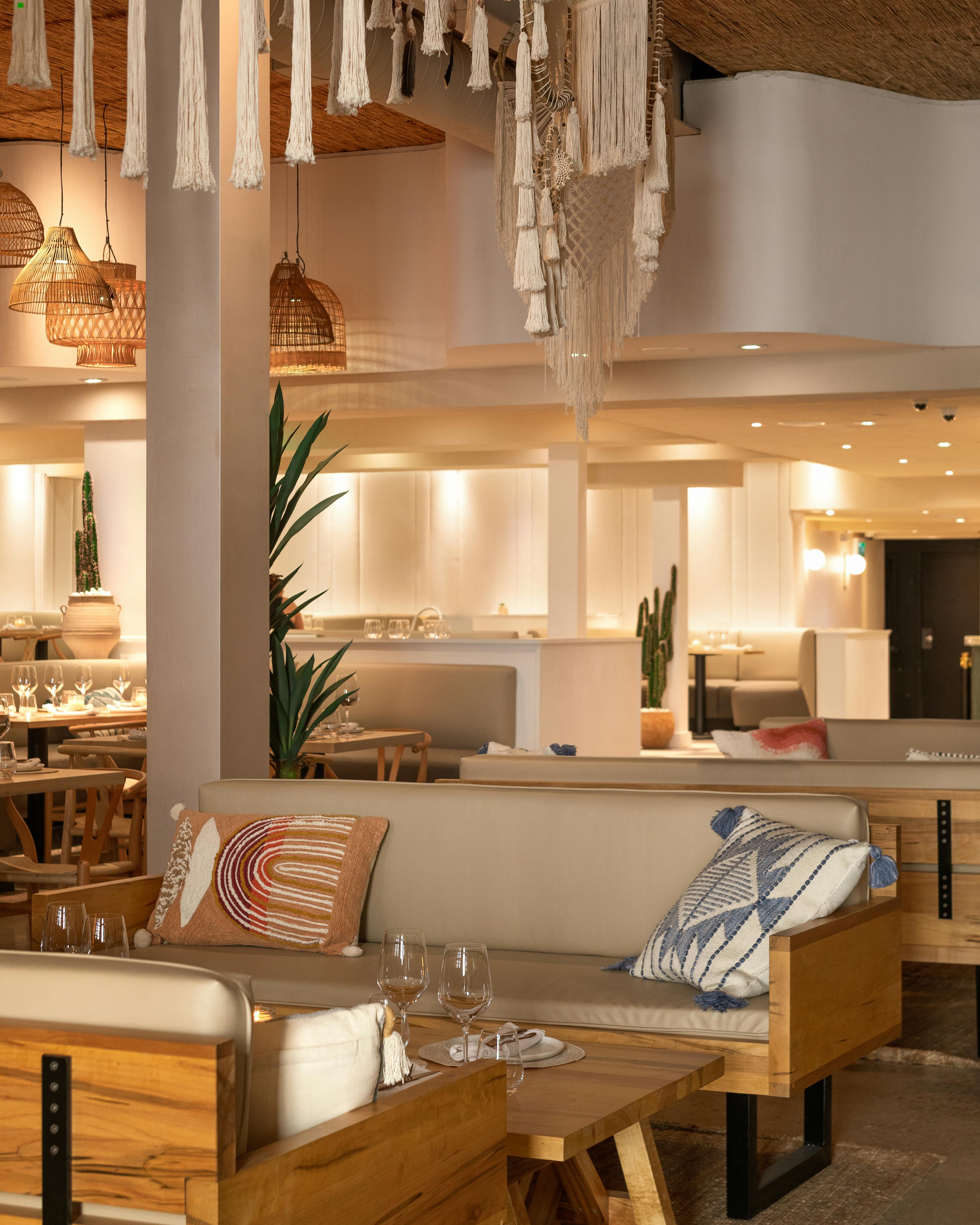 Upstairs, a rooftop oasis awaits final décor details before becoming this summer's hottest hangout. With two bars, a German sound system, views of the skyline and a tapas-style menu, it's the type of hideaway we continually hunt for deep in the heart of the city but seldom find. "Our idea was to build downstairs to have like the Tulum/Latin American kind of feel. Upstairs, is more of a Mediterranean vibe," explains Gunam.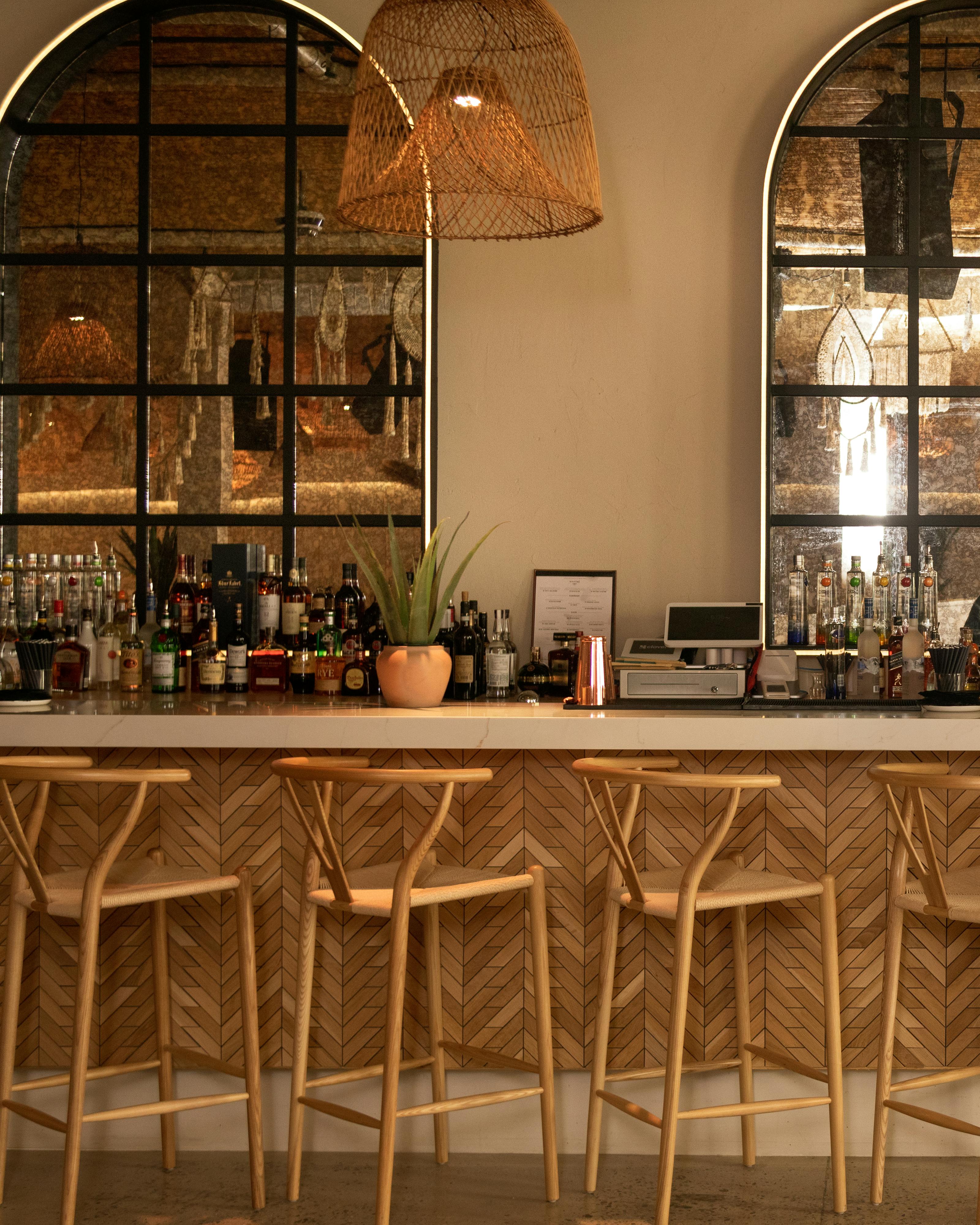 Beyond the décor, Soluna is also a space where what goes on behind the scenes is as important as what customers see. Here, chef Ricardo Dominguez and head bartender Mike Fish, along with their teams, are the stars. Gunam and Tomasicchio "don't want to be the face of it. We don't like to be in that point, in front," says Gunam. Even from backstage, so to speak, this duo expertly guides the feel, the flavours and the experience that is Soluna.
Chef Dominguez's menu takes inspiration from his native Mexico, with Asian, Mediterranean and Latin American notes throughout. Like the type of food your sun-soaked, salt-seasoned self might crave after a dip in the ocean, dishes here are light, perked up with fruit and spice, and (for the most part) meant to ensure you look lithe in your loungewear.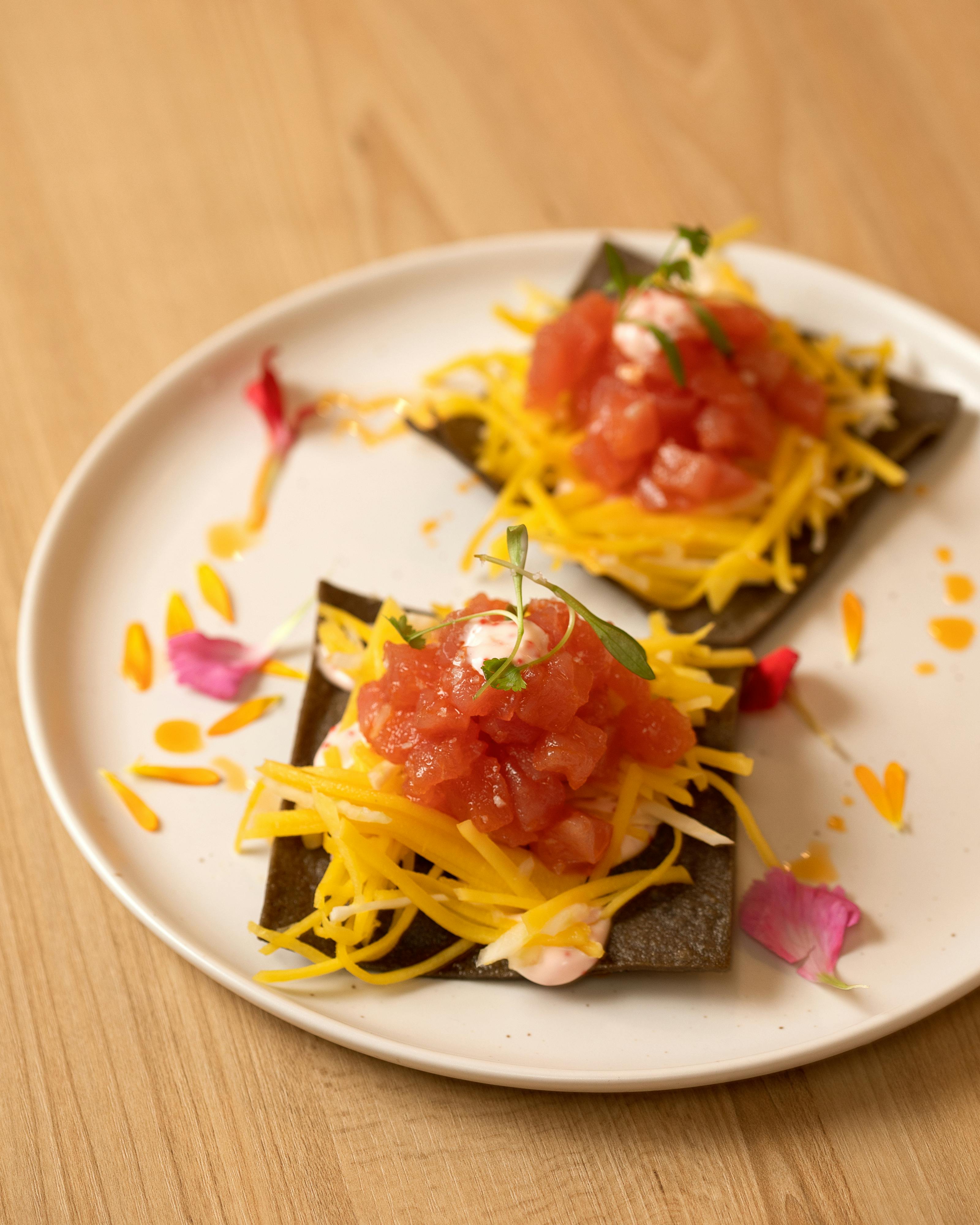 Chef's Tuna Tostadas are a colourful, fresh and crunchy take on the usual. With tobiko mayo, mango-fennel coleslaw and chili oil, they wake up your palate for what's to come.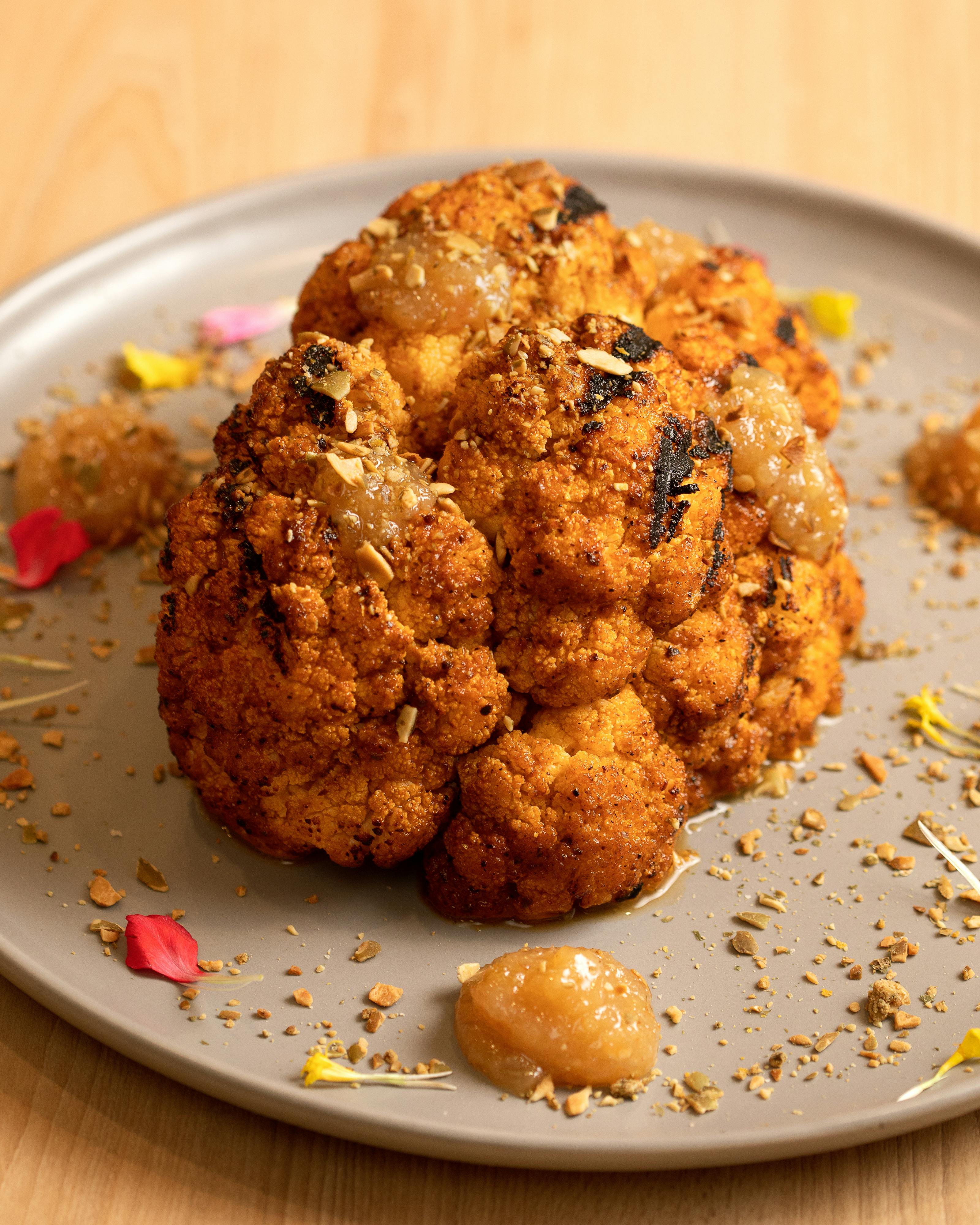 Grilled cauliflower is the type of complex dish vegans crave. Dressed with harissa paste, vegan Parm and a heady, smoky concoction made from pureed golden raisins and mezcal, this starter can easily satisfy as a vegan main or side for proteins.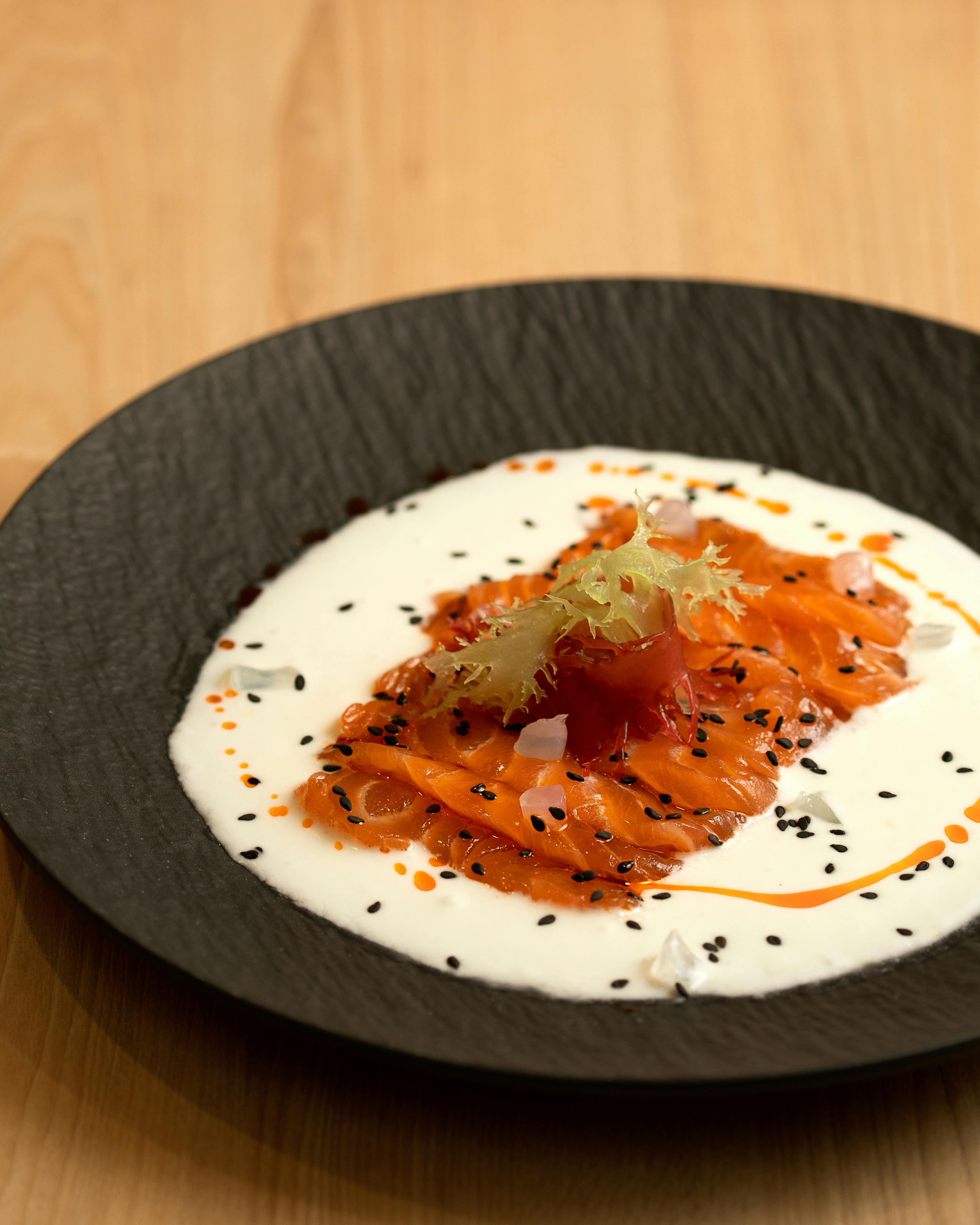 Halfway between smoked salmon and cured fish, chef's Salmon Ceviche arrives in dramatic fashion beneath a smoke-filled cloche. Hit first by the hickory smoke; you'll then zero-in on the delicate puddle of lemon coconut sauce circling the main attraction. Cool and delicate, the salmon is dressed lightly with chili oil, tosaka seaweed, sesame seeds and coconut jelly for an intriguing, refreshing spin on the classic.
The kitchen's mains are an impressive assortment of serious proteins, with accompanying sides available as add-ons. Here, carnivores and herbivores are catered to, with options ranging from Lamb Chops and Tuna Tataki to Seared Tofu with quinoa.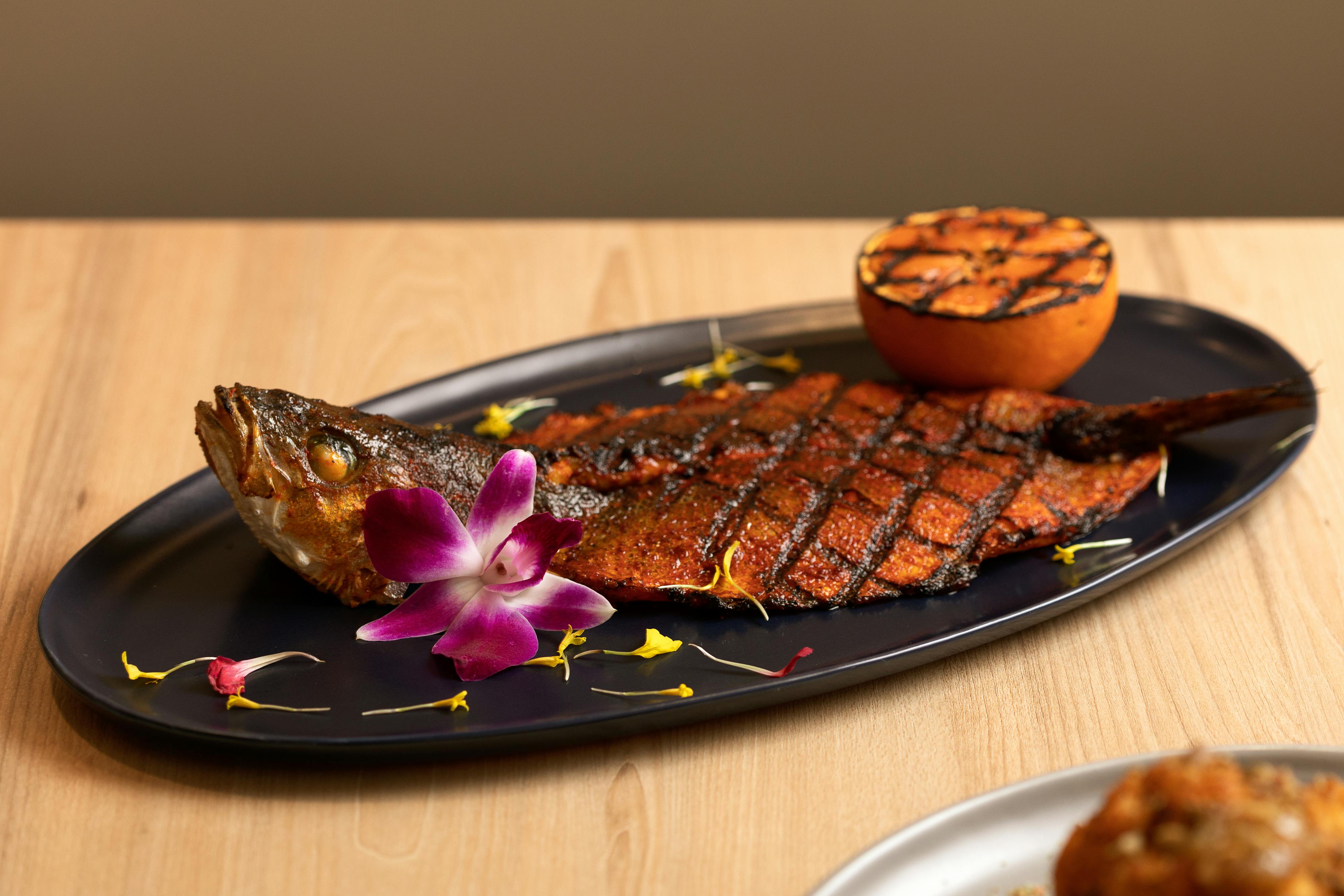 A whole branzino arrives glistening and crosshatched, thanks to an adobo glaze and time well-spent on a sizzling grill. Dress the lot with a spritz from the grilled half orange included alongside, and sink your teeth into a dish that's as sunny and sweet as the Amalfi Coast.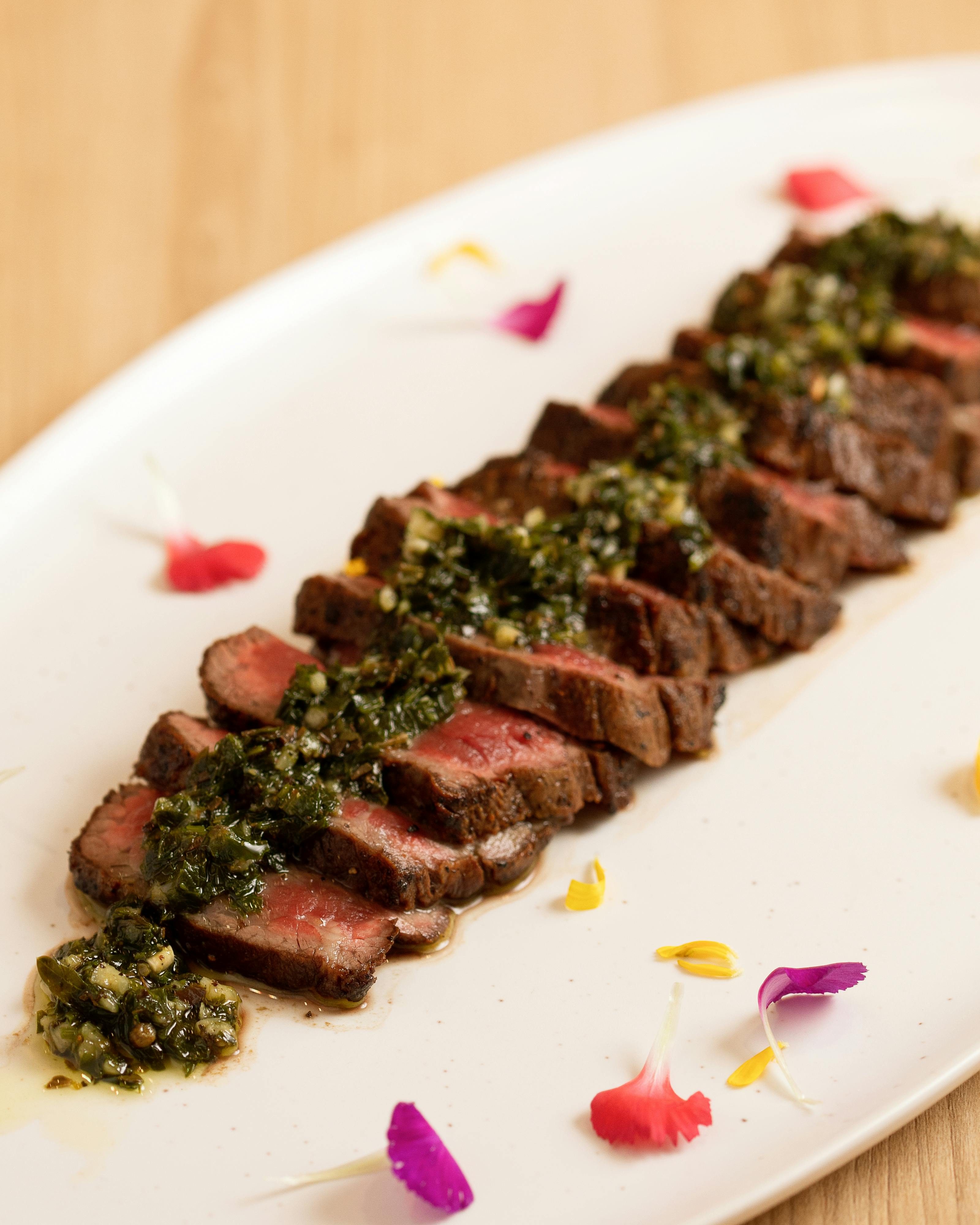 Between chops, chicken, beef tenderloin and a 42-ounce tomahawk steak, meat-eaters will need a moment to mull over their options before placing their orders. At eight ounces and dressed with chimichurri butter, the seared AAA tenderloin is a more moderate dish that's still as bold and satisfying as its supersized cousin. It's a dish that needs no improvement but, ordered with one of the kitchen's tempting sides -- from fingerling potatoes with garlic aioli to brown-butter doused broccolini -- makes for a gorgeous meal.
Alongside, you'll want to sample an array of the bar's tropical, fruit-forward concoctions. Head bartender Mike Fish's menu drives home the faraway feeling, with easy-drinking sippers that are cheery, not-too-sweet reinventions of classics.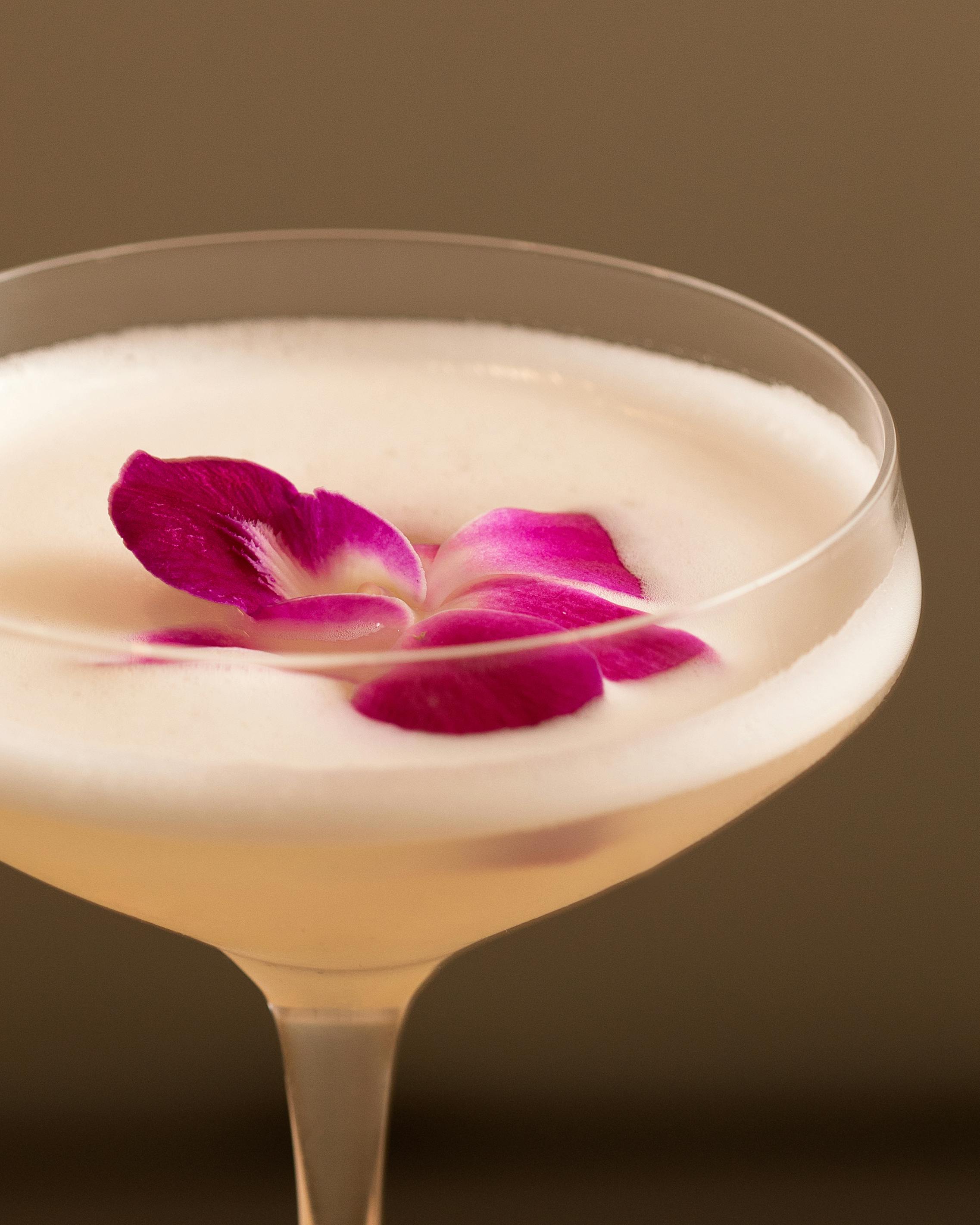 Grey Goose Vodka and St. Germain Elderflower Liqueur combine with lychee, pineapple, lemon and egg white in the Flower Child -- a frothy, fun, floral aperitif.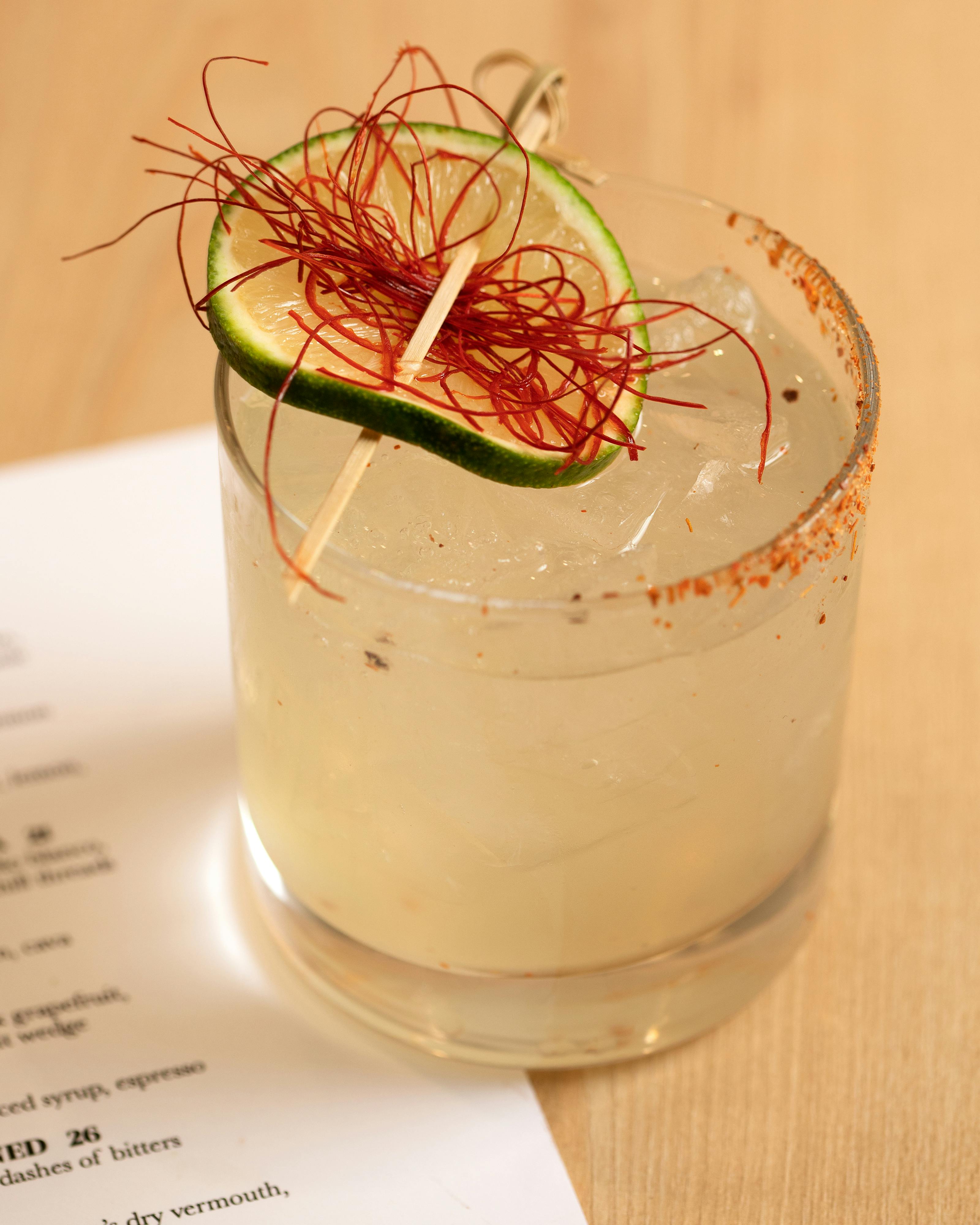 Aptly named, the Smoky Mezcal Margarita features guajillo-pepper-infused mezcal, Don Julio Blanco Tequila, Cointreau, smoked lime juice, Tajin and a chili-thread garnish. More serious than your classic marg, this one offers a citrus hit with a subtly spicy end note that's sure to make it a must-order in the months to come.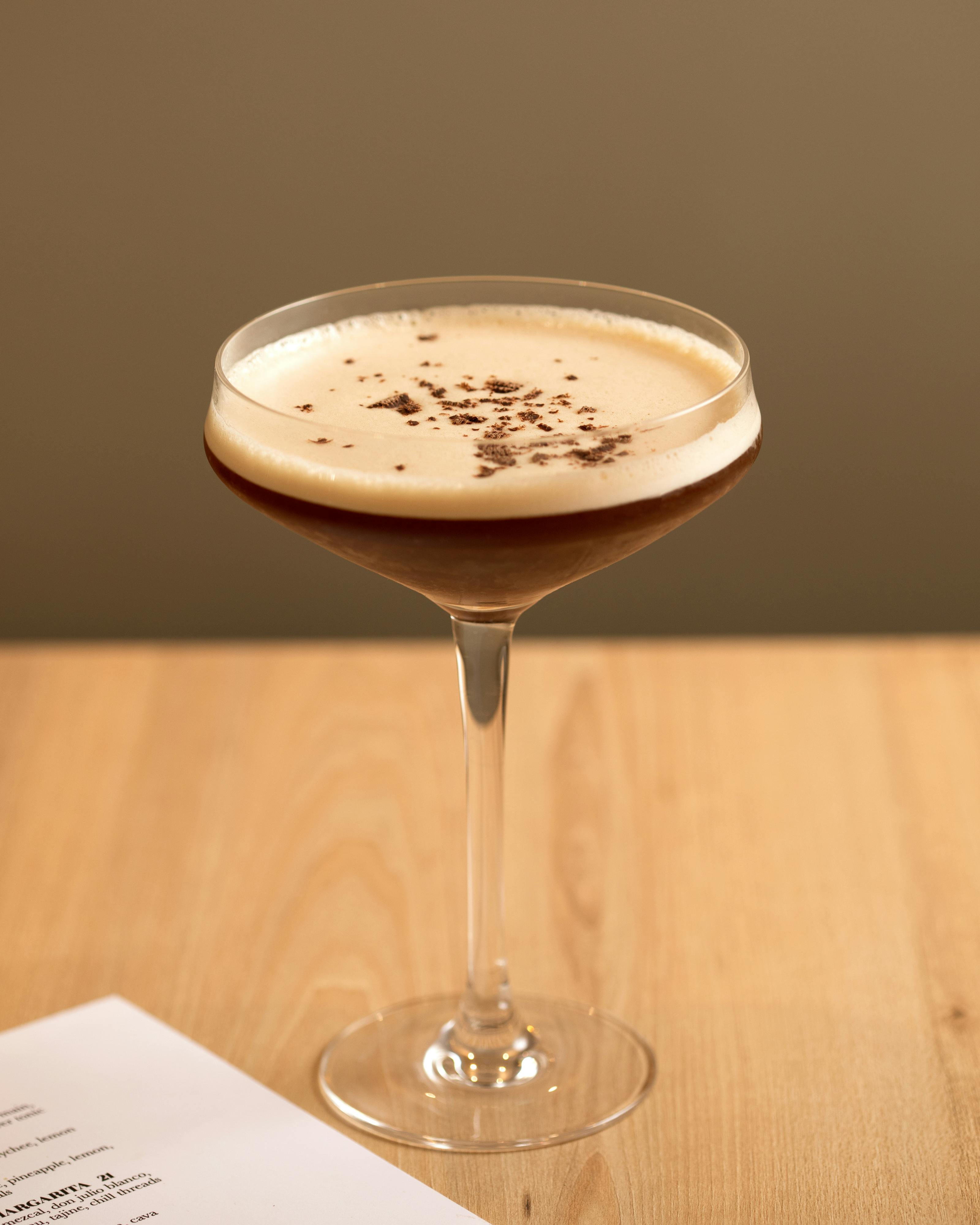 For Soluna's Espresso Martini, Fish amps up the southern sentiment with spiced syrup and Patrón Reposado. The Ultra, a nod to the spot's not-too-distant-past, is a refreshing goblet of basil- and mint-infused Tanqueray Gin, St. Germain, strawberry, shiso, lemon and elderflower tonic. A revitalizing take on a G&T, this is the one to order when the mercury climbs.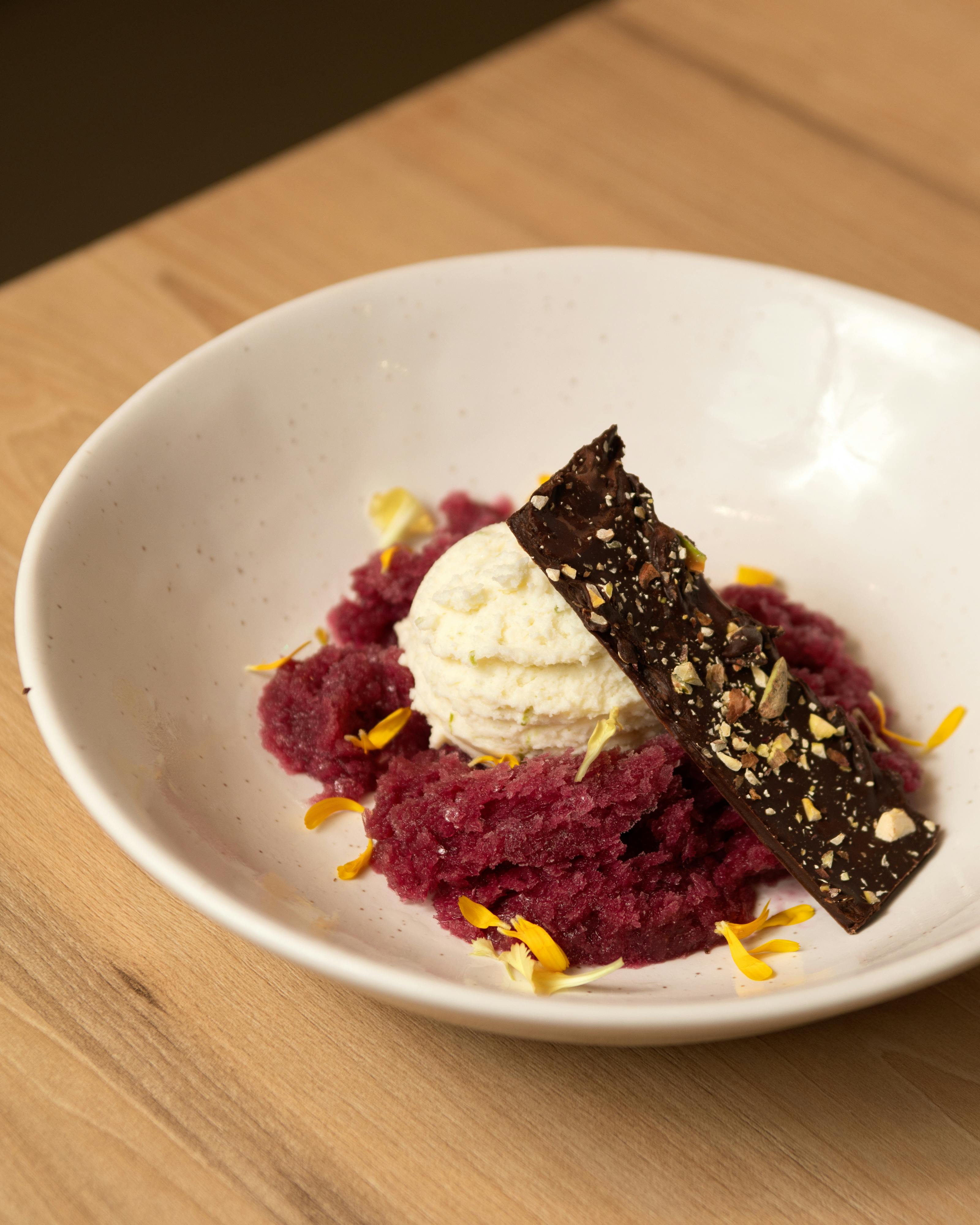 Before you order bottle service or abandon inhibitions on the dance floor, end on a high note with one of chef Dominguez's striking desserts. With lime ricotta and spiced red wine granita, Ricotta Mousse is a velvety, nuanced, lighter and leaner take on a traditional cheese course.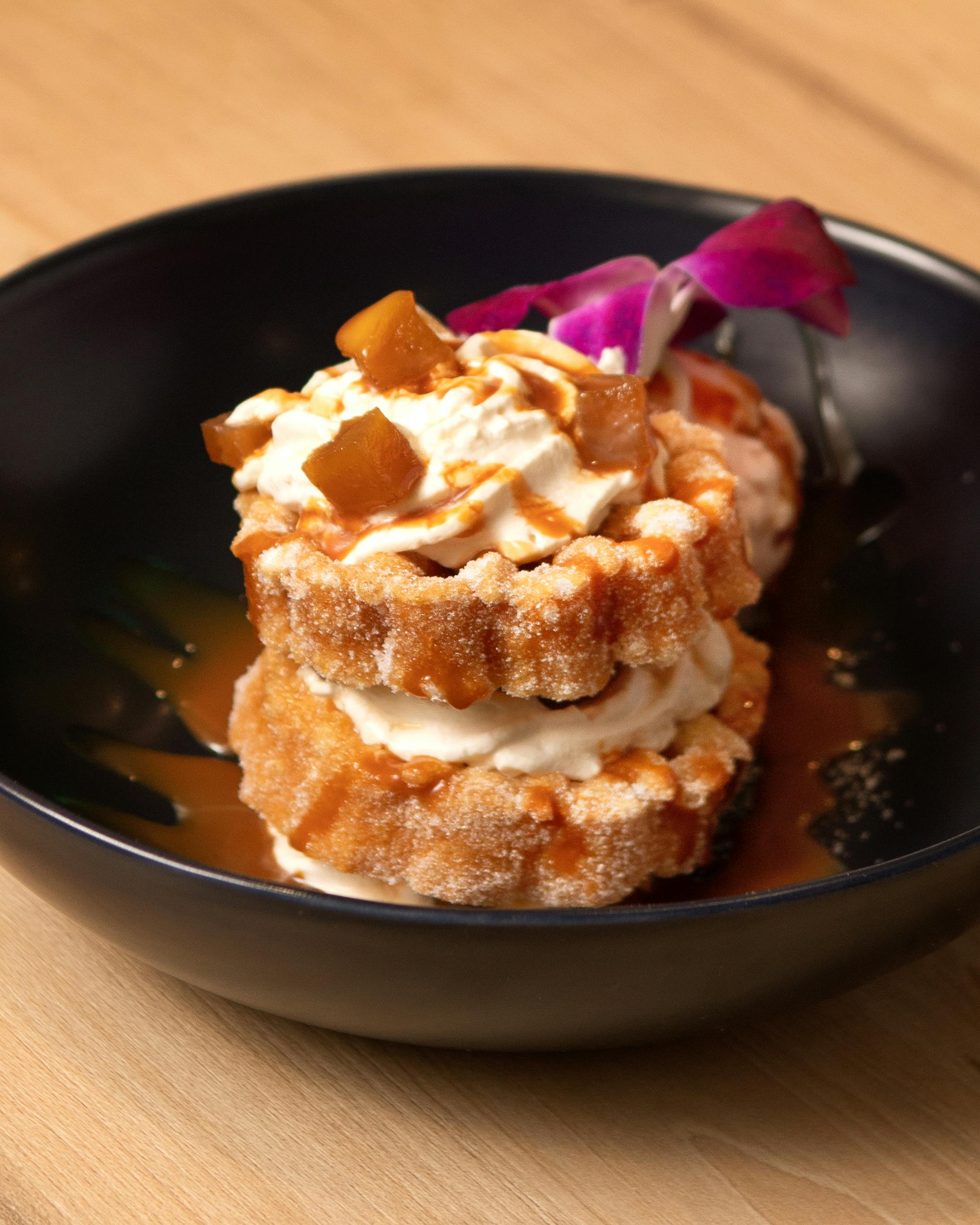 Still, if you're feeding a strict sweet tooth, the Buñuelos are your passport to paradise. Sweetened with piloncillo and dulce de leche, these deep-fried fritters arrive layered with guava ice cream, caramelized apples and whipped cream. Eaten together, the dessert is crisp and creamy, sweet but not cloying, and offers interest in every bite. Yes, there's a Brownie Cake on the menu, but the Buñuelos are the dessert you'll remember, the one you'll recommend and the one that will have you returning, time and time again.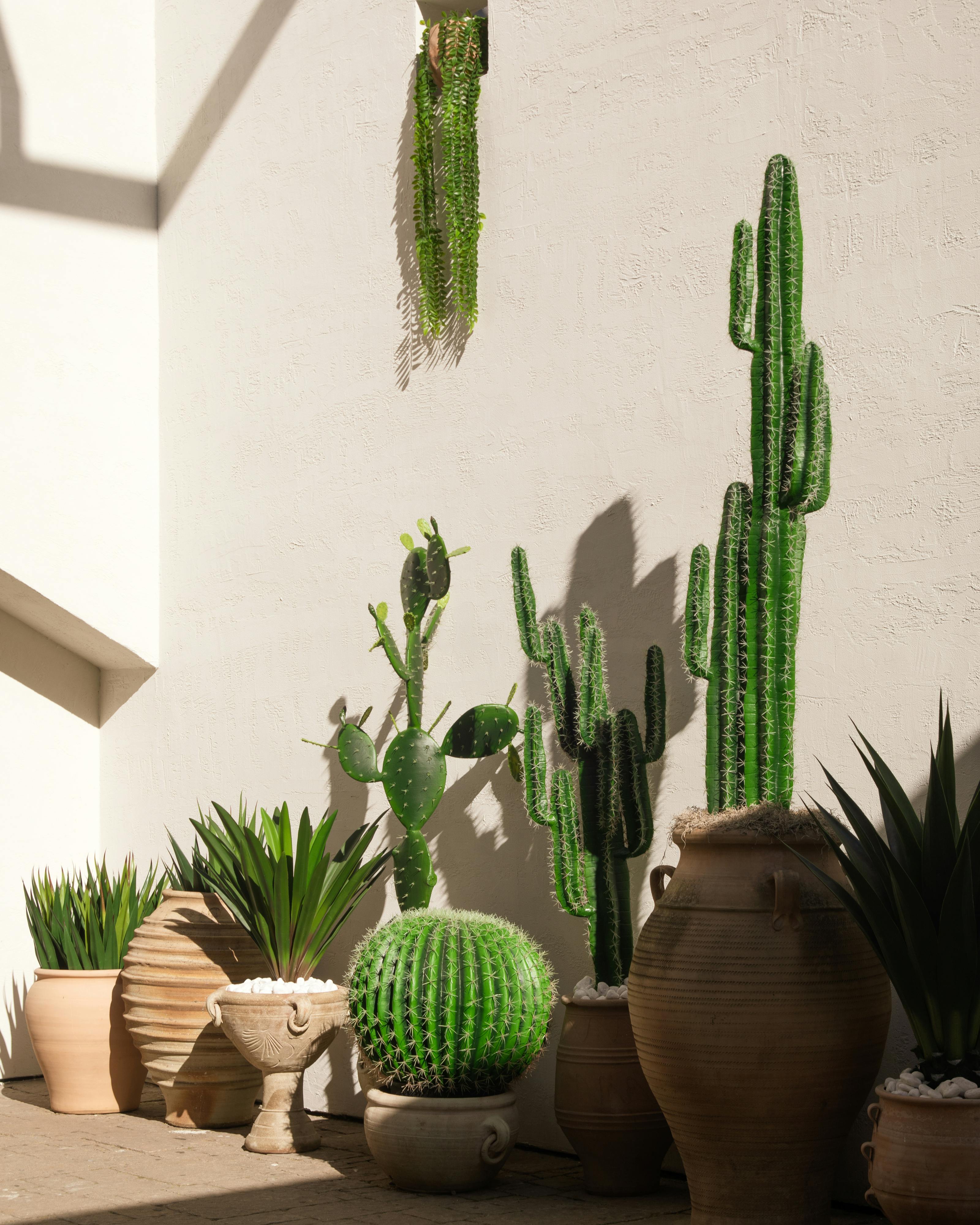 Soluna is a spot that welcomes, day and night. Modelled on a luxury resort, its décor, food, cocktails and entertainment are like a mini-escape in the middle of downtown. Skip the hassle of the airport but feel a million miles away with a getaway at Soluna.