Being the large and multicultural city that it is, Toronto is fortunate to always have a generous selection of go-to restaurants for popular cuisines, food trends and international flavours. However, it is slightly more rare for something new to come along that really feels like it hasn't been done all that much, especially in a location like the downtown core or the Ossington strip. Well, one of the latest pop-ups has arrived in town, and it certainly feels like the refreshing, authentic and unique style of takeout food that our city could certainly use.
Mamaliga is the brainchild of Haan Palcu-Chang, a seasoned Toronto chef who has worked in the industry for many years and found himself beginning to itch for a change once the pandemic hit. He has been a chef at Favorites, the beloved Thai barbecue joint, for the past year and a half and while he still remains in that role, he is also running a brand new Romanian food pop-up from the back of their space. Inspired by the cuisine of his childhood, Haan puts his spin on classic Romanian fare that incorporates traditional ingredients and preparation styles, culturally significant dishes and a few seasonal additions.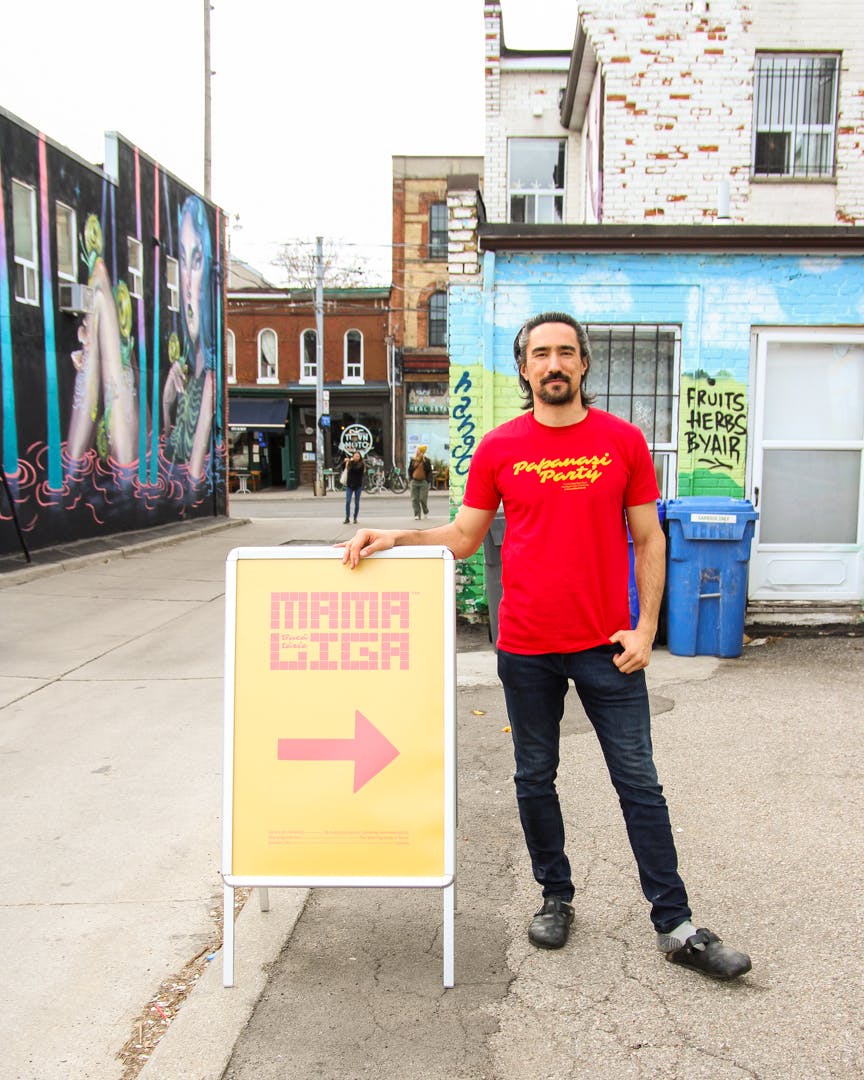 Chef Haan Palcu-Chang outside of Mamaliga's current home.
Chef Haan found himself deeply inspired by the creatives and chefs across the city who, throughout the pandemic, have decided to go out on their own by taking a concept, formulating an unconventional plan and running with it. When the idea to launch a Romanian food concept came to him, he realized that what his idea of "success" in the restaurant industry looked like could change, so he set to work on it rather than overthinking or waiting for the "right" time.
The Food:
Mamaliga is named after a polenta dish on his menu that is served with traditional-style cabbage rolls called Sarmale, which are filled with rice and pork and, in Haan's case, from both the belly and the shoulder. Though the menu will change on a weekly basis, this dish will be a staple alongside the other mains, sides and desserts that he whips up each week.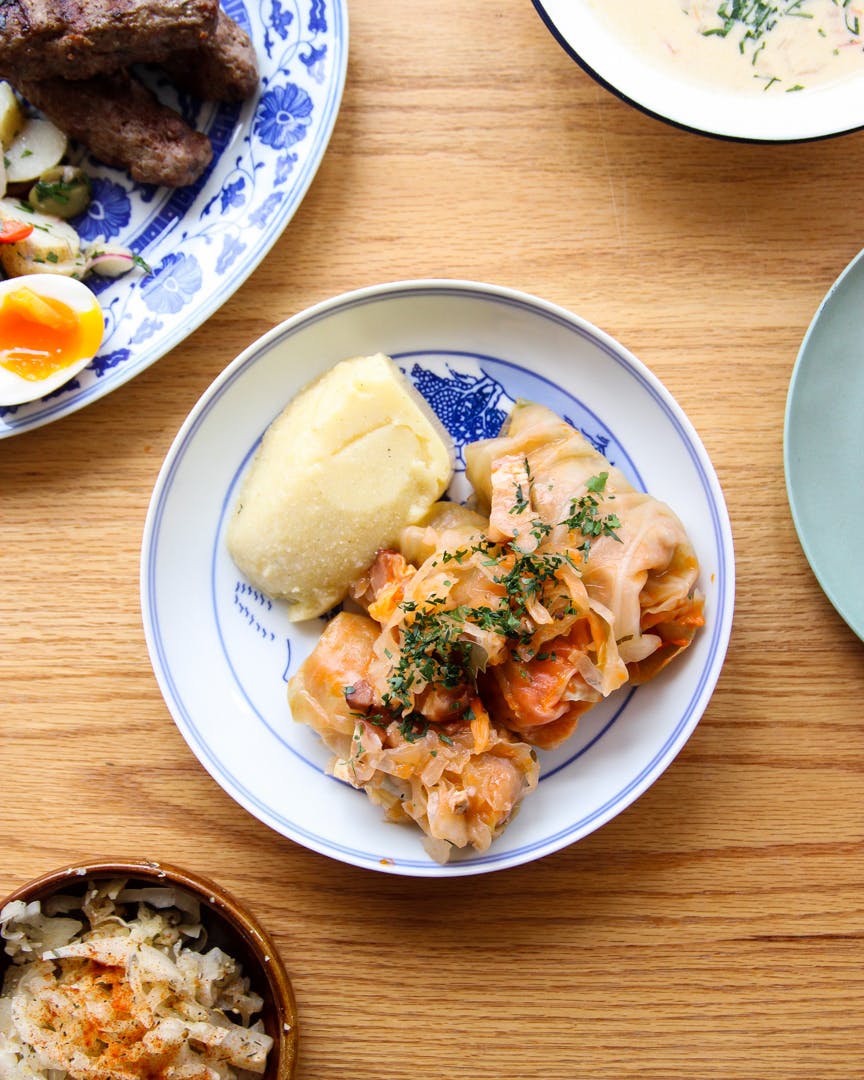 Sarmale (cabbage rolls) with mamaliga (polenta).
Mititei beef sausages are made in-house and boast a unique texture thanks to a mixture of reduced beef stock and baking soda that gets added to the meat, making for a juicy, soft and flavourful interior. They're served with a traditional Romanian potato salad featuring pickles, olives, onions, red pepper and parsley, along with a bright orange soft-boiled egg on the side. Chef Haan strives to find the highest-quality (and organic when possible) ingredients for his dishes, from the meats and eggs to the herbs and produce.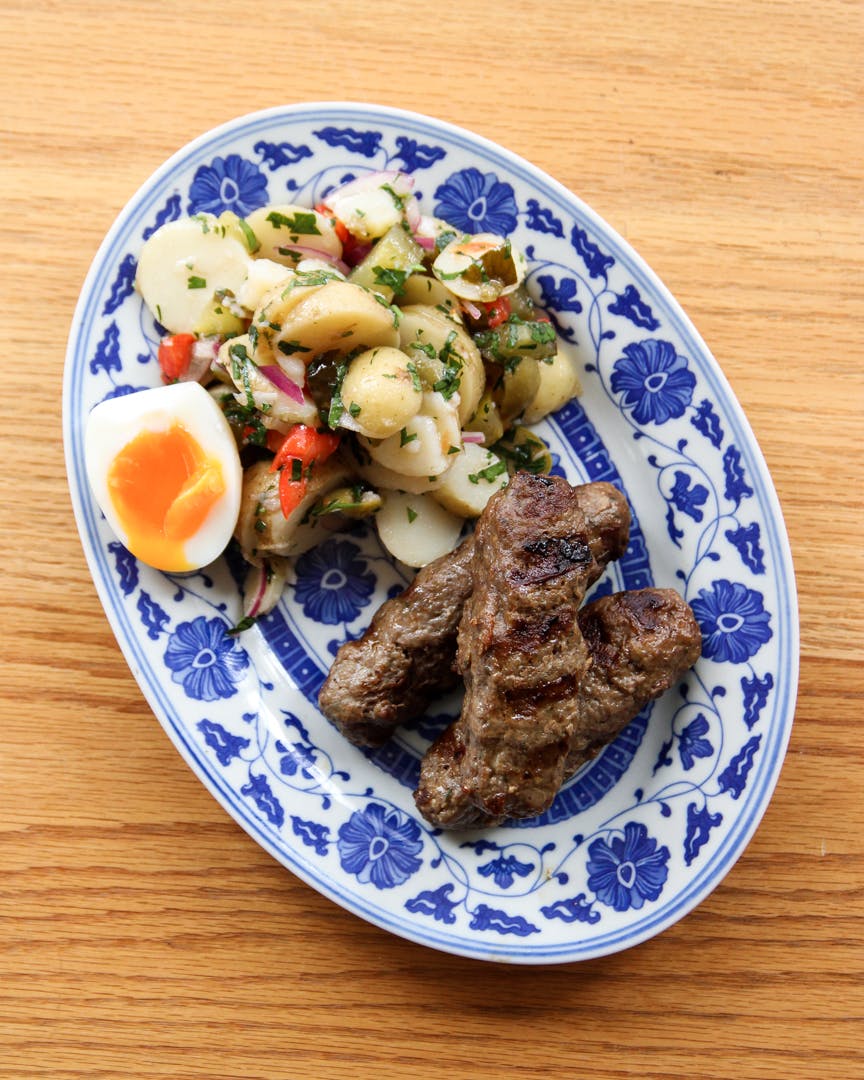 Mititei beef sausages with Romanian potato salad and soft-boiled egg.
Other classic side dishes include a sauerkraut salad that incorporates spices like sweet paprika, ground coriander, cumin and thyme, as well as a savoury pie (Placinta Cu Cartofi) that tucks mashed potatoes into a sour cream crust and gets a sprinkle of sesame seeds to finish.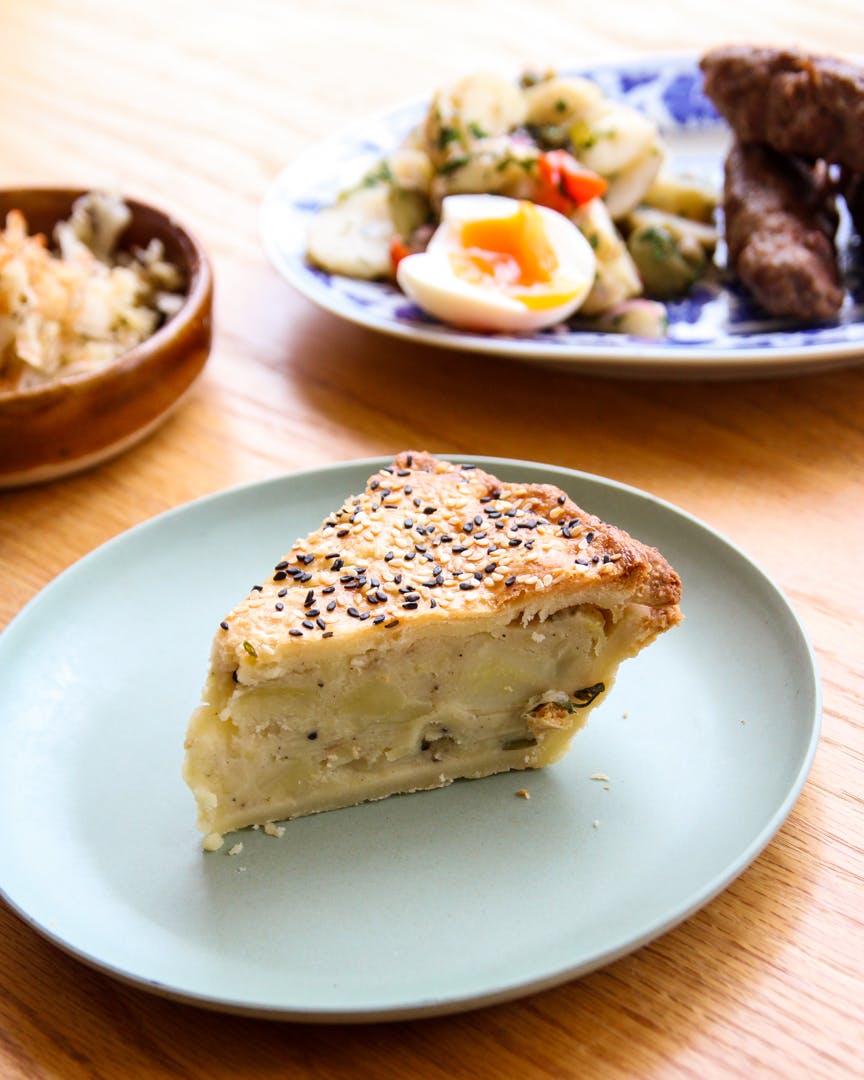 Placinta Cu Cartofi (potato pie).
A popular bean dish called Fasole batuta cu carnati consists of white beans that get cooked with aromatics and pureed with olive oil for a deliciously smooth and silky texture. Haan tops his with jammy caramelized onions and a dusting of brick-red sweet paprika and serves it alongside Romanian sausage.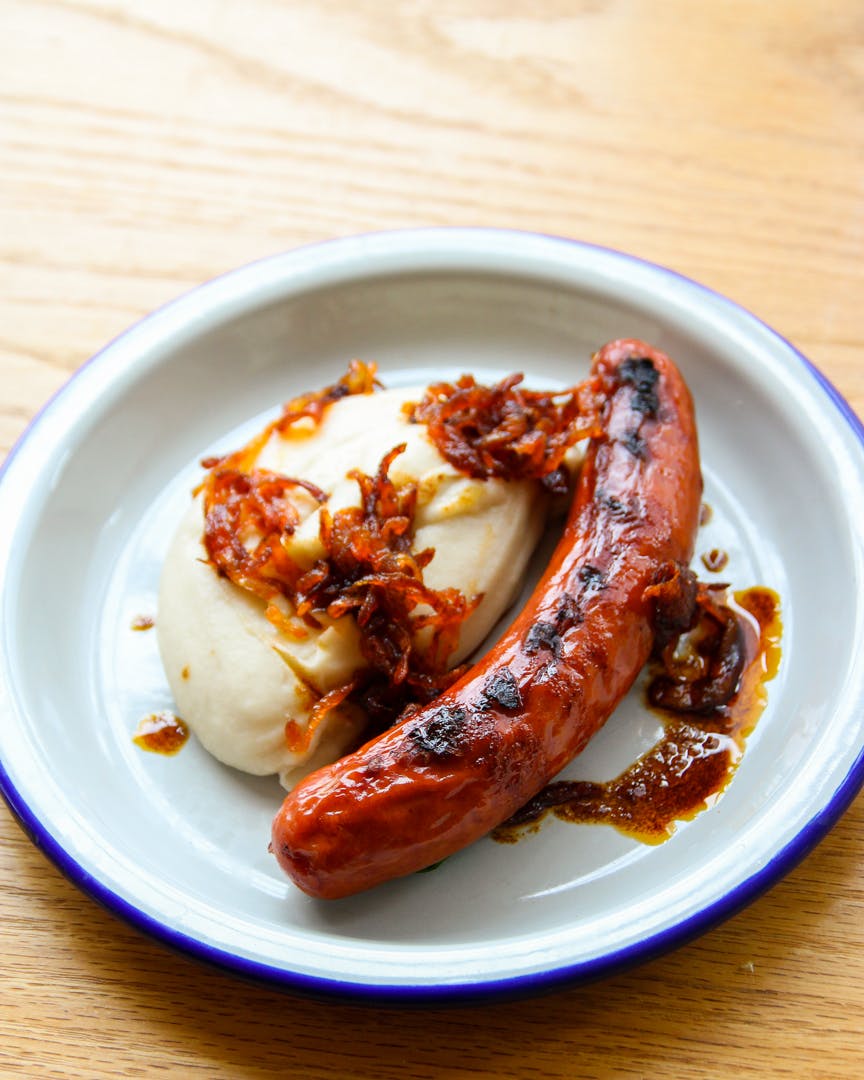 Fasole batuta cu carnati.
Ciorba Radauteana, a chicken and sour cream soup, incorporates a mixture of hearty blended root vegetables like parsnip, carrot, celeriac and onions that get seasoned with white vinegar to make for a rich, slightly sour broth. The soup is finished with sour cream and egg yolk, giving it a uniquely tart taste and making it quite unlike a North American-style chicken soup.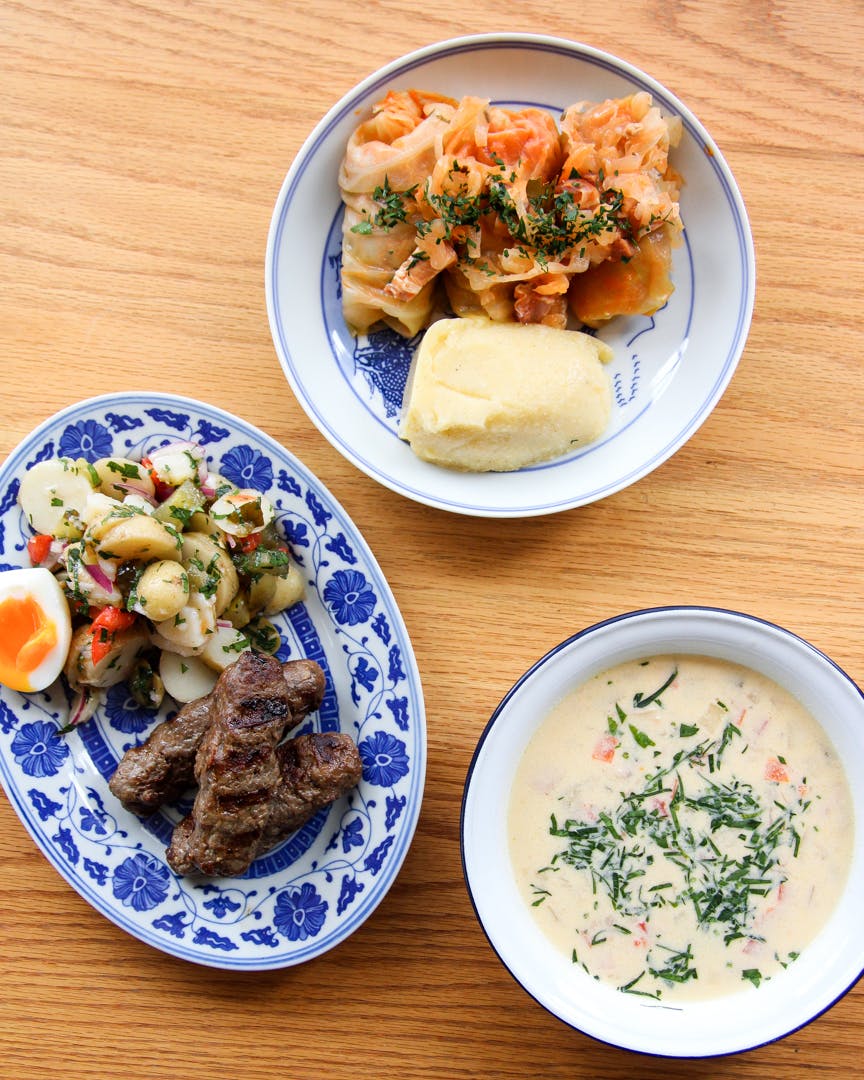 For dessert, Haan describes the Papanasi ricotta donuts as "a funnel cake meets an old fashioned donut," but less sweet and served alongside sour cream and a luscious homemade sour cherry compote for dipping. He also bakes up his grandmother's apple cake, which he grew up eating and attempts to emulate through his own version (which, by the way, his grandmother has tried and, for the most part, approves of).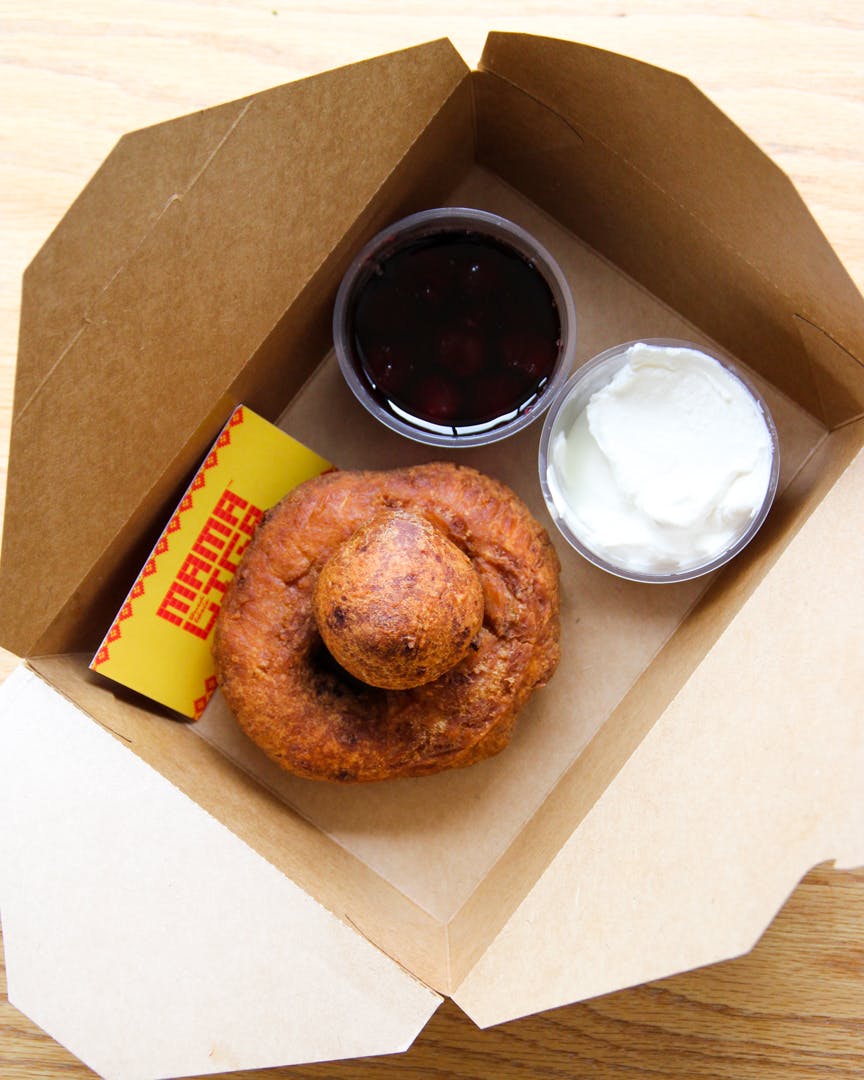 Papanasi (ricotta donuts) with sour cream and cherry compote.
Mama's apple cake, prajitura cu mere.
The response to Mamaliga has been very positive thus far, from neighbourhood folks looking to try a harder-to-find cuisine to Romanians living in Toronto who have flocked to Mamaliga to get their hands on the authentic dishes they crave, an unexpected yet joyful outcome that Haan didn't necessarily expect.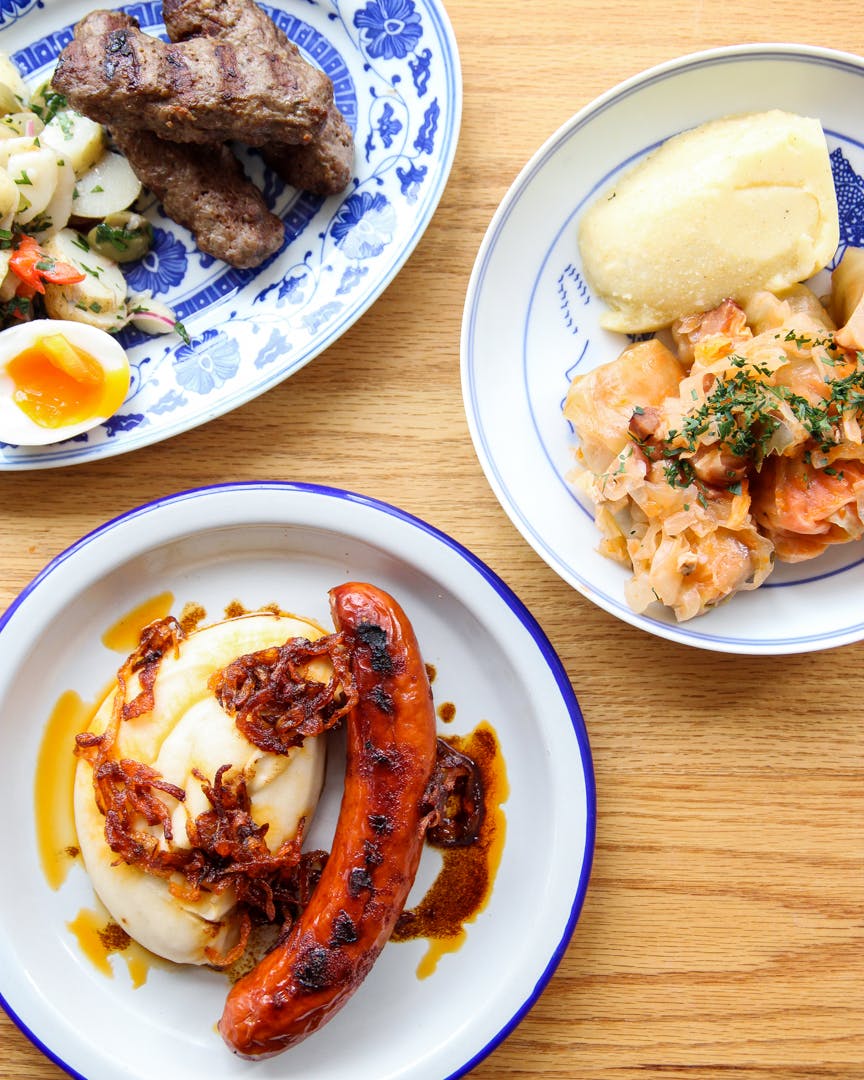 Haan currently cooks everything by himself and thus offers a limited weekly menu that he hopes to expand over the coming months. The menu goes live on Thursday or Friday each week, with a Sunday at midnight cutoff for orders and pickups on the following Wednesday from 4 to 6 p.m. at 141 Ossington Avenue (the side entrance down the alley, just south of Sam James). While he builds out their online presence, you can follow their Instagram page to get updates, view the weekly menus and order this wonderfully tasty and creative takeout food.