Photographs by Amanda Biffis
Sometimes, the best restaurants are the ones that slowly and steadfastly make a name for themselves, even as the area around them changes and flashier neighbours move in. They're the ones that fly slightly under the radar, relying on an in-the-know clientele that keeps coming back for impeccable dishes and equally stellar service. Soos, on Ossington Avenue, is one such place. In business for almost nine years, it's got longevity to prove its worth. Built on the strength of family and an unrivalled menu of modern Malaysian street eats, Soos has cornered the Toronto market for upscale Malaysian fare.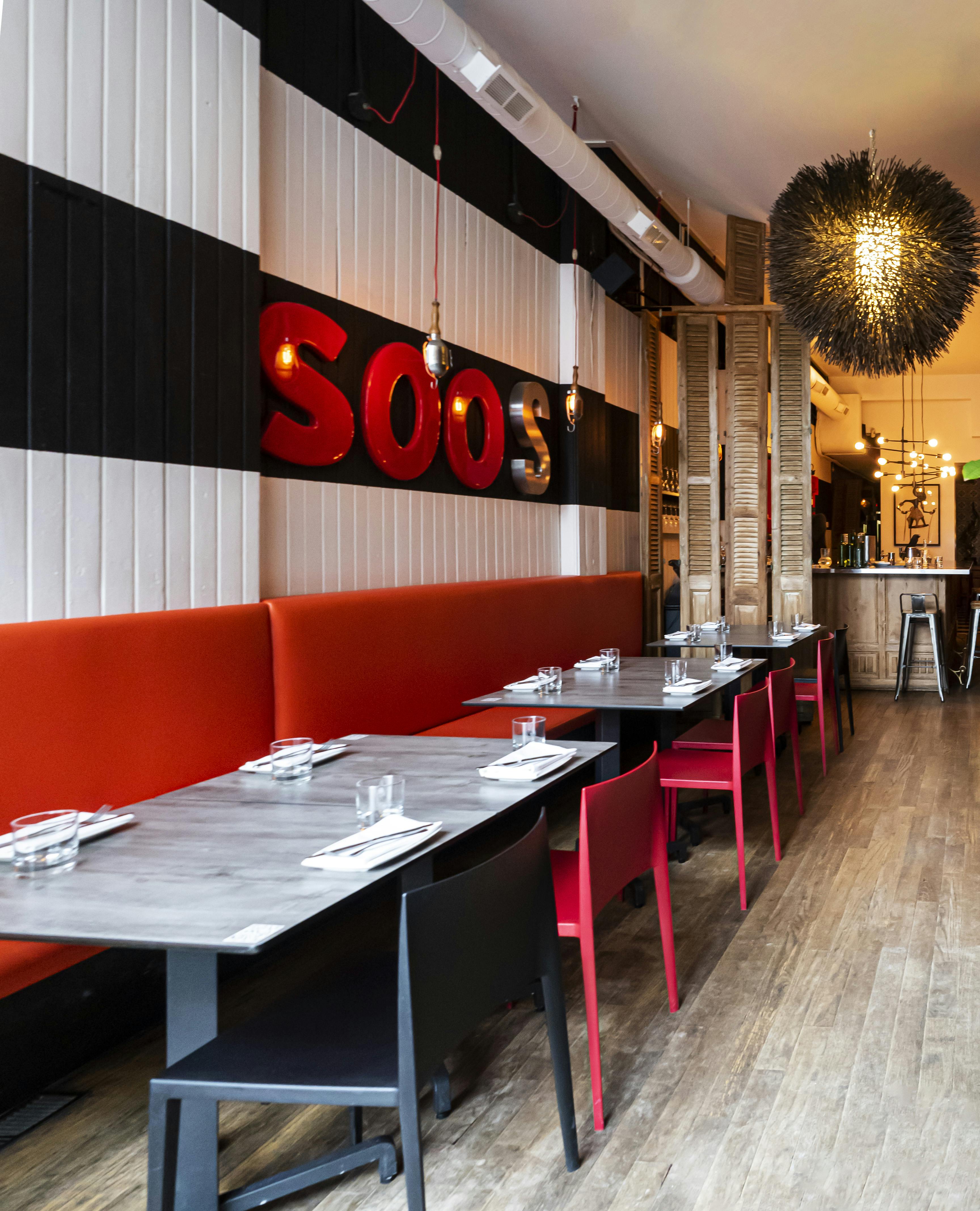 Unassuming from the outside, Soos is bright and inviting within. Designed by Sasha Josipovicz of Studio Pyramid, the space is accented with bold colours and design features that reflect Malaysia's varied culture. Red, white and black décor animates the front room, where art depicts everything from Indonesian shadow puppets to large images of orangutans, which are native to Borneo and Malaysia. Reminiscent of rambutan fruit, dramatic overhead lighting accentuates the tropical theme.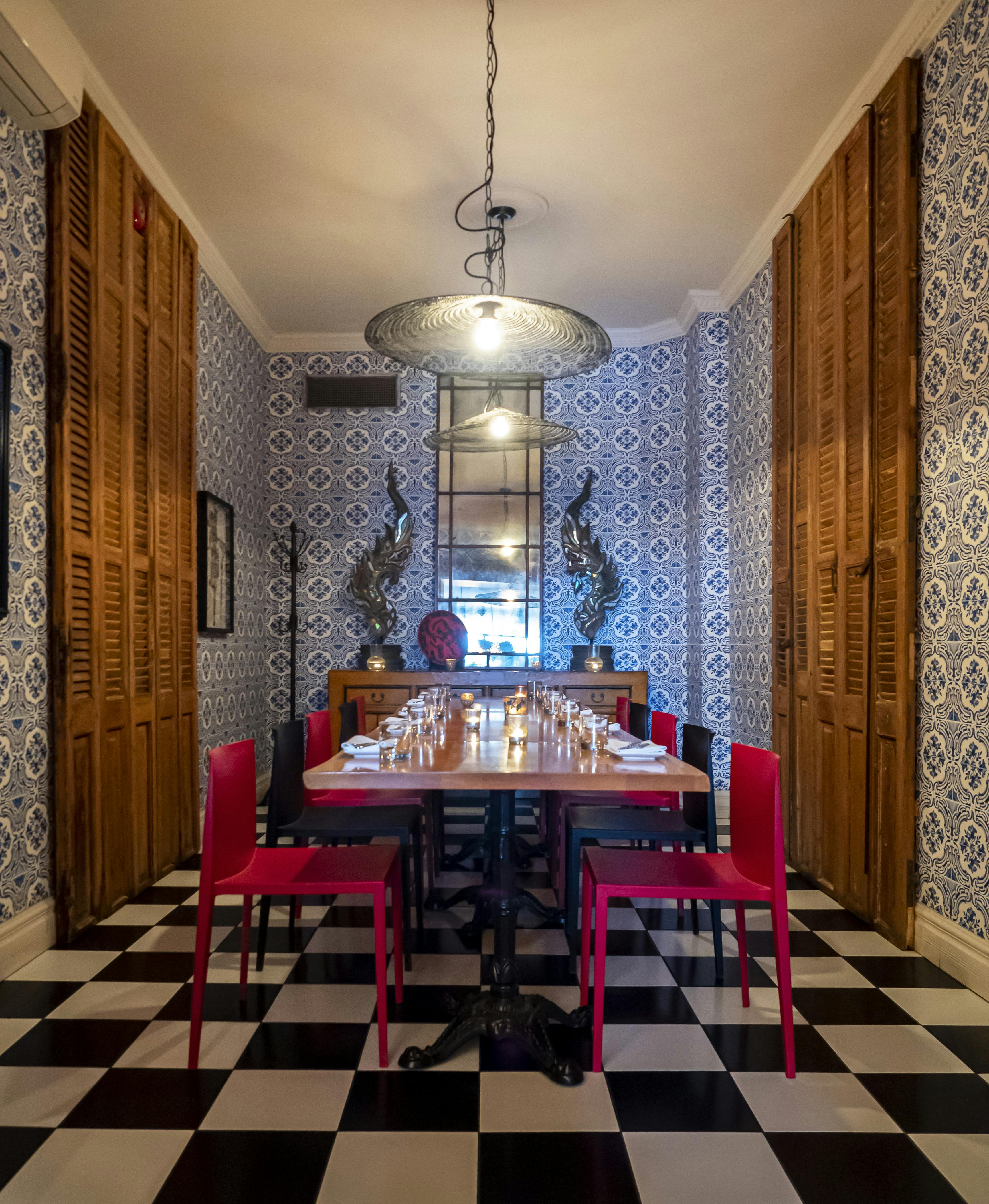 In a back room that can accommodate 10, the combination of wood shutters and wallpaper with a fresh blue and white tile design calls to mind the history of Portuguese Malacca and its effect on Malaysia, says co-owner and manager Lauren Soo.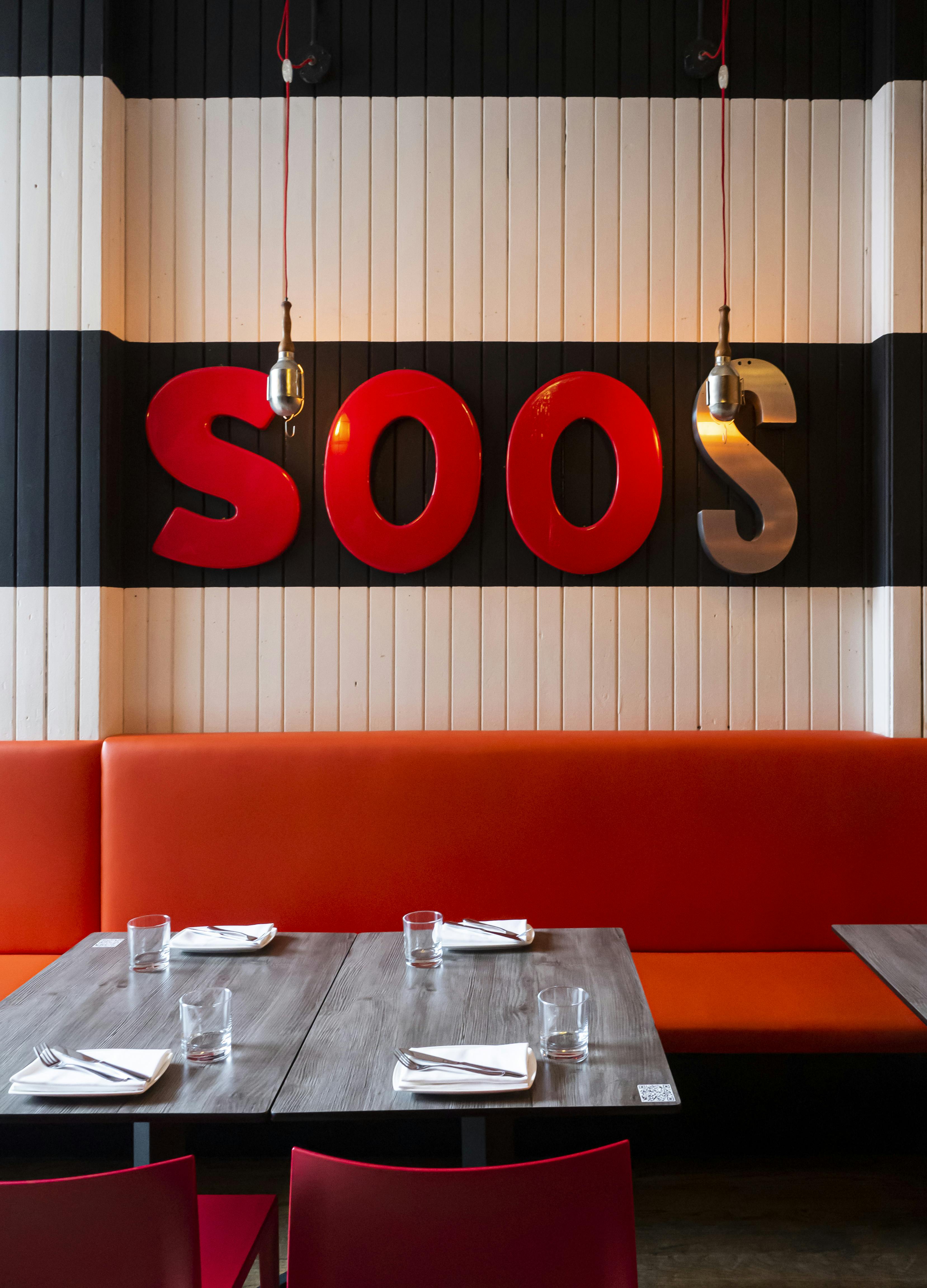 Much like the décor, the food at Soos is a playful marriage of cultural influences, family recipes and know-how. For the family of restaurateurs, the idea of opening a restaurant came naturally. "We grew up in the restaurant business," says Soo, of herself and her brother, Zack, whose parents owned and operated the Matahari Grill in Baldwin Village for 13 years. In 2013, with the kids at the helm, the family opened Soos. "We weren't really sure what the concept was going to be and we were willing to play with it based on where we opened," says Soo. The Ossington address inspired a more "hip and trendy" vibe. "Small plates, and tapas were super popular then," she adds, a fact that steered the team toward a menu peppered with shareable dishes and modern takes on traditional Malaysian fare. "We tried to fit in with the neighbourhood but be a bit different too with the flavours."
The flavours that the family brought to the area are a vibrant, electrifying mix honouring Malaysia's diversity. "We specialize more in Nyonya flavours, which is like Chinese Malaysian," says Soo. "[It's] a bit lighter on the spices for the curries, a bit more of the soy, the char flavours, the shrimp paste flavours." Several dishes also display "a little of Mamak influence, which is the Malay Indian style. You'll find that with satays and that kind of marinade. The curries, the rotis, that kind of thing," adds Soo. There's "a mix of fresh, vibrant flavours and ingredients and the mix of different cultures coming together; it's pretty interesting."
Interesting doesn't begin to describe the plates on offer. Comfortably priced and featuring an innumerable list of ingredients, Soos' dishes are comforting and grand, with an abundance of flavour that seems to belie their size. From dhal with roti to rendang braised beef, and a host of tempting options between, the menu is varied and offers something for every diner. Some dishes, including the chicken kapitan tacos and prosperity slaw, have been on the menu since day one. "When people come and they can't get the dish that they had before, they're upset. So it's hard for us to take dishes off the menu," explains Soo.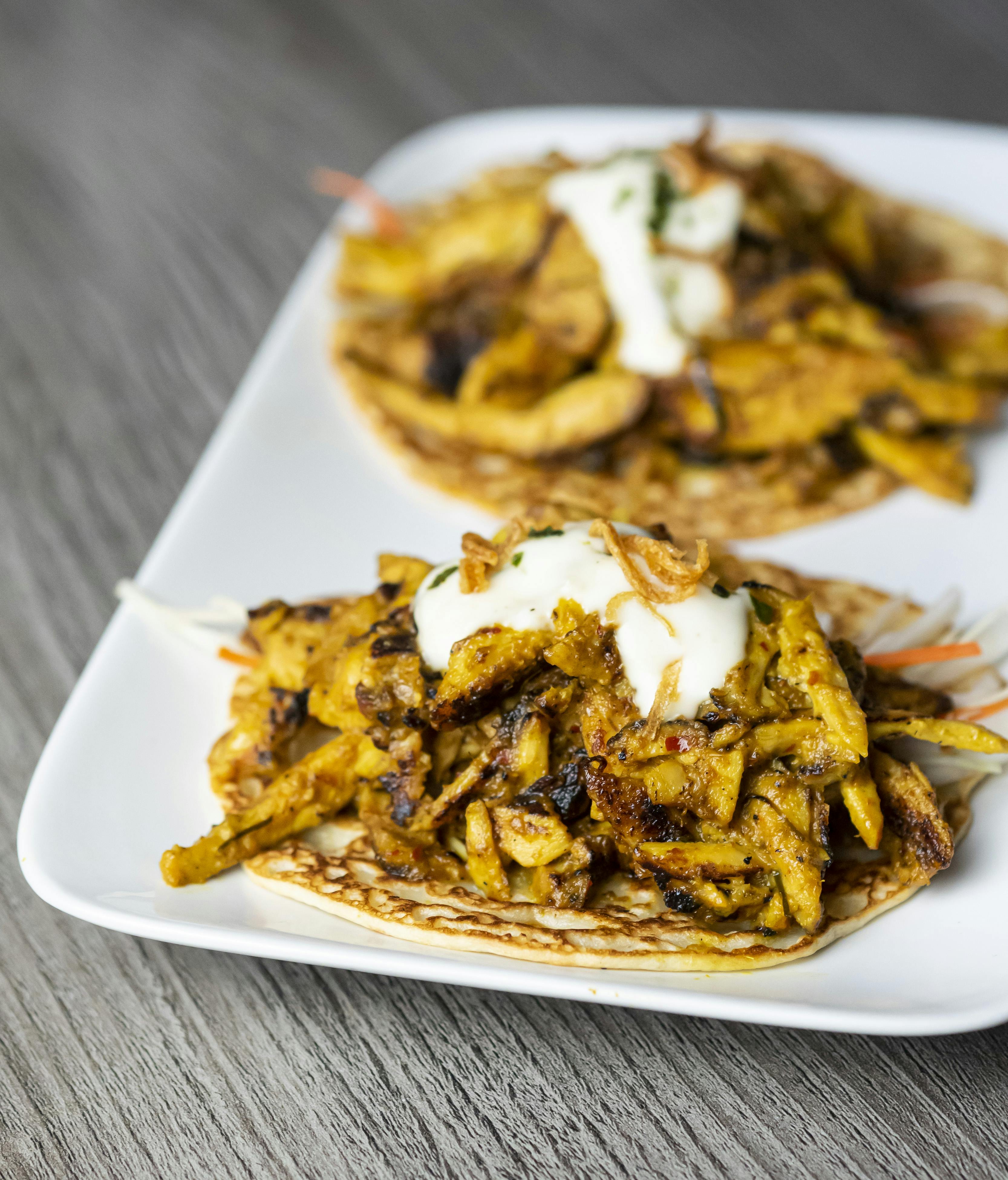 One bite of the kitchen's fragrant, tender take on tacos, and it's easy to understand why they provoke powerful emotions. A crepe-like reinvention of roti jala bread made with coconut milk, flour and cornmeal serves as the taco base. The kapitan curry is made with lemongrass, lime leaf, coconut milk, house-made curry paste and more. Bite-sized morsels of chicken are charred in the curry sauce, and served alongside cabbage, carrot, fried shallots and — in a nod to bar manager Johnny Kountouri, Soo's husband — with a drizzle of tzatziki. The result is a handheld flavour bomb that's deeply savoury, slightly smoky, tender, crunchy, saucy and entirely likely to inspire repeat orders.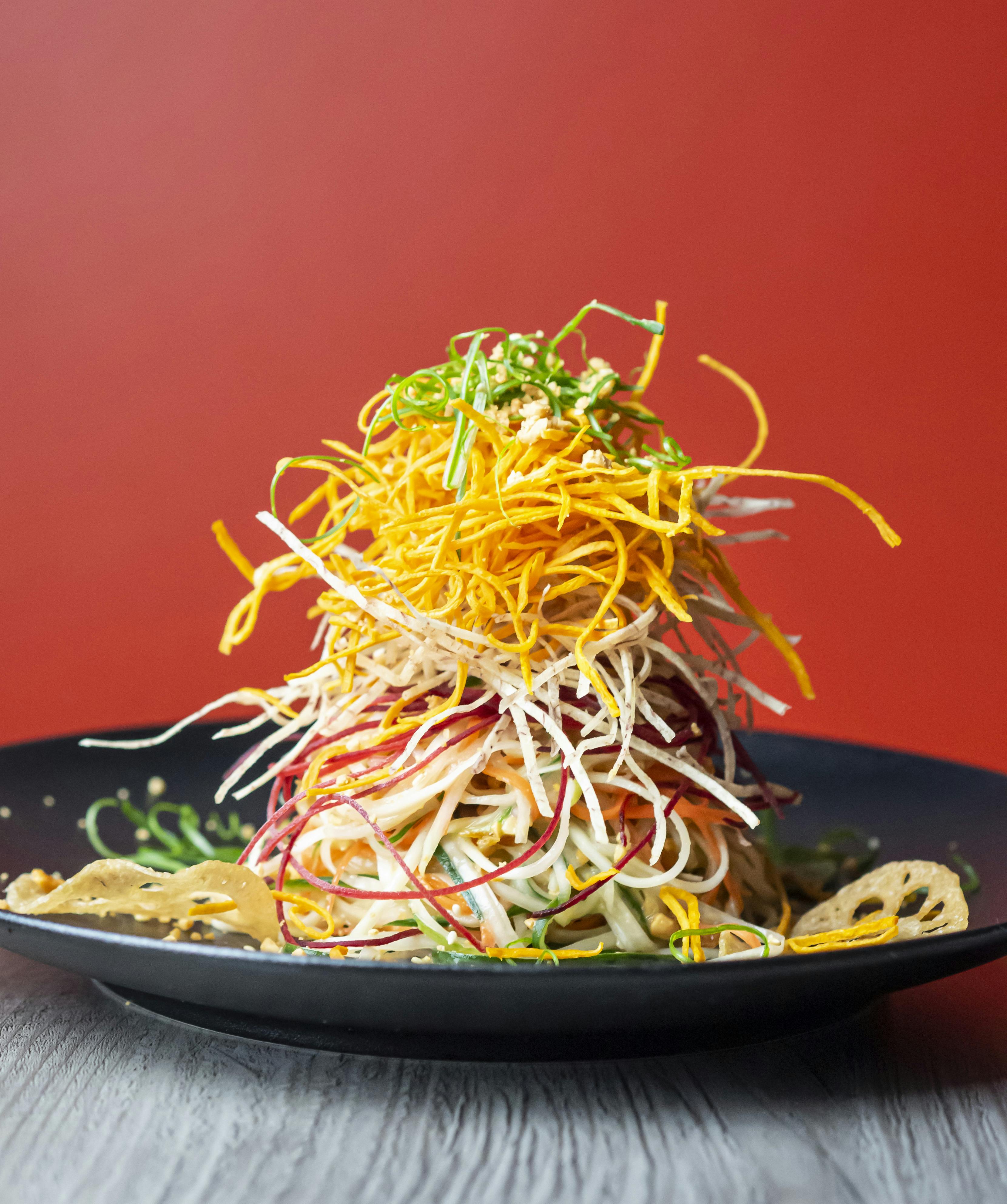 Though often reserved for Lunar Near Year, Soos' prosperity slaw is served year-round. "Prosperity slaw is a salad that's tossed to ring in prosperity for the new year," says Soo. "Everyone will grab a pair of chopsticks, the slaw elements are all separate, and everyone will toss it together." At Soos, the salad is pre-tossed in the kitchen and "is full of prosperity," assures Soo. Each one is a mountainous, magical array of innumerable fresh, fried and roasted ingredients. There's julienned green papaya, daikon, cucumber and jicama. Fried lotus, sweet potato, taro and shallots add texture and depth. Aromatics include fresh ginger, pickled ginger, lime leaf, Chinese five spice and scallions. A dish that's a true labour of love, Soos' prosperity slaw offers a complex and varied experience where no two bites are exactly alike.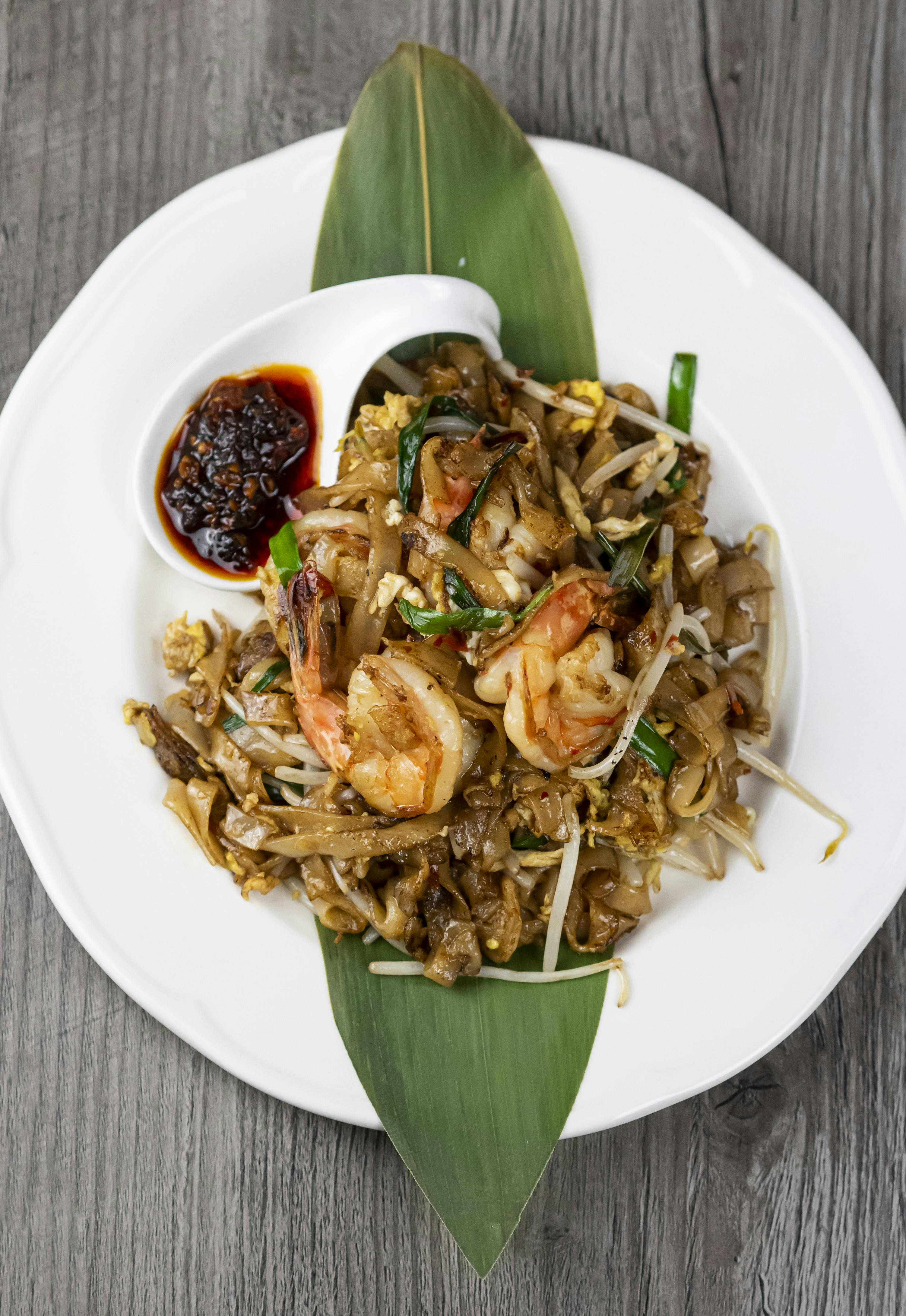 "The favourite large plate here, by far, is the char kway teow," says Soo. A take on a popular Malaysian street noodle, Soos' char kway teow is made from flat rice noodles tossed with tiger prawns, chives, bean sprouts and egg, then seasoned with oyster sauce, fish sauce, soy sauce and served with house sambal chili on the side. The beauty of the dish is the wok hei, or breath of the wok, says Soo. "It's the skill of the wok chef to be able to char the noodles without having a burnt taste. To have the smoky taste infuse the noodle." Family matriarch Tricia is the expert chef working the wok, along with son Zack. "We do [each order] one at a time," says Soo. "We can't do them together because we don't want to sacrifice on the quality of each one."
In support of vegetarian and vegan diners, the team also offers a full menu of plant-based eats under the restaurant's alter-ego, Fat Choi. Launched in 2017 as a takeout concept, the Fat Choi menu is now offered alongside Soos' regular menu for dine-in and takeout.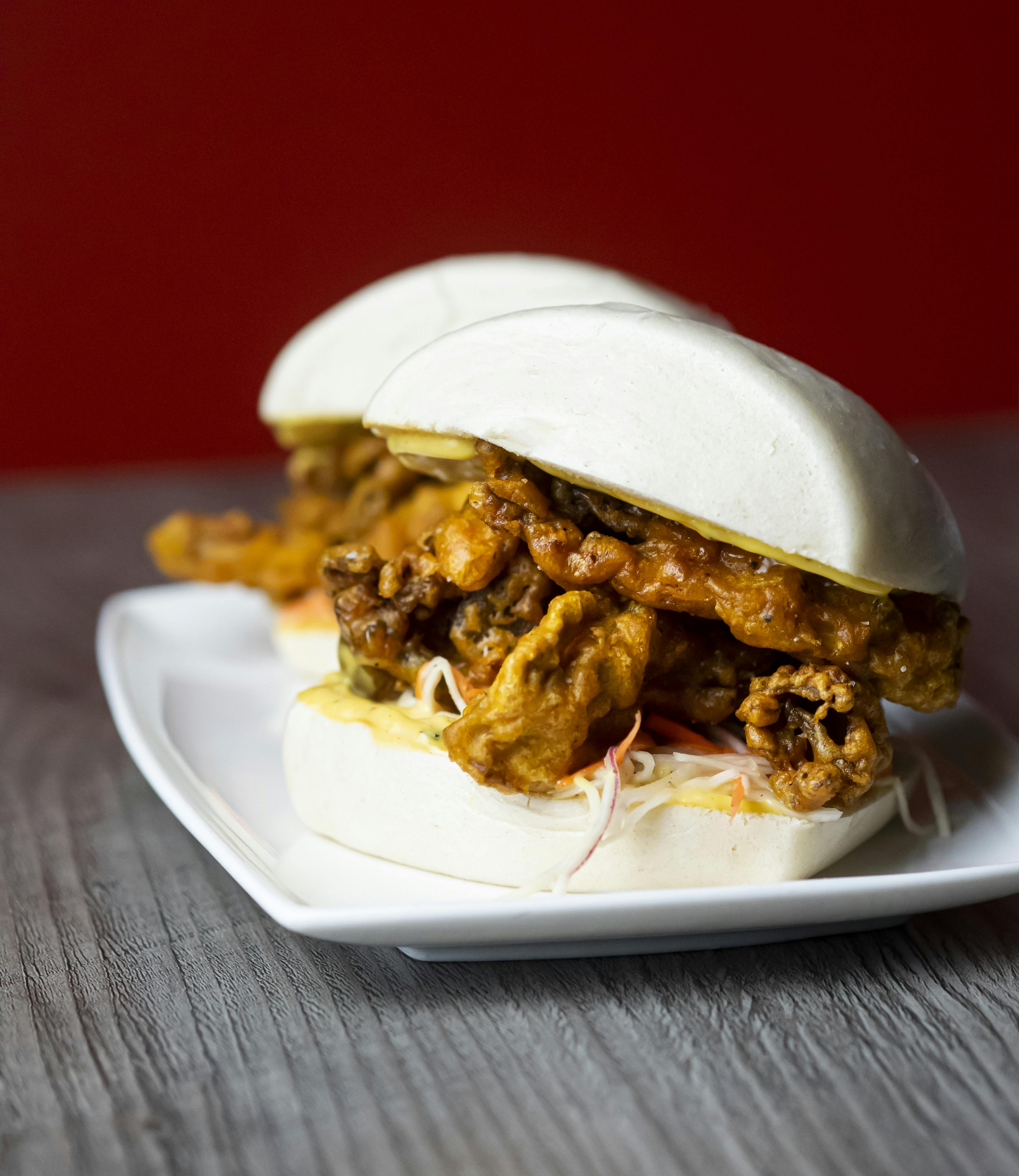 Rempah mushroom bao feature steamed mantou bursting with organic black oyster mushrooms, sambal mayo and vinegary cabbage coleslaw.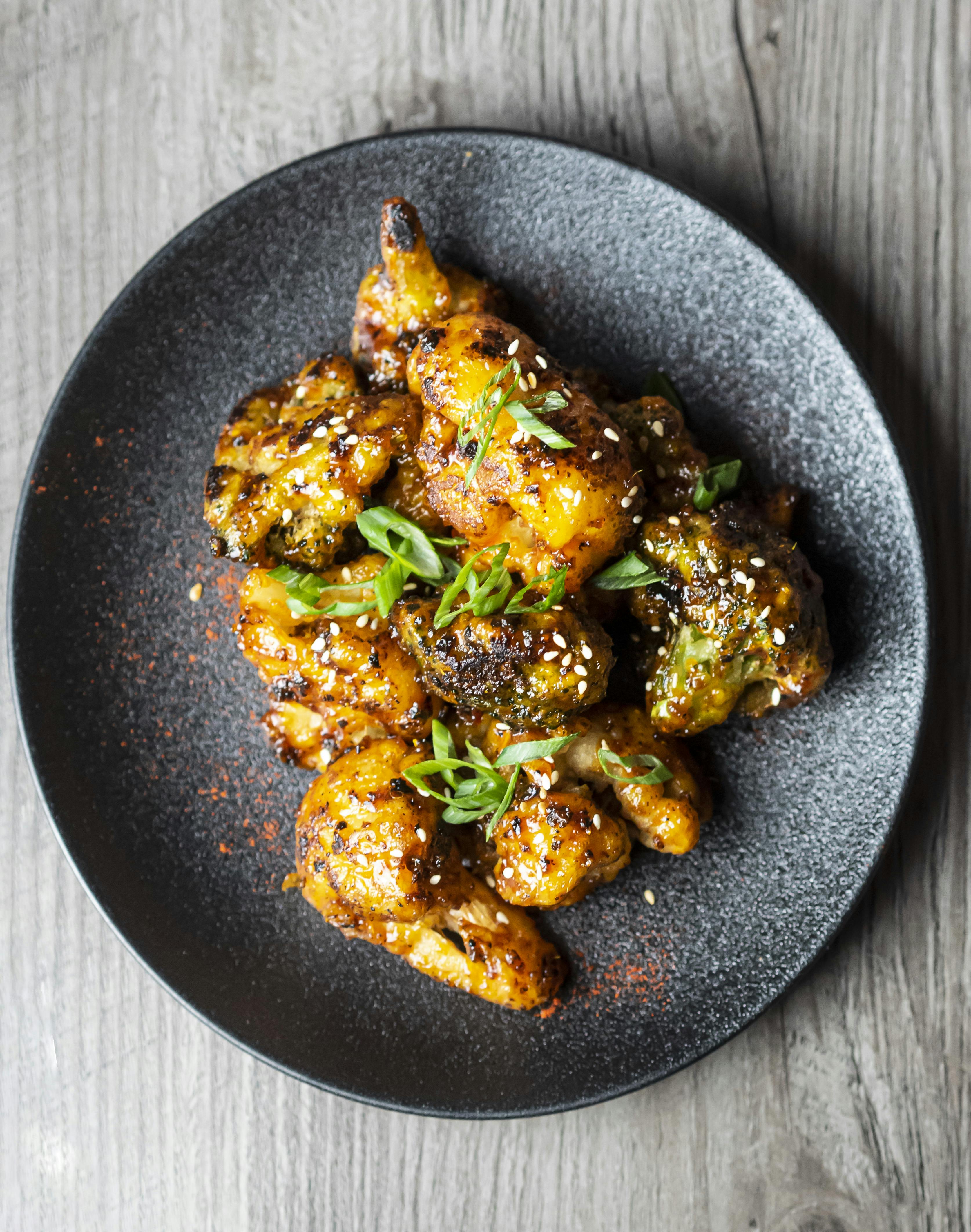 Bathed in chili peanut glaze, red chili cauliflower and broccoli is rich and subtly spiced. Few treatments elevate cruciferous veggies to such extraordinarily delicious heights.
A concise list of desserts finds fried bananas and fried pineapple pies vying for attention. House sago sago is another favourite, here relying on pandan-leaf infused coconut milk, tapioca pearls and gula melaka, or Malaysian palm sugar, for its subtle, distinct taste.
The restaurant's bar program, headed by Kountouri, includes teapot cocktails created as a nod to "Toronto's cold-tea tradition of getting beer in teapots in Chinatown at night," says Soo. From the Pineapple Pal to the Love Oolong Time, each one is perfect for sharing and drives the tropical theme home. Single-serve cocktails also rely on South Asian ingredients, infused syrups and spirits.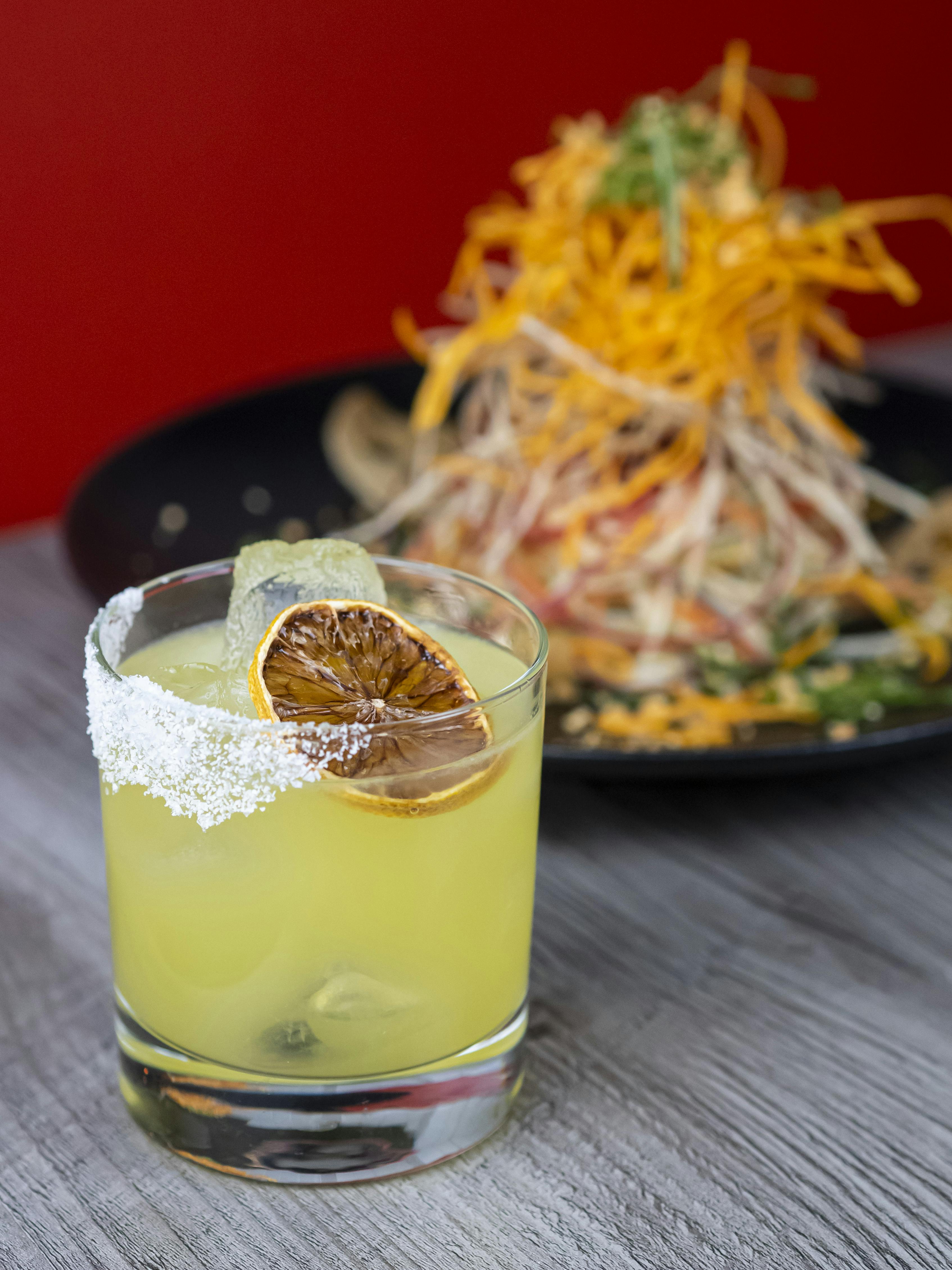 The Marga-Mori, named for a former employee, combines Tequila Tromba Blanco, green Chartreuse, passionfruit jalapeño syrup, lemon and salt into a whimsical take on tradition.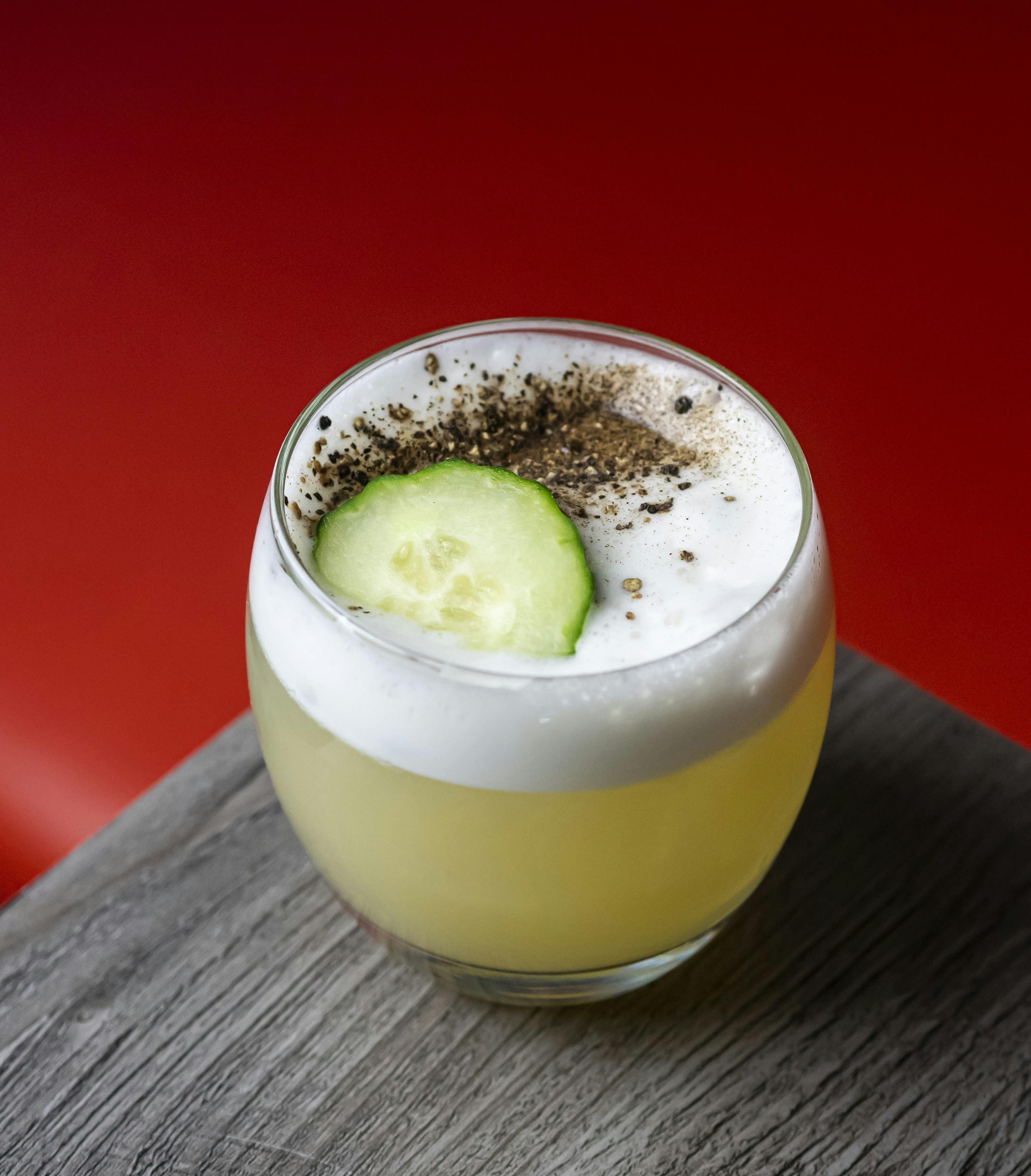 For the Motley Soo, Kountouri combines Ungava Gin, St. Germaine Elderflower Liqueur, cucumber, lemon, egg white and Sarawak pepper into a tipple that's as easy and breezy as a pristine Malaysian beach.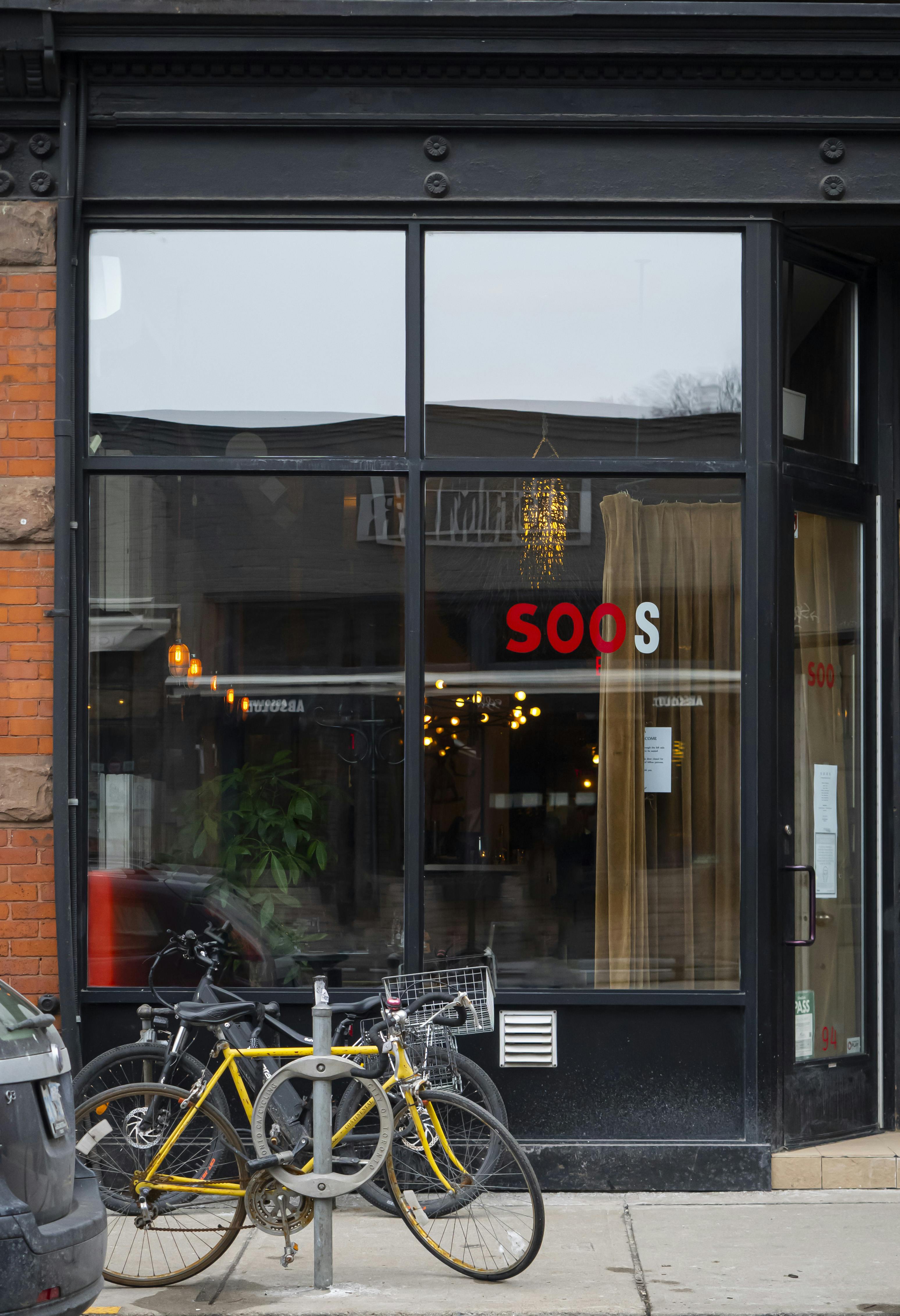 Saying that the food coming out of Soos' kitchen is delicious is like saying that the CN Tower is tall. Yes, it's true. Still, it leaves out half the story and the nuance of what makes it memorable. Family-owned and operated, Soos is a restaurant with heart. It's a place run by people with an unwavering commitment to quality who also have a knack for making stellar food. In-the-know customers have always known Soos is a gem. Now that word is out; they just may find it harder to get a reservation.