Photographs by Keessa Lynch
As soon as you walk into MARBL, the name makes hard, flawless, dazzling sense.
Like its namesake, MARBL takes many forms.
It's a restaurant -- with sleek marble tables, svelte black chairs and tufted white banquettes -- serving dinner until 2 a.m. and languorous weekend brunches.
It's a bar -- with a deliriously long marble counter -- where you can kick back with a serious cocktail, a bottle of bubbly, or a fine biodynamic wine.
It's also a club -- with a cavernous dining room supported by marble pillars -- where DJs set the rhythm and a festive atmosphere reigns.
That said, unlike some of its rowdier, more rambunctious King Street West neighbours, MARBL is emphatically not a nightclub.
Rather, it's the kind of loungey, very public yet private supper club where regulars mingle with -- or keep a discrete distance from -- rock stars, movie stars and sports stars (some of whom are prone to enter and exit through the kitchen). Stars aside, it's also a universe on an intimate scale, where everybody knows your name. Or, as DJ the bartender puts it, "It's like Cheers – on steroids."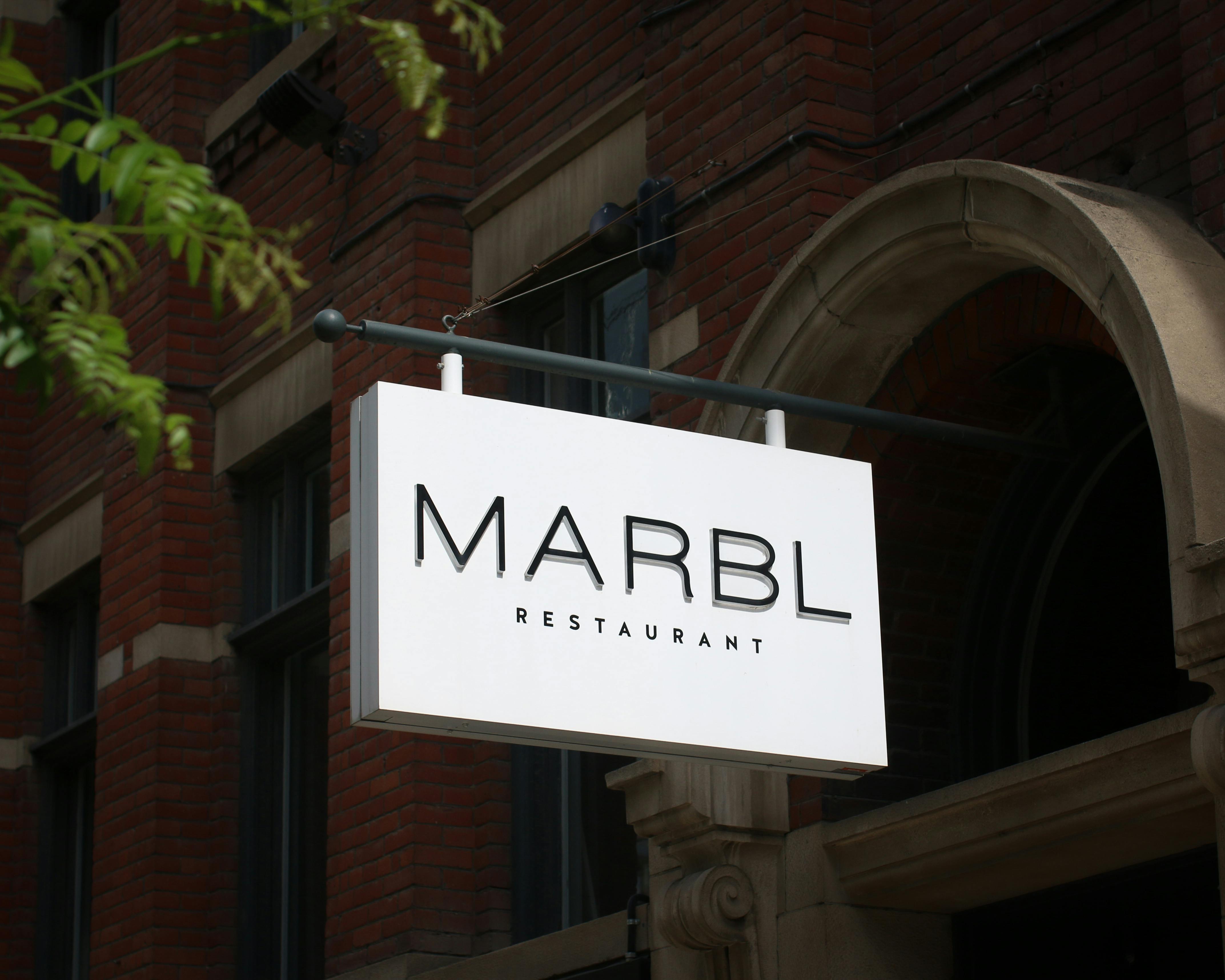 MARBL is owned by Peter Girges, who got his start in the restaurant business as a 14-year-old peeling potatoes at his father's Etobicoke cafe. As a young man he was lured out west to Vancouver where he apprenticed at his uncle's Glowbal Restaurant Group. Girges subsequently made a name for himself with the successive openings of West Oak, Pierre's Champagne Bar, and Twelve West, high-end restaurants and clubs that brought a certain jet-setty glamour to Vancouver's central Yaletown neighbourhood.
In 2018, like all good prodigal sons, Girges decided it was time to return to his hometown. He did so in signature high style by purchasing Frings, the short-lived but super hyped collab between Drake and Susur Lee. The palatial space, which seats 200, was begging for an overhaul. Girges complied by tricking out the light-suffused palace in starkly chic monochromes: black wood floors, exposed industrial ceilings, princely chandeliers, not to mention the aforementioned marble.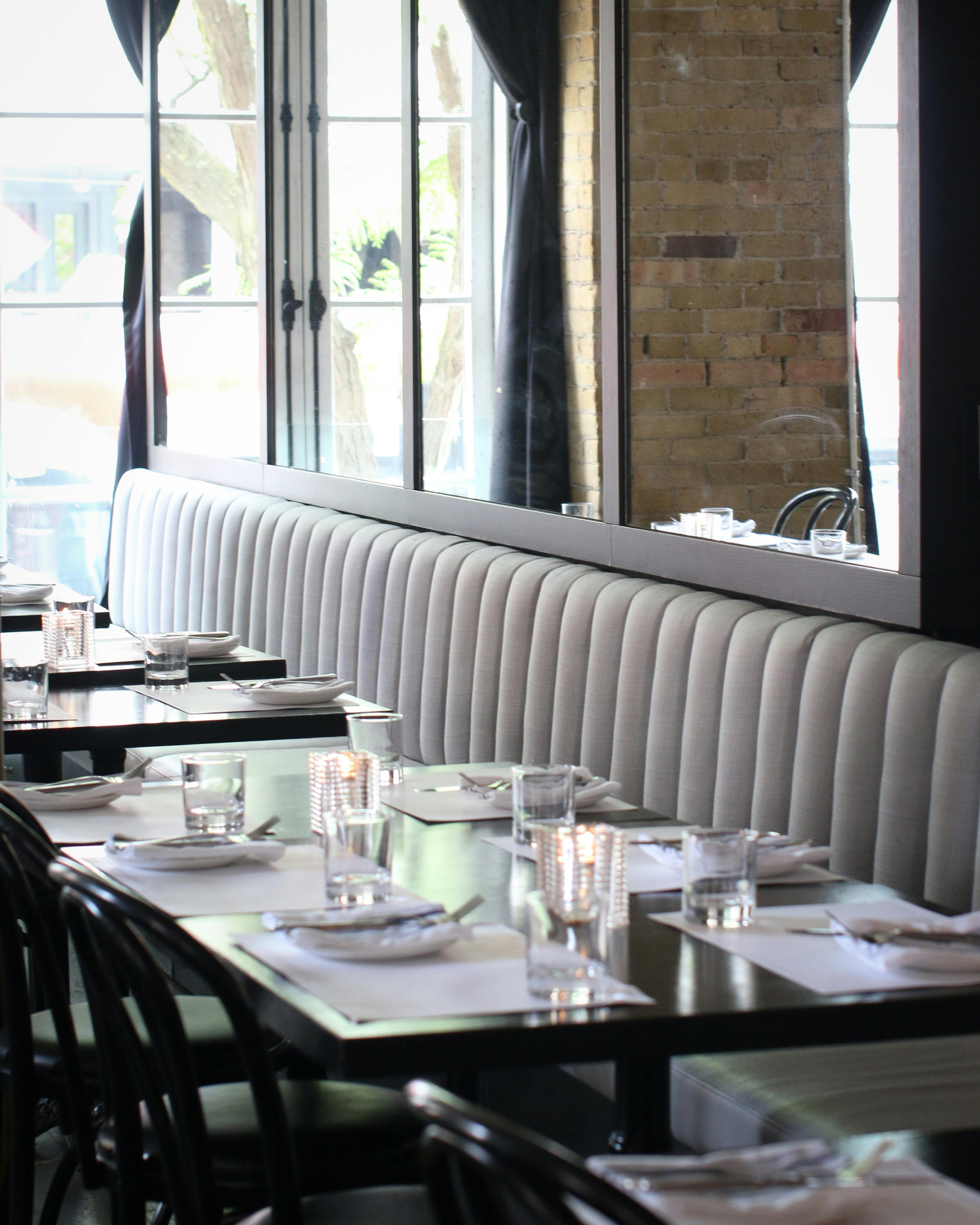 The makeover complete, he lured Hamilton-born chef Ryan Morrison back from the States (where he'd worked at Scarpetta, among other establishments). Together, they designed an eclectic menu built around classic chophouse standards such as premium steaks and chops.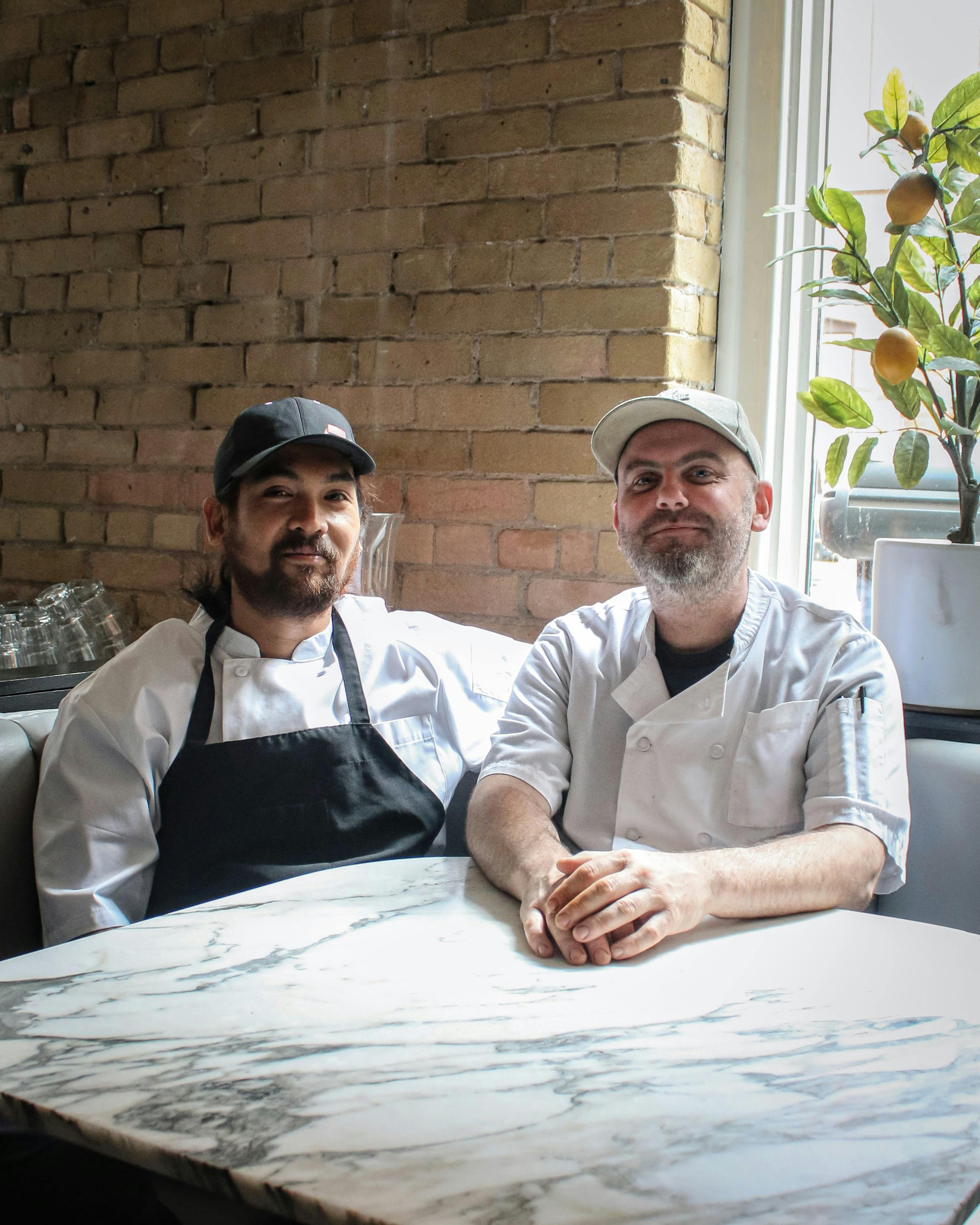 Ana-Maria Botcura is Girges' business partner and General Manager at MARBL (and its recently launched sister establishment, Mademoiselle). Like Girges, she also hails from BC where the two had previously worked together. She describes the opening of MARBL as the duo's official introduction to Toronto. At the same time, she believes the restaurant introduced a new trend to this already trendy stretch of King West, spearheading a metamorphosis from a graffiti and grunge ethos to a more Yorkville-y vibe, albeit one infused with a certain West Coast warmth and casualness.
The owners' vision of MARBL involved deconstructing the categories of "restaurant," "club" and "lounge". Nights at MARBL often start out as quiet yet convivial dinners among friends, many of them hardcore regulars. However, come 10 p.m. when the DJ ramps up the volume, things take a turn for the more exuberant. Ensuring that guests are enjoying themselves to the max is the resident hospitality director, who goes by the moniker "A-Rod."
Having fun at MARBL involves adhering to a style code. This means if you're thinking of dining in a hoodie and flip flops, think again. As Jeffrey Feldman, Director of PR & Events points out, many customers choose MARBL as a place to commemorate special events. "We just want to make sure that if you're celebrating your engagement or your mom's 80th birthday, you're not sitting next to a bunch of guys in sweats doing shots."
Says Botcura, "What really sets us apart is that usually if you go out for dinner, once you finish your meal, you then have go out to a bar or club or lounge. But at MARBL your dinner just transitions into bottle service to staying late to hanging out all night."
That the kitchen keeps dishing up the full menu until 2 a.m. is part of the plan. Says Botcura, "If you come in for dinner at 7 o'clock by 1:30 in the morning you're going to be hungry again. You've been drinking. You don't want to go somewhere else and have a burger when you can have a nice steak."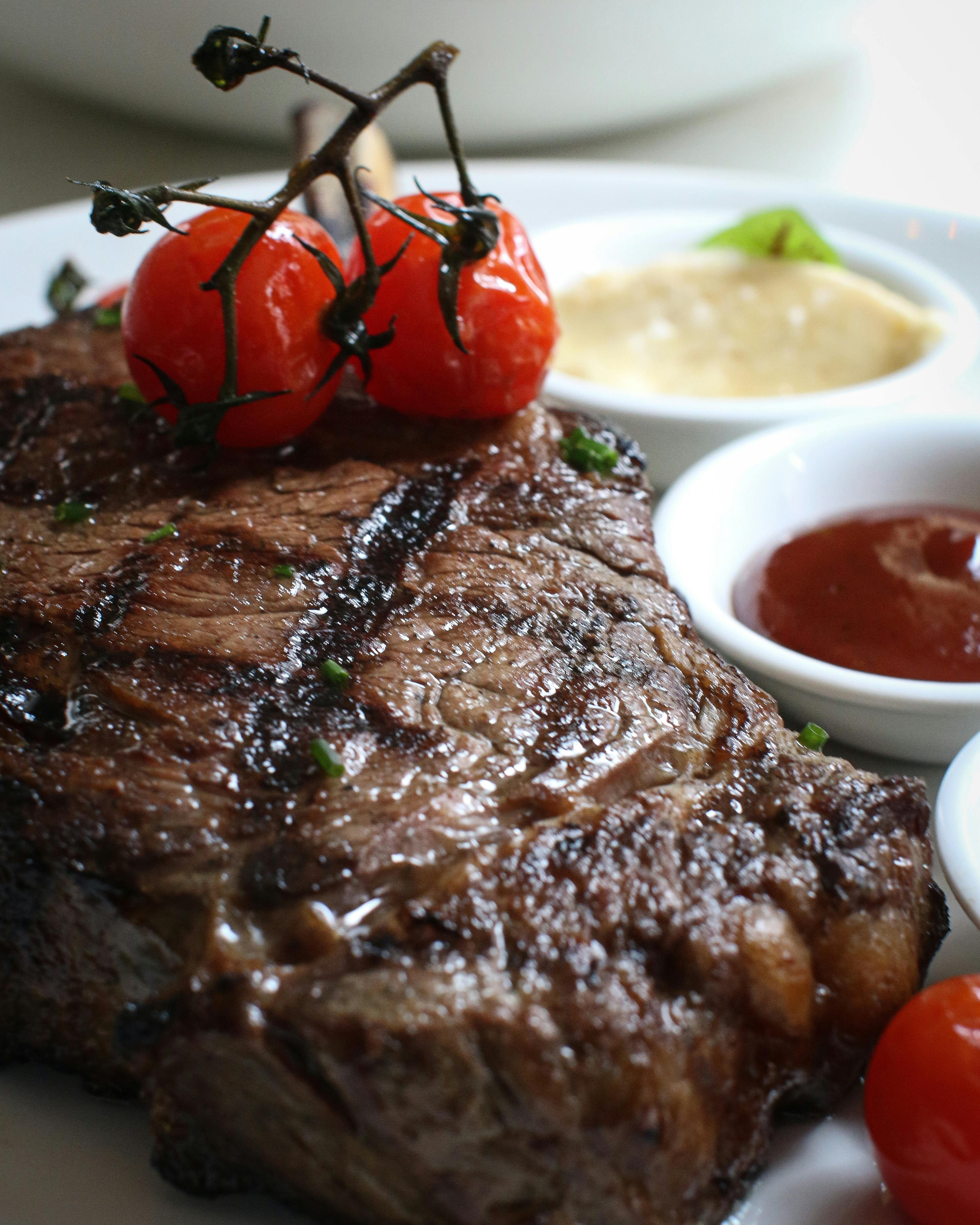 The steaks at MARBL are very nice indeed. They range in succulence, seductiveness and size from 8-ounce beef tenderloins and 16-ounce bone-in striploins to 24-ounce bone-in ribeyes and whopping 48-ounce tomahawks. Prepared without fuss, Morrison lets the stellar cuts -- sourced from Alberta and Iowa -- speak for themselves. To hear the sizzle for yourself, take a seat at the marble counter overlooking the open kitchen. Regardless of the cut, Morrison casually layers the immaculately seared slabs with a cherry splash of grilled cherry tomatoes. A holy trinity of A1, chimichurri, and miso butter are added on the side.
Steaks are a prominent presence on MARBL's epically sized, and hugely popular, share platters. The classic platter pairs the tomahawk steak with a rack of lamb, garlic shrimp and a selection of sides -- roasted Brussels sprouts with bacon and parm, mashed Yukon gold potatoes with buttermilk and chives -- to which ambitious eaters can add whole Atlantic lobsters and king crab legs.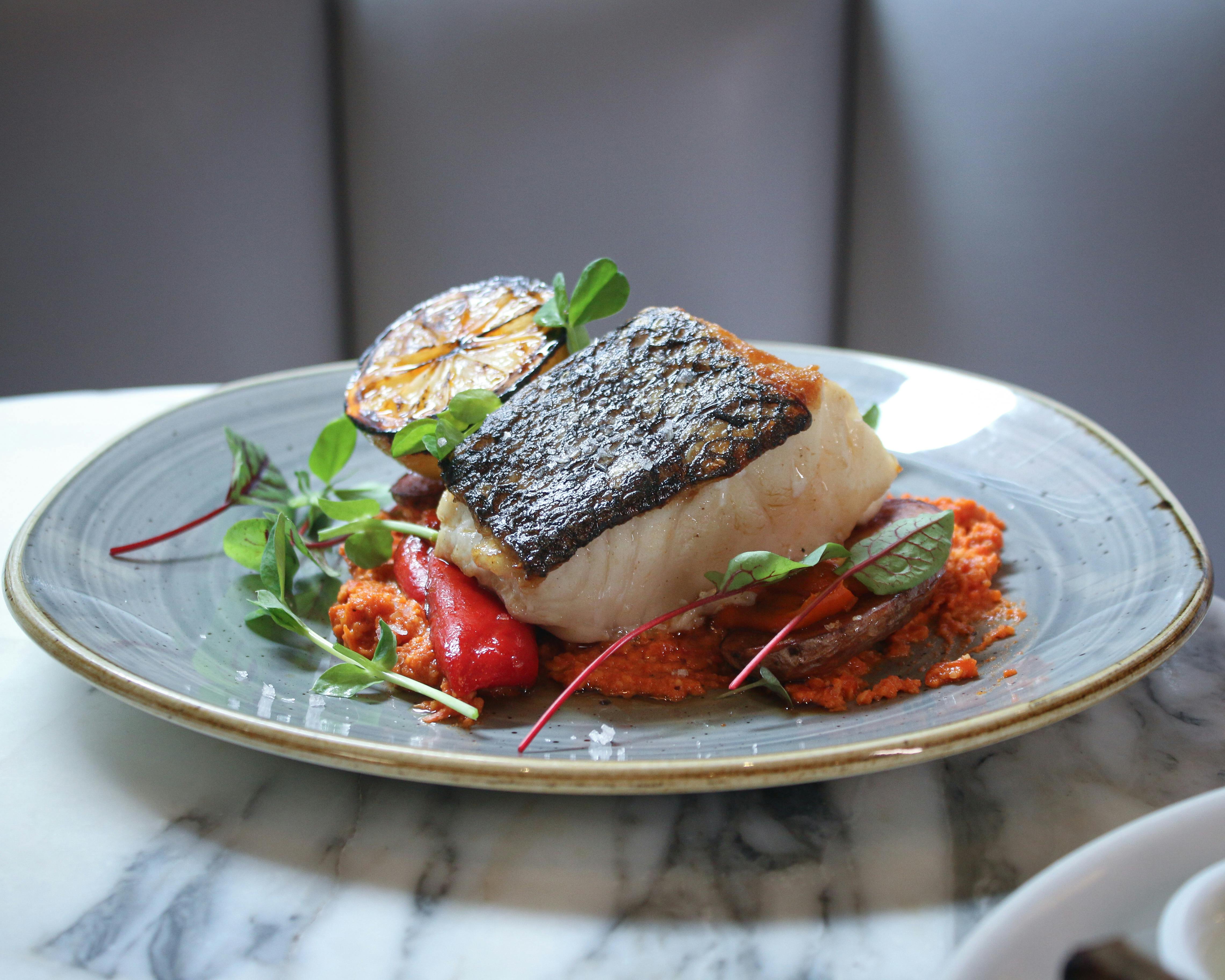 Despite its steakhouse cred, MARBL's menu is notably as heavy on surf as it is on turf. In addition to a fresh whole branzino, Morrison does a tasty roasted sea bass. Served with confit potatoes and red peppers with a charred lemon on the side, it's as tender and substantial as any red-blooded rival on offer.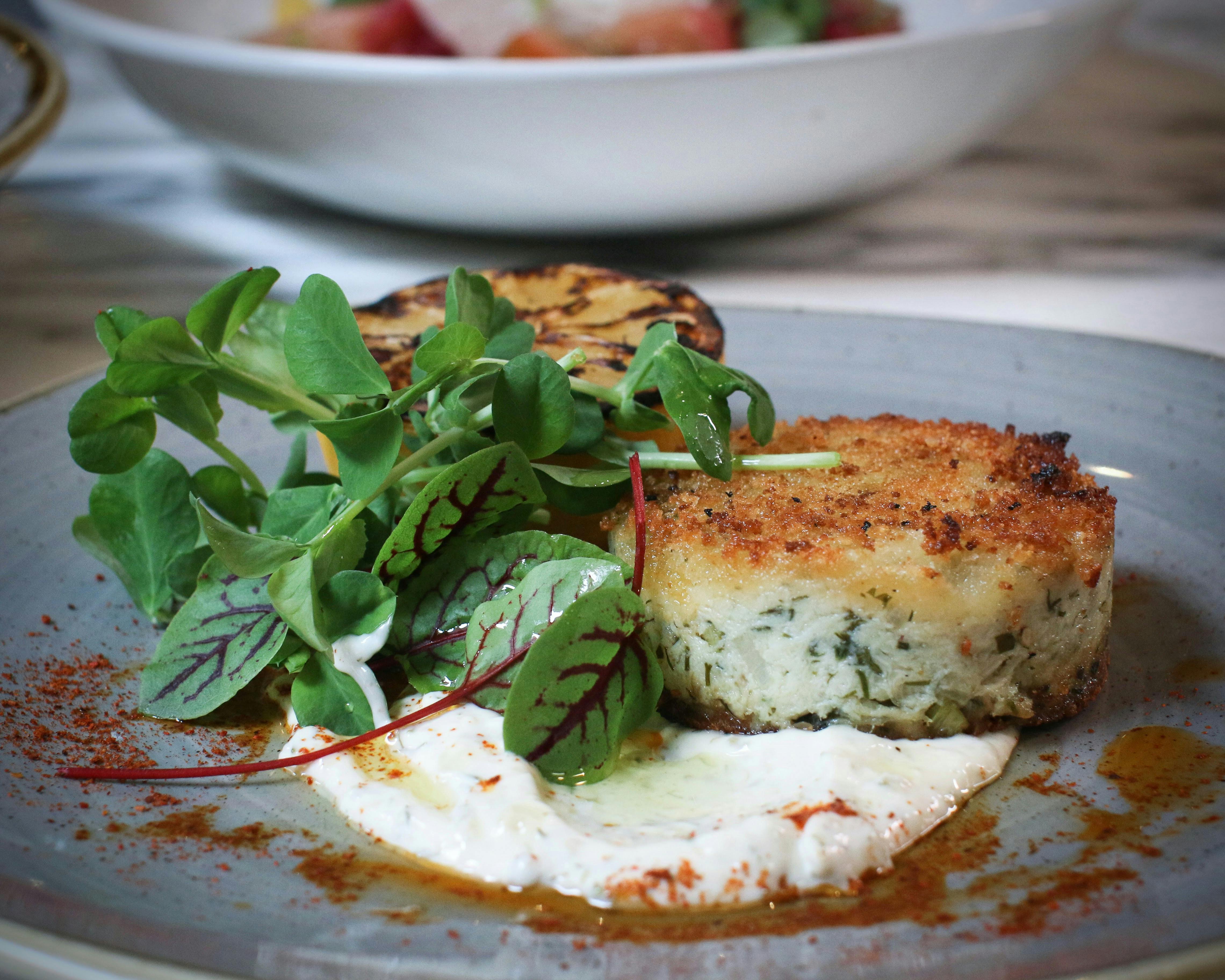 Seafood runs rampant across the menu, especially when it comes to the starters. There are tender Dungeness crab cakes, spiked with dill and topped with watercress. Plump scallops arrive cloaked in a sheath of bacon and dolloped with mustard butter.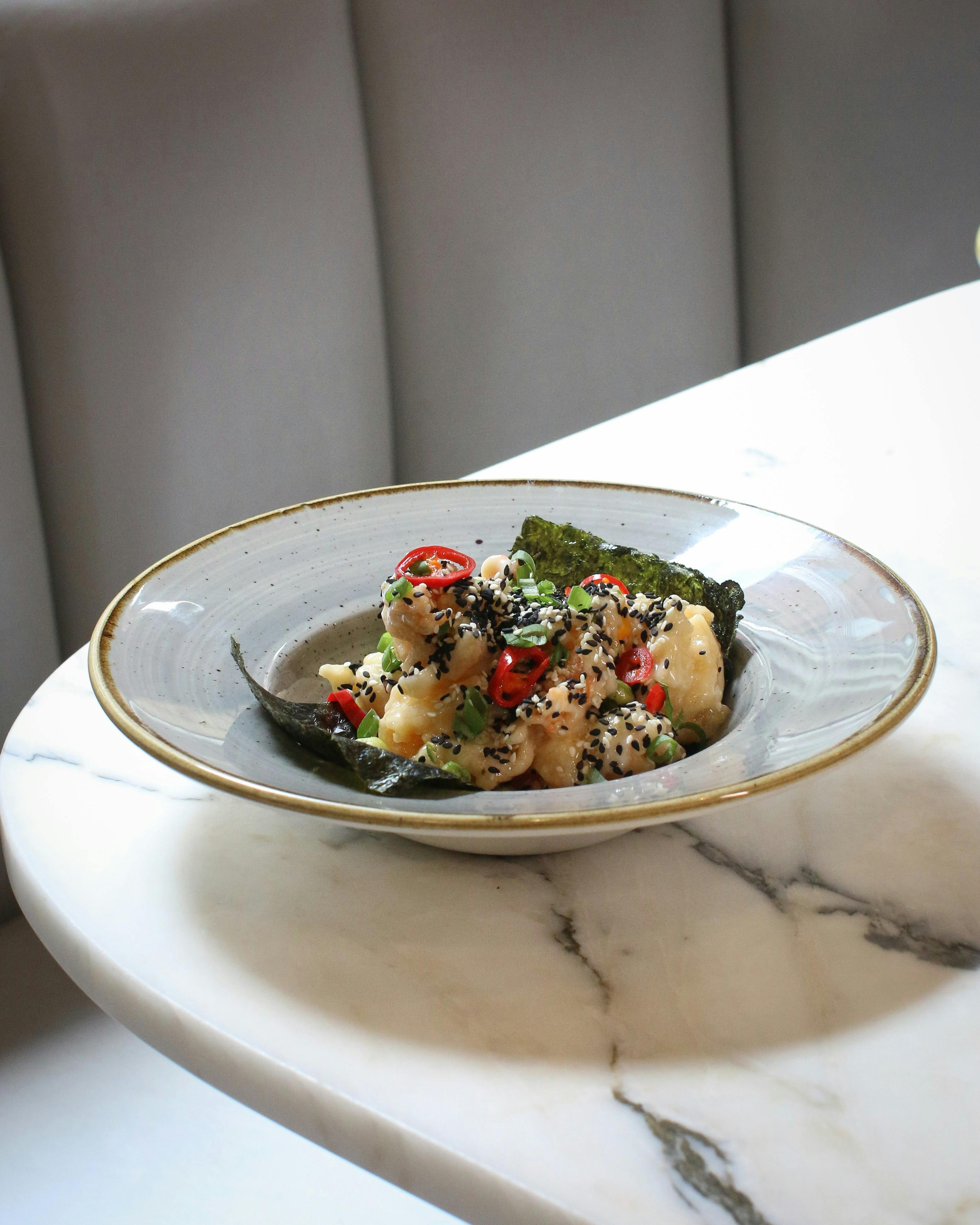 Downright addictive are the chinois prawns. The succulent shrimp are coated in a lacy layer of crispness, sprayed with black sesame seeds and wasabi peas, then laid to rest on a thin sheet of nori. A glistening pool of chili mayo is ideal for dunking.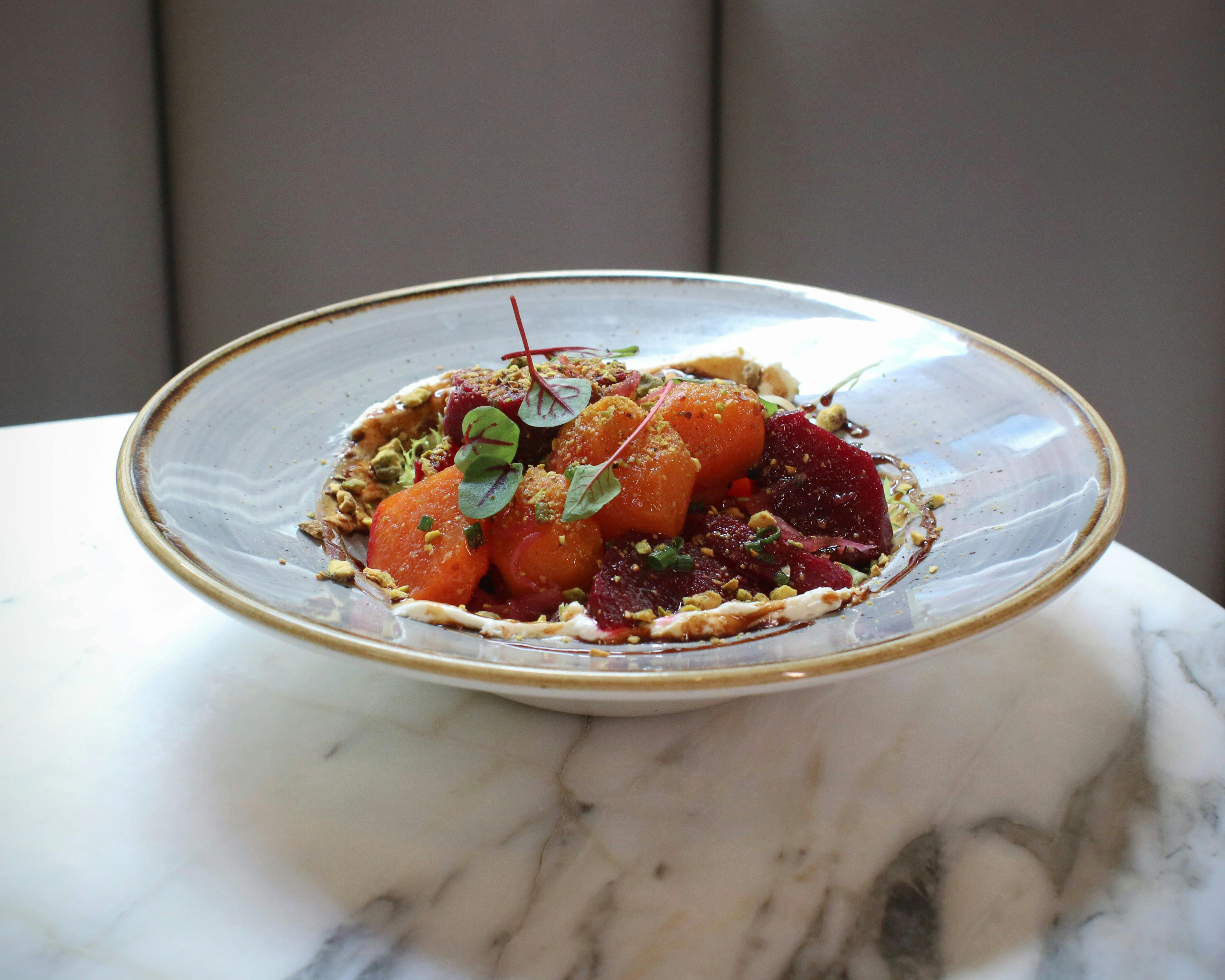 Morrison doesn't skimp on vegetables. A bright salad of roasted baby beets is surrounded by a moat of creamy goat cheese, flecked with crunchy pistachios and drizzled with sweet pomegranate molasses. The burrata salad stars a luscious mound of burrata flown in twice a week from Puglia. The mouthwatering import is generously splayed atop an array of multi-coloured heirloom tomatoes and seasoned with torn basil.
If MARBL's edible offerings traffic in what Morrison describes as "creative modern American" standards, the sippable ones take you on an adventure into the great alcoholic unknown. MARBL's wine list is as impressive as it is epic, and includes some small organic rarities from France, Italy and the U.S. There are premium bubbles galore in addition to high-end bottle service. But it's the creative cocktails that cause jaws to drop and tongues to wag (enthusiastically).
DJ the bartender is practised at eliciting such reactions. A daring and dedicated mixologist, he's been known to hightail it across the GTA in search of special ice or a superior type of rosehip. He describes his patrons as a discerning group of drinkers that runs the gamut from "the guy or the girl who bartends somewhere else, to the person who works the front door at a hotel to multi-billionaires."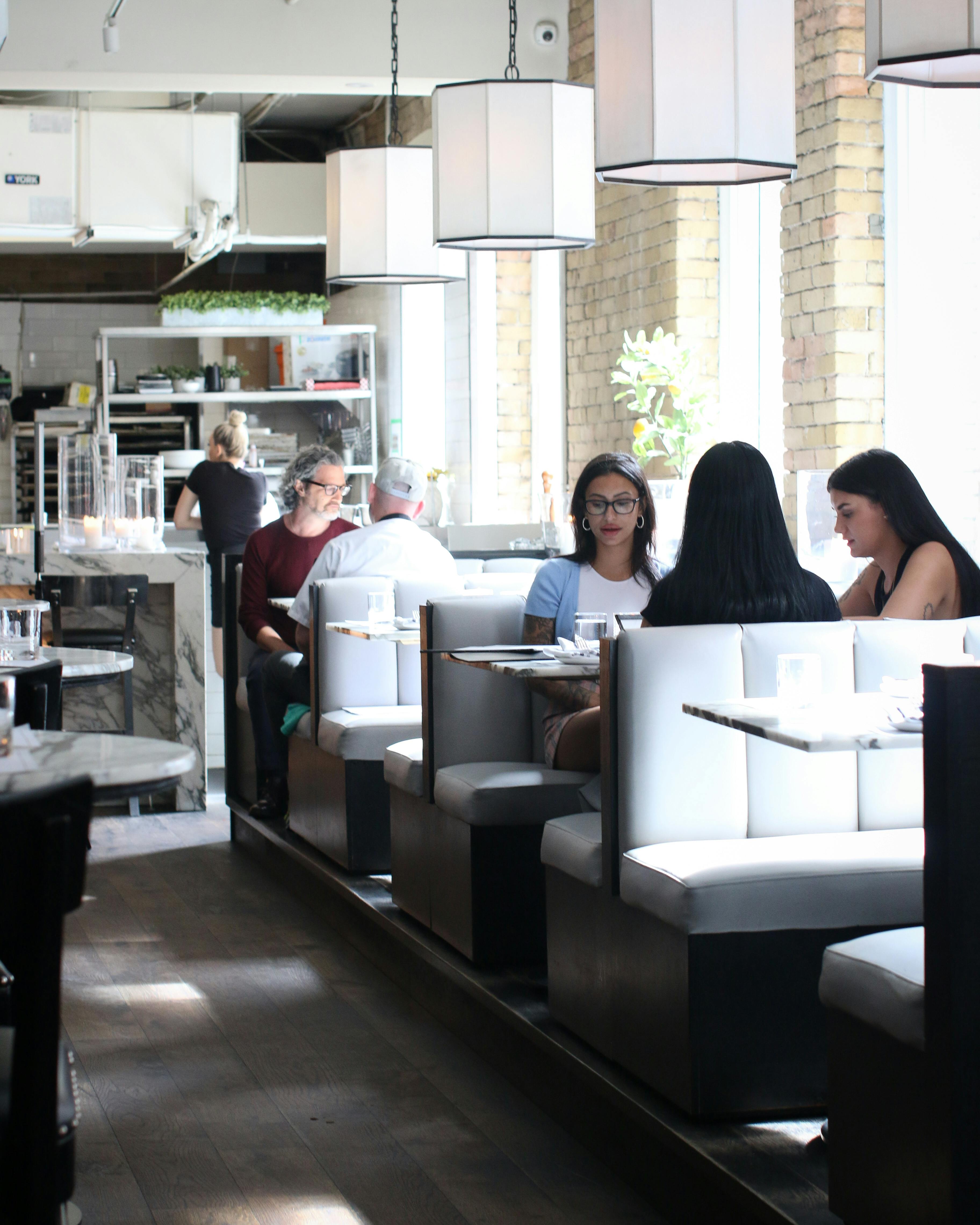 "We treat everybody like they're in our house and this is a big house party," reveals DJ before revealing his most recently brainstormed cocktail list.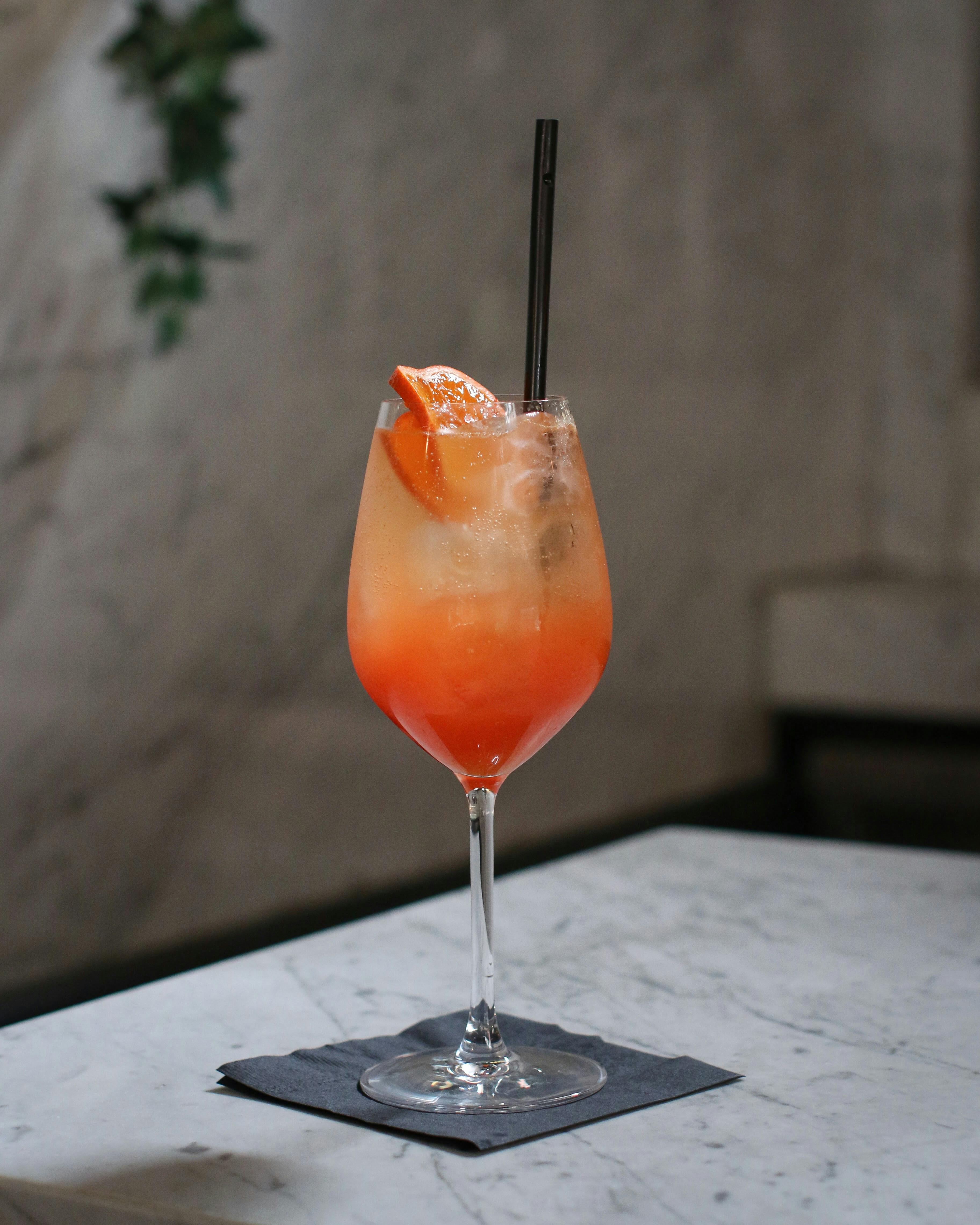 Looking as if a summer sunset has been poured into a glass, the Tangerine Dream offers an uncommon degree of refreshment courtesy of freshly squeezed tangerine juice mixed with Belvedere, Prosecco and Martini Fiero -- (described by DJ "as if Aperol and Campari had a baby") --  along with some effervescent soda fizz.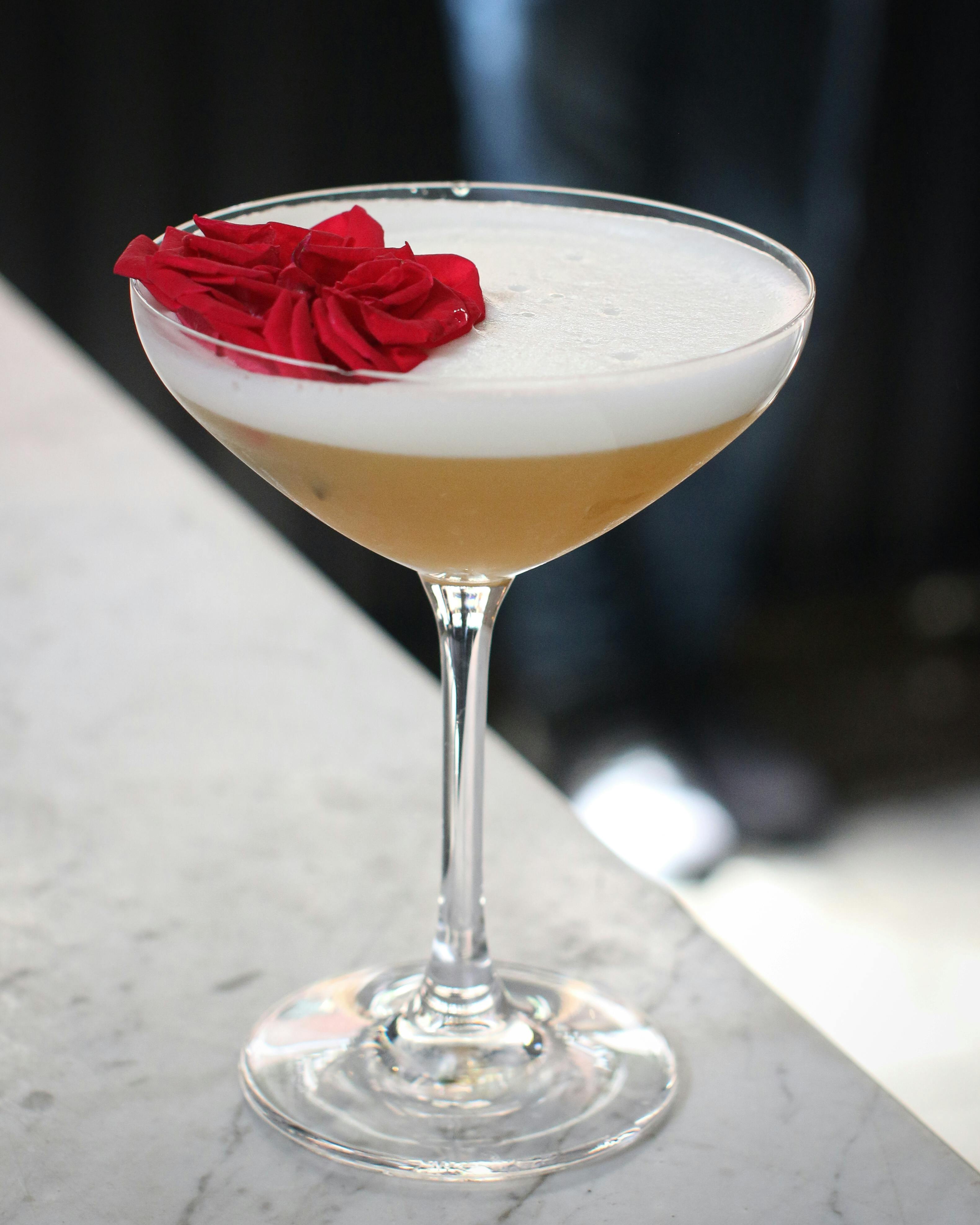 Like all good bartenders, DJ has a romantic streak. The libation known as Every Rose has its Thorn starts off on an innocently sweet and floral note, with rose-infused gin, rose water mist, fresh (and edible) red rose petals and honey syrup. However, like many love affairs, things go (deliciously) south, fast, with an acidic spritz of lemon juice and some unexpected, but much deserved back-end bite from habanero pepper.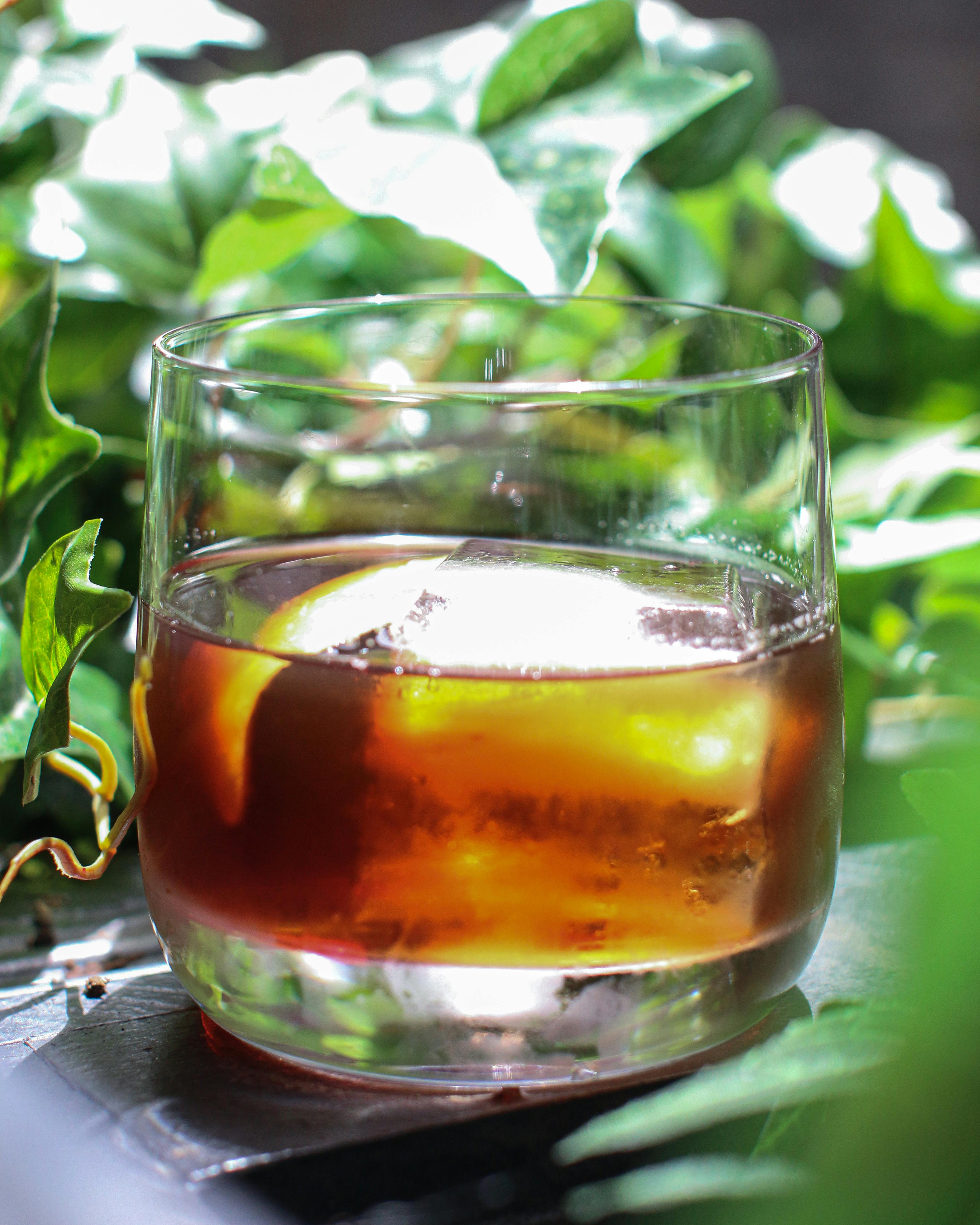 Smoother, less melodramatic, but no less potent is the sepia-toned Hennessy in Love in which Hennessy VSOP Cognac gets dolled up and goes to town with lavender bitters, cassis and pressed lemon.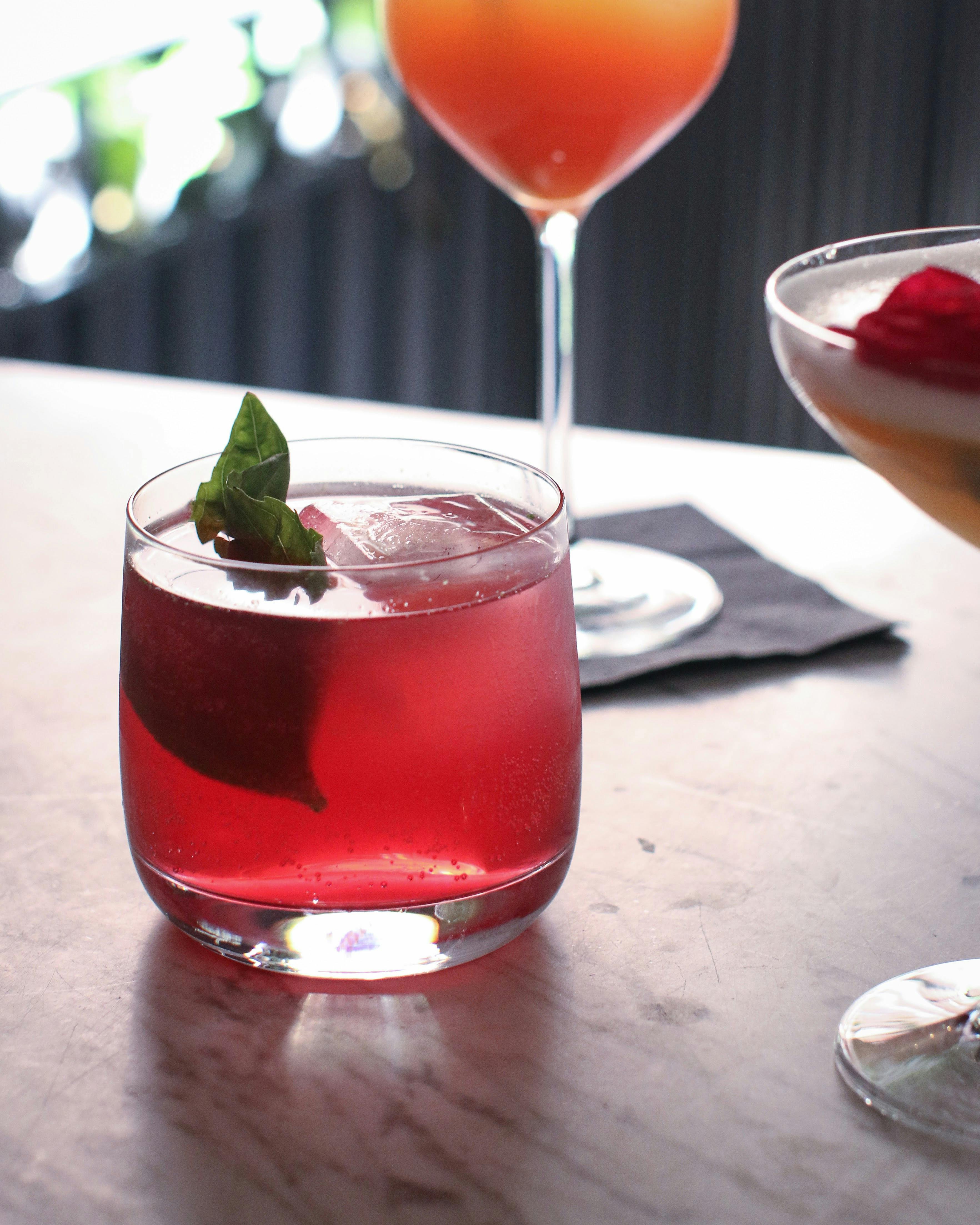 Another drink that lingers (in a good way) is aptly baptized All Summer Long. This collaboration with Red Bull features the Red (watermelon) Edition of the energy drink, mixed with Casemigos tequila and spiked with fresh lime juice and muddled basil. It may not keep you up all night, but it will tempt you to keep drinking -- even on into the next day.
Indeed, at MARBL cocktails aren't just for after dark. On weekends, the "big house party" continues, morphing into a lazy, boozy brunch, which on warm days can be savoured on the breezy patio. Particularly popular with neighbourhood residents seeking to recuperate from -- or extend -- the previous night's pleasures, the brunch menu borrows from the dinner menu while adding breakfasty options such as omelettes, pastrami hash and eggs Benedict. Lobster and crab versions are particularly curative. The sweet briny flesh pairs nicely with expertly poached eggs and a luxurious hollandaise.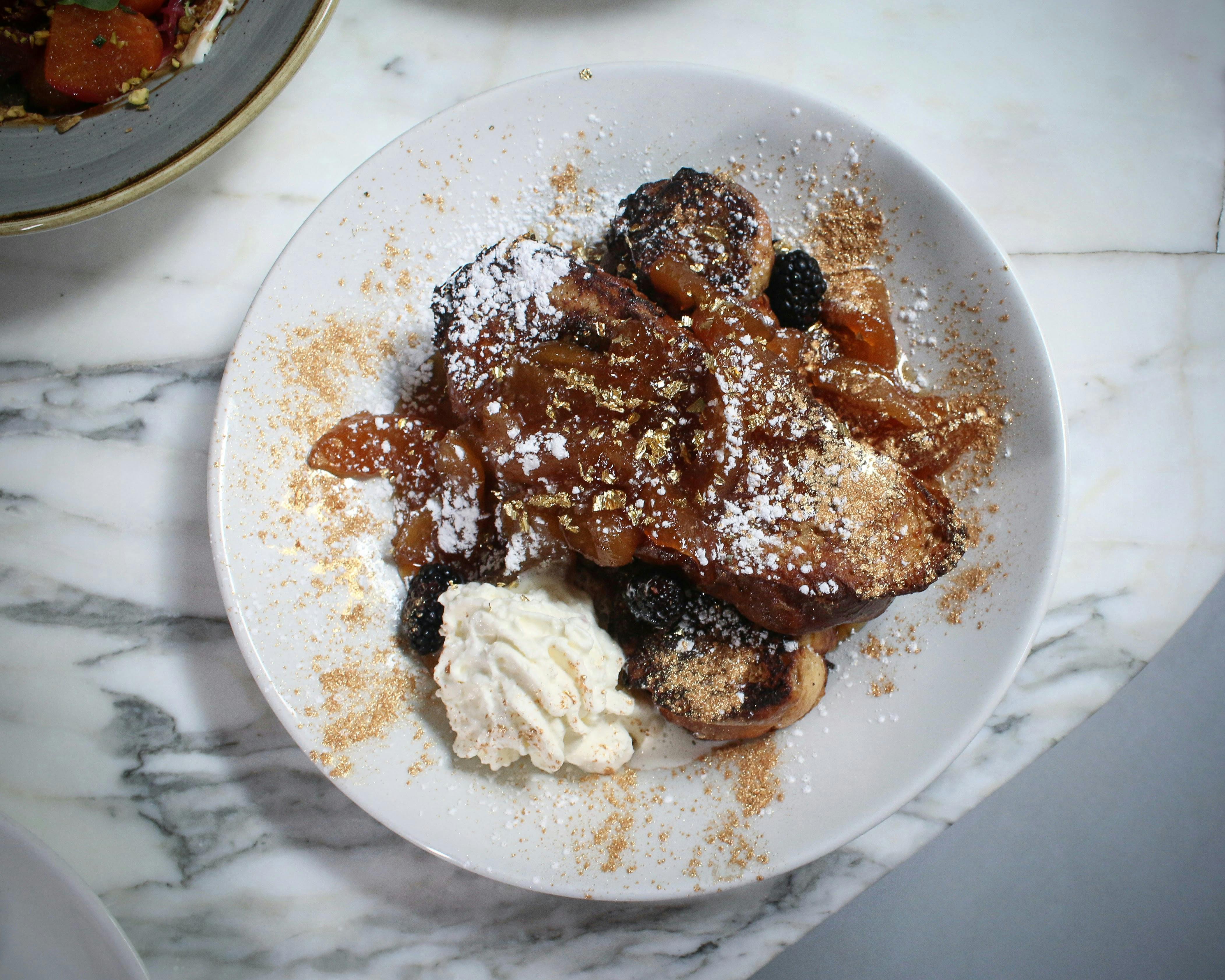 Even more decadent is the French toast. Piled high with caramelized apples and whipped cream, it's drenched in maple syrup and generously dusted with scintillating flakes of gold.
Perhaps this last dish best sums up MARBL itself, where the traditional and tried-and-true -- in terms of food, drink, hospitality and atmosphere -- are elevated to lofty heights. Like the restaurant's namesake stone, MARBL is classical and impressively solid, but it also gleams.