Photographs by Amanda Biffis
Mademoiselle is not your usual King West establishment. To start, it's located where an iconic Toronto strip club used to be.
For over 30 years, 563 King St. W. was home to For Your Eyes Only: a dramatic, two-story adult entertainment venue with an unassuming exterior of blacked out windows and plain steel doors. As COVID took its toll on local businesses, For Your Eyes Only shuttered its doors halfway through 2020, setting the stage for a brand-new concept.
Ushering in King West's revival in the post-COVID era, Mademoiselle is the latest project by Peter Girges (MARBL) and Ana-Maria Butcura that aims to bring an "elevated dining experience" where every night feels new and exciting.
Combining elements of Southern France, Miami, and the Mediterranean, the head-to-toe decadence of Mademoiselle recalls luxury coastal getaways where the food is fresh, the drinks overflow, and there's always something to celebrate.
"These three destinations are all places that offer experiences where you go for dinner and stay for the night," says Jeffrey Feldman, Director of PR & Events. "It's where dining and celebrating converge."
For Butcura, it was important that Mademoiselle could bring something truly different to King West and to Toronto, but without erasing the importance of what was here before them. 
"We took over such an historic location, and we want to pay homage," says Butcura.
Respecting the building's existing architecture, the team decided not to make any major structural changes inside or out. The exterior got a fresh coat of paint to match the restaurant's blue-and-white Mediterranean design, while inside, what used to be For Your Eyes Only's center stage is now the centerpiece of Mademoiselle: a grand floor-to-ceiling bar with displays of top-shelf tequila and champagne.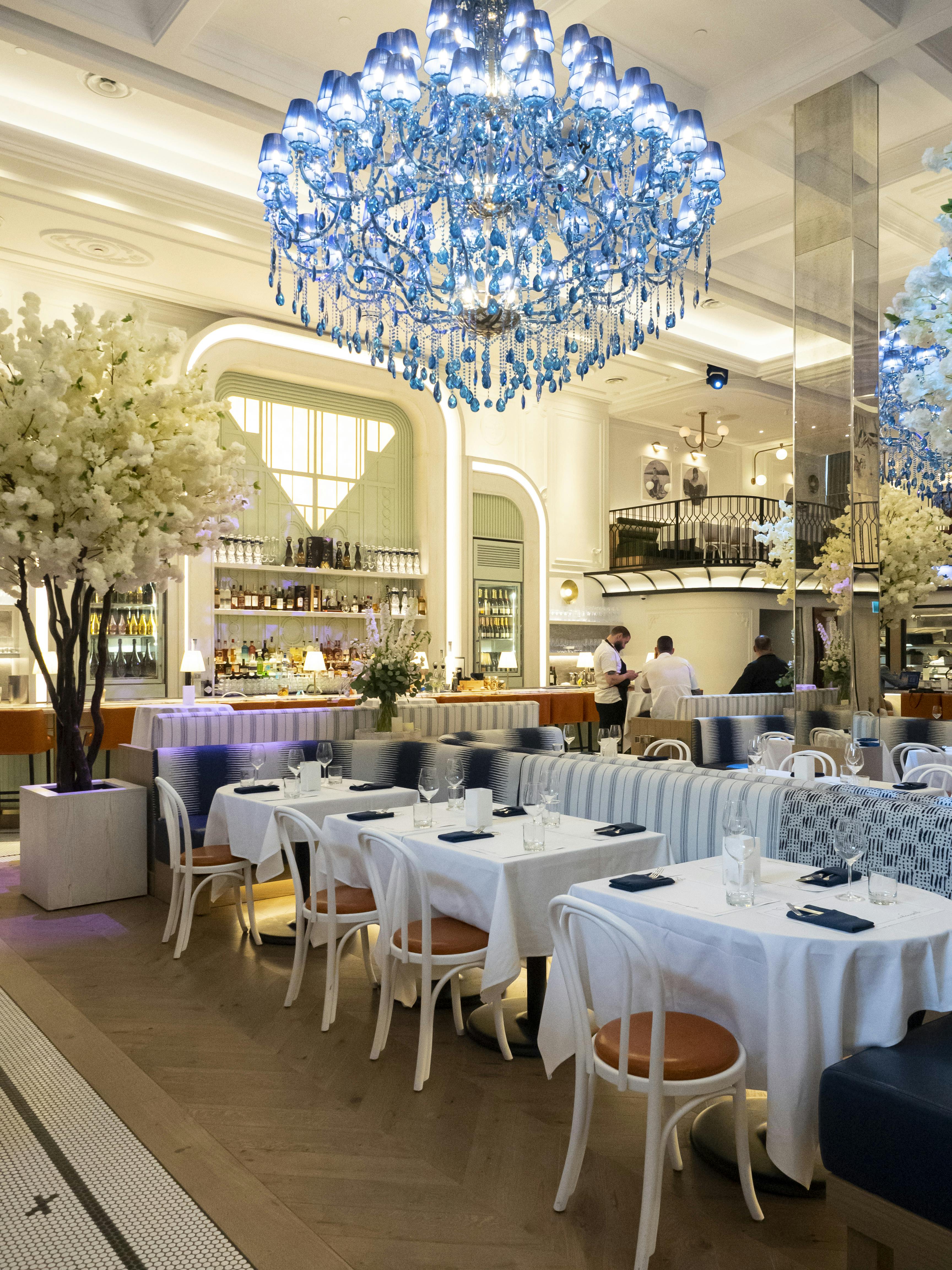 With so much space to work with, the team wasted no time bringing in an expert to help execute their vision. Ken Lam, cofounder and principal designer of Navigate Design, took on the project and oversaw every standout element you'll find inside Mademoiselle, including the huge, custom blue chandeliers that make the atmosphere as soon as you step inside.
Right under the chandeliers is the main dining area where visitors can enjoy their evening under roaring ceilings, while overlooking the open kitchen at the back of the restaurant.
"The space here just eats the crowd," says Feldman. "Even if it's crowded, there's still so much space."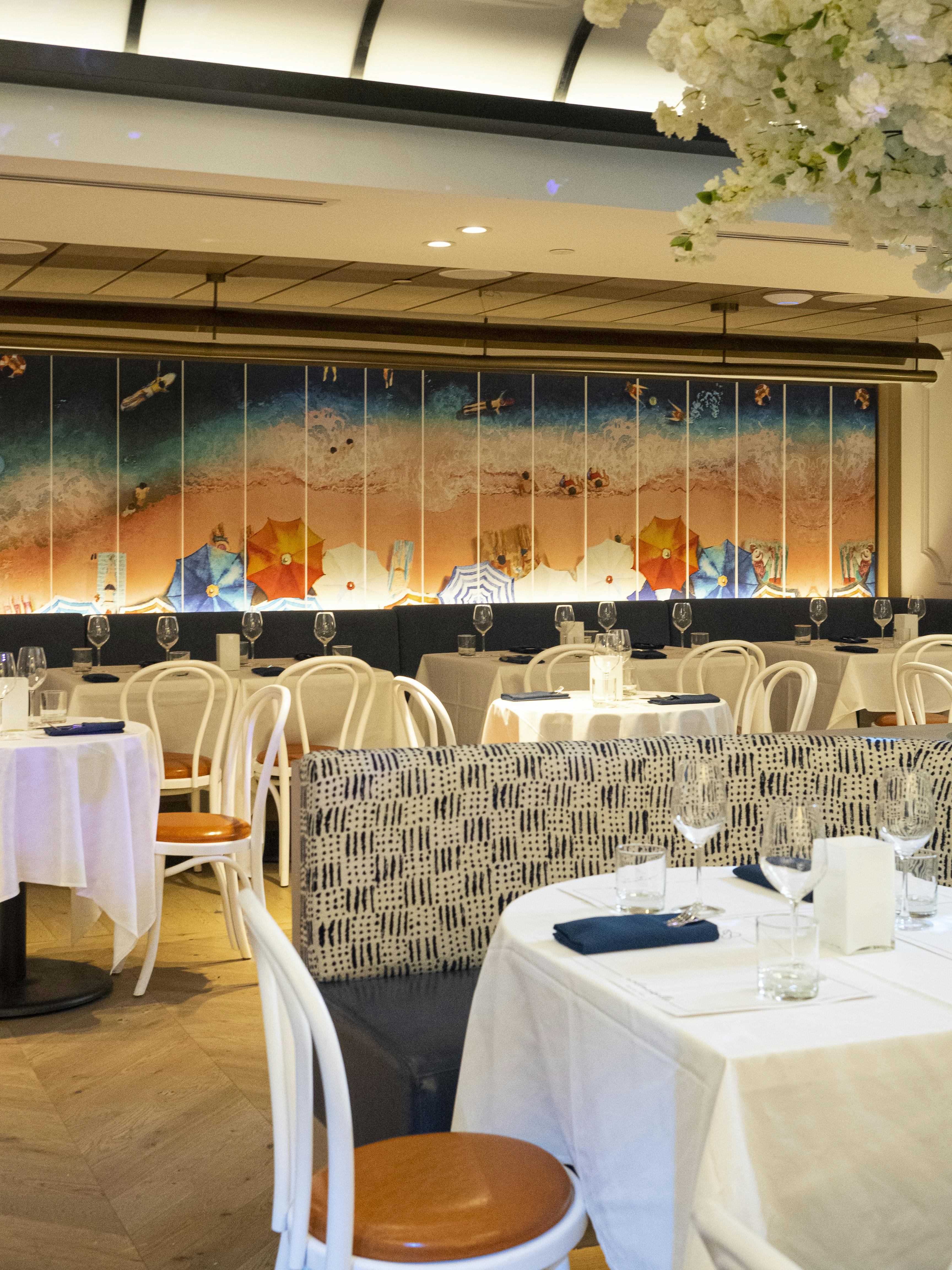 On top of the center dining area, the first floor of Mademoiselle also contains three other distinct corners, including an off-center wall of tables with beachside vibes, a velvet-chair lounge area next to their private Dom Pérignon Room, and, of course, the main bar.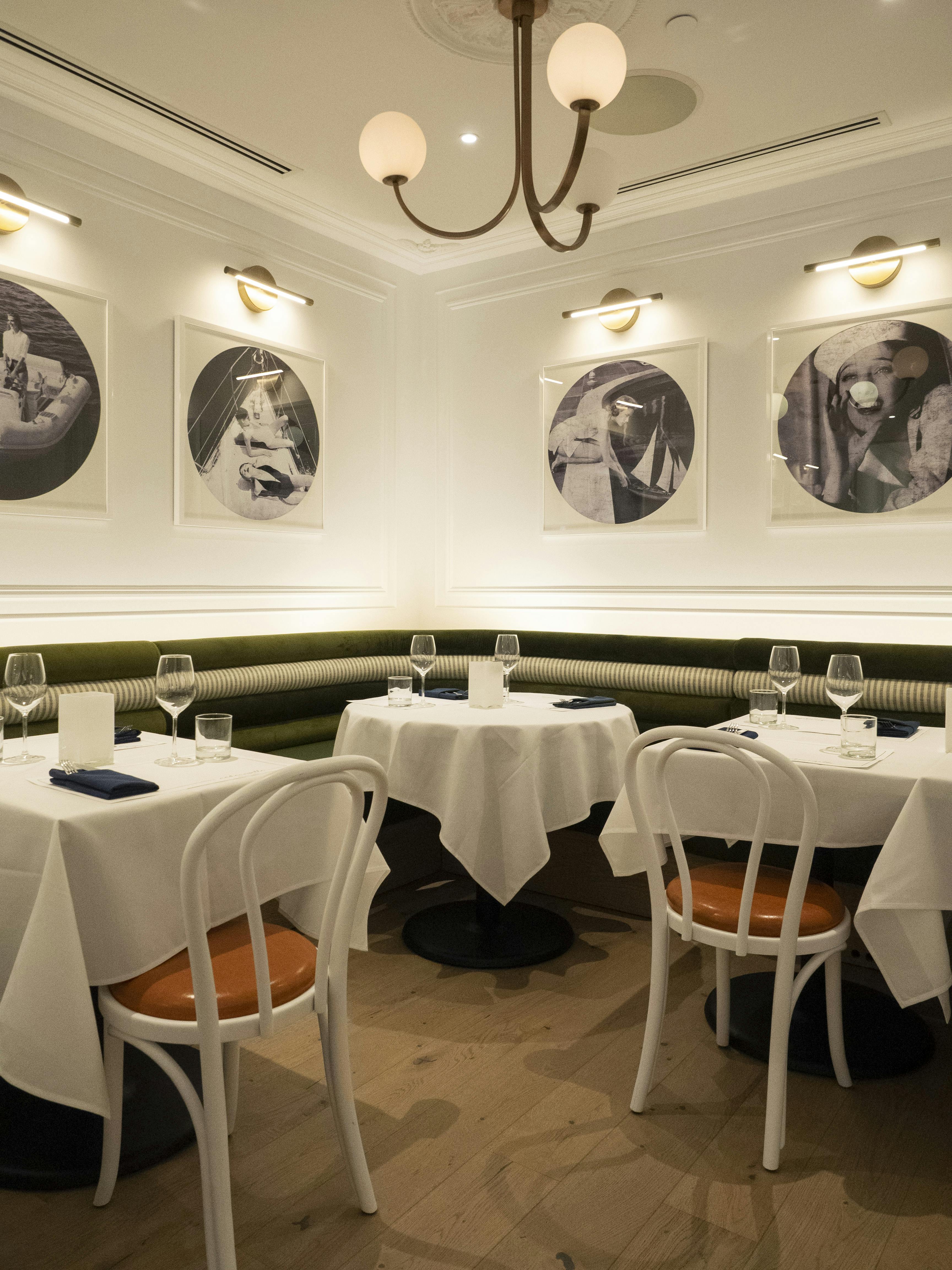 For those looking for a more intimate meal that's still close enough to the energy of the crowd, the second floor is where you'll find your perfect spot for the evening. Up on the Penthouse, a Southern France-inspired corner with black-and-white portraits and classic globe lights completes Lam's multi-destination design.
The rest of the floor is saved for Duplex 1, Duplex 2, and the Master Suite—a collection of private spaces that can each be separated by a curtain. Thanks to the stage-centric setup of its previous establishment, anyone dining in each of these areas get the best of an intimate setting while still being part of the crowd and lively atmosphere right under the second-floor railings.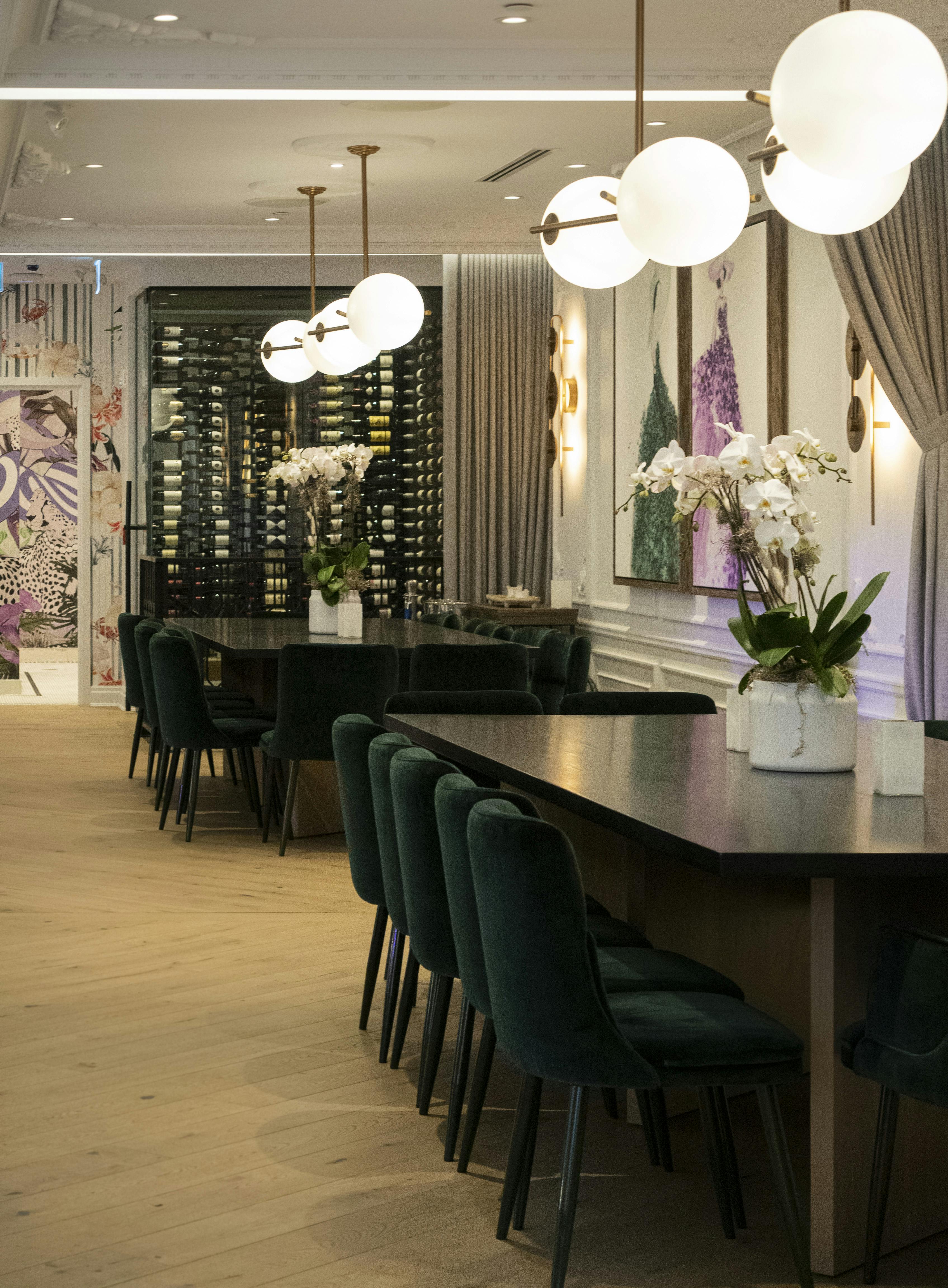 Along the length of the floor's main wall, Duplexes 1 and 2 each have a rectangular table that can comfortably sit around 14 guests (fun fact: this is where they recently hosted the Maple Leafs).
Last but not least, the Master Suite: an entirely private corner designed to cover your entire evening from hors d'oeuvres to last call. With its own dining area, private bathroom, and lounge area right next to the restaurant's DJ booth, it's really the complete experience.
This is where you'll also find relics of For Your Eyes Only, including a framed dedication artwork and, hopefully, a dance pole from the old days that Butcura kept from the renovations.
"I like to keep things," says Butcura. "We all wanted to work with what was already here—it's history."
A place like Mademoiselle needs a menu as varied and full of life as its atmosphere. Taking up this challenge is Executive Chef Evan Dickinson (Vertical, Aria, Crush Wine Bar), who also heads the kitchen at MARBL. For someone who's spent enough time in the world of fine dining, Dickinson sees Mademoiselle as the chance to do something new.
"I'm excited for this space to become a staple on King West," says Dickinson. "It's definitely a unique venue—not just in Toronto, but in Canada."
The Ultimate Seafood Tower is one extravagant example of how Mademoiselle reinvents celebratory items that people already love.
"Everybody does a seafood tower, but I wanted it to be different," he says. "Having our own Sushi Chef is such an asset, too—no other restaurant has sushi in the seafood tower. I had a vision of what it could be, and this surpassed my imagination."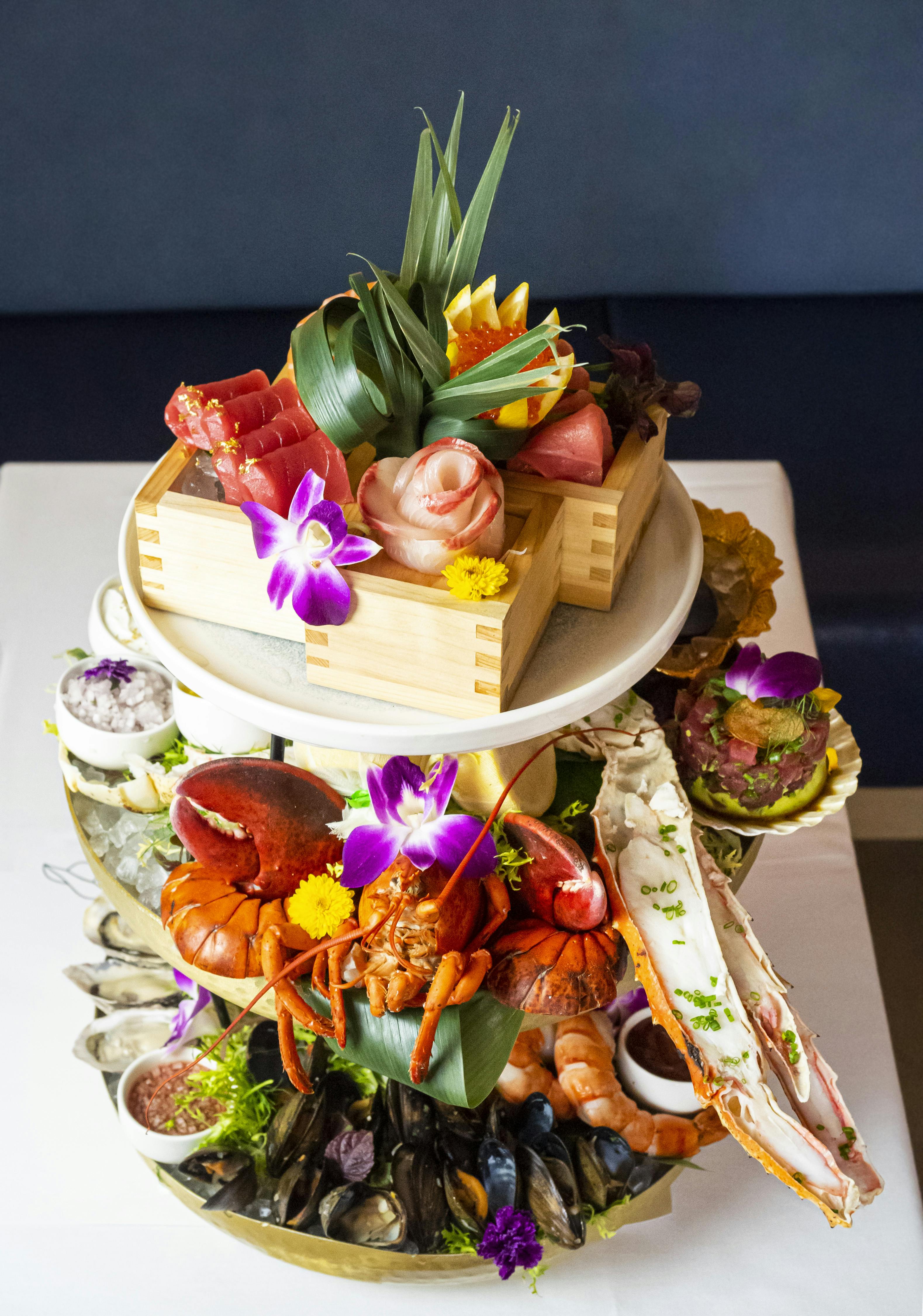 Standing at three levels high, Mademoiselle's Ultimate Seafood Tower has it all: whole lobster, king crab legs, tuna tartare, mussels, oysters, a tin of Osetra Caviar, a shrimp cocktail with colossal shrimps and, topping it all off is a box of sashimi carefully arranged by Sushi Chef Daniel Ken (Blowfish, Lavelle, Lobby).
As a coastal-themed restaurant, Mademoiselle had to ensure a high level of quality and artistry behind each of their seafood dishes, and Ken was the perfect person to take that on.
"Sushi is such a specialty item, I'd only be doing it disservice," Dickinson admits.
"We wanted to bring in somebody very talented that could reflect the brand. Now, Daniel just does his own thing. I wanted it to be his own expression of the menu, and I just let him run with it."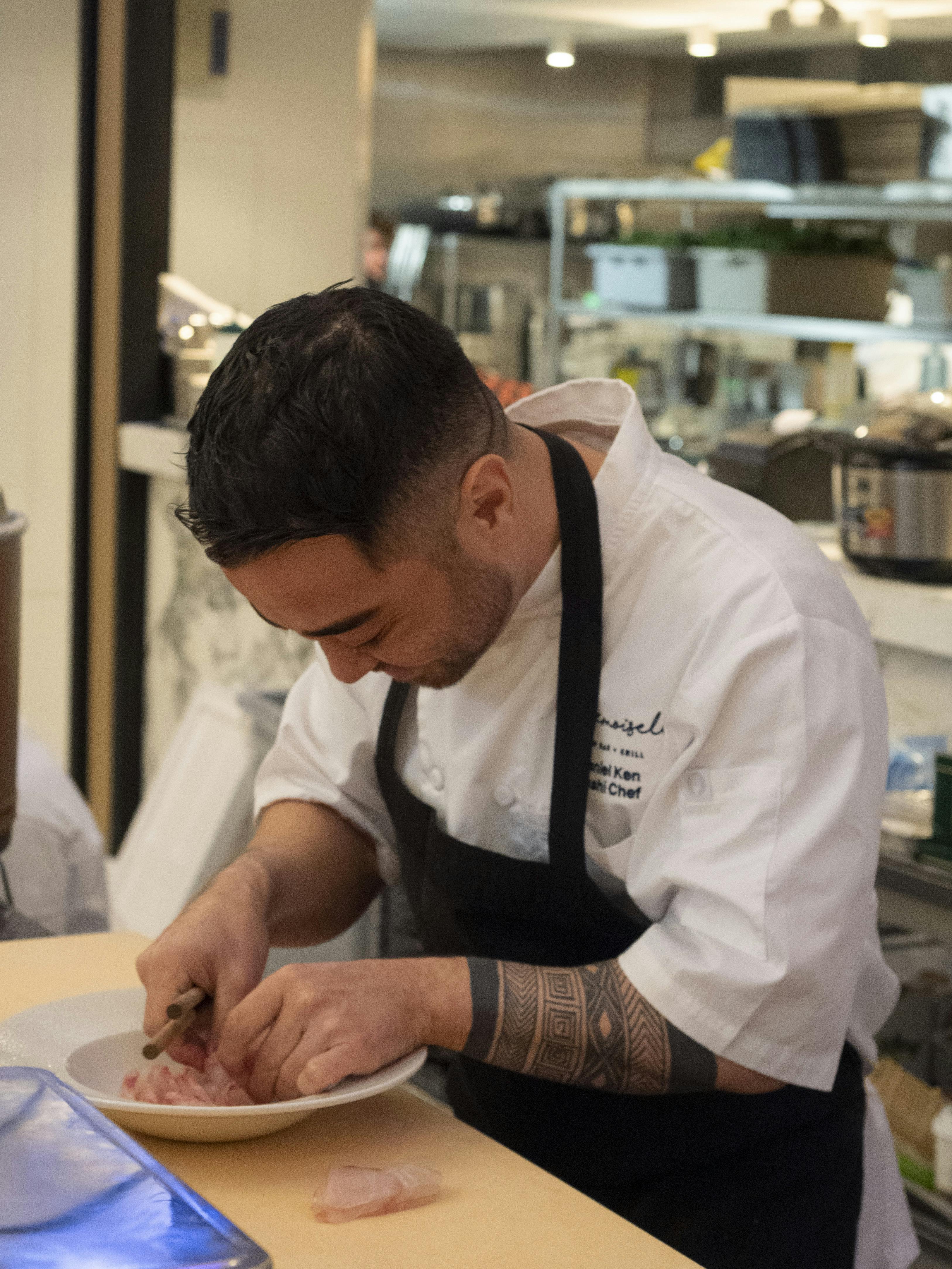 With a Japanese-Brazilian background, Ken is someone who understands how different cultures can complement each other under the Japanese concept of wabi-sabi, a philosophy of aesthetics of beauty.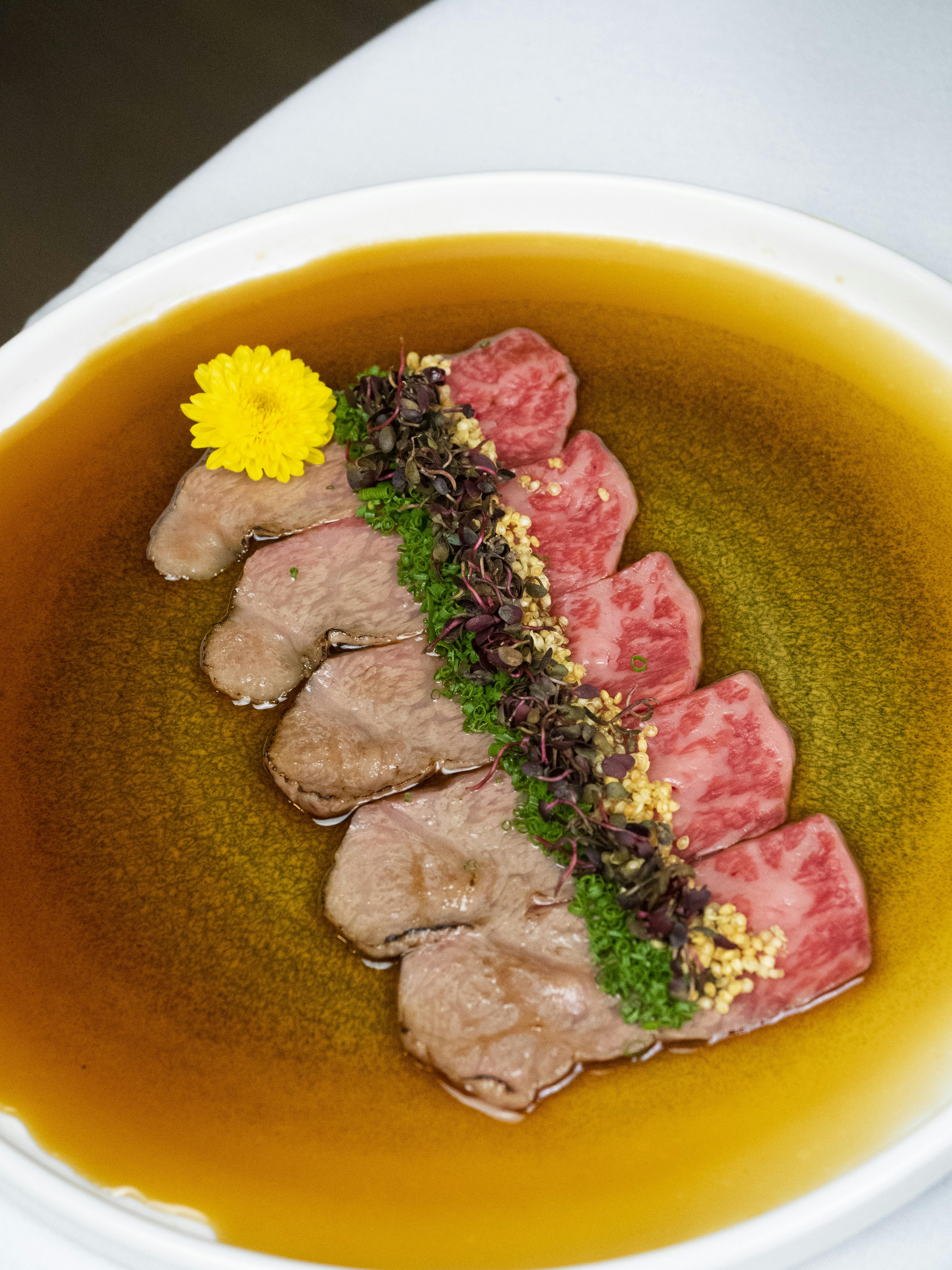 The Wagyu Tataki, for instance, is one of his most elegant dishes on the menu, and it's a work of art. Half-cooked slices of A5 wagyu sit in a thin layer of spicy ponzu, finished with lines of crispy quinoa and garlic, chives, and sesame.
"In hospitality, wabi-sabi can be the idea that very high-end experiences can be made simple to create a unique type of beauty," says Ken.
At Mademoiselle, you'll find Ken behind his own interactive sushi counter, where guests can take a seat by the bar to watch him work his sashimi knife and assemble his creations.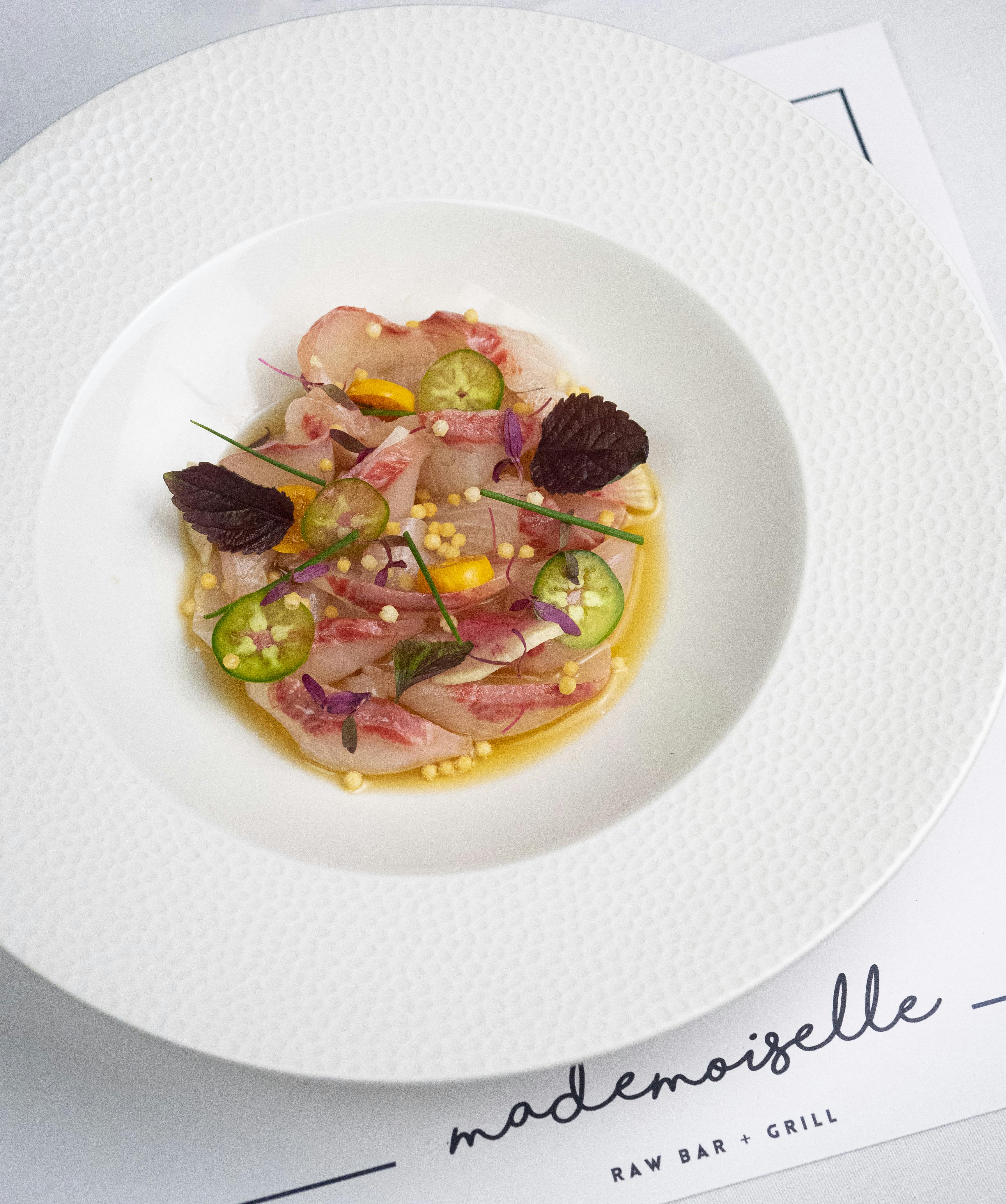 Another "Daniel Ken signature" is the Hamachi crudo, a colourful and lively dish that just feels like summer, especially with the caramel-coloured usukuchi ponzo and accents of bright accompaniments like sliced serrano peppers, micro cilantro, watermelon, radish, and gooseberries.
Mademoiselle's menu has such a range that you can find everything from classic and familiar to simply elegant, all the way to downright adventurous.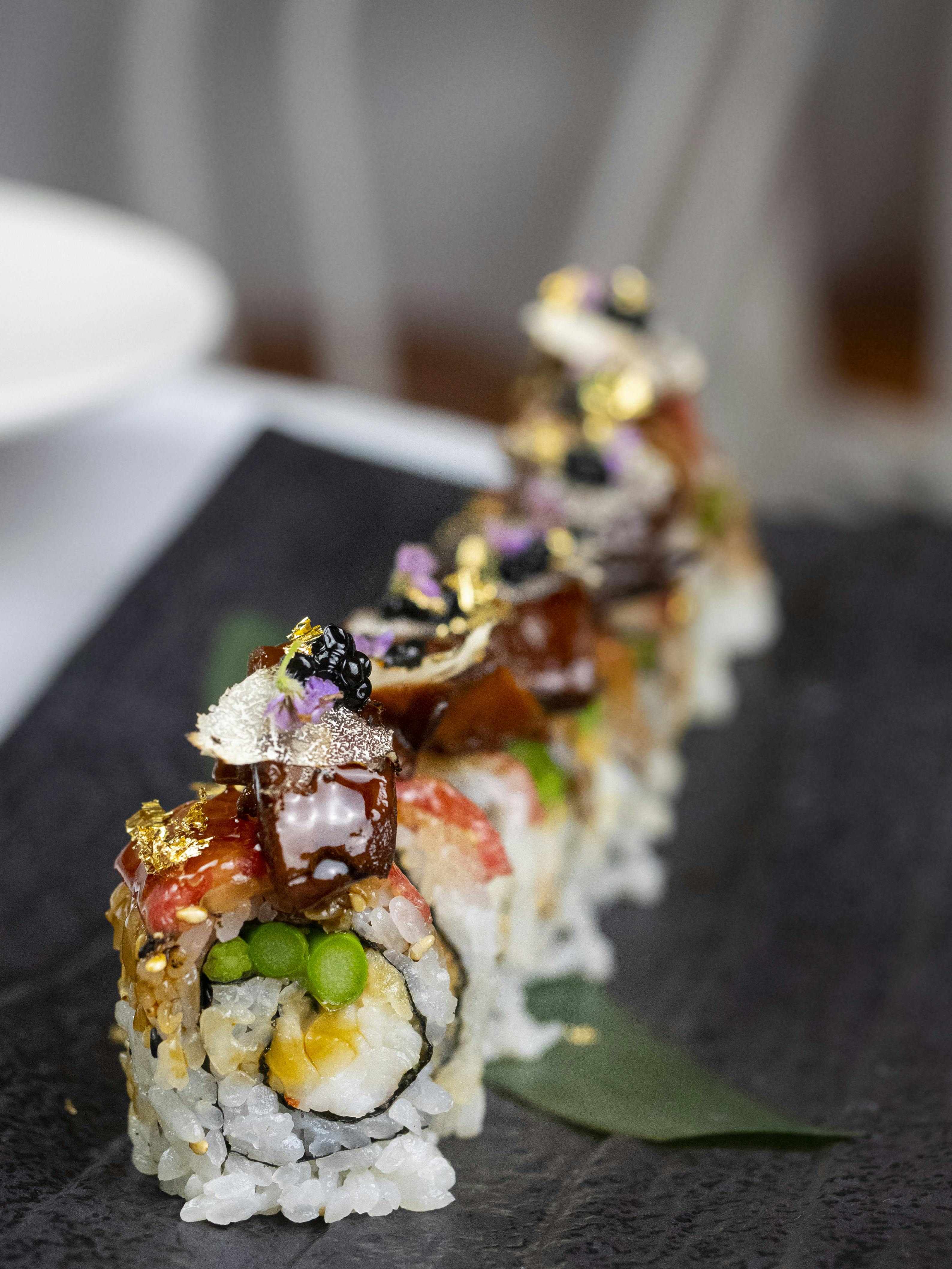 No doubt belonging to the latter, the "FU*# You Roll!!!" is easily most talked-about dish at the restaurant. As Mademoiselle's bold and shocking version of a surf-and-turf roll, it's a mouthful of decadence with A5 wagyu, caviar, foie gras, truffle, lobster tempura, gold flakes, and Hennessey soy glaze.
The dishes above might say otherwise, but an important aspect of the rest of Dickinson's menu is approachability—flavours that can be enjoyed no matter what mood you're in.
"Peter wanted something where people could come in and eat every day," he says. "A lot of the items on the menu are exactly that."
With how much space they've taken over, Dickinson was given a much larger kitchen than he has at MARBL, which meant they could offer a menu large enough to accommodate every diner's taste, and the same diners could also order something different every time.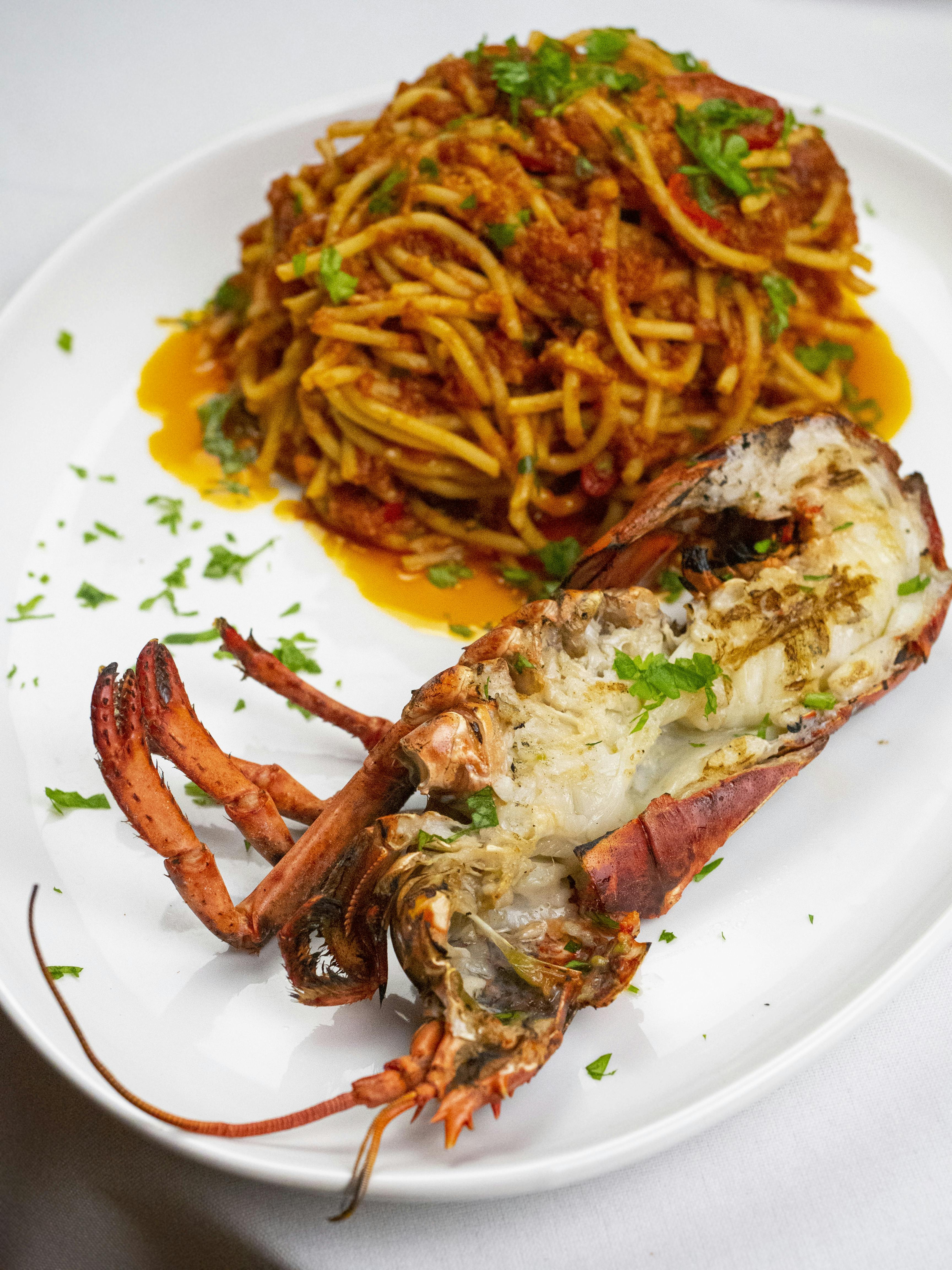 From steaks and whole fish to seafood pastas and osso buco, the variety at Mademoiselle is enough to keep things exciting. The Lobster Spaghetti is a particularly strong dish that combines the comfort of tomato-sauce pasta with a treat-yourself side of grilled lobster.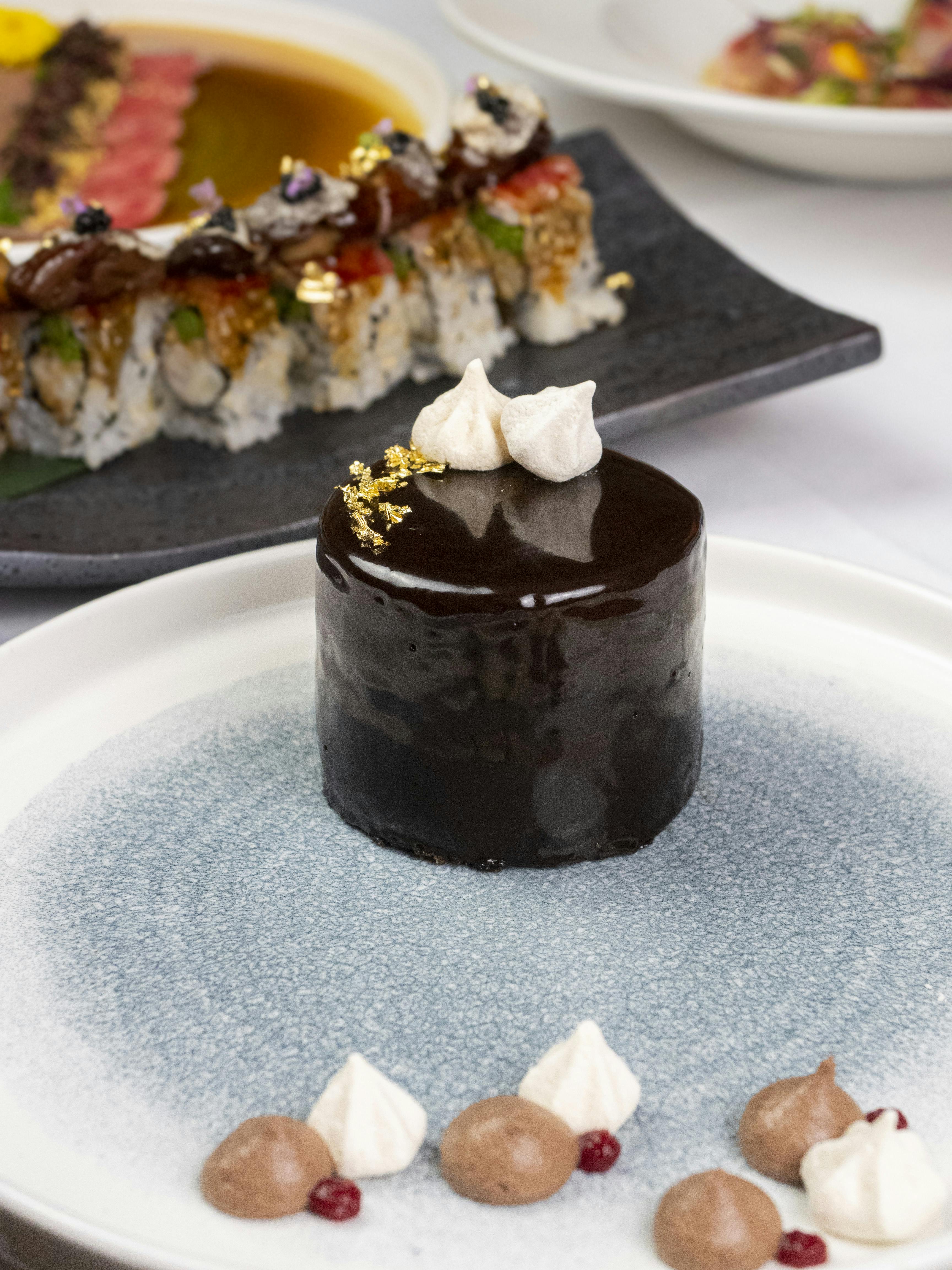 For dessert, Dickinson's crafted a list of nostalgic favourites and turned them into elevated finales, including a perfect Chocolate Mousse Cake with raspberry jelly, rose sponge cake, and milk chocolate Chantilly.
While staples like meats and fish will always be here, Dickinson's looking forward to incorporating seasonal additions to their sides and appetizers, and just generally working to continually improve the menu for as long as he's Executive Chef.
"I'm my own worst critic," he says. "I think in order to do better, you can't always be happy with stuff."
Led by Beverage Director DJ Vanacker, Mademoiselle's cocktail menu is a carefully thought-out list that incorporates the building's history and the airy, seaside atmosphere of the new restaurant. 
"All the drinks pay homage to the place that was here before," says Vanacker. "We also wanted a cocktail menu that was bright and could showcase the French and Miami inspirations of the rest of the room."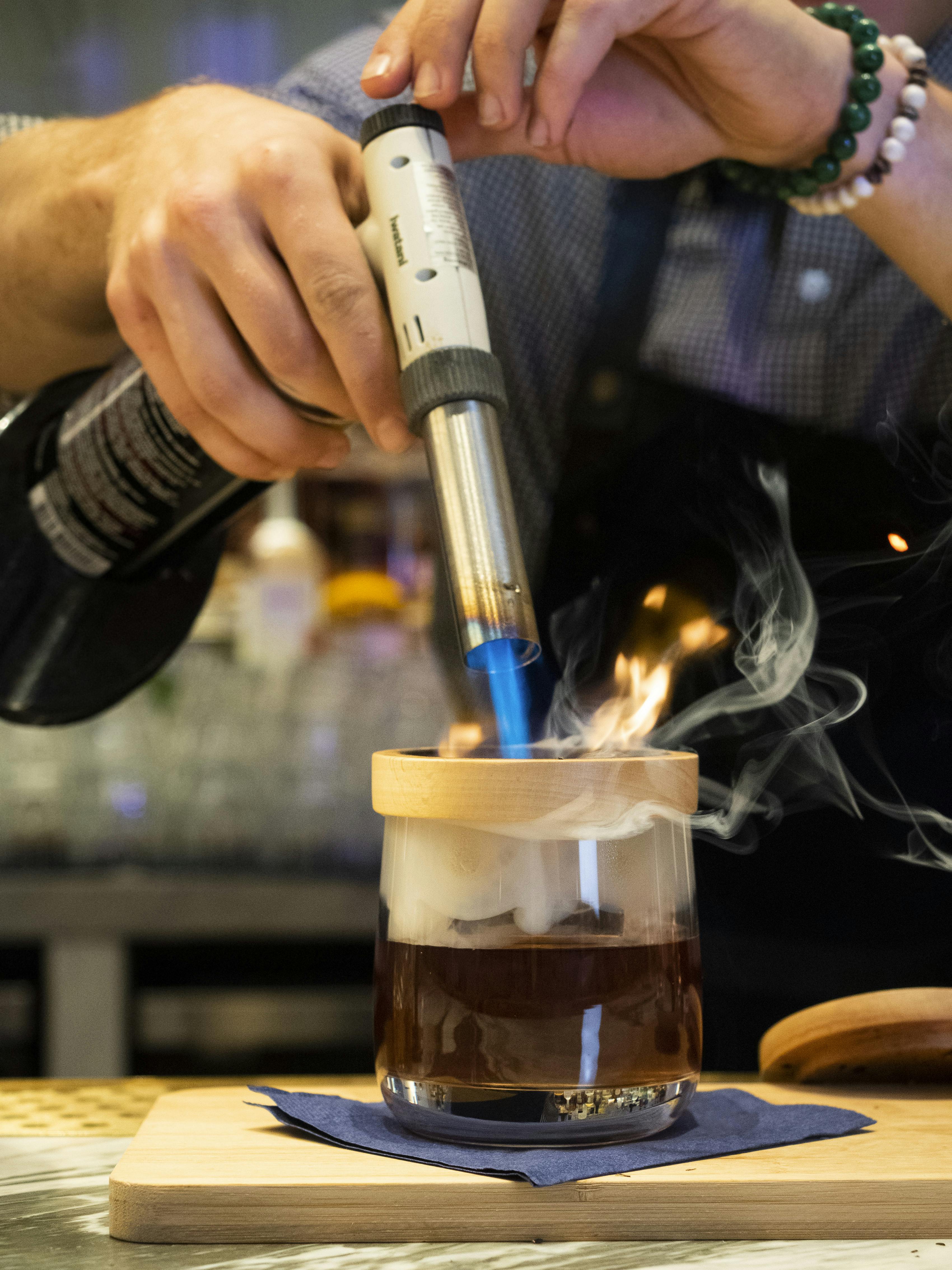 Several cocktails are named after real dancers that worked at For Your Eyes Only, including the Cocoa Chanel—a smoky concoction with Buffalo Trace bourbon, Chambord, chocolate liquor, a torched marshmallow, and an intoxicating swirl of Applewood smoke.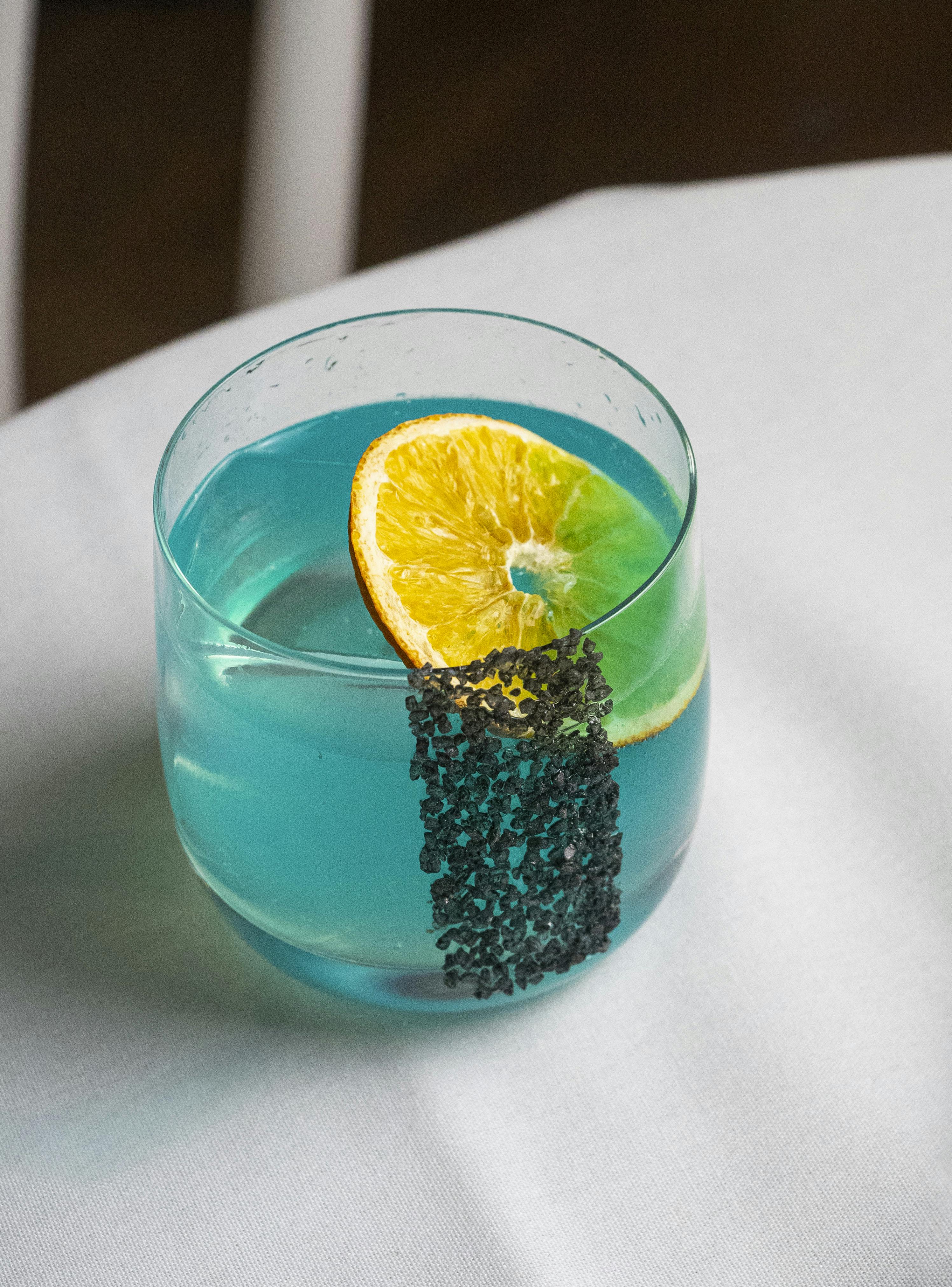 The Ginger Divine is another dancer-inspired cocktail with breezy, ocean vibes. Its main components are El Gobernador pisco and Blue Curacao, but it's the other ingredients that create a unique combination of sweet, salty, and tangy: ginger beer, plus a layer of Hawaiian black volcanic salt glued outside the glass by honey chamomile syrup.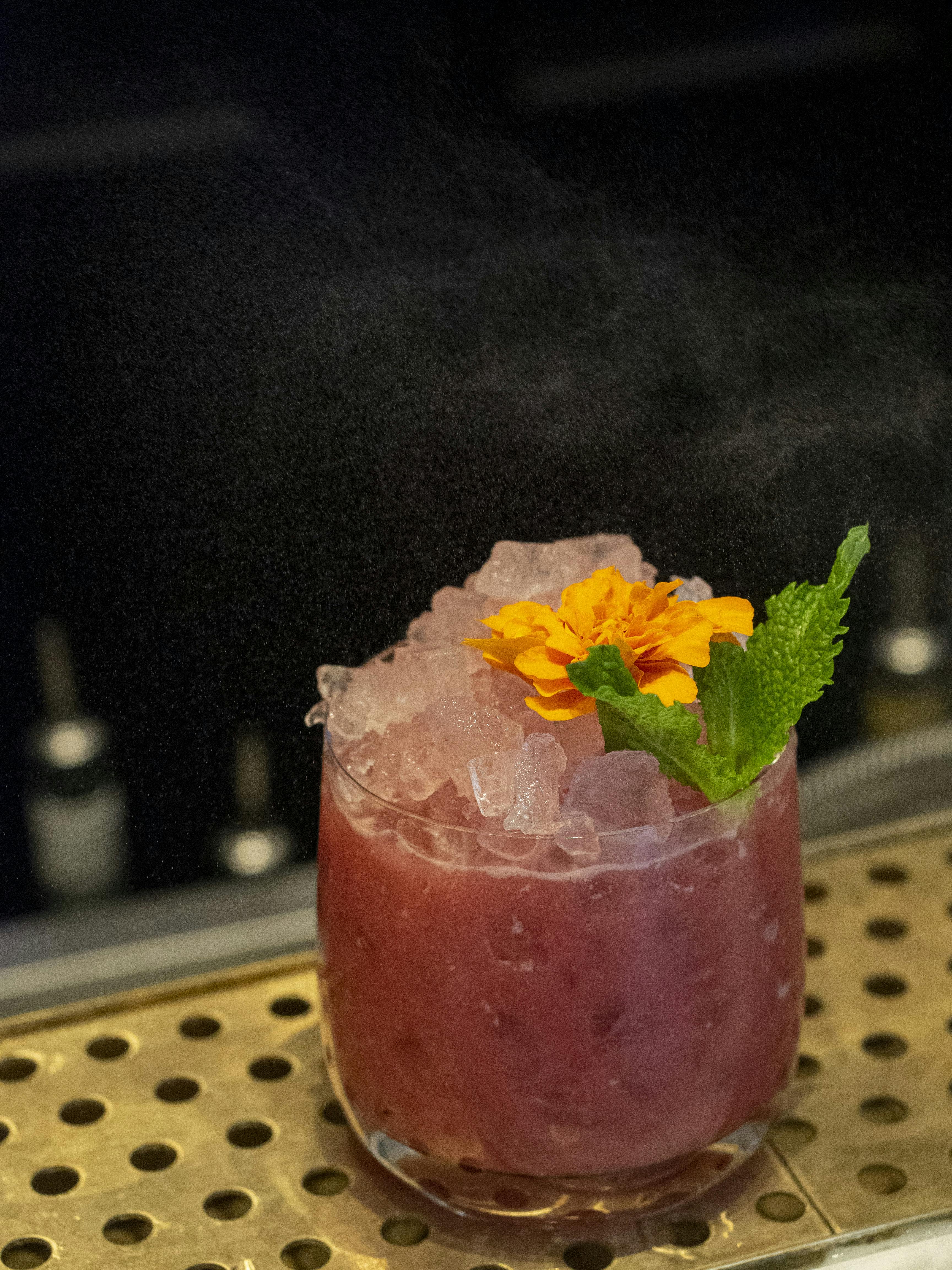 Next up, the Next On Stage: a colourful island drink with hibiscus-infused Casamigos Mezcal, coconut-infused Belvedere, coconut cream, lime and just a spritz of rose water, misted ever so subtly onto the drink as a classy, final touch.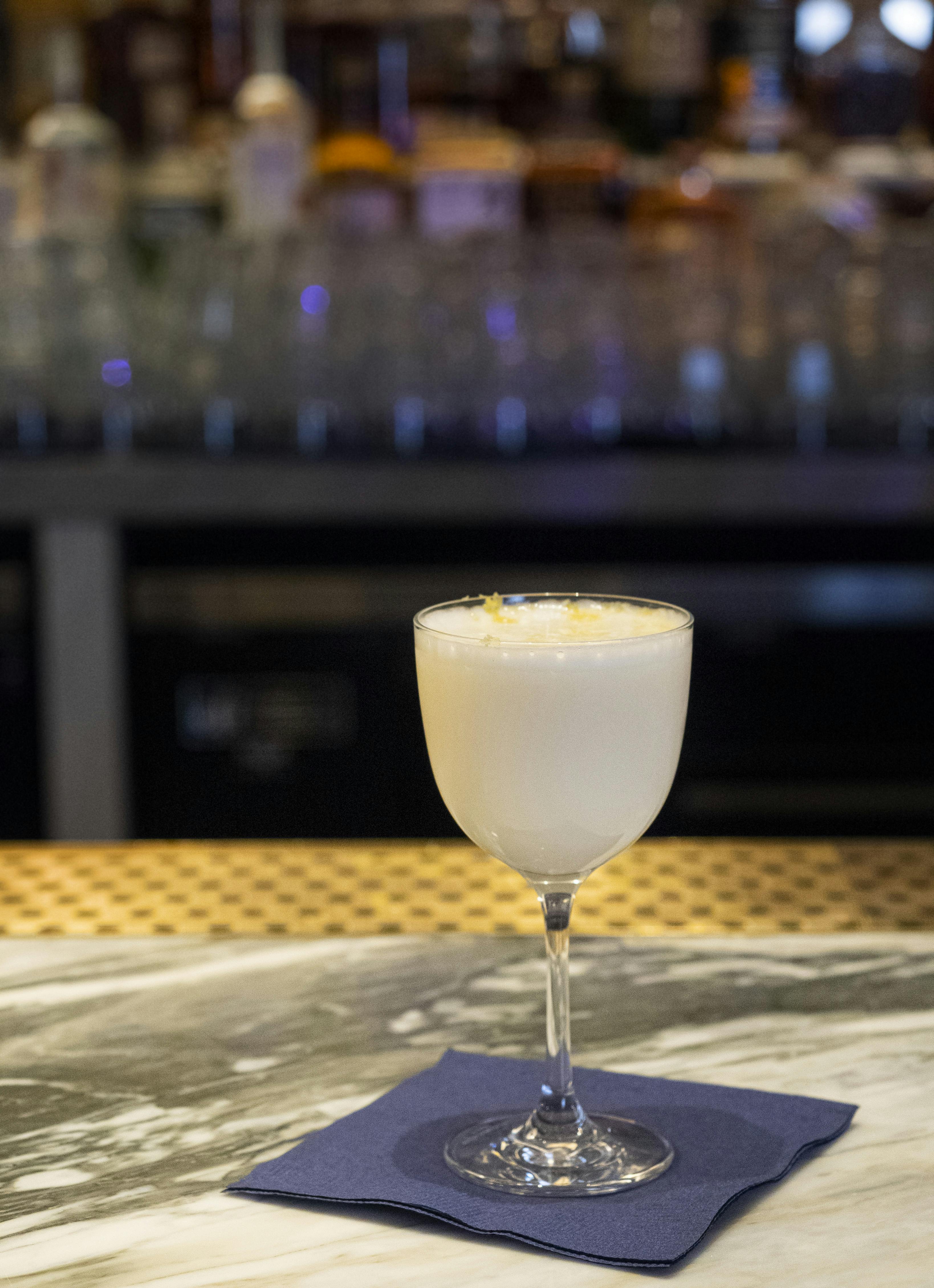 Last but far from least is Mademoiselle's signature cocktail, The Madame. Envisioned by Vanacker as "lemon five ways," the bright-tasting, yogurty drink is a refreshing mixture of lemon-infused No. 3 gin, Limoncello, lemon RumChata, lemon juice, and fresh lemon zest.
Asked to sum up his menu in one word, Vanacker said: "boozy." You might not taste the strength of alcohol in these carefully infused drinks, but just one or two can put you in the right mood for a fun night ahead.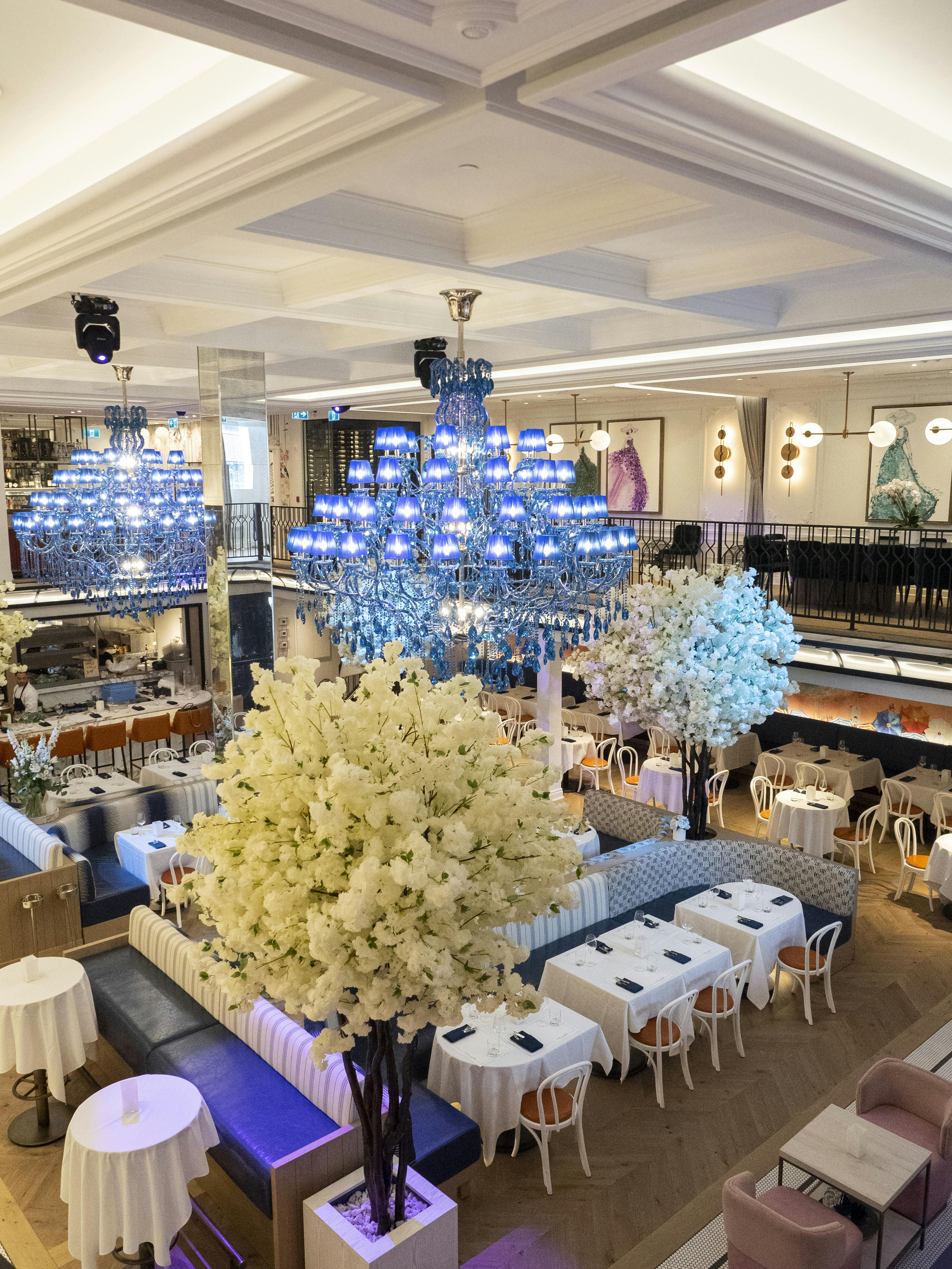 Mademoiselle is the kind of inspiring, grand undertaking that requires a full team of dedicated minds. With Girges, Butcura, Dickinson, Ken, and Vanacker leading their own areas of the concept, it's come to life with the full force of King West energy. The best part? The Mademoiselle life is here whenever you need it—they're open every day from 5 p.m. to 2 a.m.