Photographs by Kristen Wells
After a couple of years, the renovations at the iconic Gladstone House are officially complete with the reopening of Melody Bar and its magnificent event and dining space and a reimagined menu spearheaded by chef Richard Singh.
Melody Bar is known for housing some of the city's most memorable and queer-friendly events, including Drag Brunch and Good Enough Karaoke, where patrons can grab a bite, sip on some drinks, and party the night -- or day -- away. With the newly renovated space, events will be bigger and more exciting than ever before, with a line-up that will draw crowds from all over the city.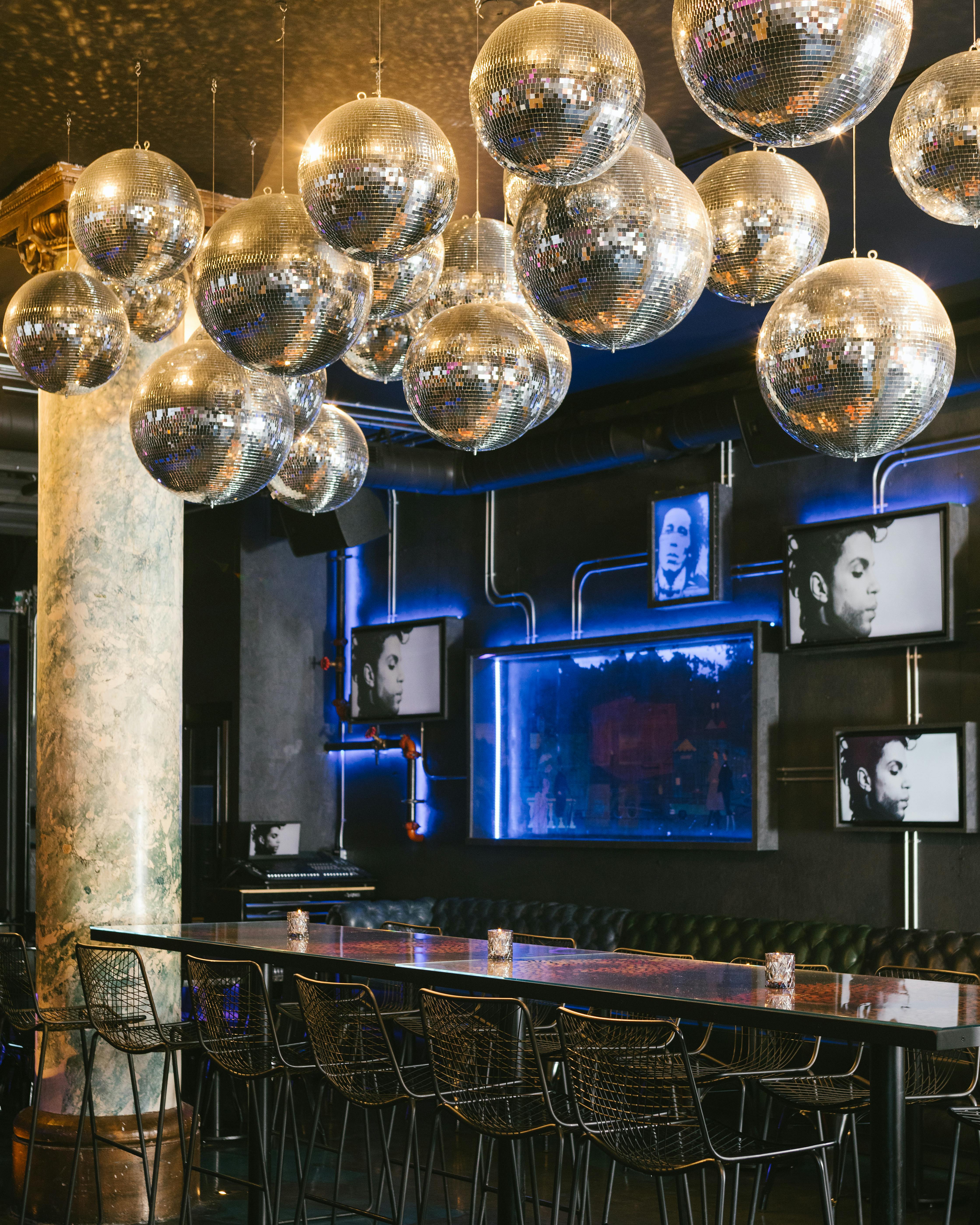 Upon stepping foot into the space, your eyes will be immediately caught by the large disco balls hanging from the centre of the ceiling. The room beautifully marries elements of industrialism with classic architecture. The cement-like walls are lined with exposed piping, backlit by colour-changing LEDs, which interconnect various programmable TV screens and funky retro images of notable celebrities throughout.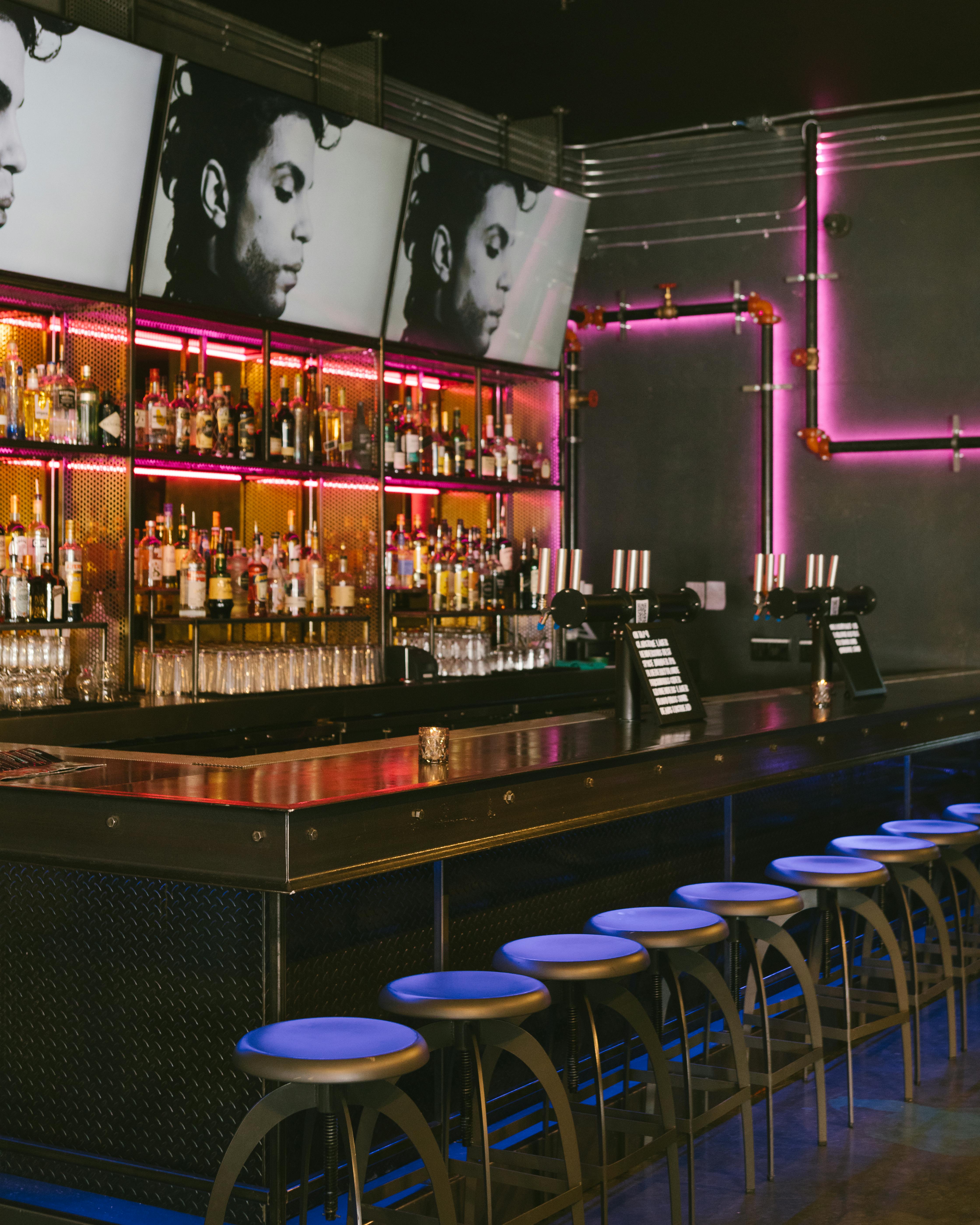 Two massive marble pillars anchor the centre of the room, separated by a high-top communal table with an intricate vinyl print designed by a local artist. Colourful leather banquettes line the wall opposite the bar, which is also decked out with TV screens, piping, and industrial-style shelving, exposing the vast array of bottles.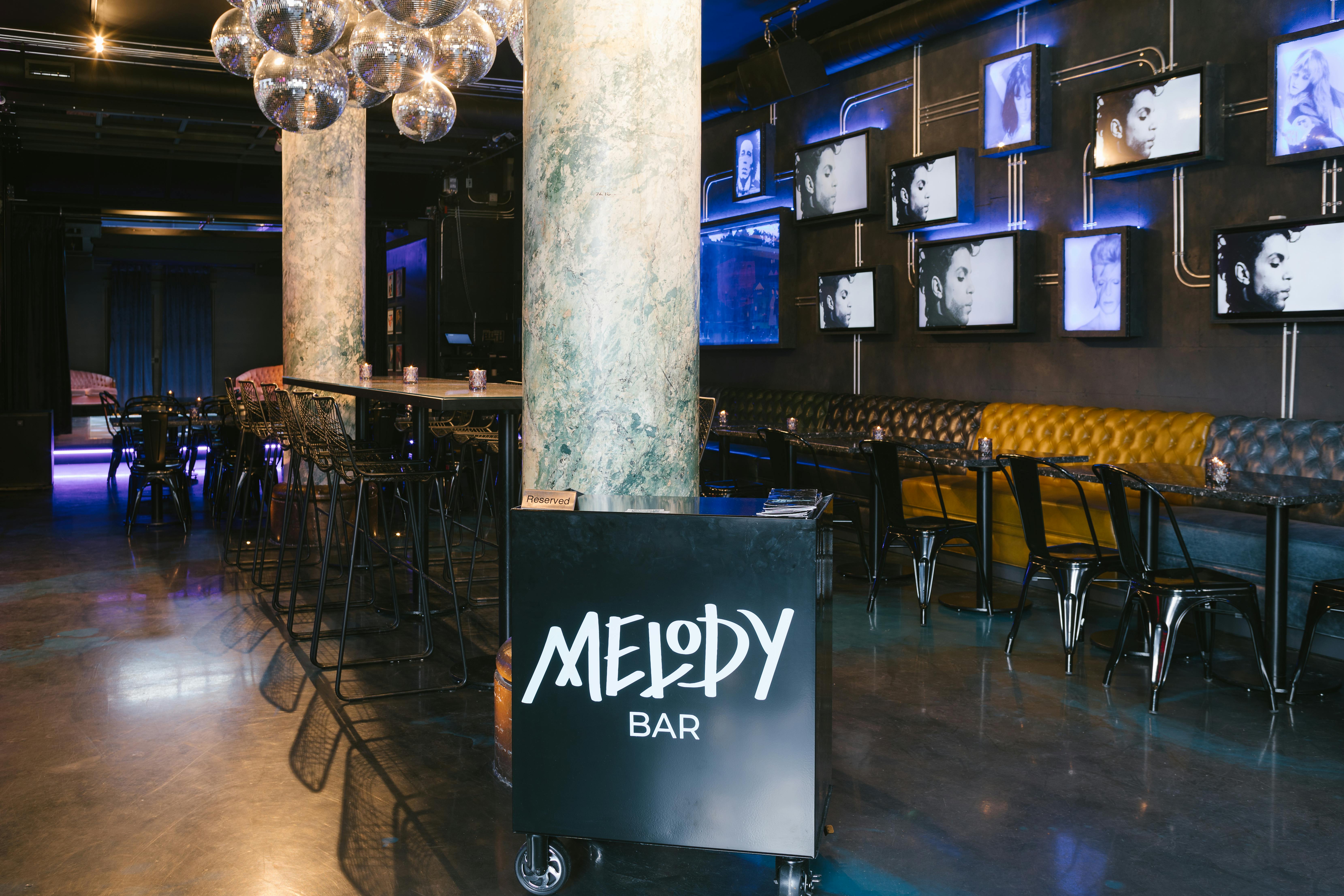 As for the performance space, the back area -- separated by a fully operational garage door -- is perfect for live music, drag performances, karaoke, and all-around good vibes. The stage itself is made up of see-through glass with LED lights underneath that brighten up the space and create the illusion that the lights continue downward forever. Surrounding panels also light up, setting the mood for the ultimate show, making anyone look like a rockstar.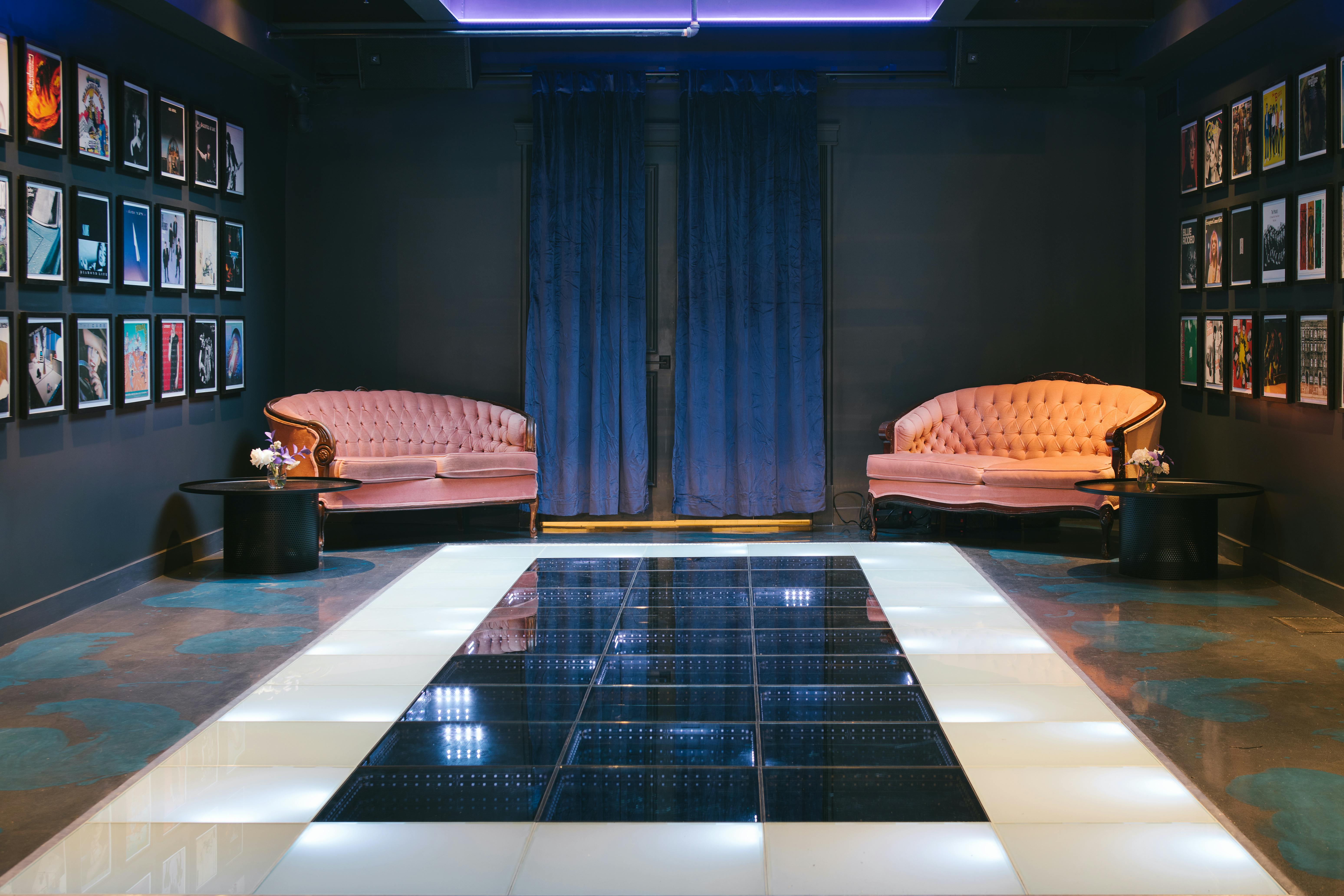 Chef Richard Singh has been cooking in Toronto -- and abroad -- for about sixteen and a half years. After dedicating some time working in London and New York, Singh became the chef de cuisine at the Shangri-La before moving over to The Gladstone's sister property, The Broadview Hotel, in March 2019. In August 2021, Singh transferred to the Gladstone House to help develop the food program for the grand reopening this year.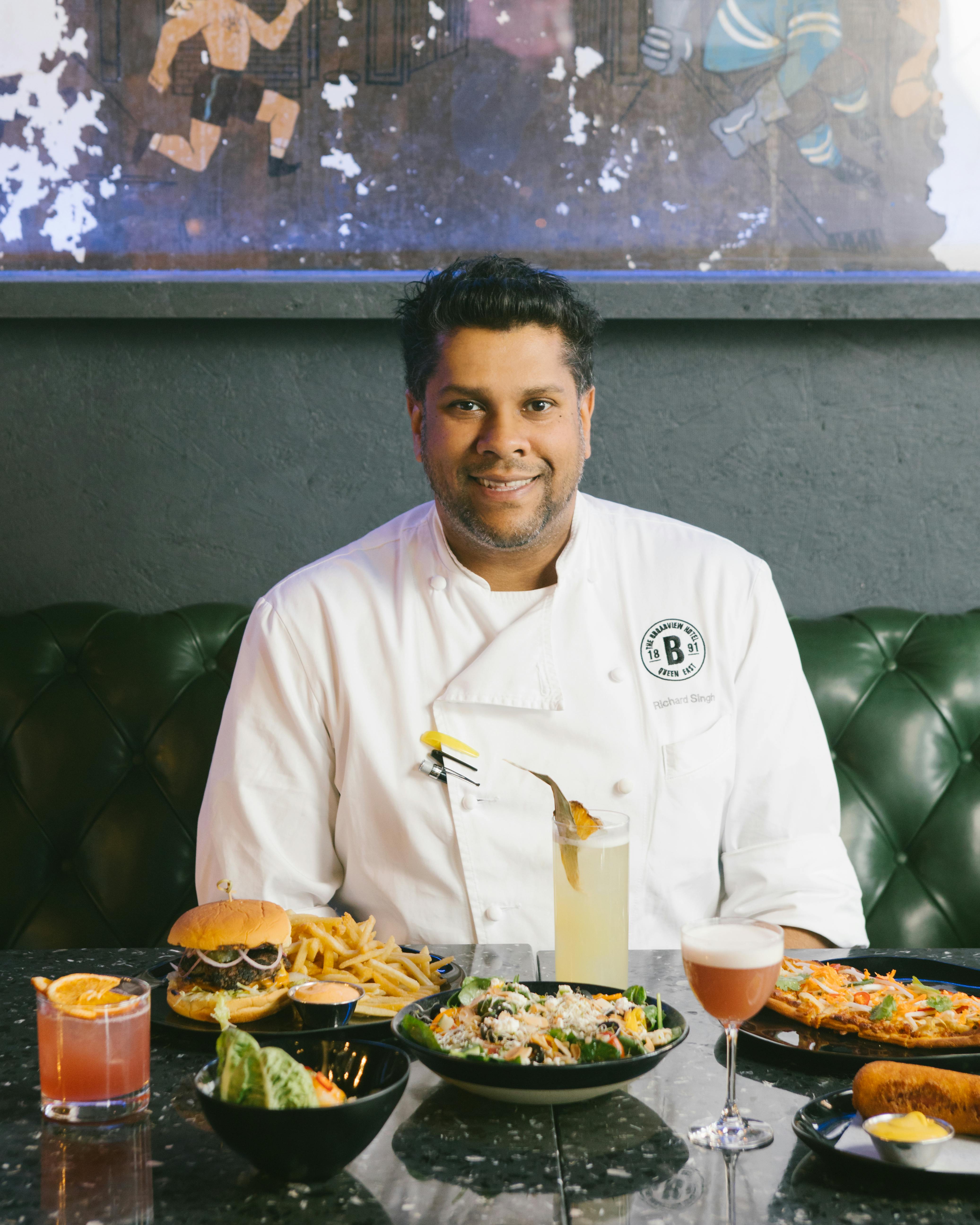 In creating the menu, he says, "We went back and forth on the concept many times. At first, it was just going to be a bare-bones basic bar menu, with a focus more so on the space and the cocktails and the food being tertiary. When we started doing the tastings, we realized we wanted the dishes to have an elevated nuance while ensuring the food wasn't too pretentious."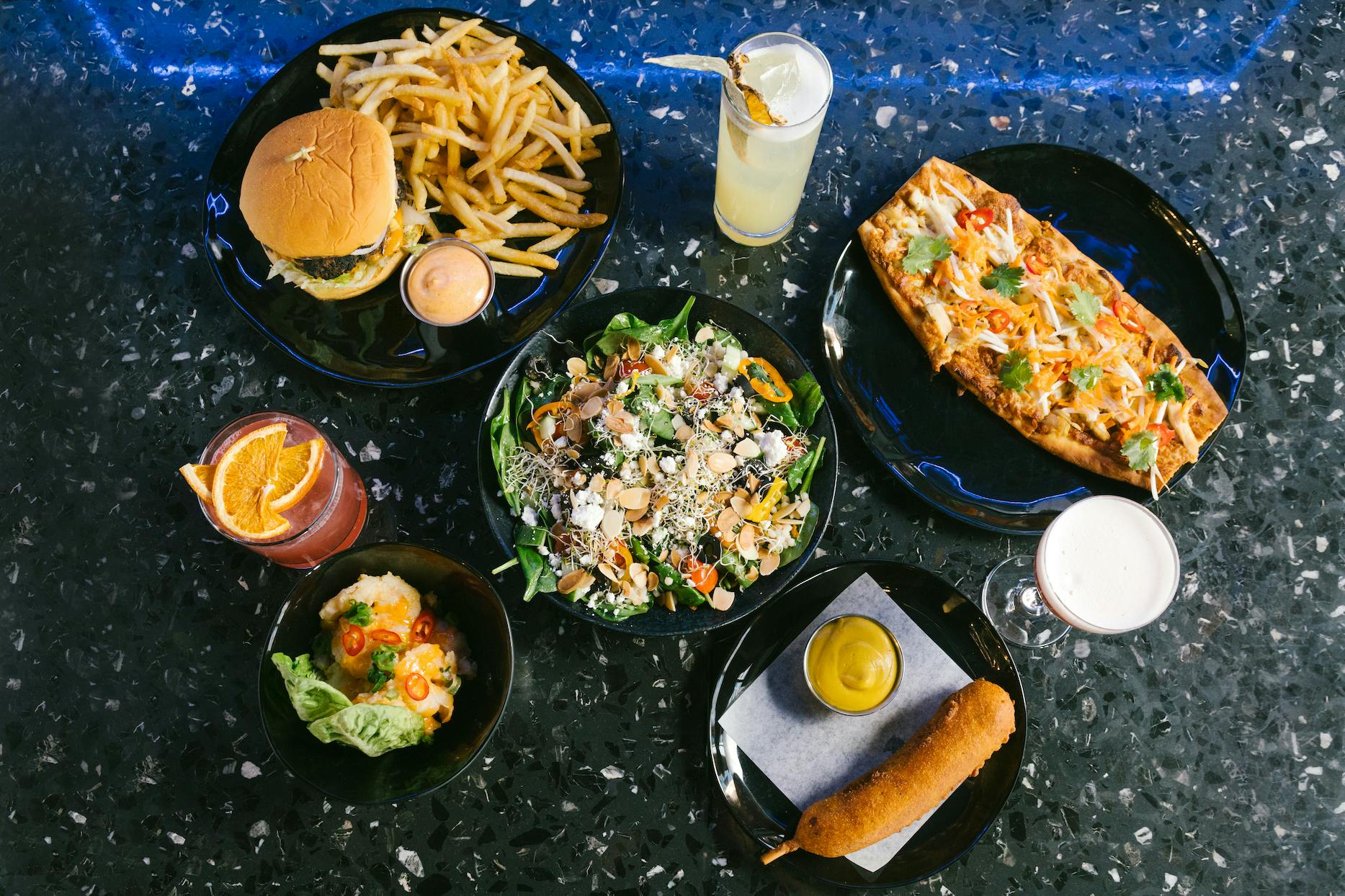 Singh wants his guests to be delightfully surprised by the menu. He says, "If you're coming to a bar for some live music, and the quality and execution of the food surprises you, that's a win for us." The menu items are approachable, delicious, and simple, with a twist inspired by Singh's upbringing and culinary background.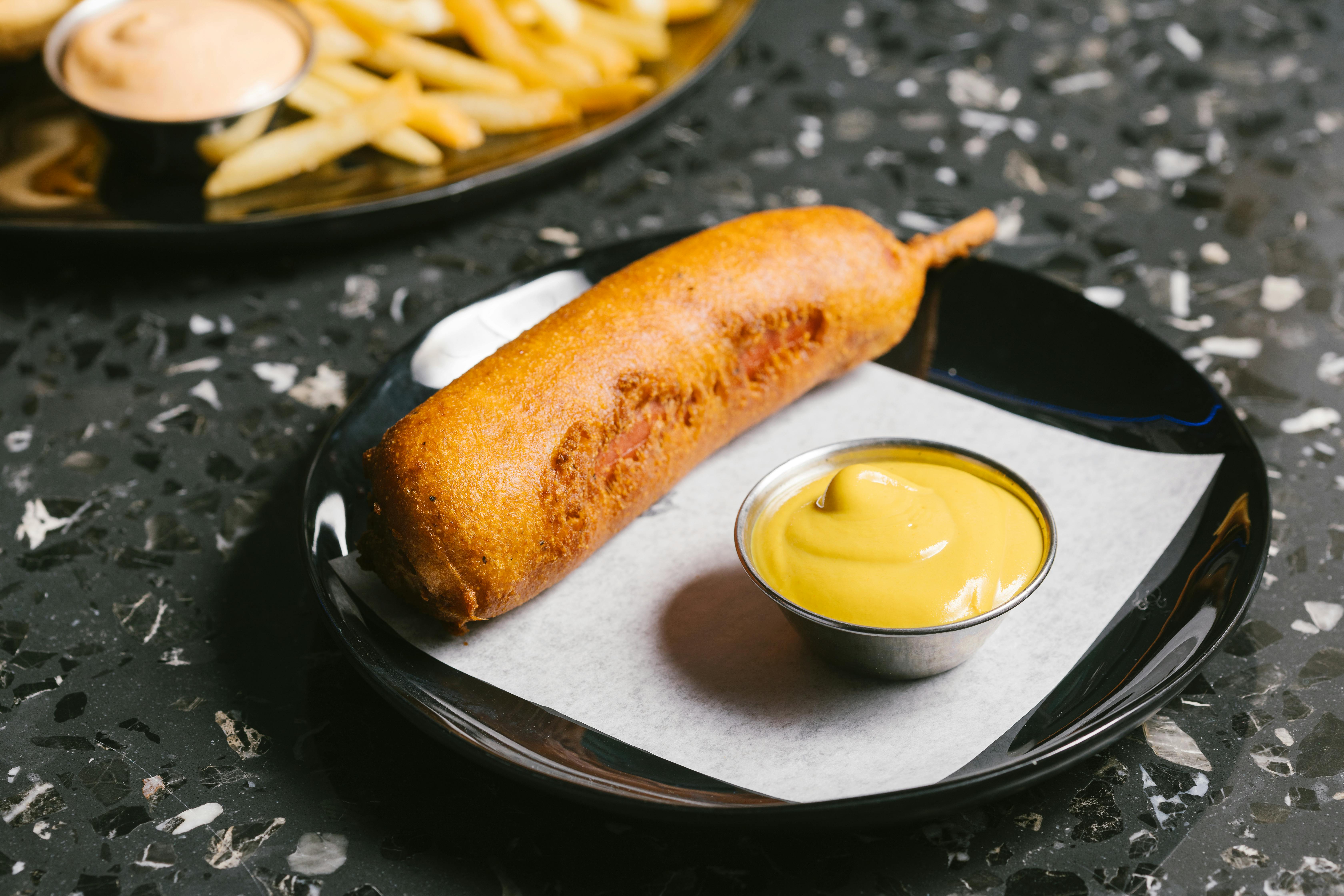 What better way to kick off a meal than with a warm and juicy corndog. Made with a Nathan's Famous All-Beef wiener and served with yellow mustard, Melody Bar is now one of the only places in the city that you can get your hands on one of these scrumptious bad boys.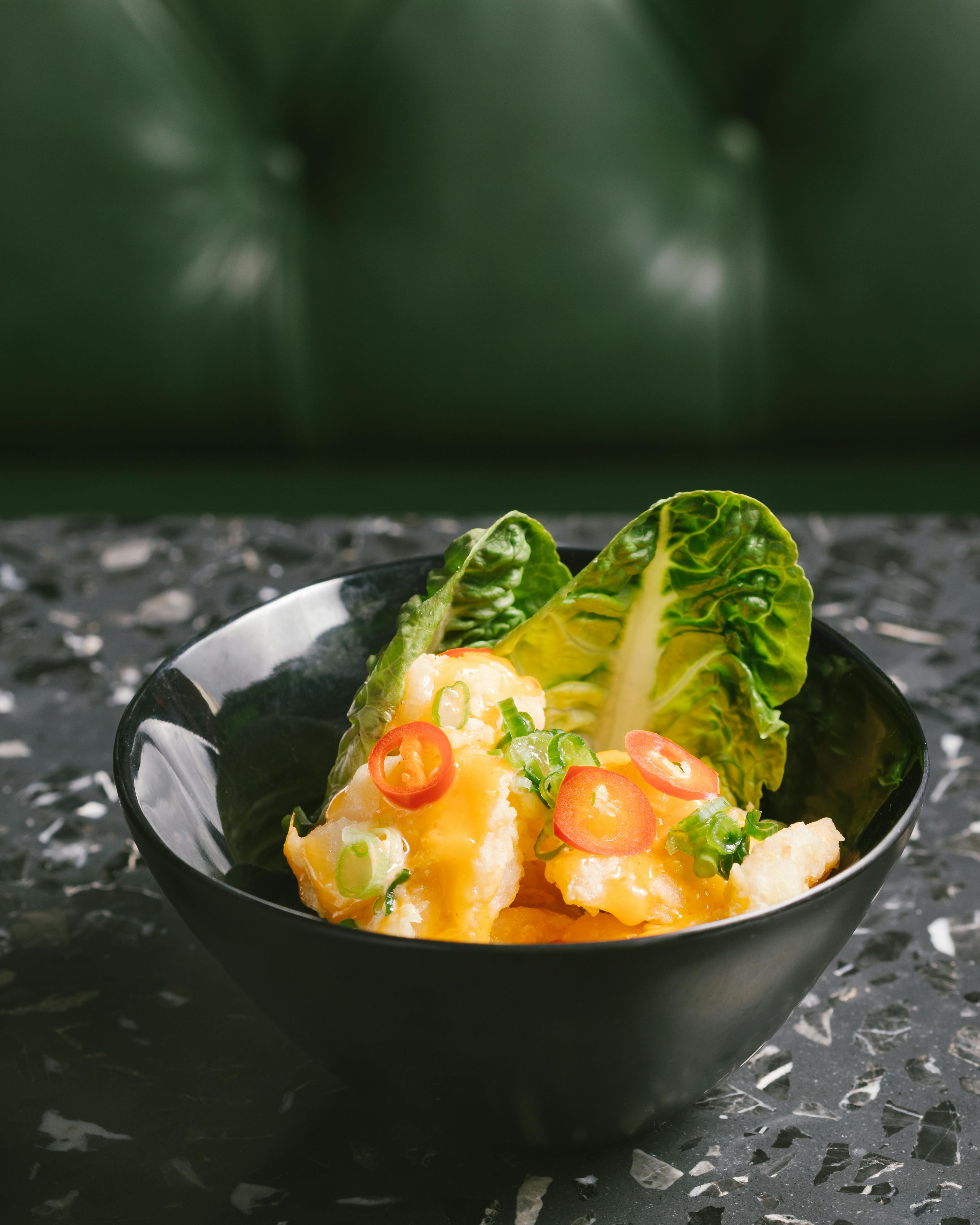 The Crispy Prawns are one of the more popular snack items. Reminiscent of your classic bang bang shrimp, the crispiness from the fried batter pairs nicely with the creamy sweet chilli sauce and is a perfect sharing dish for the table.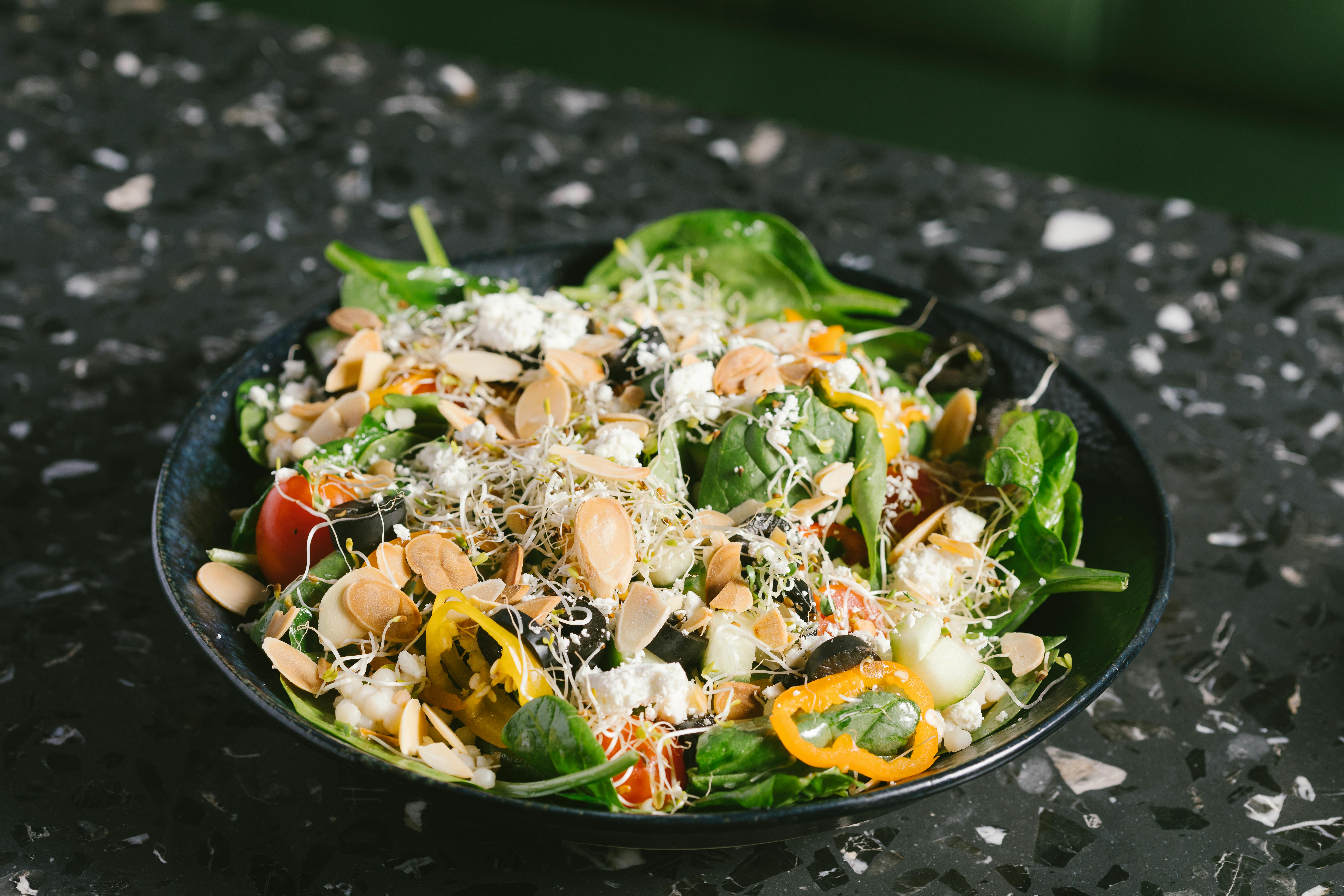 Playing off a Greek salad, is the Mediterranean bowl, a healthier option loaded with Israeli cous -cous, baby spinach, cucumber, cherry tomato, kalamata olives, bell peppers, feta cheese, toasted almonds, alfalfa sprouts, and an oregano-red wine vinaigrette.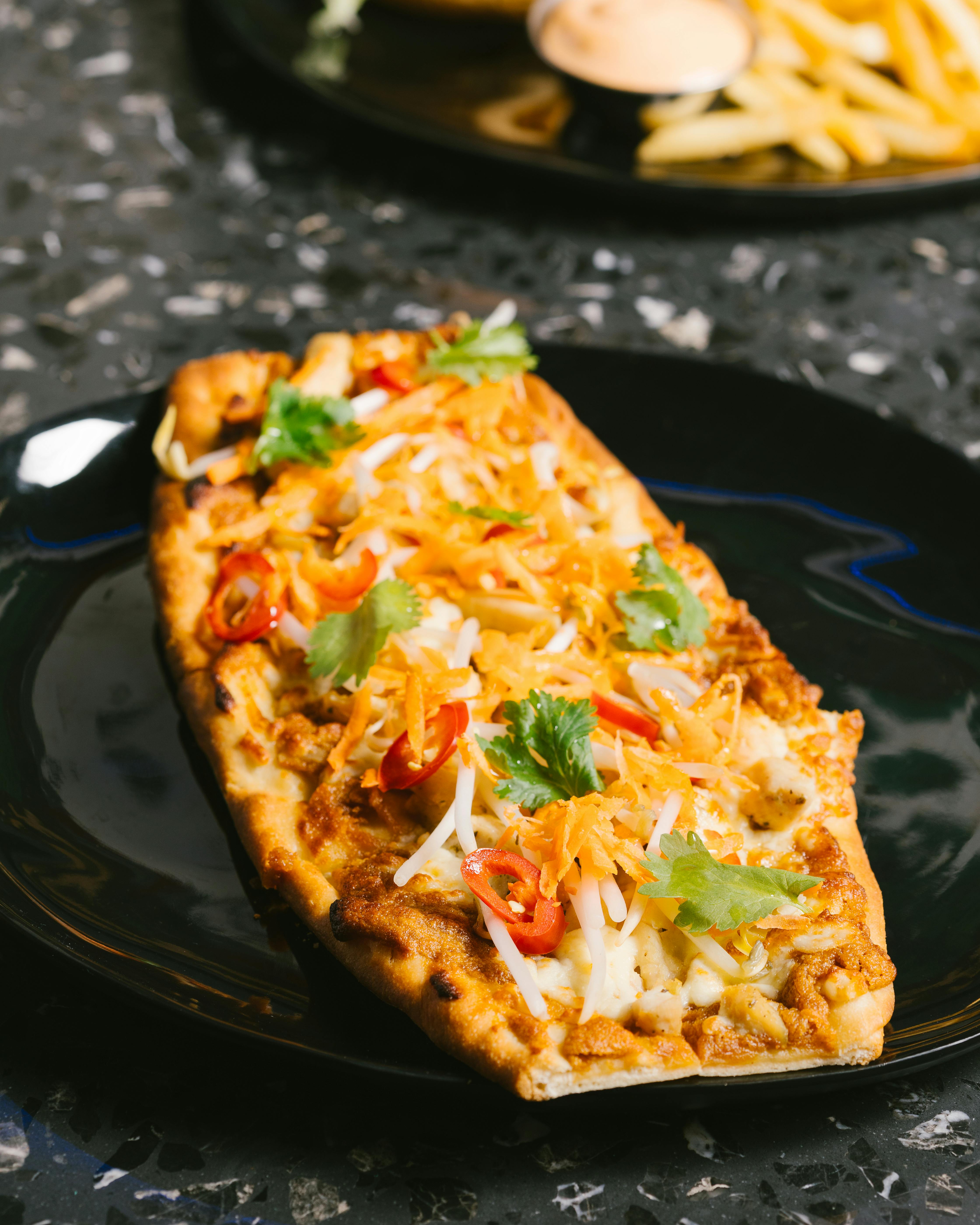 As for the flatbreads, the Thai Chicken is absolutely delicious, and is jam-packed with a ton of nostalgic flavours. The base is covered in a house-made peanut sauce and is topped with grilled chicken and mozzarella. Once out of the oven, it's finished with bean sprouts, shredded carrots, cilantro and chilli.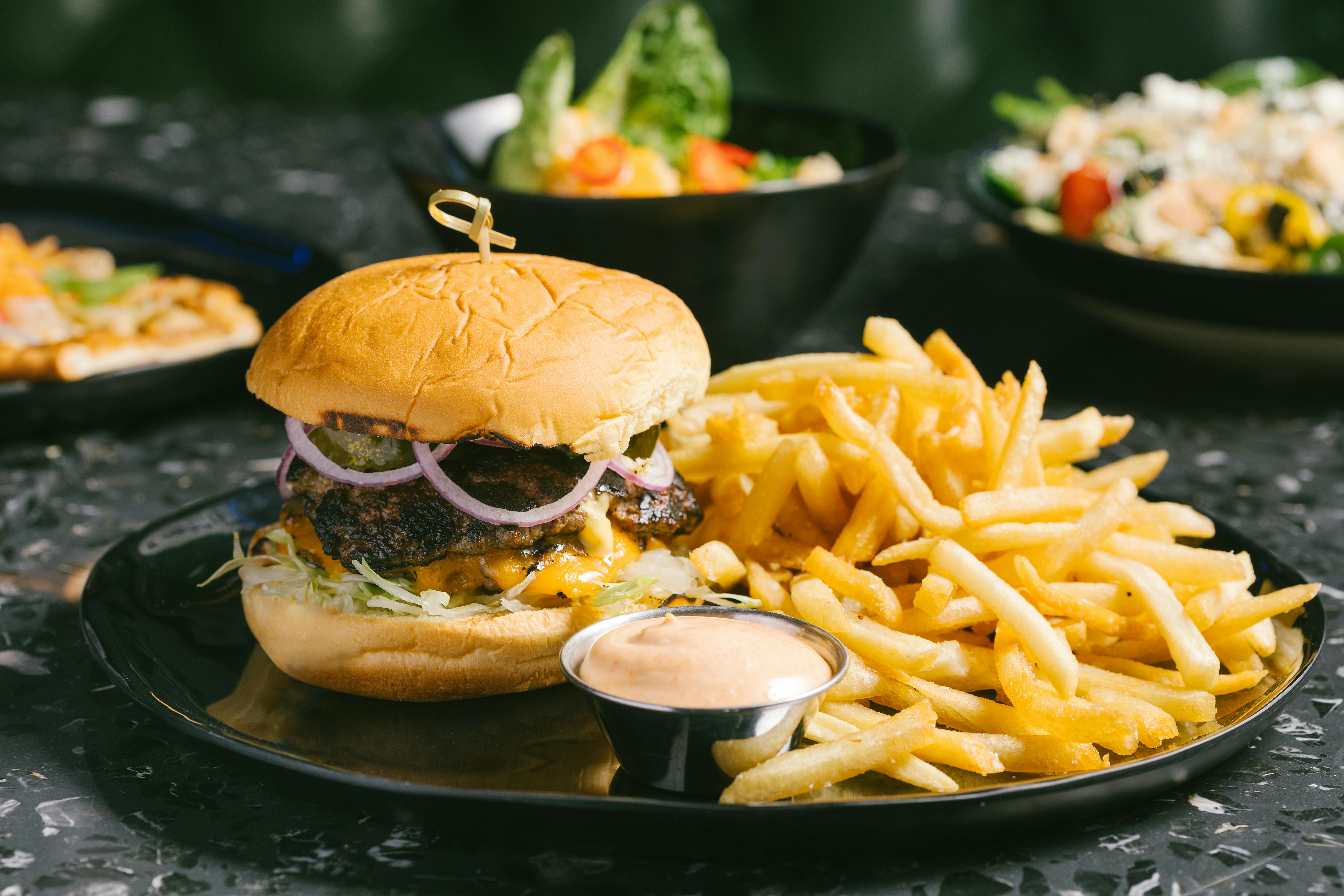 The Melody Burger is Singh's take on a double-smash burger. Two 3oz house-ground beef patties are stacked with Canadian cheddar and brown butter on top. You've also got bread and butter pickles, iceberg lettuce, onions and their secret sauce, all sandwiched by a fresh potato roll. A massive amount of shoestring fries come on the side, perfect for those craving a classic bar bite with an elevated twist.
In speaking of the beverage program, Senior Food and Beverage Service Samantha Soo says, "We really wanted to focus on having great products, at an accessible price point. That goes for everything, from beer to wine, to cocktails. We've gone with approachable flavours and pricing, with some cocktails that can be pre-batched to have efficient bar service." Generally speaking, the cocktails have a tiki-vibe with bright and tropical flavours that are easily crushable and can be enjoyed by everyone.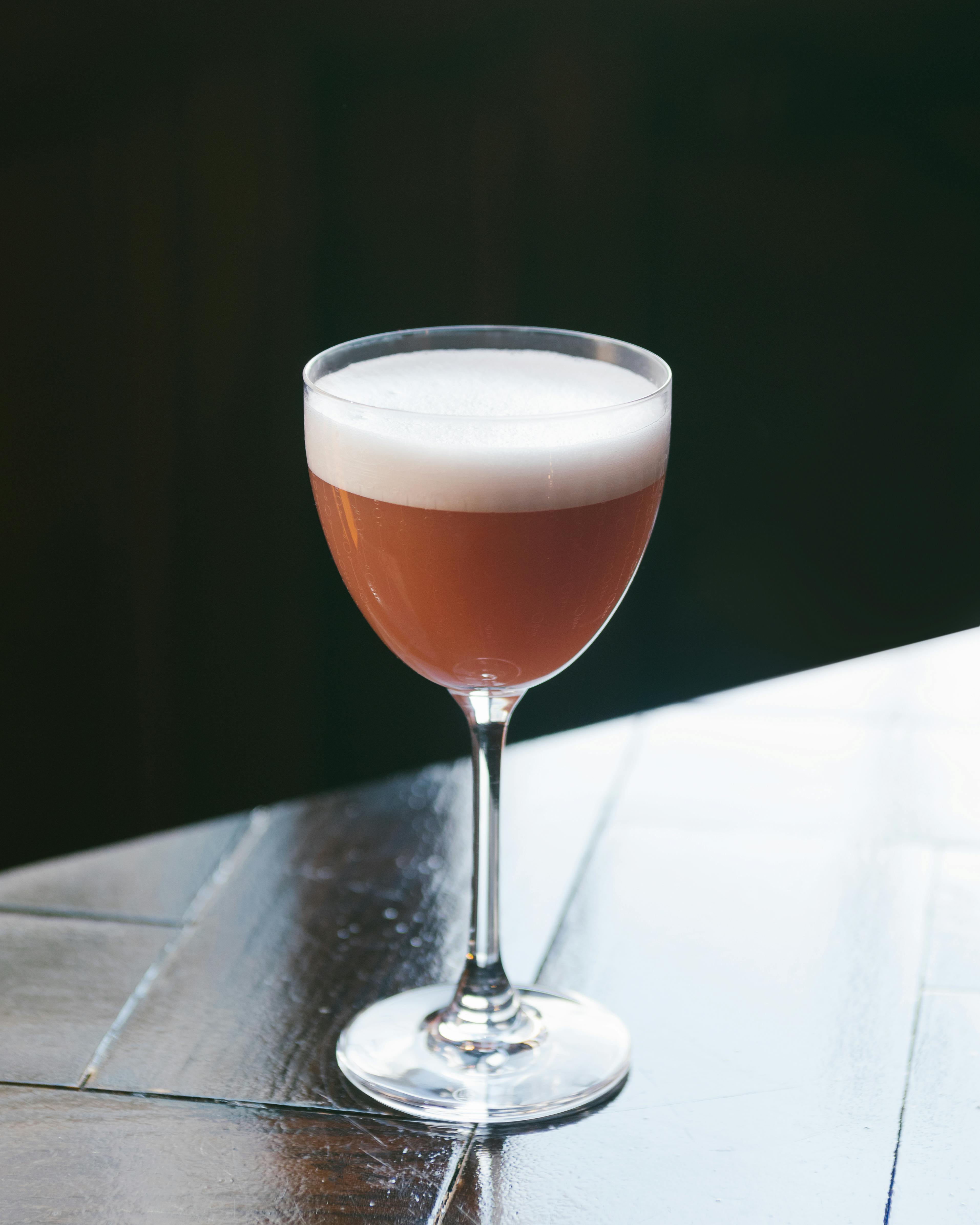 The Streetcar Queen is named after Toronto drag sensation Miss Moço (pronounced Mo-su), who will soon be returning to the Gladstone House to host Drag Brunch events on Sundays. The cocktail calls for Dillon's Rose Gin, house-made pomegranate grenadine, ginger-liqueur, and egg white, perfect for those craving a gin sour.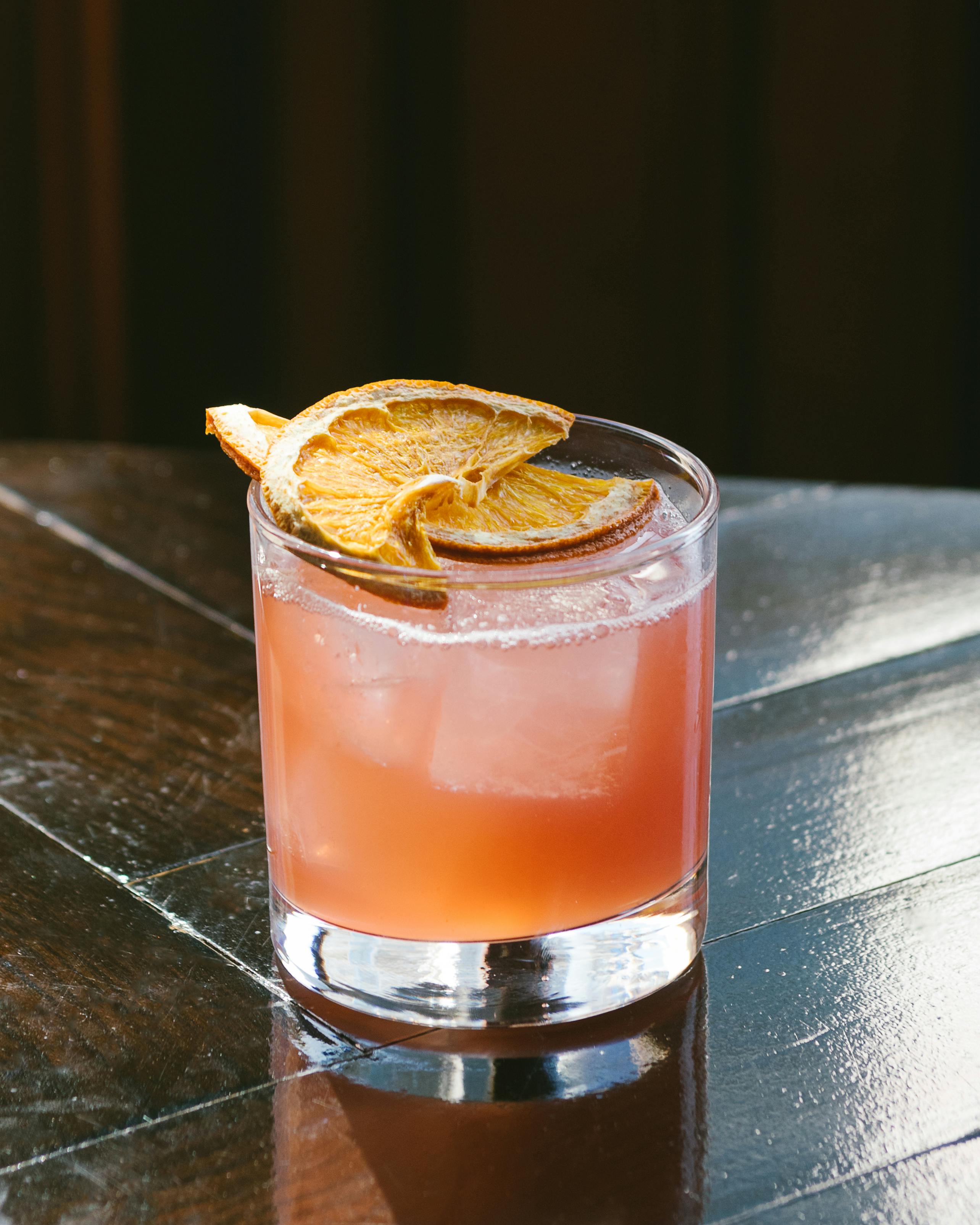 Next up is the Raised on Robbery, a watermelon-infused gin cocktail with saline preserved lemon juice, for an added touch of salt, acidity, and bitterness that become prominent against the sweeter and softer flavours from the Lilet Blanc and grenadine.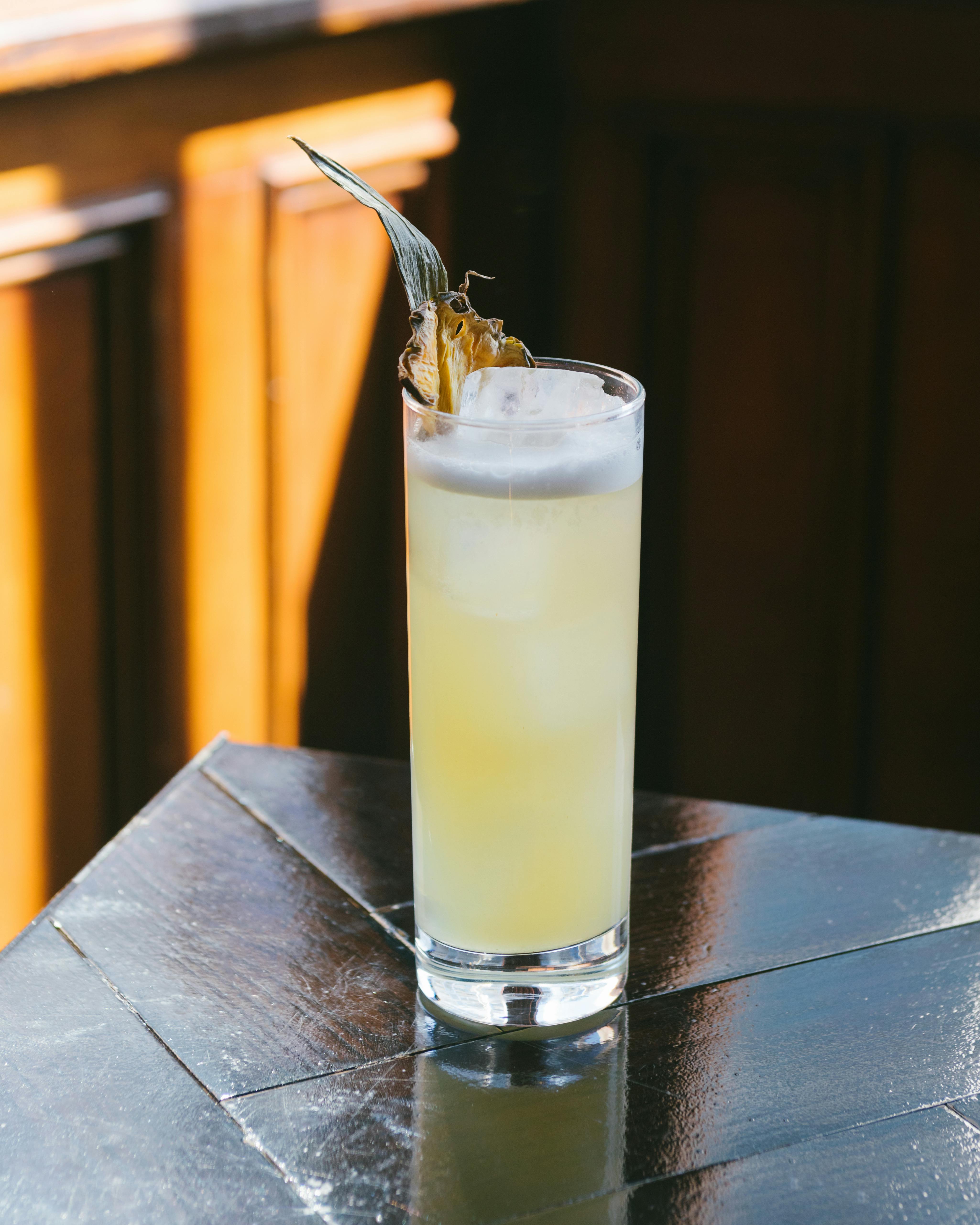 Another favourite is the I Wanna Cut To The Feeling, cleverly named after Canadian singer-songwriter Carly Rae Jepson's classic song. Mixed with Havana 3 rum, Galliano, lemon, simple syrup, and pineapple, this cocktail is bright and refreshing, just in time for the warmer months.
Beers on tap are mostly from local West-end breweries, like Bellwoods, Blood Brothers, Collective Arts and Woodhouse. They've also struck a partnership with Amsterdam Brewhouse, who created a unique Gladstone 1889 Lager, which sports a neon depiction of the building's exterior. The wine list is also carefully curated and consists of international reds, whites, rosés and bubbly.
There is certainly no shortage of programming at Melody Bar. From community nights and cabaret/burlesque shows to trivia parties, karaoke, and live music, there will always be something exciting on the docket. The full events breakdown can be found on their website, where you can discover a little more about what's on. The Gladstone House is also thrilled to announce the return of Drag Brunch in May, which will take place every Sunday morning beginning at 10:00 am.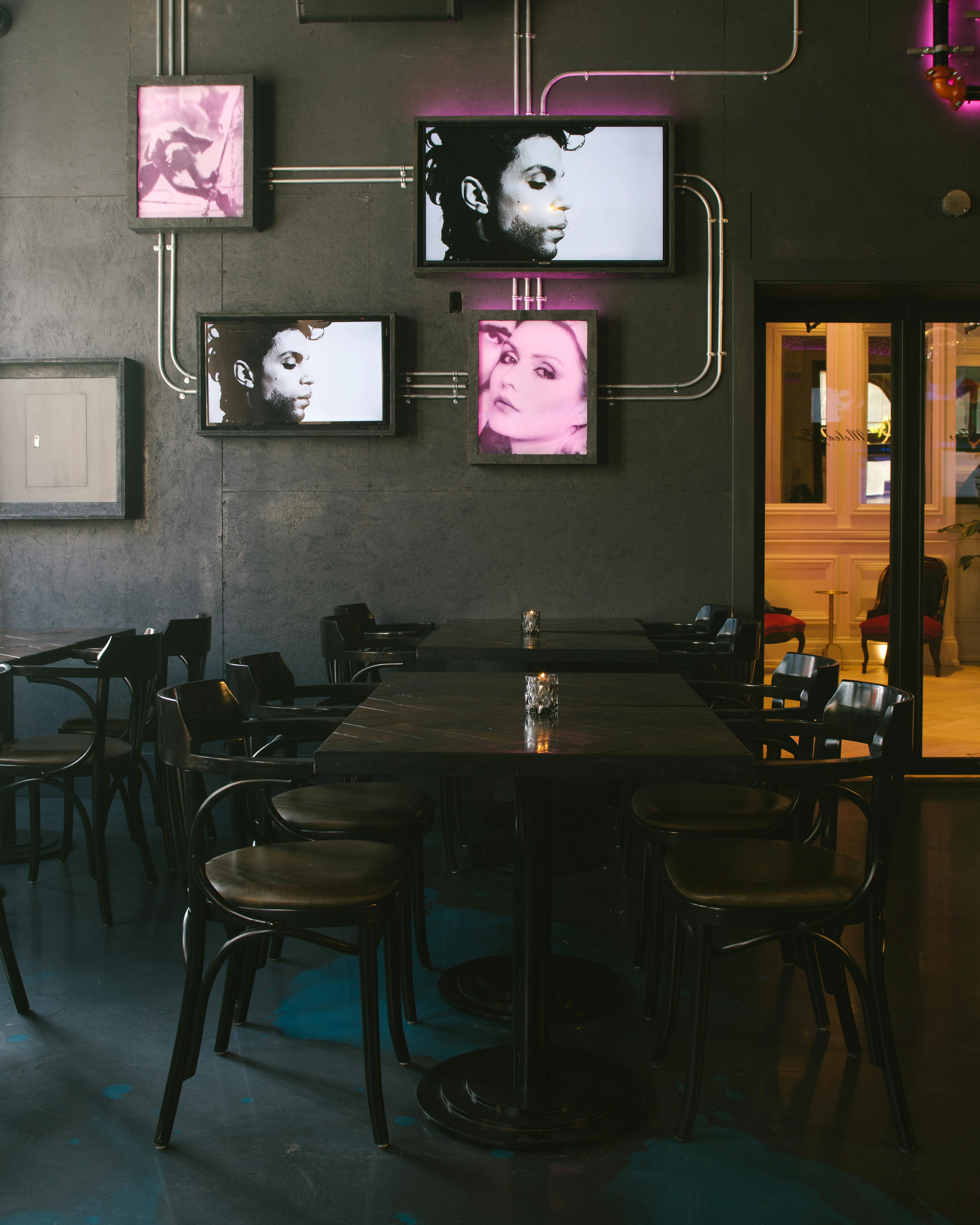 The Gladstone House is located at 1214 Queen St. West at the corner of Queen St W. and Gladstone. Melody Bar is open from 5 p.m. to 1 a.m. Monday - Thursday, 5 p.m. to 2 a.m. Friday - Saturday, and 10 a.m. to 1 a.m. on Sunday. Walk-ins will be accepted, and reservations can be made online via OpenTable. Be sure to follow them on Instagram to stay updated on all upcoming events, parties, and new menu offerings.