Photographs by Amanda Biffis
Nestled on the corner of Queen Street East and Kenilworth Avenue is Mira Mira Diner, a shining retro-inspired beacon in peach serving up hearty portions and delicious cocktails in a setting that will transport you through time.
After the great success from their takeout spot in Leslieville, co-owners (and life partners) Justin Cheung and chef Amira Becarevic thought the Beaches neighbourhood would make an excellent home for their new diner concept.
Mira Mira originated by Becarevic, who started her own catering company, which became the stimulus for starting their Leslieville location, designed more for quick service. Both Cheung and Becarevic have spent many years in the culinary industry, helping to open several well-known spots in the city like The Chase, Colette Grand Café and Kasa Moto.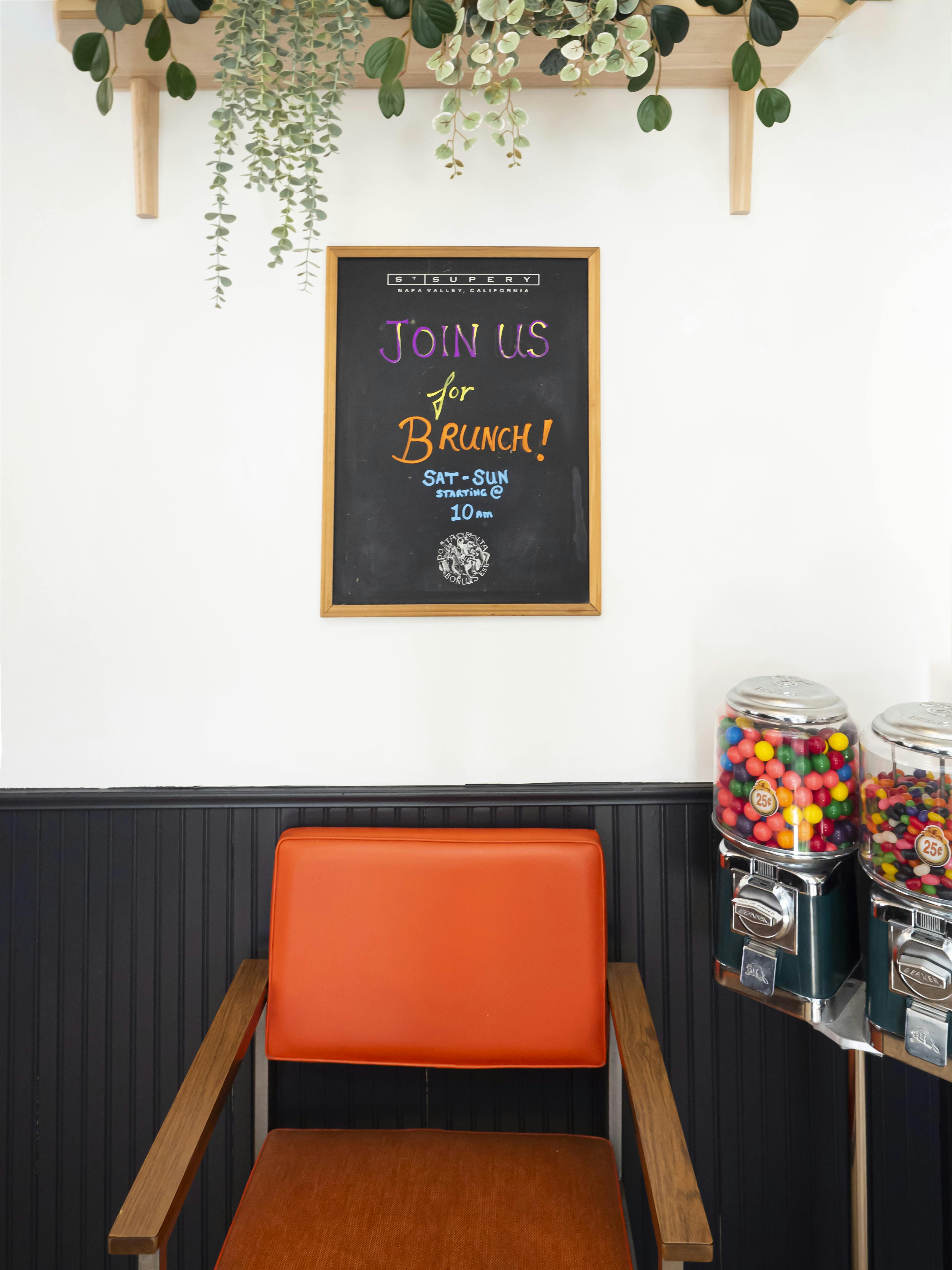 In the first year of their relationship -- eleven years ago -- Cheung fondly remembers Becarevic saying how one day, she wanted to open up her own restaurant that she would love going to. A place where families, couples, friends, truly anyone could come by any day of the week and experience elevated dining without breaking the bank.
He says, "We've always loved the east end, and we've lived in Leslieville for over fifteen years. It's a community, and we knew that the next location we wanted to open up would be in the east, but we didn't know where." It took years of forging strong relationships in the industry and carving out the type of food they wanted to serve. Still, after discovering this epic corner location in the Beaches, the conception of the Mira Mira diner was truly a matter of fate.
When they first found the Kenilworth location -- which was home to a Bank of Canada many moons ago -- they fell in love with the bones and charm of such a historical building. He says, "The arches in the window, the fact that it's two floors, that it's a block away from the water, everything was perfect for what we were looking for."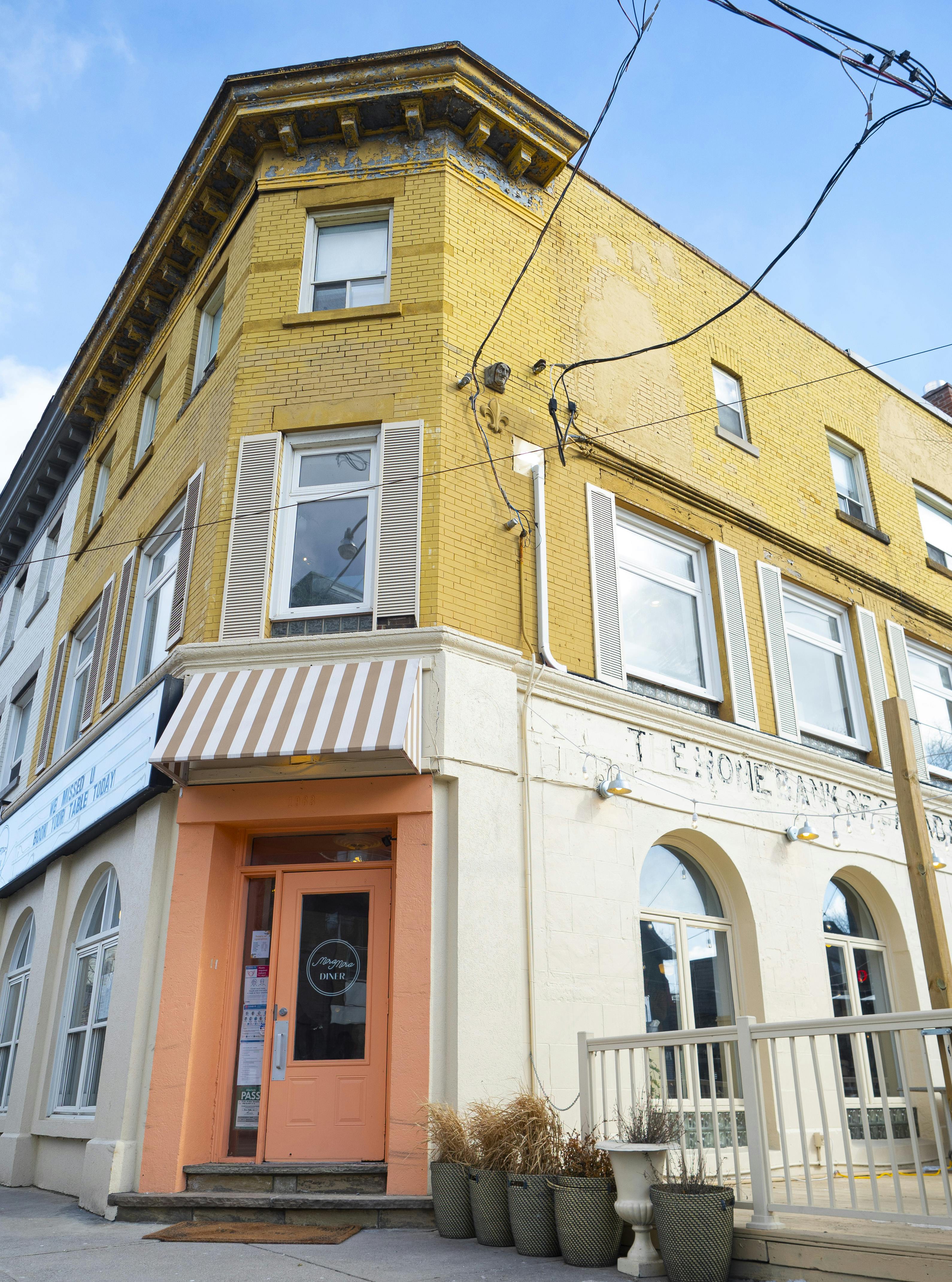 The bright and vibrant front entranceway is eye-catching and truly stands out amongst the already colourful neighbourhood. With one sizeable west-facing patio -- and a second north-facing CaféTO patio in the summer -- the diner takes over the entire block and will sure to be a bustling outdoor hot spot during the warmer months, especially during this year's return of the Toronto Jazz Festival.
Upon stepping foot into the space, you'll be transported into an eclectic retro-style diner that Cheung and Becarevic have so tastefully and carefully manicured. The attention to detail is truly impressive, with each nook and cranny considered.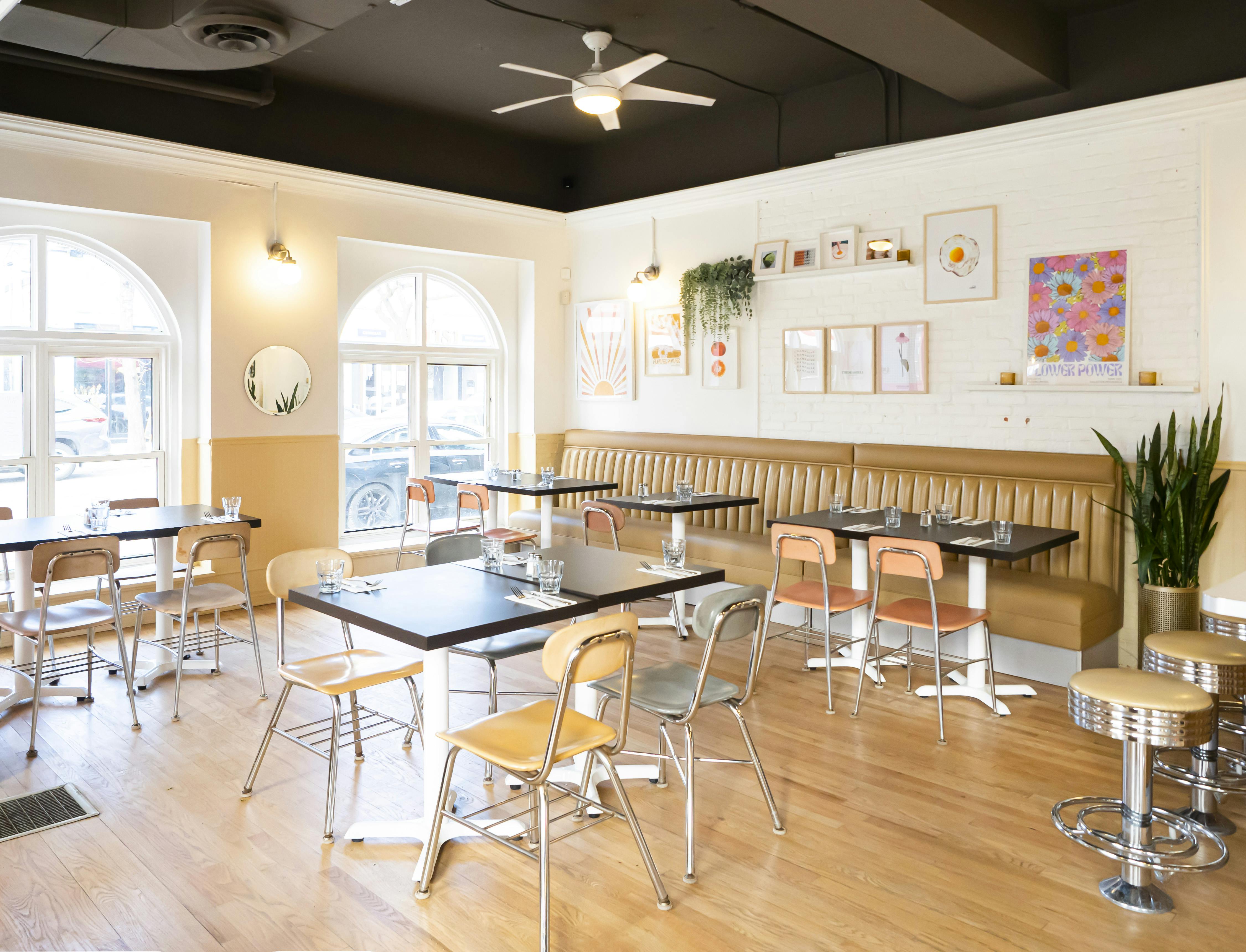 The tasteful pieces of art on the wall, mixed with the white exposed brick, and the soft hues of pinks, yellows, the brown leather banquettes and bar stools, fill the interior with such warmth and comfort you'll want to stay the whole day. Even the touches of greenery, the neon 'diner' sign, gumball machines, the rounded bulbed light fixtures and seating -- made up of colourful school chairs -- brings together that old school diner vibe, but with a modern twist.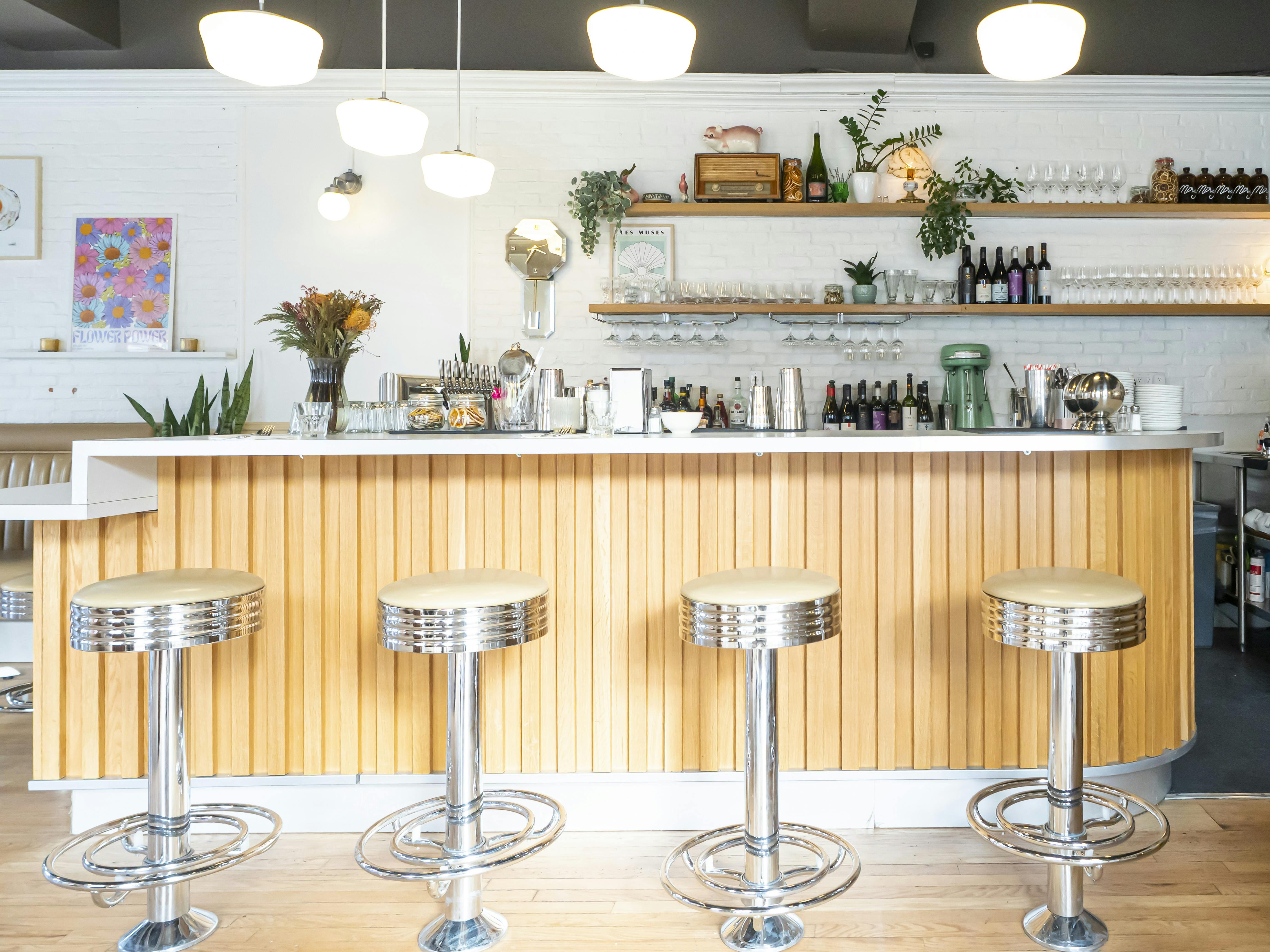 The upstairs boasts another full level of seating, also decorated to keep in the same fun and light style as the main level, with rounded mirrors, shelving, greenery and another full-service bar to keep up with those busy brunch services.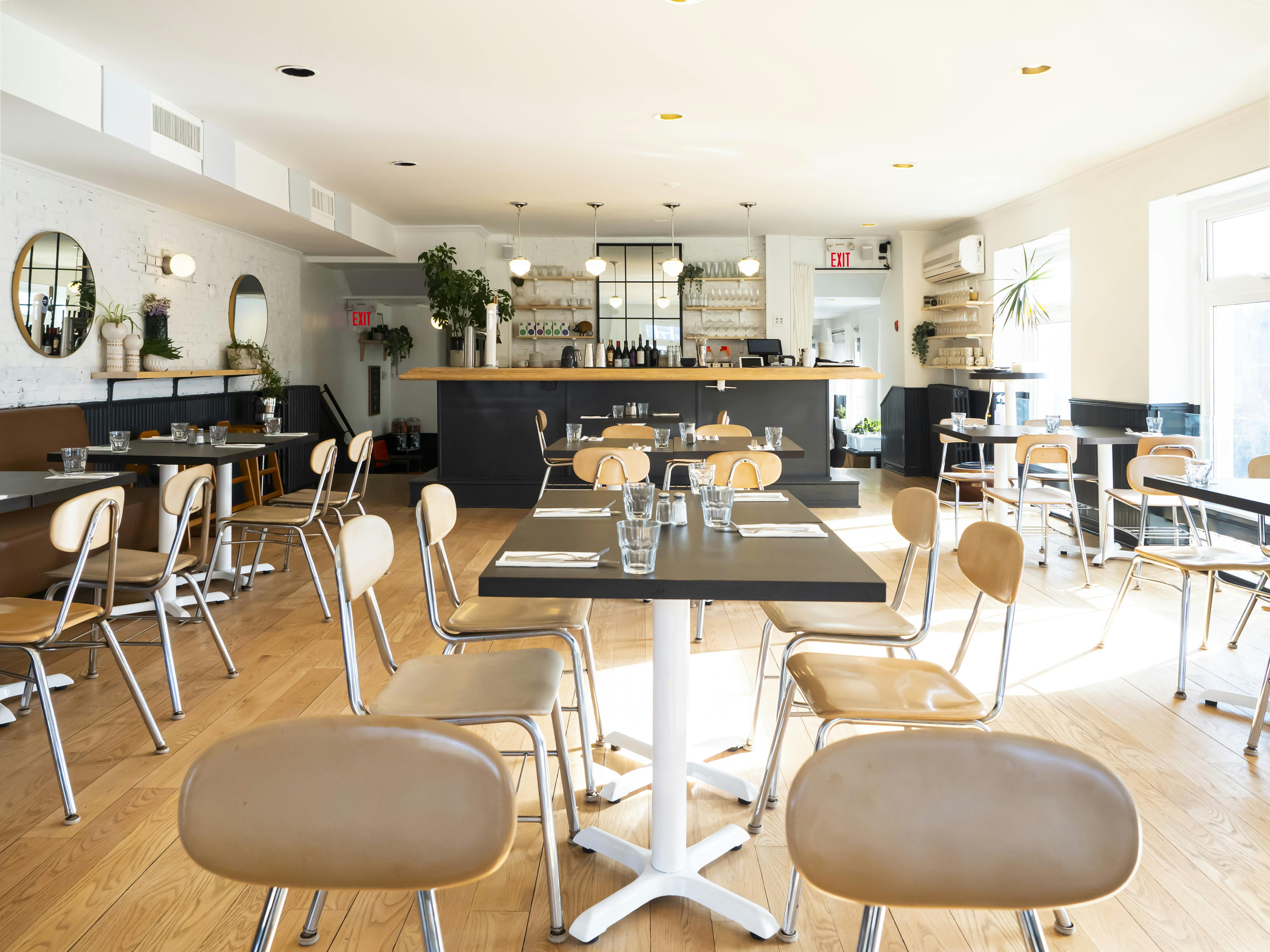 Being in the centre of a community with so many mom-and-pop shops, Becarevic is delighted to collaborate with several local businesses when it comes to their suppliers. She says, "They happen to be making amazing food, and they are wonderful people, so it's amazing that we can work together."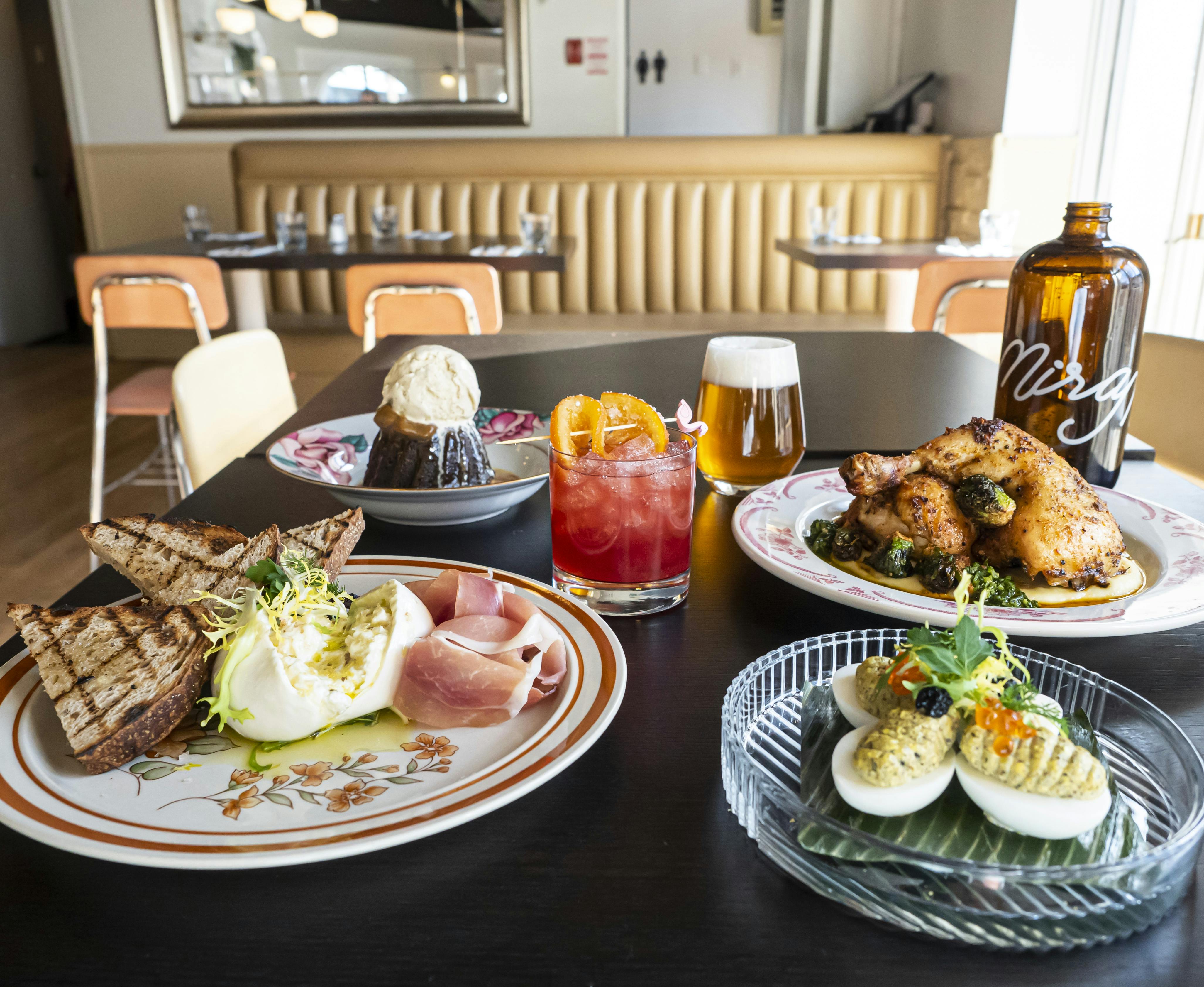 When it comes to the food, it was always crucial for the pair to have a focus on nostalgia. Playing off the classics, Cheung and Becarevic wanted to add some of their Cantonese and Eastern European roots into the dishes by adding some big, bold flavours. It also helps that their entire team is very diverse, with some Caribbean, Vietnamese, Greek and Polish influences also thrown into the mix.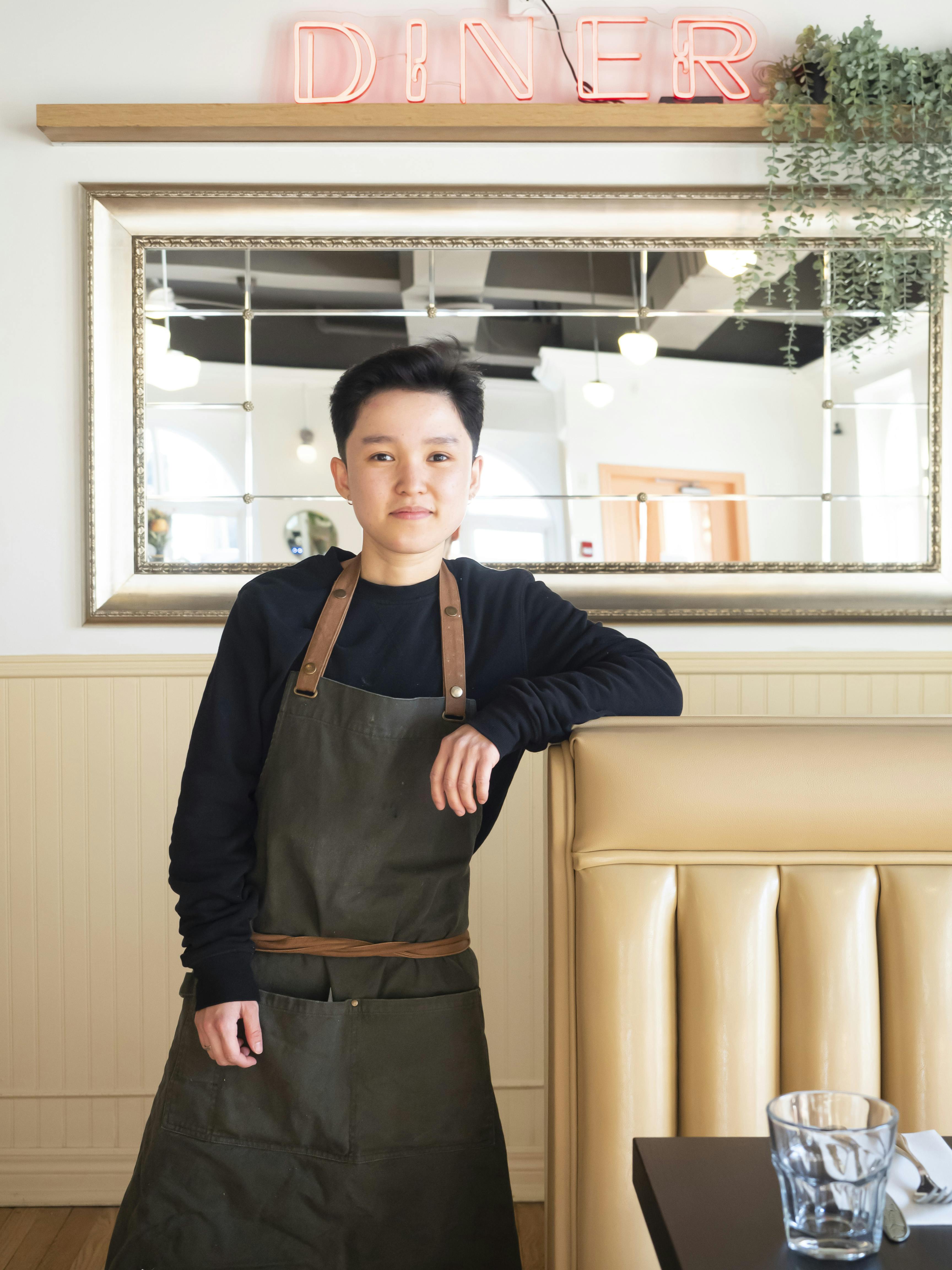 Senior sous chef Sam pictured inside Mira Mira Diner.
Cheung says, "We love creating some form of blend into our dishes that have recognizability, so whenever you order something, be it for breakfast, lunch or dinner, we're going to make sure it'll taste damn good."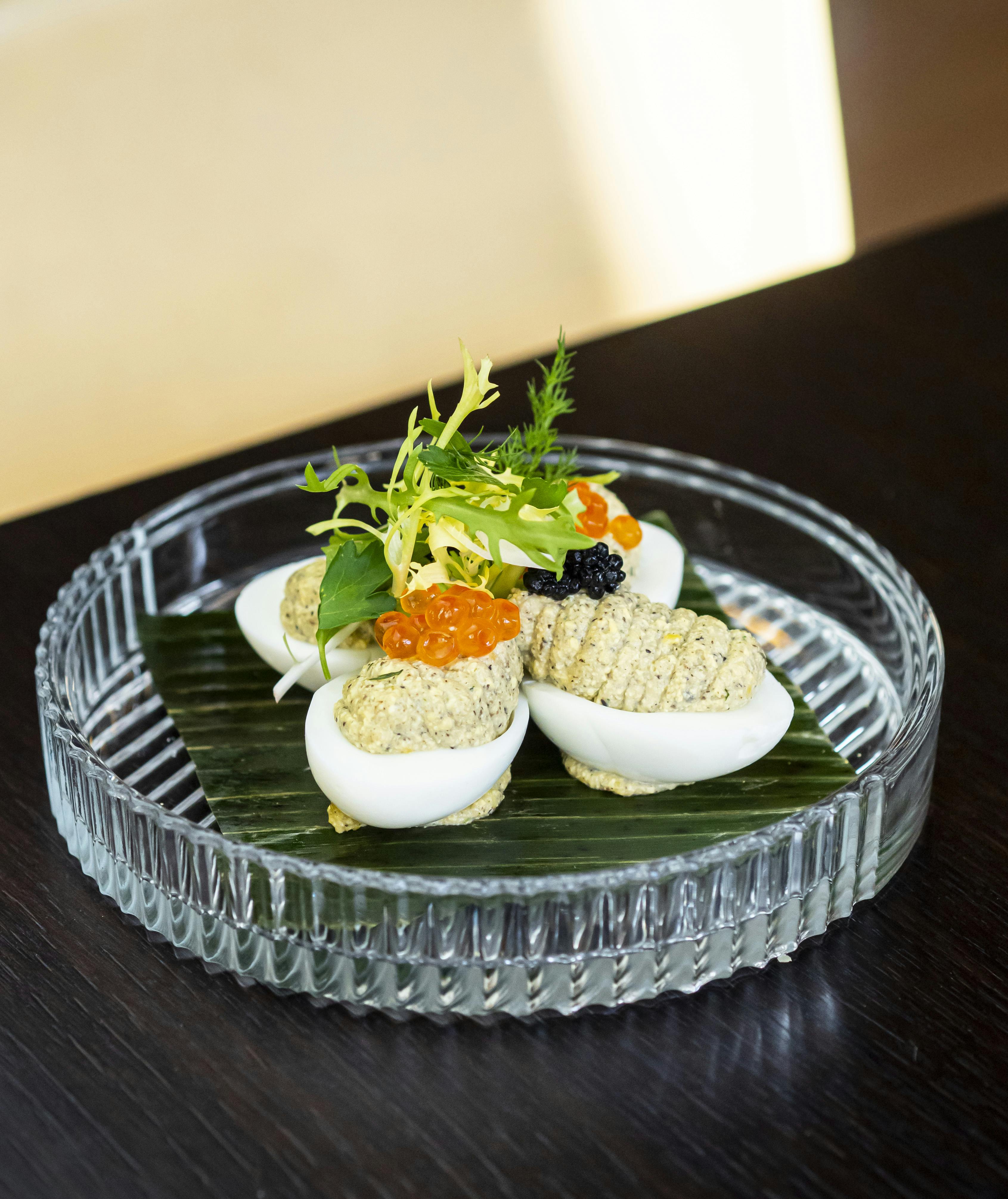 Take the Truffle Deviled Eggs, for instance. Jam-packed with rich flavours from the salmon roe, tobiko, truffle paste, truffle oil and deviled egg yolk mix, this dish is an excellent way to kick off your meal without feeling too full for all the delicious comfort food that's to come.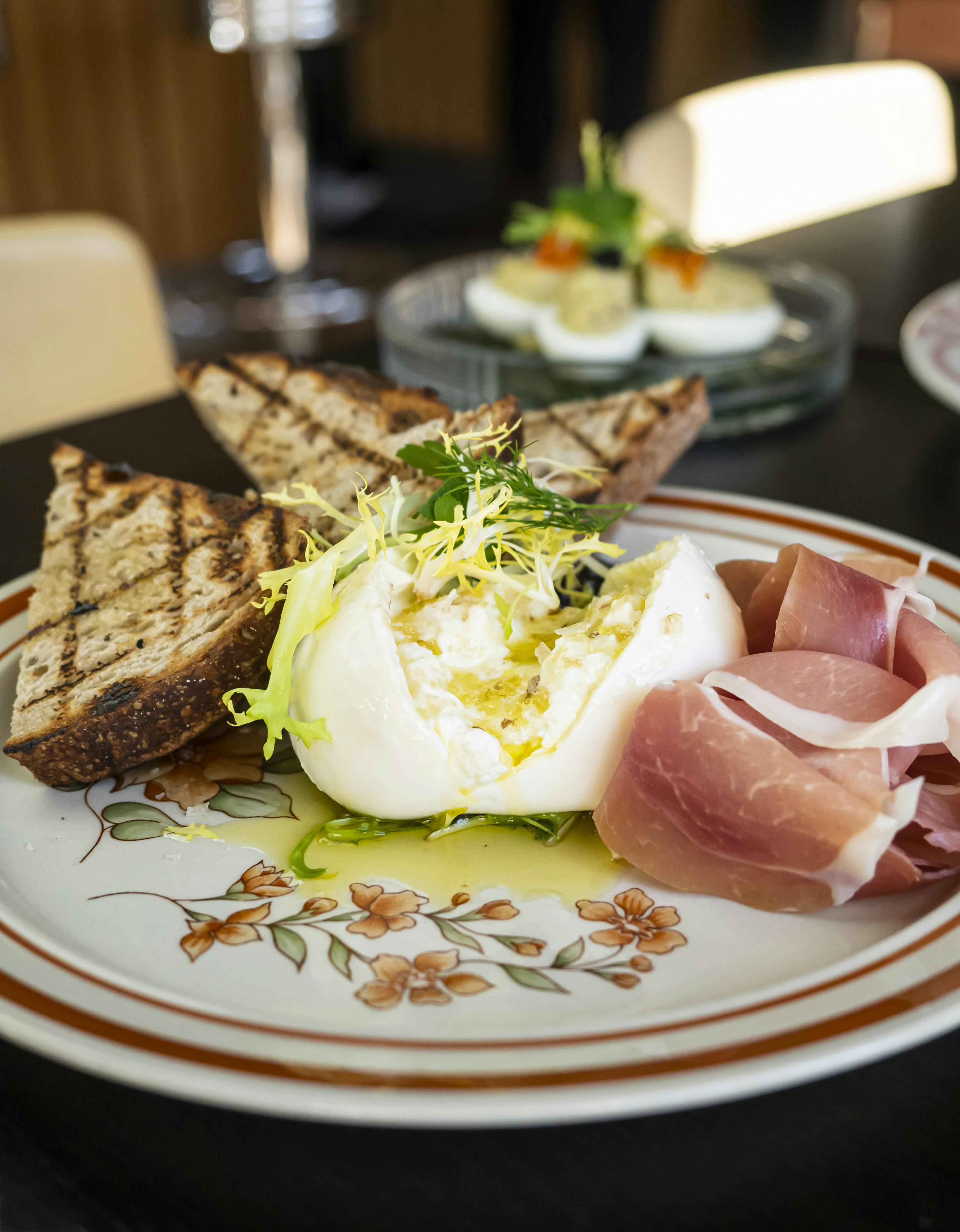 The Ontario Burrata is a cheese lover's dream. Dressed with organic olive oil and sea salt and paired with prosciutto, honey-balsamic cherries (with cinnamon and nutmeg) and grilled sourdough rye from Lev Bakery, the cacophony of flavours are so bright and mix together beautifully. The sweet and fruity notes from the cherries complement the richness of the cheese and prosciutto, and the fresh crunch from the sourdough brings it all together for the perfect share plate.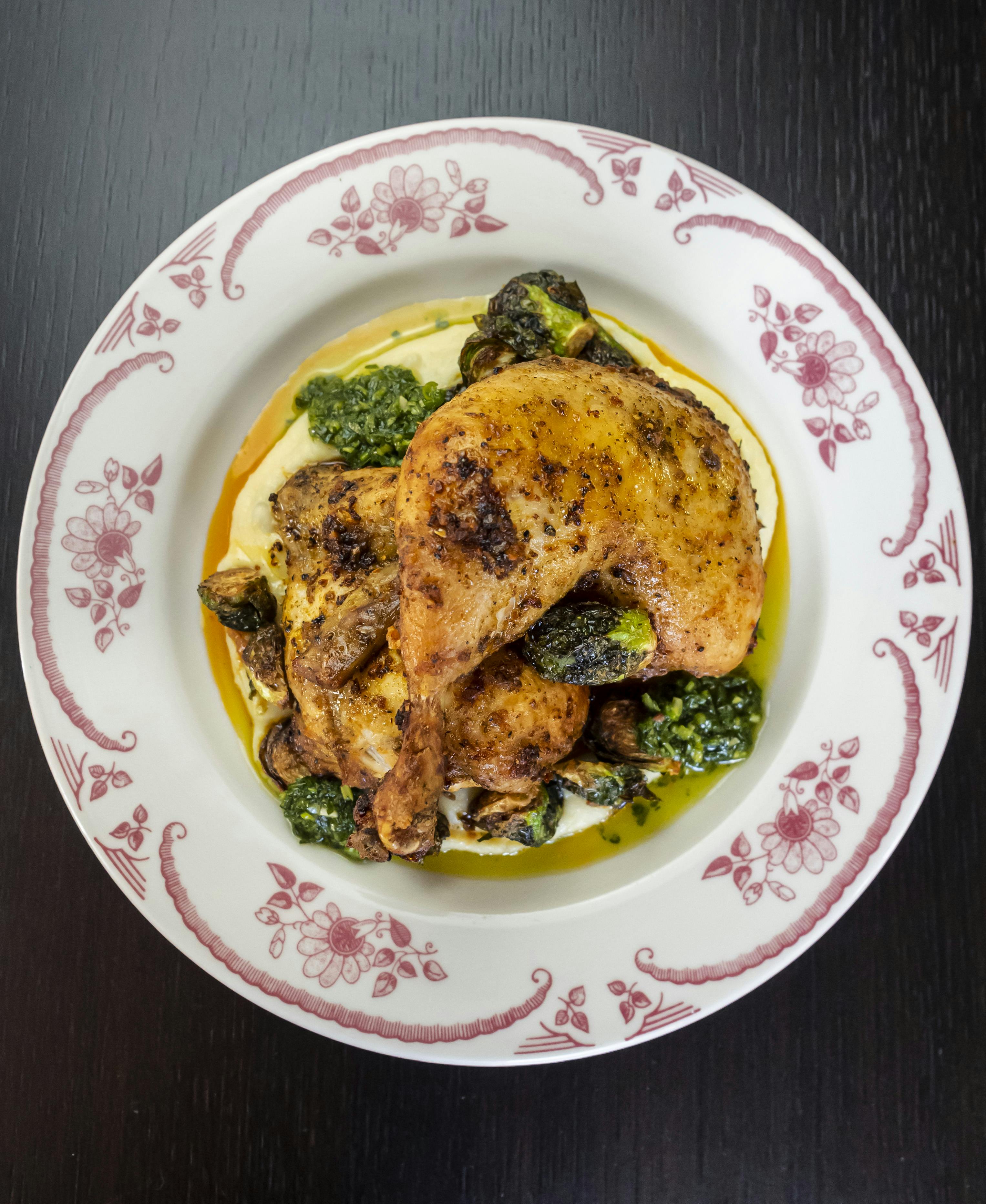 When dining at Mira Mira, it's imperative you come hungry, especially if you plan on ordering the Beer-Brined Rotisserie Chicken. Brined overnight with beer in a traditional brine and rotisseried with hot sauce butter, the chicken melts in your mouth with an explosion of warm and spicy goodness with every bite. Served alongside smoked cheddar mash, salsa verde and crispy brussels sprouts, this dish is the epitome of comfort food.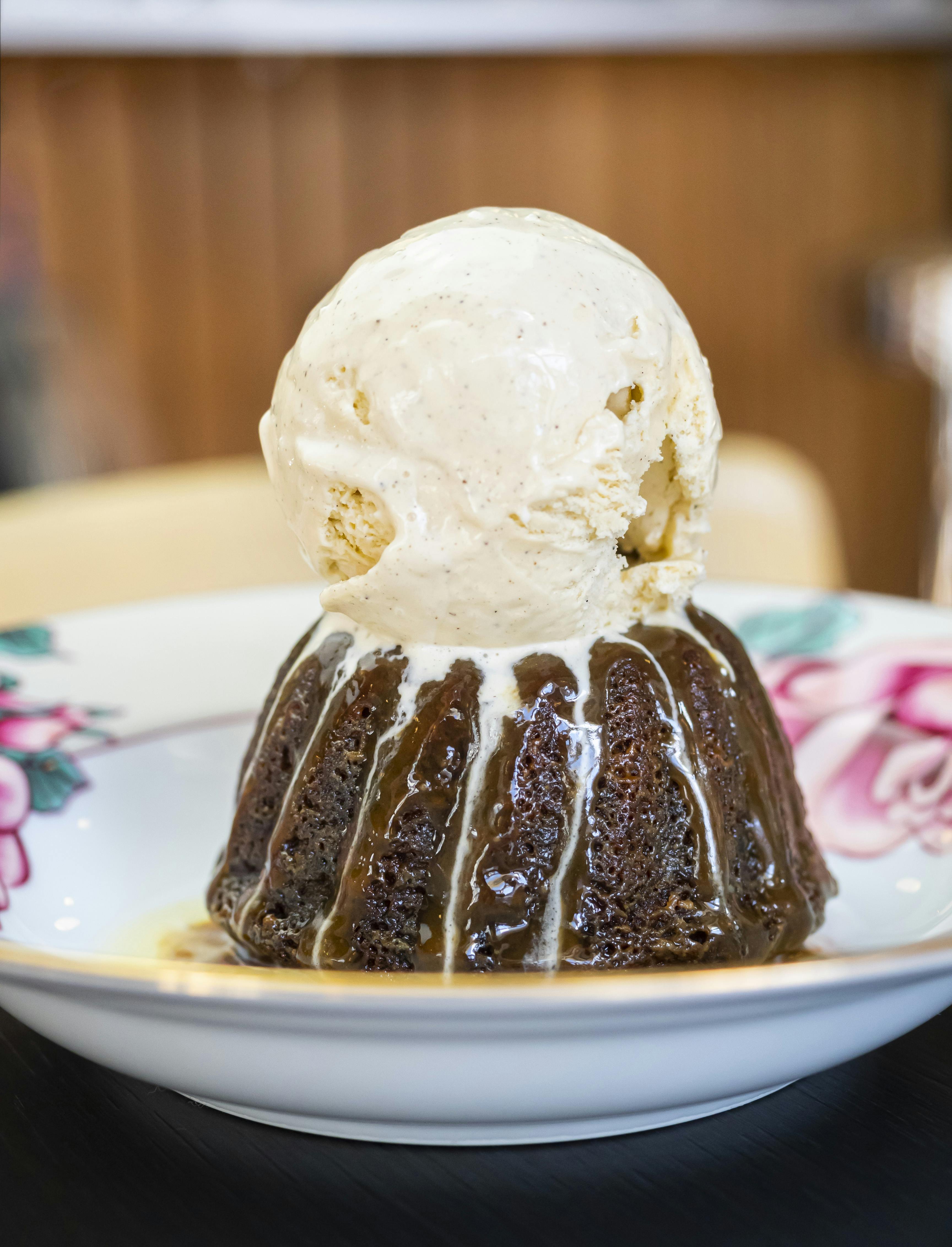 For dessert, indulge in the photogenic Sticky Toffee Pudding provided by their pastry partners at Gerrard Street Bakery. Dolce de leche pools around the sides of the moist cake, and a hearty scoop of French vanilla ice cream from Kawartha Dairy drips down the sides like a delicious molten lava.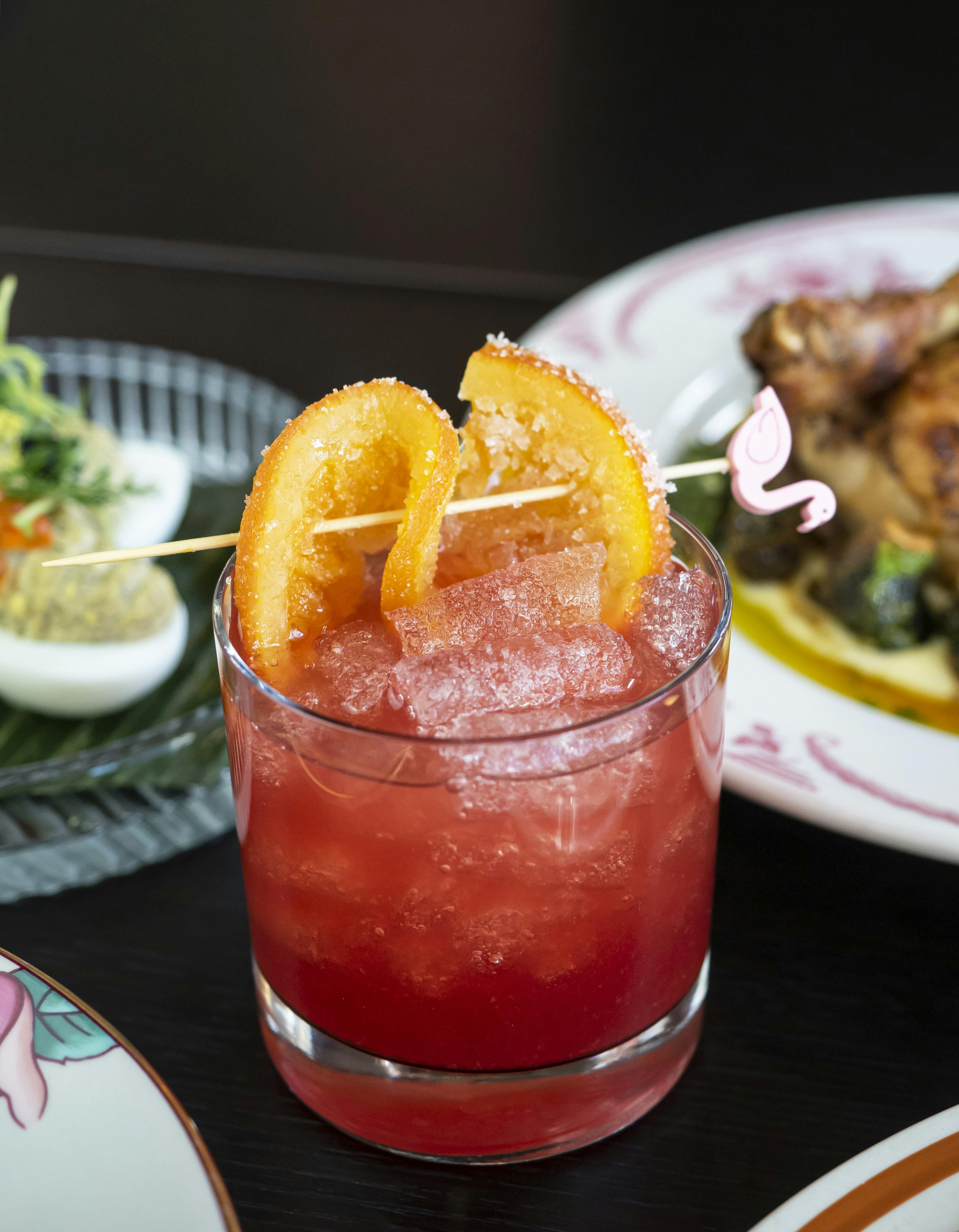 Similar to the their inception of the menu, the cocktails are also played off of classics. Take their Passion Fruit Negroni for instance; it's an approachable twist on a staple, but with fresh passion fruit juice (made with the rinds on for a hint of purple colour), topped off with bubbly rosé, and garnished with a fully edible candied orange. Erring on the sweeter side, this concoction is significantly less bitter, is more fruit-forward, and is certainly crushable.
There's also a variety of beer available, most predominantly a selection from Burdock Brewery, along with diner must-haves like Molson Canadian on tap. If you're in the mood for coffee, their espresso machine is fully equipped to whip up all of your caffeinated desires, and they even have a Hamilton Beach sea-foam coloured machine behind the bar, perfect for whipping up milkshakes and root-beer floats.
Mira Mira Diner is located at 1963 Queen Street East, and is open Wednesday to Friday from 11:30 a.m. - 9 p.m., and Saturday to Sunday from 10 a.m. to 9 p.m. (with brunch being served from 10 a.m. to 2 p.m.). Reservations can be made online via OpenTable, however for groups larger than four, they recommend giving them a call to secure your spot. Be sure to give them a follow on Instagram, as they expect to be changing up some of their menu items with the near arrival of the warmer months.