When you name your restaurant after a common Jamaican phrase that means, "see you later," it suggests a certain degree of confidence. It suggests a team that fully understands the appeal of its work. In the case of Miss Likklemore's, the team is bang on. Wooed by the sultry, stylish room, the genuine welcome, the colourful, punchy drinks and the procession of delectable dishes that manage to be simultaneously homey and high-brow, there's no question that you'll return. Boasting all the trappings of the area, King West's buzziest new "it" spot hasn't lost an ounce of its heart and soul. It's a place where Caribbean flavours reign, warmth fills the air, and where customers shouldn't be surprised if they soon feel like family.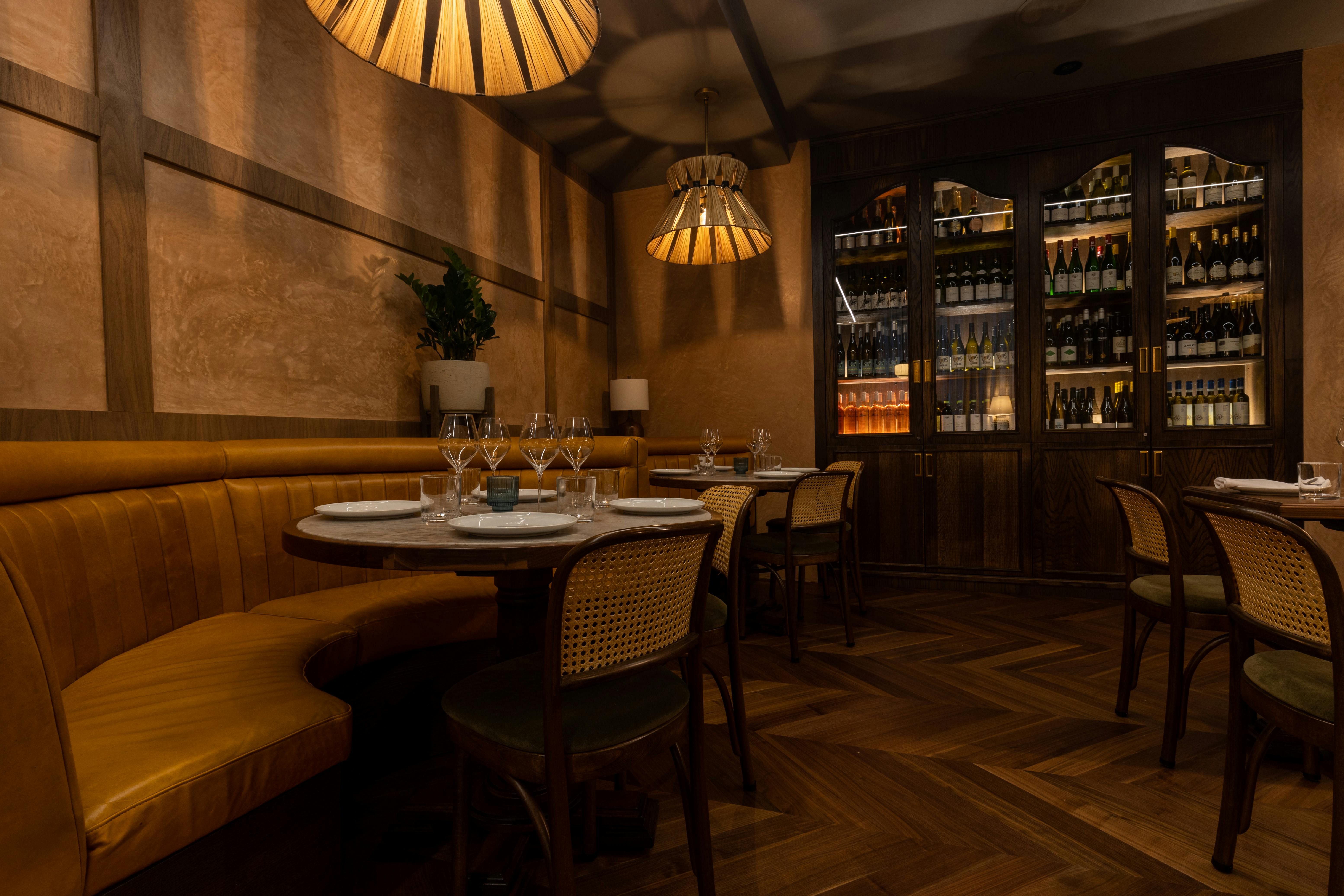 First operated as a pop-up, Miss Likklemore's came into being in 2020 as a temporary spot on Queen Street West. Owned and operated by partners Darren Hinds and Lonie Murdock, the restaurant, "was more popular than I had anticipated," admits head chef Murdock. When the pandemic forced a premature closure, Murdock says the team was "literally getting emails constantly to ask when we were re-opening." As luck would have it, among the group's disappointed customers was Hanif Harji, CEO and founder of Scale Hospitality. Charmed by Murdock's cooking and quick to recognize Miss Likklemore's worth, Harji and his company partnered with the team to help Miss Likklemore's reach her full potential.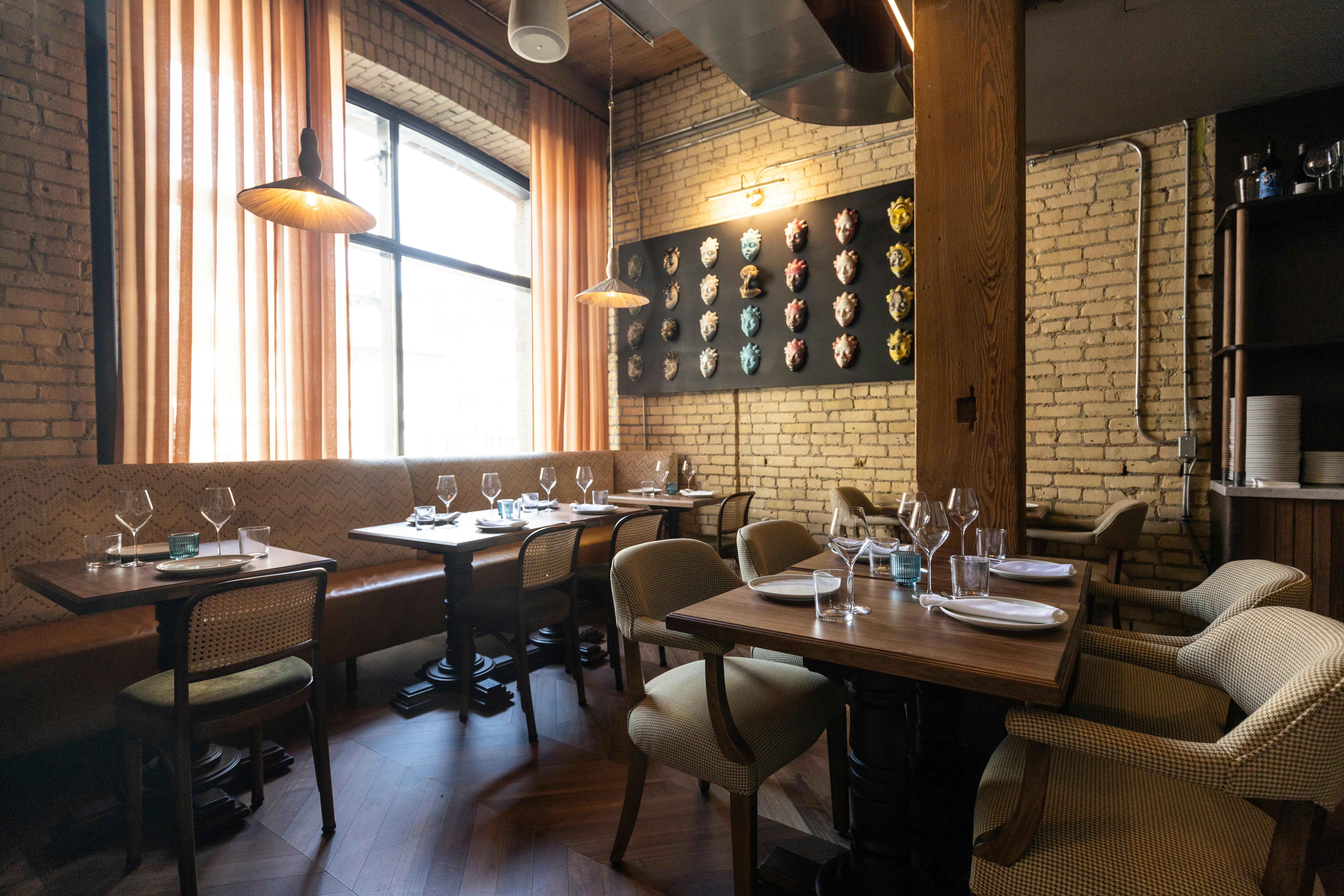 Sassy and sultry, confident and radiant, Miss Likklemore's is now flaunting her makeover on King Street West. Like her new neighbours, this miss has exquisite taste. She favours earth tones and natural textures, pops of colour and artwork from cherished Caribbean spots. Designed by Block Plan Studio, with significant input from Hinds, the space is both intimate and airy. Tropical ceiling fans spin lazily overhead, while assorted seating – at the bar, in cozy booths, and at cane-backed dining chairs — beckons. "The goal is to highlight the beauty of the Caribbean," explains Murdoch. "From the music to the food to the look of the place, the ingredients, the overall vibe of the restaurant. I think it just exudes warmth and hospitality and joy."
Though not classically trained, "I'm my family's cook," quips Murdock. "That's how my cooking journey started. I've always had a knack for it." If Miss Likklemore's' menu is any indication, a flair for flavour runs in the family. From Miss Edna's Jerk Chicken to Debbie's hot sauce, the food at Miss Likklemore's is a family affair. Working with Scale Hospitality corporate executive chef, Ted Corrado, and corporate chef, Zach Albertsen, Murdock was able to translate ideas into King-West-style plates. "I would say, 'this is something I want to make, these are the flavours I want to use,' and they'd say 'this would enhance it.' It was a really great, collaborative effort on some of the things. Other things are straight traditional," she explains.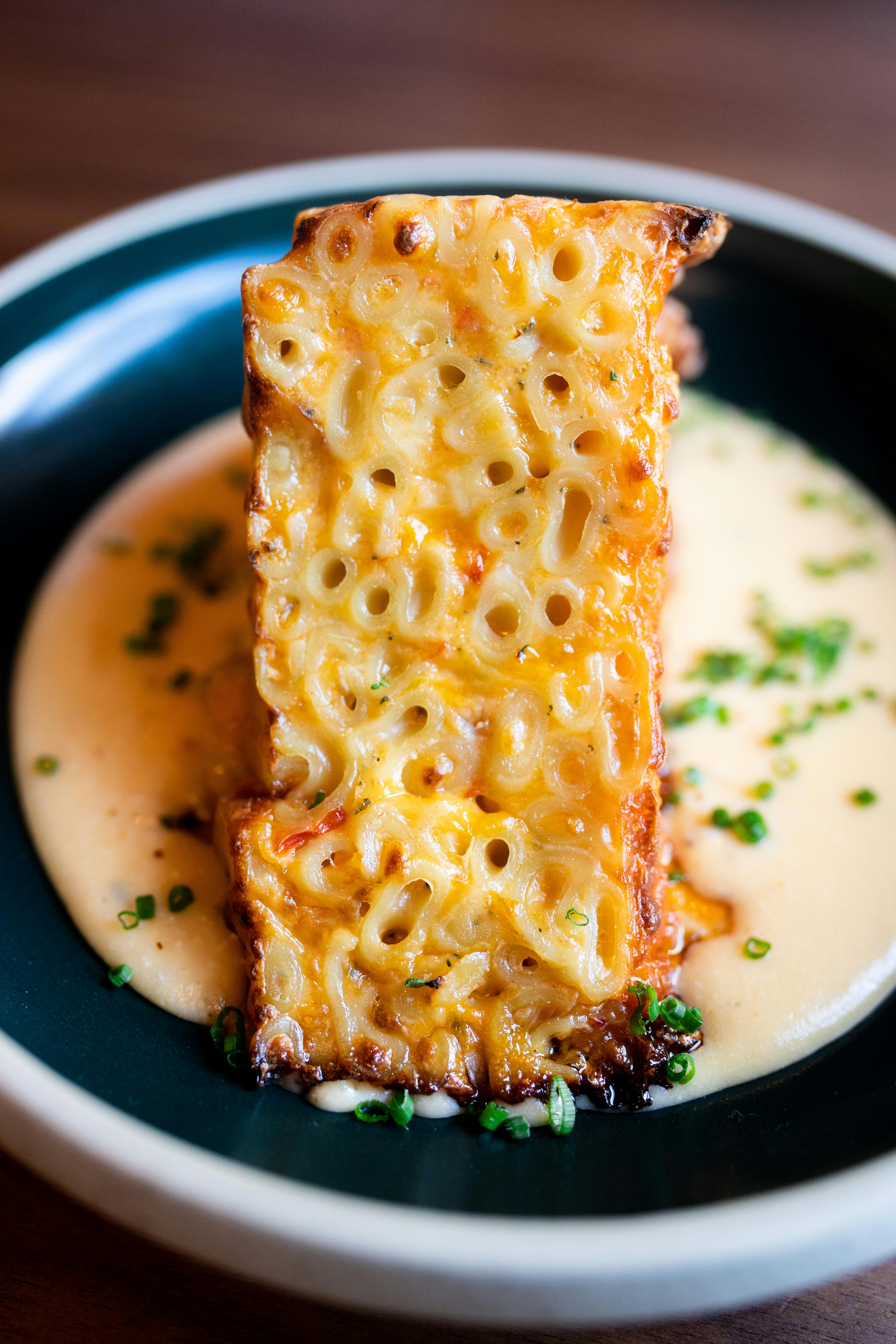 From appetizers to family-style plates, and sides, the food at Miss Likklemore's is piquant not aggressively peppery. You'll prance through the menu joyfully until you come up for air, tickled to discover the sultry, slow burn skipping around your mouth. It's a heat that piggybacks on the use of cinnamon, allspice, nutmeg and other warming flavour enhancers. For its inaugural menu, the team referred back to Miss Likklemore's pop-up days, while also considering the public's tastes. "Jerk chicken is my grandmother's recipe," says Murdock. "It was hugely popular at the pop-up, as was the mac pie. Those two things had to make it [onto the menu]. Some of the more traditional things, like the oxtail, it's just something that everybody expects when they go to some place that's Caribbean or West Indian. It had to make an appearance."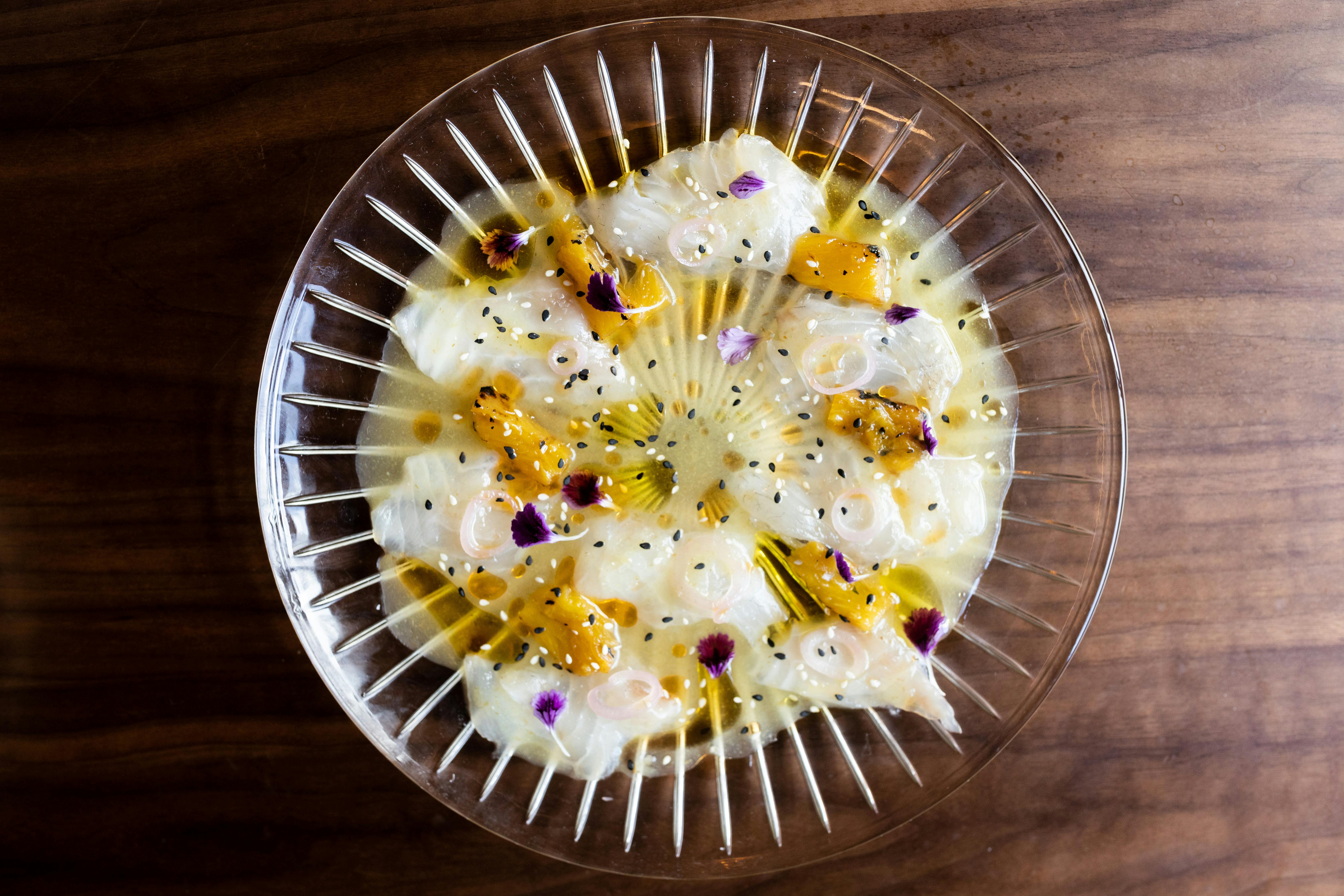 After sitting down, your first order should be the team's House Pepper Sauces. Each platter includes four house-made condiments — from "mild" to "very hot"— allowing guests to season each dish at will. From there, you'll want to dip your fork into the restaurant's coastal collection, with a selection of seafood-based appetizers. Sea Bream Crudo is a sunny take on the city's most fashionable starter. With charred pineapple, pineapple ponzu, and sesame seeds, each bite packs a powerful hit of tropical flavours. Yes, you can find crudo all over town, but none transport you seaside quite like Miss Likklemore's.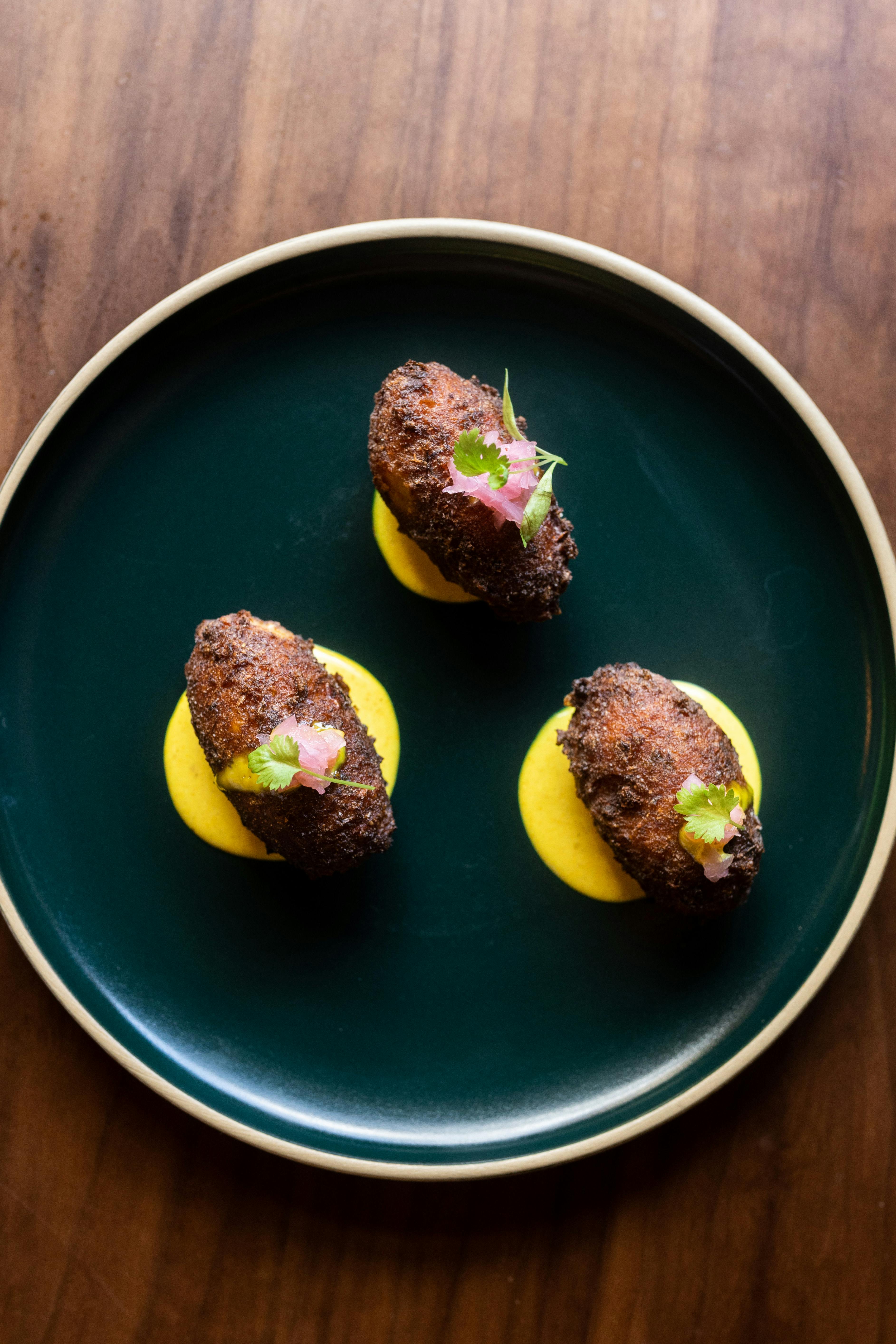 Displayed to gorgeous effect on a plate the colour of forest-topped mountains, Salt Cod Fritters lounge in charred corn aioli under red scallion mignonette. Supremely crisp, tasting of summer and the sea, these are a delectable way to start your night.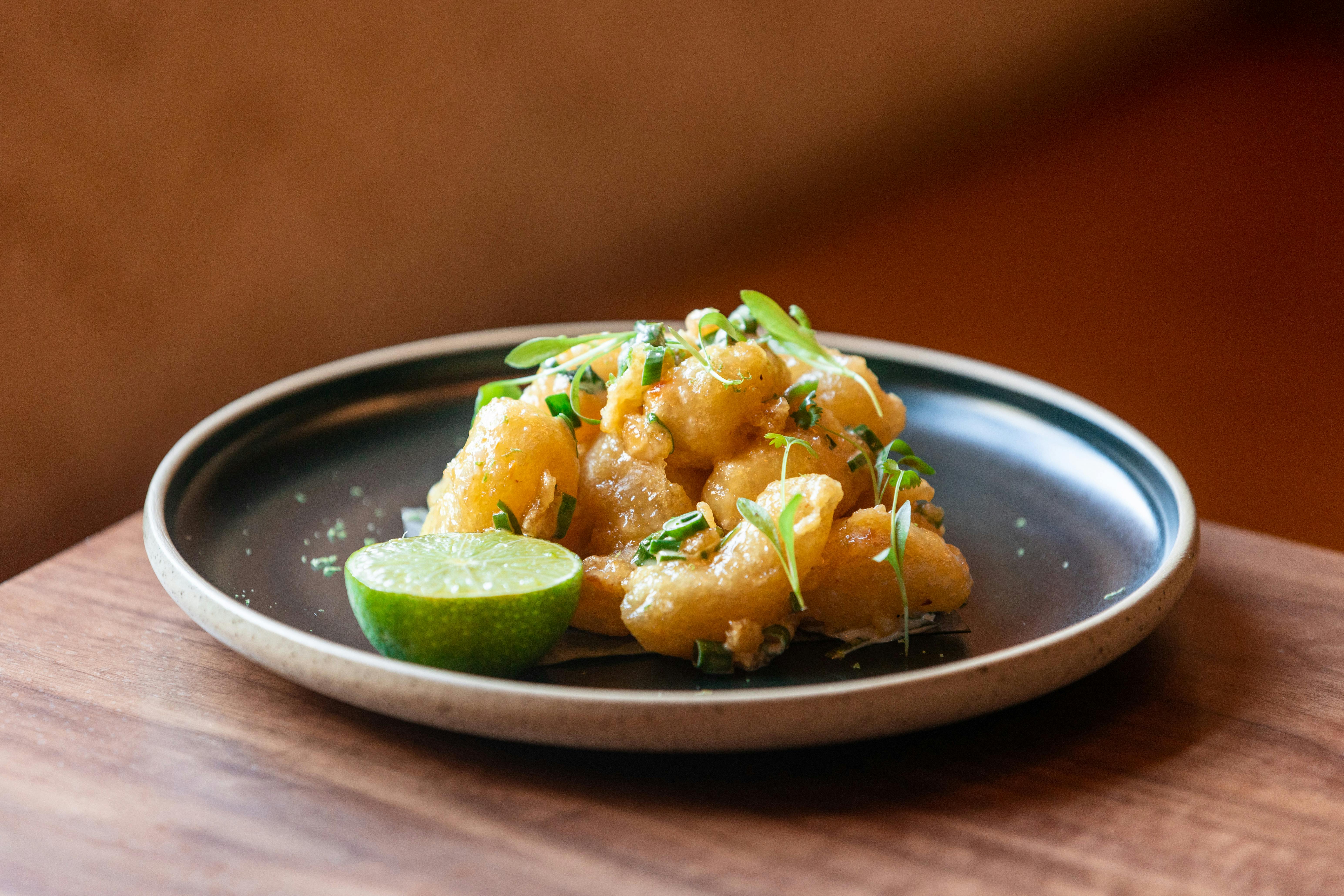 A nod toward Bajan/Bahamian flavours, Fried Rock Shrimp are tossed in Caribbean pepper aioli, and served with lime, for spritzing. Close your eyes with each juicy, sweet, spicy bite and, if it weren't for the music, you'd hear the waves lapping at your feet.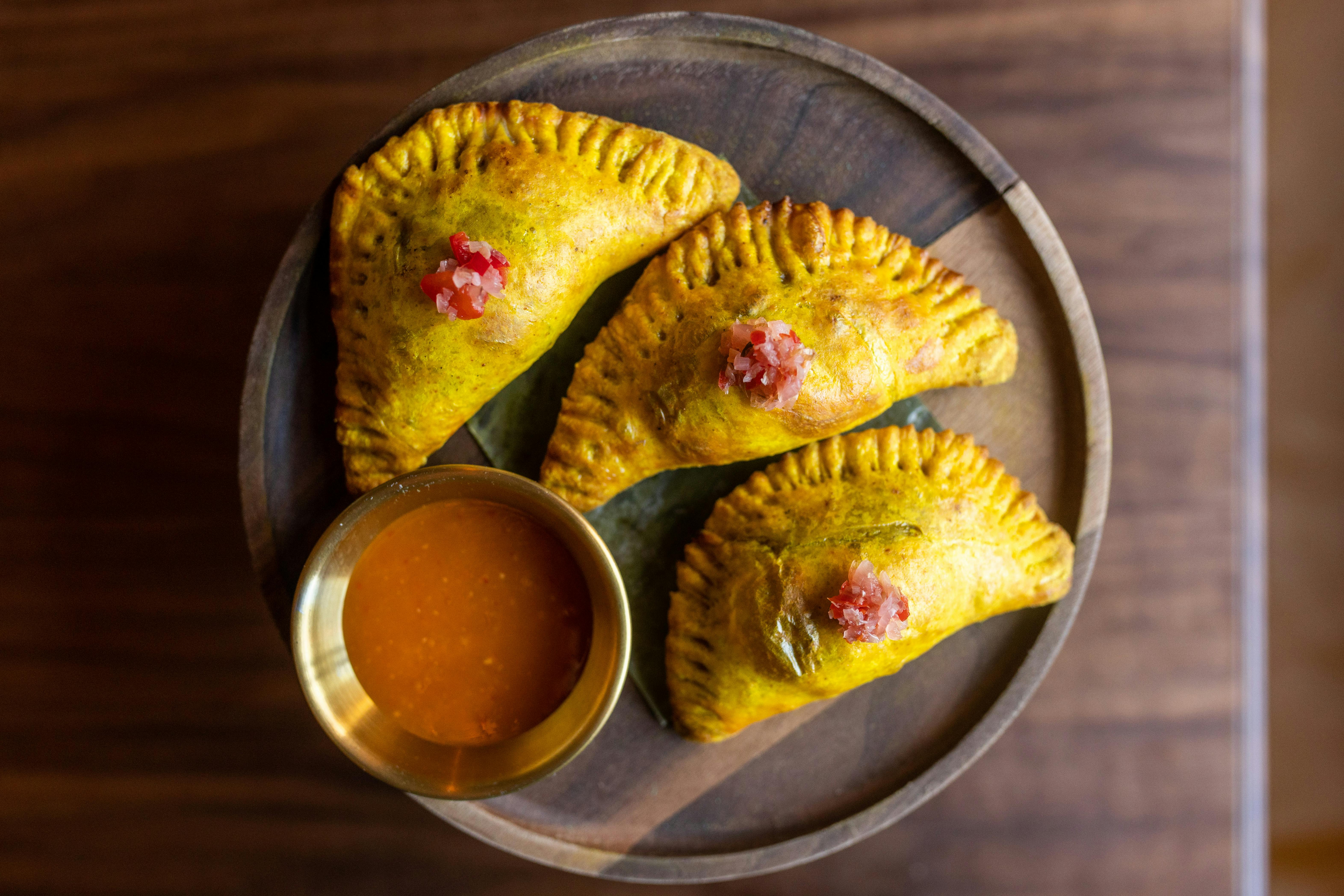 Dainty and turmeric-yellow, Likkle Patties take their inspiration from traditional Jamaican fare. Stuffed to bursting with a tender mixture of braised oxtail and spicy beef, these need nothing more than a kiss from their accompanying fermented mango sauce.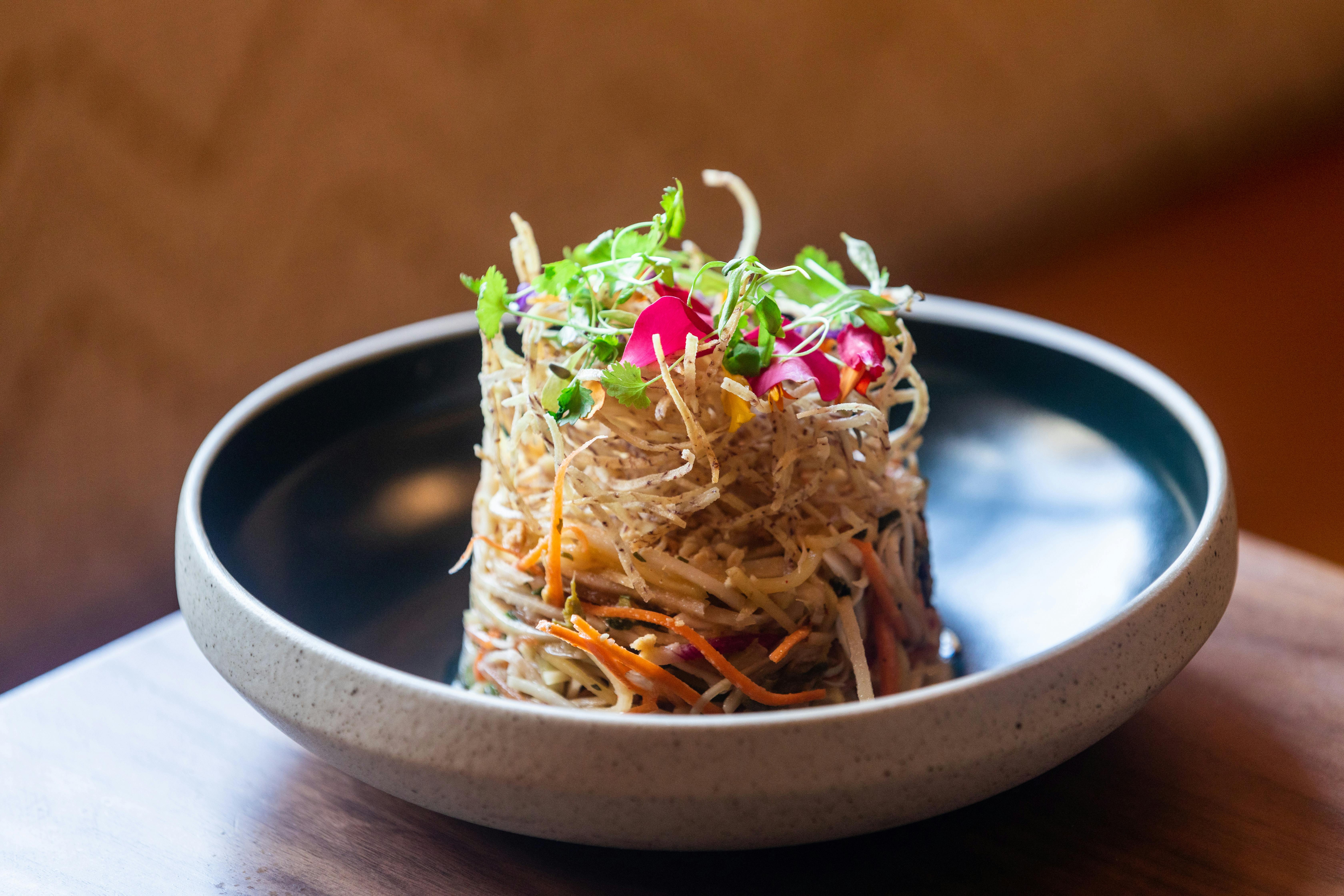 Constructed from a spectacular list of fresh ingredients, Nuff Nuff slaw is the salad you'd eat daily if you could. With compressed pear, jicama, taro, kohlrabi, and more, all dressed with papaya vinaigrette and peanuts, each bite offers intrigue, and a comforting vitamin boost.
At Miss Likklemore's, mains are served Family Style. "This is traditionally how we eat," explains Murdock. "A big thing at the pop-up was Sunday dinners. We kind of wanted to take that concept and bring it into everyday here at the permanent location. It encourages everybody to share and to eat. You get to experience more than what you would if you were just having one dish on your own." With options including Crab XO, Grilled Tofu Curry, Grilled Ribeye, and more crowding your table, you'll be thrilled you can try it all.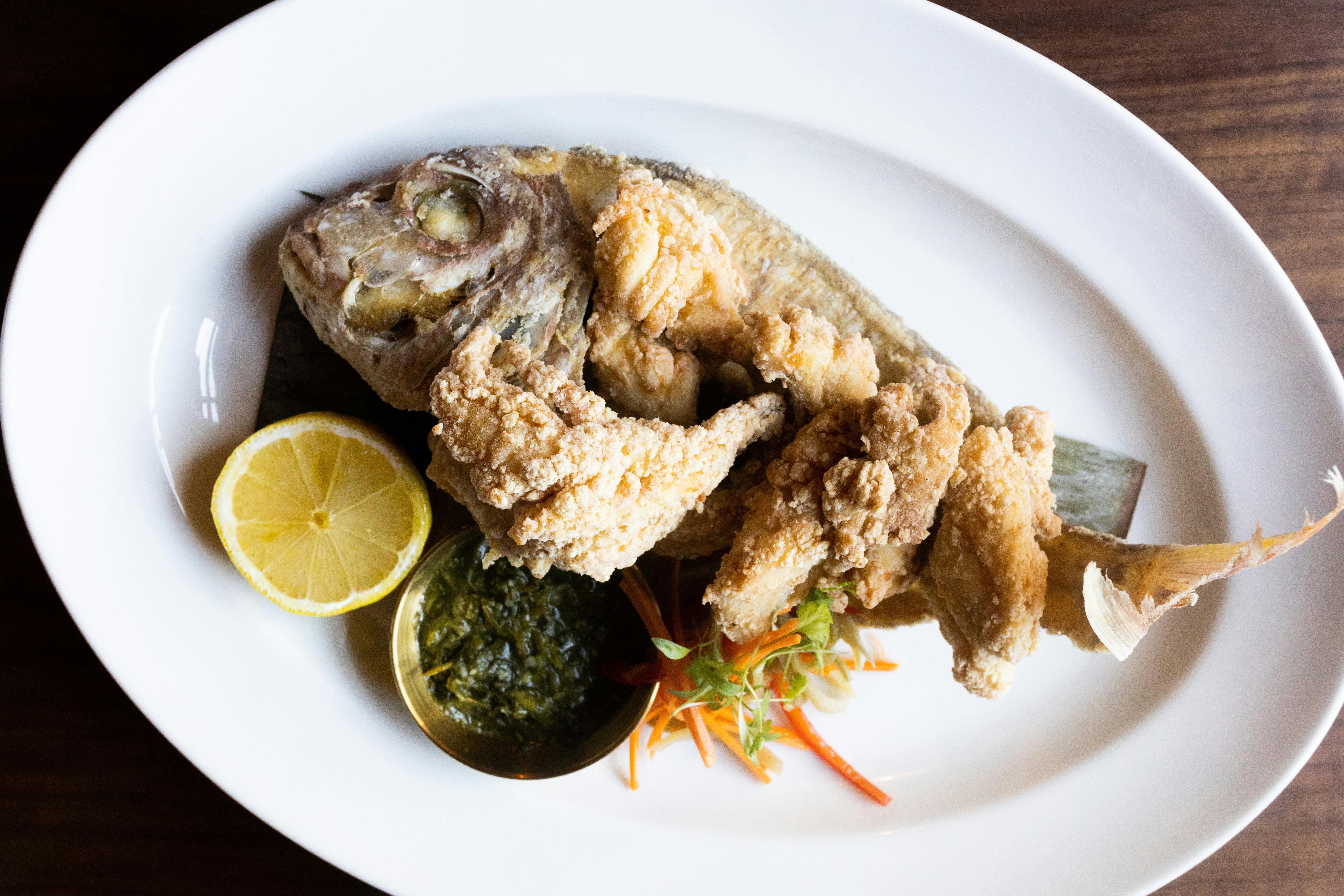 Served whole, Fried Madai Snapper is golden, crisp, fresh and flirty. Enjoy a portion dipped into the accompanying citrus mojo verde and escovitch vegetable medley and its inclusion on the menu will immediately make sense.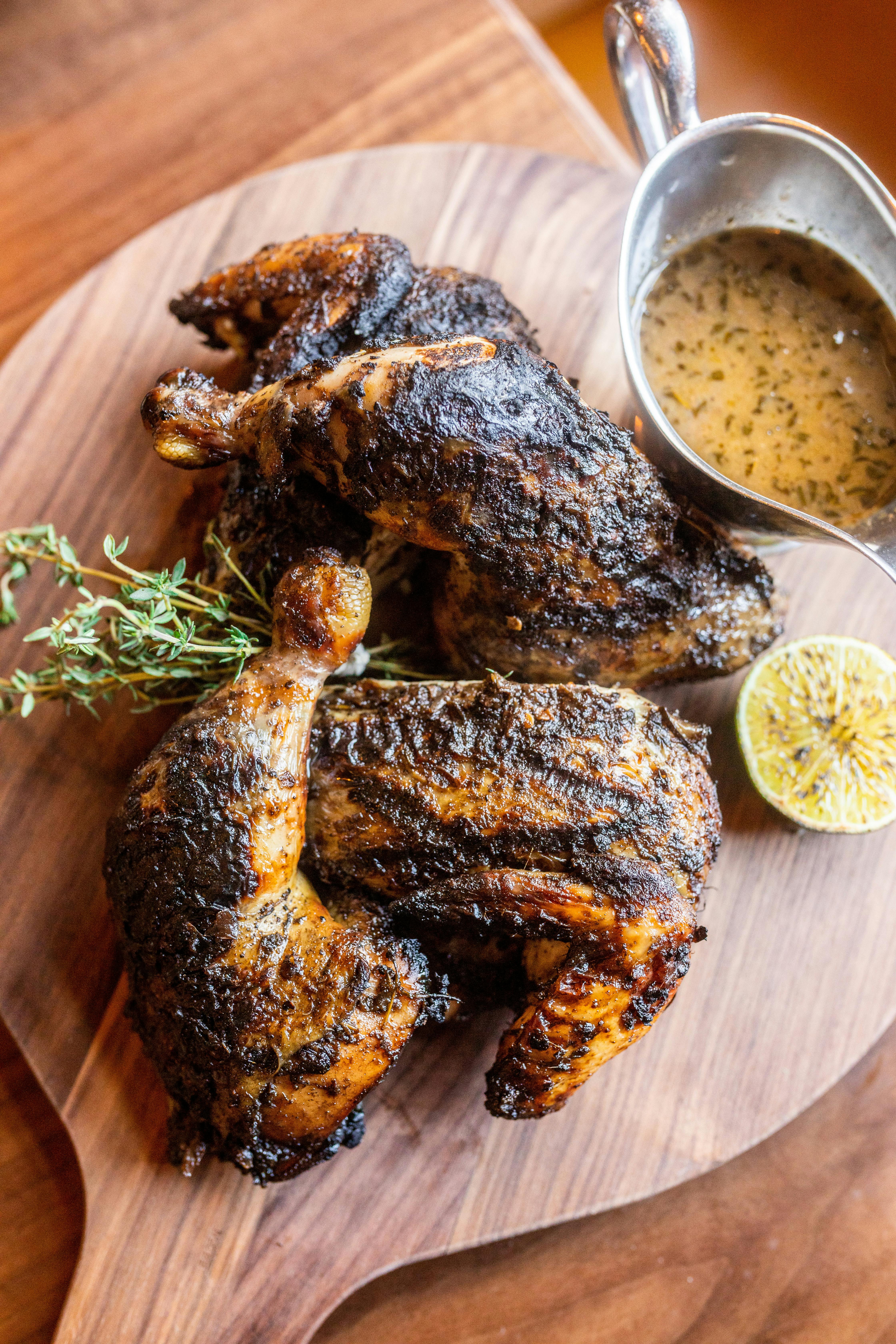 From there, head over to grandma's namesake, Miss Edna's Jerk Chicken. Succulent, savoury, tender and fragrant, this bird proves that the family matriarch knows what she's doing. Seasoned from the inside out, each morsel sings with an intoxicating mix of herbs, peppers and spices. On the side, jerk chicken jus is where the heat hides. Add a splash if your palate favours fire.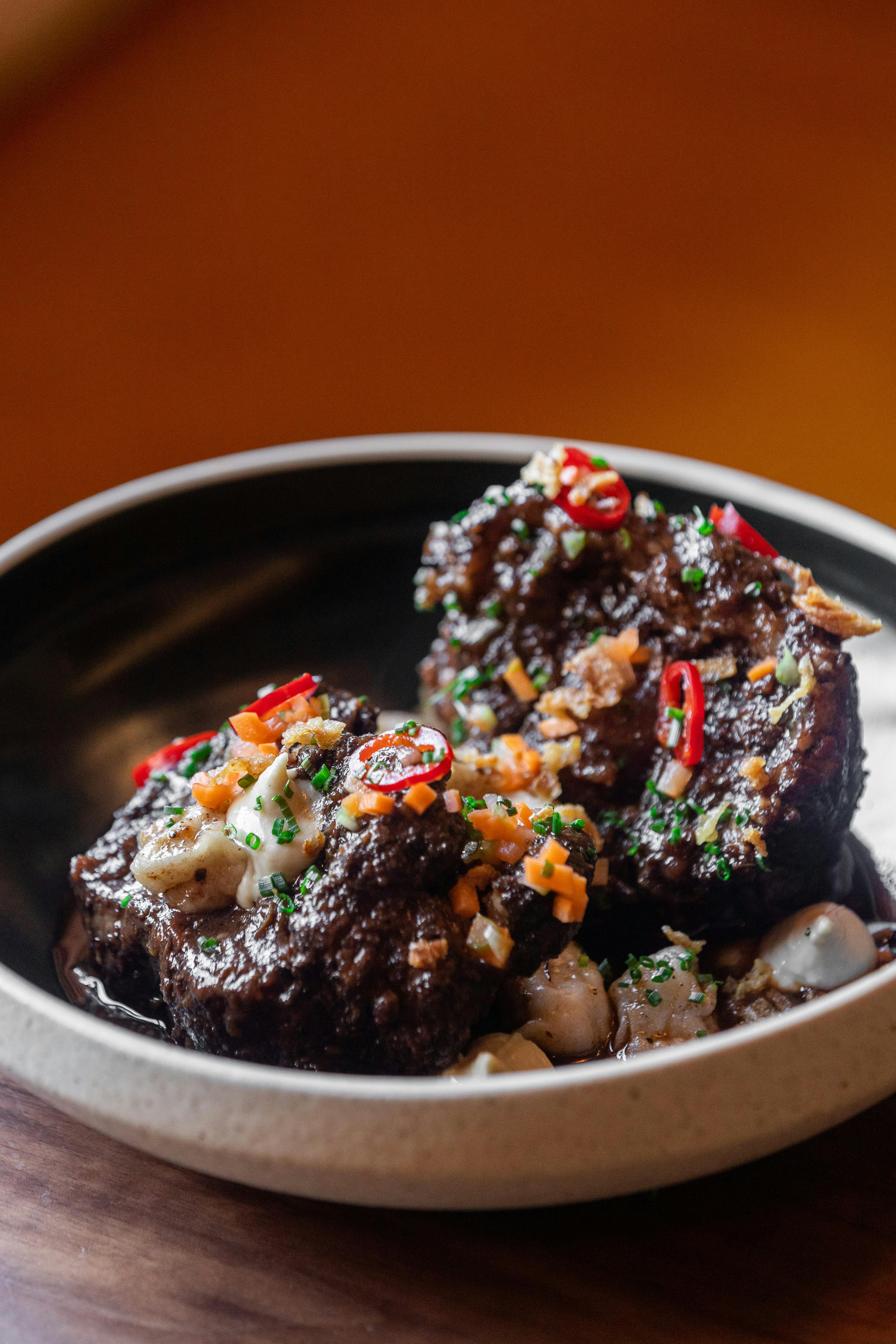 Slow Braised Oxtail arrives to the party with spinners, butter beans and scallion slaw. A dish that will warm you in the thick of winter, this is soulful cooking at its finest.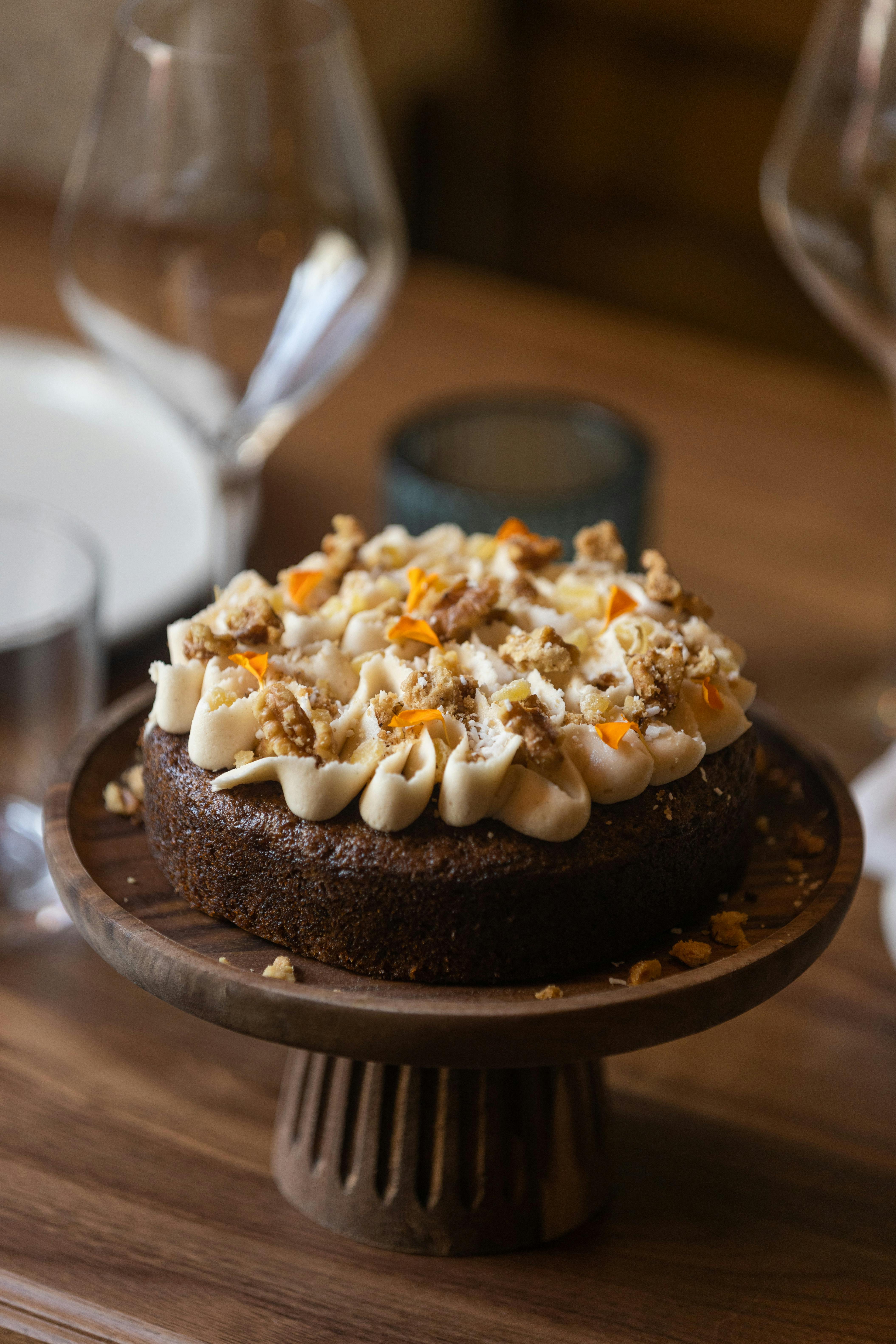 Though dinner at Miss Likklemore's leaves little room for dessert, try your best to make it happen. From the Bacchanal Sundae, with tamarind, coconut and guava, to the Coconut Bomb, each is well worth the discomfort of overeating. Made to the exacting standards of chef Murdock's mother-in-law, Miss Paula's Carrot Cake is a picture-perfect take on a classic. Ideal for occasions, the petite cake is served whole, crowned with ribbons of cream cheese frosting, then trimmed with walnut crumble and candied ginger. Every bite is moist, perfectly spiced, and celebratory.
With a list boasting more than 100 offerings, Miss Likklemore's rum selection rivals any in the city. Familiar favourites from top Caribbean producers find space at the bar alongside surprising finds from across Europe, Canada, India and more. Complete any visit with a flight or with one of the team's kitsch-free cocktails.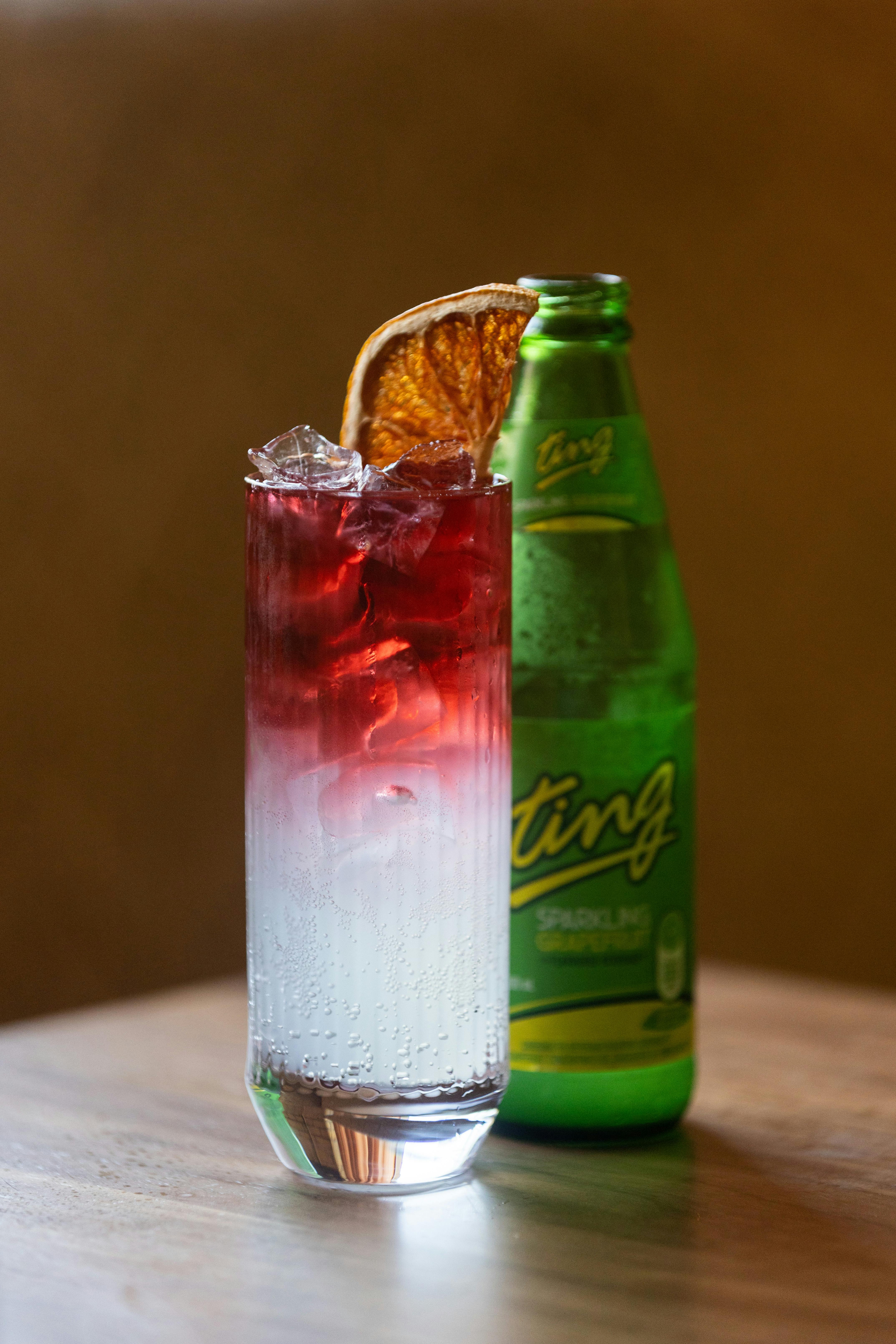 Colourful, lively and tart, Island Frank mixes Ting, a favourite Caribbean pop, with Bombay Bramble Blackberry and Raspberry Flavoured Gin. It's like a sunset in the glass, and a tropical escape on the tongue.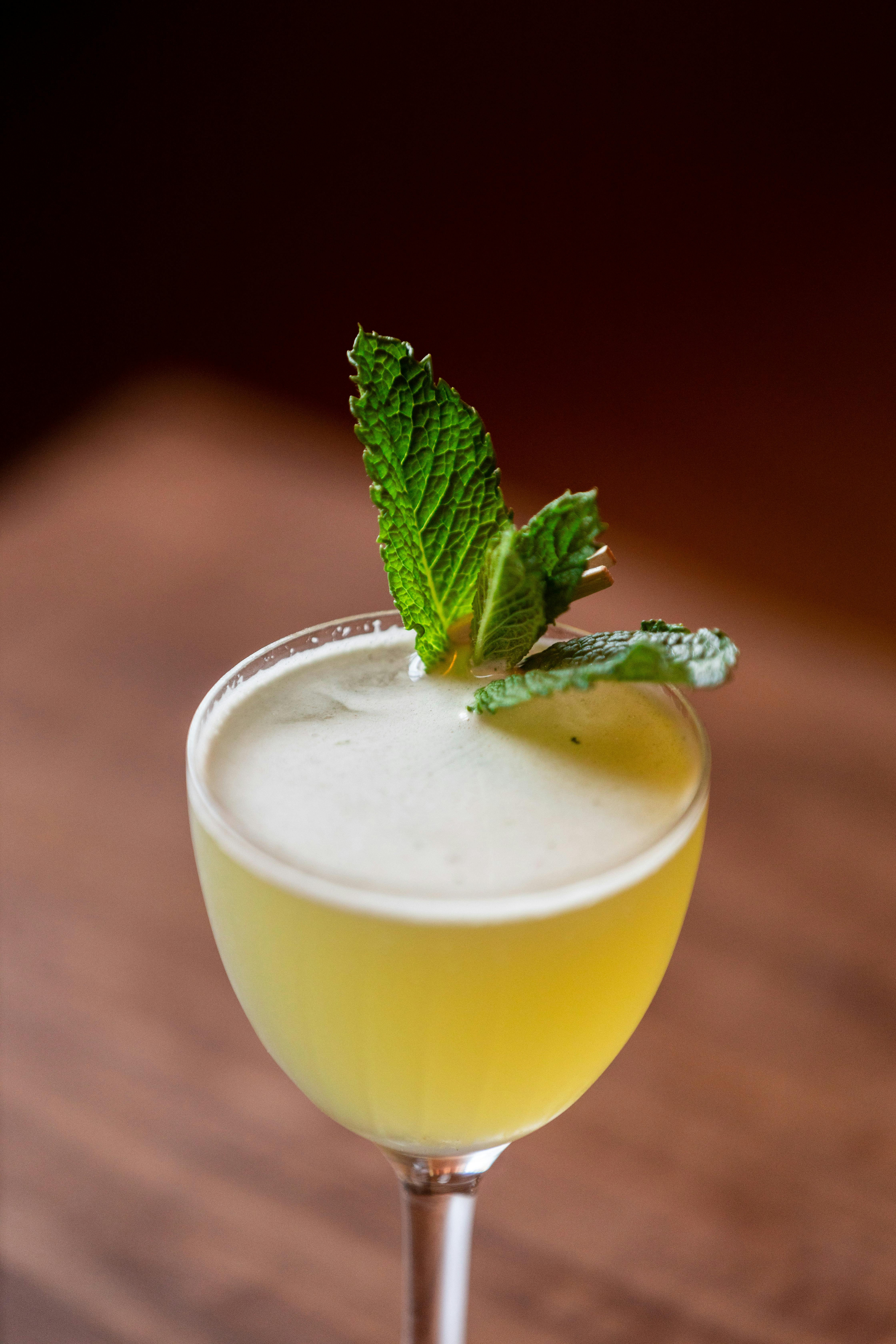 Elegant and bright, Boasty is a fresh mix of Green Chartreuse, Mount Gay Eclipse Rum, lemon juice and mint with cane sugar.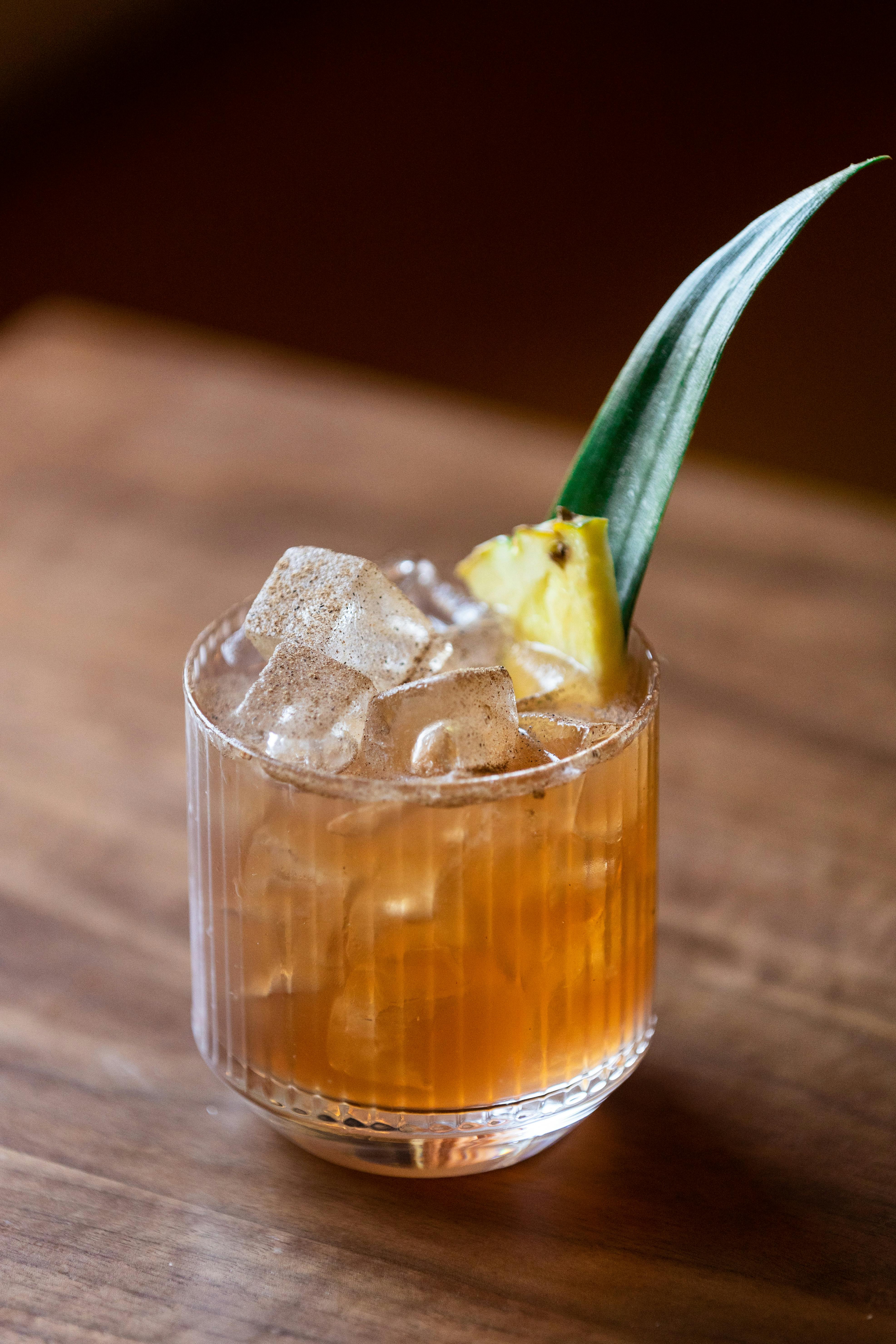 For their take on rum punch, the team combined ideas and influences from a slew of sources. The result, Likklemore's Punch, features Bacardí Spiced Rum, lemon and lime juices, agave nectar, Angostura Bitters and a dash of nutmeg. Garnished with a pineapple frond, the drink is a lightly sweet, spicy, fruity ode to tradition.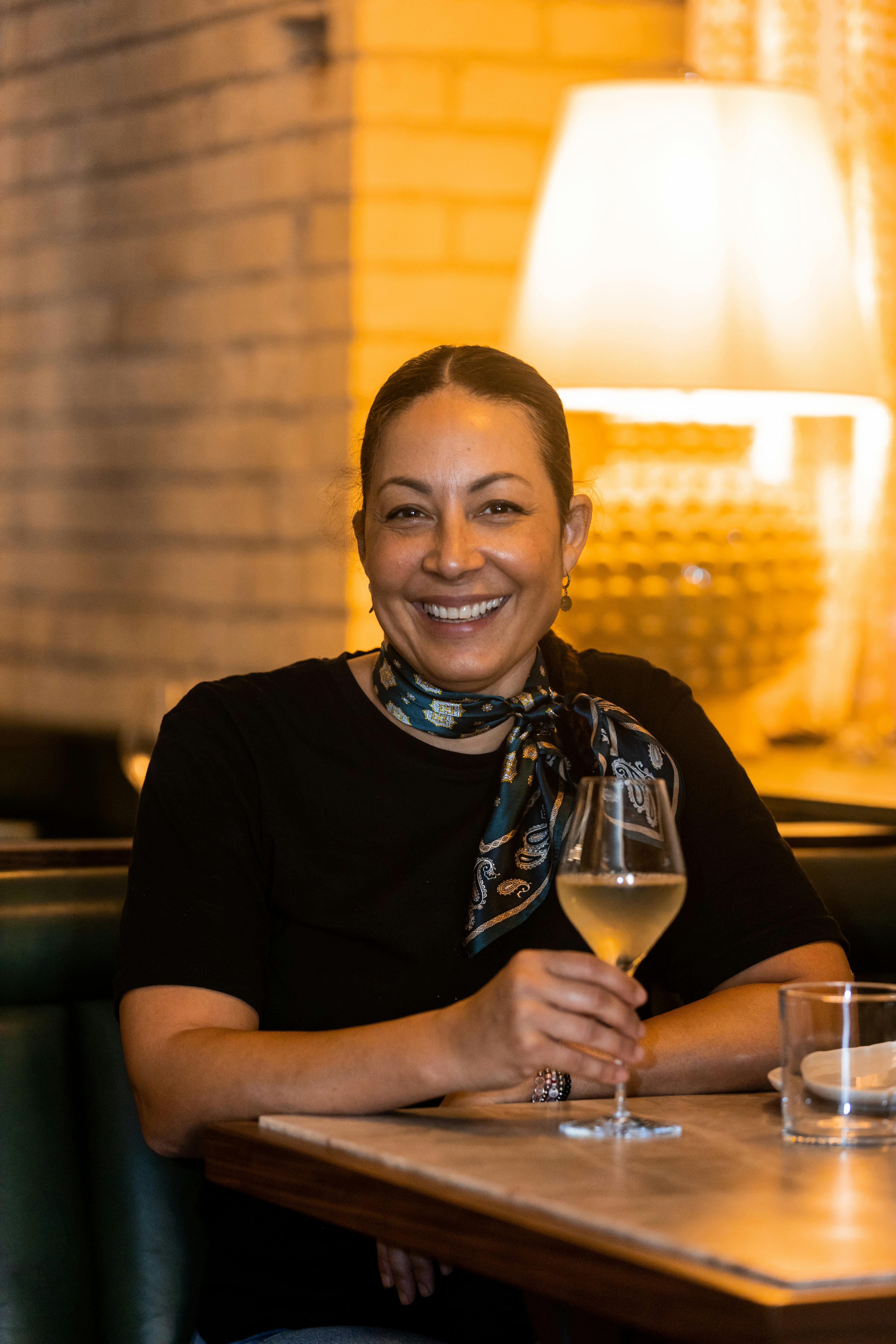 On the wine front, bottles were chosen for how well they pair with Caribbean flavour profiles. "A lot of people don't associate Caribbean food with wine drinking and we're here to change people's minds," says general manager Olivia Arezes. "We have beautiful wines in an array of price ranges that are specifically selected to pair wonderfully with our menu." The selection of old- and new-world bottles offers something for every taste, "whether you're going for something full-bodied and plush, or something fresh and mineral," she adds.
The overwhelming feeling of joy at Miss Likklemore's is infectious. It's a place where the feel-good vibes are as free-flowing as the drinks and the delicious food. "If it weren't mine," says Murdock, "this is where I'd want to go. This is the food I like to eat but this is also the environment I want to go out in." One visit, and we think you'll wholeheartedly agree.