Photographs by Paolina Loseto
The corner of Avenue and Dupont just got a whole lot more exciting thanks to the recent opening of Neon Tiger, a sprawling three-floor restaurant serving up mouthwatering pan-Asian tapas complete with handcrafted cocktails and all-around good vibes.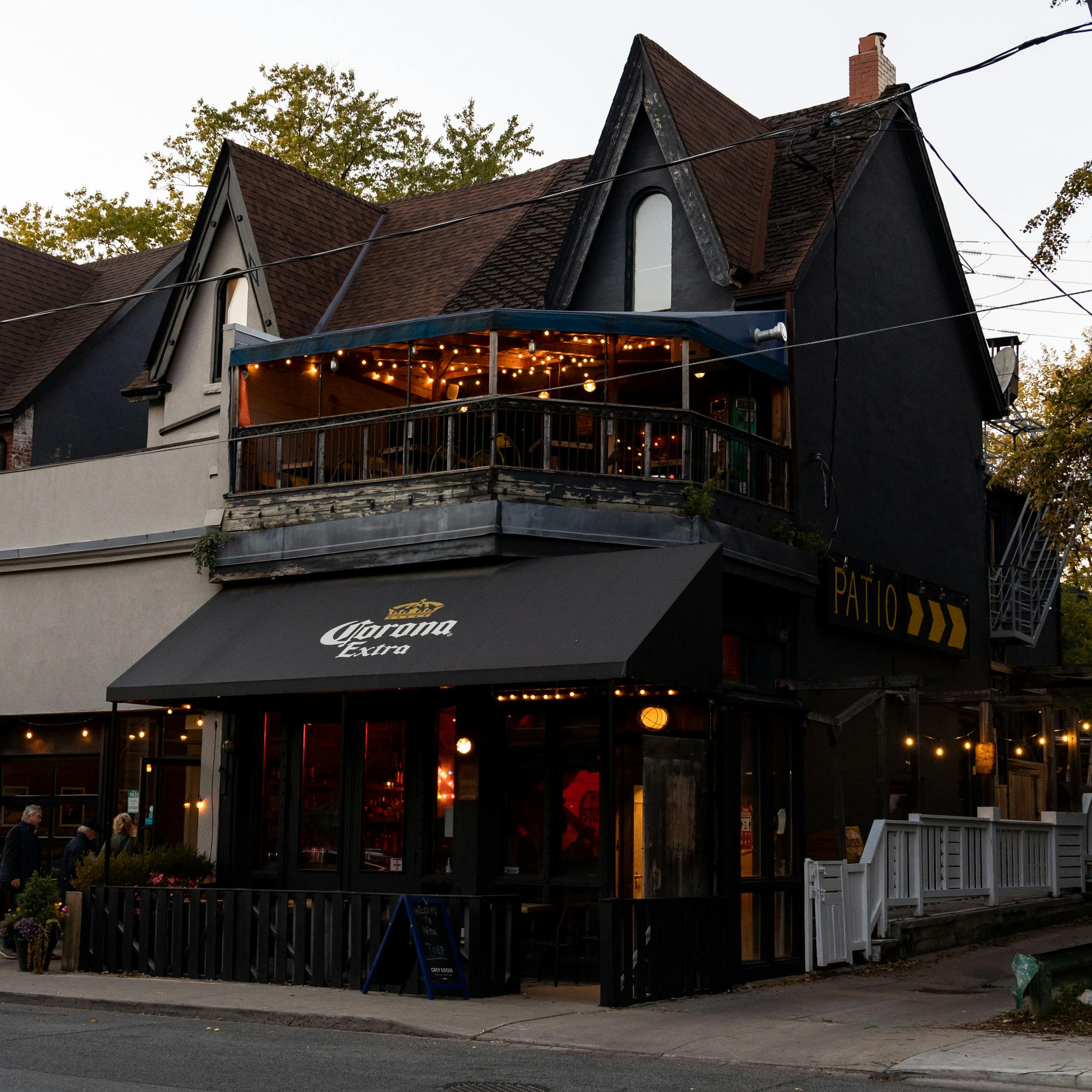 During the pandemic, Playa Cabana owner David Sidhu became close with the OddSeoul team -- particularly owner Naveen Chakravarti -- which prompted the handover and sale of the Playa Cabana Hacienda space. Neon Tiger is the third instalment in Chakravati's roster of restaurants, including Prohibition Pie which opened in Parkdale earlier this year.
Chakravati says, "After closing down OddSeoul for a few months to get ourselves ready, we thought the climate was finally right to reopen both locations, and thankfully, we've been super busy. Our hope is to create a new legacy for this legendary location and make Playa Hacienda proud."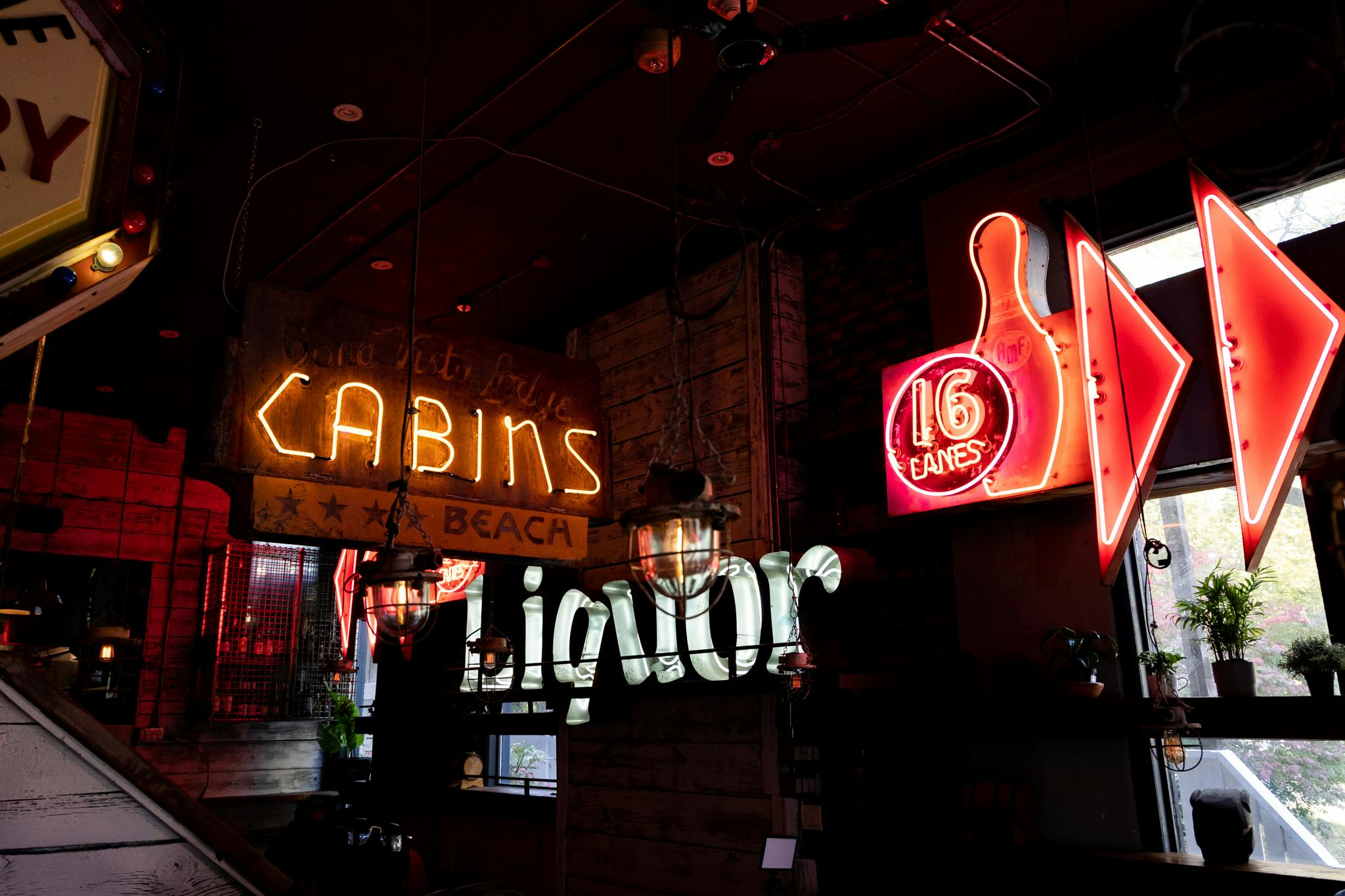 Much has been left the same in terms of the interior for Neon Tiger, but Chakravati has added his own flair to reflect the similar hipster dive bar vibe that patrons know and love at OddSeoul, but with a lot more space. The first thing guests will notice is that the main dining room has been decked out with a number of large vintage neon signs that Chakravati and his team hunted down from a variety of different vendors in the city and beyond.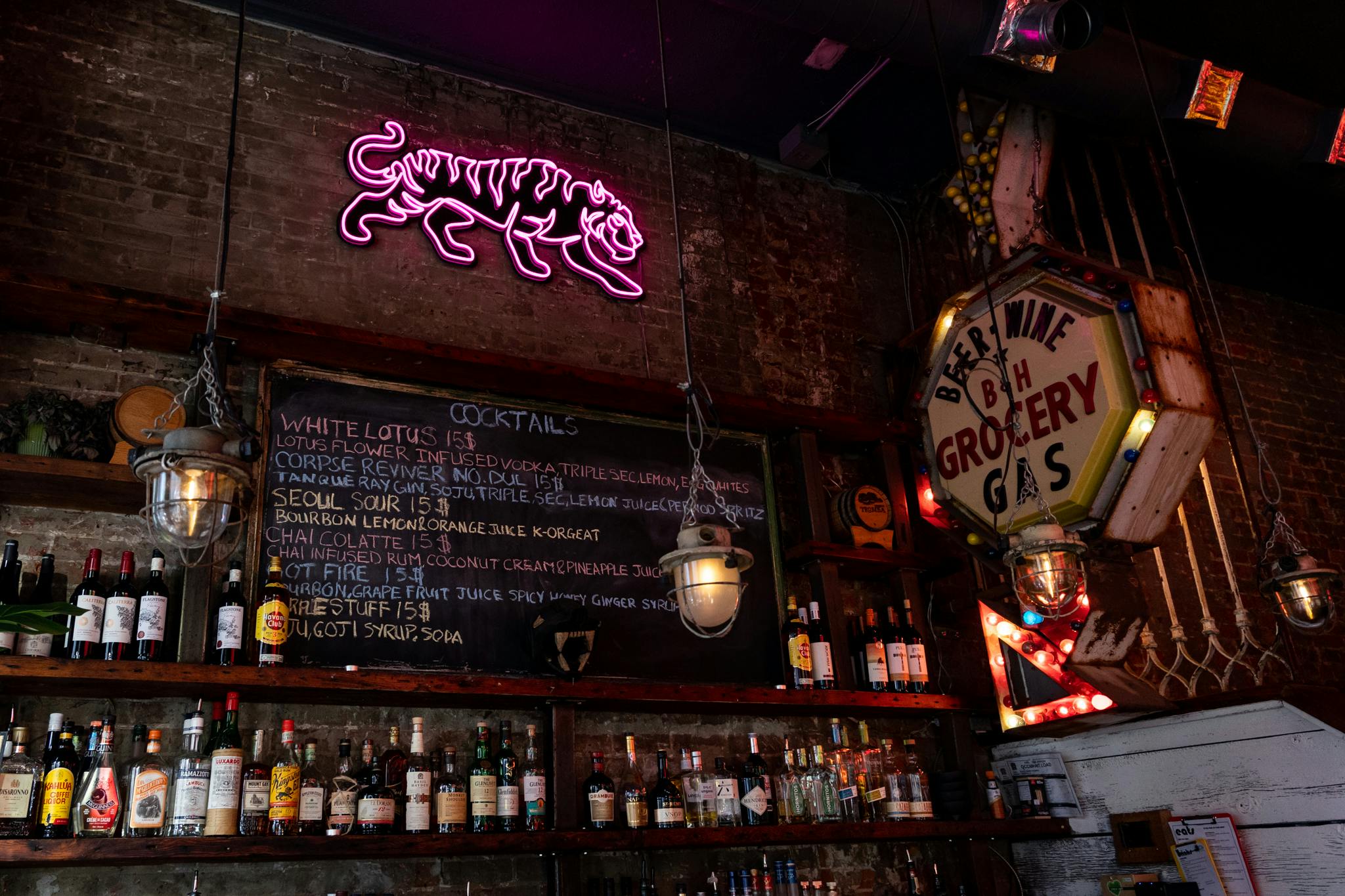 There is, of course, an iconic purple neon tiger sign above the bar, which lights up their cocktail menu, as well as the impressive array of liquors and liqueurs. The amalgamation of neon signs makes it feel like you're dining in a bustling Asian marketplace, with exposed wood-like walls, caged lighting fixtures and decorative greenery throughout.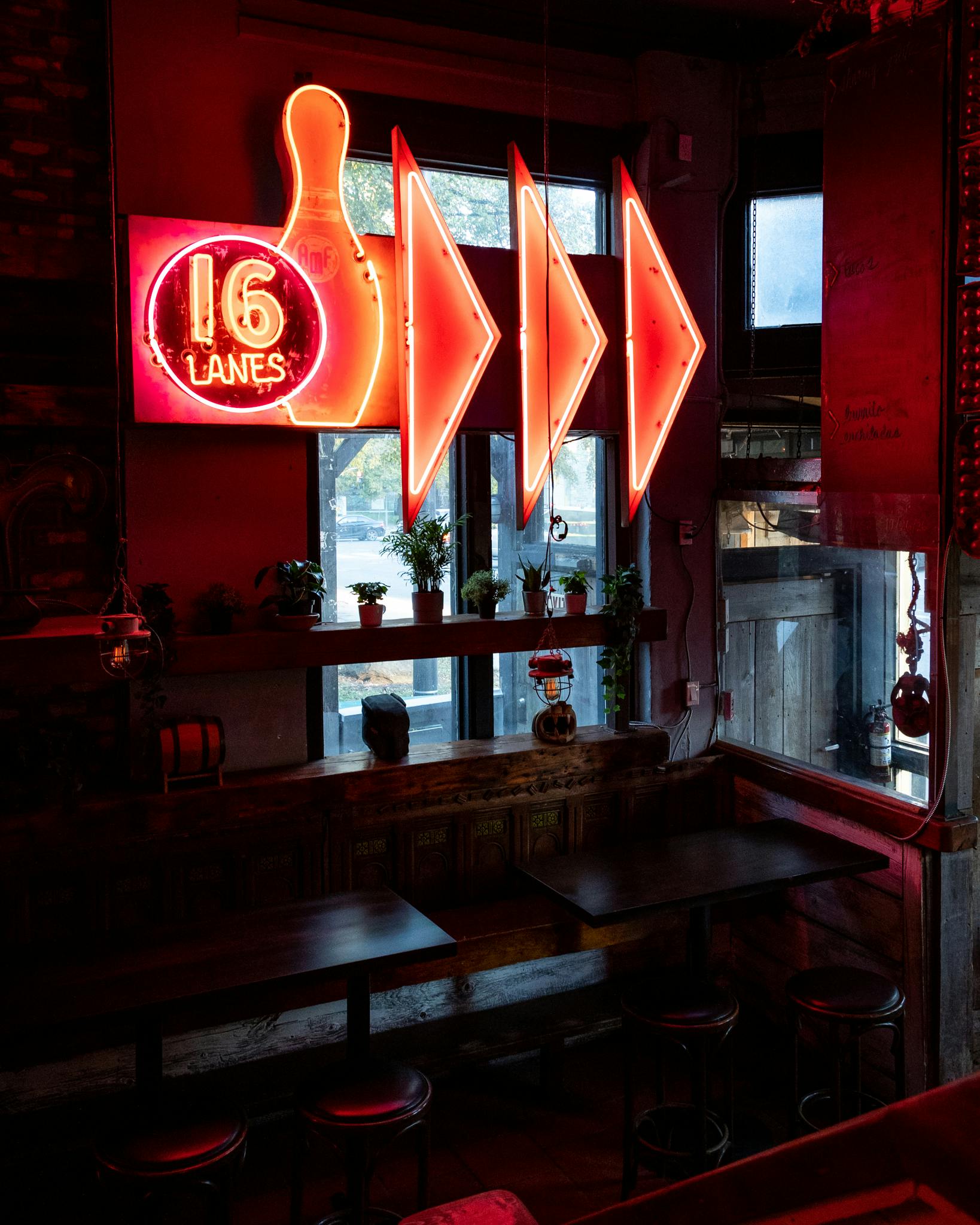 The space boasts a large second-floor seating area and three separate patios for when the weather once again allows for comfortable outdoor dining. Once operational, there will also be a private third-floor space available to rent out for private parties and karaoke! In total, the space houses 90 indoor seats and 130 combined on the front, second floor and back patios.
Spearheaded by industry vet and executive chef Wes Haines, the menu acts as a nod to the favourites at OddSeoul, but with some exciting new additions. Chakravati says, "The goal for Neon Tiger, was to build a menu that represented more of a pan-Asian dining experience." Though dinner is the only service currently offered, the team aims to add some exciting brunch options to the menu in early 2022.
Many of the eats at Neon Tiger are meant to be shared with the table, tapas-style. Though plenty of handheld options like tacos, sliders and the famed bulgogi cheesecake are available, these selections are standouts and come highly recommended by the team.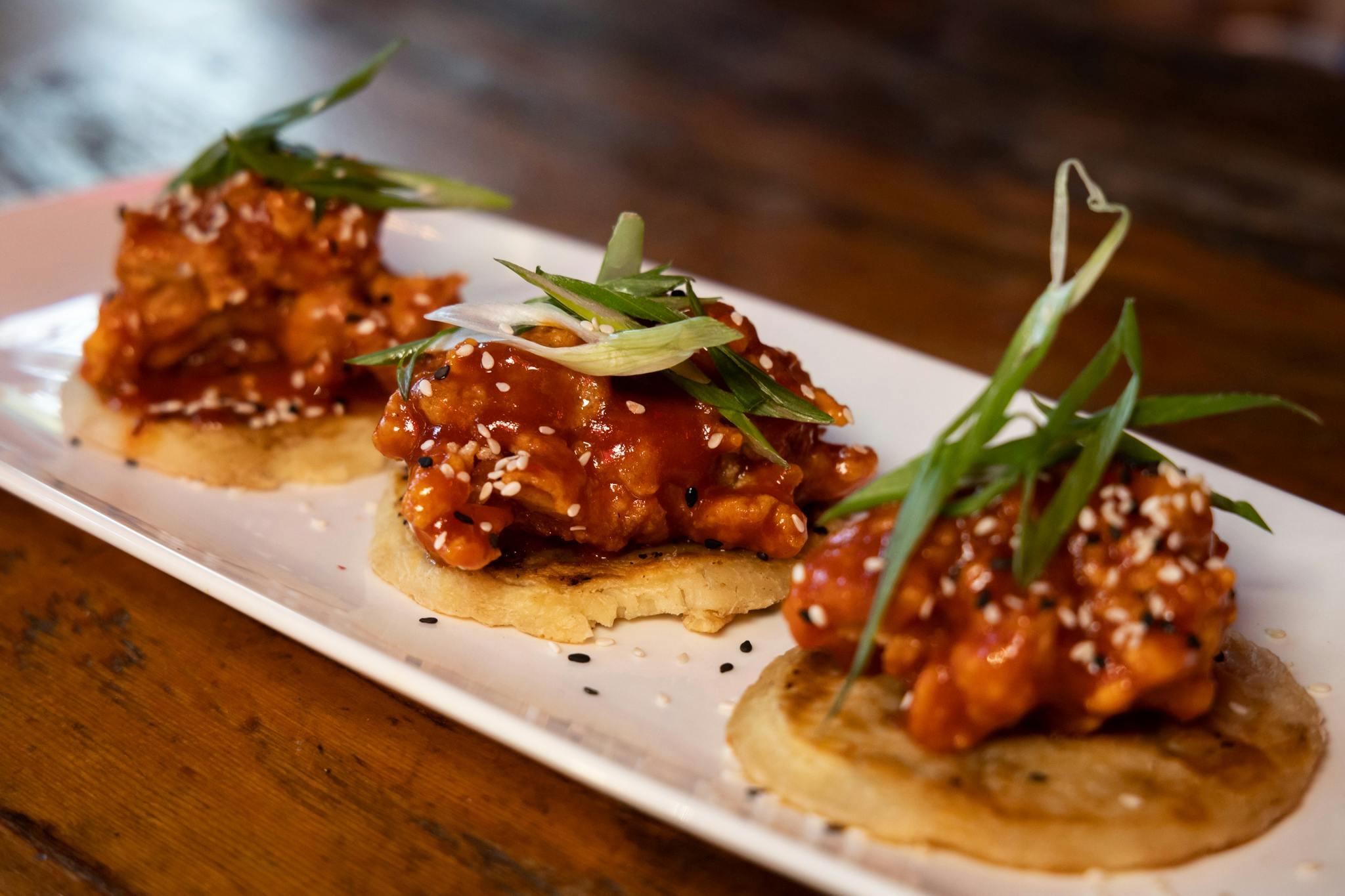 The KFC Blini (also on the menu at OddSeoul) is made with chicken thighs marinated in rice vinegar, soy sauce and coconut cream, representing their take on a buttermilk fried chicken. The chicken is fried twice to keep a crunchy consistency and is dressed with a sweet fermented chilli sauce. The meat is then topped with sesame seeds and green onions and sit on their fluffy bite-sized pancakes, prepared with coconut milk and red onion.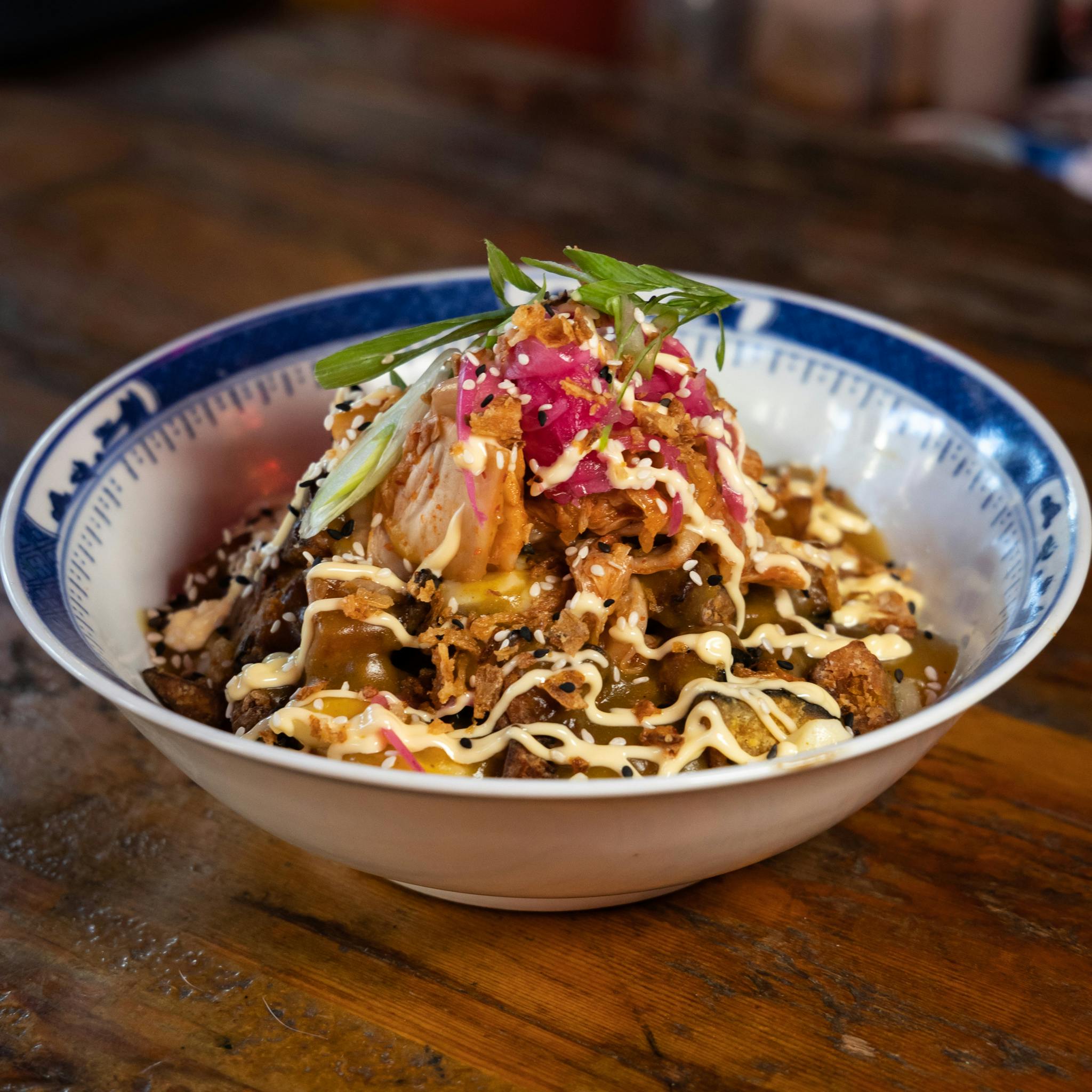 Indulge in the Squash Poutine, a long-time OddSeoul favourite, but with an updated twist. The butternut squash is cubed, marinated in soy sauce, drenched in their signature gluten-free house sauce and fried blanched to keep that gorgeous density in the veg. When an order comes in, the team then fries it again at a higher temperature to crisp it all up before it's dressed with cheese curds, a mild Japanese curried gravy, roasted kimchi, pickled red onions, sesame seeds, green onions and Kewpie Japanese mayo.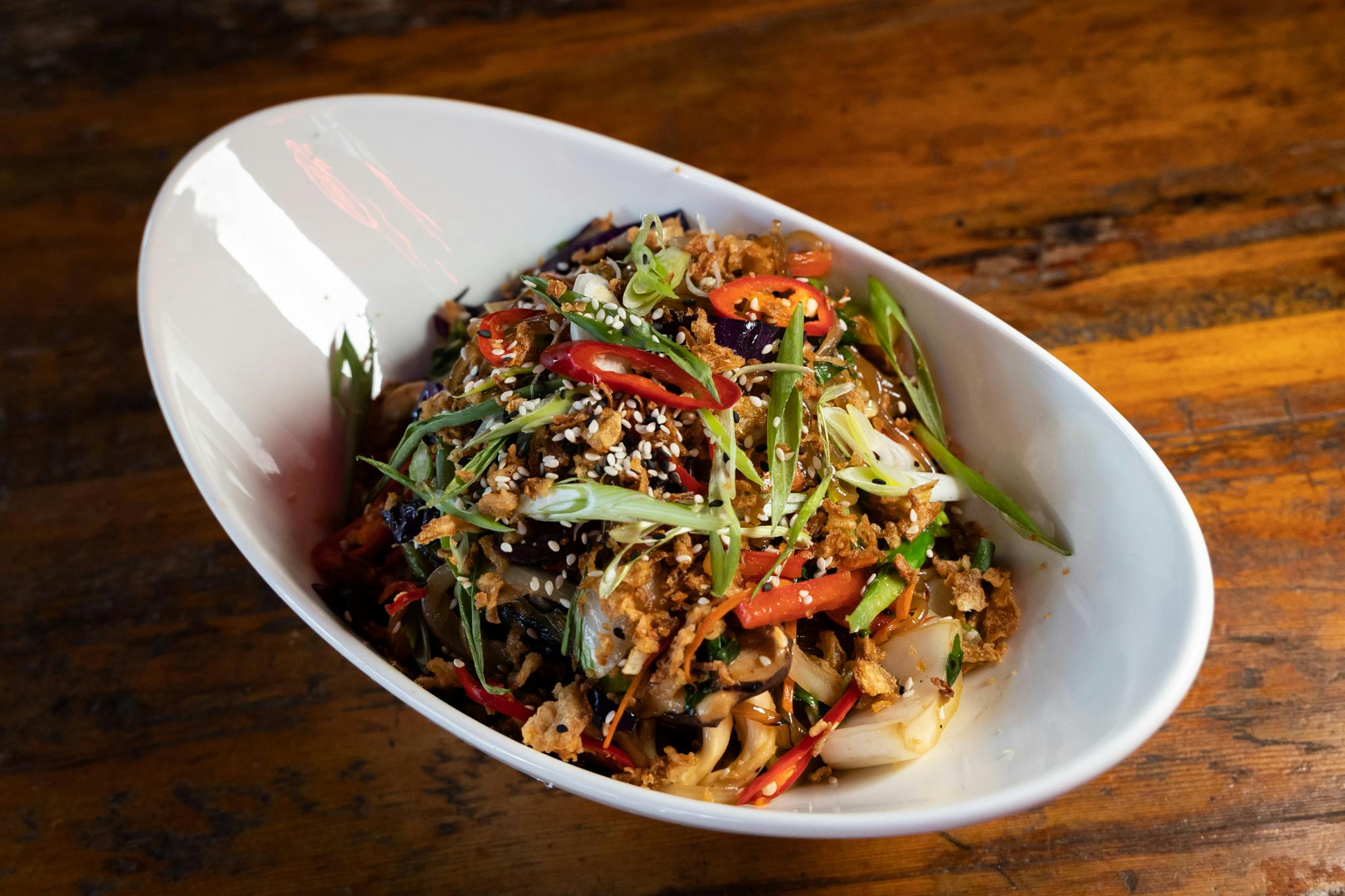 Another highlight is the vegan Jap Chae, a simple dish made with sweet potato glass noodles (cooked in their house fermented sweet soy sauce), and a mixture of fresh veg tossed in the same sauce with sesame oil and Korean chilli flakes. The dish is nice and large and is topped with crispy shallots for a crunchy finish.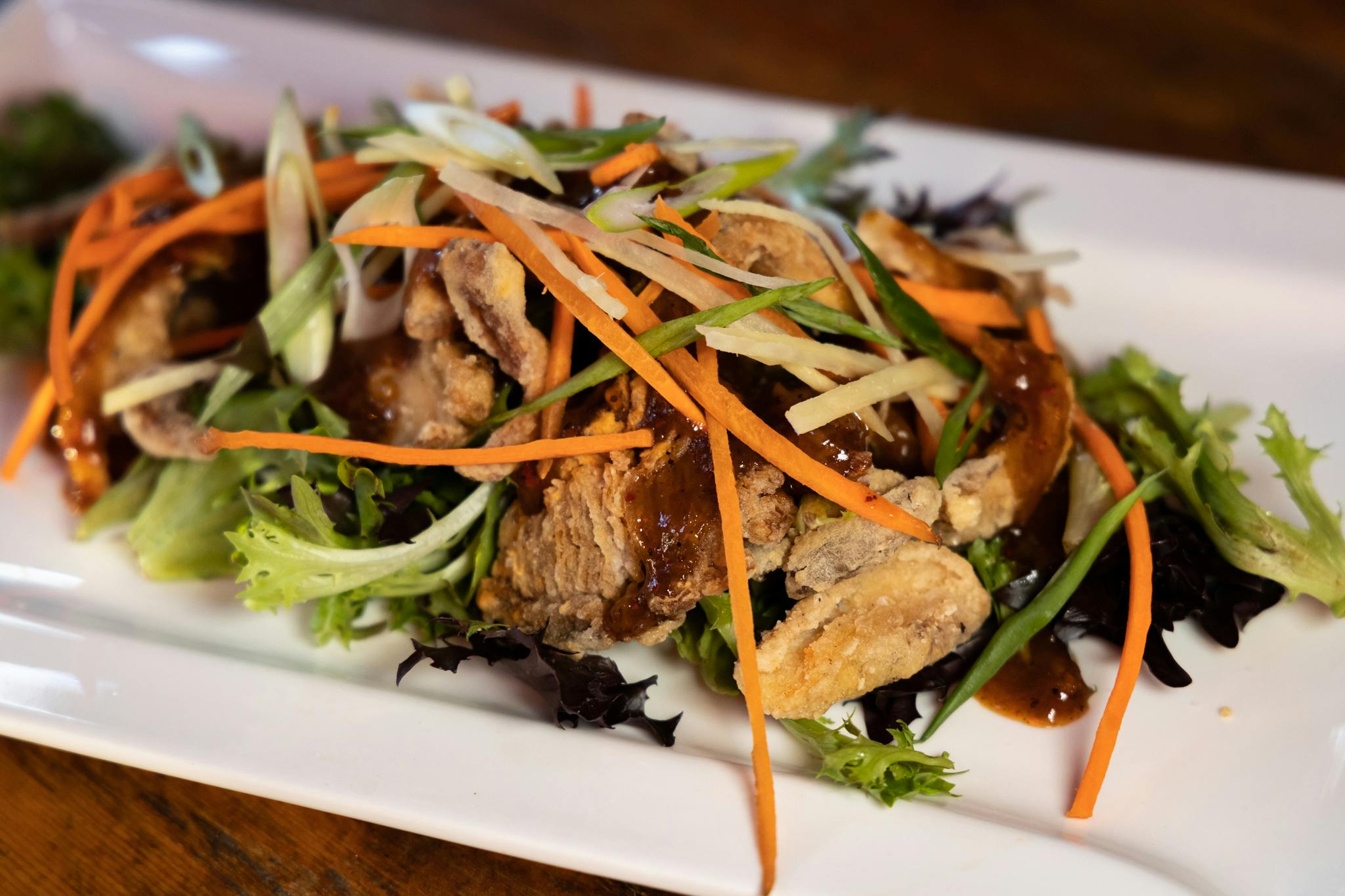 The Hakka Ginger Mushroom Salad is another light, vegan option inspired by a traditional warm crispy Hakka ginger beef dish. Instead of meat, warm and crispy shiitake and oyster mushrooms are plated on a bed of mixed greens and are drizzled with a warm Hakka ginger soy glaze. The greens are undressed, but as you enjoy, the sauce trickles through and lands on the lettuce, making this a delectable light and crunchy, flavourful option on the menu.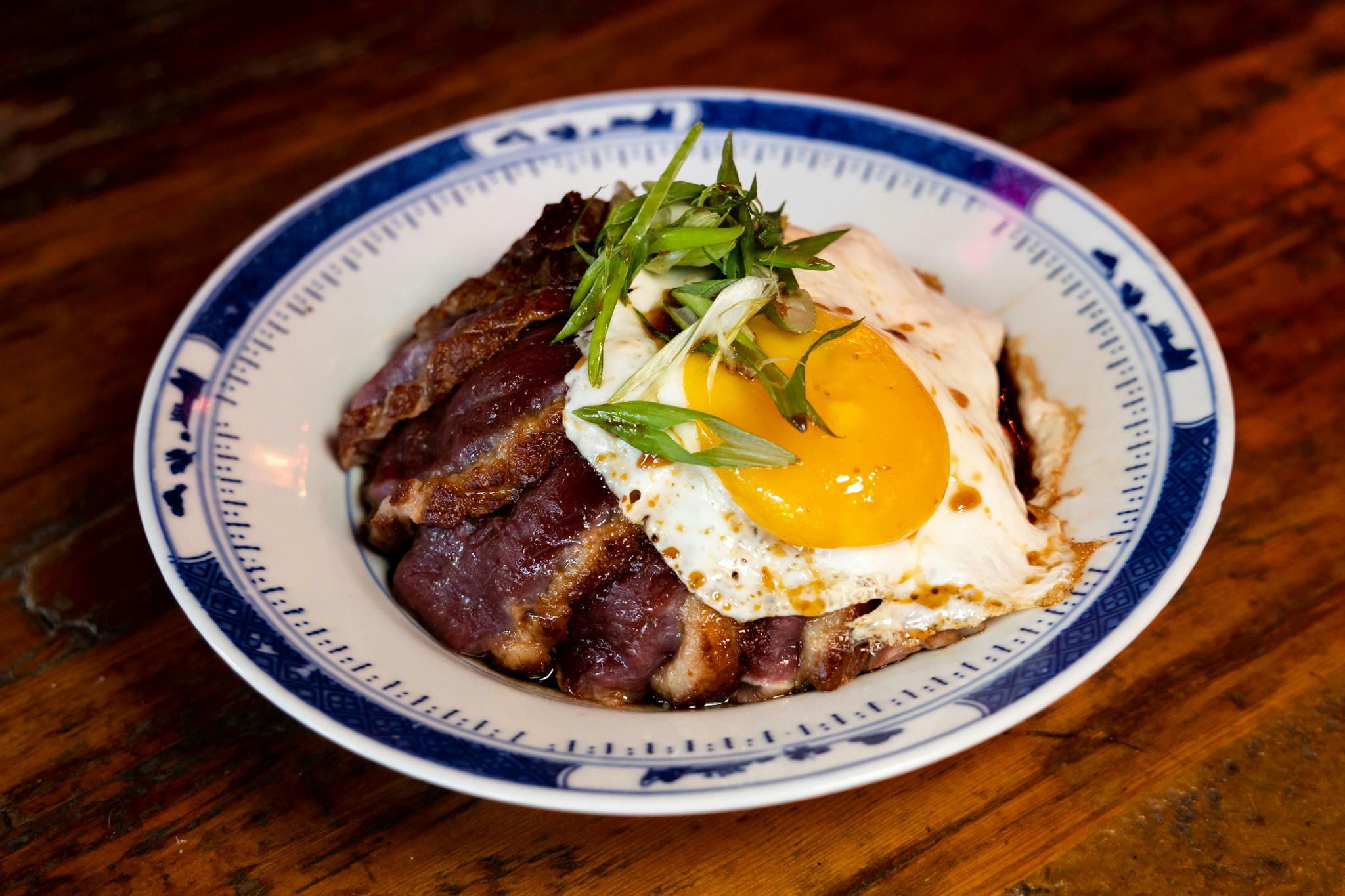 If you happened to have 'skipped lunch,' this section of the menu is perfect for catching up on your protein for the day. The Duck Fried Rice is quickly becoming a staple on their menu and features rice fried in duck fat, a seared rare 7 oz duck breast, snow peas, carrots, green onion and a sunny side up egg, fried in the same pan as the duck. The dish is then finished with a sweet soy sauce to brilliantly balance the sweet and savoury flavours of the rice and meat.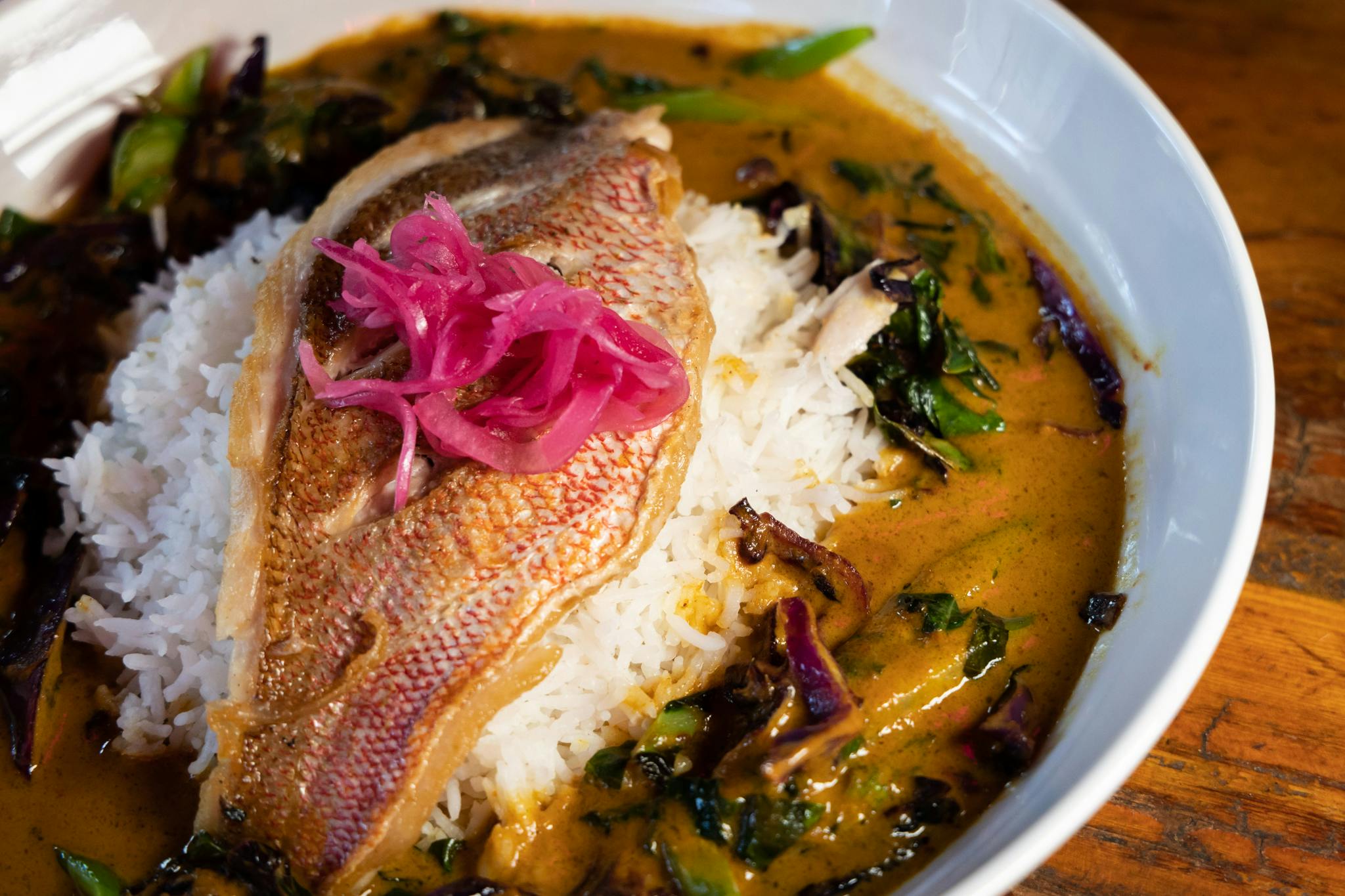 The Golden Curry Snapper comes with a 7 oz fillet of pan-seared red snapper and is plated on a bed of steamed basmati rice. Surrounding the rice and meat, in a kind of 'moat,' are sautéed red cabbage and Gai Lam (Chinese broccoli) cooked in a golden coconut curry. The aromatics come from the traditional Thai curry, mixed with the warmth of the Indian spice blends, making this dish like a trip to multiple countries all on one plate.
It won't be a complete night out at Neon Tiger without a cocktail or two to pair with your feast. The cocktails have all been meticulously created by the talented bar team, with many stand-out options.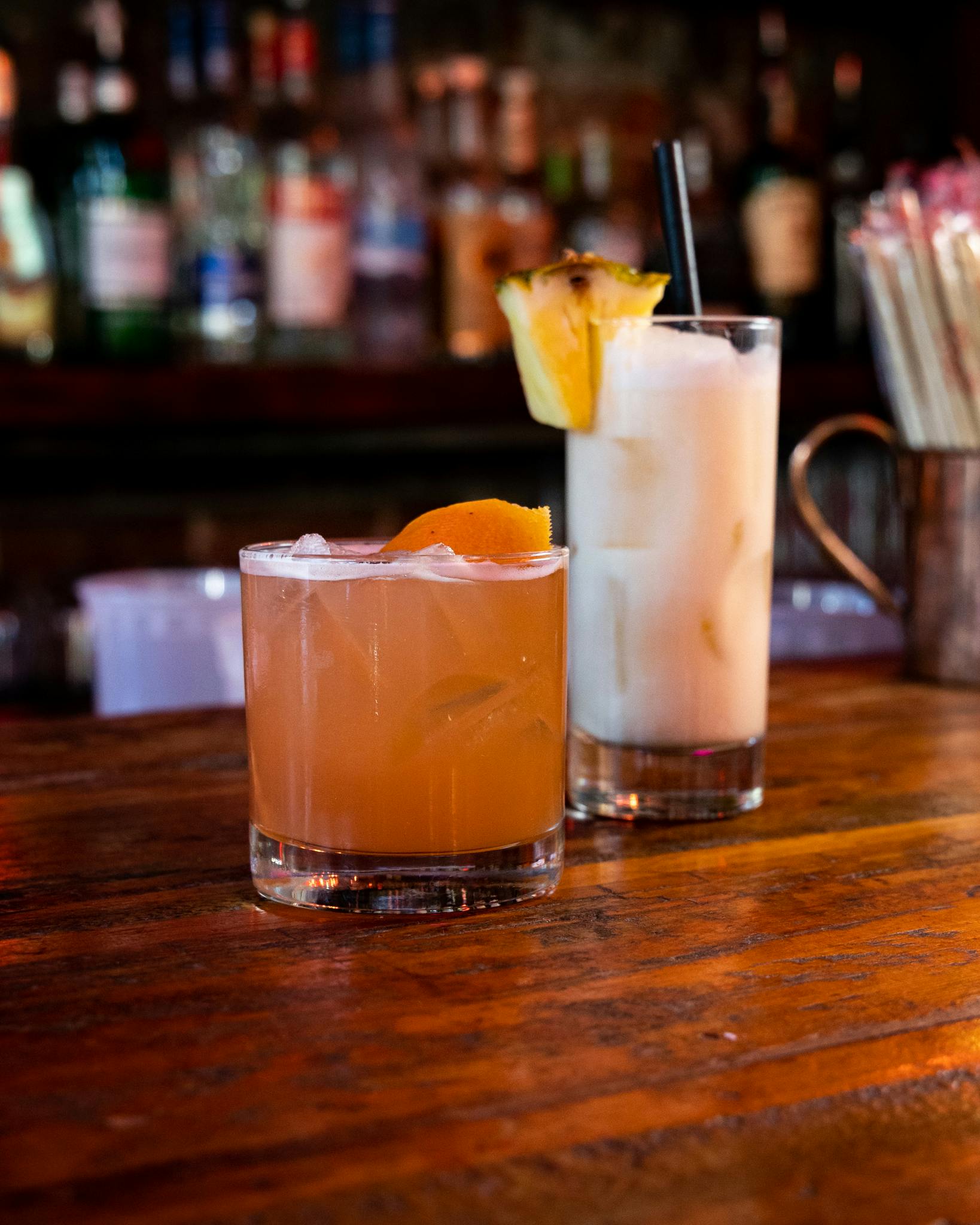 The Chai Colatte is made with chai-infused rum, coconut cream, and pineapple to make you feel like you're sipping a beverage on a tropical vacation. Another must-try is the Gat Fire, with bourbon, grapefruit juice and spicy honey ginger. The warmth of the bourbon and spices trigger a flavourful explosion in your mouth, while the sweetness from the honey and the citrus from the grapefruit balances everything out with a burst of unexpected brightness.
Neon Tiger is located at 14 Dupont Street and is open from 5 p.m. to 11 p.m. Wednesday to Saturday and 4 p.m. to 10 p.m. on Sundays. Reservations can be made online via OpenTable, over the phone, or by email. Keep your eyes peeled on their Instagram, where they will be announcing plans for their next project, set to open in the coming months.