Photographs by Amanda Biffis
Morning person or not, Liberty Village's newest brunch spot is so naturally sunny and cheerful that it could rouse even the drowsiest of guests. With a menu that covers every early- to mid-day craving in a creative, fanciful way, OEB Breakfast Co. may soon be to blame for the line of people snaking down East Liberty Street.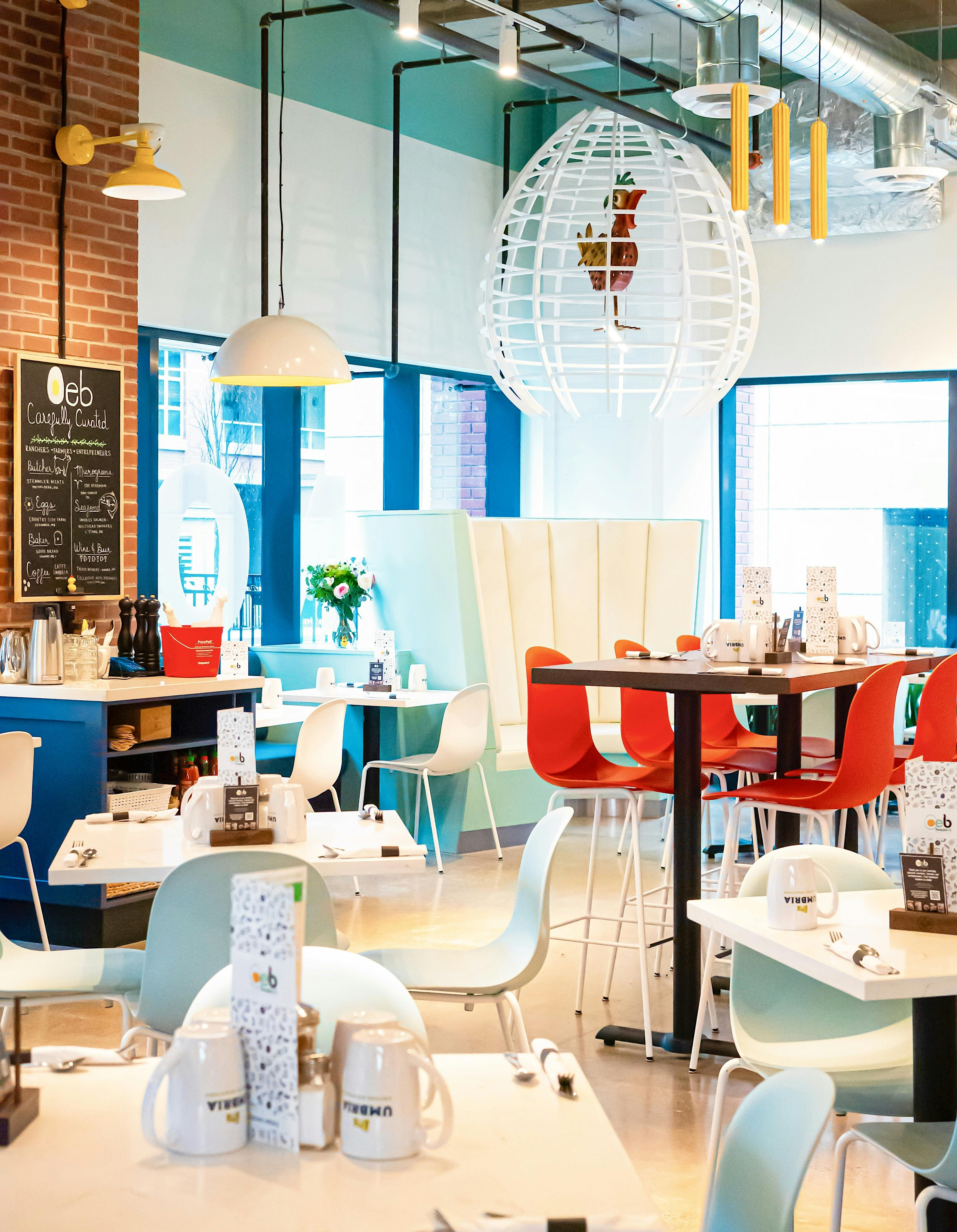 Freshly hatched in late March, OEB Liberty Village is the company's first Ontario location. Founded in Calgary in 2009 by chef Mauro Martina, the chain boasts a host of locations in western Canada, Winnipeg, Arizona and California. At each, the focus is to "make breakfast the most exciting culinary experience of the day by elevating it to new levels of quality, innovation, and wholesomeness," says Martina.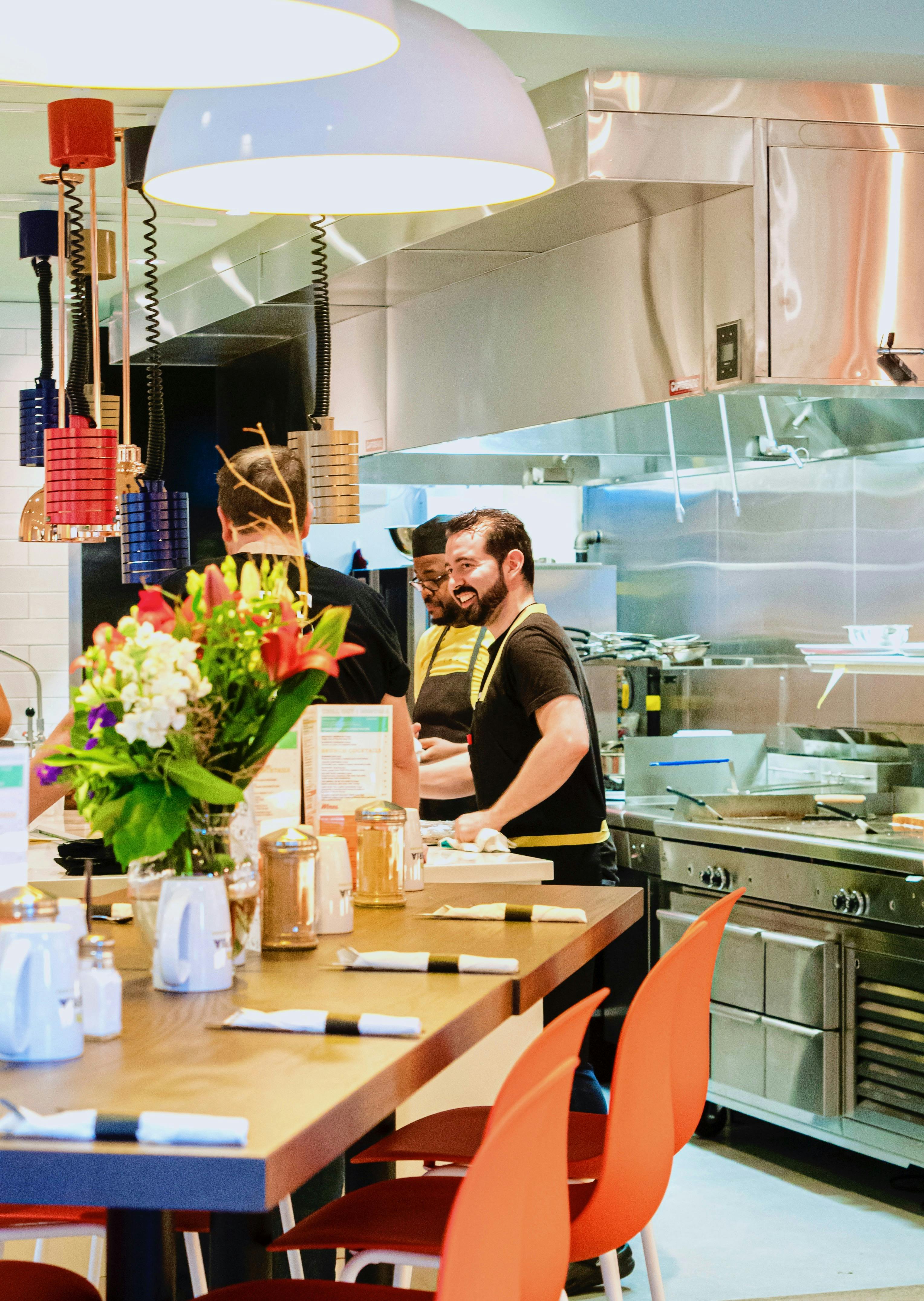 Born in Italy, Martina brings a world of experience to his OEB venture. A chef who trained at several Michelin-starred restaurants, including Charlie Trotter's and George Blanc, Martina created OEB with a goal of refining breakfast plates with elevated techniques and ingredients, along with innovative combinations.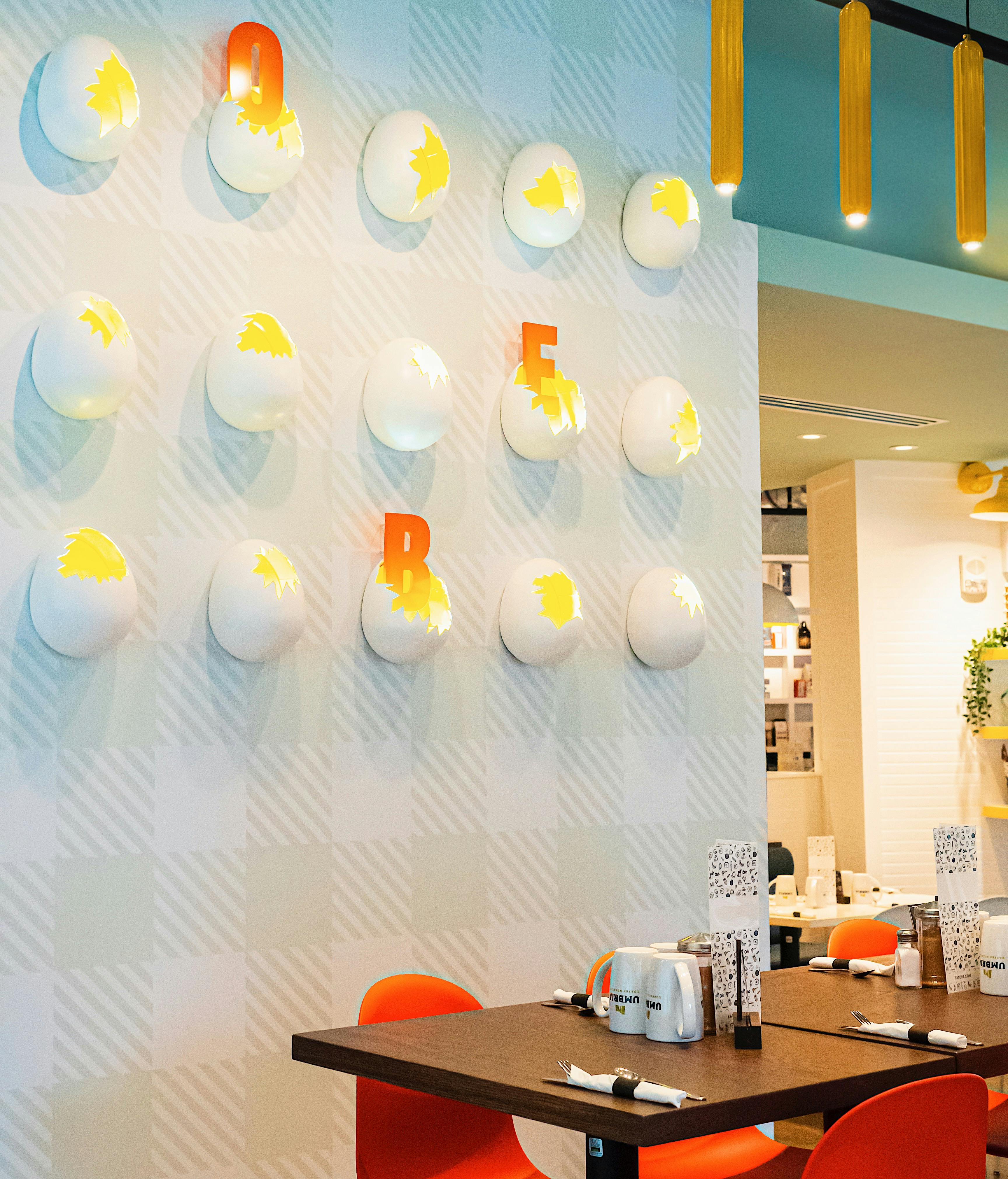 As in the world's finest kitchens, OEB's walk-in is filled with an abundance of fresh ingredients sourced from a wide range of local farms and producers. At the new Liberty Village location, meat is brought in from Stemmler Meats, in Heidelberg, Ontario. The finest smoked Salmon comes from Wolfhead Smokers, in New Brunswick. Ontario's The Herbman provides an abundance of microgreens for use on a variety of dishes. Even the beverage menu includes offerings from local purveyors, including Trius Winery and Collective Arts Brewery. As for the eggs, the amber-hued heart of each and every OEB eatery? They're not just any old, store-bought dozen. Sourced from Countryside Farm in Steinbach, Manitoba, they come from free-range hens who thrive on an omega-3 rich diet curated by Martina himself. Fried, scrambled, poached or served raw, these eggs boast more flavour than most, and yolks that are so vividly golden, they spark delight followed by an inevitable flurry of photos.
If there was ever any doubt about what OEB's menu offers, a first glance at the space makes it abundantly clear. Predominantly white, it features pops of colour from furniture and egg-themed décor throughout. From a statement wall displaying cracked eggs holding the chain's initials to egg-like lamp fixtures that bathe guests in yolk-coloured light, there's no mistaking OEB's reason for being.
Still, the menu includes plenty of egg-based and egg-free breakfast and brunch crowd-pleasers along with several less predictable options. Divided into nine sections, from Farm Fresh to Breakfast Poutines, Sandwiches, and Sweets, there's a dish to sate any craving, with plenty of vegetarian and vegan plates. From savoury cures for whatever ails you to decadent, dessert-like dishes that can make any day feel like Sunday, the breadth of options may need a little mulling over.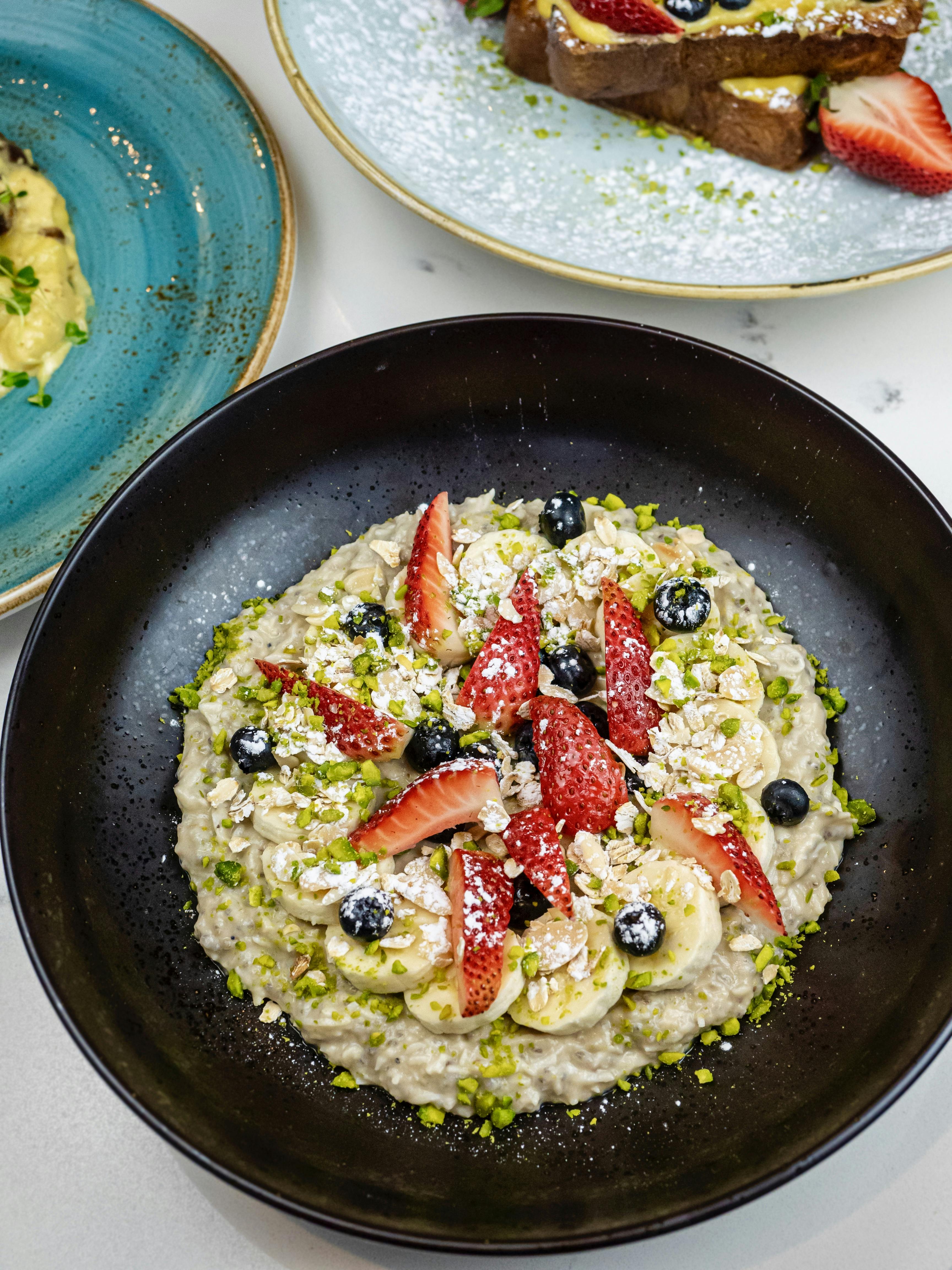 Despite the fact that they're created with lighter appetites in mind, options from the Lighten Up section of the menu are as hearty as any. A bowl of Chia Seed Pudding includes toasted, gluten-free oats and a flourish of toppings. With chia, sliced banana, berries, coconut, coconut milk, shaved almonds, pistachios and a drizzle of maple syrup, this bowl is the type of energy boost your to-do list needs.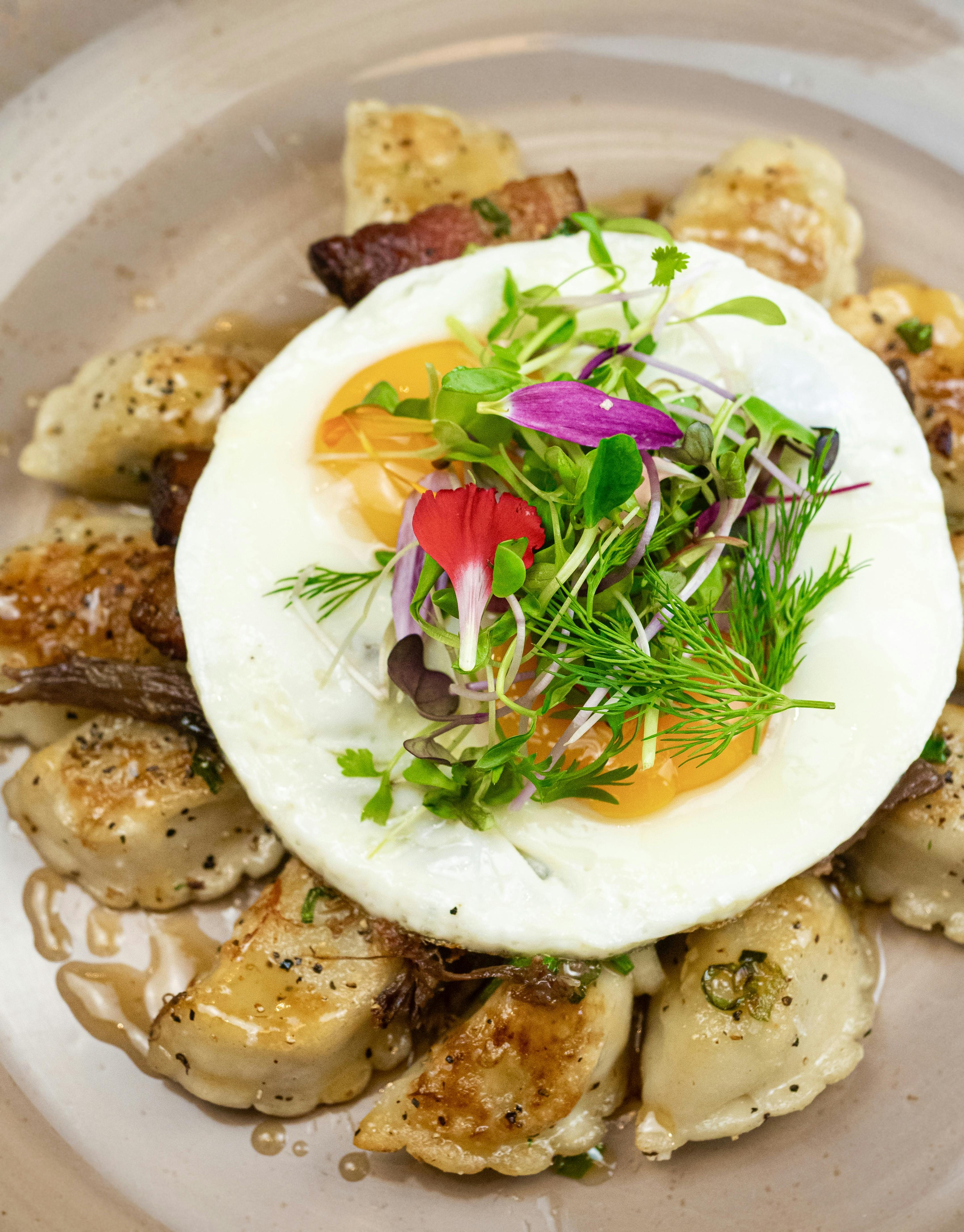 Assorted Blue Plate Specials include crêpes (including one with butter-poached lobster), croque madame, and a burrito filled with house-charred salsa, pinto beans and chunky guacamole. Pierogies & Duck neatly bridges the breakfast to lunch divide with handmade pierogies piled high with thick-cut, hardwood smoked bacon, duck confit, a crown of sunny-side eggs, and dressed greens. The result is a dish that's tender, smoky, mildly sweet, deeply savoury, and may induce afternoon naps.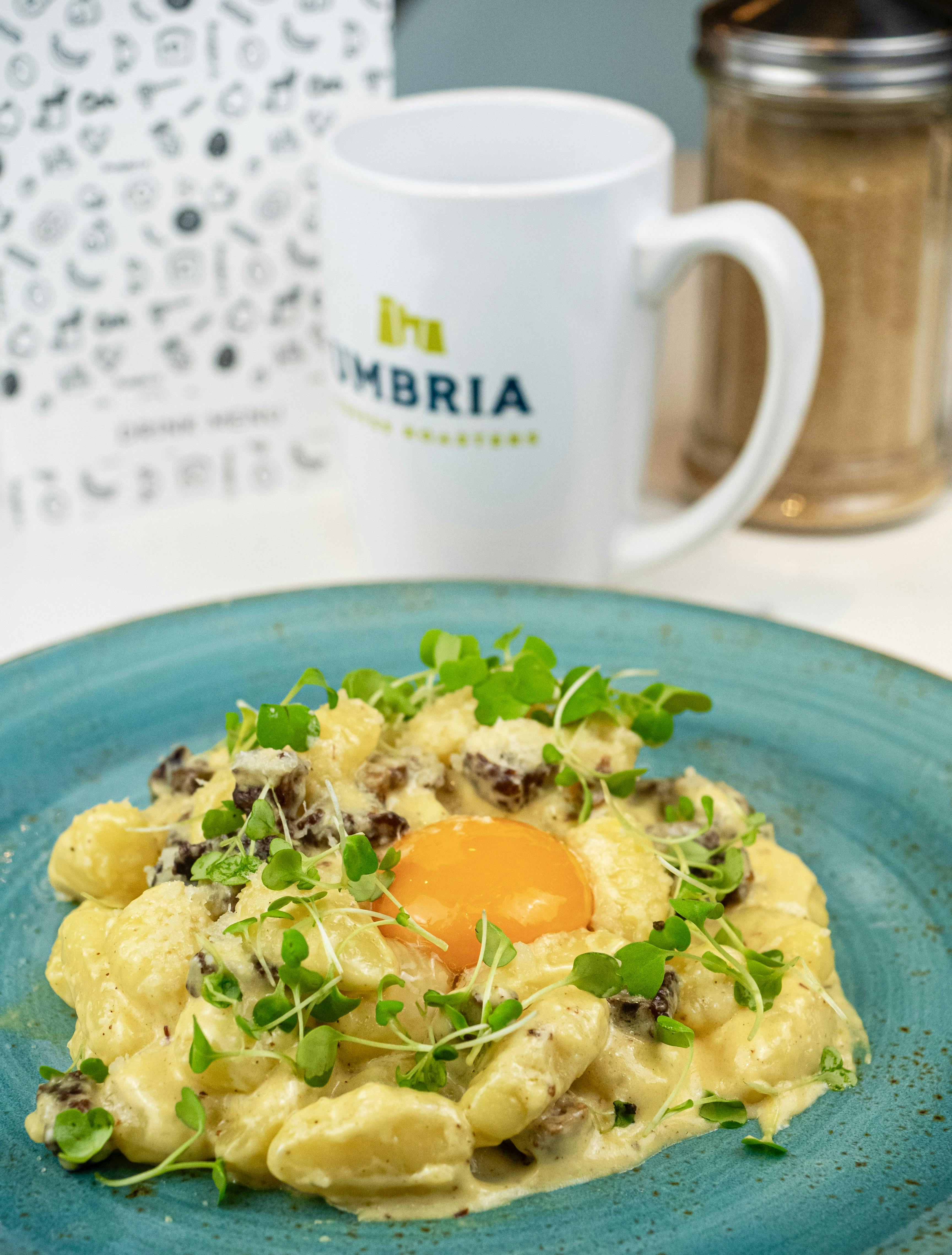 Gluten-free Gnocchi Breakfast Carbonara is a creative reimagining of the timeless dish. Garnished with the kitchen's mammoth bacon bits, brown butter hollandaise, Grana Padano cheese and a plush raw yolk, the dish is as eye-catching as it is rich and delicious.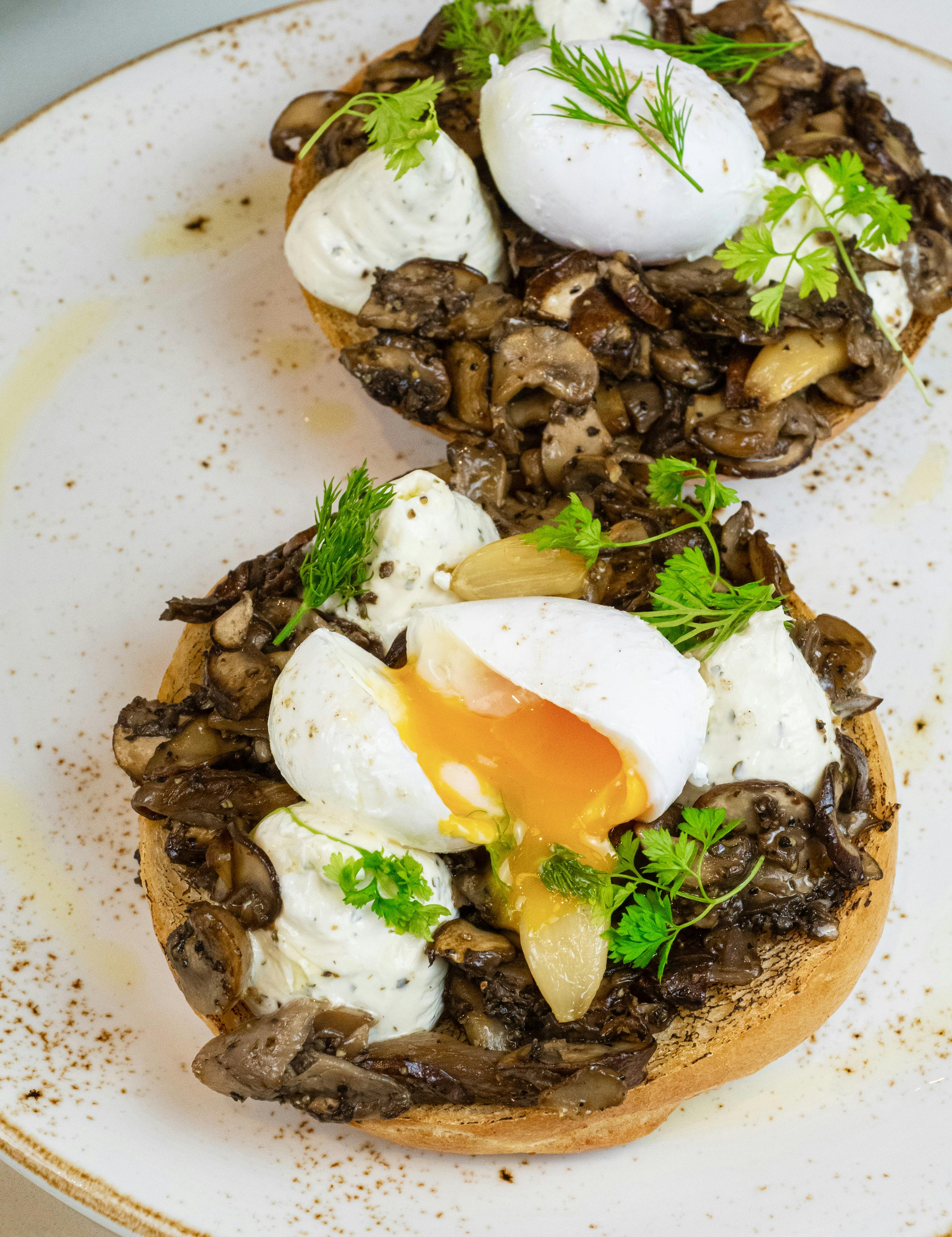 Fungi fiends will find their match in the menu's fragrant Bagel Forestière. Made with a heady mix of wild and cultivated mushrooms, tartufata, truffles, poached eggs and herbed cream cheese, it's the dish every mushroom-lover will want by their side.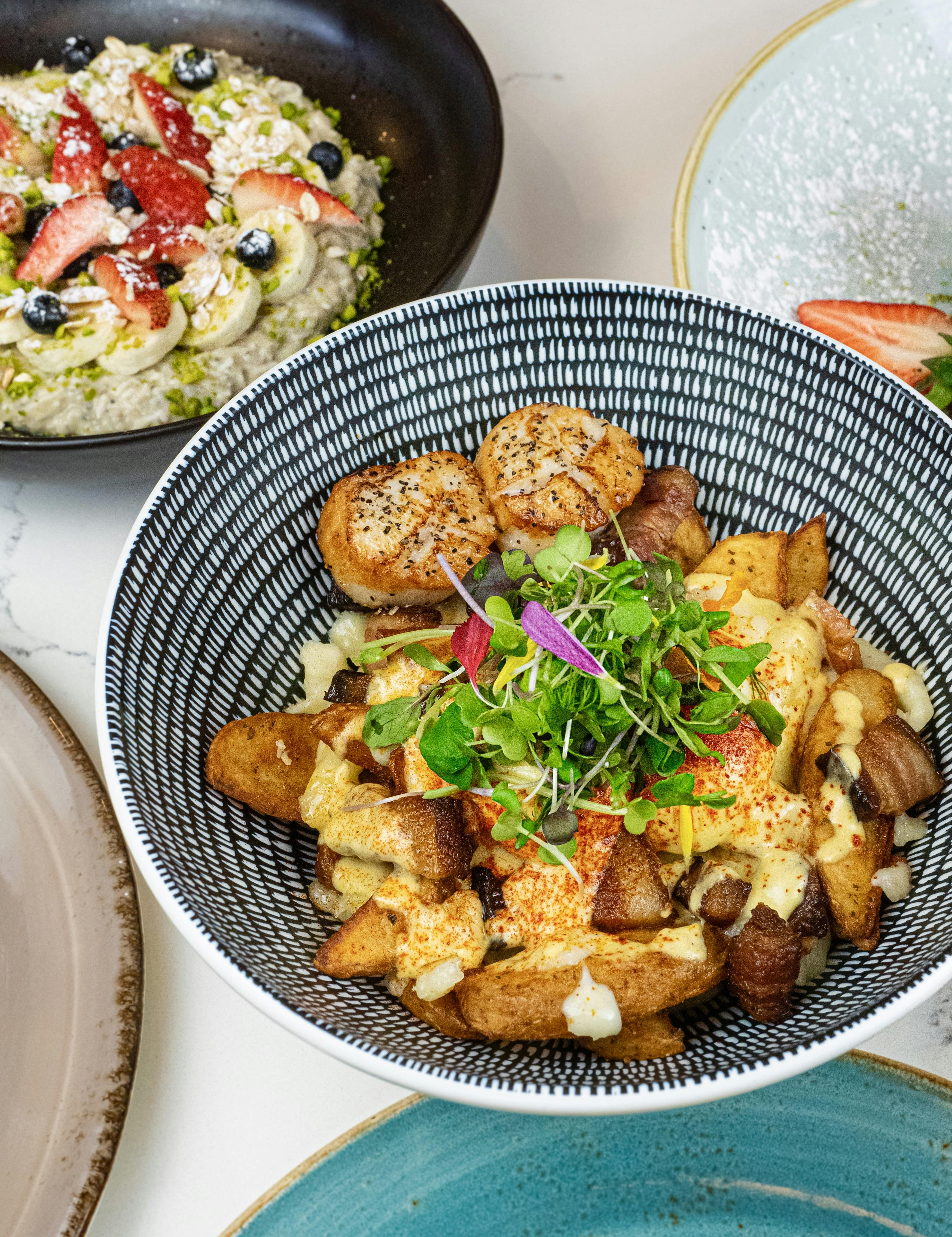 A creative take on a Canadian tradition, OEB's breakfast poutines move the national dish from side menu to main event. Built on duck-fat-fried, herb potatoes, each one features curds from Saint Cyrille, Quebec, and an assortment of creative additions. The Get Shorty Rib finds spuds topped with Philly-style beef short rib, veggies, poached eggs and brown butter hollandaise. For the Hog & Scallop, the dish features seared Digby scallops, from Nova Scotia and slow-cooked bacon lardons, to glorious effect.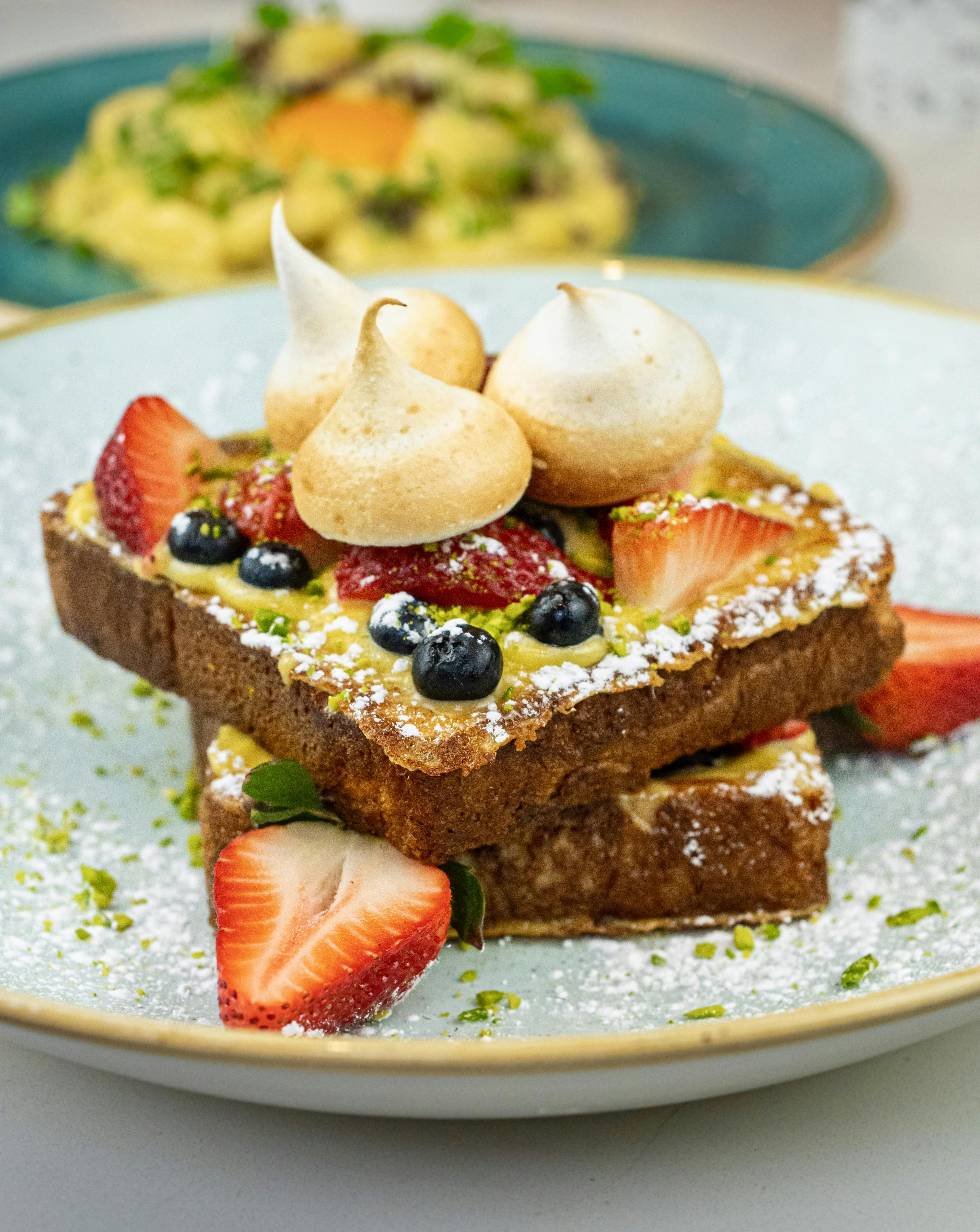 Sweet treats include elegant takes on breakfast staples, such as French toast, crêpes, and waffles. An impressive dish, French Toast Trifle finds two slices of pan-seared brioche layered with lemon curd and berries, decorated with a sprinkling of pistachios and twee mini meringues. Properly sweet with a citrusy tang, the dish can be easily shared but may inspire greediness to take hold.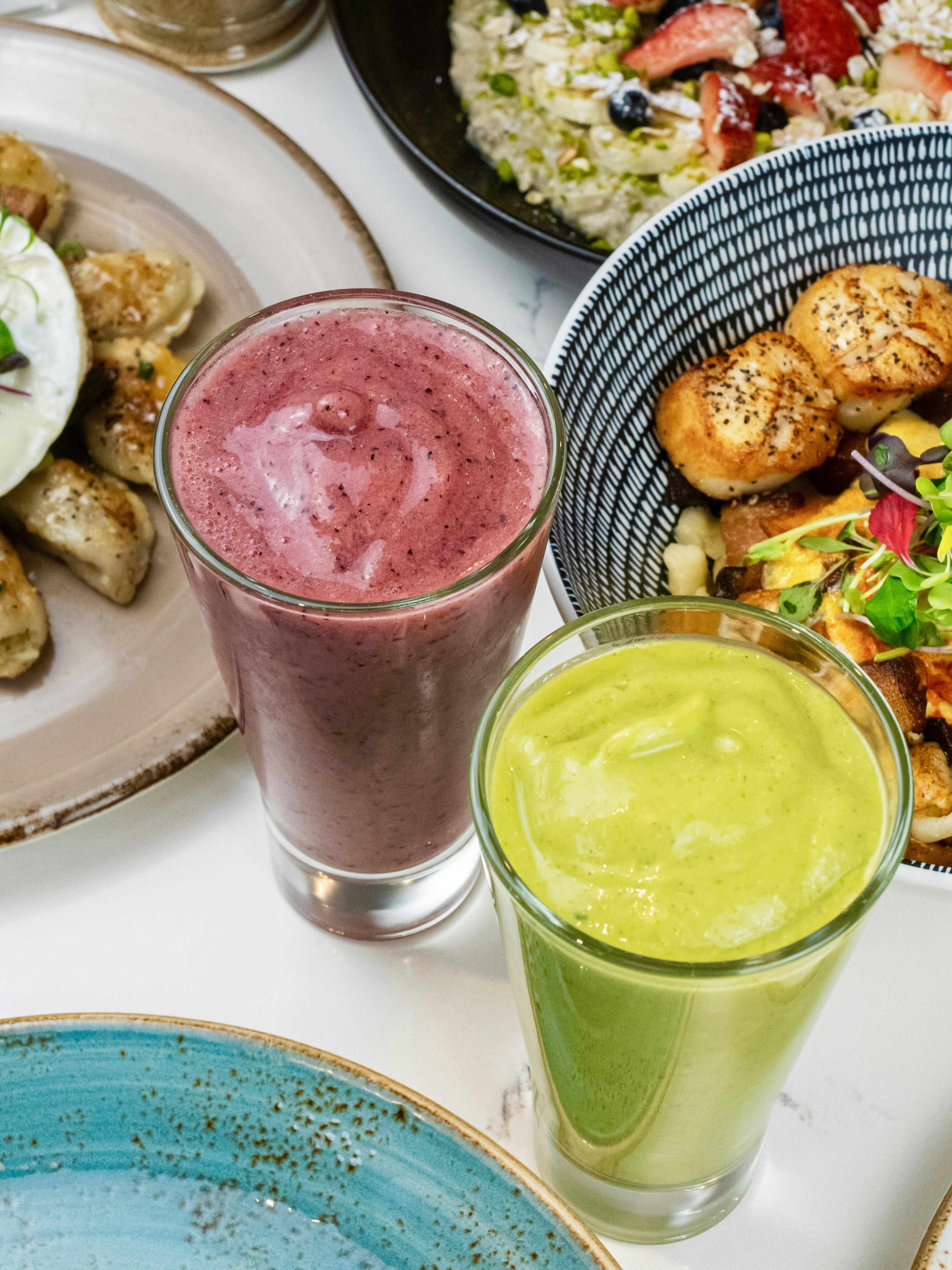 Fully licensed, OEB offers plenty of alcoholic and non-alcoholic sippers to pair with the day's first meal. Three smoothies, each made with premium juices and a basketful of fresh fruit, feel like the proper way to greet the day. Still, if the mimosa flight, featuring four Prosecco-spiked juices (orange, pineapple, mango and grapefruit) beckons, we wouldn't be surprised. Also on offer is a menu of fruit-forward cocktails, beer, and wine, along with fresh-brewed Caffè Umbria coffee and tea from Two Leaves and a Bud.
"I want to fill the souls of our guests with a truly uplifting breakfast experience, so that they leave feeling better than when they came in, and ready to take on whatever the day may bring," says founder and chef Mauro Martina. A place meant to "fill the soul" of guests through warm service, and updated, upgraded, farm-to-table fare, OEB Breakfast Co., is a welcome addition to Toronto's brunch scene.