As soon as their doors opened, it was clear Oji Seichi would be a different type of ramen joint. Even in a city where fantastic ramen is never too far, the east-end eatery has managed to turn the familiar concept into a new and enriching multicultural space where comfort food meets fine-dining passion.
Co-owners Shawn Irvine, Mitch Bates and Wilson Duong are the A-team behind this one-of-a-kind concept. Combining Irvine's business experience, Duong's creative direction, and the fine-dining background of Executive Chef Mitch Bates (Momofuku Shōtō, Grey Gardens, Morimoto New York), the recipe for Oji Seichi was unanimous: create a no-frills ramen shop that pays homage to family, Japanese culture, and its place in the Canadian dining landscape.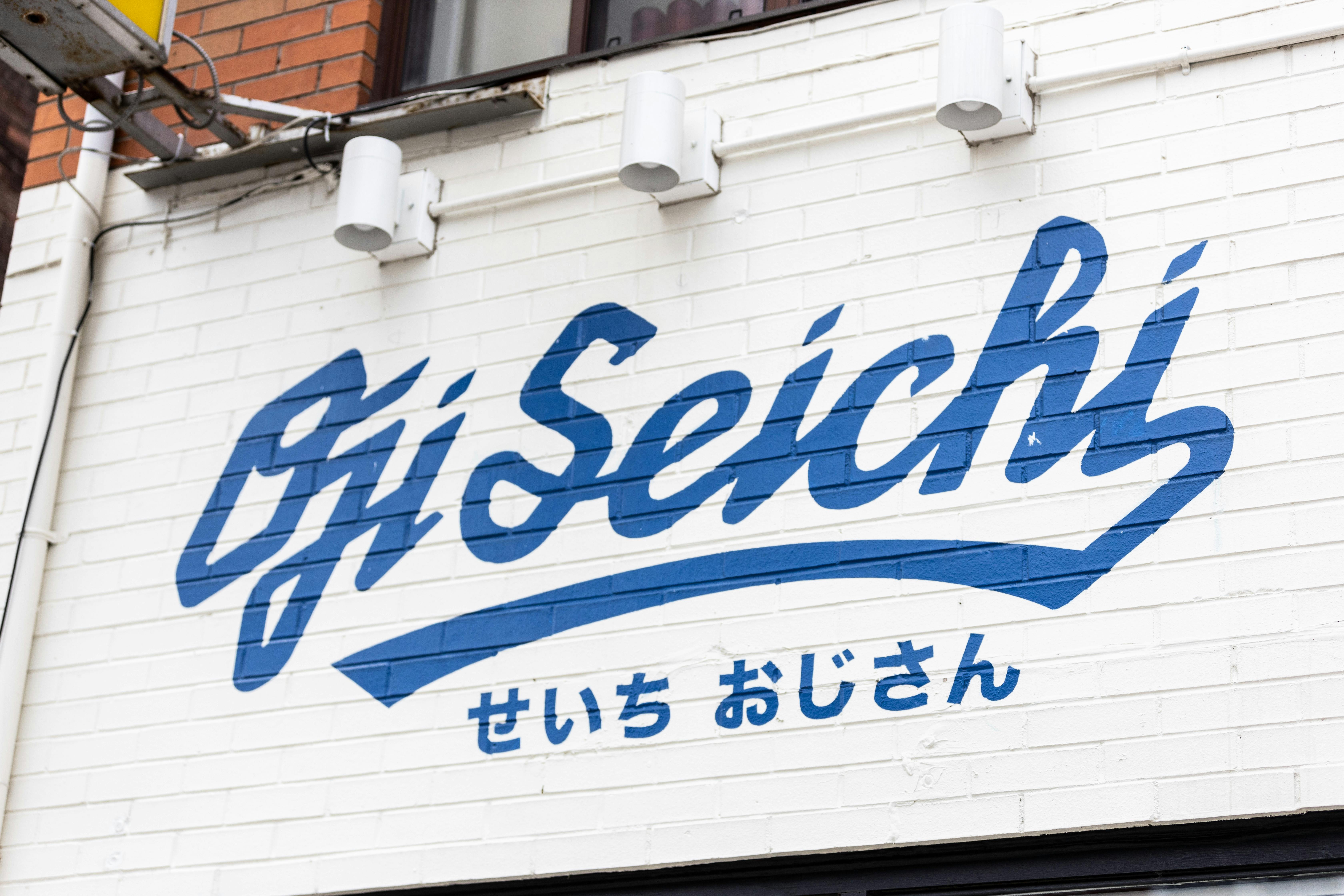 In Japanese, ojisan means "uncle," and Irvine's primary inspiration was none other than his own late great-uncle, Seichi ojisan. The dedication means something to Bates, too—his wife, Irvine's cousin, also knew Seichi as a fun-loving, easygoing spirit that loved to bring people together. Along with Duong, a long-time family friend and creative director, the close-knit trio envisioned nothing short of a resonating shop that could adequately symbolize and do justice to the "why" behind their venture.
Many Japanese restaurants aim to strictly follow and uphold culinary traditions—and respectfully so—but for Oji Seichi, the prevailing conversation is what it means to serve ramen in Canada.
"We're cognizant of the fact that not all of us had a Japanese upbringing," says Duong. "Shawn and Mitch are both surrounded by the culture at home, and respecting family tradition means a lot to them. But at the same time, we want to be conscious of our community—being aware of where we are and incorporating our 'Canadian-ness' through local ingredients that highlight everything this country has to offer."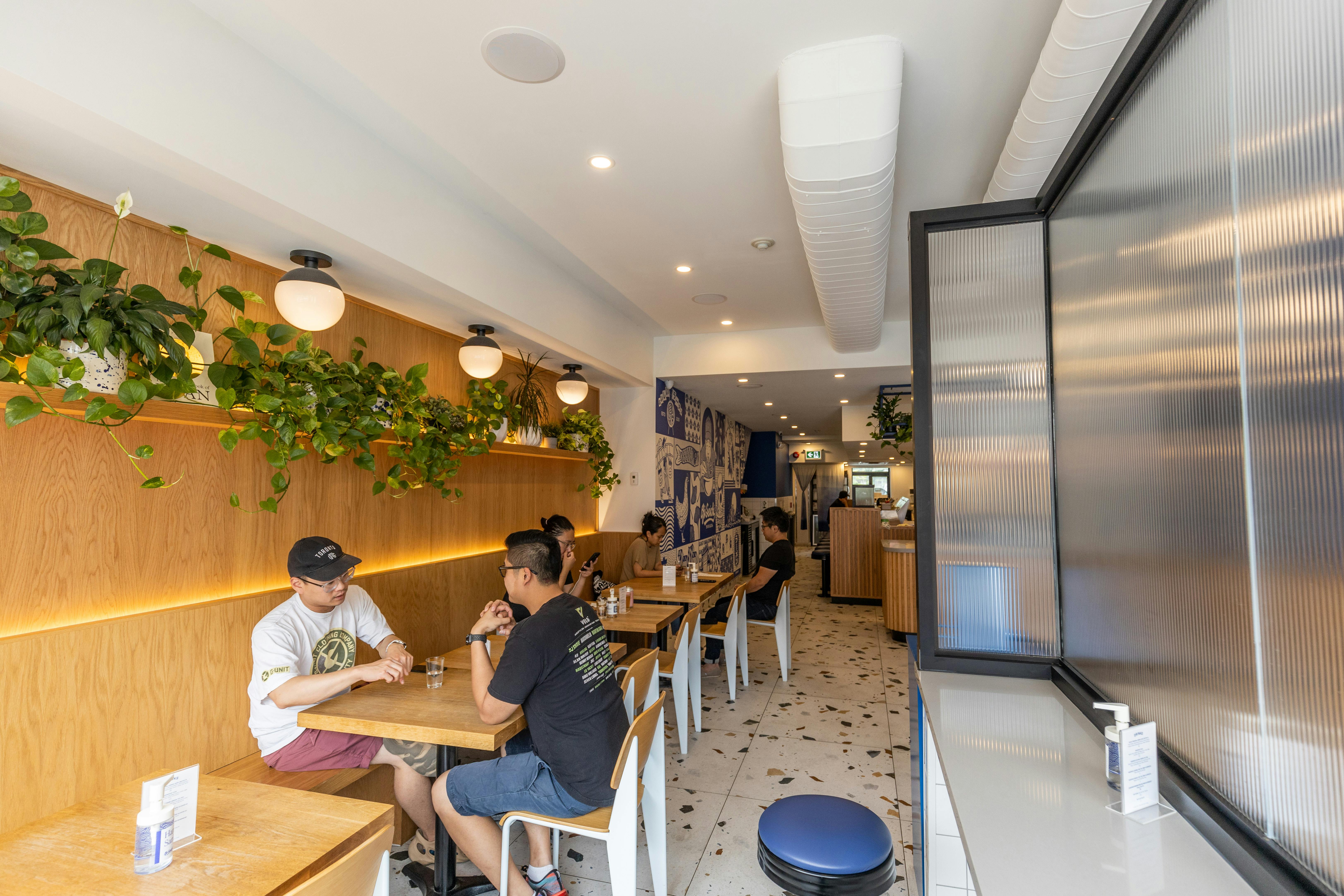 Their dedication to the Japanese/Canadian identity is evident from the get-go: its eye-catching branding with nostalgic, vintage lettering is a tribute to Asahi, an early-90s Vancouver-based, Japanese-Canadian baseball team whose enduring perseverance inspired the movie, The Vancouver Asahi.
As a newcomer to the neighbourhood of East Chinatown, the team is also aware of the rich history that comes with their location. In addition to keeping the original street signage of the Chinese BBQ restaurant that used to occupy the space, they also kept a vintage newspaper vending machine where they now display their t-shirts and merch, as well as kind messages left behind by regular customers.
"It's special to be part of Toronto's original Chinatown," says Duong. "We needed to preserve that intimacy and historic community of the neighbourhood."
With eye-catching branding, Oji Seichi brings a vibrancy that makes ramen feel new again. But what keeps diners returning is Bate's intensity for ramen from dough to garnish.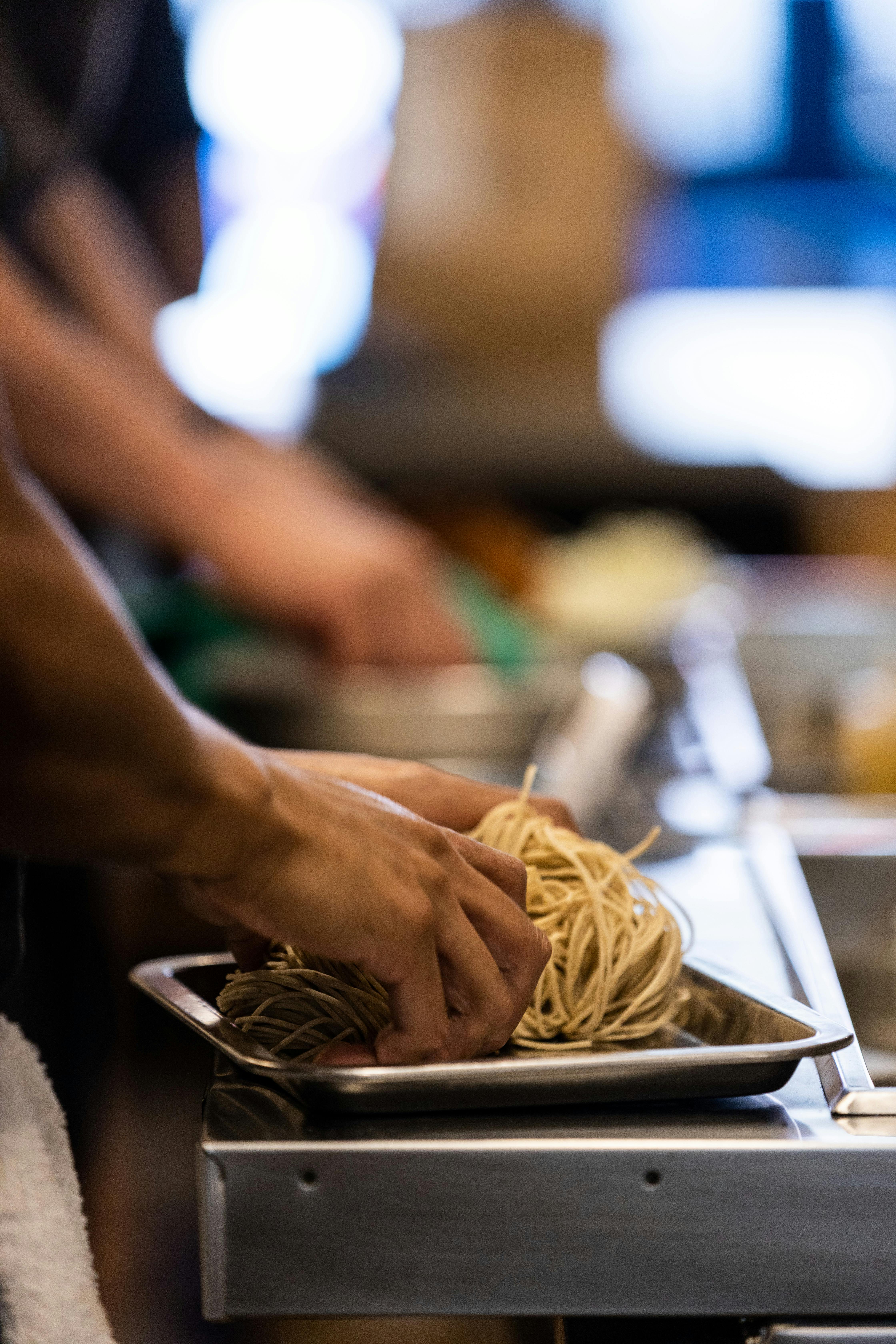 Starting with the noodles, Oji Seichi's are handmade daily by Bates himself, then mixed and compacted by a special $50,000 machine flown in from Japan to ensure the perfect bite.
Their Original ramen noodle is a mixed grain recipe with enriched Canadian flours: high-protein white, whole wheat, and rye. It's what gives them that unique, deep wheat flavour and bouncy chewiness.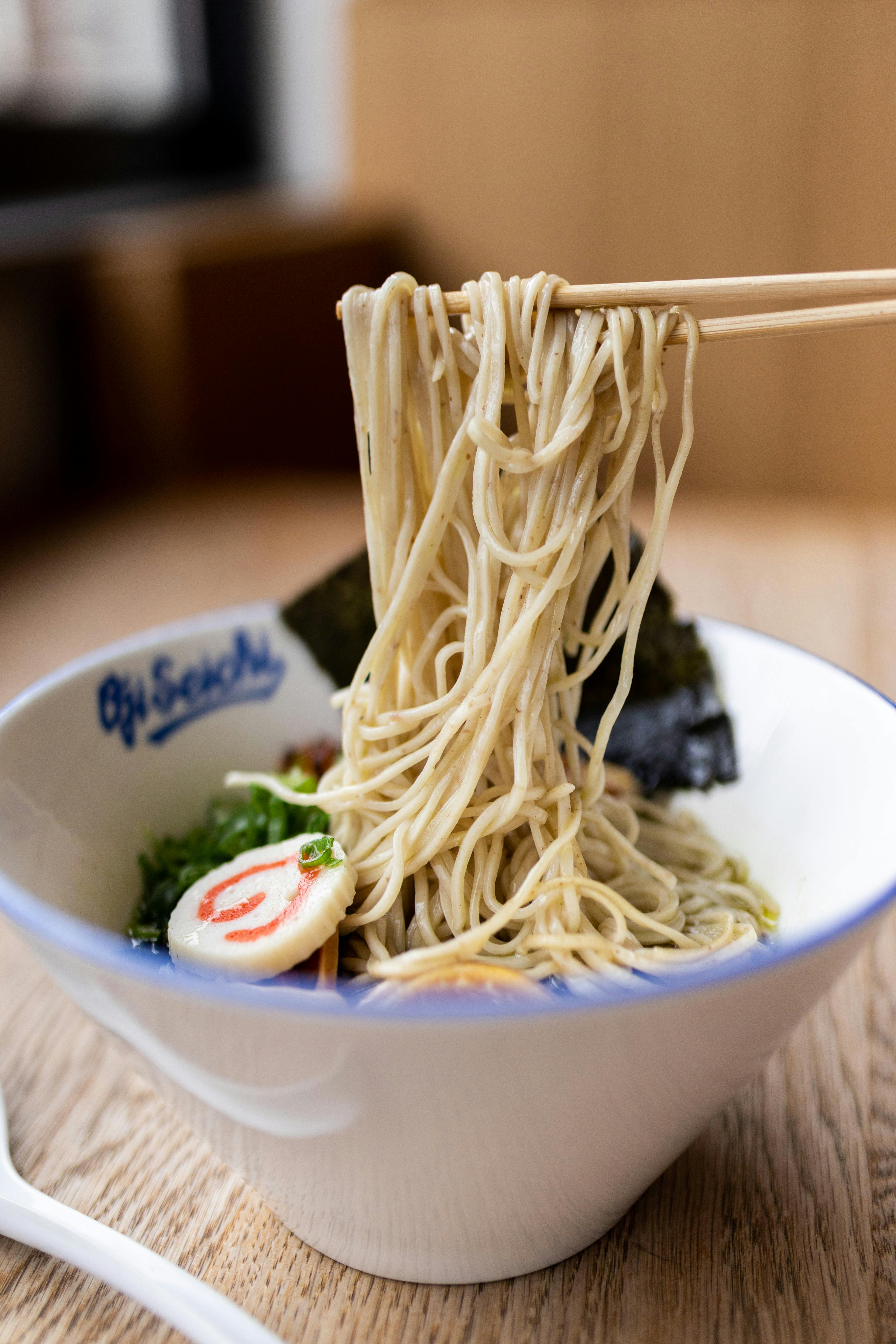 Alongside the mixed-grain Original, Oji Seichi also crafts different noodles to complement specific dishes, including Buckwheat Hakata for the Sesame Paitan Ramen, and a summery, curly egg noodle for their seasonal Sweet Corn Mazemen.
Comfort foods like ramen can have endless possibilities, but Oji Seichi prefers a small, polished menu where nothing's ever frozen, and fresh ingredients can just be themselves. This approach leaves room for them to play around with seasonal creations too, which can vary from chilled to brothless bowls.
While the rich Tonkatsu ramen has long been Toronto's go-to, the focus here is Tokyo-style ramen, a lighter ramen made typically with chicken broth and a touch of dashi.
"We wanted something that felt lighter but still rich in flavour. I think that's the essence of our restaurant," says Duong.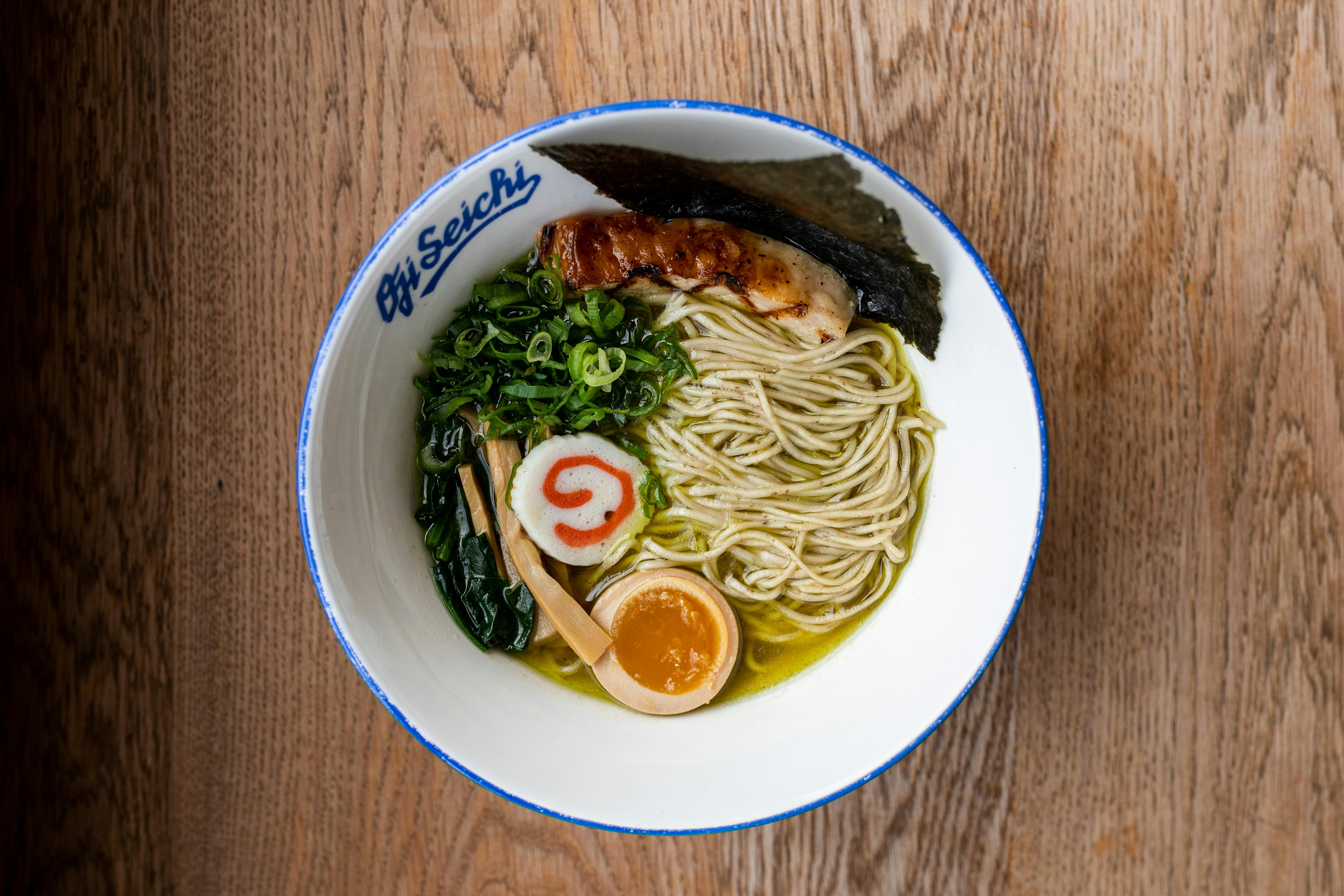 The Oji Classic Shio and Shoyu ramens both feature their signature Tokyo-style broth made with chicken, pork, mussels, clams, and a blend of aromatics. They're then flavoured with either shio (salt) or shoyu (soy sauce), and topped with egg, bamboo shoot, naruto (fish cake), spinach, scallions, and a slow-cured roasted pork belly complete with perfect grill marks.
Many ramen shops offer vegetarian bowls as nothing more than an alternative, but at Oji Seichi, it's one of the stars.
"We didn't make a veggie ramen for the sake of having a vegetarian option. With Mitch's veggie broth, he wanted to highlight the often-overlooked maitake, which is such a great ingredient and brings so much umami to the broth."
The Veggie Miso Ramen at Oji Seichi is an intensely flavourful ramen that extracts the deep, earthy flavours of fresh maitake from Shogun Maitake in London, Ontario. It's topped with more grilled maitake, egg, bamboo shoot, nori, shishitos, spinach and scallions, but anyone can request theirs with an extra slice of pork belly for added protein.
Keeping things fun and dynamic, Oji Seichi is constantly working on new creations that reflect the season and its produce. Over the summer, they beat the heat with a refreshing Chilled Dashi featuring cold buckwheat noodles, chilled shrimp, kanikama (crab sticks), cucumber, pea shoots, scallions, ginger, and mustard oil—a symphony of freshness that wakes you right up.
This fall, the team is also bringing a prized, rare ingredient to their shop for one week only: the wild-grown pine mushroom, matsutake. With hints of sweet cinnamon and cypress, the matsutake is known for its spicy autumn aromas and meaty texture. To highlight the mushroom's deep, truffle-like earthiness, Oji Seichi will be serving it in a creamy paitan ramen topped with ground pork, scallions and served with curly noodles.
"Everything we do here follows our ideal of the Canadian/Japanese culture. This means introducing traditional Japanese dishes that reflect Canadian seasons."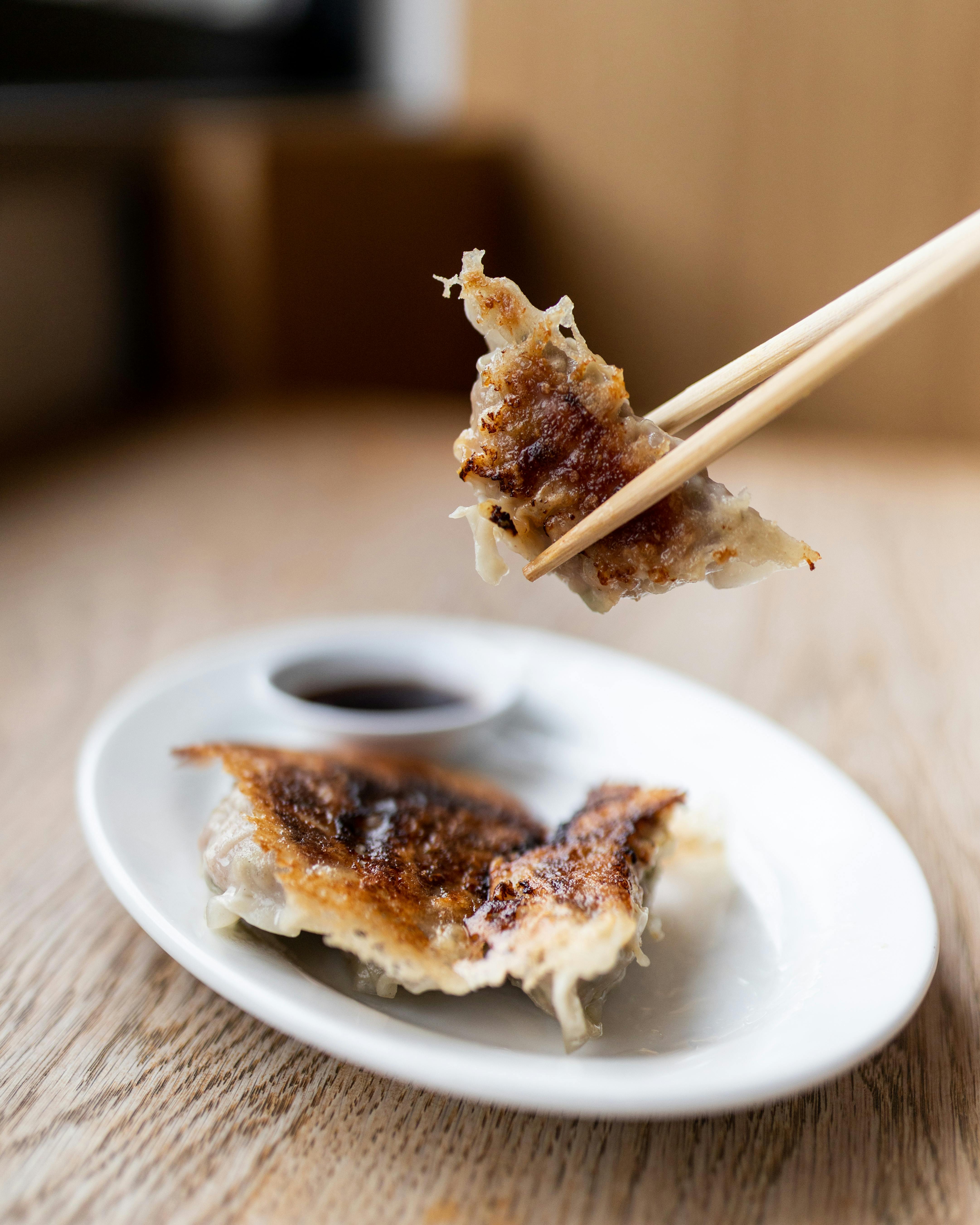 Other fan favourites include Oji Seichi's Pork Gyozas, hand-wrapped and made fresh with a fried skirt so that it's "crispy on the bottom, and moist and steamy on top."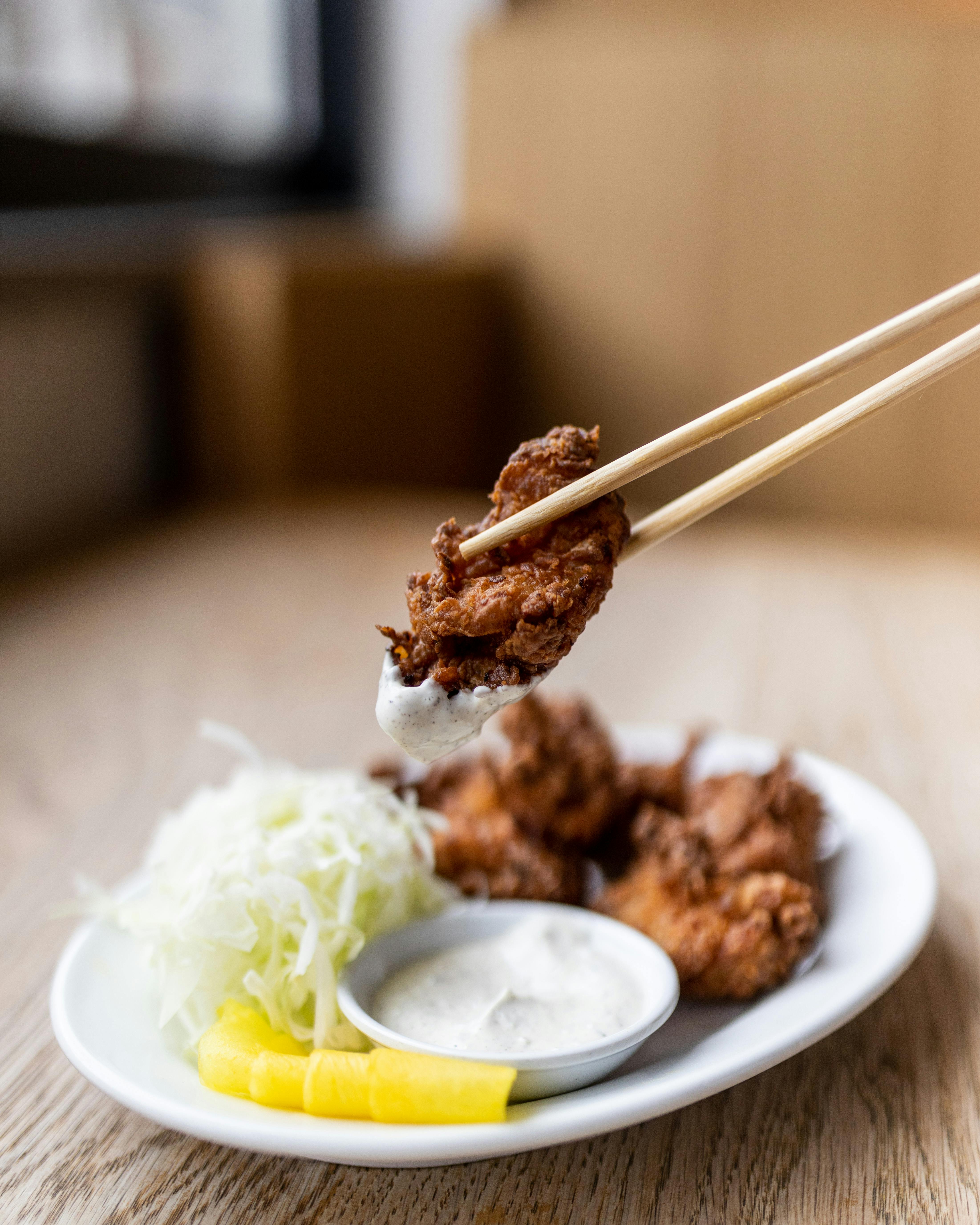 Even their Karaage stands out from the rest: marinated in yuzu, the fried chicken snack is served with another umami-filled nori ranch sauce, bringing balance to the mild yuzu acidity.
Not interrupting their Canadian/Japanese flow, Oji Seichi's drink menu features a modest menu of Asian-inspired beers from Toronto's own Godspeed Brewery, including the Godspeed Jasmine, Yuzu, and Ochame (Japanese green tea IPA). You can also find Asahi's and local ciders and spritzers.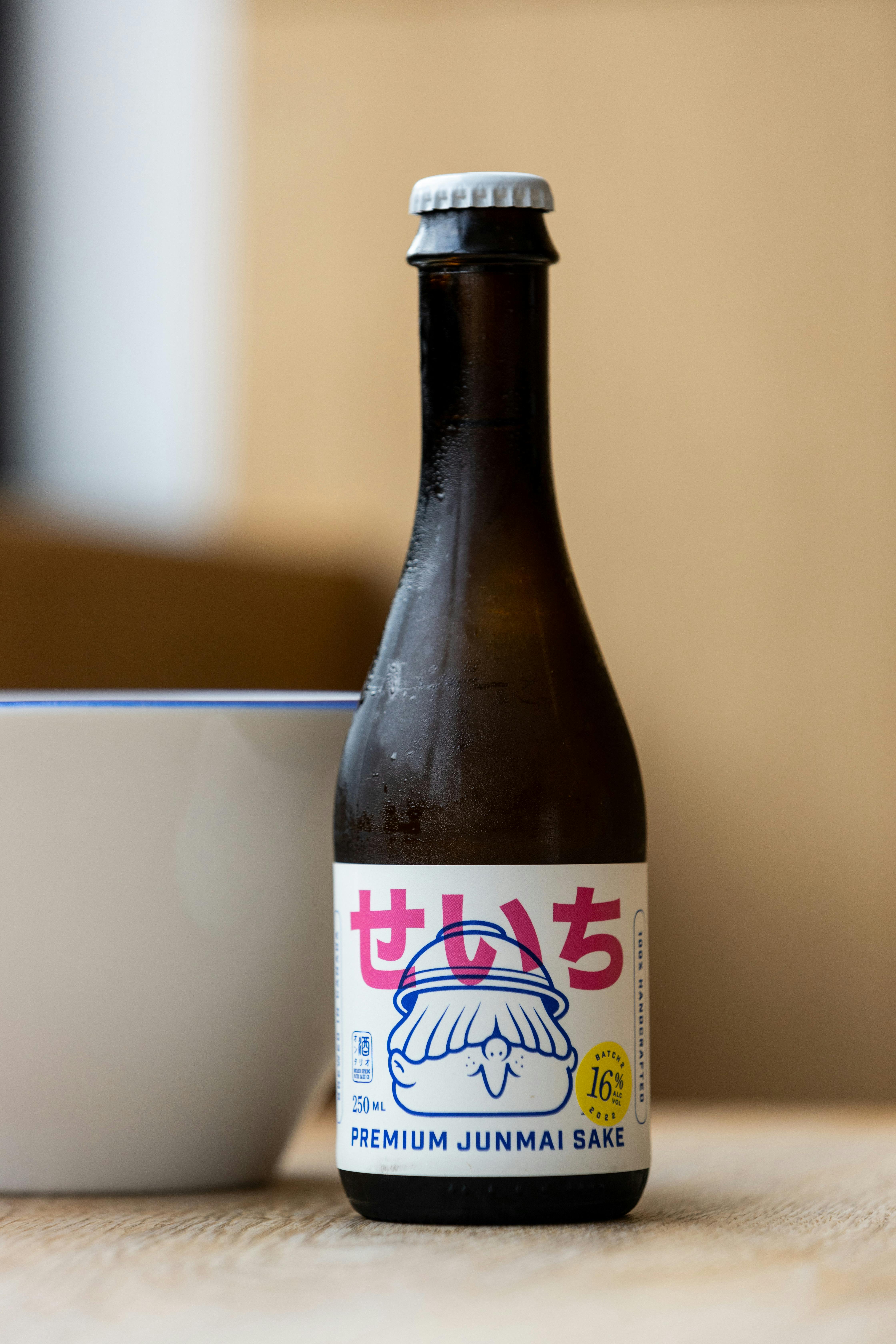 However, chief among them is the small-batch Seichi Premium Junmai Sake, an original, handcrafted sake blend designed to be paired with ramen. The team worked on their sake in collaboration with Toronto's famous IZUMI Sake Brewery, the first sake brewery in Eastern North America. Right now, they're stocked up on Batch 2, which is distilled with the same ingredients as their first, but contains higher ABV content and an extra tartness reminiscent of green apple flavours.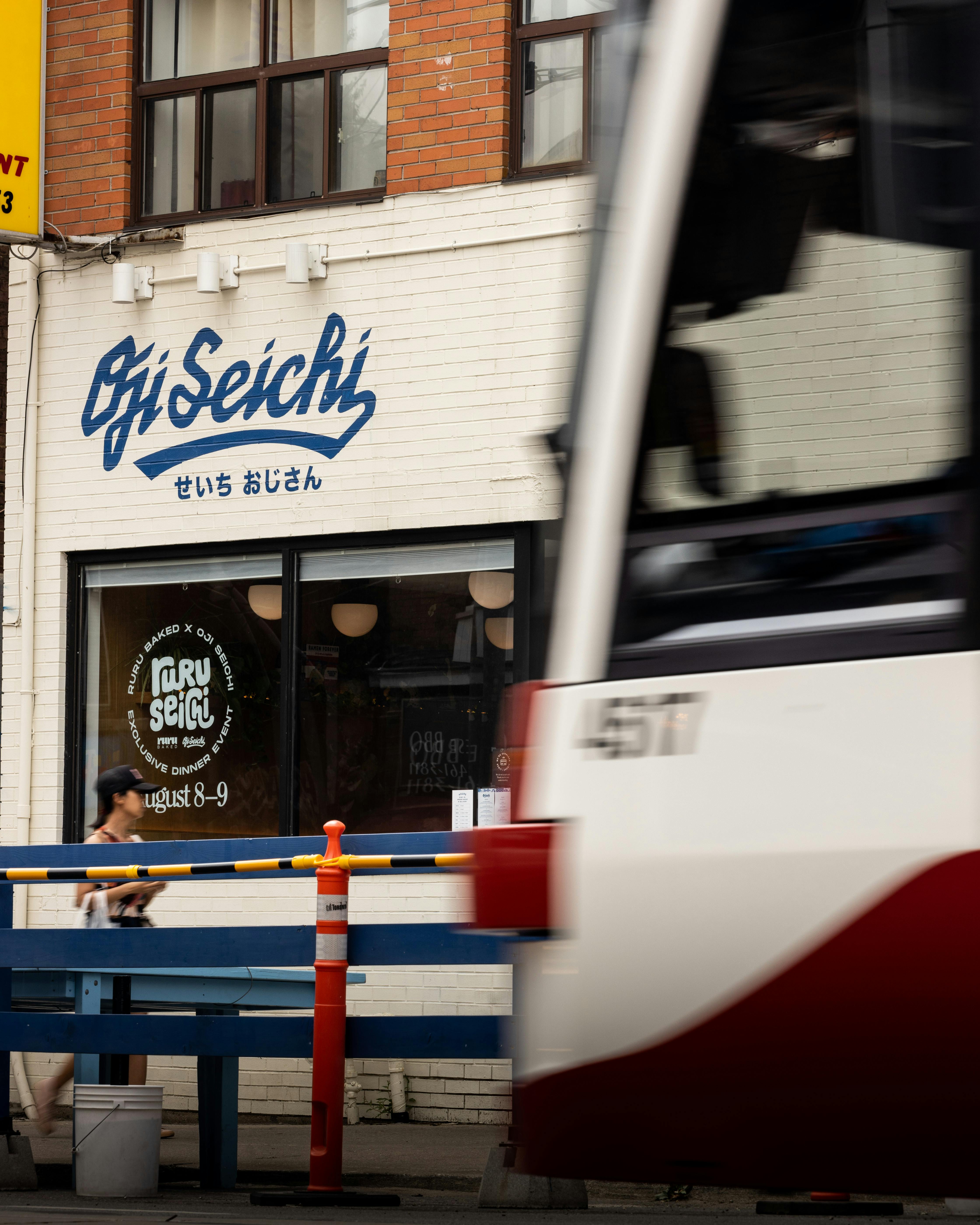 At only 1.5 years old, Oji Seichi is already showing incredible promise, and they're just getting started. There's been talk of expanding their one-of-a-kind ramen concept with more locations throughout the city, but for now, they're focused on building the community they already have.
"We always knew we wanted something in the east end. Our spot in East Chinatown has exactly the type of charm we envisioned, and we're honoured to be part of such a historic community," says Duong. "No matter where we end up, this will always be our flagship."