Photographs by Keessa Lynch
There's not much to Oroshi Fish Co.: a back-alley entrance, an open-concept kitchen, a fridge and a takeout counter. But the real magic happening at this new sushi spot doesn't require too much space. Instead of boasting about "freshness," the fish at Oroshi has been dry-aged for 2 to 7 days.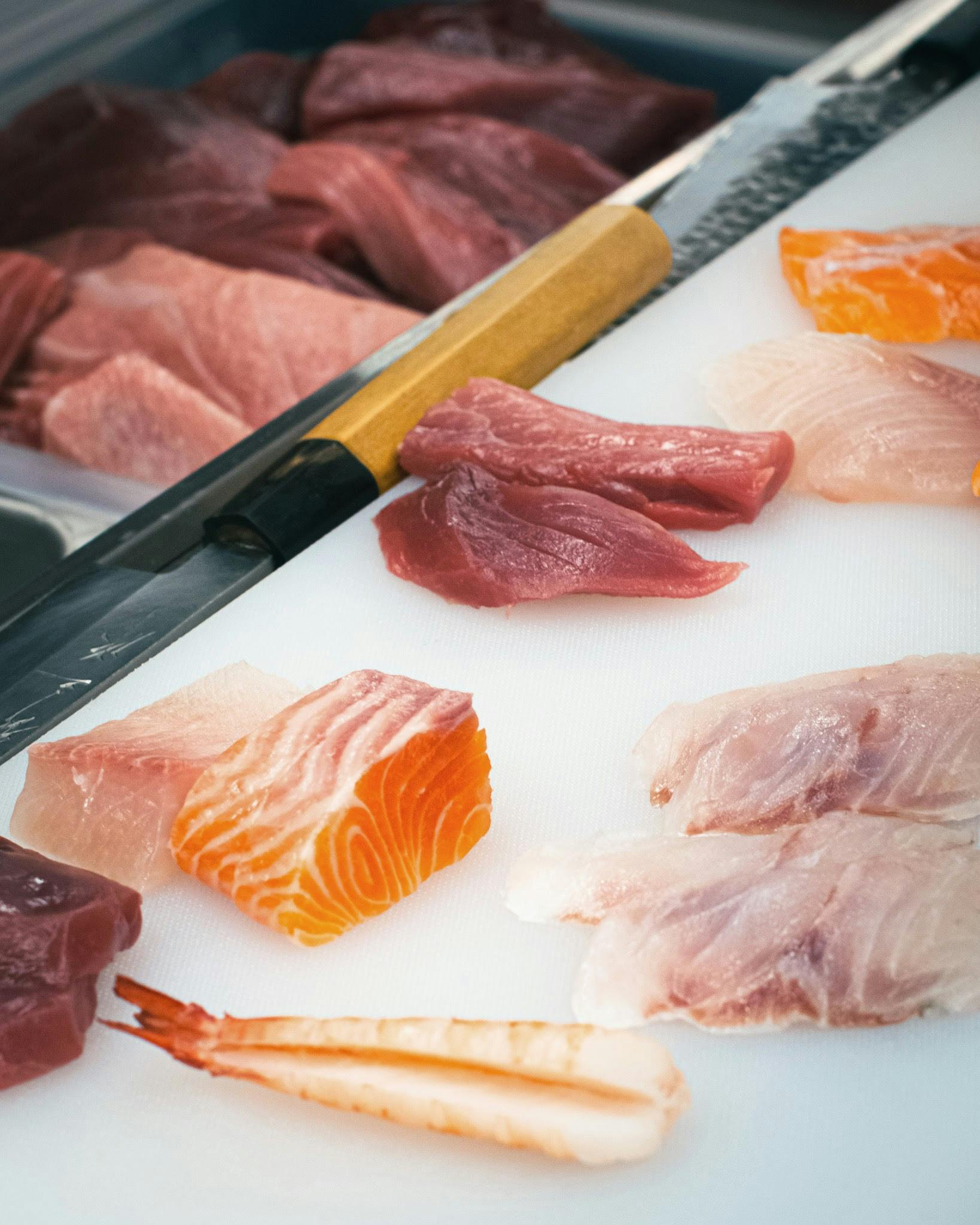 Co-founders Edward Bang (Omai), Jason Ching (Omai) and Jeff Kang (Canis, Après) opened this space in early February, but it's been in the works since the lockdown in March 2020.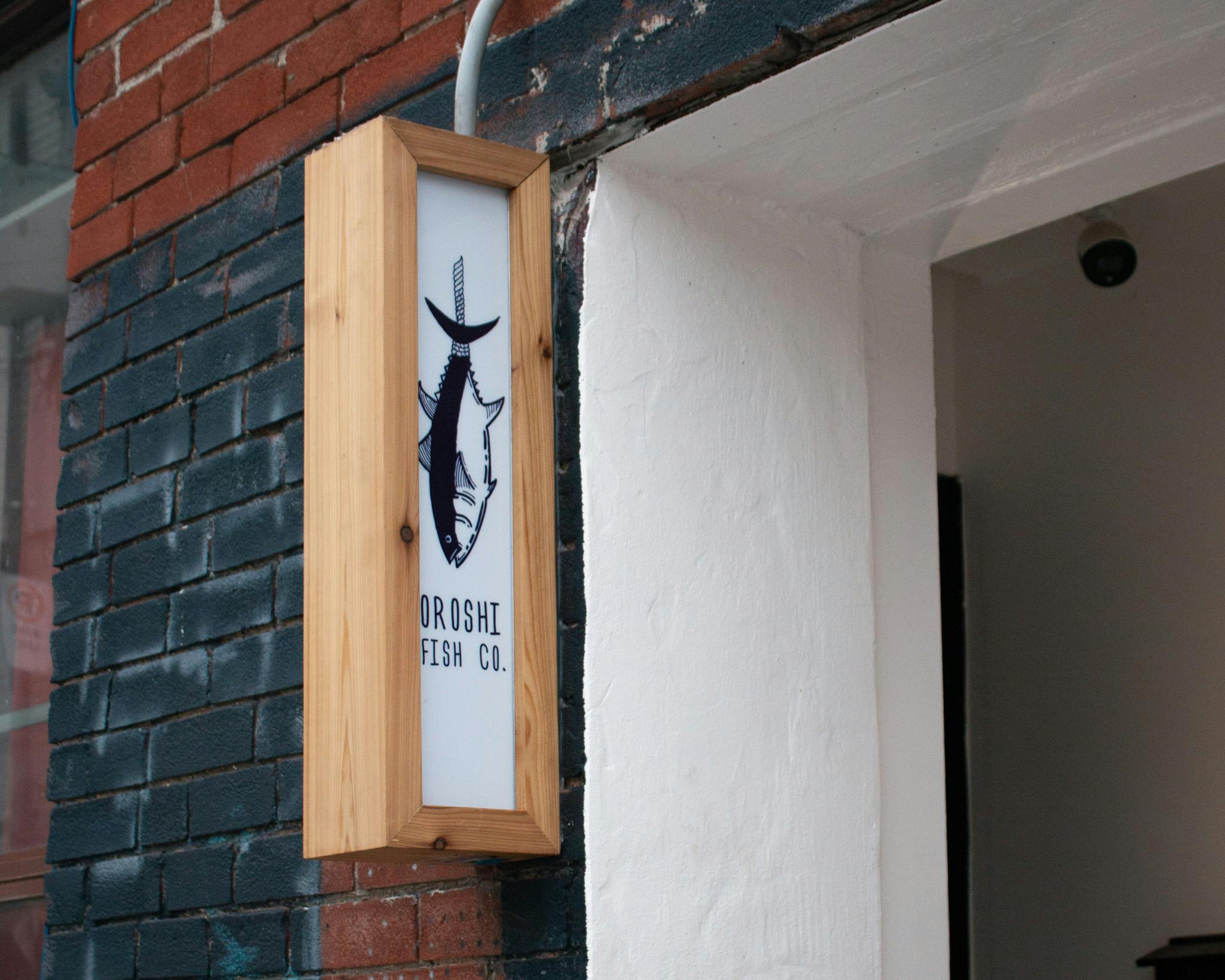 At first, takeout service was a rather foreign undertaking for Bang and Ching—something Omai had never done before the pandemic. After a successful repackaging of their menu during COVID, they started branching off with new ideas fit for a stay-in community.
Working with Kang, the three of them introduced Kang Bang Fried Chicken, a pop-up concept operating from Kang's Après Wine Bar. Soon, they were looking for their next collaborative project.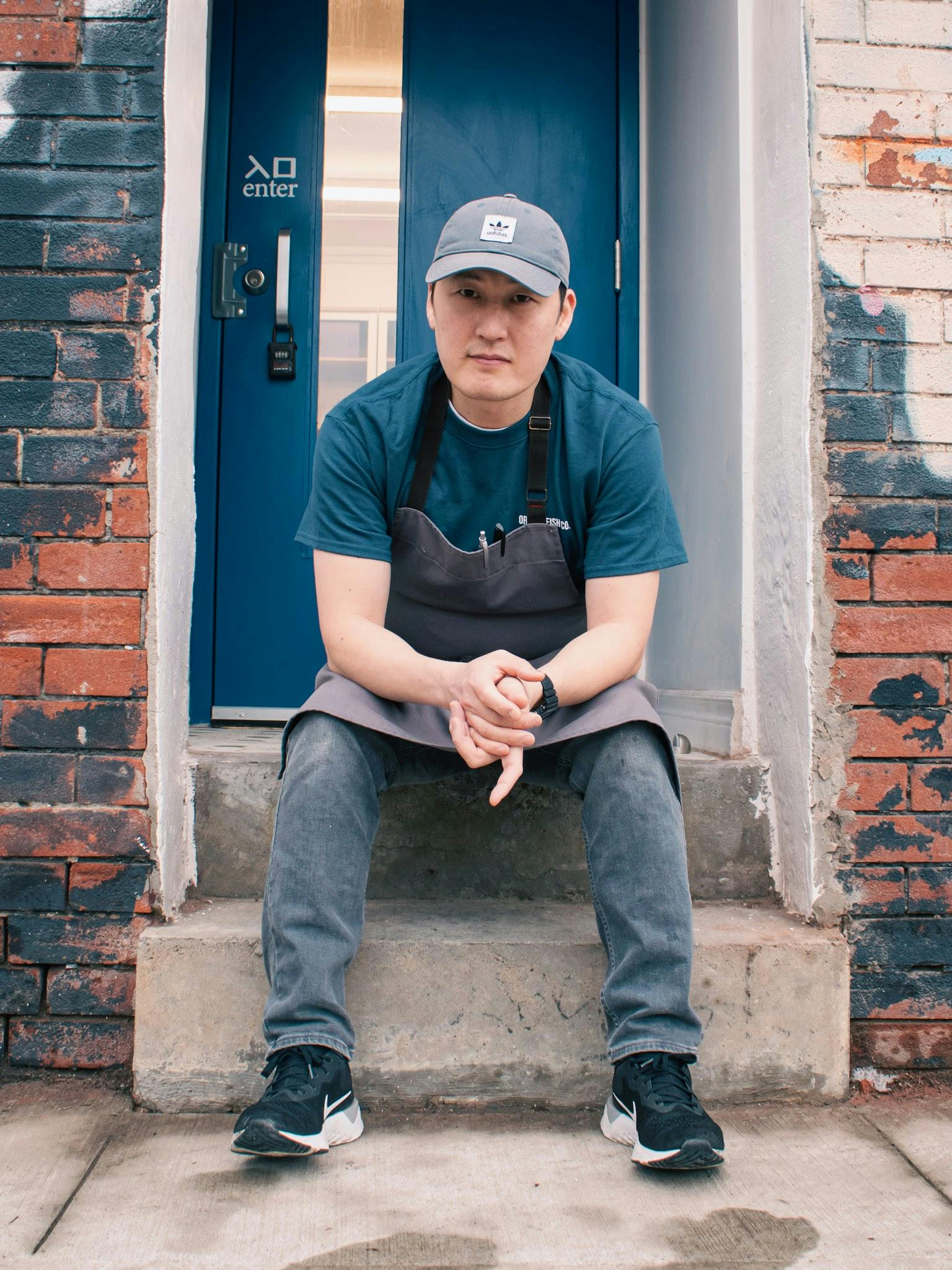 The idea started off simple enough, but now it's taken on a whole new, experimental narrative of its own.
"After introducing sushi takeout at Omai during the lockdown, we saw an opportunity for a good quality, mid-class sushi with value," says Bang. "From there, we started brainstorming ideas of experimenting dry-aged fish and processing whole bluefin tuna for our restaurants and the public."
At Oroshi Fish Co., everything from bluefin tuna to yellowtail amberjack and striped bass has been dry-aged for 2 to 7 days. They're currently experimenting with a piece of bluefin tuna aged 30 days and going, just to see what they can do.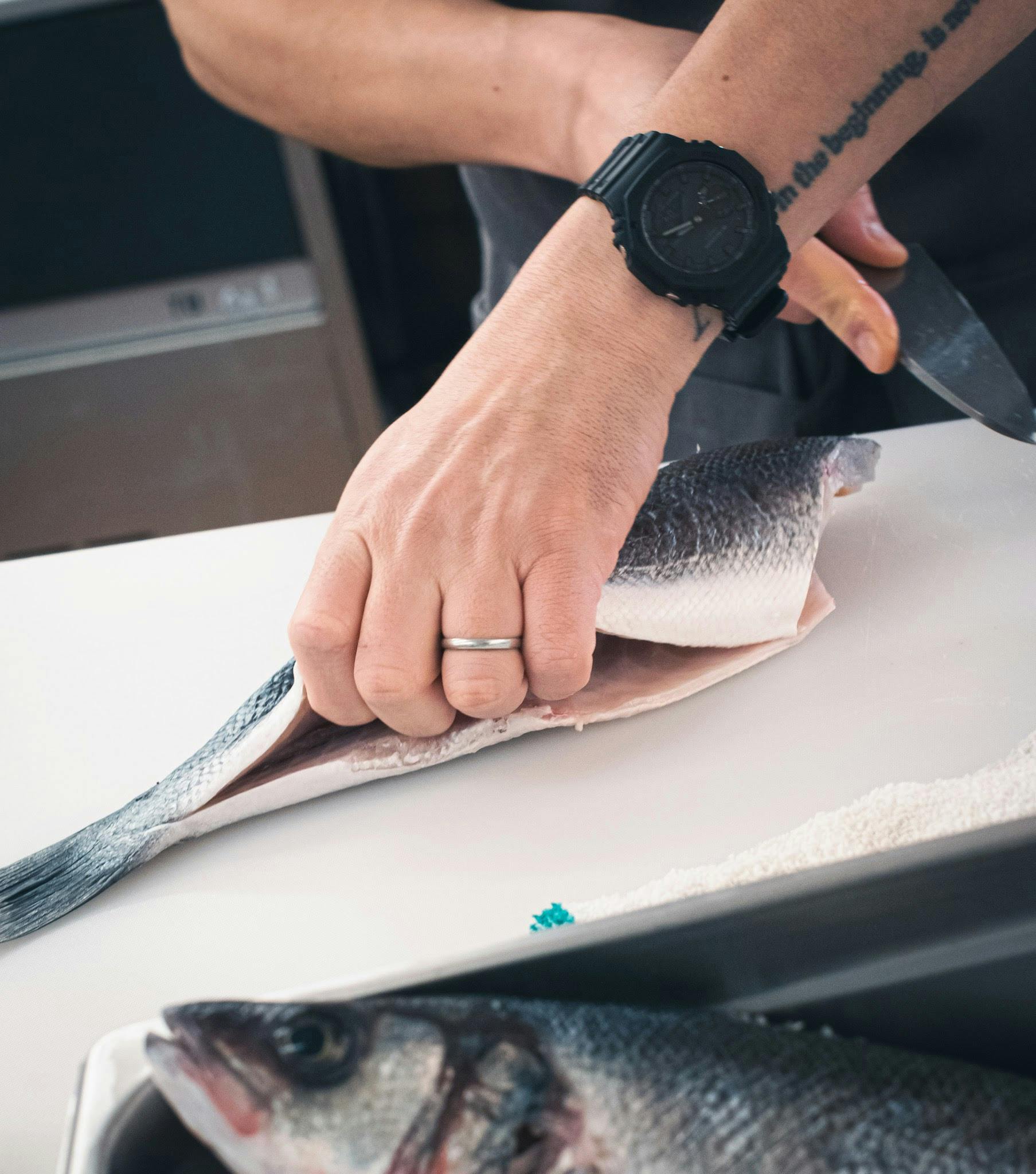 The process of dry-aging fish has been used by Japanese chefs long before it became a modern, flavour-enhancing technique.
Before flash freezing technologies were invented, fish in Japan were killed with a technique known as ikejime (活け締め). This was a two-step process where the fish would be humanely and swiftly killed with a spike to its hindbrain, followed by a long, thin needle threaded through its spinal column to prevent additional production of lactic acid, which would make the sashimi sour.
The fish is then marinated in salt, vinegar or wrapped in kombu to preserve its quality.
The chefs at Oroshi use the same technique to enrich the flavour of their fish, after which it's hung in a glass fridge by their takeout counter and aged for days.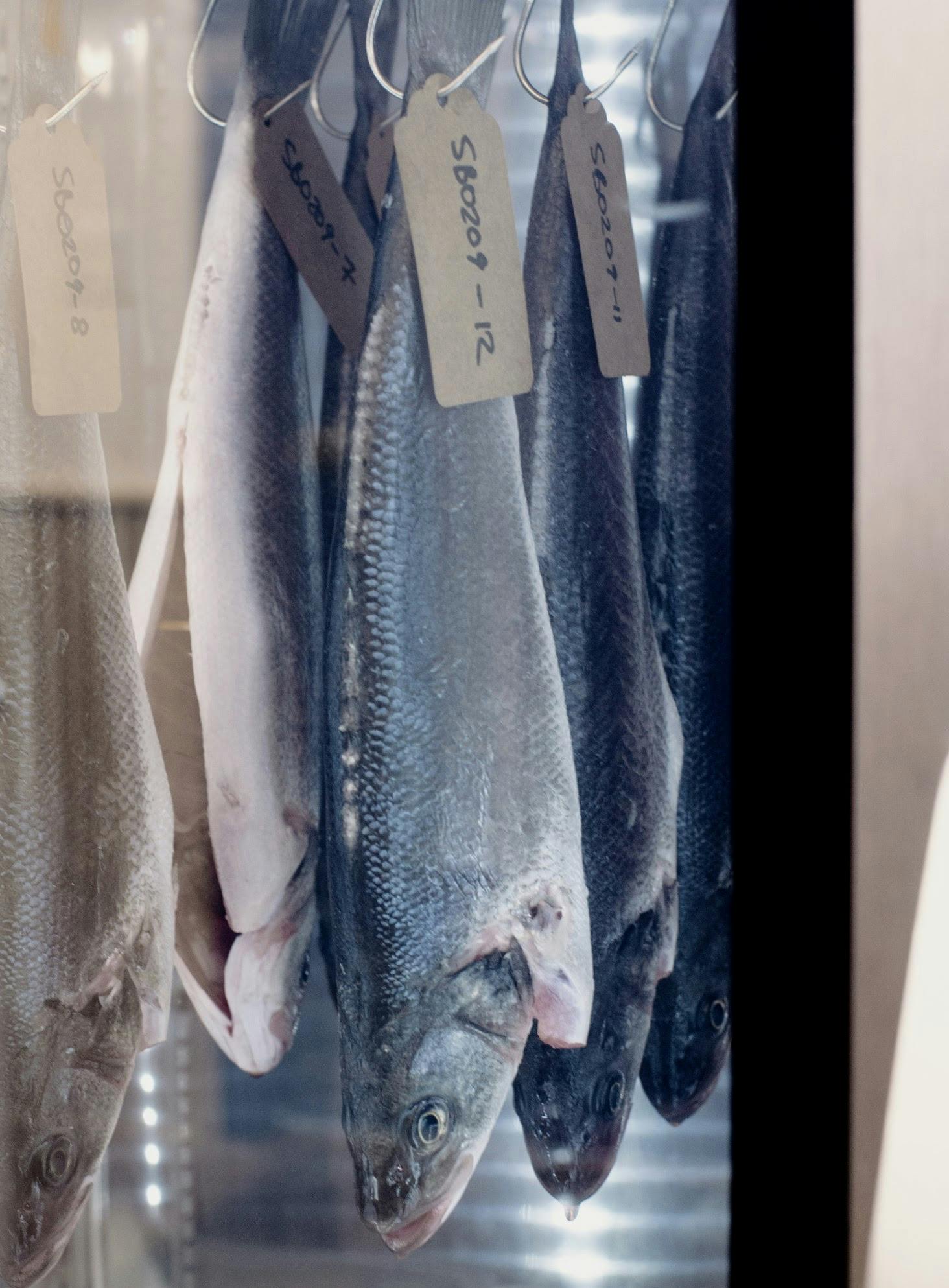 Contrary to what you'd expect from leaving a whole fish hanging by its tail, dry-aged fish doesn't get fishy at all. By removing moisture from the fish, you also get rid of its smellier blood and slime, leaving nothing but firmer texture.
Fish prepared this way also get far richer in taste—during the process, tissues and fibres break down into natural sugars and glutamates, which is the main component behind umami flavours.
For their sushi, Oroshi Fish collaborates with some of the top seafood suppliers in the city, including True World Foods, 46 South Fish Co., Newport Fish and Daily Seafood.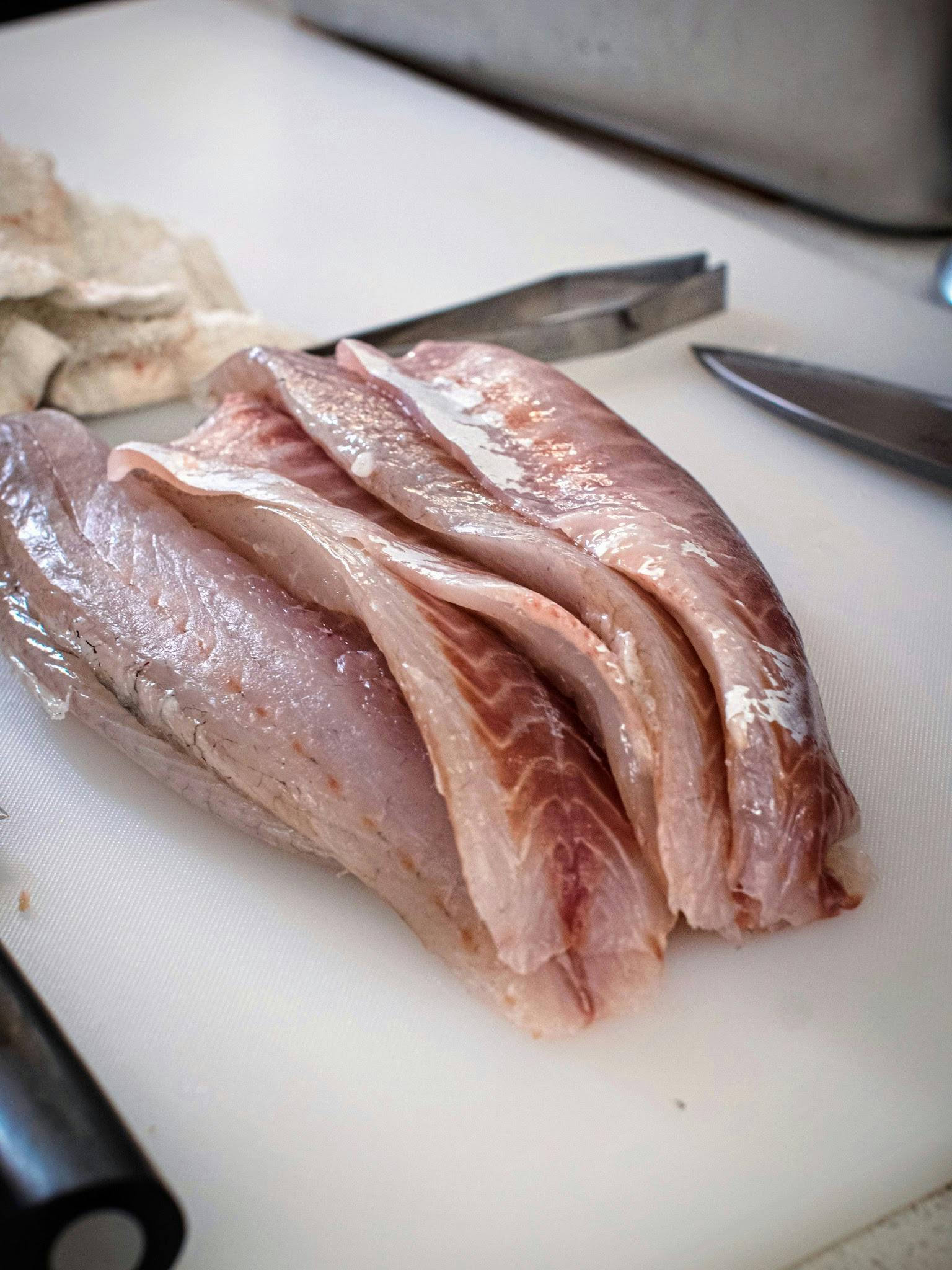 "We've formed very close relationships with these suppliers over the past few years of running our business in the city," says Bang. "We will be gradually offering all types of fish and seafood in our grab-and-go fridge."
In addition to aged yellowtail amberjack, striped bass, and different cuts of bluefin tuna, you can also find steelhead salmon, mackerel, sea urchin, tiger prawn and Hokkaido scallop on their menu.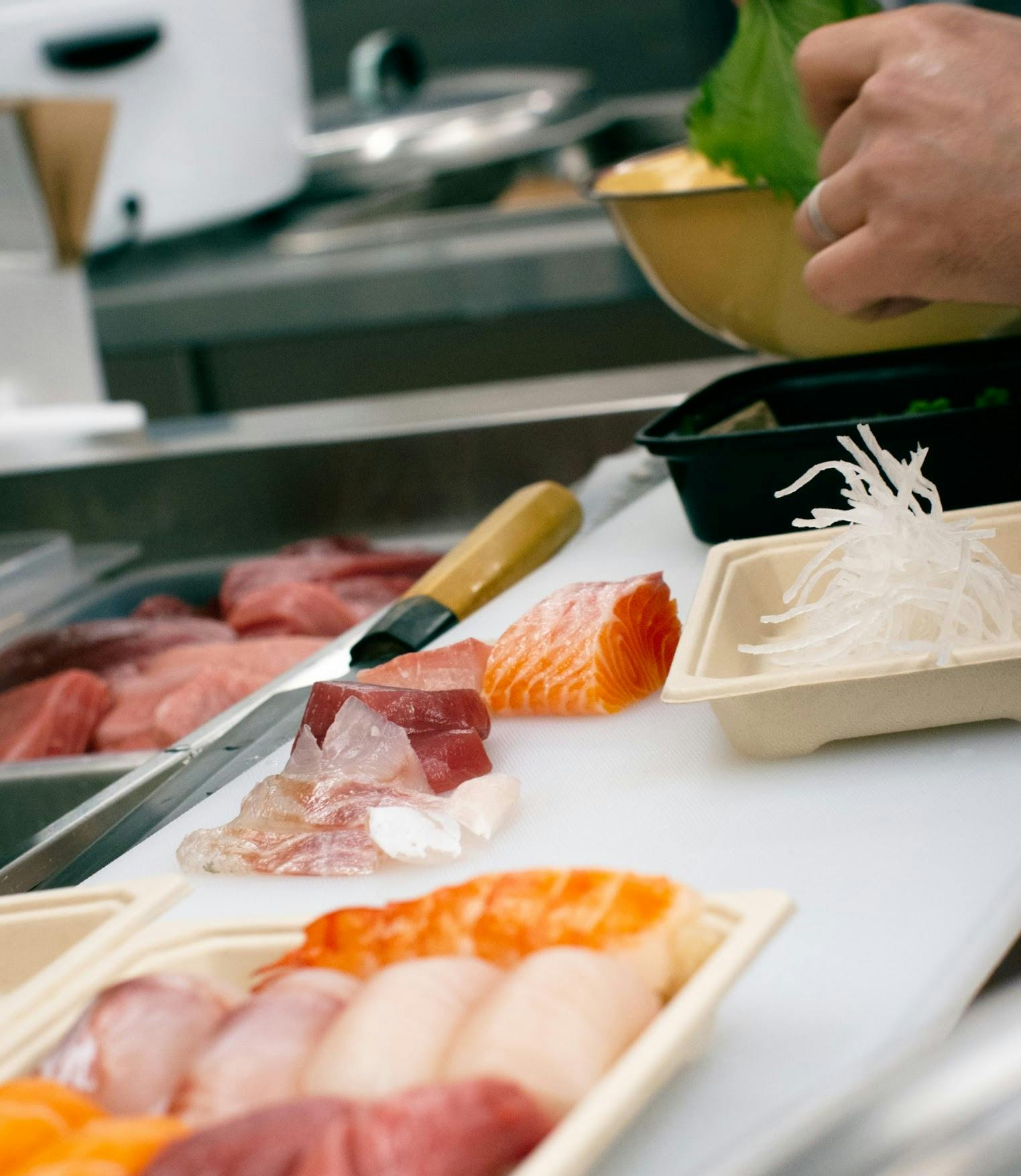 As an ongoing exploration of fish and dry-aging, you can expect to find more and more options from this friendly, local sushi shop, but never at the expense of quality for quantity.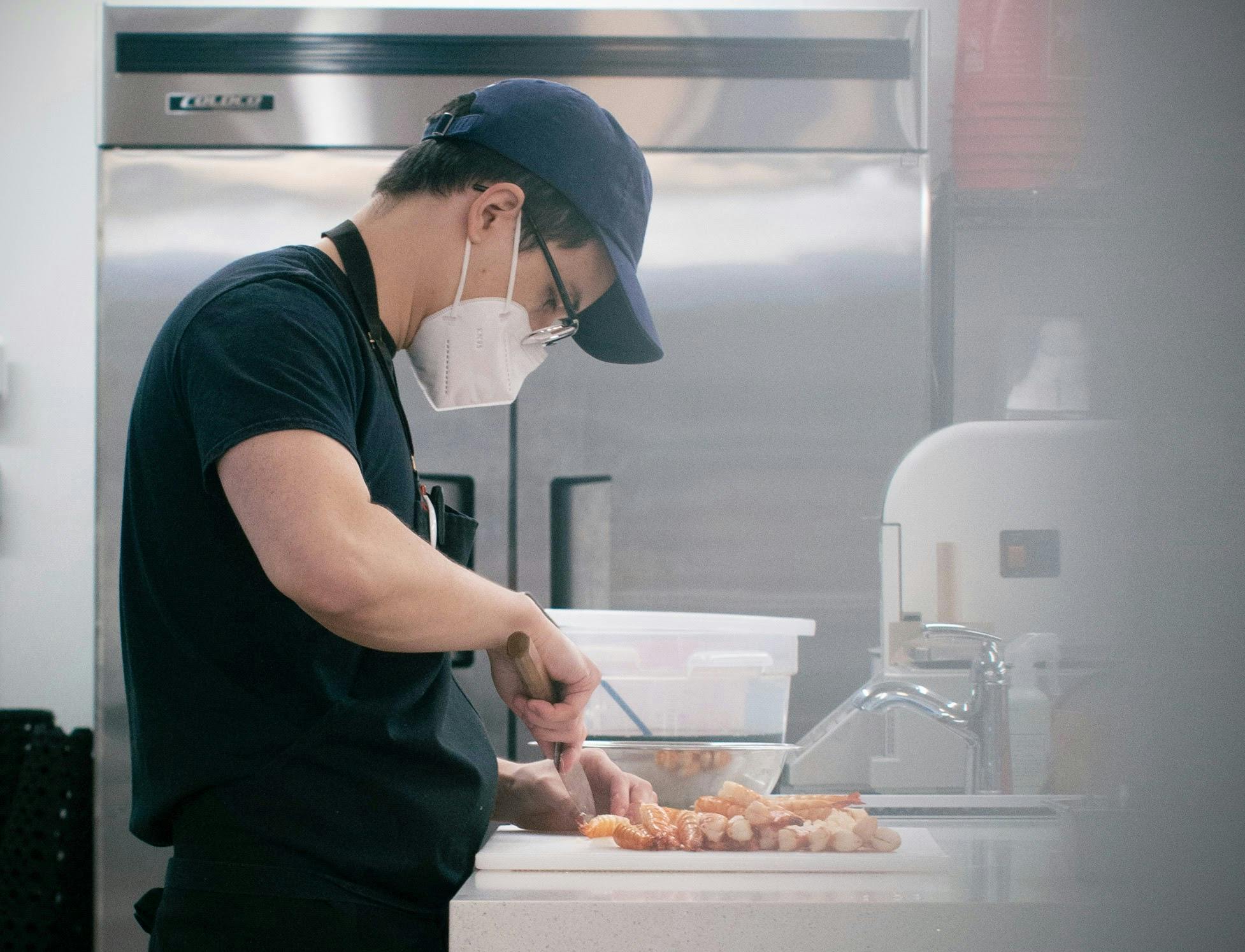 "Our plan is to have Oroshi as our commissary kitchen for both Omai and Oroshi, while experimenting dry-aging fish, selling blocks of fish and making sushi for the neighbourhood," says Bang. "The menu will only be extended to our ability to maintain the quality."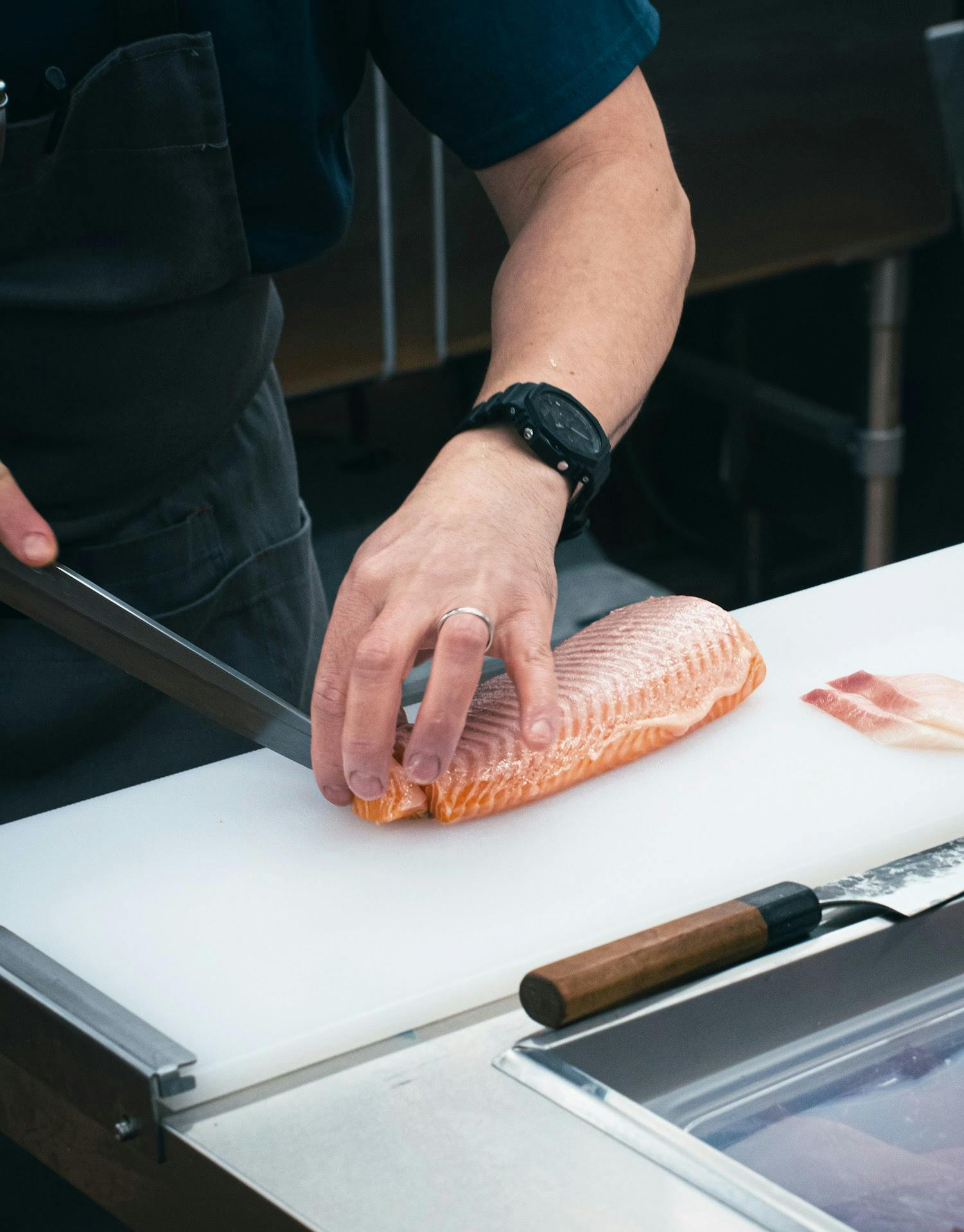 Oroshi Fish also carries house-made pantry items, including a "sweeter than your average" sushi soy sauce, sushi vinegar, lime ponzu, a Korean-inspired Chojang dipping sauce, Hong Kong-style chili oil, vegan XO sauce, dry seasoning and just about everything else you might need with your takeout.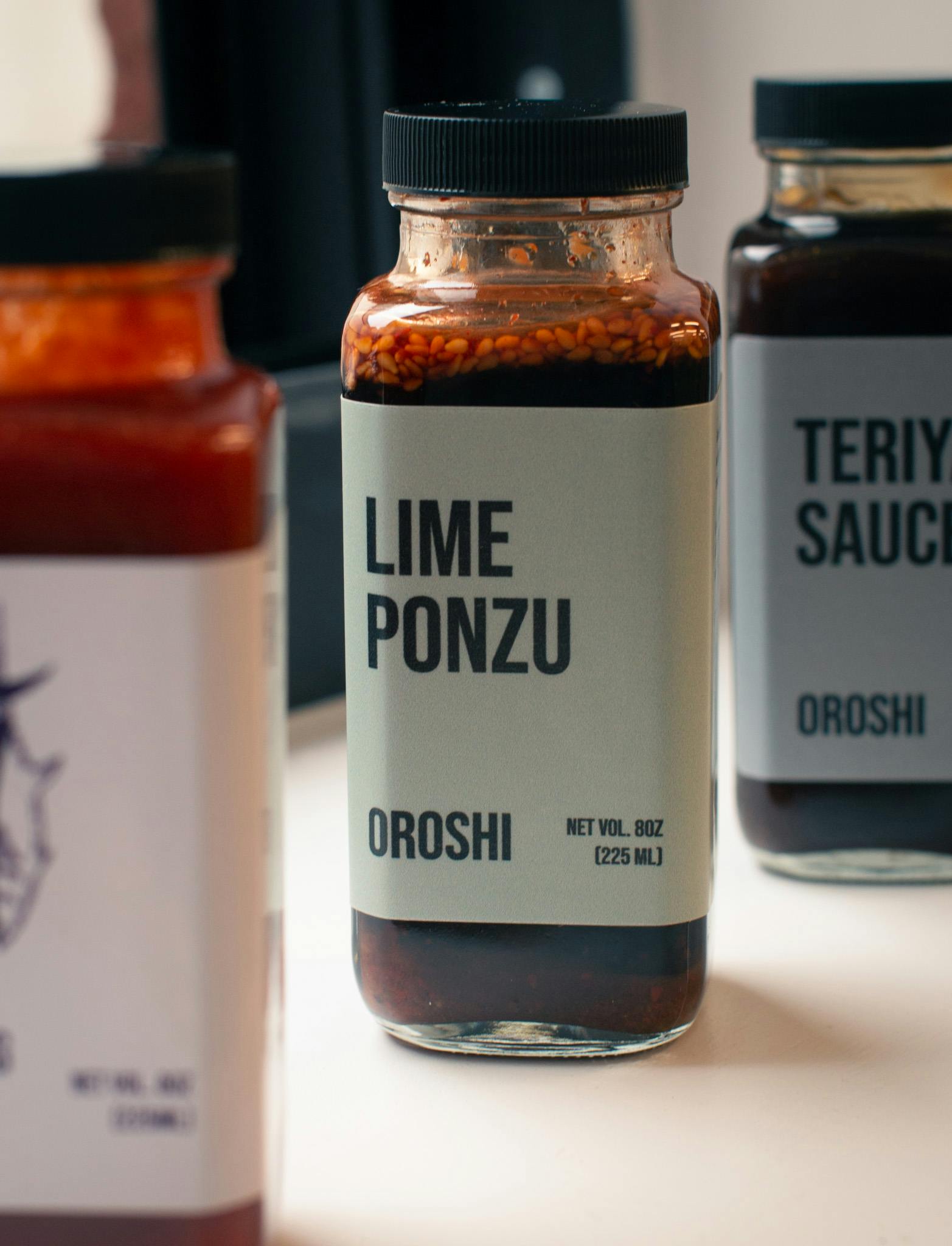 Having and wanting nothing more to offer than flavourful seafood from good sources, the concept behind Oroshi Fish is likewise a tribute to origins.
"Just like how Omai means 'mom' in a Korean dialect, Oroshi not only has meanings in Japanese but also means 'completely' in Korean," says Bang. "I wanted the names to have special meanings in Korean to carry my roots."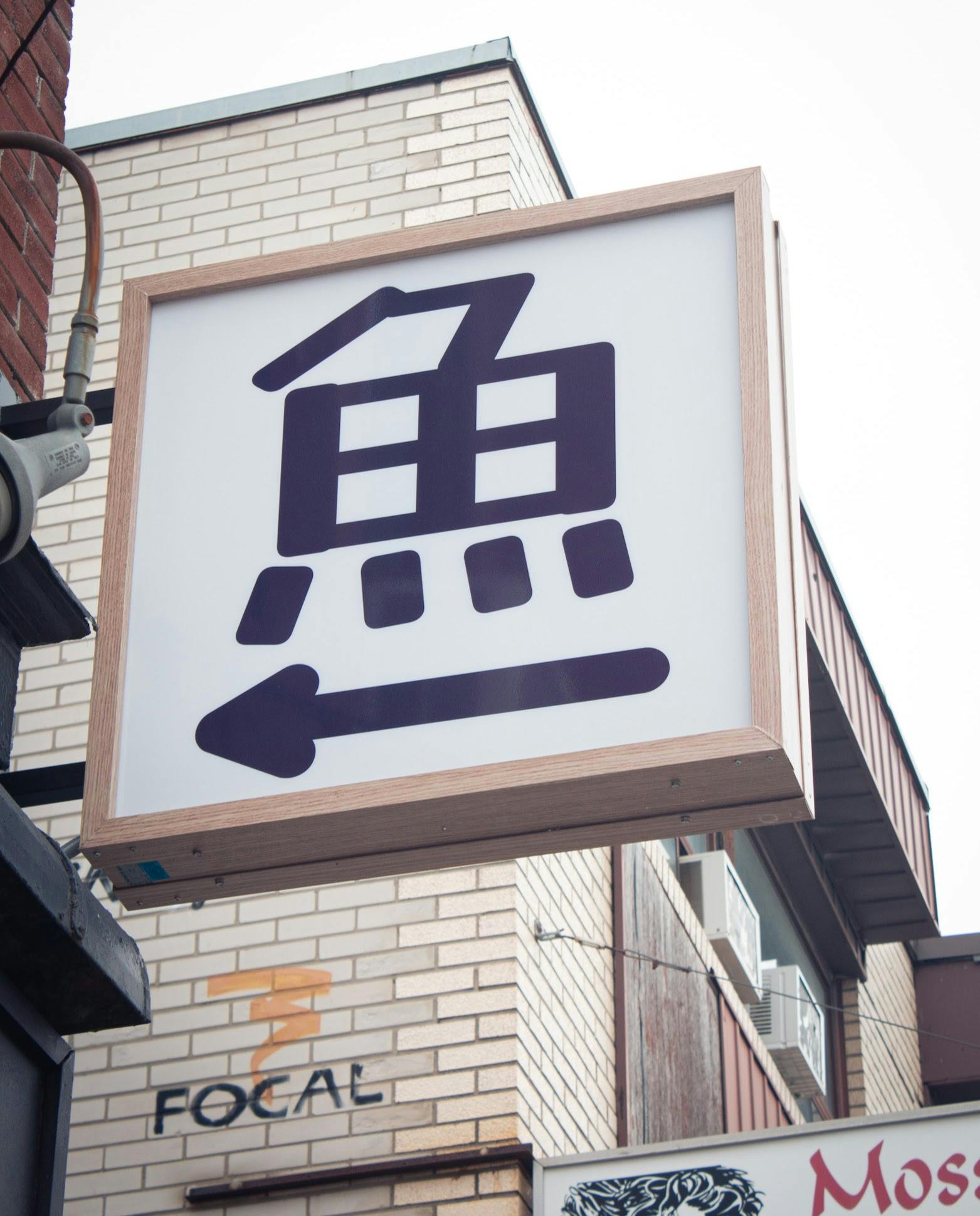 Through and through, Oroshi is a remarkably simple sushi shop that doesn't try to be anything more. With a bare-faced logo (Japanese for "fish") and a wide-open kitchen, nothing here is a secret, but it's the best sushi you'll find in Toronto.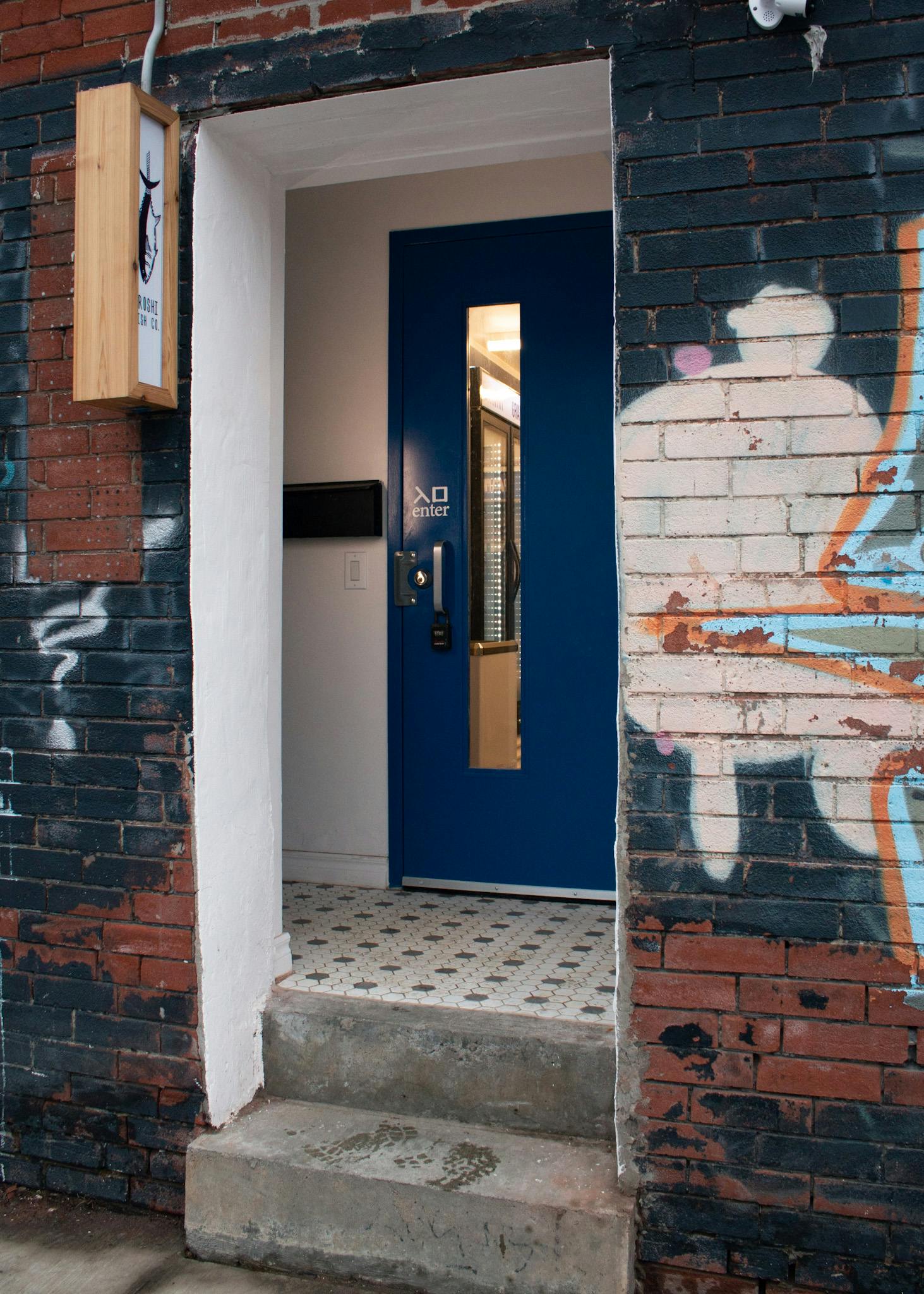 Oroshi Fish Co. is located on 962 College St., with an alleyway entrance marked by a blue door on Bill Cameron Lane. They're open for takeout and delivery from Wednesdays to Sundays, 4 p.m. to 8 p.m. You can place your order on their website or find them on Uber Eats.