Of the many restaurant pivots and changes we've seen this year, turning produce into pickles, preserves and sauces, then utilizing them to create unique and mouthwatering food concepts, might be one of the most creative ones we've seen yet.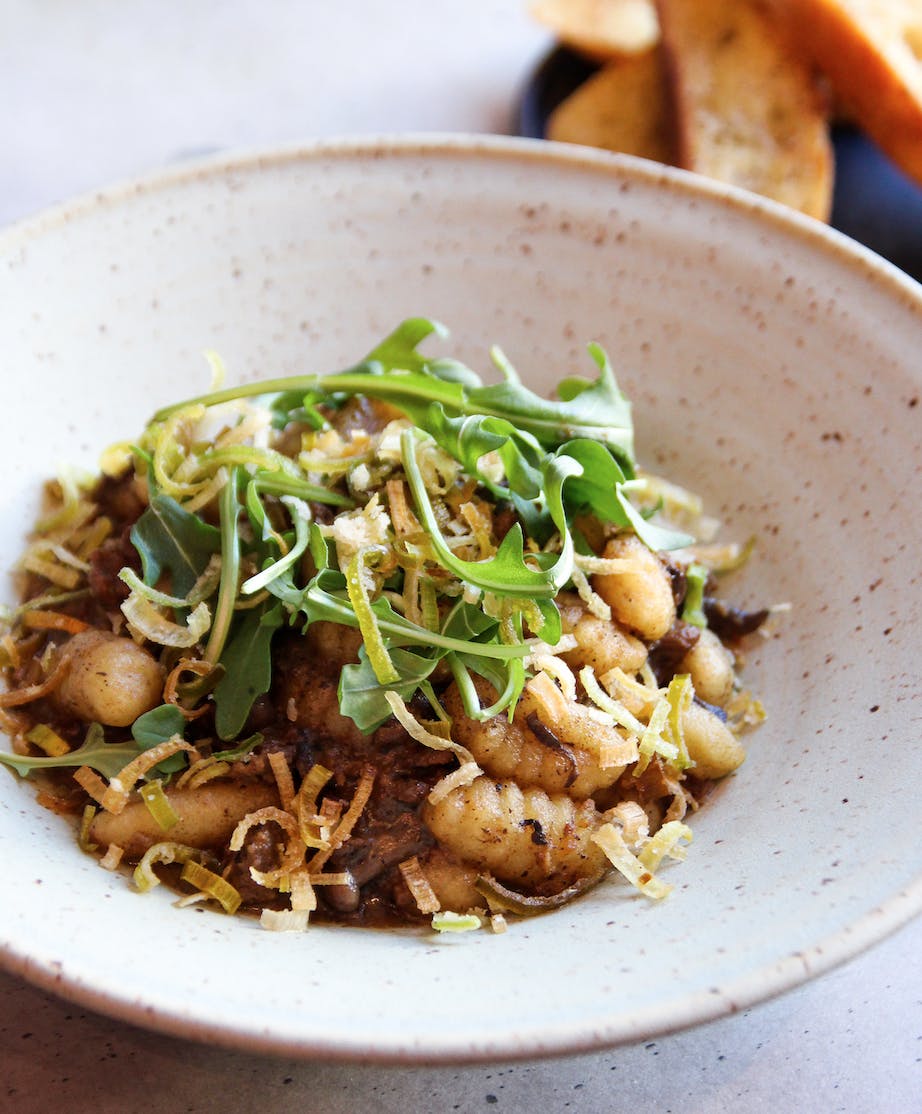 Beverly Pasta Co. mushroom gnocchi.
Wes Barber, Jef Edwards and Chris Nguyen are the founders of Ration Food Lab, a sort of "incubator" that develops food concepts, sells retail products and builds virtual restaurants out of their space inside The Beverley Hotel. It may seem like a foreign concept in this day and age, but the idea for Ration was born simply out of the desire to stretch food materials and preserve produce that was leftover from pandemic restaurant lockdowns. When fine dining came to a halt last year, Jef decided to take some time to experiment with his passion for fermenting and pickling various fruits, vegetables and other Canadian products.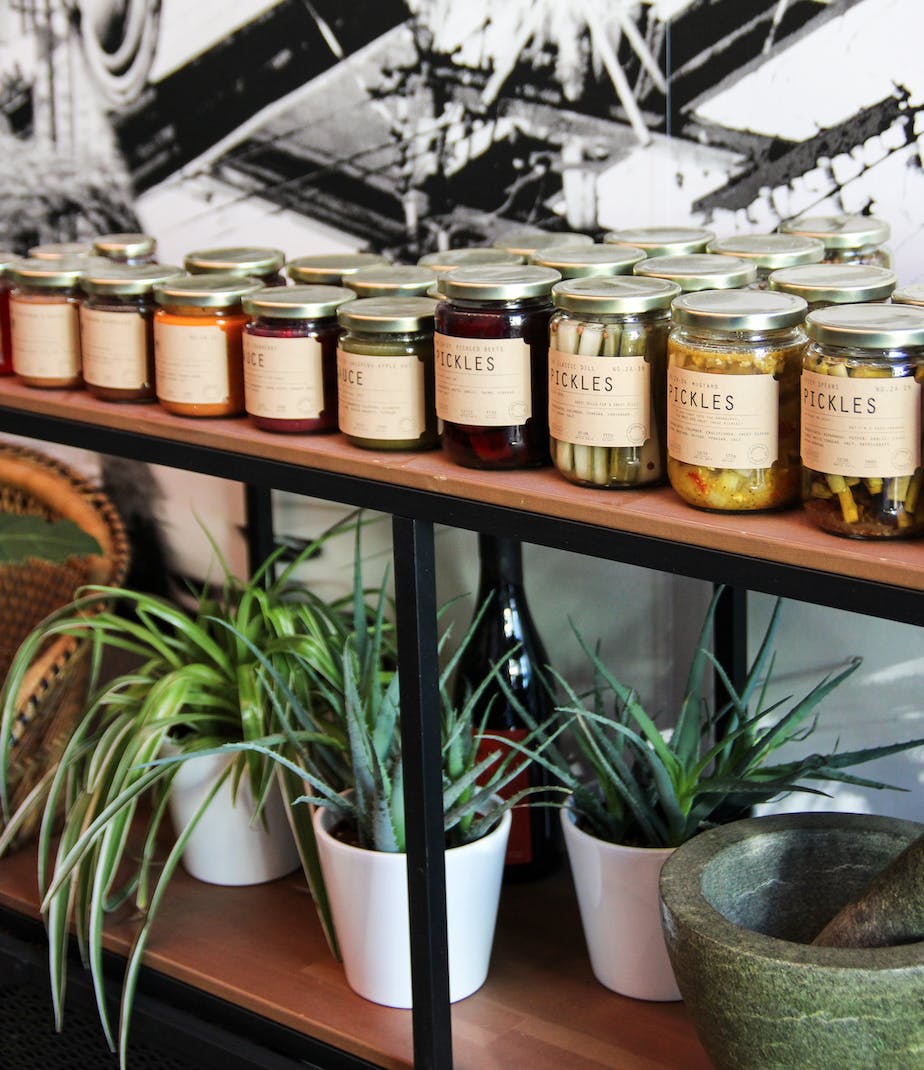 Ration Food Lab retail items.
They felt that foraging and preservation techniques, which have been around for quite some time, had a lot of potential and were not being incorporated into the forefront of cuisine here in Toronto, and they wanted to change that. Shortly after embarking on these experiments, they secured their first outlet at Mother Cocktail Bar, where fermentations were being incorporated into cocktails and they were offering a pantry box filled with fresh produce, jams, pickled ramps and asparagus spears, marmalade and other seasonal goodies that Ration was crafting.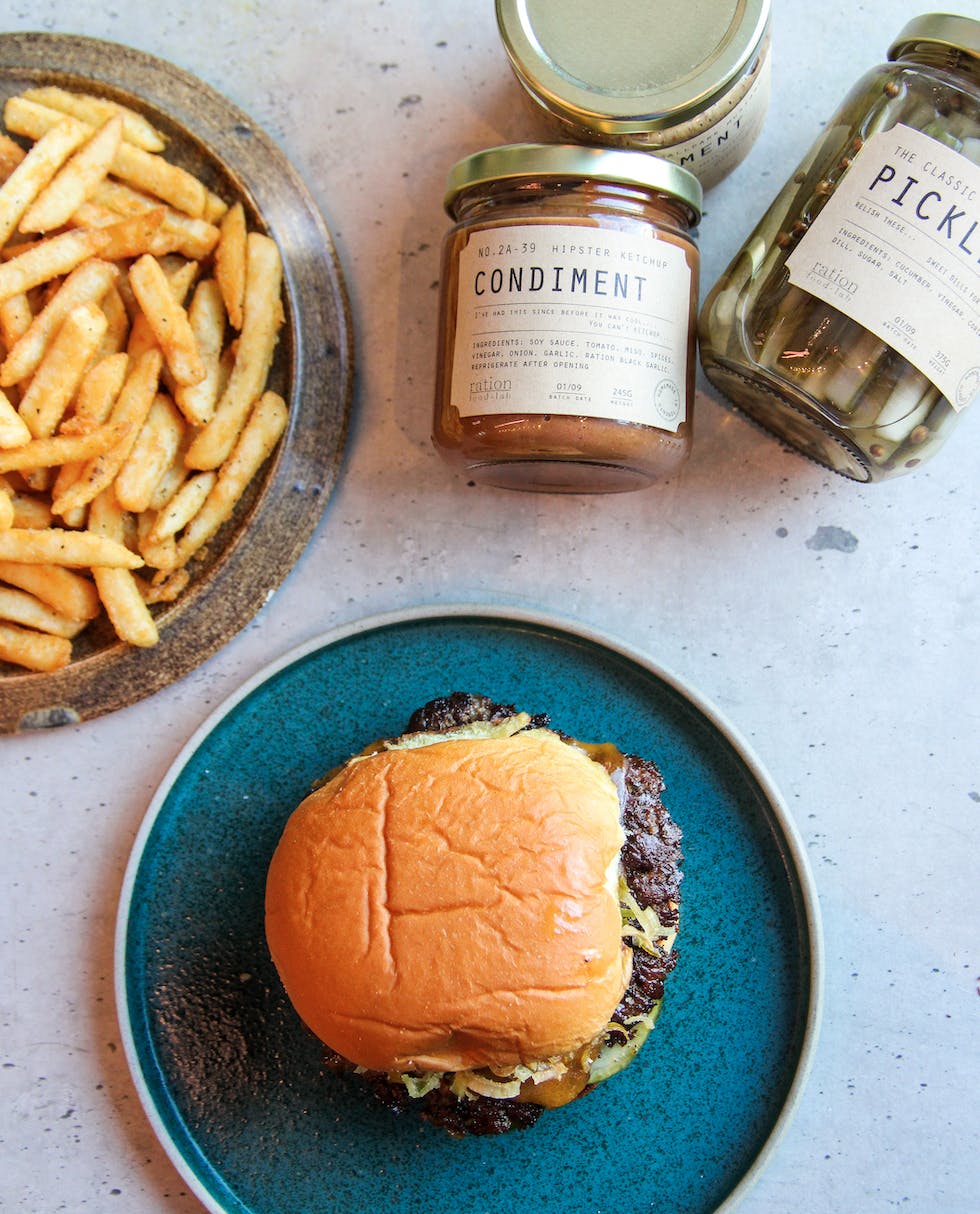 The Basic Ration, fries and homemade condiments.
Once this initial concept gained some traction, they scored a serendipitous partnership with The Beverley Hotel on Queen West, who were also attempting to amend their offerings and find a way to ride out the shutdown. After months of planning and prepping, their physical location was finally born, allowing the team to play around with more opportunities, including the latest addition that has already proven to be quite a success: Ration Snacks.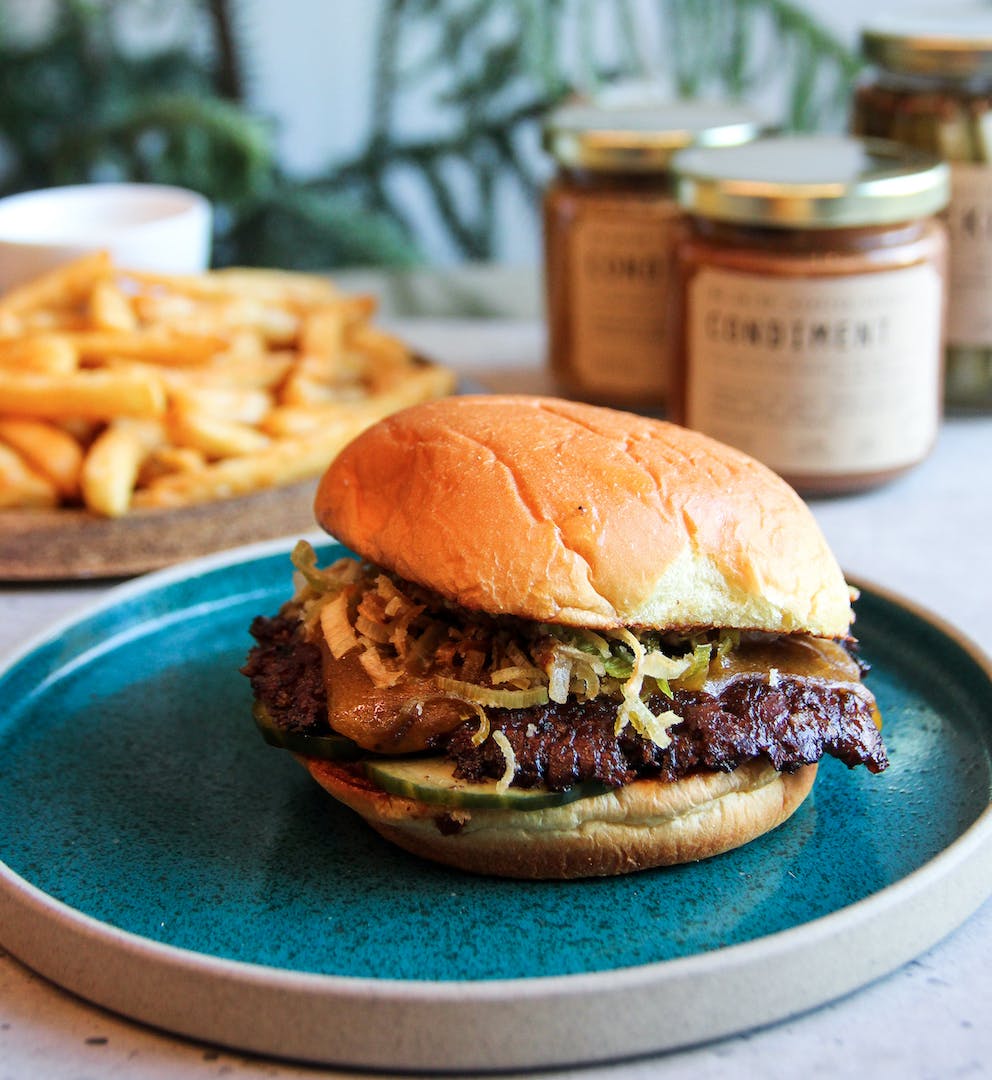 The Basic Ration burger.
Ration Snacks is the Food Lab's series of takeout concepts that showcase local chefs' work while incorporating a few of Ration's products to take the dishes to the next level. Case in point: the Ration burger, their elevated take on a smash burger that has flown to the top of the Uber Eats chart in Toronto. The burger features a smashed patty with those coveted craggy edges that gets topped with Ration's black garlic-infused hipster ketchup and smoked mustard, crispy fried onions and aged cheddar, all piled atop a sesame-crusted bun. They also do a more basic version, as well as a completely vegan "Bean Machine" burger that features their house-made black bean and garbanzo patty.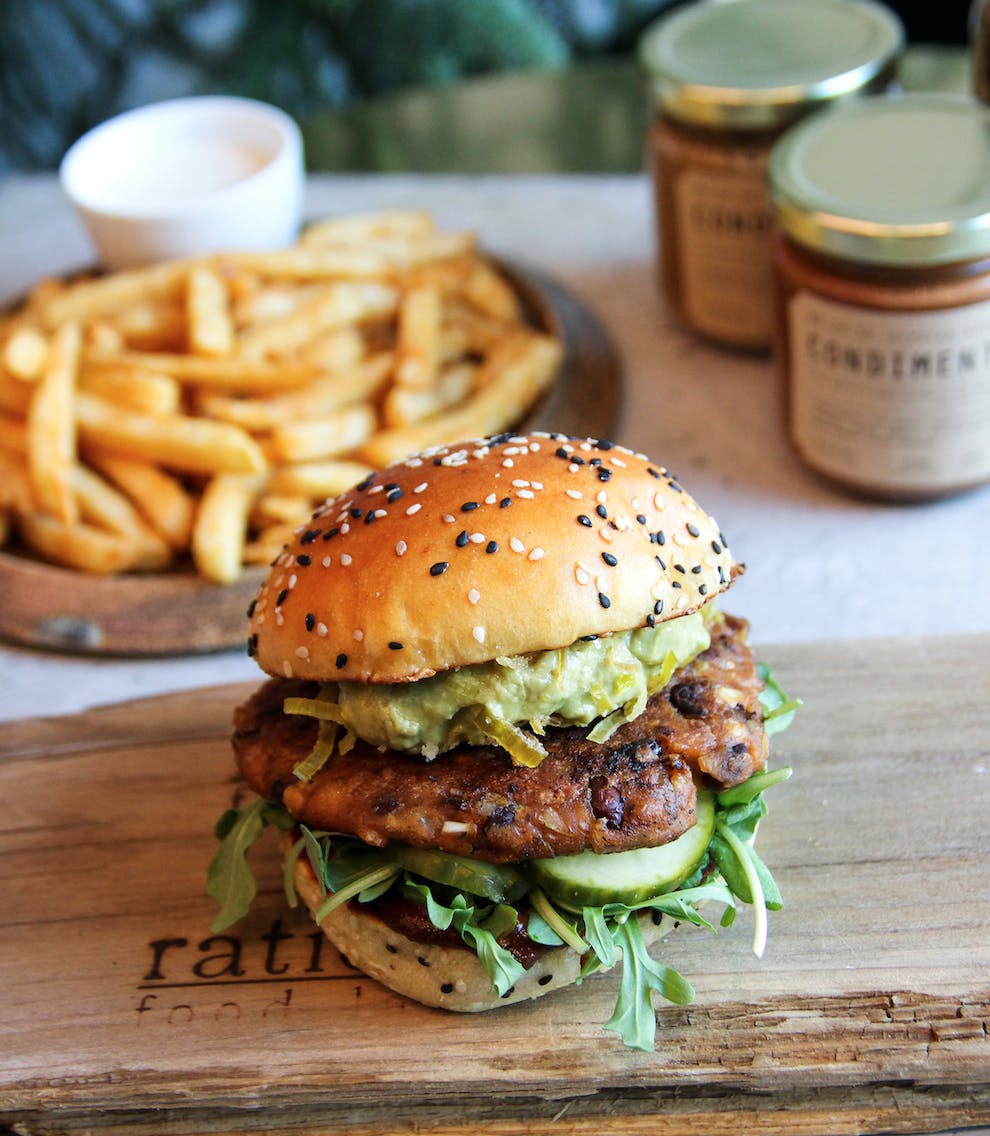 The Bean Machine burger.
Ration Snacks is also operating two additional concepts for pickup or delivery, Chick Magnet (a collab with Arya Hemadani) and Beverley Pasta Co. (a collab with Raul D'Souza), out of their Queen West space. As the name suggests, Chick Magnet cooks up their signature fried chicken sandwiches, topped with house-made mac sauce and served on a squishy potato bun. Beverley Pasta Co. is a gnocchi-focused concept that offers the potato dumplings with spicy homemade 'nduja and Ration Mushroom Marinara, vegan truffle cream sauce, "Supreme"-style with nacho-inspired toppings or "Curry" style with native Canadian spices and herbs like fenugreek, coriander, horseradish, mustard and caraway. They also offer customization of pasta dishes for those who want a little more freedom to create their own meal.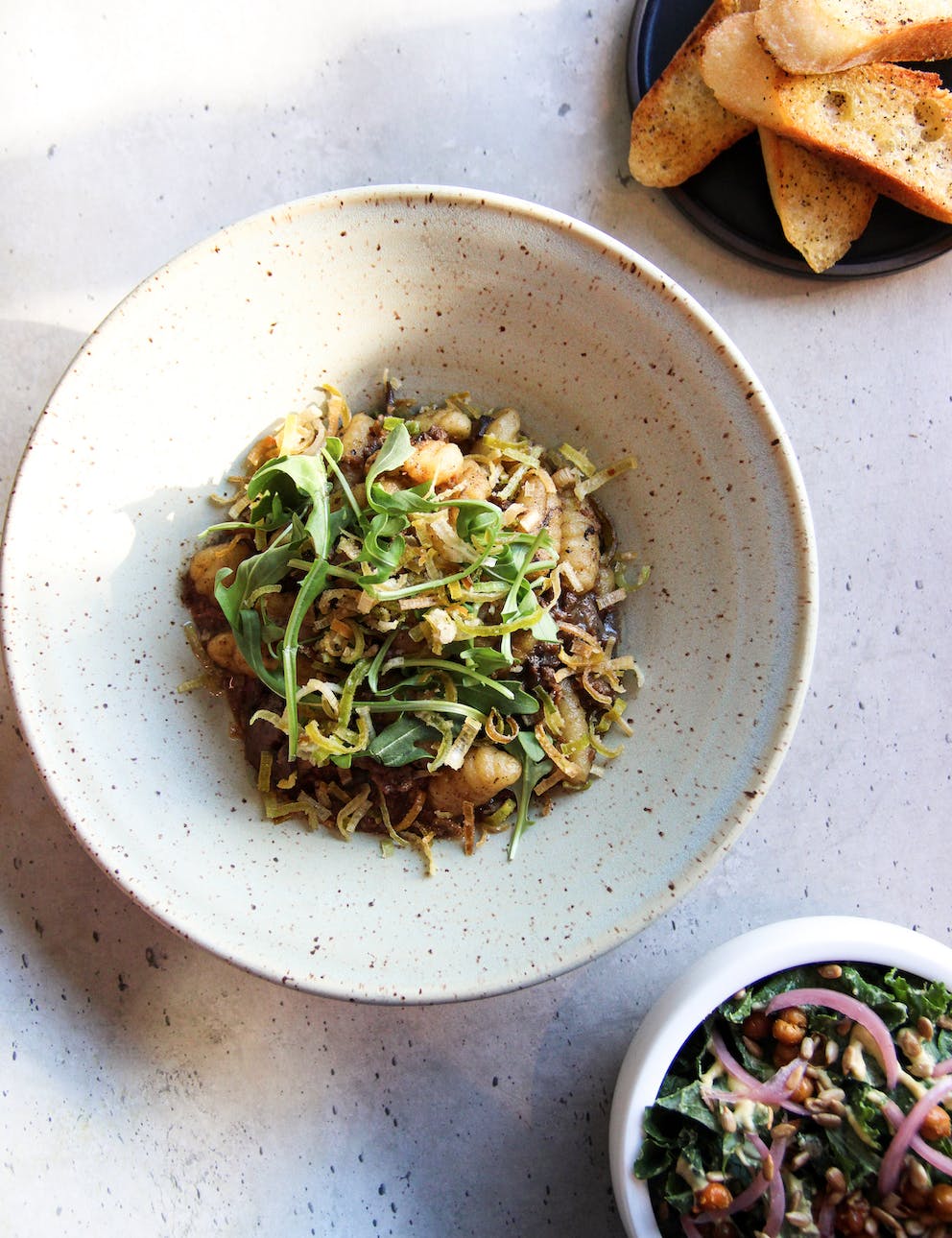 Mushroom gnocchi, garlic bread and kale caesar.
Their goal with the food concepts has been to elevate the dishes slightly by incorporating interesting or unexpected elements while still making the food approachable and casual. Wes explains, "Whether or not people notice, [these elements are] the secret sauce that make everything unique." Ration Snacks is moving the team closer to what they eventually want to do with a more permanent fine dining space but for now, they are enjoying the process of testing concepts, figuring out what resonates with people and exploring opportunities freely.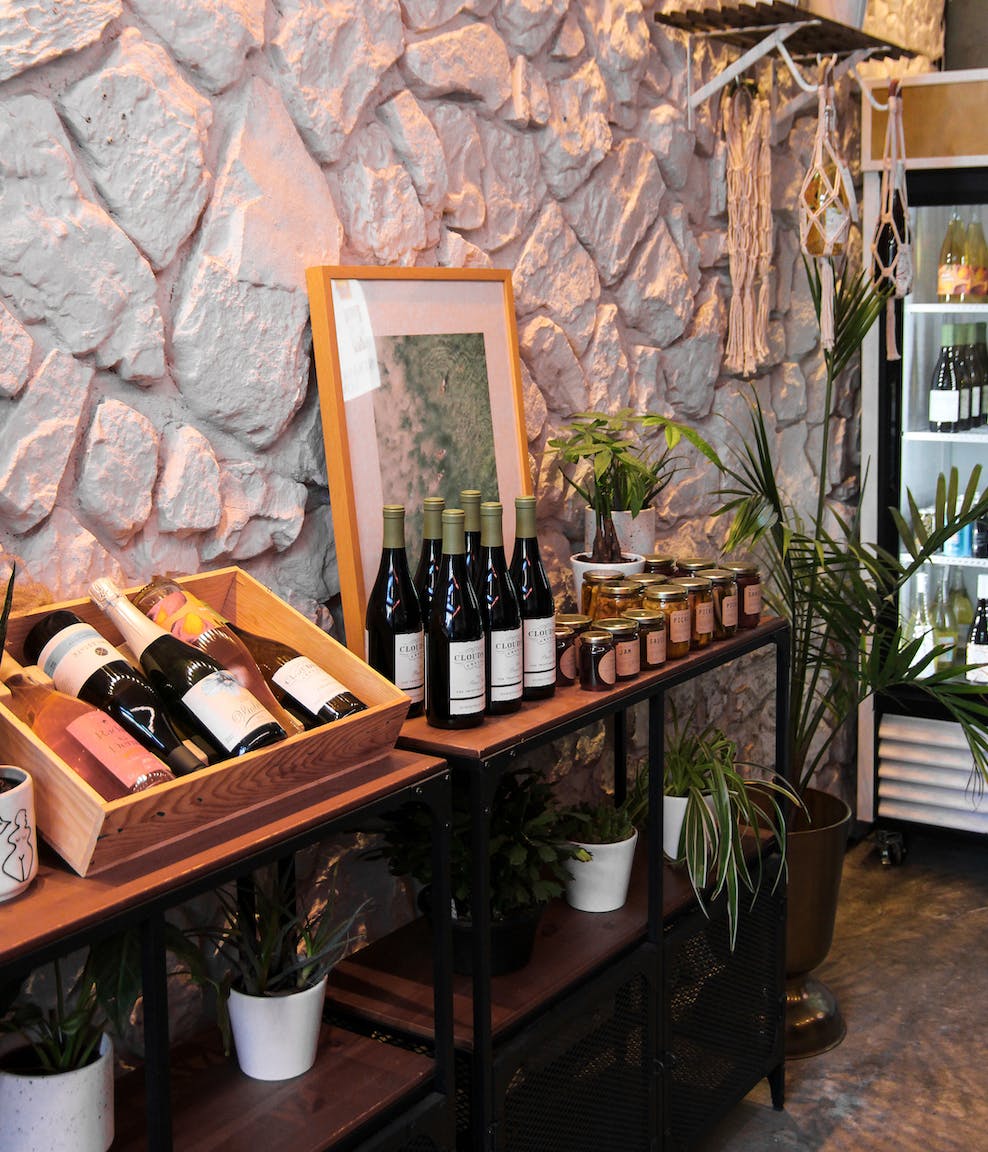 The bottle shop.
Currently, Ration is open 9 a.m. - 9 p.m. Sunday to Wednesday and 9 a.m. - 11 p.m. Thursday to Saturday as a daytime cafe, retail store and bottle shop, and all three of their virtual food concepts are available on Uber Eats, DoorDash and Ritual. Head to their website or stop by their Queen West location to browse their selection of handmade and extremely tasty pantry items and preserves. They have a lot more in the pipeline, so be sure to follow them on Instagram to learn about the latest products, concepts and collaborations that emerge from the lab!