Years before they launched J's Steak Frites, renowned for serving (only) perfectly-cooked steak, all-you-can-eat fries, and a dessert trolley of creative French patisseries, husband-and-wife/co-owners Jad Sfeir and Tara Tang, were thinking about how, where and when to open a restaurant specializing in elevated Levantine cuisine. 
It took a while, but in 2023, all the hows, wheres and whens suddenly came together:
First, they snagged the ideal space – a charismatic old building in Roncesvalles Village, an area bereft of Middle Eastern culinary contenders, and far enough from downtown to feel neighbourhoody, yet close enough to still be on-the-grid. 
Then they roped in ideal collaborators – creative Lebanese chef Mohamad Hazbawi and general manager Celeste Xayanasy (a J's veteran).
After deciding on an opening date – mid-July – everything was set to go.
The only thing Sfeir and Tang needed was a name.
With only three weeks to go before opening, they still hadn't found one.
Like all good Lebanese sons in Canada, Sfeir calls his mom every day. One day, during the restaurant's pre-launch frenzy, he telephoned his mother and offered his usual greeting: "Good morning Miss Aida, how are you?"
"Why are you calling me 'Miss' Aida?" she protested. "I'm not that young any more." 
After he hung up, something clicked in Sfeir's brain. He realized his restaurant finally had a name.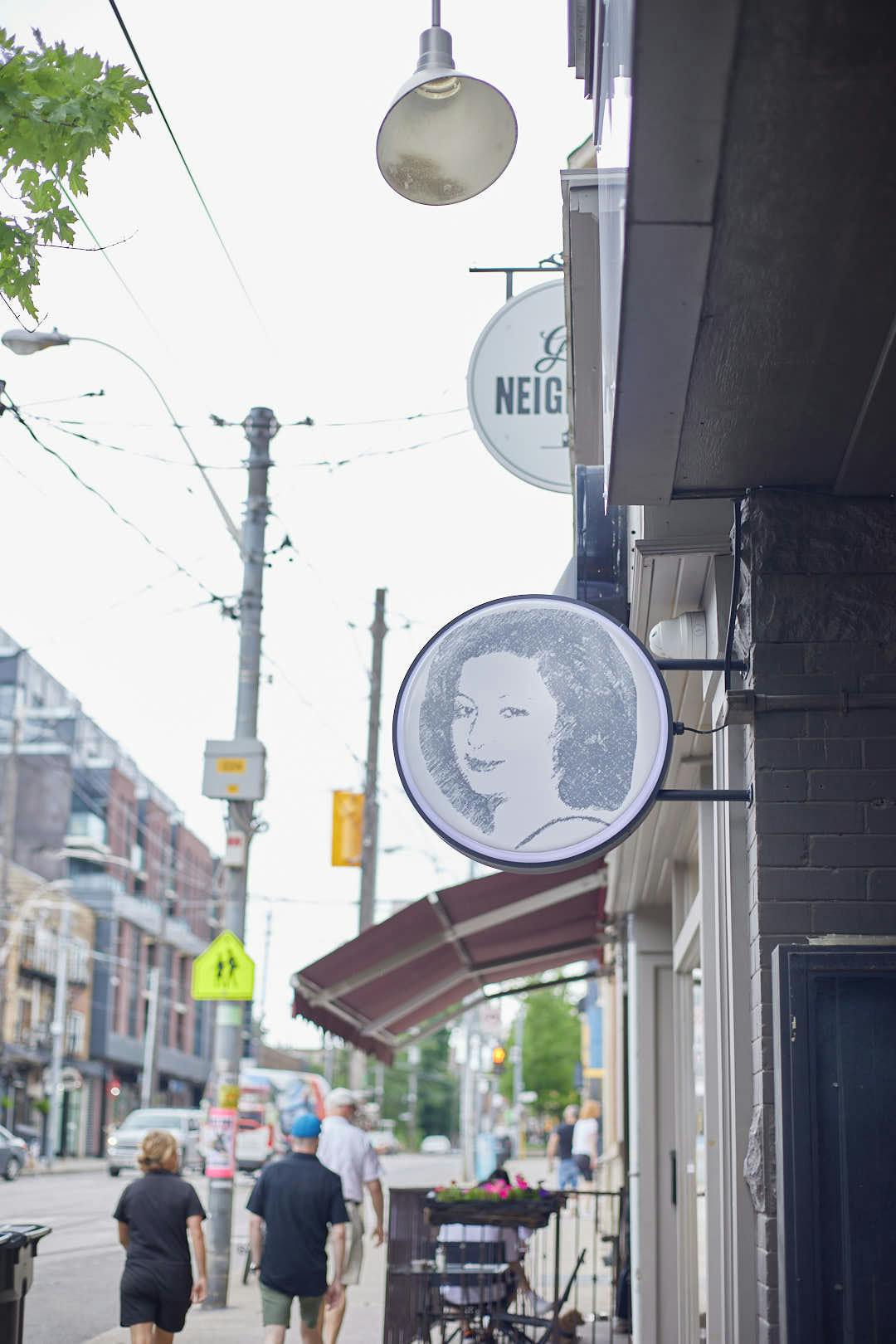 "Miss Aida" is more than a filial homage to a beloved matriarch who, like most Lebanese mothers, knows her way around the kitchen. The name also perfectly synthesizes Sfeir's vision for the restaurant. 
"I realized that by calling my mum 'Miss Aida,' we could bring her back to her younger age and this is exactly what I was trying to do with this space, with the food, with the idea for this restaurant," he explains. "It came to my mind that we could bring something authentic, but in a new way."
"Authenticity" is a loaded word, especially in Toronto's outrageously diverse food universe where diners – newcomers and multi-generational Canadians – have different ideas and expectations as to what constitutes a "real" national or regional cuisine. There are countless Middle Eastern restaurants where "authenticity" is all about faithfully reproducing dishes served back home. For Sfeir and Tang, however, "authenticity" is a foundational springboard for measured, but original leaps into uncharted culinary territory.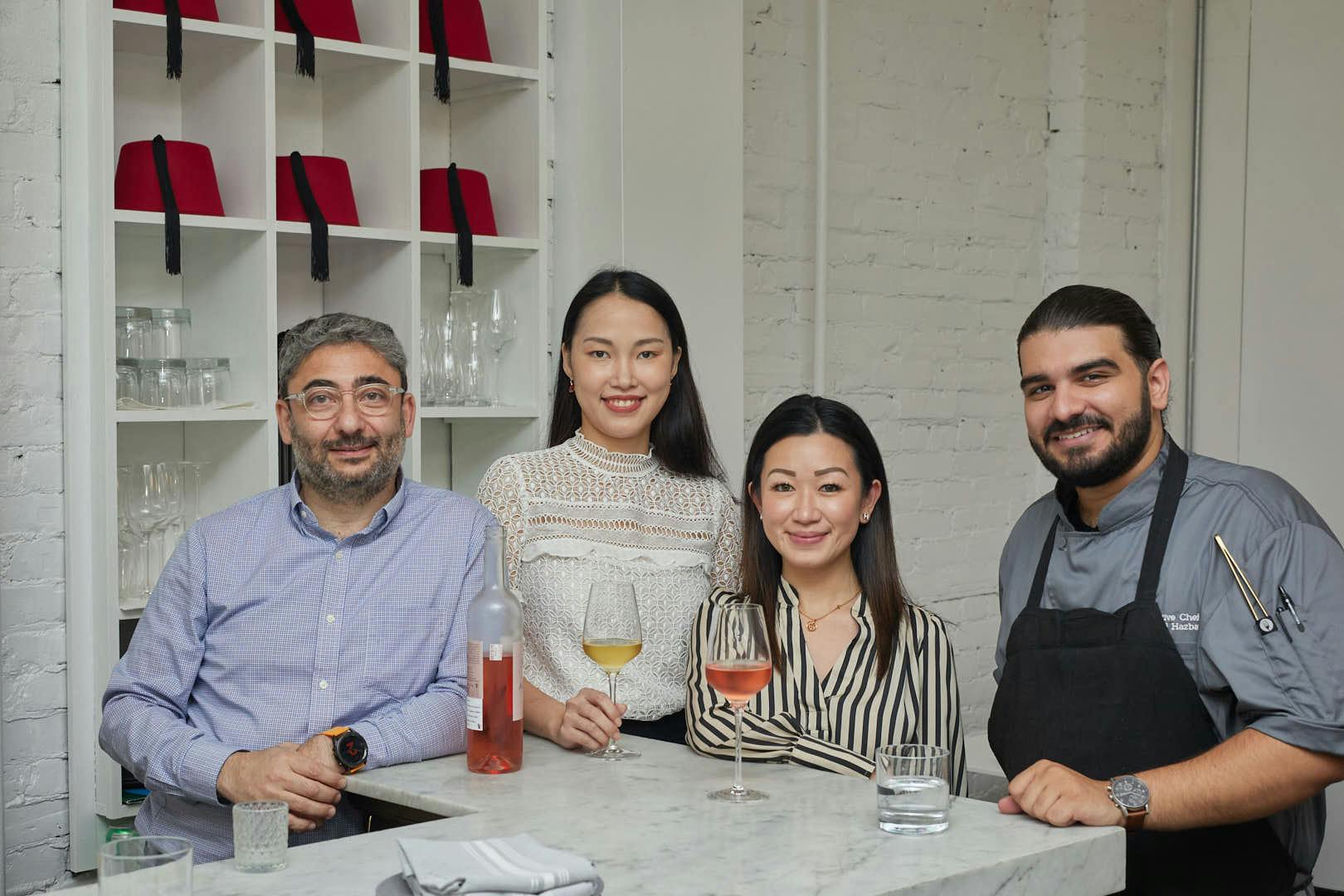 At Miss Aida, dishes start off hewing true to signature flavours of the Levant. You'll encounter lemon and pomegranate, garlic and tahini, generous infusions of herbs and aromatics. But their presence is more dialed down than amped up. The subtlety of the flavours is engineered to appeal more to the temperate palates of Torontonians, eager to embark upon new gastronomic adventures, than to nostalgic Beirutis seeking to satiate cravings for their mothers' home cooking.
As Sfeir notes, in Lebanon, everybody and their mother is a cook. So it's not surprising that the culinary imprint of both Sfeir and Hazbawi's respective families are guiding forces in Miss Aida's kitchen. What is surprising is the synergy between these forces. Despite their families hailing from different regions, Sfeir was astonished to discover that 99 percent of the recipes they make are surprisingly identical. 
Such synchronicity allows for some daring results, ground zero of which is Miss Aida's halloumi. Popular throughout the Middle East, this wonderfully chewy, almost rubbery, white cheese is traditionally sliced and then pan-fried. During the years he spent working in Lebanese restaurants, Sfeir dreamed of preparing it differently. "But nobody was adventurous to do it the way I wanted until I met chef Mohamad."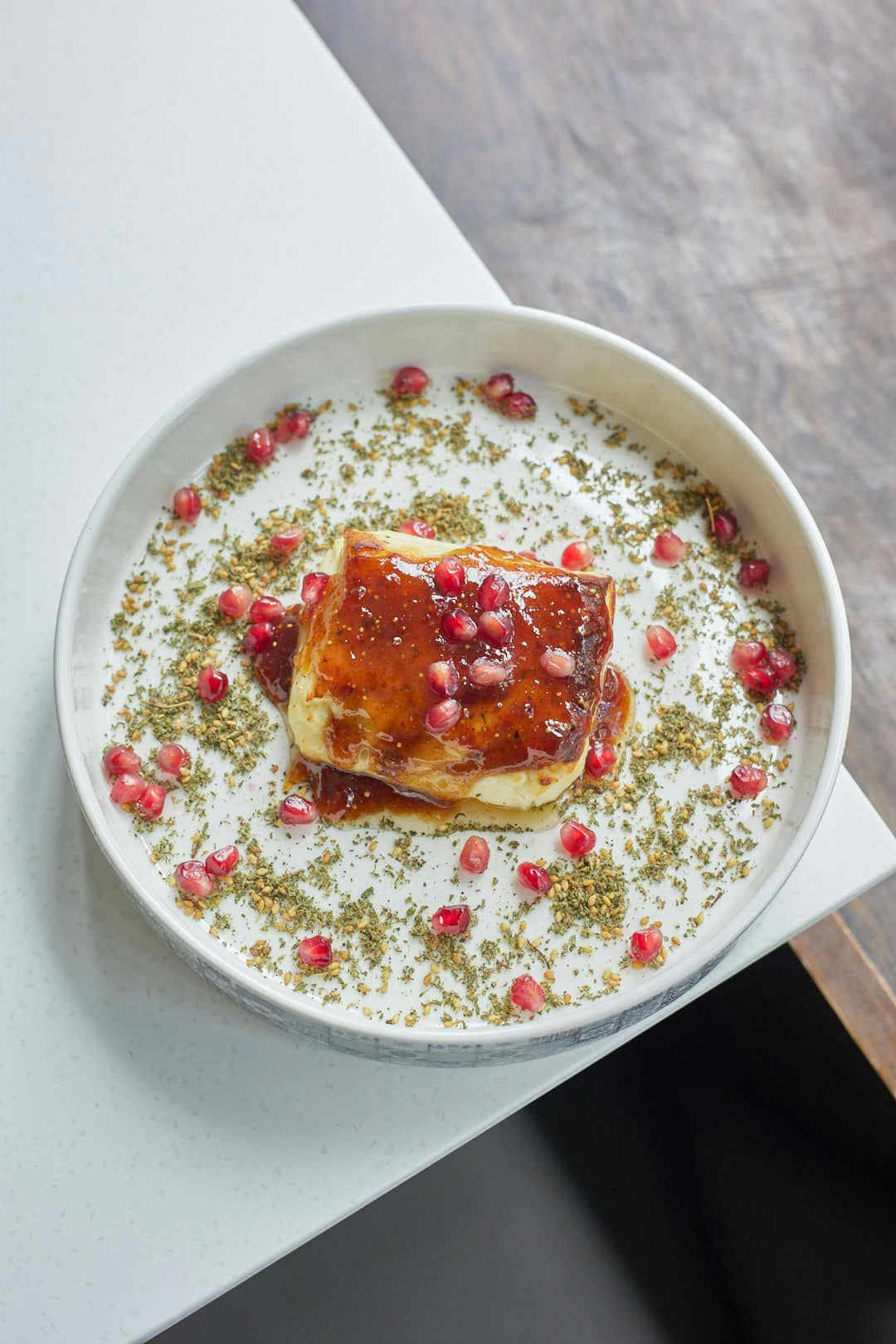 At Miss Aida, instead of sliced, the halloumi – an uncharacteristically thick, almost steak-like slab of it – is baked. To balance out its saltiness, the cheese is bathed in honey and fig jam, then sprinkled with bright pomegranates and zaatar. While the exterior is golden from roasting, the inside is tender, almost meaty. 
Says Sfeir, "I'm very happy to present a full piece of cheese without cutting it. Like a perfect piece of fish or meat – you respect it. And that's radical." 
Equally radical is the way Hazbawi constructs each dish on the frequently changing menu. At Miss Aida, there's no such thing as an appetizer or a main. There's food, served in small-ish, beautifully plated, but still resolutely meant-to-be shareable portions. Most items are bite-sized, meaning you don't have to cut or divvy anything up.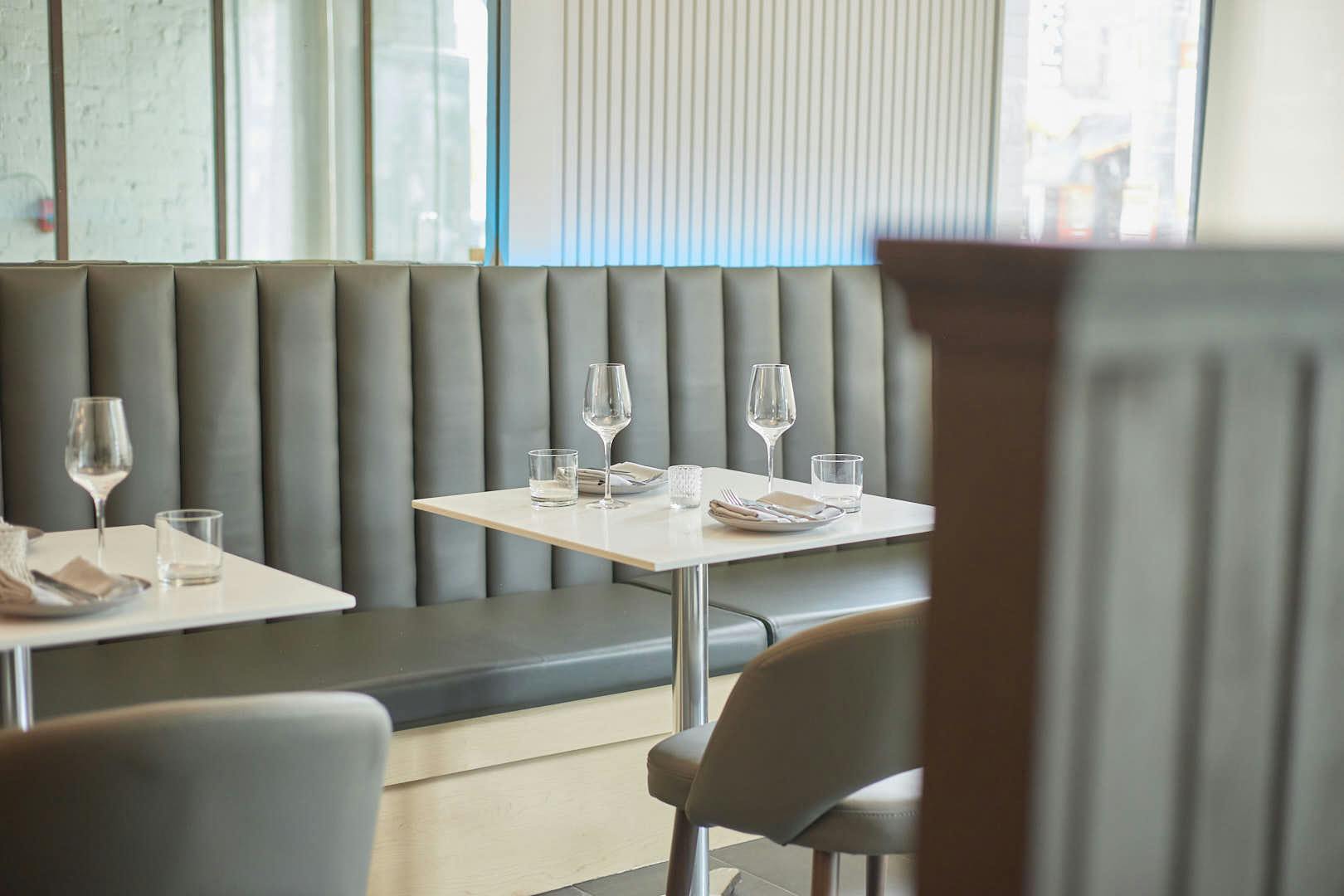 The idea is not just to eat communally, but to eat a little bit of everything on the menu, to enjoy as much as humanly possible in one sitting. In truth, Sfeir was tempted to dispense with menus altogether. Instead, he and his staff greet each table and try to tailor a dining experience based on diners' whims and appetites, moods and hunger levels on any given day. This approach is taken to the max with the Chef's Selection, in which for a fixed price, the staff curates a small and varied banquet of dishes based on a table's curiosities and cravings. 
"Our cuisine is meant to be shared," confesses Hazbawi. "In Lebanon, families cook big quantities of food and you fill up your plate. But here it's an individual plate so it's challenging to come up with an elegant design."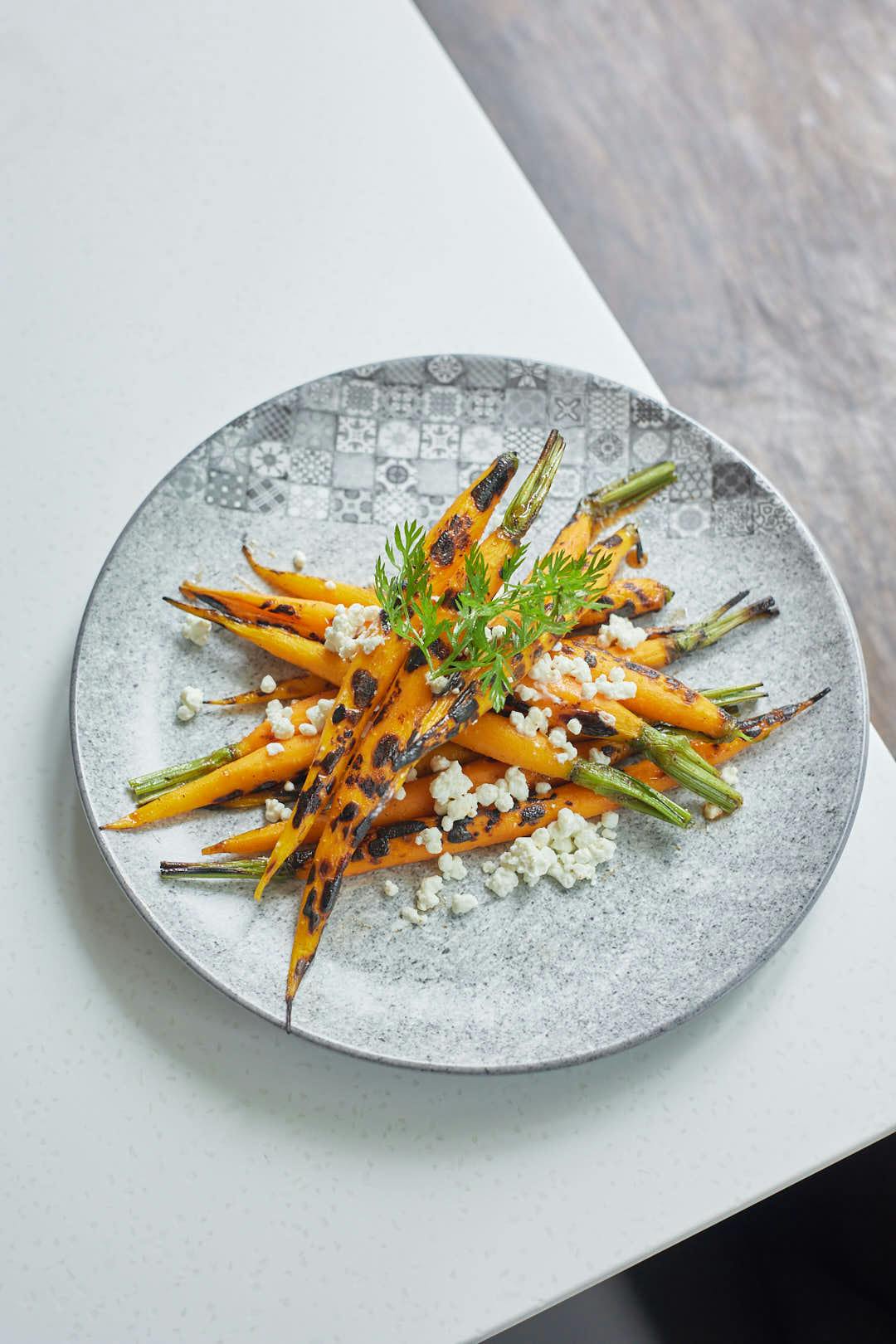 The grilled carrots definitely meet the challenge. The fresh splay of carrots are brushed with a spiced honey glaze that intensifies their orange hue as well as their inherent earthy sweetness. Delightfully unexpected notes of cinnamon are involved and provide a compelling contrast to the soft crumbles of goat cheese sprinkled around the plate.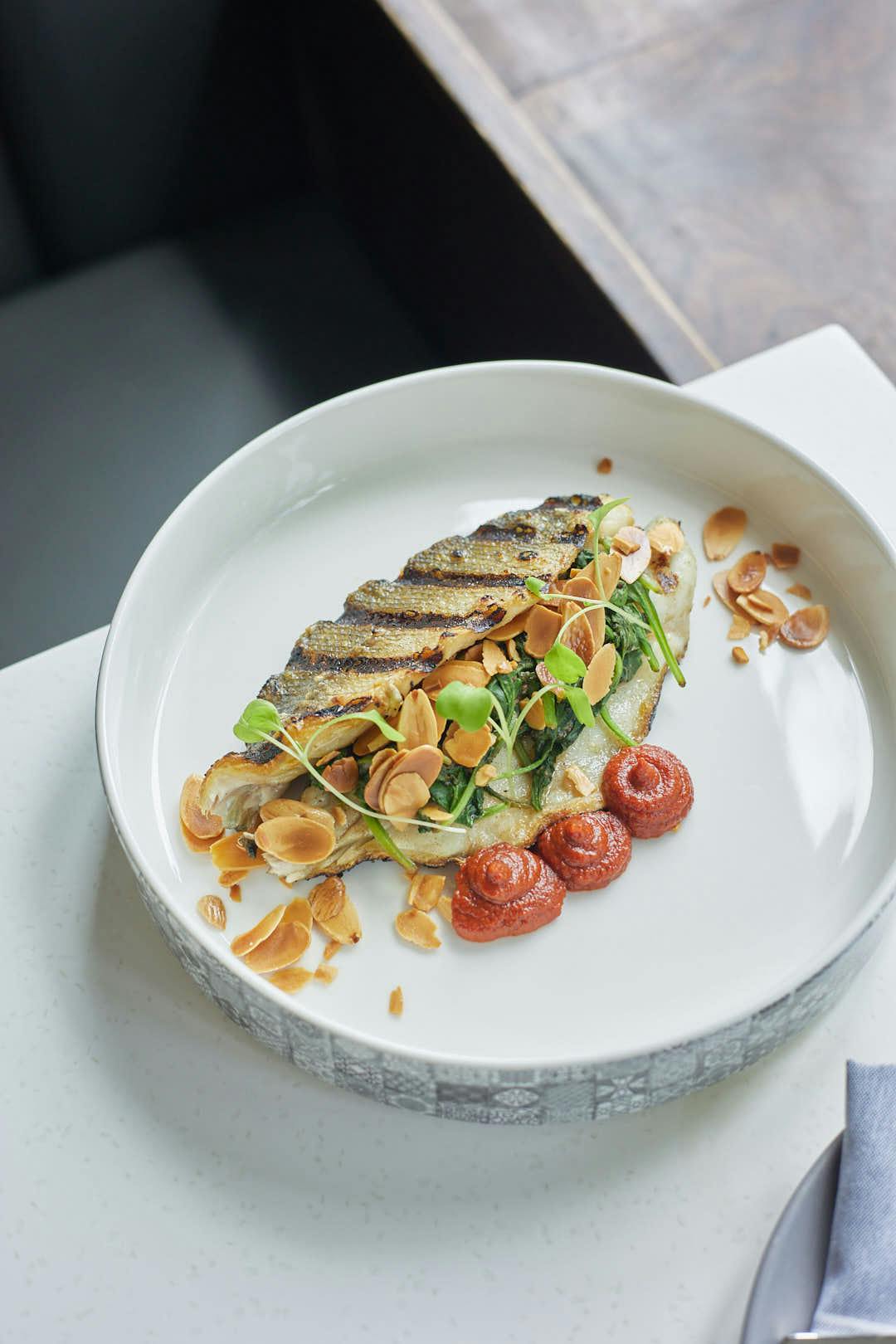 The sea bass is equally uncomplicated. Judiciously seasoned with only salt and white pepper, the fish is stuffed with dark green spinach and garlic, then grilled to a buttery succulence. It's crazy satisfying on its own, but Hazbawi delicately complicates things with garnishes including micro-arugula, grilled almond slivers and reddish pearls of harissa.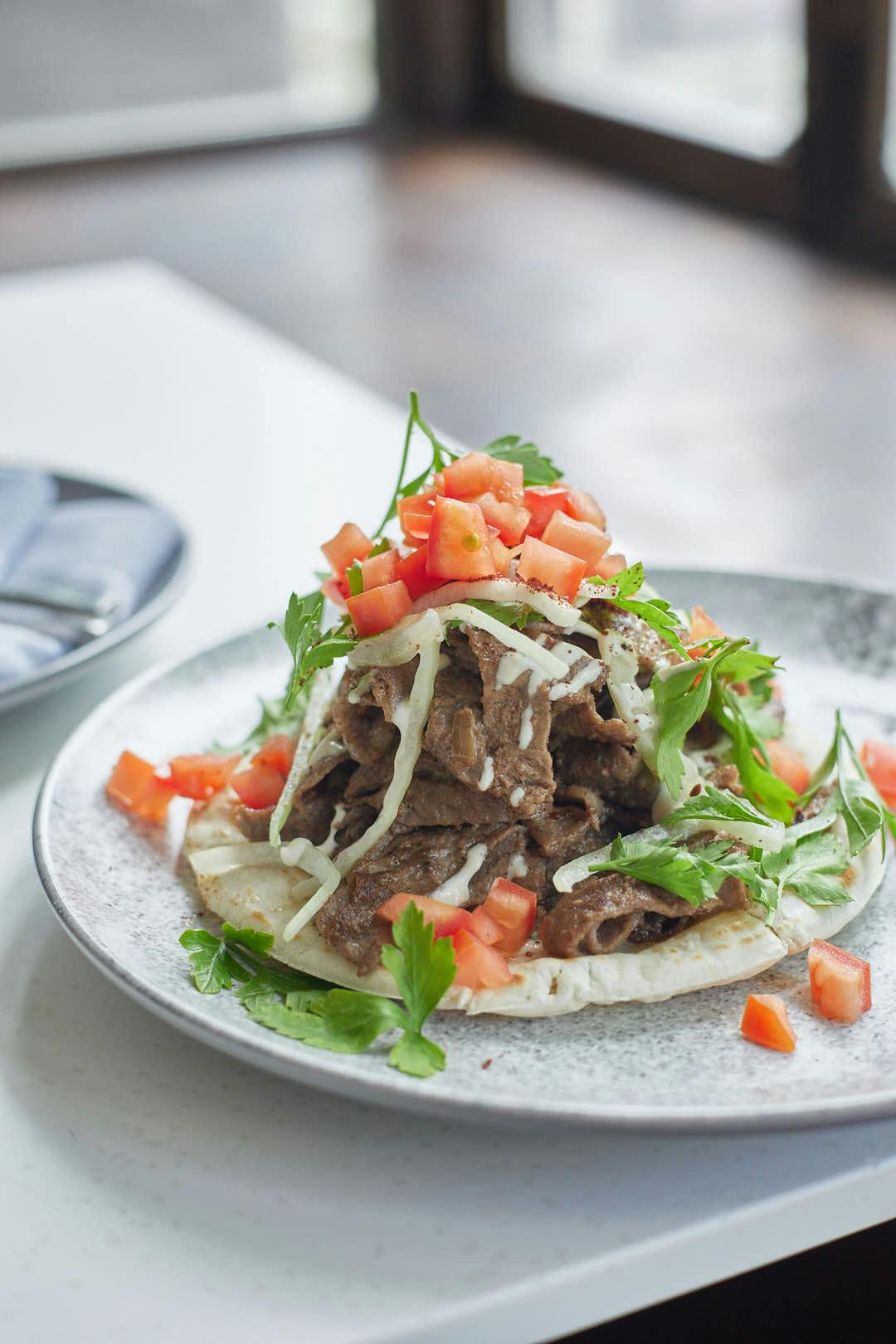 It's hard to find a Middle Eastern eatery that doesn't serve a robust shawarma platter. In contrast, Miss Aida's shawarma plate is unexpectedly delicate. Flower petal-thin slices of tender roasted beef are sculpted onto a disc of homemade pita, primed with a tart but creamy tahini citrus sauce. At the top of the meat pyramid is a colourful crown of parsley, onion, tomato and sumach, doused with extra tahini. Tender and tangy, creamy and chewy, meaty and herby, you'll feel torn between wanting to wolf it all down at once and linger over the individual components.
The same dilemma – wolfing down vs. lingering – surfaces when it comes the desserts, created by Tang, a Cordon Bleu-trained pastry chef. That there are only two simplifies having to make a choice; in a pinch you can order – and either wolf down or linger over – both. Multiple trips to Lebanon allowed Tang to dig deep into the phyllo and honey trenches, absorbing the local flavours, then drawing on her training and innate creativity to deconstruct and reconstruct two of the region's most traditional and beloved sweets.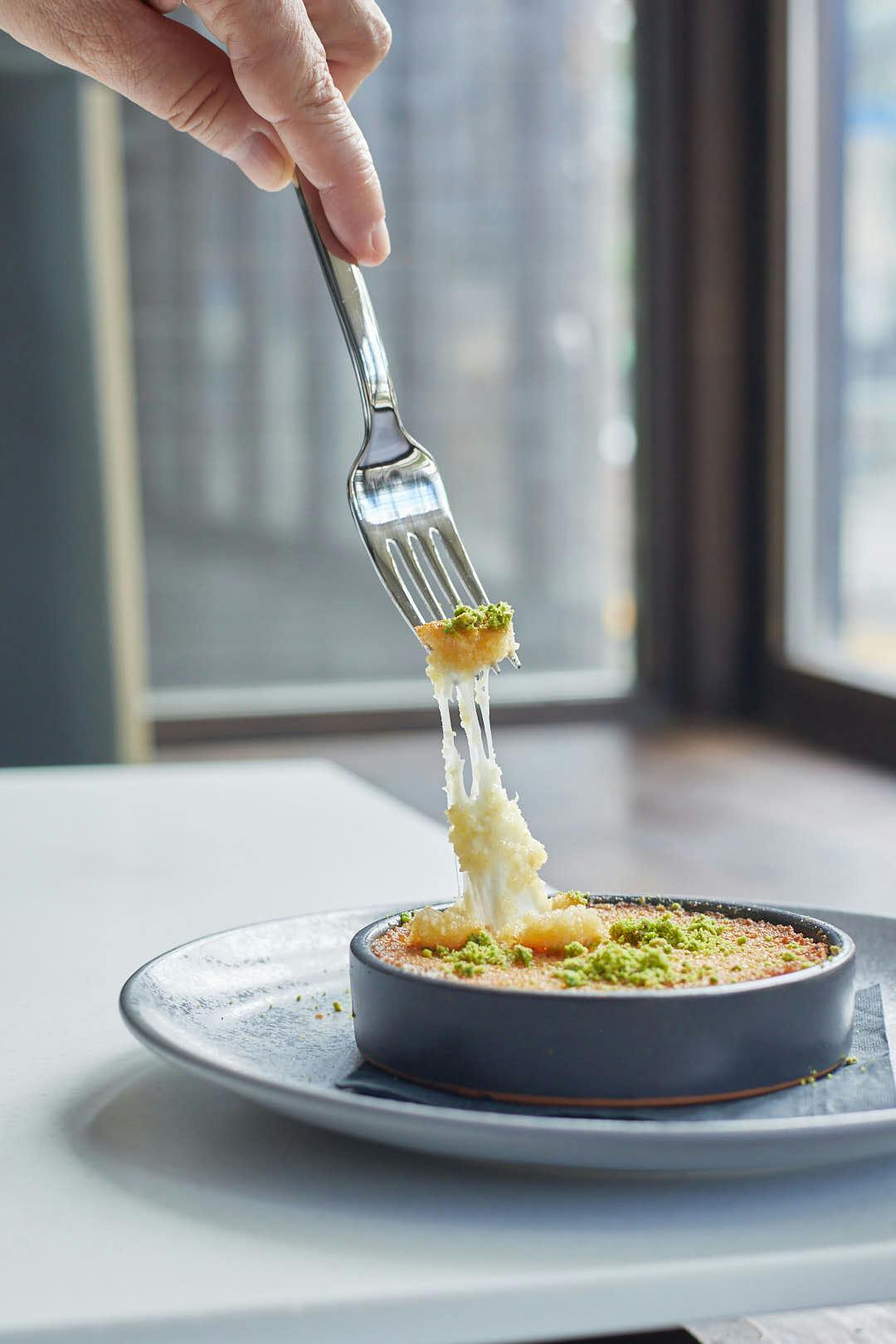 Even more de- and re-constructed is Tang's ingenious take on baklawa. It starts with a phyllo pastry shell, to which she adds a layer of sponge cake with mixed nuts, then a layer of rich ashta, similar to clotted cream, made from simmered milk. Balancing on top is a dome of pale jade pistachio ice cream, made with homemade pistachio paste, studded with crunchy cashews and crushed shards of phyllo, then drizzled with rose and orange blossom water. Tang's brilliant justification for going so far out on a baklawa limb? "So many people in Toronto are doing it the traditional way, and probably much better than me."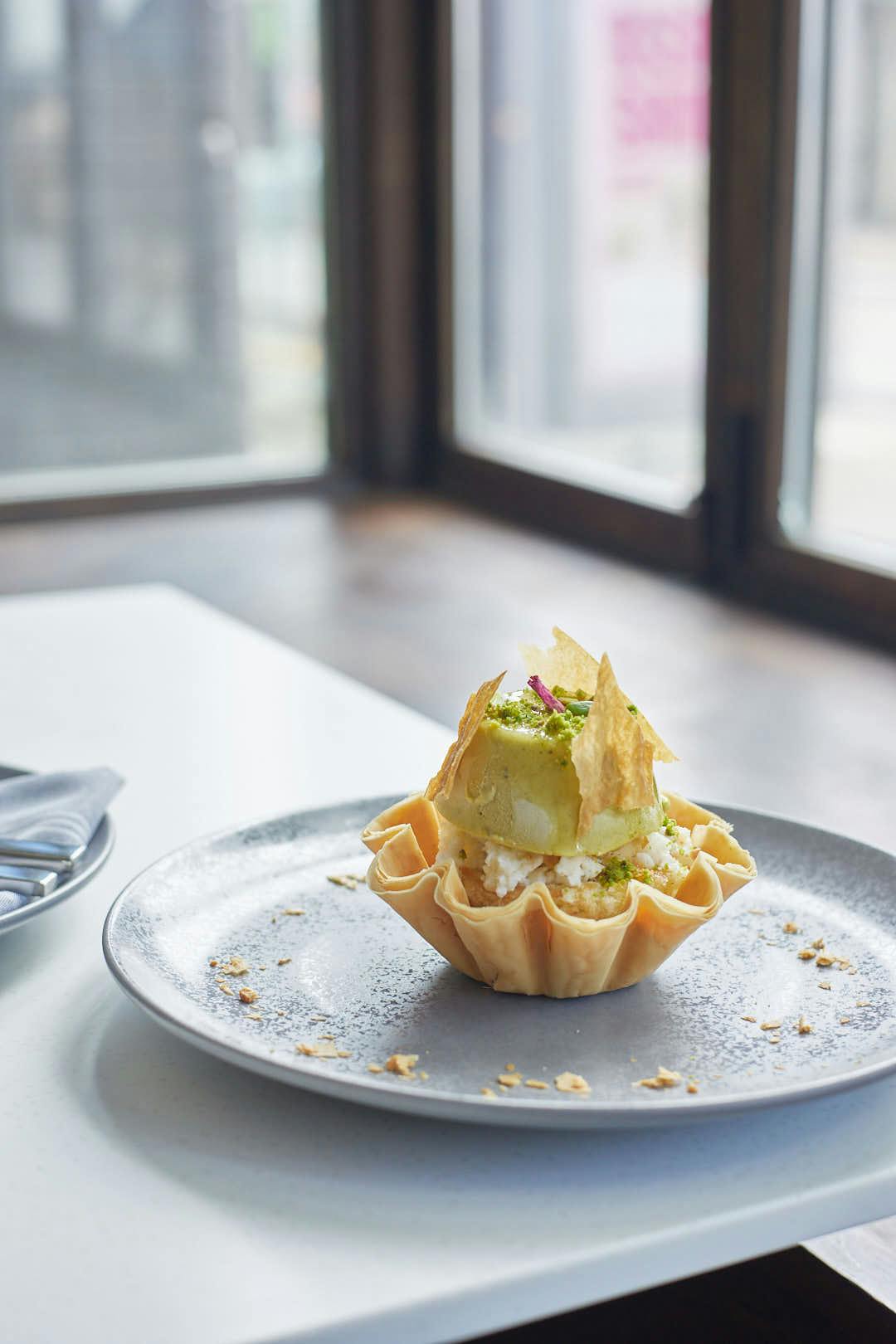 Meanwhile, back to lingering… which, food apart, is what Miss Aida is conducive to. There's the ambiance: soothing white, but not too bright, minimalism with plush gray seating and retro fixtures casting dusky light. The décor is much more coolly casual Roncy than it is Beiruti. Evocations of Lebanon are restrained to a trio of arches, a collection of crimson tarboushes and a giant Warhol-worthy, black-and-white scanned rendering of Miss Aida sporting a decidedly Mona Lisa smile.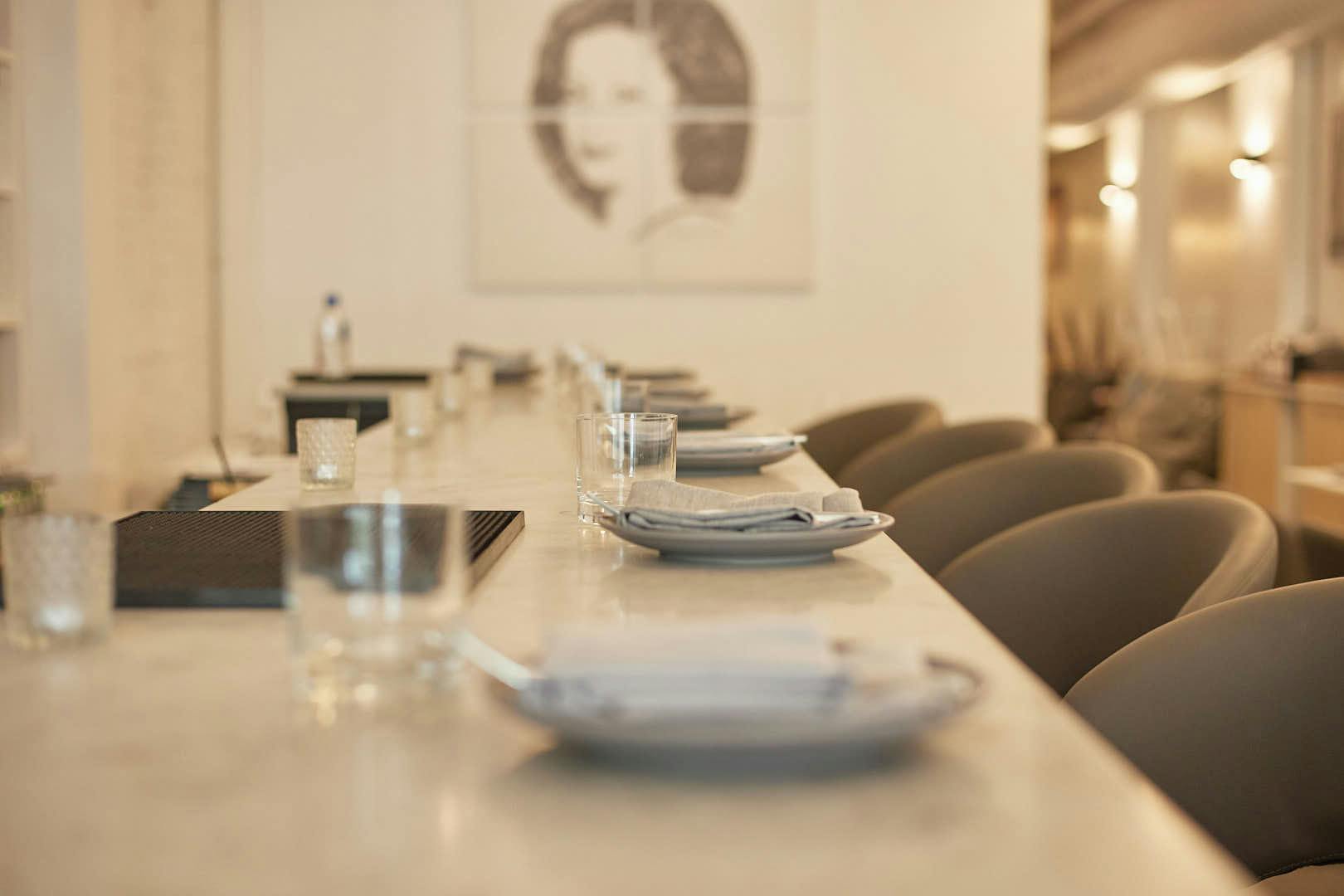 In the front dining area (there's also a more intimate back room, separated by an open kitchen), a dark wood and marble-topped bar backed by shelves of glittering bottles is prominent – and purposely so. After 11pm, the dining room morphs into a late-night cocktail bar, which Sfeir feels is sorely missing in a neighbourhood that's "all about beer, beer, beer." 
This explains why on Miss Aida's drinks menu you'll find a grand total of two beers, along with a handful of carefully selected wines, including some Lebanese vintages. The main focus is on the rotating selection of six to seven cocktails, designed by Sfeir and Celeste Xayanasy to conjure a night in the Levant.
The Istanbul Martini is Miss Aida's riff on the espresso martini currently in vogue. Along with vodka, bourbon and amaro Nonino, it features cardamom bitters, in homage to the spice with which "half the population of Lebanon" routinely spikes their coffee.

Sporting a bit of a Barbie vibe is the Stardust. St. Germain and tequila blanco are mixed with zingy hits of lemon and lime juice and floral hibiscus syrup. Topped with frothy vegan foam, the drink is daintily sprinkled with rose petals and stardust (in the form of edible glitter).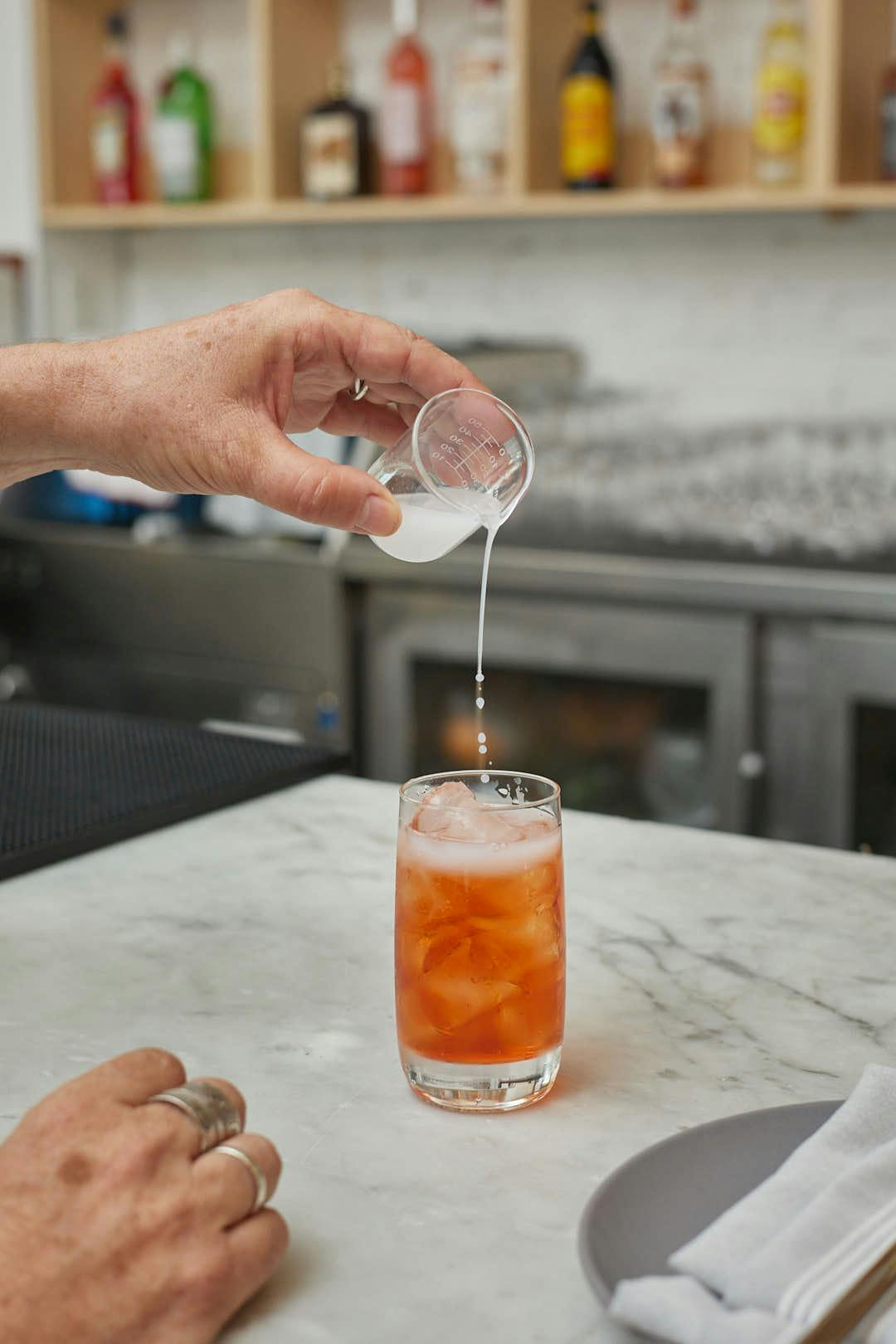 If Miss Aida has a signature drink, it's surely the aptly named Arak Attack. It's not only spellbinding to look at, but interactive in that you get to build it yourself (and make it as strong as you want). The drink actually consists of two parts: a glass beautifully layered with bourbon, Aperol, bitters and house-made chai syrup and a small beaker of potent, anis-scented Lebanese Arak. Pouring the Arak into the "attack," transforms the libation into a psychedelic storm of tawny-orange sunset and pearly clouds, one that constantly changes depending on how much you pour, mix (and sip) it.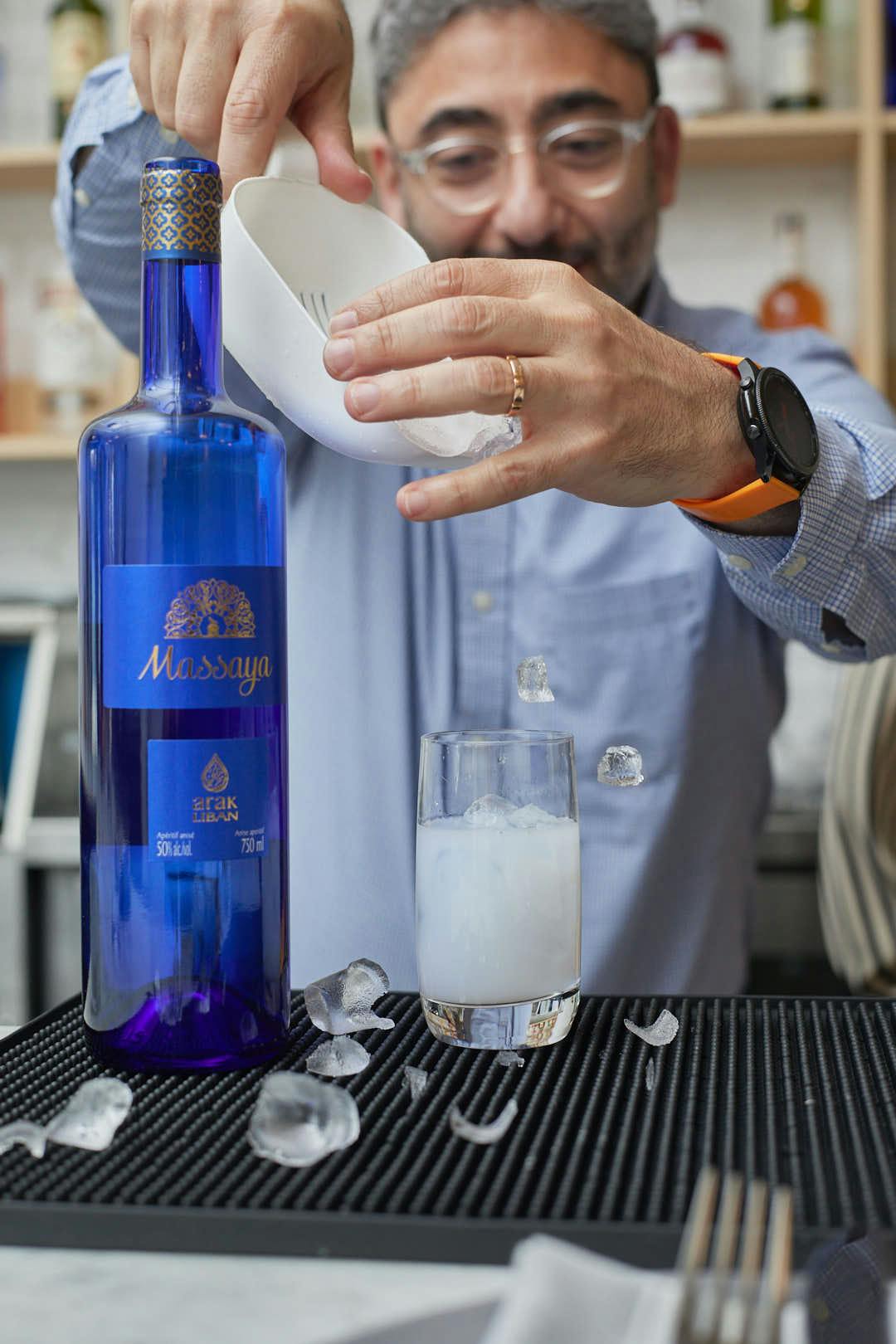 Arak is present in several of the cocktails, but you can also enjoy it as a refreshing shot, to which water and ice are then added (adding Arak to the water and ice is supposedly a recipe for indigestion). Sfeir recommends it as an aperitif, to open up the palate, as well as an accompaniment to the food, vowing that it "goes amazingly well" with everything on the menu. 
If pairing your dinner with an anis-flavoured spirit isn't quite you expected, that's the idea.
Indeed, diners who come to Miss Aida expecting Arabian Nights flourishes, kebabs on skewers, and geometrically-shaped baklawa, will find their expectations happily thwarted. 
"When something unexpected happens, this is how you build a memory," muses Sfeir, vowing that the Miss Aida experience will stick with diners for a while. "You won't forget it right away."