Photographs by Kristen Wells
A modern new brewery has sprung up in Liberty Village, and their brews definitely have "something in the water" to keep customers coming back again. Or it might just be the pink velvet banquet seats and patio that spill onto a busy section of Liberty Street.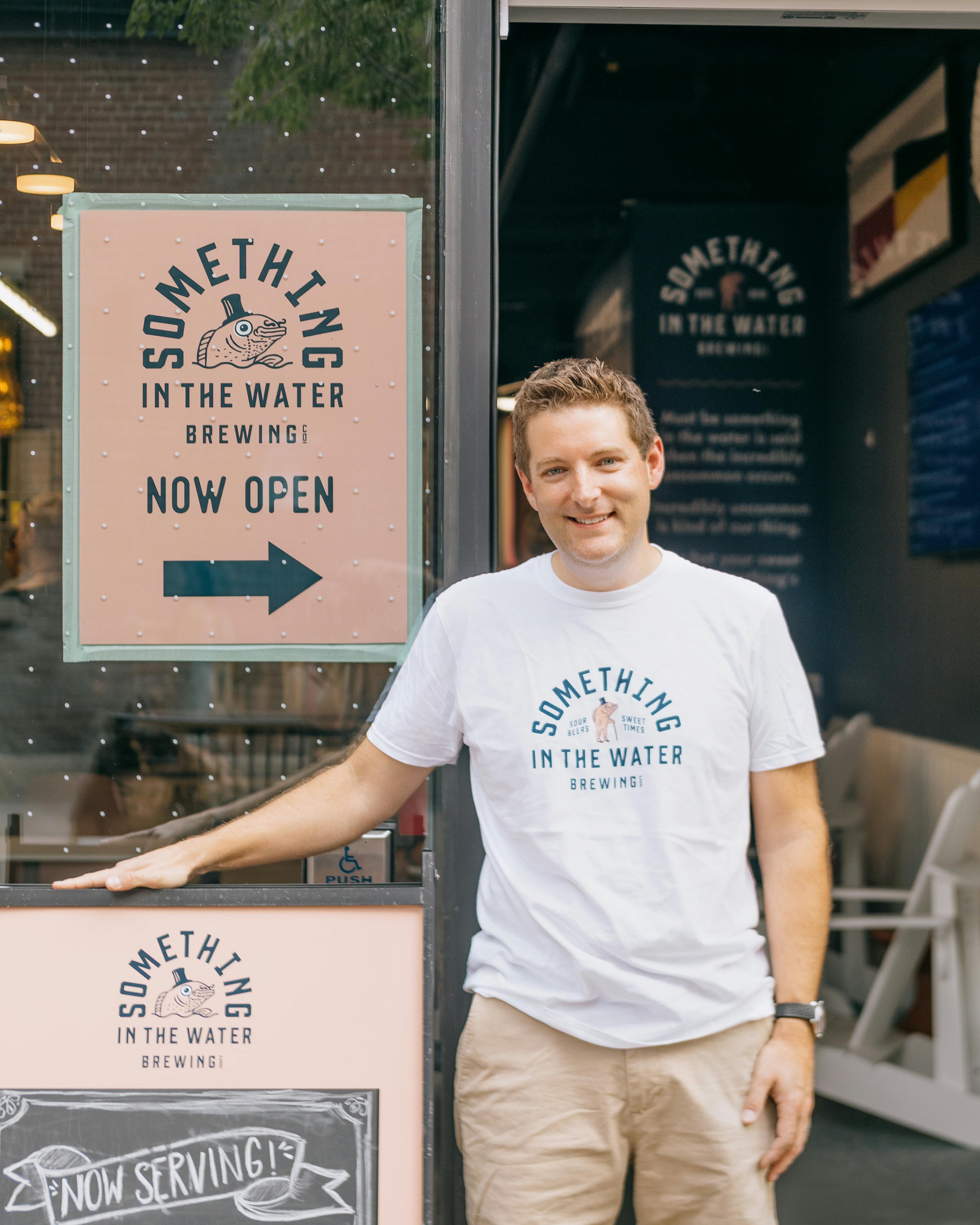 You might recognize the "Something in the Water" brand from the LCBO, where in March 2020, they got their first SKU. You guessed it, Rick (Head of Product), Steve (Head of Operations) and Mike (Head of Brand) started making their own beer as a Covid side-hustle to take a break from their corporate day jobs; they never intended to have their own brewery. However, as Covid restrictions continued and more and more "for lease" signs took up windows on the streets of Toronto, they decided to go all-in and get a space to begin a brewery. Eventually, they found this miracle spot in Liberty Village, surrounded by other newly opened businesses by ex-corporate citizens; it made them feel like everyone was in it together.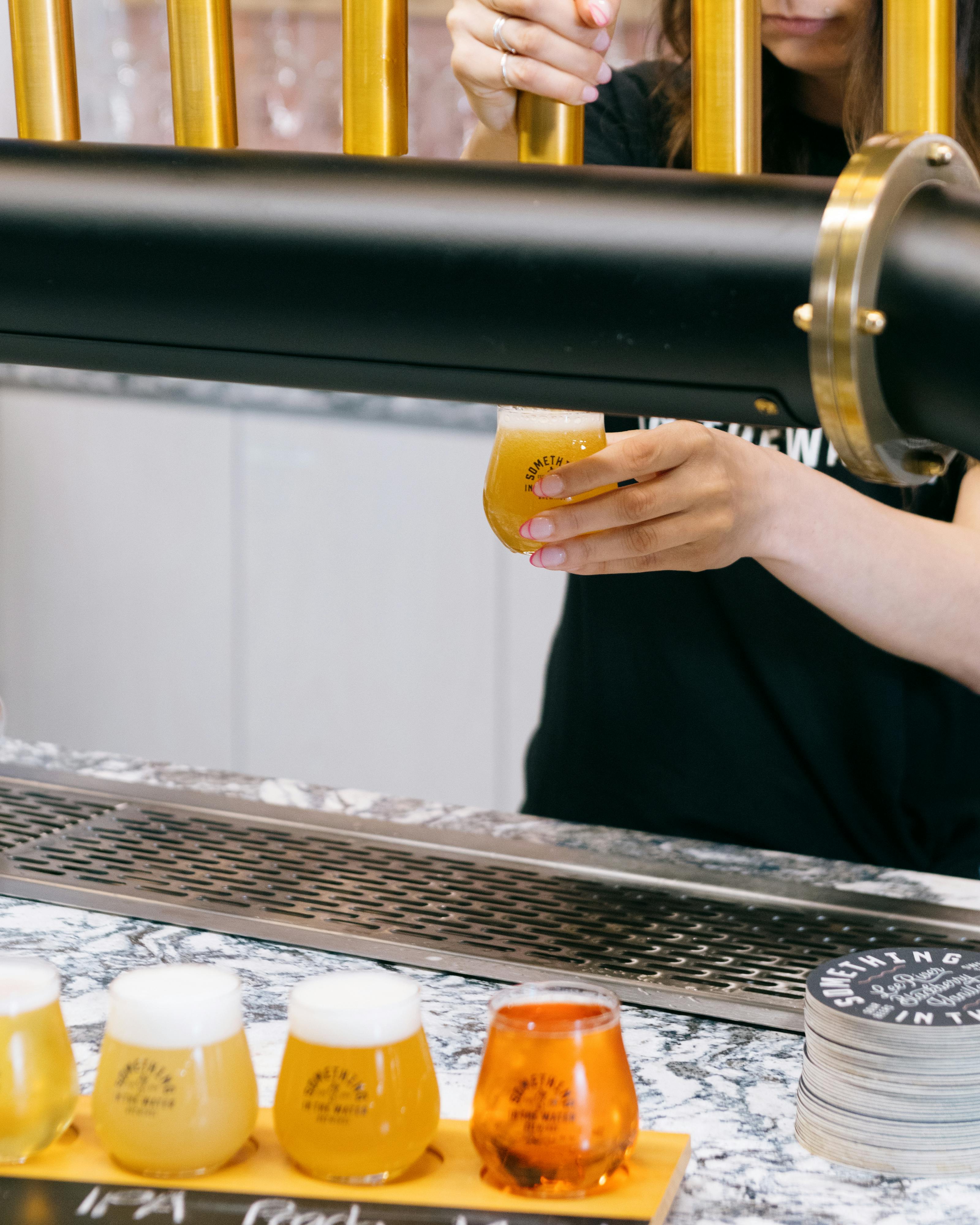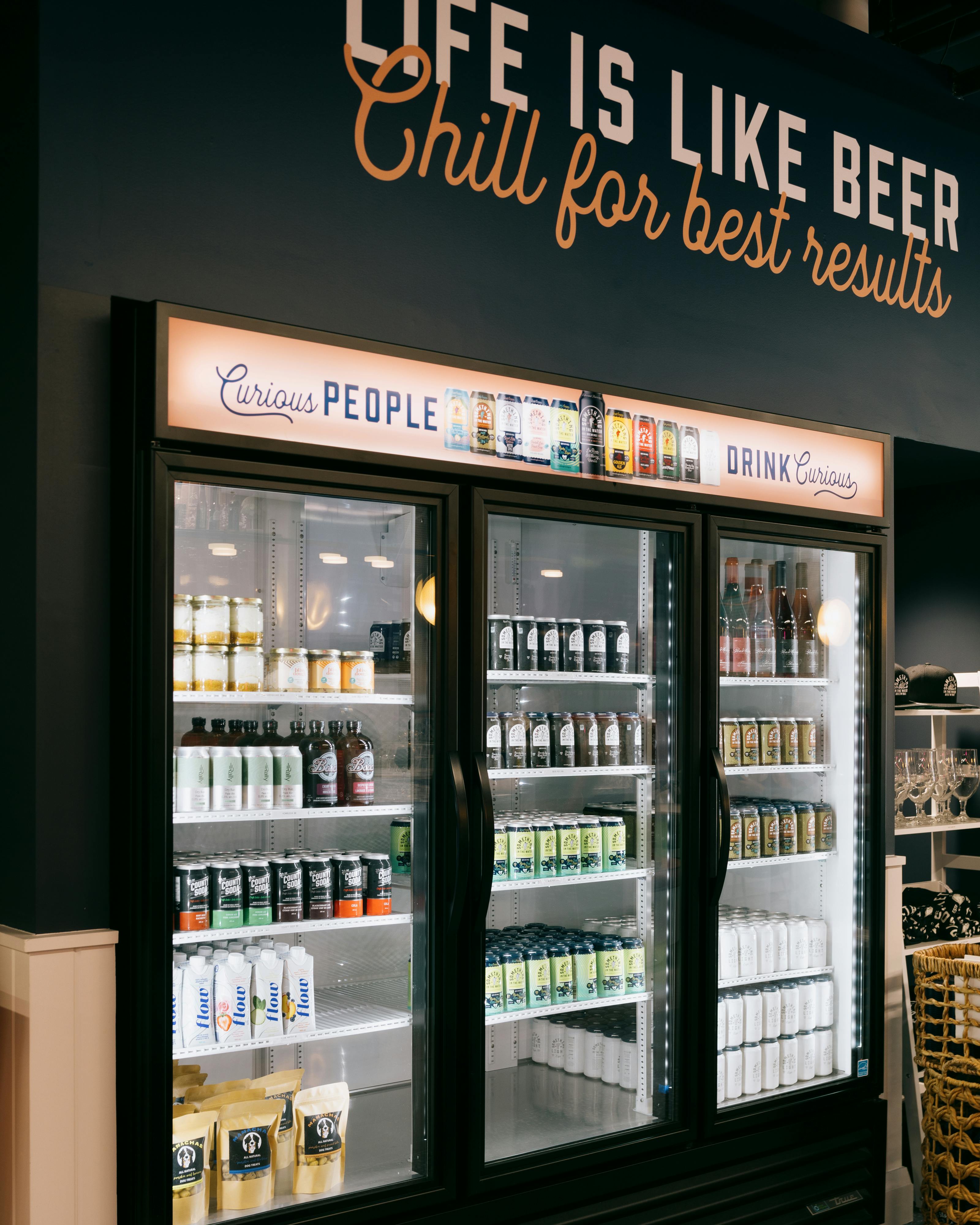 Something in the Water opened in May and within two weeks, had sold out of the majority of their beer (they had only 1 type left in the fridge!). The challenge with beer is that it takes a couple of weeks to make; unlike seltzer, beer needs to condition and ferment, and they overcame this first challenge by bringing in 6 guest taps! They have since happily replenished their own supply, and 5 of their beers are back on tap; you can still get to try the guest taps, but they'll be slowly changing and leaving.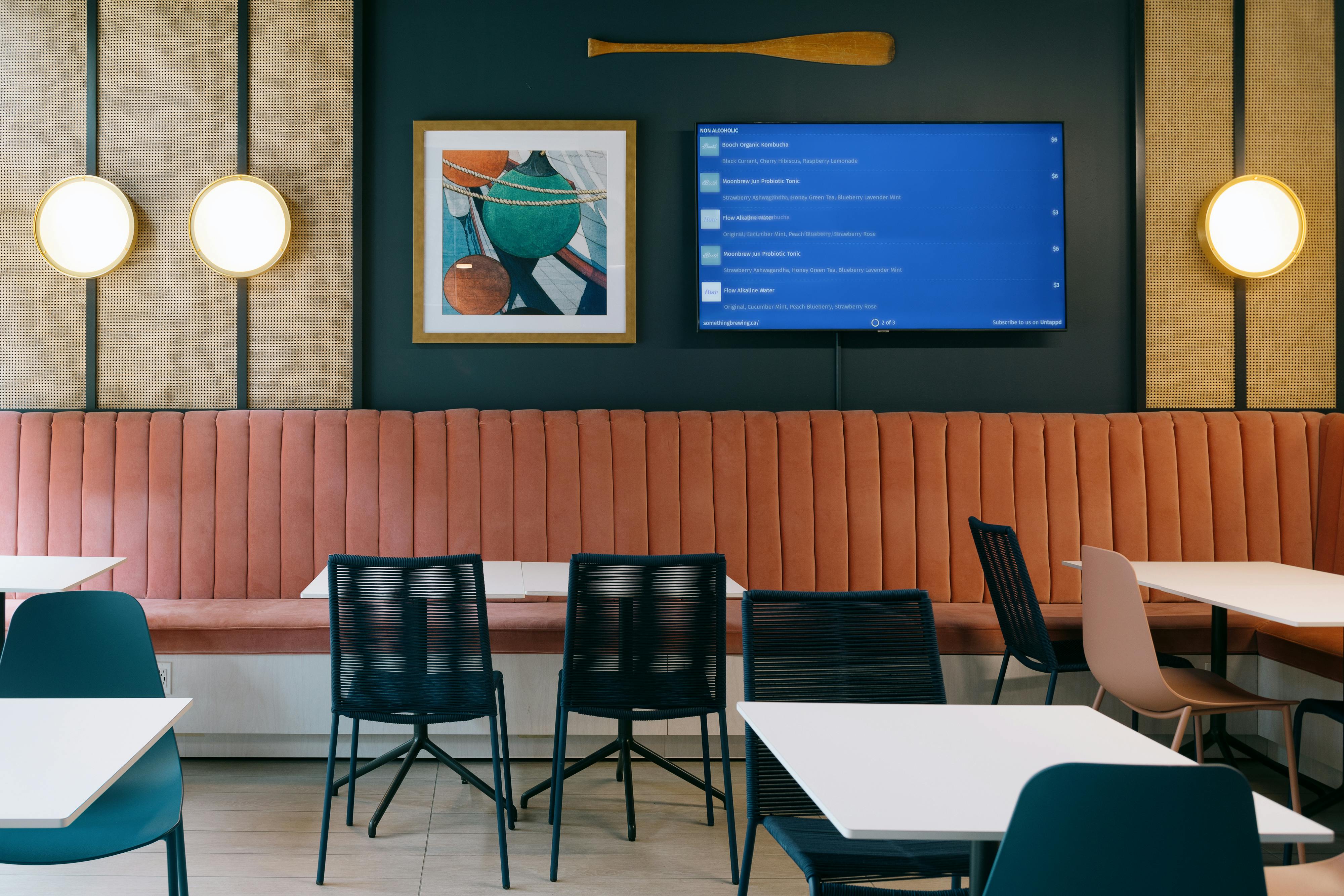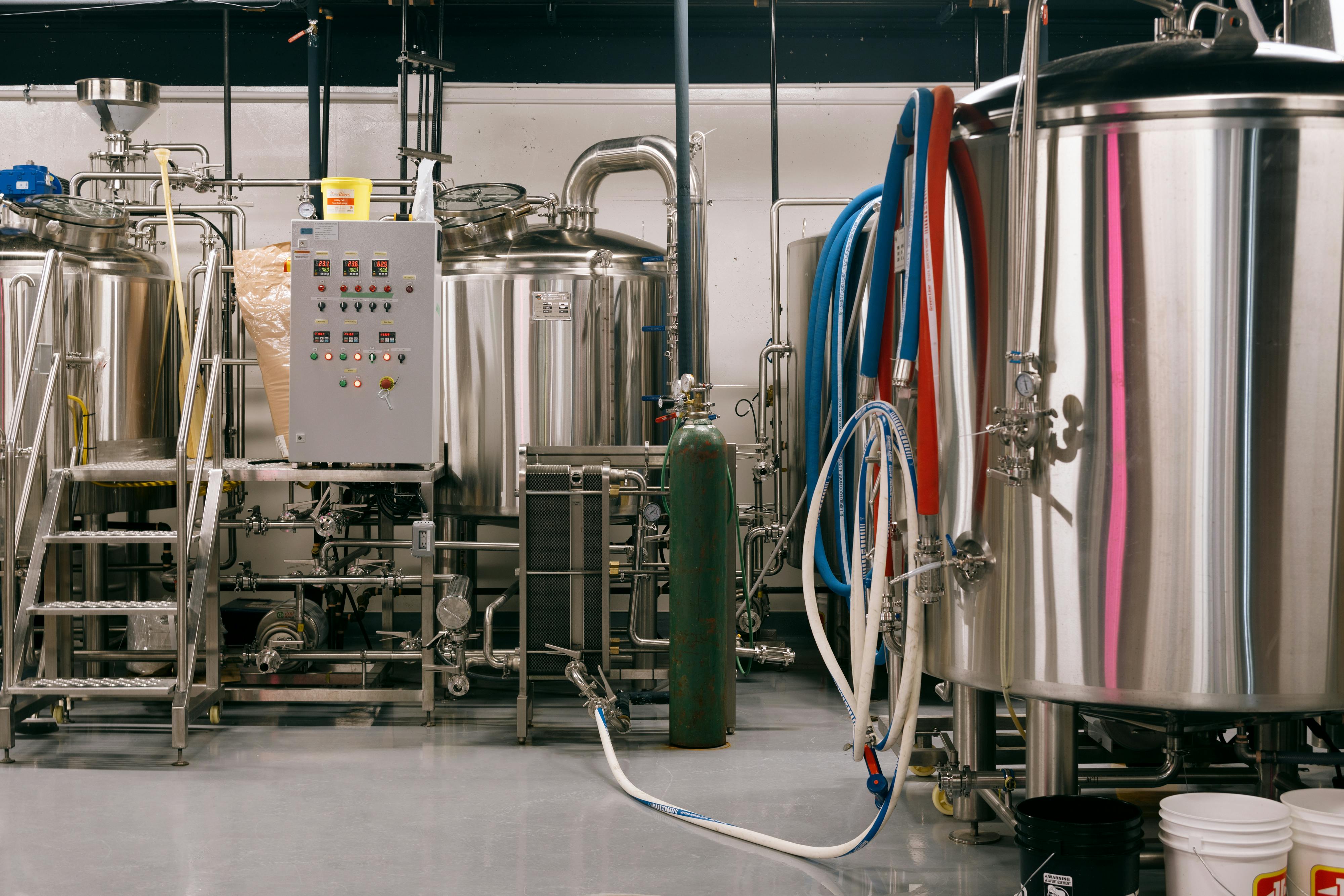 They opened in May and are now fully operational; the concept of Something in the Water is more "Starbucks" than brewery: there is no kitchen and folks don't really come there to spend all night getting hammered. Their average customer spends about an hour, gets a flight of beer, spurs some interesting conversation about their "curious" beverages and snacks, and then wanders off to find dinner. It's perfect for the (dog-friendly) space that they have.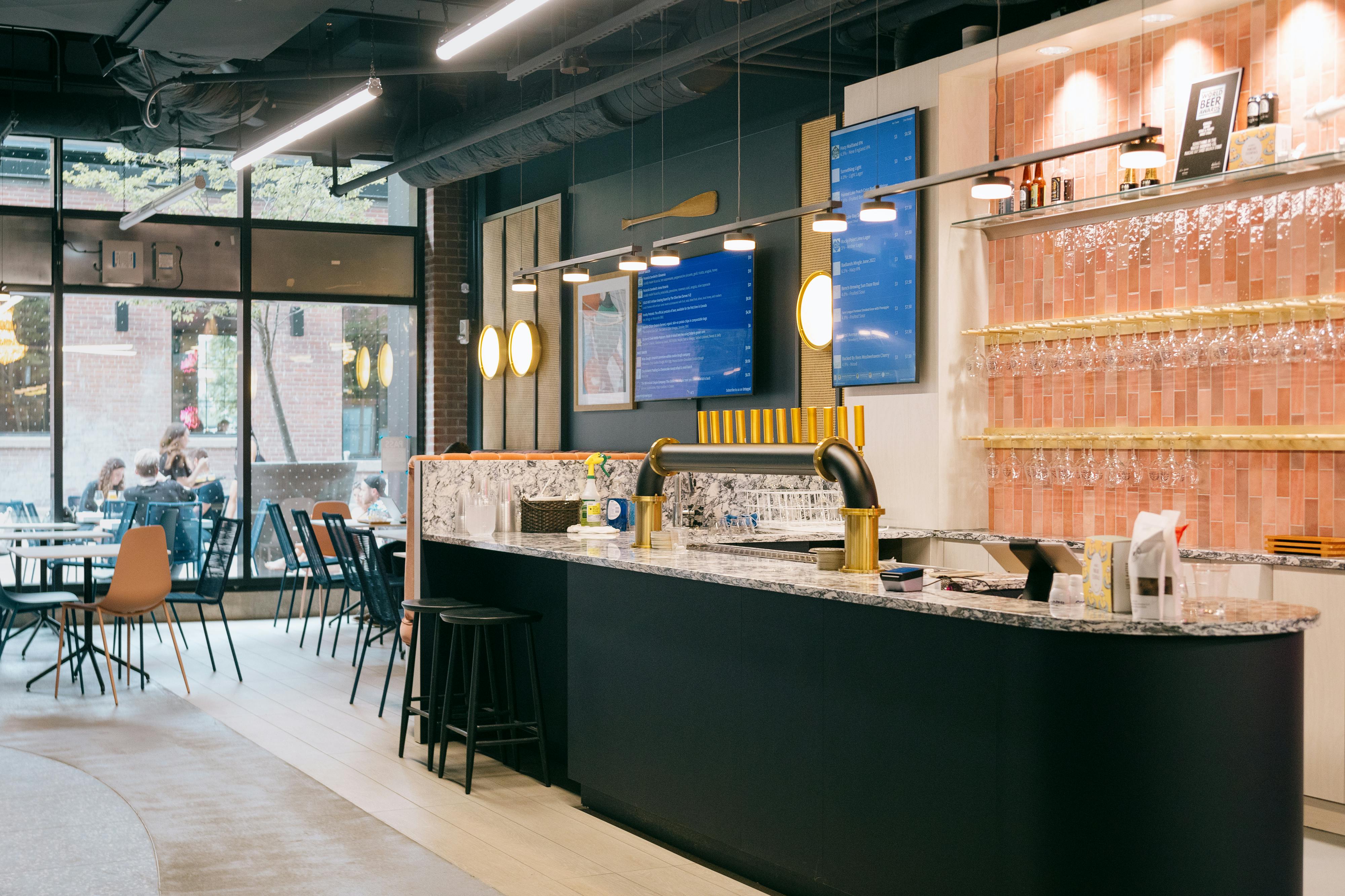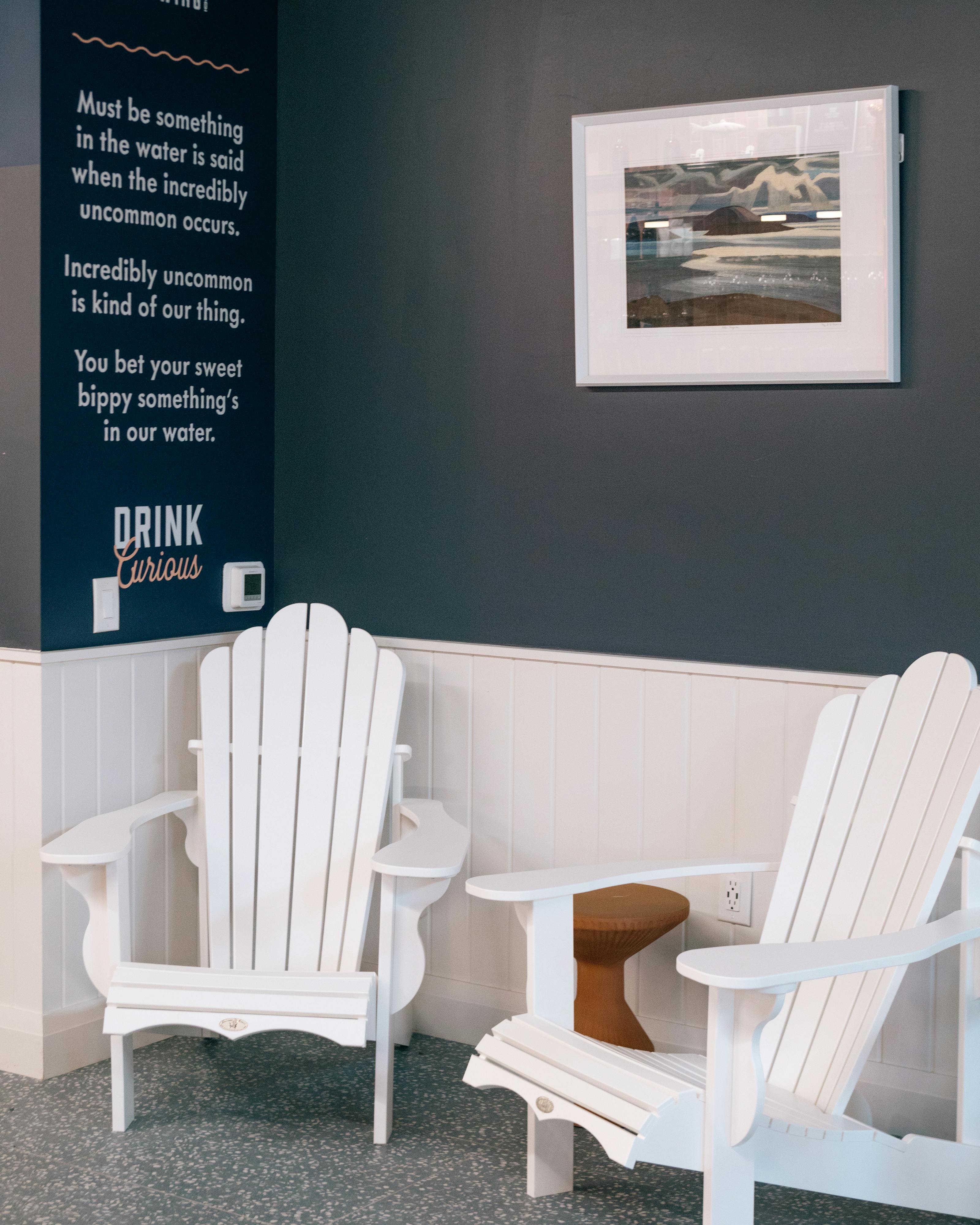 Something in the Water wanted to take a big step away from traditional brewpubs (you know the ones, cement floors, reclaimed wood everywhere, Edison bulbs and bearded men in toques), and make it a more gender-neutral space with nautical inspiration and pink accents (most notably, the pink velvet diner-style banquet couch). They have hanging lights, neon signs, and a little general store where you can buy your favourite beers, curious snacks and merch. When you step deeper into the brewery, the big metal fermentation vessels appear, unless you get too distracted by the quartz counter-tops and beautiful brass draft tower that define the bar.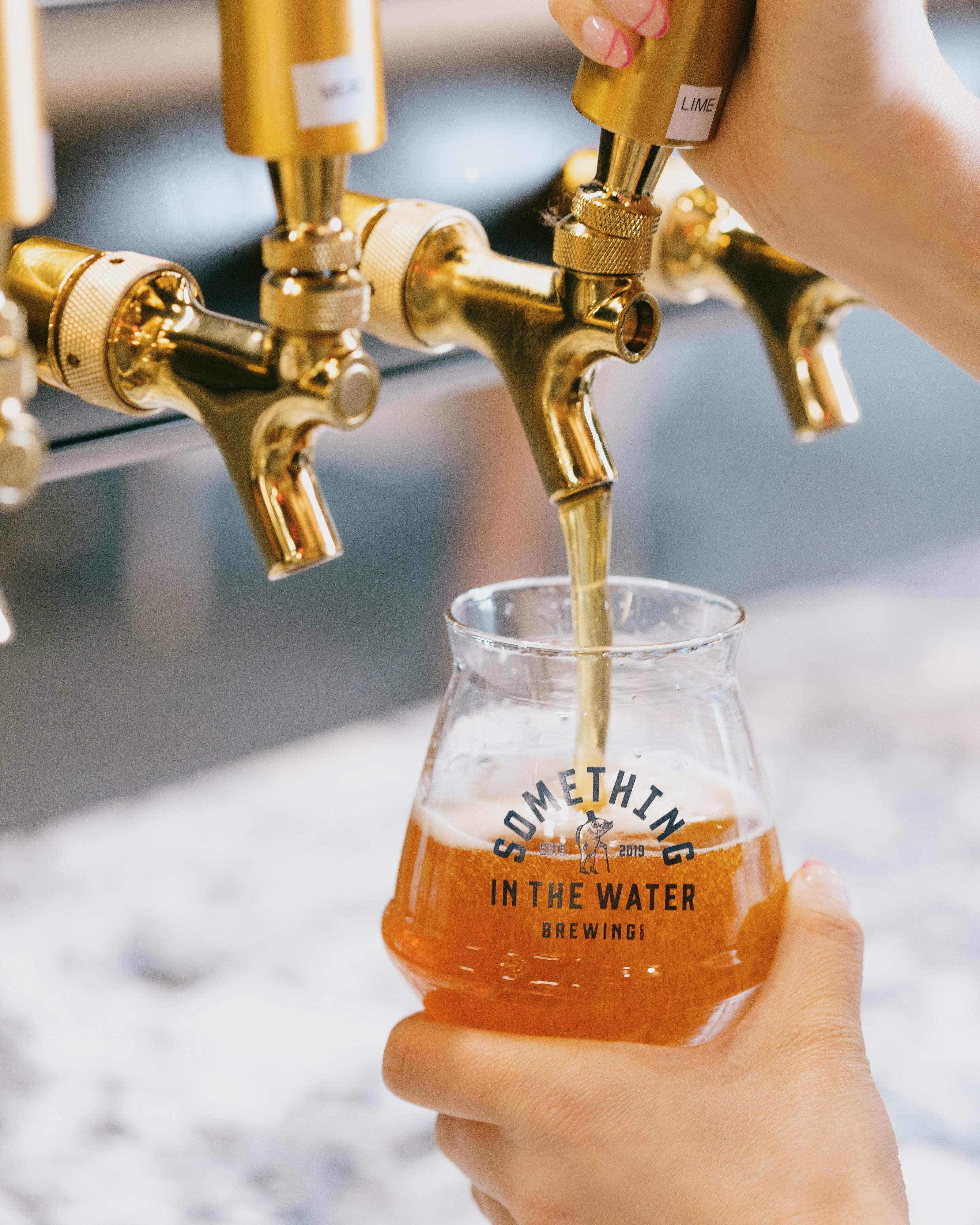 You'll also note a stunning display of their stemmed glassware; instead of using different glasses for different beers like other breweries, they chose what they believe is the perfect beer glass to accommodate their large selection; the Teku glass (stemmed to not warm up your beer) tapers towards the top to concentrate aromas and ends on a thin lip for a comfortable drink.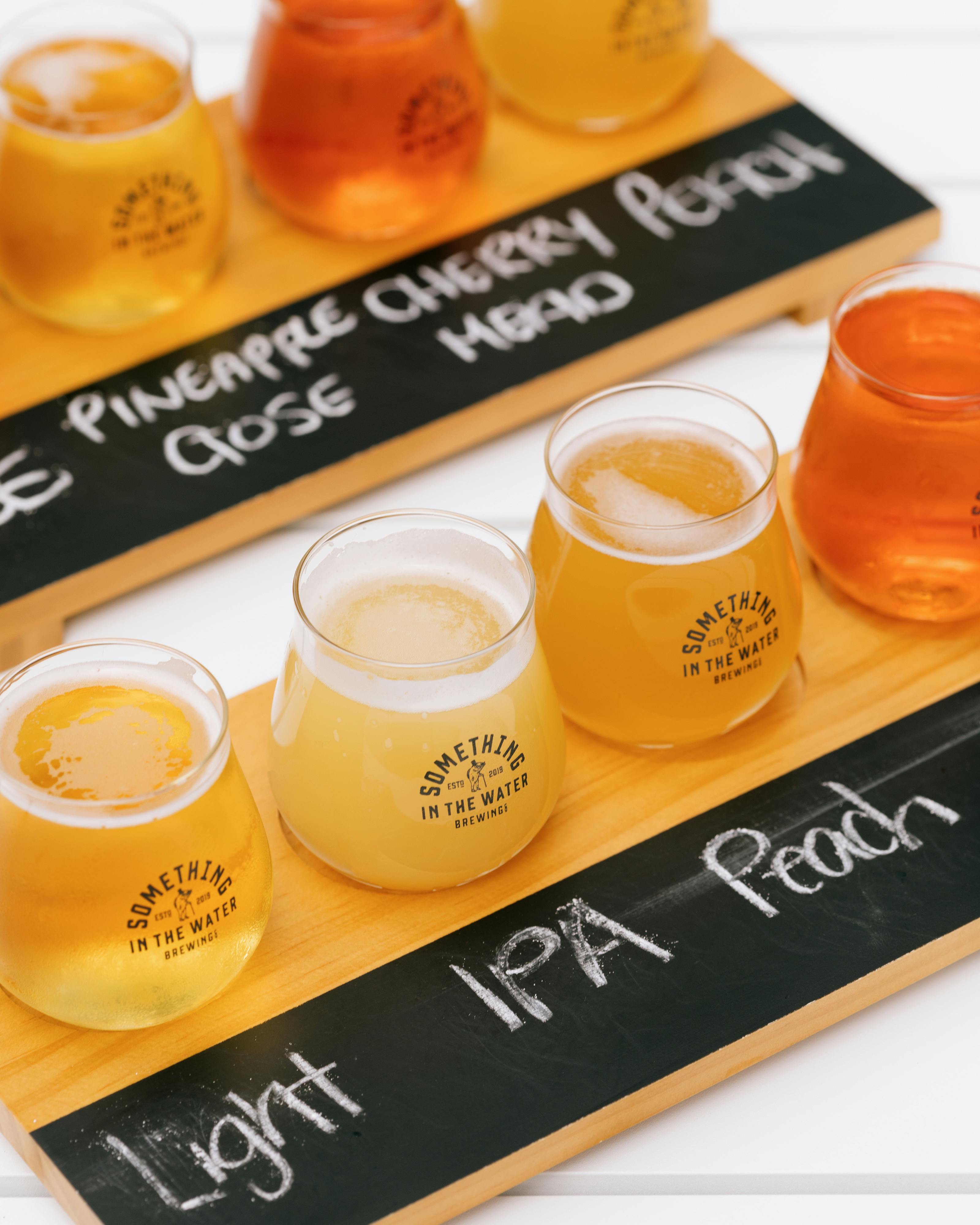 Something in the Water filters their beverage offering with "curious" - they approach every beer with the question, "how can we make this curious, make it interesting?" For example, their Pilsner was produced with a farm-to-glass approach; all the ingredients used were sourced within three hours of the Toronto brewery. Their LCBO beer is a Mexican Lime Lager; real Mexican lager is actually similar to dark Vienna lager because Mexican brewers were trained originally by European brewers, and they added real lime zest on their take. Recently, they've also launched a whisky in collaboration with a local distillery; they made a Canadian whisky "curious" by aging it in Caribbean rum casks with 100% Canadian rye, giving the whisky notes of sweet molasses and tropical fruit. You can get it at the LCBO, and they do their own house Manhattan. Other non-beer beverages you can get are the boilermaker(ish) (a shot of tequila produced by a Toronto-based company with a glass of their Mexican Lime Lager), cider from West Avenue Cidery, wine from Pearl Morissette and mead from Ontario.
There is no kitchen at Something in the Water, instead they are hosting weekly food pop-ups and have hand-curated snack offerings by local entrepreneurs. Featuring products from The Whimsical Crispie Co., grazing boards from The Olive Box, cookie dough jars from Bliss Dough, Niagara popcorn, Craft Chippery chips, and the only non-local item on the menu, Knotty Pretzels (the official pretzel of beer), they've curated a selection of "curious" snacks that pair well with their brews.
5 cents from each can purchased go to Canadian clean water initiatives (because brewing beer takes a lot of water, it's in every brewery's best interest to keep Ontario waters clean and healthy!). They partnered up with Swim Drink Fish and personally sponsor 10 different beaches.