Luke Nicholson and Tom Salvo, co-owner and head chef of The Dog and Tiger, have plenty of stories to tell. Considering they spend most of their working days (and nights) at a College Street bar (& kitchen), this isn't surprising.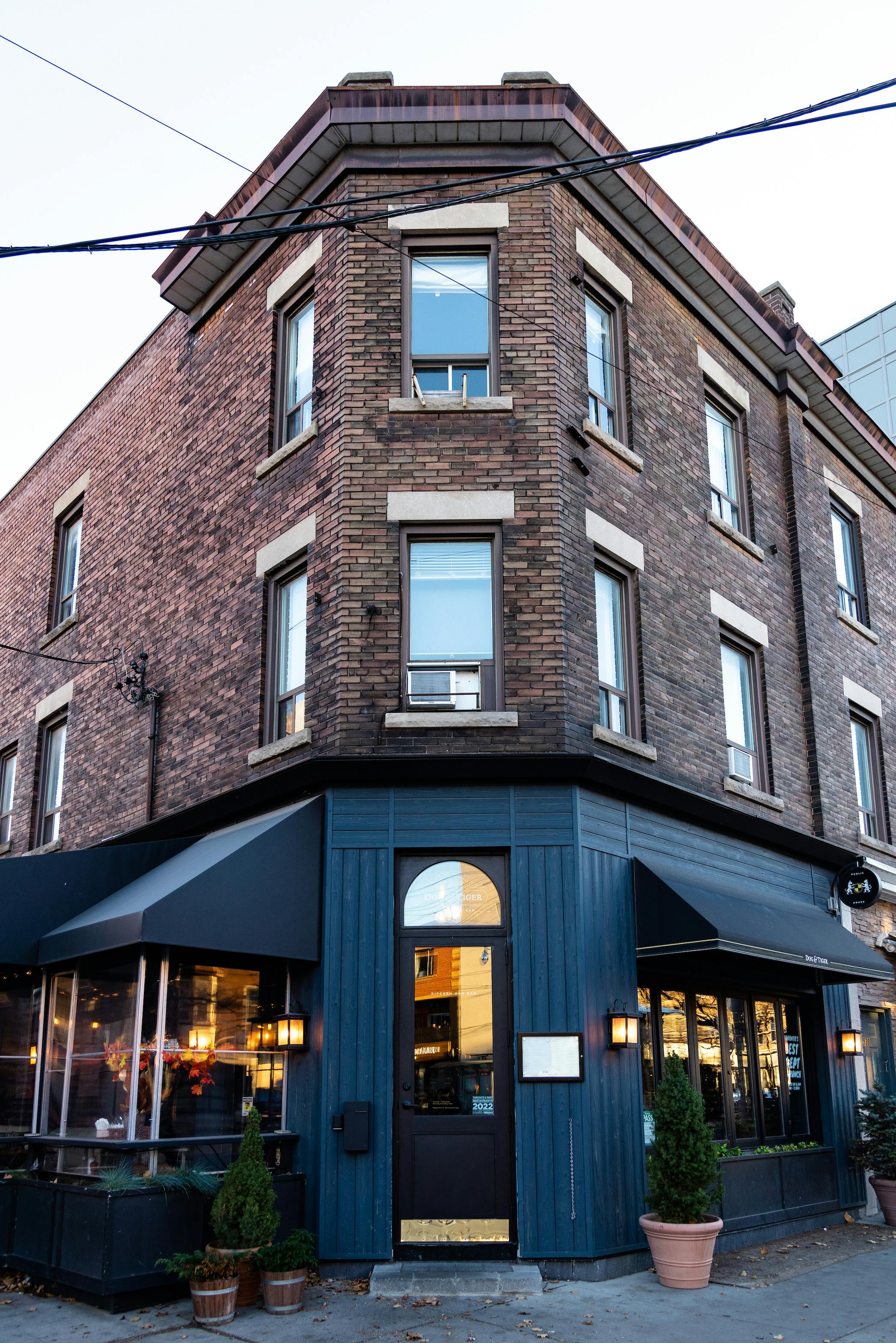 No sooner have I relaxed into a leather banquette in a snug corner of The Dog and Tiger's back dining room when Salvo points to a framed piece of art above my head and launches into a story about a group of guys who gathered at this very table earlier in the week. Apparently the art was getting in the way of one guy's frequent gesticulating – so he took the liberty of removing it from the wall.
"Maybe he did that because he felt so at home," I suggest, gazing around at the forest green walls, vintage wallpaper, nooks filled with books, cozy fireplace and tables basking in the soft glow of candlelight. Hey, who wouldn't feel at home?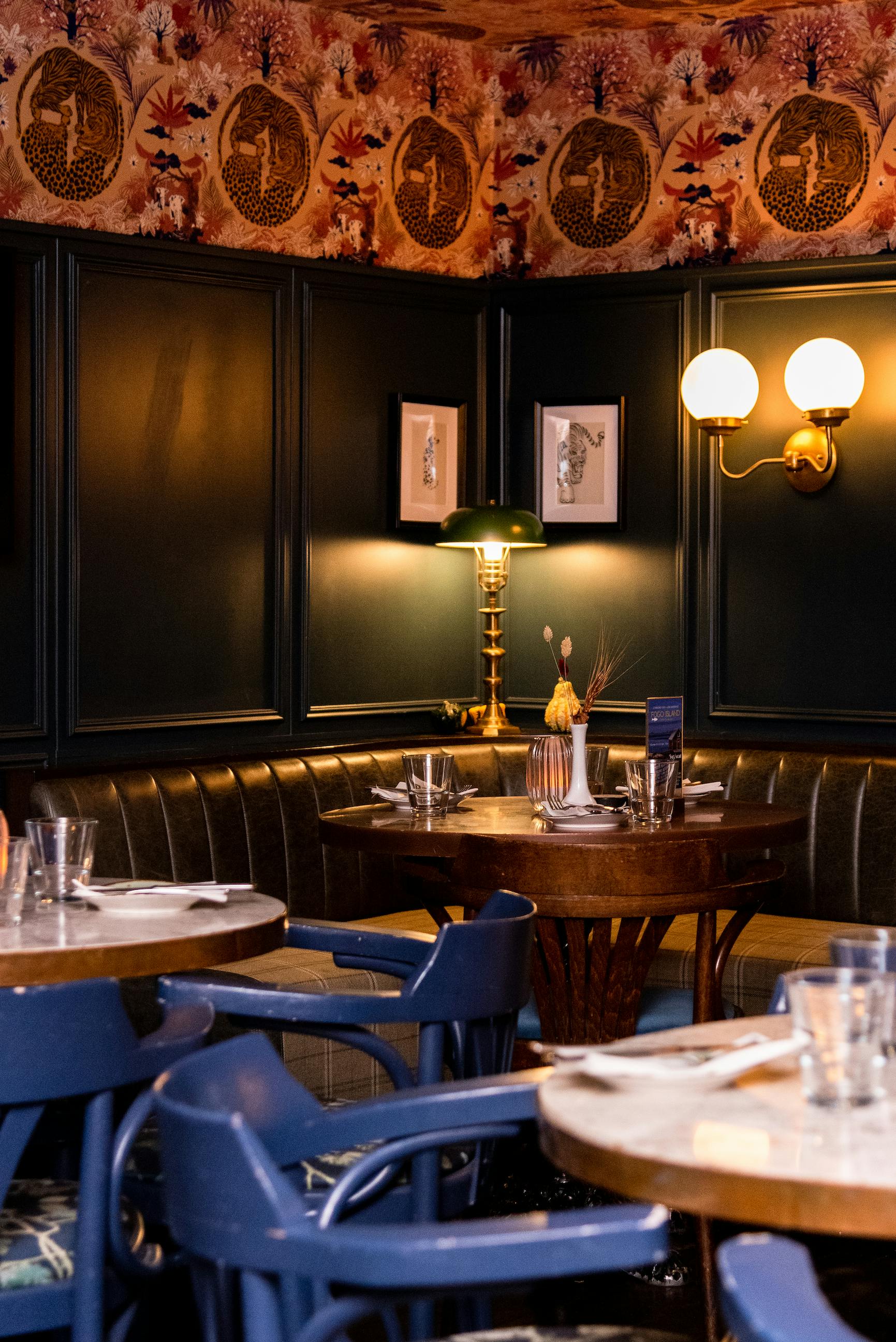 Aside from the quintessentially pubby name, The Dog and Tiger is one of those idyllically dim, cozy, and clubby neighbourhood pubs people fantasize about when they resolve to go for a pint. Although all four of its spaces are effortlessly comfy and casual, each ambience was carefully designed by the MAED Collective, an all-female, Toronto-based design firm, one of whose founders happens to be Nicholson's wife.
As a musician who has travelled the world, Nicholson has visited his share of cool bars. His favourites are always those with a "secret" back room only insiders know about. In The Dog and Tiger's secret back room, insiders linger over cocktails and slowly savour their meals. They're lulled into lounging around for hours. But they can also spill onto the adjacent glassed-in, heated patio, featuring a fireplace and a view of Euclid Avenue.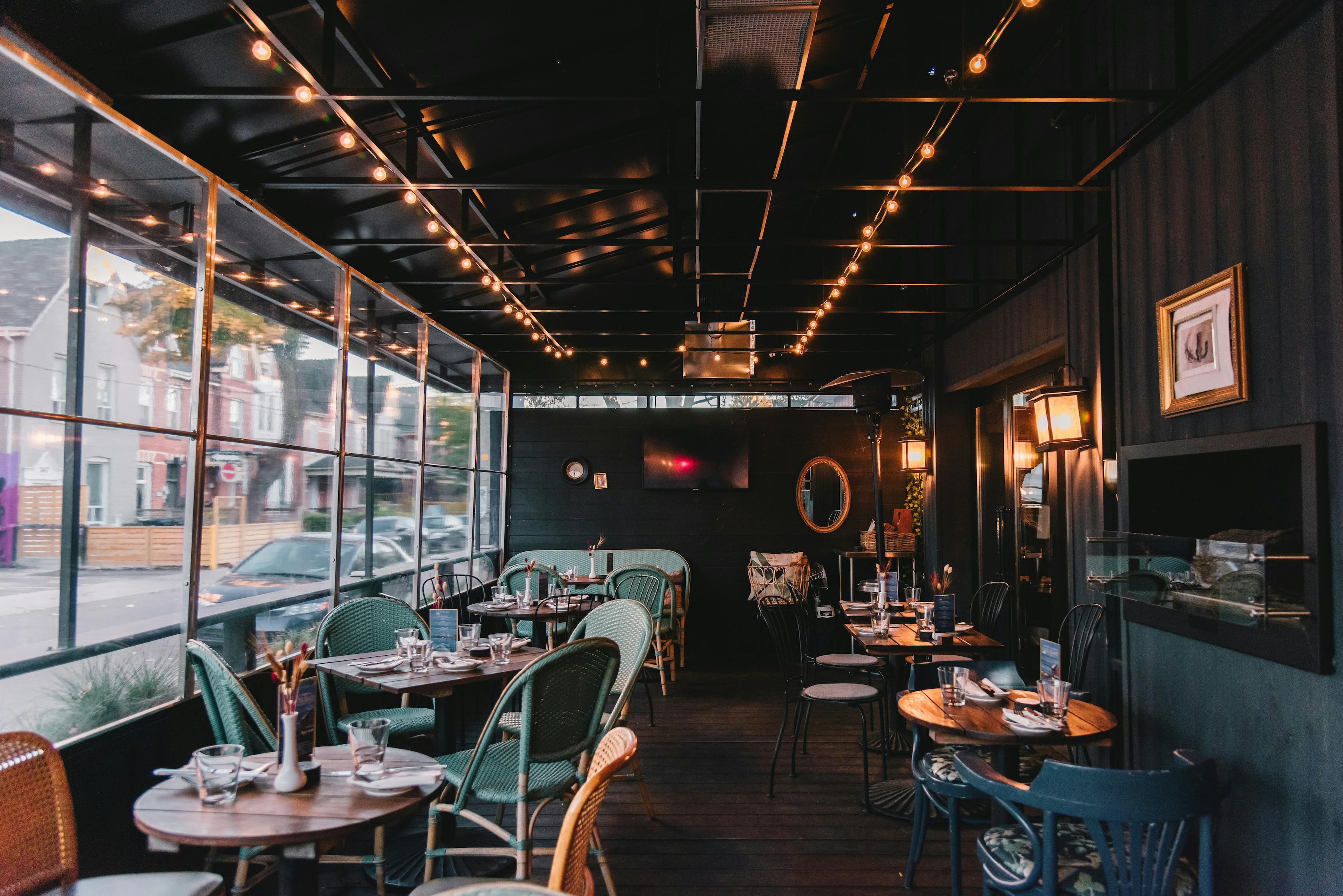 In contrast, the front room – home to the bar – skews more rambunctious and festive. The music is a little louder, the tempo a little faster, the turnover a little higher. It's more of a scene, with people – many of them regulars – arriving, departing, chatting each other up and migrating onto the uncovered patio to guzzle beers while checking out the to-and-fro on College.
However, names, appearances, regulars and beer guzzling to the contrary, The Dog and Tiger is emphatically not a pub... at least not anymore.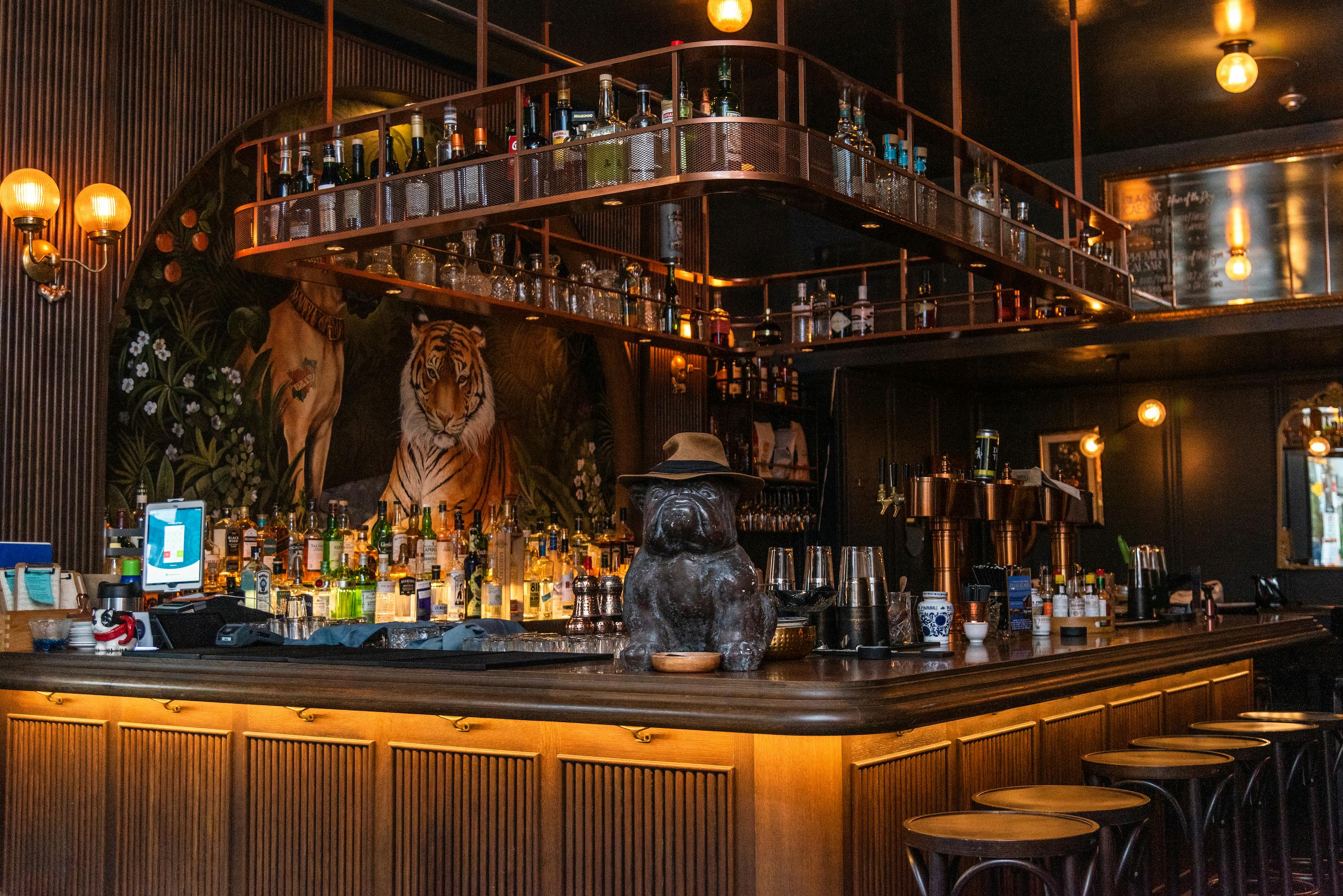 Nicholson's original concept was to open a neighbourhood bar serving high-end local craft beer and cocktails along with elevated pub fare. "Unfortunately, from what I've experienced in the city of Toronto, most pubs are known for out-of-the-box food," says Nicholson, referring to prepackaged items produced by third-party suppliers. "Although customers appreciated our elevated food, they didn't want to pay $21 for quality mac-and-cheese when they could get it elsewhere for $9."
Then again, initially, customers weren't coming for food anyway. When The Dog and Tiger opened in November 2018, the Raptors were en route to championship glory. People came to cheer on the home team, fortified by beers and burgers. Then the pandemic hit, forcing a series of closures – and a reevaluation (after all, the Raptors couldn't win every year).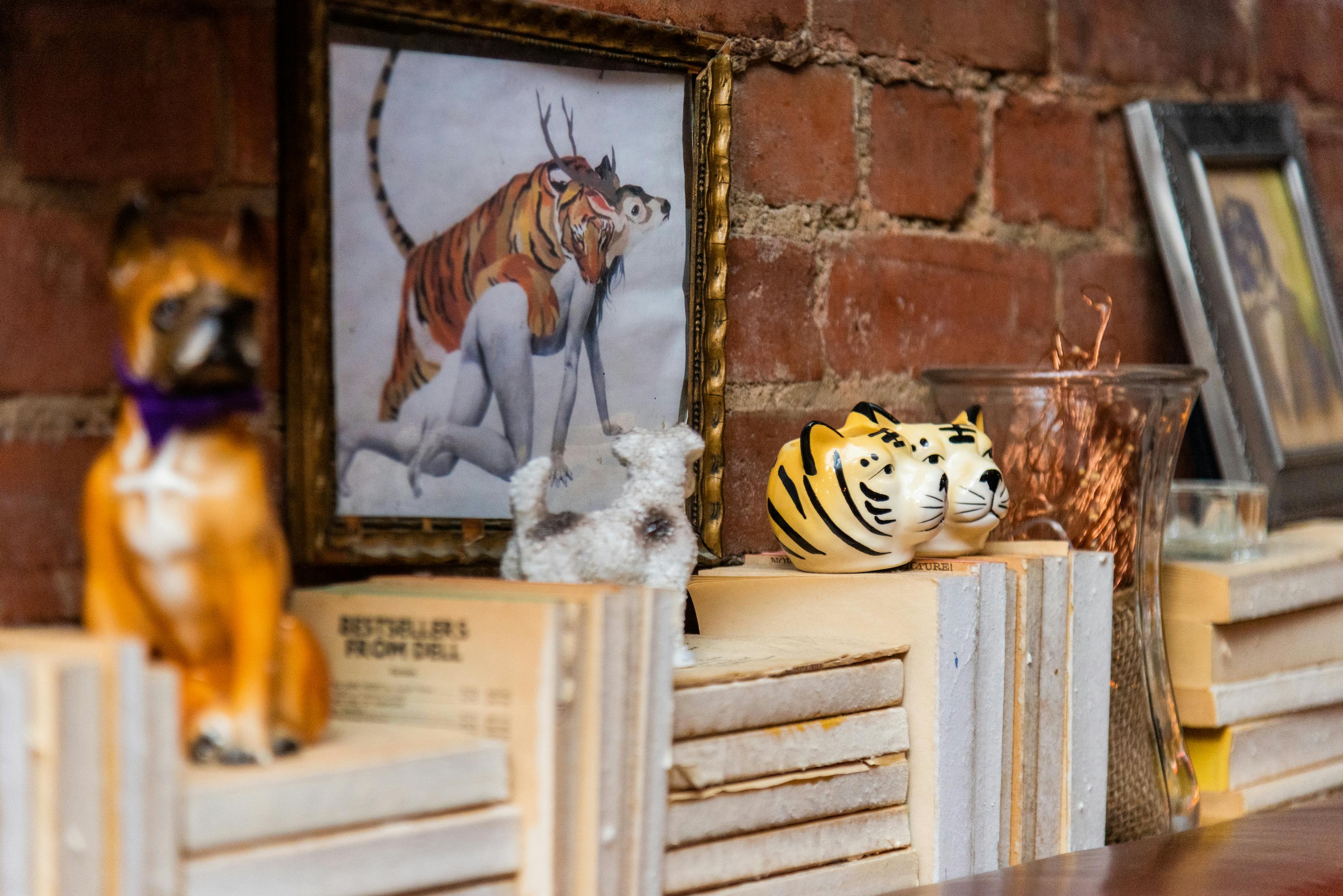 Nicholson began experimenting with more creative, chef-driven dishes. To his surprise, customers not only loved them, but were also willing to pay for them. Now, all he needed was a chef. In the summer of 2022, along came Salvo, a George Brown graduate who had worked his way up through the Chase Hospitality Group's restaurants and was committed to a farm-to-table ethos.
The transformation from pub to "kitchen & bar" didn't happen overnight. Out of consideration for pub regulars, the summer was a slow-burn transition period. Salvo kept fish and chips on the menu, for example. But he sought out the best wild cod, coated it in a yeasty beer batter and served it alongside a funkily fermented coleslaw.
Since autumn, however, the kitchen crew has been turning up the heat. Says Salvo, "We're establishing ourselves as a destination restaurant. Now a lot of people come here with the expectation of eating well."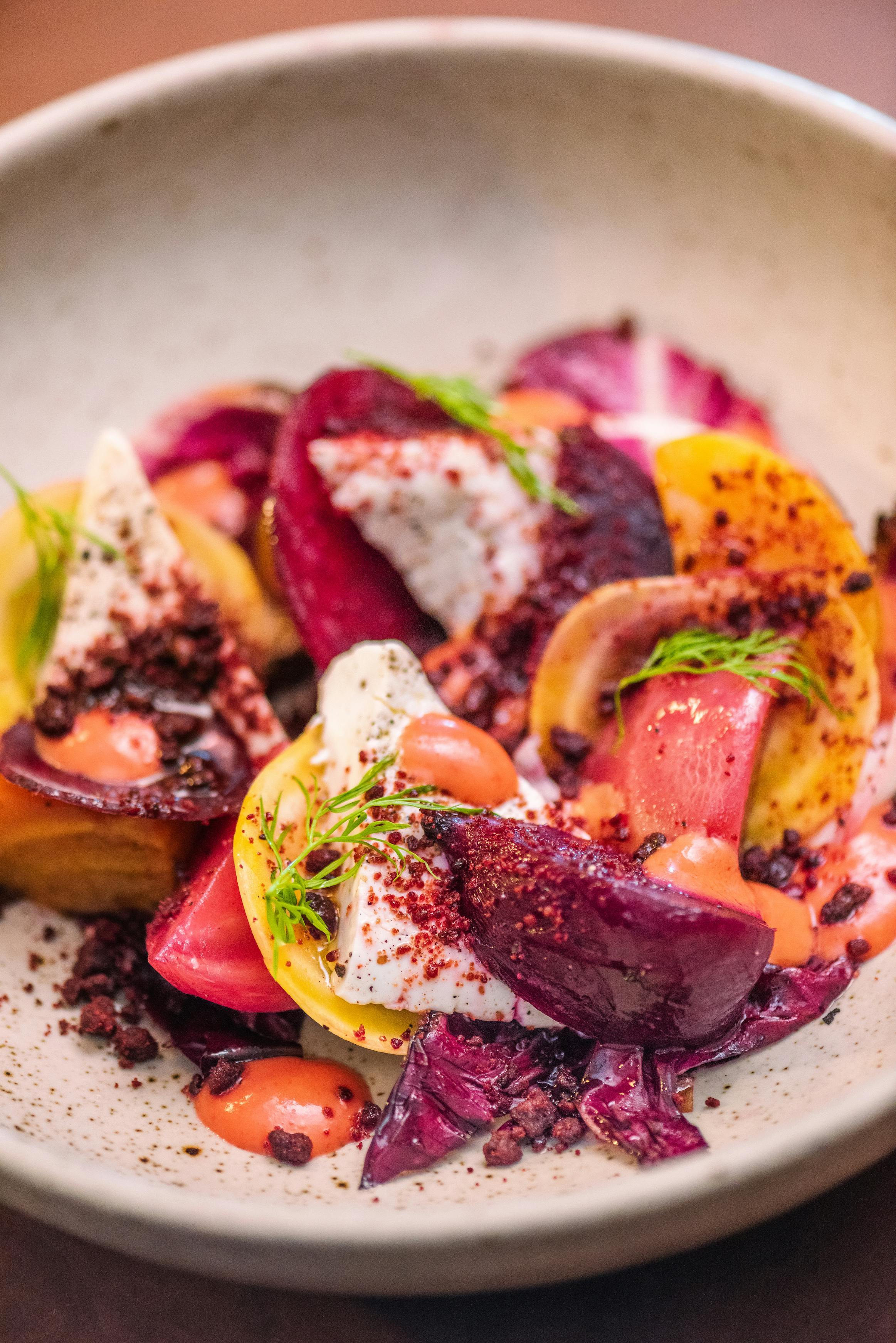 Such expectations are quickly met with a salad of red and golden Ontario beets. Roasted, pickled and shaved, the gleaming beets are layered with crisp purply leaves of grilled radicchio and creamy white triangles of house-made goat cheese. A fermented cherry plum vinaigrette adds delicate zing to the proceedings, which are then sprinkled with a confetti of beet crumble.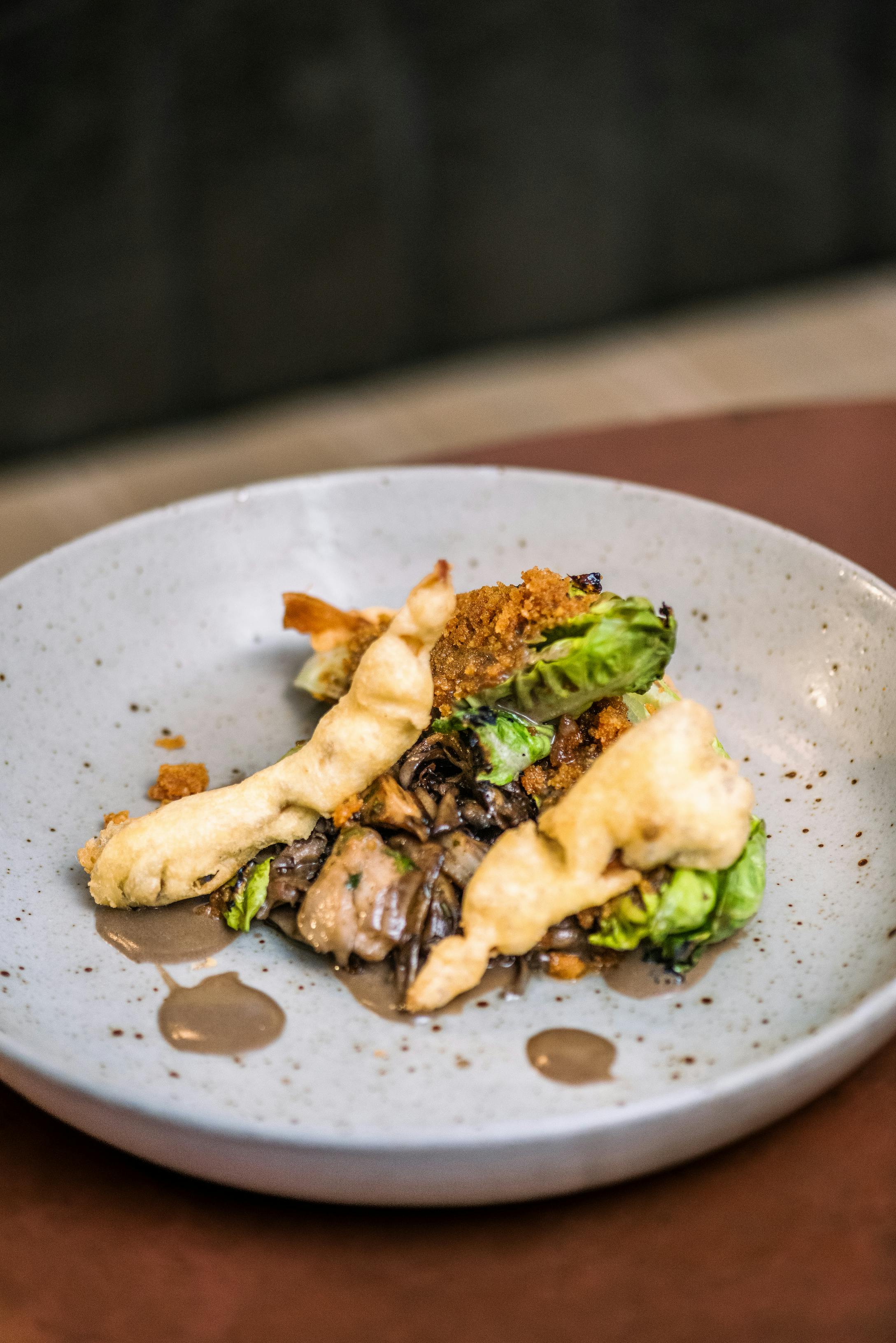 More daring is Salvo's boldly vegan mushroom Caesar salad, a recipe he toyed with for years to get right. The rightness begins with grilled gem lettuce, gorgeously crunchy, and gets righter still thanks to a heap of rich, earthy mushrooms; roasted hen of the woods, as well as oyster mushrooms, coated in a delicate chickpea tempura. Subbing in for, and surpassing, the usual crunchy croutons and umami-rich Parm is a beguiling tag team of potato crumble and nutritional yeast. A bracing emulsified vinaigrette, made with black garlic and pureed black trumpet mushrooms, is a temptation for plate-lickers.
Salvo's dishes are unerringly precise. But when asked to categorize his cooking, he stumbles, veering away from overused labels such as "farm-to-table," "sustainable," and "contemporary North American." All are apt, but insufficient.
"Ultimately, what drives us is a focus on the product," he admits. "Before we start inventing dishes, we ask, 'What are we going to use?', 'Where are we going to get it?', and 'Is it in season?" – that inspires what I'll make."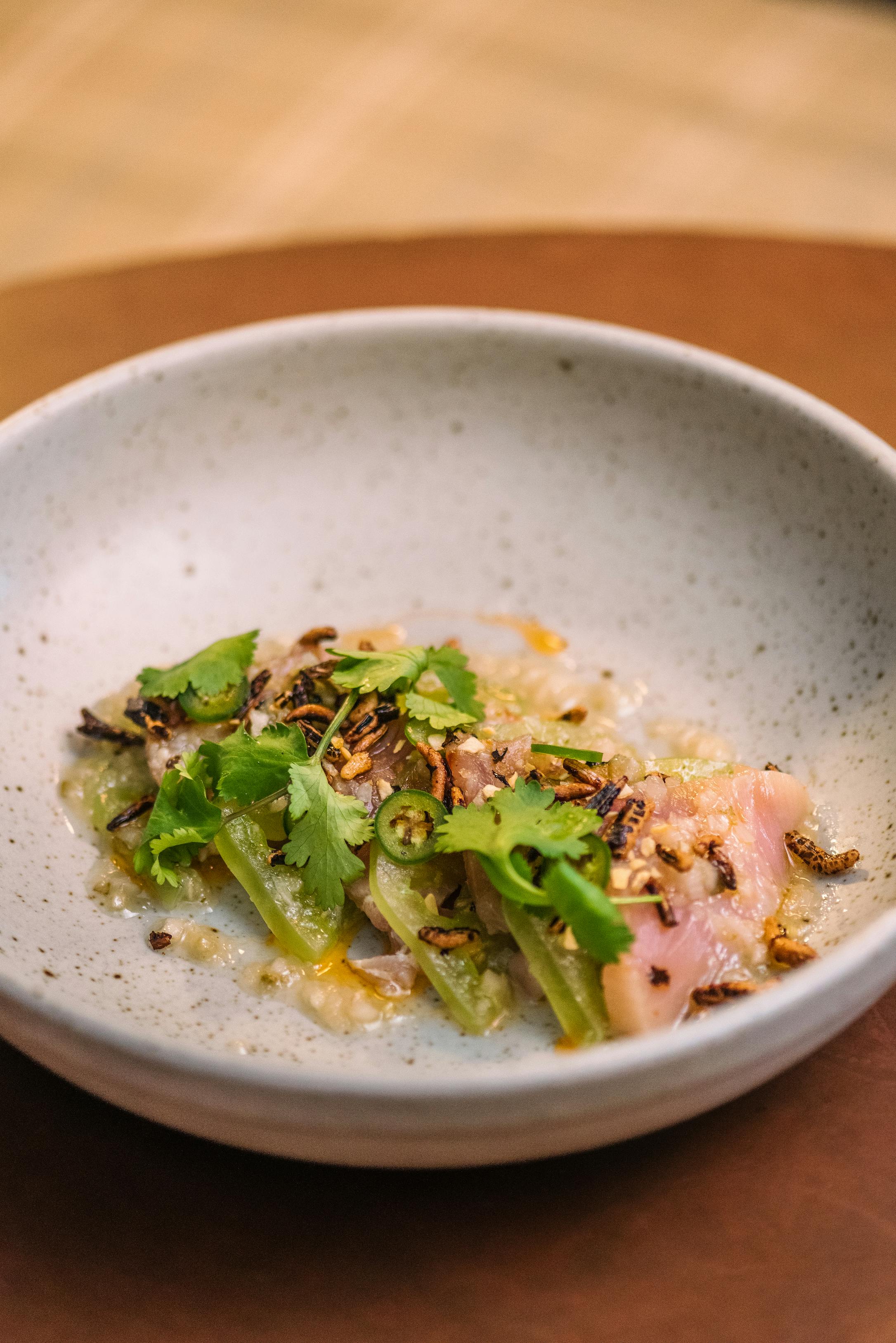 Such inspiration goes into the making of Salvo's tuna crudo. In its raw, unadorned state, the opalescent chunk of Atlantic tuna would satisfy a pescatarian's deepest cravings. Yet, respecting its powerful chill, Salvo lightly marinates the fish in a fermented green tomato vinaigrette. He then colourfully complicates things, layering on heat and crunch with the vibrant addition of compressed tomatoes, garlic chips, puffed rice, Pietro red chilis and a sprinkling of cilantro.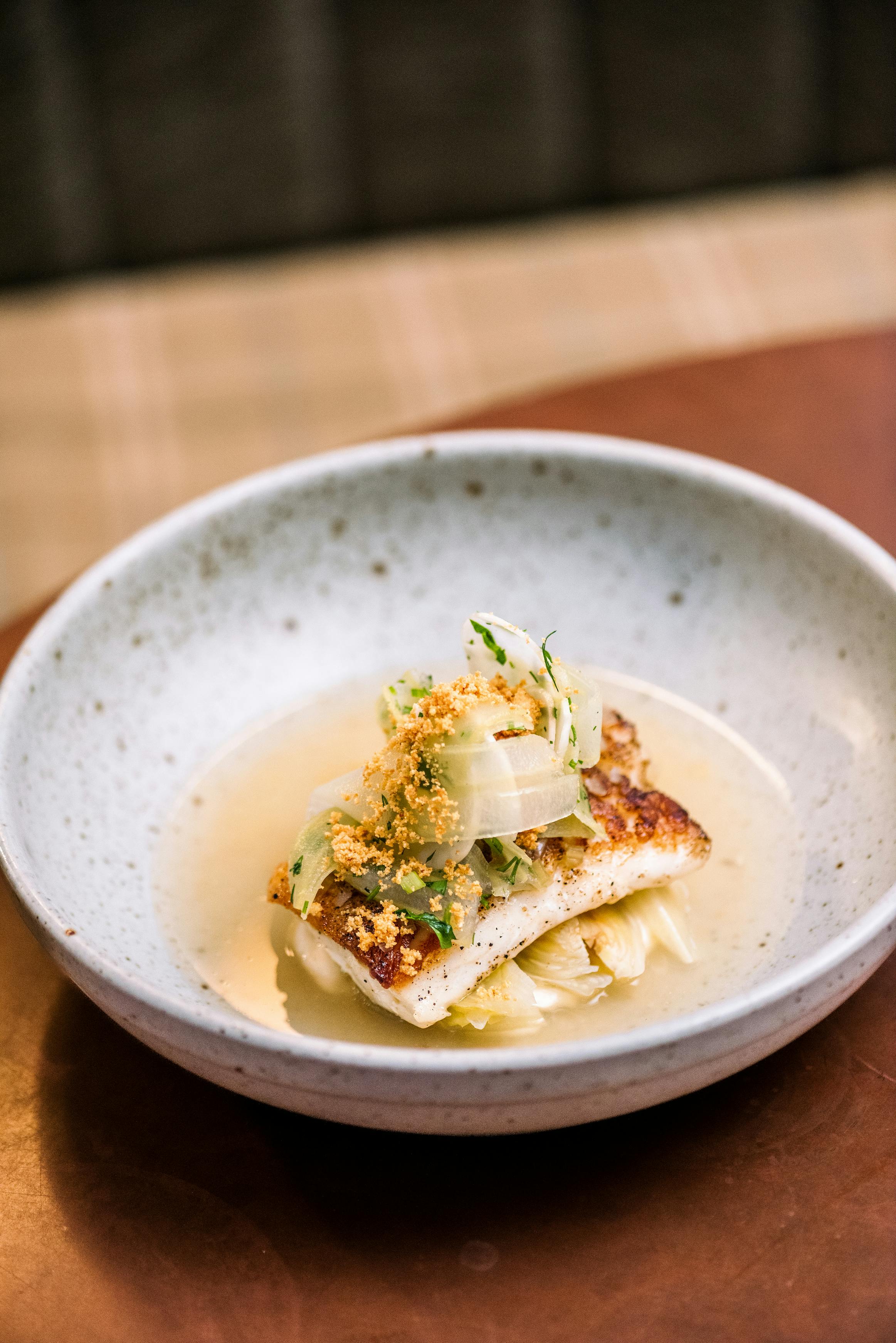 If Salvo makes such daring leaps, it's because he can count completely on the quality ingredients provided by farmers, butchers and other purveyors he seeks out. For instance, Fogo Island Fish supplies the line-caught cod used in the aforementioned fish and chips as well as a more provocative dish in which thick fillets are tenderly poached in a smoked dashi broth and paired with poached gem lettuce and celeriac puree. A light drenching in brown butter vinaigrette adds a subtle brininess that harmonizes with the fish's fresh Atlantic tang.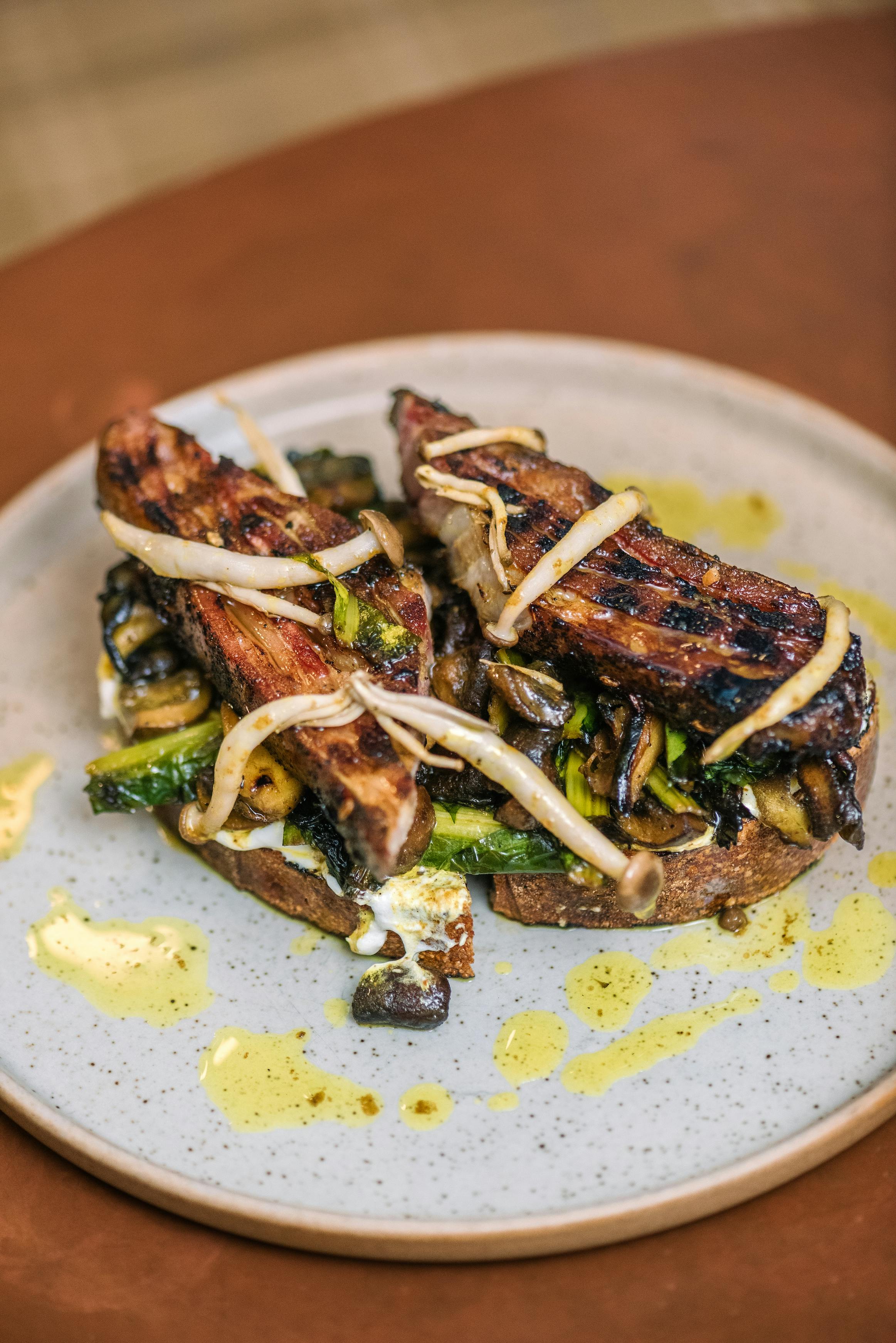 Then there's the lamb supplied by Beverly Creek farms. Salvo uses the flanks in an inspired variation on one of life's most basic edible pleasures – a slab of bacon on bread.
How does lamb become bacon? In Salvo's hands, it starts by gluing the bellies together with transglutaminase (meat glue that "looks like icing sugar"). The "bacon" is then cured, cooked sous-vide for 17 hours and grilled to order. Served on toasted sourdough, the result – richly succulent, neither lamby nor bacony, but somehow both – is intensely fulfilling on its own. With the addition of wild leek pesto, shaved Mountain Oak gouda, pickled ramps and ricotta, it's full-on bacon nirvana.
"At the end of the day, it's a piece of bacon on toast, but it's a real process to get there," says Salvo, who is nonetheless gratified by the number of diners who drop by the kitchen just to say, "What the hell did I just eat?", "That bacon blew my mind!"
As a modest aside, he adds, "My mom can't stand lamb, but she loves it."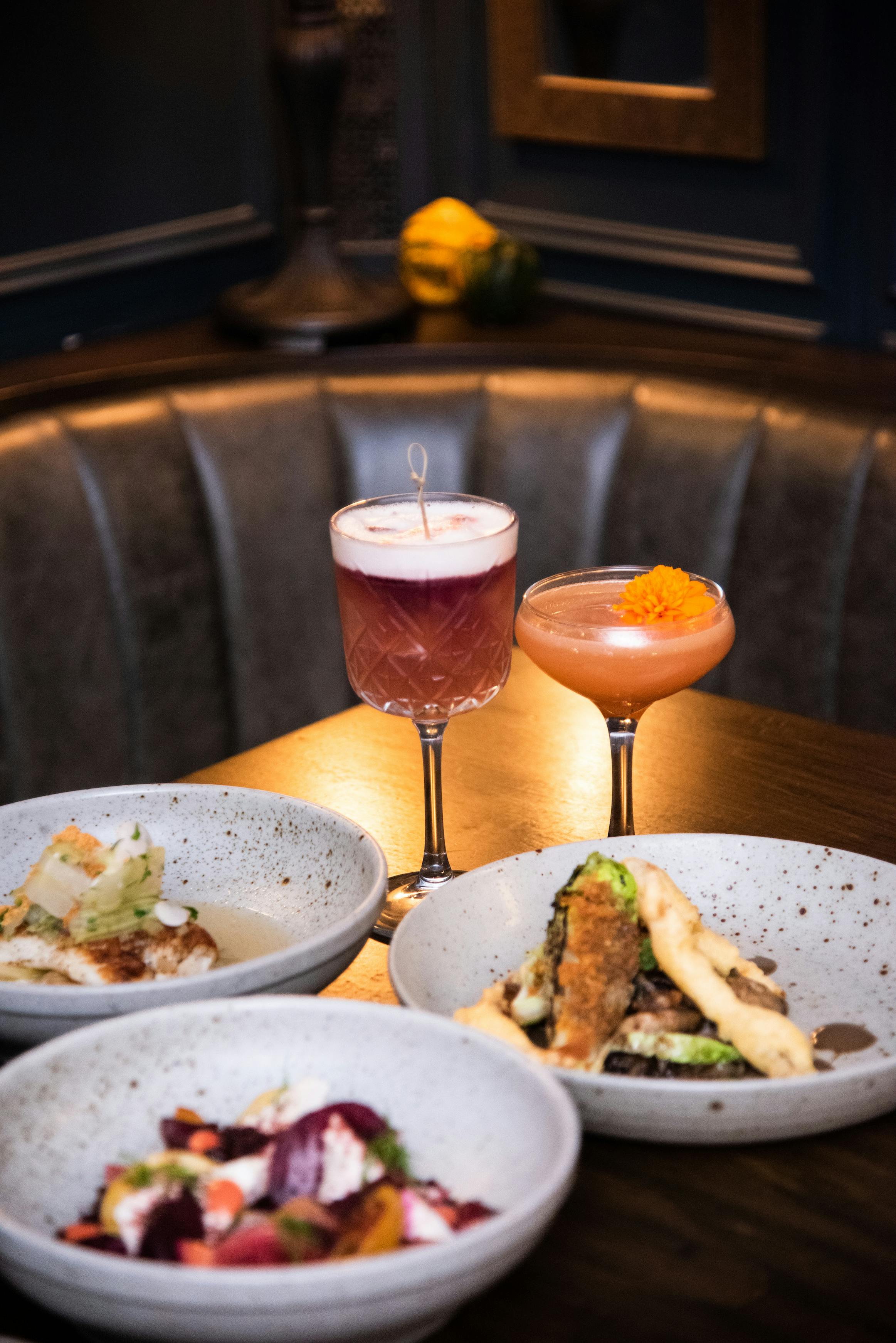 Due to what Nicholson refers to as "Tom's level of chef-ery," The Dog and Tiger has had to up its alcoholic game. While you can still kick back with a (local craft) beer, the wine list, compiled with food pairings in mind, is a rarefied one, featuring many biodynamic vintages.
"We use the best importers in the city," confesses Nicholson. "You can't get our wine at the LCBO. And there's nowhere else you can get our cocktails."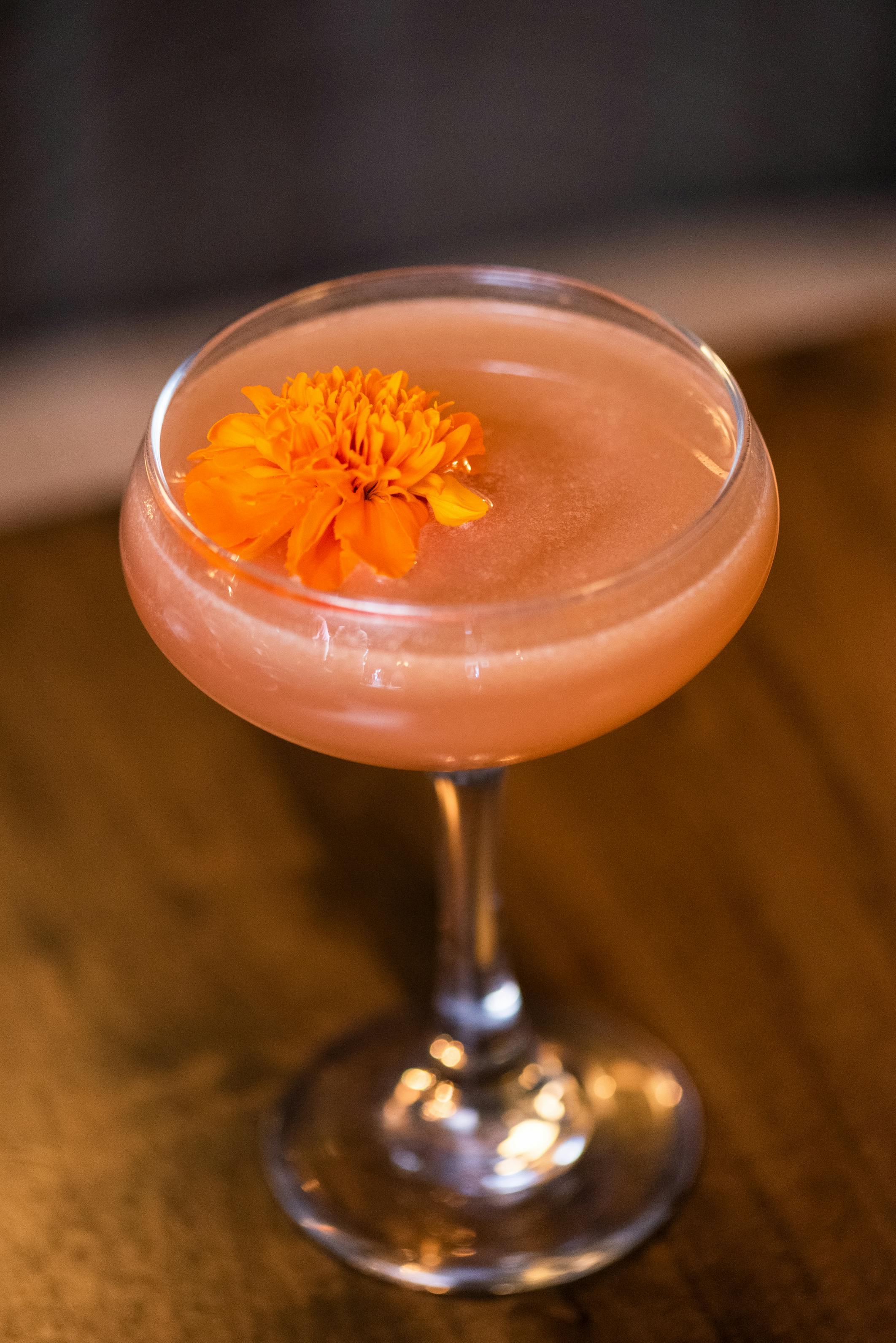 Dreamed up by Nicholson, the cocktails are as creative as the food, with everything crafted in-house and not a pre-made mix in sight. A seemingly standard New York Sour contains the requisite whiskey, freshly squeezed lemon and house-made simple syrup. But then there's the pièce de résistance: a ruby-red orb of Malbec-infused ice, which, as it melts, causes the entire drink to redden like a sunset.
Inspired and named for Nicholson's daughter, the Maggie Mae (vodka, gin, peach syrup, blood orange syrup, freshly squeezed lemon, topped with Prosecco) verges on a Cosmo. It's pretty and pink-ish, but with less sweetness and more complexity.
"Maggie Mae is only 10 years old, but she loves it," says Nicholson, adding that his daughter/muse also loves that her namesake drink outsells her six-year-old brother's, The Jack Harvey Wallbanger (citrus vodka, Galliano, cold-pressed blood orange and orange bitters).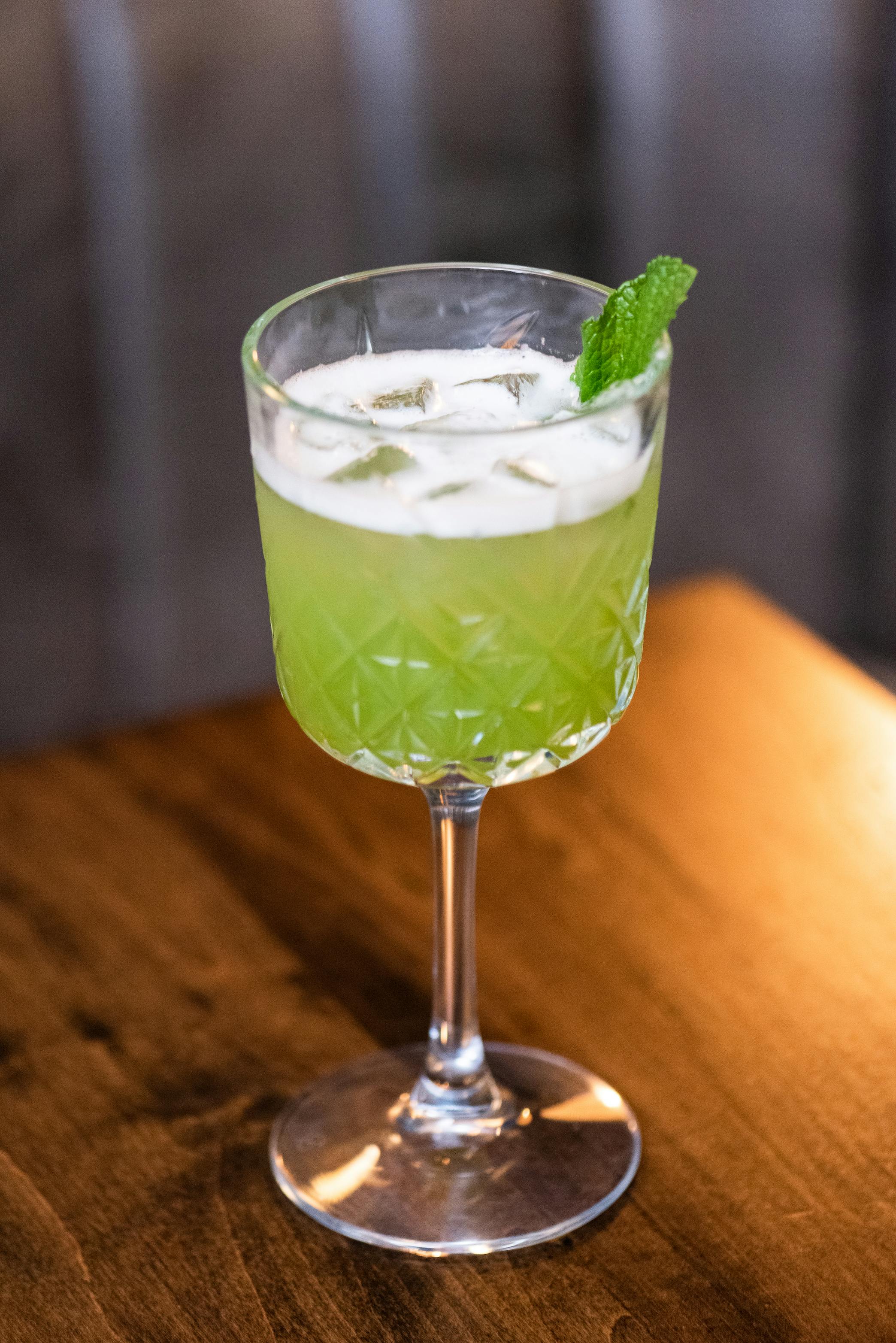 Going for bust on the creative front – in terms of its name and its ingredients – is the Mind your Peas and Booze. This refreshing pale green potion consists of Dillon's Small Batch Gin, freshly squeezed lemon, muddled mint, and house-made simple syrup, all playing vital yet supporting roles to fresh Ontario-grown pea pod juice.
Deliciousness aside, Mind your Peas and Booze is also an incredibly imbibable example of how The Dog and Tiger's creativity is paying off – literally.
It's no secret that inflation and supply chain issues have left many bars and restaurants struggling with elevated prices. Those whose business model depends on external suppliers for pre-prepped products are especially vulnerable. However, because The Dog and Tiger makes everything in-house, if a specific ingredient's cost becomes outrageous, the kitchen can easily pivot – and do so sustainably – while saving money.
Ingredients are not only used and reused but also pickled, frozen, vacuum-packed and repurposed to the max, often in unexpectedly imaginative ways. In the summer, for example, Salvo ordered tons of fresh Ontario peas. It seemed a crime to throw away towering piles of leftover shells; instead they found their way into juices, salted pea shells, ice cream, and – once shared with the bartender – this "weird pea cocktail."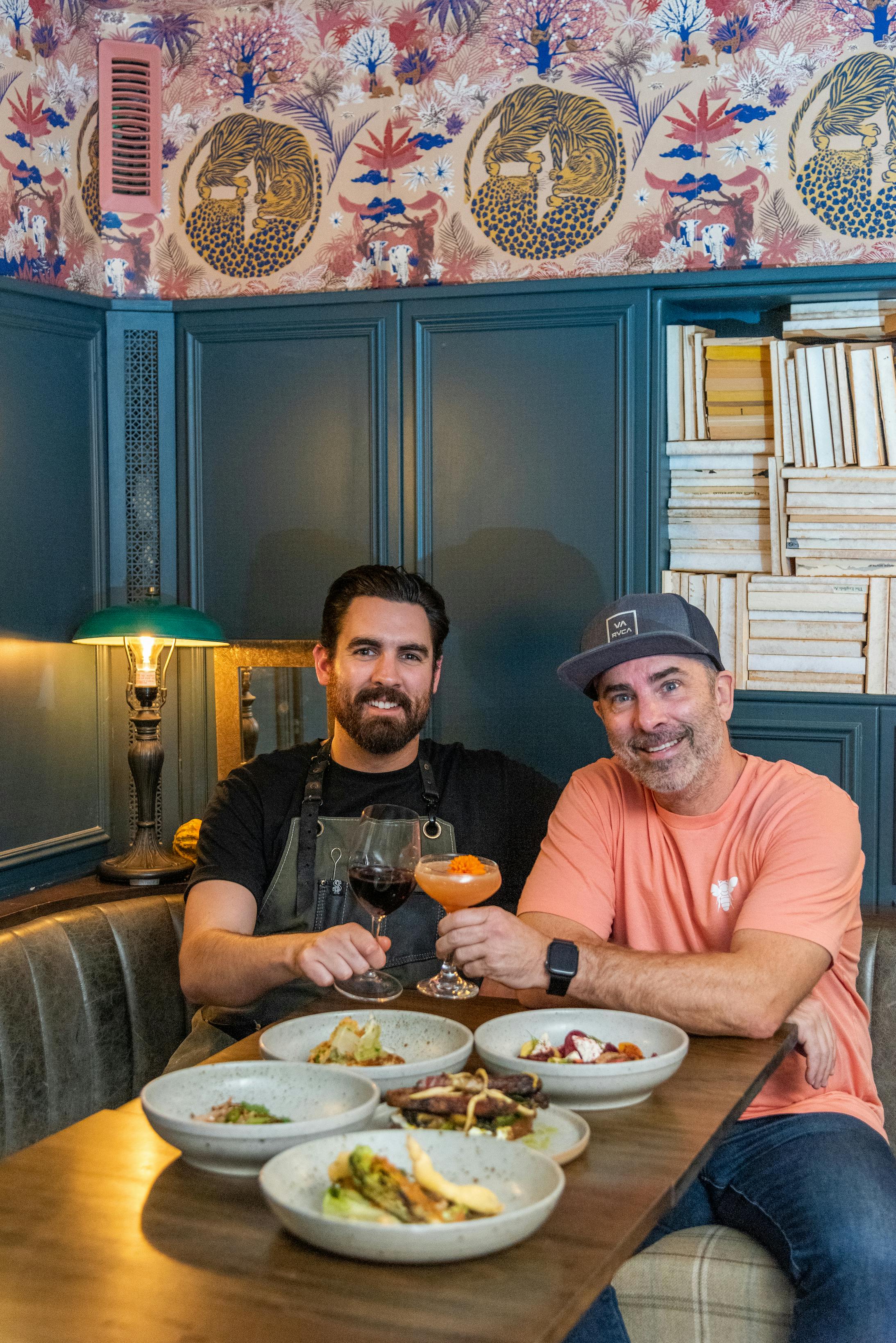 In a short time, the metamorphosis from old-school pub to cutting-edge "kitchen & bar" has transformed The Dog and Tiger into a destination dining spot. But regulars have also embraced the change. Nicholson tells a final story about a favourite regular who, every Thursday, Friday, and Saturday evening, would stand at the bar and drink an unbelievable amount of Guinness for five hours straight, without eating anything.
"Now, with the new menu, he eats," says Nicholson. "Although he still downs his eight pints of Guinness and walks out straight."