You never know when you're going to meet your new best friends – especially friends you'll one day own two restaurant ventures with. Friends Dong-Soo Eum (Don), Miguel Arguello, and Aidan MacDowall first met working in kitchens in Toronto, and now, they own the sandwich shop The DAM, and have recently opened Bloordale's newest tapas spot, The 1211.
Friendship, simplicity and quality are at the heart of The 1211, which opened at the end of February 2023 in Bloordale. The new restaurant replaced the popular bottle shop the 4th and 7, after it moved into Society Clubhouse on College. Aptly named for its address at 1211 Bloor St. W., The 1211 is a quaint restaurant that packs a punch of delicious and unique Korean-Mexican-Canadian fusion dishes on its menu.
The DAM and The 1211 are closely tied to Eum, Arguello, and MacDowall's friendship, which sparked some six years ago when the trio worked within the same company at different restaurants. At the time, the now chefs and owners hopped between Leemo Han's popular restaurants, including Pinky's Ca Phe (temporarily closed), Hanmoto, and Seoul Shakers, where they developed a tight-knit friendship over the years.
"During the pandemic, we would switch between restaurants, and that's how we spent time together, and then we thought it would be a good time to start something," says Arguello. "We really wanted to do something together."
In December 2021, Eum, Arguello, and MacDowall opened The DAM, a simple sandwich shop with just five sandwiches, located at Oakwood Ave. and Rogers Rd. The DAM is an amalgamation of the first letter of each of their names – Don, Aidan, and Miguel.
The DAM took the neighbourhood of Oakwood Village by storm, selling out on multiple days in the week it opened. With the sandwich shop's success, a second venture was on the horizon, and with 4th and 7 Bottle Shop moving out of its space, 1211 Bloor St. W. was the perfect location for an expansion.
"We also wanted to cook something in a dish as well, and then we were fortunate enough to stumble upon this place," says Eum.
Seated at what was once the 4th and 7's sales counter and now The 1211's bar, Eum, Arguello, and MacDowall crack jokes and reminisce on their entrepreneurial journey. The three of them agree that The 1211 is a great addition to the neighbourhood.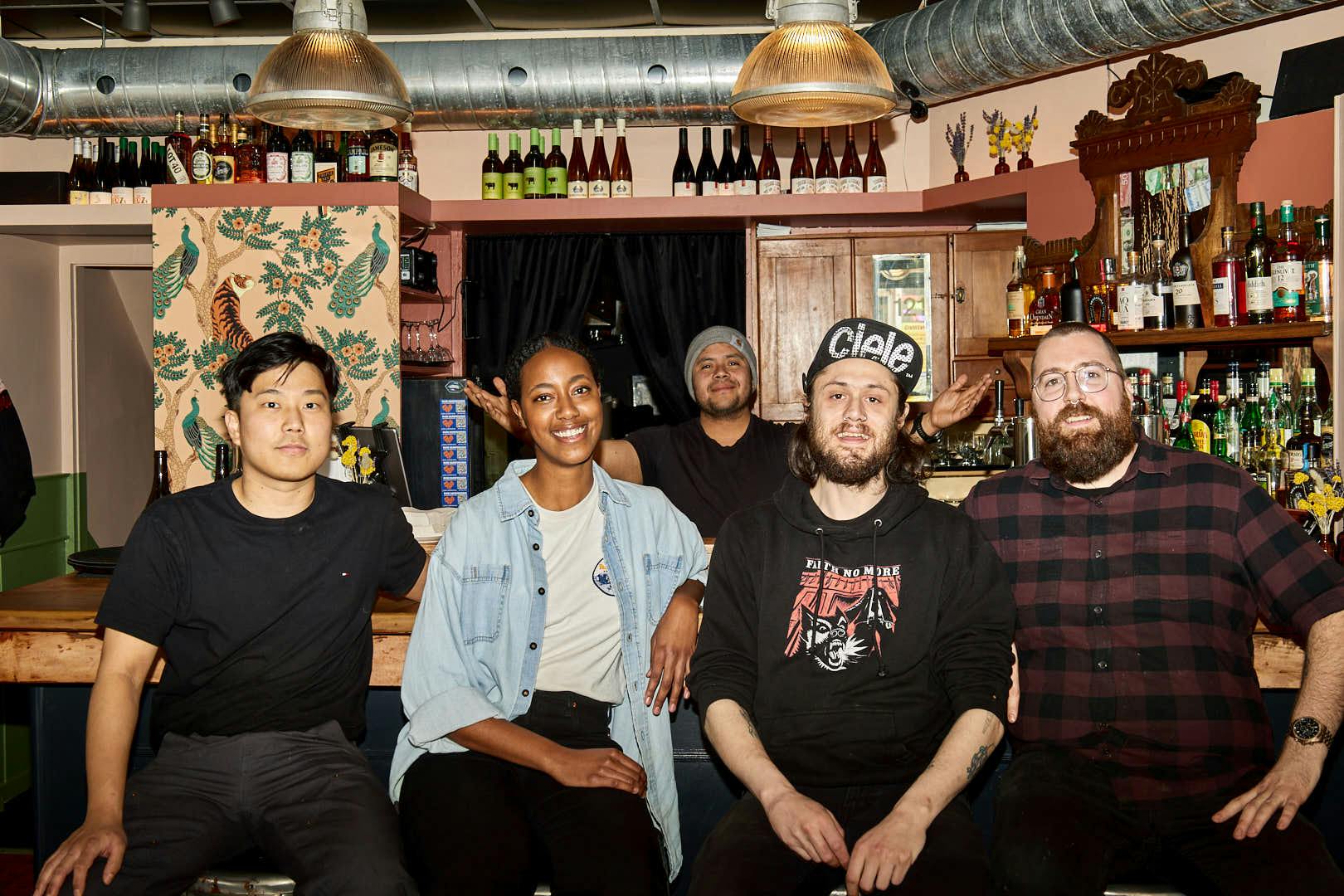 Pictured left to right: Don Eum, Wiheba Kalisa, Miguel Arguello, Kyle Bennett and Aidan MacDowall.
"We wanted a cozy, homey vibe, where you can come here, have a drink, grab some snacks, and not be too overwhelmed," describes Eum. "Like a fun vibe but still not too overwhelming."
"I mean, you can party if you want," jokes Arguello.
"You can party, but it's just a little tamer than King Street or something," adds MacDowall.
Don't blink or you might miss it – The 1211's no-frills exterior looks like a storefront that may or may not be open. Darker windows make it a little tough to see inside, but rest assured, it is open, and it is incredible. Notably, a chalkboard at hip height serves as signage outside, with crafty, rustic lettering that spells out "The 1211".
As for the interior, The 1211 makes the most of an intimate space. There are about nine square, wooden tables with four unique, vintage chairs each, and four stools at the bar for seating. The vintage chairs are indeed pre-loved and add a lot of character to the space.
"Miguel just drove around and found a lot of chairs," recalls Eum. "He went on a scavenger hunt for chairs."
Arguello says that he drove within an hour or so of the city to pick each one of them up, some from online marketplaces, and some simply off the street.
"Every chair we picked, we were very picky with them, it had to be good quality, it had to be strong, and they have to look nice and kind of match the whole thing," explains Arguello.
Looking around The 1211, many antique-looking fixtures adorn the space, such as the shelving at the bar, which kind of looks like the top of an old dresser, complete with a small mirror. One wall panel has been wallpapered with a muted and eclectic design of tigers and peacocks. These funky elements modernize what might otherwise seem outdated. Wood, light pinks, and soft greens create a delicate aesthetic, with quirky little paintings of monarchs and knights in small, elaborate frames on one wall, and a sign that reads "MARGUERETTA" over a large drink menu on another.
The place has "good bones", the trio expresses at almost the same time.
Overall, Eum, Arguello and MacDowall have succeeded at creating a welcoming vibe that feels like home, perfect for hanging out with friends or even a simple date night.
Now, on to the food! The Korean-Mexican-Canadian fusion small plates on The 1211's menu are inspired by Eum, Arguello, and MacDowall's diverse roots, and simple, quality food and ingredients. For Eum, that means inspiration from Korea and from his grandmother, for Arguello it's growing up in Mexico where his family runs a food business making lamb tacos, and MacDowall's upbringing in Halifax gave him a taste for seafood, garlic, butter, and simple things.
The 1211's menu boasts casual, small plates, where each classic dish has a flavourful, fusion twist. The concept reflects how the trio likes to go out – ordering shareable rounds of food where you can try the whole menu with a small group, without breaking the bank.
"Mainly, we like to eat," says MacDowall. "We're just foodies," adds Eum.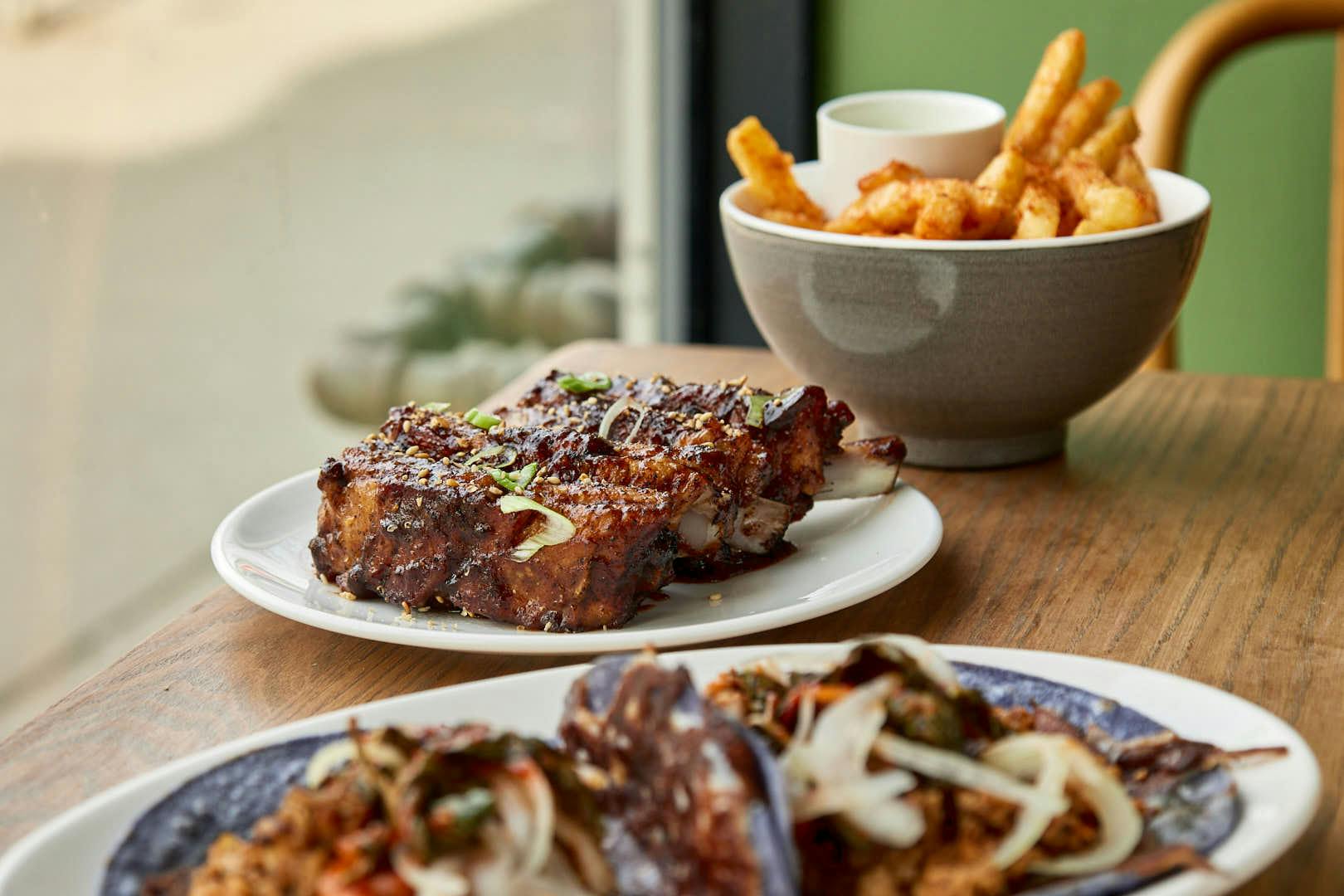 First on the docket, we have ribs. These are pork back ribs, slow-cooked for 16 hours. The chipotle barbecue sauce is made using the jus from the slow cooking process, with maple syrup, chipotle, peppers, and adobo folded in. Garlic and scallions finish off these incredibly tender, juicy, Mexican-Canadian fusion ribs that just fall off the bone.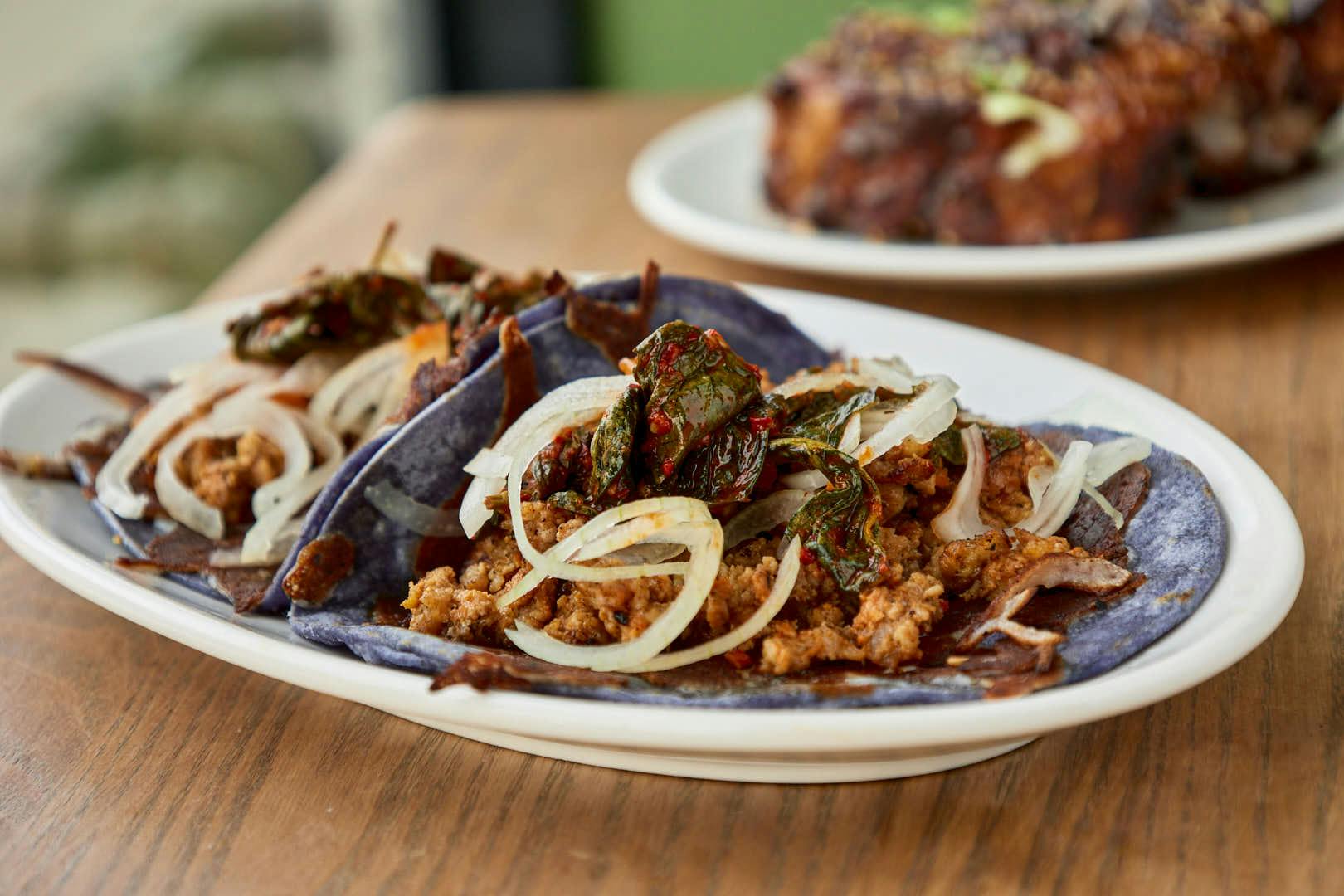 The chorizo tacos plate comes with two tacos, laden with chorizo, kimchi basil, and onion. MacDowall notes that kimchi basil is popular in Korea right now, and the trio experimented with many dishes to figure out the best way to incorporate the garnish in a dish. The result is these loaded tacos, with crumbled chorizo, white onion, soy glaze, and of course, kimchi basil.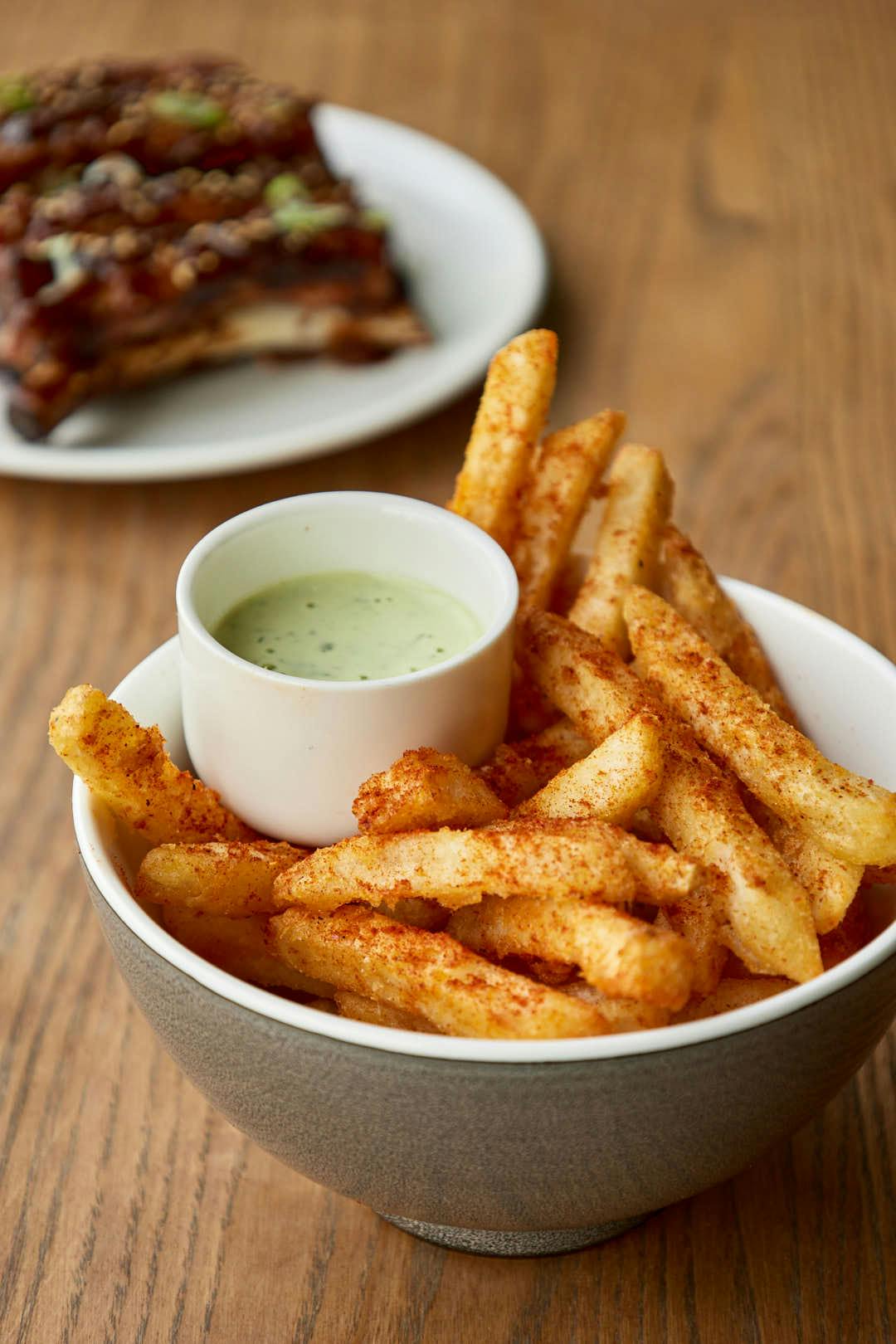 Fries are a classic on any shareable menu, and these Mitamita Fries are a fan favourite. Mitmita is an Ethiopian, chilli-like, fragrant spice blend, with a story that Eum, Arguello, and MacDowall bring from The DAM. MacDowall says that a group of regular customers at The DAM gave the trio a bottle of the mitmita spice blend to put on their sandwiches every time they came in. So, the trio thought to try the blend, loved it, and started eating it on many dishes themselves. Now, mitmita lives on these fries at The 1211, served with a chimichurri mayo with parsley, garlic, and chilli.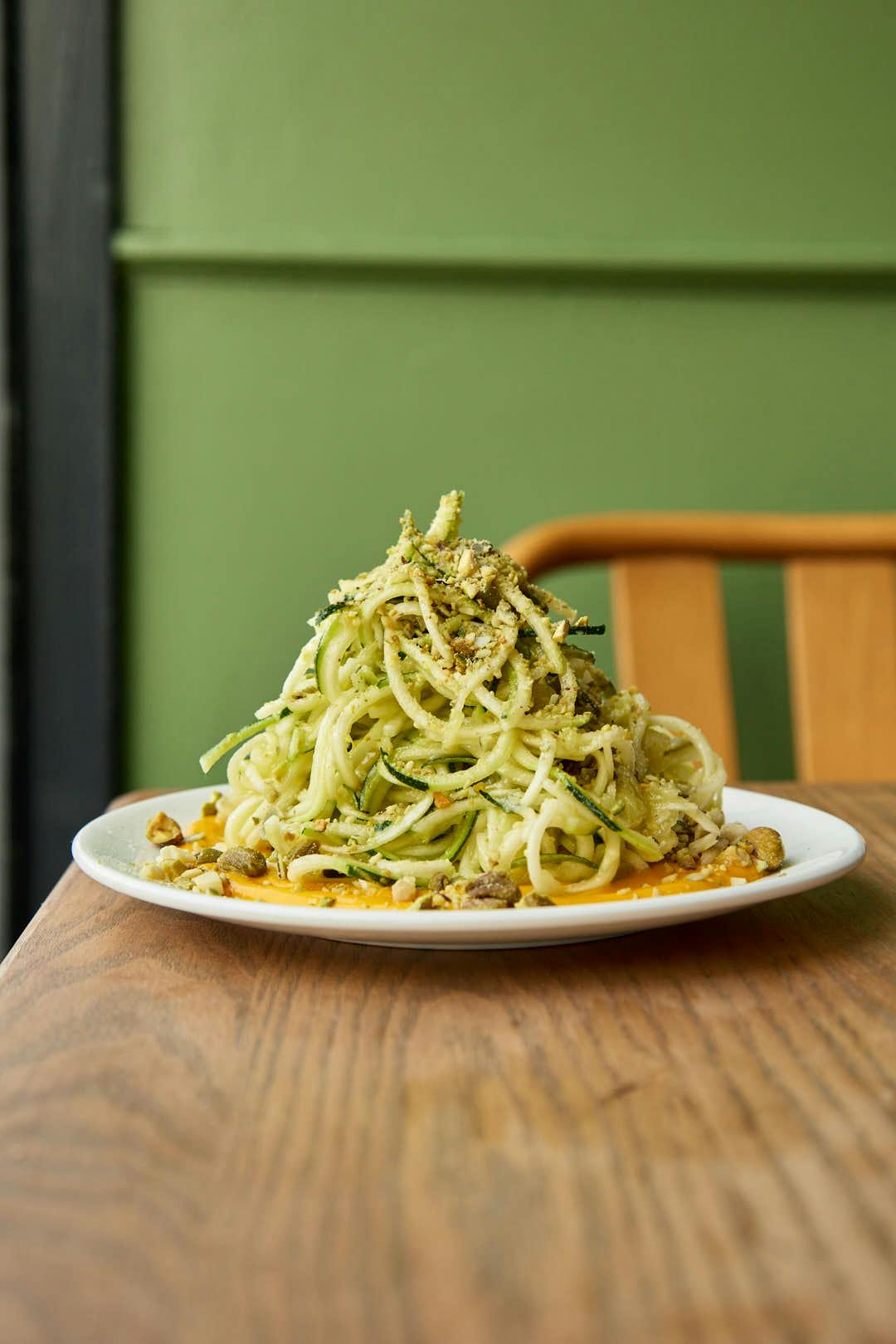 Those seeking something fresh can order the zucchini salad, with shredded zucchini served atop a confit carrot purée, with jalapeno, garlic dressing, and white wine vinegar, pistachio, almond, and sunflower topping. This starter salad may be on the menu seasonally, but guests can typically expect freshness and veggies at The 1211.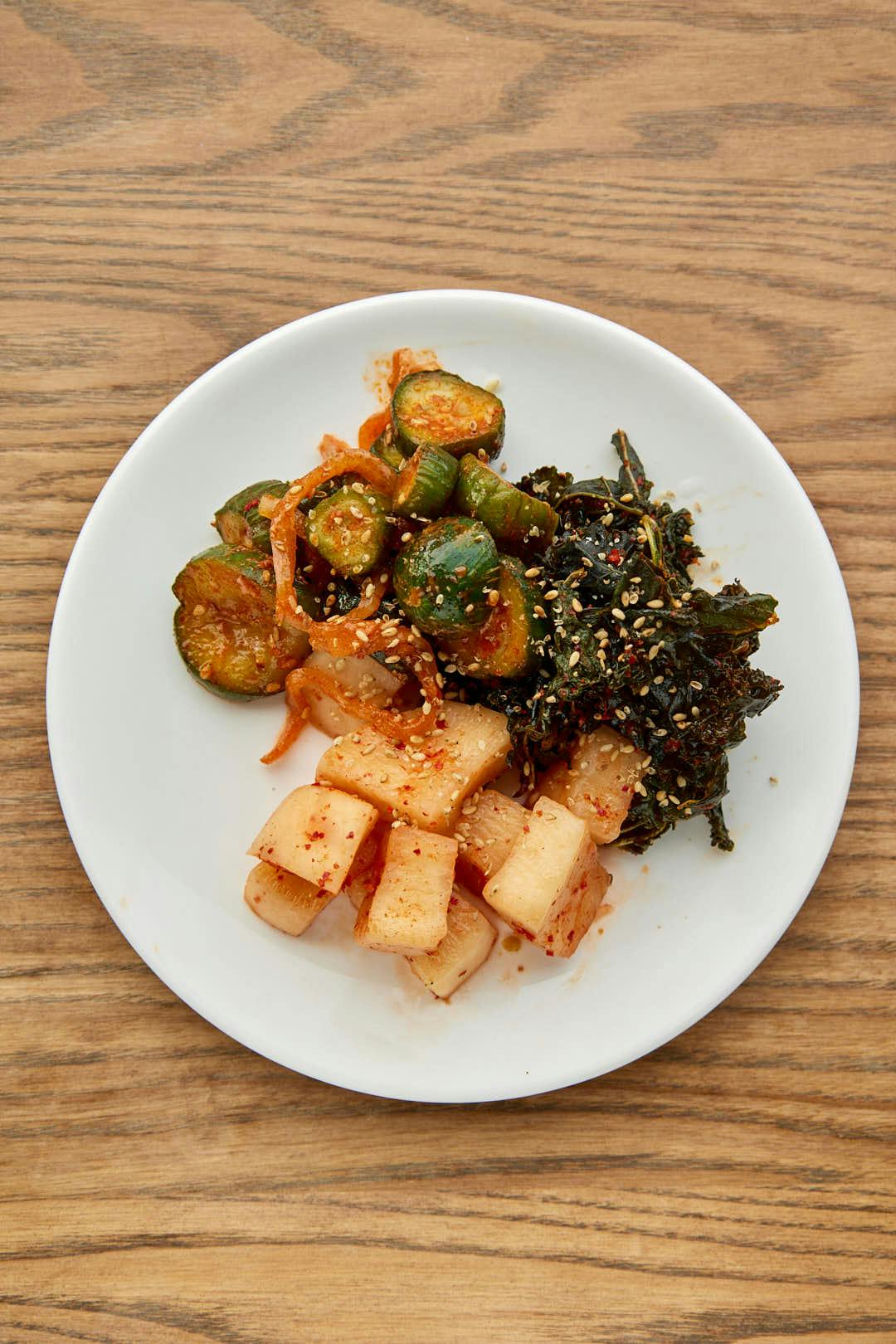 Then, there is the kimchi trio with cucumber, daikon, and kale. Customers can also purchase the kimchi individually or as a pack.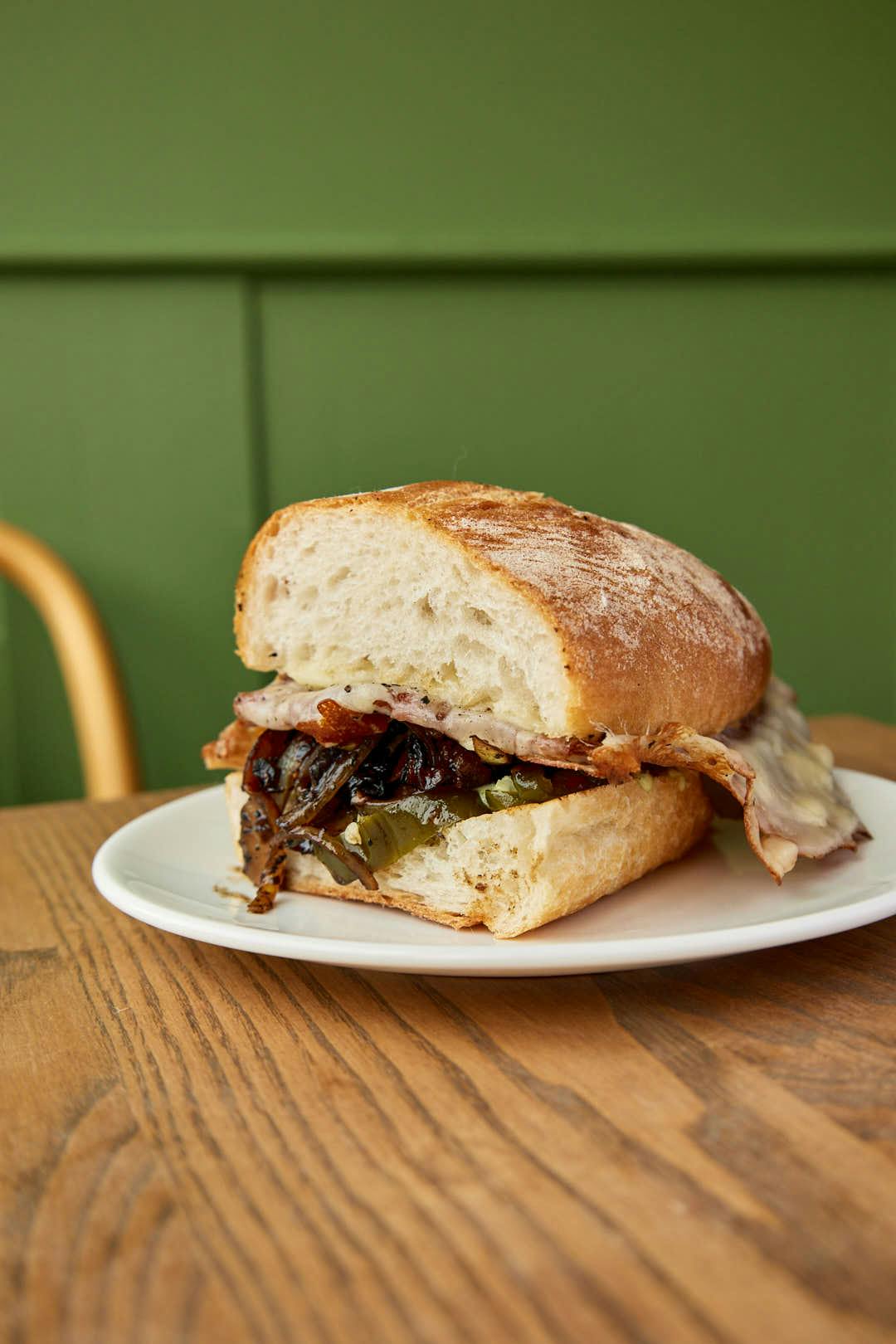 The Steak n Mushroom Melt was the first sandwich special at The DAM in 2021, and it has succeeded as a part of the menu at The 1211. The Asian-inspired sandwich unites soy sauce, oyster sauce, jalapeno, garlic, sauteed mushrooms, and onions, with a decadent, 36-hour beef brisket, all served on Mafra. This is one of the heavier items on the menu, great for an individual meal.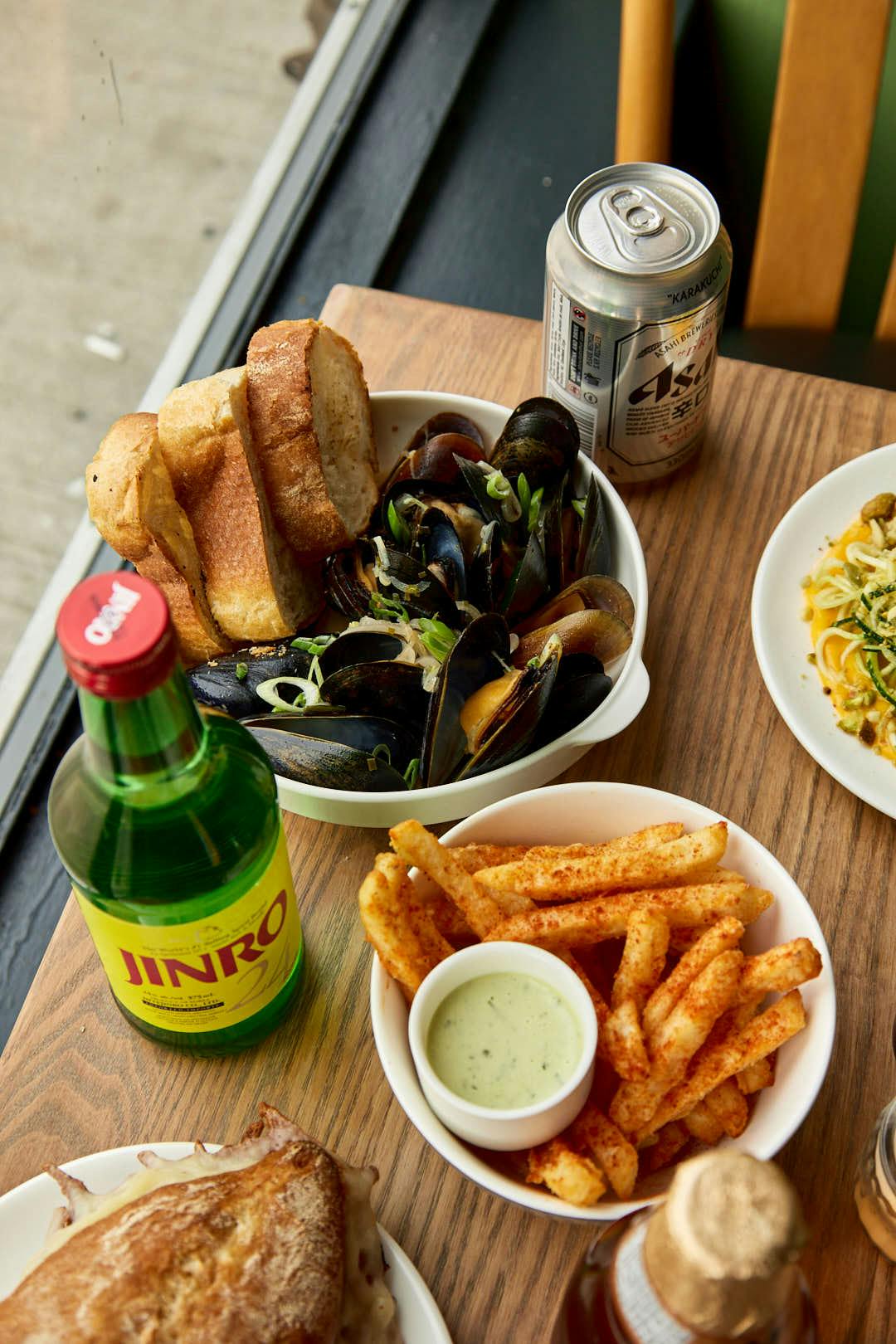 MacDowall's Nova Scotia roots shine through the mussels. These fusion mussels are made with ginger, garlic, scallion and soju, giving the pub favourite a unique twist. The mussels are served with three perfectly toasted pieces of Mafra doused with garlic oil. This is a very cozy, soup-like dish.
"We love mussels – the three of us," says MacDowall.
"I grew up in Nova Scotia, and my mom used to feed me mussels until I was sick. It took me a few years to come back around to them, and I've been missing them lately, so the menu is like, what do we want to eat and cook?"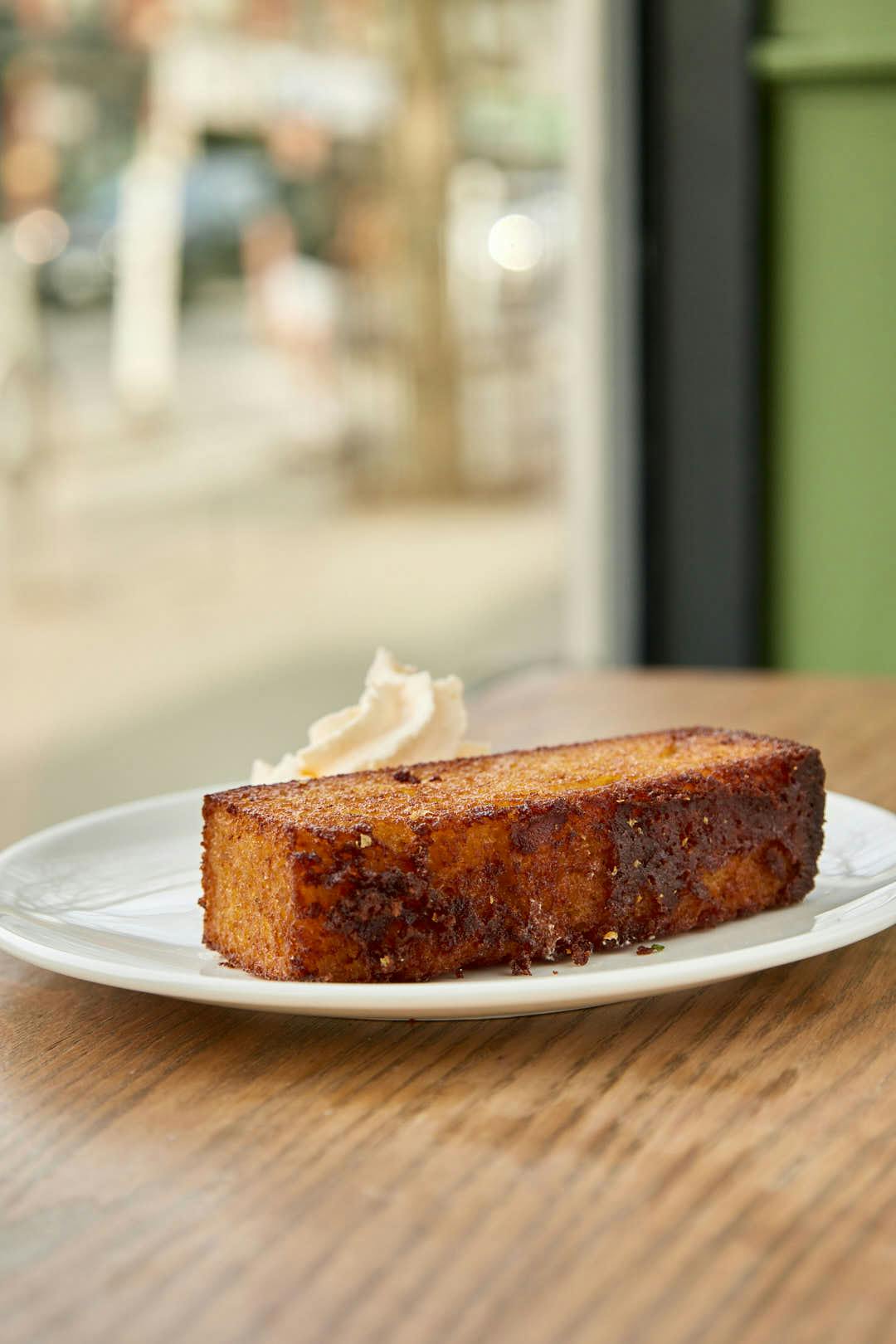 For a sweet and spicy treat, try this incredible cornbread for dessert. Slightly crispy on the outside, soft, dense, and sweet on the inside, the cornbread is MacDowall's grandmother's recipe with some adjustments. The bread is served over a Thai chilli whipped cream, and finished on the flat top, made to order. On the weekends, The 1211 offers cornbread pancakes for brunch, too.
"I just love cornbread," expresses MacDowall. "It's something I've made for a long time, and it's really versatile here."
The small but mighty menu extends from these items to dakgalbi skewers with chicken thigh, gochugaru, soy glaze, and sesame; marinated Spanish and Italian olives; and panna cotta for another delicious and inspired dessert option. The menu will change seasonally, to align with the trio's tastes, and fresh, available ingredients.
The drinks menu remains simple, too. The 1211 does classic cocktails, and serves up craft beer, natural wines, soju, and sake.
The trio gives a special shout out to the wonderful team at The 1211, where they get to work with even more of their friends every day.
"We love to work together, and we love to work with our friends, too," says MacDowall. "It's mainly that."
The 1211 is open for dinner every day from 6 p.m. to midnight and serves brunch on Saturdays and Sundays from 11 a.m. to 4 p.m. Keep up with The 1211 on Instagram.