Photographs by Paolina Loseto
Zitto Zitto Taverna is the brainchild of Sotto Voce owners Anita Mancuso and Alan Thomson. The two have been working together in the industry as business (and life) partners for 29 years and are thrilled to be starting an exciting new adventure.
Located in the former Trattoria Giancarlo space at 593 College Street, Zitto Zitto is directly behind, and beside Sotto Voce, once of Little Italy's most famed spots for celebrity hangouts, spontaneous dance parties, excellent music and an all-around good time.
Mancuso and Thomson had purchased Sotto Voce over 20 years ago when its previous owner was looking to sell and insisted the spot would be kept in good hands with the two behind the wheel. They had always loved going there, and when the opportunity came up to purchase it, they knew it would quickly become their new baby.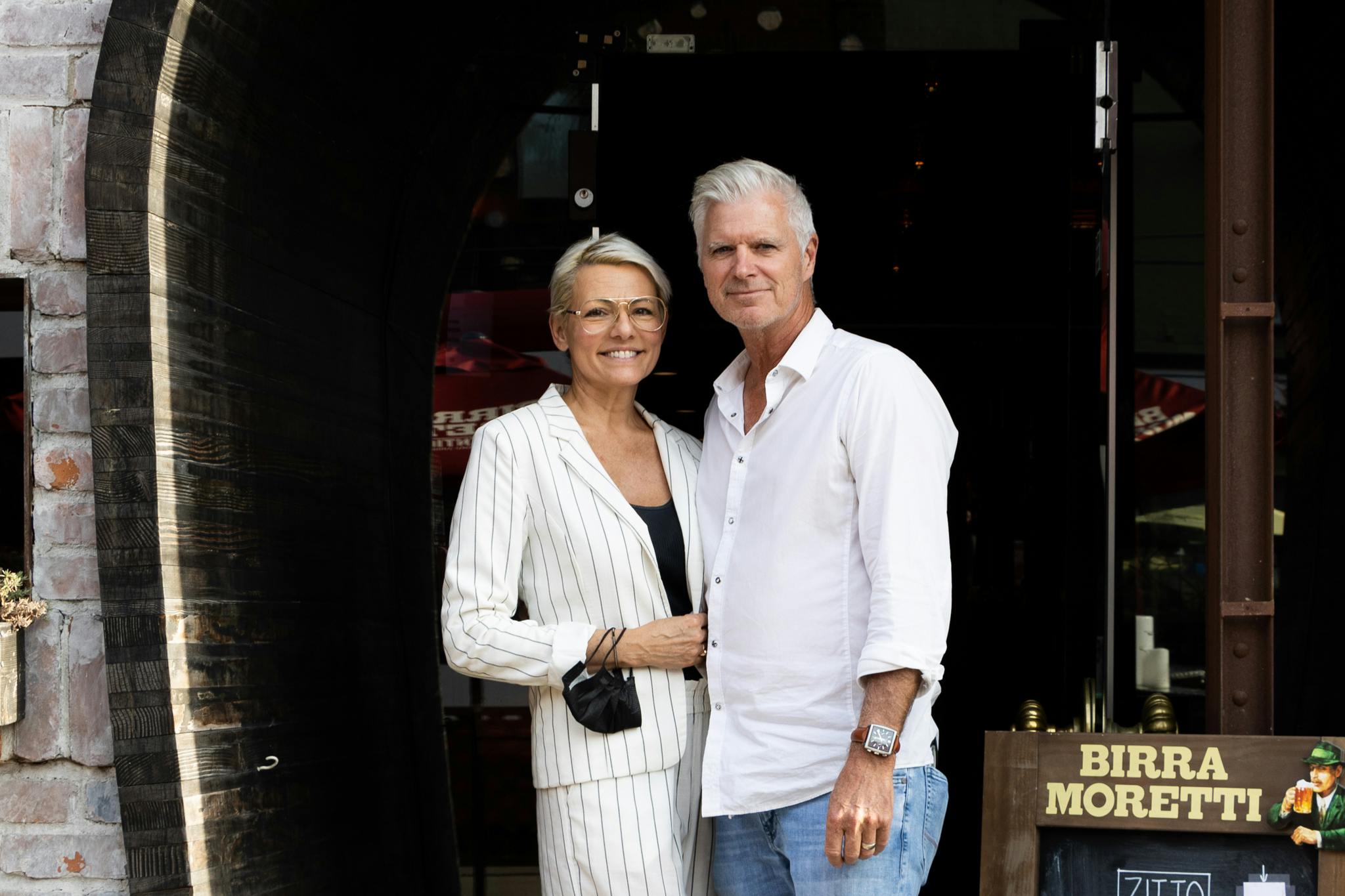 Co-owners and partners Anita Mancuso and Alan Thomson.
Mancuso explains, "From working in the industry for so long, we both had a long list of different clientele, who came together to make this huge collection of the weirdest people ever, that somehow came together like a community. I have photos from when we took over the place 21 years ago to now, and it's all the same people in the pictures!"
The two saw a tremendous amount of support from their Sotto community as they continued to grow and develop the restaurant, but when the pandemic hit in 2020, Mancuso and Thomson were terrified they were going to lose everything.
Because Sotto was never meant to follow a takeout model, it was difficult for them to foresee survival in the industry. Still, they came together and did everything they could to keep their baby afloat.
Mancuso says, "I was working front of house, and Alan was working in the kitchen. We were so thankful one of our managers would come in to help us out just for the sake of it! We had to lay off all our staff and run the place alone, but we were determined to persevere. We truly did as many crazy things as we could to keep the business alive."
True inspiration struck when their Sotto community came together to support the two in their annual Christmas Toy Drive that they ran for 21 years in collaboration with the Holland Bloorview Kids Rehabilitation Hospital. Though unable to throw their usual party, their beloved guests helped them throw the most successful toy drive to date, and it fuelled Mancuso and Thomson to keep on going.
"When we heard that Giancarlo's was deciding not to go forward, the opportunity quickly came up for us to take it over. We knew that to survive, we had no choice other than to take our landlord's generous offer to take over the space."
With Sotto being so small, socially distanced indoor dining would not muster up enough income throughout the colder months, so they needed more space for seating.
"We decided to do the crazy thing and open up a restaurant during a pandemic. The space was just so beautiful, but we knew we wanted it to have our own flavour, with our concept and our vibe."
Giancarlo's was a fine dining establishment, but Zitto Zitto leans more towards the casual fine dining side. Collectively, Mancuso and Thomson want to ensure that all their guests have the same 'at home' experience they would at Sotto. "We don't want people to leave and say they had a great meal. We want people to say they had an iconic time, and they will always remember this place. Lots of people have their favourite meals, but what they remember is the good time they had, and that's what we want to do here, but elevate it."
The Zitto Zitto space is sprawling and split into four distinct areas, each having the ability to run independently.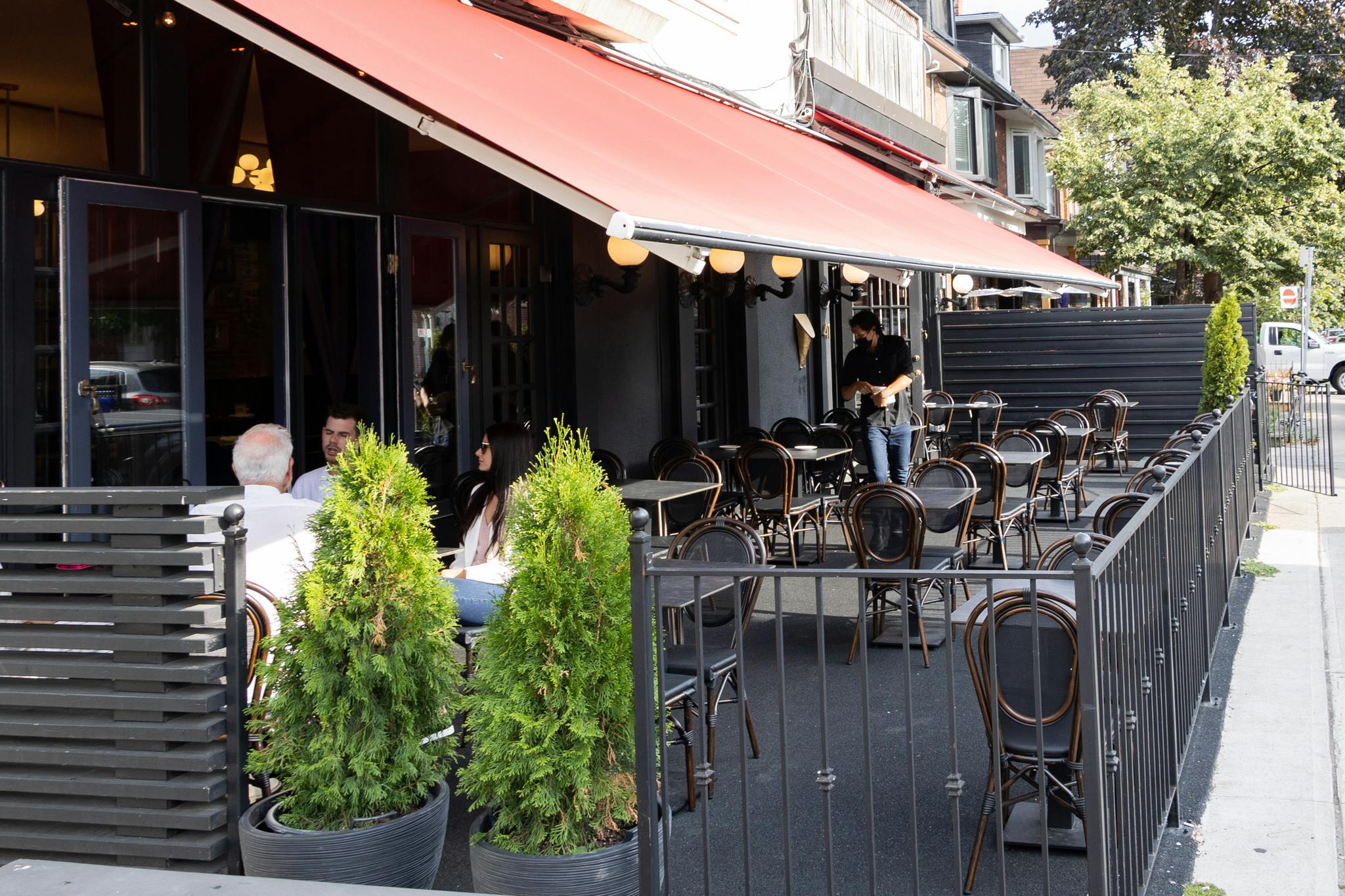 Their patio (La Terrazza) is beautifully renovated for al fresco dining and is spacious enough to feel comfortable, but it still has the feeling of a cozy authentic Italian bistro.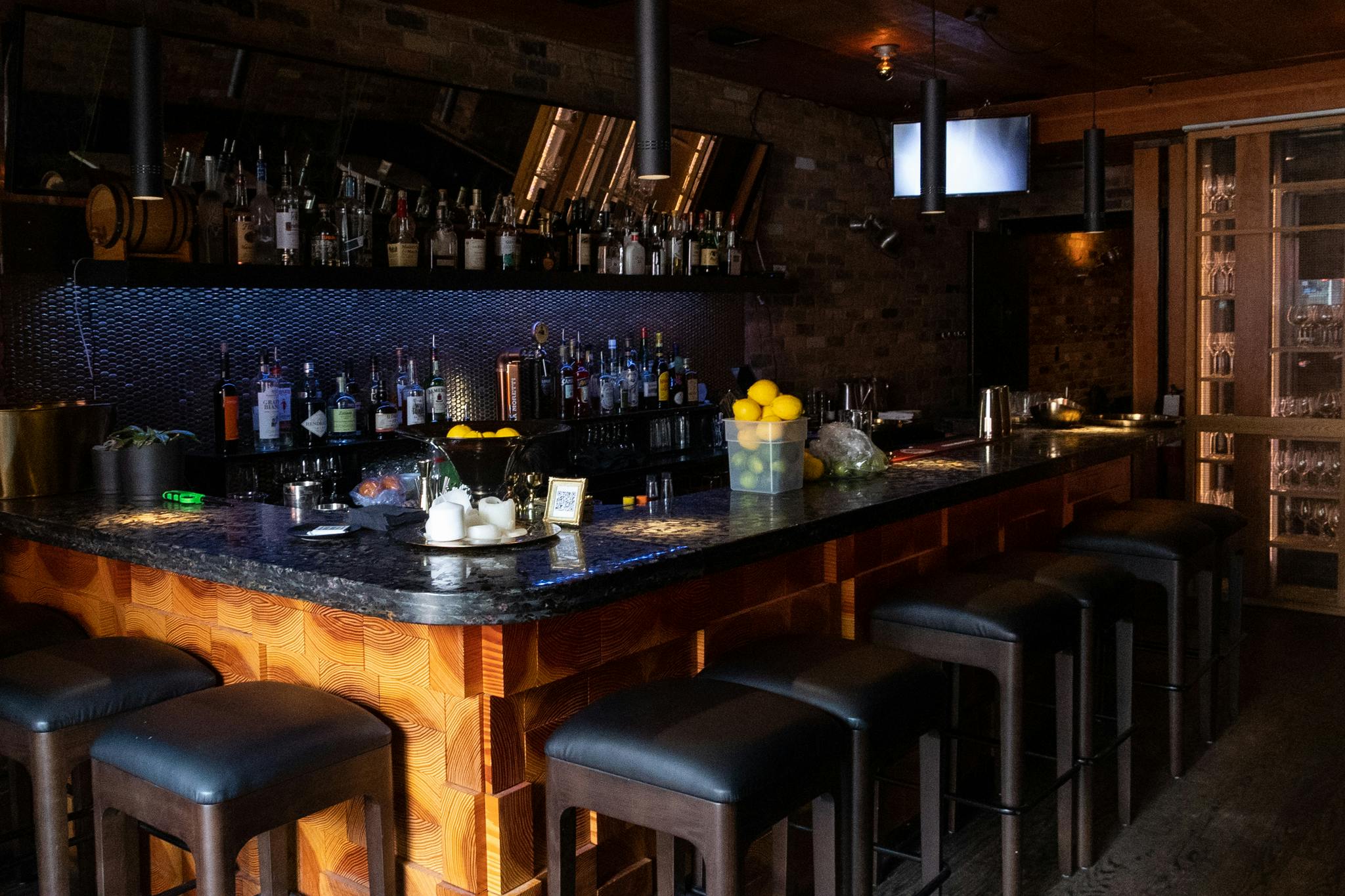 The cocktail bar (La Sbarra) is the dimly lit entranceway of Zitto Zitto, perfect for sipping on a beverage before heading to your table for dinner or dining at the bar while watching the game. The space boasts floor-to-ceiling brick walls, gold accents and an impressive marble bar.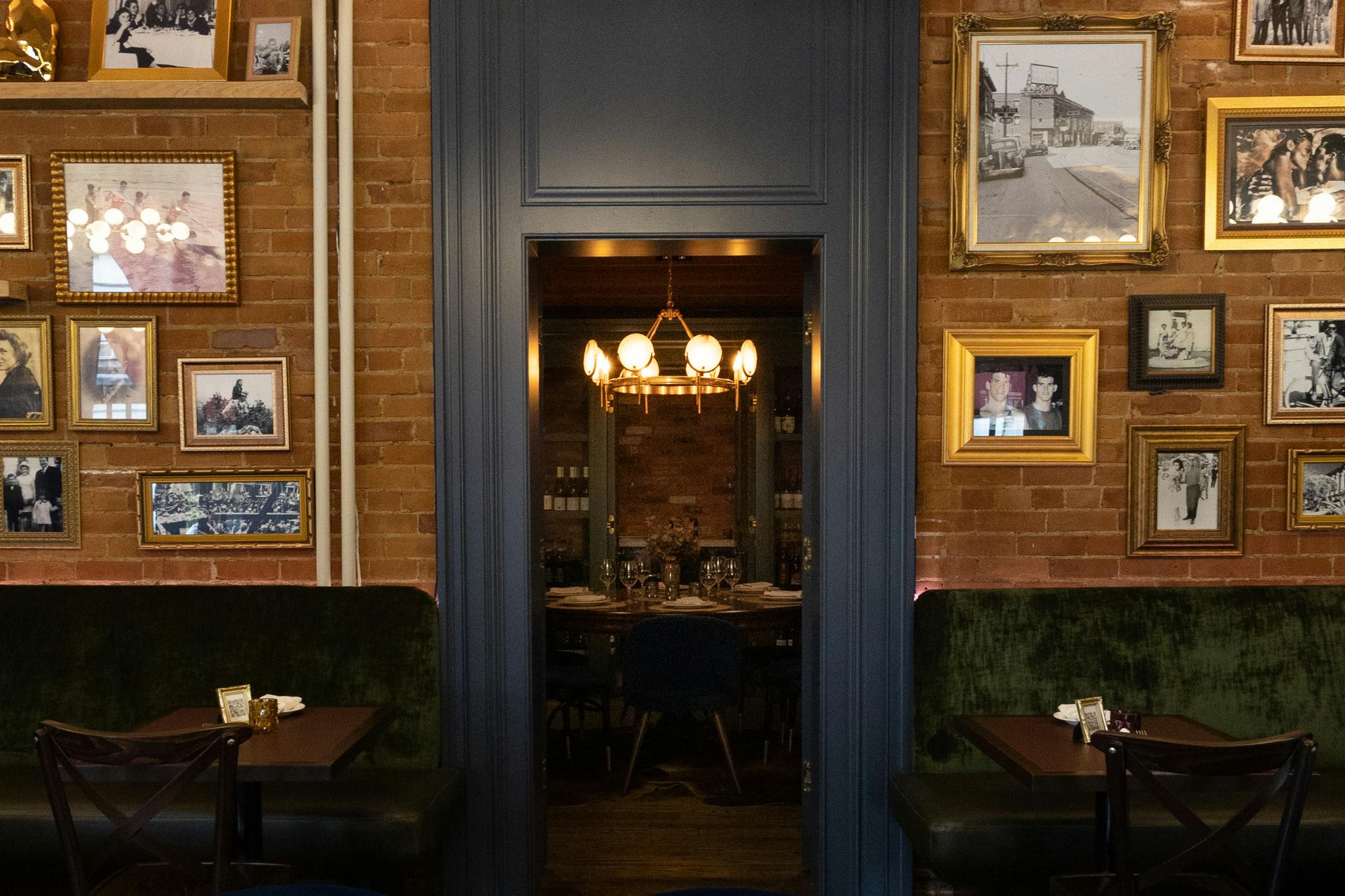 La Cantina is their private dining room, separated and made private by sound-proofed double doors and temperature-controlled glass wine cabinets. The room features dark wood, cowhides and warm lighting, perfect for parties, meetings and large family dinners! Both Mancuso and Thomson have extensive party planning and hosting experience and want their party guests to feel confident and relaxed, knowing every detail will be taken care of.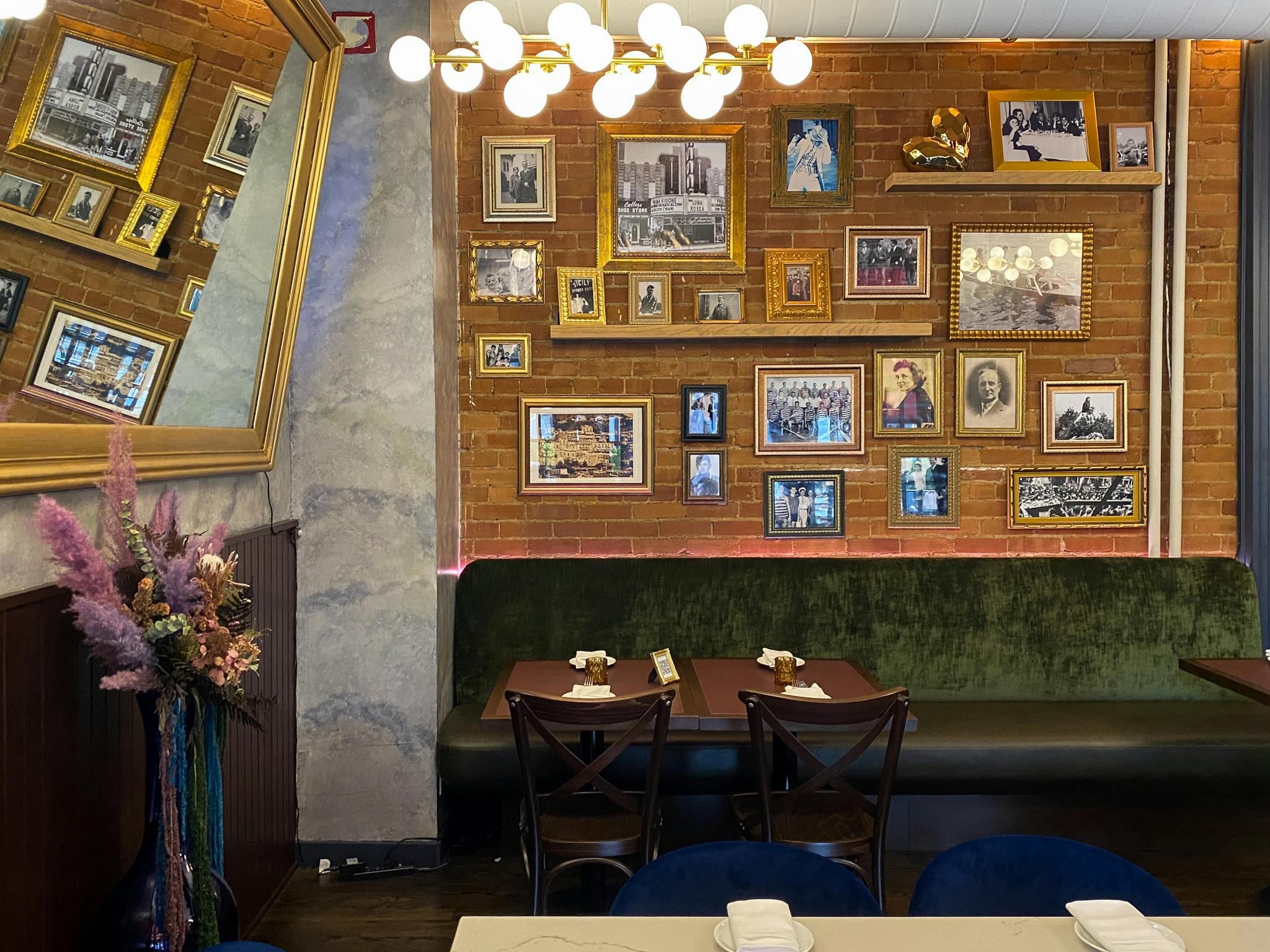 Their main dining room (La Taverna) is a gorgeous contemporary space with rich, warm tones and velvety fabrics. The eccentric pop-art adds a touch of electric flavour alongside the picture wall, proudly displaying the owner's ties to the Little Italy neighbourhood.
Their Chef de Cuisine is Alessandro Militello, formerly of EVOO Yorkville, who owned a restaurant in Palermo, Sicily, and has used his Southern Italian influence to curate the menu. Mancuso's family also happens to be Sicilian, so she says, "it's a match made in heaven."
The one thing they didn't want to do was pizza and pasta. Thomson says, "We decided to spend our money on a heavy-duty fire grill. We wanted to go big on the meat, and this was a great opportunity to elevate what we were already doing at Sotto."
Zitto Zitto's menu is fresh and clean, without re-inventing the wheel when it comes to traditional Sicilian food. Everything on the grill is cooked with simplicity in mind and is seasoned with olive oil, salt and herbs. Though an array of classic meat options like a Berkshire pork chop and Fiorentina steak for two are available, the selection of seafood is outstanding and truly sets them apart.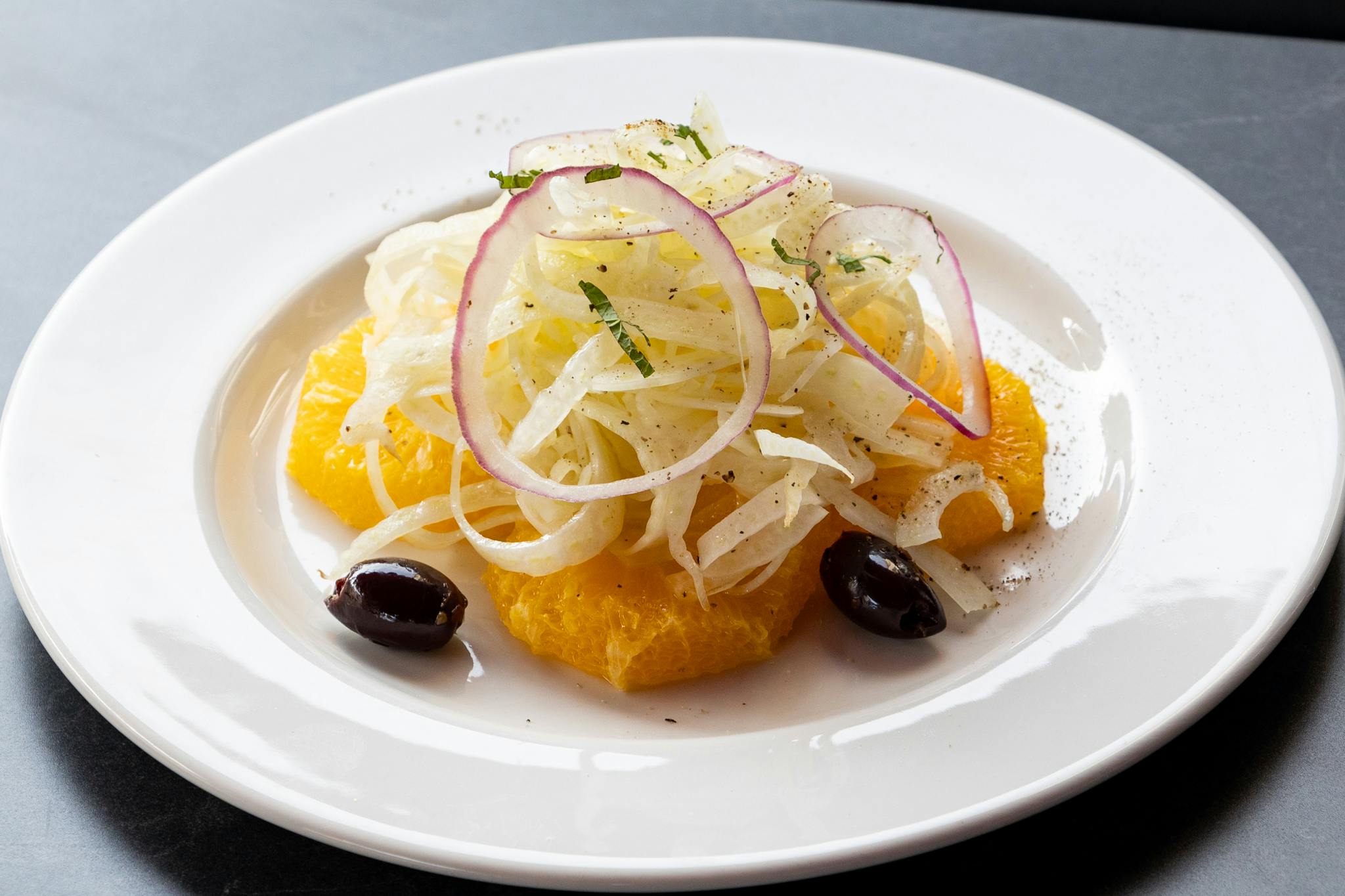 Their Sicilian Salad (La Siciliana) is a beautifully bright and light way to kick off your meal. With juicy sliced oranges, fennel, black olives, mint and red onions in a citronette vinaigrette, the flavours of this dish will transport you to Sicily, as you imagine biting into an orange, plucked fresh off an orange tree in Southern Italy.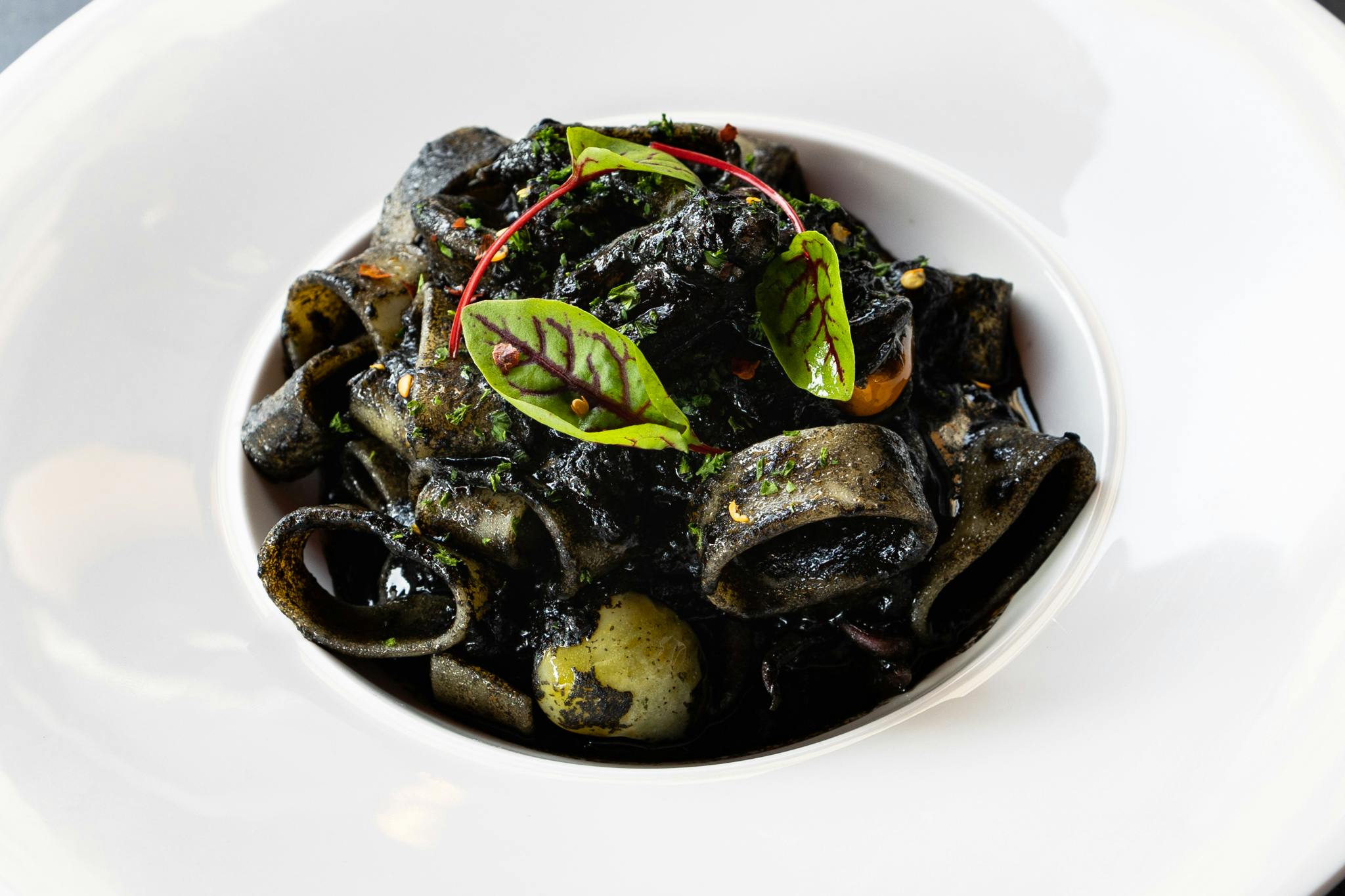 The Calamarata al Nero is perfect for squid ink pasta lovers or even those who have yet to try one. With calamari in garlic sauce, white wine and black squid ink, this creative pasta is plated gorgeously and has a rich, briny flavour.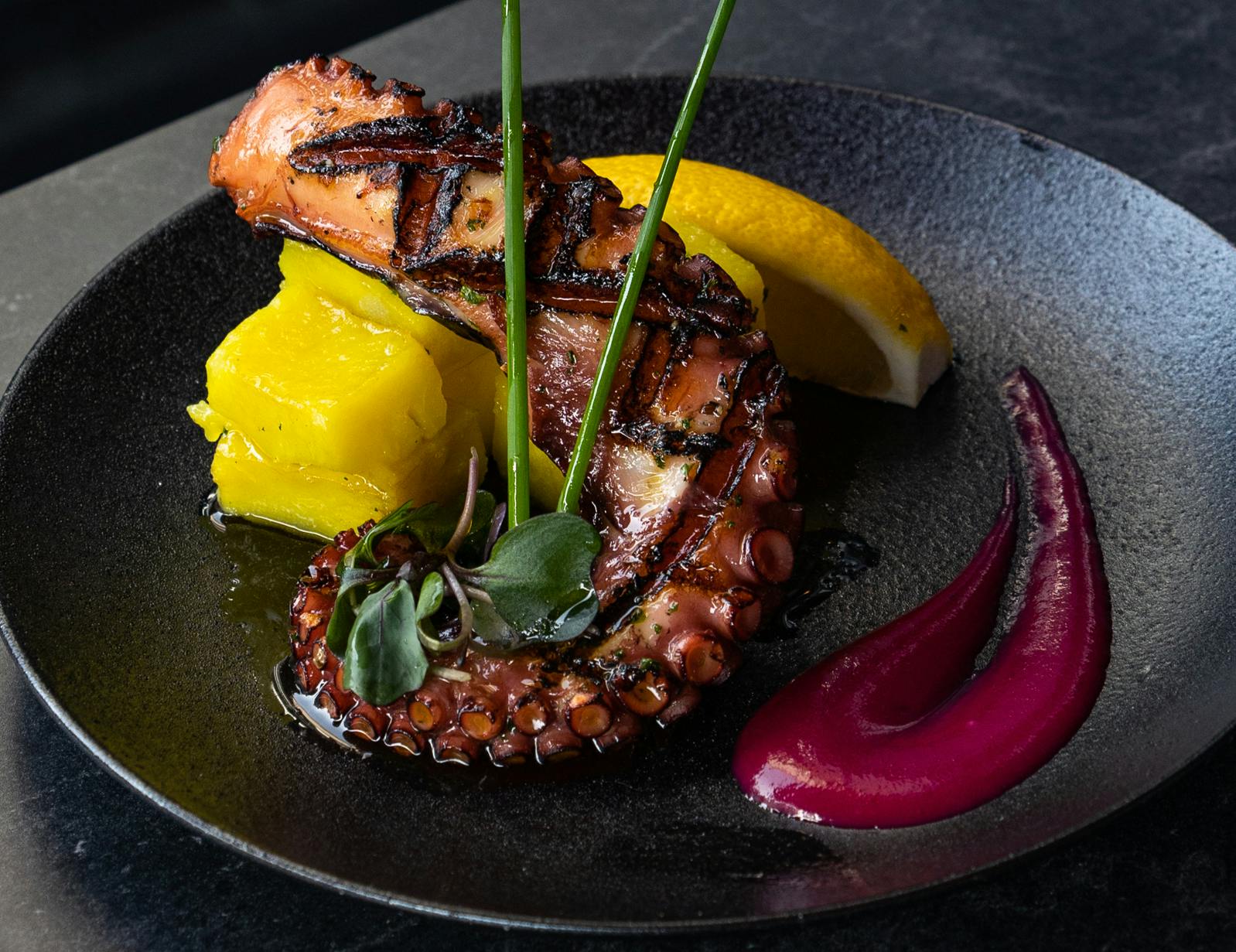 Speaking of gorgeous dishes, the Polpo e Patate (Grilled Octopus) is an absolute show-stopper. Served with saffron potato, you can taste the delectable charring from the grill on the meaty octopus tail, and the vibrant colours from the beet cream make it all the more enjoyable to eat.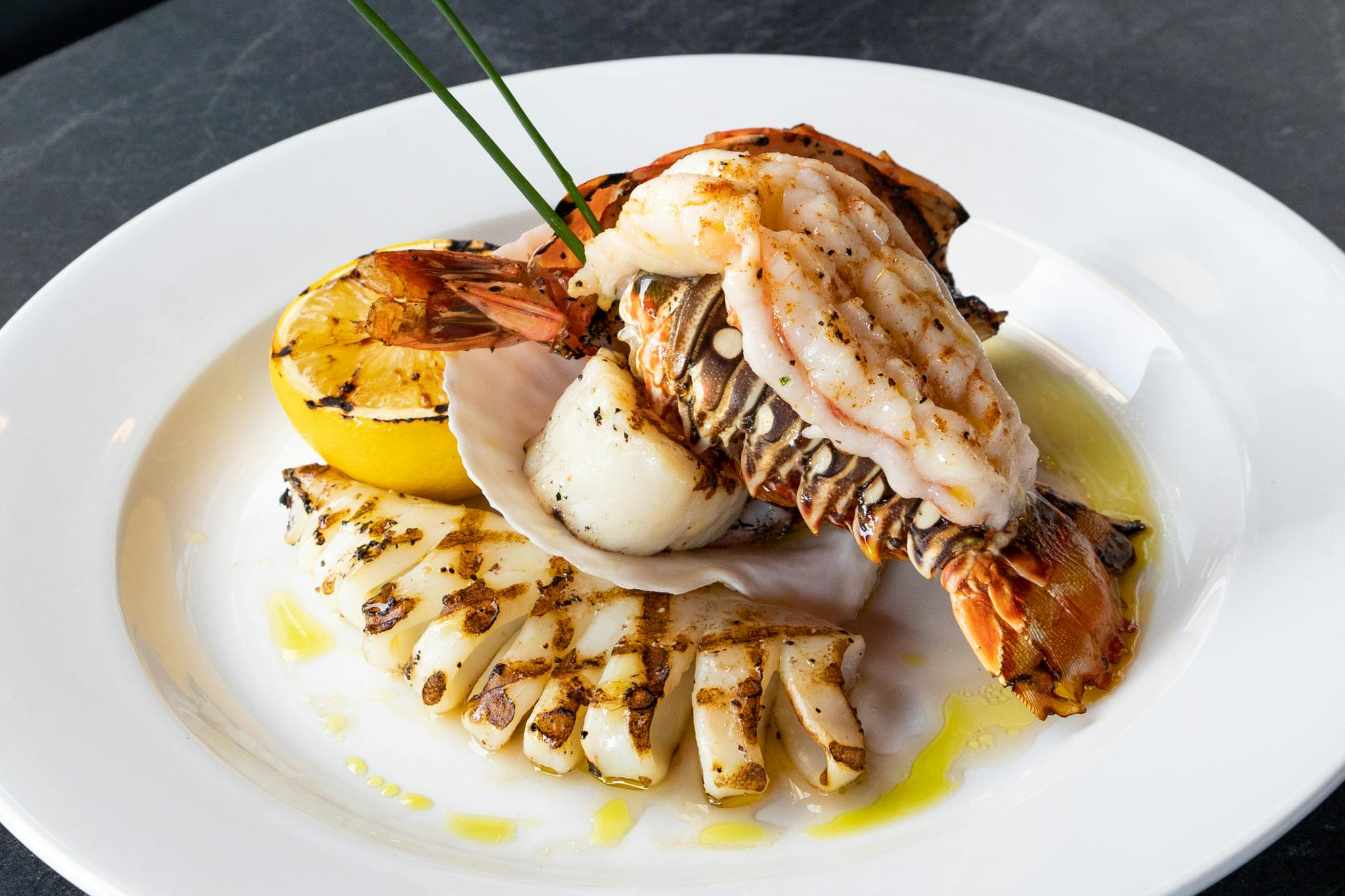 The seafood mixed grill (La Grigliata Mista di Pesce) is one of the most impressive items on the menu and comes with a hearty portion of grilled calamari, scallops, shrimp and lobster tail dressed with an herb-infused olive oil. Excellent for sharing, this dish will make you feel as though you're dining by the sea as you indulge in a delectable feast with mouthwatering flavours.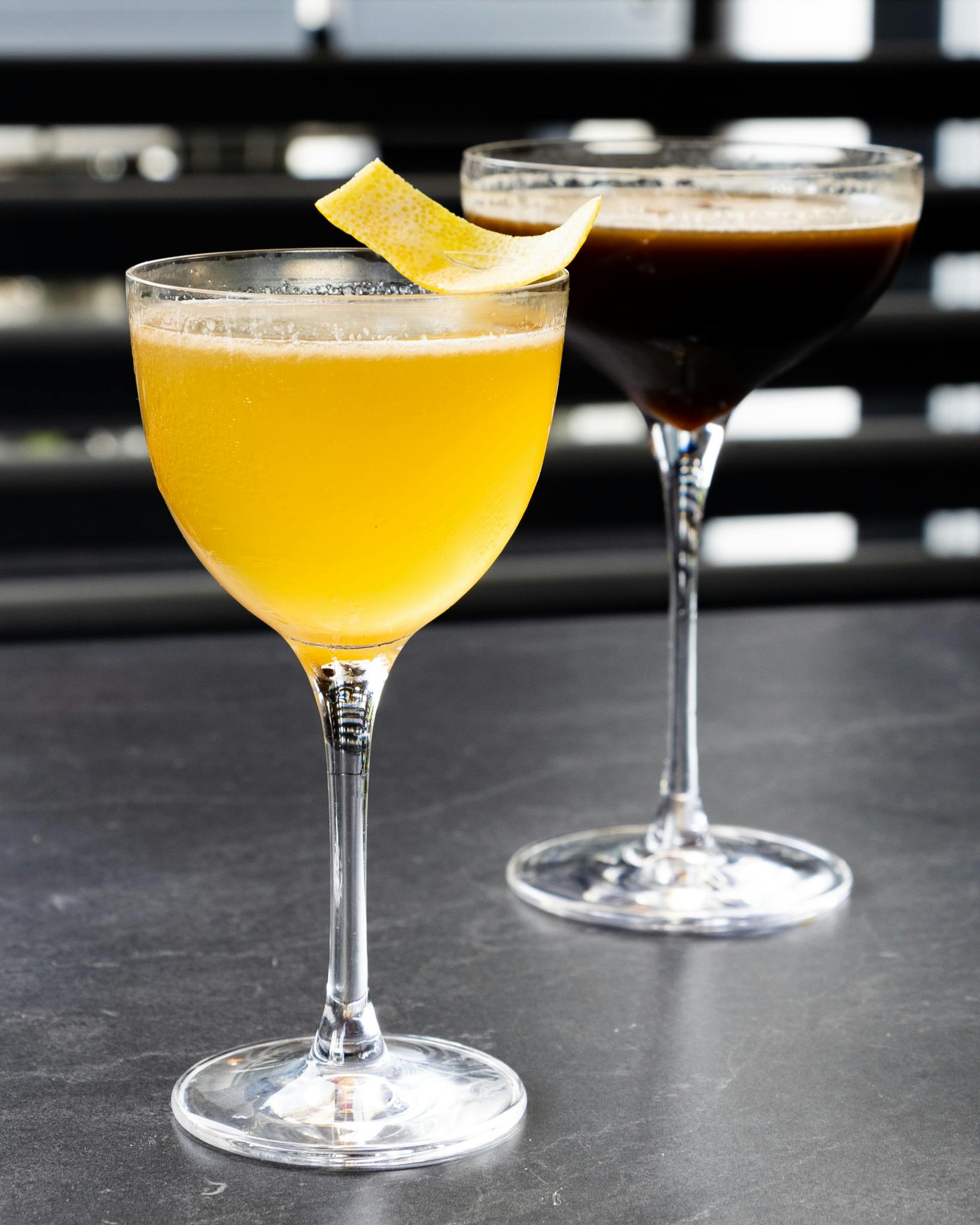 The beverage program has been thoughtfully curated by Thomson, who wants to keep things old school. With a twist on classic cocktails, the team has some surprises of their own. Still, they predominantly feature traditional cocktails like negronis, spritzes, boulevardiers and a delicious rendition of an espresso martini that will be sure to keep you buzzing all night long.
Though still in development, the wine program will focus on biodynamic and organic wines and old-world staples and some California cabs. The experienced bar team has also curated a comprehensive list of Italian digestifs, perfect for a nightcap after your fabulous meal.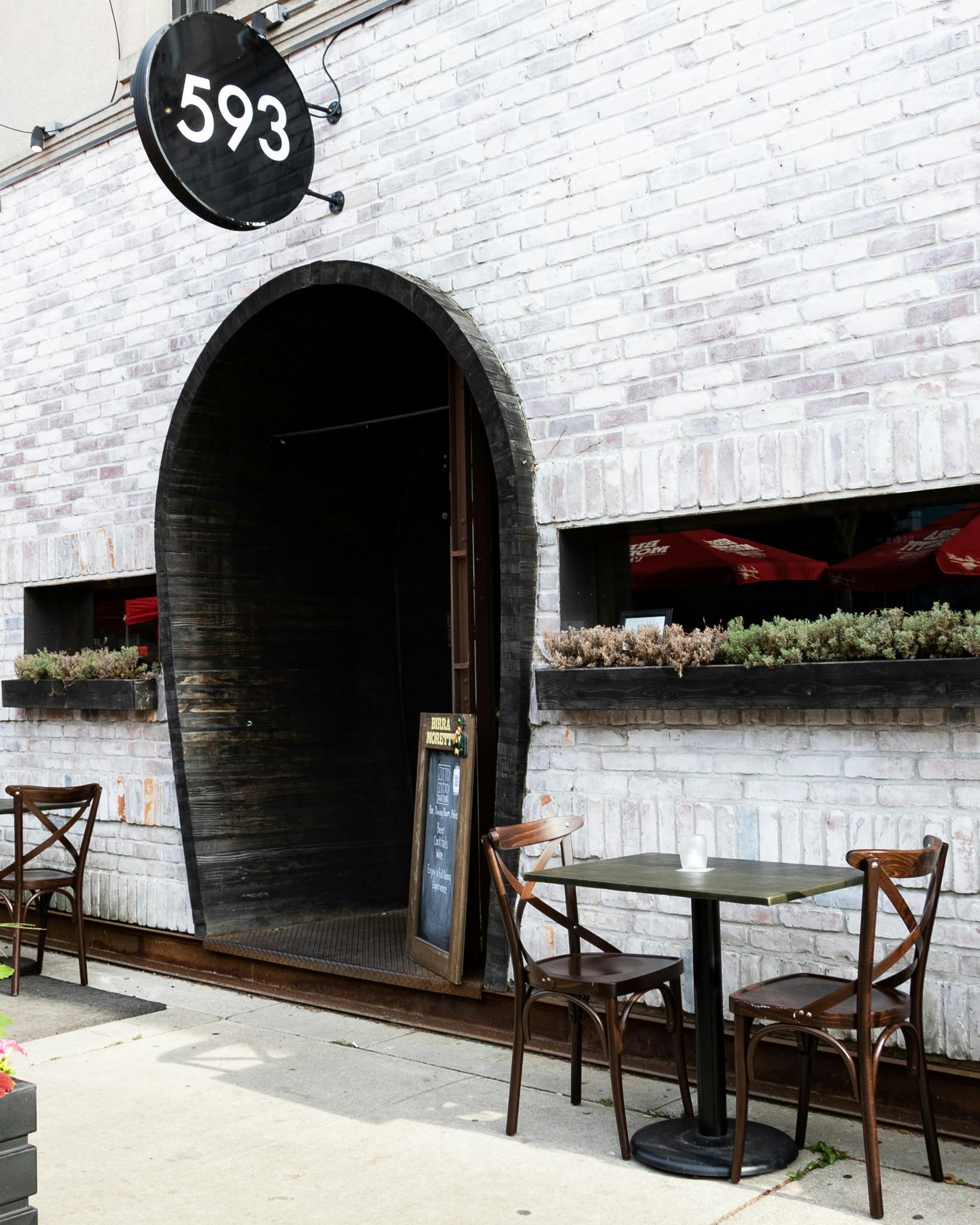 Zitto Zitto is located at 593 College Street (at the corner of College and Clinton) and is open Tuesday to Saturday from 5 p.m. to 12 a.m. Service is for dine-in only either indoors or on the patio and reservations can be made over the phone or online.