Photographs by Amanda Biffis
Too often in life, our expectations fall flat. We're more accustomed to disappointment than to the exhilaration of true satisfaction. Yet pure pleasure does exist. In Toronto, it can be found at Aburi Hana, Yorkville's modern Kyō-Kaiseki gem. In a dream-like reverie of an experience that's a heady combination of masterful creativity, Michelin-calibre cuisine and unbridled joy, Aburi Hana uncovers how dining out can, in its highest form, look, taste and feel.
Part of the ABURI Restaurants Canada group, Aburi Hana inhabits the top echelon within the company, also known for Toronto's Minami, Miku and Tora. With Aburi Hana, which opened in 2020, the idea was to bring high-end, modern Kyō-Kaiseki to the people of Toronto. Informed by traditional Kyoto-style kaiseki -- in which diners are presented with a refined, seasonal set menu -- the food at Aburi Hana is more locally focused, employing contemporary techniques and pairings. Finessed by executive chef Ryusuke Nakagawa, each dish is a thrilling foray into the cuisine's evolution.
The level of detail afforded each dish is matched by the company ethos of Ningenmi, defined as "finding happiness in one's life by bringing joy to others." At Aburi Hana, there's no question that every guest benefits from the team's commitment and palpable delight in delivering impeccable experiences. Add to this the concept of omotenashi, or Japanese hospitality, and it's easy to understand the sincerity and precision of the team's every move.
Arriving at Aburi Hana, guests may be surprised at the restaurant's minimalist signage and understated entrance. Down two flights of stairs, situated beneath Yorkville Avenue, the space is cloistered and still, its aura resting somewhere between a black box theatre and a high-end eatery. With each step, the world's stresses, nightmarish news cycle, din and disorder fade away.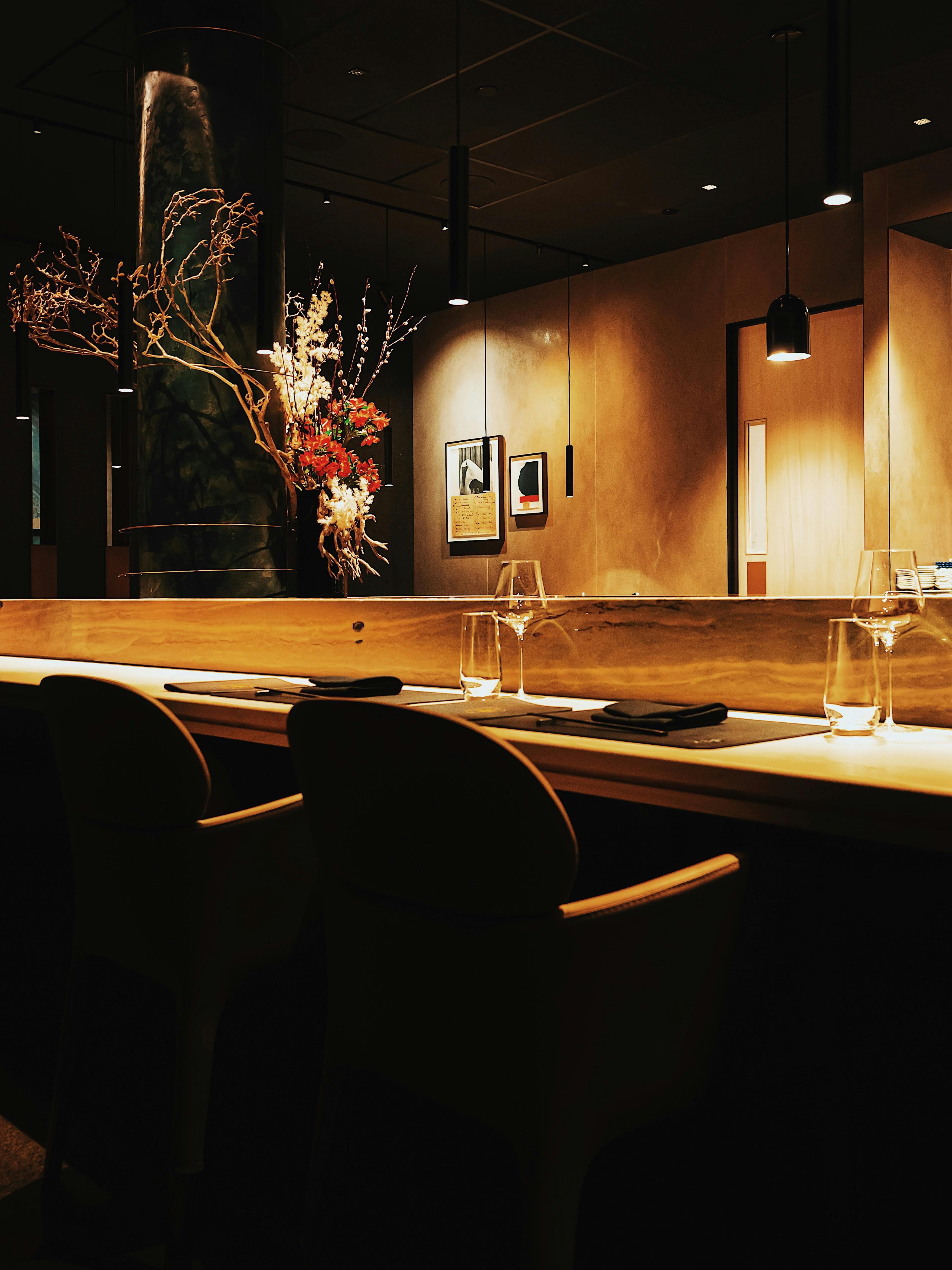 In their place, you find a serene space centred around a main room housing the chef's counter, with 16 seats and kitchen.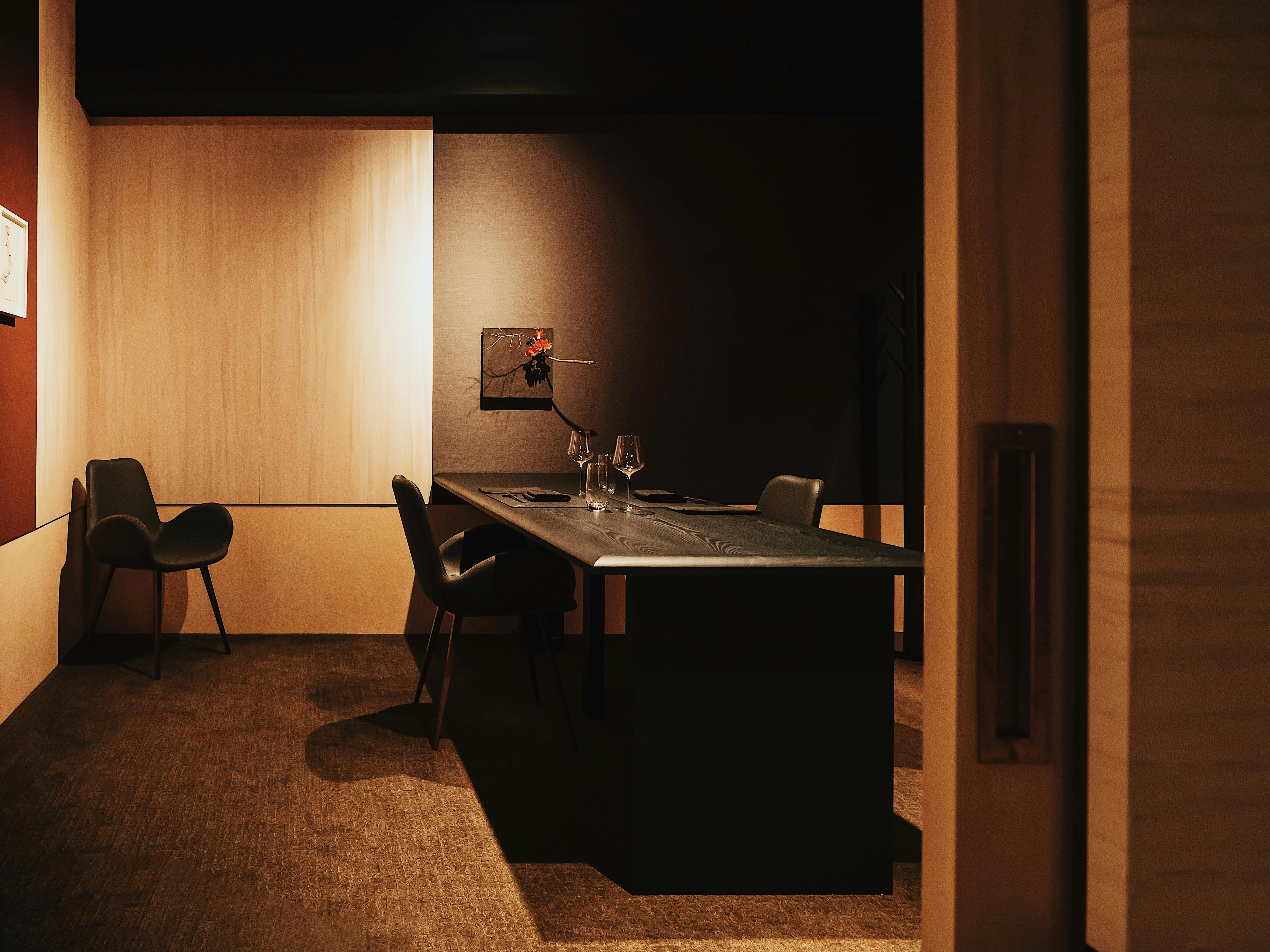 Five kakurega private dining rooms, each able to accommodate two to six guests, fill out the remainder of the restaurant.
Designed by Vancouver's Ste. Marie Studio, Aburi Hana is an immaculate, theatrical space bathed in neutral tones. Stone, wood, marble and other natural elements are a decorative partner to the kitchen's raison d'être. Metallic accents and modern lighting are the only hints at luxury, beyond the feeling of being somewhere highly curated and meticulously well-kept. Throughout the space, little competes with the kitchen's plates save for traditional ikebana, or flower arrangements, provided by local expert Aya Sugino. Inspired by the seasons, every bouquet, branch and bud introduces colour and nature into the otherwise subdued space.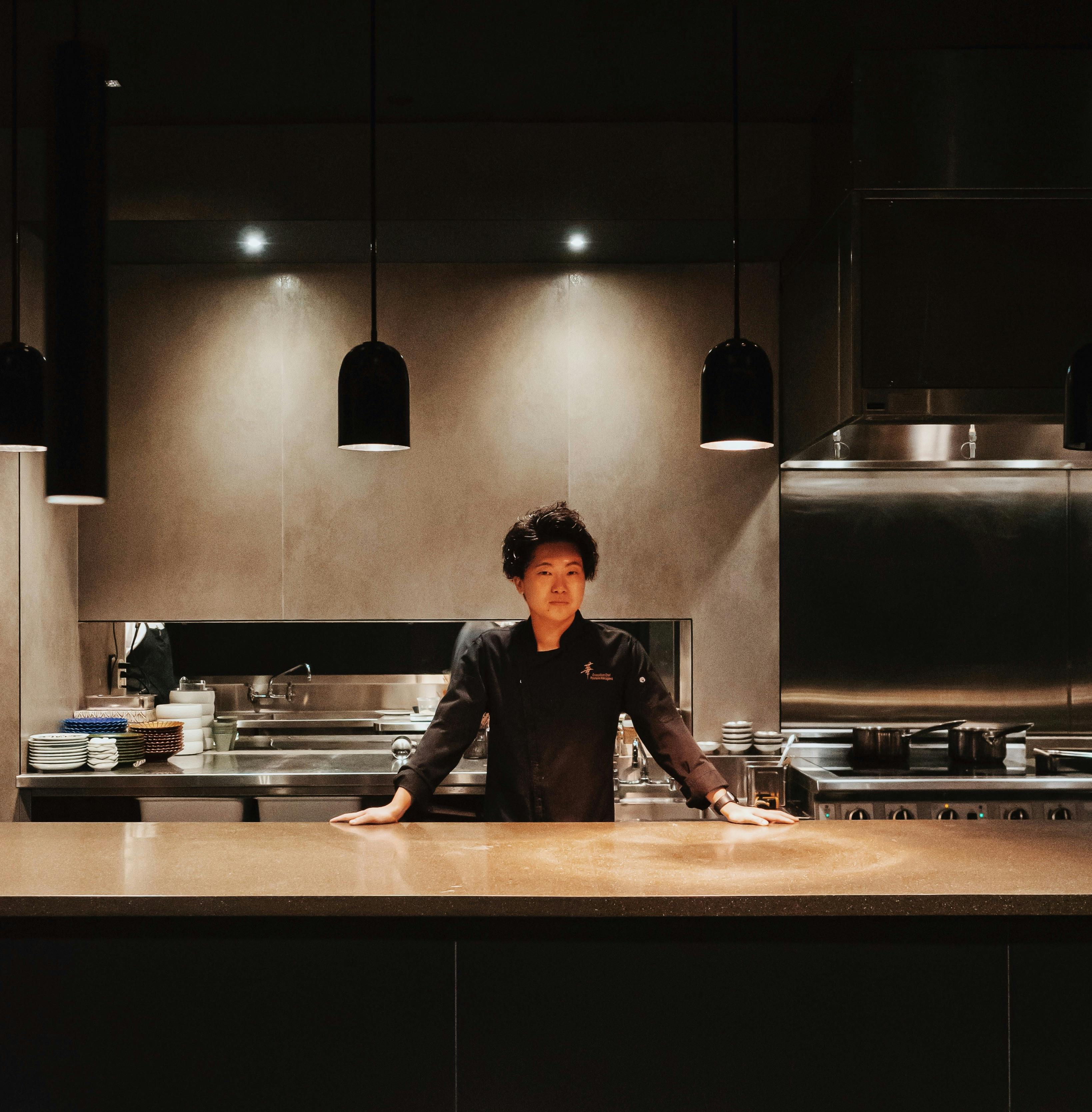 Trained by master chefs, executive chef Ryusuke Nakagawa worked at a Michelin-starred restaurant and for the Emperor of Japan himself before being poached by the ABURI group to helm their prize kitchen. It would be no surprise, then, if he were the type of exacting, intimidating leader so often associated with the world's top restaurants. Instead, Nakagawa is warm and welcoming, exuberant and boyish, with a wild head of hair and a contagious laugh. It's this youthful energy, together with astonishing talent and elite instruction, that make Nakagawa such a powerhouse in the kitchen. At Aburi Hana, he and his team don't just add specials to the menu once every few weeks. They don't switch things up every few years to keep things interesting. Every three months, chef creates an entirely new Kyō-Kaiseki menu of 12-14 courses, each following the layout of a traditional kaiseki meal. Menus harness the bounty of the land and the beauty of the season, with nothing (save Nakagawa's signature Maguro Flower) ever repeated.
The kitchen's current menu consists of 14 dishes meant to flaunt the beauty of winter's end while coaxing its covert flavours to the fore. Crafted from a legion of ingredients, both imported from Japan and sourced closer to home, each course deftly inhabits that exclusive space between cuisine and art. Arita plateware, originating in Japan in the 17th century, provides a stunning, historic backdrop to chef Nakagawa's inspired ideas.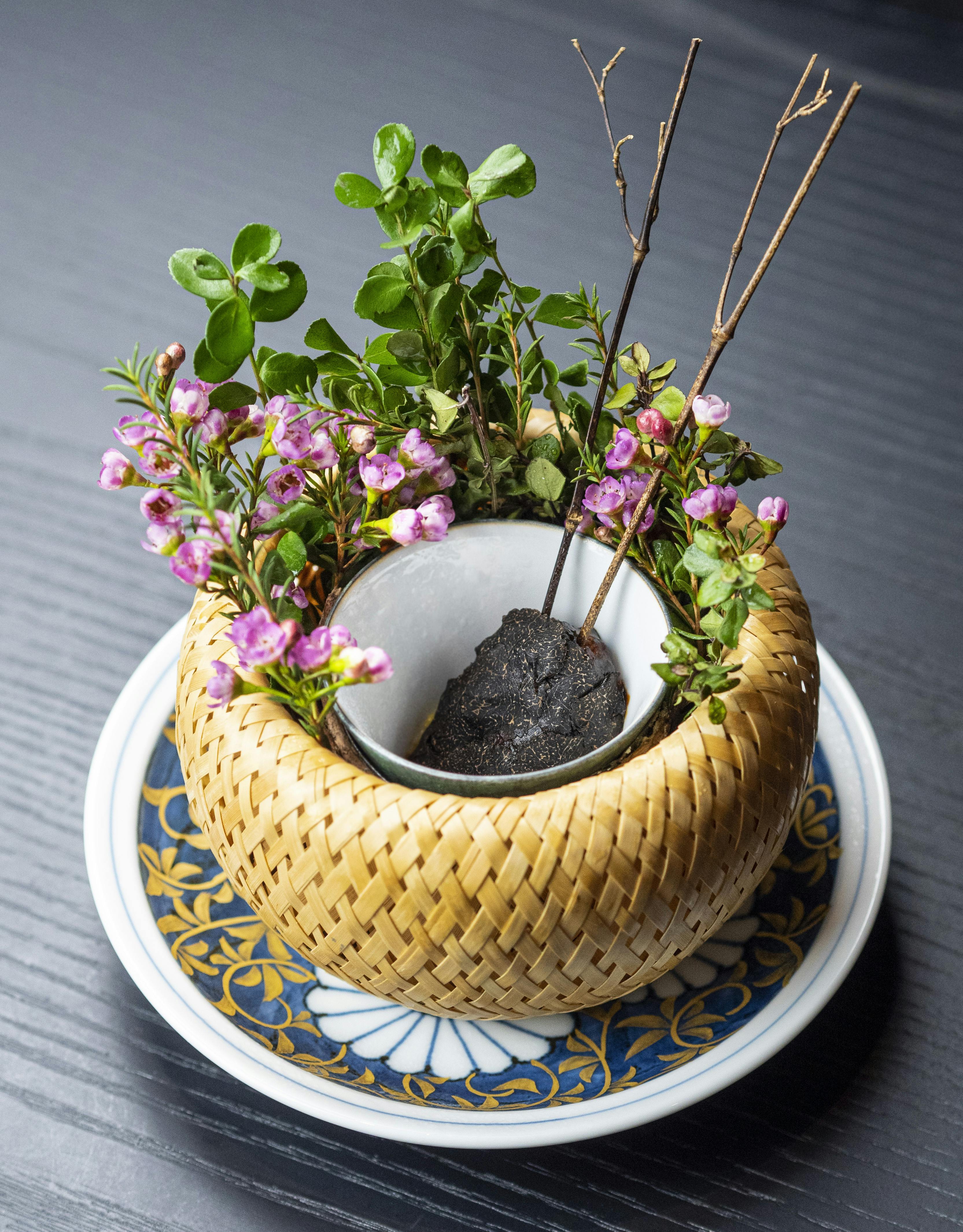 Duck Tsukune with Black Truffle welcomes guests to the show. A traditional Japanese dish, here the tsukune is made from minced Quebec duck breast mixed with miso and spices. Charcoal-grilled, each portion is then painted with red miso sauce, draped with slices of black truffle and napped with kimizu sauce, a mix of egg yolks, rice vinegar and black truffle oil. Served in a wicker-type bowl with wax flowers, one of spring's first blooms, the dish is a perfect example of kaiseki custom given a distinctly Canadian spin.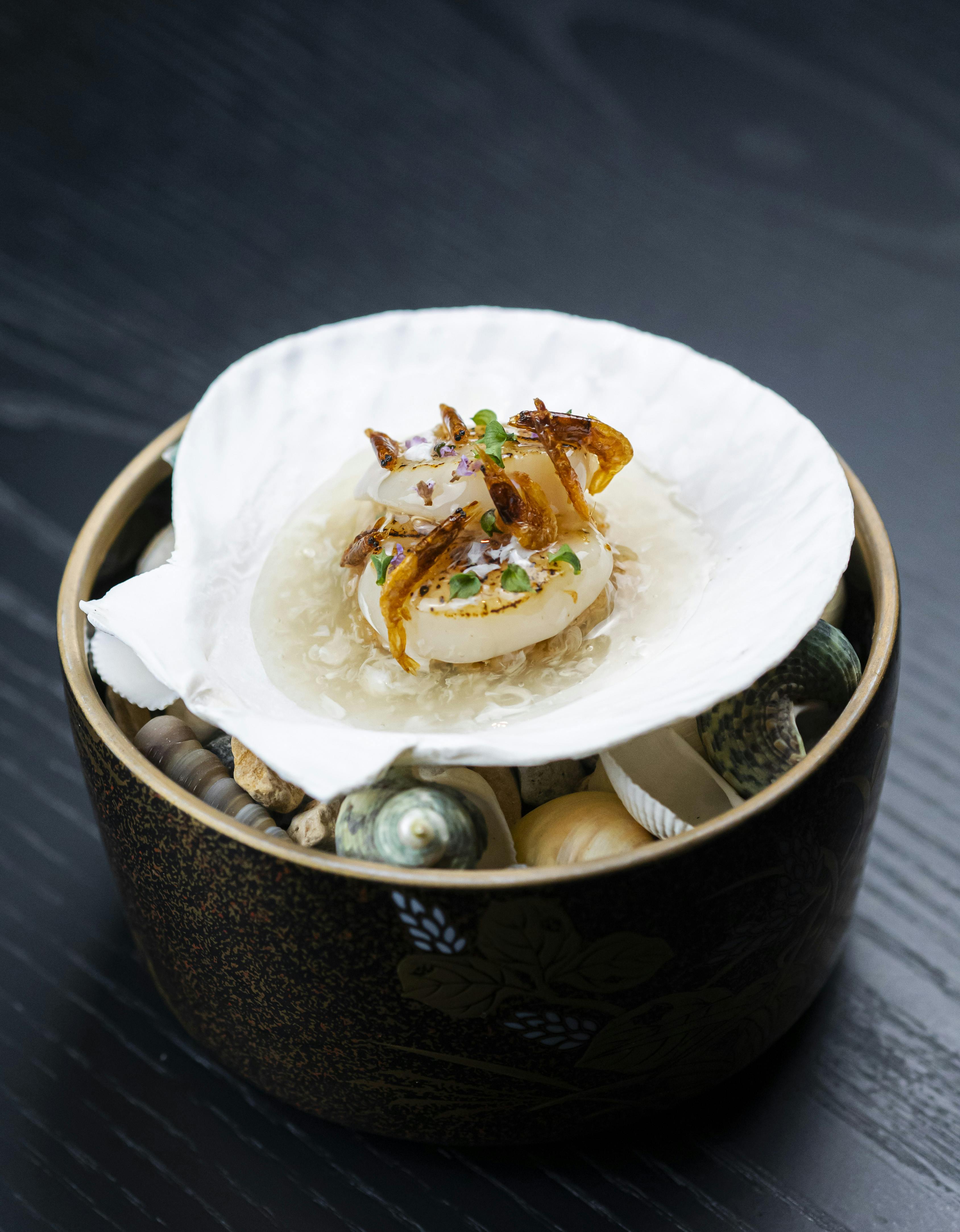 Hokkaido Hotate and Ankimo.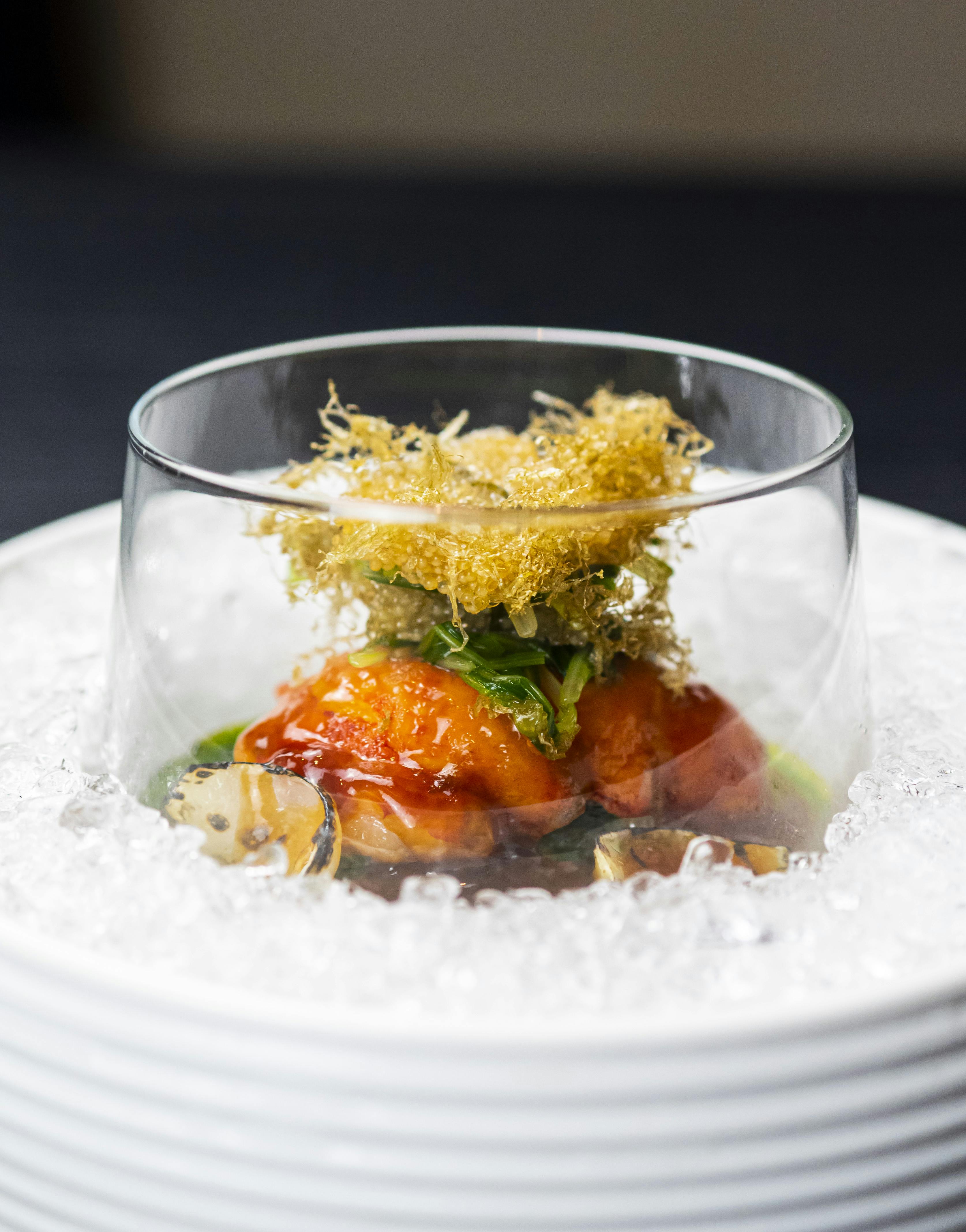 Nova Scotia Lobster Kurozu Nanban.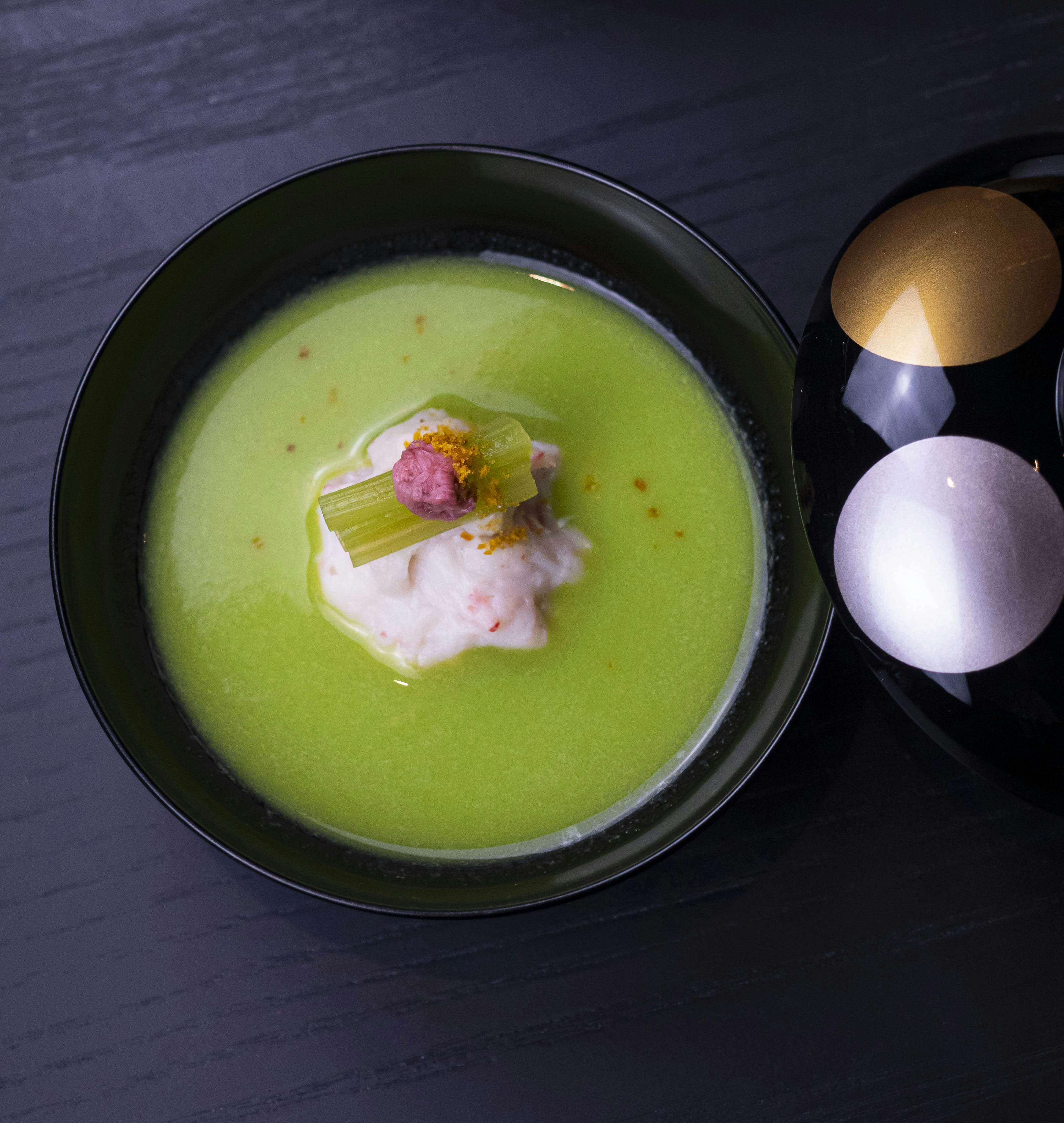 Chef's owan, a traditional kaiseki soup course, is Snow Crab Shinjo. Vivid green with pops of pink, the dish is as verdant and fresh as spring's arrival. Like spring, it also unfurls gently; revealing the breadth of its flavour and sophistication of its components in spring's languid style. A first sip, reveals a broth flavoured with cherrystone clams, bonito, kelp and pea-pod paste. Dig a little deeper and snow crab shinjo, or Japanese fish cake, adds texture and sweet, subtle flavour. Fuki stem, a bitter, herbaceous seasonal vegetable from Japan, is boiled, marinated in dashi and is added, along with bottarga, to punctuate each bite, and jolt winter-weary tastebuds from hibernation.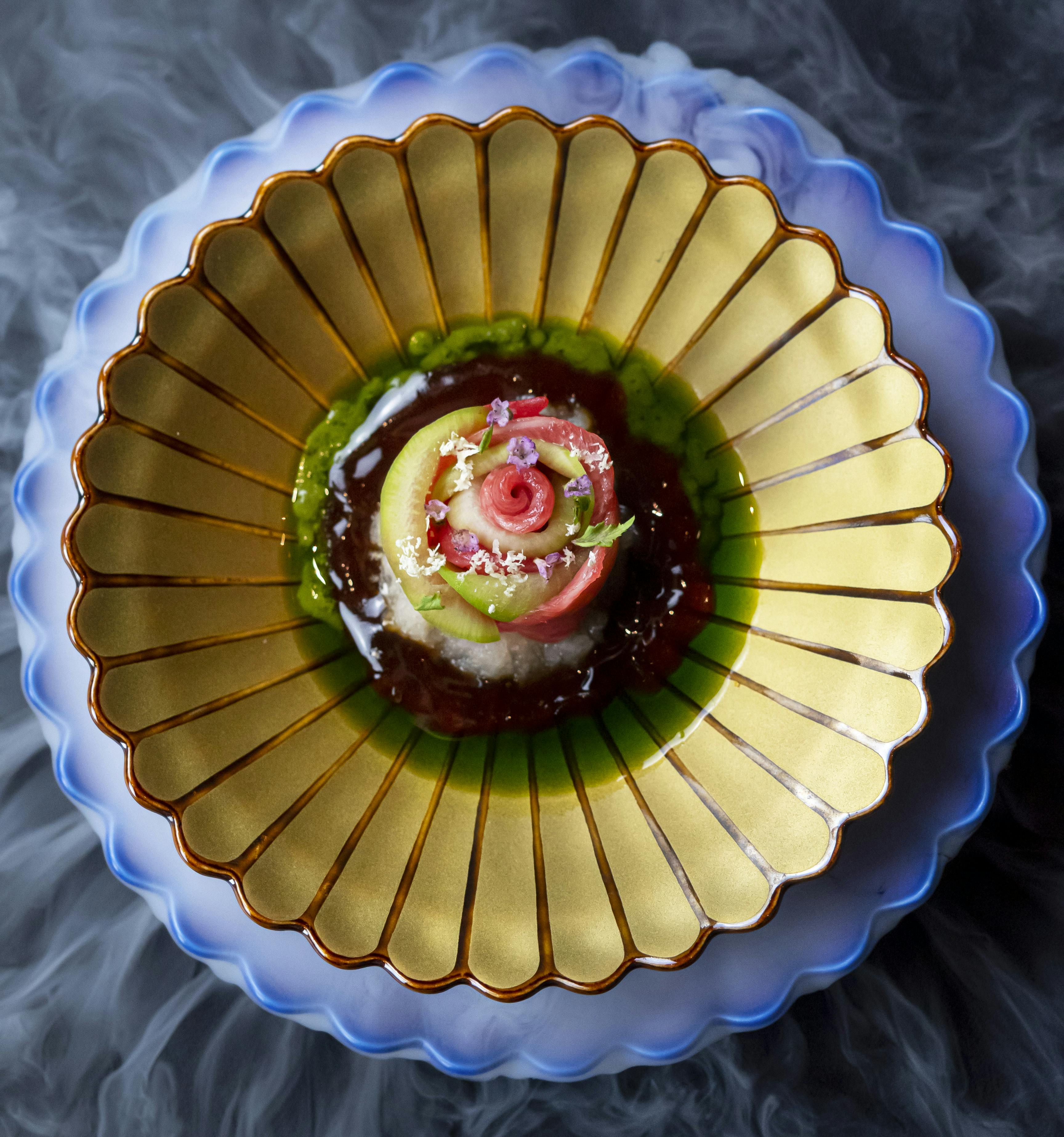 Created exclusively for the restaurant -- Hana means "flower" in Japanese -- the Maguro Flower is chef Nakagawa's signature dish. Though technically sashimi, this is an original take which, thanks to some theatrics, is easily the standout star of the kitchen's multi-course spectacle. Served on jewel-hued plates, guests have time to revel in every detail as mystic ripples of dry ice vapour dissipate. Chef's "flower" is carefully sculpted from bluefin tuna that's dry-aged for 14 days, then served with baby green onion oil, pickled daikon, shiso flower and dashi shoyu sauce. Umami-rich and as theatrical as they come, the Maguro Flower is style, substance and a dash of chef's singular brand of whimsy; all rolled into one.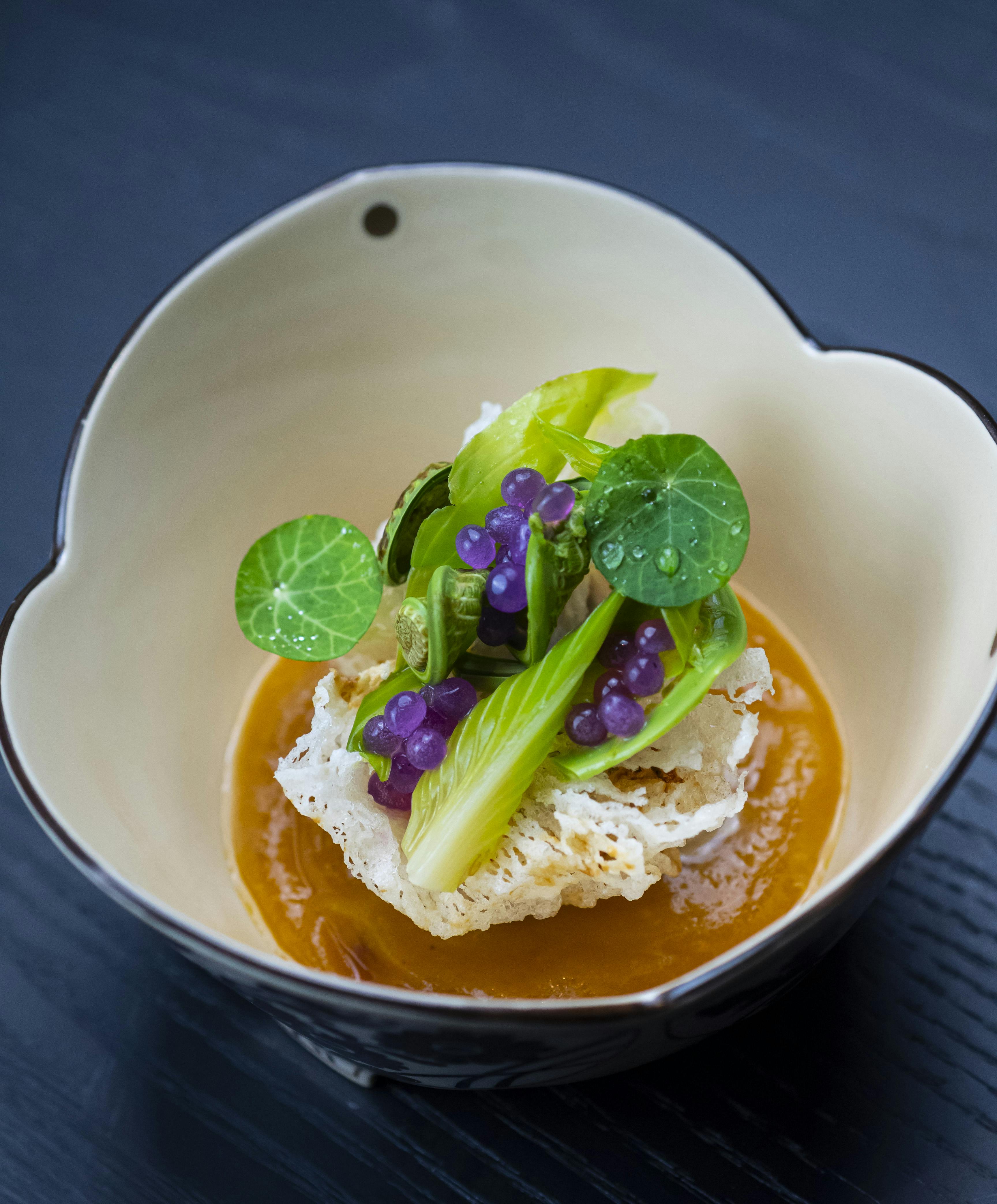 Managatsuo Miso Zuke.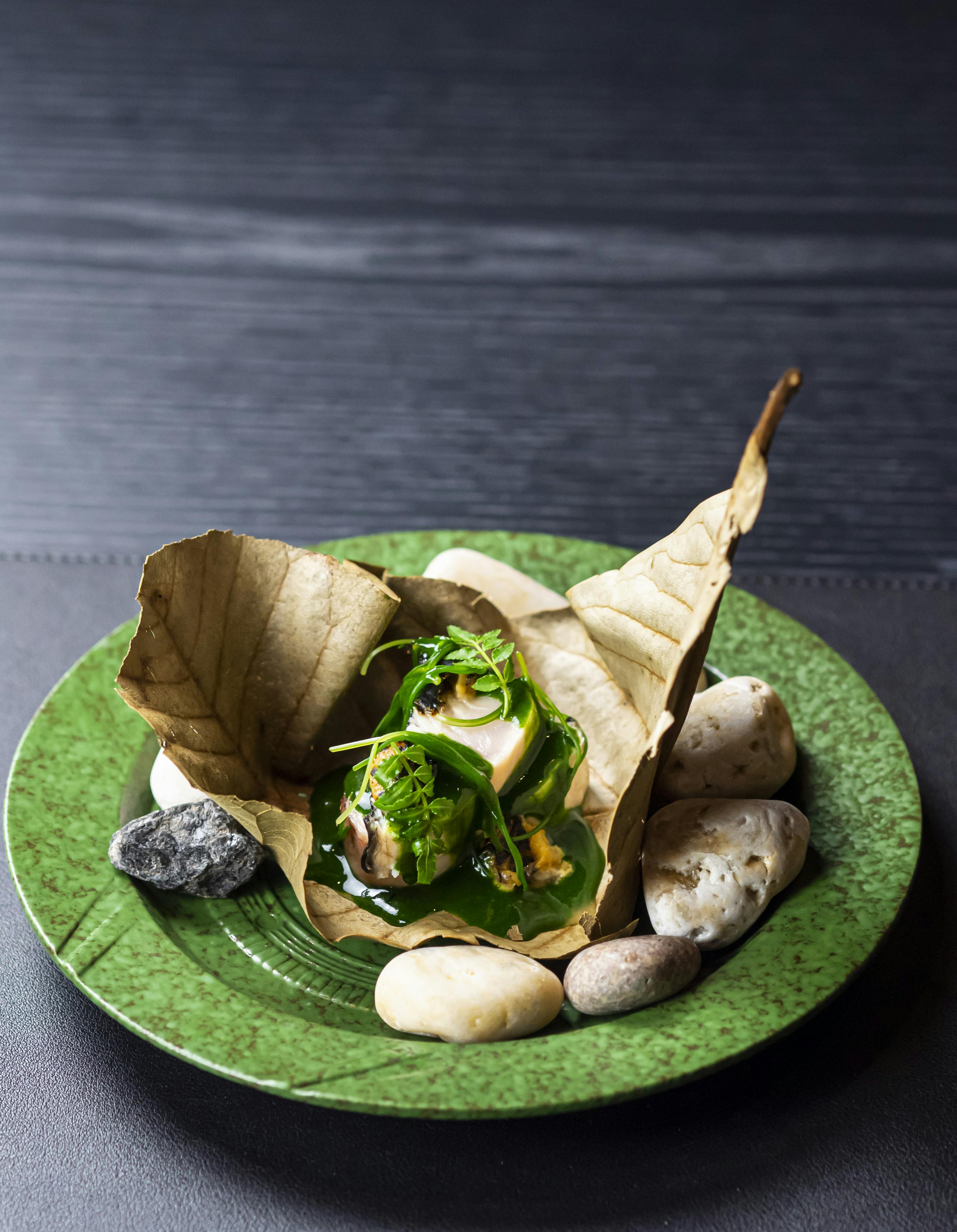 Sawara Fukimisoyaki.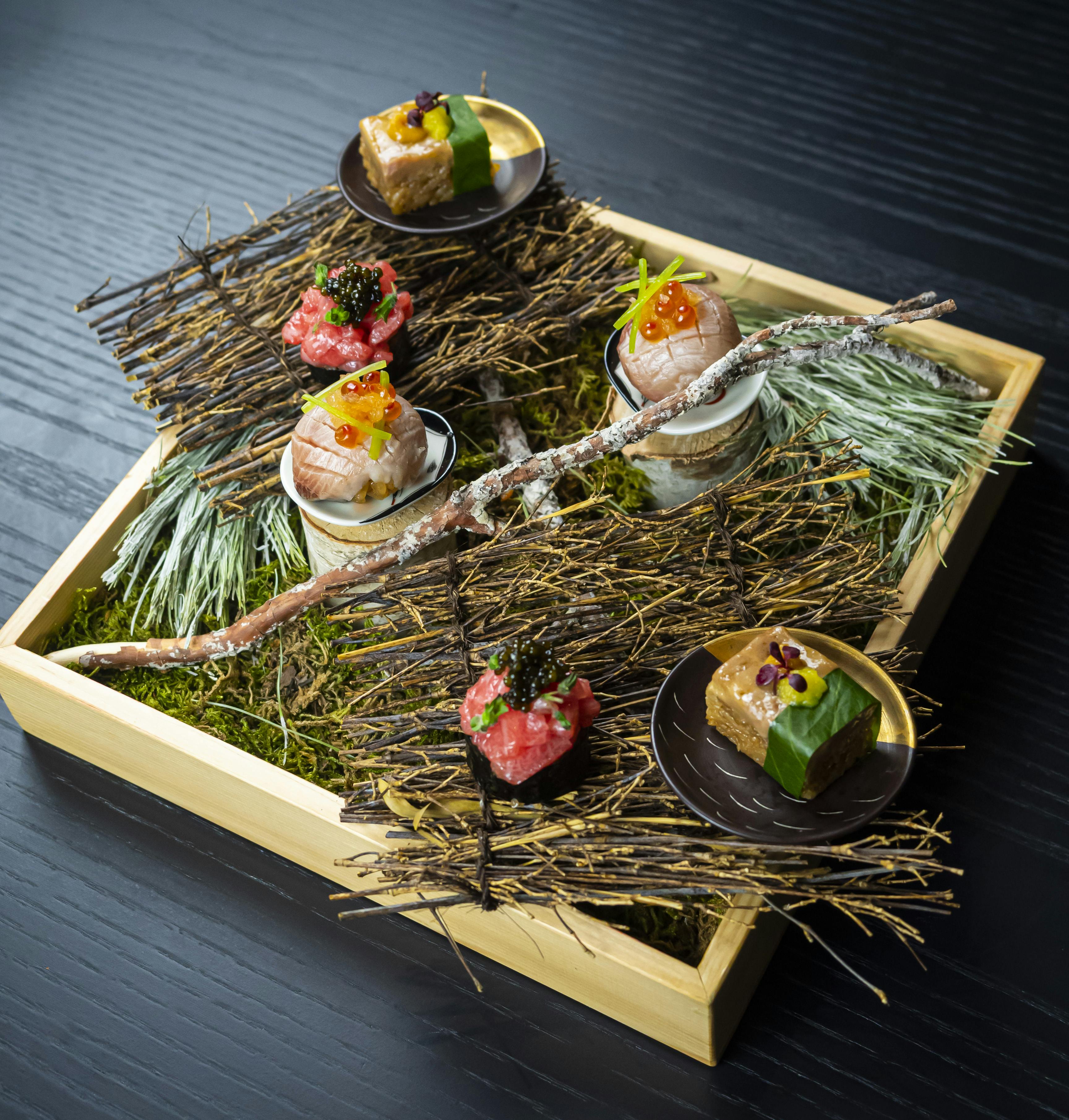 Sushi Course, Buri Temari Sushi, Quebec Foie Gras Oshi, Otoro & Caviar.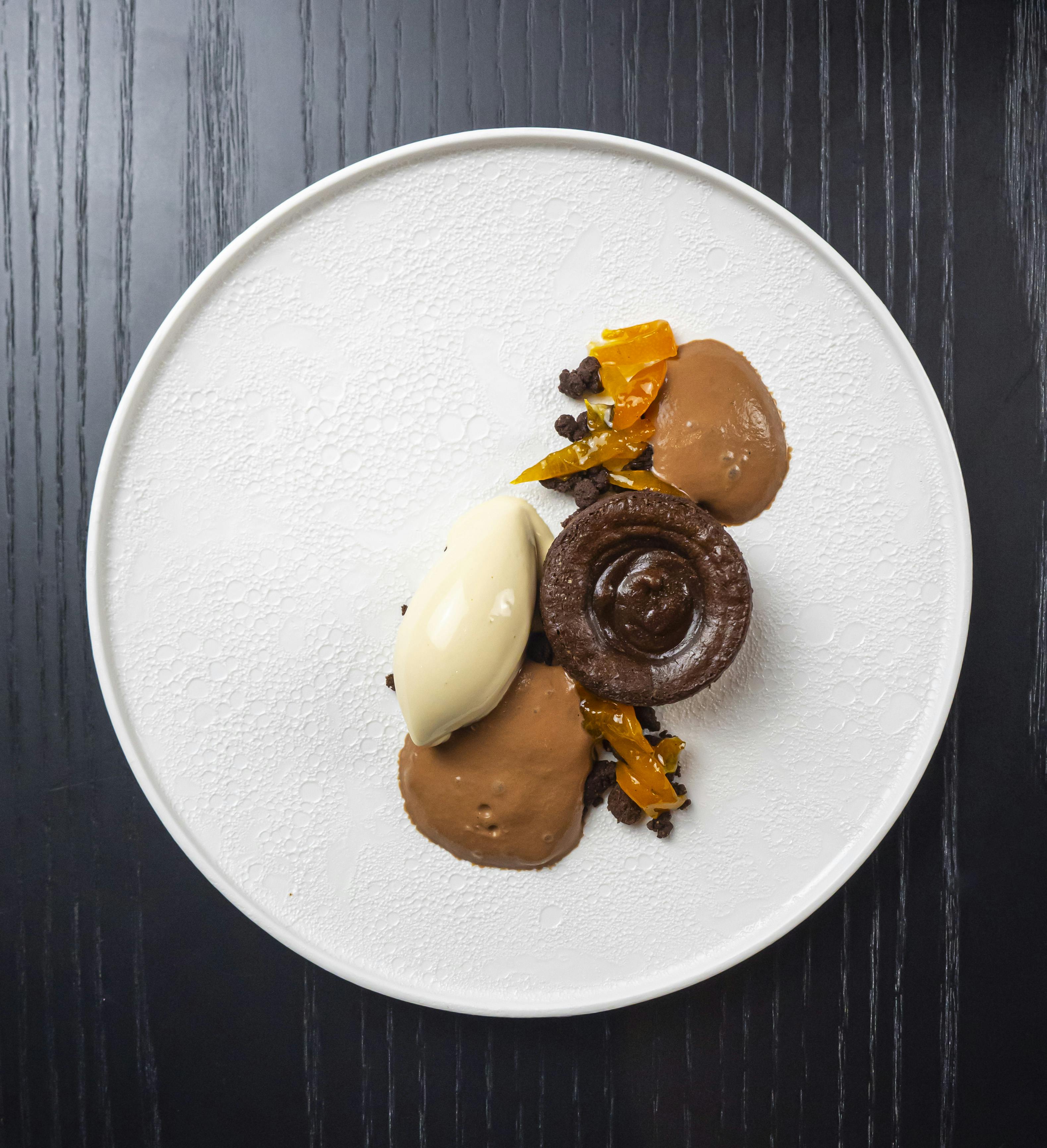 An ABURI Restaurants Canada veteran, pastry chef Aiko Uchigoshi has been lending her unique take on classic Japanese sweets to the group since 2012. At Aburi Hana, she matches chef Nakagawa's innovative cuisine with desserts that are aesthetically flawless, steeped in tradition and imbued with a wealth of expertise.
On paper, chef Uchigoshi's Grand Dessert for early spring is Dark Chocolate Fondant. It's too simple a description for the complexity found on the plate. Rich and slightly bitter, with crisp edges and a velvet interior, the dark Valrhona chocolate fondant sits front and centre. It's flanked by milk chocolate espuma and silken ice cream made with wasanbon sugar. Made from sugarcane, Japanese wasanbon is prized for its fine grain and smooth, mild, slightly honeyed flavour. Candied kumquats and almond chocolate cookie crumbs add toothsome texture, brightness and the ever-essential seasonal touch to the last dish of the night.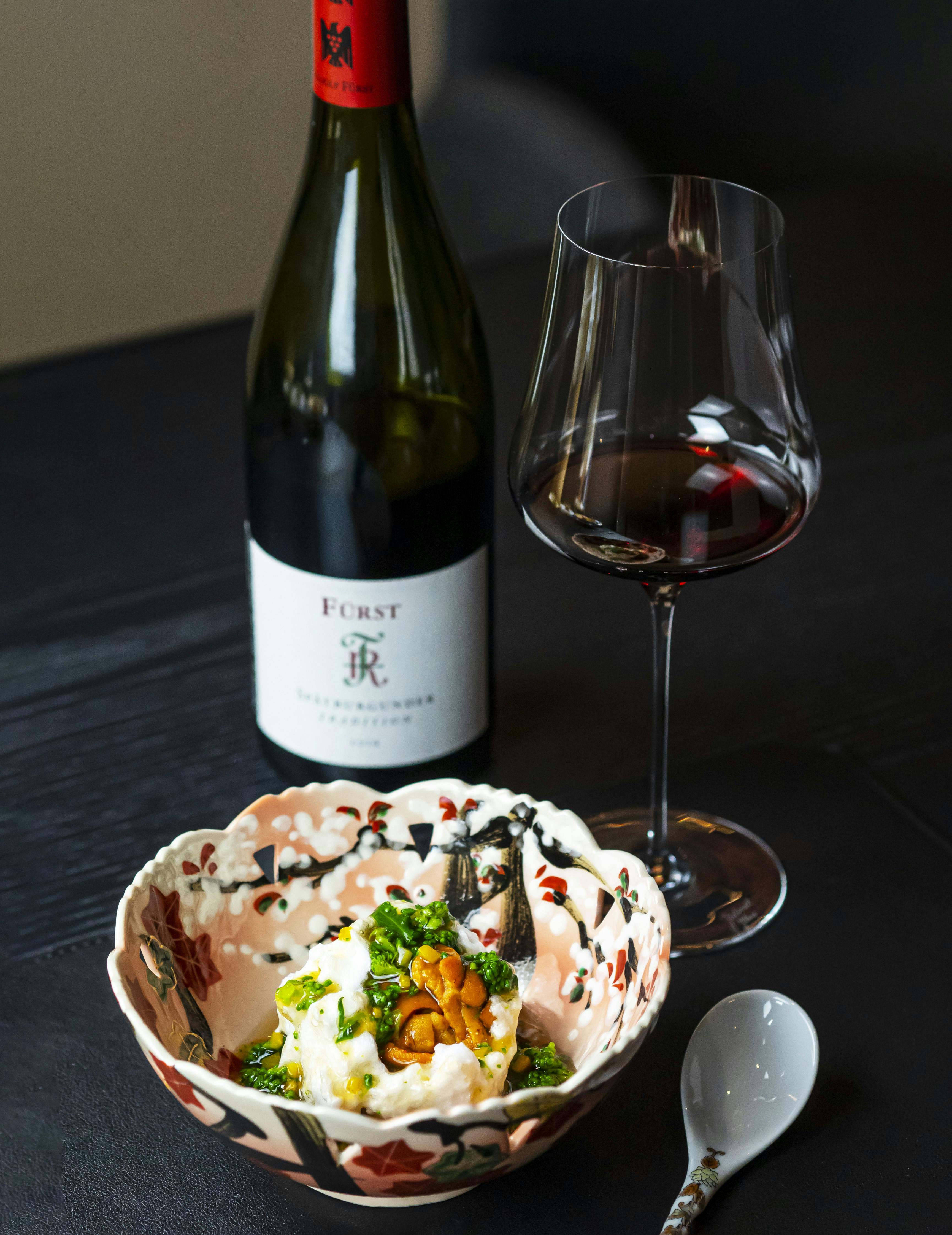 Anago Kaburamushi.
Though it's not the spot for your go-to Cosmo, Aburi Hana's beverage offerings are as intriguing and varied as head sommelier Ashley Arnold is willing to make them. Each season, Arnold samples the team's dishes before calling agents and honing in on the bottles that will most brilliantly pair with the food. Generally a mix of sake and wine, the Hana Pairing is currently wine-heavy due to sake shortages and delivery dilemmas. Tastings comprise eight, 2-ounce pours, with old-world bottles taking the limelight thanks to their earth-driven, mineral-forward merits. When possible, Arnold hopes to add a sake pairing, tea pairing and, possibly, a Japanese whisky pairing to the beverage menus. Wines are also available by the bottle and, if all else fails, guests are invited to, "tell me what you like, I'll figure it out," says Arnold. Happy to meet the challenge, Arnold says the ability to customize particular pours to suit a guest's needs is all part of the fun. It's also part of what makes a night at Aburi Hana such a singular one.
Visit Aburi Hana and you'll have a glorious meal. You'll have a meal that's as refined, exceptional, surprising and delicious as any in the city. What you'll also have is an experience to remember. You don't visit Aburi Hana just because you're hungry. You reserve, often months in advance, to take a journey that's a celebration of art, gastronomy, skill, and the inspired, beautiful places tradition can lead. This is a meal you'll reminisce about, gush about and dream of revisiting for years to come. If chef Nakagawa's ultimate goal is to spread his particular take on Kyō-Kaiseki as far as can be, he and his team are doing everything exactly as they should.