Photographs by Paolina Loseto
Derived from the Latin word aperire, meaning to 'open up,' an aperitivo is much more of a cultural ritual than a drink before the meal.
It acts upon a tradition found in Italy, meant to open up the appetite before the meal commences. The senses are tantalized with a little drink and some small food. The palate is awakened, prepping the diners for what's to come. 
It signals the beginning of an experience to be had. It embodies the Italian attitude central to their lifestyle.
Welcome to David Rocco Bar Aperitivo, the new Italian aperitivo experience in Yorkville from David Rocco himself. 
Not a restaurant. A wine bar. 
"Well, I've never wanted to have a restaurant," reflects David Rocco, the man with his name on the front of the wine bar and a celebrated chef. "I've had a lot of opportunities to open up a restaurant, and I understood it's a massive undertaking. But what I wanted to always do was an aperitivo bar, and why I needed to make a distinction was because not everyone understands. They think, oh, Rocco is opening up something so, let me call and make reservations. Let me book a table for six. And we were unconventional. So we had to share this kind of concept that, like in Italy, like in Barcelona, the tapas bar, the Venetian Cicchetti bar or the aperitivo bar you walk in."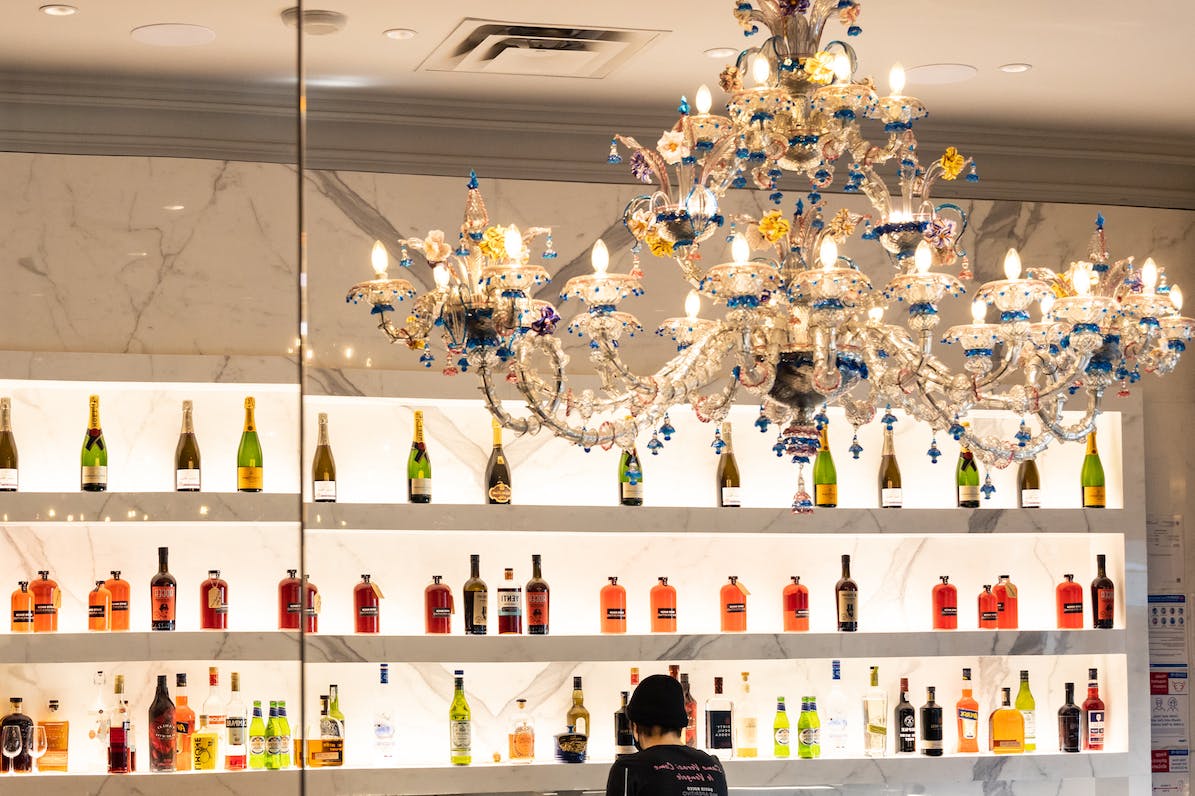 A concept that has always intrigued David Rocco, it's easily apparent from the moment you enter the doors that this is much more than a place you order a drink at and get some quick food.
It's a gathering space; somewhere, you can take 20 minutes to yourself, have some wine, and get ready for those afternoon meetings. It's a wine bar that reflects precisely who David Rocco is, and it mirrors the places that he's been and the food that he's created. But, Bar Aperitivo is not about dining. It's about taking advantage of those moments sprinkled throughout the day that can act as inspiration, all while sipping on a negroni. Enjoy your life, much like the Italians do.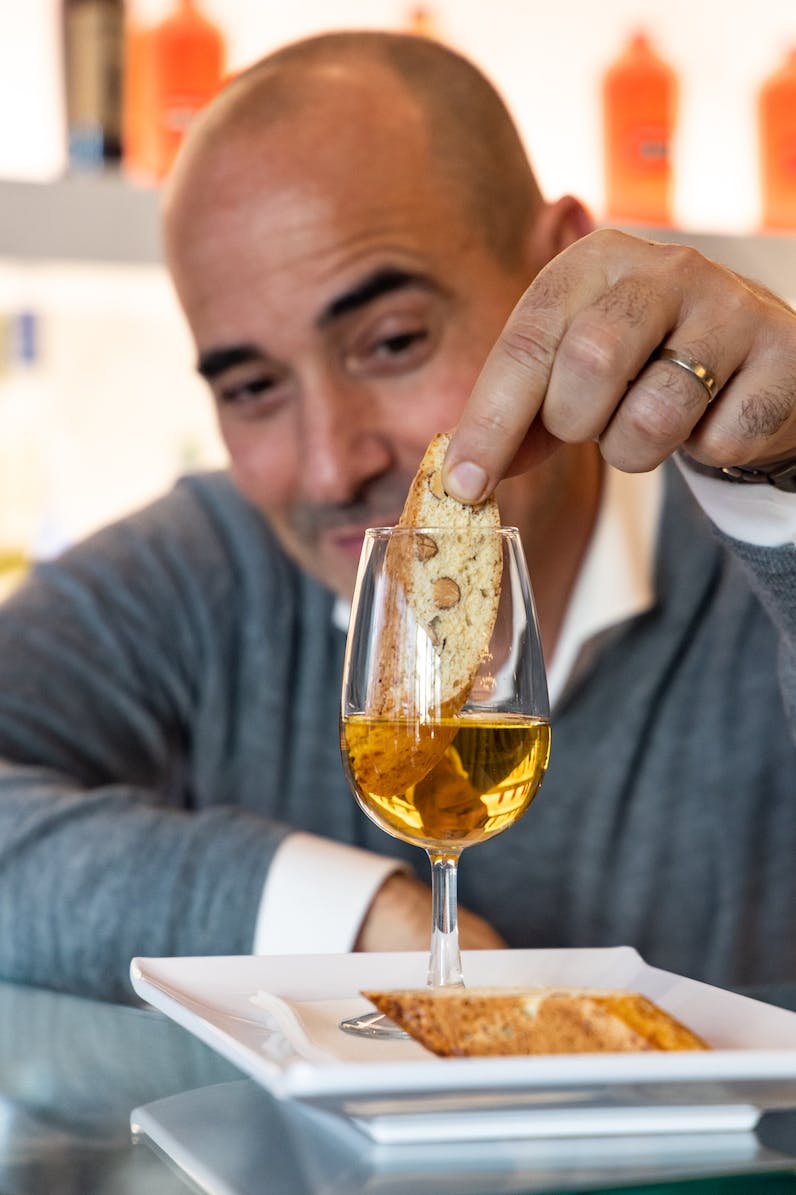 If it wasn't for a timely stroll in November 2020, deep in the heart of the pandemic, David Rocco Bar Aperitivo may not have been a reality.
"I live in Rosedale, a two-minute walk from Yorkville. My office is in Yorkville. My hood is Yorkville. My espresso shop is in Yorkville. So this is what I do, right? It was a cold day in the middle of a lockdown, and I see this 'For Lease' sign, which I've seen for about three months. My buddy, a real estate agent, is in here showing it to someone but the person was delayed. And so he goes, 'hey, why don't you come do a little walkthrough.' The previous place was here for ten years, and I never walked in. So I walked in. I'm looking, and wow, these are great high ceilings."
After a walk back home and a couple of trips back to the space with the family an offer was made. Rocco couldn't take the chance that the space would be taken, so in the middle of a TV production and a pandemic, he took it over the next Monday after seeing the space.
One year later, the aperitivo bar is in full swing.
As more people fill up the space, David effortlessly wades through the tables, greeting new guests as they enter and weaving in and out of conversations with ease. He's in his element, offering drink pairings to one couple and having playful banter with another.
The wine list is long and expansive, curated by the team's resident wine director from Florence. From unique wines to highly sought-after bottles, you'll be sure to find something you'll enjoy sipping on.
Don't want a full glass or want to try a few bottles? Bar Aperitivo rectifies this issue by offering half glasses of wine.
The cocktail portion of the menu is unique and exciting, offering a mixture of classical cocktails and interpretations, and the spirit options are plentiful.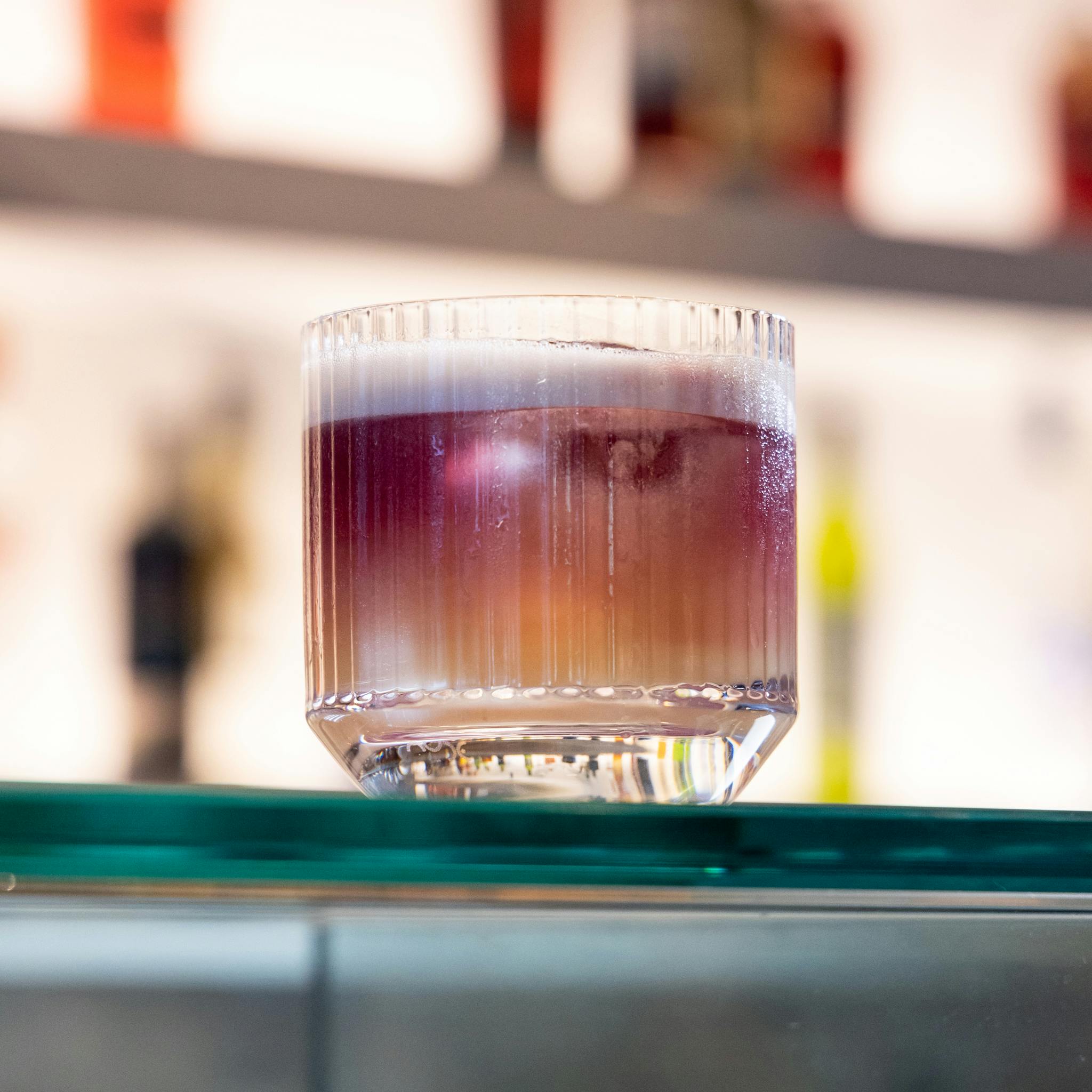 A recommended cocktail, The Kentucky Talia, is a bourbon forward cocktail made with Lambrusco, egg whites, lavender and lemon. A stunning aperitivo, it arrives at the table with an almost mystical quality to it. The shades of purple and orange dance around the glass, swirling around a single sphere of ice. The egg whites are almost bubbling over, like a cauldron about to overflow.
"We don't have a phone," mentions Rocco. "You can't even call us. It's not that we don't pick it up. We don't have an answering machine. We don't take reservations; we don't have an email. It's really kind of like you're in Italy when you come."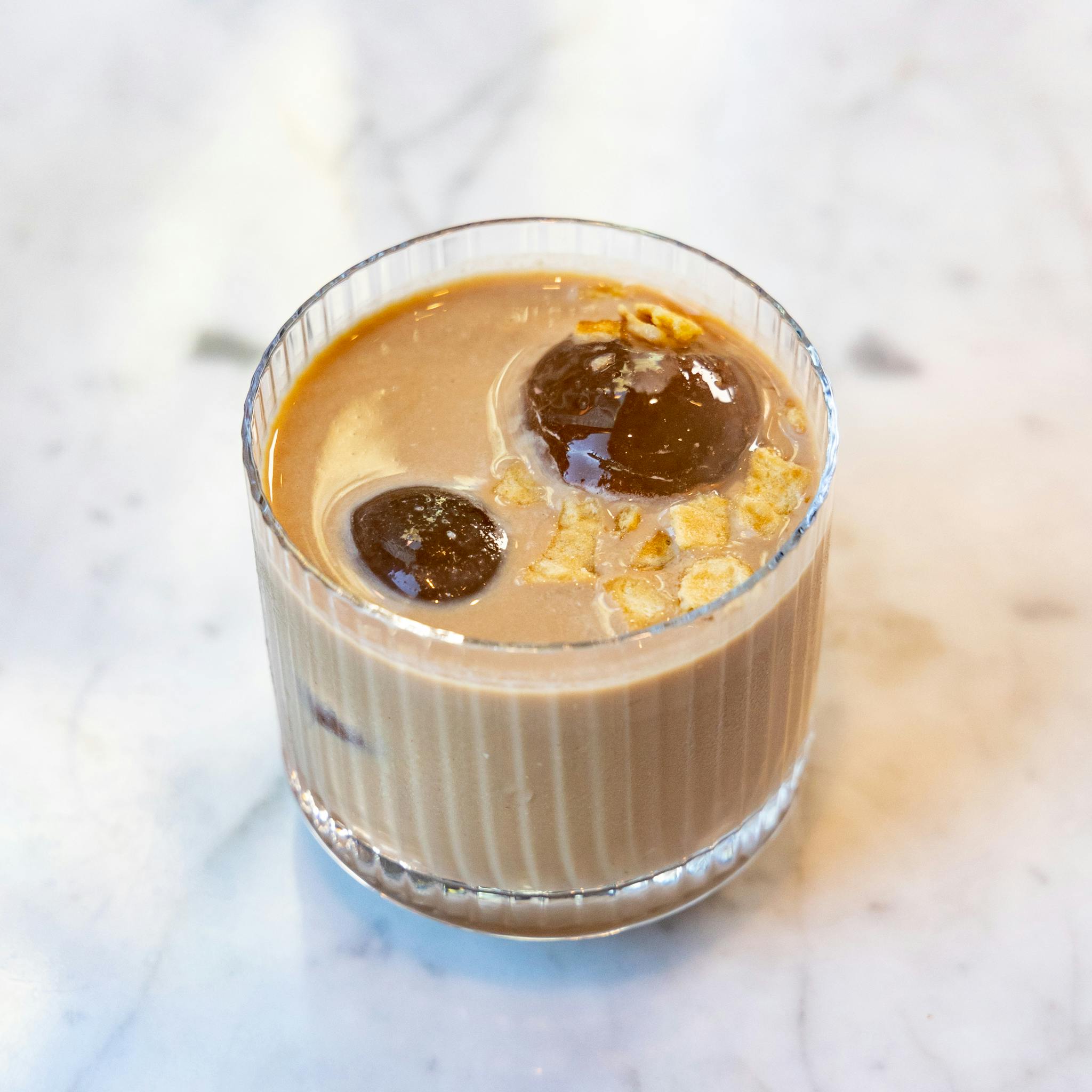 Much like being in Italy, Bar Aperitivo has their own rendition of the Espresso Martini, mixed with Dirty Devil Vodka, espresso, gelato and waffle cone for garnish. The gelato lends a creamy nature to the cocktail, acting as the perfect midday pick me up.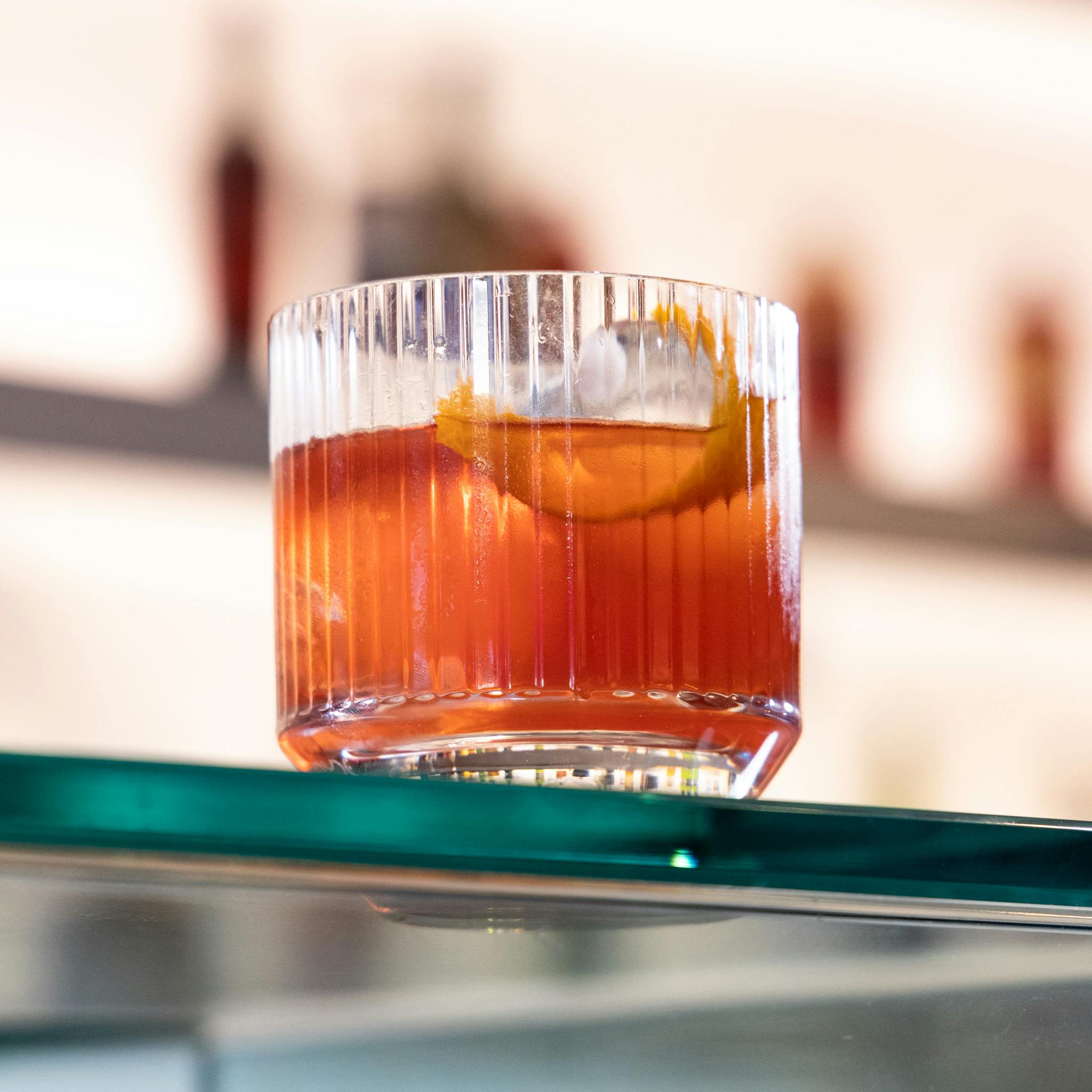 Although pre-batched cocktails have quickly risen up the ranks at bars and restaurants in Toronto, they have long been part of the drinking culture in Italy. The Negroni is pre-batched and is made with Whitley Neill Handcrafted Gin, Dolin Red Vermouth and Campari, and can be purchased by cocktail or bottle.
Each dish is taken from one of David Rocco's cookbooks. These are tried and true recipes that are rooted in David's upbringing and influenced by his travels. He calls it 'fun food,' and the sentiment is felt when the food comes out quick and the conversation is loud.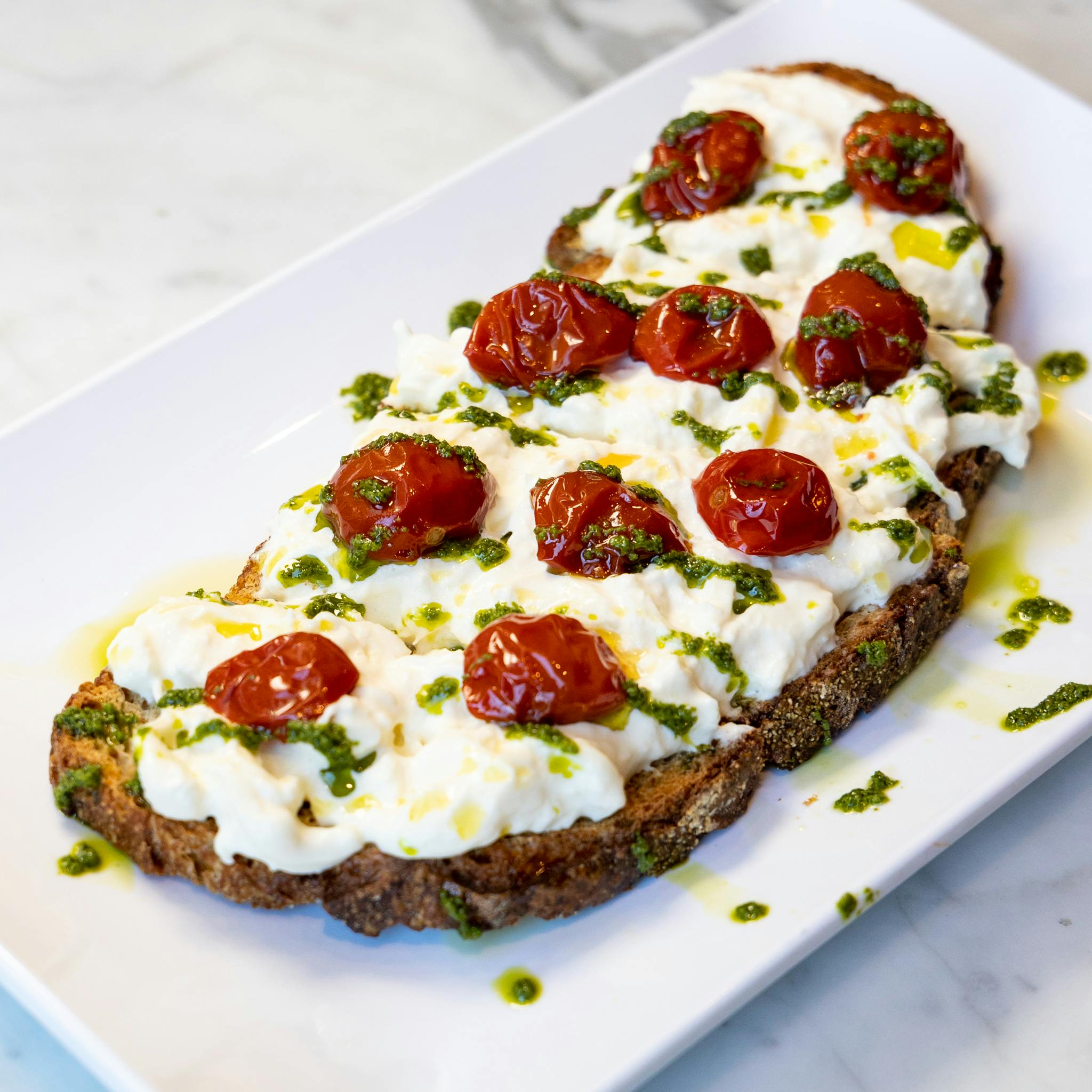 The food menu begins with the crostini section. There are four options, with the stracciatella, sundried tomatoes, and salsa verde showcased here. The simplicity of the dishes allows the quality of the ingredients to shine, and the stracciatella shines brightly here. It's cheesy, crunchy, slightly acidic from the tomatoes and fresh from the pesto. Olive oil coats the entire dish, furthering the sentiment that quality is key.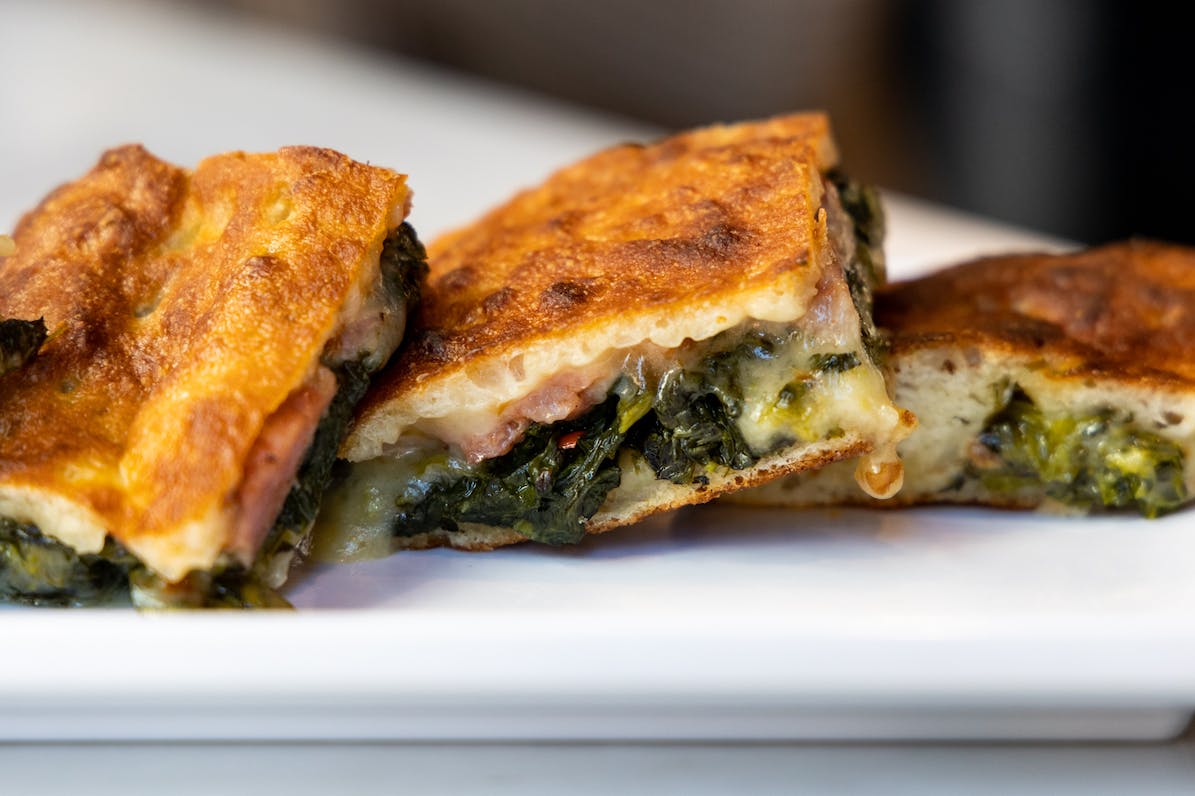 "I used to see people go crazy for my stuffed pizza with sausage, rapini, and smoked scamorza, so I had to have that," remarked Rocco.
A staple of the menu that can either act as a quick takeout menu item or can be enjoyed with a small drink, the smoked scamorza offers a creaminess, complemented by the fattiness from the sausage and the simplicity of the rapini -- a fan favourite for sure.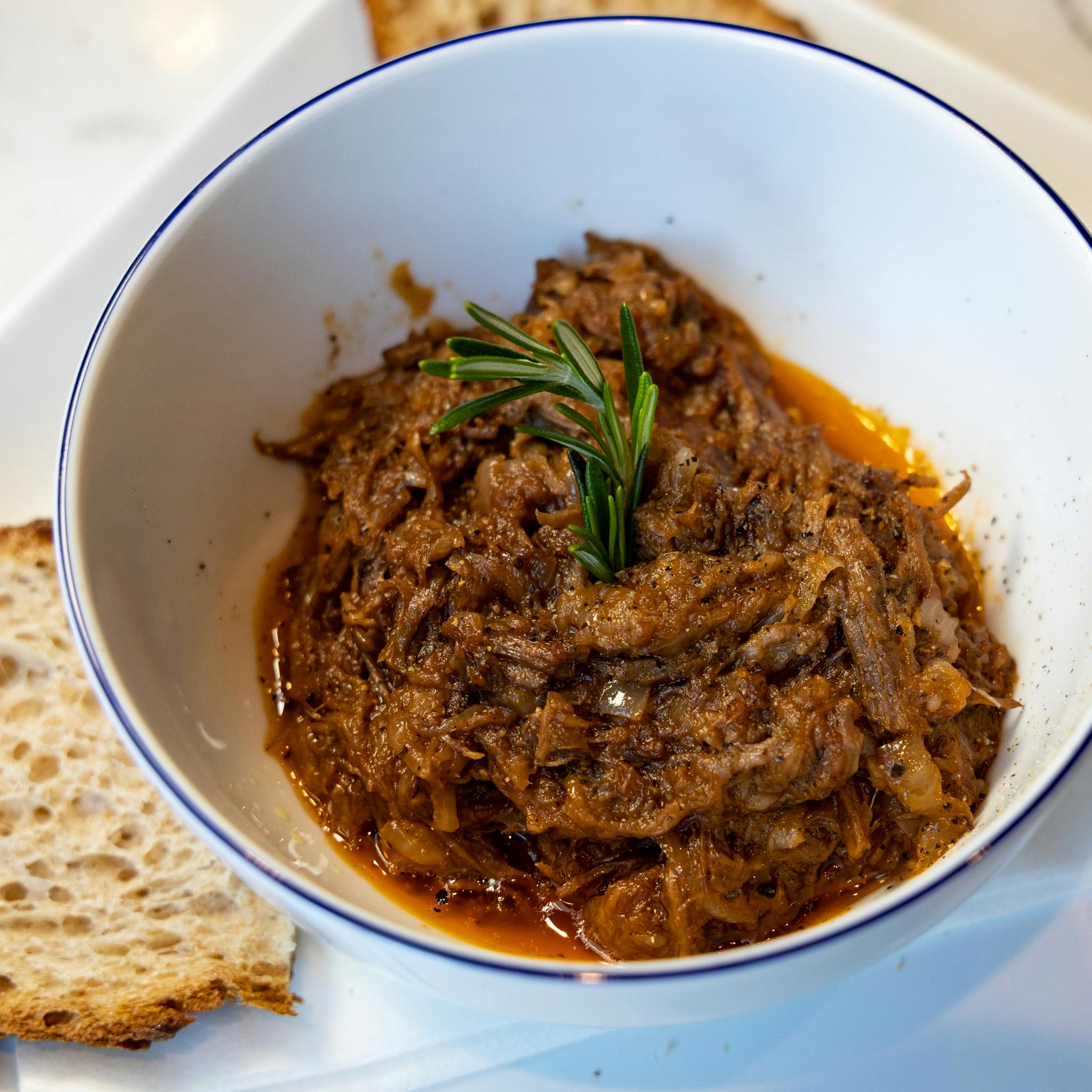 La Francesina -- a recent addition to the menu -- is based on the classic pulled beef and onion stew made popular in Tuscany. A traditional dish with deep historical context, it's prepared with leftover beef boiled in red wine and onions for long periods of time. Bar Aperitivo's version is rich and meaty. It's everything you want in a beef and onion stew. Warm, hearty, rich, deeply flavoured, and is the perfect accompaniment for crostini.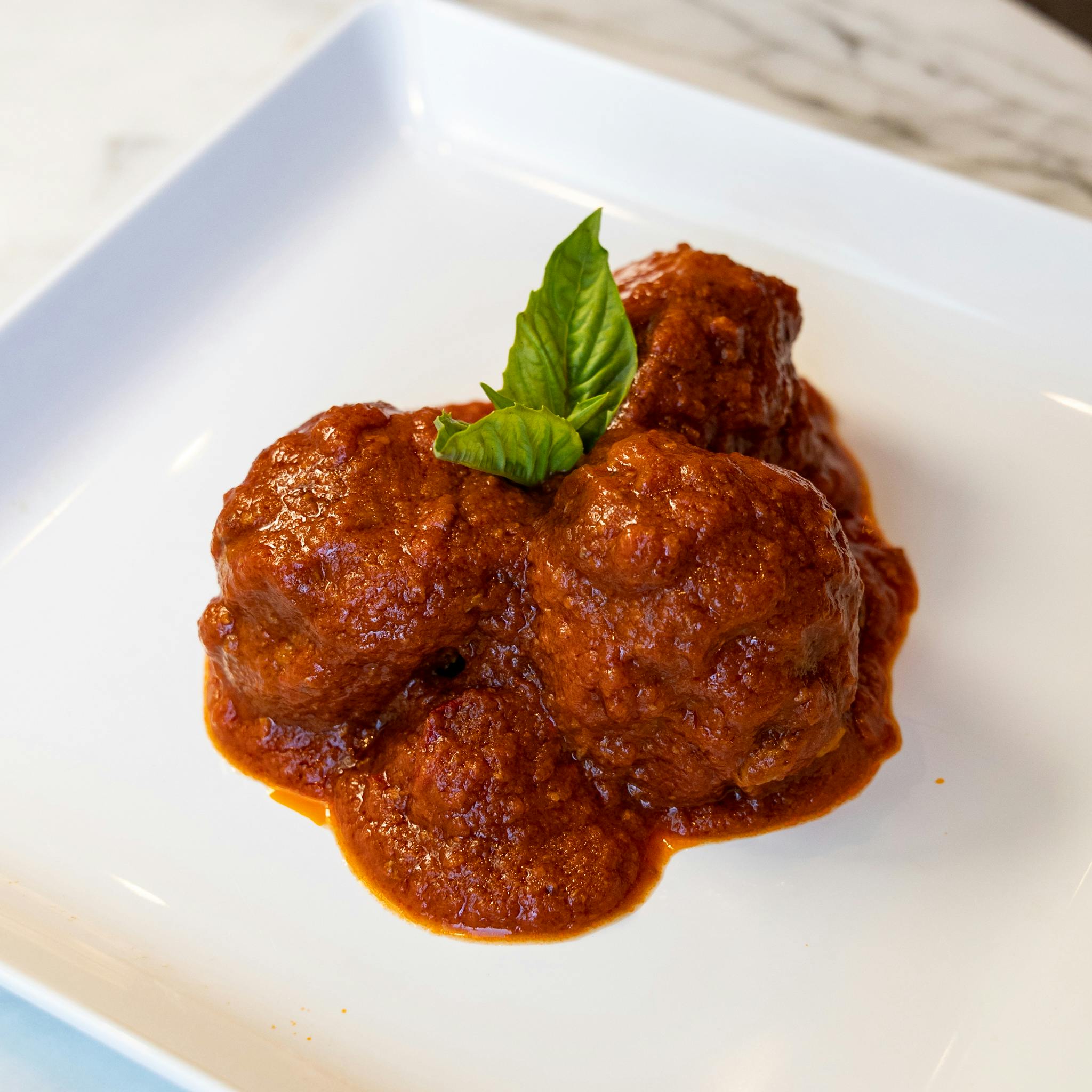 "My mandate was to have my meatballs that were different, that were meatballs that I grew up with. So our meatballs have pine nuts and raisins done in a very Neapolitan-style in a slow-cooked ragu, and it's our best seller."
It's no small task to have a wine bar with your name on it. There is a lot of pressure when the entire menu is made from your cookbooks and your childhood memories.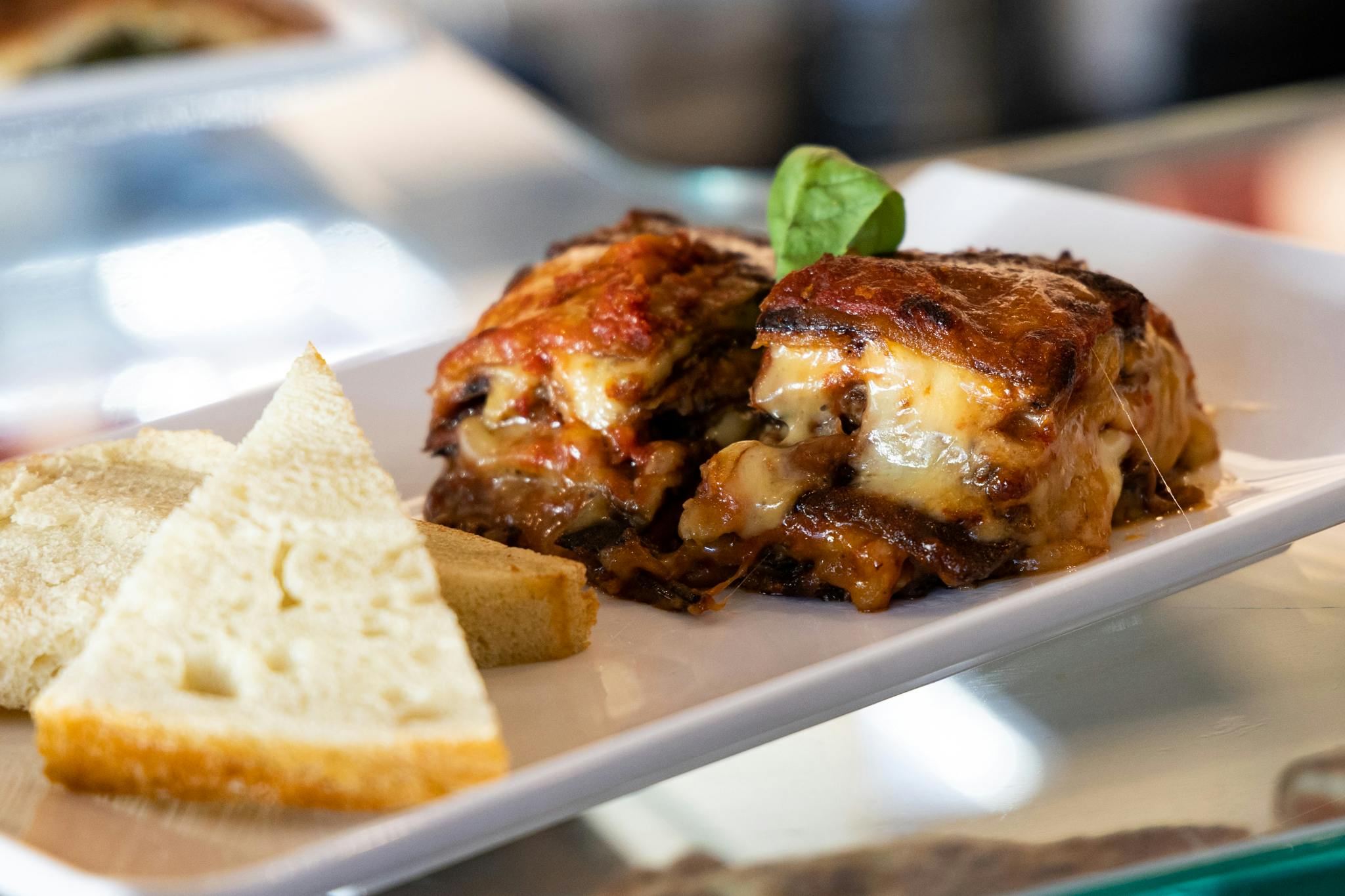 "And so the other thing is, the food, like the eggplant parm, I'm vigilant on how it's served. It's not served hot; it's served warm at room temperature or slightly warmer because that's how the eggplant parm is served. These are memories from my childhood."
Probably the most recognizable dish on the menu, the Parmigiana di Melanzane is comforting from the first bite. Served exactly like David would have had it as a kid, it's cheesy and creamy, again benefiting from the addition of smoked scamorza.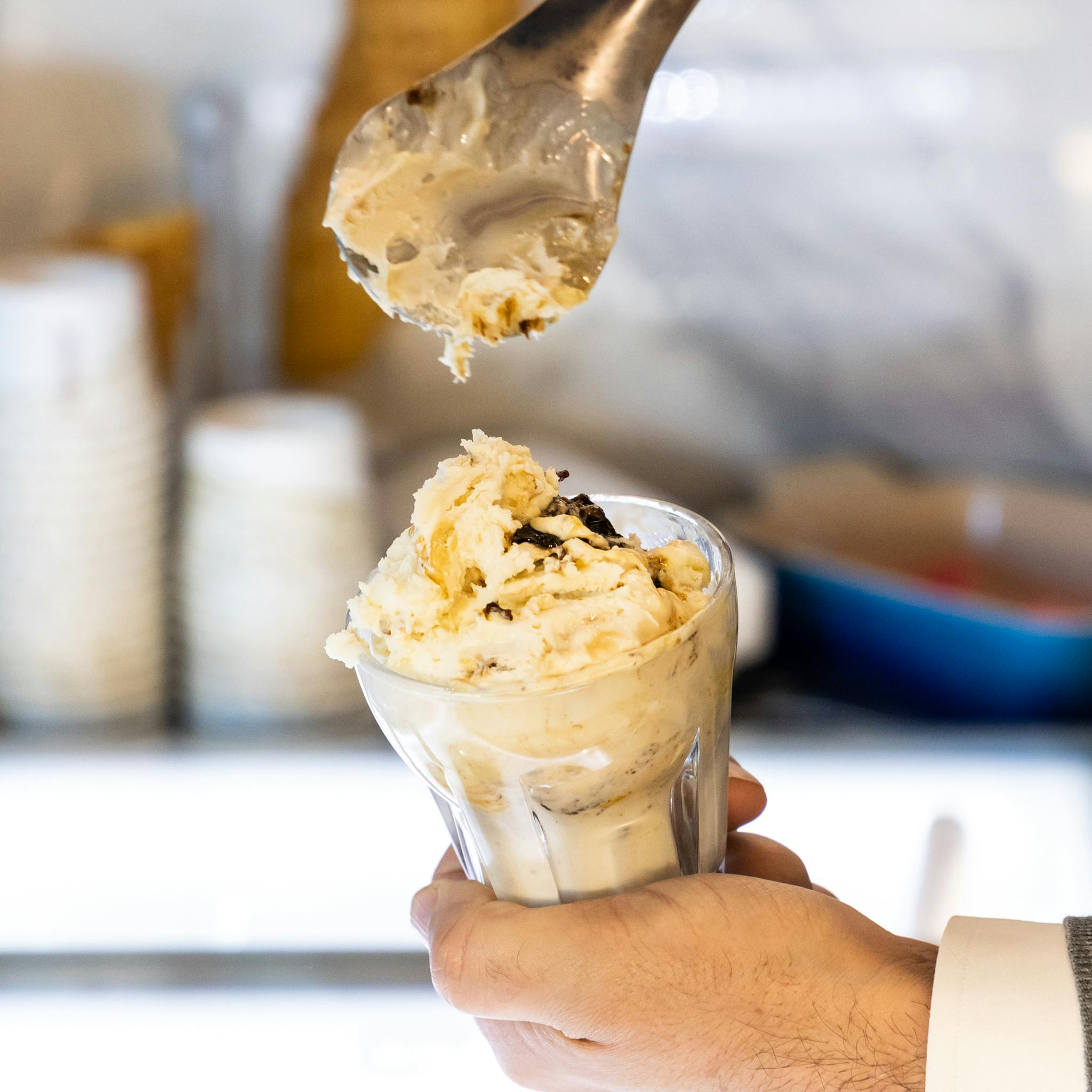 For a sweet finish, you'll find a selection of gelato made in-house available like Fig and Ricotta.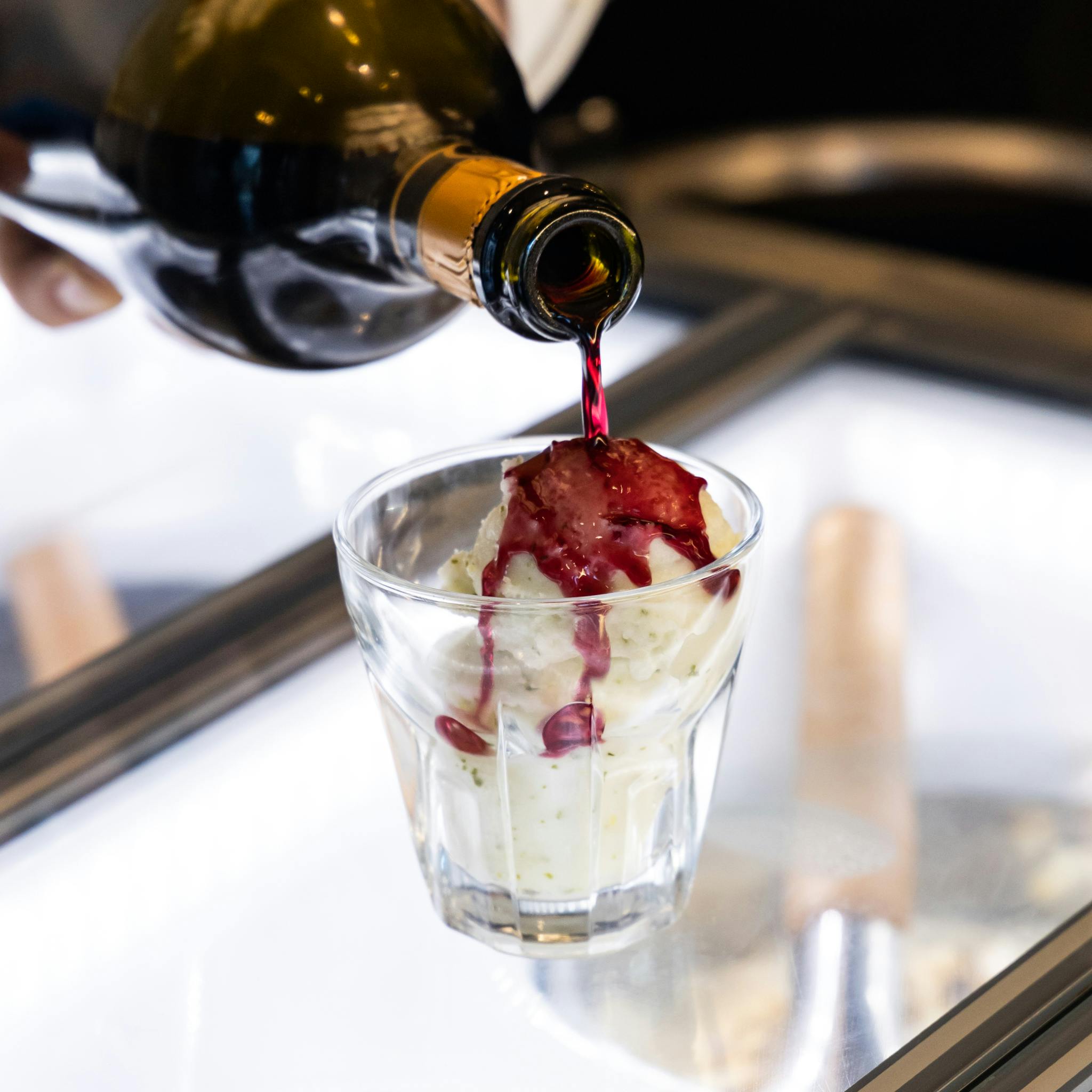 If you are a fan of affogatos, you must try the Lemon Sorbetto Affogato al Lambrusco. A bright and refreshing lemon sorbet finished off with a generous pour of Lambrusco, a family of red grapes from the Emilia-Romagna region of Italy that are typically used to make a sparkling red wine.
No cutting corners here. No fake origin stories, no elaborate menu items with an overwhelming amount of ingredients. Simple food meant to be enjoyed on the go, as a small break, or as a full meal.
David Rocco Bar Aperitivo is open Sunday to Tuesday from 11 a.m. to 11 p.m. and Wednesday to Saturday from 11 a.m. to 12 a.m.
They don't take reservations, so don't even try. Keep an eye out on their website and Instagram to stay updated on new menu items.