Photographs by Paolina Loseto
Inspired by Amano Italian Kitchen, comes a new concept restaurant from the creative team at Union Chicken and Uncle Ray's. Amano Trattoria is the latest addition to Open Concept Hospitality's roster, where guests will enjoy classic and modern Italian flavours in a contemporary, moody setting.
Owners Yannick Bigourdan, Dan Kennedy and Adam Teolis, are thrilled to have their co-owner, Executive Chef Michael Angeloni, take the lead on this exciting new venture. Angeloni has years of experience in the hospitality industry and has gone back to his roots to pull inspiration for the menu and concept of Amano Trattoria.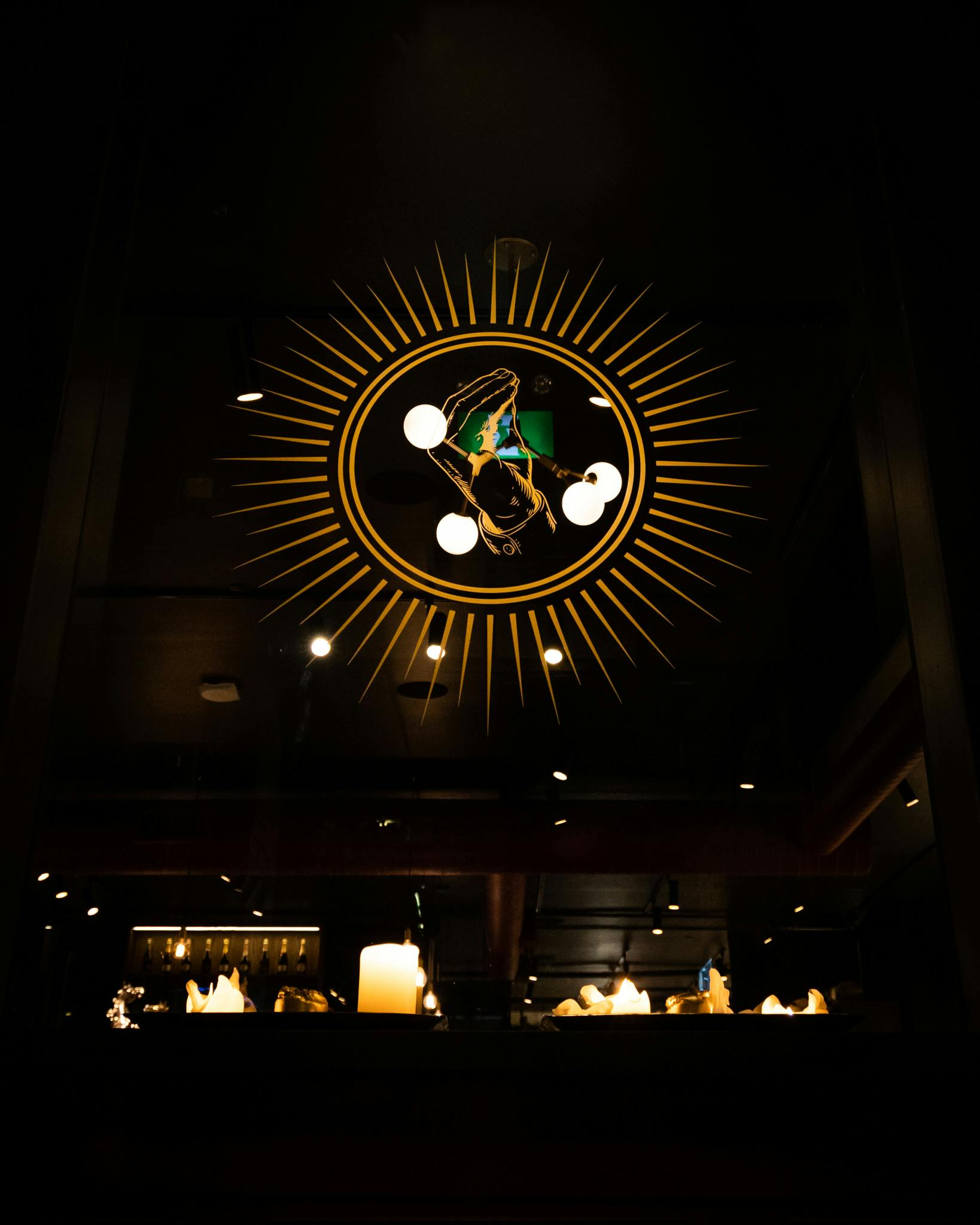 When translated, Amano means 'by hand,' which reflects in their logo, and how everything at the restaurant is made. Each dish is made from scratch and with great attention to detail. Angeloni's years of making pasta with his grandmother in her basement was in fact, one of the main catalysts for his inspiration.
He says, "Those days of hard labour making fresh pasta is where I fell in love with food, and because we live in Canada, I wanted to try and use as many local ingredients as possible when making the menu. We're inspired by our heritage, but not defined by it."
With that in mind, it was Angeloni's goal to ensure each plate was unique, to both modernize and elevate the experience of dining at a traditional Roman-style trattoria.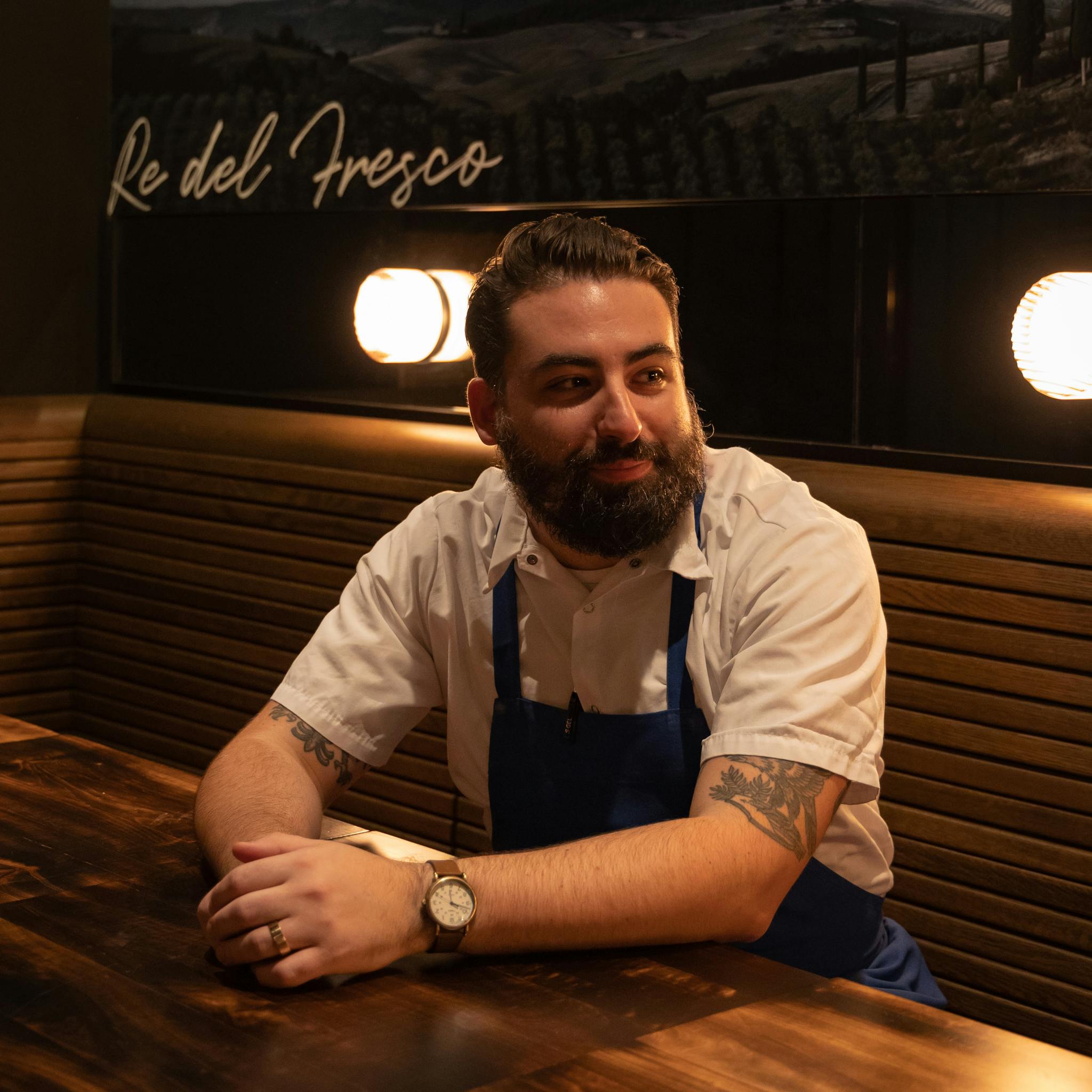 Co-owner and executive chef, Michael Angeloni.
With no specific regionality to the food, it has opened up the possibilities for what's on the menu. In fact, Angeloni is part Polish and is excited to be pulling from some of those culinary traditions in some of the dishes.
Though upscale and refined, the team hopes for guests to have a relaxed and fun time while dining with them. Angeloni says, "It's really important to us that we don't take ourselves too seriously, but we still pay very high attention to detail of the food and the quality of our service."
Upon walking into the dim, candle-lit space, you'll notice an abundance of textures in the interior imagined by DesignAgency. All the graphics, murals, aesthetics and the logo, were put together by Adam Nathan from Jelly Funk.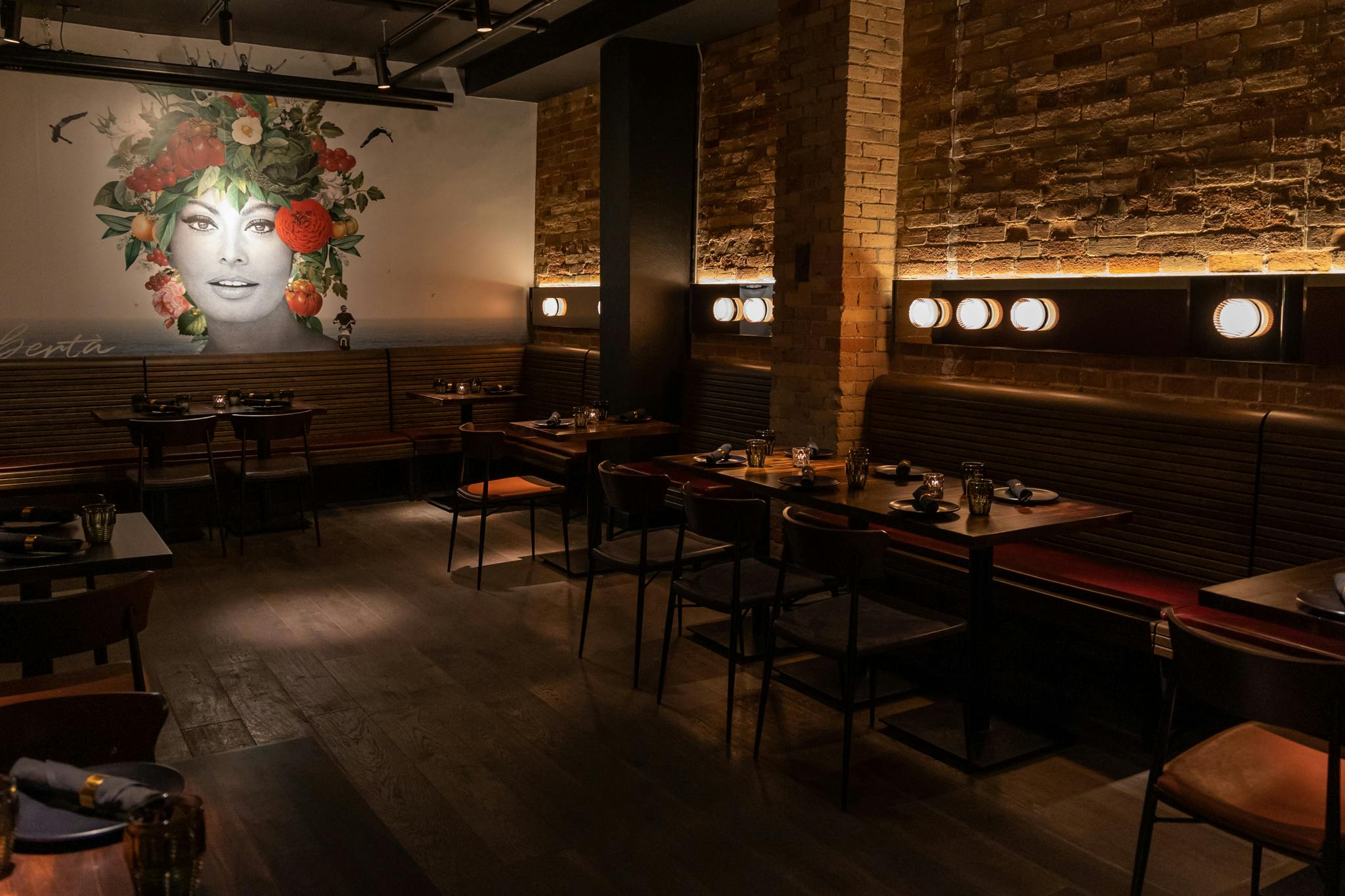 The modern touches like the sleek lighting fixtures, table settings and artwork, beautifully contrast against the rustic exposed brick, wooden banquettes, and the array of carefully placed mixed and matched mirrors.
The clever artwork is a slight nod to the past and depicts legends like Dean Martin and Sophia Loren, with the tasteful addition of some flowers for a pop of colour.
The three-sided main bar anchors the centre of the space with two eye-catching gold horses jutting out from the middle. The main dining room is large and surrounds the grand entrance way, and luscious velvet curtains are used to cleverly divide the space for private dining.
They also have an adjacent space which they call Amano Notte, a late-night cocktail lounge perfect for event opportunities, accessible from the main dining room, and a separate entrance on Church Street.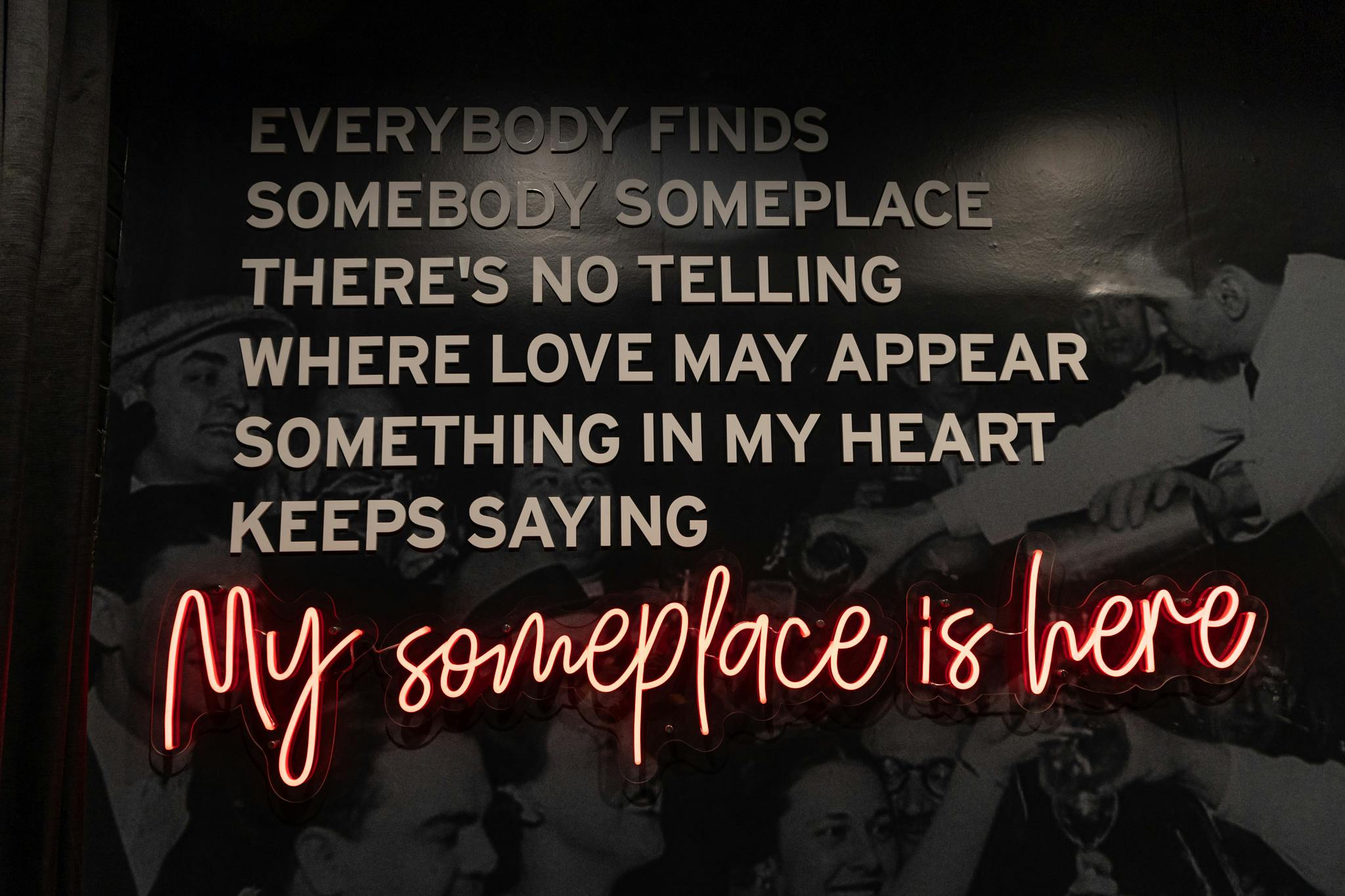 Angelino says, "The best way to fully enjoy the Amano experience is to order as much as possible." He recommends starting with a few assaggini (small Italian share plates), a couple 'pinsas', some pasta, a few mains and dessert. "You should be here to sit and savour for at least a couple of hours," he says.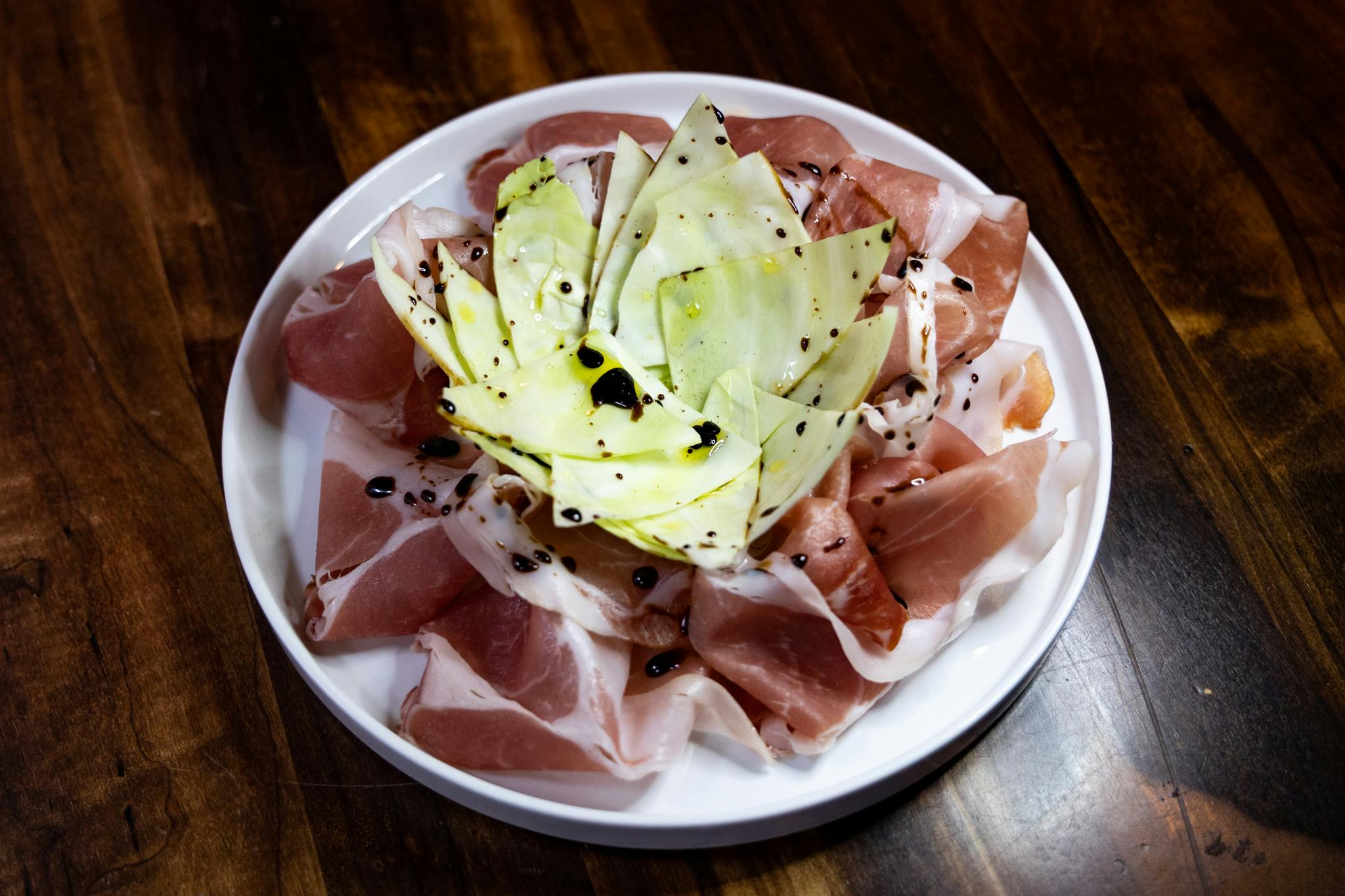 Being Polish-Italian, and having worked at The Black Hoof, Angelino has a big affection for cured meats and has selected an exquisite 16-month aged Prosciutto di Parma for this dish. He says, "I always like to serve prosciutto with something that's not bread, and so the cabbage, you wrap it around the meant, and it really cuts through the fat."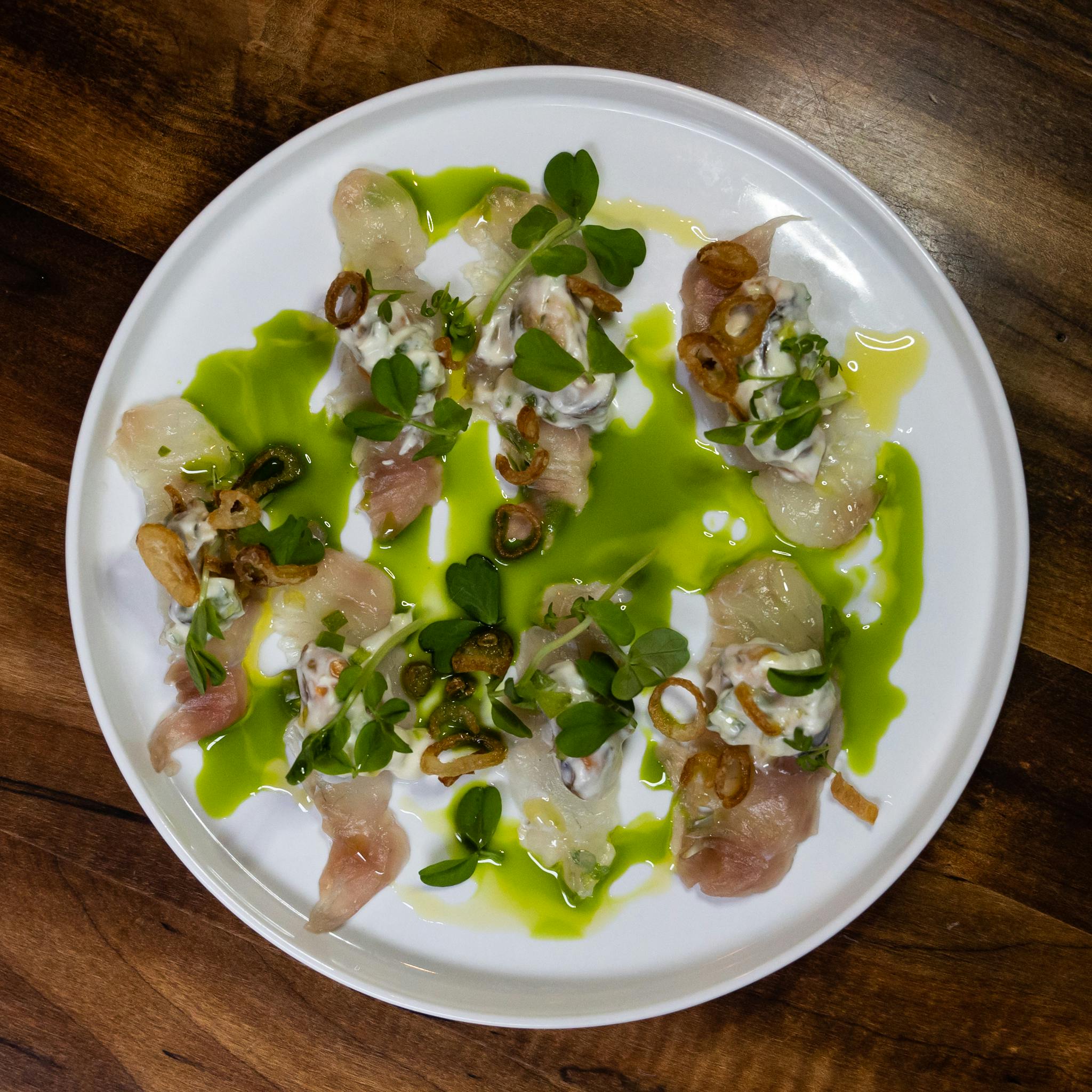 The Wild Fluke Crudo is complete with a bright and vibrant lightly cured fish, pickled mussels and a house-made green pepper creme fraiche that adds an extra raw punch of flavour.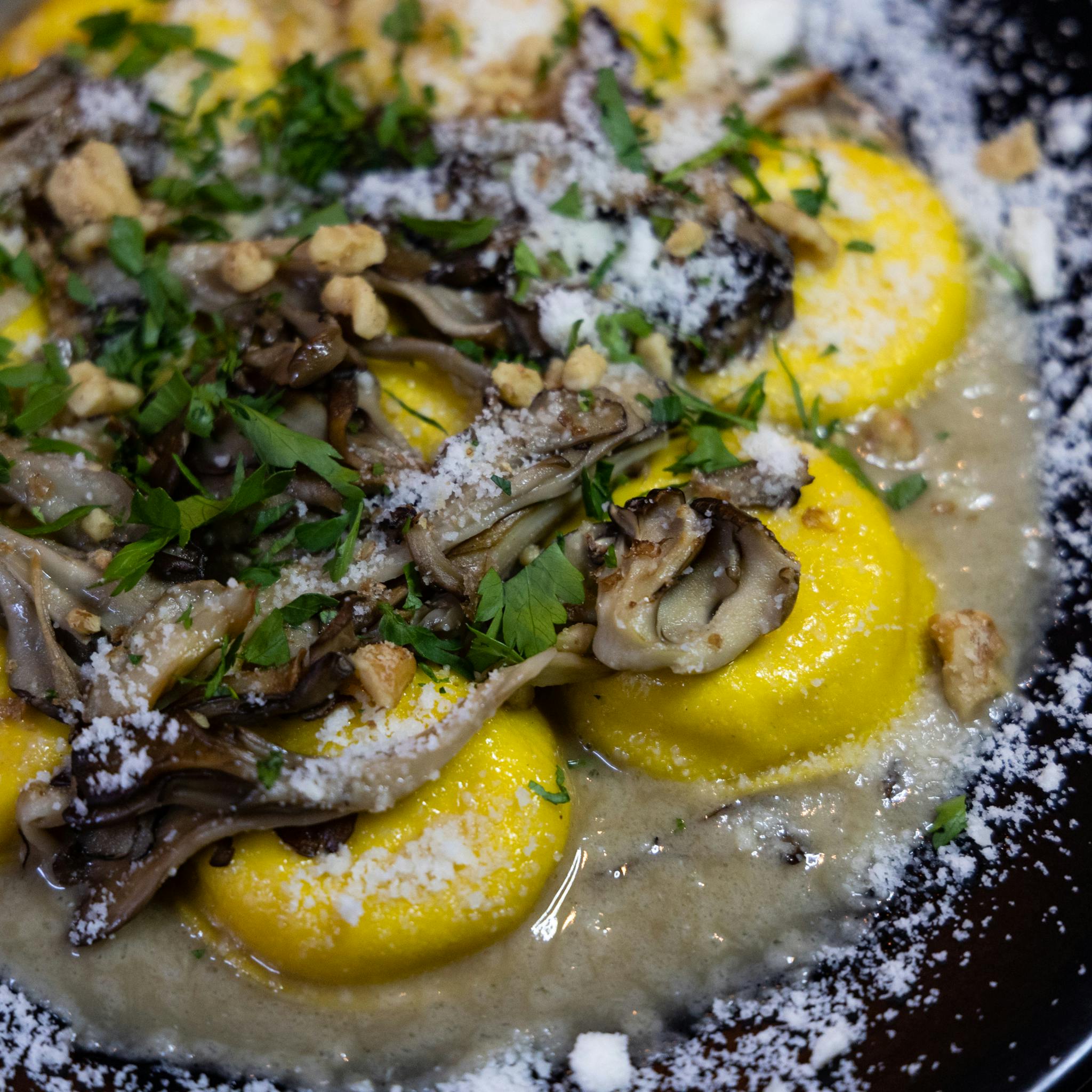 All the pasta is made fresh in-house with a high percentage egg yolk dough, Italian flour and eggs from Ontario. The Occhi (which they call little domes) are little pockets filled to the brim with whipped ricotta and nutmeg and sit on a sauce with mushrooms, pasta water, walnuts, parsley and Pecorino Romano.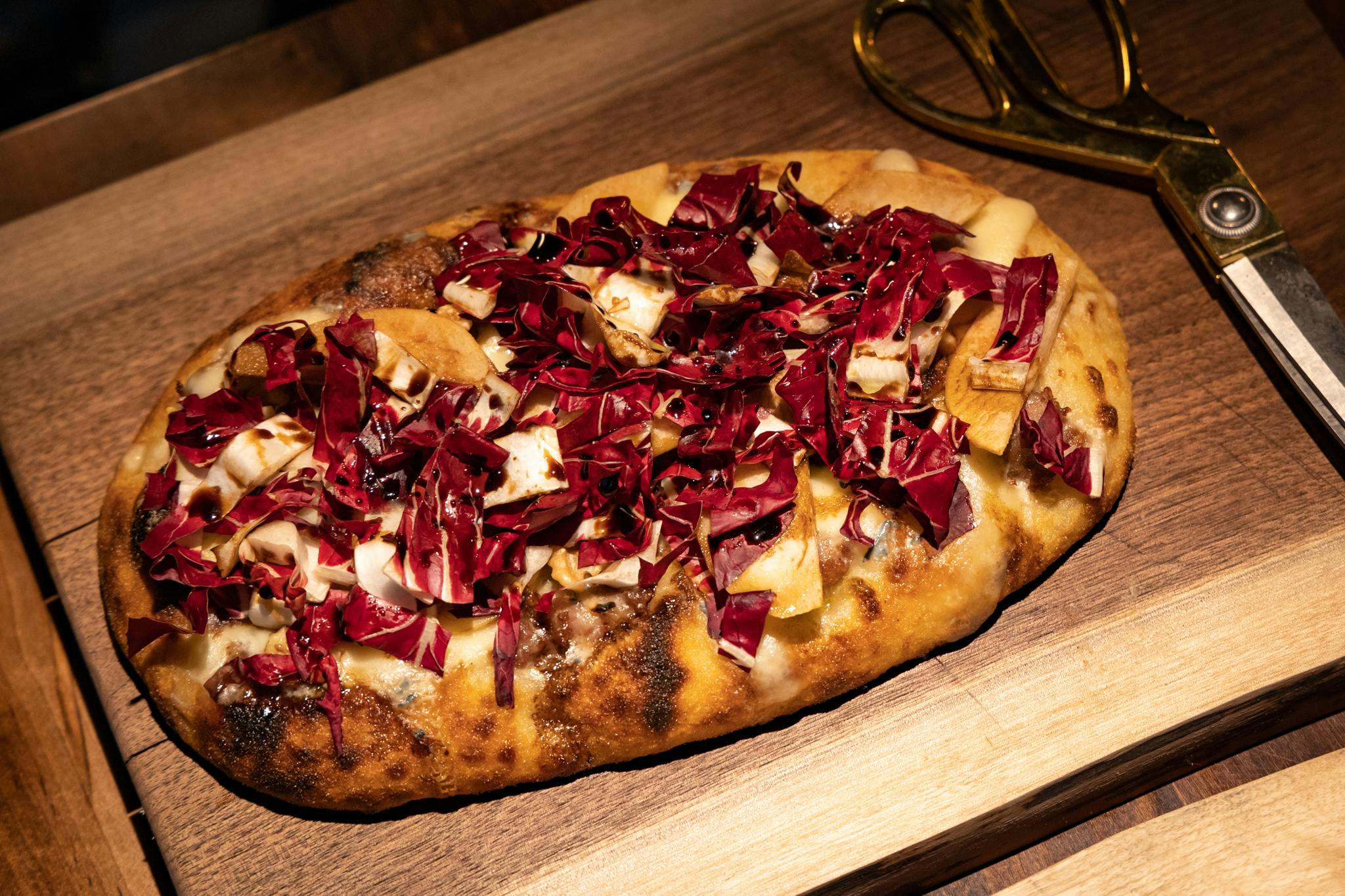 Their Roman-style Pinsa (not to be confused with pizza) are unique in that there is an 'open crumb' through the entire dough; if you cut it open, there will be air pockets throughout. The dough is home-made from all-natural yeast and is matured for 48 hours, making it much healthier and easier to digest.
The toppings are high-quality and aren't typical amongst the majority of pizzerias. The Bittersweet Baby is done with sweet sausage, Gorgonzola, pear, walnut, radicchio and a balsamic drizzle.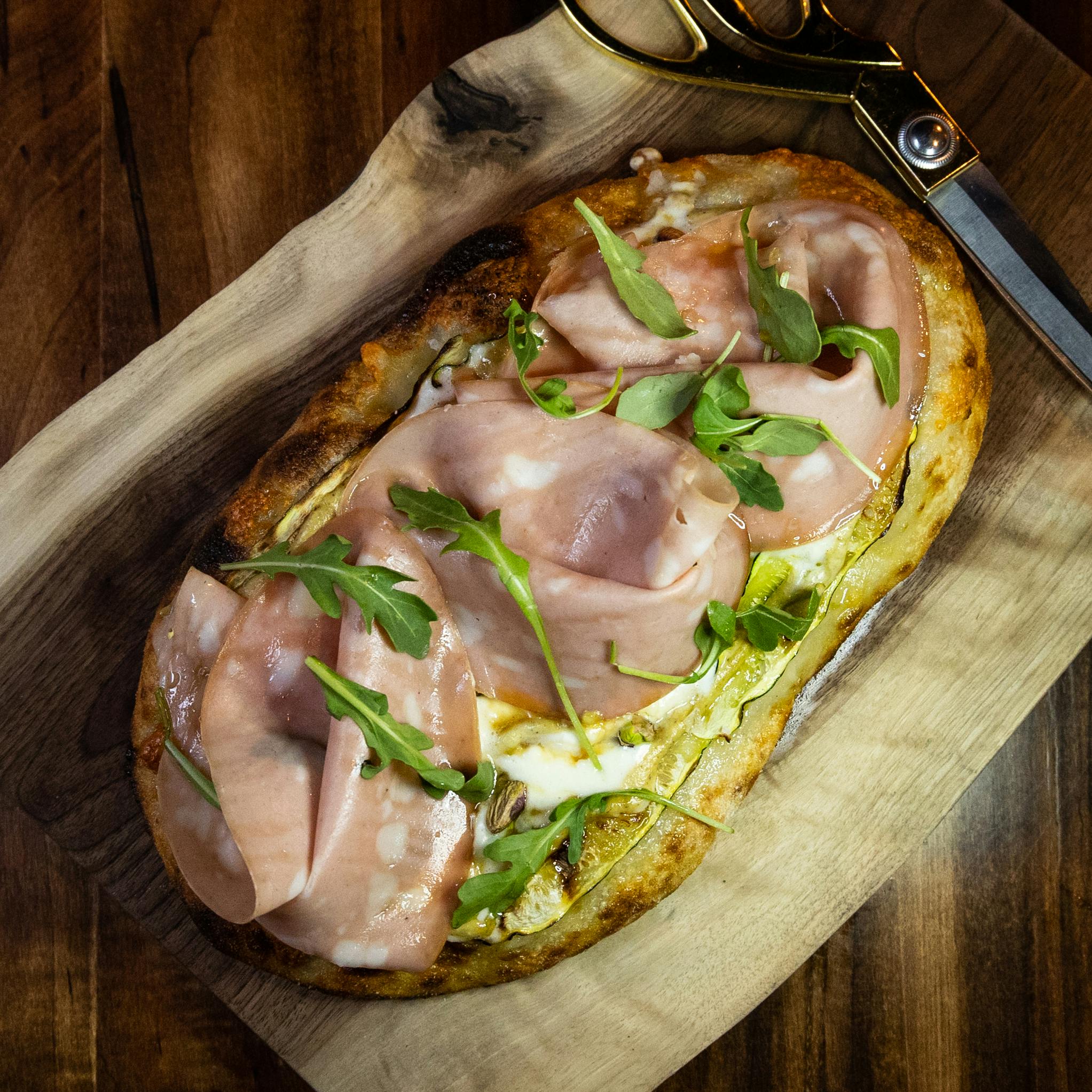 The Bologna Pride is also noteworthy, with a zucchini base, pistachio, burnt honey, arugula and stracciatella cheese.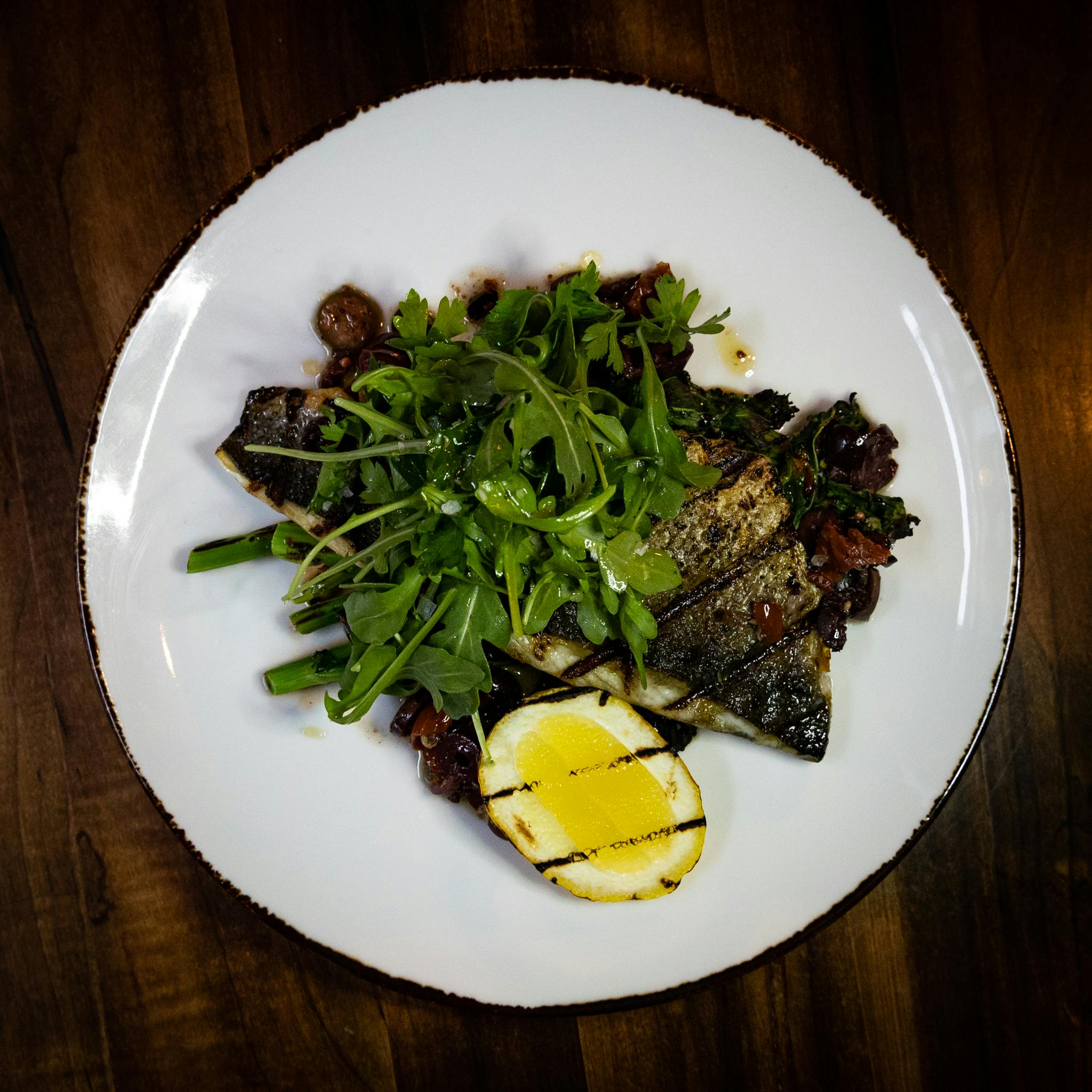 Another menu standout is the Branzino, cooked skin-side the whole way for a little crunch, alongside bomba rapini and a house-made cracked olive tapenade. Instead of blending it, they hand chop lemons, capers, olives, semi-dry tomatoes and a herb salad that really brings the dish together.
The cocktail menu is centred around their selection of negronis, which they have six of at any given time. Though guests can enjoy a number of classic cocktails, they have certainly had some fun putting their own spin on a few of them.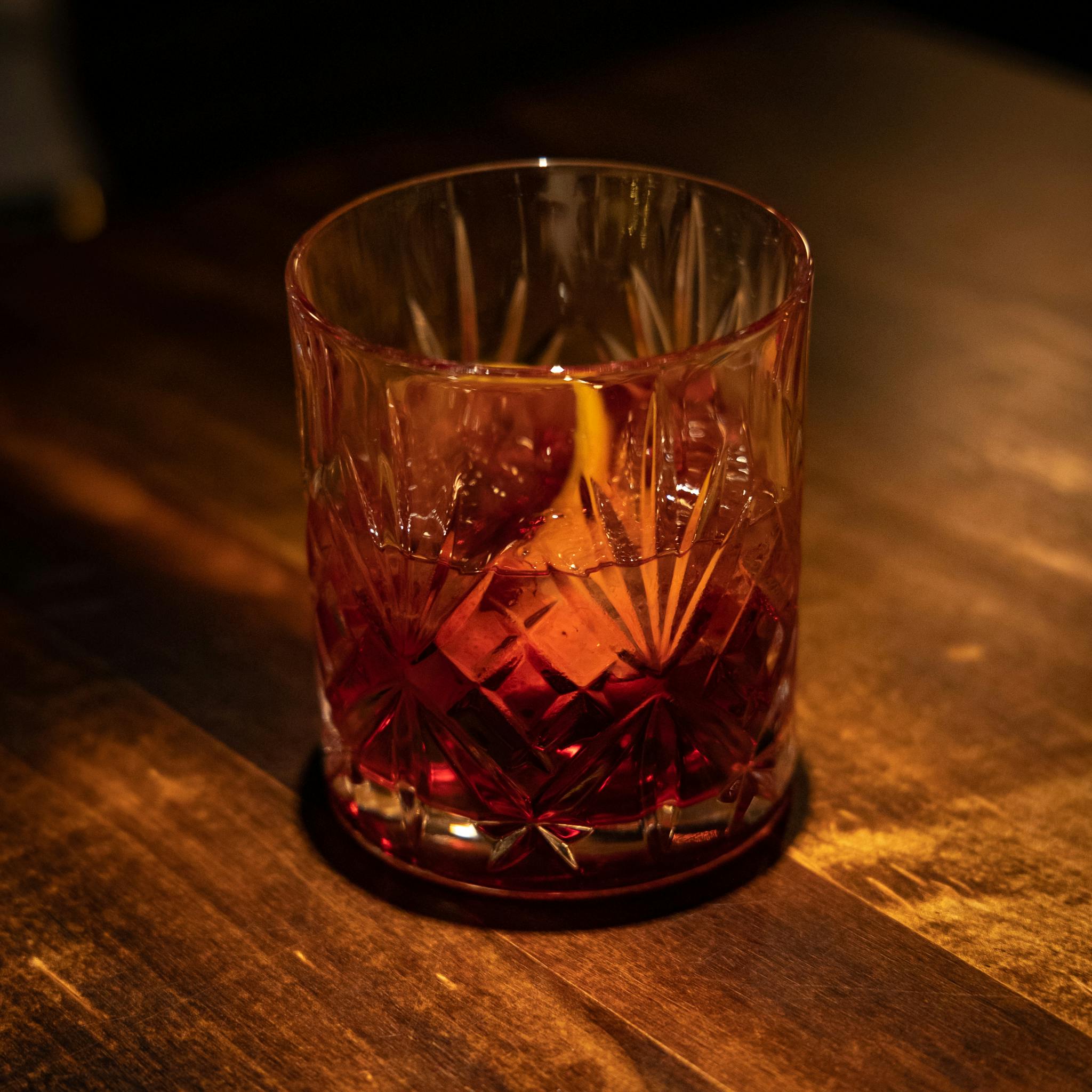 The Pick Me Up is a blend of Dillon's gin, sweet vermouth and coffee-infused Campari for a warm and earthy option. The Sbagliato also comes highly recommended and is made with Campari and sweet vermouth.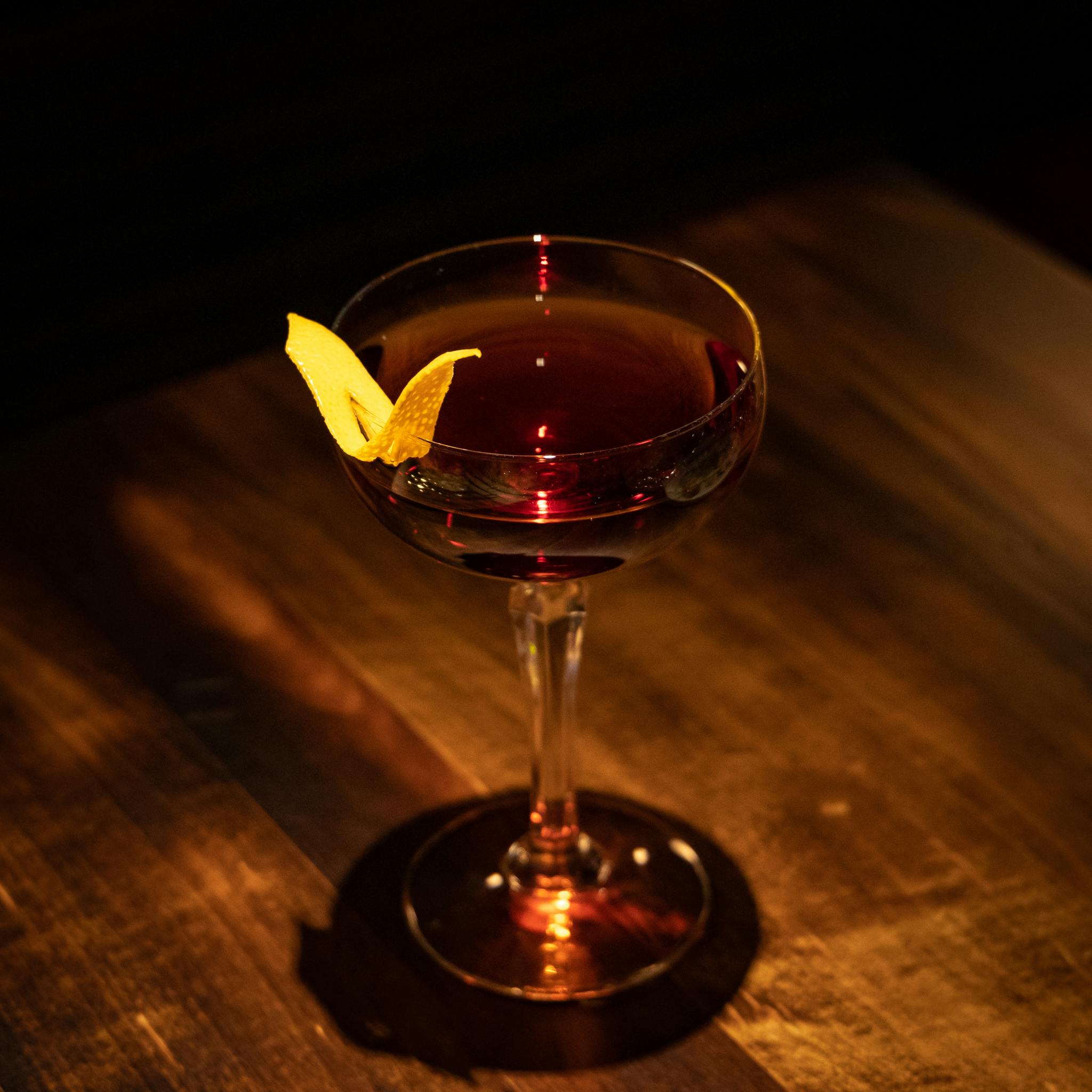 Not only is the wine list quite extensive, featuring bottles from Canada and Italy, but the Amaro Cart, stocked with a variety of hard-to-find amari, is the perfect tableside treat for guests to have an after-dinner shot, either clean or on ice.
Amano Trattoria is located at 9 Church Street. It is open Tuesday to Thursday, 4 p.m. - 10 p.m., and from Friday to Saturday from 4 p.m. to 11 p.m. Reservations are accepted on Resy. You can feel free to contact them by email or phone to book private dining, events and Amano Notte.