The team behind Ufficio and Stefano's Sandwiches has launched their newest project, with an innovative plant-forward menu showcasing quality local ingredients.
Located in the former Ufficio space, Gia is the latest addition to the Dundas West strip, with a menu designed to satisfy everyone, no matter the diet. When the pandemic hit, owner Jenny Coburn wanted to take advantage of the opportunity to transition into a more plant-centred concept that would be more approachable to the neighbourhood.
Though Ufficio's menu was pescatarian, the menu at Gia now reflects current environmental sustainability, and will focus on beautifully handmade, fresh pasta. The team has partnered with 5D Capital, an impact investment firm dedicated to the progression of human consciousness through plant medicine, conscious communities, food solutions and healing accessibility.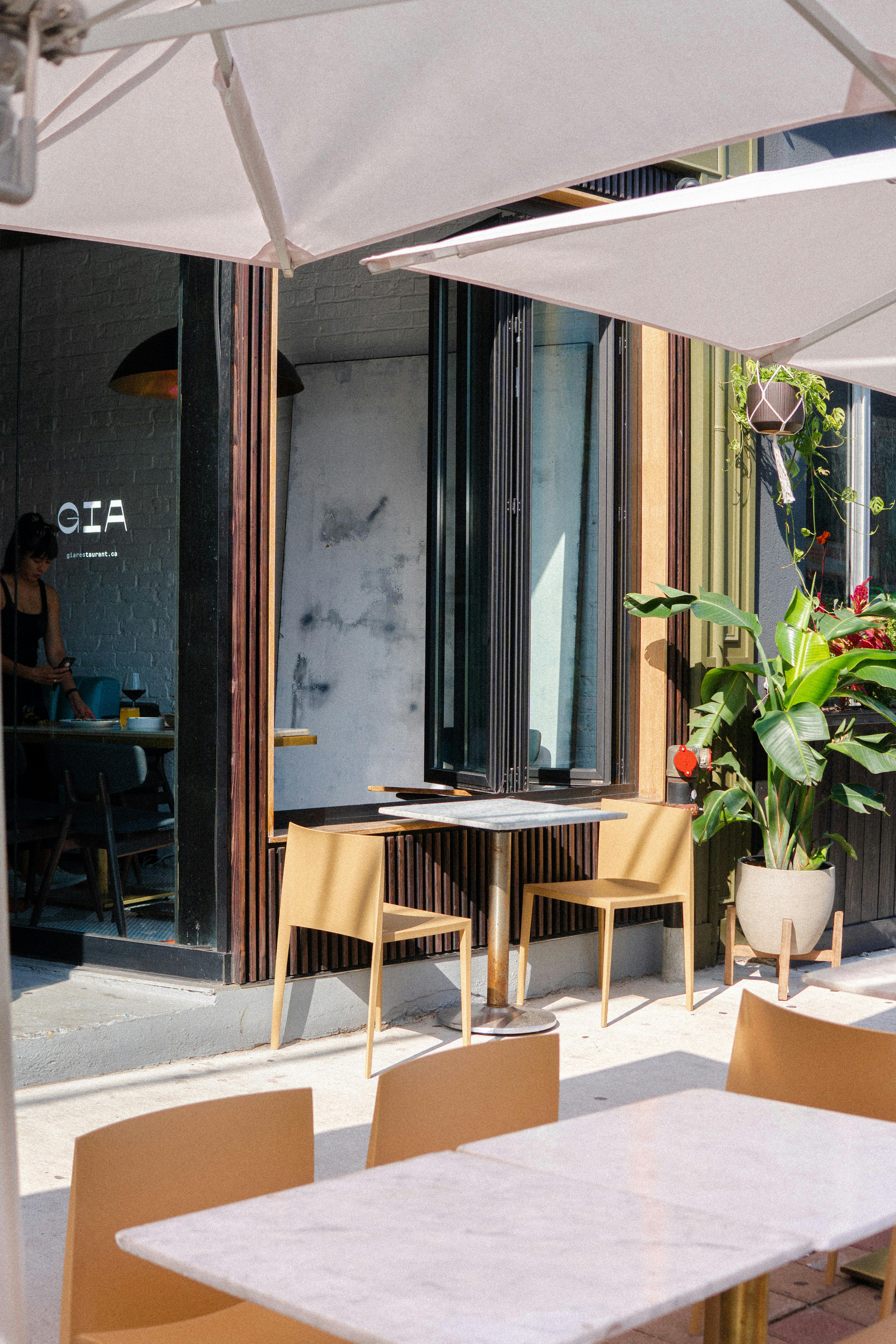 Gia means "God's gift," which makes sense considering the team believes that plant-forward is the future of food. After the widespread success of Stefano's Sandwiches, Coburn knew that the market for plant-focused food existed and was growing in popularity.
"We believe that you don't have to be eating meat all the time, even if you are a meat-eater. Gia is a place that caters to conscious eaters, whether you're living a plant-forward lifestyle or just want to reduce the meat in your diet."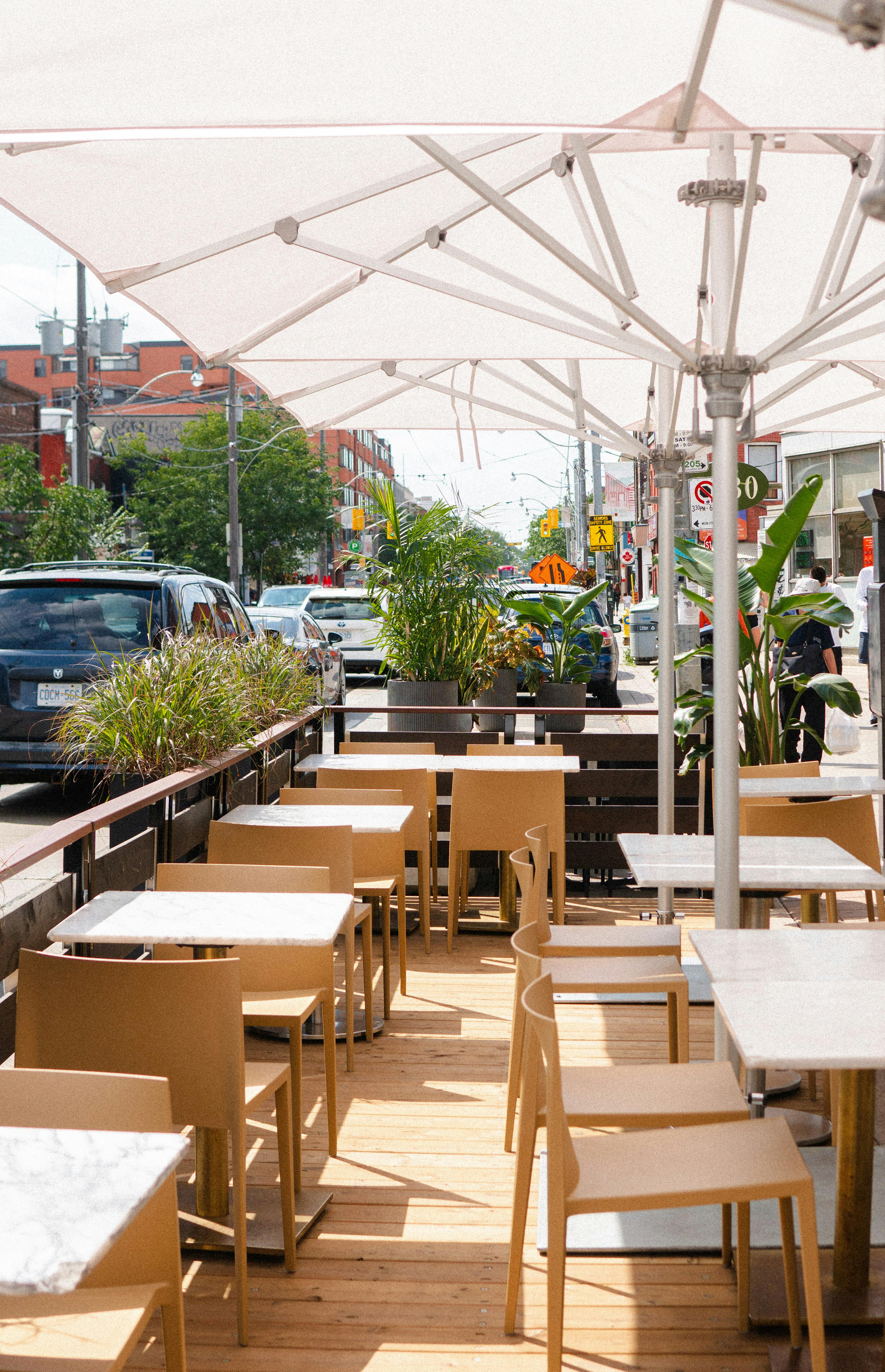 The space has undergone a complete transformation, now boasting a gorgeous Palm Springs vibe with exposed white brick, pink marble tables, an open concept bar, Herringbone wood floors and a grand modular caterpillar couch lining the curbside windows. You can also grab a table on their cozy 30 seat patio with greenery, white umbrellas, swanky marble tables and comfy black chairs.
"We want the vibe to be fun and not too precious. An atmosphere where people's phones are away, we're playing good music, and our guests are enjoying some incredible food with friends or family."
When it came to transitioning the menu, Coburn held onto her tight-knit kitchen and bar team, who have always shared the same passionate beliefs about food and how it should be prepared. The dynamic menu created by the team behind Stefano's features vegan and vegetarian options.
Gia's produce comes from local suppliers, like 100km Foods and Clearwater Farms, and uses organic items wherever possible. The kitchen prides themselves on their ability to make their ingredients in-house, right down to the butter and sauces and even the pickling of their vegetables.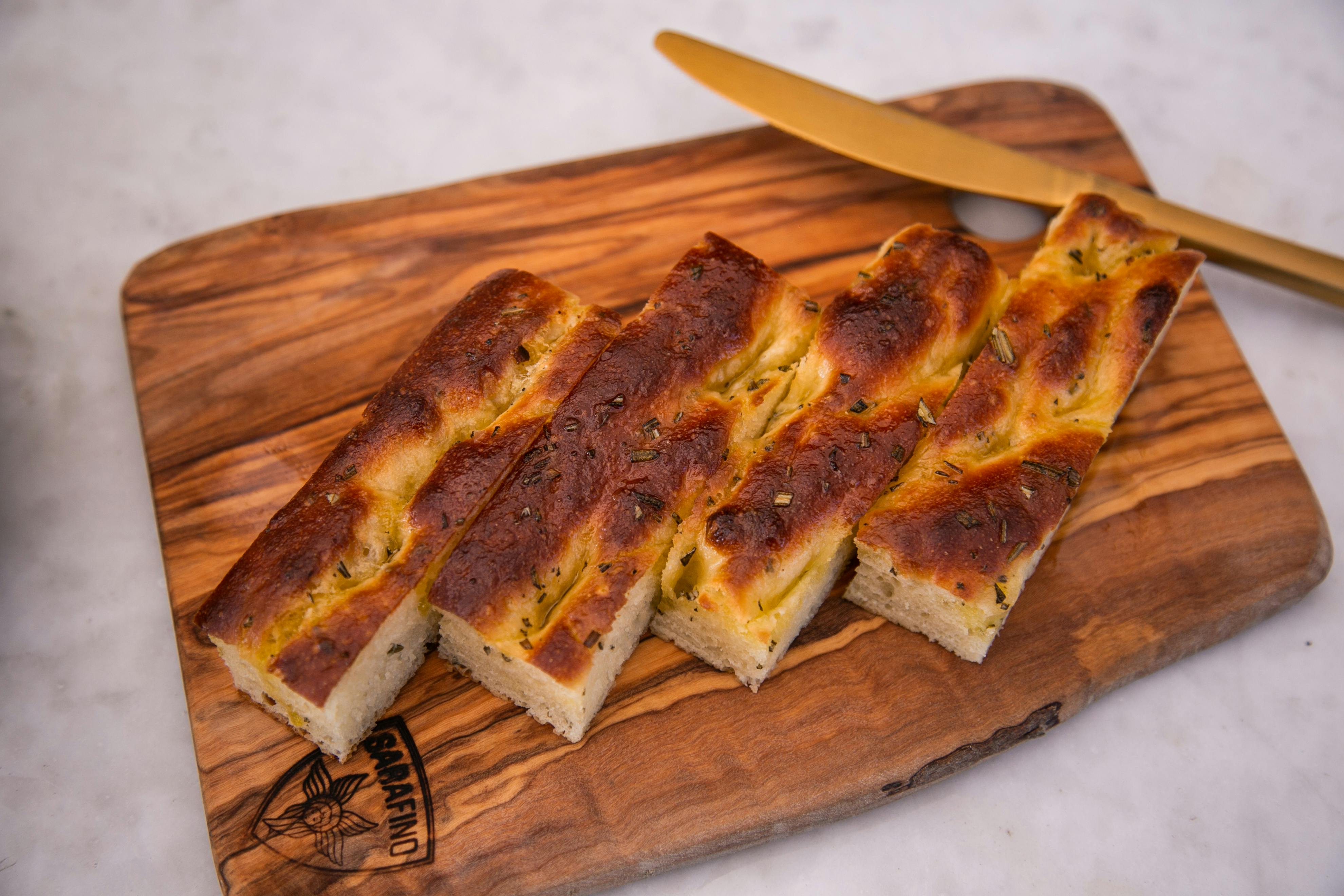 The focaccia is baked fresh daily and is presented in the traditional Italian Barese style, which is recognized as the oldest style of bread, native to the city of Bari, in Puglia. The bread is moist and fluffy and coated in a delectable rosemary garlic oil, elevating the already incredible aromatic experience.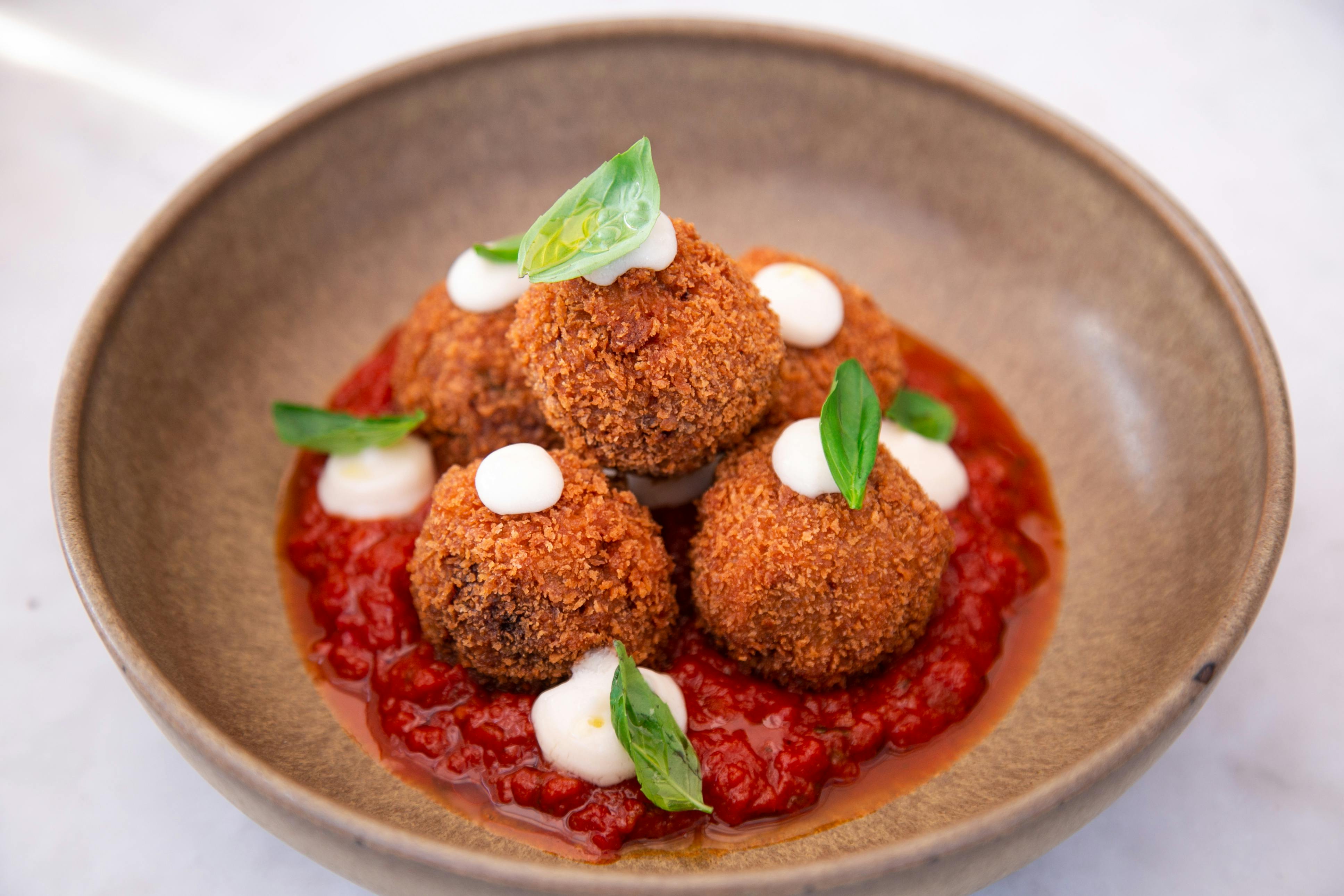 The Panko-Crusted Meatballs sit on a bed of pomodoro, and are filled with Impossible meat and plant protein. The vegan dish contains organic soy and features a cashew cream provided by VegCheese, an Ontario supplier who has masterfully developed a line of artisanal plant-based cheeses.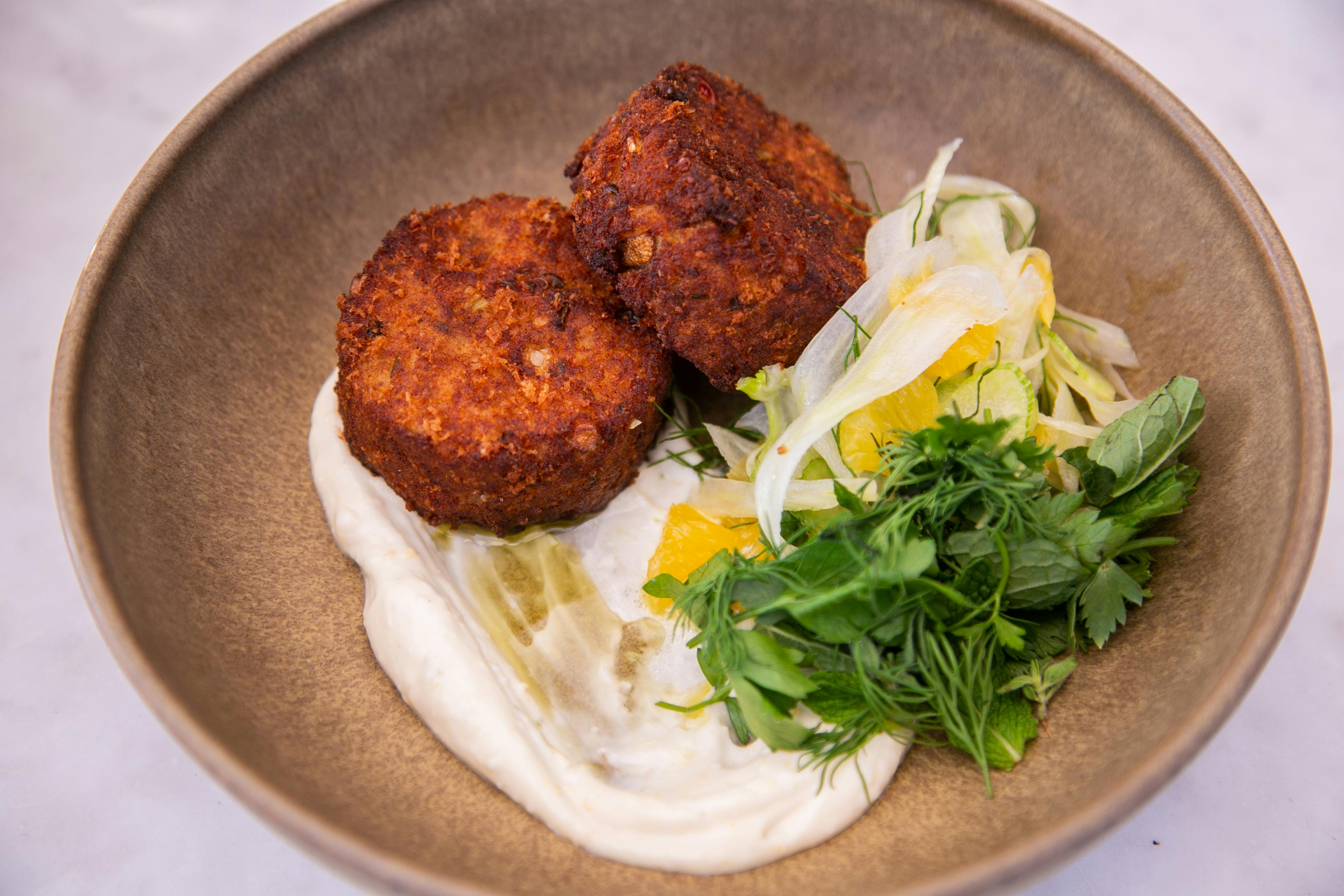 If you're a fan of Crab Cakes, this dish (which used to be on the Ufficio menu) will have you rethinking what you already know when it comes to these fish-filled gems. The team uses Okara as the protein substitute, which is the residual pulp left behind in the soy-making process. The cakes are entirely vegan and sit on a bed of citrus aioli, with an orange fennel salad on the side, bringing a light and refreshing finish to the palate.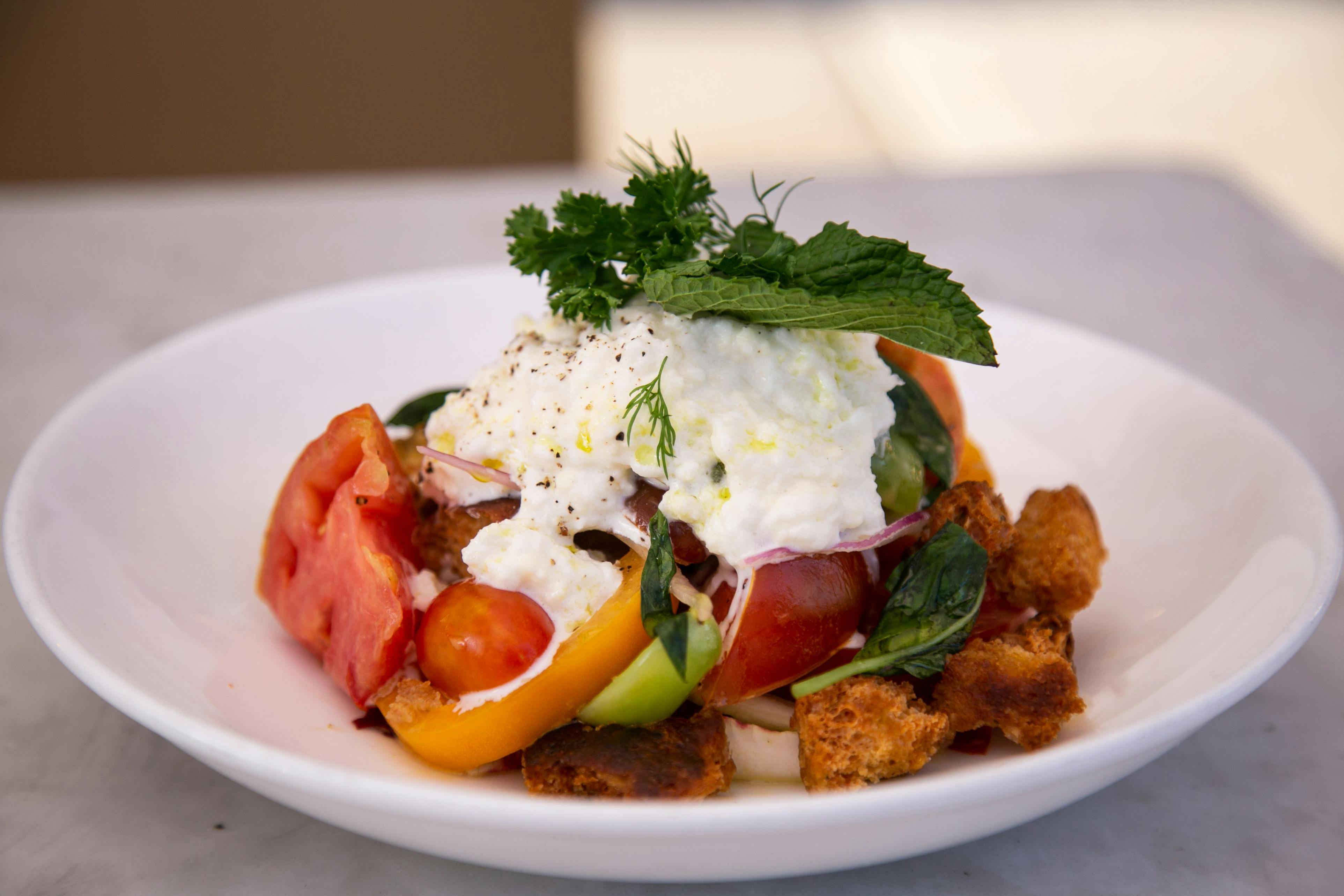 An absolute stand-out on the menu is the Panzanella, a vegetarian option with house-made focaccia croutons, Ontario heirloom tomatoes, stracciatella cheese, radicchio Treviso, red onion and serrano chilli. They're also offering a vegan version of this salad, which substitutes a vegan crème fraîche for stracciatella but features the same bright and beautiful combination of flavours (and colours).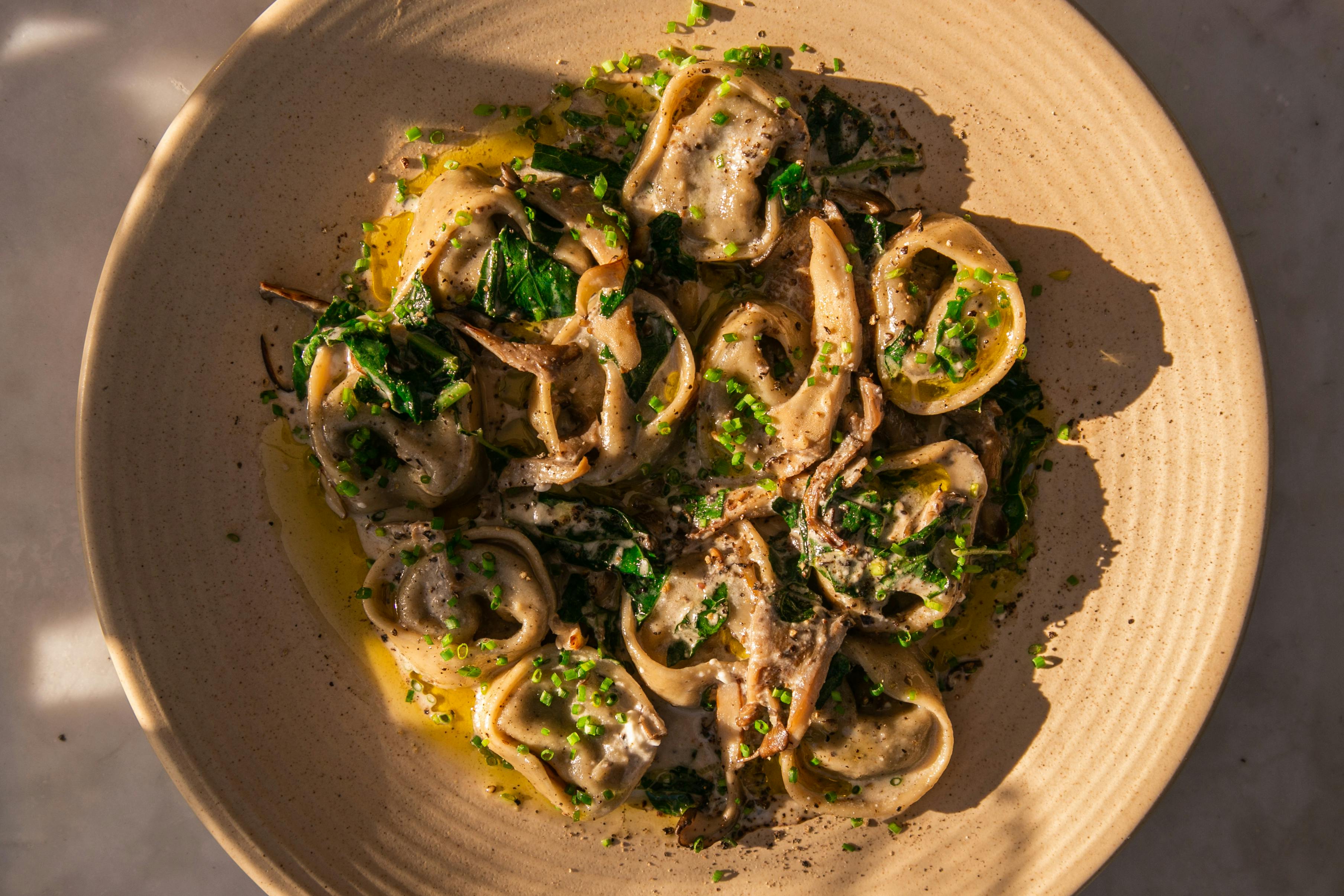 Gia's pasta selection is unique in that both plant-based and vegetarian options are available. The Porcini Tortelli is made with wild mushrooms, Tuscan kale, black pepper and house-made truffle butter. This vegan masterpiece melts in your mouth and contains an intricate combination of herbs and seasonings that beautifully complement the plant-based cheese and organic soy.
Its vegetarian counterpart is the Porcini Agnolotti, gorgeously prepared with wild mushroom, butter, chive and is topped with fresh Parmigiano-Reggiano. Both are filling and plated so exquisitely; you'll have to snap a photo before digging in.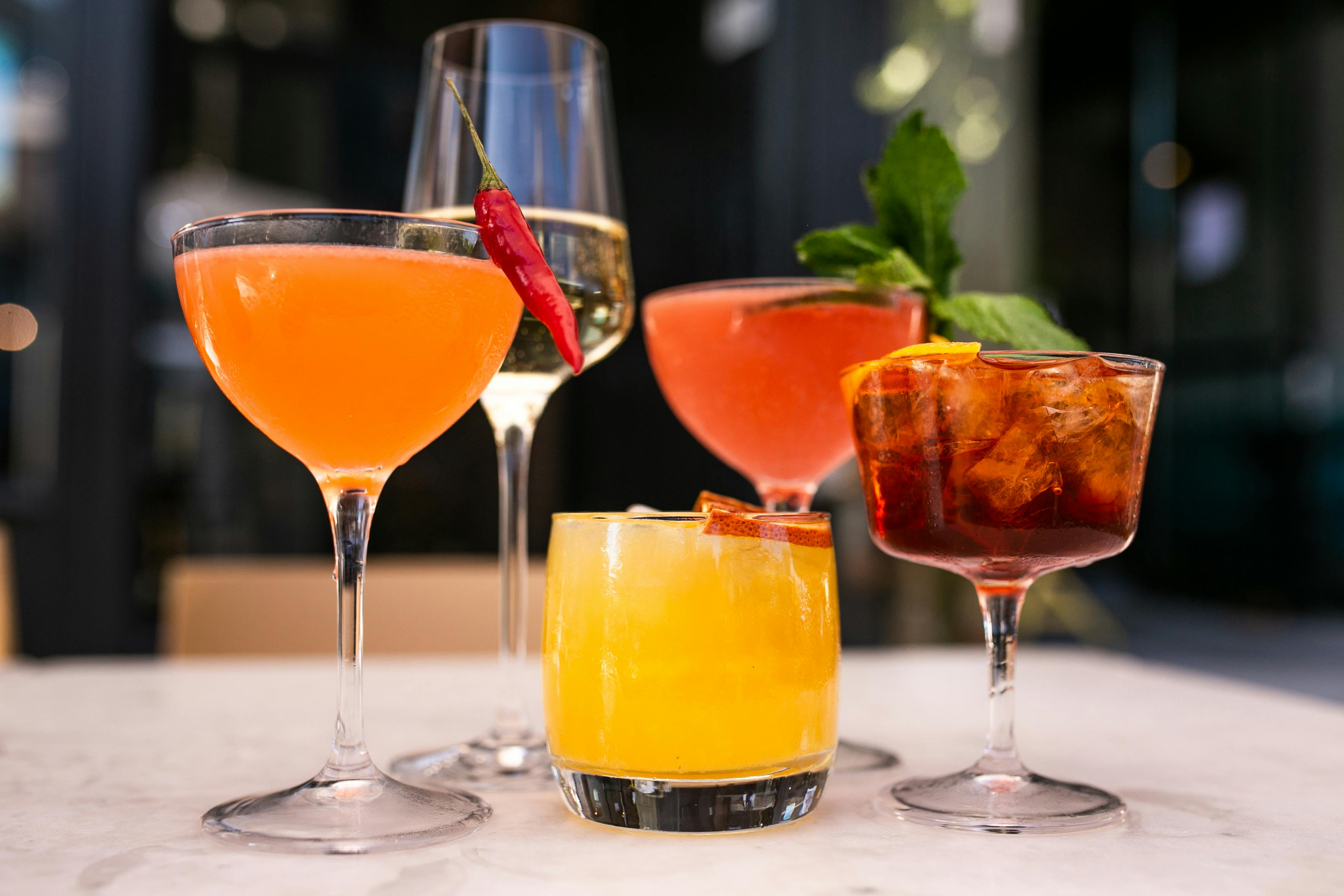 The cocktail program is curated by Griffin Harbury, who has a background working in Italian fine dining. His cocktails are beautifully balanced and emphasize the blend between classic and modern. Being that Gia is plant-forward, all of the cocktails are vegan and as organic as possible. Reminiscent of a juice-bar vibe, Harbury's creations espouse well-being and are easily crushable.
The La Famiglia is one of their signatures and is a riff on a Mezcal Penicillin. Harbury says, "By adding the cold-pressed ginger and turmeric, you get those added health benefits. We lengthen the drink with Fino sherry and Lillet Blanc, which emphasizes the flavour of the ginger and agave syrup. We finish it off with a five chilli tincture that rounds out the smokiness and adds some sweetness, keeping it in contact with a traditional Penicillin."
The Crowd Pleaser has a suitable name; it's meant for those who prefer a spritz rather than something a little more booze forward. Created with Martini Fiero, lime, watermelon, basil, Prosecco and vodka, this cocktail is as refreshing as it gets.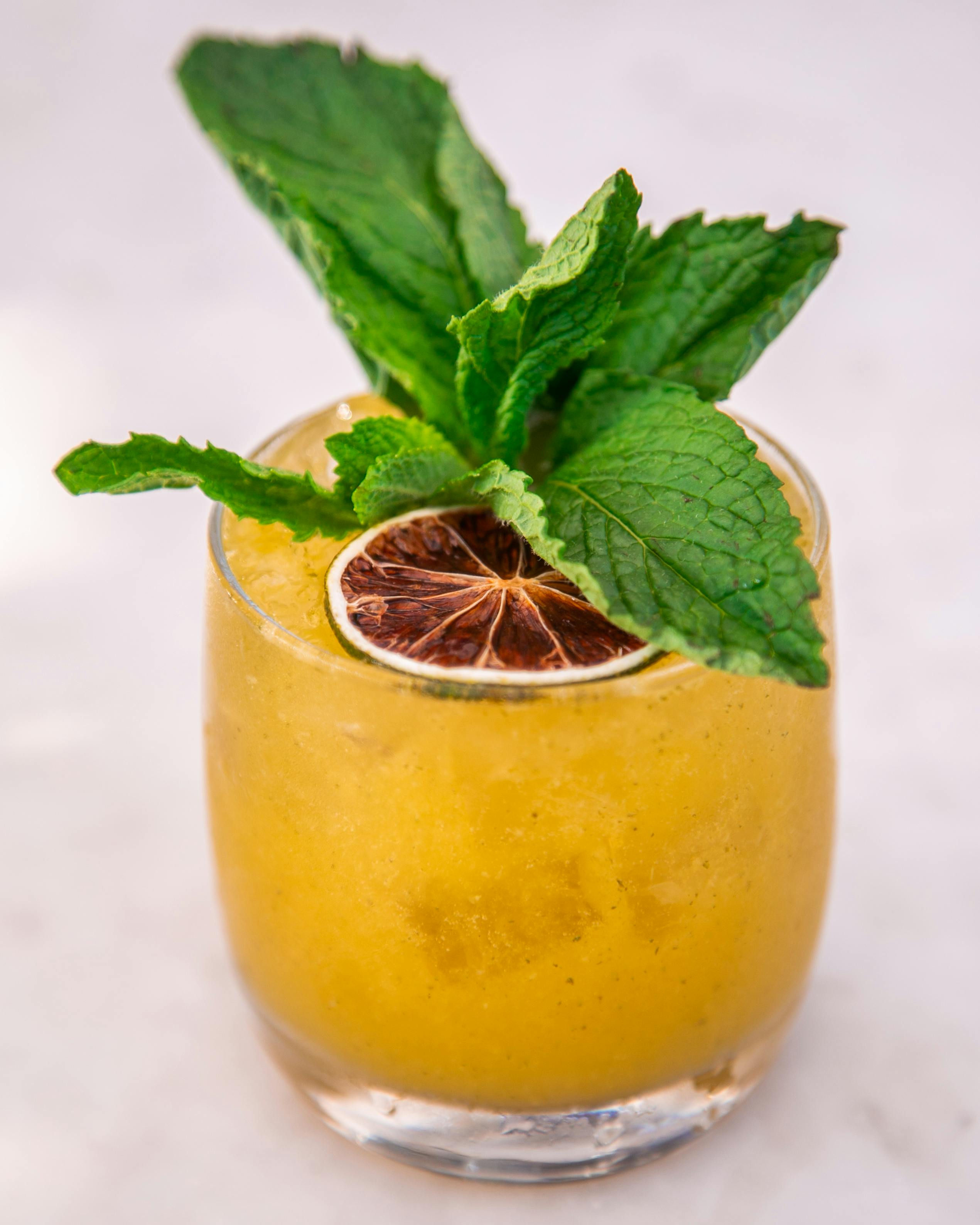 Leblon Cachaca isn't seen on many menus, but it is the featured ingredient in the Fluent Padre. He says, "You can only make Cachaca with fresh sugar cane juice from Brazil. The base spirit of Cachaca is rhum agricole, so it's distilled directly from pressed cane sugar, instead of fermented juice or cane byproducts like molasses." The cocktail also contains lime, passionfruit, mint and maraschino, and presents as grassy and earthy, without the added sweetness found in most rhum based cocktails.
There are currently three options on the menu for dessert; however, the vegan peach pie (with pistachio and white chocolate gelato) is a special collaboration with the New Pie Company and packs a punch full of delicious summer flavours.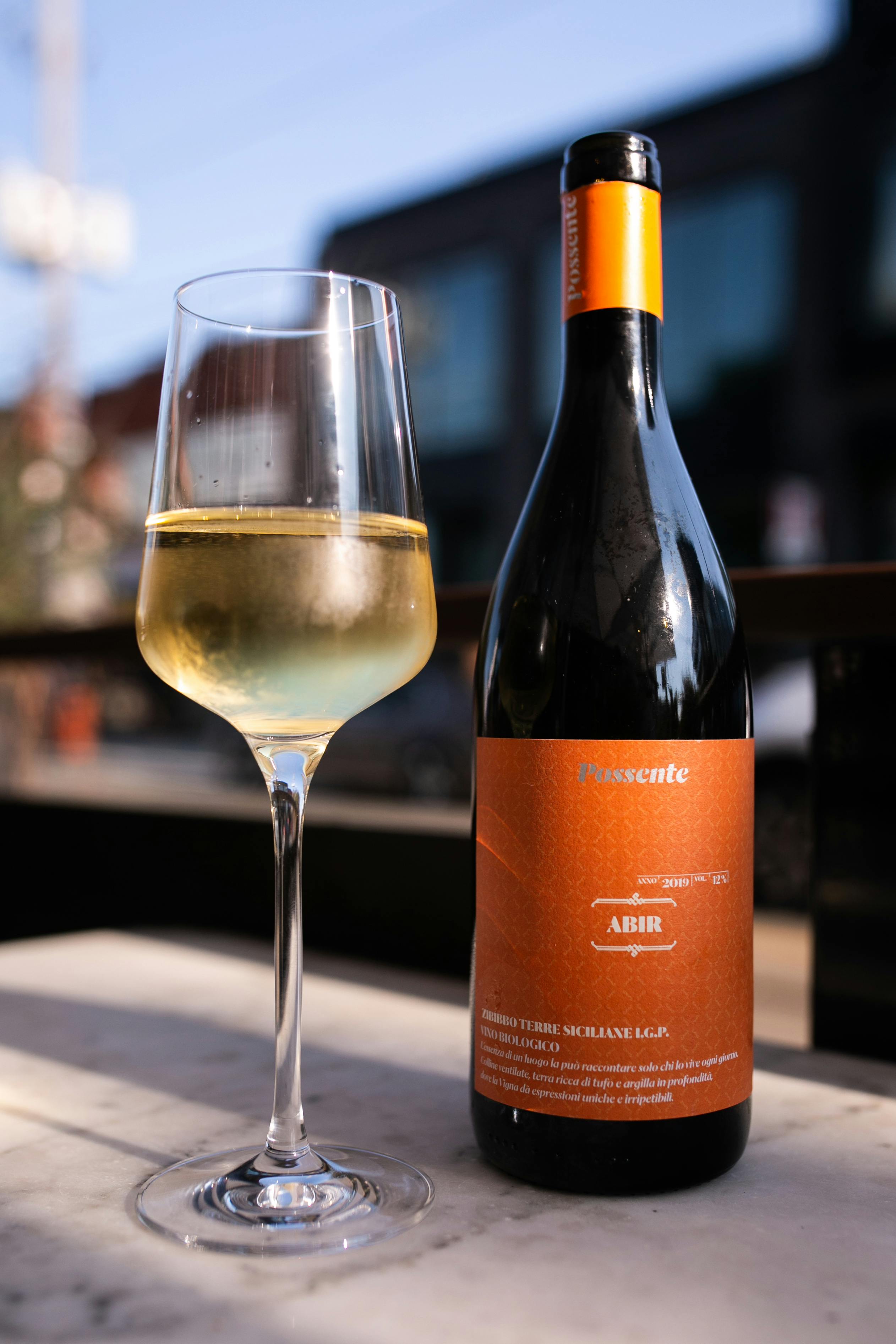 The Dundas West spot has carefully selected an excellent lineup of local beers, as well as a selection of organic and biodynamic wines to complement their delicate dishes. Sommelier Matthew DeGasperis has expertly chosen an international list of skin contacts, pét-nats and champagne options, primarily supplied by local wine boutiques.
The future looks bright for Gia as they continue to break the mold when it comes to eating and developing delicious plant-forward food. Over the next couple of years, vegan and vegetarian dining is going to become increasingly popular, and Gia will be leading the charge. They will continue to sell Stefano's coveted vegan sandwiches on Sundays and will soon be releasing their own line of cold-pressed juices with adaptogens!
Gia is located at 1214 Dundas Street West and is open for patio and indoor dining Monday to Saturday from 6 p.m. to close. Takeout is being offered on Ambassador, and reservations can be made on OpenTable or over the phone. Feel free to also follow them on Instagram, where they will release new feature items and any additions to the menu.