Photographs by Keessa Lynch
Of all the ways people have described West Queen West, "Parisian" probably isn't the most common. Still, peering through the antique, steel-framed windows from J's Steak Frites' romantic room, enveloped by the aroma of grilled entrecôte and buoyed by the promise of carafes of vin rouge, you're likely to feel a discernible French aura taking hold. New to the neighbourhood, J's Steak Frites is a place for carnivores with a red-meat bent. Catering to those who'd rather eschew choice for a one-size-fits-all approach, this homey bistro takes you straight to the streets of Paris for a steak frites dinner you won't soon forget.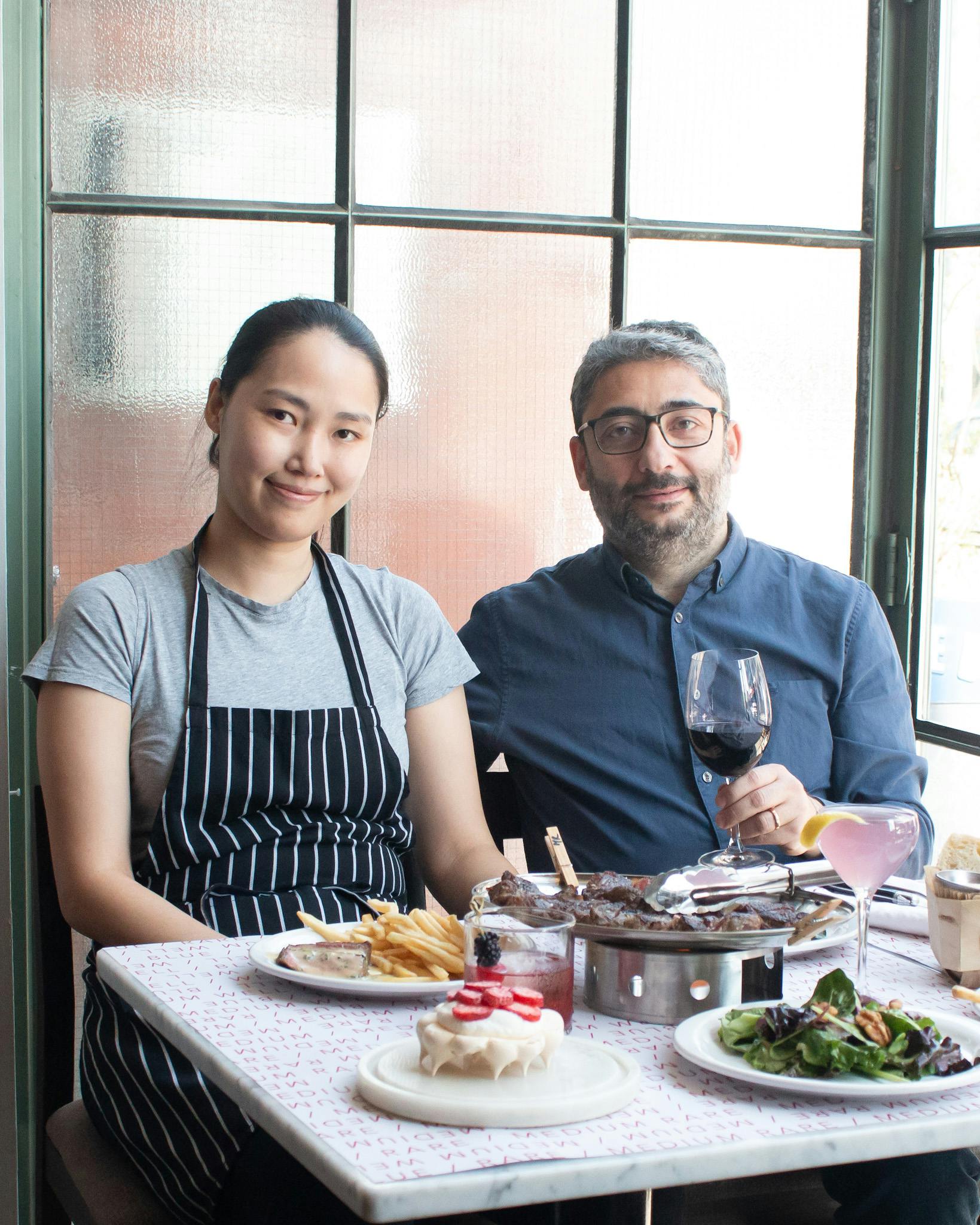 Opened in late April, J's Steak Frites is a new spot from husband-and-wife-team Jad Sfeir and Tara Tang. A veteran of the food and beverage industry, Sfeir is managing the restaurant and running the front of house while pastry chef Tang leads the dessert program. Inspired by Europe's popular steak frites restaurants (Le Relais de L'Entrecôte is an industry front-runner), the couple decided to bring the concept to Toronto. "It's something very important for me. I'm a steak lover," says Sfeir. Eating at a steakhouse can be punishingly expensive, though, meaning that, for most of us, this type of luxury is relegated to once-a-year, celebratory events. At J's Steak Frites, every guest enjoys salad, steak and unlimited fries for an accessible price that feels reasonable, even without an occasion. Not in the mood to cook? Guessed the day's Wordle answer in two tries? Eager to toast to Wednesday winding down? This is the spot for those times, and more. "I wanted to bring that good piece of steak for everyday people and to put it in a concept that's so simple," adds Sfeir. "They just come in and all they need to do is ask how they like the temperature."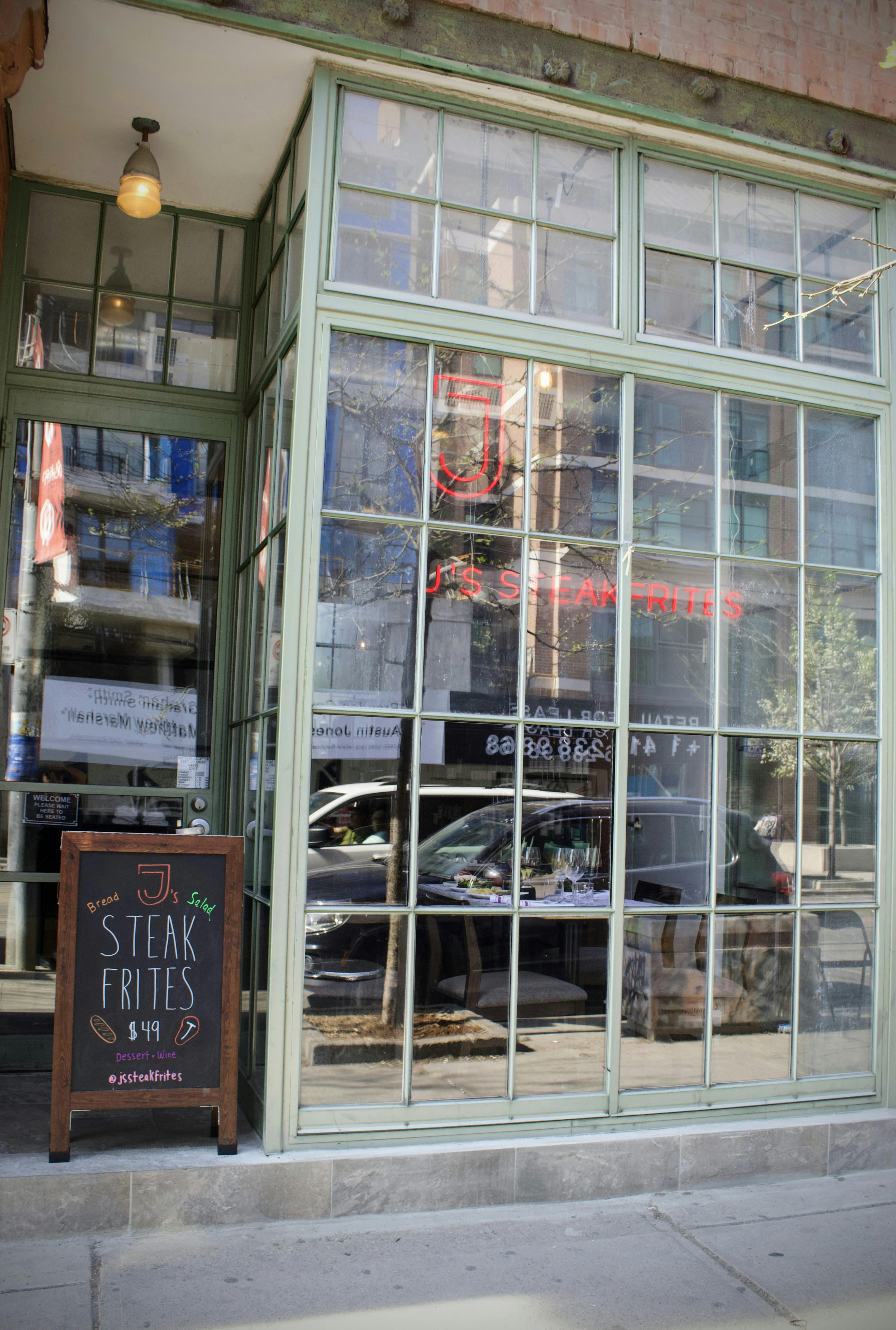 Housed in the space that was formerly Dandylion, J's Steak Frites is a cozy, warm spot. "I wanted something west of Ossington," says Sfeir. "I liked it as soon as I stepped in." Together, the couple envisioned a welcoming space where people can feel both catered to yet comfortable. Despite this being a French-inspired boîte, with wine and high-end desserts to match, it's free of pretension and fits seamlessly with its community. The area "has charm. It's a creative environment. I like colourful places," says Sfeir. With 30 seats and a wet bar, the room is quaint and neighbourly. Simple furnishings harmonize with exposed brick and well-worn wood floors to create an ambiance of lived-in appeal. "I don't want everything perfect," adds Sfeir. "Everything is old. I like it the way it is."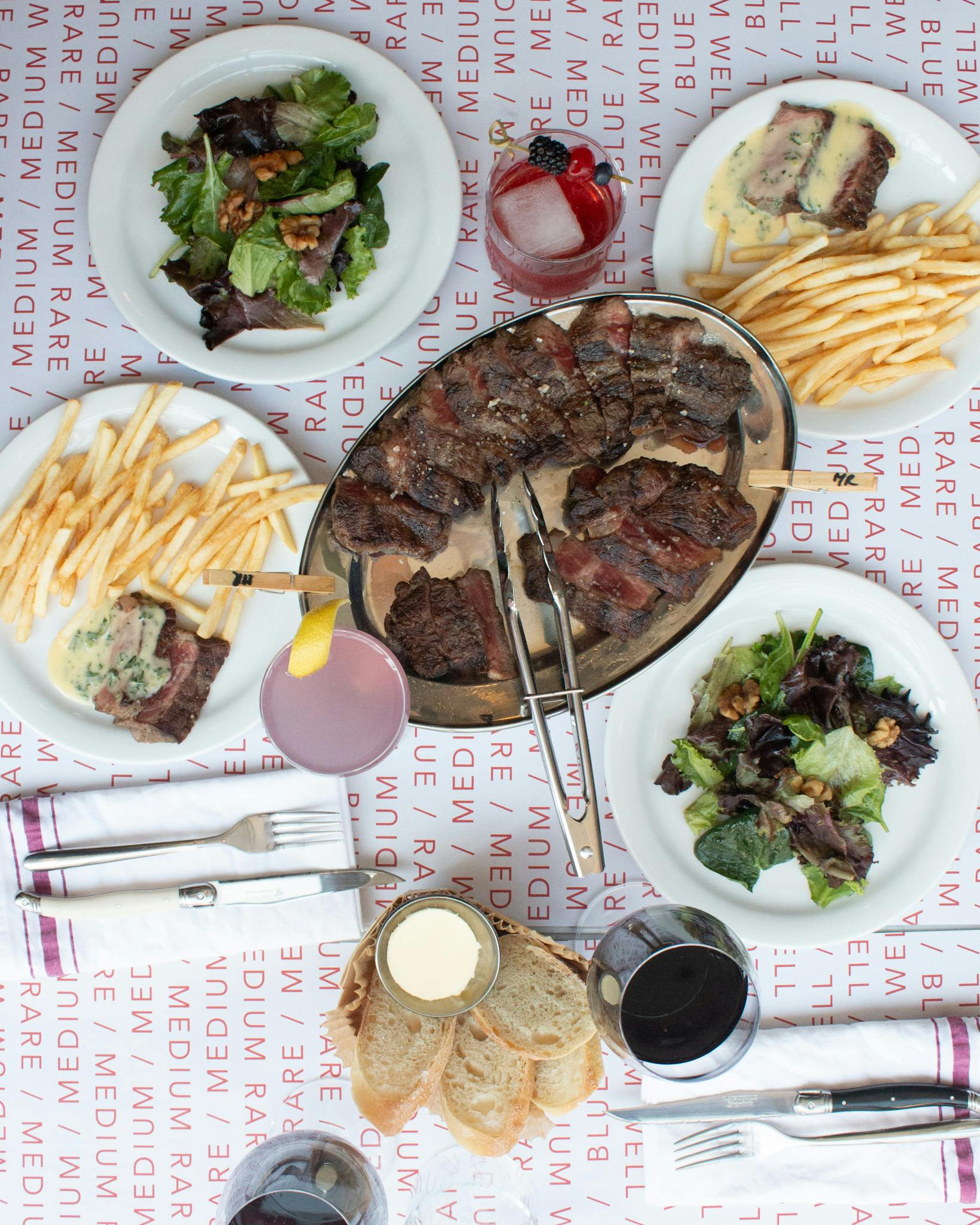 Sink into one of the restaurant's seats and, once you tell your server how you like your meat cooked, you'll be presented with bread, butter and the first course of your meal. Made by Tang, the restaurant's resident pastry chef, baguette is sliced and served warm cozied up to a pot of fresh butter. Alongside comes a green salad dressed simply with lemon vinaigrette and lightly candied walnuts. Sure, the team knows you're there for red meat and fries but, this fresh, enjoyably tangy salad ensures that you get your greens in a blissful way. "The salad is there so that the steak and fries aren't too heavy on your conscience," laughs Sfeir.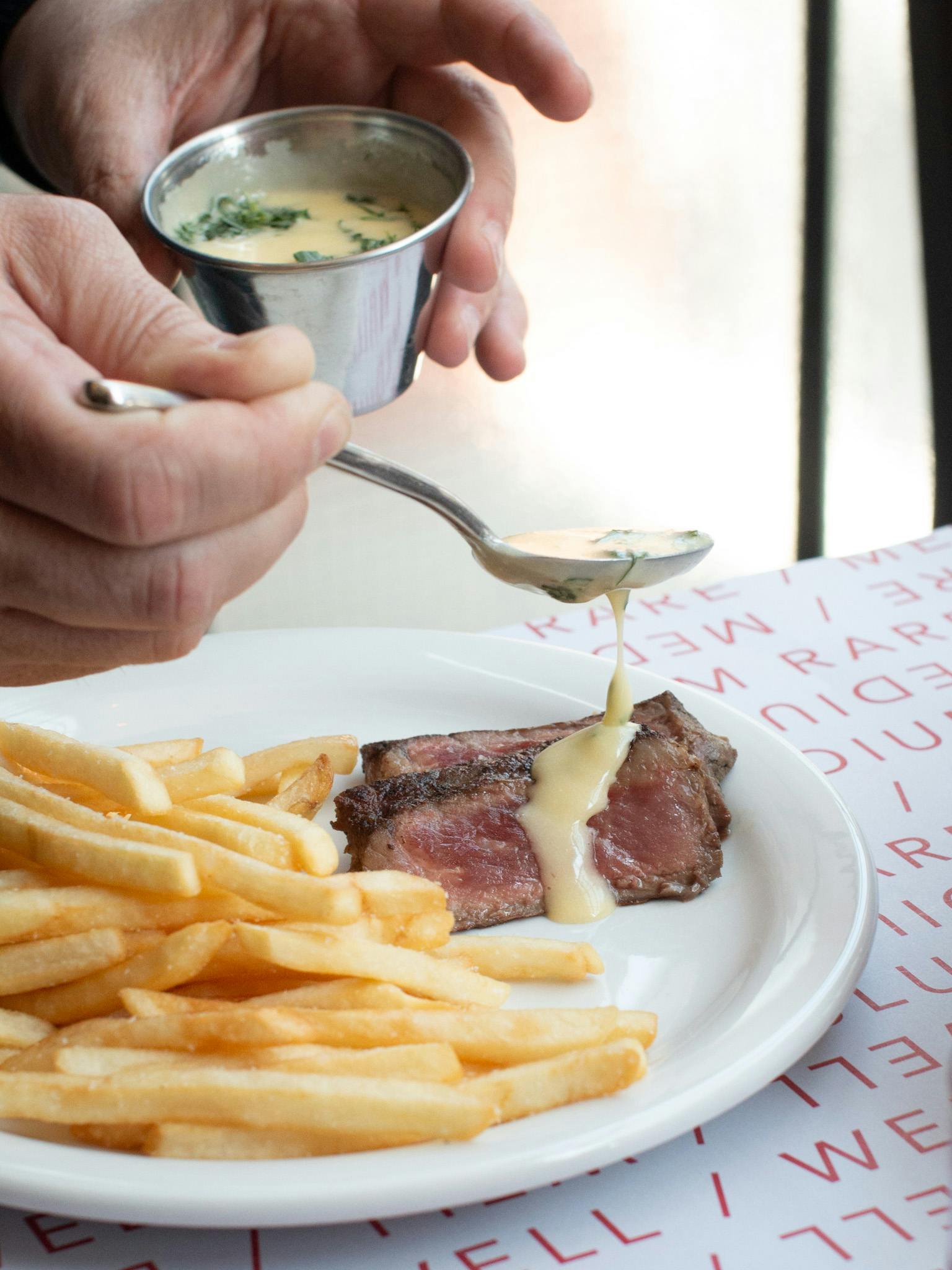 Plates cleared, you're ready for the stars of the show. Sourced from Wellington County farmers, each AAA steak at J's Steak Frites is a 10-ounce striploin grilled over open flame and seasoned simply with salt and pepper. And, whether you take yours still mooing or cooked aggressively until dry, grey and plainly lifeless, this is the place to have it your way. "You eat whatever you want," assures Sfeir. "We suggest medium-rare, but people need to enjoy it their own way."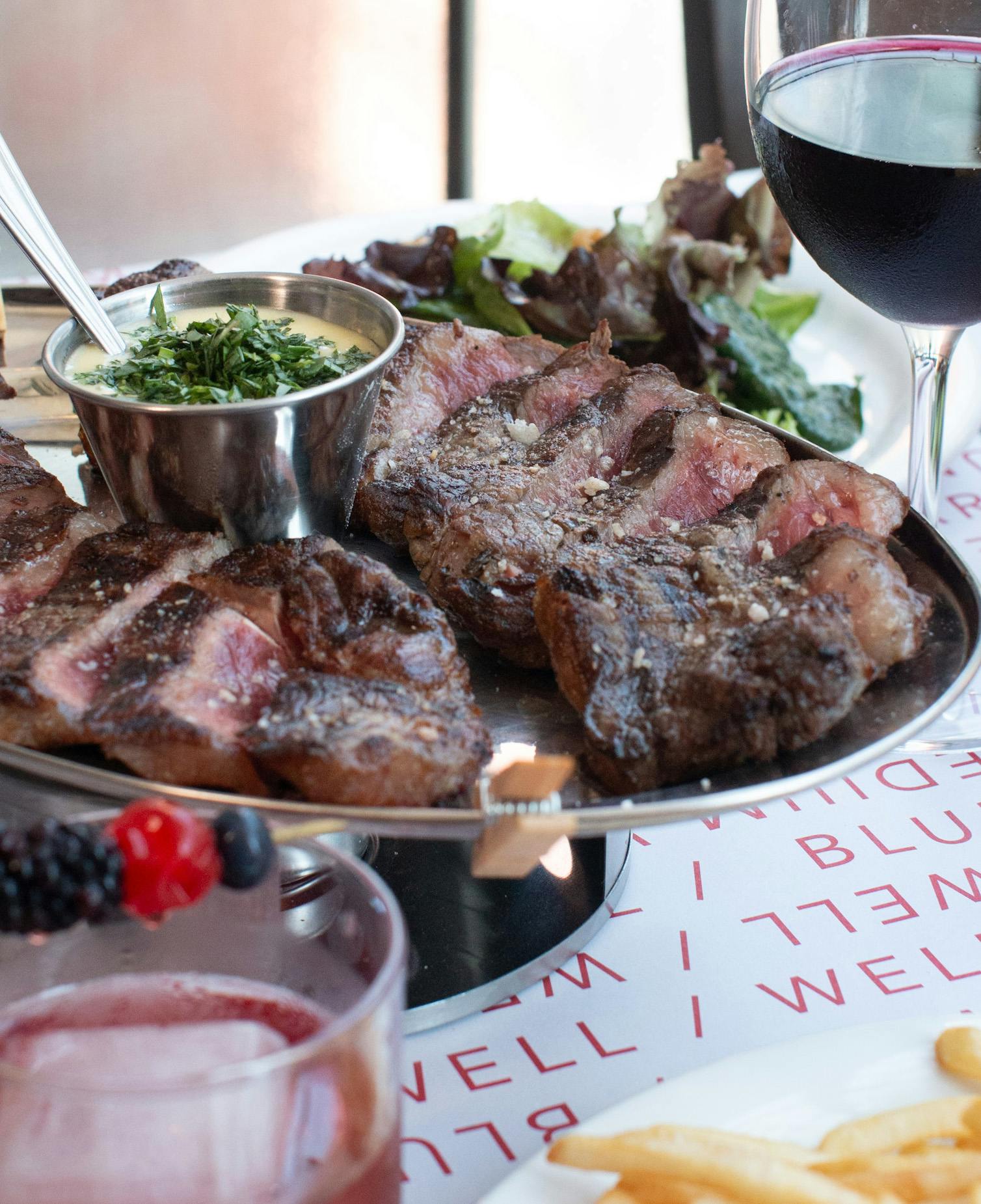 Steaks appear on large sizzle platters, set ceremoniously atop tiny flames to ensure your last bite stays as toasty as your first. In the centre of each platter, is a ramekin of the team's extraordinary "special house sauce." Viscous and rich, this is butter sauce heightened to new levels. The sauce is, "similar to béarnaise but béarnaise is very simple, five or six ingredients," says Sfeir. "Our sauce has about 14. You need that richness of the sauce to be able to go with the steak. You can't just have a simple butter sauce." When Sfeir tells you that a simple sauce won't do, you listen.
The restaurant's other top biller, thin-cut frites, are exceedingly crisp and hot, and replenish -- as if by magic -- throughout the meal. Cut from russet potatoes, "the best for frying" says Sfeir, these fries are equally good eaten as is, dipped in ketchup, or topped with a bitty bead of house sauce. As easy to adore as the kitchen's juicy striploins, you'll find it hard to put a stop to the limitless number of frites eager staffers are willing to deliver.
You'll want to put the brakes on your fry consumption, though, when you spy chef Tang's enticing dessert cart. Trained at Le Cordon Bleu Ottawa, Tang brings a love of classic French sweets to her rotating pastry menu. "The steak and fries are always going to be here," says Sfeir, "but the desserts are always changing." Each night, the restaurant offers four or five desserts, each made fresh by Tang and inspired by a traditional repertoire. "When a new dessert comes out of the pastry kitchen during service, it's something that everybody is looking at," remarks Sfeir.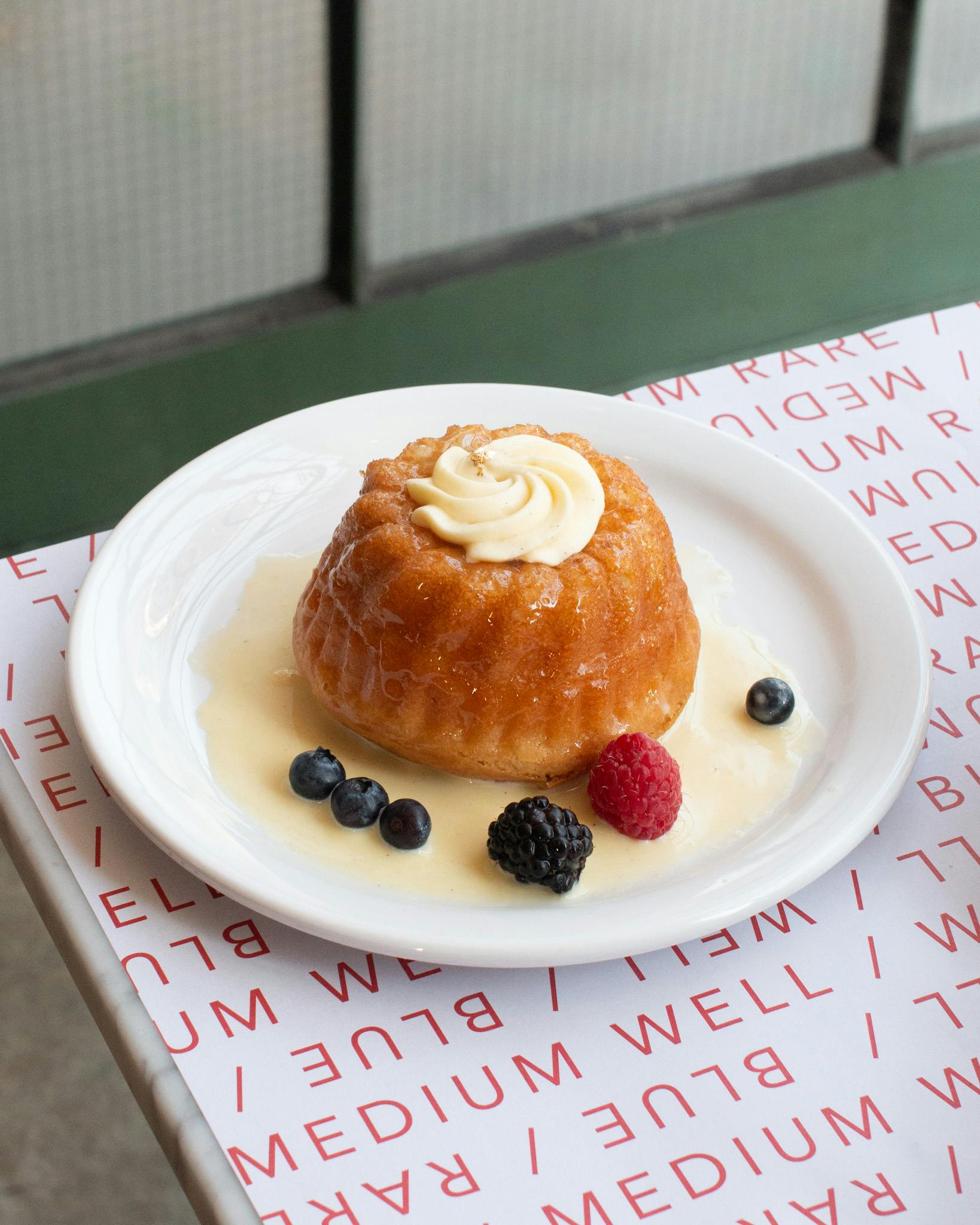 Generously-portioned, Ispahan Macaron is an elegant end to the meal. Filled with rose-infused buttercream and pieces of lychee, the macaron is crunchy, chewy, and reflects Tang's flawless technique. A rarity in Toronto, Baba Au Rhum is another archetype of French pâtisserie revived for a new age. Made from yeast-risen dough, each cute cake conceals a hefty dose of its namesake boozy ingredient. Garnished with diplomat cream, made by whisking together Chantilly and pastry creams, Tang's version is a luscious tribute to classic cuisine.
A dessert that Tang was initially reluctant to make -- "everyone makes chocolate cake," she says -- the Mad Cow Chocolate Cake is now the restaurant's top seller. Composed of dark chocolate cake with chocolate buttercream, the dessert is deeply flavoured, with Callebaut chocolate in the batter. It's "very rich in flavour but not too sweet," explains Tang. Expertly made and plush enough to satisfy even strict chocoholics, the cake is a knockout that could topple the city's reigning chocolate cake king from its throne.
Cocktails at J's Steak Frites are "a team effort," according to Sfeir. "Whatever we like to drink, we put it on the list. It's not an extensive list, four to five cocktails only.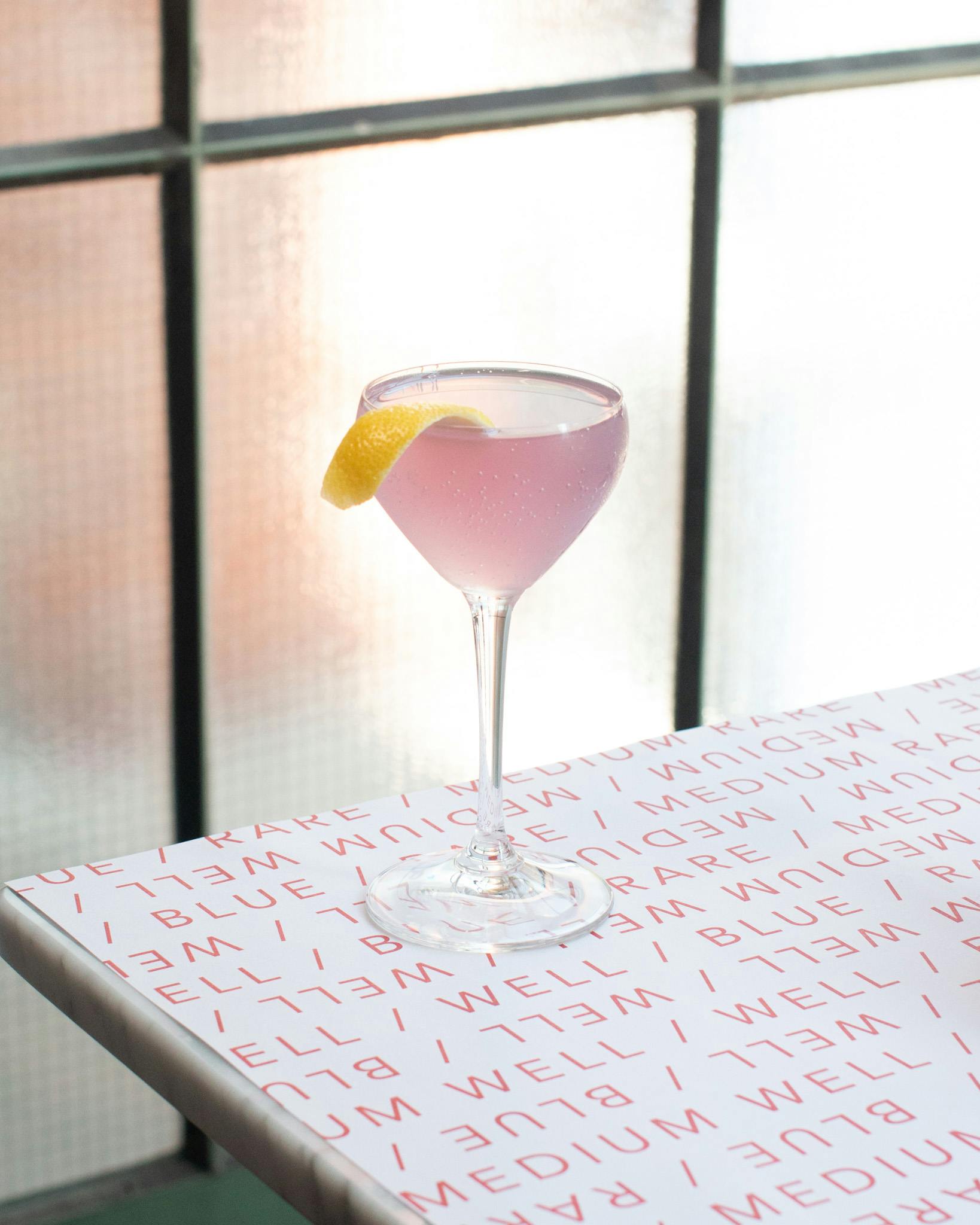 We definitely have the classics, too." Twilight, the restaurant's most popular tipple, is meant to "set the mood for a magical evening." A combination of tequila, Cointreau, Lillet Blanc, and lemon, each sip is bright and crisp, with an herbal undertone. Deceptively potent, this is a breezy and bright way to toast to a night out.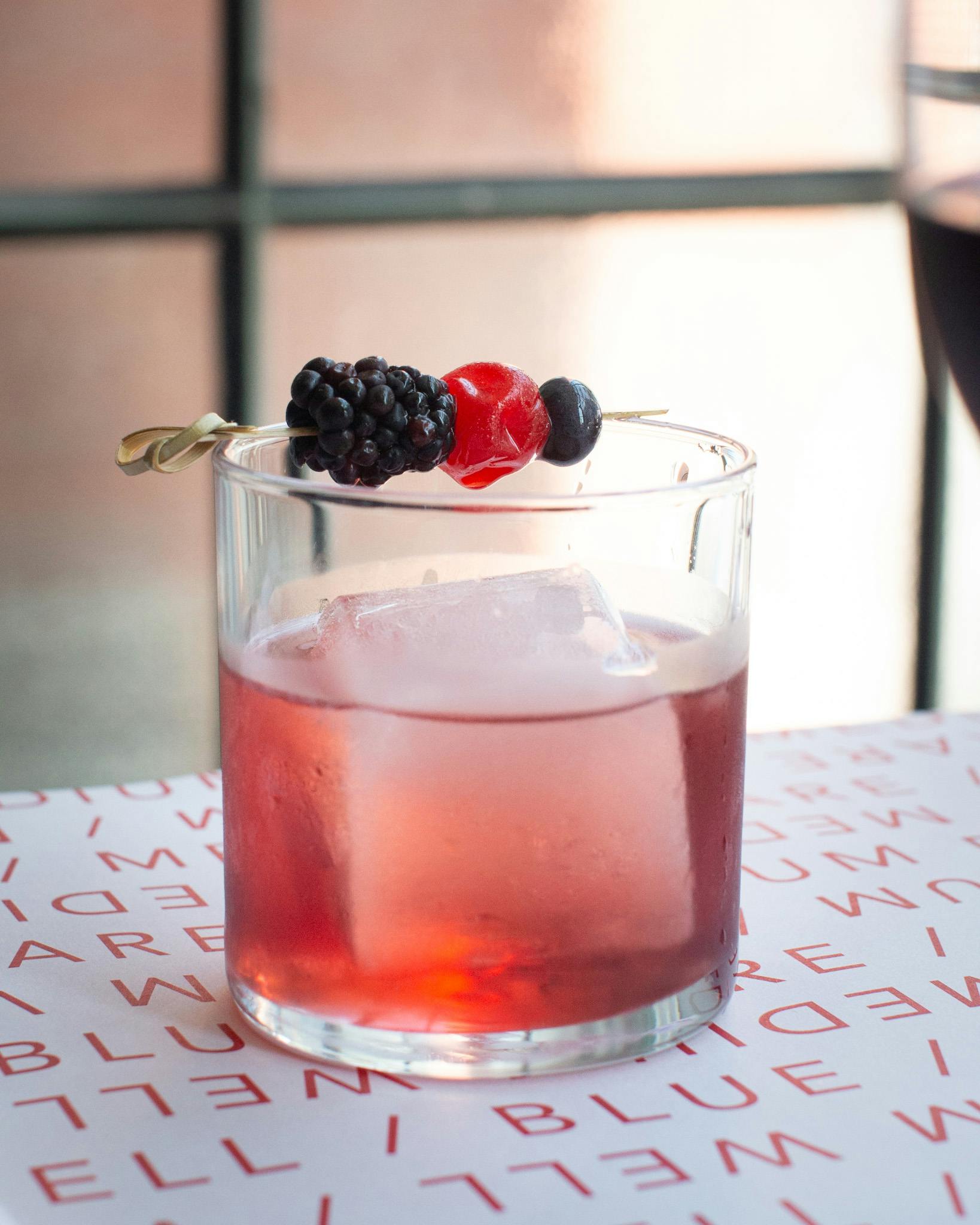 The Purple Moon, with Empress 1908 Gin, Triple Sec, bourbon, yuzu, lemon and soda is fizzy, fun and the type of drink that memorable nights always seem to include.
On the wine list, which changes every month or so, guests will find bottles sourced from around the globe. Though French wine will inevitably make an appearance, Sfeir says he's also bringing in bottles from California, Ontario, Italy, and Australia, to name a few. "Whatever I find that goes with our food, or that guests are asking for, that's what we'll have," he explains.
A night spent supping in the city of lights may be a fantasy, but dinner at J's Steak Frites is as close an approximation as you'll find on West Queen West. With impeccable food served in a supremely easygoing way, J's Steak Frites is equal parts polished and laissez-faire. It's a place where guests are encouraged "to have a walk to see the desserts on the cart. We don't mind. If they want to see the kitchen, I say, 'please do,'" explains Sfeir. "Whenever [guests] need help, we are here to help. Otherwise, we let them do what they want," he adds. The goal? For guests to feel "comfortable like at home," but without having to tackle a pile of dishes after dinner. What do you call well-being in the guise of perfectly-cooked steak frites, immaculate desserts, a decent price point and a clean kitchen? In our book, that's the type of luxury we'd be happy to indulge in any day of the week.