There's something about the sight of a table laden with plates of hearty, recognizable food that gladdens the heart. It's in the moment before you dig in, as your eyes wander from the moules frites to the steak au poivre, as they take in the loup de mer and settle on the carré d'agneau, that you realize not everything in the world needs an upgrade. When it comes to classic dishes, they demand little except a high level of execution and the finest ingredients. Sometimes, a perfect fillet of sole needs little more than a deft hand, an eye for timing, and a traditional butter almond sauce, perked up with a bright spritz of lemon, a handful of capers and a judicious sprinkling of parsley. At Le Sélect Bistro, a place that has sprung back to life after a spell of dormancy, the team preserves tradition, doles it out in the guise of gorgeous plates, and expertly reminds us of the virtues of classic cuisine enjoyed in flawless surroundings.
In a city as cosmopolitan, as active, and as phenomenally huge as Toronto, restaurants come and go, often without incident. Le Sélect Bistro is not one of those restaurants. Originally opened in 1977, at 328 Queen Street West, Le Sélect brought a slice of Paris to the city, with a menu of classic French fare and a cozy, welcoming atmosphere. The restaurant's closure in 2021, due to a hurricane of unfortunate events ranging from the pandemic and bureaucracy to relentless construction, inspired an outrageous outpouring of shock and grief. The neighbourhood bistro that we had frequented for decades, where we had celebrated birthdays and anniversaries, where we had toasted to summer on the splendid patio and that we had run to for refuge during winter's most punishing months, was no more. Or, so we thought.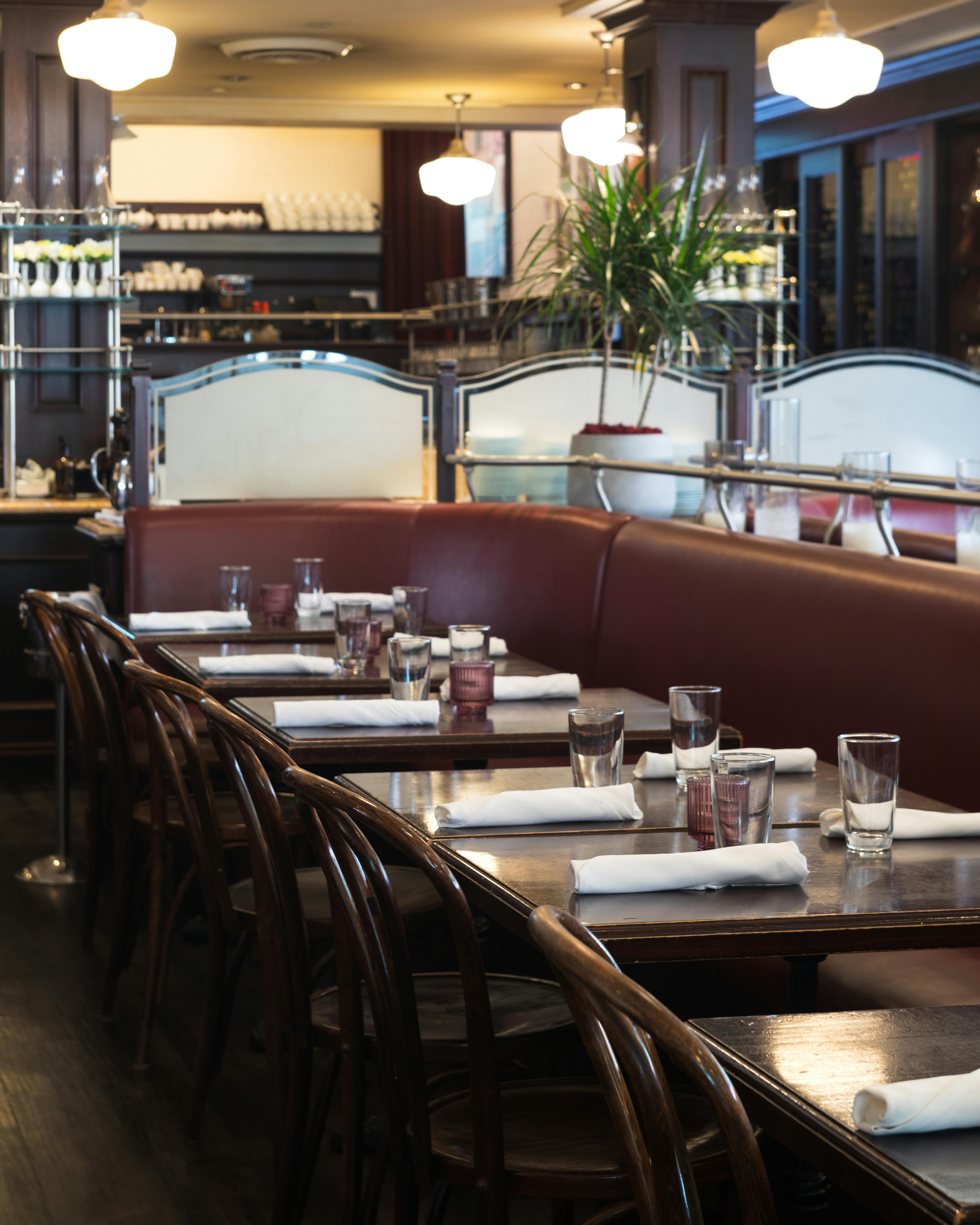 After enduring 16 trying months, local Francophiles can rejoice in the knowledge that Le Sélect Bistro is back. Scrubbed and polished, boasting new owners, and a new team, the beloved restaurant at 432 Wellington Street West is ready to revive friendships with its loyal clientele. The room, designed by Giannone Petricone Associates, still bears all the hallmarks of Paris' quintessential eateries. Its pendant lights glimmer under a stamped-metal ceiling, with mahogany-hued, supple leather banquettes hugging its every curve. Propping up elbows, iced cocktails and steaming cafés crèmes, the front room's zinc bar is whatever you want it to be — a place for quiet repose, a place to gossip, a place to make friends, or a place to shut out the world's noise. Throughout, wood chairs embrace bistro tables, creating snug niches for intimate conversations. The likes of Marlon Brando and Marlene Dietrich gaze down from vintage movie posters, adding a spark of intangible, je-ne-sais-quoi-cool to the room.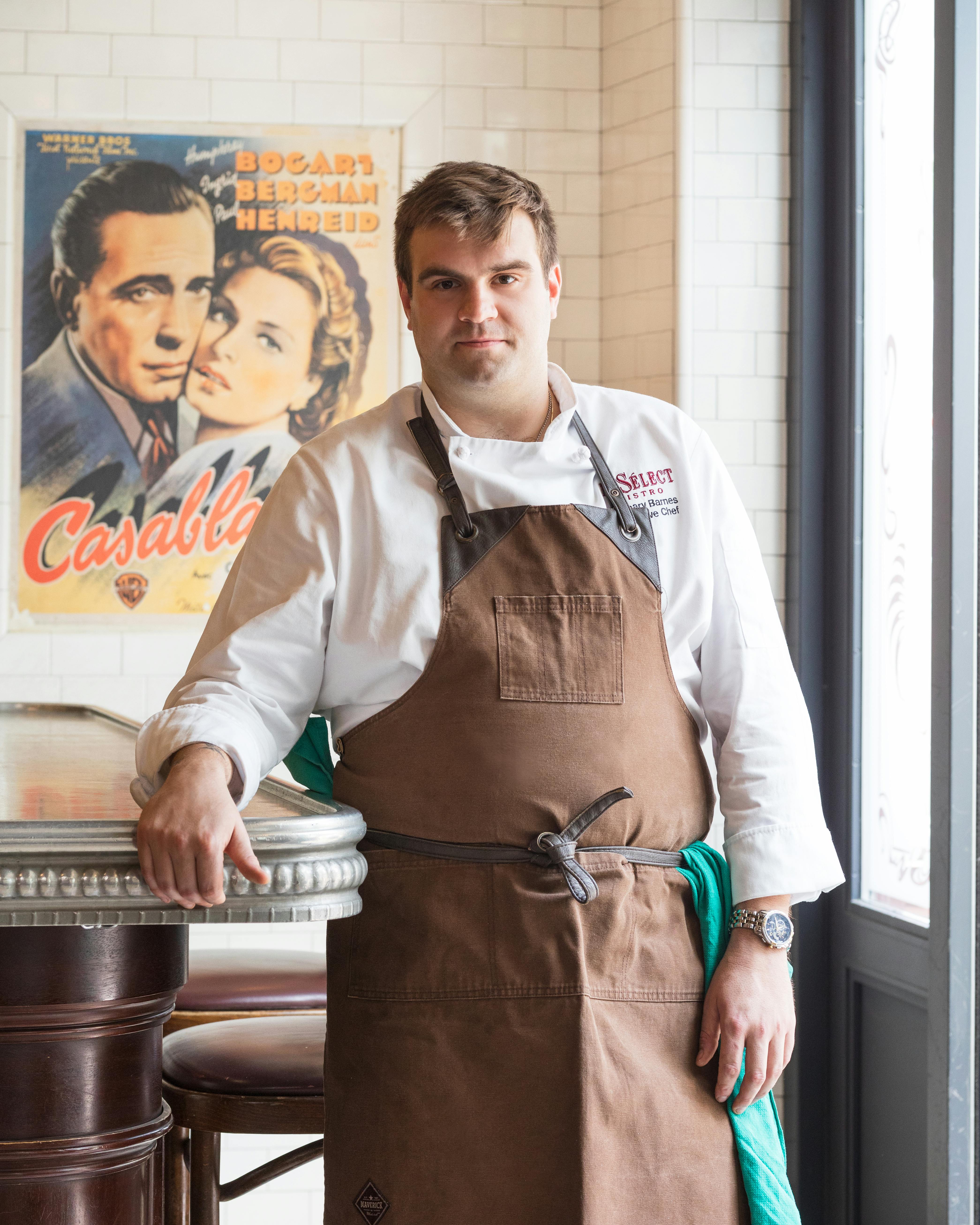 Now part-owned by Scale Hospitality Group (along with Allied Properties and restaurateur David Aisenstat), Le Sélect finds that company's corporate executive chef, Ted Corrado, in its kitchen along with head chef Zachary Barnes. Together, the duo have streamlined the bistro's menu, with a goal of "respecting the tradition of the restaurant," Barnes says. "The plan was to stick to the roots of what the restaurant is but give it our own touches and try to bring it along in a direction that we think is improving on what the traditions were before." Classically-trained, with a resumé that includes local stints at Auberge du Pommier, Alo and Laissez Faire, Barnes brings an adoration of French cuisine to his new role. "I love this style of cooking. I love this restaurant. The group in general consistently opens up beautiful, high-end restaurants that are executed at a great level. When I heard about this project, I was nothing but excited to join."
From soupe a l'oignon gratinée to canard a l'orange, Le Sélect's menu reads like a greatest hits list of French cuisine. The weekend brunch menu includes a hearty group of crowd-pleasing sweet and savoury dishes, from croque madame and monsieur, to salade niçoise, gaufres, oeufs Bénédicte, et plus. "I don't think there's any duds" assures Barnes. "There's a variety of different things for different people."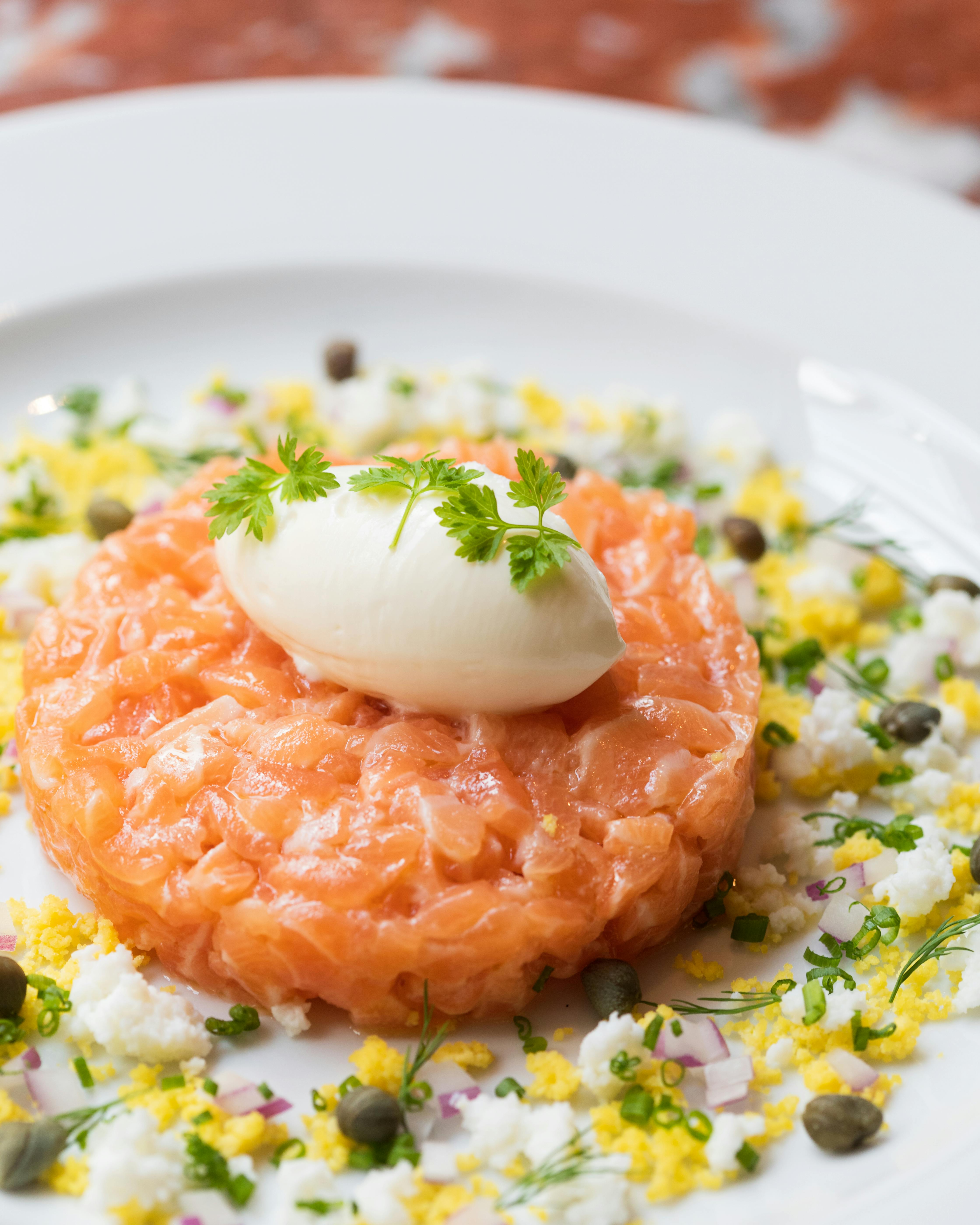 Dinner begins with a tempting selection of salads and hors d'oeuvres. Strikingly fresh, salmon tartare is encircled by a dainty arrangement of egg, capers, red onion and dill, then topped with a quenelle of crème fraiche with chervil. Served with house-made baguette, eaten alongside a pert glass of bubbly, it's an ideal kickoff to a meal.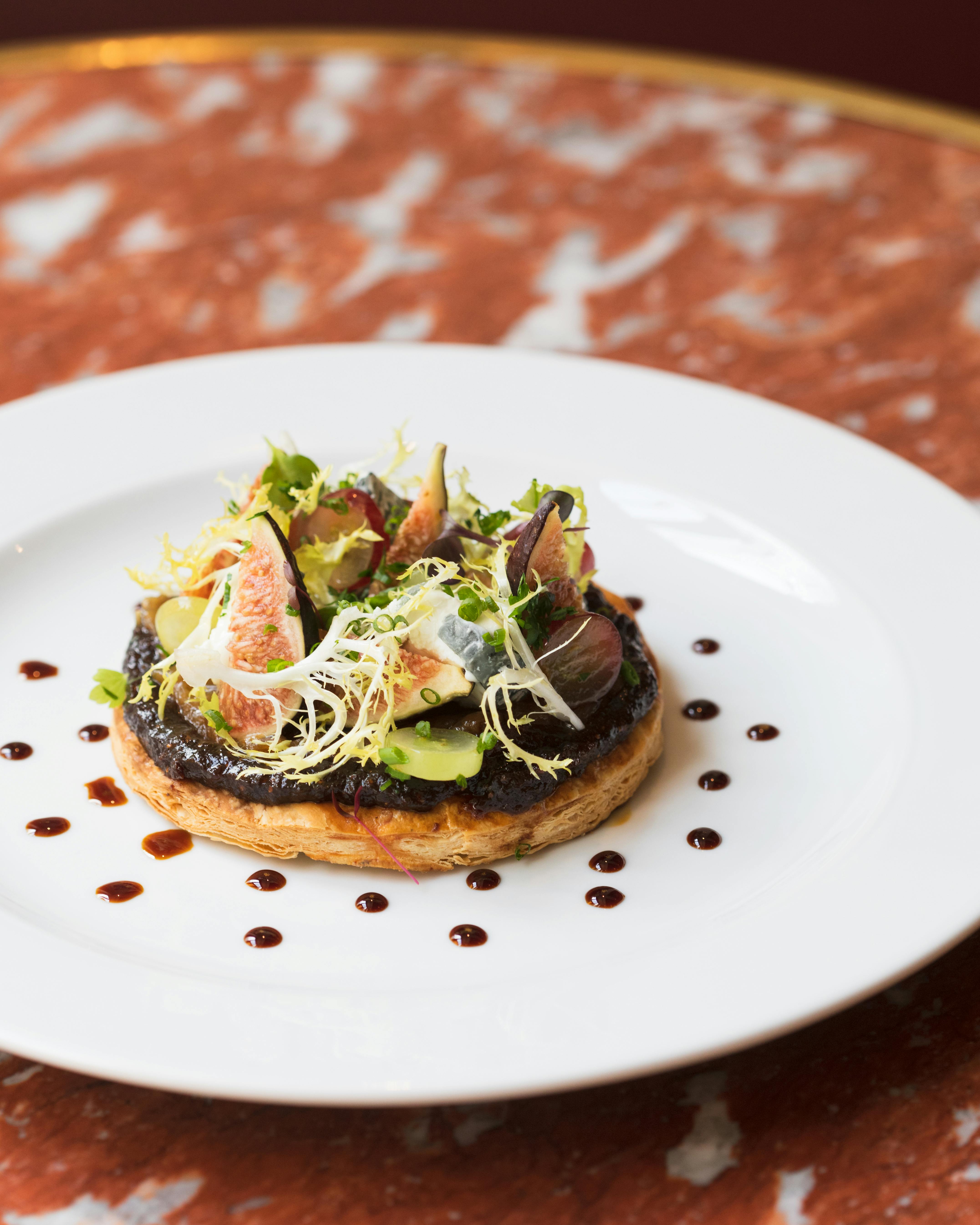 For something a little richer, the kitchen's tarte aux oignons et chèvre combines perfect puff pastry with caramelized onions, goat cheese, grapes, figs and frisée. Seemingly simple, it's a dish of dualities; both sweet and savoury, crisp and creamy, refreshing and rich. No two bites are exactly the same and, before you know it, you'll have cleaned the plate striving to decipher which combination you like best.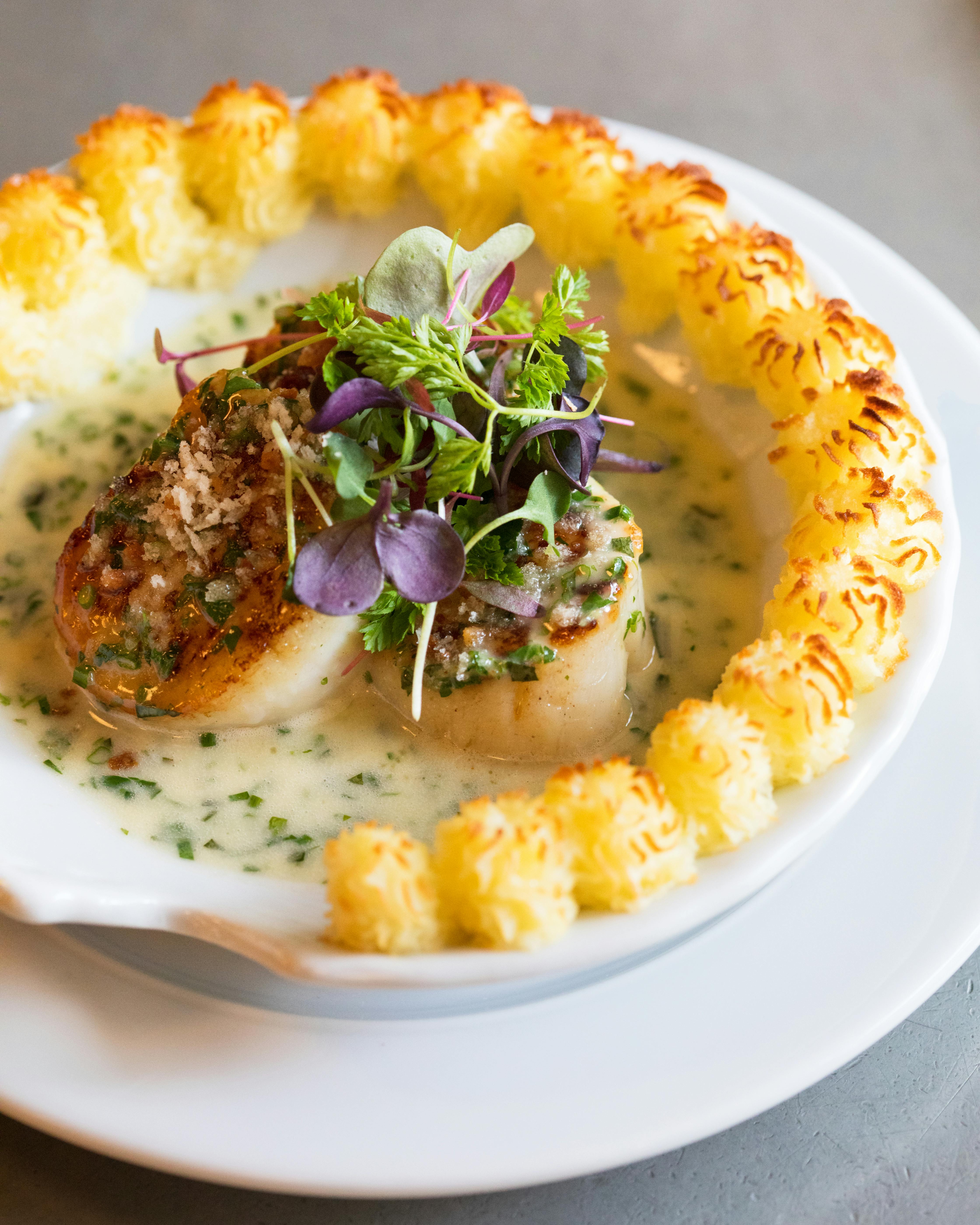 Served in a shell-shaped dish adorned with precious, piped rosettes of pommes duchesse, Coquilles St. Jacques appeals first to guests' inner aesthete, then to their love of seafood. Each serving includes three U-10 scallops, left tender and sweet in the middle, their edges seared until golden. Bathed in herbed butter sauce and topped with bacon crumb, the dish is sophisticated, full of subtly balanced flavours, is something you'd likely never make at home, and is exactly the type of thing you want to eat when dining out.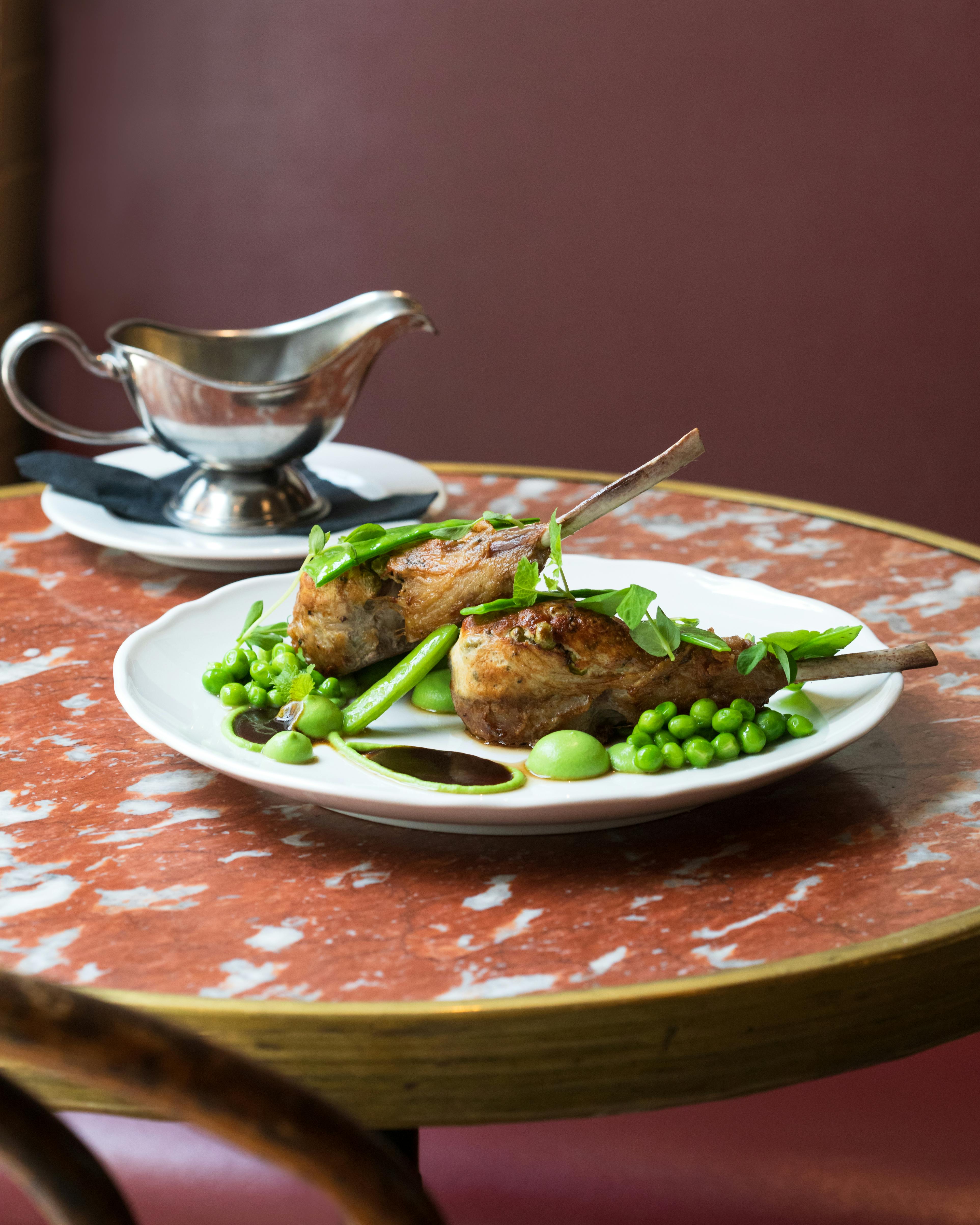 Another dish that hides a wealth of technique beneath a fetching exterior, is the carré d'agneau. Consisting of a half rack, presented as two double chops, the lamb is layered with chicken mousseline that's wrapped in caul fat, roasted, then plated with lamb jus, and a sprightly trifecta of sugar snap, snow and garden peas. Fussy, in an endearingly French way, the dish exemplifies the team's dedication to tradition. Thanks to its protective blanket of fat, the meat is delicate and rich, its seasonal garnish, a bright contrast to the main ingredient.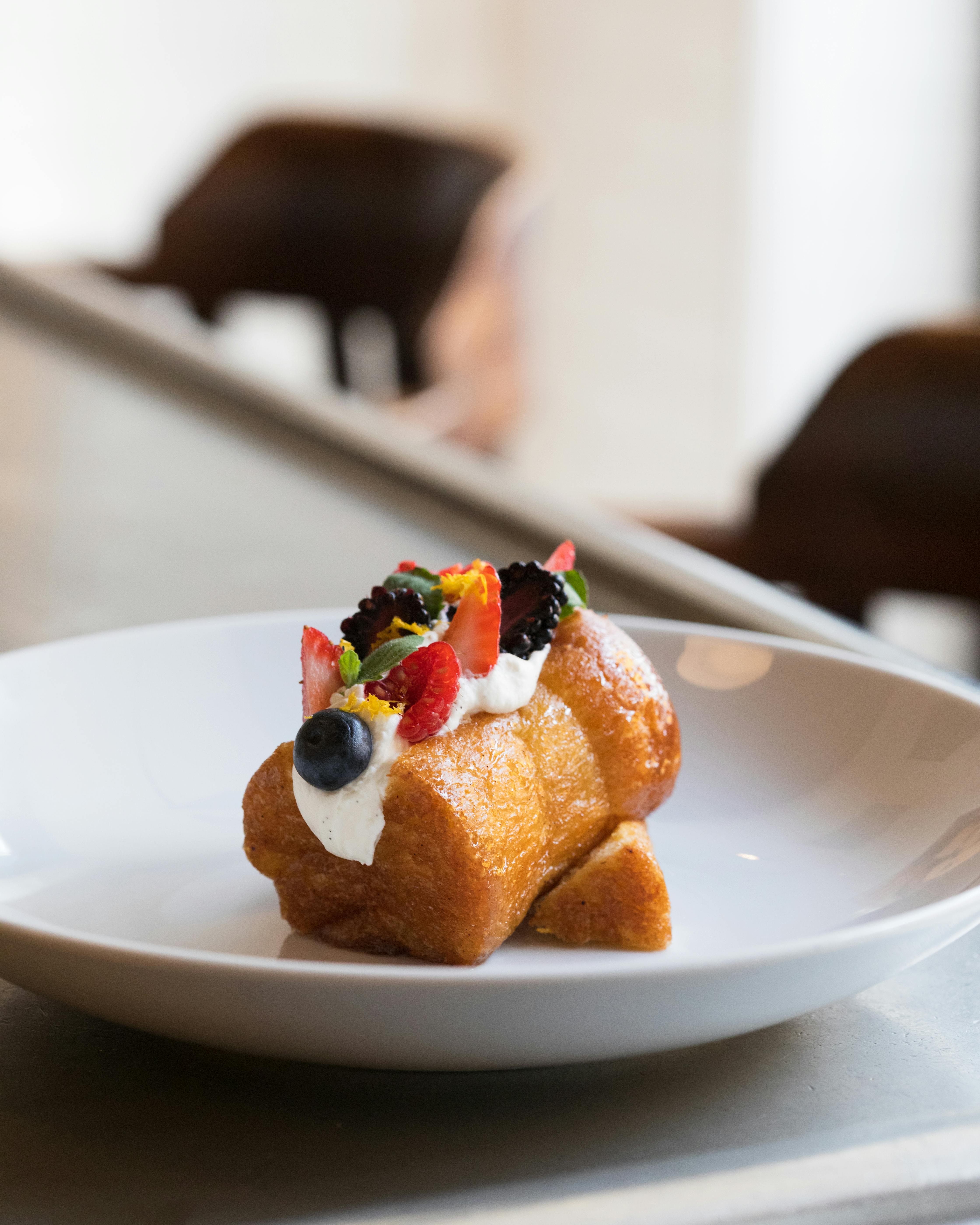 As with the savoury side of the menu, desserts hail from a Larousse Gastronomique -type school of classic French cuisine. Created by pastry chefs Jonathan Em and Christopher Neamtu, the menu covers a range of flavours and preparations to ensure a sweet finish for all. "There's something for everyone. A cake, for cake people. A tart, for tart people. Chocolate, for chocolate people, etc.," explains general manager Jon Andrews. Tarte tatin is a showstopping finale, intended "pour deux." Dining solo? Have the team wrap up whatever remains of the devastatingly caramelized, apple-forward marvel when you're done, then bask in the promise of a breakfast to rival most. Baba au rhum may conjure images of wet cake, sodden with rum-flavored syrup and little of the type of texture craved by those of us with teeth. Just give it a chance. Here, the team shows restraint and skill. Its baba is tender and buttery, not soggy, with a whisper of alcohol and moderate sweetness. Topped with Chantilly cream and fresh fruit, it's guaranteed to brighten your outlook on baba from here on.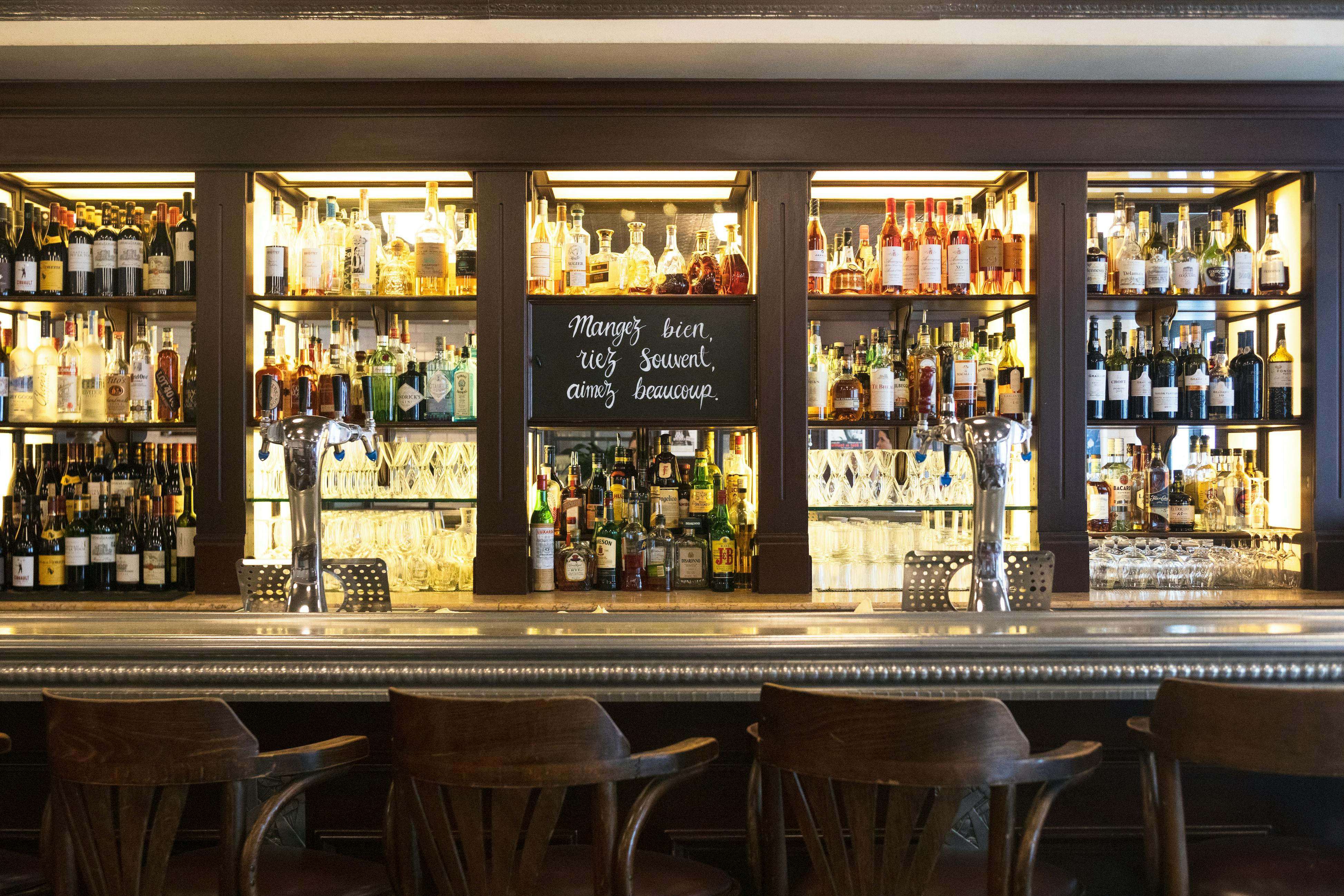 Since French food is best accompanied by French wine, the team has a cellar piled high with more than 10,000 bottles. One of Canada's largest wine cellars, and a multi-year recipient of Wine Spectator's Award of Excellence, the Cave à Vin boasts more than 1200 labels, with certain bottles dating back to the 1940s. On the 55-page wine list, you'll find a French focus, with plenty of bottles from other parts of Europe, South America, and even Canada, says director of operations, Jascha Baraness. A varied selection of Cognacs, Armagnacs, and dessert wines are also on offer for those looking to prolong their pleasure.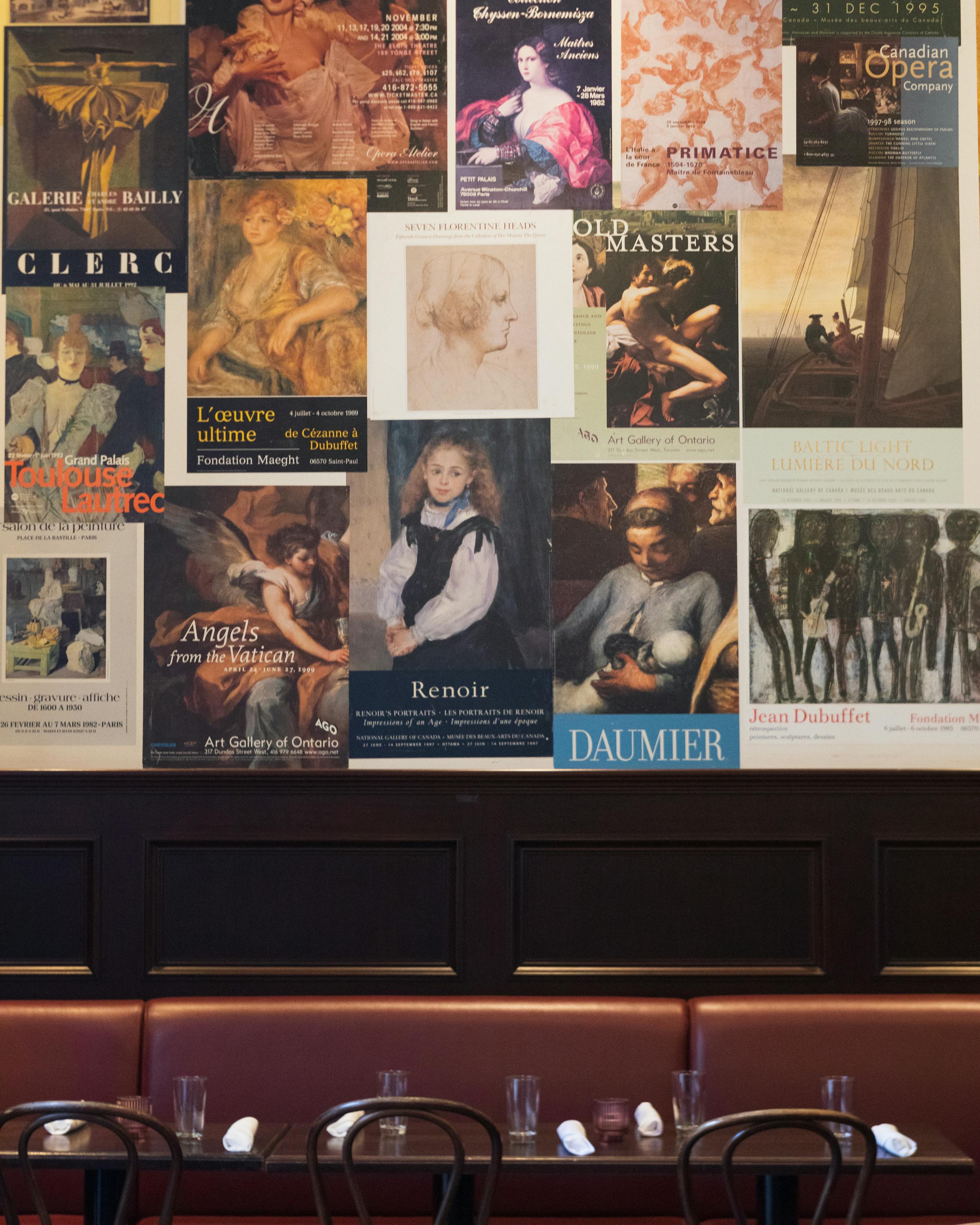 A sign above the bar at Le Sélect Bistro reads, "mangez bien, riez souvant, aimez beaucoup," or eat well, laugh often, and love a lot. As a motto for the team, and a goal for us all, it's perfectly placed. This is a spot where every guest is welcomed, fed extremely well, treated to exceptional, expert service, and leaves feeling like family. Recently mourned, the restaurant has been given a new life. Relish the reunion with familiar plates, with a team who will soon feel like family, and with our own little corner of Paris, in the heart of Toronto.