Ask any Cantonese foodie and they'll tell you: dim sum is a culture. More than just a category of cuisine, dim sum is really an activity of gathering and conversing over well-known comfort foods. That's why we even have a verb for it: yum cha ("drink tea"). But going yum cha isn't an easy thing if you live downtown and keep a busy schedule. During COVID, in particular, few dim sum spots in the city could accommodate outdoor seating, making these gatherings all the more impossible. That's what Sue Fung's Dim Sum Canteen is here to bridge.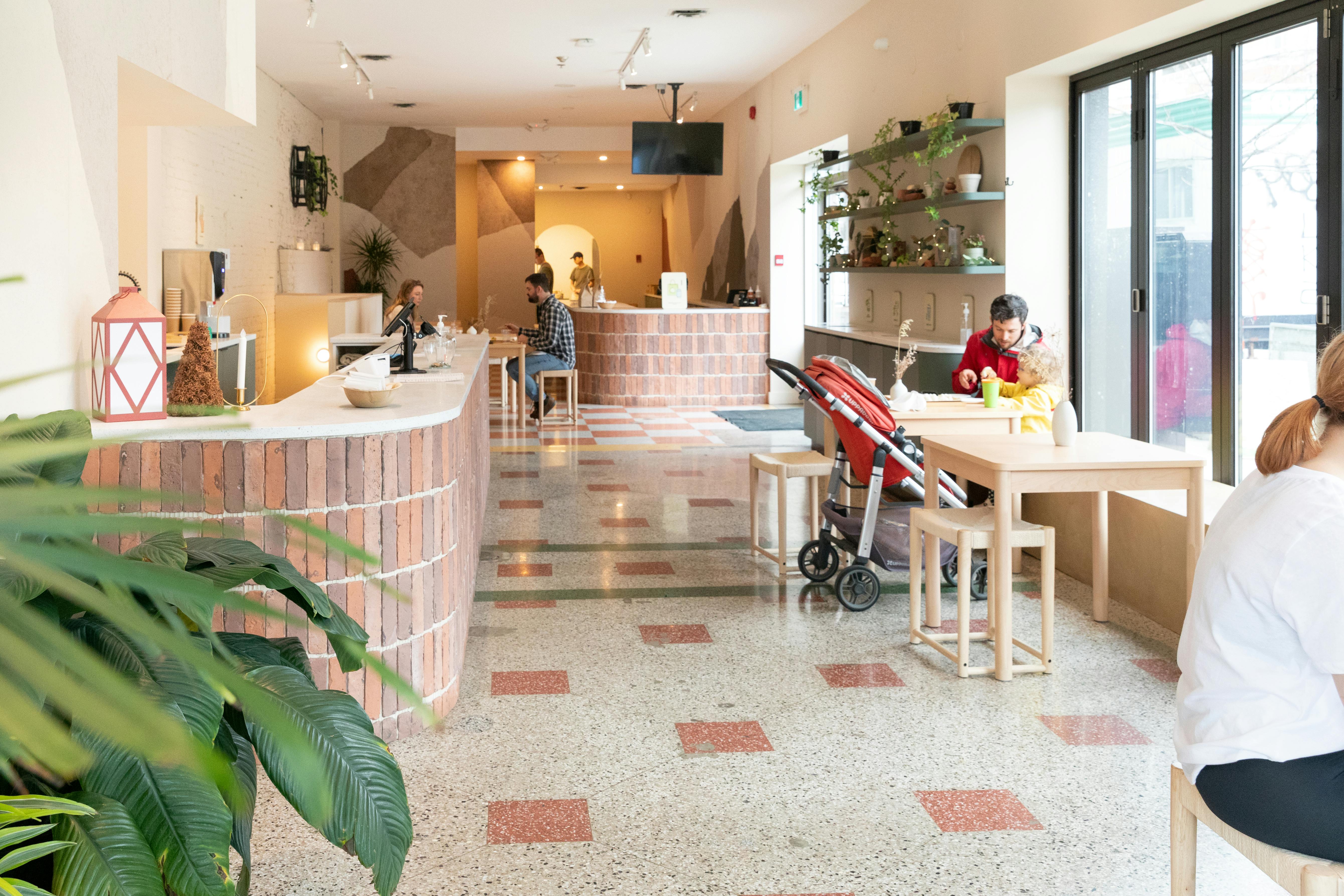 Led by Jimmy He, Irene Jia and Peter Chen, Sue Fung's is the downtown counterpart to Providential 9 in Markham, of which Jia and Chen are co-owners. While Providential 9 serves a variety of Cantonese dishes, dim sum is their specialty, and for the first time, they're bringing their most popular dim sum dishes to the busy, bustling downtown crowd.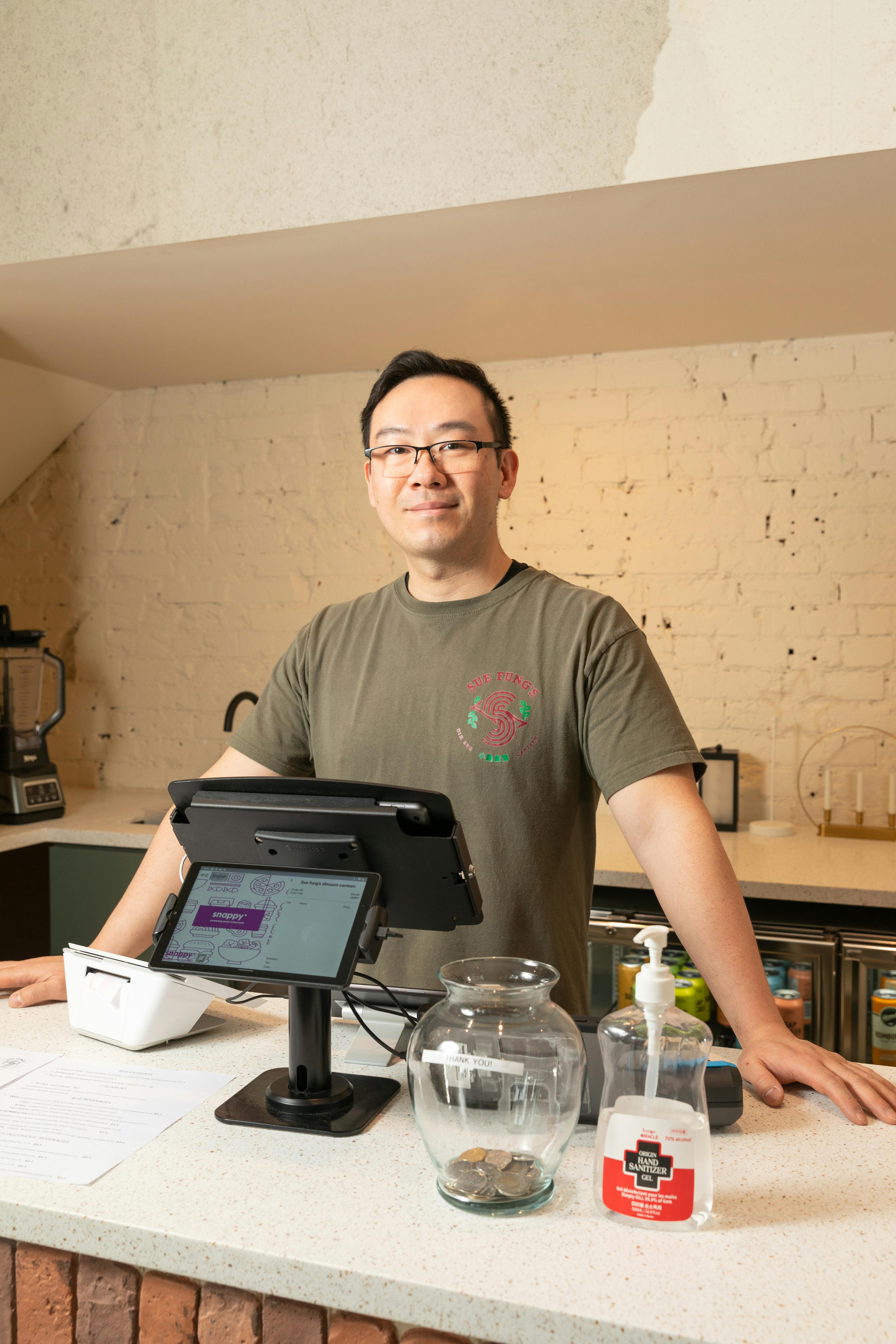 The choice to create a "Canteen" is reflective of the trio's new vision for a dim sum spot that could serve traditional Cantonese recipes in a more casual and accessible way, in both experience and affordability.
Unlike other dim sum restaurants in the city, Sue Fung's is an entirely self-serve eatery catered toward quick meals and takeout. Dine-in customers place orders at the entry counter and pick up their food on the opposite end of the canteen, which is also where you can grab your takeout and delivery orders. And, like any casual food concept, customers clean up after themselves at the sorted disposal bins.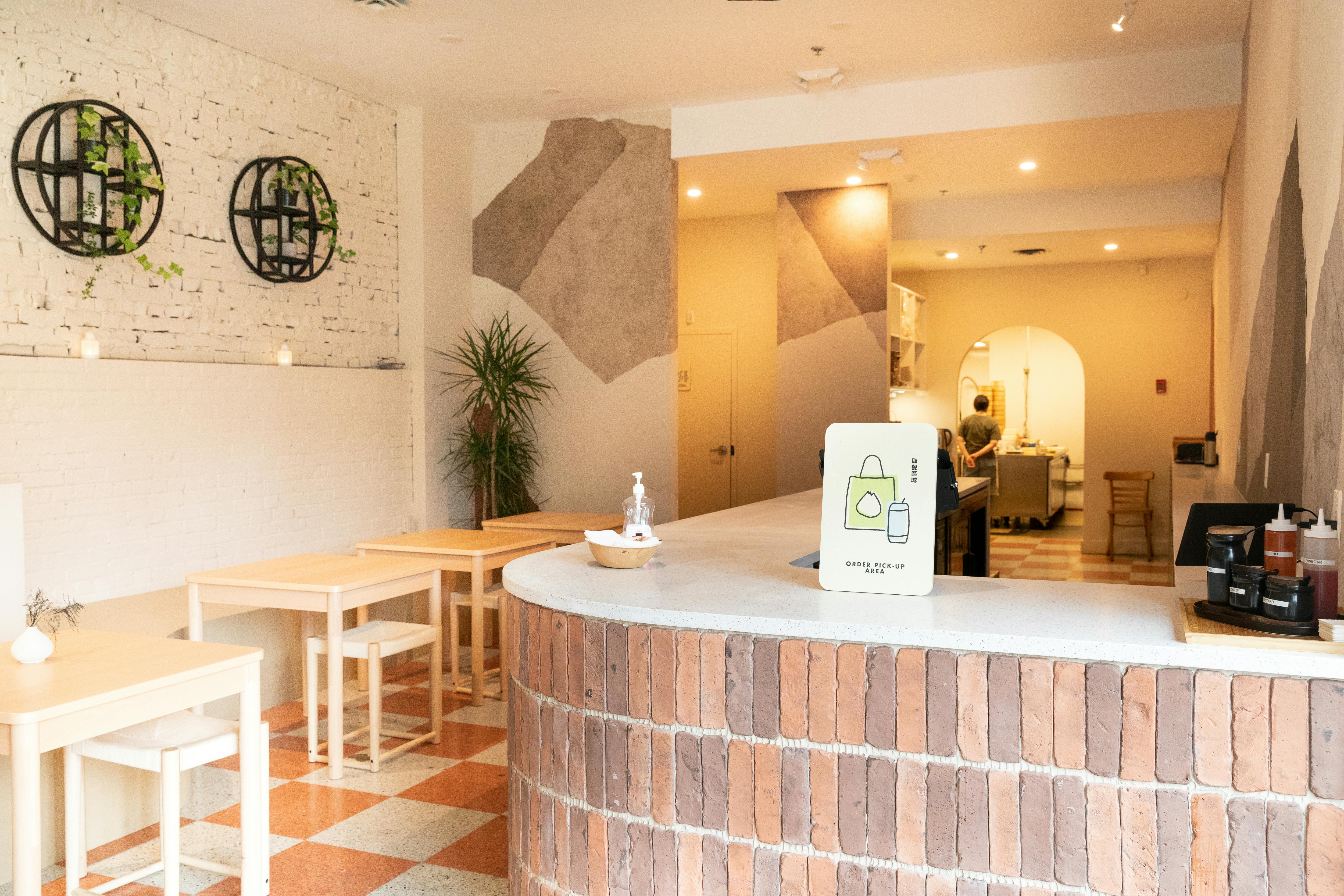 While the space itself can't be considered small by downtown Toronto standards, the team chose to preserve comfort and spaciousness, keeping no more than ten tables for dine-in visitors. Brought to life by Arc & Co. Design, the interiors are inspired by the Japanese concept of wabi-sabi, an aesthetic that incorporates all the beauties of nature, including its imperfections and transience. At Sue Fung, wabi-sabi comes through with a variety of indoor plants, wooden furniture, rugged bricks, overlapping stone-coloured patches, and a welcoming, open space.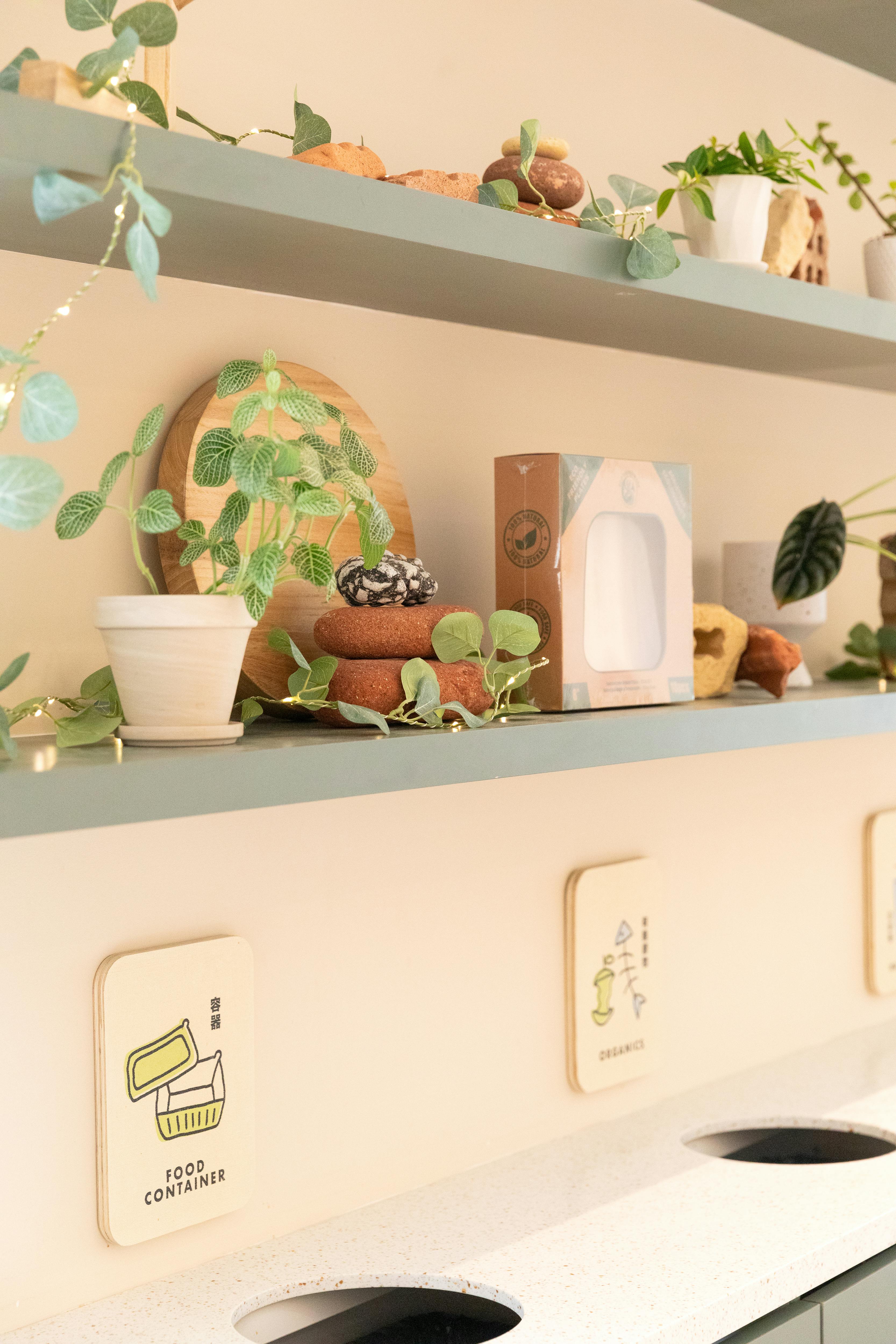 Keeping the importance of nature in mind, Sue Fung exclusively uses compostable, eco-friendly dinnerware made from 100% natural and chemical-free products, including bamboo tableware for dine-in customers, and corn starch containers for takeout orders.
Keeping things as simple as possible, Sue Fung's menu is exquisitely curated to feature the most loved dim sum dishes.
"Most dim sum restaurants downtown have large menus that can feel overwhelming if you don't know what you want. We wanted to create a more specialized menu with only the best, handpicked items from our Markham restaurant," says He.
Right now, the short and sweet menu showcases Head Chef Quan's best recipes at Providential 9, but diners can expect more items soon that'll be exclusive to Sue Fung's, including extra vegetarian options to make dim sum accessible for varying dietary needs and lifestyles.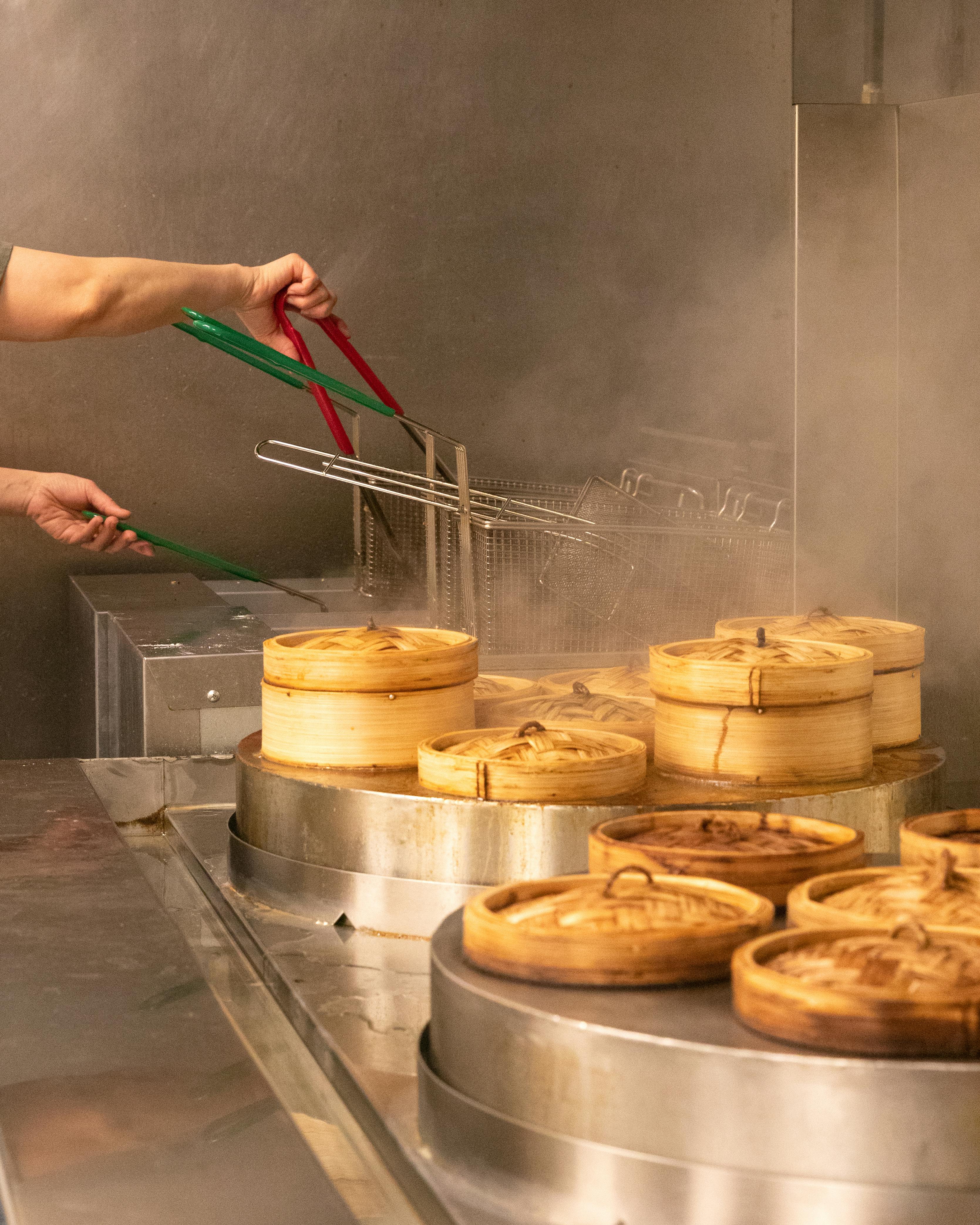 At Sue Fung's, you can expect all your favourite dim sum dishes, including Siu Mai (shrimp and minced pork dumplings), Har Gow (shrimp dumplings), BBQ Pork Buns, and Lo Mai Gai (sticky rice with dried shrimp and chicken, wrapped in lotus leaf).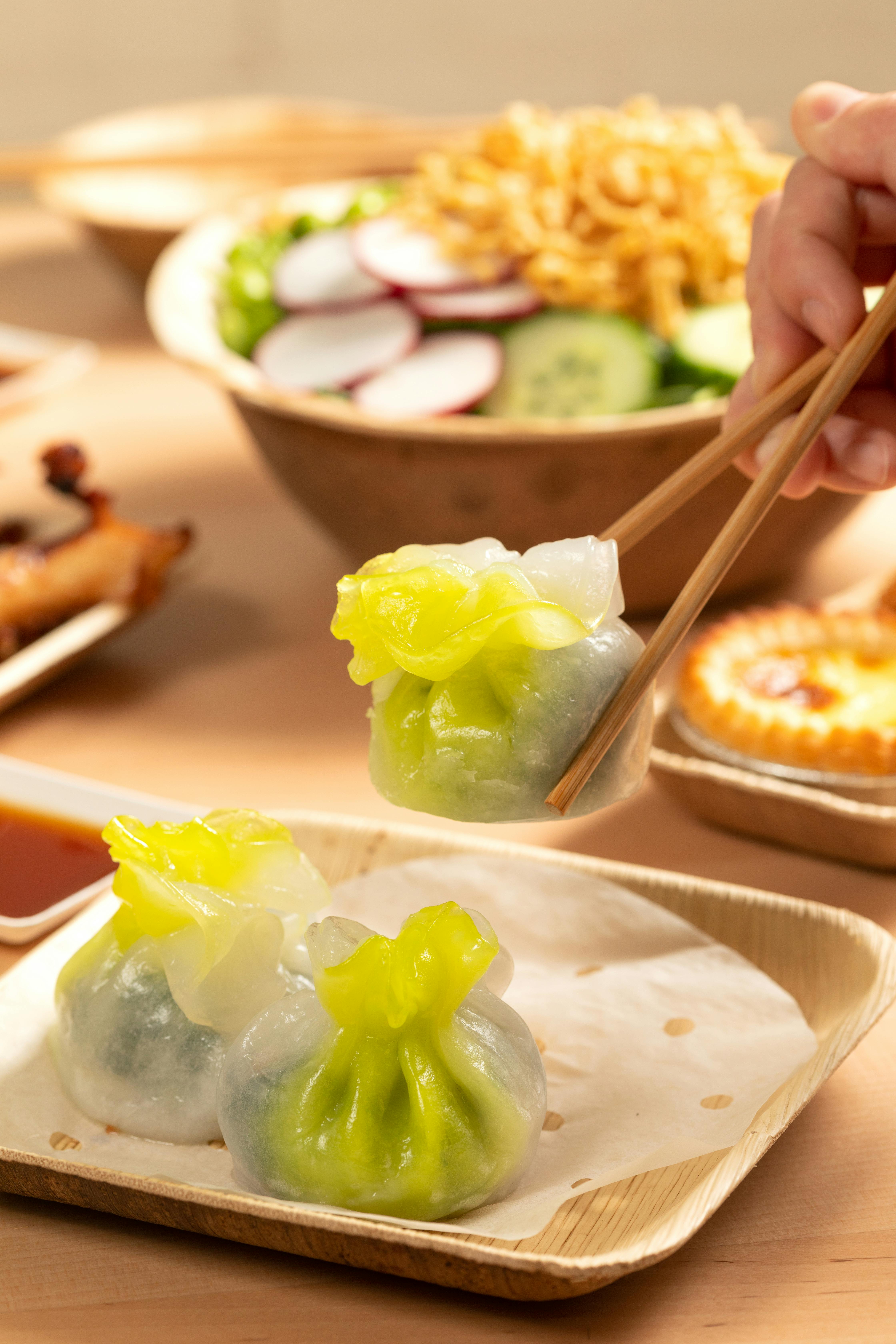 There's no shortage of dumpling-style items on their menu—for instance, their Matcha Soup Dumplings and Scallop, Shrimp & Veggie Dumplings are some customer favourites that taste as good as they look.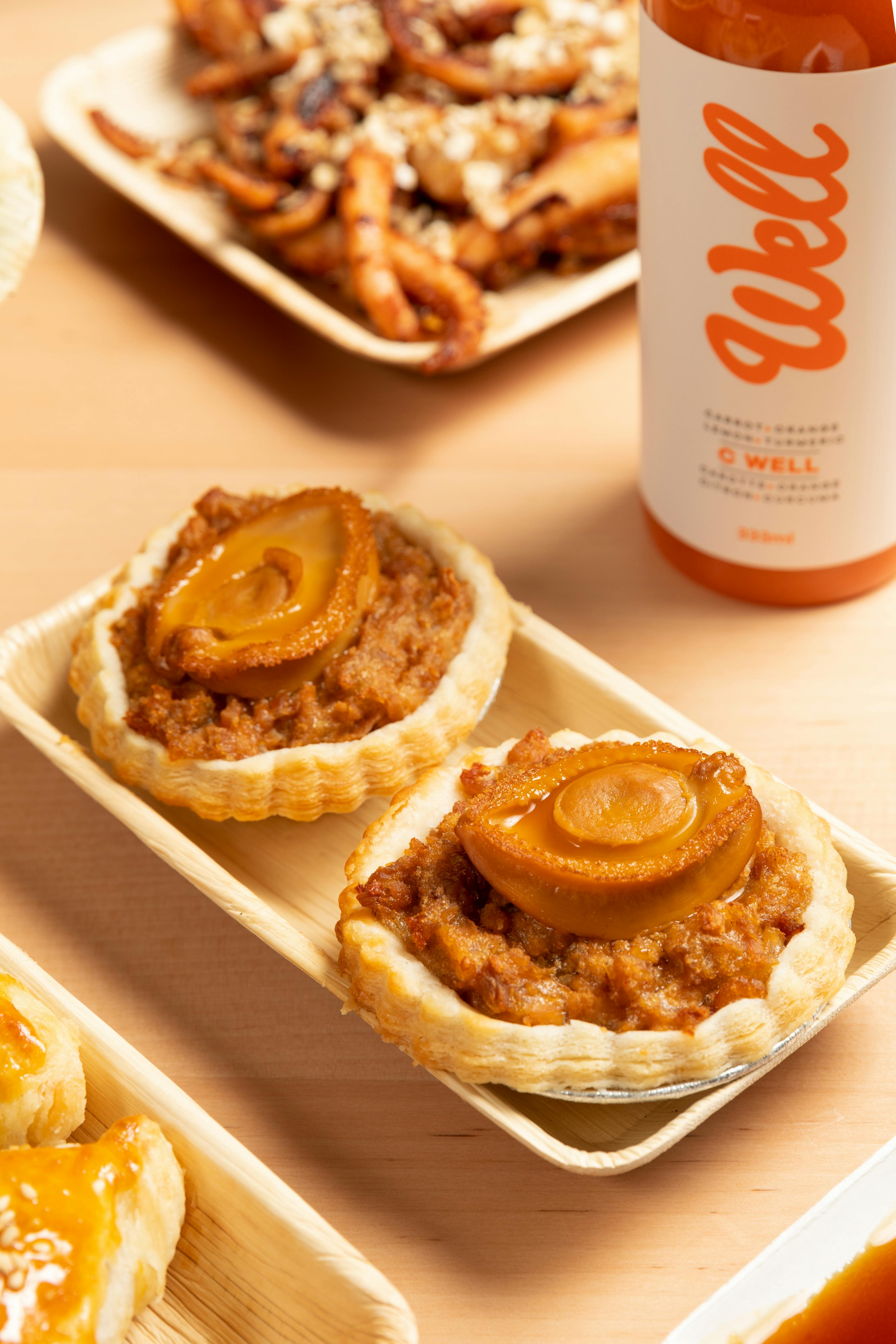 One of the most special items taken from Providential 9's menu is the Baked Whole Abalone Tart with Minced Pork. Sweet, savoury and crunchy, the tart brings out a unique mix of textures with the prized abalone, giving you a casual experience of the delicacy without the price tag.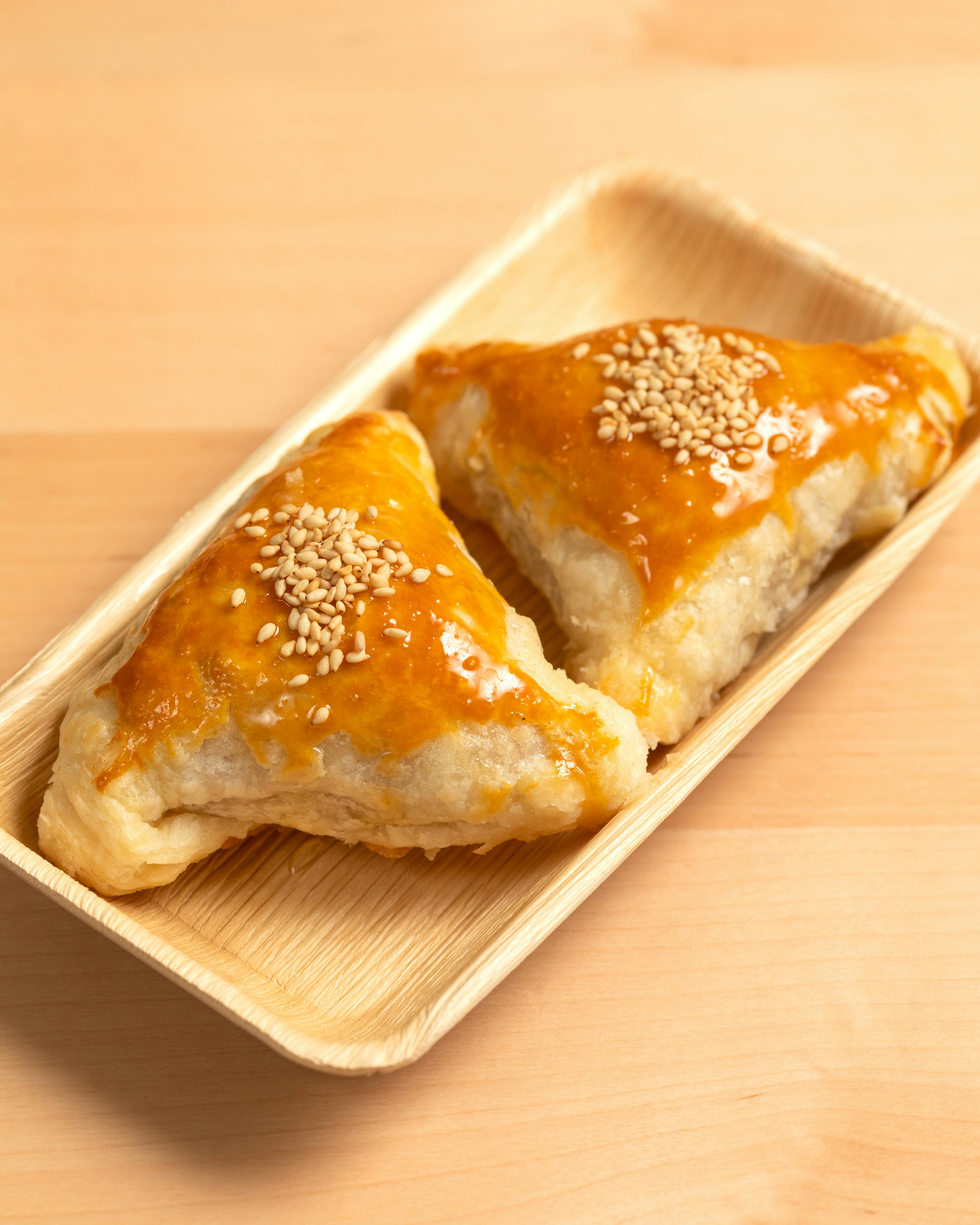 Lovers of Char Siu (BBQ pork) will have a hard time choosing between the traditional steamed BBQ Pork Buns and Sue Fung's crunchy, Baked BBQ Pork Pastry with Pineapple—it'd be wise to order both.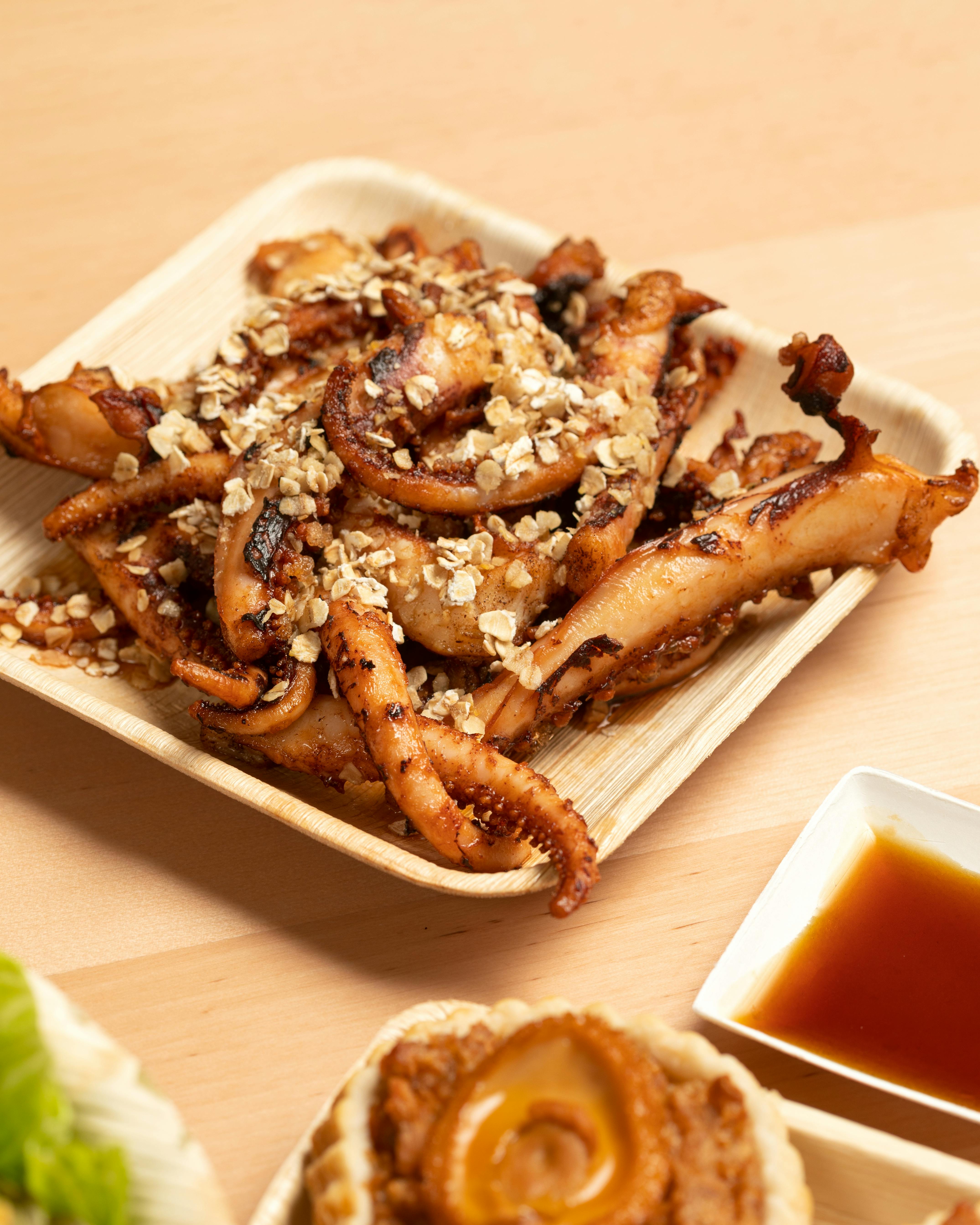 Another staff and customer favourite here is the Crispy Squid Tentacles, glazed with a sweet soy sauce and topped with earthy oats for a deliciously shareable finger snack.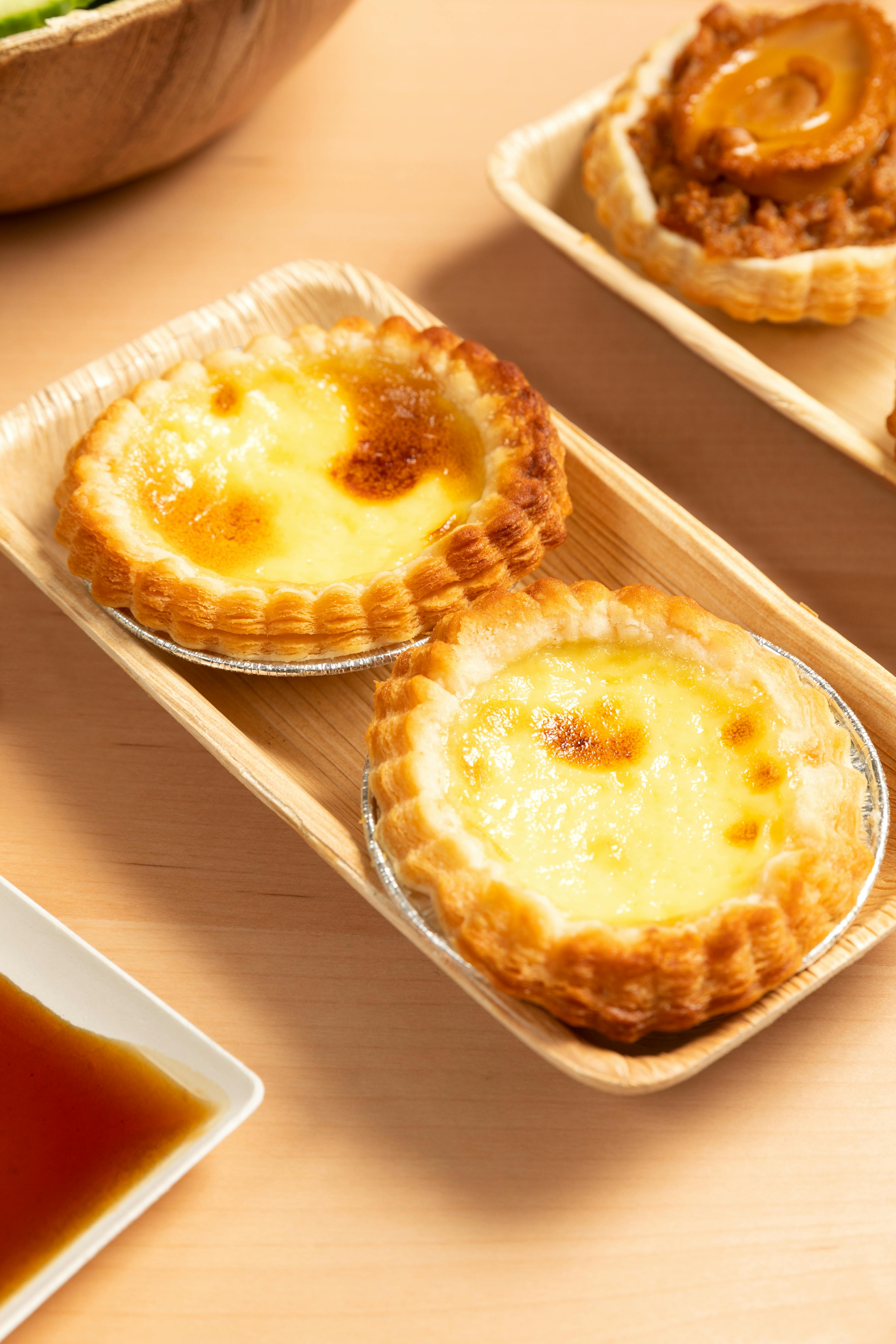 When it comes to dessert, dim sum tends to favour the egg and egg yolk-based recipes, and Sue Fung's got both. On any day of the week, they offer chewy, Fried Sesame Rice Balls filled with Salty Egg Yolk, as well as their baked-to-order Fresh Egg Tarts, which are made closer to Macau's Portuguese Tarts with slightly burnt custard and flaky pastry. On weekends, customers get an extra choice with Mango Mochis, inspired by the Hong Kong specialty.
The only item on the menu that won't be found in Providential 9—or any other dim sum spot in the city—is one that He created himself. To help keep their menu as healthy as possible, Sue's Salad is a mix of red leaf lettuce, spinach, cucumber, edamame, radish and beets, topped with roasted pumpkin seeds and crispy wonton noodles. The fresh salad is all tossed together in He's very own house-made Asian sesame dressing, featuring palate-cleansing flavours like ginger and sesame oil.
When it comes to drinks, going to dim sum isn't called yum cha ("drink tea") for no reason—a lot of tea-drinking is involved. At Sue Fung's, however, the team wanted to bring more options to their downtown customers. While Chinese teas are always available here, there's also a wide selection of to-go drinks, including Be Well cold-pressed juices, Remedy Kombuchas, Sapsucker flavoured waters, and alcoholic drinks by local brands like Kensington Brewing Co. and Ace Hill.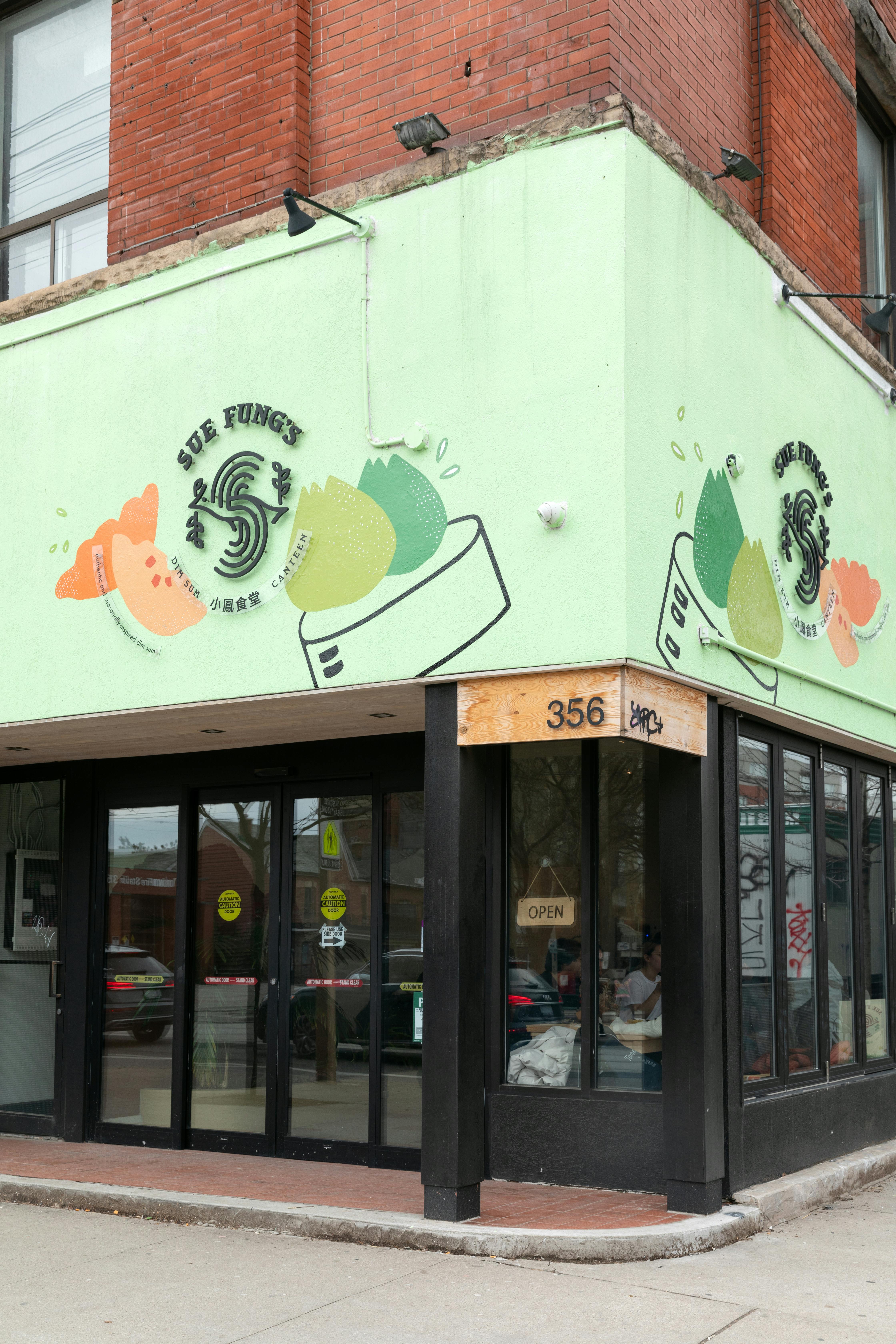 Sue Fung's mission to spread the dim sum culture is only just starting—right now, they're working on a unique line of grab-to-go cold-brewed teas with chunks of fresh fruit, all canned in-house. And, to push forward the dim-sum-at-home concept, they'll also be putting up a fridge of Providential 9's frozen dim sum products, along with the bamboo steamers you need to have dim sum at home whenever you want.
Lastly, if you're wondering who Sue Fung is—she doesn't exist. Providential 9's Chinese name, Foong Ting, means "Phoenix Court," making Sue Fung, or Xiu Foong, their "Little Phoenix." But be sure to watch this phoenix grow.