At first glance, Parkdale might not strike you as the place to embark on a journey of discovery into Peruvian cuisine. Yet, with a menu inspired by Peruvian flavours, ingredients and culture, Nuna Kitchen & Bar is just the place to start. A spot that comfortably fits within its burgeoning stretch of Queen Street West, Nuna is a welcoming, warm, family-run restaurant offering modern takes on classic Peruvian dishes.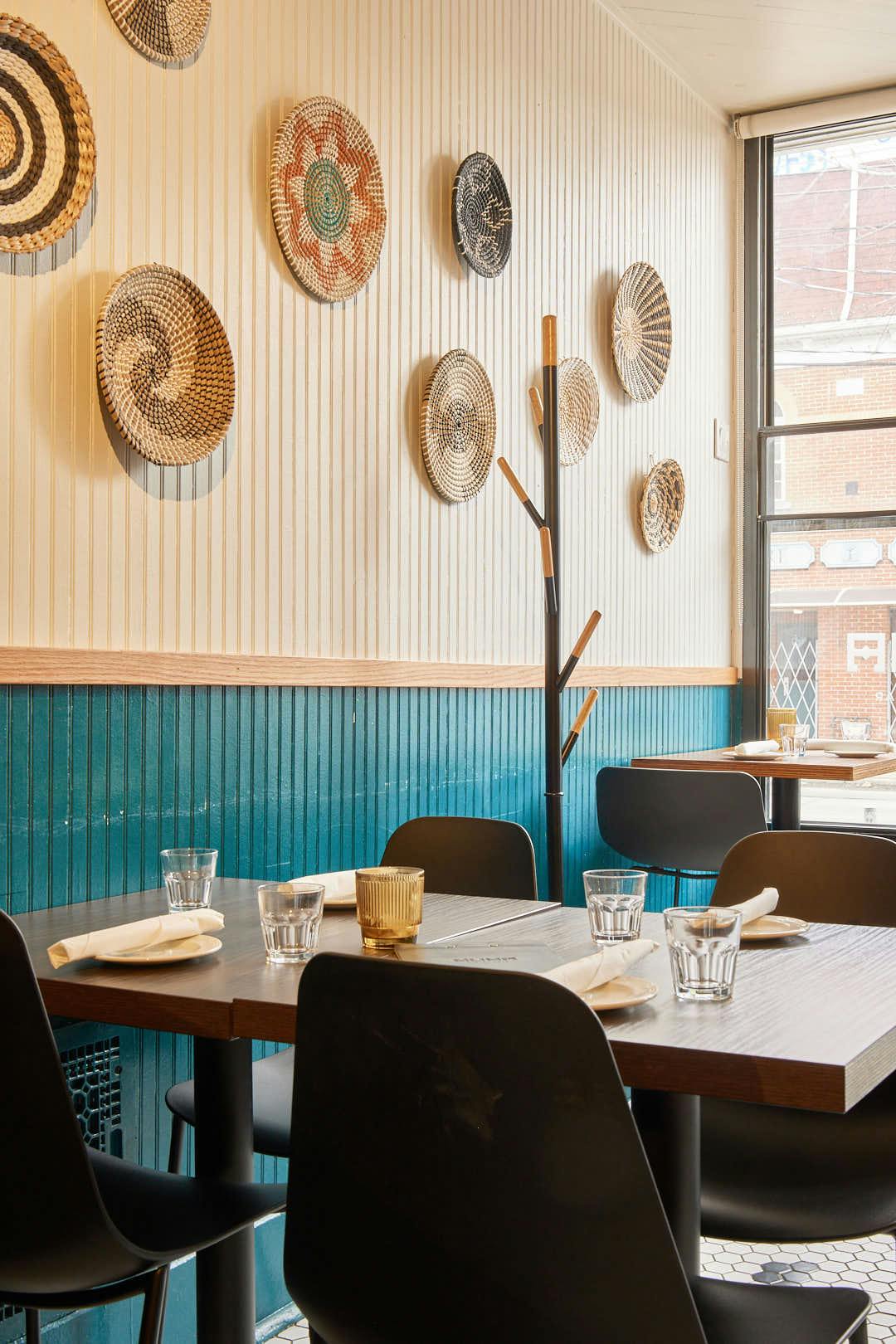 With a name that means "soul" in Quechua, one of Peru's indigenous languages, it should come as no surprise that Nuna feels rooted in tradition, with an indomitable, lively spirit that informs every move. Sure, at first glance, the restaurant's charming, whitewashed room and spacious, twinkle-lit patio barely hint at its cuisine, while the '90s pop hits playing on the stereo are meant to entertain, not to tie into an overall theme. Still, despite the intentionally neutral approach, Nuna is staunchly Peruvian. It's simply Peru seen via a global lens, adapted for a Parkdale audience.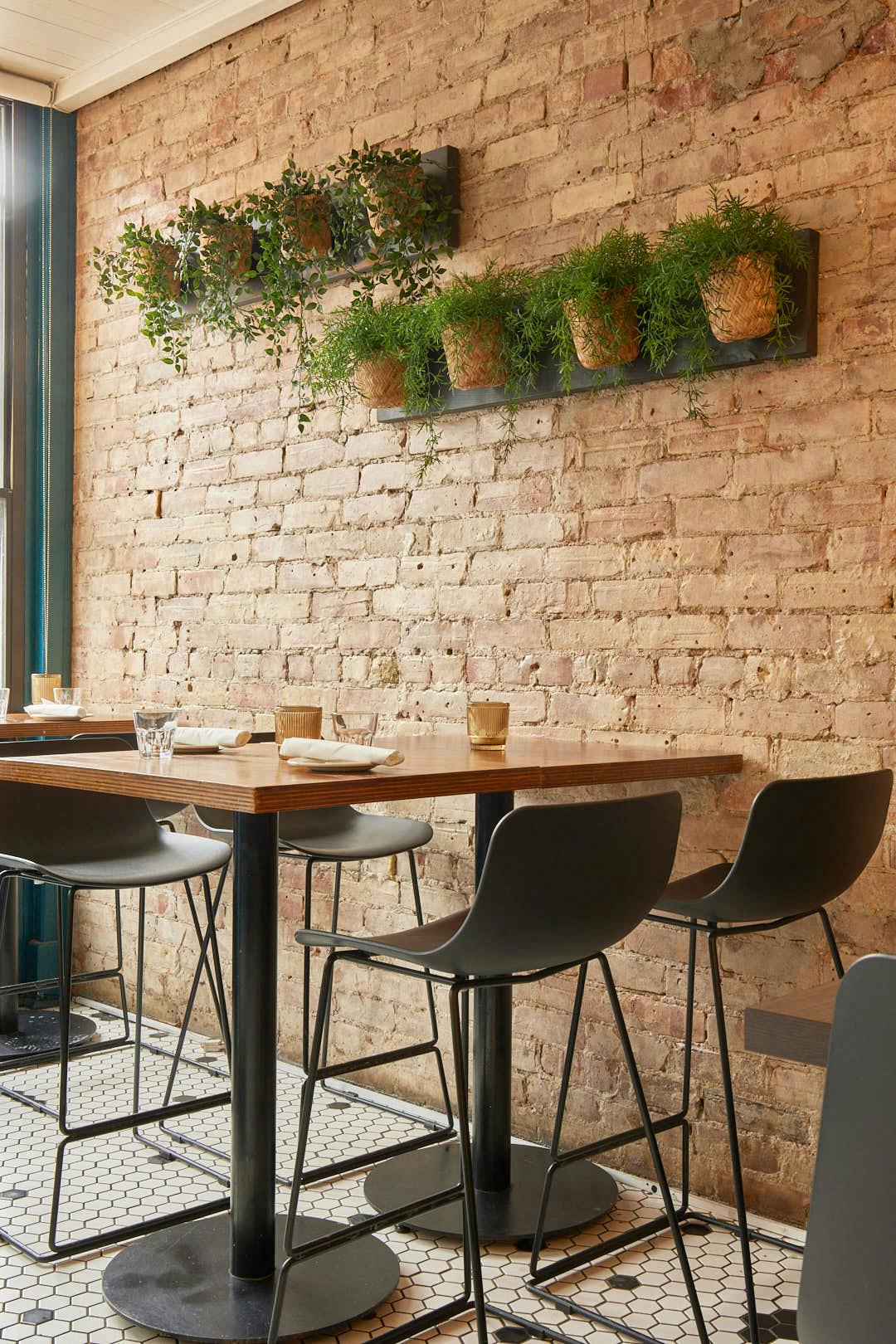 Peru's rich history — one populated with native Peruvians, colonizers, immigrants, and enslaved peoples — has resulted in a cuisine that's as diverse as the country's inhabitants. It's one that boasts flavours and techniques adopted from its first peoples, as well as from those arriving from China, Japan, Italy, Spain, and more. Think of classic Peruvian cuisine, and dishes like ceviche might immediately come to mind. Dishes crafted from the country's extraordinary variety of native tubers, peppers and seafood may also be familiar. It's the chifa dishes — those made from a fusion of Chinese cooking techniques and Peruvian ingredients — such as the fried-rice adjacent chaufa, and stir-fried lomo saltado, along with those adapted from other cuisines, such as gnocchi, arroz con pato, and more, that are more likely to be met with surprise.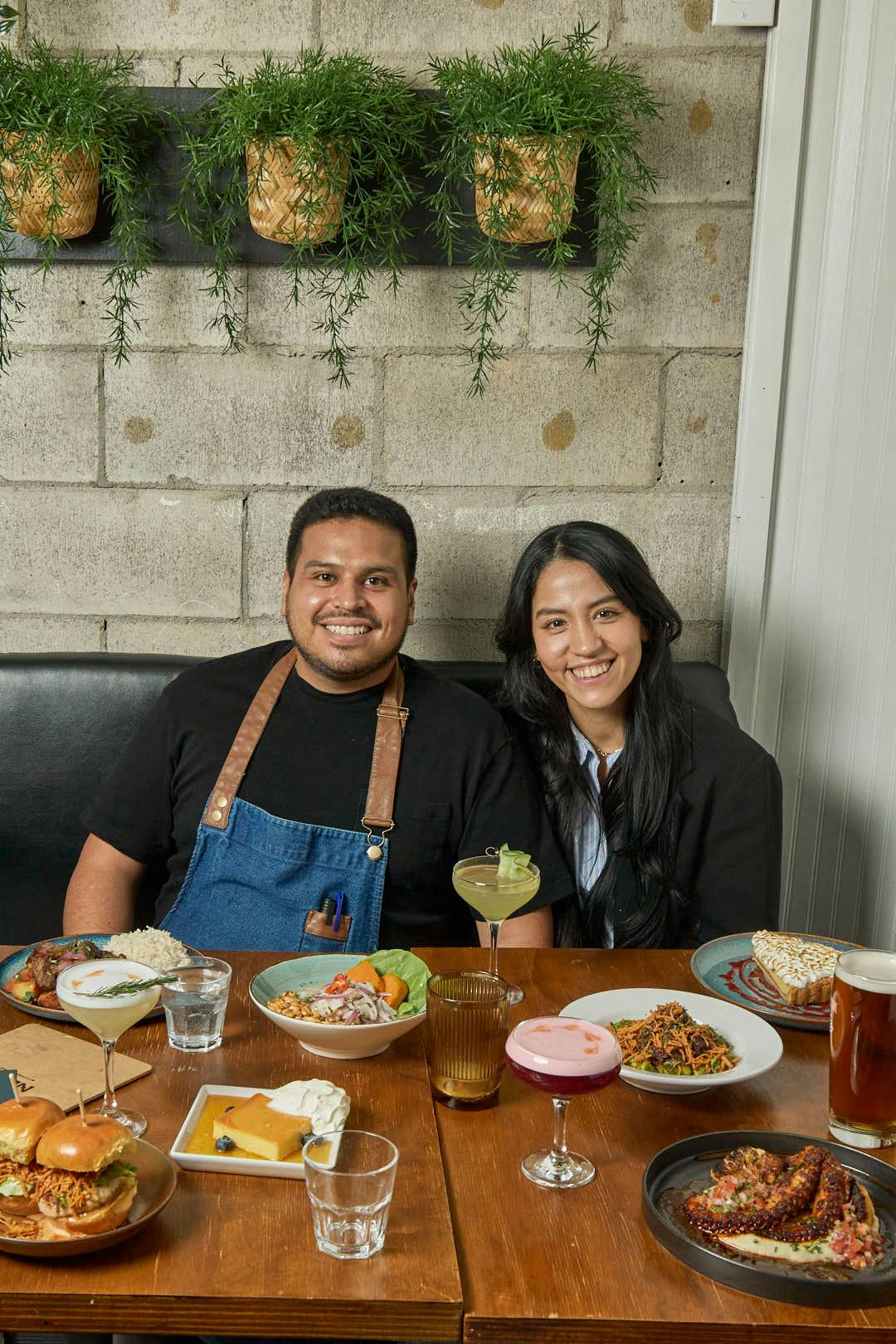 For co-owners Sergio Nazario and Jazmin Sansur, both from Lima, Peru, it is precisely this lack of familiarity with Peruvian cuisine that inspires their work at Nuna. "This is Peruvian fusion cuisine," says Nazario, who is also Nuna's executive chef. "We have two or three dishes from Peru, but this is not traditional." Instead of creating a menu of strictly Peruvian dishes, Nazario has drawn on his vast experience — from his time at Le Cordon Bleu to his work in Orlando, then at Toronto's Arepa Café and at La Carnita — to create a menu that appeals to a broader audience who might be intimidated were it made up solely of unfamiliar dishes. "The idea for this restaurant was to show more about flavours from Peru," he adds, explaining that the team sees Nuna as a first step in enticing locals to sample more traditional Peruvian eats. "Here in Canada, Peruvian culture is not that popular; we're not there yet," adds Sansur. "That's why we decided to start introducing some dishes and some flavours from Peru to let people get familiar with them."
At Nuna, guests will find a manageable range of small plates and larger entrées, from kale salad and tuna tartare to shrimp risotto and mussels. Approachable? Absolutely. Best of all? Upon closer inspection, nearly every dish flaunts an intriguing, South American spin.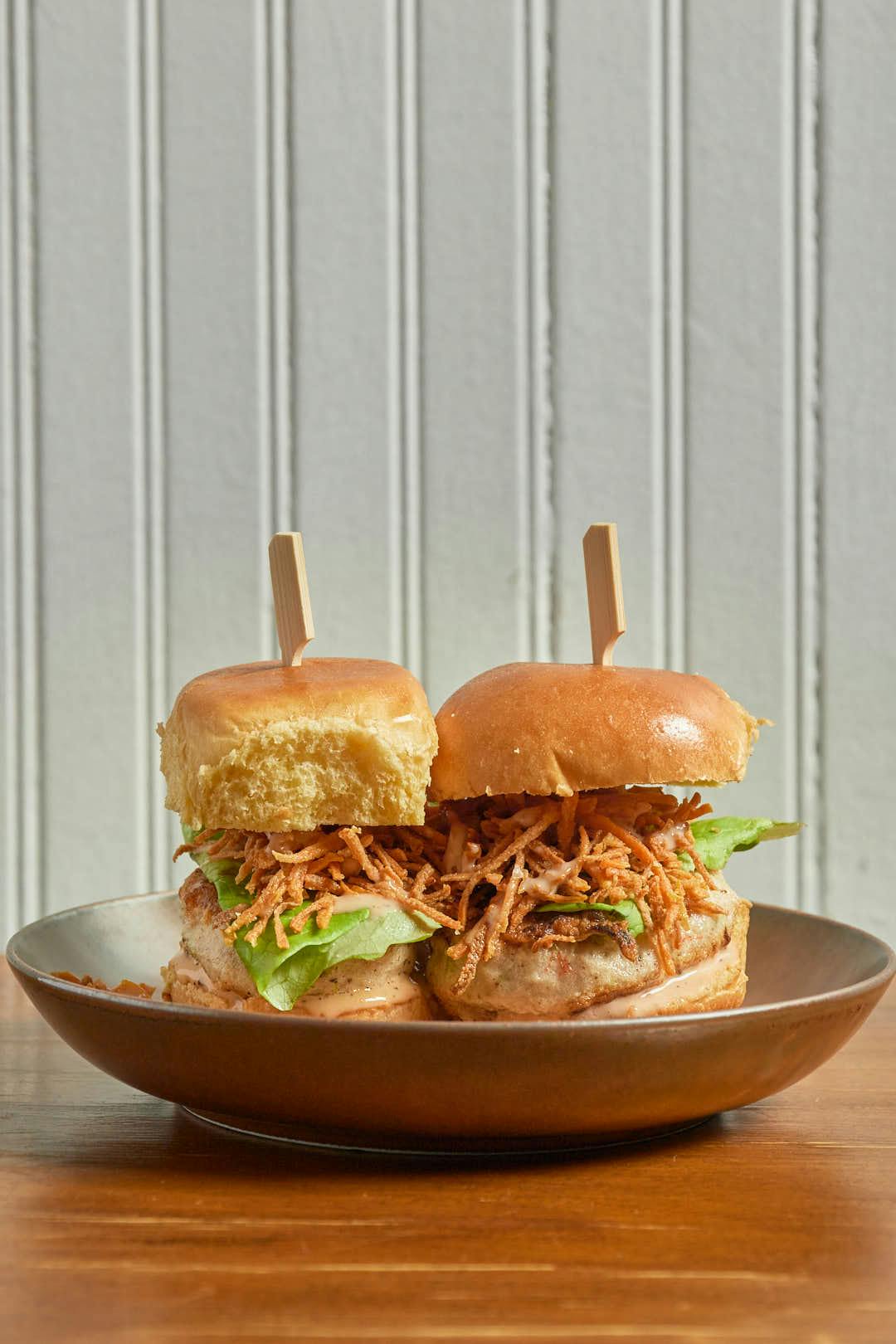 Already a best-seller, Shrimp Sliders combine Peruvian affection for seafood with local devotion to diminutive bites. Sweet and fresh, constructed on tender brioche buns, the sliders are showered with sweet potato sticks and slathered with house-made pisco cocktail sauce. With ketchup, honey and pisco — Peru's most celebrated alcohol — the condiment is punchy, fragrant and just the thing to make these sliders sing.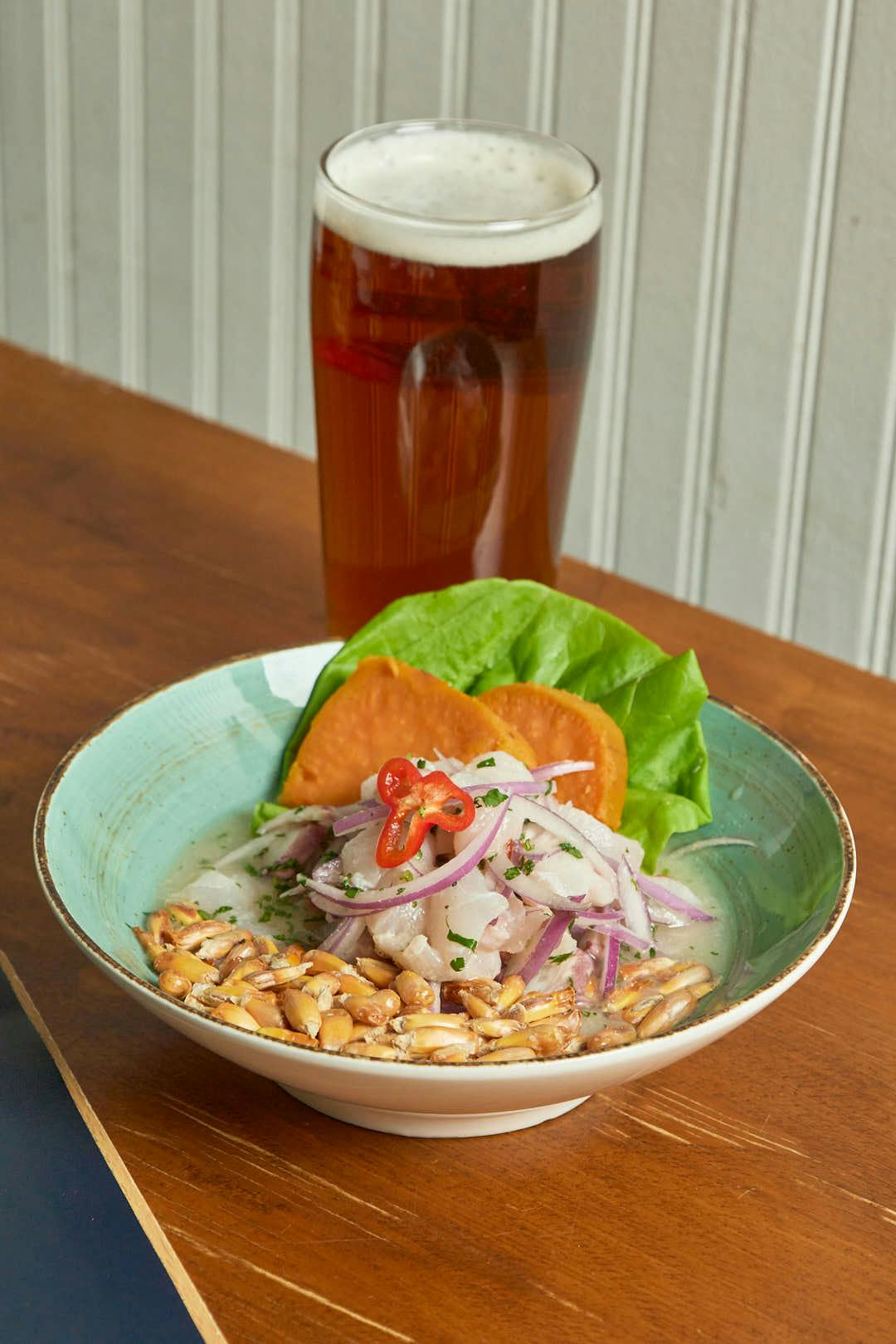 Nuna Ceviche, a signature dish, combines grouper, octopus, red onion, cilantro, and sweet potato with leche de tigre and canchita— a Peruvian snack of crisp, salty, unpopped corn that's debatably more addictive than its fluffier cousins. Elegantly plated, the colourful dish is as refreshing as falling in the ocean (but decidedly more pleasant), thanks to its citrusy kick, subtle spice, multitude of textures and briny, oceanic bite.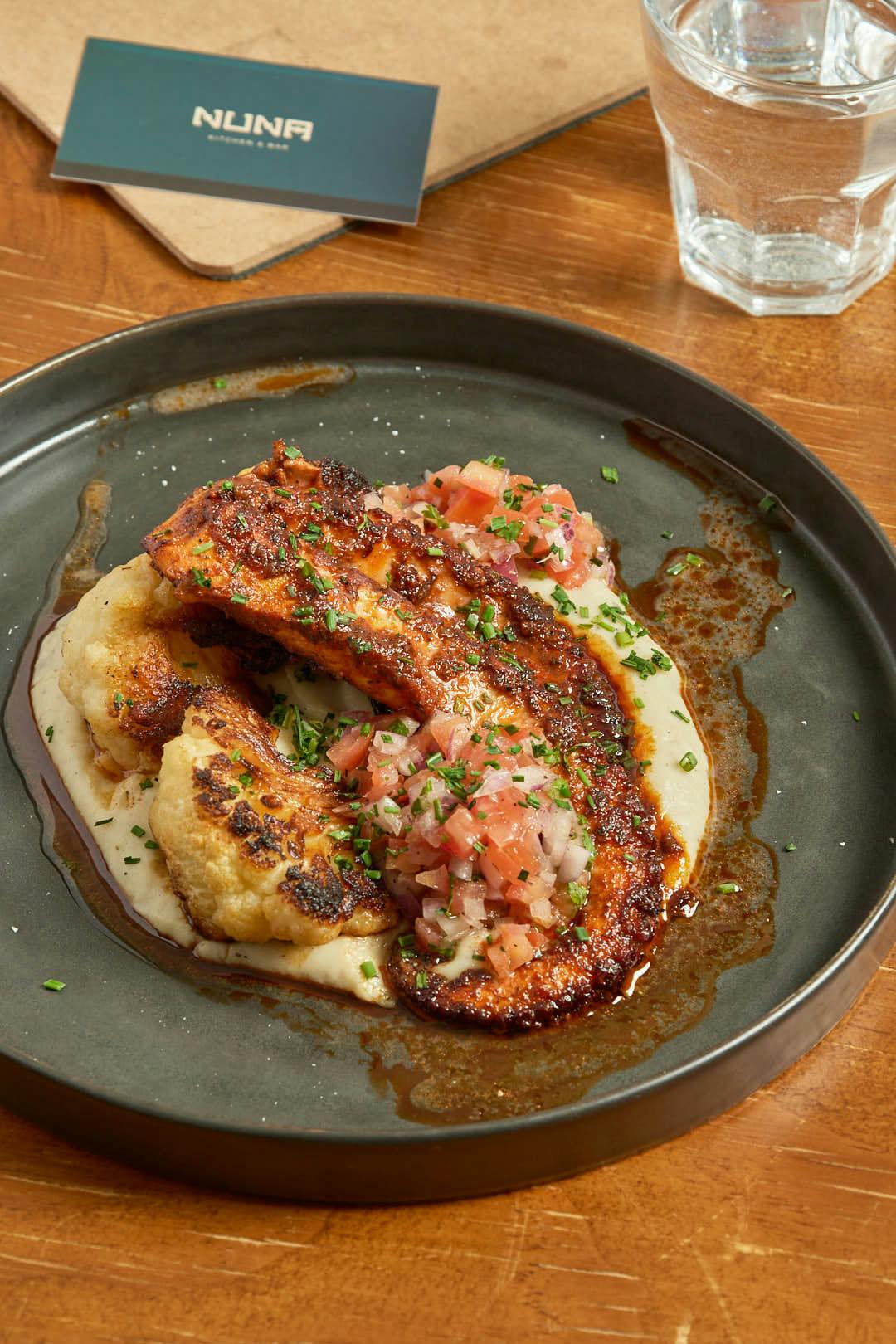 By design, Nazario's menu is clean and concise. There are no duds here; only mains that meet chef's, and diners', exacting standards. Destined to be a social media darling, Octopus & Cauliflower Purée is more than just a pretty plate. Marinated in panca chili pepper sauce, then grilled until glistening, singed and golden, this cephalopod is as alluring as seafood gets. Served with cauliflower, in purée and charred forms, and vibrant, tomato-based chalaquita salsa, it's a seriously satisfying, complete meal that you'll want to protect from your tablemates' looming forks.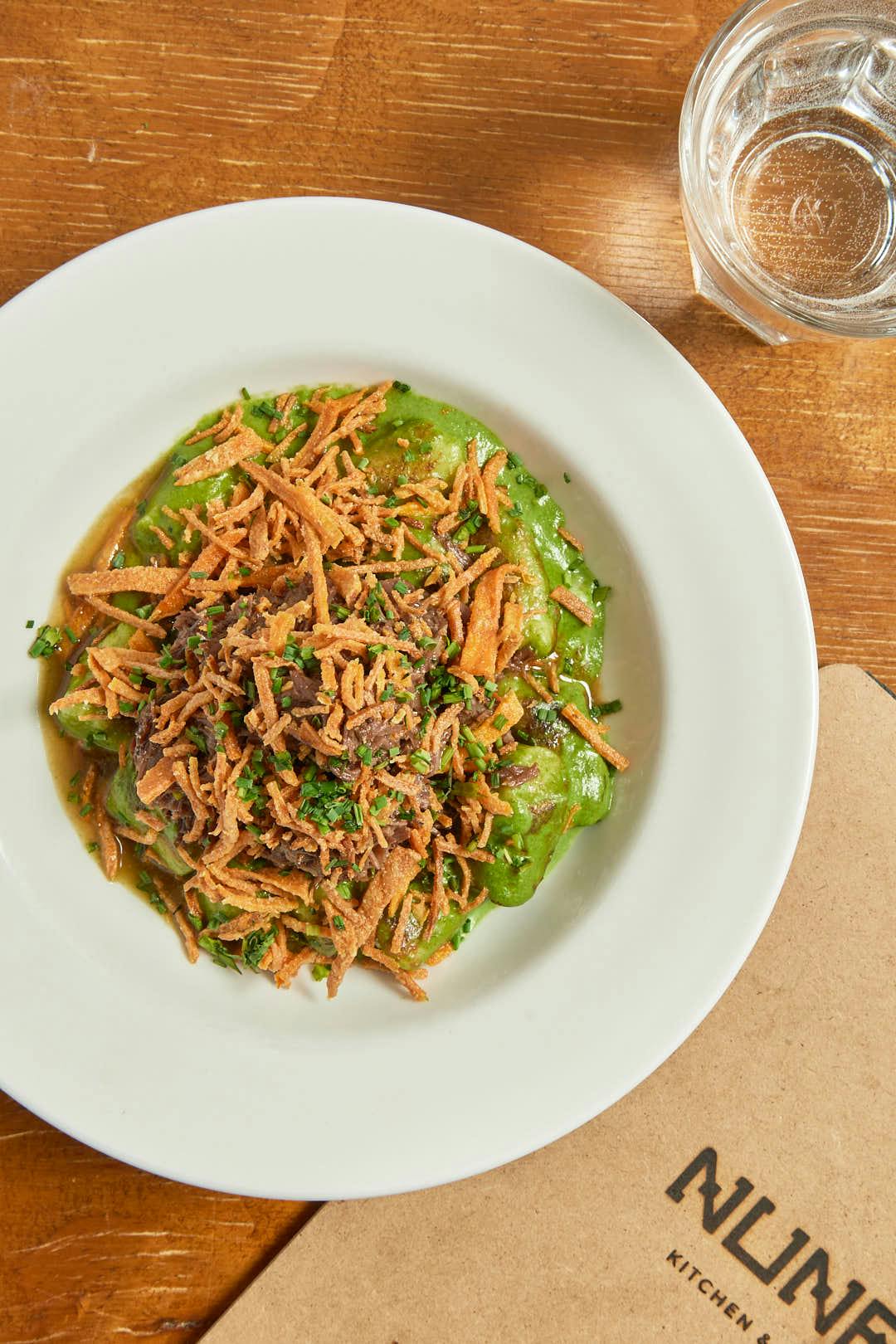 A familiar Italian dish, gnocchi at Nuna are as delicate and light as any nonna could want. Just remember, we're not in Italia. Despite the dish's Italian moniker, Gnocchi al Pesto arrives blanketed in salsa verde, a bright, aromatic Peruvian sauce made with a number of ingredients, ranging from cheese and evaporated milk, to spinach, basil and pecans. Savoury braised short rib adds undeniable warmth, while sweet potato strings are a crisp, sassy counterpoint to the dumplings' pillowy softness.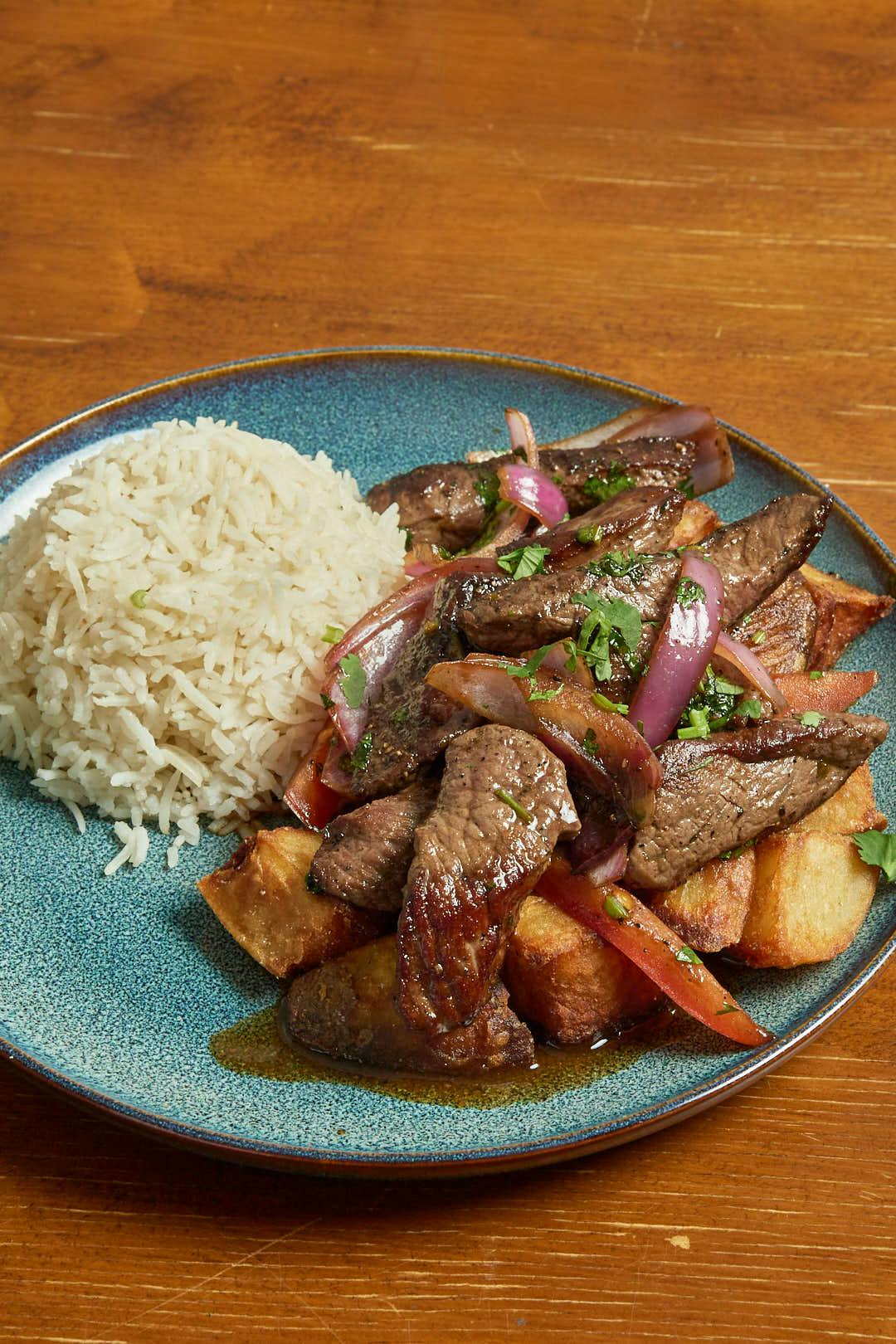 For one of his most classic dishes, Nazario hews close to tradition. Created by Chinese chefs in Peru, Lomo Saltadotakes its name from the way beef strips hop and jump as they sizzle in a fiery pan. For his elegant take, Nazario sautés AAA beef with red onions, tomatoes, and cilantro, then plates it with golden potatoes and, as is customary, with rice. Imbued with nostalgia, every morsel of this saucy staple is homey, comforting, and leaves no question as to how it rose to culinary fame.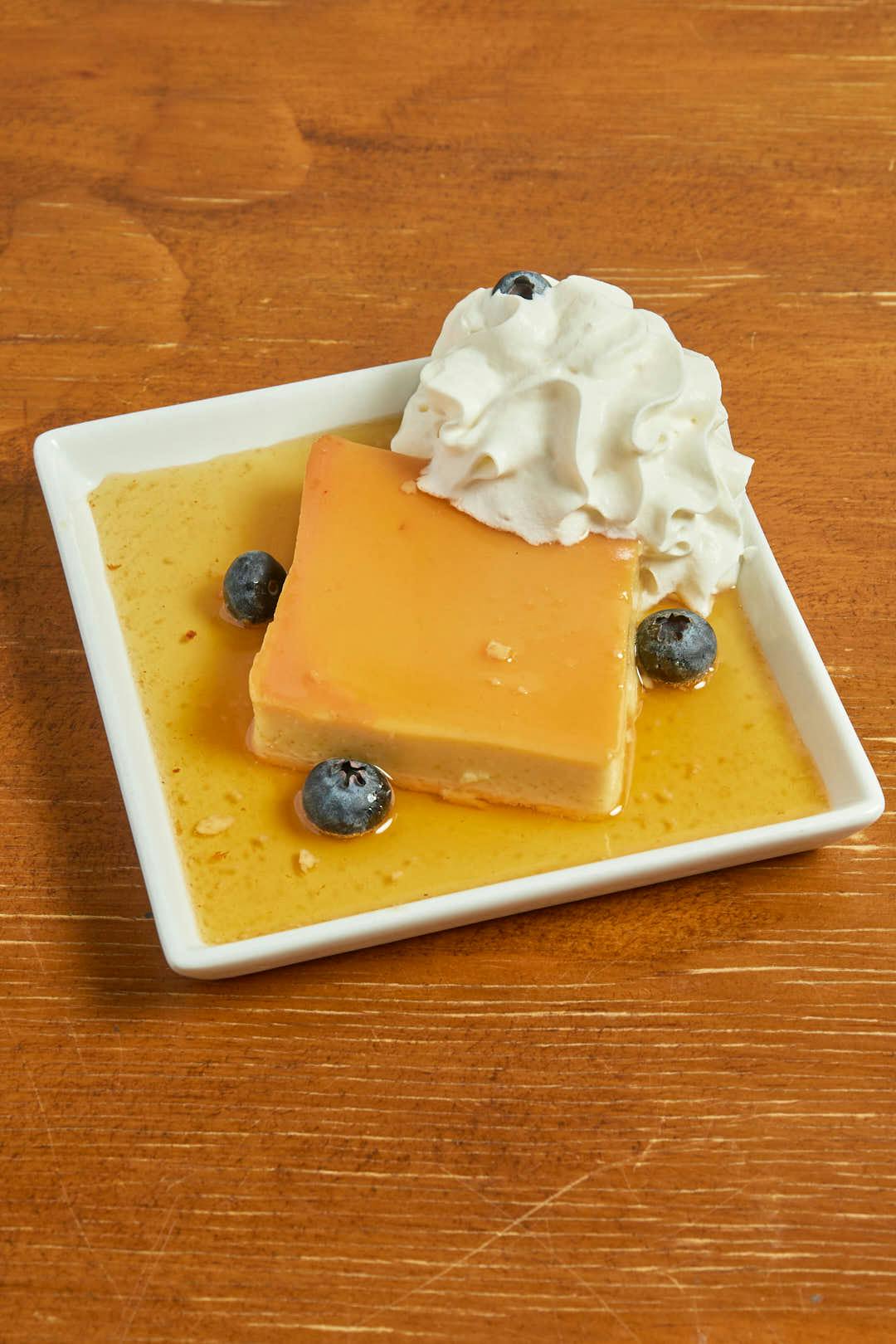 "House-made" is the key descriptor for the team's brief menu of rotating desserts. Instead of choosing one, try them all and revel in Nazario's affection for recipes guaranteed to sate your sweet tooth. Sensually silky and rich, Peruvian Flan is the best use yet for a glut of egg yolks, condensed and evaporated milks.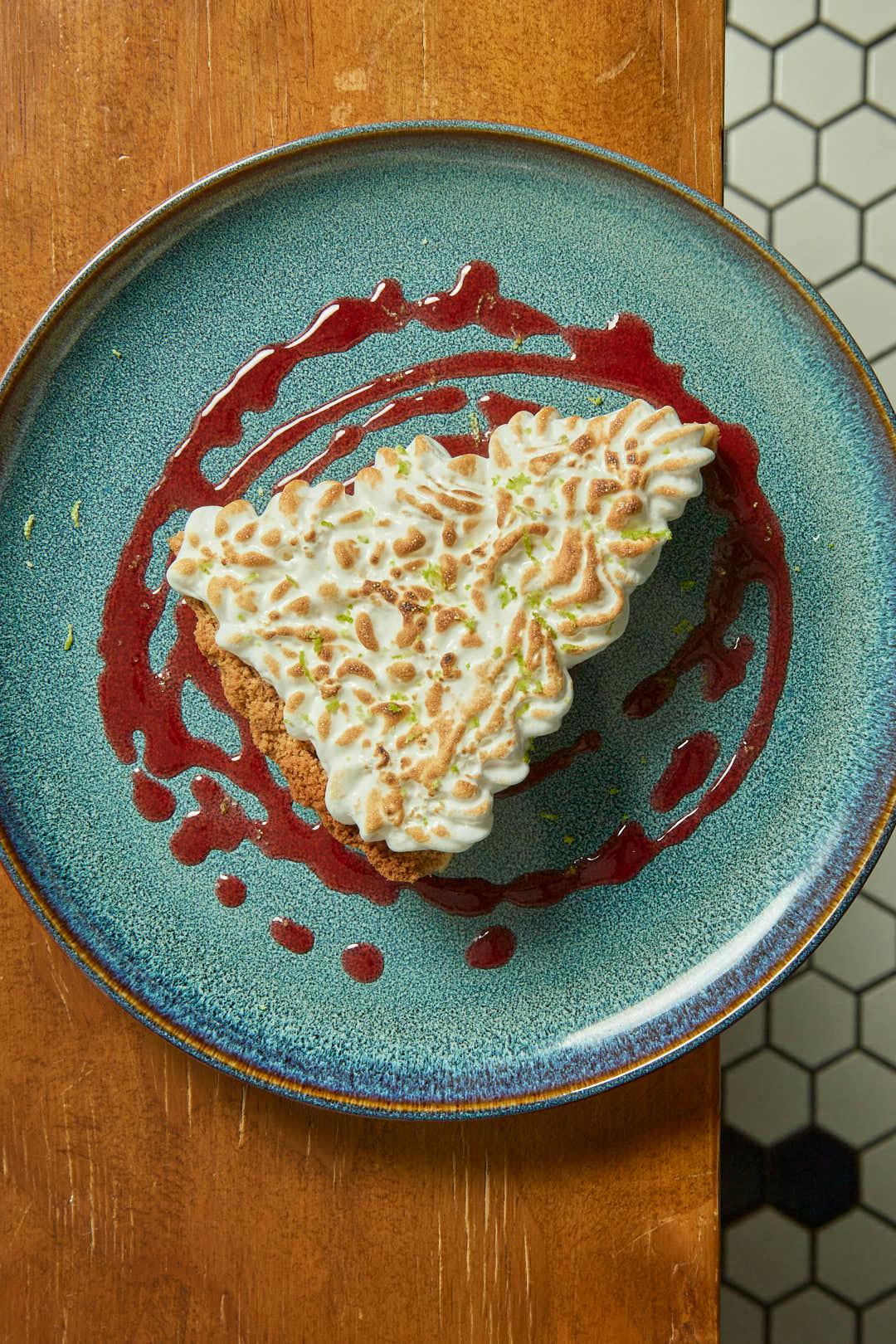 Or is it? Met with lemon pie — a cheery, tangy confection with a graham cracker base — you might decide condensed milk and citrus also make terrific bedfellows.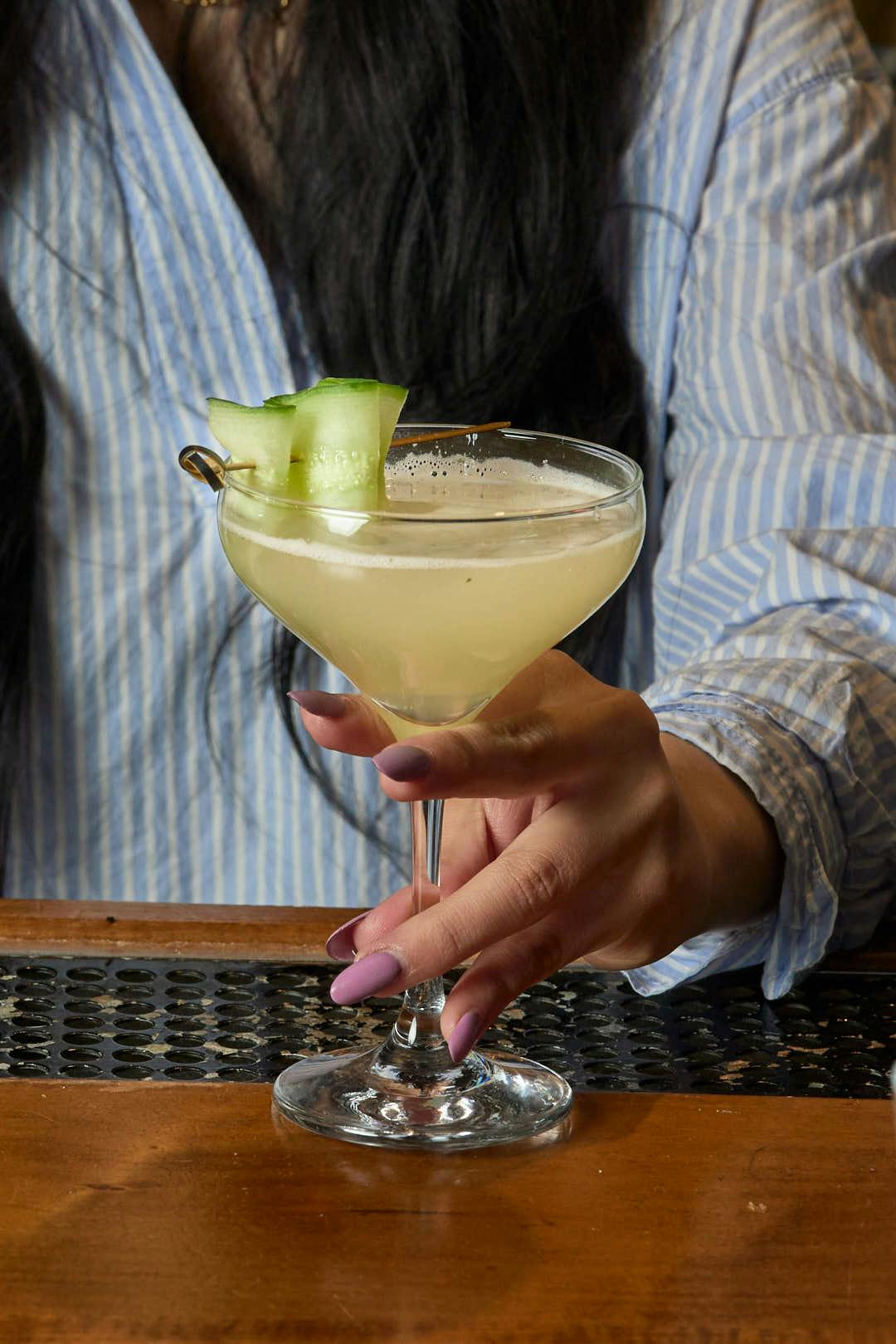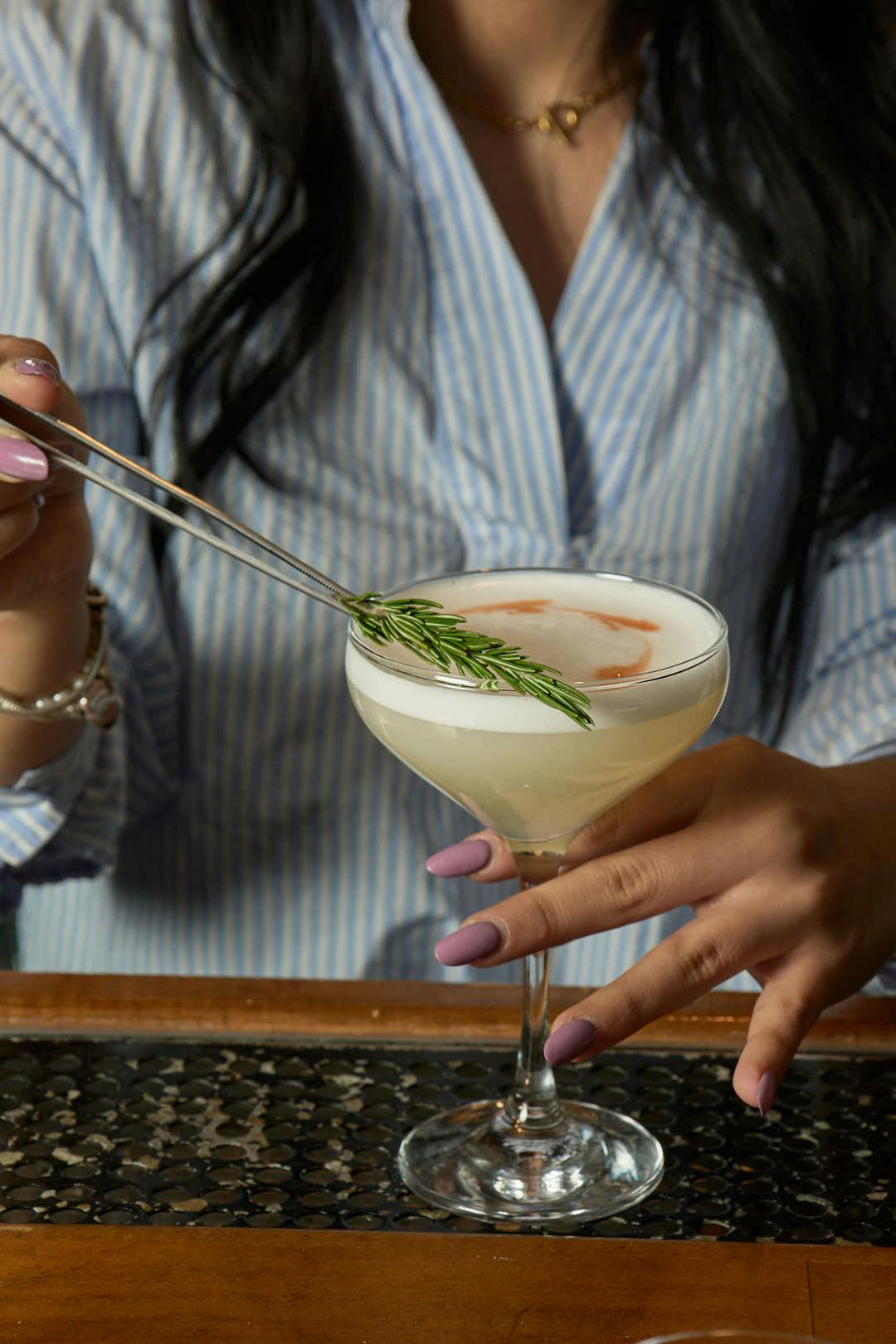 As great a source of national pride as tequila is for Mexicans, pisco is a given at any Peruvian restaurant. Here, the team only works "with Peruvian pisco," says Sansur, from a brand called Sapaq. "There's also Chilean pisco, but we don't work with the Chilean type," she adds. A pure, colourless brandy distilled from grapes, pisco provides a smooth, earthy backbone to several of the restaurant's cocktails. There's the restorative Pisco Sour, heightened with lime, angostura bitters and a downy egg white float, and the less-menacing-than-it-sounds Toxic Swim, with jalapeño-infused cucumber syrup, and mint. Also on tap is a drink that's as beloved and ubiquitous in Peru as lemonade is here on hot summer days. A heady infusion of purple corn, cinnamon, cloves, and pineapple, Nuna's chicha morada is equally delicious, served straight or pisco-spiked. Creative spins on tried-and-true cocktails make up the "signature" section of the drink card, while a number of old-world wines and a tidy selection of beers round out the offerings.
Whether you're well-versed in Peruvian gastronomy or can't tell causas from chaufa, Nuna Kitchen & Bar is a stellar spot for a meal that's equal parts casual and refined. Connoisseurs will find delectable takes on classics, while everyone else will simply enjoy the adventure. Nuna may not hit you over the head with its identity, but when you leave craving pisco, ají panca pepper sauce, tiradito and other Peruvian staples, you'll realize things are going exactly as Nazario and Sansur planned.