When you settle on the name REIGN (in all caps, no less) for your reincarnated restaurant, bar and bakery, you accept the gravitas and grandeur that come with the moniker. You command them, even. At REIGN, which opened in 2019 at Fairmont Royal York to celebrate the hotel's 90th year, the mood is stately, the look is sophisticated, and the food is a tastefully prepared celebration of Canada's bounty, modernized for refined palates.
As grand hotels go, Fairmont Royal York is, without question, one of Toronto's most storied. A landmark that has stood fast as the city busied around it, the Royal York has hosted royalty -- actual and of the celebrity kind -- was at one time the largest hotel in the British Empire, has appeared in movies and TV shows, and has served as a focal point for the city's social scene. It's easy to understand, then, that its primary eatery can't be anything less than exceptional.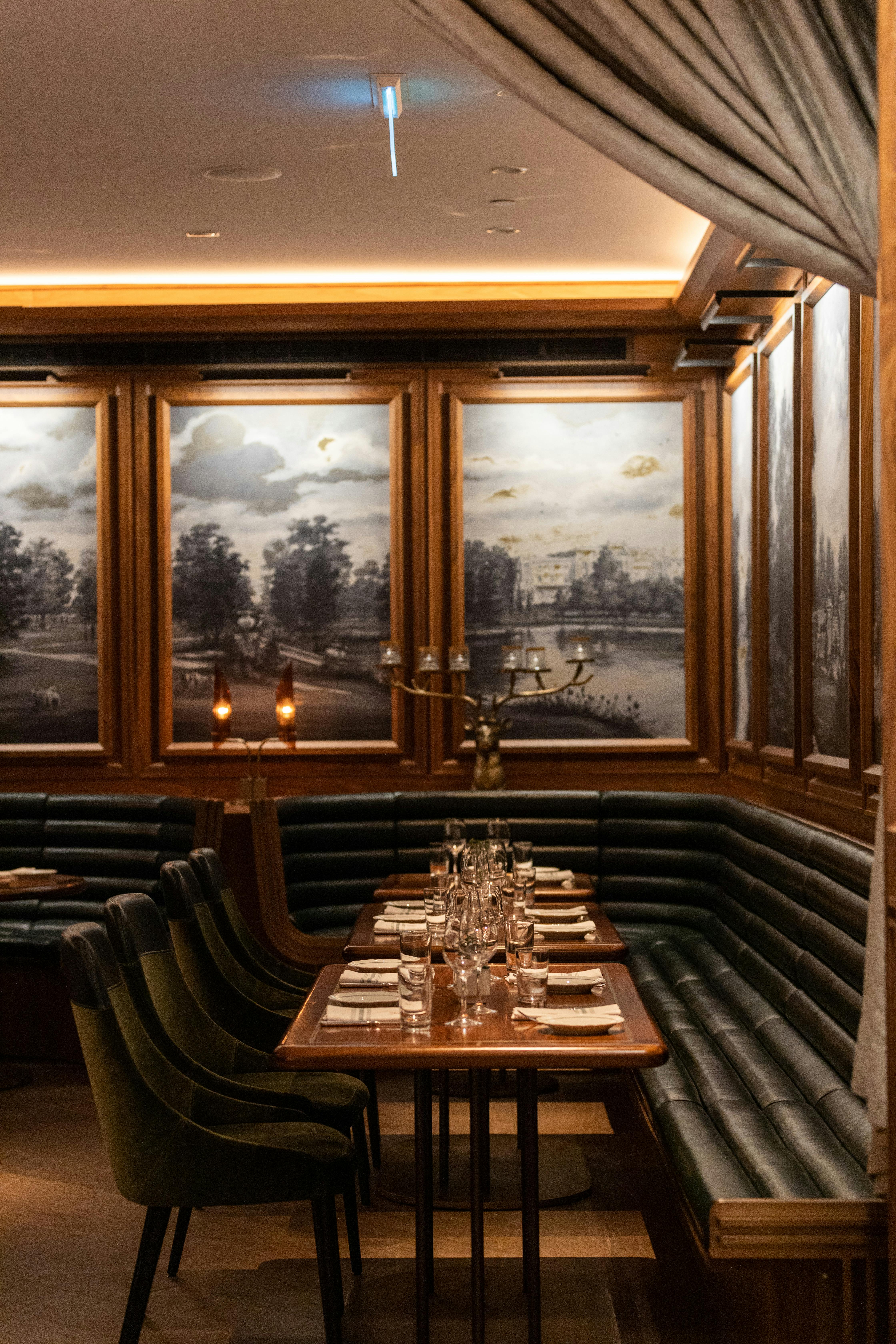 At REIGN, guests are invited to explore three separate dining areas — a bar, bakery and restaurant — that cater to their whims from sunrise to sundown. Adjacent to the hotel's lobby, REIGN manages to feel removed thanks to bold tones and design elements that create individualized spaces. For the project, which included a revamp of the hotel lobby, New York-based Rockwell Group took inspiration from nearby Union Station, as well as the site's significant history. The result is stylish, not stodgy: think a Smythe-clad Duchess of Cambridge rather than the pastel-robed reigning royal.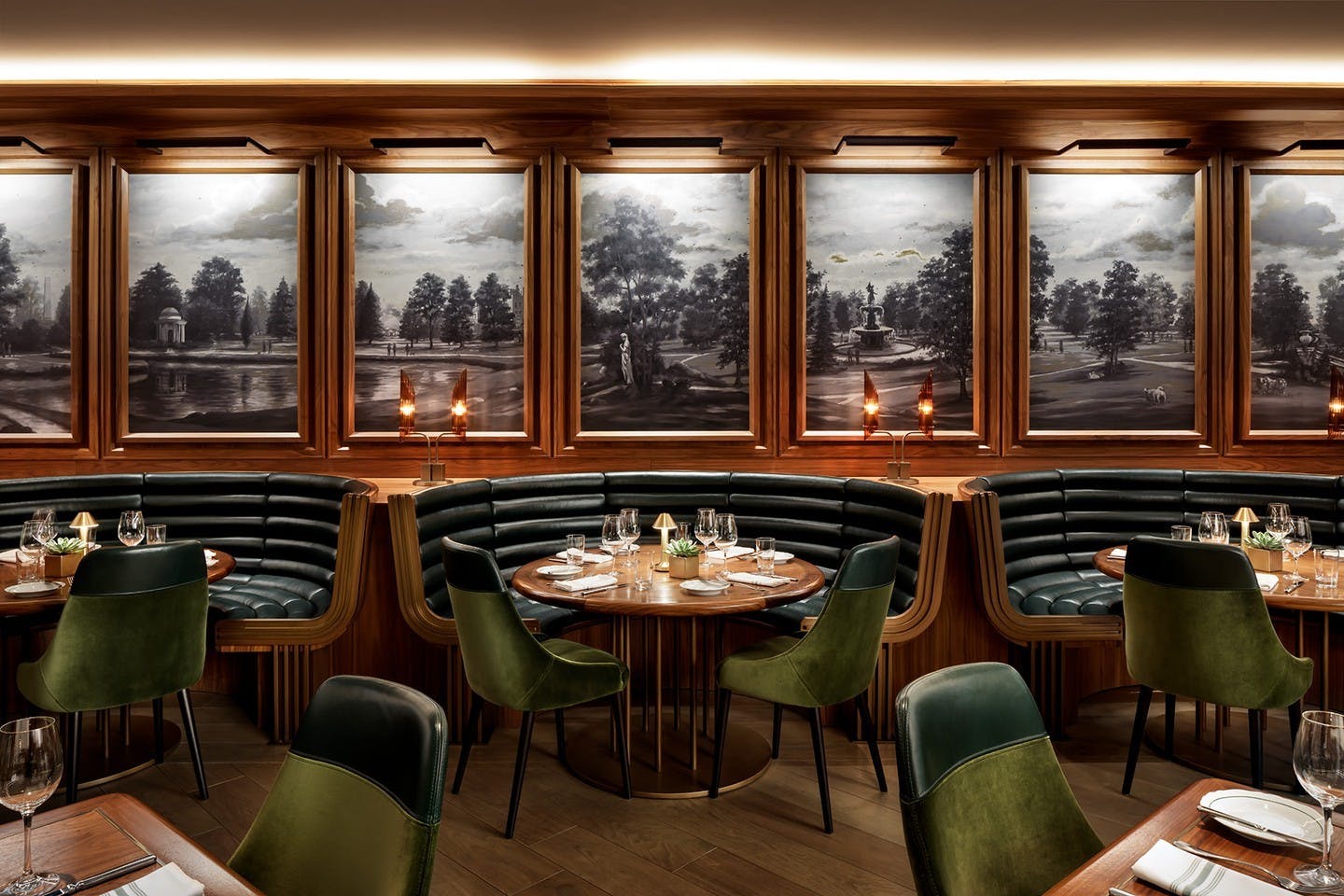 With its coffered walnut ceiling, fireplace, imported grand piano and glinting wall of top-shelf tipples, stepping into the dignified bar space feels like losing oneself in an English country manor. It's a place where suits and swish sorts nibble on light bites, seven days a week. In their hands? Goblets of premium wines or innovative cocktails created by Royal York director of beverage, Rus Yessenov. An extension of the lounge, the café beckons early-risers with fresh-baked pastries and artisan-roasted coffee.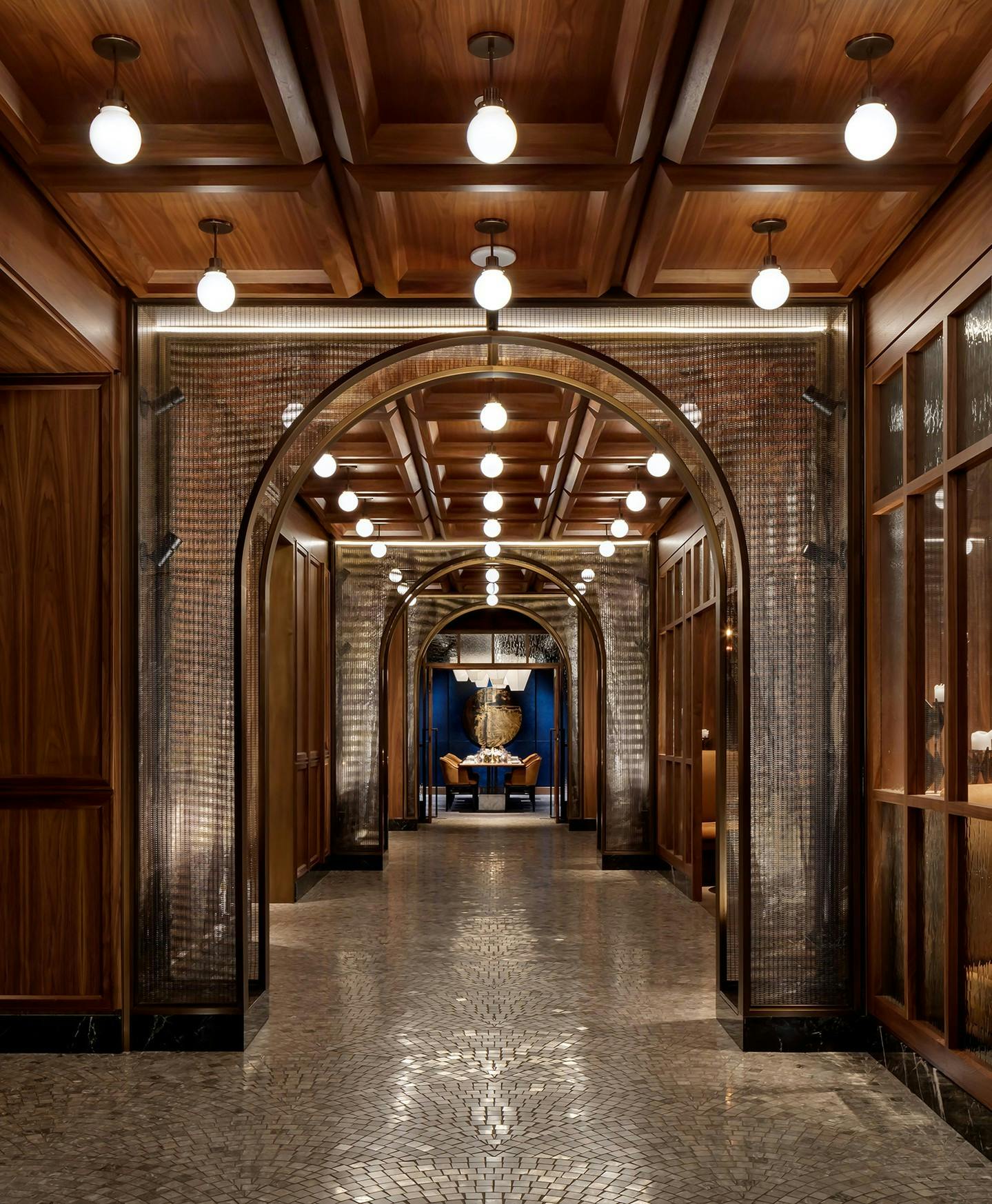 Leaving the clamour of the city behind, guests pass through a luminous series of archways into the main restaurant. Modern and manicured, the space calls to mind a refined mansion, where marble and mosaics, warm wood and leather, hand-crafted fixtures and works of art fit together in a dramatic, enchanting way. Inside, REIGN is divided into four distinct areas: two in the main dining room, the Royal Room and the Manor Room. Accented in royal blue and earthy greens, respectively, each private room is the ideal spot for an intimate celebration or small meeting.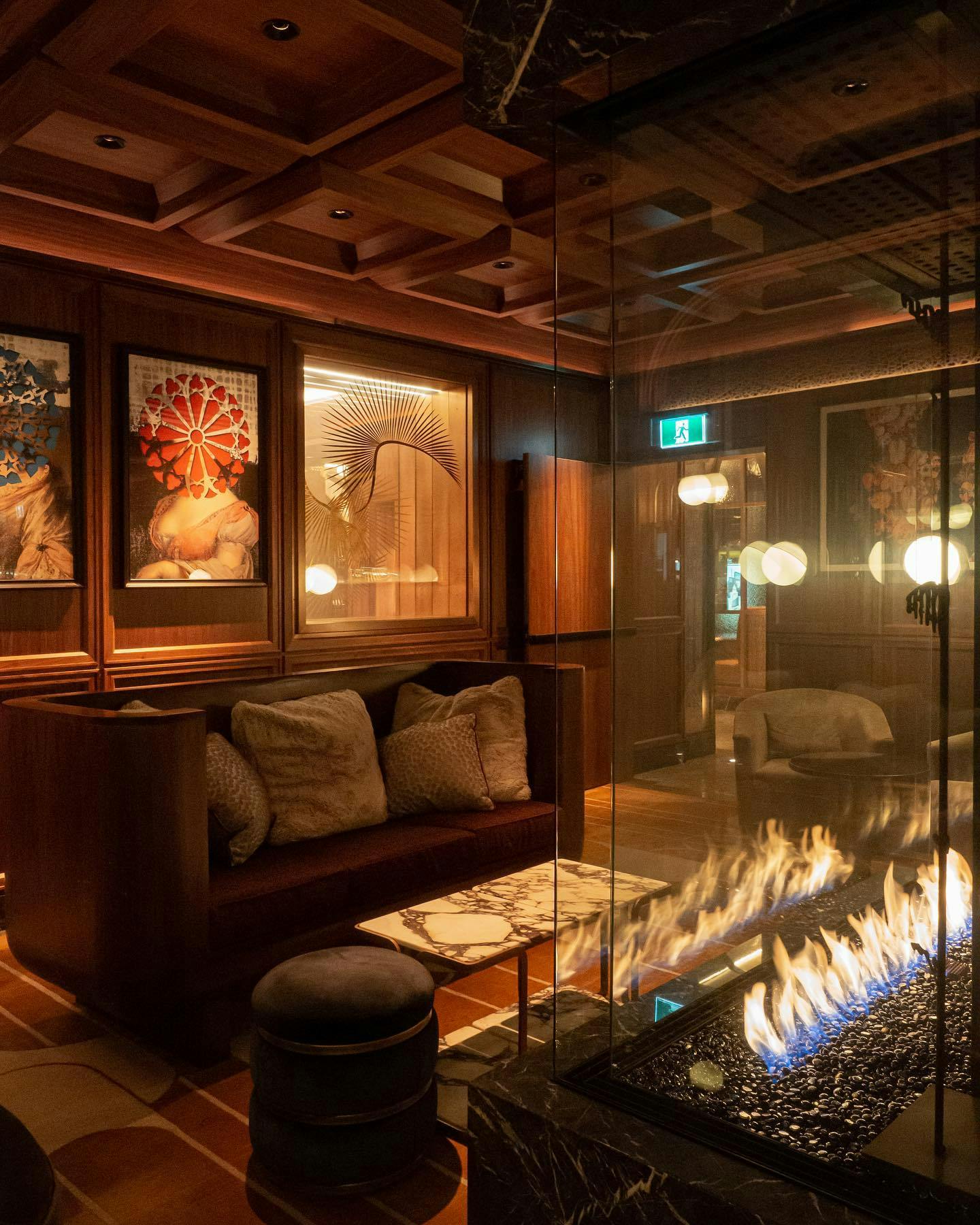 With seating for 100 guests, the restaurant is large enough to host REIGN's lavish Sunday Brunch, with enough snug spots for those seeking privacy from prying eyes. At every meal, the menu features the finest Canadian ingredients treated with modern techniques and a soupçon of French flair. "The concept of REIGN is farm-to-table and local," says hotel executive chef JW Foster. "We know that Ontario has amazing produce, and livestock, as well as everything that we have right here. It's important for us to showcase that." To prove his point, the day's menus are peppered with ingredients sourced from local suppliers; from Murray's Farm, and Petite Thuet to Wagener's Meat Products, and the hotel's own rooftop garden, where a population of half a million bees make honey for use on restaurant and banquet menus. In addition, the chefs aim to highlight seasonal bounty, beyond our provincial borders. Dishes transport diners from one Canadian coastline to the other, to deliver "a culinary expression of our country, in the heart of Canada's downtown." For REIGN executive chef Jon Turner, the idea is "to take bits and pieces of Canada and be able to showcase that in the restaurant. A lot of our guests here, who stay in the hotel, are not always from Toronto, or even Canada. At the restaurant, they have the opportunity to experience these rich ingredients that we have to offer."
Boasting the type of extravagance we all crave as we reacquaint ourselves with the world, REIGN's Sunday Brunch is as gorgeous as the Crown Jewels. It's the type of event you plan for, preen for, and linger over, thrilling at the atmosphere, the perfect bites, the impeccable service and the sheer bliss of the moment. To begin, diners are invited to enjoy a giddy array of cold goodies, breathtakingly laid out on tables around the room. Though pros know not to fill up on cereal and salad, those are on offer, along with a host of luxe items sourced from across the country. From crowded bowls of glistening, rainbow-hued fruit to local charcuterie and cheese, ice-cold marvels of the sea, charming, bite-sized sweets by pastry chef Steven Tran, and more, you're guaranteed a moment of pause as you riddle out how to properly build your plate.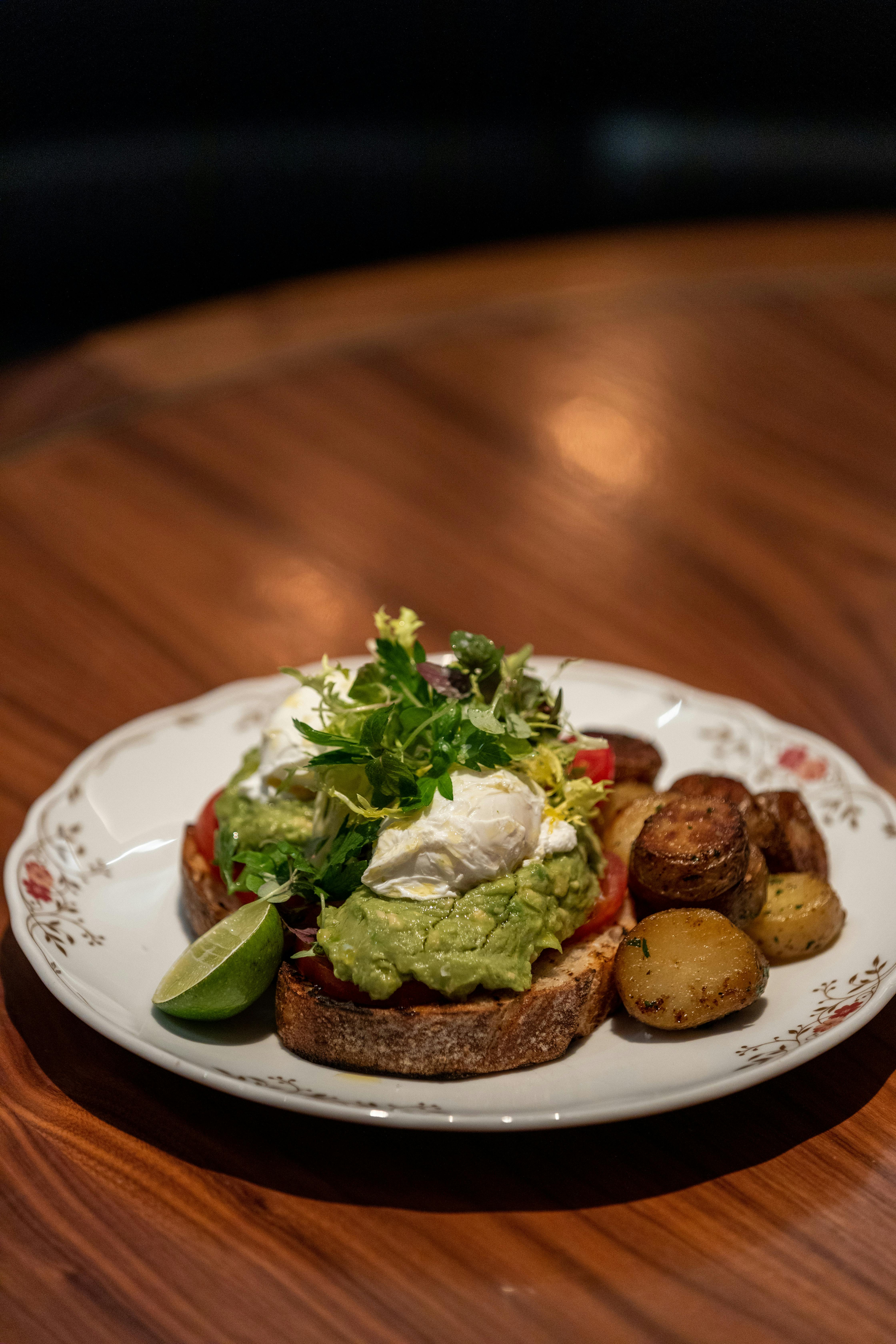 Designed by Turner, brunch includes the cold buffet along with a choice of hot à la carte dishes, from classic crowd favourites to inspired temptations. Since a 21st-century brunch is not brunch without Avocado Toast, the team at REIGN ensures nobody need fear disappointment. Here, the ubiquitous dish is constructed on Petit Thuet sourdough and sliced heirloom tomato. These are topped with a heaping pillow of seasoned avocado upon which rests a farm-fresh, poached egg. Plush and picture-perfect, it's a hearty, high-class way to break the day's fast.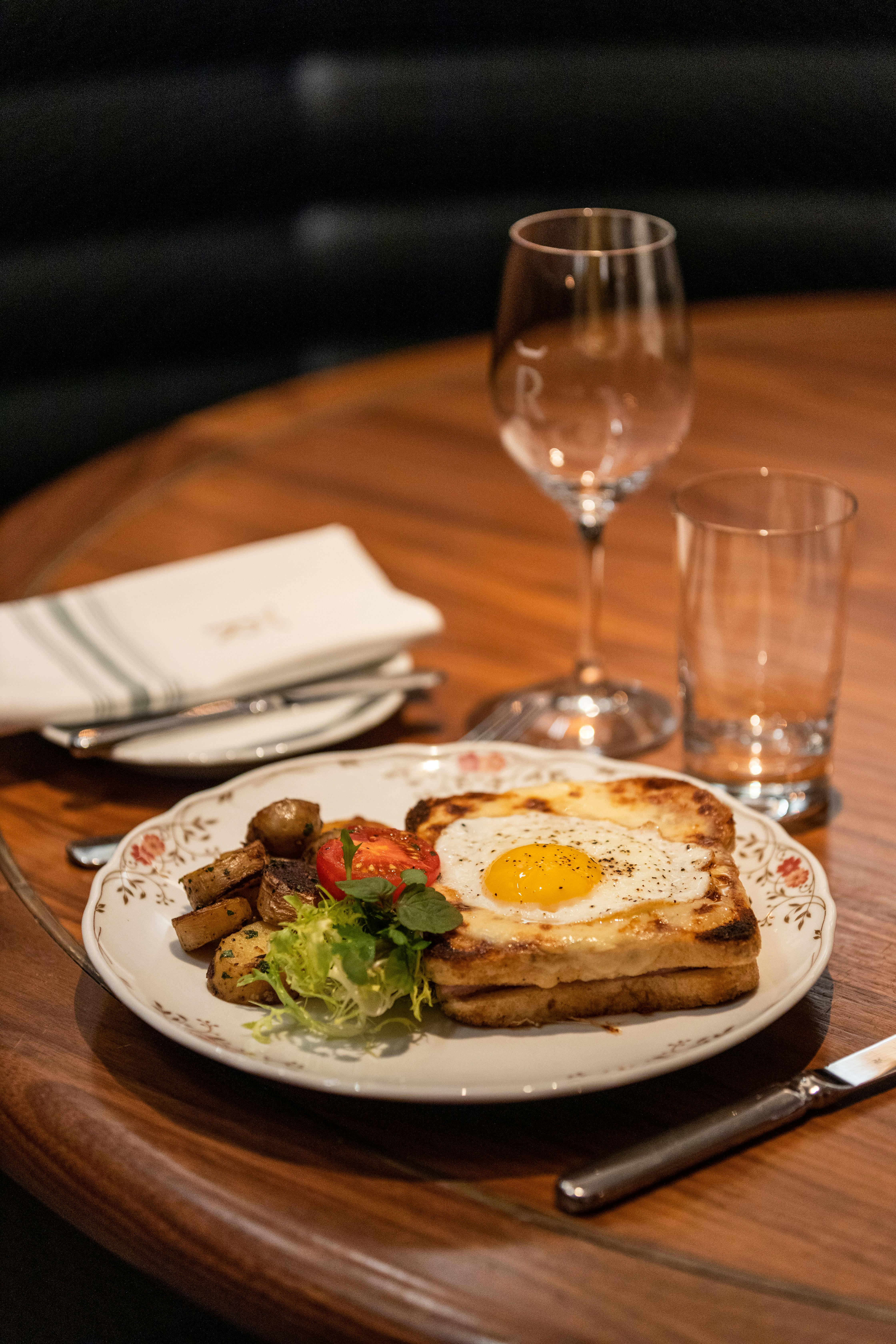 Also toast-forward is the Croque Madame, with brioche, Gruyère, smoked ham, and a sunny-side egg. Pulling from chef Turner's background in French cuisine, the dish is prepared in a more traditional way than most. Béchamel is more common but crusting the bread with milk-soaked cheese then baking it until its topping soaks in, oozes, caramelizes and entices, is the way Turner was taught to make it, and the way you'll want your Croque Madame from now on. Put simply, the dish is as seductive as food can aspire to be.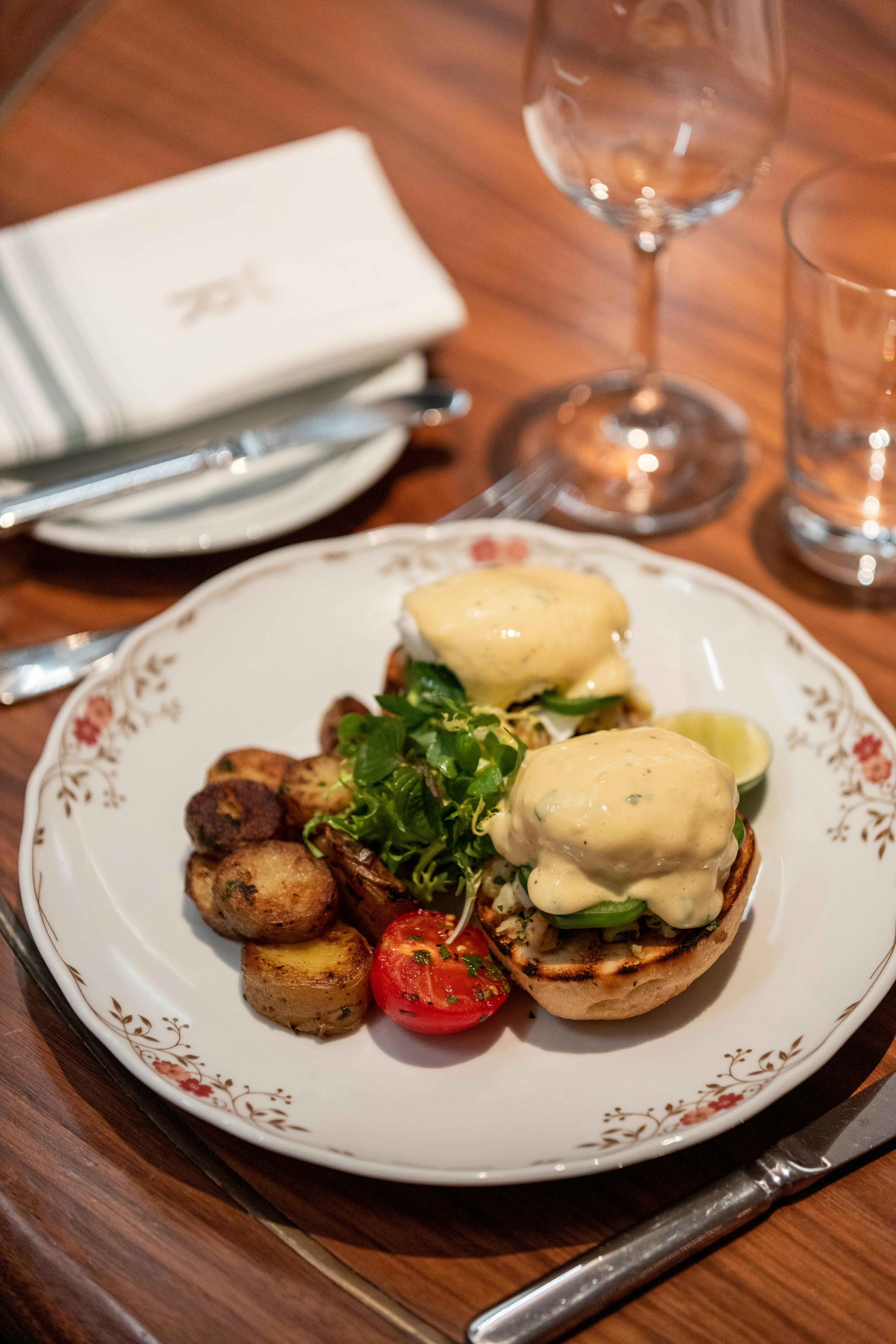 A quartet of Benedict dishes ensures there's one for every taste. Choose the classic, or options topped with house-smoked trout, prime rib or Fogo Island shrimp. The latter, finds small, sweet East-Coast shrimp, chilled, marinated and set atop an English muffin, under citrus hollandaise and a poached egg. Not only is the dish bright, and unexpected, it's also a perfect example of the kitchen's keenness to support small suppliers.
With peameal bacon, local English bangers, organic eggs, house potatoes and toast, the Farmhouse Breakfast is for purists who crave tradition. The type of breakfast one imagines sustaining Downton Abbey-type nobles, the plate is an exceptional expression of local ingredients treated simply by an expert team.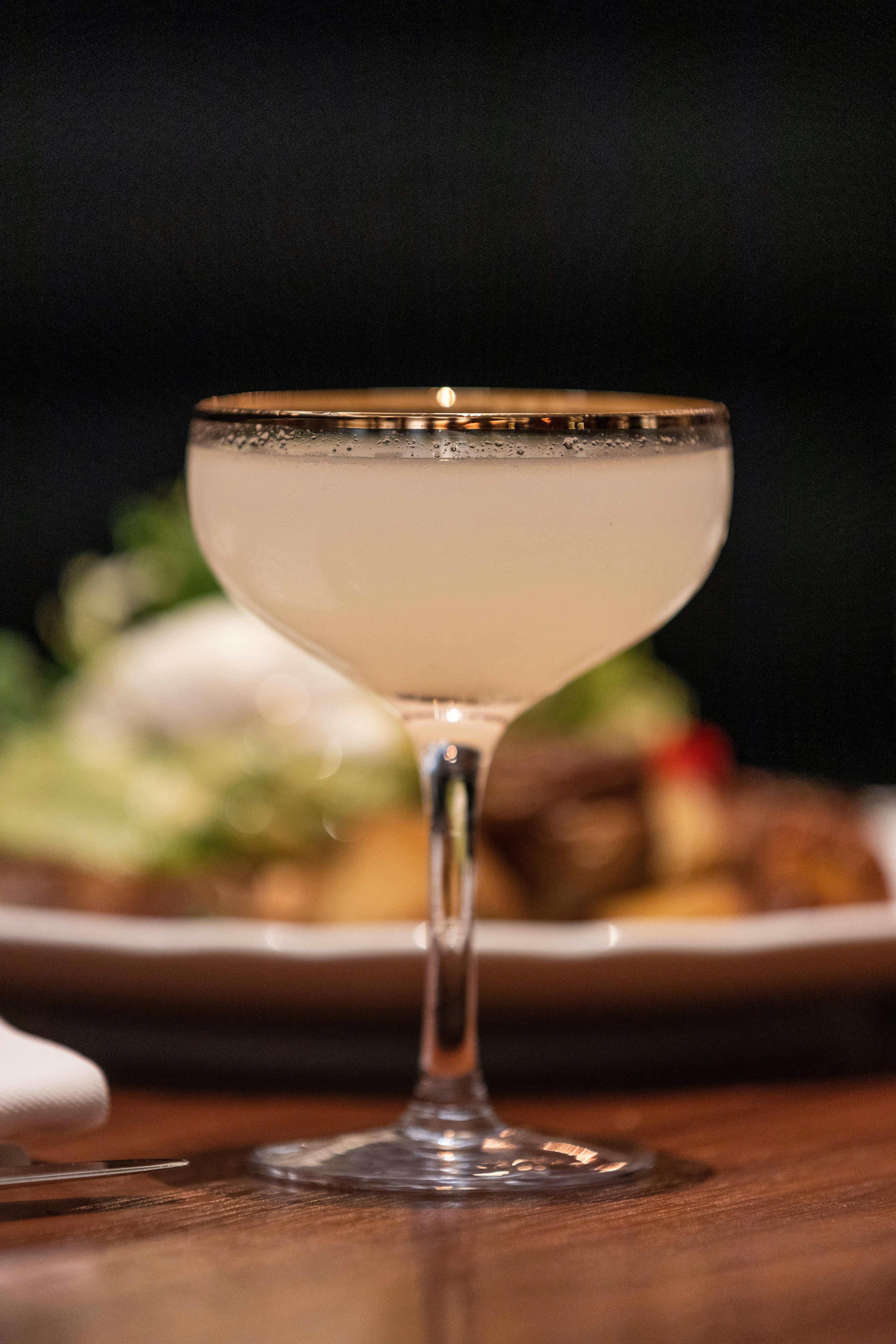 At REIGN, inspired swaps elevate a menu of cocktails that lean on classic recipes. Brunch-time tipples are a lively bunch of "approachable, lighter cocktails," says director of beverage Yessenov, each intended to complement the kitchen's efforts. A Yuzu Breakfast Martini relies on yuzu marmalade, in place of orange, for a sharper, more vivid refresher than the classic breakfast martini.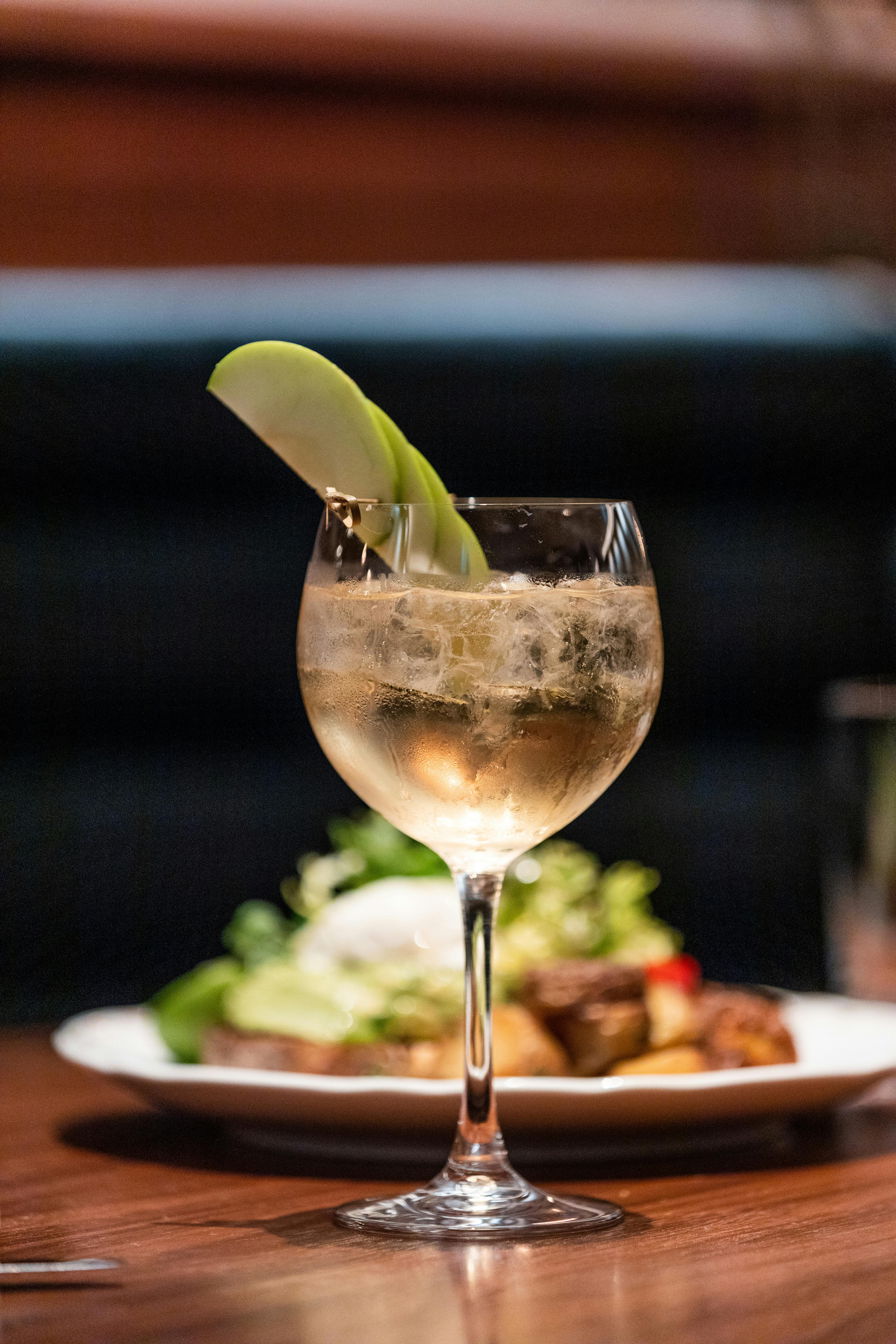 For its Normandy Sangria, the team takes inspiration from France's famed apple region. With Calvados and apple cider mixed with white wine, Cointreau and star anise, this sangria is as tart and fresh as biting into an apple plucked directly from a tree. The spot's "highest-selling cocktail," according to Yessenov, the orange or grapefruit mimosa is light on juice, meaning bubbles are the star. Opt for Prosecco or Champagne, based on how flush you're feeling.
Available for the month of June, the team's Pride month feature is a riff on an Aperol Spritz, mixed with extra Amaro, spent citrus cordial and dried rose bud, for colour. With a portion of proceeds from every Venetian Spritz going to Black-CAP, a local NPO, this is the low-intervention bevvie you'll want at your side for each and every toast your inspired to give.
Visit any day of the week, at any time, and you'll find a collection of dishes at REIGN each imbued with a European sensibility and created from a triumphant array of Canadian ingredients. "The craftsmanship -- between the skilled culinary team that we have here and the products we're able to get from across Canada -- make the spot unique," says Foster.
As for Fairmont Royal York? The hotel is, "part of the fabric of the city. ... Everybody has a story or a feeling that has something to do with the hotel," adds Foster. "We all want to escape and when you come into these grand hotels, you get that for a moment." Whether you spend an evening, a quiet Sunday morning, or an entire weekend visiting Fairmont Royal York and dining at REIGN, you'll feel as though you've been whisked away to another time. It's an easy feeling to get used to, and one you'll want to experience again and again.