Due to recent restrictions and a rapidly changing climate, please check with the restaurant on their current status of operation.
Photographs by Larry Heng
Since closing their doors last Christmas Eve, Rosalinda, one of the city's most acclaimed restaurants for plant-based cuisine, has finally reopened, and they are serving up a completely revamped Latin-inspired menu.
Founded in 2018 by Toronto restaurateur Max Rimaldi (Pizzeria Libretto and Enoteca Sociale), the original concept behind Rosalinda focused on vegan Mexican cuisine, but to better speak to the masses, the menu now reflects an all-encompassing Latin flair, with takes on popular dishes like nachos and birria tacos.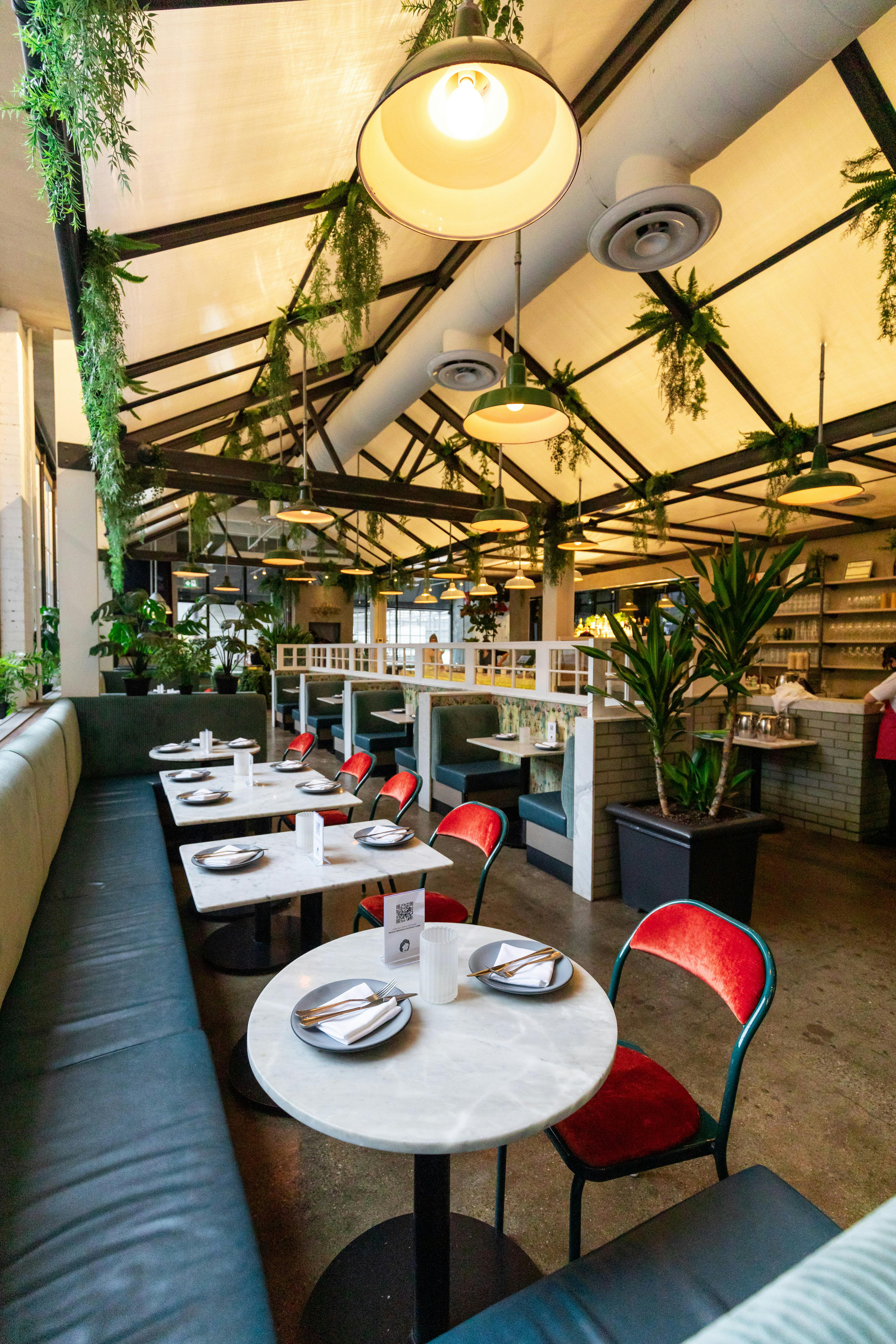 From the outside, Rosalinda may appear small to the unassuming eye, but once inside, the space opens up into a bright and airy oasis filled with greenery, hand-selected vintage decor and a number of different seating areas. The interior was imagined with the help of Bent Gable Design, who brought the eclectic, yet calming vibe to life.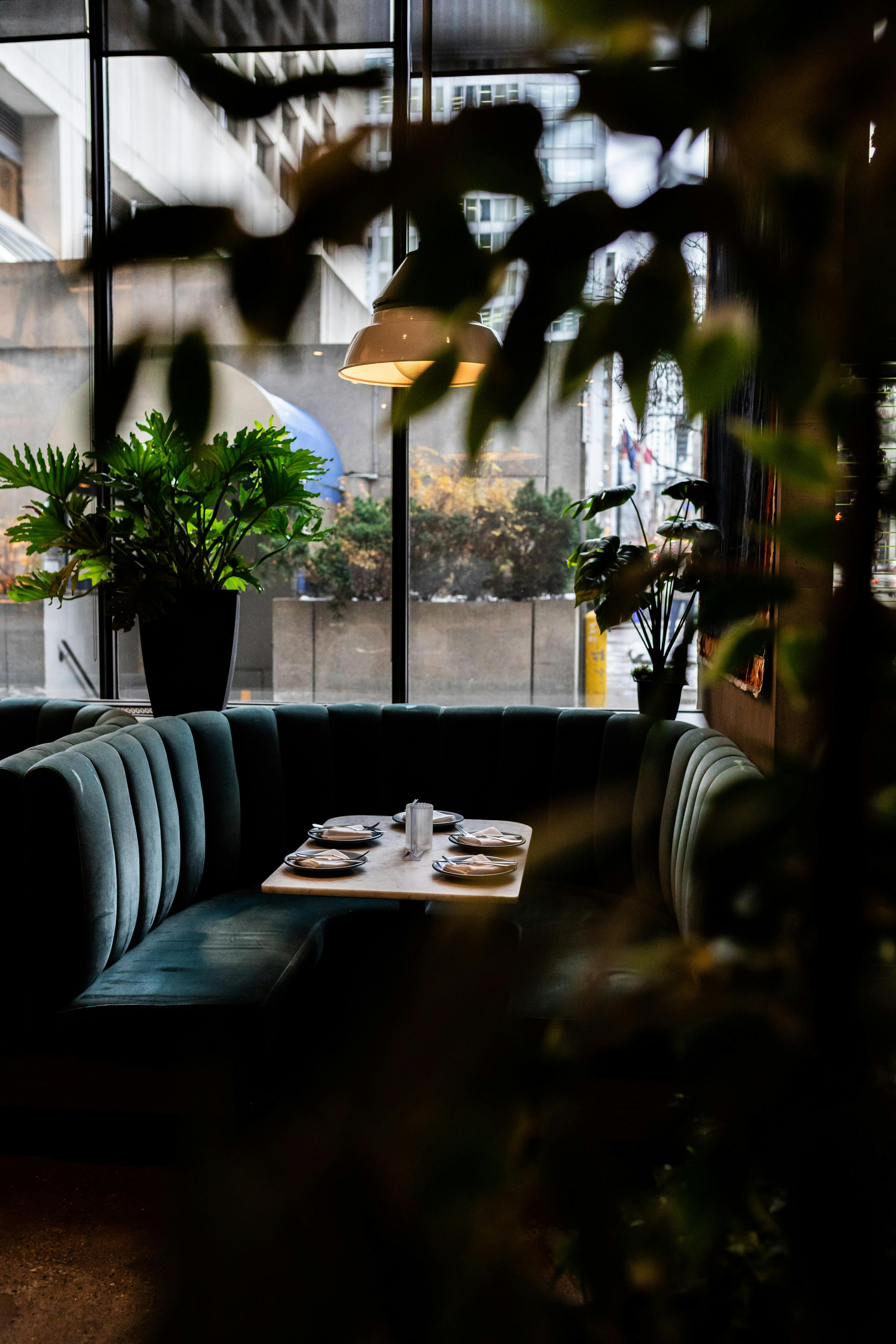 It's fitting that a spot serving up plant-based cuisine would feature plants to match and that they do. Gorgeous plants hang from the large greenhouse-like frame that anchors the centre of the room, and ferns beautifully line the windows and banquettes. A family-style dining table for larger groups is directed toward the back and features a stunning medieval-style grand chandelier. The other light fixtures have been hand-selected and complement the pops of colour on the walls and the seating, particularly of the plush banquettes.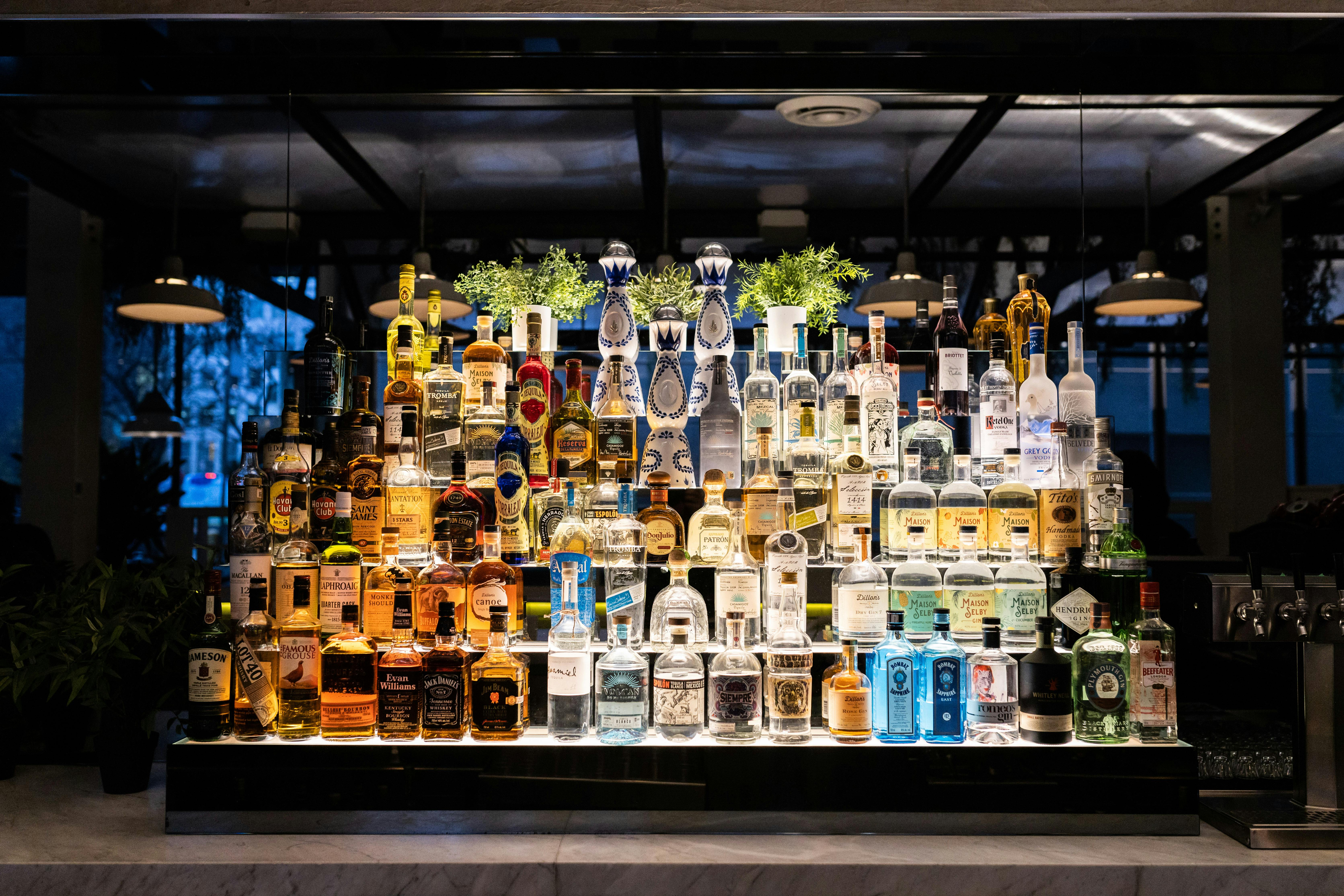 Chef Miheer Shete (of Oliver & Bonacini) and chef Esau Garciarramos have recently come on board to help spearhead the new menu while considering the restaurant's overarching concept. With chef Garciarramos being from Mexico, there is still a heavy Mexican influence, but with notes from other Latin American countries thrown into the mix. Some fan favourites from the past menu -- like the Rosa burger and the Eggplant -- remain, but they have been reimagined with a different presentation.
Shete says, "One of our big focuses when creating this menu was making sure we didn't use a lot of substitutions. A lot of vegan food has a lot of chemicals that make the food unhealthy, so we're sticking to plant, and vegetable-driven food without mimicking anything. We don't want to add too much; we want the flavours of the natural ingredients to speak for itself."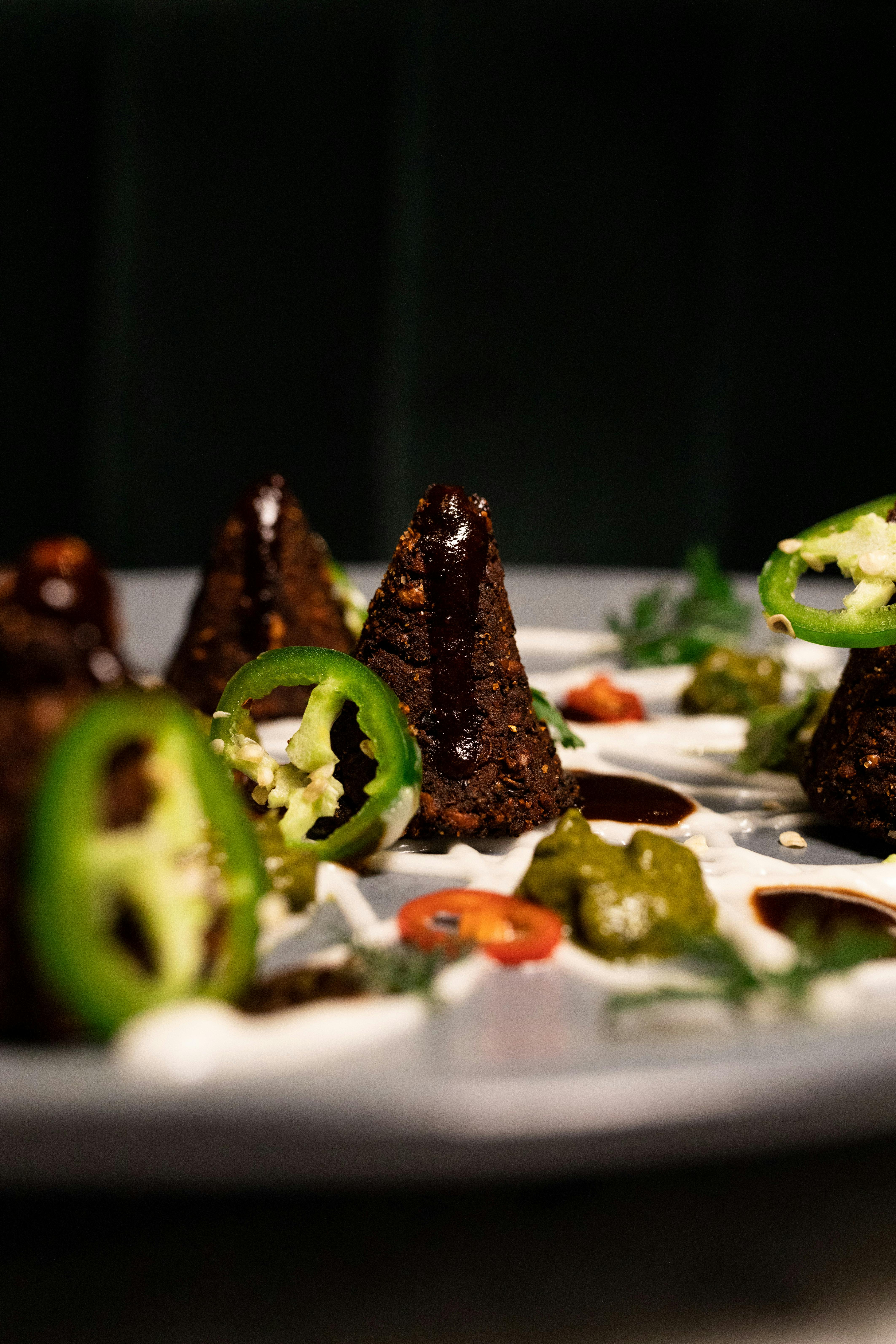 The goal was to ensure the menu would be accessible for everyone, not only those who eat vegan. The payoff for these chefs is so satisfying when their diners don't miss the meat, and they enjoy the food at face value, for what it is. By using local produce (from suppliers including 100km Foods, Tamarack Farms and The New Farm) and sticking to seasonal items, the team has successfully built a menu featuring Latin American ingredients to create a well-rounded, diverse and delicious menu.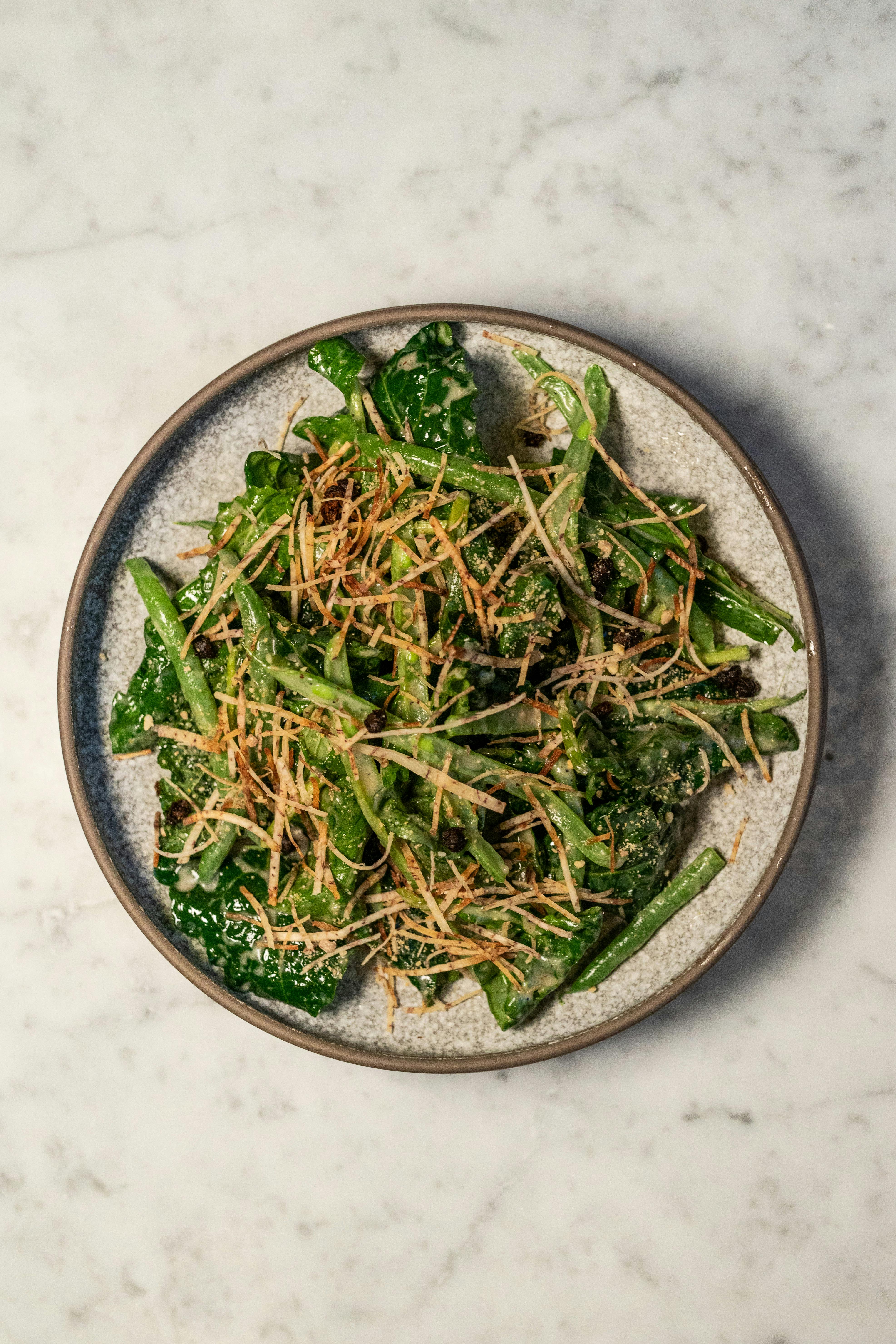 To start is the Kale & Rocket Caesar, with produce supplied by We The Roots, an indoor vertical farm based out of Toronto. When the lettuce is purchased, it comes on the root, which is cut to order. Pungent and powerful, the flavours of the kale and arugula leaves speak for themselves. The salad is kept clean and simple, with a 'Caesar'd' dressing (made from garlic, lemon juice, oil and a secret spice blend), blanched green beans for a fresh crunch and shaved taro root garnish.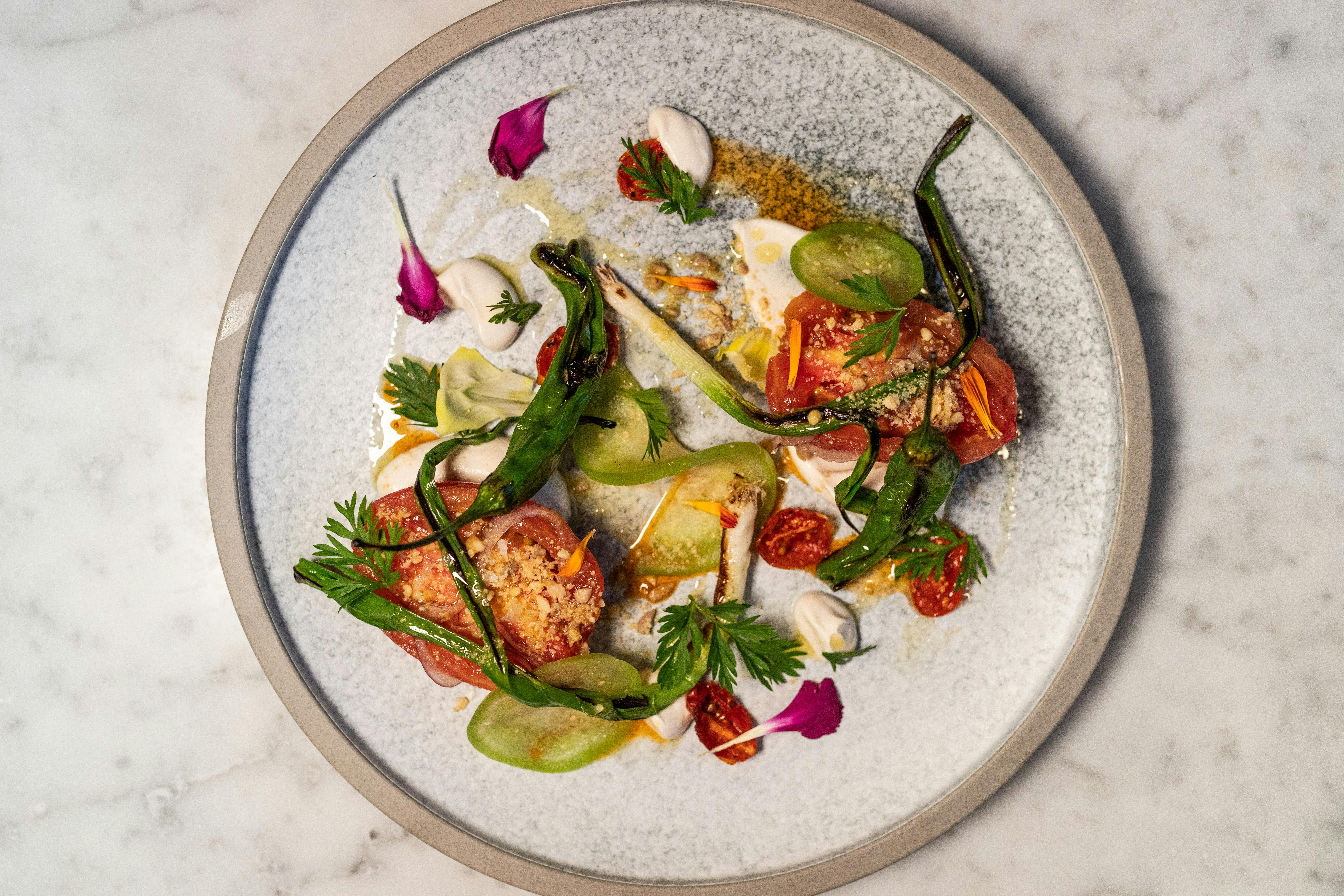 The idea behind the Fresh and Cured Tomatoes and Shishito Pepper Salad came about in the warmer months when tomatoes were in peak season. To keep the brightness of the tomatoes, the team blanches and cures them in the dehydrator for 45 minutes, which intensifies their flavour profile. Garnished with olive oil, garlic, charred shishito peppers, green onions and a cashew crema (cashews, lemon juice, water and salt), this dish is gluten-free and hits all the notes of a summer salad.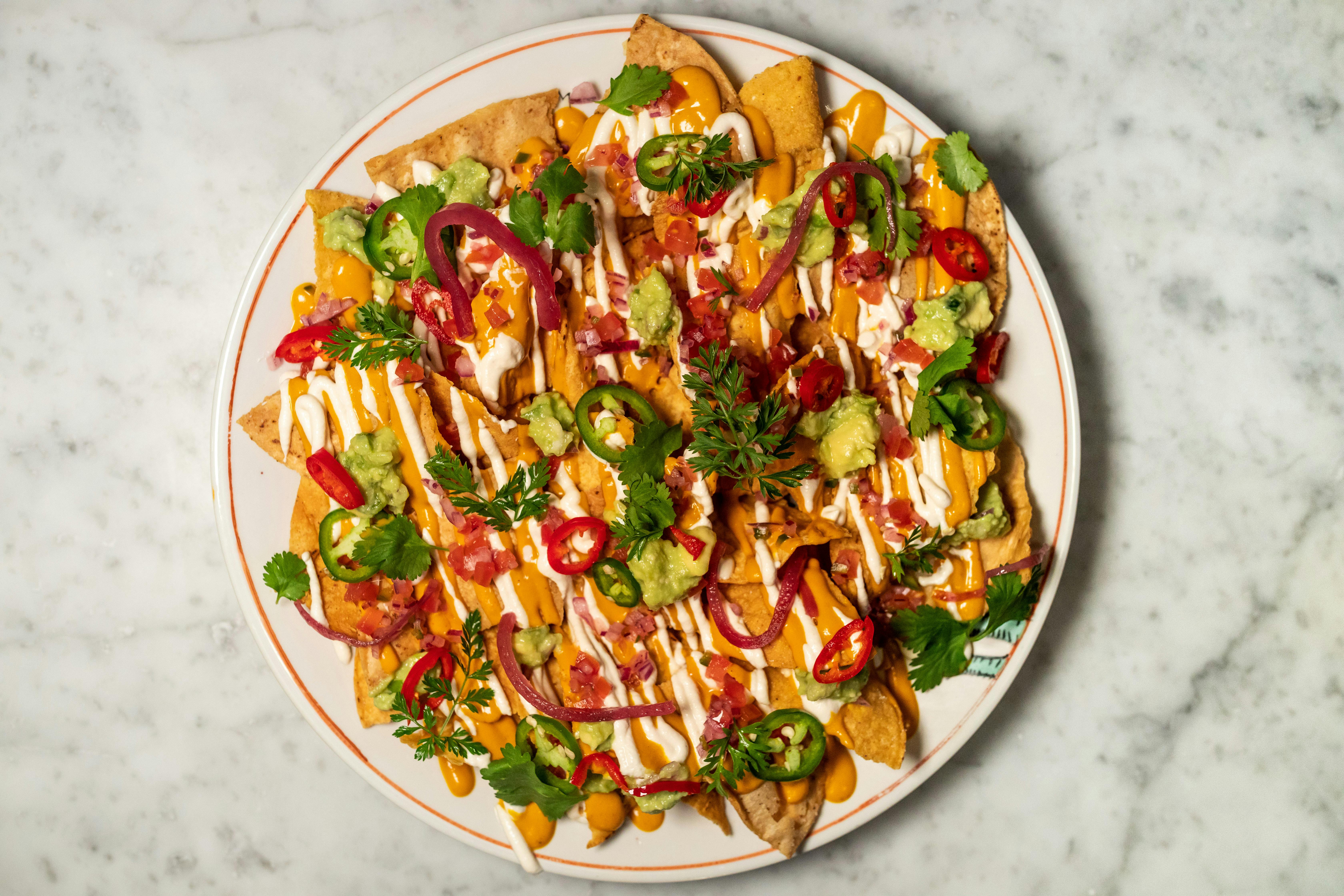 Quickly becoming one of the more popular items on the menu are the Rosa's Nachos, loaded with Maizal tortillas, fresh avocado, butternut queso, cashew crema and pico de gallo. The chips are made every day using tortillas from a local supplier, and though the squash queso and cashew crema are similar to the texture of cheese and sour cream, the nacho toppings hit the sweet, savoury and spicy notes, which makes this dish all the more interesting to eat.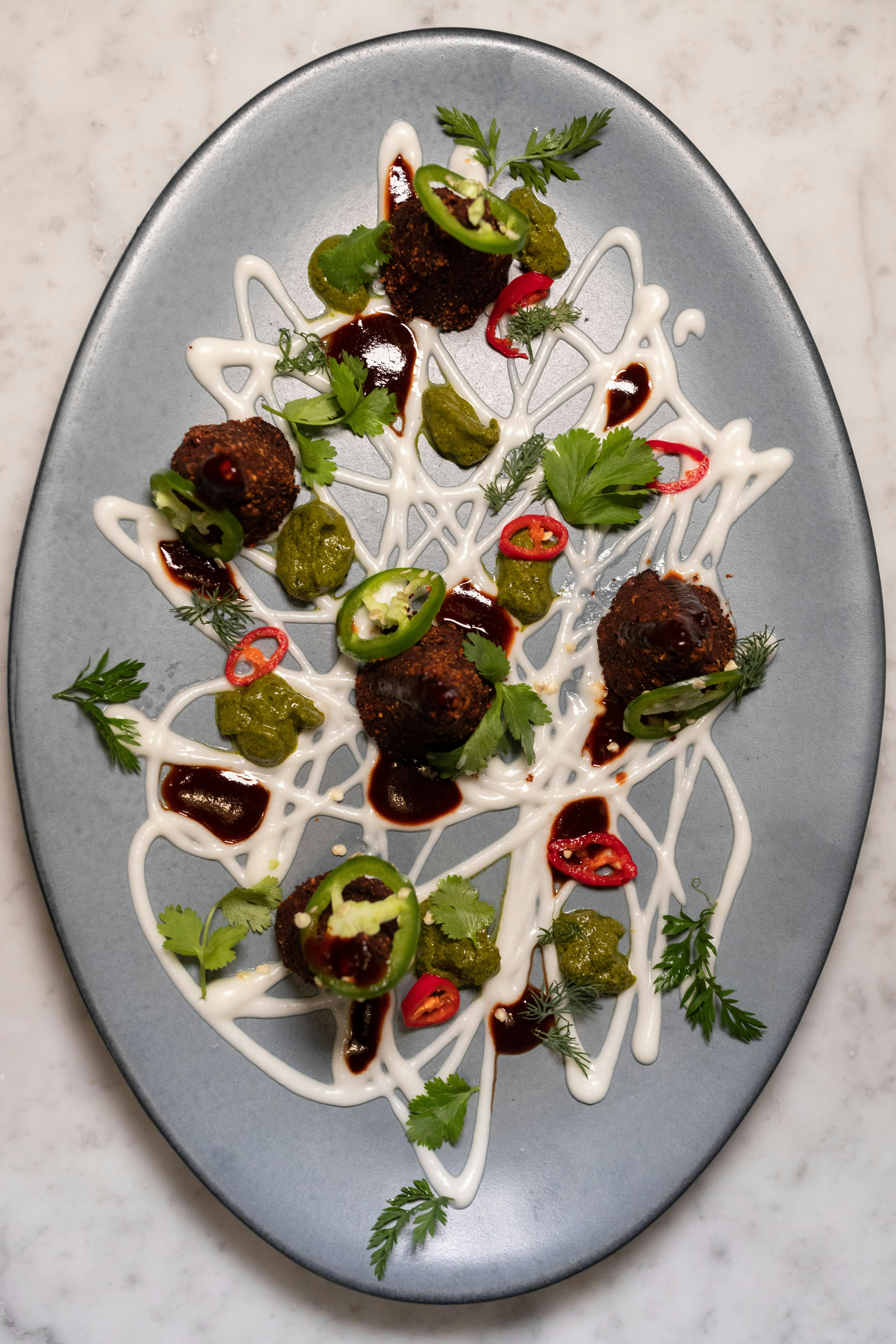 The Black Bean Fritters are also noteworthy; they are deep-fried to order and made in-house using a blend of black beans, chickpea, paprika, cumin and other secret spices. The whipped garlic aioli adds a touch of creaminess, while the poblano salsa lends a nice acidic punch, and the jalapeños add a spicy kick to the finish. Chef Shete says, "We wanted to make sure the fritters, though fried, wouldn't leave you feeling heavy and bloated after eating. They are light, airy, and are not breaded, so you can finish the dish, and still feel hungry for more."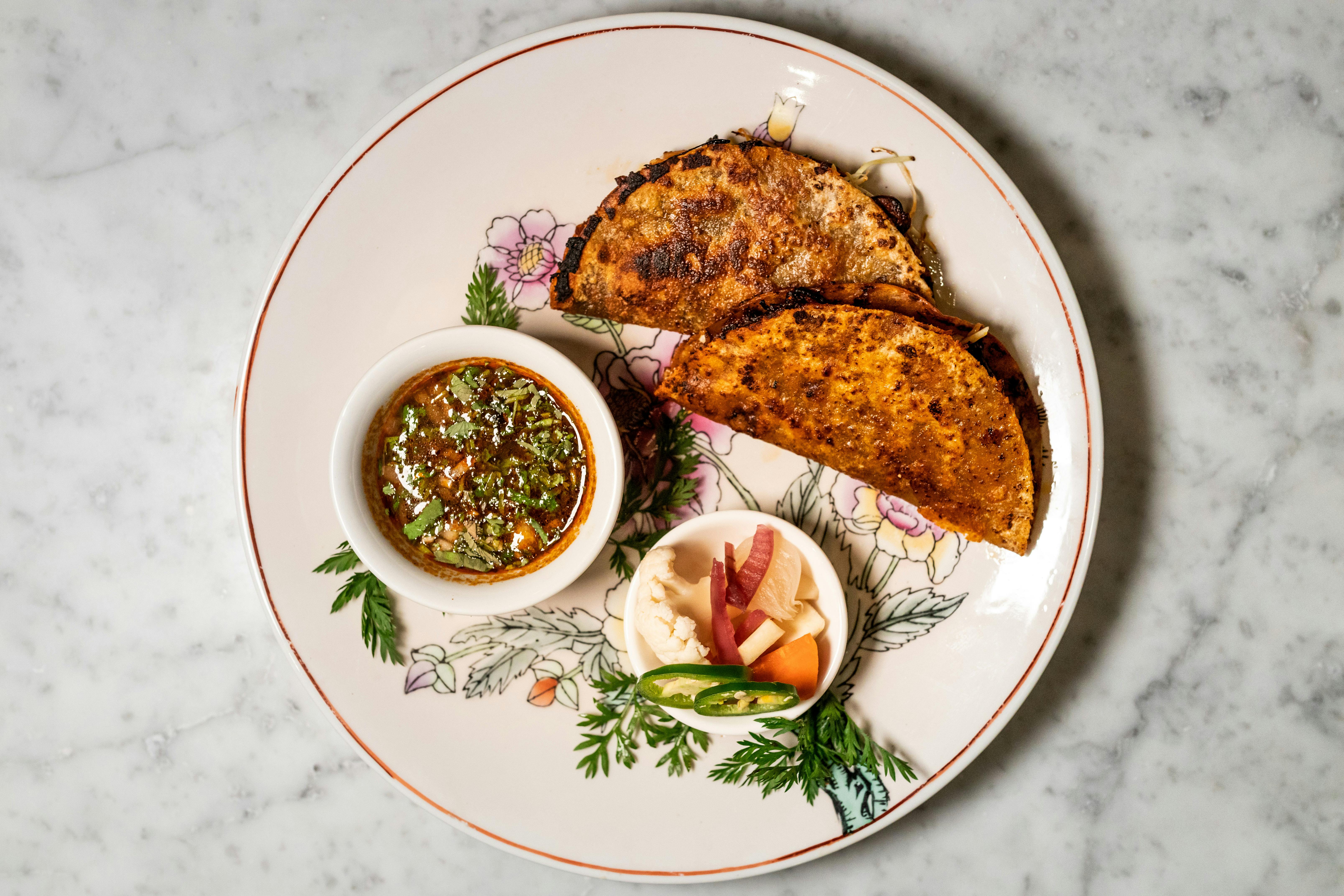 With the uptick in the popularity of Birria Tacos, it makes sense that the team has added this option to the menu. Though commonly made with lamb, Rosalinda's rendition calls for roasted mushrooms and queso blanco and comes served with a side of a classic birria consommé and shaved cabbage. The gluten-free tortillas are cooked until crispy and absorb the meaty mushroom's flavours, so each bite is hearty and indulgent, especially when dipped in the flavourful consommé.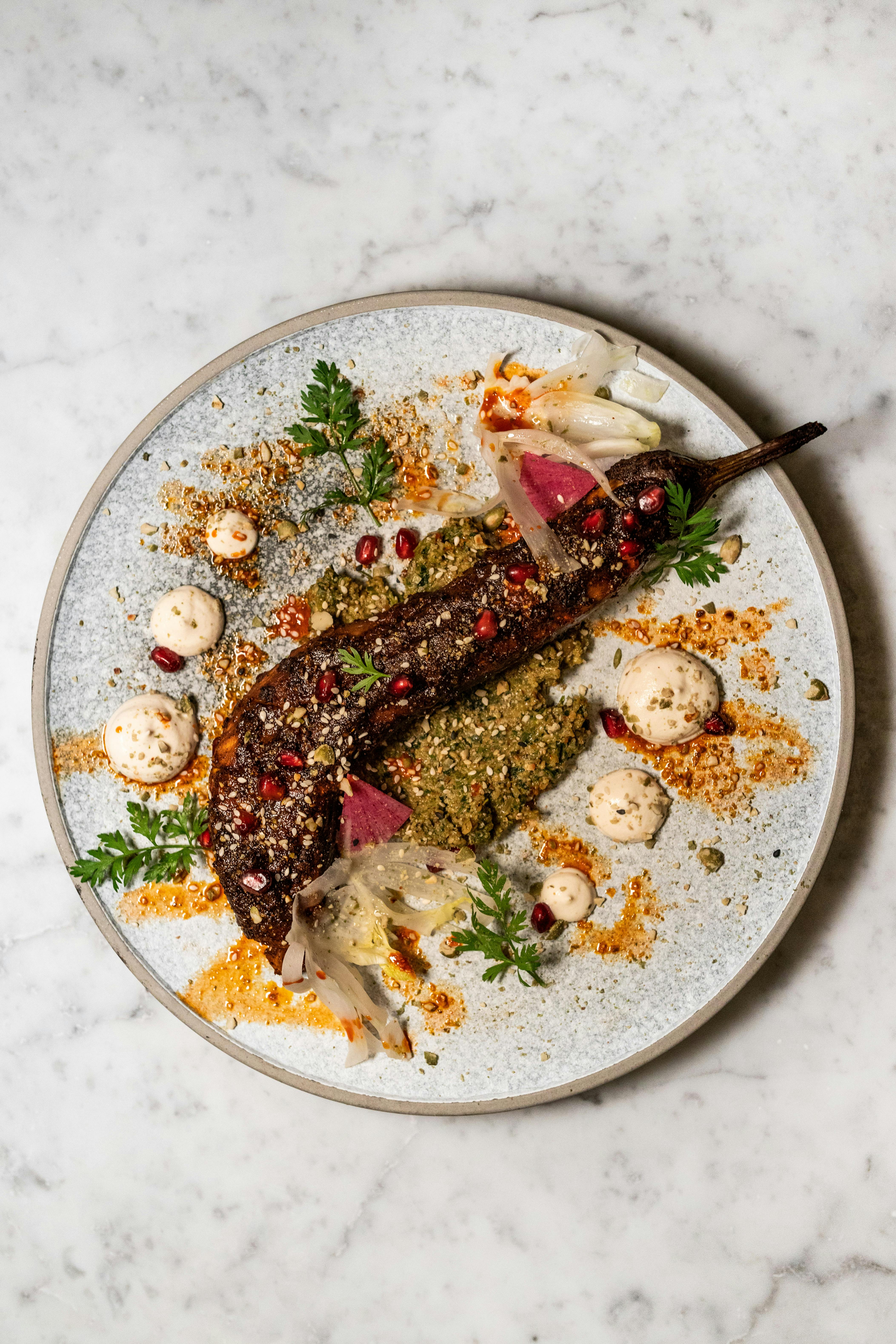 As for the signature Roasted Eggplant, the chefs have altered the original recipe to give it a completely new look. The sikil pak verde served on the side is commonly prepared in Southern Mexico and is made using a blend of pumpkin seeds, sunflower seeds, pepitas, green chillies and spinach.
Marinated in a sesame salsa macha for over four hours, the flavours soak into the eggplant before roasting and finishing in the oven. Topped with fennel, cashew crema, chili oil and an achiote dressing (made with annatto seeds, cumin, pepper, coriander, oregano, cloves and garlic), this dish has a variety of complementing sweet and spicy flavours, especially when paired with the long and meaty Japanese eggplant.
To finish, indulge in the Drunken Pineapple, which is like a Piña Colada broken down on a platter. With Mexico being known for using pineapple, the team thought it would make sense to create this unique dessert using a compressed pineapple 'steak' and soaking it in simple syrup (made with coconut brown sugar and rum) that is vac-packed with the fruit to infuse it with all the dynamic flavours. When ordered, it is caramelized, tossed with a pepita sugar crumb, and served with a side of creamy vegan coconut cream sorbet that is spun to order.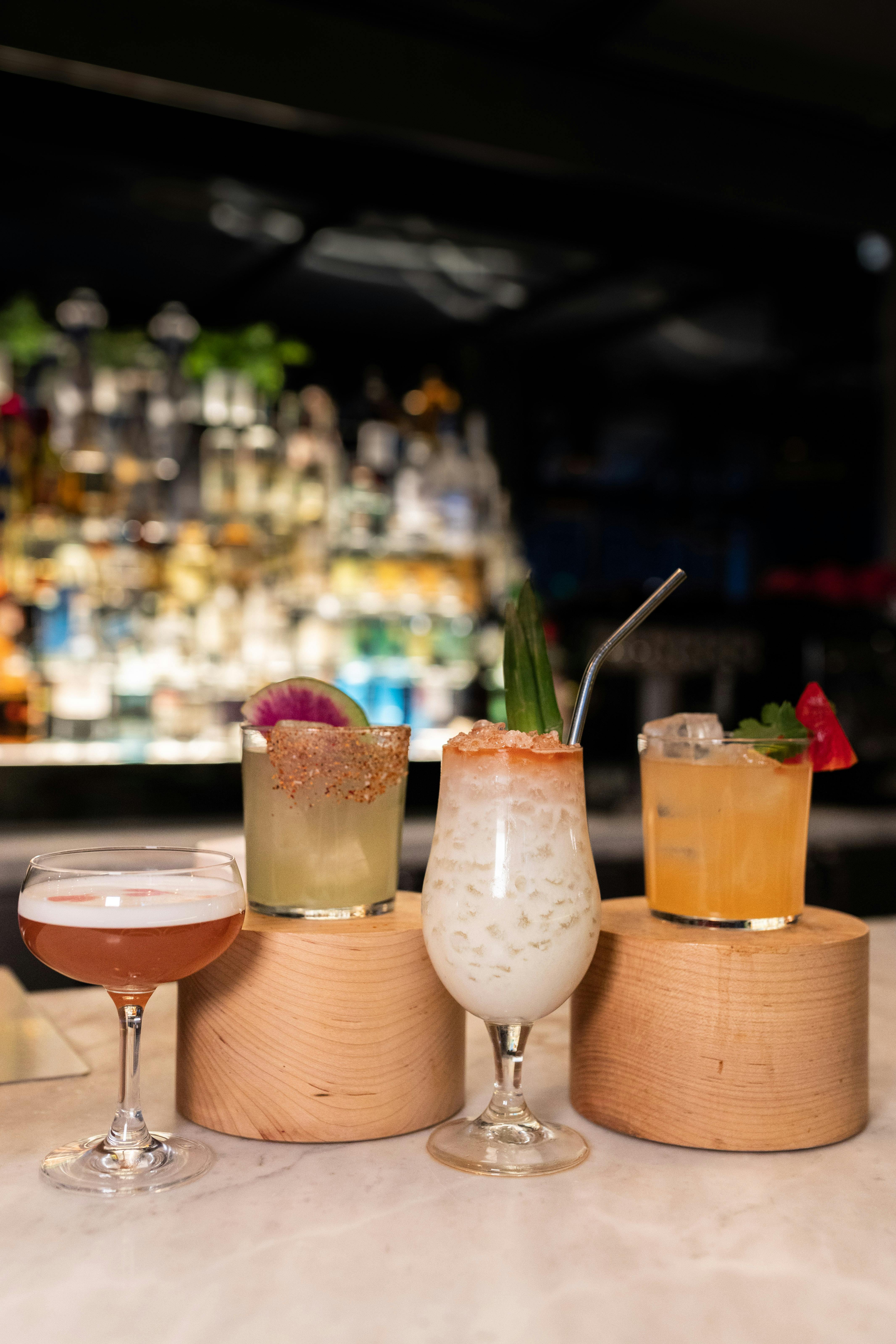 As for the beverage program, Rosalinda has a wide variety of cocktails to choose from, all of which have diverse flavours and speak to the same Latin-American flair. The Rosa Margarita is their take on a classic and calls for spirulina-infused Dejado tequila (for a blue/green colour), Cointreau and is garnished with a half-moon watermelon radish.
The Dusty Autumn Horchata is a creamy, non-dairy cocktail with pumpkin seed-soaked horchata, El Dorado 3 year rum, Appleton Estate Signature Blend, pineapple juice, lemon juice, crushed ice and is garnished with cinnamon and nutmeg shavings for an extra sweet and subtle flavour. To keep up with sustainability, this beverage is served with a metal straw (the only kind kept in-house) to ensure the crushed ice doesn't fall out when sipping.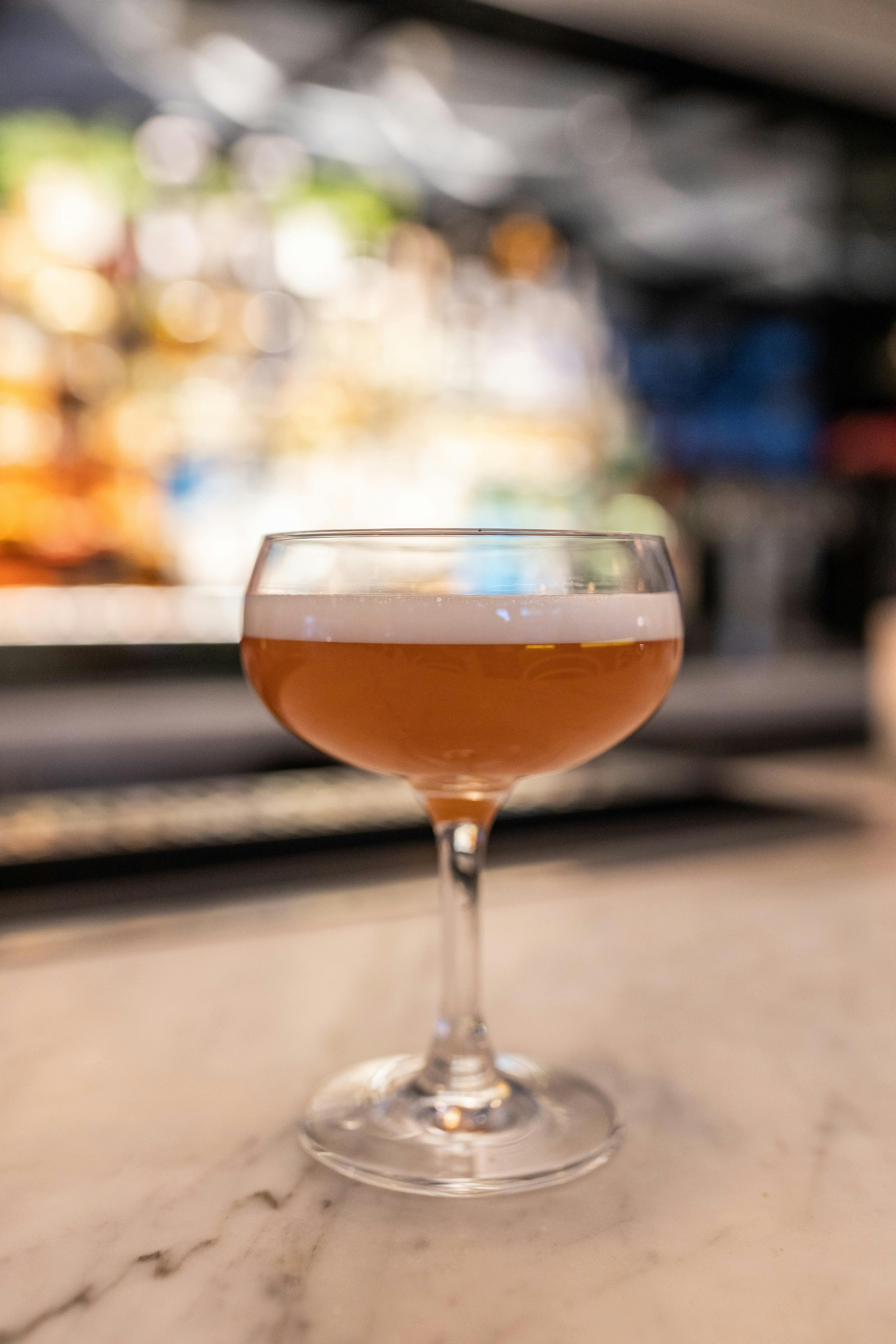 Another top-selling cocktail is the Love Street, their spin on a pisco sour. Shaken with El Gobernador pisco, grapefruit liqueur, Cocchi Rosa, lime juice, lemon juice and finished with a vegan foam, this drink is super crushable, with some mild sweetness to balance out the acidity from the citrus.
For the mocktail drinkers, sip on the Into The Garden, a vegetal mocktail made with Seedlip Garden, a non-alcoholic liqueur, distilled in the same way as gin or vodka. A premium option, this beverage also calls for grapefruit and lime juice, vanilla, paprika, in-house bell pepper shrub syrup, and is garnished with cilantro and a bell pepper chunk.
Hand-selected by a trained sommelier, the wine list contains a wide variety from the VQA region and international options from California, Southern France, Italy, Spain and more. A majority of the varietals are specifically biodynamic, organic and vegan, and will continue to rotate in the new year. There is a delicious option for everyone, from skin-contact orange wine to rosé, to white, red, and sparkling.
To round out the beverage menu, choose from a selection of local draught beers (from Lost Craft, Furnace Room, Henderson and Collective Arts), or go for their draught Tonica Ginger kombucha.
Rosalinda is located at 133 Richmond Street West, and is now open for dinner 4 p.m. to 9 p.m. from Tuesday to Saturday. Reservations and takeout orders can be made online, with delivery available via Uber Eats. Be sure to give them a follow on Instagram to keep up with all upcoming menu releases, promotions and more!