Every now and then, a Toronto neighbourhood lucks out with a new, friendly butcher shop—the kind where everybody knows your name. For Roncesvalles, this happened over the past summer with the anticipated opening of Russell's Butcher & Deli.
Husband and wife Christopher and Sarah Terpstra are the co-owners behind this shiny new establishment that happens to be a three-minute walk from Alimentari, the Italian trattoria-slash-grocery-store they opened together back in 2017.
With the opening of their very own butcher shop, the Terpstras can now split their work between the professional kitchen in Alimentari and the butcher station at Russell's, where they'll do the butchering, grinding, and sauce-making so Alimentari can put them into stocks, pies, and other prepared items you'll now be able to find in both shops.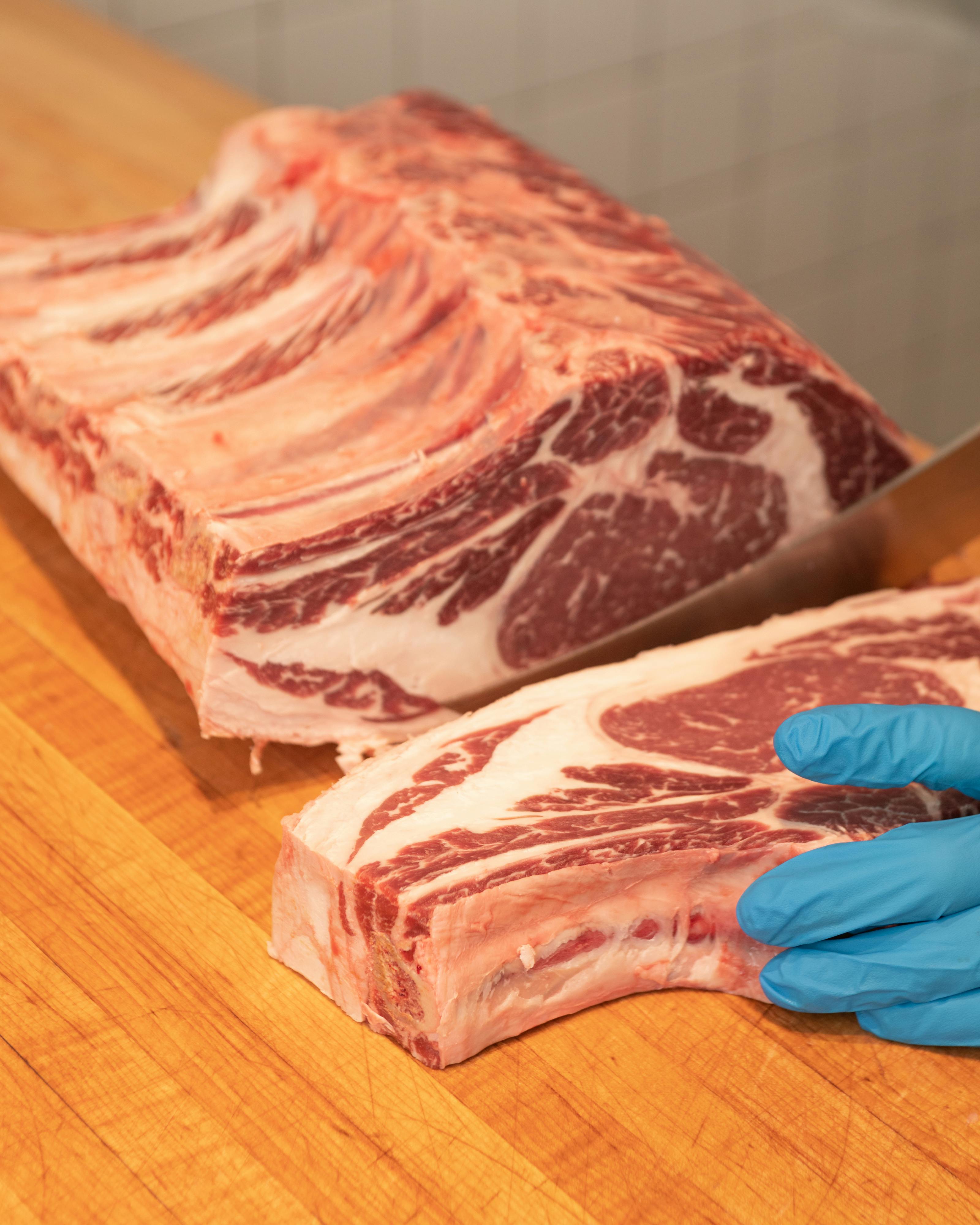 For the Terpstras, Russell's is the culmination of many years of passion for butchery. Before Alimentari, they both helped run the famous Sanagan's Meat Locker in Kensington Market, with Sarah as FOH Manager and Christopher as Head Butcher.
"We both worked in restaurants for a long time, but got tired of working nights and working on the line," Christopher recalls. "Plus, I've always preferred more hands-on ways of working where I could actually manipulate the ingredients. For me, it was always, 'let's butcher, let's do prep, let's bake bread!'"
Alimentari gave Christopher the opportunity to reflect his upbringing and work experience in Italy, where he raised pigs on a farm and worked under Dario Cecchini—a Chef's Table-featured butcher—at his shop in Tuscany. Through Alimentari, he and Sarah not only found that balance, but also came to discover Roncesvalle's demand for more of the amazing meats they'd been offering. With that, Russell's was born.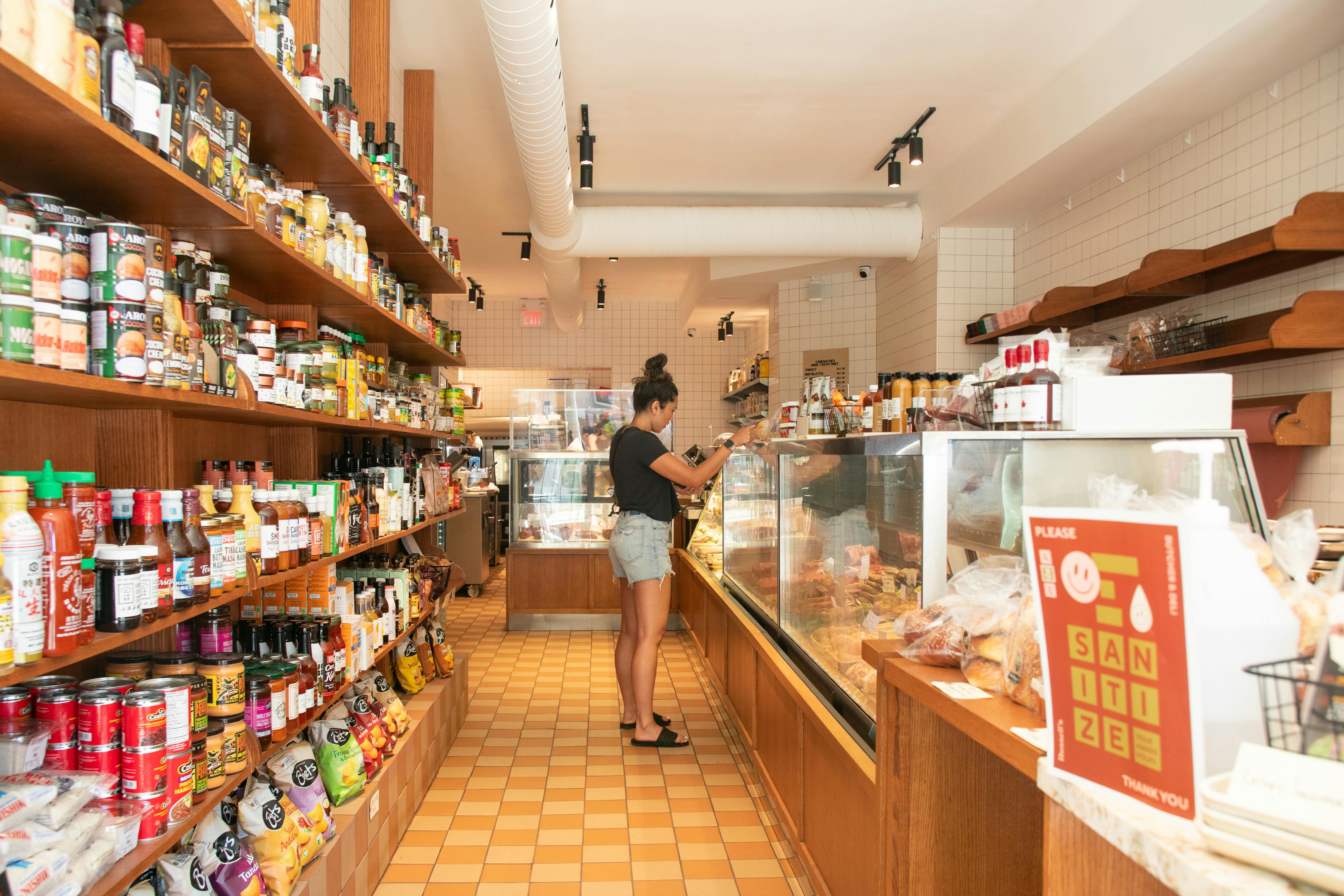 While Alimentari was Christopher's homage to his fond memories of Italy, with Russell's, he and Sarah found a place where they could explore food beyond cultures.
"Russell's has allowed us to not be so Italian. Alimentari was amazing, but after a while, as a cook and as someone who likes to eat, you just started to feel pigeonholed as Italian," says Christopher. "So that was part of the idea here: to not have any sort of cultural anchor. To just be a butcher shop that sells really good meat and other amazing grocery products to complement it."
Compared to Alimentari, Russell's feels much more personal and in touch with Toronto's energy. It's also Christopher's way of honouring the Russells in his life: Sarah and her family.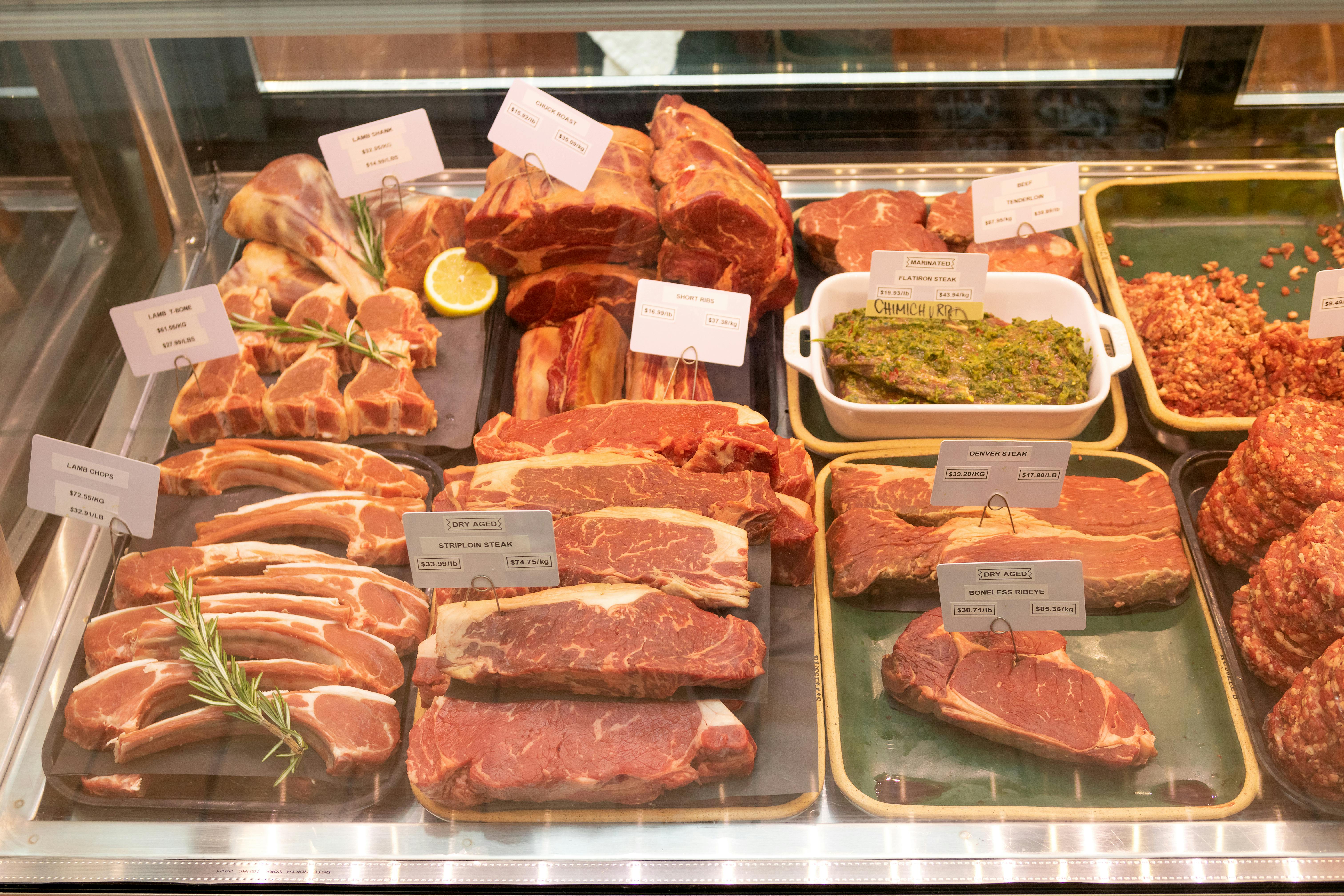 Inside Russell's plentiful meat counter, you'll find a beautiful selection of everything you need, from classic Sunday dinner cuts to big, celebratory roasts and a range of seasonal preps—all 100% local, fresh, and expertly picked by the team at Russell's.
"Everything we carry is from Ontario. We personally know pretty much all the farmers that we work with, too. Some for almost 10 years, ever since our Sanagan's days."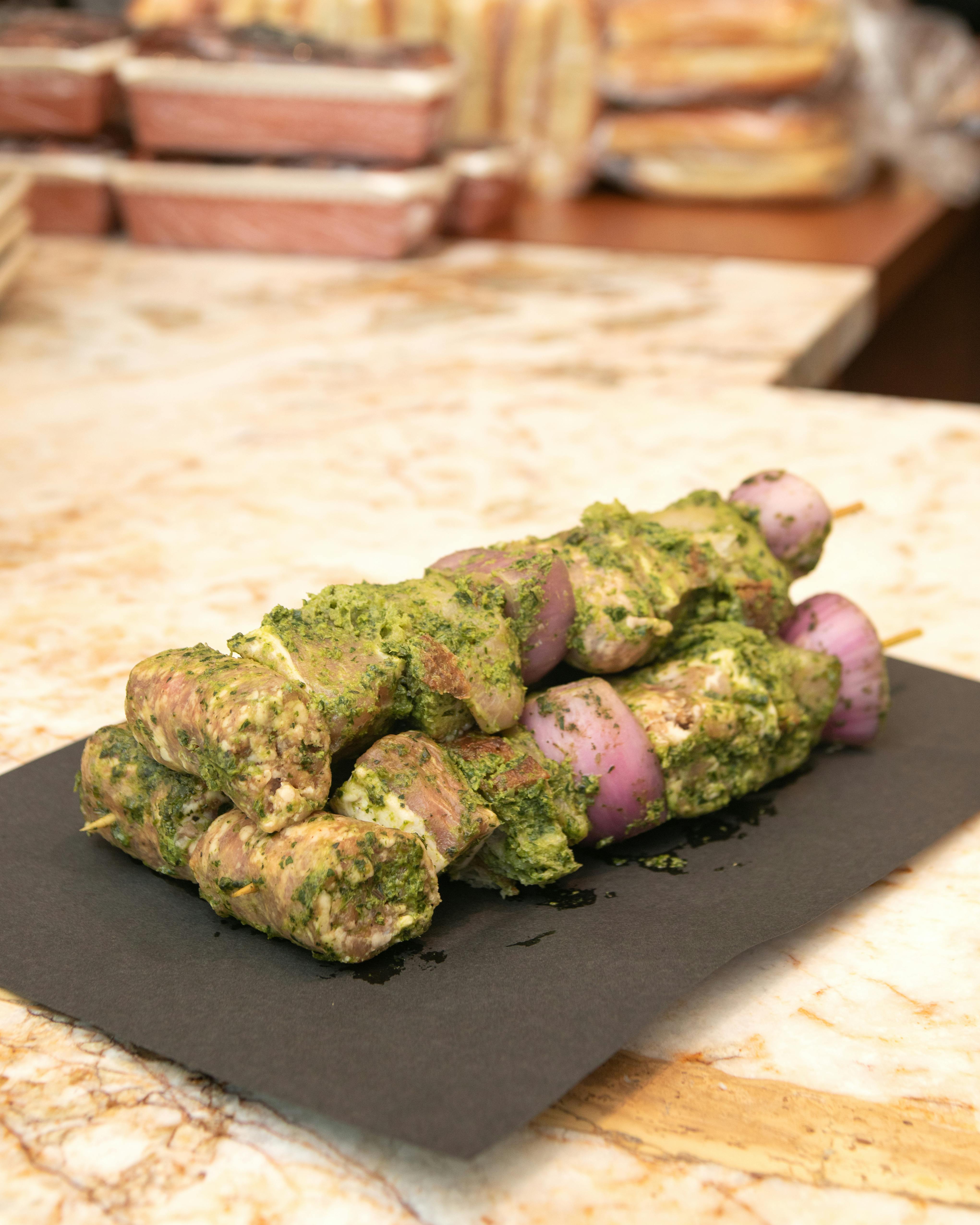 During summer, Russell's puts on a grand display of kebabs, sausages, and burgers to grace your BBQ season, while in colder seasons, you'll see more meats that are perfect for braising, roasting, and stewing.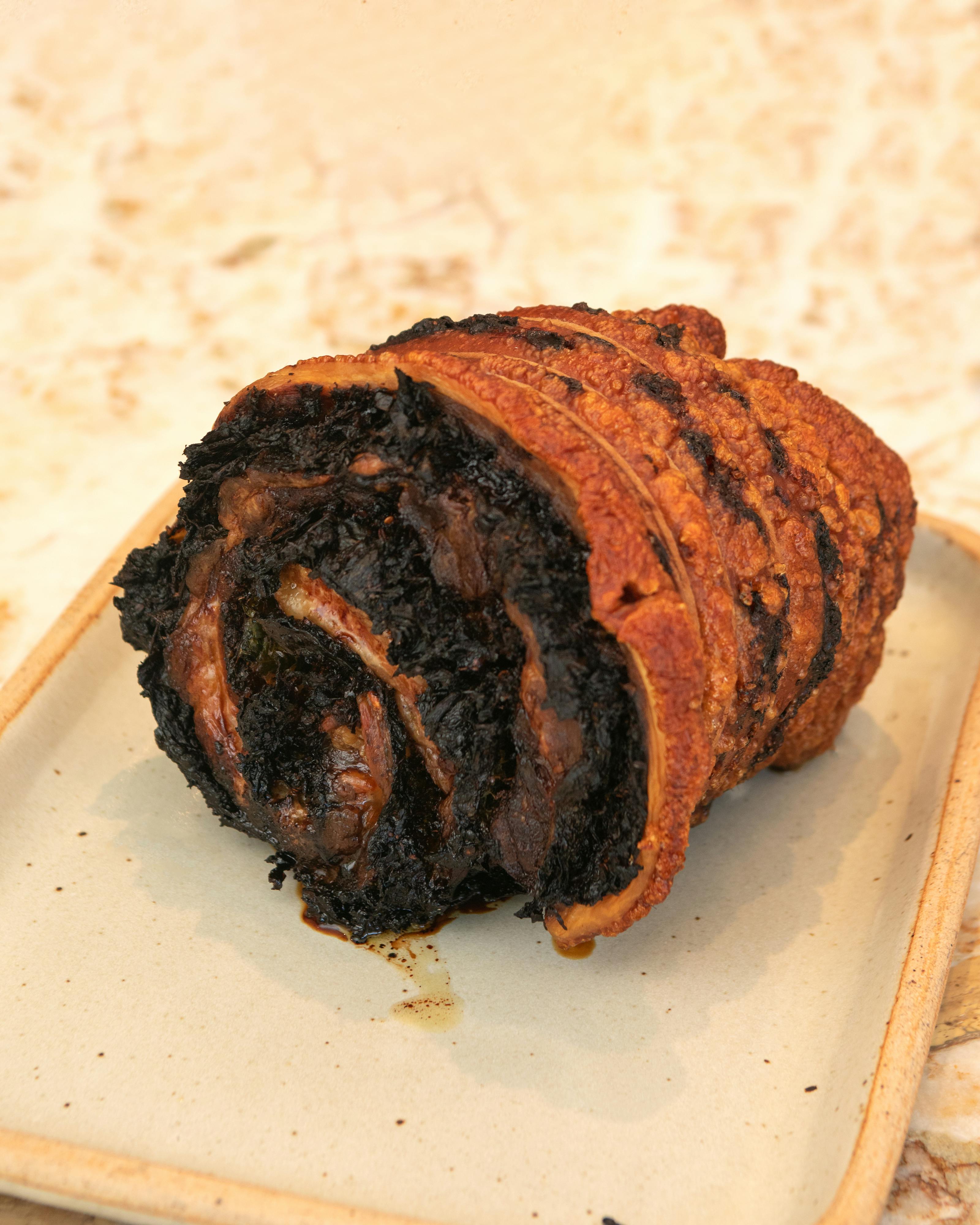 For Thanksgiving this year, they've stocked up on beautiful turkeys, stuffed chickens, prime ribs, and perfectly roasted porchettas. As we get closer to the holidays, you can expect more of these festive picks and more, like their delicious, ready-to-bake Beef Wellington made with tenderloin, mushroom duxelles, prosciutto and Dijon, all wrapped in an elegant coat of puff pastry.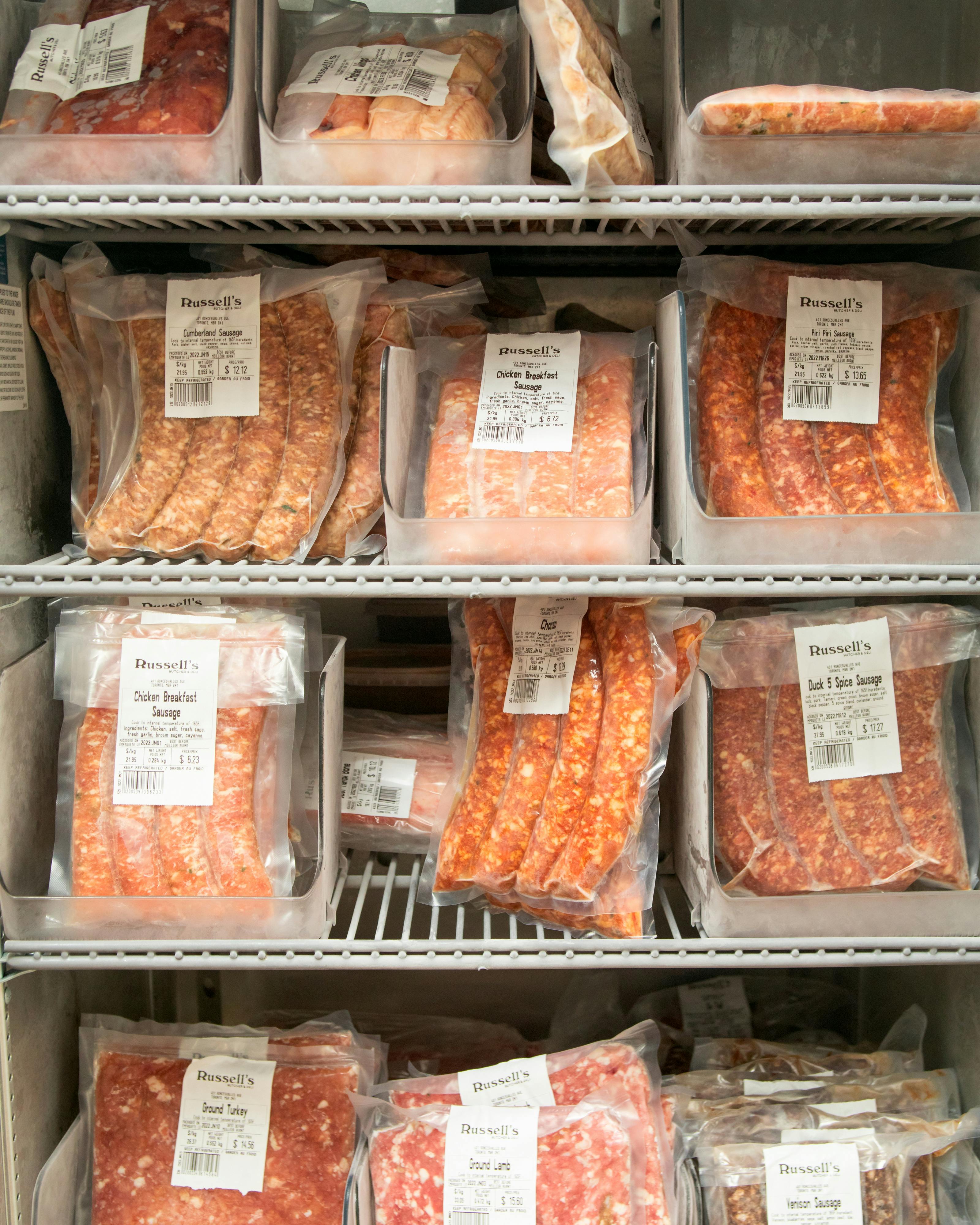 There's also a year-round grab-and-go fridge filled with easy, marinated meats, including their very popular flattened chickens, sausages, ground meats, and more.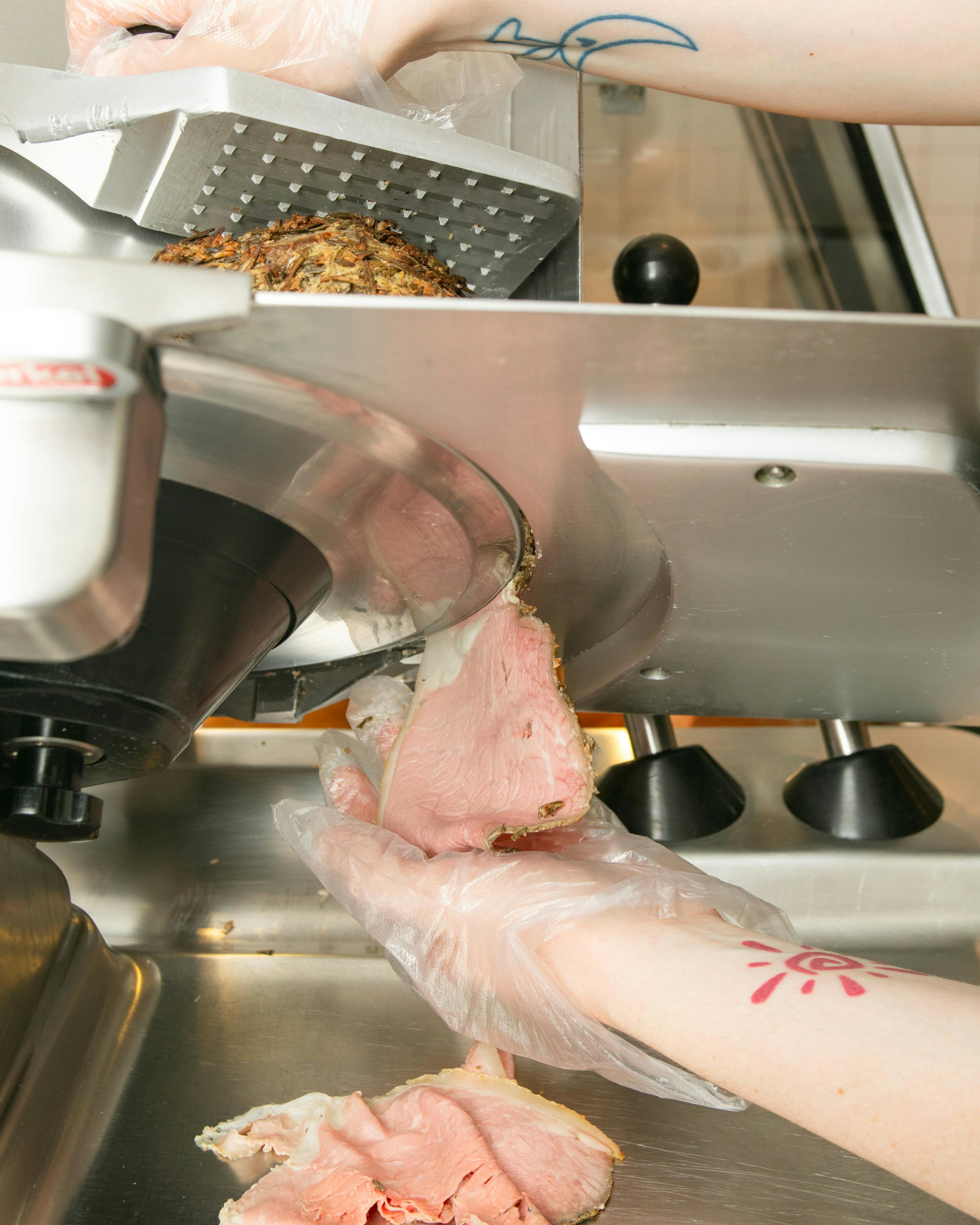 Next to the fridge and toward the back of the shop is where you'll find Russell's sliced-to-order deli counter, with their own house-made roasts and daily prepared sandwiches.
"Not many places slice deli meat to order anymore, and that's something I knew I wanted to offer from the get-go."
With that same simple nostalgia for good food with good ingredients, all their sandwiches follow a no-secret recipe that's all about the flavour of the meat.
"We don't use any secret sauces in our sandwiches, but it's just the best version of the Turkey Sandwich you've ever had, and the best Roast Beef Sandwich you've ever had."
Russell's Turkey Sandwiches come with ample layers of their sliced roast turkey, lettuce, tomato, cheddar, mayo, and mustard. Likewise, the Roast Beef Sandwich is a classic combination of horseradish, mayo, aged cheddar, and lettuce. With meats this good, you don't need much more than that.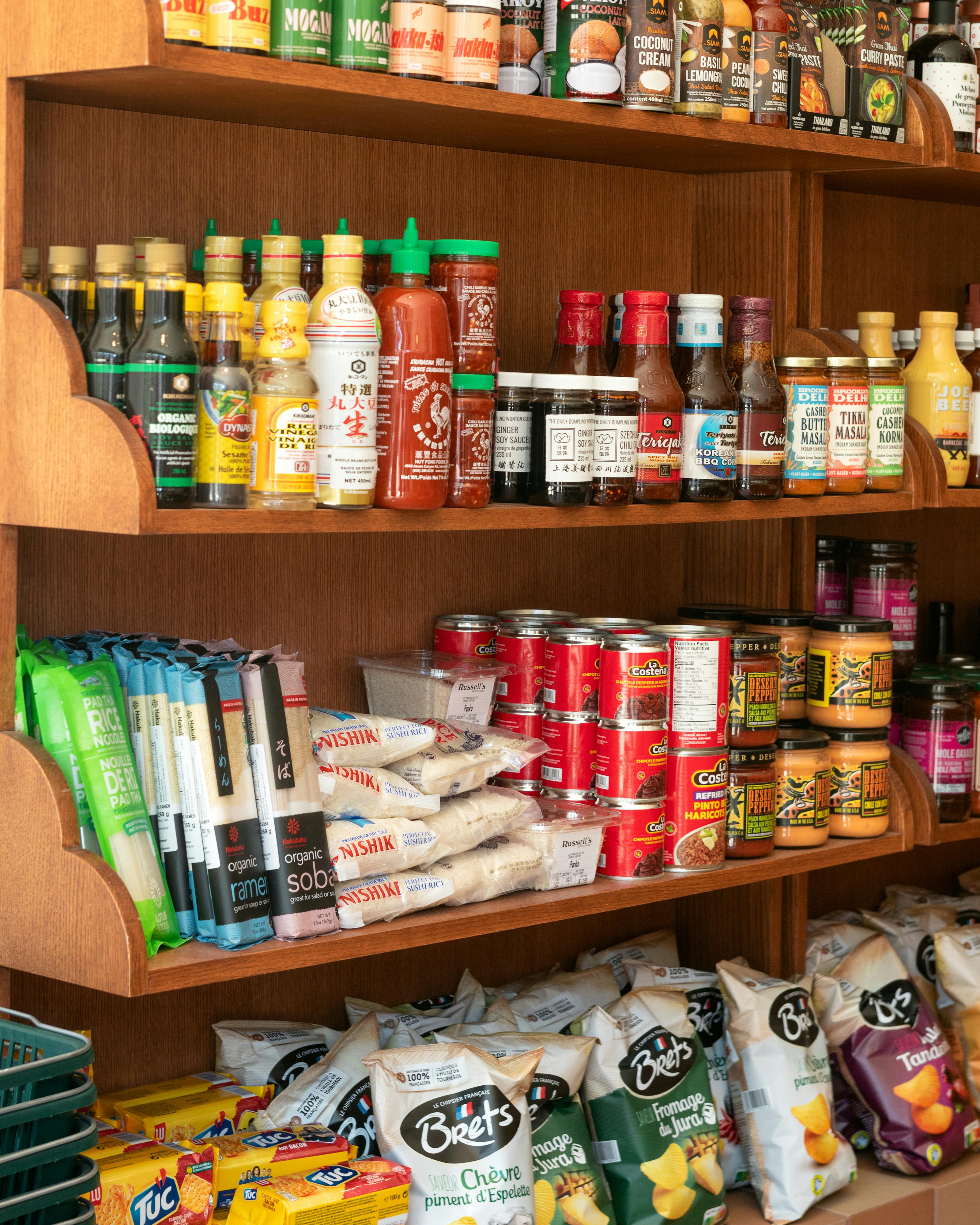 The meats at Russell's are just fantastic. But what makes shopping here a truly unique experience is the selection of condiments, jarred goods, and snacks that take up a whole wall of the shop. While the sandwiches and meats are kept simple and ingredient-first, this wall is a proud display of global flavours from local makers and more.
Here, you'll find all your key pantry staples like Sriracha, teriyaki glazes, and soba noodles, but for Christopher, it's the stuff you'll rarely find anywhere else in the city that makes the shelf what it is.
"With Russell's, I love that I get to encounter and purchase from local suppliers—there are so many amazing non-Italian brands out there making interesting chili crisps, salsas, and all this other stuff, and a lot of them are made right here in Toronto."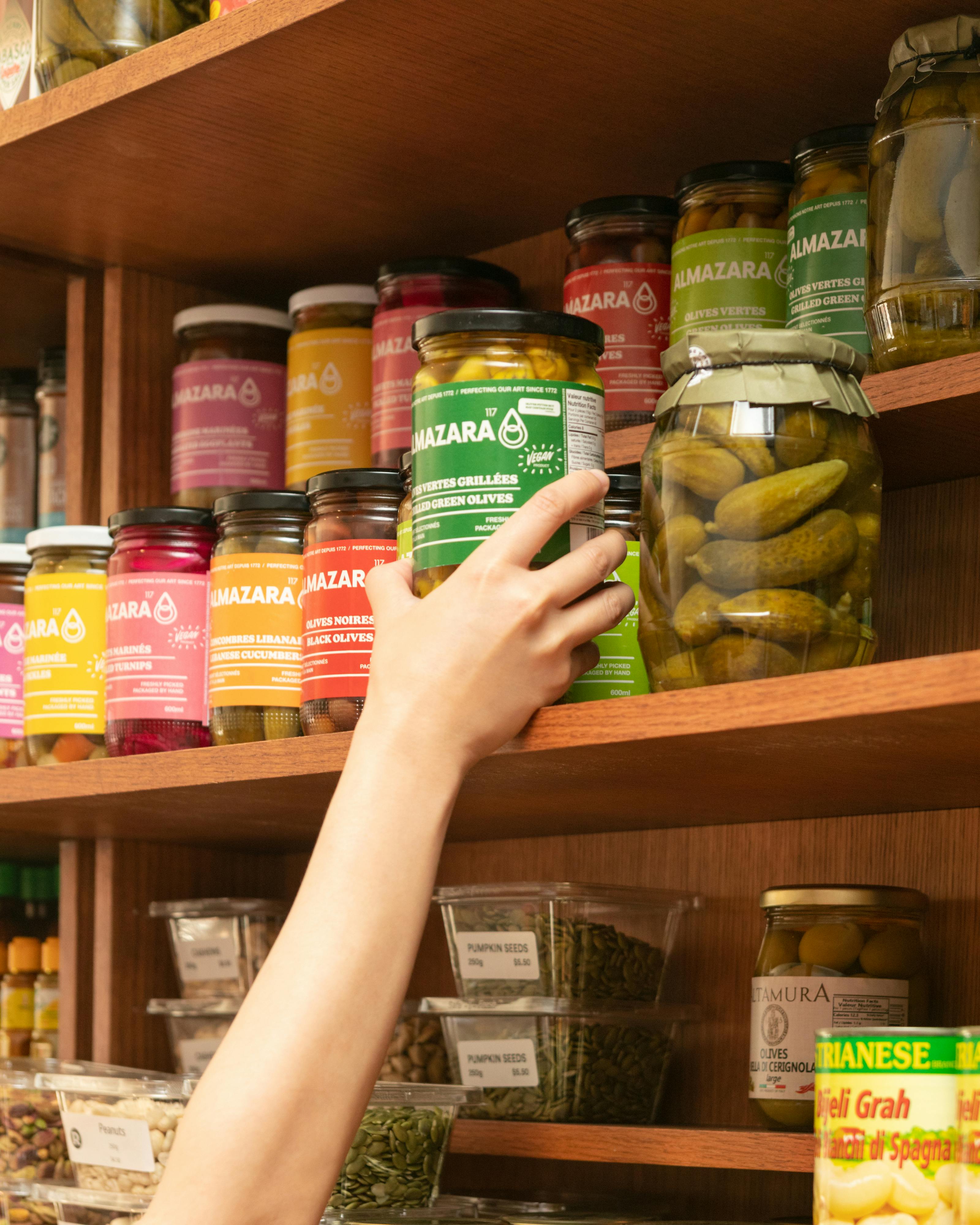 Some Toronto-born brands that Russell's is proud to support includes sauces (or "Pantry Shortcuts") by Zing, soy sauce and Szechuan chili oil from The Daily Dumpling Wonton Co., Super Magic Taste's Chili Crisp, and, of course, fresh tomato sauces prepared and bottled by Alimentari.
A lot of love, knowledge, and instinct goes into the Terpstras' curation of meats and products. In addition to supporting Toronto businesses, they're also happy to look further for other innovative food brands, like jarred veggies and grilled (!) olives from Almazara, a Montréal-based brand specializing in olive oils and products.
"At the end of the day, it's just got to taste good. It has to come from good people, too. You just have to feel good about buying it, I think."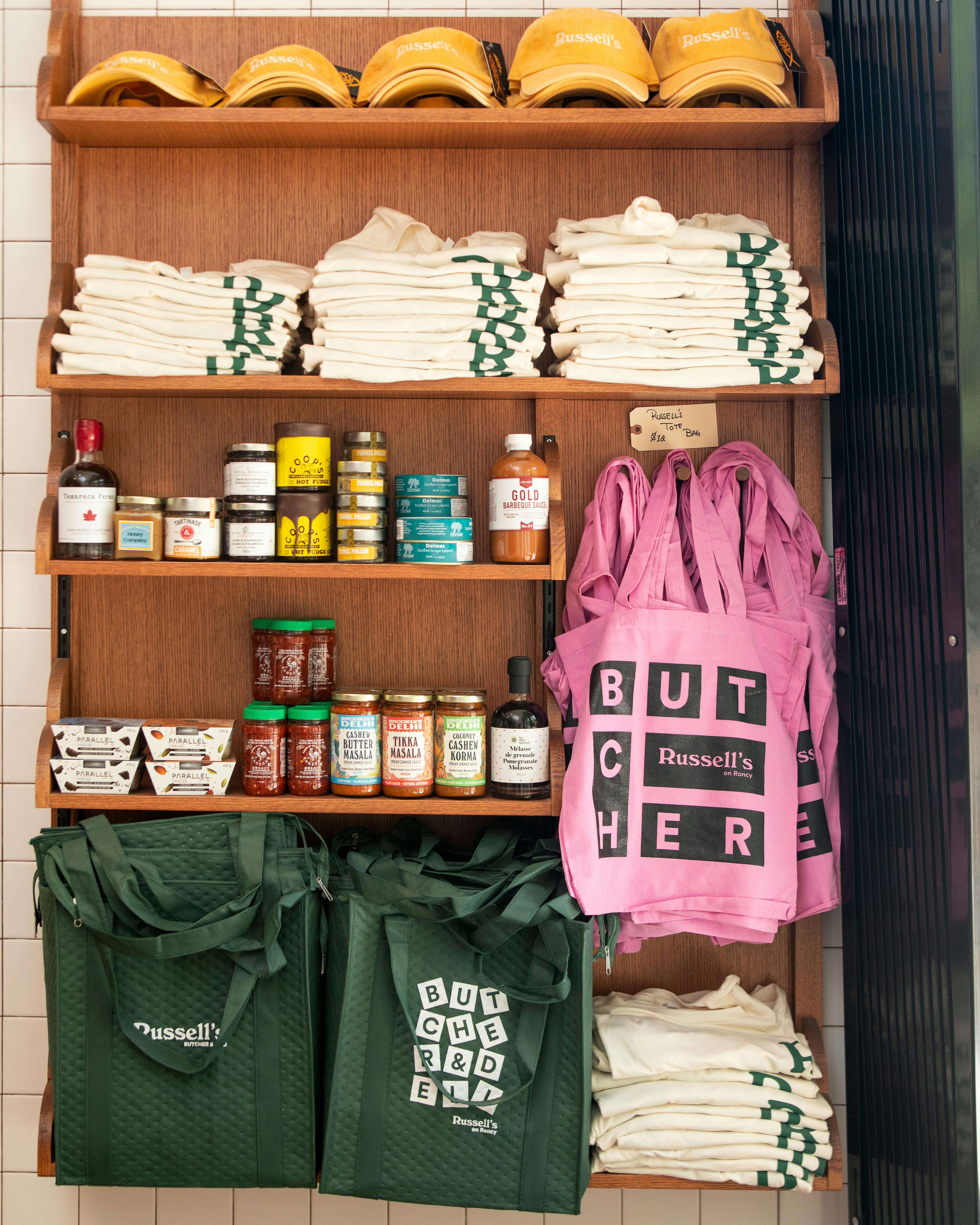 After you've filled your basket full, make sure to leave just enough room to grab some of Russell's Big Cookies as well as their colourful merch—t-shirts, tote bags and baseball caps capturing that modern, classic Russell's vibe.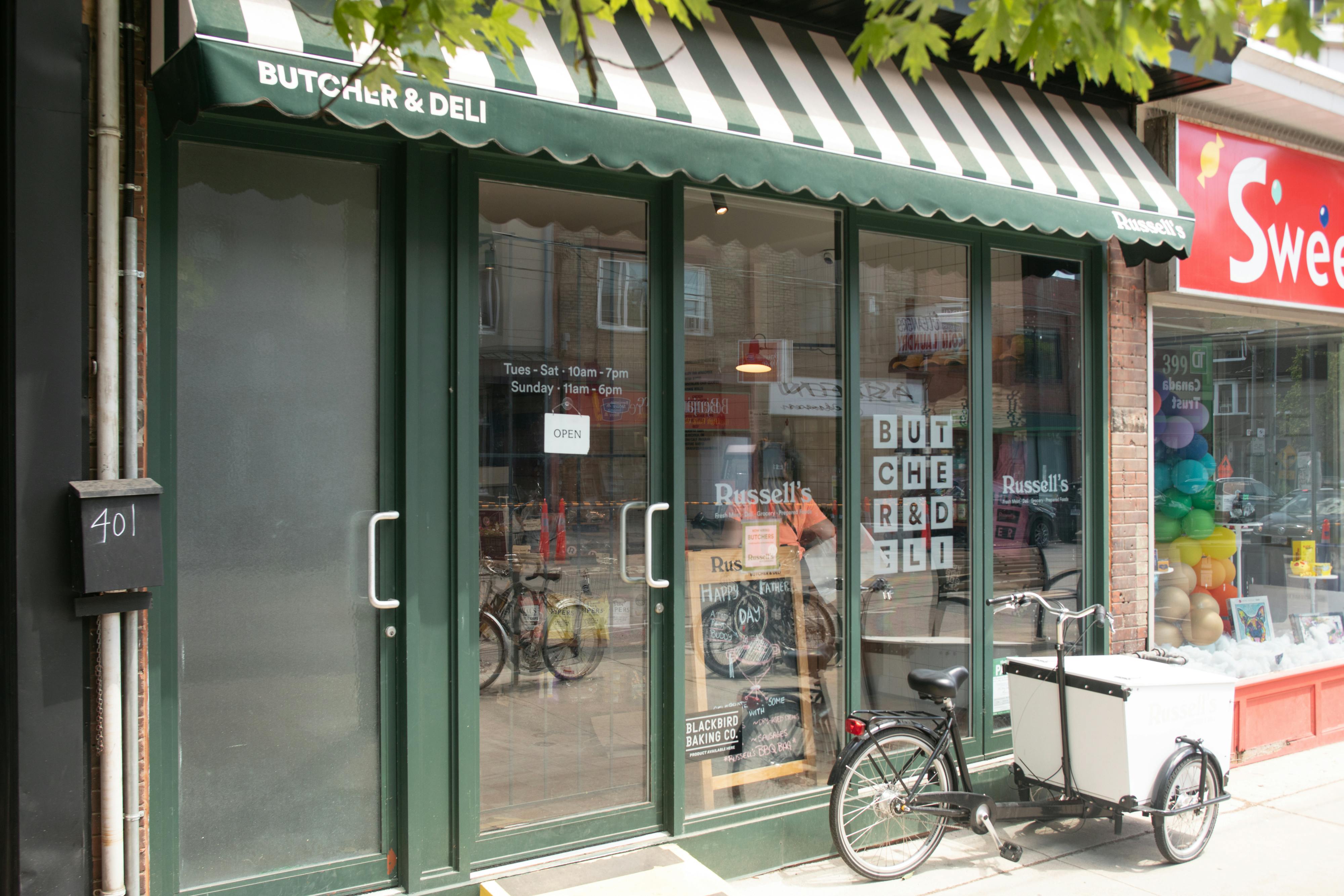 Stop by Russell's Butcher & Deli before your next dinner party and say hi to Sarah, Christopher, and their beyond-friendly team. They're located just steps away from Alimentari at 401 Roncesvalles Ave and are open Tuesdays through Saturdays from 10 a.m. to 7 p.m., and Sundays from 11 a.m. to 6 p.m. To see more of what's in stock, make sure to follow their Instagram—they also do a series of "Russell's Recipes" that'll liven up your feed.