From the duo behind beloved French restaurant Dreyfus comes a charming and laidback new neighbourhood joint that serves up juicy chicken, vegetable creations using local Ontario produce and a curated list of organic and low-intervention wine bottles.
Taverne Bernhardt's opened up on Dovercourt last summer and despite beginning service right in the midst of the pandemic, they have gained a loyal following over the course of the past few months. It's no wonder why, as their menu is full of beautifully prepared yet unfussy food that showcases the best in local vegetables and highlights the core ingredients with delicate sauces and herbs. Carmelina Imola and chef Zach Kolomeir are the restaurant's joint owners and have been quite busy here since choosing to temporarily close the doors of their first baby, Dreyfus, amidst the current uncertainty (it's still alive and well, just not operating service at the moment). They moved most of their staff over to Bernhardt's to create a knowledgeable team that will help them grow the space even more and add to the menu of rotating dishes.
The Space: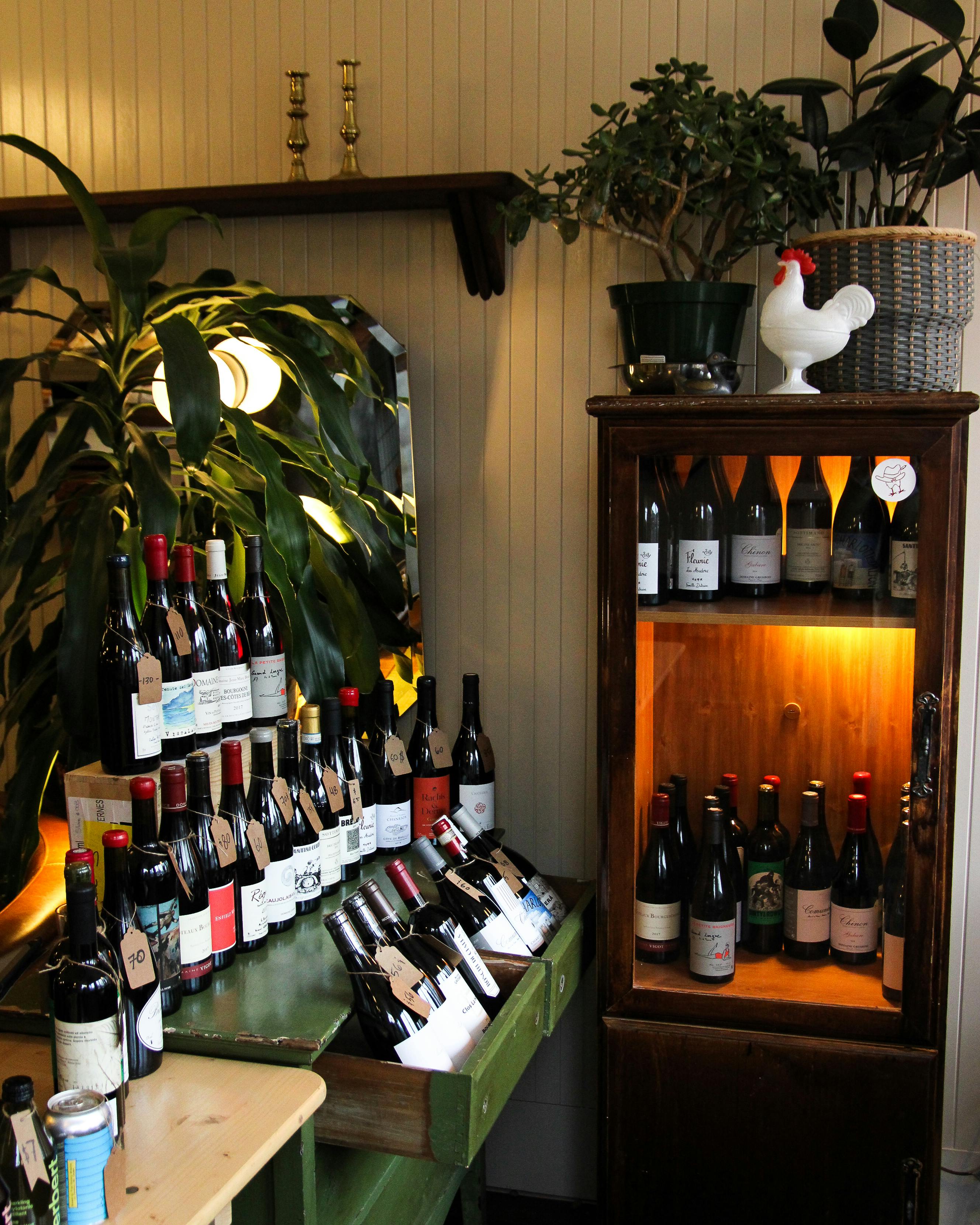 The wine selection.
Bernie's, as it is affectionally nicknamed, has operated as takeout-only from day one, pivoting into pandemic times by serving all of their food in takeout containers and in the summer, allowing guests to hang out and savour their meal on the patio (which is adorned with twinkly string lights). During the warmer months, the patio was bustling almost daily with folks from the neighbourhood and beyond stopping by for some crispy-skinned rotisserie chicken and a glass of wine. Of course, with new rules in place and the cold Toronto winter temperatures, they are back to filling delivery and pickup orders from their cozy restaurant, which has essentially turned (temporarily) into a full-on takeout operation and a small merch shop at the front. Carmelina explains that they have big plans for the upcoming summer, though, as they intend to transform their roomy backyard space as well as the side pathway leading up to it into an elegant and inviting warm-weather patio.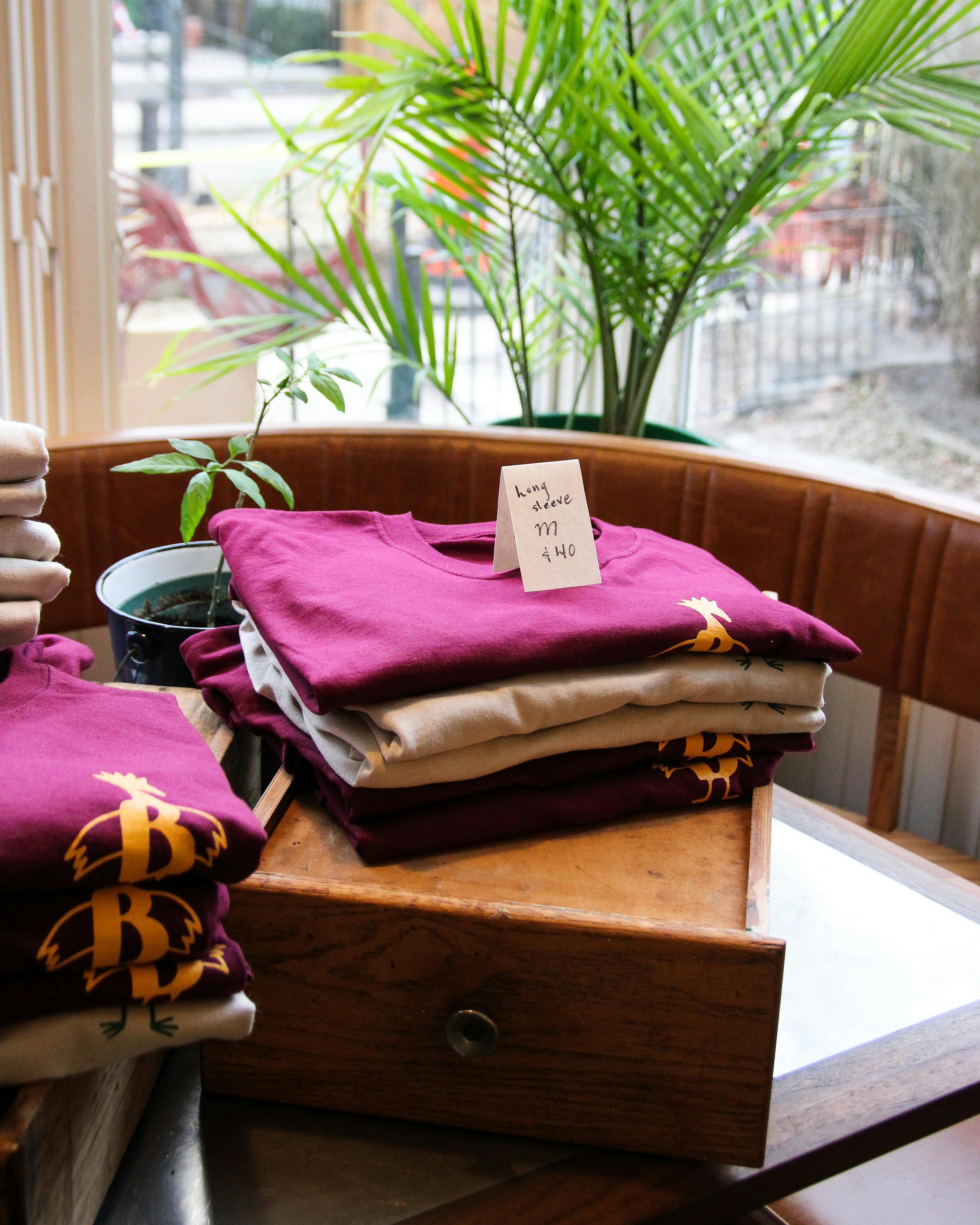 Bernhardt's merch.
The Food: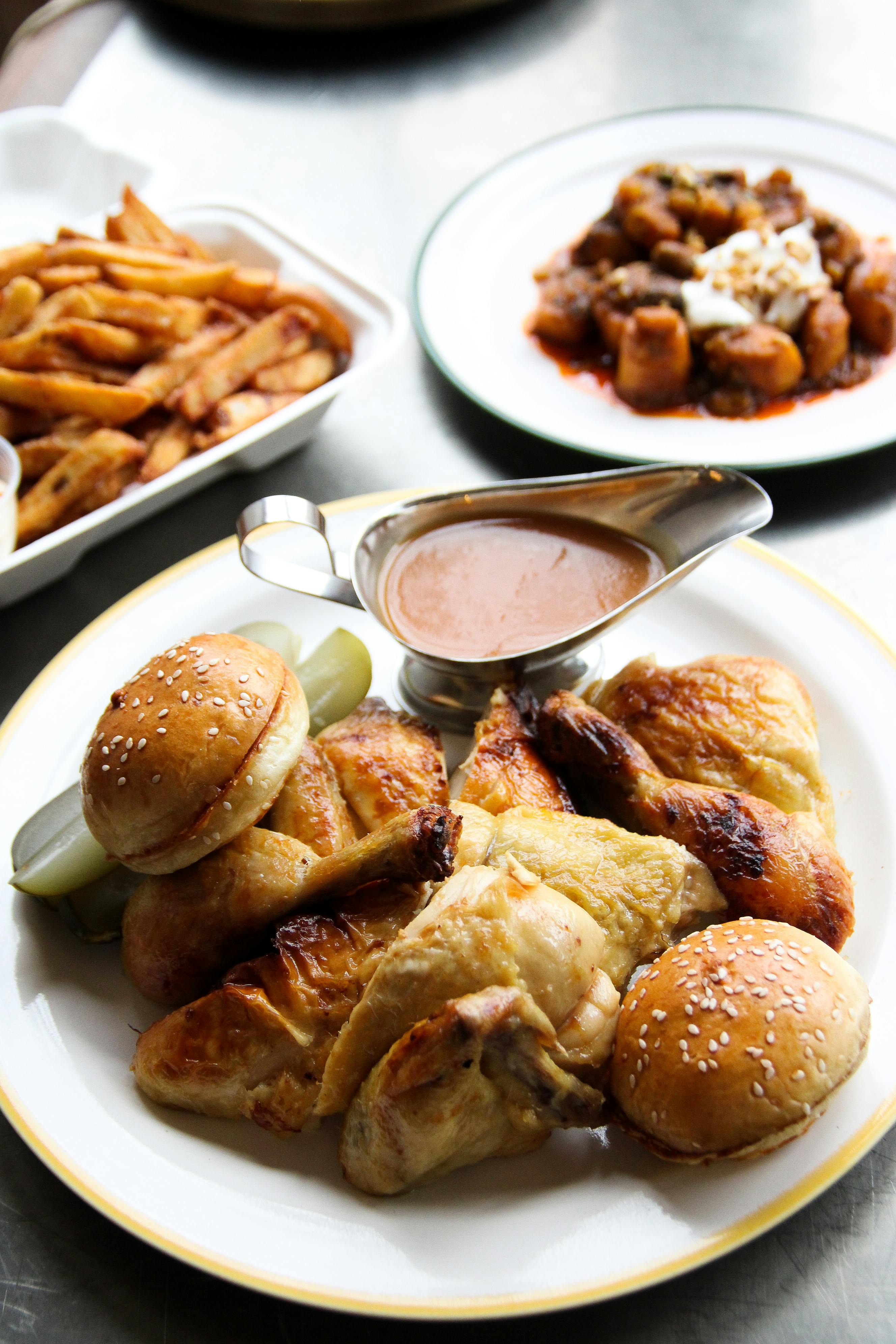 Their delectable rotisserie chicken meal.
On the menu, you'll find a variety of colourful, vegetable-forward dishes, all of which perfectly complement their rotisserie chickens (which are a menu mainstay) and their packed-to-the-brim sandwiches. The much-loved "Big Greenie" salad features rotating squashes and seasonal veg atop a giant pile of fresh Ontario lettuces -- which genuinely taste like they were picked right before serving -- and a punchy maple-mustard vinaigrette.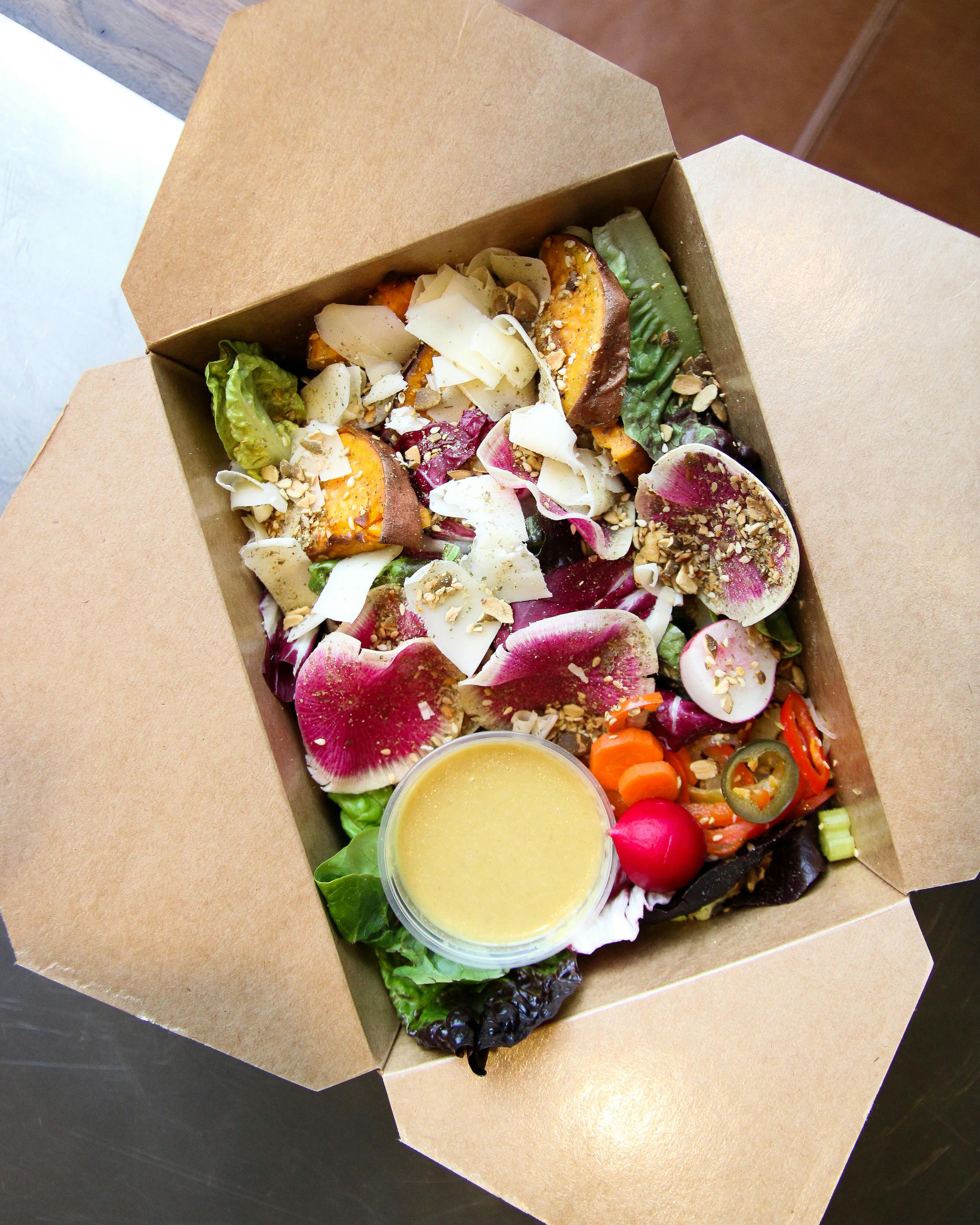 The Big Greenie salad.
Other sides rotate depending on which produce is at its peak, but they've offered many well-executed vegetable dishes, including crispy, brown butter-smothered brussels sprouts, braised collard greens, roasted local squash with tahini, pan-roasted mushrooms with parsley and the newest member of the menu, a braised parsnip tagine with raisins, olives, sour cream and pine nuts. There's something quite beautiful about taking the simplicity of a single vegetable and turning it into a dish that is bursting with flavour, colour and texture, and Bernhardt's achieves this supremely well.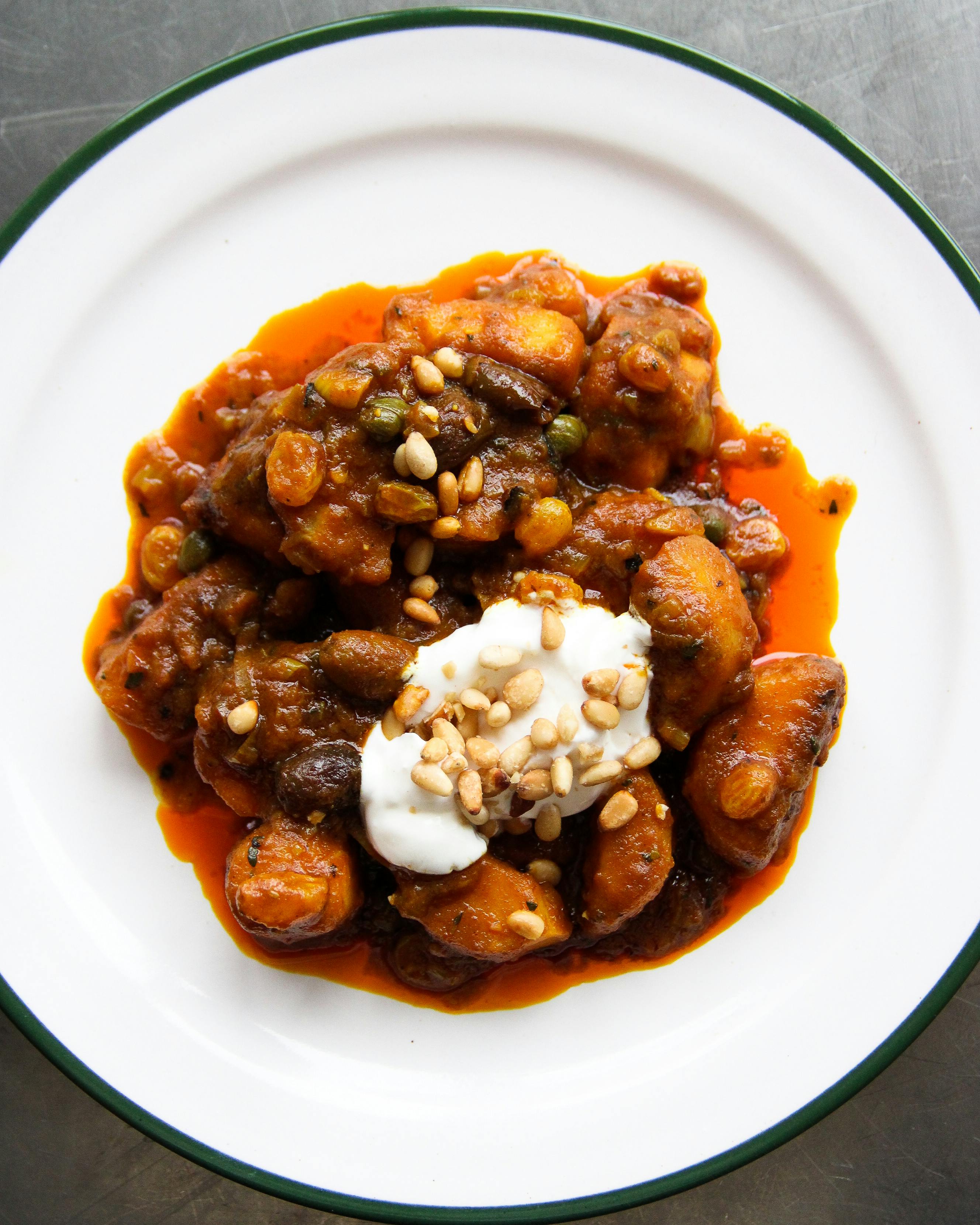 Parsnip tagine with sour cream, olives and pine nuts.
Their sandwiches are highly photogenic and taste as good as they look, piled high with creative fillings between bread sourced from local favourites like Harbord Bakery and Brodflour. The vegetarian take on a BLT features thick slices of ruby red beet with lettuce, green onion, dill and celery leaf, plus a generous smear of creamy tahini sauce and a sprinkle of pumpkin and sesame seeds. Breaded cod fingers are the star of the show in their Fish Stick Butty, a grown-up take on fish fingers that pairs the fried sticks with a spicy tartar sauce, cabbage and cheddar cheese.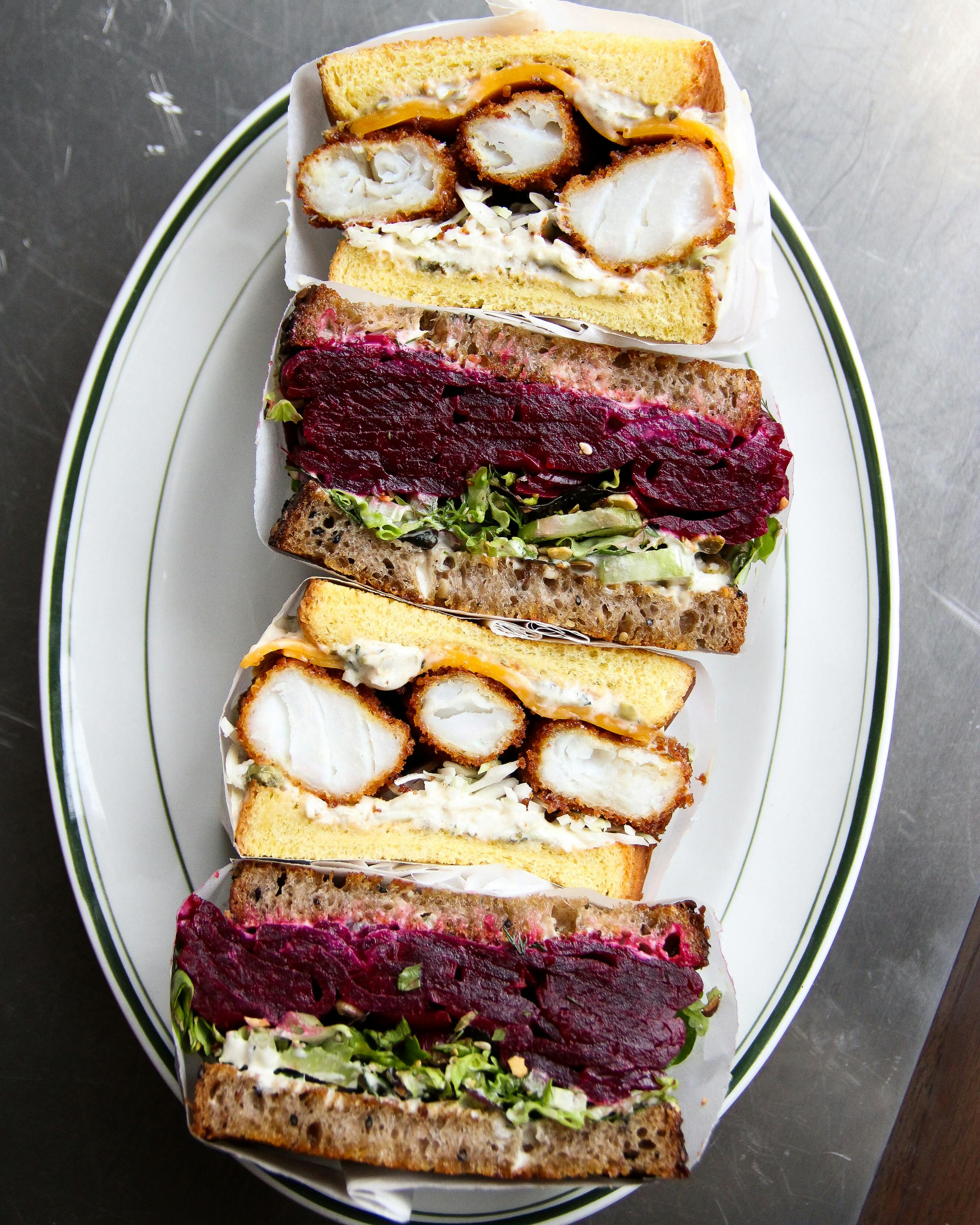 The vegetarian "BLT" and the Fish Stick Butty.
Rotisserie chicken meals don't skimp on the fixings and showcase their golden-skinned birds, cooked to perfection with a crackly outer layer and a tender interior. Half or whole chickens are served with house gravy, Harbord Bakery buns, pickles and a choice of fries or roasted garlic potatoes, or for the more red meat-inclined, their lamb sausage is baked on chickpeas and topped with an olive salsa verde. Whatever you do, don't skip the fries -- they are impossibly crispy and generously salted, which is how all fries should be.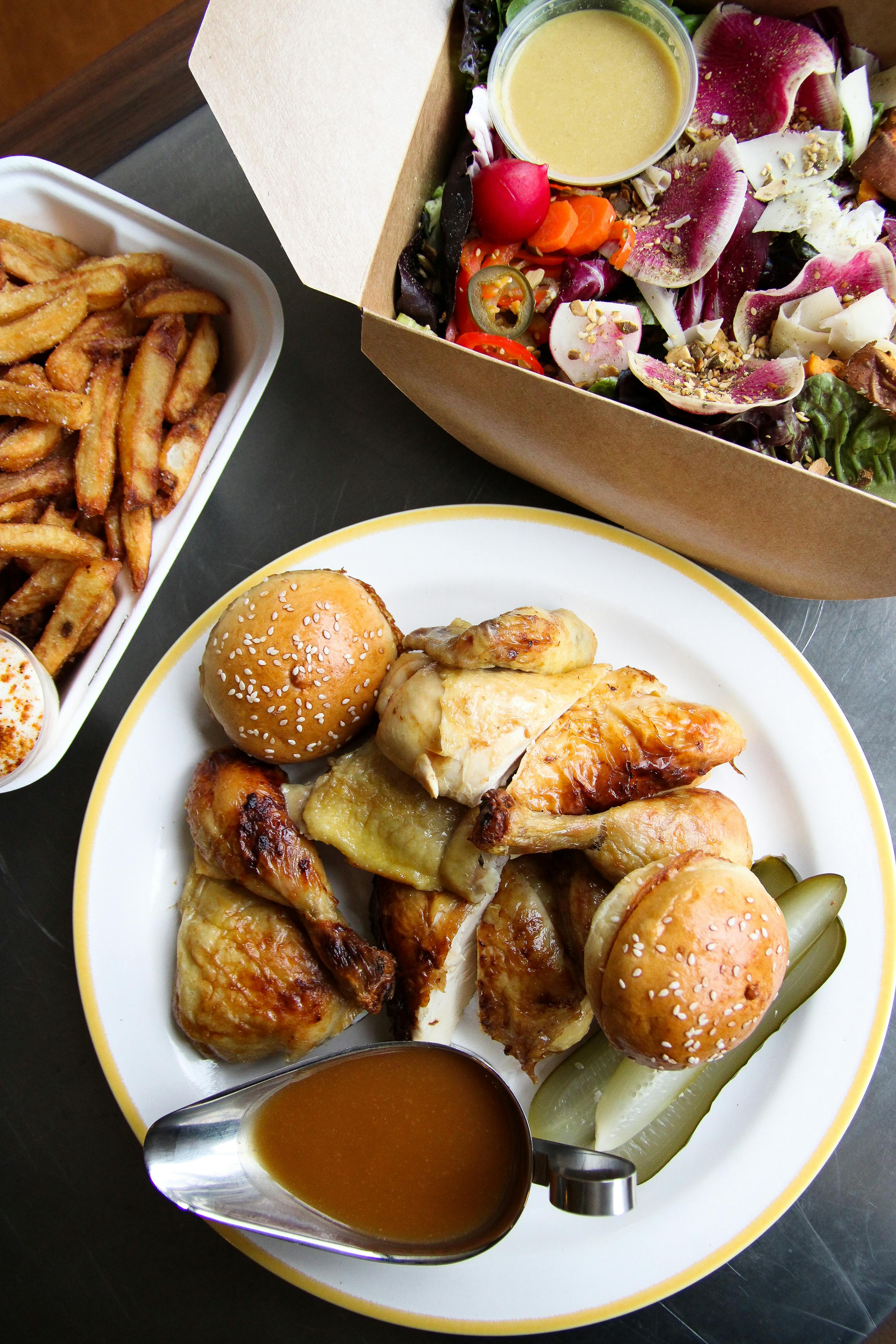 A rotisserie chicken meal with some sides.
Bernhardt's is open seven days a week from noon until 9 p.m., so if you're looking for delightful, veg-forward fare and juicy rotisserie chicken, this is your spot to grab lunch or dinner. Pick a few different dishes to bring home and enjoy them alongside a bottle (or two) from their thoughtful wine list, highlighting many organic varieties. Orders can be picked up from the restaurant same-day and delivery is available through Uber Eats and DoorDash (links to all options are on their website). Stay tuned for more patio space this summer, where you'll surely return more than once for a delectable al fresco meal.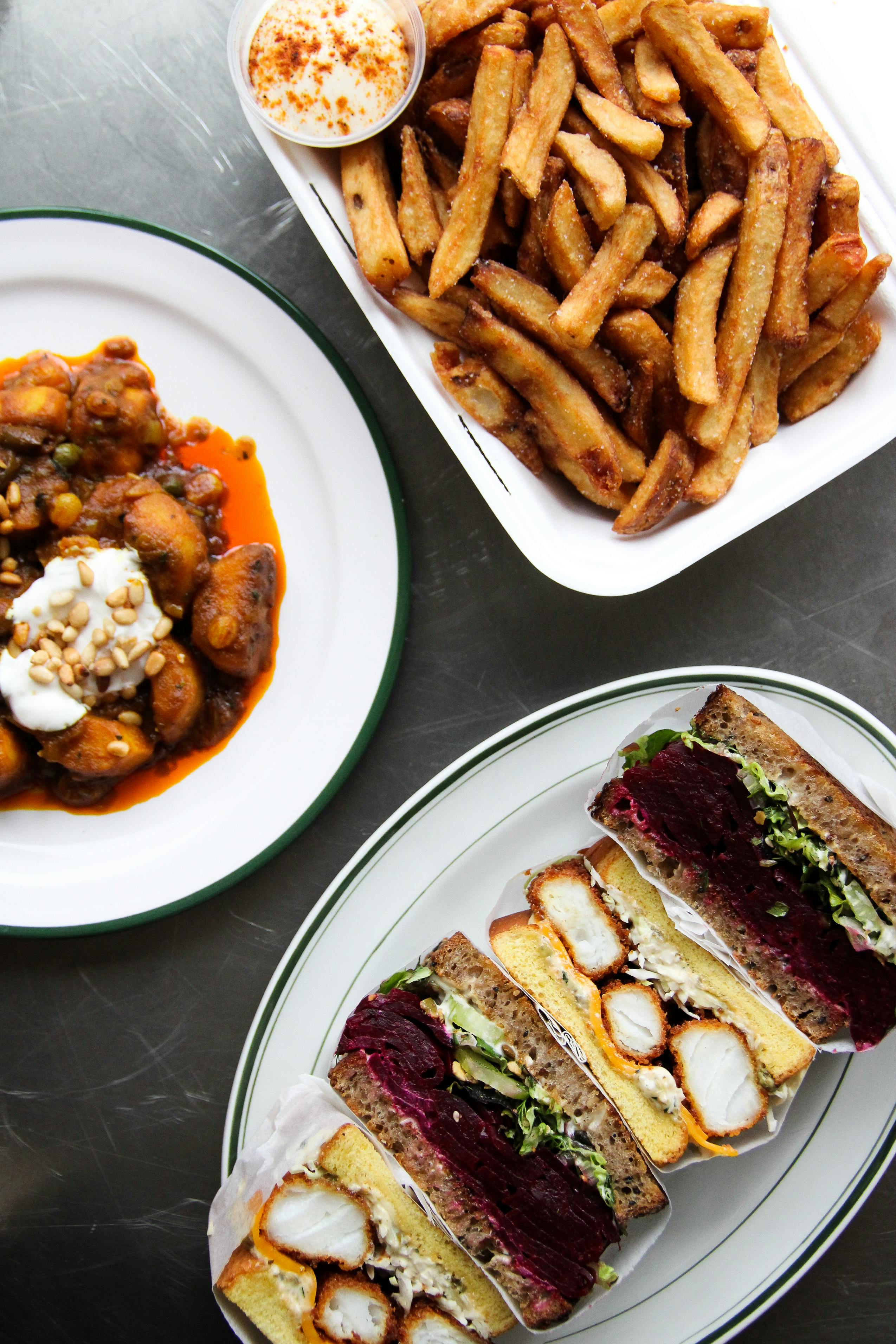 Parsnip tagine, fries and sandwiches.