With Alobar Downtown, Patrick Kriss and his team continue their quiet takeover of Toronto's restaurant scene. A company that indulges every type of craving — with its diner-style comfort classics, finicky French morsels and lofty, cream-swirled sweets — the Alo Food Group knows what we want to eat. At Alobar Downtown, the team's obsession with excellence is presented in an intentionally approachable way for a new audience in a new part of town.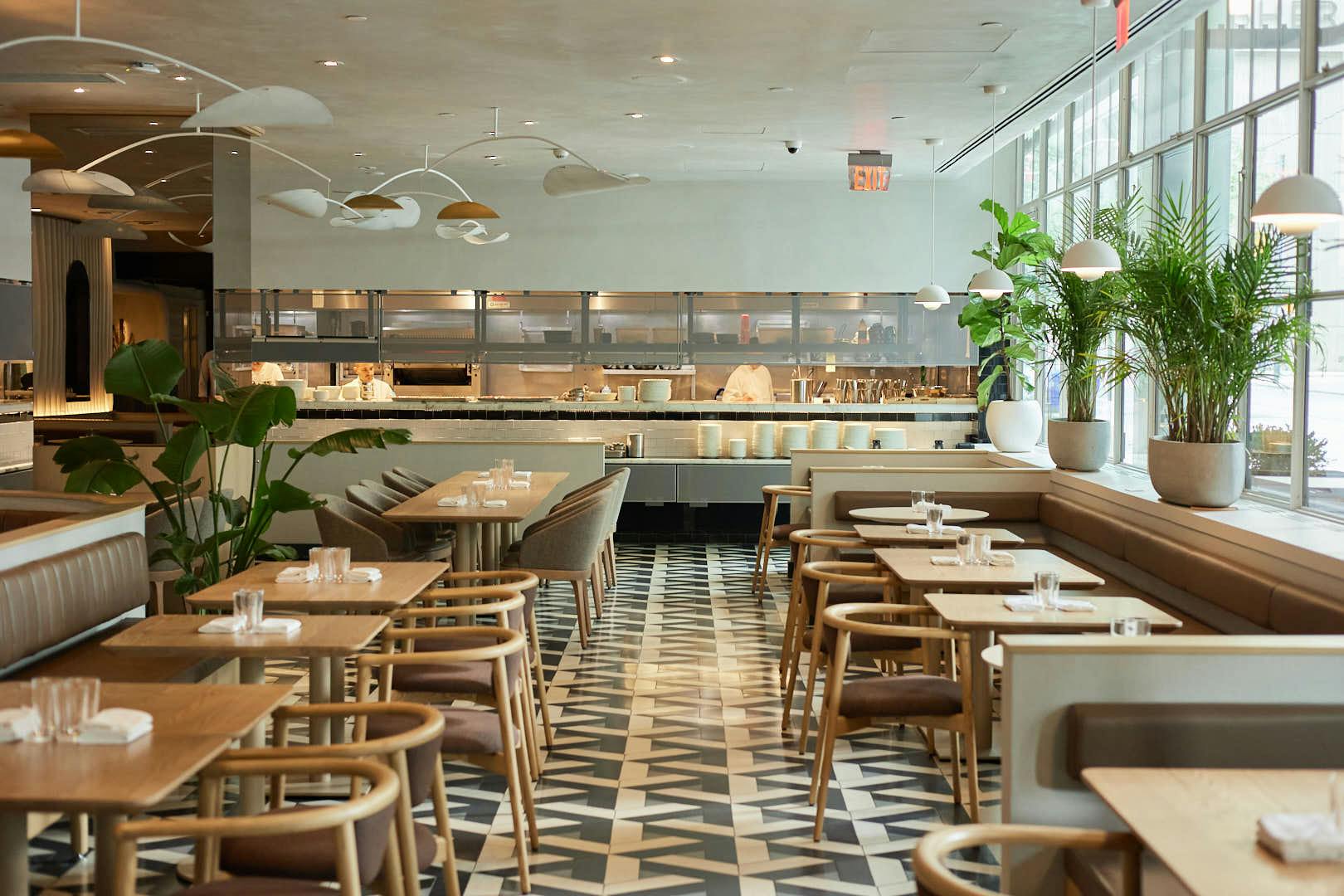 A breezy steakhouse with an "Old Hollywood-meets-Tulum" look, as described by general manager Elle Boutilier, Alobar Downtown is bright, modern, and stylish. Apart from the footprint and geometric flooring, little remains of the space's former life as the Drake 150. In the hands of Mason Studio, the playful, if chaotic, design scheme has been swapped for an airy, luminous look, with muted tones, mirrors, delicate light fixtures and a sense of extreme order tying everything together. Just don't confuse order with dullness. Alo Food Group restaurants may be run with precision but the team knows that the best experience is found when excellent food and flawless service are met with a sense of fun.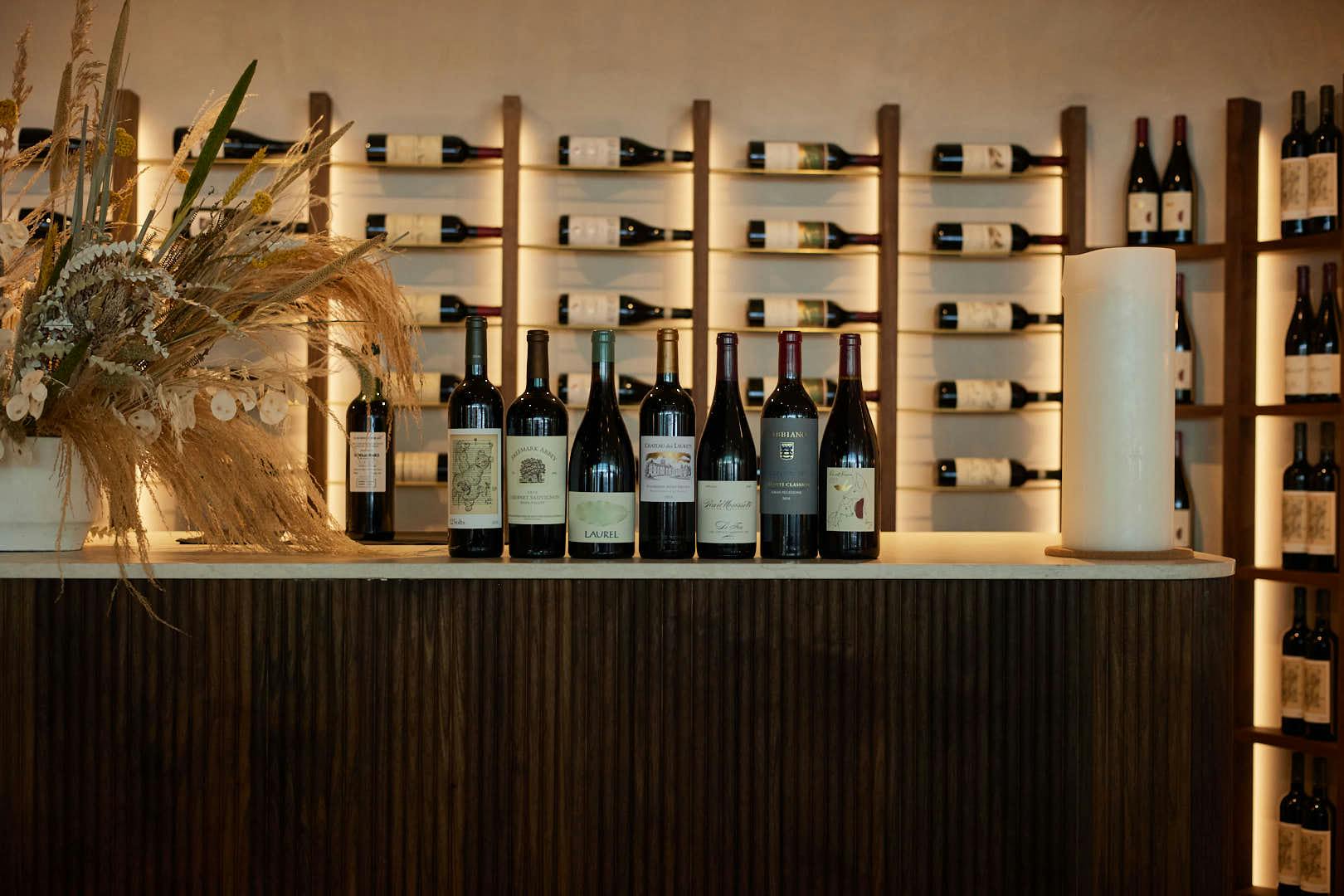 As such, the team added a custom DJ booth and wine display to the vast room. From Wednesday to Friday, guests will find the DJ spinning a set that's "more atmospheric than marquee," according to Boutilier, and is designed to liven up the room, not overwhelm. As for the wine area? A corner where the team can showcase some of the list, it's the perfect spot to delight in a selection of "really great wine that is meant to go with food," says Boutilier. From "really nice Brunellos and Barberas, to California cabs, Chianti, Bordeaux," and more, the list skews Old World with a few New World finds to ensure there's a bottle for every taste.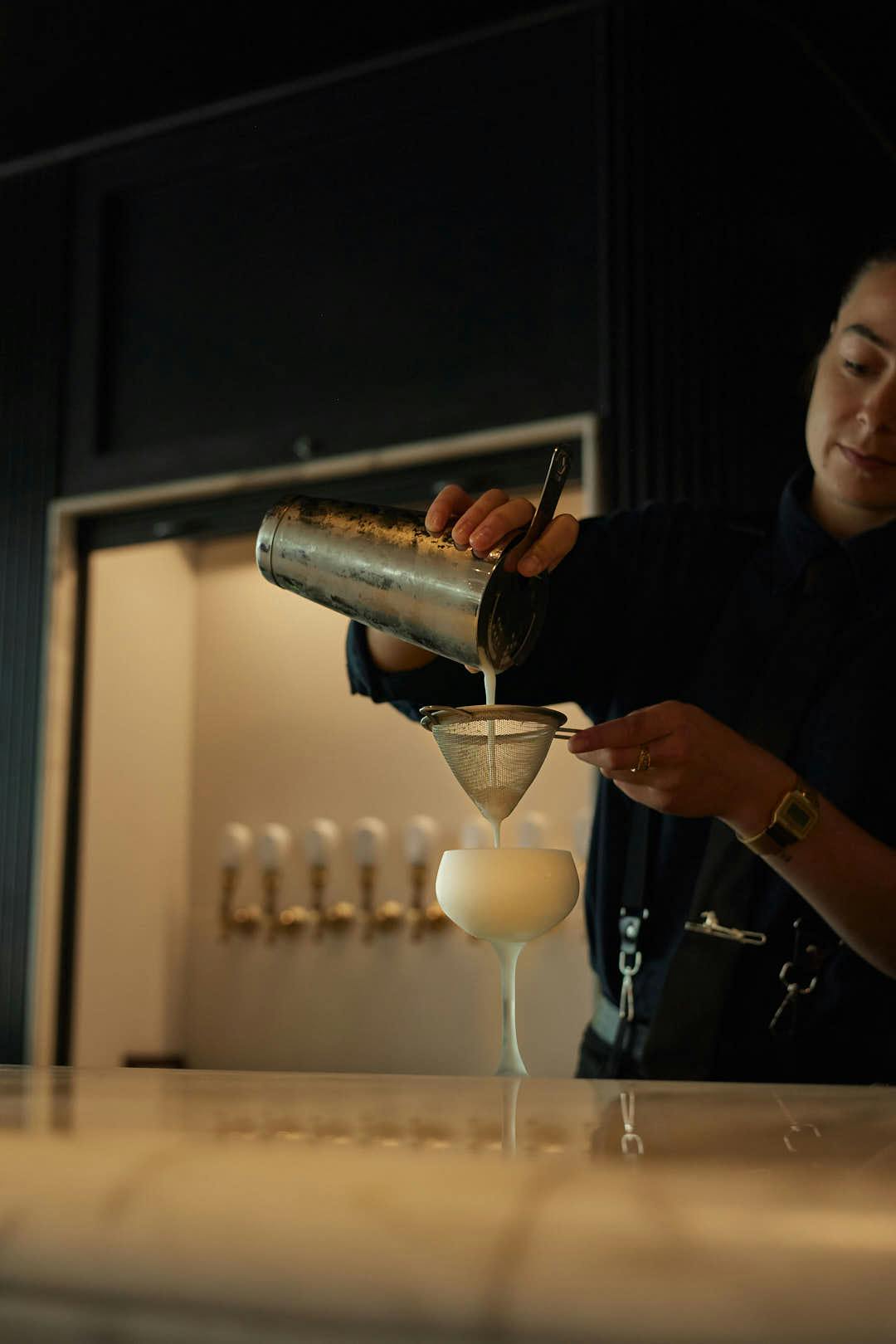 There's also a cocktail or free-spirited sipper to pair with every dish. Refined takes on standard bevvies, the team's bar menu reads like a story you recognize told from a new perspective. Known simply as The Spritz, a zero-proof blend of Roots Divino Aperitif Rosso, rosemary, grape and soda makes a refreshing first step. Similar to a Mojito, Sink Ships finds herbaceous notes added to the popular Cuban drink by way of Thai basil and Dolin Blanc Vermouth. 
"Aloette is little more casual, fun and playful," says Alobar Downtown chef de cuisine Rebekah Bruce "Alo, obviously, is our fine dining experience, tasting menu only. We're kind of in between in style. A little bit French, a little bit classic. We play off of that steakhouse vibe." Nowhere does the team at Alobar Downtown have as much fun as in the kitchen, where Bruce oversees cooks crafting meticulous plates of phenomenal food. Having started at Alo, where she rose to the position of sous chef, Bruce opened Alobar Yorkville with Alo Food Group corporate chef Matthew Betsch, in 2018. There since day one, she experienced every one of the original Alobar's unforeseeable ups and downs. "We had to go through a lot of iterations of Yorkville because of COVID," she explains. "We hammered all of that stuff out at Yorkville. When we came here, we knew what we were going to do."
Though different in feel to its Michelin-starred sister spot, Alobar Downtown trades in a near-identical currency of top-quality classics. "What we realized with the Yorkville location," adds Bruce, "is that we hit a point where we just really liked everything. We liked the food. We liked the style. We were just excited to bring it into a new restaurant." With a bigger space and built-in lunch crowd, Alobar Downtown also offers the team the chance to open for midday meetings, both business and social. The new restaurant "allows us to do more things," says Bruce. "It's a bigger restaurant so we can do a bigger menu. It's also great, this area, for lunch. …It was fun coming up with salads and more casual stuff."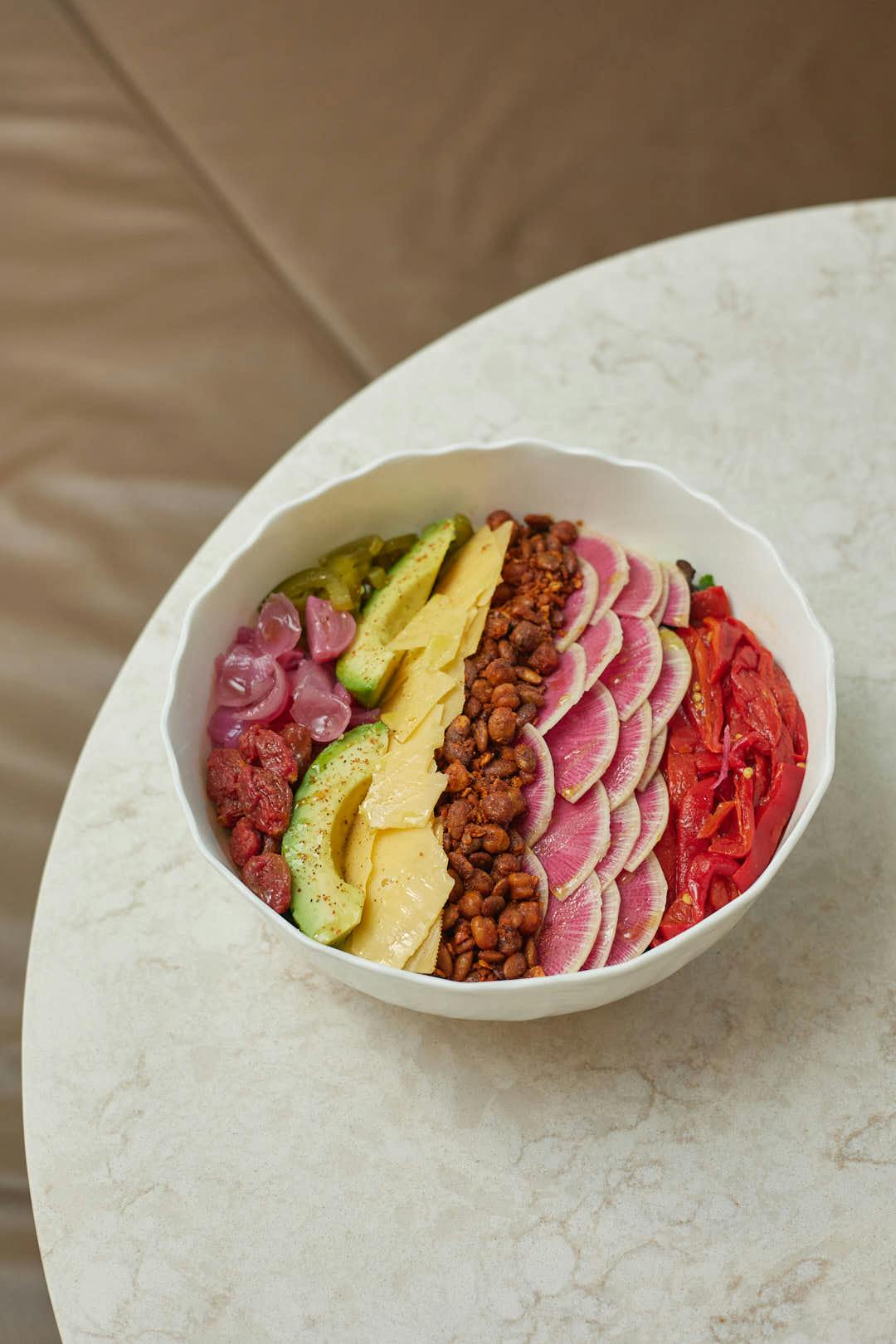 Casual may not be the first word that springs to mind when you get a glimpse of the restaurant's Chopped Kale Salad. Just keep in mind, this is casual à la Alobar. Playing with a palette of vivid produce and tasty add-ons, chef creates a lunch plate that affords your eyes the chance to feast before your mouth is invited to the party. Muss up the tidy swaths of ripe avocado, watermelon radish, gouda, perky pickled jalapeños and onions, roasted red peppers and cherry tomatoes, and find a hearty helping of kale and red oak lettuce dappled in fragrant, house-made Green Goddess dressing. It's the type of dish where no two bites are alike, and each one bursts with texture, flavour and intrigue. When Bruce describes the food at Alobar Downtown as "fun," this is clearly what she has in mind. 
From Iberico Pork Schnitzel and Steak Frites to a Niçoise-esque Grilled Tuna Salad, other lunch features accommodate guests looking to eat well, even within a restricted time frame. In the evening, the menu remains largely the same, with Foie Gras Parfait and Tuna Tartare subbing in as dinnertime features.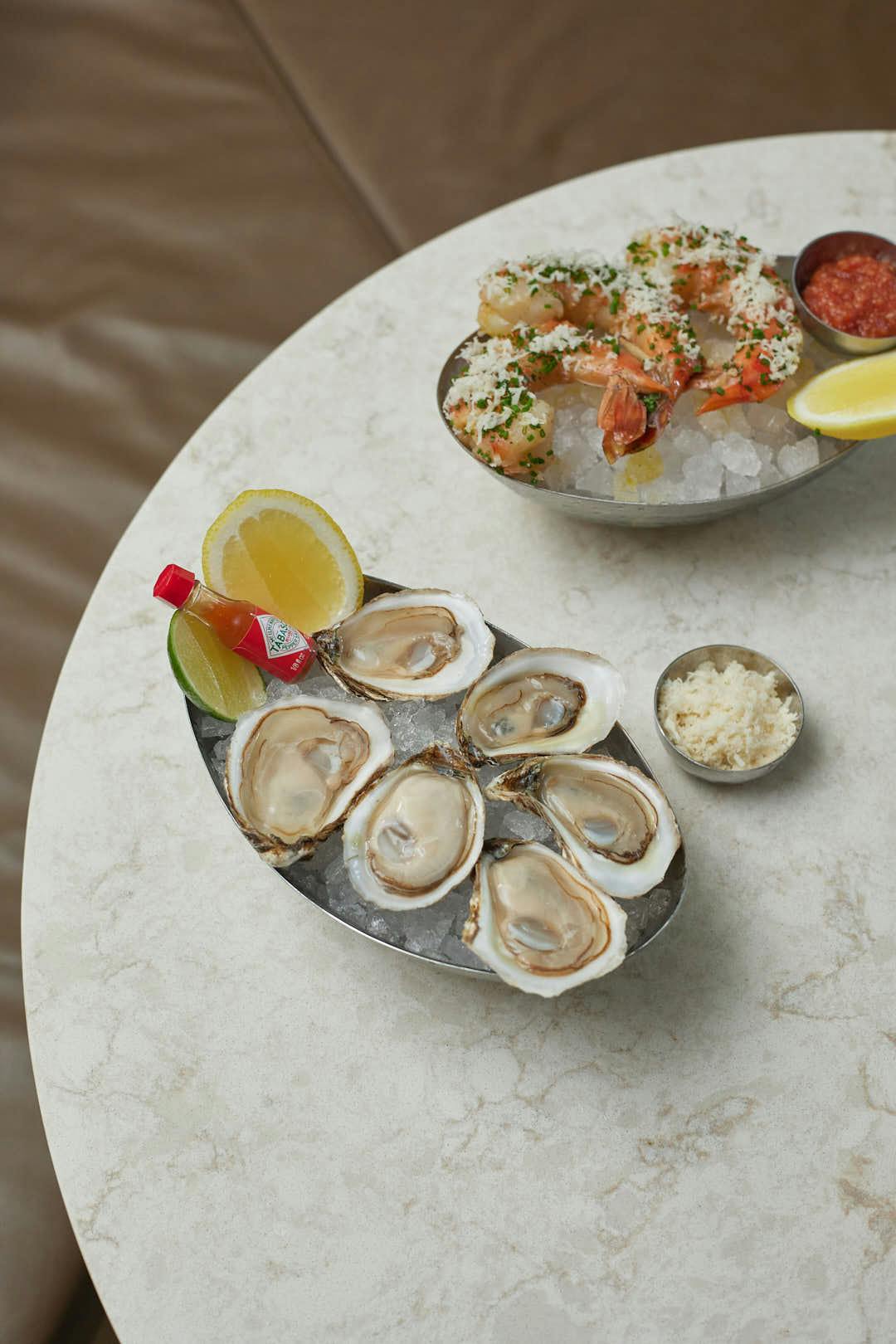 Throughout the day, a selection of appetizers includes several briny options sourced from Daily Seafood Inc., along with beef carpaccio and assorted salads. East Coast Oysters are served six to a plate, with citrus, Tabasco and fresh horseradish, for kick. Confit Tiger Prawns are as colossal as they are succulent and tender. Cooked with garlic, lemon and thyme, for added flavour, then served chilled with homemade cocktail sauce, these crustaceans may ruin you to all others.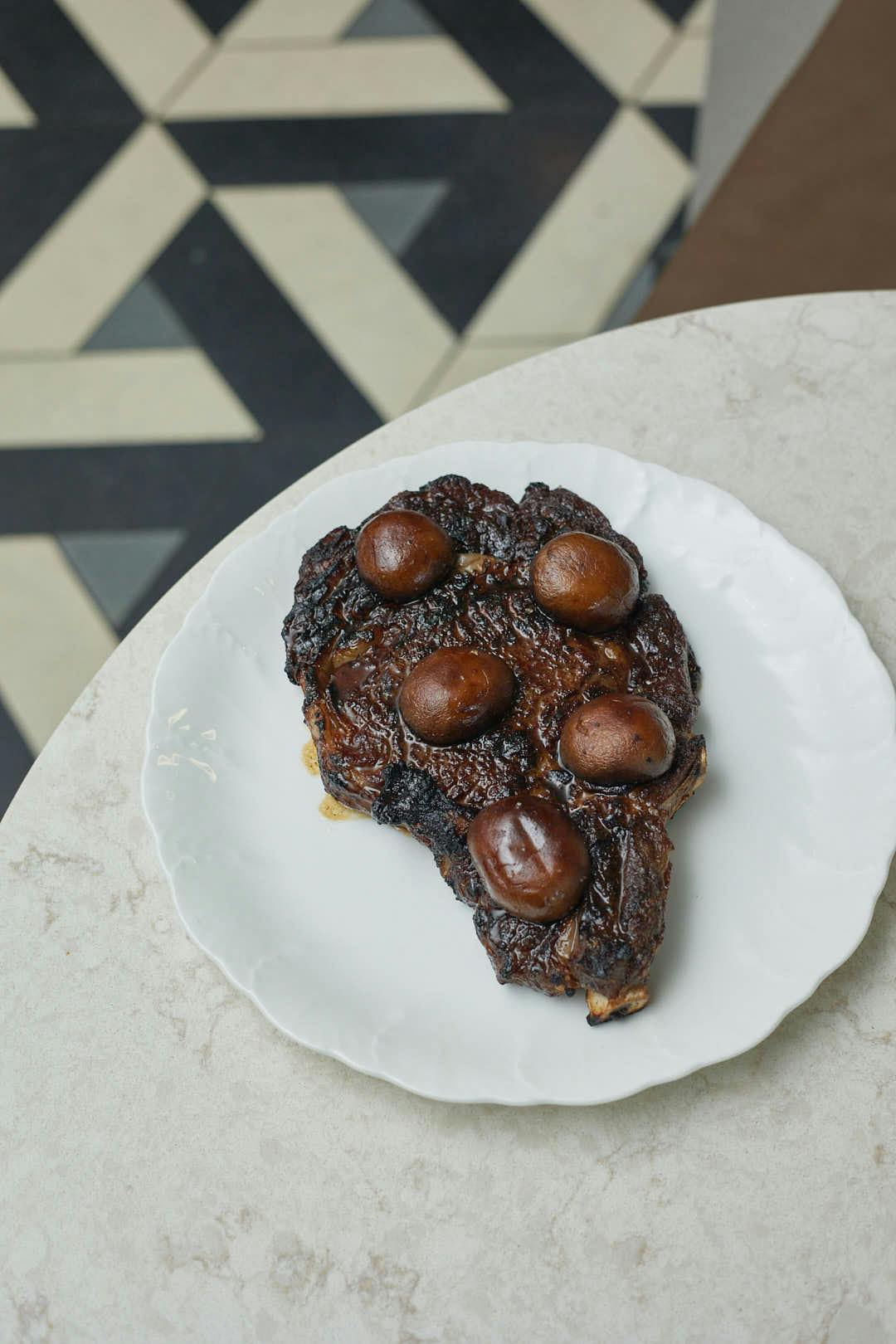 Even cute cremini mushroom caps can't distract from the visceral reaction a 24oz Bone-In Ribeye elicits. Grilled, then broiled with butter to boost caramelization, this shareable main is reason enough to call a meeting at Alobar. Perfect examples of simplicity at its finest, Alobar's Prime Chops — including a dry-aged Porterhouse, Filet Mignon, and the aforementioned rib eye — are full-bodied pleasures for diners with a taste for red meat. Though they need no adornment, steaks arrive with a trio of sauces — chimichurri, peppercorn jus and horseradish cream —  for those fond of gilding the lily.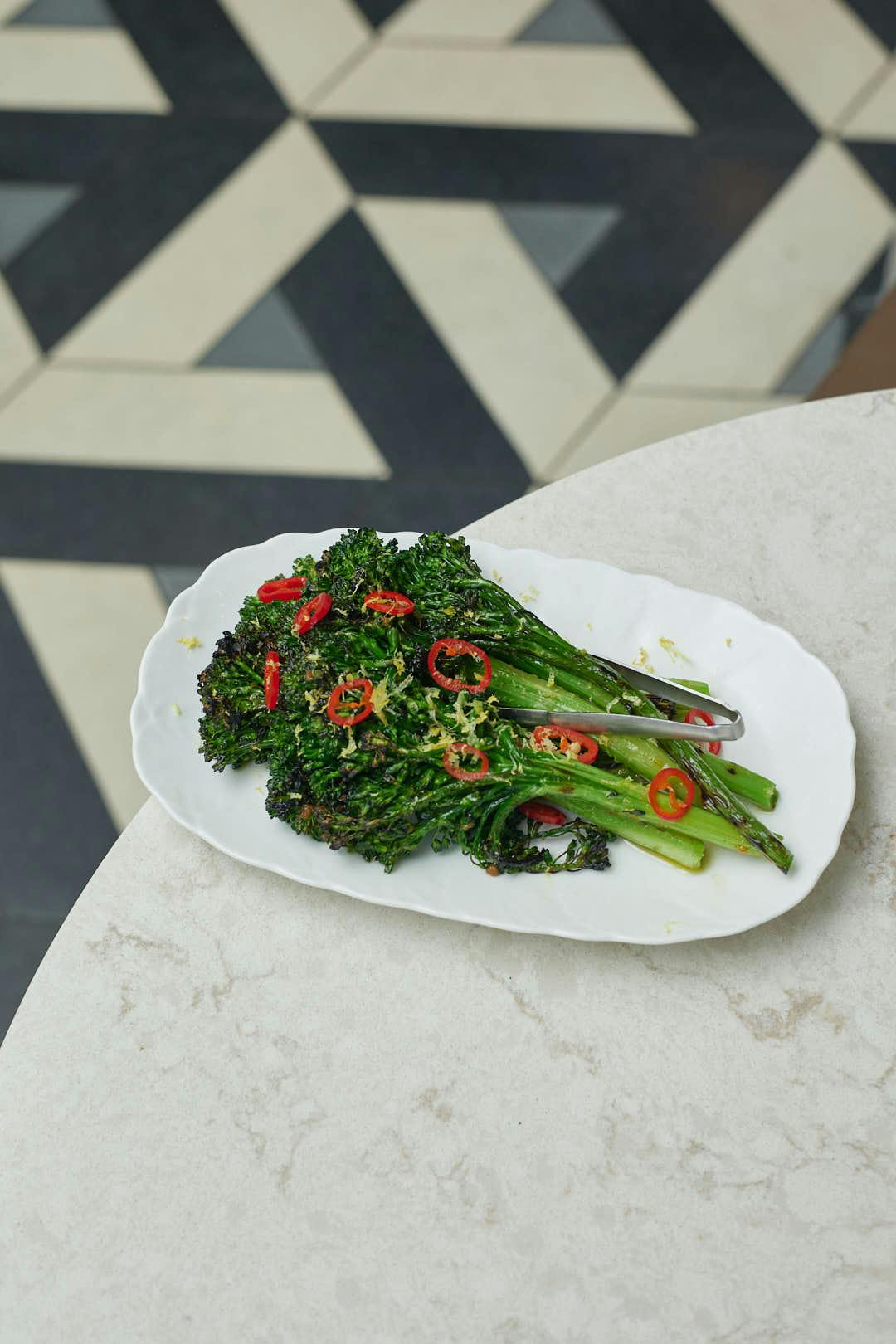 Executed to the same standards as every other item the kitchen oversees, sides are not to be overlooked. Enjoy a few bites of broccolini sautéed with garlic and pickled chili, for health.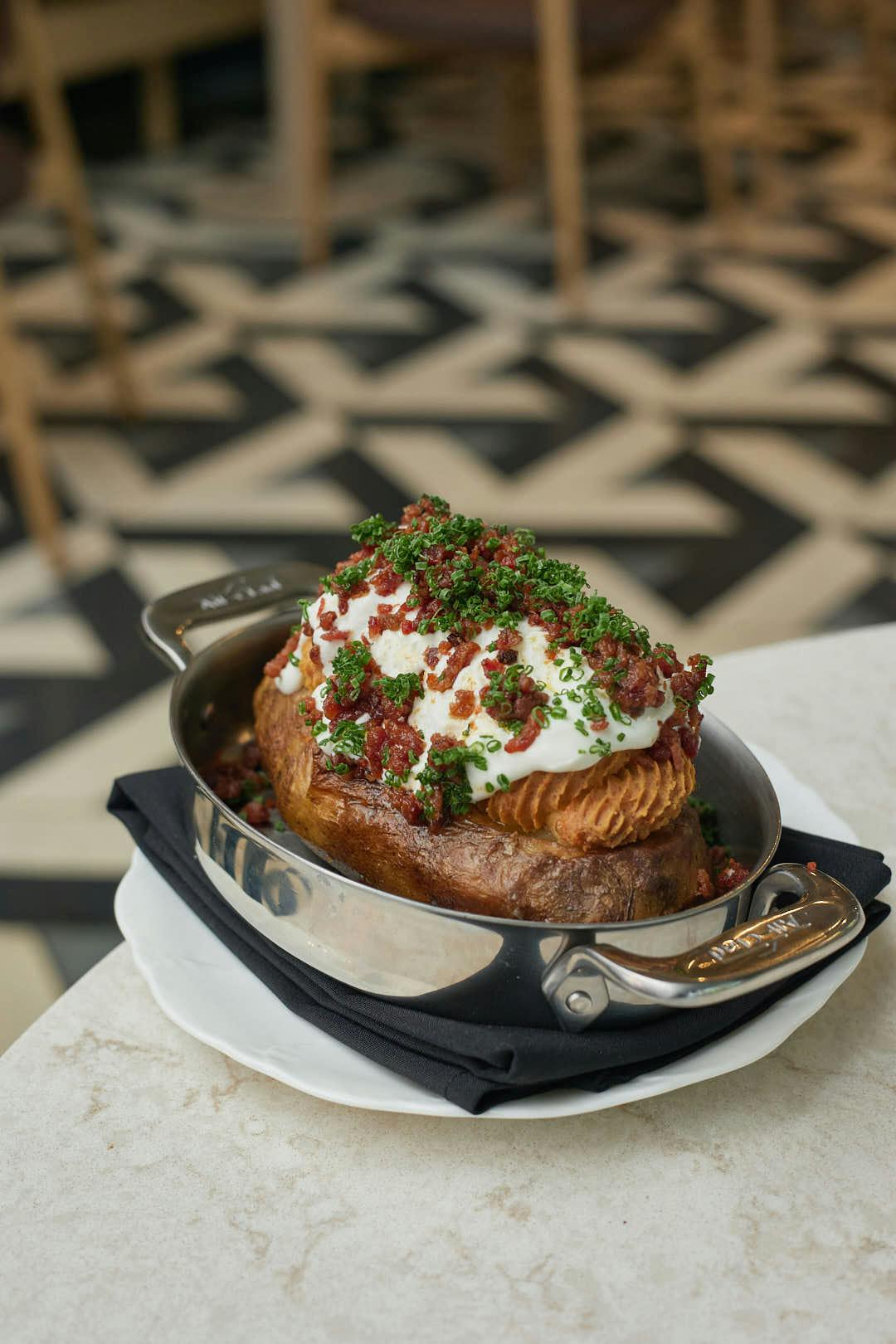 Then, turn your attention to a potato that has undergone a transformation as startling and glorious as Cinderella's. It may not sparkle, but this potato is nothing short of breathtaking. To begin, the team bakes a simple Russet. It then scoops out the interior, and divides it in two. Half is mixed with butter and a blend of sharp cheeses before being positioned back into the potato skin. With egg yolk, more butter and cheese, the remainder becomes Duchesse Potatoes that are delicately piped over top. Sour cream, bacon bits and chives are the crowning glory on what's soon to become the city's most sought-after spud.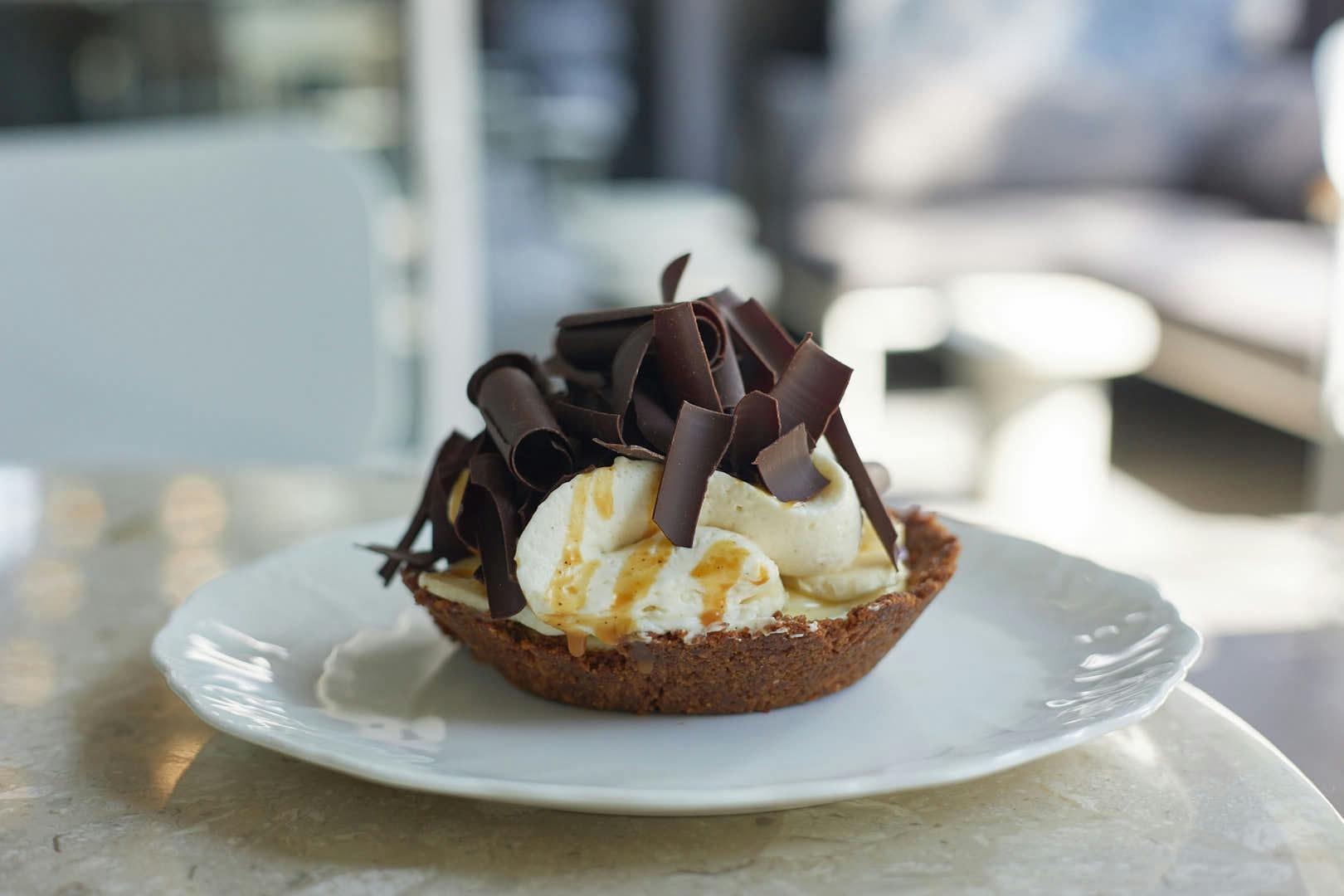 You'll be pulled four ways when it comes to a sweet finale for your meal. Just know that the chefs here are as gifted at constructing desserts as they are at making savoury dishes. There's magic in the way they group crisp and creamy elements, caramelized this and tempered that into tangible versions of the visions in our heads. First, there's the raspberry Mille Feuille, a dessert that has been on the menu at Alobar Yorkville since day one and, as Bruce says, the team "hasn't been able to change or find a better version of." Then, there's silky cheesecake with sour cherry compote and a gluten-free chocolate pastry cream tart garnished with candied hazelnuts. Finally, there's the Banana Cream Pie, an appropriately tropical cousin to the Coconut Cream Pie found at Alder, in the Ace Hotel. Supported by a graham cracker and Biscoff cookie base, vanilla pastry cream meets fresh bananas, rum ice cream, banana whip, a lick of spiced rum caramel and a fistful of dark chocolate curls. It's not likely to leave the menu anytime soon.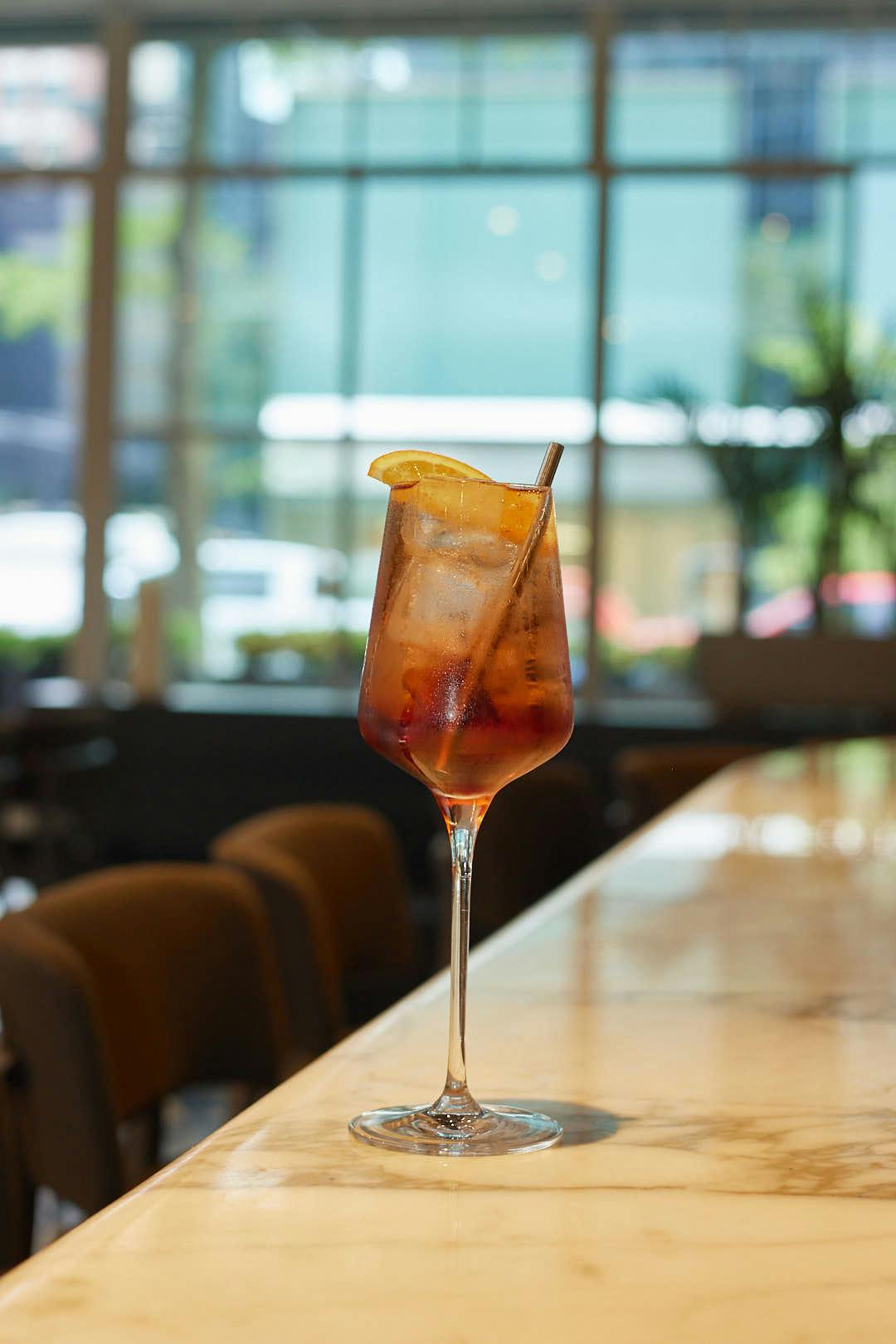 Open six days a week, with lunch morphing into happy hour then dinner, Alobar Downtown is a boon to a neighbourhood reclaiming its pre-COVID personality. Stroll in at any time of day, find your favourite spot, and settle in for a cocktail and a bite. Will you notice that your water glass is always full? That every table is sharply aligned? That your needs are met before you have a chance to communicate them? Maybe not. What you will know without a shadow of a doubt is that everything, including every mouthful, feels exactly right, and that the Alo Food Group has done it again.