Photographs by Larry Heng
Find yourself easily losing track of time at The Rabbit Hole, the newest restaurant by the Oliver & Bonacini Hospitality group that's sure to elevate the pub environment you've always known through exceptional food and carefully crafted cocktails.
Initially set to open in May 2020, the gastropub was delayed and ended up officially welcoming diners in June of this year. Taking over in what was formally Speakeasy 21, the space boasts a three-tier garden-themed patio that seats 80 guests, as well as a cozy interior that can accommodate 45 guests.
"We could go down a rabbit hole talking about why it's called The Rabbit Hole, but that's the reason why," says Steve Spooner, Director of Operations for Oliver & Bonacini Hospitality, "[It's about] getting lost in conversation to the point where you reemerge hours later and you don't know what just happened to you, but you know you had a good time."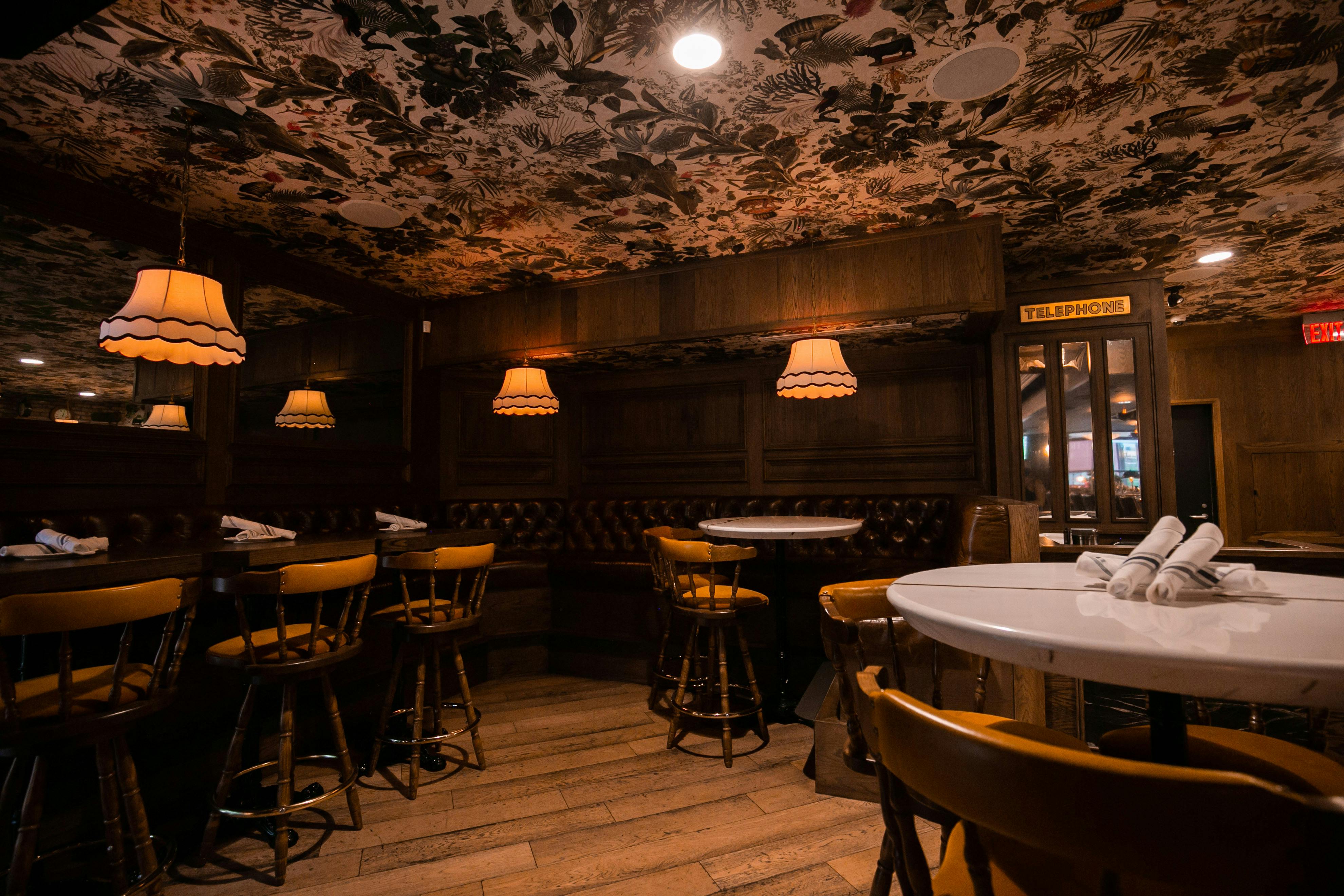 "I think that's one side of it, but also a very loose connection to Alice and Wonderland and that sense of fantasy," says Rebecca Spence Manager, PR & Communications for Oliver & Bonacini Hospitality. "It evokes this old-timey sense of whimsy and fantasy and being transported a little bit."
Transported, you most certainly are.
Fitting to their theme, a clear nod to the beloved fairytale Alice in Wonderland written by British author Lewis Carroll, and the idea of getting lost in time while in conversation with loved ones, a mystical atmosphere can be felt floating throughout the space. This ambiance is achieved in the dimly lit room through the incorporation of dark wood and leather details, whimsical wallpaper, warm lights and the inclusion of many unique items throughout, most of which are vintage.
These elements include a wall of old clocks, a telephone booth, various stylish lamp fixtures, antique silver serving trays, a selection of cocktail glasses that are thrifted, resulting in varying compositional details and even a credenza carved by Spooner and his friends. According to Spooner, these aspects of the restaurant, the seamless blend of old and new, are what give the space integrity.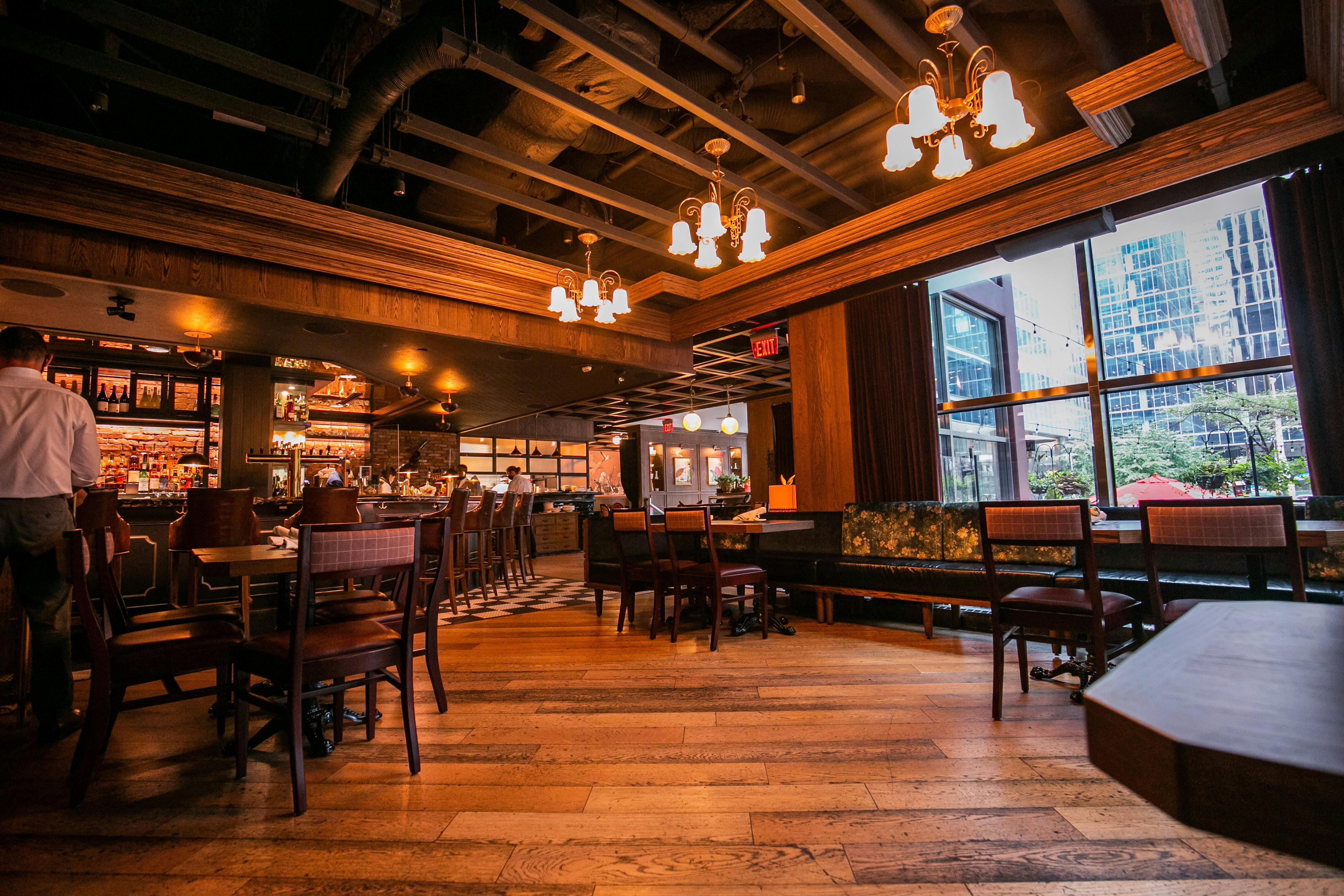 Bringing a relaxing gastropub environment to the downtown core, though they boast an elevated pub experience, The Rabbit Hole aims to provide a space welcoming to all, where no one feels out of place or that they don't belong. Their goal is to encompass the typical pub environment, which Spooner says has "echos of a billion conversations from a couple hundred years." It aims to output a sense of conviviality, making you never want to leave.
Pimm's branded patio umbrellas, staff touching on formal attire through the addition of waistcoats in their uniforms and even incorporating a playlist 90% composed of UK artists, the restaurant doesn't fall short in ensuring they are not only loyal to their theme, but also that there are multiple elements that guests can connect to.
"I like things to have bits that will make lots of different people smile for different reasons," says Spooner.
This concept of relatability and familiarity reappears on the food and beverage menu. Though most plates are English staples, you're also likely to find many dishes you normally wouldn't discover at your local pub.
"There's lots of infused things that make it British, but the dish may be from somewhere else in the world," says Spooner.
A large focus is naturally on the food at The Rabbit Hole, but the extensive cocktail list is surely unlike any other found at a local pub. Conceived by lead bartender Raj Rijhwani, the cocktails range from the classics to ones developed specifically for The Rabbit Hole, with names fitting to the restaurant's theme and named after iconic British media.
The Del Boy is a tropical drink with a vibrant blue hue and is made with el dorado 3 year old rum, crème de banane, blue curaçao, montelliana spumante, pineapple, lime and coconut. It's named after a character from the 1980's sitcom Only Fools and Horses, a long-standing UK comedy series that according to Spooner, if you're over the age of 35 and grew up in the United Kingdom, you'll know exactly what it is.
Speaking of the Director of Operations for Oliver & Bonacini Hospitality, the cocktail The Hunter, is named in honour of his friend and is made with j&b rare scotch, crème de violette, cherry heering liqueur, laphroaig and lemon.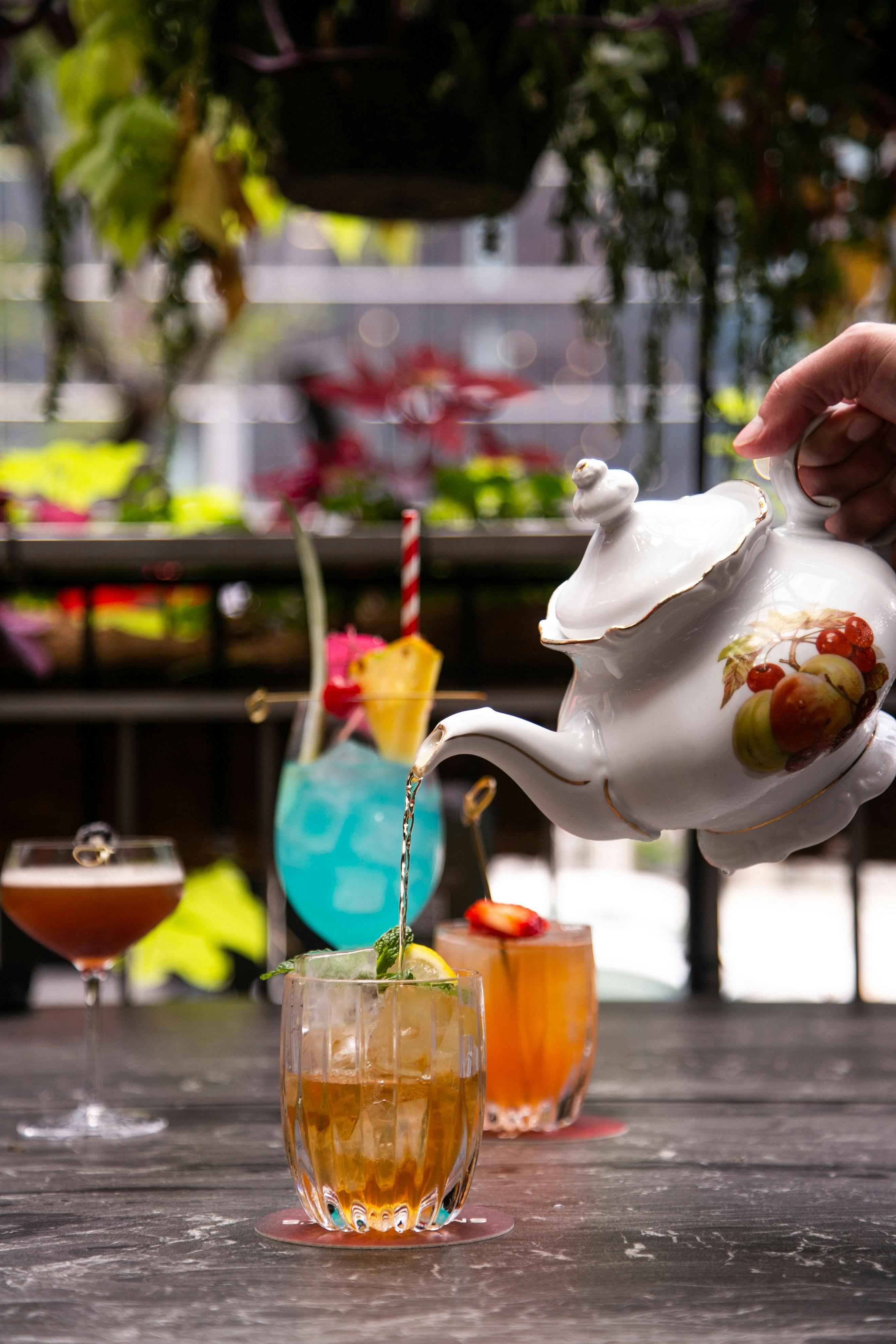 Fitting to the Alice in Wonderland theme, find drinks with names like the Queen of Hearts made with Dejado Tequila, Pimm's, mezcal, strawberry and lemon, as well as the Queen's Tea which is made with Dillon's Selby gin, Dillon's Selby vodka, triple sec, El Dorado 3 year old rum, earl grey and lemon, elegantly served out of a teapot.
A menu dominantly composed of iconic British pub dishes married with local influences and ingredients is devised by district executive chef John Horne and chef Ryan Lister of Liberty Commons. Executing the menu and adding her twist to dishes is chef de cuisine Laura Petracca, who's taking the reins at The Rabbit Hole after her time at two other O&B restaurants Leña and Jump.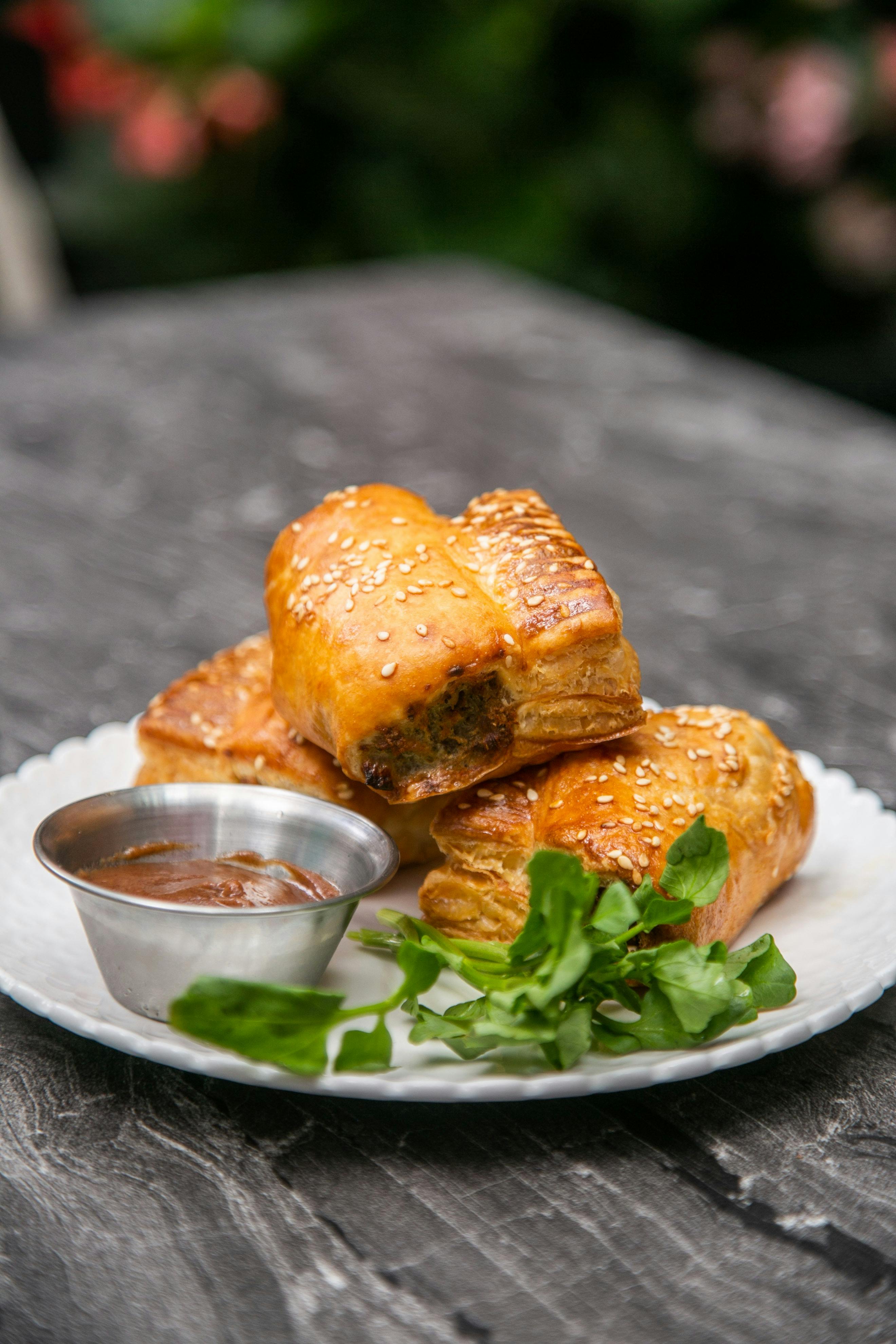 To start, an order of Sausage Rolls seems simple, but is a must. A flaky, buttery puff pastry encasing a breakfast-style sausage that manages to remain so soft that it melts apart in your mouth, these are supplied by The Common Pie Shop in Liberty Commons and are accompanied with a side of Branston Pickle. This age-old English brand -- Branston -- is historically known for this condiment which is a pickled chutney dating back to over 100 years ago. In this thick, dark, sticky sauce is a mix of vegetables including carrot, rutabaga, onion and cauliflower and the inclusion of sugar and vinegars makes this British classic sweet, tangy and even a little bit spicy.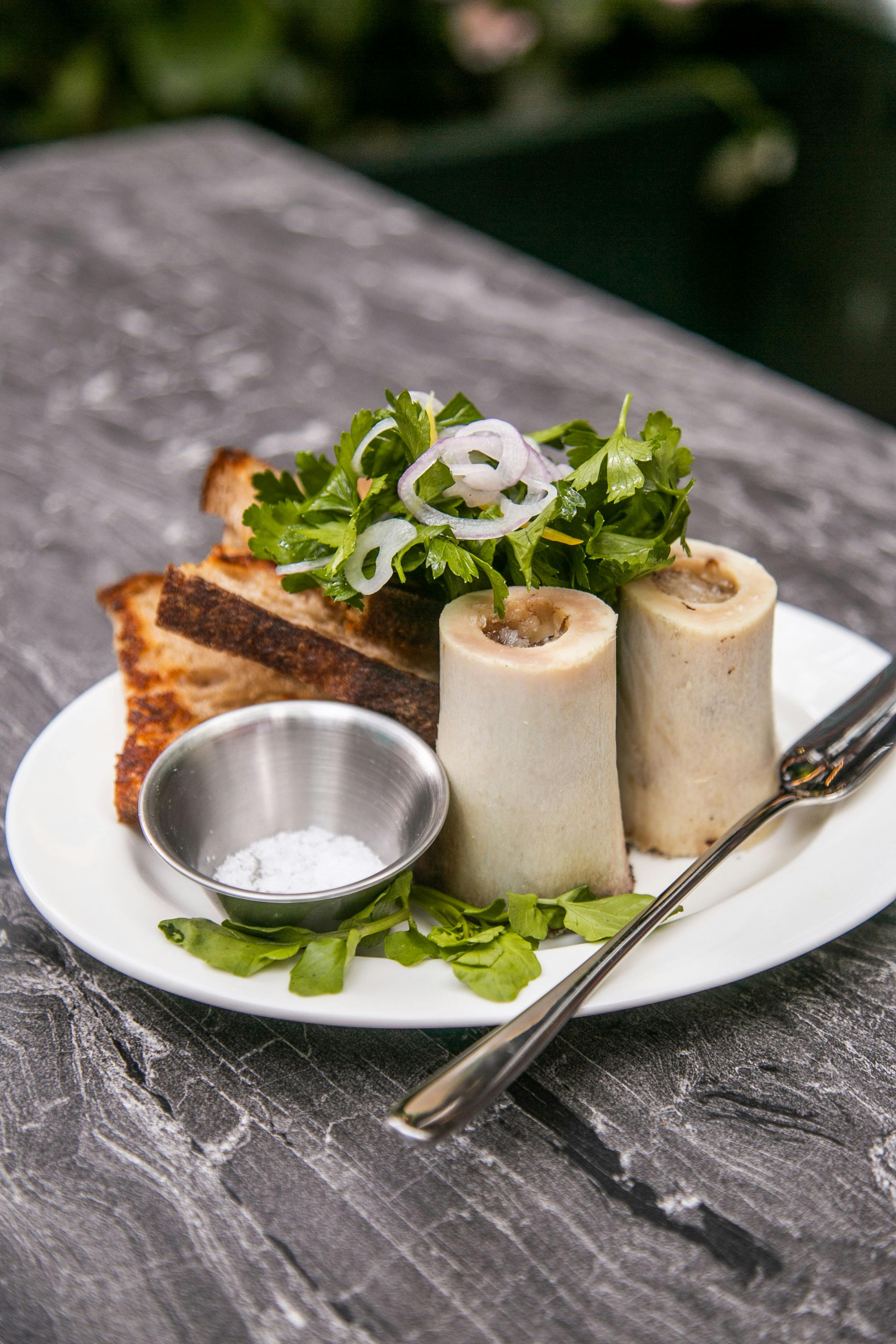 Fergus's Roasted Bone Marrow is plated with a parsley salad, Newfoundland salt and fried bread. This dish takes inspiration from and is a nod to British chef Fergus Henderson, whose restaurant St. John in London stayed memorable in the minds of chef John Horne and Liberty Commons' chef Ryan Lister when devising the menu at The Rabbit Hole.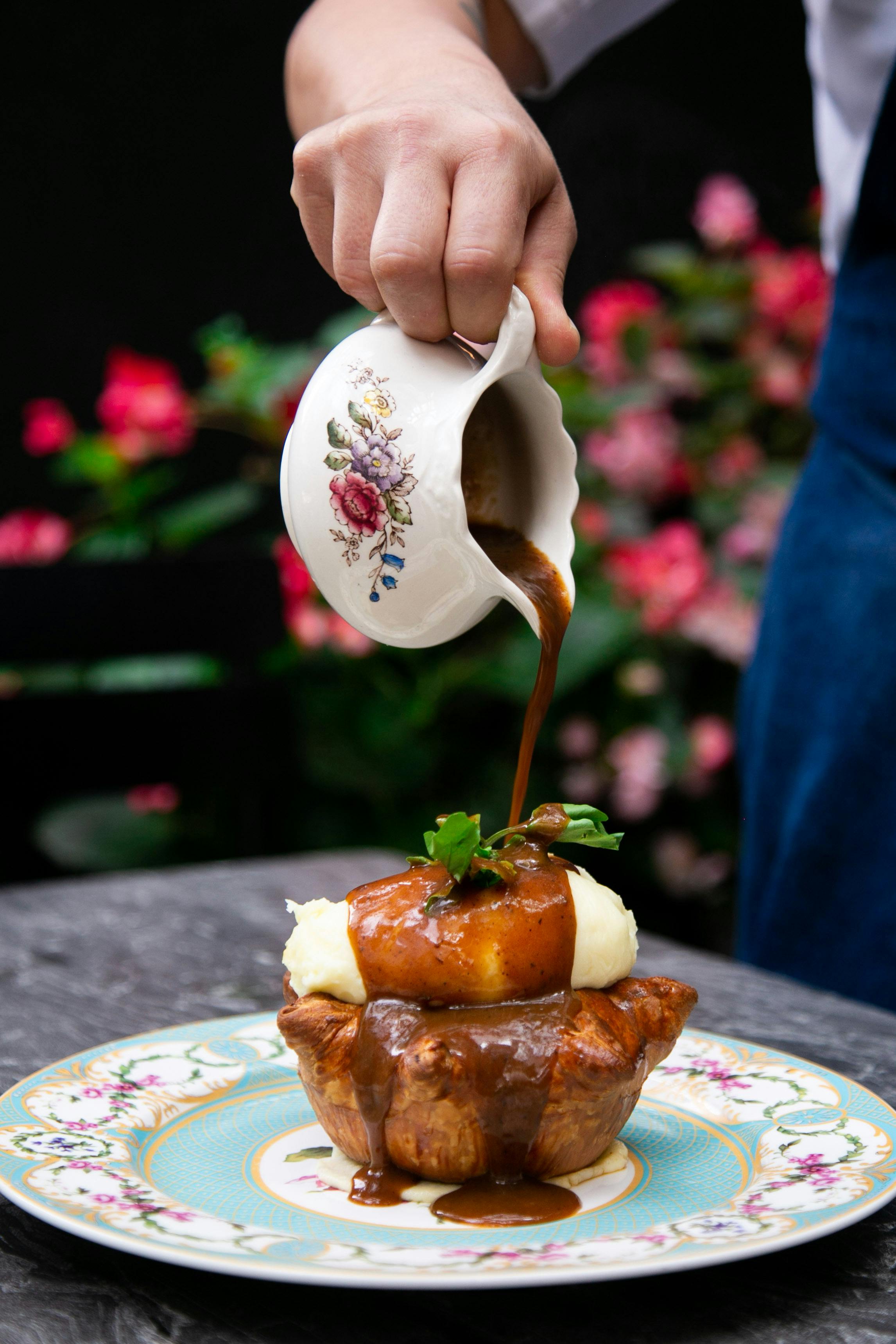 The number one best-seller at the moment, also one of the more traditional pub staples on the menu is the Steak and Mushroom Pie. Made fresh in house every morning, these hearty pies are generously filled and their buttery crust is topped with a scoop of creamy buttermilk mash potatoes. You'll want to go heavy on their thick deep ale gravy that brings it all together.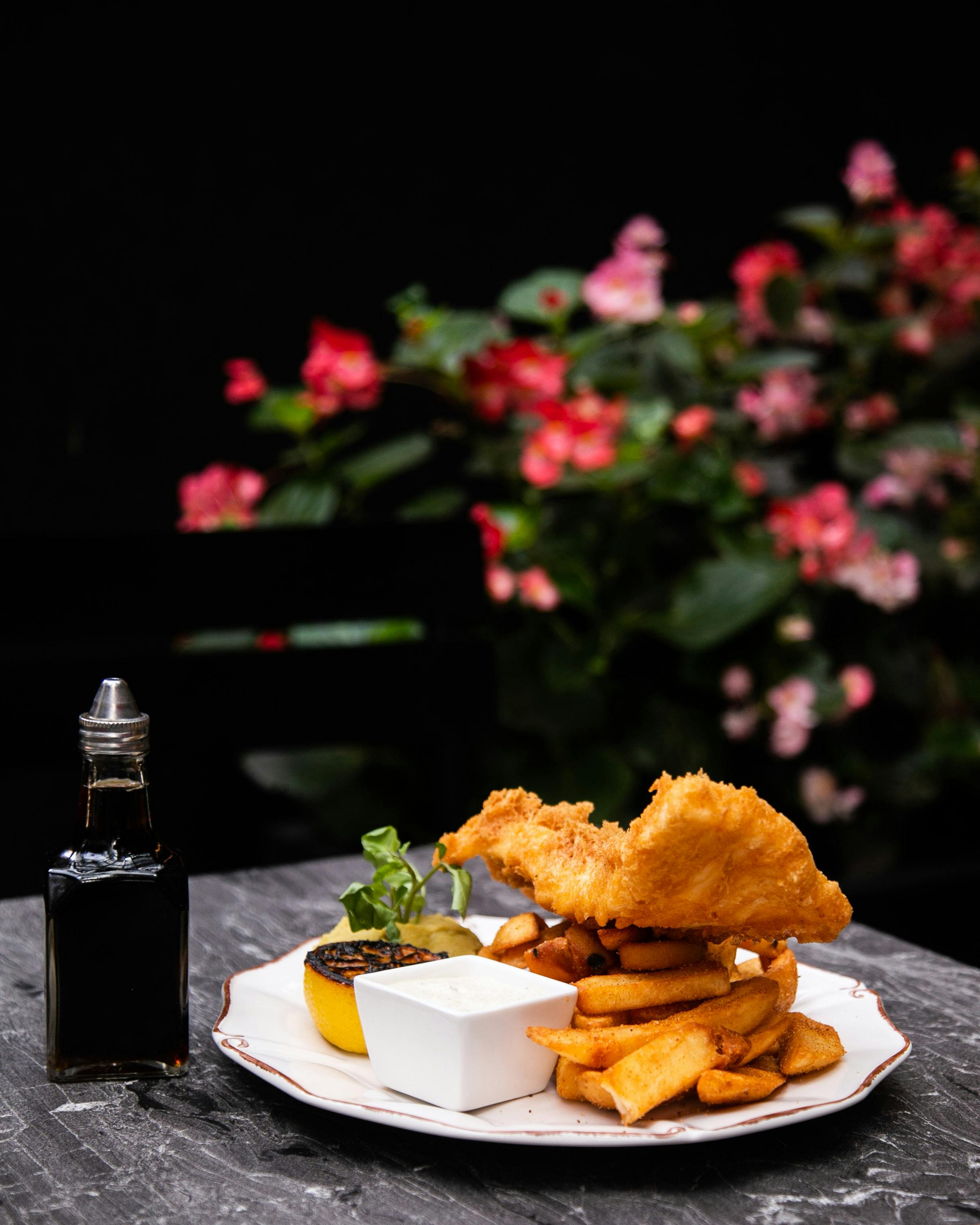 With the menu set to change seasonally, one dish you'll always find no matter the time of year is the second most requested item on the menu -- the Ale Battered Fish and Chips. A go-to staple for most searching for British pub fare, this one is made using halibut and Steam Whistle beer. The crispy golden-crusted fish sits on a bed of chunky chips dressed in Old Bay spice. You'll also find mushy peas and homemade tartar sauce as accompaniments.
Once October rolls around, the chef says the plan is to start shifting the menu towards more dishes fitting to the colder months. Expect additions of hearty, comforting British dishes like cottage pie, fish pie and stews.
"Obviously, there's a lot of staples you'll see year-round. I can't imagine the fish and chips would ever leave. I snack on a fish and chips -- not every day," she laughs, "But you know, gotta test that batter right?"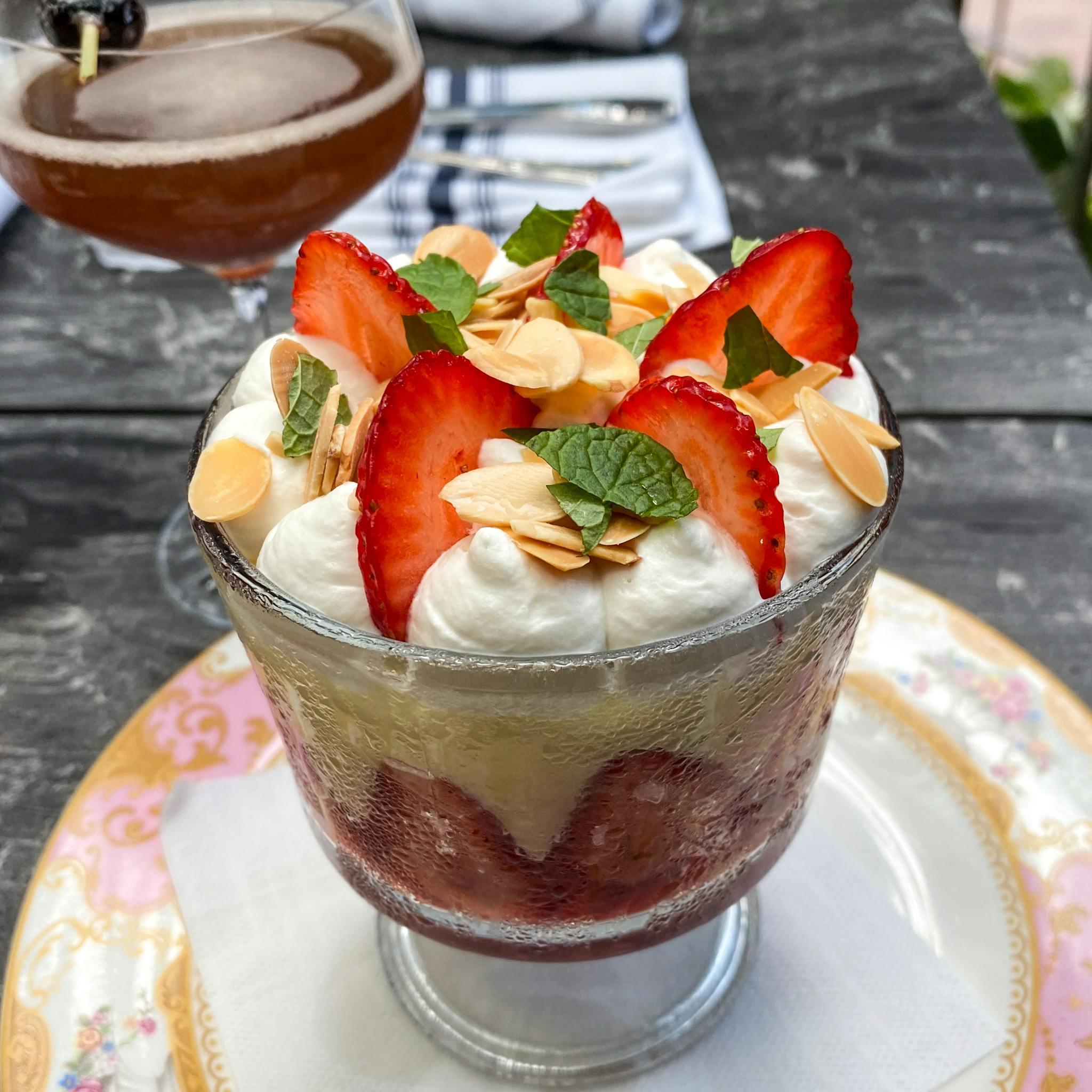 For dessert, discover the Strawberry Trifle. As tasty as it looks, this seasonal dessert currently comes with layers of sweet Ontario strawberries within additional layers of strawberry jelly made in-house, vanilla custard, ladyfingers, whipped cream and toasted almonds. As addicting as it sounds, this dessert manages to stay light and airy, with every spoonful stacked with fresh strawberries.
On the topic of sourcing local, chef Petracca says that most produce comes from 100km Foods.
"Toronto has a small window of fresh produce through the year, so when you can get it, you got to take advantage of it."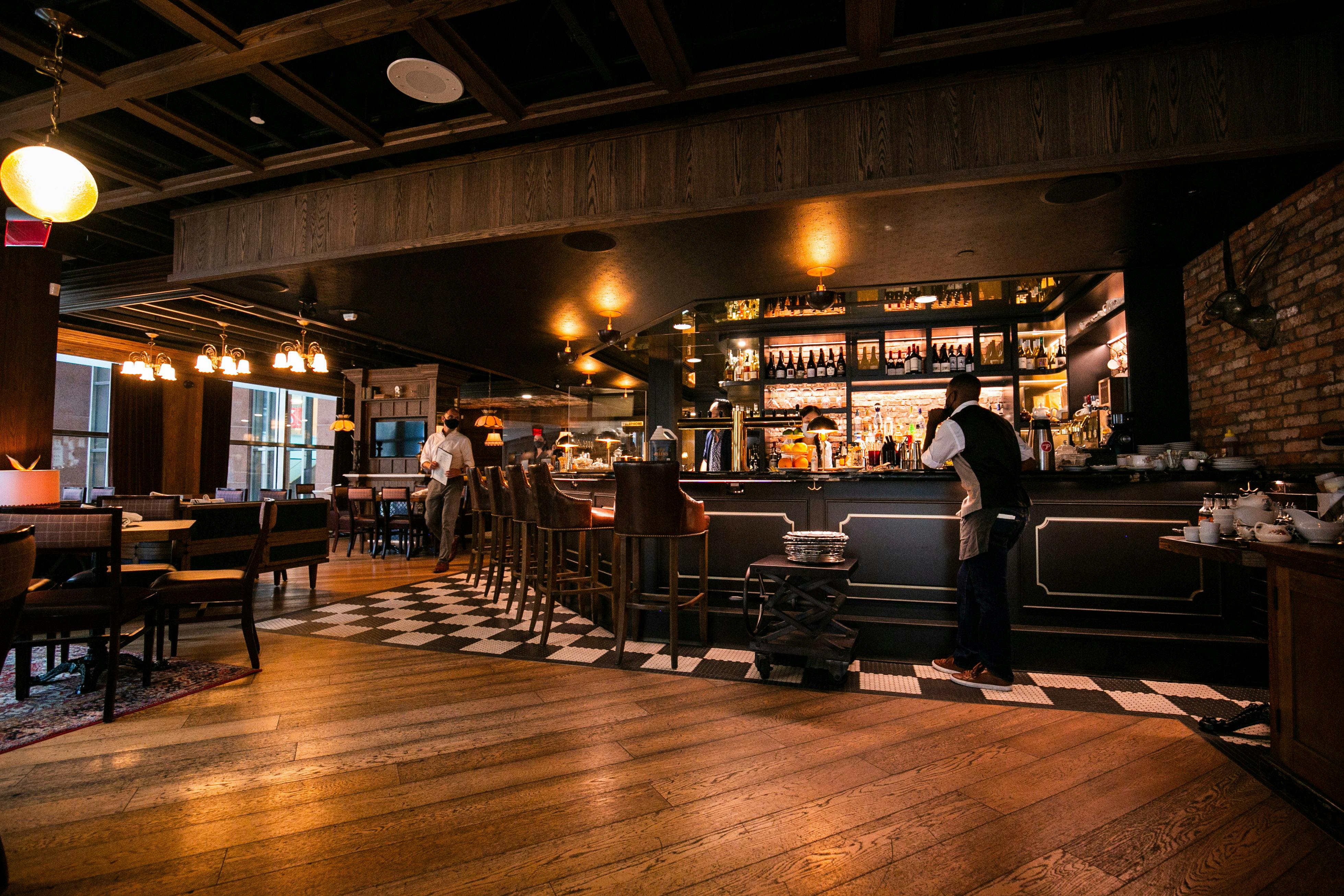 Wander down to The Rabbit Hole, which is open for lunch two days a week on Thursday and Friday from 11:45 a.m. until 2:45 p.m. For those seeking evening reservations, they're open for dinner Tuesday through Friday from 5 p.m. until 9 p.m. and on Saturday from 3 p.m. to 9 p.m.
Take note of their happy hour that takes place every day from 3 p.m. until 6 p.m.