Located steps away from the sandy shore at Woodbine Beach Park is Scale Hospitality's newest restaurant, Toronto Beach Club.
Taking over the former 400-seat steakhouse restaurant Neruda, the new highly-anticipated space joins the recently opened GG's Burgers in the same building, making it the second of three beachfront ventures planned by the group, led by restaurateur Hanif Harji and Terry Tsianos.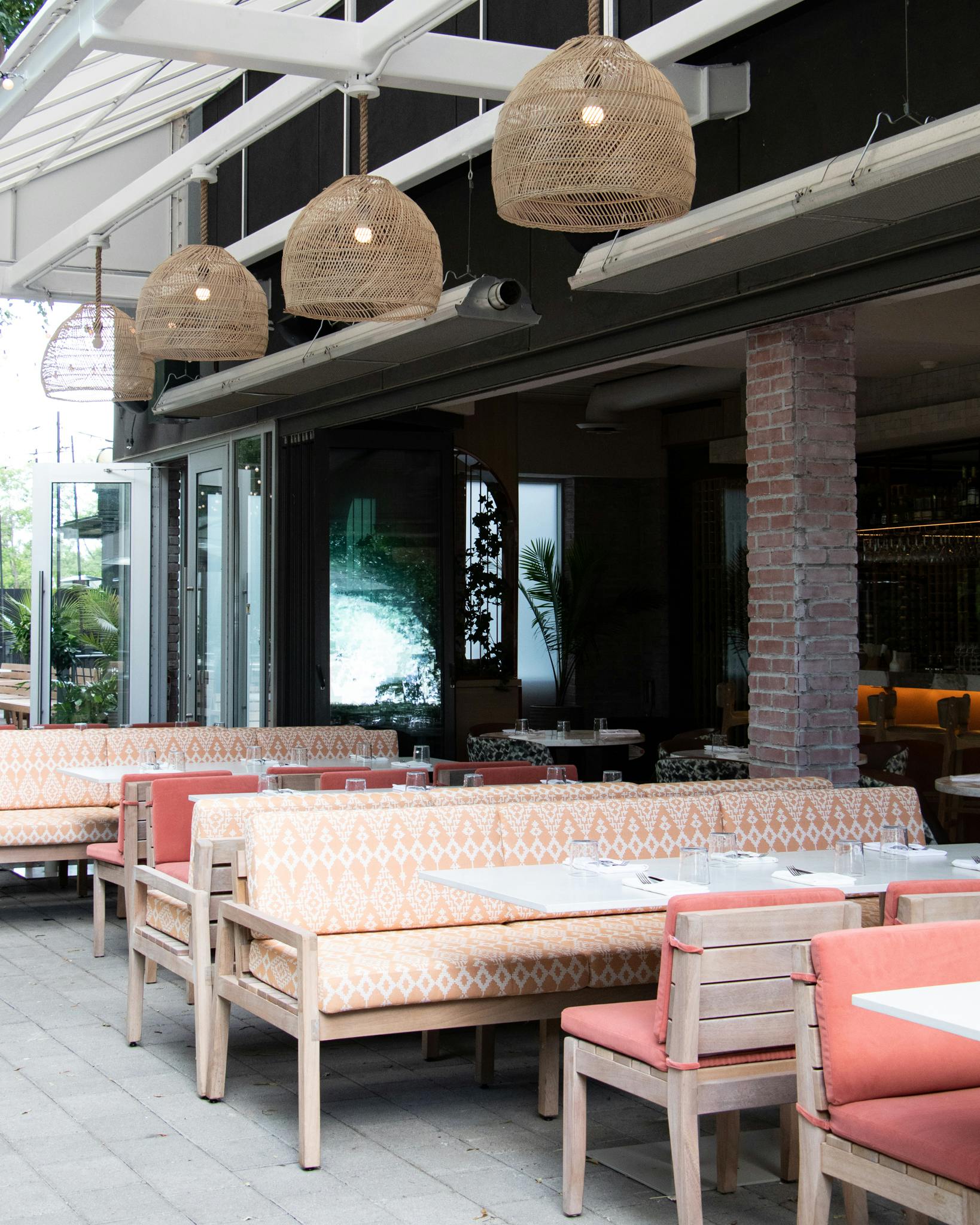 Boasting a massive space encapsulating a chic Mediterranean atmosphere, full of woven wooden textures, peach-toned fabrics and vibrant green plants, Toronto Beach Club is setting out to be your primary culinary destination by the waterfront, for a true beachside experience in the city all year long.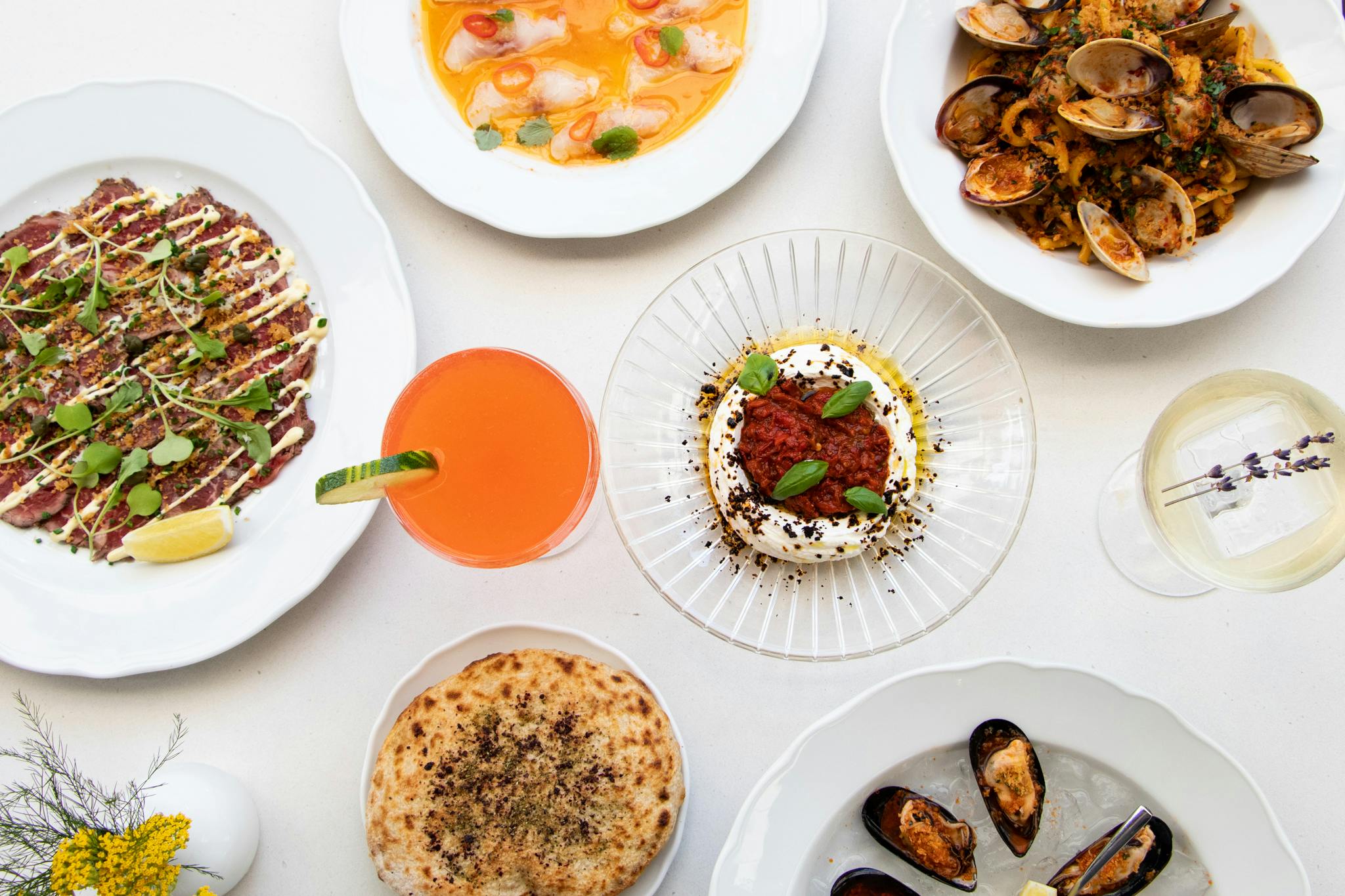 Wanting to replicate all he loved about Europe from the atmosphere, to the design, to the food, Hanif Harji says, "Whether it's Spain, Italy or Greece, the food is always fresh and simple. It's easy. Everyone is always in a good mood because they're on vacation, so we really felt that if we can get them through these doors and whisk them away to somewhere else, we already won."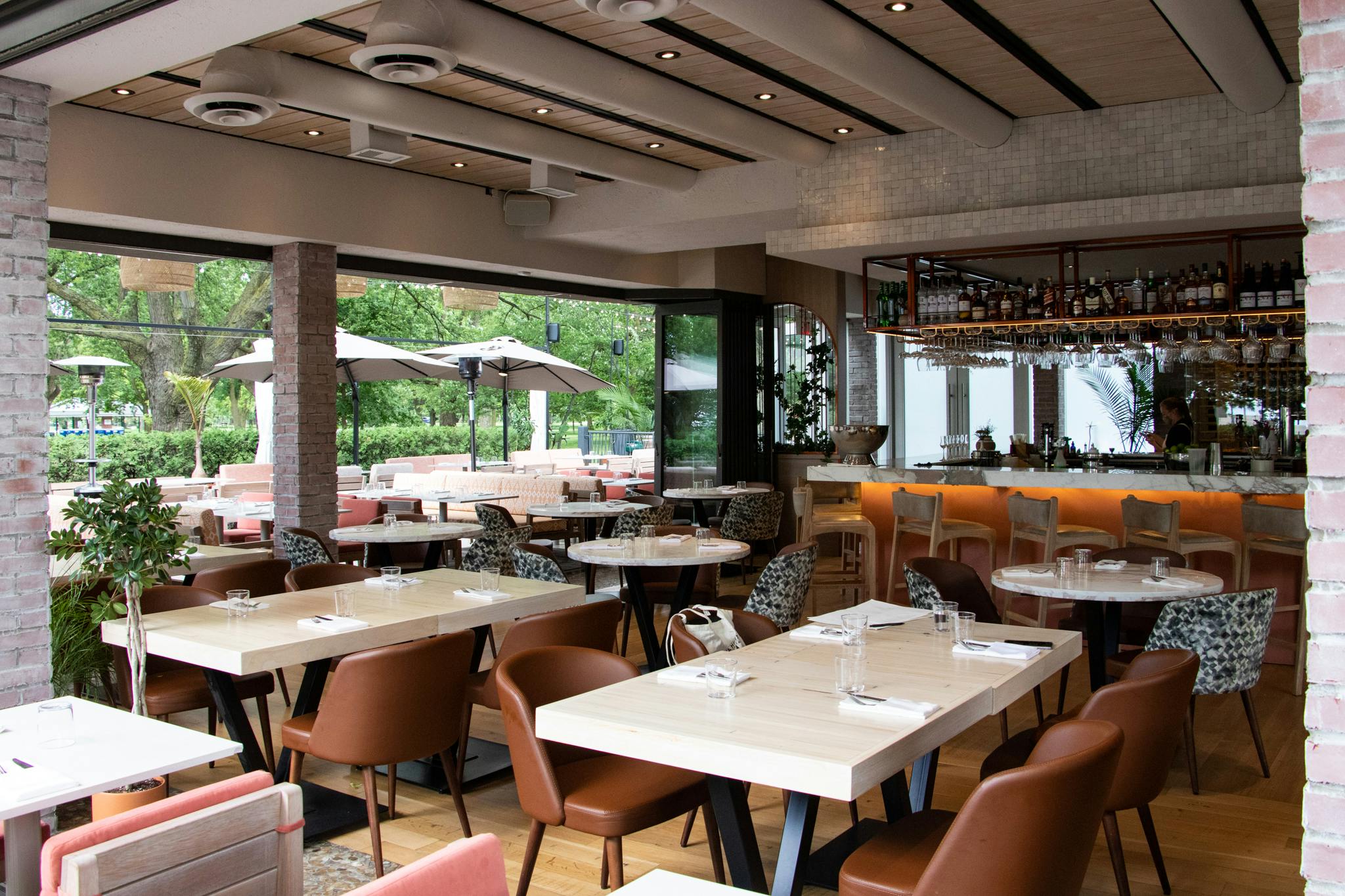 Focusing on providing the best entertainment experience in every way imaginable, Toronto Beach Club is no small venue. Emulating beachside vibes through its decor, the restaurant welcomes 160 guests outdoors, 140 guests indoors and even has two private dining rooms, each with a 50 person capacity and dedicated bars and bathrooms. While being able to fill the room with many guests in this massive 12,000 square foot property, a prominent feature of the space remains its open concept feel, aided in part by wide Nana glass doors connecting the outside to the inside, which you'll never see closed.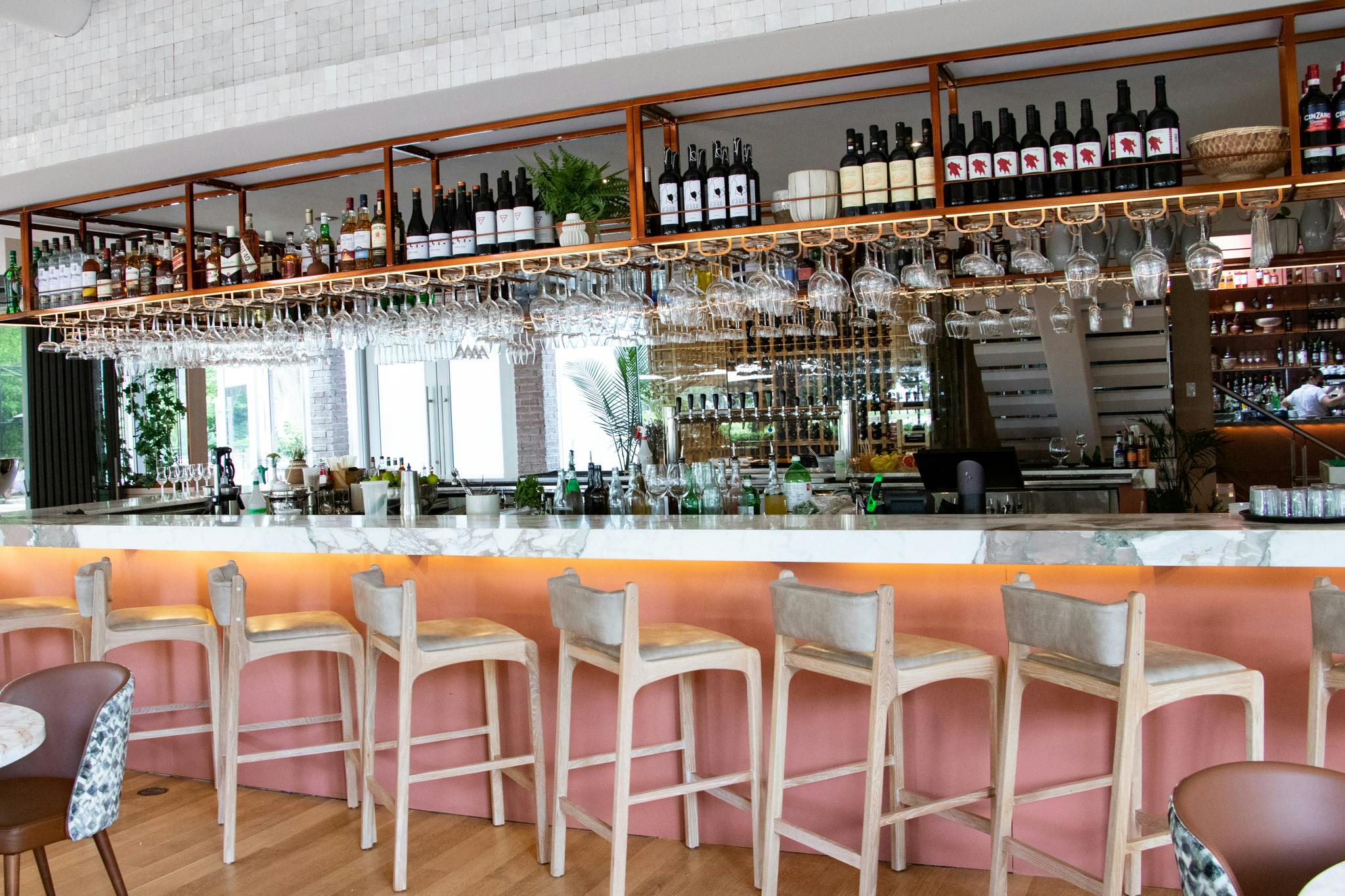 With a fully stacked bar placed right in the middle of the room, other views from the indoor dining space include an open kitchen, where you can watch the cooks prepare your meal and maybe even catch a glimpse of the fresh seafood, referred to as the daily catch.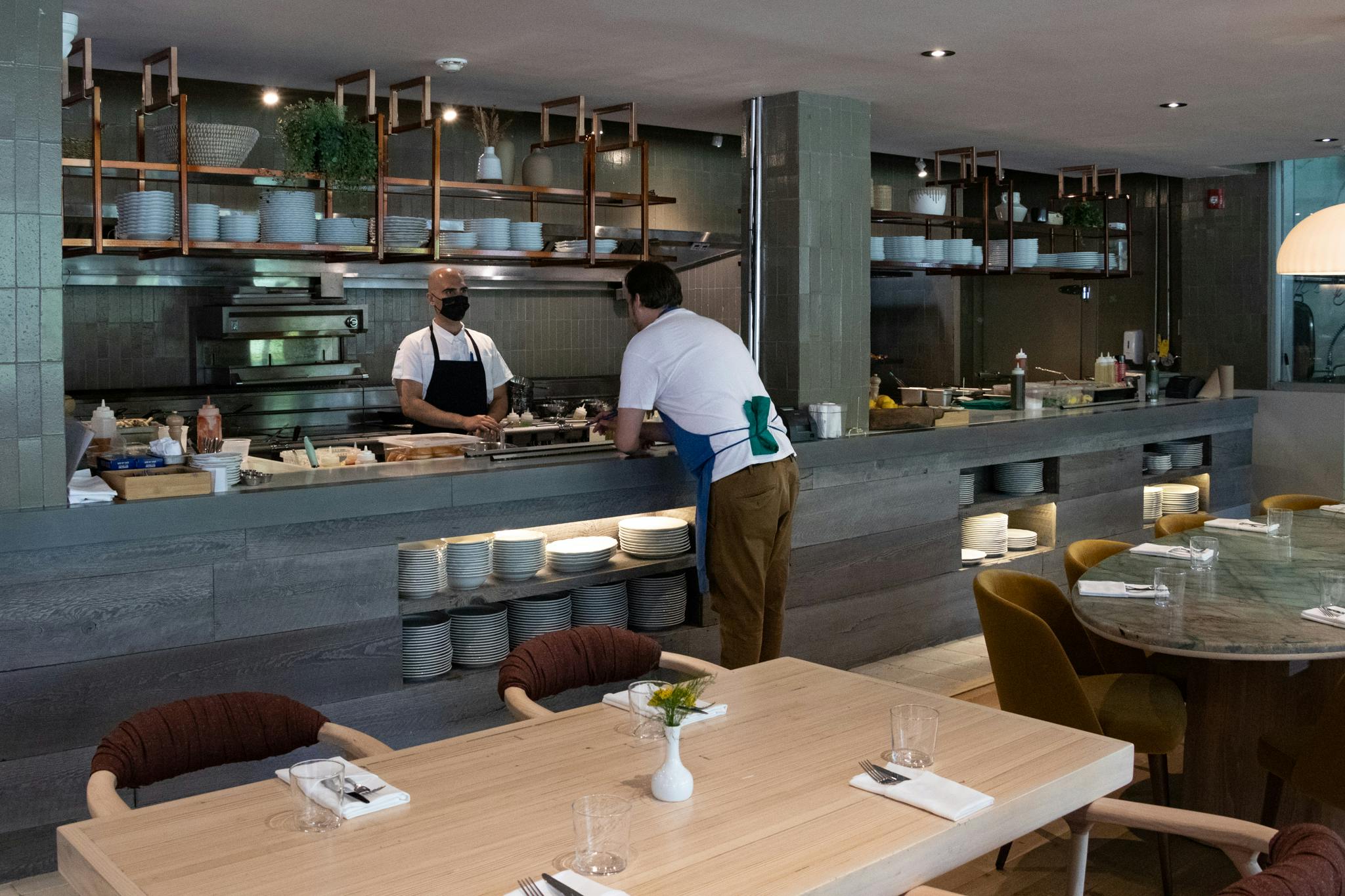 Led by chef Ted Corrado, formerly of The Drake Hotel and Summerhill Market, amongst a list of other accomplished restaurants, the menu boasts an extensive seafood offering and overall values simplicity across the board. Corrado aims to keep dishes simple yet flavourful, maintaining a focus on executing the flavours and style of food in the Mediterranean.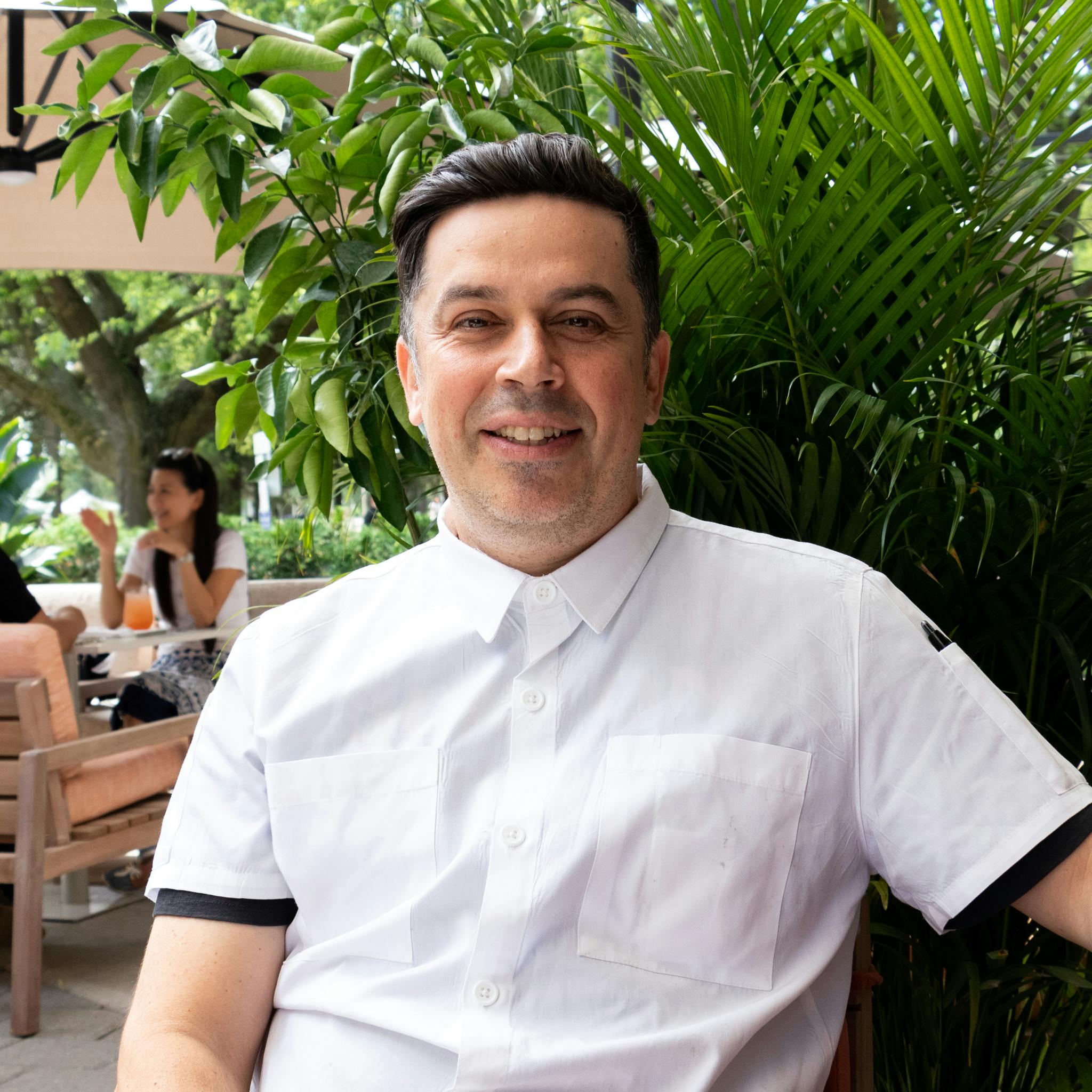 "You get [that simplicity] in Europe from paying homage to the ingredients and just letting them speak for themselves, keeping them really simple, so the flavours come out nice and clean," says Corrado.
The chef also notes that the starting point for menu ideation is actually in the hands of their suppliers. He says part of the menu is often dictated by where ingredients are being sourced from. This includes their fresh fish card, which varies in its daily offerings based on what suppliers are just bringing in.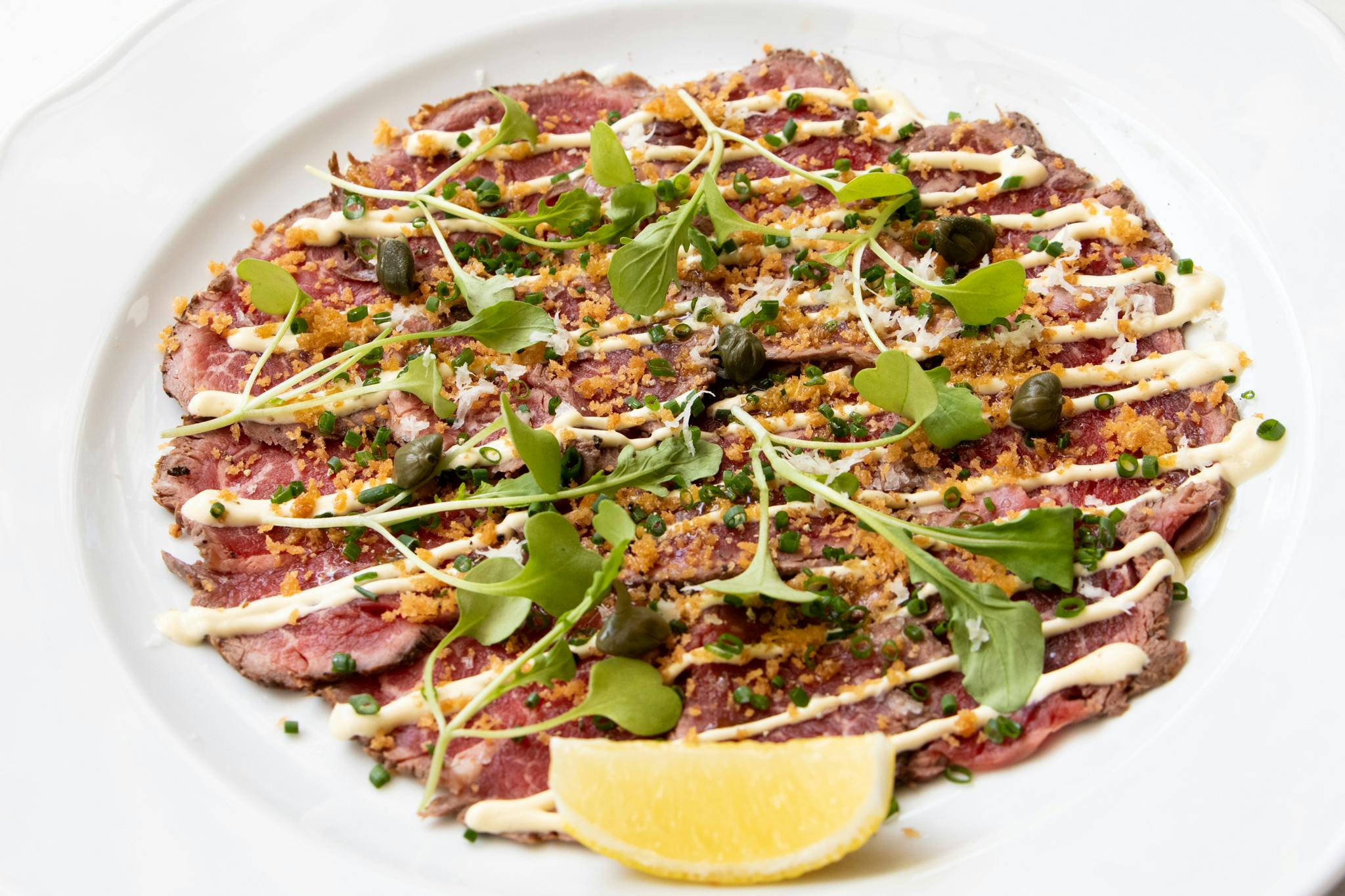 Other than fish, the menu is sectioned off into multiple categories. Harji says he doesn't have a single favourite item on the menu as every section has something really interesting and special. This includes a large mezze list featuring barrel-aged feta imported from Greece and beef carpaccio that's hand sliced and charred at the restaurant. This dish is topped with a creamy oyster crema, watercress and a horseradish pangritata crumble.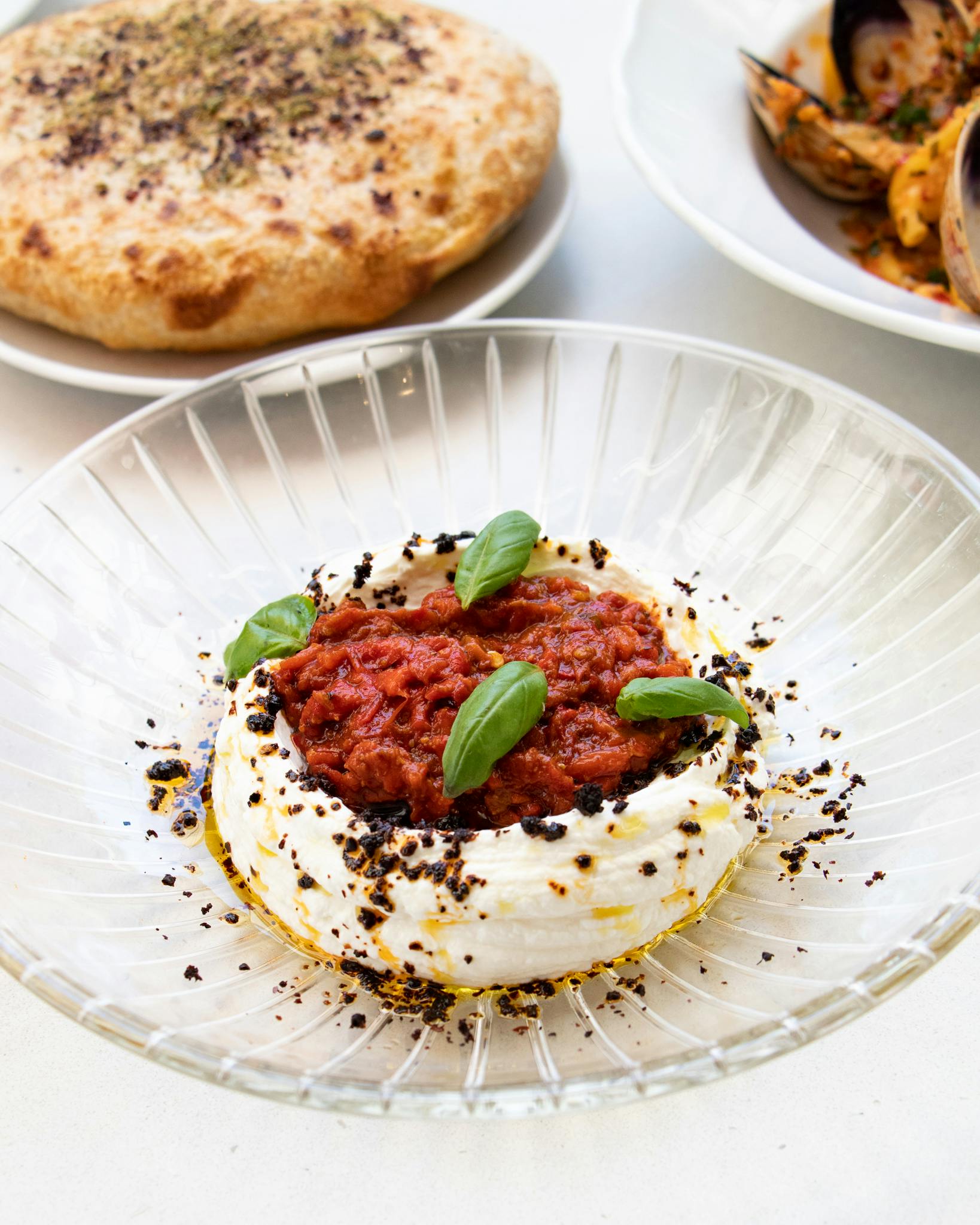 Also a mezze, discover a lush red pepper haydari made with whipped feta, topped with flavourful peperonata, urfa and accompanied with a fluffy grilled pita made in-house.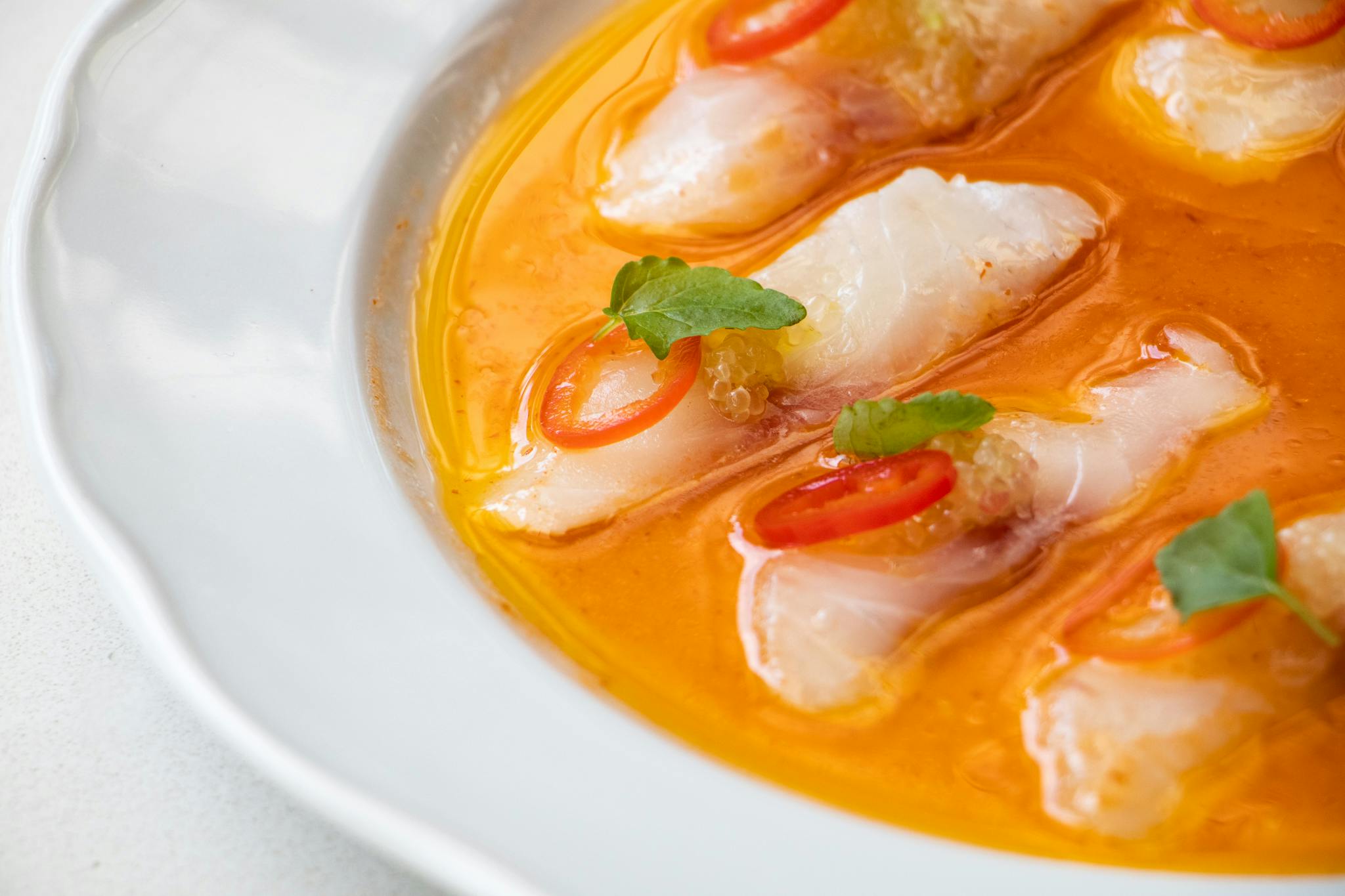 Dining at Toronto Beach Club means not missing out on the raw offerings. Chef Corrado's favourite item at the moment is the branzino crudo, as he says it's a dish that truly embodies what they're trying to showcase with their food.
"Beautiful branzino that we're getting from Greece, olive oil, lemon, sea salt," he describes, "There's a simplicity to it, but when you eat it, it's delicious. It's fresh and captures the spirit of the restaurant."
Along the same lines, find the refreshing sea bream crudo that's accompanied on the plate with finger lime, lemon balm and chili.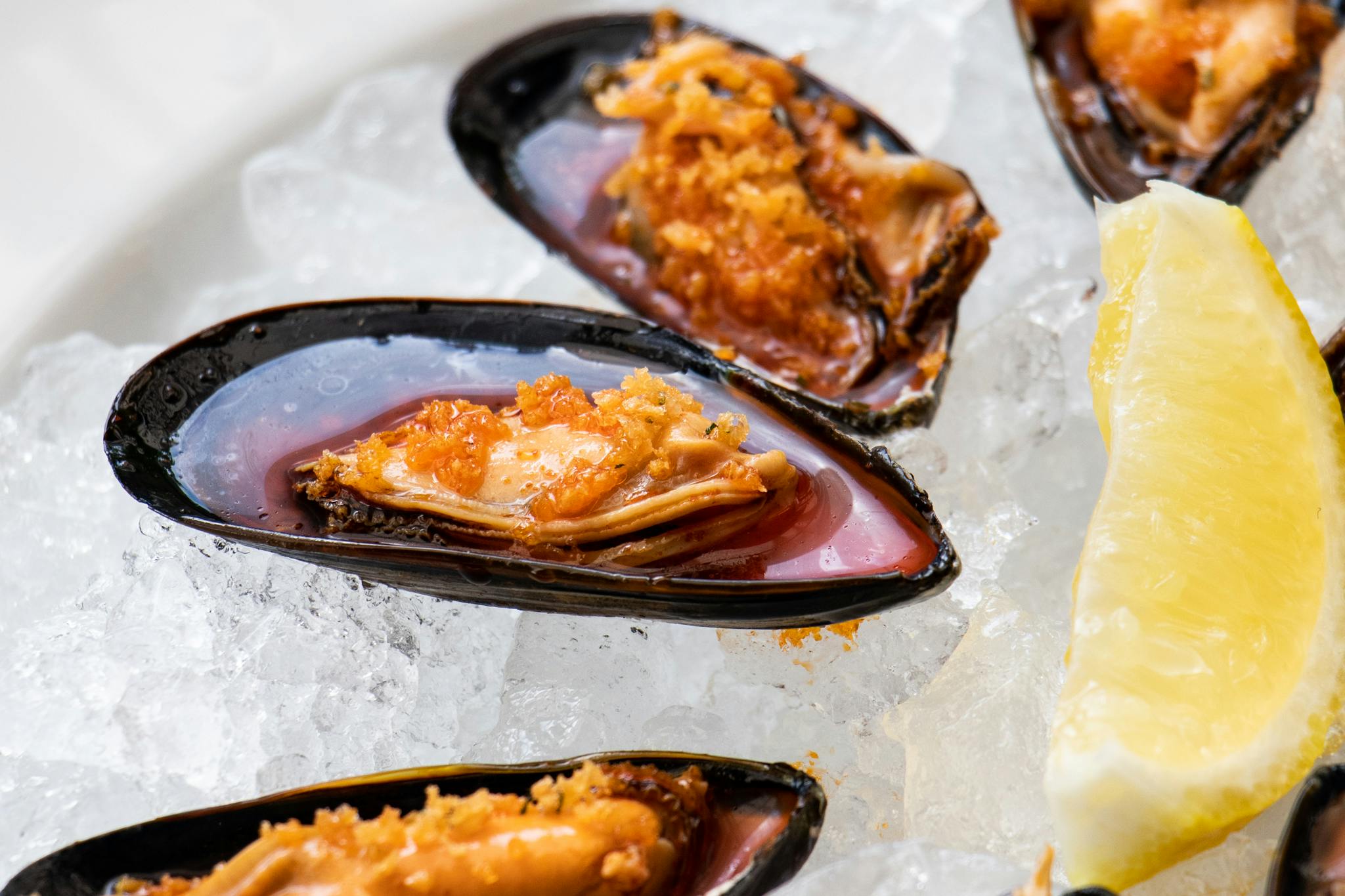 Another raw dish offering is the mussels escabeche. Served in half the shell, they're topped with a lemon herb pangrattato.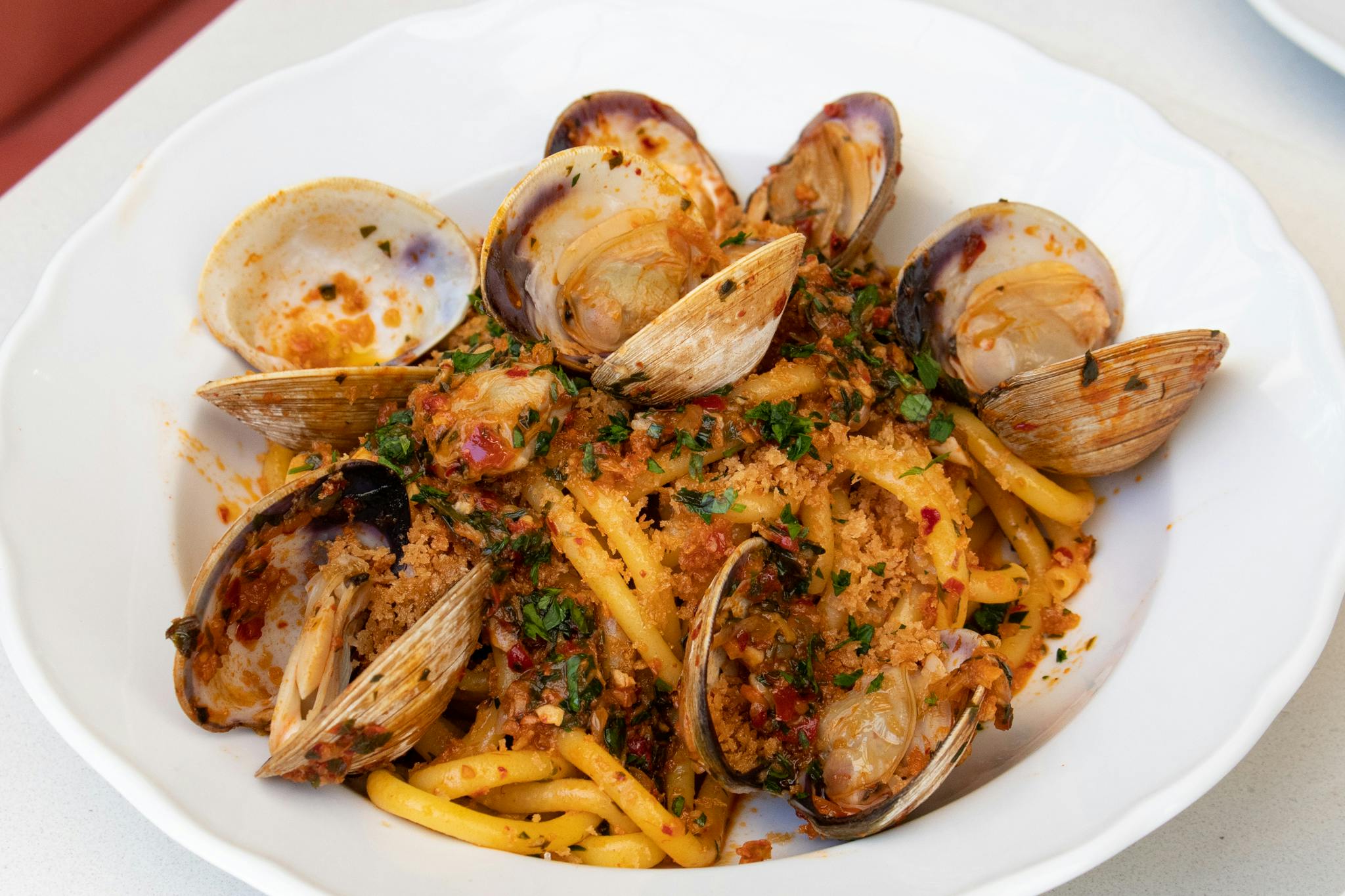 Amongst three pasta options discover the bucatini a la vongole, which is a thicker pasta made with pieces of 'nduja, parsley and white wine, topped with clams.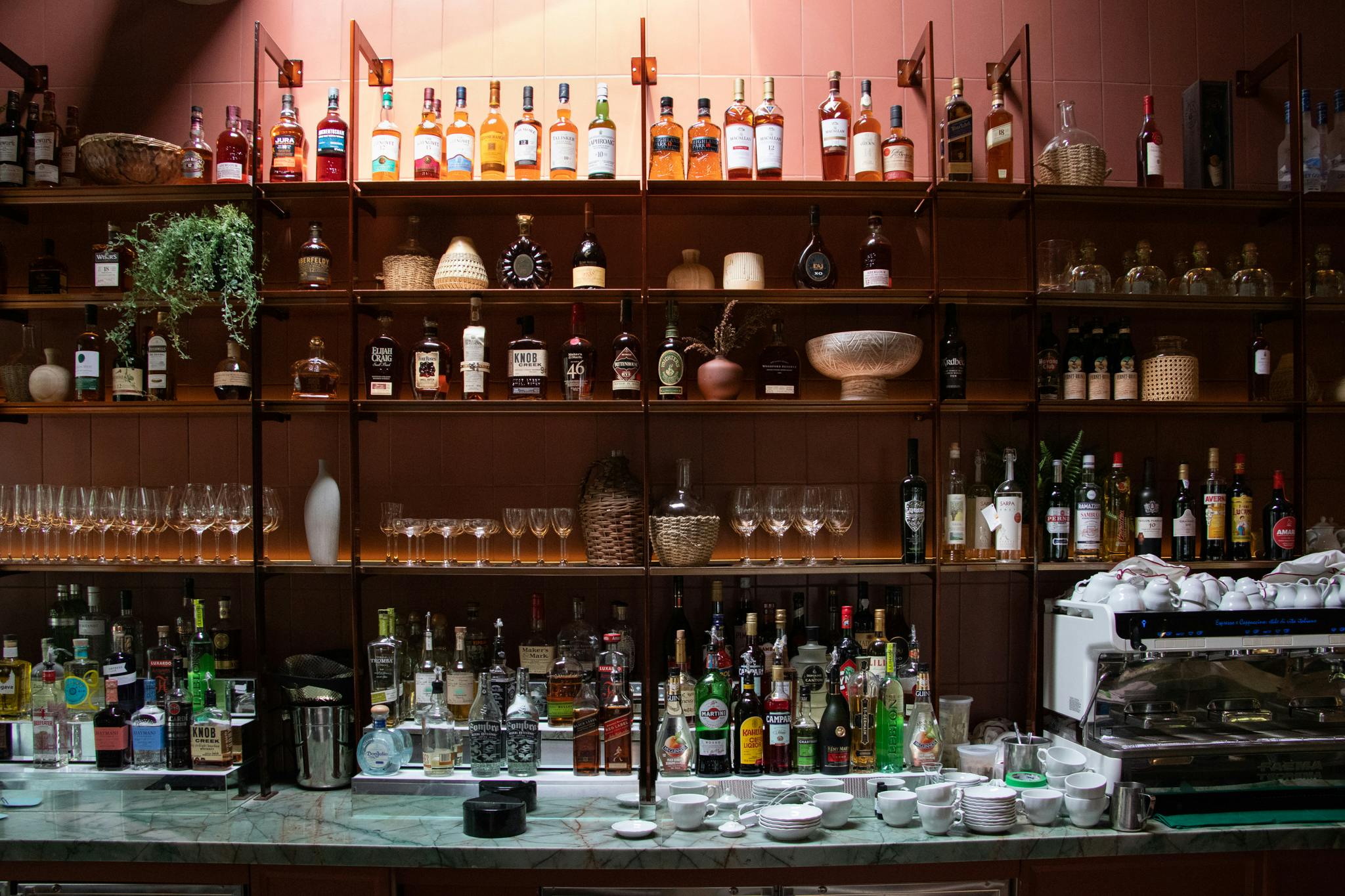 To pair with your meal, find a cocktail list that's even broken up into drinks more fitting to daytime and drinks for the evening.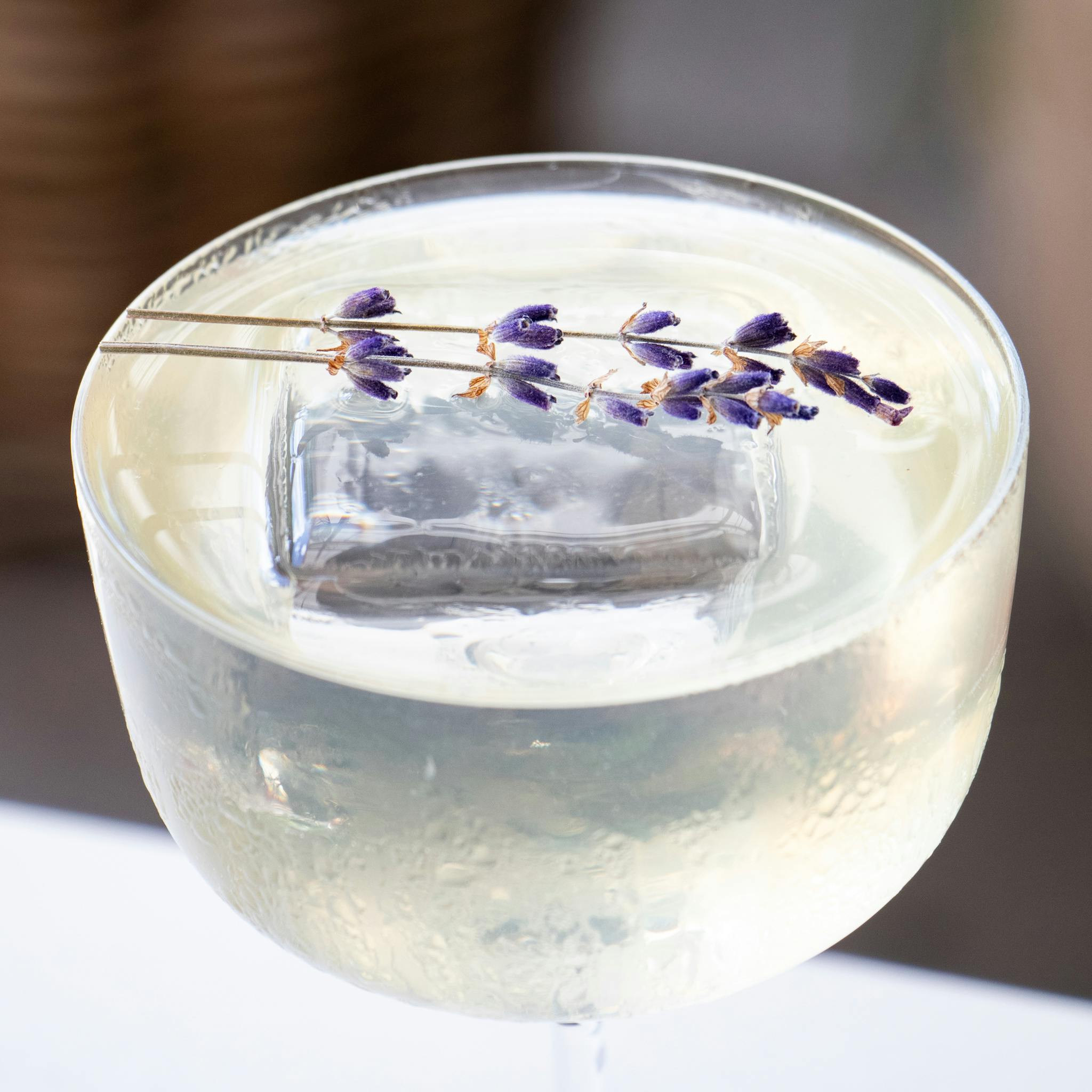 An evening cocktail, the gimlet d'avignon is made using Tanqueray gin and lavender lime leaf cordial.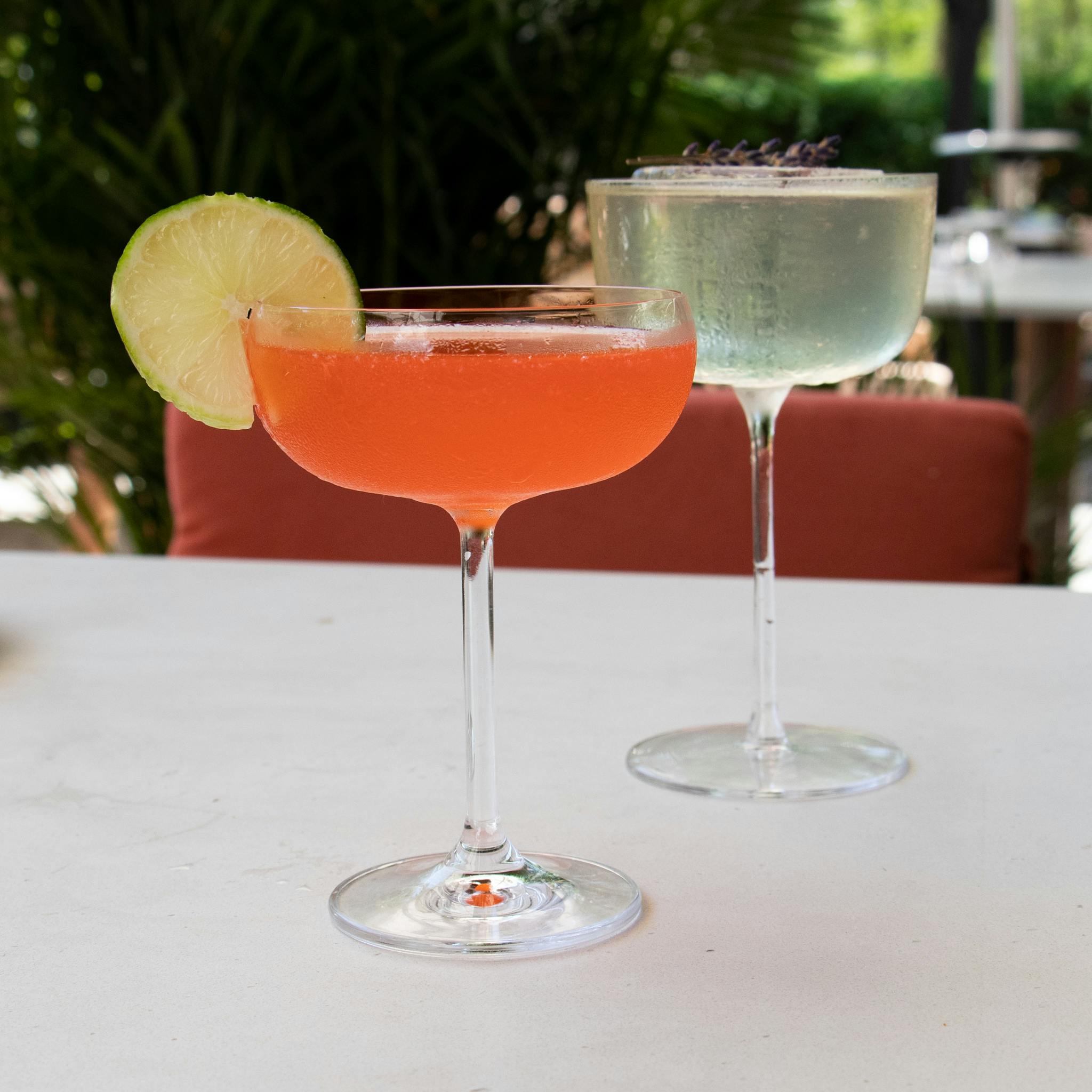 Also, a cocktail recommended for later in the day, the club daiquiri is garnished with a lime and made with strawberry cardamom Bacardi rum and simple syrup.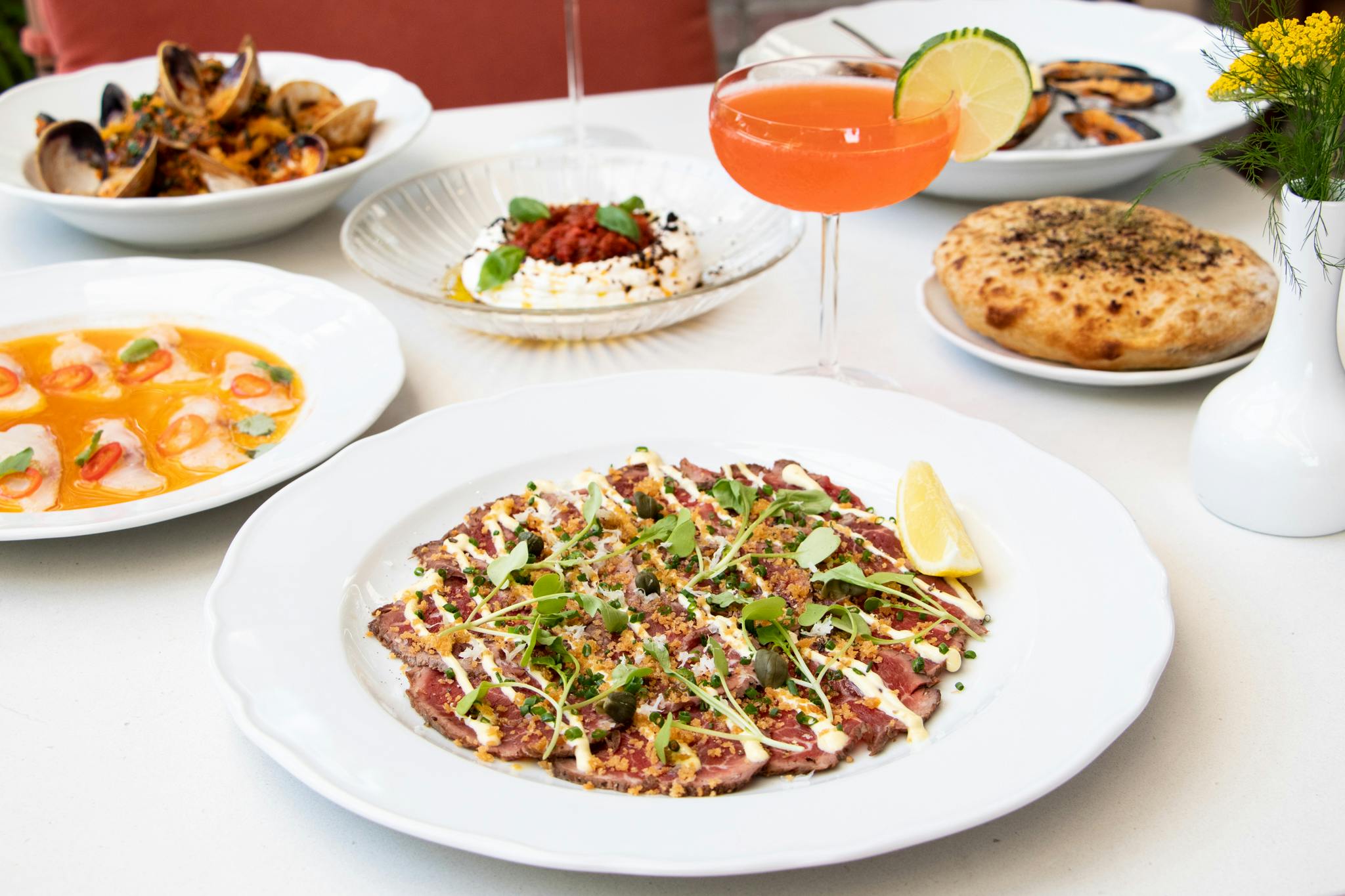 Those dining between 3:30 p.m. and 4:30 p.m. will be able to order off of their snack menu that features a handful of mezzes. Still, beyond just the food and design aspects of the new restaurant, Harji says they're also integrating a focus on entertainment.
"We want people to come in here [and] feel like they're on vacation," says the restaurateur.
Expect a rotating line of entertainers depending on the evening you visit. From DJs to opera singers and flamenco guitarists, live music will surely be filling the space.
As a result, Harji says that the beach club is more adult-oriented in the sense that it's a mature environment where he and Corrado would actually dine at.
"It's a place where we would go and that's kind of important because you need to be proud of a place," Harji says, "You need to be able to frequent it as a customer as well and I think that's important."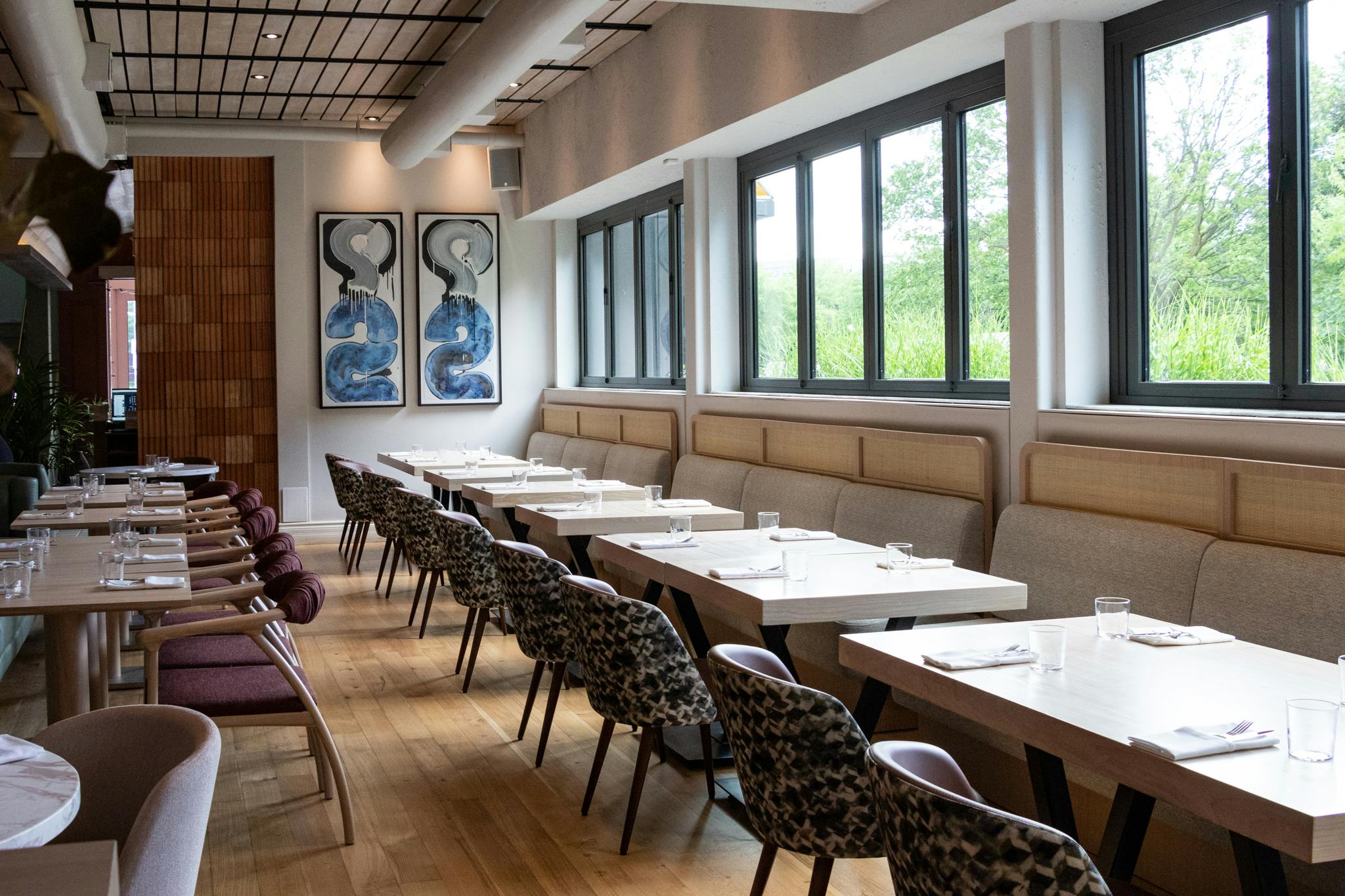 Harji stresses that the goal is for Toronto Beach Club to thrive as a year-round venue, where you can enjoy the beach feel in the summer and equally enjoy a winter wonderland atmosphere come winter.
Adding to Scale Hospitality's takeover at Woodbine Beach Park will be a new European market and cafe in the same building. They'll aim to offer the same fresh ingredients used at the restaurants, but for the customers to take home themselves.
Toronto Beach Club is open Monday through Wednesday from 4 p.m. until 2 a.m. and Thursday through Sunday from 11:30 a.m. until 2 a.m. Be sure to follow them on Instagram for updates and keep in mind that finding parking won't be an issue here, as Toronto Beach Club also runs the lot out front to ensure their guests are getting complimentary parking and in turn, the best possible overall experience at their restaurant.