Photographs by Kristen Wells
Vilda's is not your average mom-and-pop corner bodega.
That said, you might be fooled into thinking it is when you stroll down Dovercourt and find it perched, bodega-like, at the corner of Foxley Street.
First of all, although it goes by the name of Vilda's, the name on the sign is Nobrega's, a vestige of the beloved neighbourhood variety store that was an essential provisions pit stop for 53 years before closing in 2021 (due to a rent hike).
Secondly, the corner store in question is not owned by any random mom-and-pop, but by Zach Kolomeir and Carmelina Imola, (together with Tristan Eves), the dynamic duo behind two of Toronto's most acclaimed restaurants, Dreyfus and Taverne Bernhardt's.
The couple originally got together in their hometown of Montreal, where Kolomeir cut his culinary teeth at the much lauded and staggeringly famous Joe Beef. In 2018, when Imola was accepted to a U of T graduate program, Kolomeir came along for the ride. Shortly after, the couple opened the "intimate French-ish" Dreyfus on Harbord, which earned instant raves as one of Canada's best restaurants. A year later, they followed up with Bernhardt's, a Dovercourt bistro renowned for its self-basted rotisserie chicken.
Unfazed by so much weighty praise in such a short amount of time, Kolomeir and Imola are impressively light and good-humoured in person. He's Jewish. She's Italian. Lit by warm western sun that streams through the bodega windows, they riff spontaneously on other notable Jewish-Italian unions: "Pizza bagels." "Matzoh pizzas." Such riffing leads to the story of how Vilda's got its name.
"At Bernhardt's we have some really great regulars and Carm likes to serve them. Geddy Lee, of Rush is one of them," recounts Kolomeir. "One day Carm said, 'Guys, I need a Yiddish name.' So Geddy Lee gave her this Jewish name 'Vilda Chaya,' which means 'wild child.'"
That Vilda's is conveniently situated just across the street from Bernhardt's was a deal-breaker for the couple. "When this space became available, it seemed only fitting to move in here and make it our own," admits Kolomeir. Despite the strategic location, the timing wasn't ideal. In addition to the risks and hassles of opening a new restaurant amid constant waves of Covid lockdowns, Kolomeir and Imola were leery about launching what would be their third Toronto restaurant in three years.
That said, Vilda's is not a restaurant. When pressed to categorize it, the couple describe it as a "grocery-deli."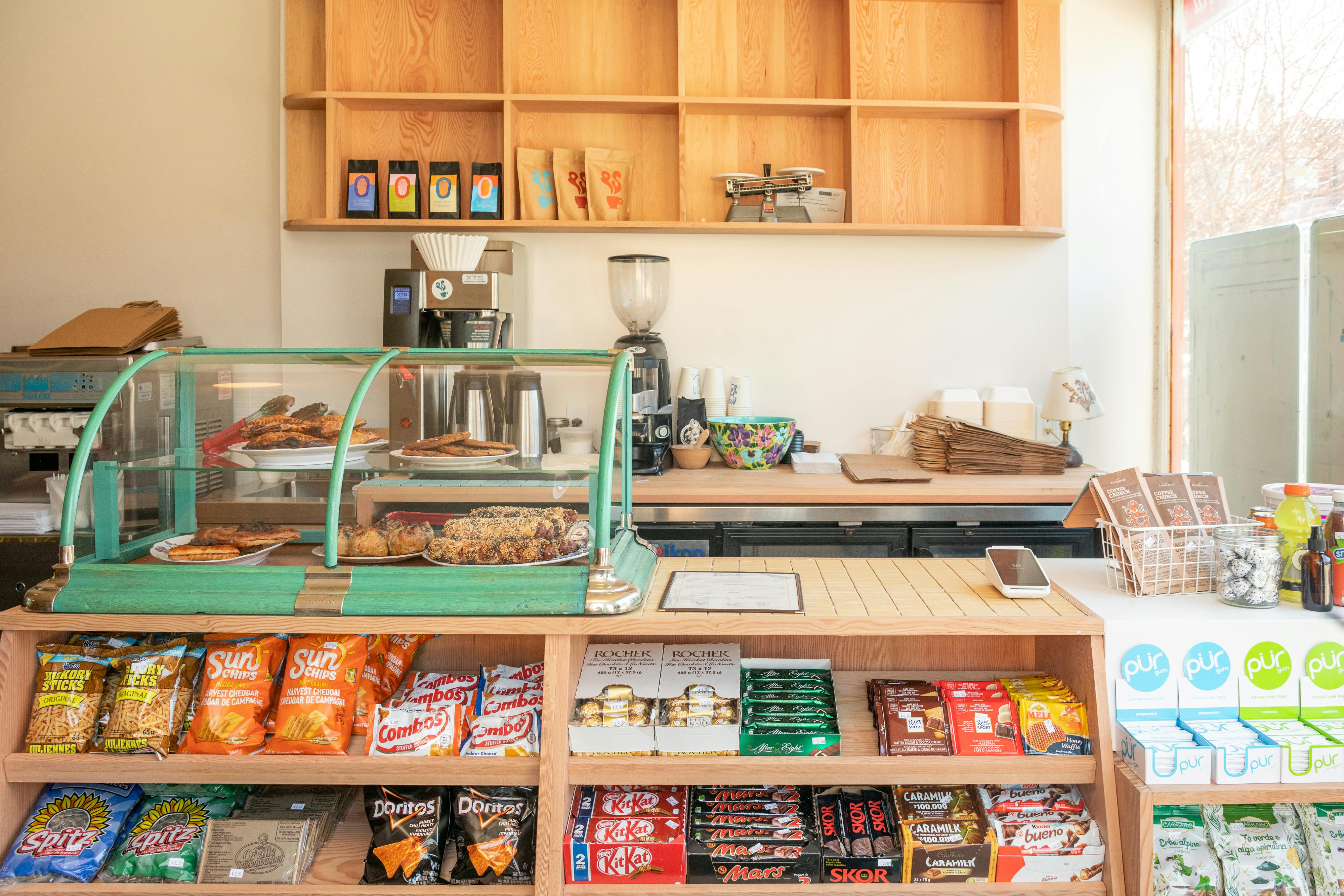 Aesthetically and decoratively, the definition is apt. Vilda's boasts all the classic convenience store and deli counter trappings albeit with some distinctive twists and tweaks.
The colour scheme -- reflected in the floor tiles and pastry case -- taps into vibrant mid-20th-century hues such as mustard and aquamarine. Kolomeir admits to being a sucker for Art Deco Miami diners of yore, specifically Wolfie Cohen's Rascal House, which he often visited as a child in the company of his grandparents.
"It was this awesome, old school kind of diner, where you could get the early bird special and there would be these marginally curmudgeonly waitresses," he recalls. "I was always obsessed with the aesthetic and it really inspired us." Even Vilda's logo -- a blue wild child with a devil's horns and a wicked smile, crowned with a golden halo -- is a play on Rascal House's trademark.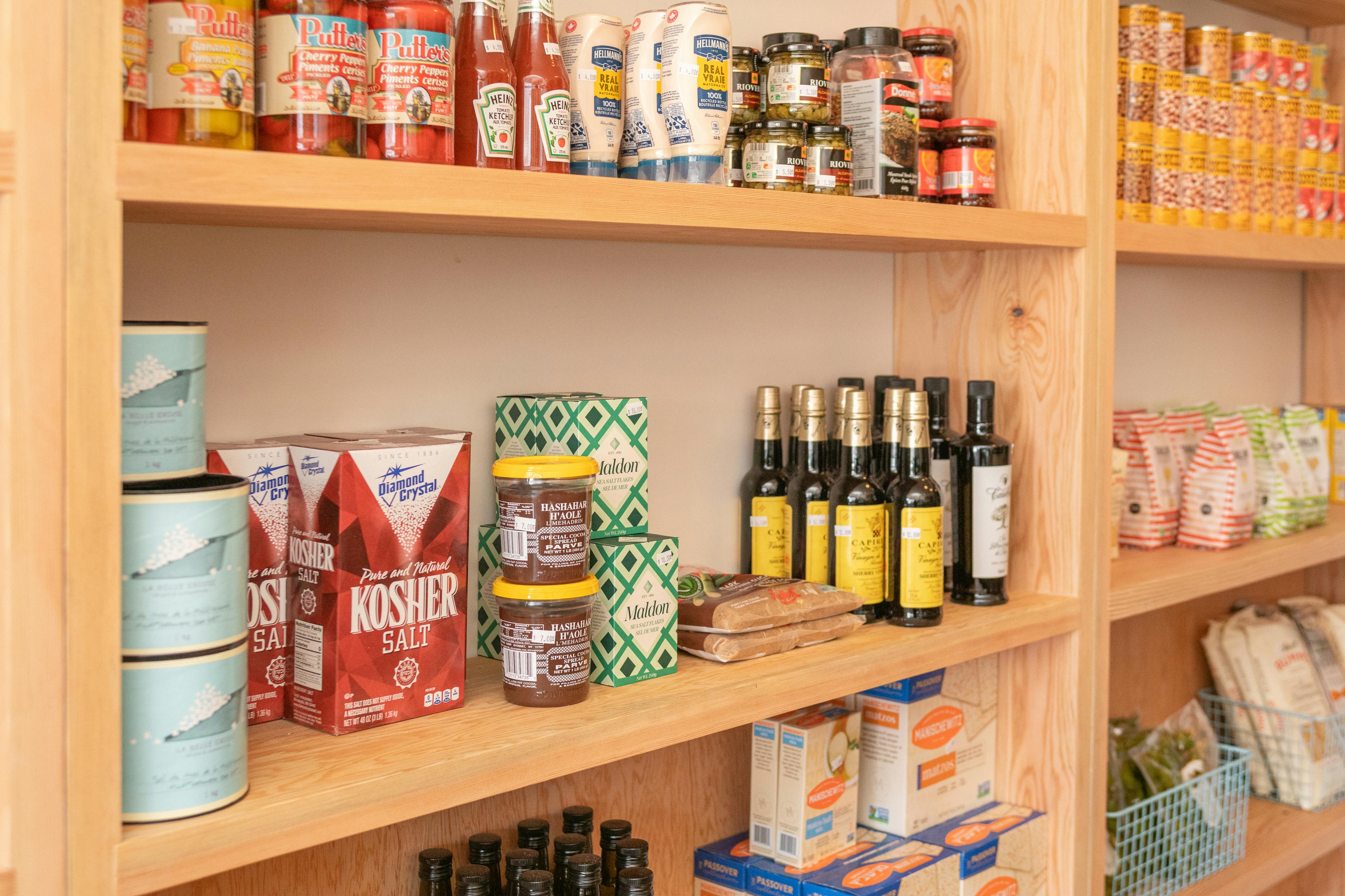 Melding effortlessly with the retro shades are the grocery shelves and counters, handsomely crafted from blond Douglas fir. They're well stocked with midnight-munchies faves such as Mars bars, Oreos and Doritos along with pantry essentials such as butter, kosher salt and canned beans. But you can also find gourmet rarities such as Chocosol chocolate bars, Elena raw honey with espelette peppers and Smoke Show smoked aioli, the latter two items produced by friends back in Montreal. A testament to the founding couple's bicultural pedigree are the boxes of Manischewitz matzo and Strub's sauerkraut that share shelf space with Rummo pasta and Bella di Cerignola green olives.
This singular mix of high-low, traditional and experimental, Jewish and Italian, also finds its way into the deli side of Vilda's offerings. A major motivating factor in the couple's decision to open Vilda's was the desire to satisfy certain simple cravings they felt weren't being met. Explains Kolomeir, "We just wanted somewhere where people could eat lunch the way we like to eat lunch."
Asked how they like to eat lunch, he elaborates: "Noshing here and there. And salads. We felt there weren't a lot of places serving vegetables in the city at lunchtime. That's why we have all sorts of prepared salads and vegetables sandwiches. We even have vegetables on our danishes. And potato knishes. It's not only meat and bread here."
Vilda's menu is deliberately lean and highly focused: a half-dozen sandwiches and salads, with a soup -- often matzo ball with shredded chicken, carrots and dill -- for those seeking a little Jewish grandmotherly warmth and comfort. Specials rotate weekly and are as dependent on seasonality and creative whims as they are as leftovers from Bernhardt's.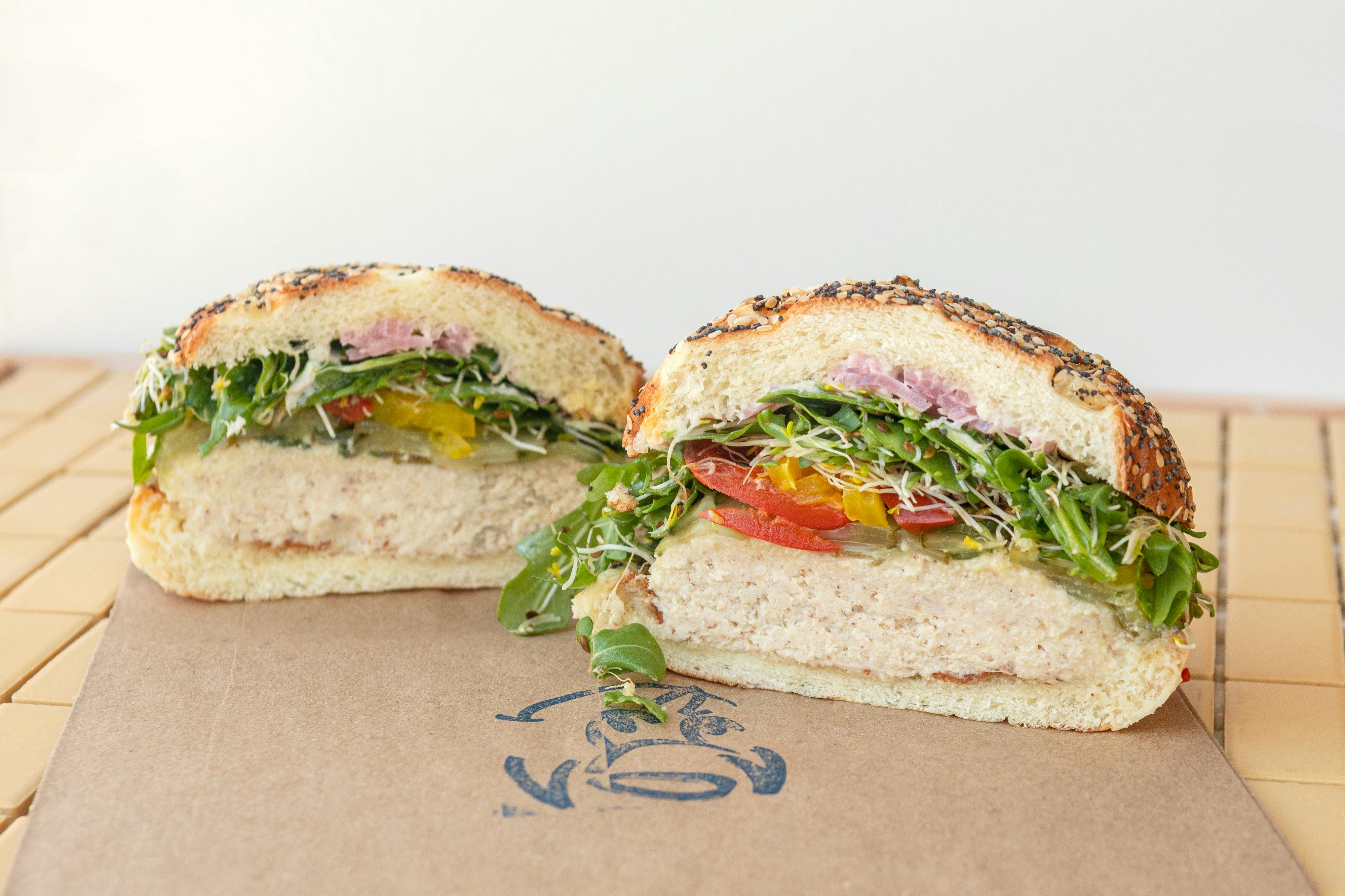 "We'll cook 30 or 40 chickens a night at Bernhardt's and sometimes there are three or four chickens left over," says Kolomeir. While the carcasses often find their way into chicken broth, the roasted meat is the tender star of Vilda's Chicken Salad Sandwich. Instead of the usual chunkiness, Kolomeir's version of chicken salad channels French rillettes. This entails whipping the chicken with an emulsion of brown butter, Dijon mustard and mayo into a luscious paste that gets ample crunch and colour from bright arugula, alfalfa sprouts, cucumber salad and pungent onion peppers.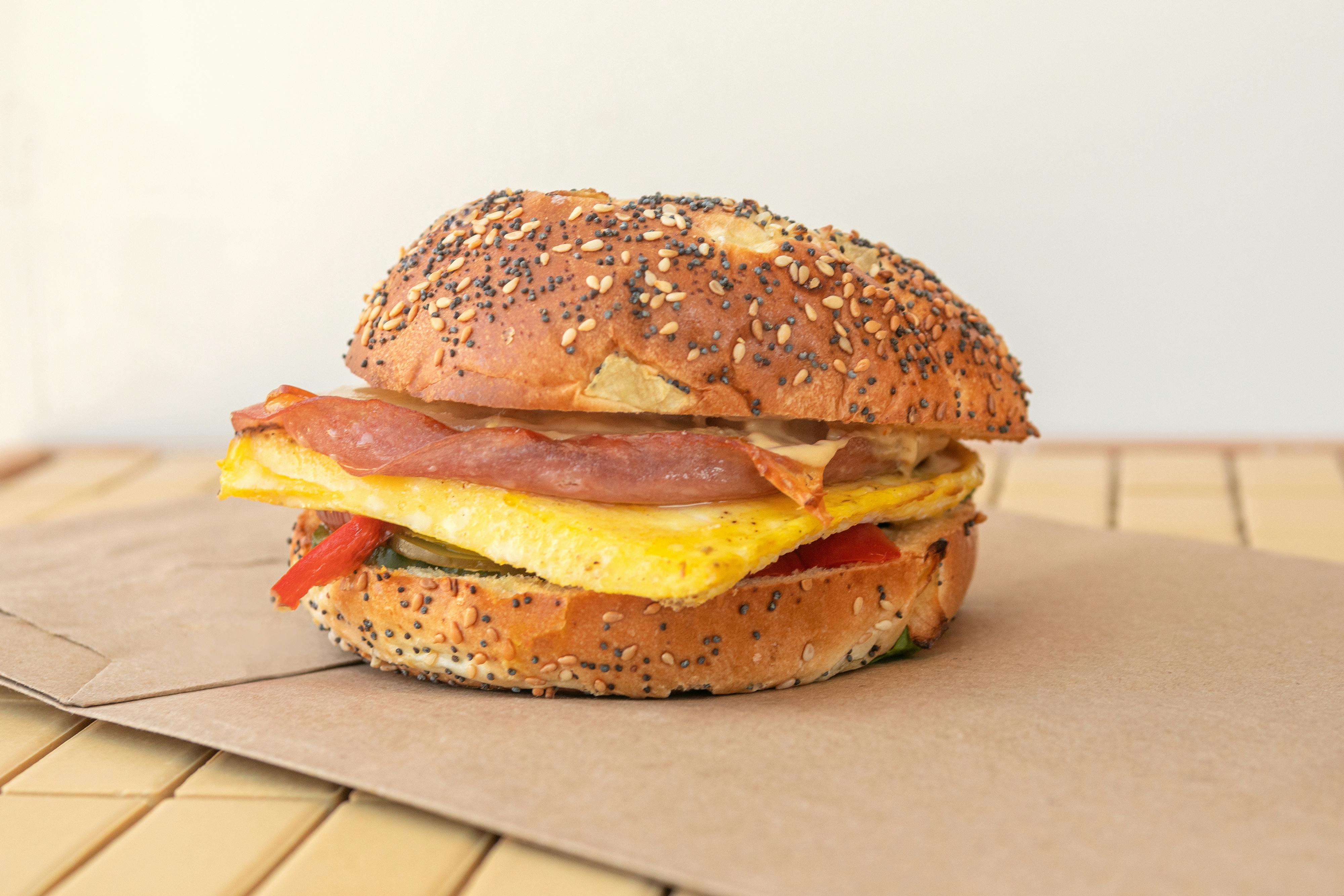 Another notable deli classic that receives a Vilda's upgrade is the Brekky Bun. A fresh take on the iconic NYC BEC (bacon, egg and cheese), the sandwich swaps out the bacon for more meaty slices of Chicago 58 beef salami and pumps up the egg with the inclusion of a sunny layer of perfectly baked omelette. A creamy foundation of spicy aioli and chopped mixed pickles adds piquancy and texture. A crowning layer of smoked cheddar provides requisite gooeyness.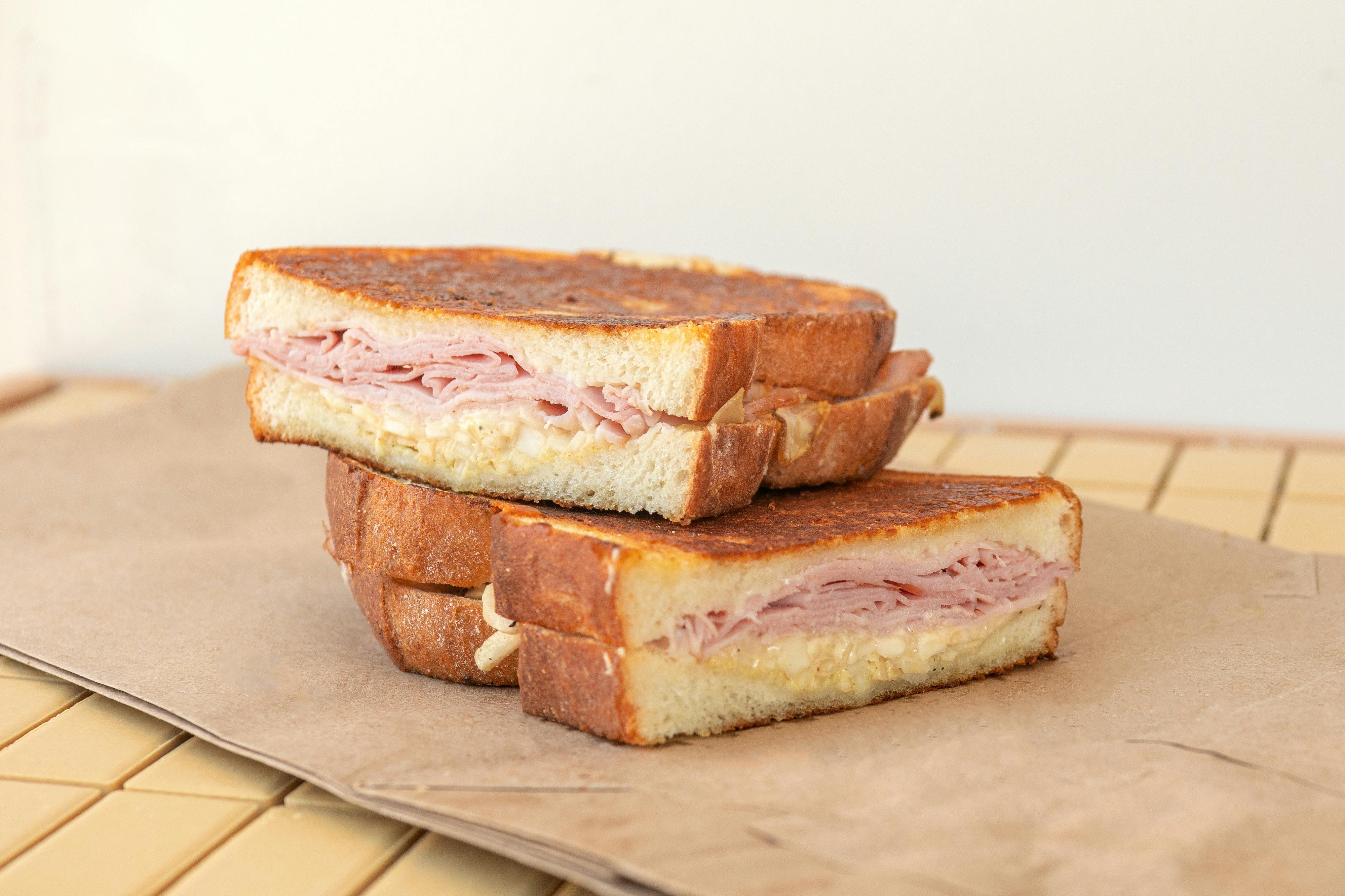 Flatter, and simpler, but no less delicious is the XL Ham and Cheese. This revisited croque monsieur features tender pink ham and robust, hand-crafted Ontario Handeck cheese, topped with a voluptuously thick and flavourful remoulade. Pressed between two massive slices of toasted, buttery sourdough, it makes up in length what it lacks in girth.
Other sandwich breads are not only supplied, but custom-made for Vilda's by Harbord Bakery. Basic onion buns get the "everything" treatment with the addition of poppy and sesame seeds, garlic and caraway. Unadorned white sub buns are rejuvenated with a dousing in cornmeal and caraway.
"We're like the house of caraway here," confesses Kolomeir, when asked about the ubiquity of this singular seed. "I find caraway to be a seasoning and spice that's so old-school Jewish deli. It's something I felt was missing in the neighbourhood."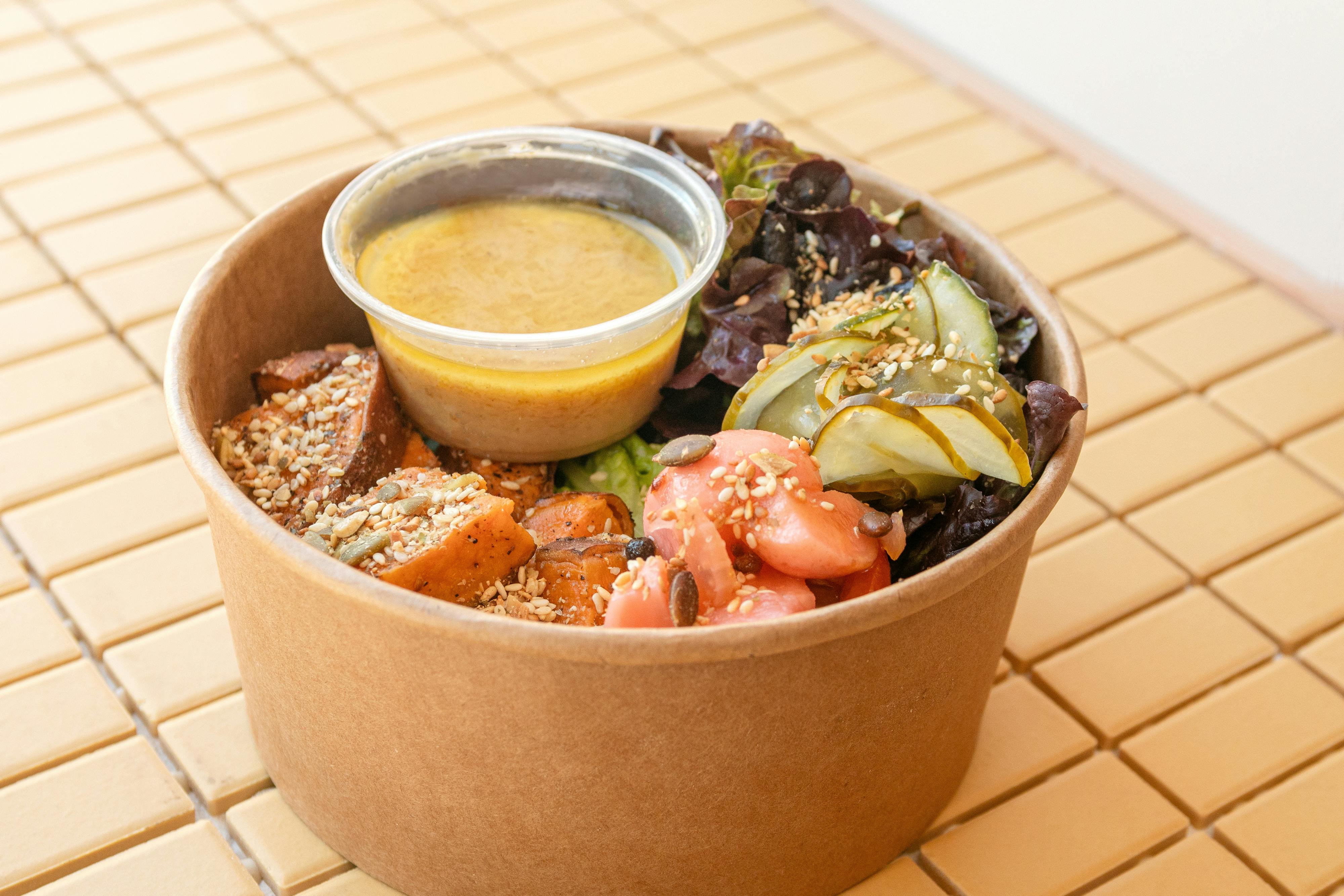 Along with a sprinkling of other seeds, caraway is subtly detectable, and surprisingly delectable, in The Greenie. Vilda's version of a house salad starts with a fistful of fresh, buttery Ontario lettuces whose sidekicks include marinated pickled veg and chunks of bright orange sweet potato. Although Vilda's doesn't have a liquor license, you may be tempted to ask for a shot glass to down the homemade sweet and tangy maple mustard vinaigrette.
Other salad standbys include a Pasta Shells Salad with chickpeas, steeped in a spicy tomato vinaigrette and showered with feta and fresh dill. Packing more of a crunch is the Sheet Pan Brassicas Salad featuring a rotating, roasted cast of super-nutritious members of the cruciferous veg family -- broccoli, cauliflower, cabbages -- mixed with quinoa.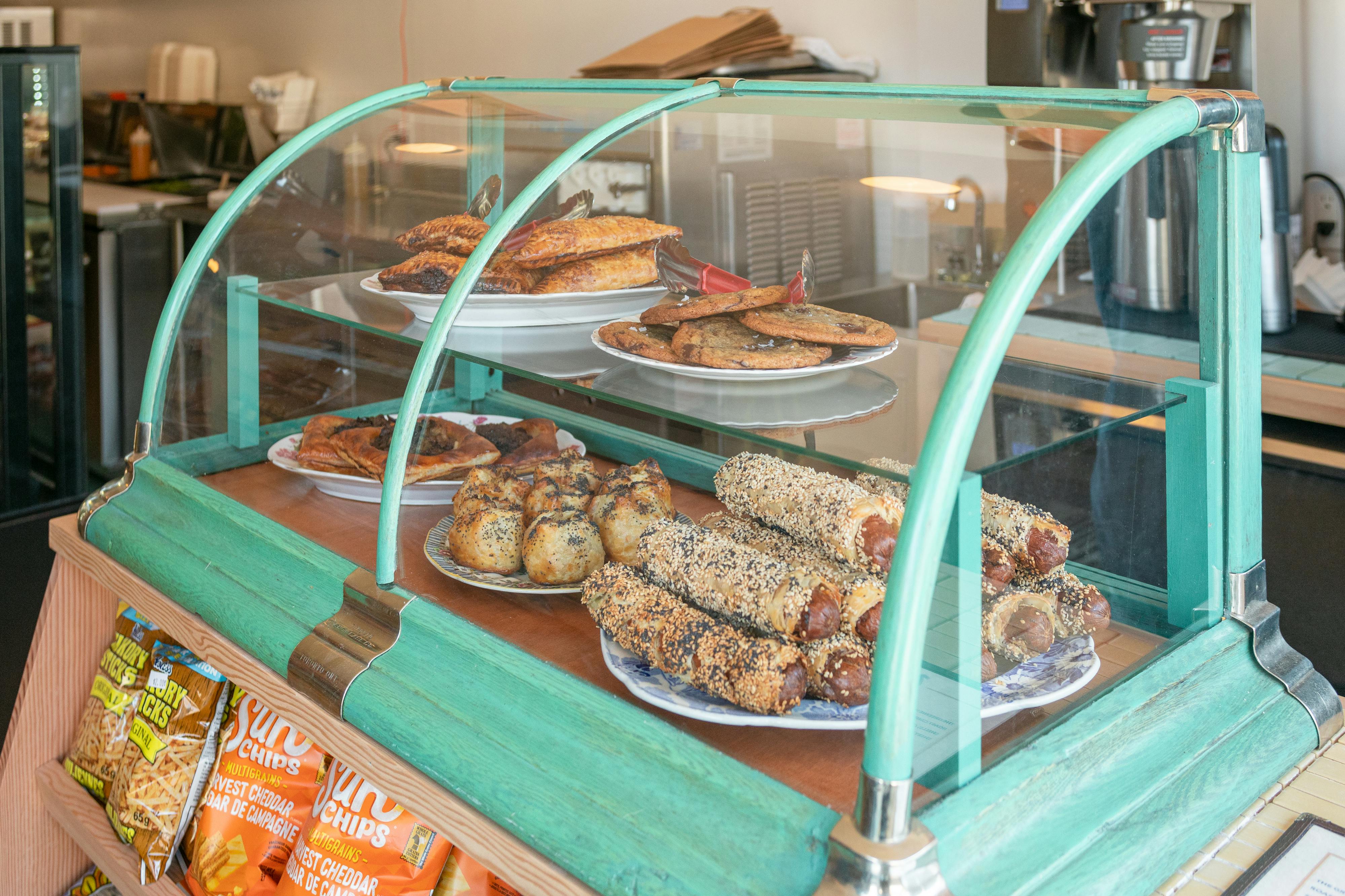 When it comes to more snack-ish forms of noshing, Vilda's offers a streamlined, but intensely original selection of baked goods. "We didn't want to do too much pastry," confesses Kolomeier. "But we did want to have a couple of favourite things."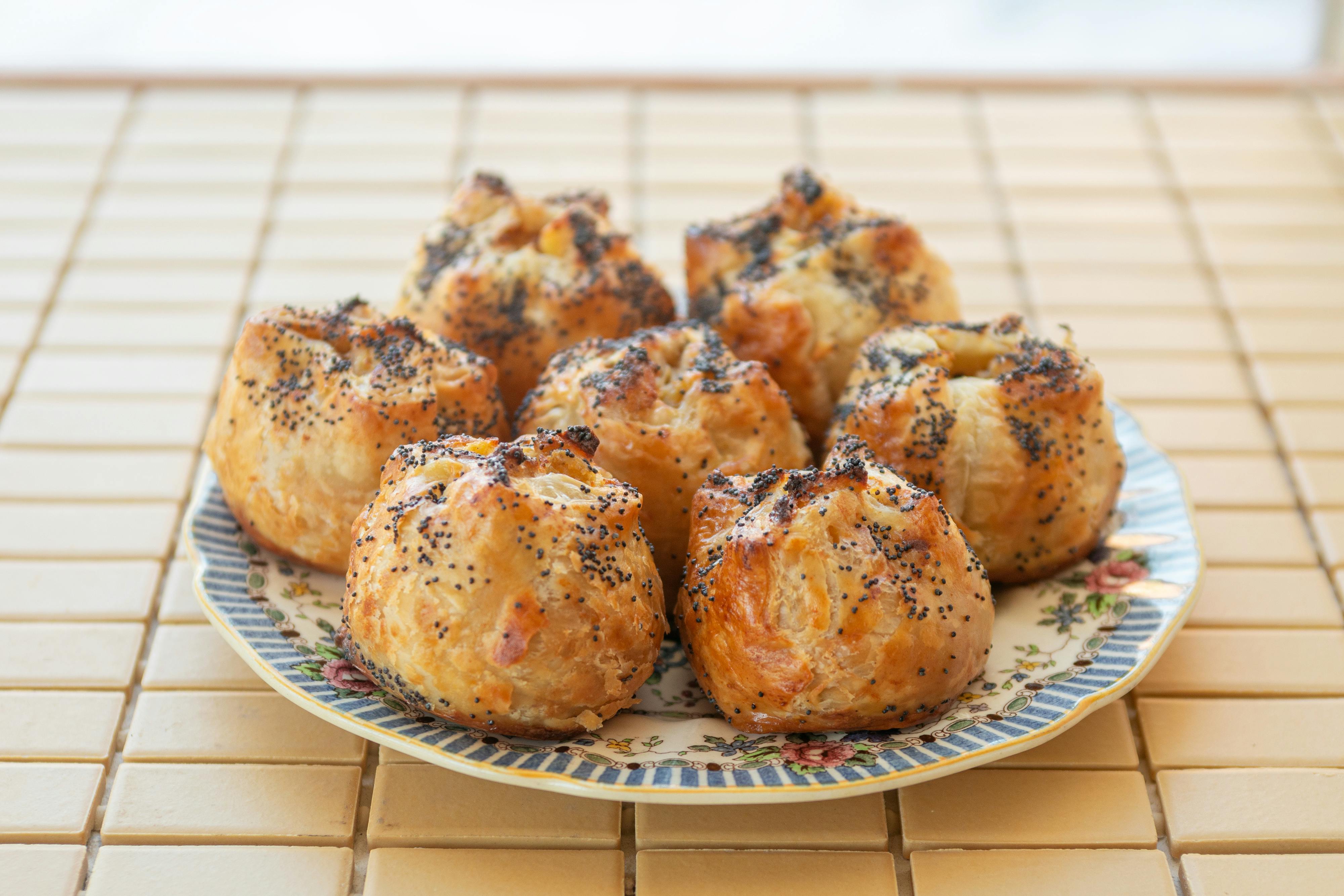 A self-declared "salty guy," Kolomeir cops to his "favourite things" skewing more savoury than sweet. Such proclivities translate into caramelized onion and potato knishes and danishes stuffed with eggplant, mushrooms and yogourt.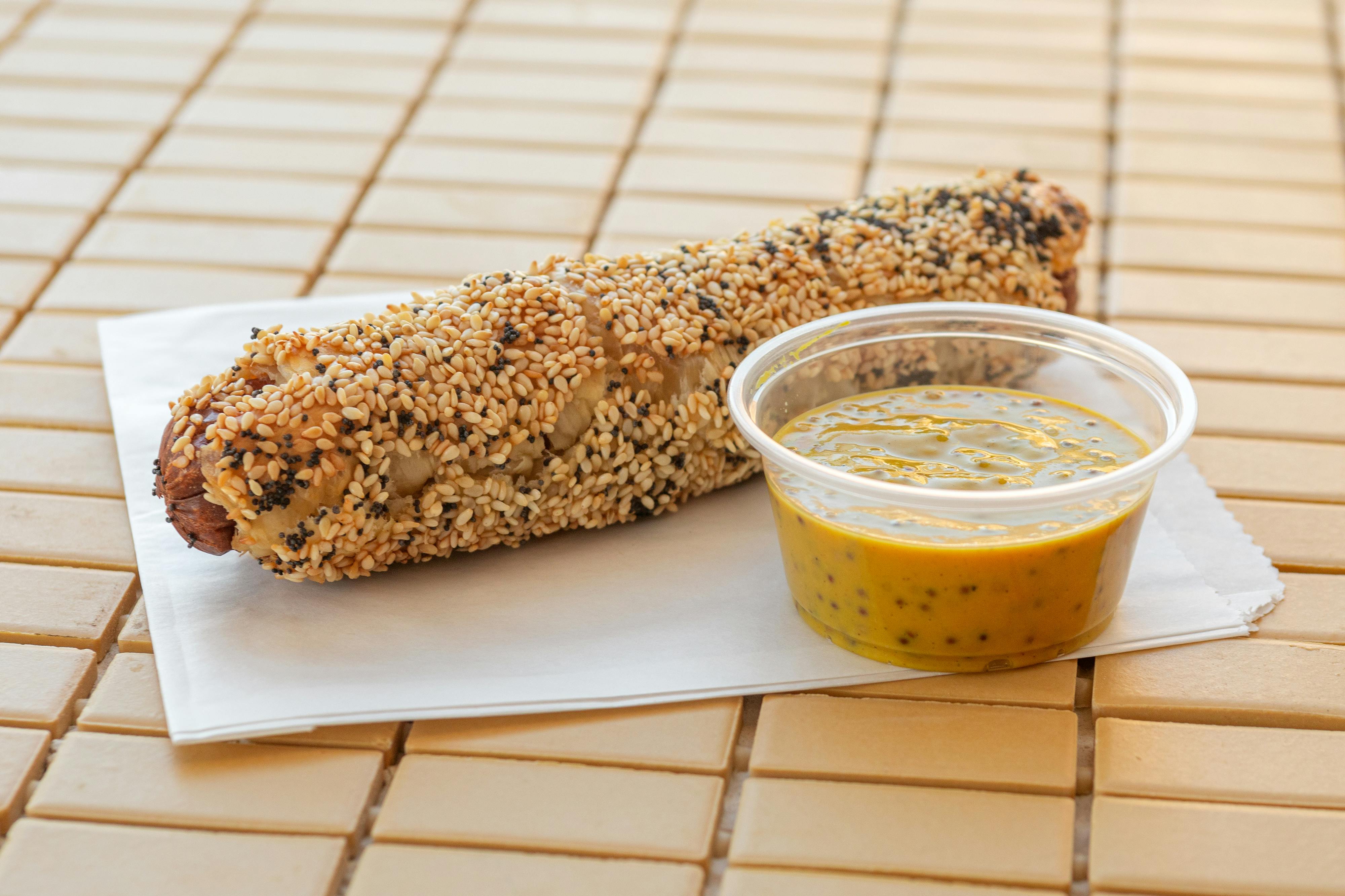 There's also a pure beef hot dog blanketed in poppy and sesame seed-encrusted puff pastry, with mustard sauce on the side. Those whose pastry predilections skew sweet will want to sample the Skor chocolate cookies and turnovers filled with a mix of cream cheese and summery Saskatoon berries.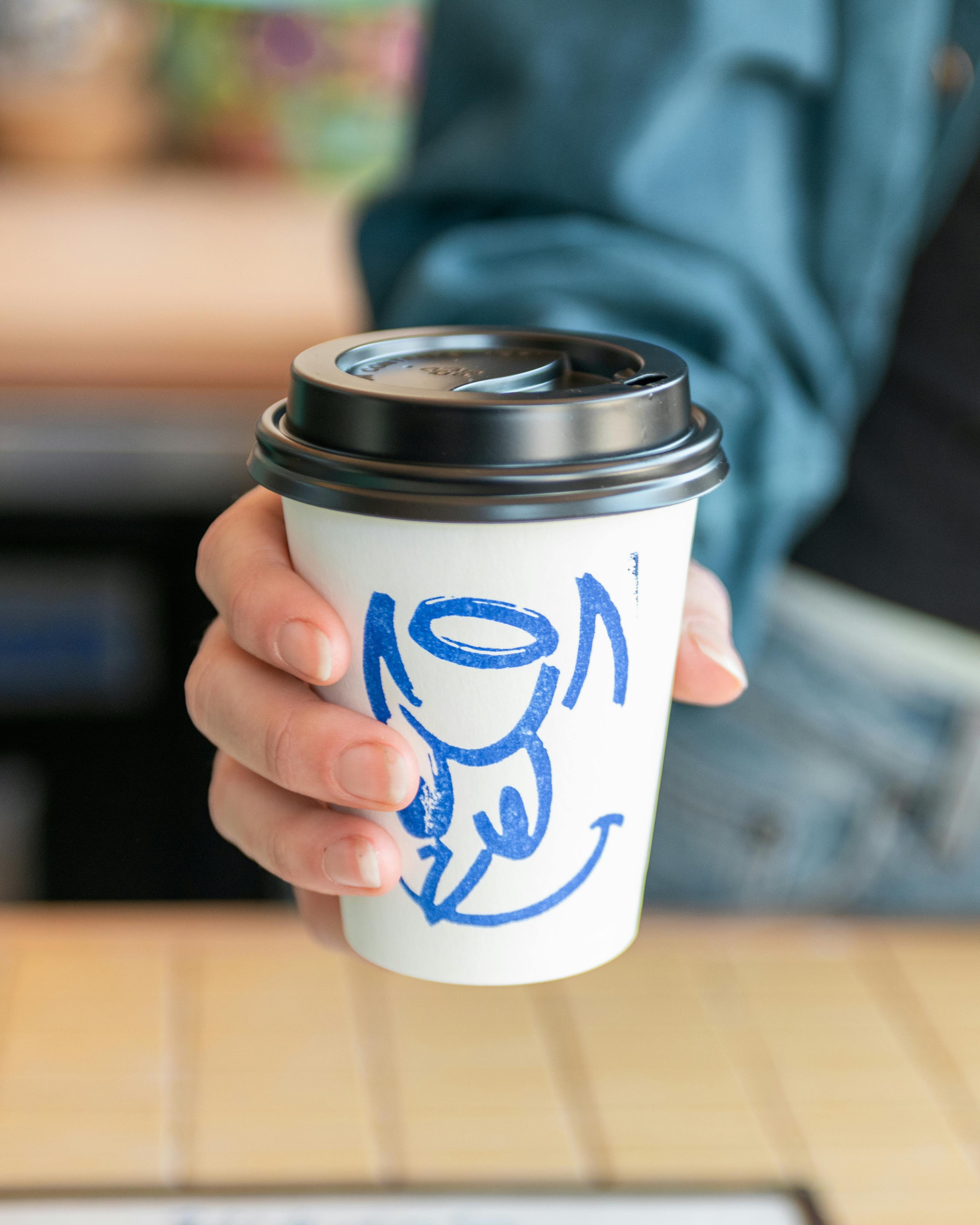 It's a given that a variety store must have a variety of drinks. Vilda's has a fridgeful of particularly eclectic options, ranging from Dr. Pepper and Snapple Ice Tea to Brasilena Calabrian Coffee Soda and Greenhouse Ginger Turmeric Kombucha. And of course, there's coffee. In keeping with the tenets of a classic bodega, it's filtered and made from a machine behind the cash register. Eschewing Folger's, beans hail from gourmet roasters such as Toronto's Java and Montreal-based PS.
Vilda's is so welcoming you may be tempted to eat in instead of taking out. For now, however, Kolomeir and Imola have no plans to add tables. Although a tiled counter lines the windows overlooking Foxley Street, Kolomeir stresses it's meant for customers who just grabbed an order and want to "organize themselves." Outside, where an invitingly wide sidewalk beckons, the couple does plan to set up an L-shaped bench where customers can indulge in on-site noshing. Come summer, they'll also be able to kick back with homemade soft serve available from the retractable window.
Even in the depths of winter, Kolomeir already has some flavours in mind that will inevitably mingle sweet with savoury. He rhapsodizes about a rye ice cream that tastes like "a piece of buttered bread with marmalade." Of course, one of the ingredients will be caraway.